10 Must-Visit Milwaukee Breweries in Wisconsin (Map Included)
Looking for the best Milwaukee breweries to visit? 
Affectionately known as "Brew City", Milwaukee, Wisconsin, has a very long history (nearly two centuries-long) with brewing beer: Miller Brewing Company, Pabst Brewing Company, and Joseph Schlitz Brewing Company all claim Milwaukee as home.
While doing a brewery tour in Milwaukee has to be on every beer drinkers' bucket list, it might be at breweries you didn't expect given Milwaukee's history with these major brewers.
Milwaukee's craft beer scene has been fermenting over the past several years and its popularity has grown significantly, proving that craft brewers can survive in the shadows of the big boys.
You just need a thirsty city.
Short on time?  Here are the key takeaways:
In our opinion, do not miss Eagle Park. To this day, we rank it in our top 10 favorite breweries in the U.S.
Lakefront Brewery has the best tour ever. Also, they have gluten free beer that is quite good.
MobCraft was the world's first crowd sourced brewery ever and their beers are just as original.
This post was originally published in October 2019, and was updated in June 2023.
**Boozing Abroad contains affiliate links throughout the site. If you choose to purchase items through these links, we will earn a small commission at NO extra cost to you. Read the full disclosure policy here**
Overview of Breweries in Milwaukee
We spent 3 days in downtown Milwaukee and constructed our own brewery-hopping tour of Brew City.
As you might expect, when deciding on a game plan for a brewery tour in Milwaukee, you are going to have plenty of choices.
However, the cheapest and most flexible option is to do a self-guided brewery tour of numerous breweries and the surrounding neighborhoods!
Getting Around
Milwaukee is an easy-to-navigate city that has plenty of ride sharing options.
Milwaukee also has a fleet of streetcars, called The Hop, that motors around downtown. This is an ode to beer and the hop-on, hop-off style of the streetcar. This is FREE to ride and a great option for getting around. See the route map and schedule here.
Current stops aren't super close to the numerous breweries in the city, but there is an expansion planned to extend service to a wider area, which would be closer to the breweries.
This truly gives "brewery hopping" a whole new meaning.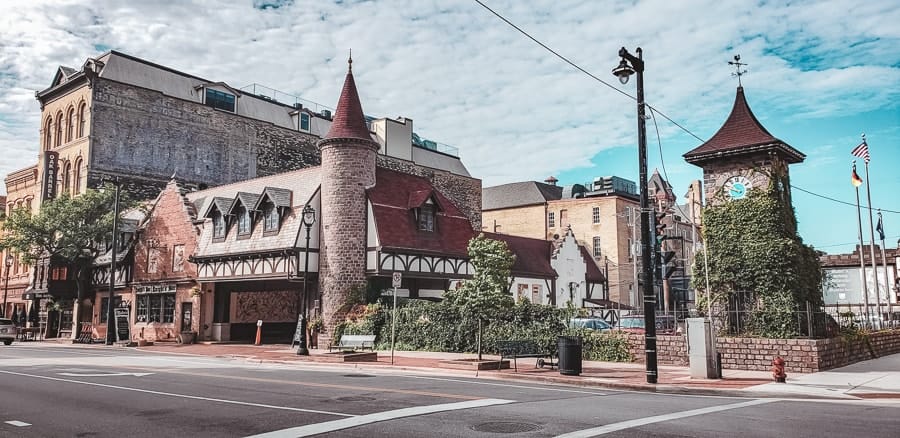 How many breweries are in Milwaukee Wisconsin?
There are over 20 breweries in Milwaukee.
What is the famous beer in Milwaukee?
Depending on your age, the most famous beer in Milwaukee might differ. Schlitz, PBR, and Miller High Life are among the most infamous beers brewed in Milwaukee.
Brew City Beer Pass
Visit Milwaukee has a Beer City Beer Pass that will reward you for sipping some local suds. Places include breweries, taprooms, and other beer-related attractions.
Sign up for the Brew City Beer Pass to redeem Buy One, Get One (BOGO) beers while you hop around to different breweries.
Map of Breweries in Milwaukee, WI
Click the interactive map below!
HOW TO USE THIS MAP: To view the layers and see the names of the places on this map, click the tab in the top left corner. You can select the check marks to show or hide certain layers. If you select the icons on the map, you will get more information about the point of interest.
HOW TO SAVE THIS MAP: If you select the star icon next to the map name, you can save this map to your Google Maps account. To view it, open Google Maps in desktop or on your phone, select the menu button, go to "Your Places," scroll to the right to Maps, and you will see this map.
Milwaukee Breweries
1. Lakefront Brewery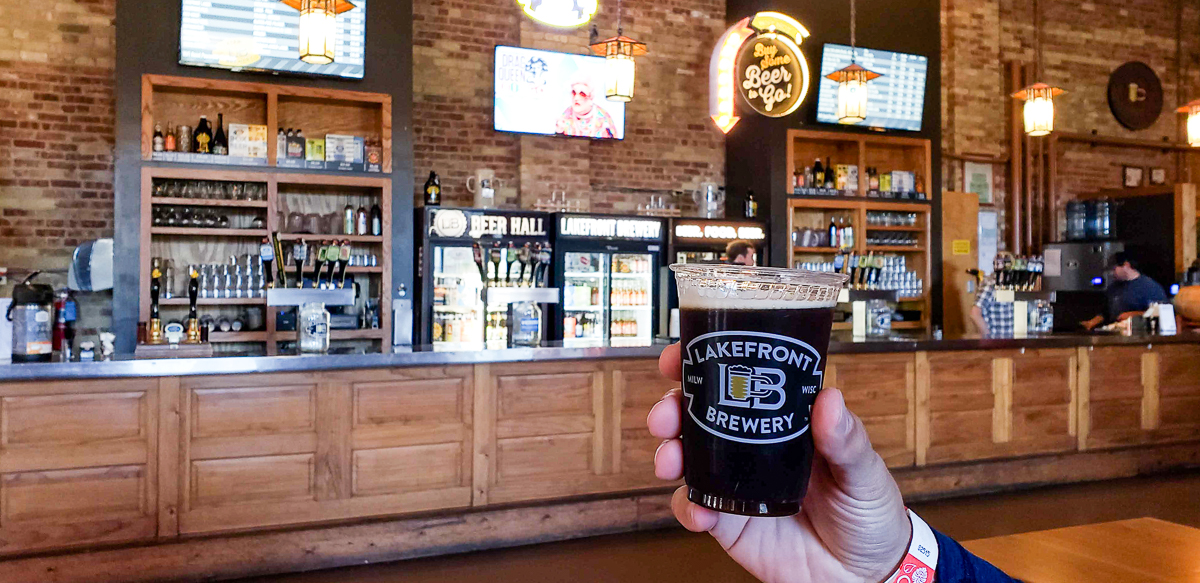 Consistently ranked as one of the top brewery tours in the country, Lakefront Brewery is a great place to start your Milwaukee brewery adventure.
First, you'll definitely want to get a reservation for this tour.
We also suggest arriving at least 1 hour early or plan on staying after to eat here since there food was sensational!
We started with a large helping of fried cheese curds (supposedly some of Milwaukee's best cheese curds – we won't argue), a sausage flight (yes, it's a thing – but probably only in Milwaukee), and a side of more cheese (in the form of mac and cheese).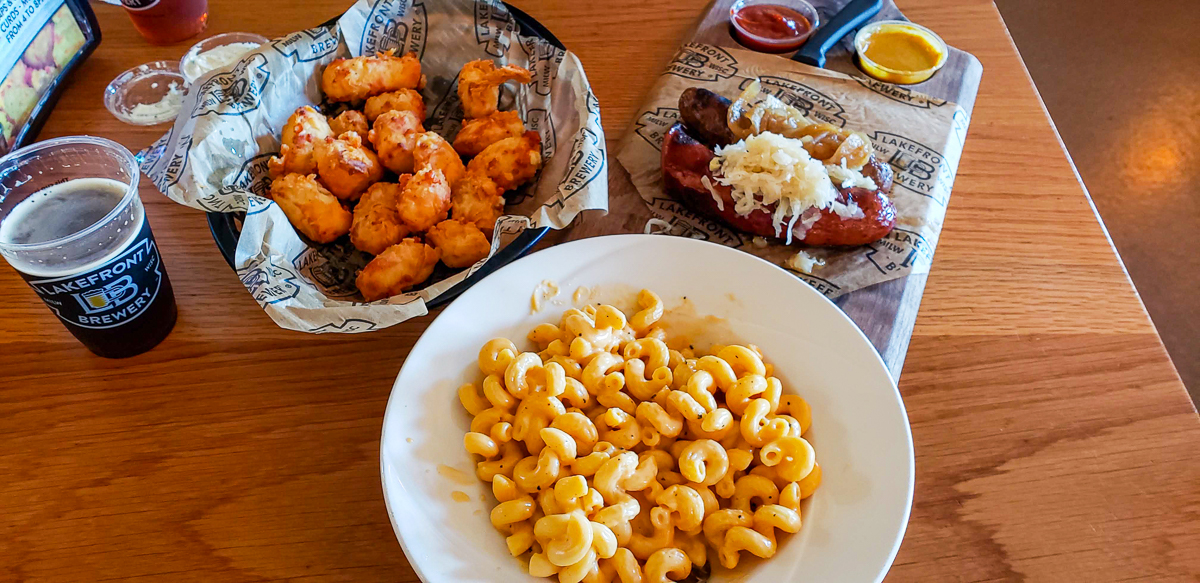 When you check-in for the tour, you are given 2 beer tokens (good for 16 oz pours each) and a souvenir pint glass.
Our advice for token usage:
1 token to fill your cup before the tour starts

1 token to have during the tour for a mid-tour refill or after
The tour itself only takes about 45 minutes with a brief break in the middle for a refill. There are no bathrooms on the tour so be sure to go before it begins.
With tons of jokes (some cheesy and some mildly inappropriate, but hilarious) sprinkled in among the historical information about Lakefront, the Milwaukee brewery scene, and the brewing process, this tour is worth every penny!
The tour is $12 ($13 if reserved online in advance, which is highly recommended).
Fun facts: Lakefront was the first brewery in the U.S. to bottle a fruit beer since Prohibition (brewed a cherry lager in 1992) and produced the first certified organic beer in 1996.
Today, they have produced the first gluten-free beer after successfully petitioning the US government to allow their New Grist to actually be called beer since it did not contain the previously required 25% malted barley content.
In our opinion, this is a must visit when deciding on which Milwaukee breweries to visit!
2. Good City Brewing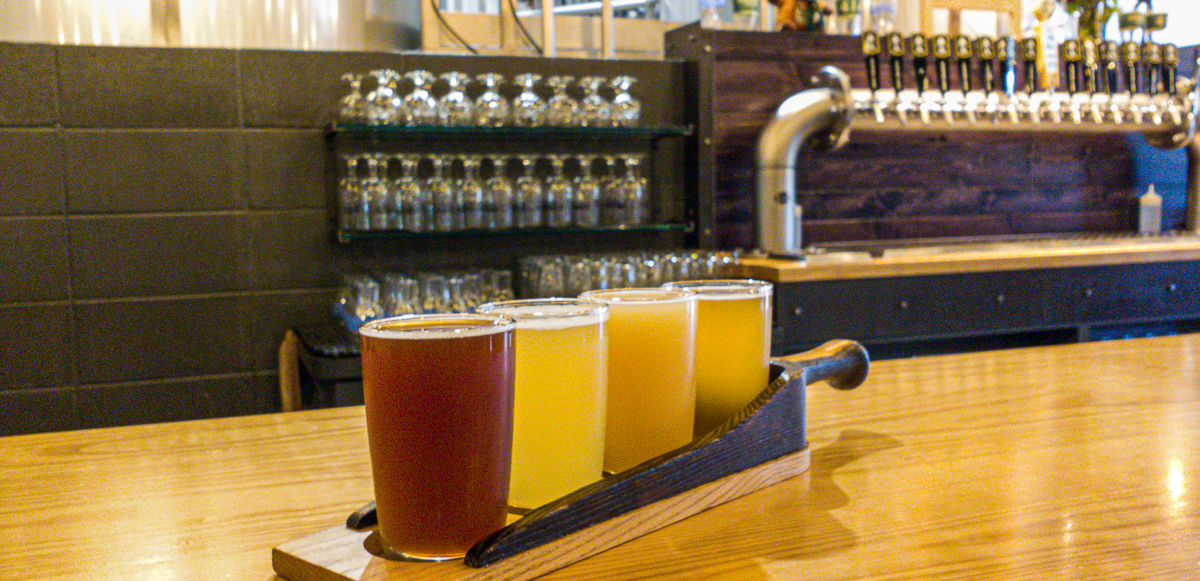 Good City Brewing has two convenient locations when visiting the breweries in Milwaukee.
Their original location is located in the East Side of the city while their downtown location is – you guessed it – downtown, right across from the Fiserv Forum.
When you step inside of the taproom, you'll immediately feel like you're part of the brewing process as you can see the exposed tanks and piping right behind the bar.
Saddle up to the bar and have some of their mainstays like the Motto pale ale or the Spare Time hazy IPA.
If you're really feeling frisky, grab the Audacity, a 10.4% rum and port barrel-aged Belgian quad. It's just as flavorful and powerful as it sounds!
3. Eagle Park Brewing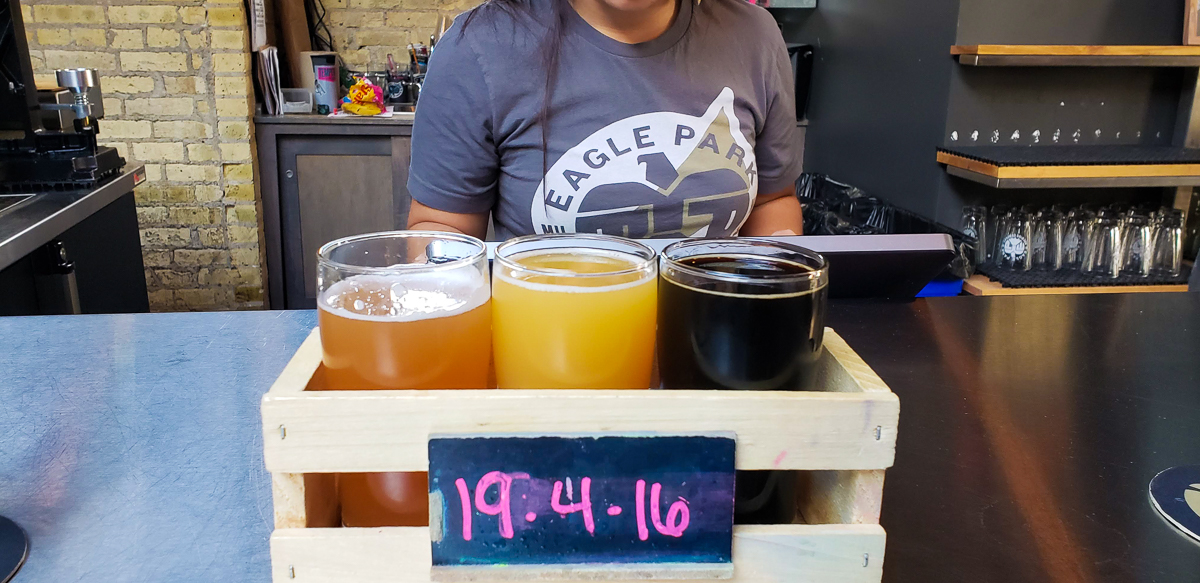 Eagle Park Brewing is one of our favorite Milwaukee breweries and a must do when hopping around.
We arrived just before they opened and were surprised to see a line of about 20 people already waiting to get in the doors. (Although, we were not surprising after we tasted the beer.)
We found out later that they have a pretty incredible, and exclusive, beer club (by paid membership only) so the line made a little more sense with a beer release.
In addition to the beer club, we were absolutely blown away by the beer and had to indulge in 2 flights.
The beers are explosive with flavor and we were left wanting more with every sip.
We highly suggest these if they have them on tap:
Bahama Mama sour

Tropical Slush sour

Vegan Pineapple Upside Down Cake Milkshake IPA

No Snickity No Stout
Really, just try as many of their beers as you can because their craft is truly unique and amazing!
4. Dead Bird Brewing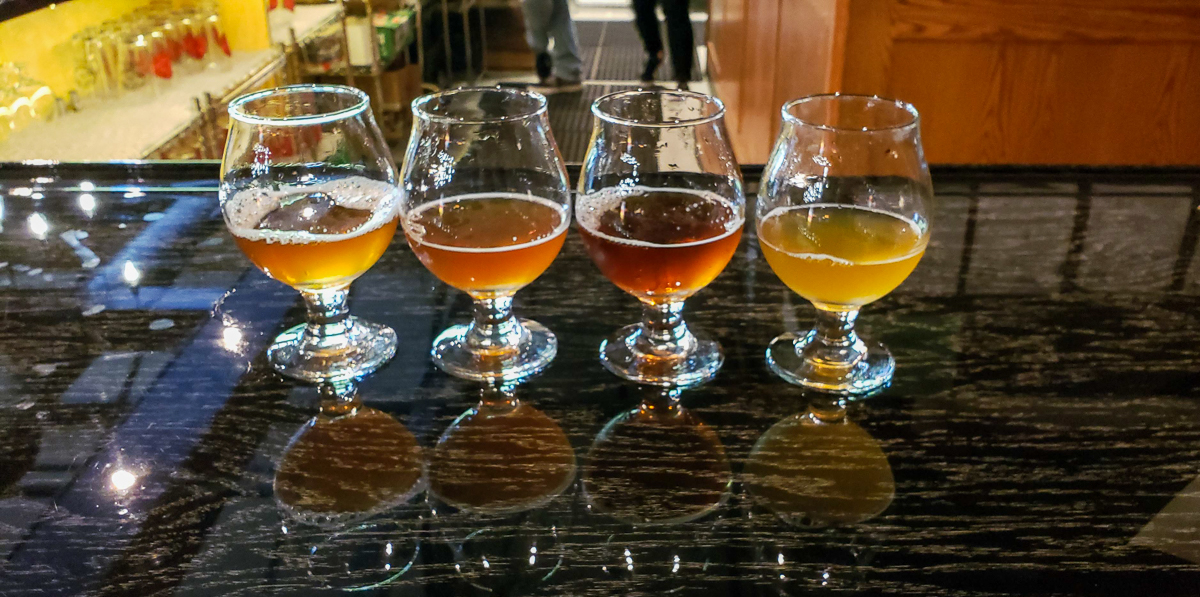 Dead Bird Brewing specialize in beers with an emphasis on locally-sourced, vegan ingredients.
Started in 2015 by two college roommates, they named the brewery Dead Bird because they literally found a dead bird in an aluminum pot in an attic. Don't worry, they did not use this pot for brewing the beer.
Their taproom opened in 2019 and is located in the Brewer's Hill neighborhood of Milwaukee. They also have a food menu with items such as chips and salsa, beer pretzel, tacos and BBQ with vegan options as well.
They offer live music every Saturday and usually have a cider on tap too. Sundays, they offer brunch from 10 a.m. to 2 p.m. Don't miss the brunch cocktail flight.
If you need to be entertained while you drink, they have numerous arcade games as well as shuffle board in the taproom.
5. MobCraft Beer Brewery and Taproom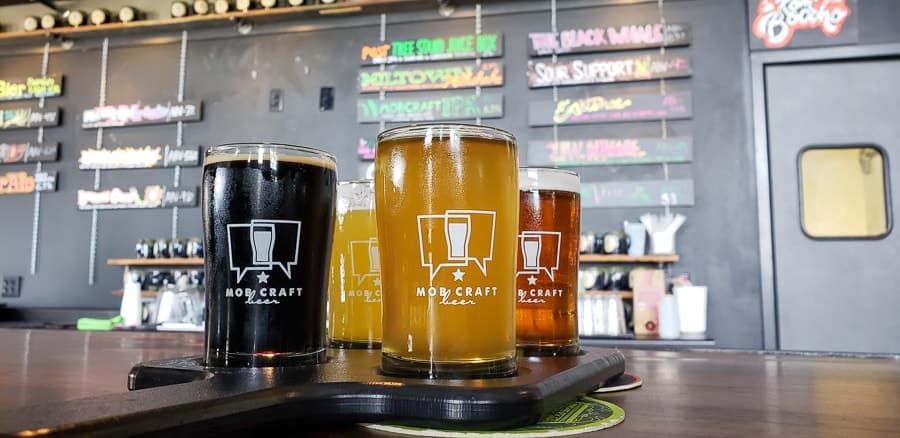 MobCraft Beer Brewery and Taproom is the world's first crowdsourced brewery.  
What is a crowdsourced brewery exactly?
Well, each month, MobCraft sources ideas from the crowd (duh) for the next batch of craft Milwaukee beer.
People from all over the country/world can submit ideas – anything from flavors to a full-fledged recipe.
The good, and realistic, ones are voted on each month on the website.
How does it work? Your vote is actually you placing a pre-order for the beer you want brewed.
From there, it's pretty simple, at least on paper: the beer with the most votes wins and is brewed, packaged, and available for pickup at the brewery. Such a cool concept!
Even with the ever-rotating recipes coming through, they still do have some flagships, including Bat$h!t Crazy (coffee brown ale), Low pHunk (sour ale), and Vanilla Wafer Porter, among a few others.
6. Broken Bat Brewery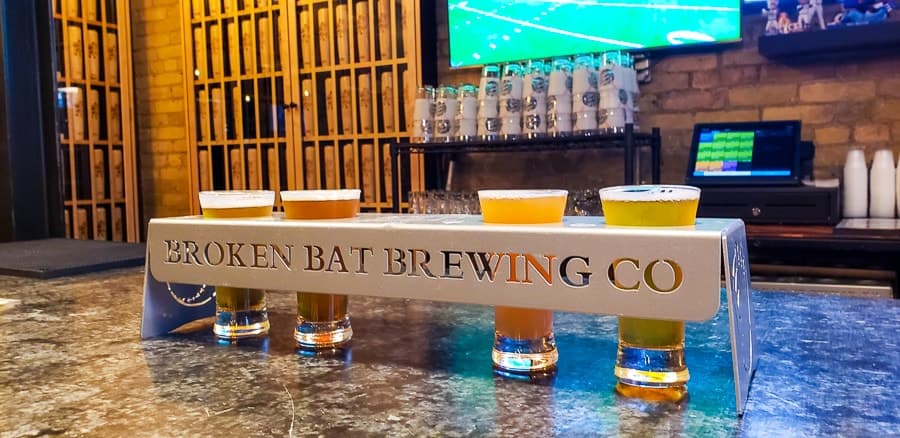 For a city whose baseball team is literally named the Brewers, it should come as no surprise that there is a baseball-themed brewery in the Historic Third Ward.
Located in a cozy basement with sightlines into the compact brewery operations, Broken Bat Brewery cleverly names all of its beers after something baseball-related.
From Straight Chedd (an apricot pale ale) to Golden Sombrero pilsner and the Darryl (a strawberry kettle sour), any baseball fan should add this stop to the top of their Milwaukee breweries list.
If you're a baseball nut like Chris, you'll enjoy the baseball references. If you're not, you'll just enjoy some good beer!
7. Best Place at the Historic Pabst Brewery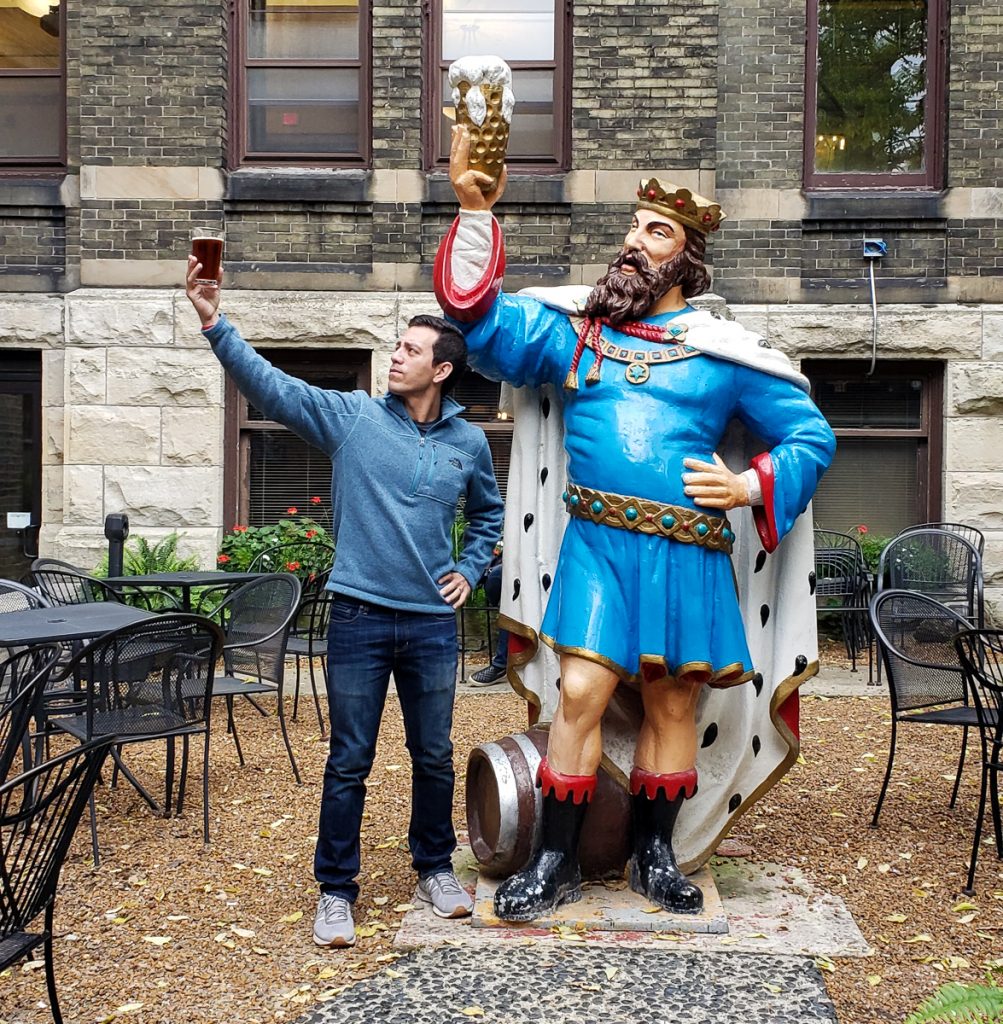 Just a hop, skip, and a jump down the road is where you'll find a more historical nod to Pabst Brewing: Best Place at the Historic Pabst Brewery.
While it might sound like a funny name, it's actually Jacob Best Sr., who established the original brewery in 1844, hence the "Best".
The Pabst brewery was closed in 1996 dealing a huge blow to Milwaukee beer, but since Best Place has opened, it has done its "best" to rekindle the charm and history of this place.
You can take a tour for $10, which includes one beer, and you'll see many of the old offices that were used in the old days and hear all about the history of the brewery.
If you're not a history buff or short on time, just grab a beer in the little tavern and munch on some pretzels.
Make sure you snap the obligatory pictures in each courtyard with Captain Pabst himself and King Gambrinus, a legendary European culture hero celebrated as an icon of beer.
8. Milwaukee Brewing Company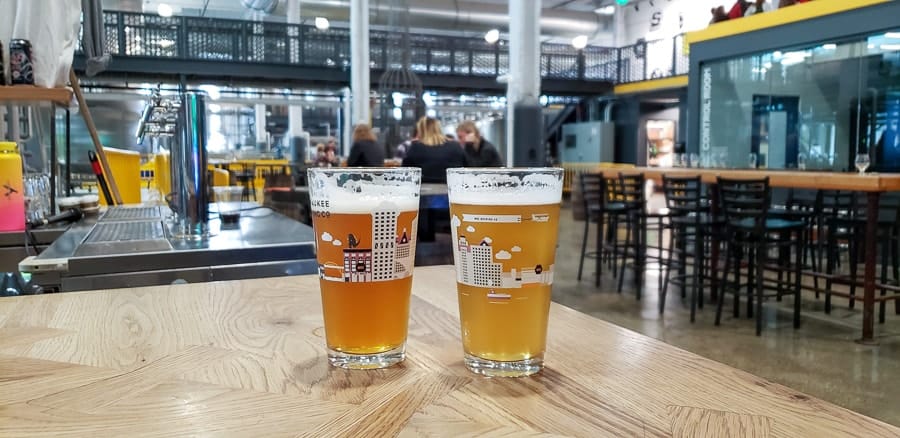 As of September 2022, Eagle Park Brewing (listed above) has acquired Milwaukee Brewing Company, affectionately known as MKE Brewery.
They purchasing rights to the recipes, brand and all other goodies that come with owning a brewery.
In our opinion though, this is another must-do in the line up of Milwaukee breweries once they are back up and running in their new taproom on Hamilton Street.
While there are a lot of changes ahead for MKE, their high quality beers are here to stay.
Be on the lookout for their year-round beers such as" Louie's Demise (an amber ale), Outboard (cream ale), and MKE IPA.
9. Third Space Brewing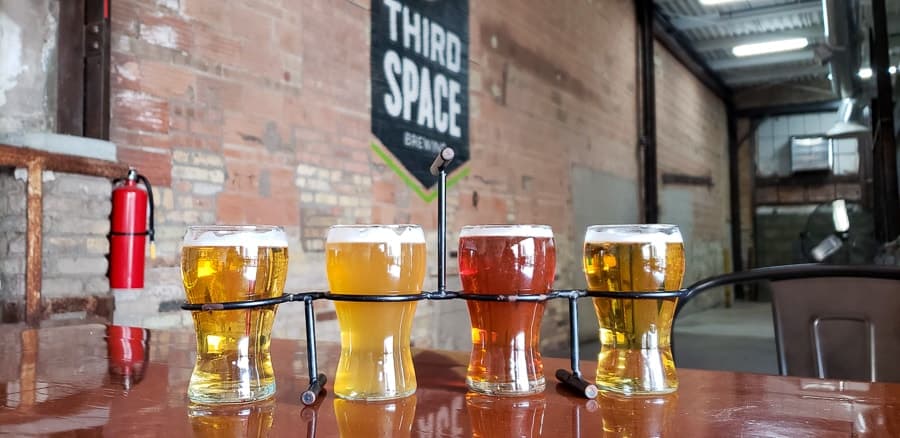 Situated a few minutes west of Milwaukee's Historic Third Ward, Third Space Brewing is helping the resurgence of the downtown corridor of Milwaukee.
With a spacious outside beer garden and large indoor seating area, Third Space is helping to pave the way for all Milwaukee breweries.
In 2018, Third Space won a bronze medal at the Great American Beer Festival in the Imperial IPA category for Unbridled Enthusiasm Juicy Double IPA.
They are the first of the numerous Wisconsin breweries to win a medal at this festival for an IPA!
They also won a silver medal for Unite the Clans in the Rye beer category at the 2019 festival, the third year in a row that this beer was awarded a medal.
Third Space has a good mix of sours, pale ales, and barley wines to try and make sure you keep an eye out for their dessert beers. They are incredible!
10. Water Street Brewery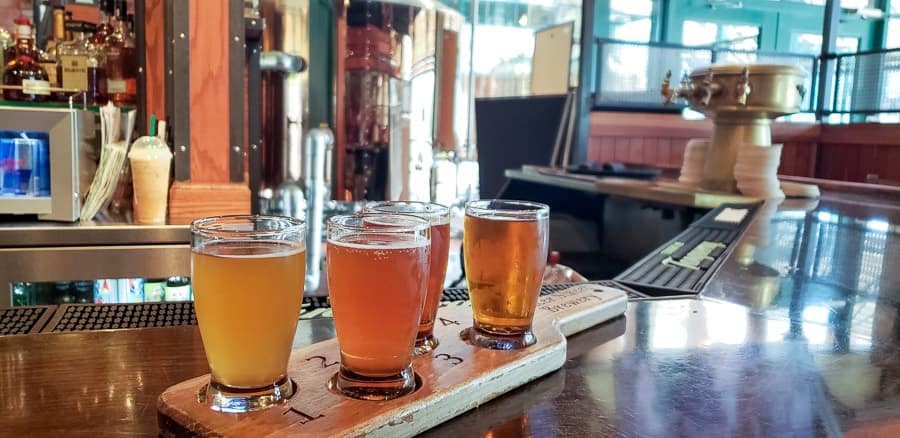 Water Street Brewery opened in 1987, staking claim to being Milwaukee's first brewpub.
Today, they have four locations in Downtown Milwaukee, Grafton, Delafield/Lake Country and Oak Creek.
To be completely honest, the beer here didn't blow us away, but all of the beers we got in our flight were refreshing. The beers here are true to form style meaning their lager tastes like a lager.
They have several house brews on tap (including a Bavarian Weiss and an Oktoberfest – how traditionally German of them) as well as various seasonals, all of which are brewed at each particular location.
Water Street also boasts an impressive collection beer and brewing artifacts, including thousands of beer cans arranged in displays, beer taps, neon signs, and other brewery-related knick-knacks.
Unless you want a full bar / restaurant, we suggest visiting other breweries in Milwaukee instead if you are short on time.
Bonus Stops
Old German Beer Hall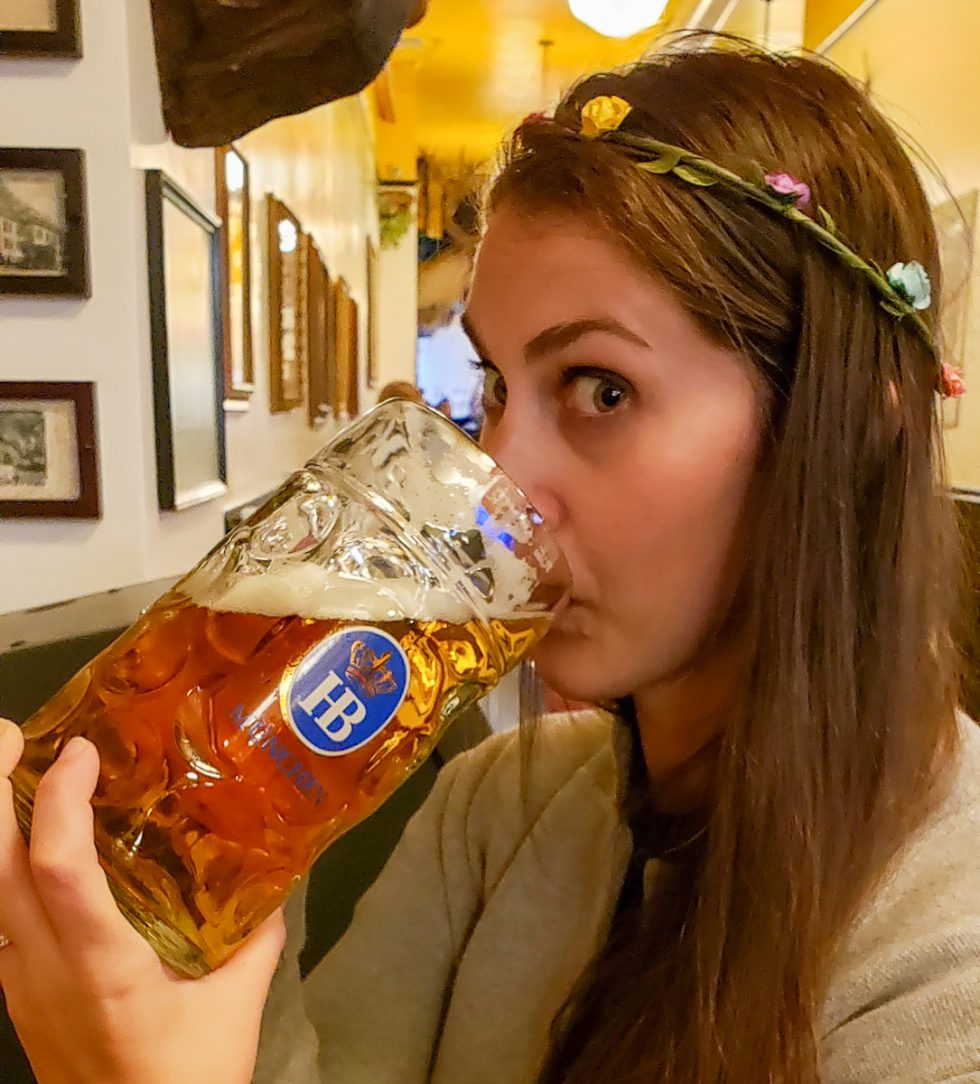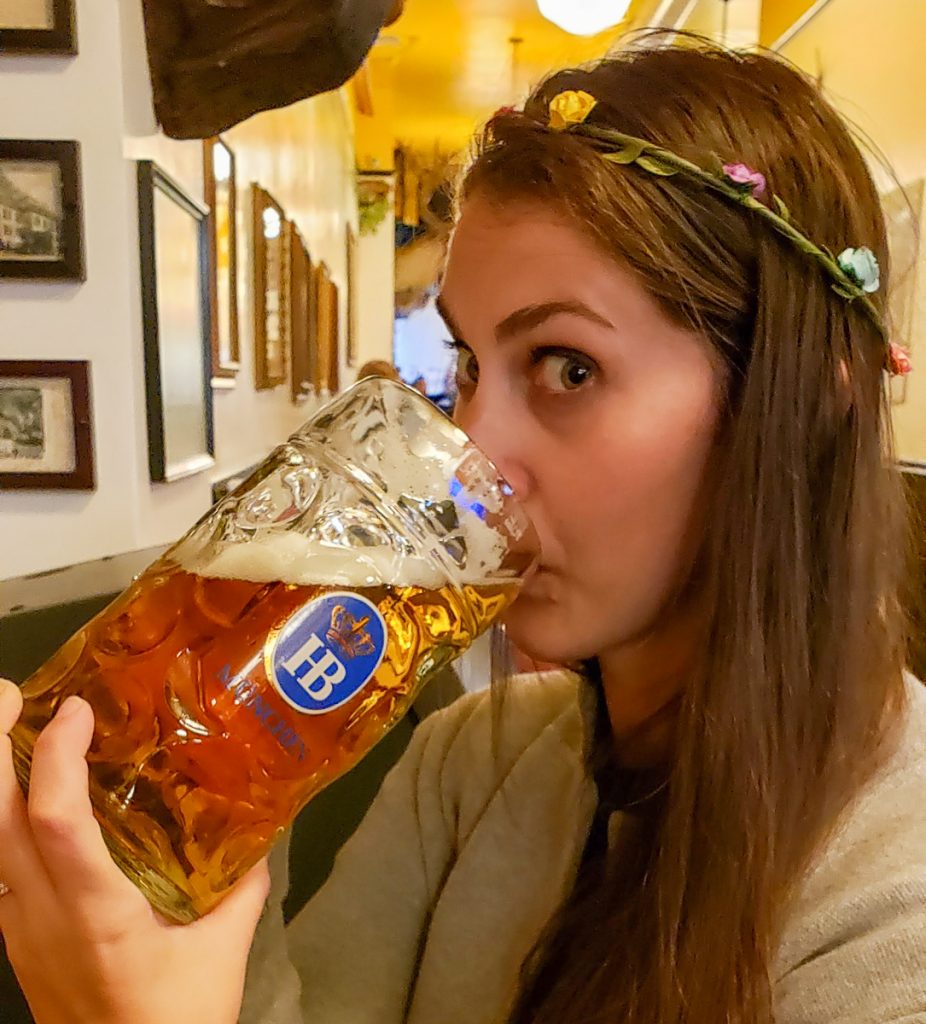 As we alluded to, Milwaukee has deep German roots which is very evident by the architecture of the buildings downtown.
According to the Encyclopedia of Milwaukee (who knew that was a thing?), "Milwaukee is the most German of major American cities, and Germans have constituted Milwaukee's largest immigrant group.
The city's brewing industry, tradition of ethnic festivals, built environment, and history of working-class politics all display the influence of the German immigrants who arrived in especially large numbers during the half-century following 1850."
Well, The Old German Beer Hall embodies the spirit of Germany and represents the tradition of Munich's legendary Hofbräuhaus, complete with the traditional Hofbräu beer in large liters – perfect for guzzling and cheersing (Prost!).
You can also partake in a game that we've only ever seen at NASCAR tailgates. We call it "Stump" here in the South or "Hammerschlagen" in Germany (and Milwaukee).
The idea of the game is to hit a nail into a massive tree stump with a hammer (which is thankfully attached to a chain).
SafeHouse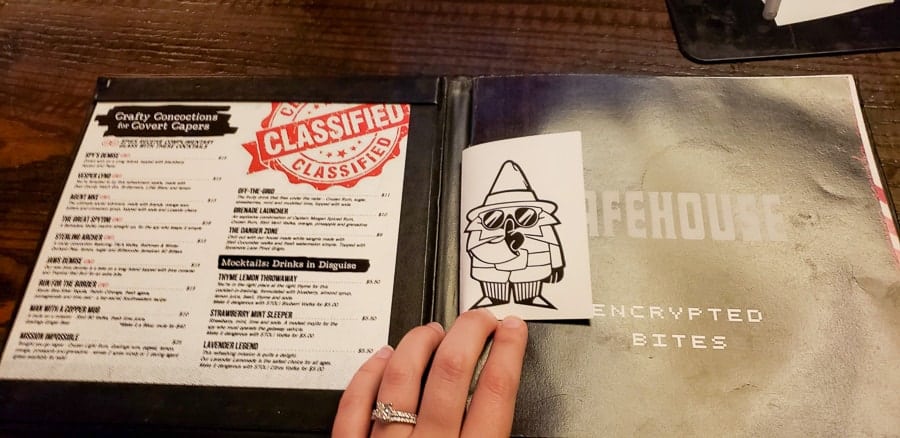 If you're looking for something fun and unique, if not altogether touristy, head to SafeHouse. 
Tucked away in an the alley from the Bronze Fonz and in a relatively unmarked building, SafeHouse is like a speakeasy on the outside, and anything but a speakeasy on the inside.
Look below 3 flags and behind the door faintly marked International Exports.
You'll need to know the password to get in, otherwise you'll have to do something corny (think "do your best ninja move" or something similar) to prove you're there for a good time!
Even better, the entrance is shown on CCTV inside the bar for everyone to see (though no one seemed to be watching at all).
Once inside, you'll feel like you're in a spy movie.
All the employees call you "Agent" and act as if you're a spy.
The drinks are all spy-themed (and a little pricey), but the actual bar/restaurant itself has numerous rooms to mill in and out of while trying to find answers to various spy clues.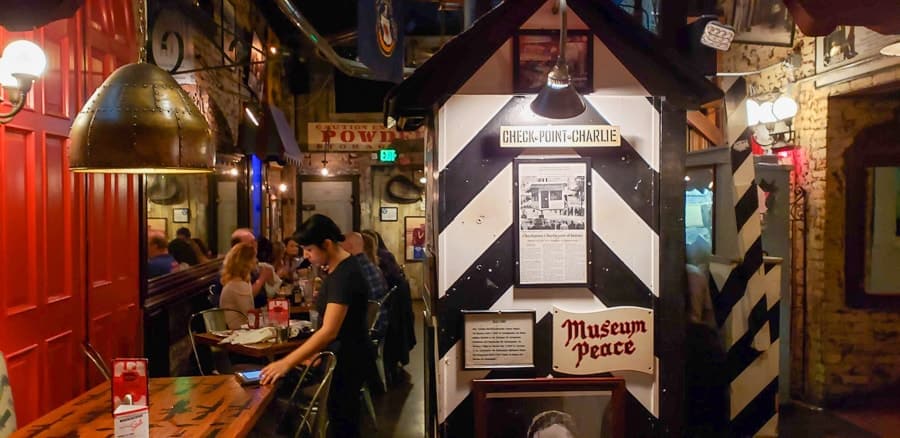 We opted for two of the spy-themed cocktails and roamed around all of the rooms looking at all of the spy memorabilia.
I'm sure we were interrupting people while they were eating dinner, but they didn't seem to mind as this place was sensory-overload!
When you've completed your mission and are ready to head out, you can go out the secret exit in a phone booth if you wish, but it'll cost you $1.
Or just go out the way you came in, though a spy never leaves the same way they entered.
If you really want the password to get in and loathe doing something silly, google is your best friend.
Great Lakes Distillery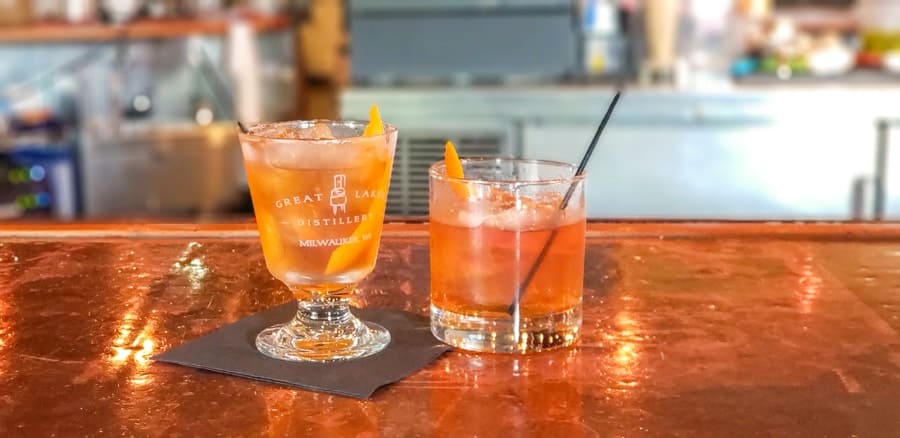 Great Lakes Distillery, the first distillery in Wisconsin since Prohibition, is located about a mile south of downtown Milwaukee in Walker's Point (about a 10-minute ride for scooter-fanatic Samantha).
The folks here are using local ingredients and old-world methods to create their high-quality lineup of spirits.
Numerous varieties of vodka, gin, liqueur, whiskey, rum, brandy, absinthe, and various seasonal spirits are all available for you to sample and/or in one of their many cocktails.
Great Lakes' spirits have won numerous awards at prestigious competitions, including the San Francisco World Spirits Competition.
Sightseeing stops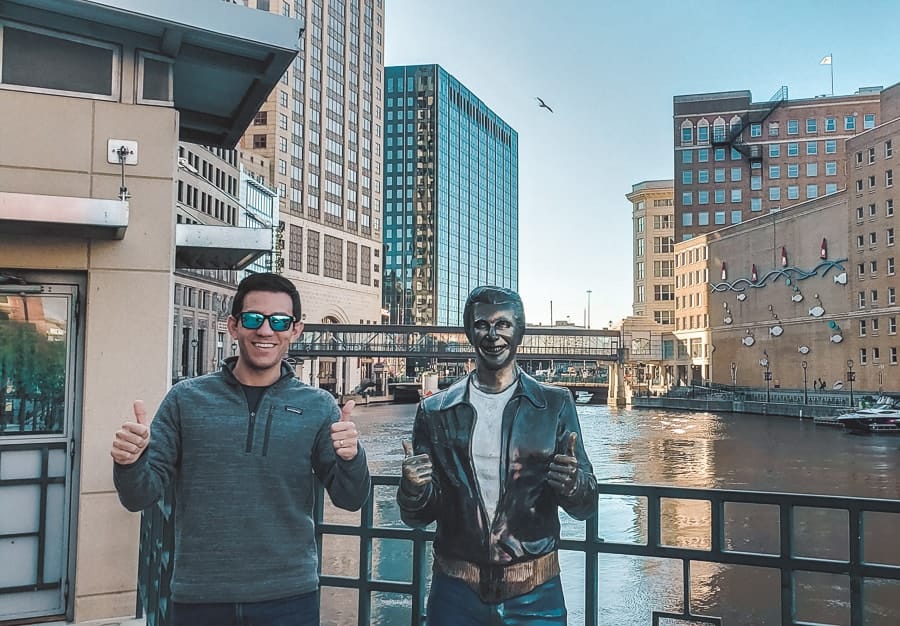 The statue, or the Bronze Fonz as it's called, is located on the Riverwalk and is a quick stop on your way to SafeHouse or just on a stroll around the river.
The 1970s TV show "Happy Days" took place in Milwaukee and the statue was commissioned to help bring tourism to the city in 2008 with the show's cast present at the unveiling.
Stop by for a quick picture and give your best thumbs up!
Wisconsin Cheese Mart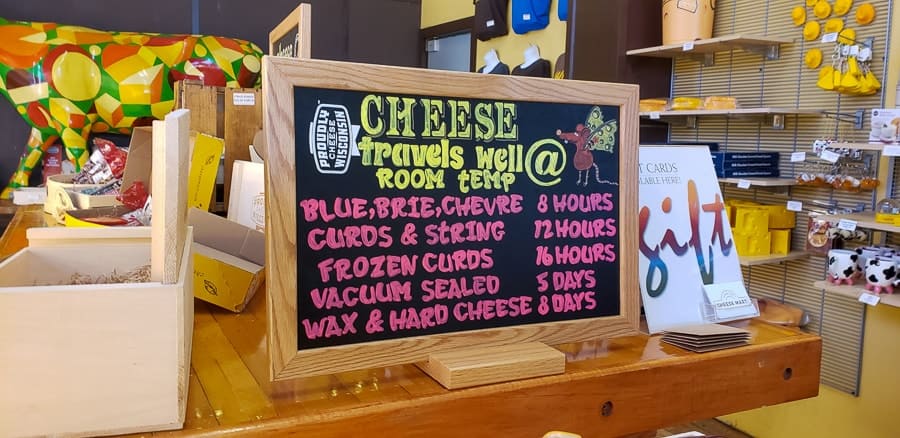 The Wisconsin Cheese Mart is a must-do in this cheese-crazed town.
Located in the heart of downtown and across the street from all the bars on Old World Third Street, you will find a cheese shop which, according to their website, has been the world's largest selection of Wisconsin cheese since 1938.
Some fun facts: There are over 35,000 dairy farms selling milk in Wisconsin (almost 2 million cows producing about 14,000 pounds of milk each year)….that equates to a lot of cheese.
In fact, about 74% of this Wisconsin milk is used in the production of cheese.
2 billion pounds of cheese every year, that is, or 30% of the nation's total cheese production!
With more than 250 varieties, types, and styles of cheese available at the Cheese Mart (many of which you can sample!), this is a no-brainer stop on your visit to Milwaukee.
If you buy cheese, they even provide you with an ice pack to keep it cold while traveling, and will provide a travel cooler if you purchase a certain amount.
Where to eat in Milwaukee
The Wicked Hop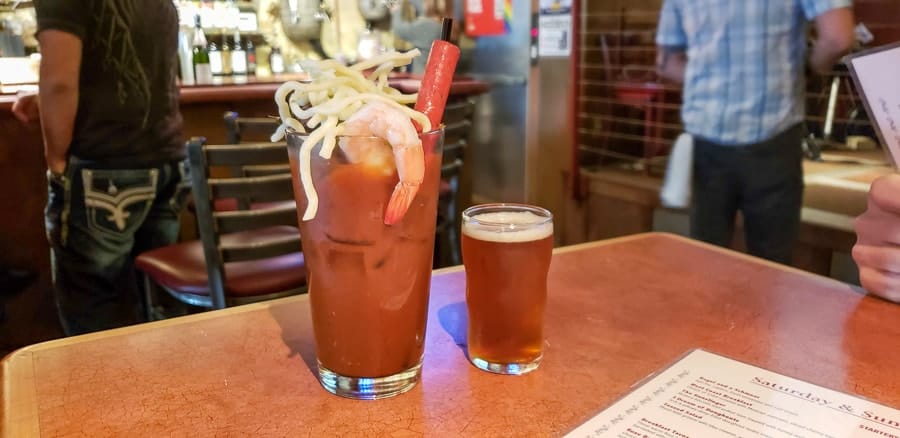 When you know it's going to be a long day of drinking all the Milwaukee beer and spirits, a hearty brunch is always a good start.
Located in the Historic Third Ward at the corner of Sunday Brunch and Bloody Mary (not really, it's actually St. Paul & Broadway, but the sign outside says otherwise), The Wicked Hop boasts some very good food and one of the best Bloody Marys in Milwaukee.
You'll find most of your traditional brunch favorites here (eggs benedict, French toast, chicken and waffles, biscuits and gravy, breakfast burritos) but the real star is the Bloody Mary.
Complete with a peeled shrimp, beef stick, kosher dill pickle, mozzarella cheese whips, a portabella mushroom, a Spanish green olive, and a Lakefront Riverwest Stein beer chaser, this spicy Bloody is a meal in itself!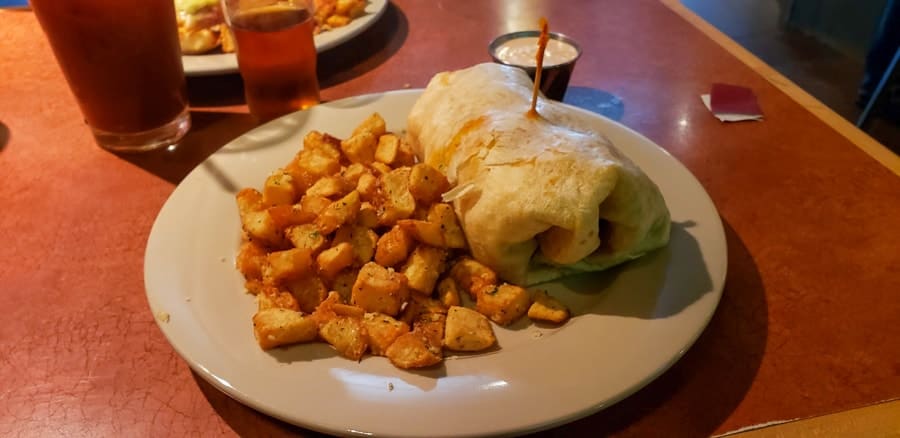 We aren't the biggest fans of Bloodys (gasp, we know), so don't consider us connoisseurs by any means, but this Bloody has won "Best Drink in Milwaukee" for 4 straight years. That's gotta be good for something.
Milwaukee loves its brunch and loves its Bloody Mary's even more, so look around for others which might tickle your fancy.  Some of them are really out there!
We were told to head to Sobelmans, but ran out of time before we made it there – guess we'll be back!
Milwaukee Public Market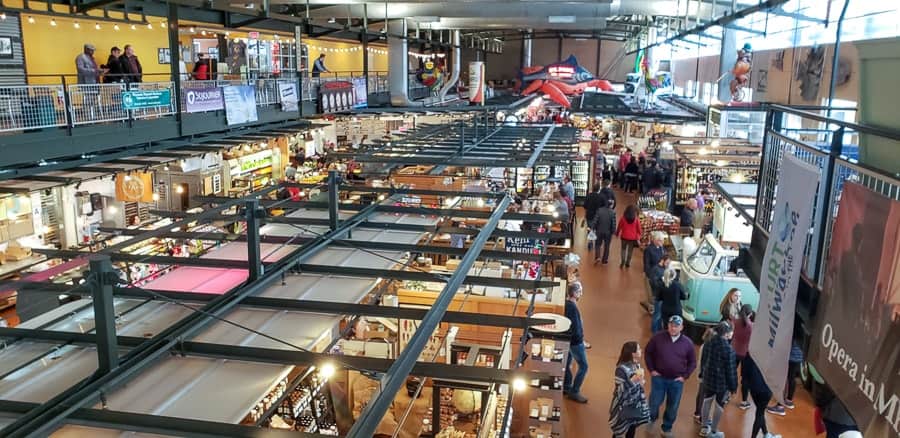 The Milwaukee Public Market is located directly across the street from The Wicked Hop and was a perfect opportunity for us to walk around for a few minutes and let our brunch and Bloody settle.  
Here's just a sample of the types of vendors you'll find at this bustling market: coffee, Thai, Mexican, fish, olive oil, soups, salads, pizzas, vegan options, bakery, chocolates, cheese shop, wine shop, and even a tap truck just outside pouring the delicious Milwaukee beer.
Guaranteed that you can find something here! Once you do, head upstairs to eat while looking out over the organized chaos below.
Café Benelux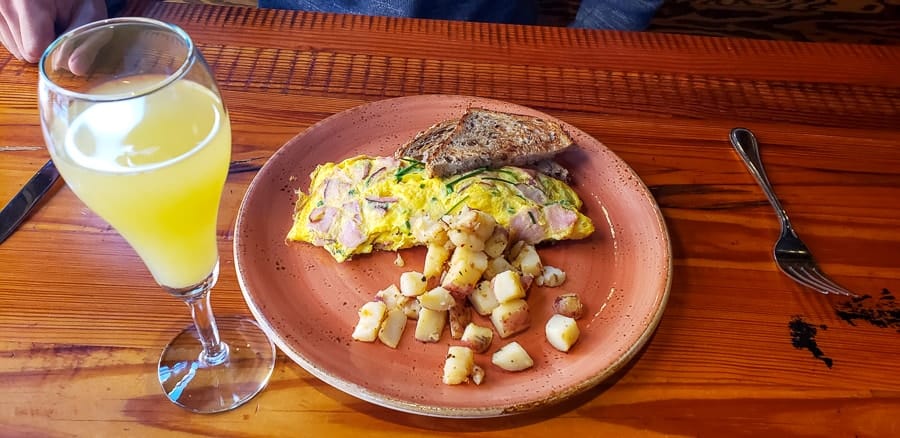 This was one of Samantha's favorite spots due to its Belgium-themed menu and beer selection.
With over 40 pages of craft beer on the menu, Café Benelux is an excellent (and massive) place to find a good beer and eat some great food.
We opted for brunch food and we were very satisfied with our choices. Samantha's current go-to for brunch food is Eggs Benedict and she was incredibly happy with her selection.
Chris, ever the beer and cheese lover (even more so when they are mixed), chose the ham and beer cheese omelet.
Mmmmmm!
Where to stay Milwaukee
Booking.com probably has the widest selection of budget (and luxury) accommodations in the world. In our experience, they consistently found the cheapest rooms. We also like their easy to use interface and no money down policy. When we book our travel stays, we personally use booking.com.
Milwaukee is a relatively compact city and everywhere we went was about a 5-8 minute car ride, a 10-minute scooter ride, or a 20-minute walk. >>> For a full list of hotels in the area, CLICK HERE.
Centrally Located – Hyatt Regency
We stayed at the Hyatt Regency since it was centrally located and was in the middle of the breweries we wanted to visit (see the map above for reference). We have stayed at several Hyatts before this one was just as nice.
Unique stay – Brewhouse Inn and Suites
This old brewhouse was renovated for a hotel! Talk about going all in on a beer weekend in Milwaukee. Located directly across from Pabst and a block away from MKE Brewing, this hotel is a nice choice on the outskirts of the city.
Homewood Suites By Hilton Milwaukee Downtown
If being central and being near a food hall is your kind of place, then look no further than Homewood Suites. Just a block off the water and near the Milwaukee Public Market, this hotel is a good suite option for in the city.
Slightly south – The Iron Horse Hotel
Located in the southern end of the city, this hotel is walkable to a distillery and a handful of breweries. Known for it's modern and chic room décor, the rooms are spacious and they are pet friendly.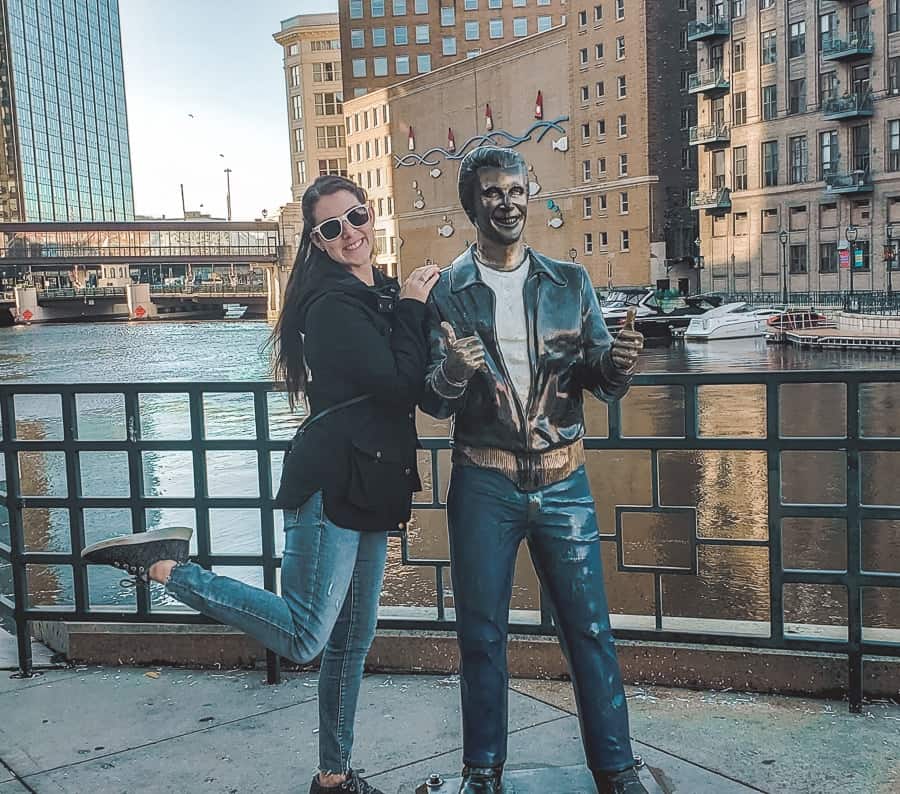 If you're planning on visiting Brew City and creating your own self-guided brewery tour in Milwaukee, remember to pack your drinkin' shoes.
While the big brewers like Pabst and Miller are mainstays in the Milwaukee beer scene, craft beer is alive and well here and crafting new favorites with old world twists.
With such a short time in the city, we know we missed a lot.
Frozen custard is definitely a Milwaukee thing as Milwaukee has the highest concentration of frozen custard shops in the world, but we just didn't have enough stomach space (or time) to make it to one of these shops.
Also, while at the airport on our way out, we made sure to indulge in a Wisconsin-style Old Fashioned, which is your typical Old Fashioned, but with brandy instead of whiskey.
Chris really enjoyed it and will be making these again at home.
All in all, we had a great weekend and enjoyed some fantastic Milwaukee breweries and beers. We highly suggest a weekend getaway to Milwaukee (or longer if you have the time).
P.S. We were always drinking Wisconsibly. We did this self-guided tour at a reasonable pace, shared flights and drinks, drank water at every place, and ate frequently.
Always drink responsibly. Never drink and drive (this includes scootering).