A Local's Guide for fun things to do in Richmond, VA
Are you looking for fun things to do in Richmond, VA? Richmond, Virginia is one of the best-kept secrets on the east coast of the U.S.
Only 2 hours west of Virginia Beach, 2 hours south of Washington, D.C., and 1 hour east of the Blue Ridge Mountains, Richmond is a great base for lots of fun adventures.
Whether you are looking for outdoor activities or historical experiences, there are so many fun things to do in Richmond, VA.
Samantha was born and raised in Richmond (aka RVA) and loves to show off her city. While we don't currently live there, we come back frequently to see family and friends.
Short on Time? Here are the key takeaways:
Our top 3 things to do in Richmond are: drinking local at a brewery or distillery, visiting Maymont, and strolling around Carytown.
Richmond has deep historical roots with a lot of sites to see. Our favorite is St. John's Church.
Great rainy day activities include catching a movie at The Byrd or putt a hole-in-one at Hotel Greene.
Psst: We have a bunch of guides about Richmond. Browse them all here.
This post was originally published in June 2019, and was updated in March 2023.
**Boozing Abroad contains affiliate links throughout the site. If you choose to purchase items through these links, we will earn a small commission at NO extra cost to you. Read the full disclosure policy here**
Map of Things to do in Richmond, VA
Click the interactive map below!
HOW TO USE THIS MAP: To view the layers and see the names of the places on this map, click the tab in the top left corner. You can select the check marks to show or hide certain layers. If you select the icons on the map, you will get more information about the point of interest.
HOW TO SAVE THIS MAP: If you select the star icon next to the map name, you can save this map to your Google Maps account. To view it, open Google Maps in desktop or on your phone, select the menu button, go to "Your Places," scroll to the right to Maps, and you will see this map.
Where to Stay in Richmond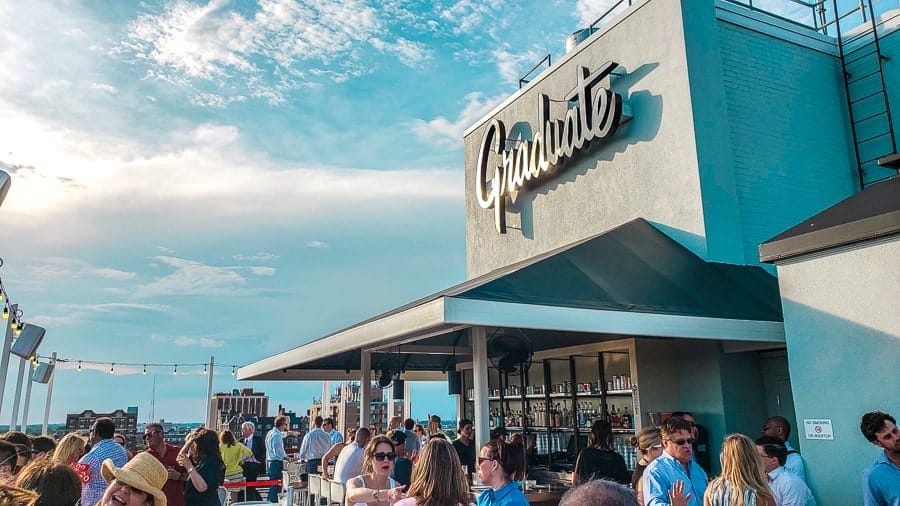 There are a ton of hotel options all around the city, but given some of the must-see things to do in Richmond, VA on this list, we suggest you stay near downtown to be centrally-located and just for ease of getting around.
Booking.com probably has the widest selection of budget (and luxury) accommodations in the world. In our experience, they consistently found the cheapest rooms. We also like their easy-to-use interface and no money down policy. When we book our travel stays, we personally use booking.com.
Here are some hotel suggestions broken down by price range:
Downtown Richmond
Luxury
Quirk Hotel – Complete with an art gallery on-site, which is fitting considering it's in the Arts district, Quirk is a boutique hotel that was named one of the south's best hotels by Southern Living magazine in 2018!
The rooms are super bright and fun, the seasonal and locally-inspired menus at the Maple and Pine restaurant are delicious, and the Q Rooftop Bar offers some great views of Richmond while soaking up some sun and sucking down some drinks!
>>> Check availability, current prices or book now
Mid-range
The Graduate – The Graduate is a newer boutique hotel chain popping up around the country with hotels located in the heart of college towns. It makes sense then for the Graduate Richmond hotel to be so close to the hub of Virginia Commonwealth University's (VCU) campus activity.
With a lobby cafe and bar, game room, fitness room, and a rooftop bar and pool area called The Byrd House, this hotel is a great spot for your Richmond experience. They even rent bikes to guests free of charge so you can bike around town and enjoy the outdoors.
>>> Check availability, current prices or book now
Budget
Linden Row – This hotel has so much history to it and is centrally located right near Richmond's restaurant row, just down the road from The Graduate and The Jefferson Hotel.
Legend has it that Edgar Allan Poe courted his life-long love in the gardens on which the hotel now stands. Since being restored in the 1980s, Linden Row offers guests all of the modern hotel amenities to go along with that classic Southern hospitality.
>>> Check availability, current prices or book now
Scott's Addition Area
Courtyard by Marriott Richmond Scott's Addition
Opened in 2022, this brand new Courtyard is the best option for a hotel in the area. We lived direct across the interstate from this location and we know it's relatively safe and walkable.
Since it's new, you can expect all the sleek modern finishes and up-to-date guest rooms and digital check-in too.
>>Click here to check current prices or book your stay
*Sidenote: While you'll see other hotels nearby by on the Boulevard, we don't recommend staying in that section of town, despite it only being a mile away.
How to Get Around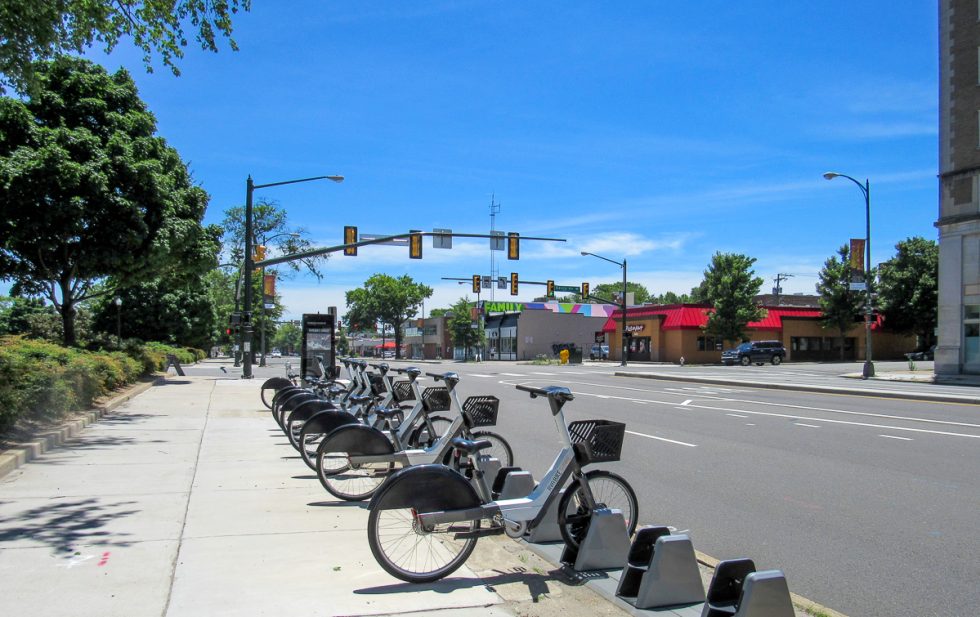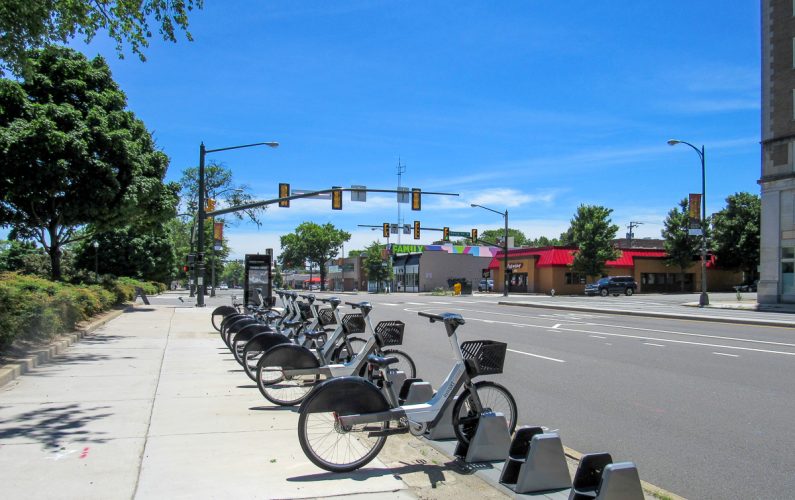 Richmond's transportation network is starting to catch up with the times and offers a variety of options for getting around town. Other than your garden-variety car, Richmond has many other options for you to consider.
Bikes – Richmond has shared bike stations in various locations throughout the city. Most of the stations are located in highly-visited places/neighborhoods, so you'll likely have no problems finding a docking station if you're sightseeing. Check them out online to see where to find the stations.
The Pulse (Bus) – The Pulse is an expedited bus service running about every 10-15 minutes, that goes right through the heart of the city (hence the name) on Broad Street and Main Street. It spans from the east tip of Richmond at Rocketts Landing all the way to the near west end of Richmond at Willow Lawn. At less than $2 a ride, it's definitely budget-friendly!
Uber/Lyft/taxi – Uber and Lyft drivers are all over the city and we have never had any trouble getting one, even for our 4:00 AM rides to the airport!. Full disclosure, we haven't been in a taxi in a while, but we still do see them at the airport.
Rental car – Rental car gives you the freedom to really explore the city, but we don't really thing you need to get a rental car for your trip to downtown Richmond. Parking downtown can be a hassle, and if you haven't parallel parked since your driving test when you were 16, you won't like your options for parking in the city and surrounding neighborhoods. If you are heading out to the West End, definitely get a car!
Things to do in Richmond, VA
Walk or Ride on Canal Walk to the Virginia Capital Trail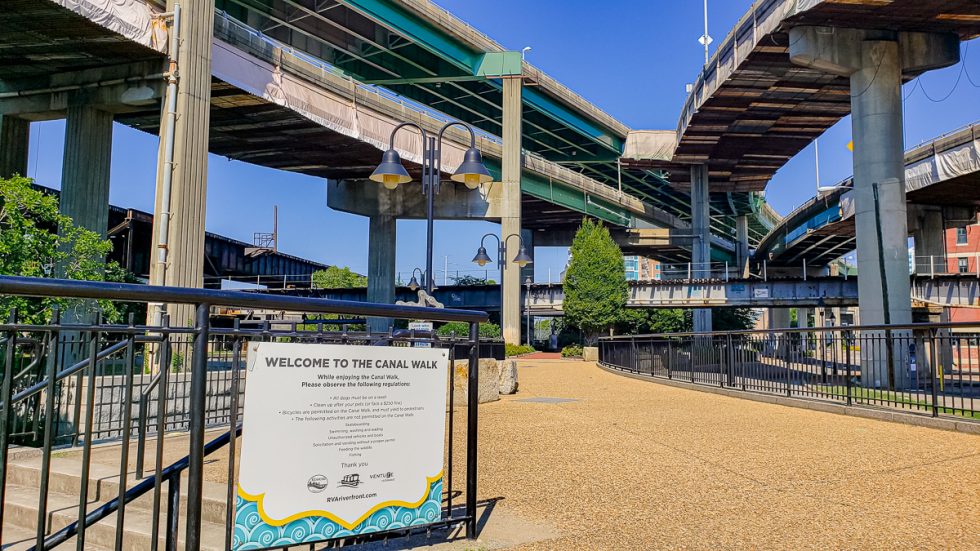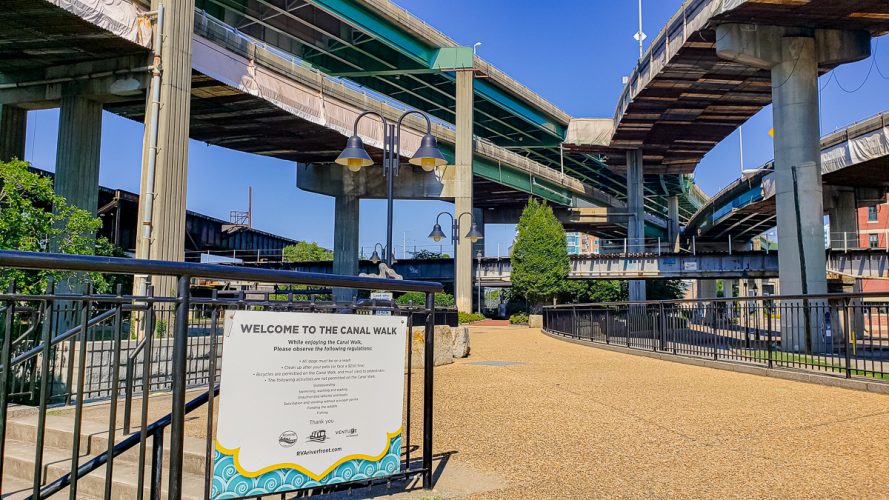 Richmond's first canal system was established by George Washington in 1789. It connected trading markets as far west as the Rocky Mountains, even though it doesn't connect to the Rockies via water.
However, it did open the Richmond harbor to trade and helped the city flourish!
There are two great options for exploring the canal is Richmond:
1 – Bike the Capital Trail
2 – Boat Ride in the Canal
Bike the Capital Trail
If you enjoy biking, you need to take a ride on the Virginia Capital Trail. The 52-mile trail is a multi-use running and biking trail that goes from Richmond to Williamsburg.
We've seen many different types of events happening on the trail, from bike races to running races, and you can even walk your dog or rollerblade on the trail if you want.
You can rent bikes on the Canal Walk via RVA Bike Stations or at the trailhead near Dock St.
If you're up for the 52-mile challenge, there is a winery, Upper Shirley Vineyards in New Kent, located at about the halfway mark between the two cities if you are looking for some liquid motivation.
Canal Boat Rides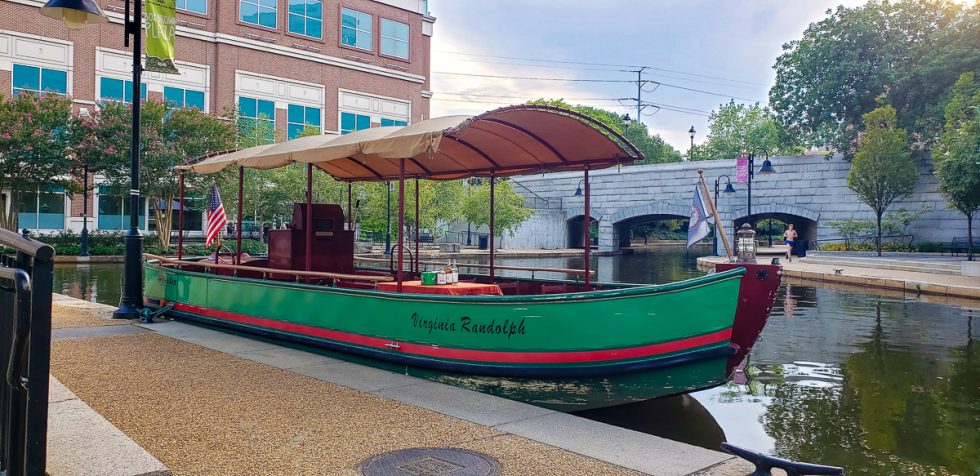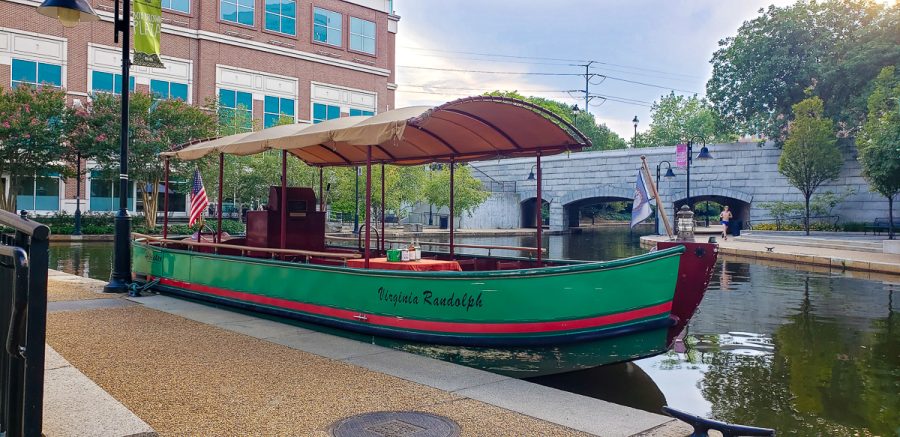 Today, you can ride down the canal on a cruise and see first-hand the design of the canals, the unique Triple Crossing railroad, historic tobacco warehouses, and more.
The more traditional and family-friendly option is a Historic Tour operated by Venture Richmond.
This canal cruise operates daily from May through September (varying hours in April, October, and November).
The Riverfront Canal Cruise prices start at $8/pp and last 40 minutes. If you want to rent a private charter, prices per boat start at $150. Click here to learn more.
For a more lively option, you can book a Paddle Boat Booze Cruise via Sea Suite Cruises which leaves out of Rocketts Landing.
While this technically doesn't cruise through the canal, it does give you the option to get sipsy with a 1 hour and 45 minutes ride. The cruise is BYOB and BYOF (bring your own food). No hard liquor is allowed.
Prices for this start at $40/pp. To learn more or book a reservation, click here.
If you aren't in the mood for cruising, you can walk parts of the canal through downtown Richmond and read about all of the cool stuff on the historic plaques and signage.
Watch out for bikers as the Canal Walk is where the Virginia Capital Trail begins!
Feed baby animals and picnic at Maymont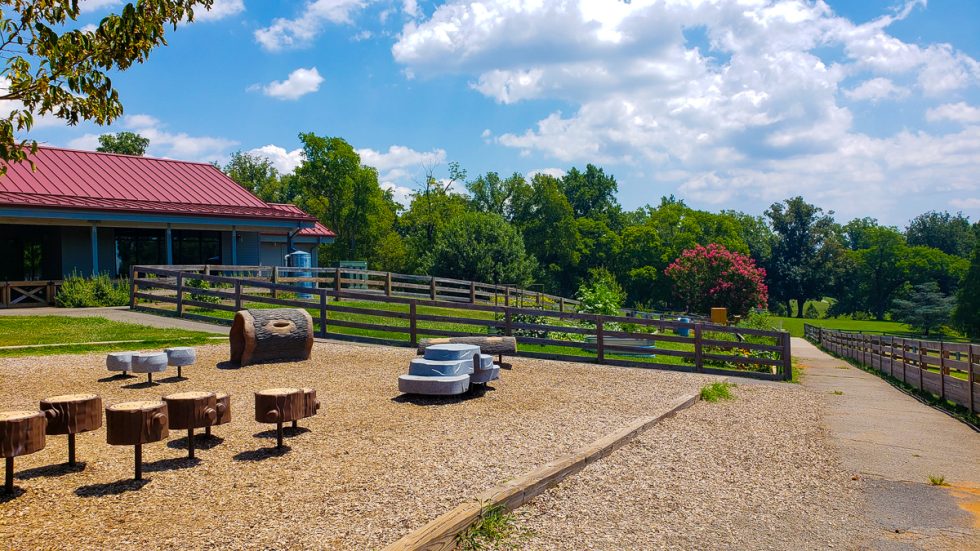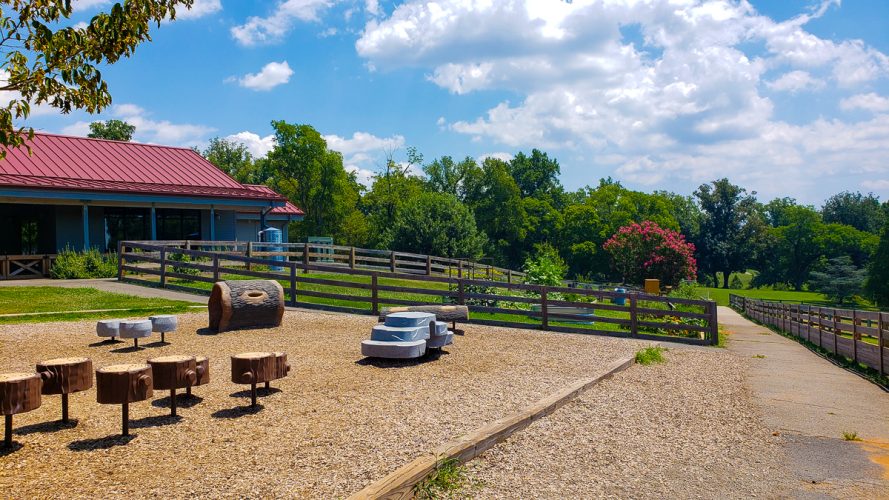 For the non-locals visiting Richmond, Maymont is a hidden oasis near the downtown area and needs to be added to your things to do in Richmond, VA list!
Maymont was originally a private 100-acre Victorian estate but was gifted to the city of Richmond which made it into a public park making this stop FREE (mostly).
Things to do in Maymont:
Picnicking on the grounds

Feeding baby goats and sheep and other animals at the petting zoo (bring quarters for food)

Touring the historic house museum

Wandering through the Japanese Garden or English Garden

Viewing the bears or big cats at the zoo

Visiting the Nature Centure
While the grounds, gardens, and petting zoo are all free, donations are suggested.
The Nature Center and House Museum charge between $3-$5 per person.
Local tip: If the weather is nice (and hot), you may get lucky and find the snow-cone man near the historic house museum! A refreshing treat to cool you down and sugar you up for the walk to your car, and yet another excuse to be a kid again!
What to know before you visit Maymont:
The mostly paved trails take you around the 100-acre property.

There are extensive hills so be prepared to walk a lot.

We recommend sneakers or comfy walking shoes!

Don't forget to bring some water and a hat as there are long stretches of trail with no shade. In the summer, it gets very hot!

There are only a handful of bathrooms on site. Be sure to consult the map before you start exploring!
Get Sipsy at the local Breweries in RVA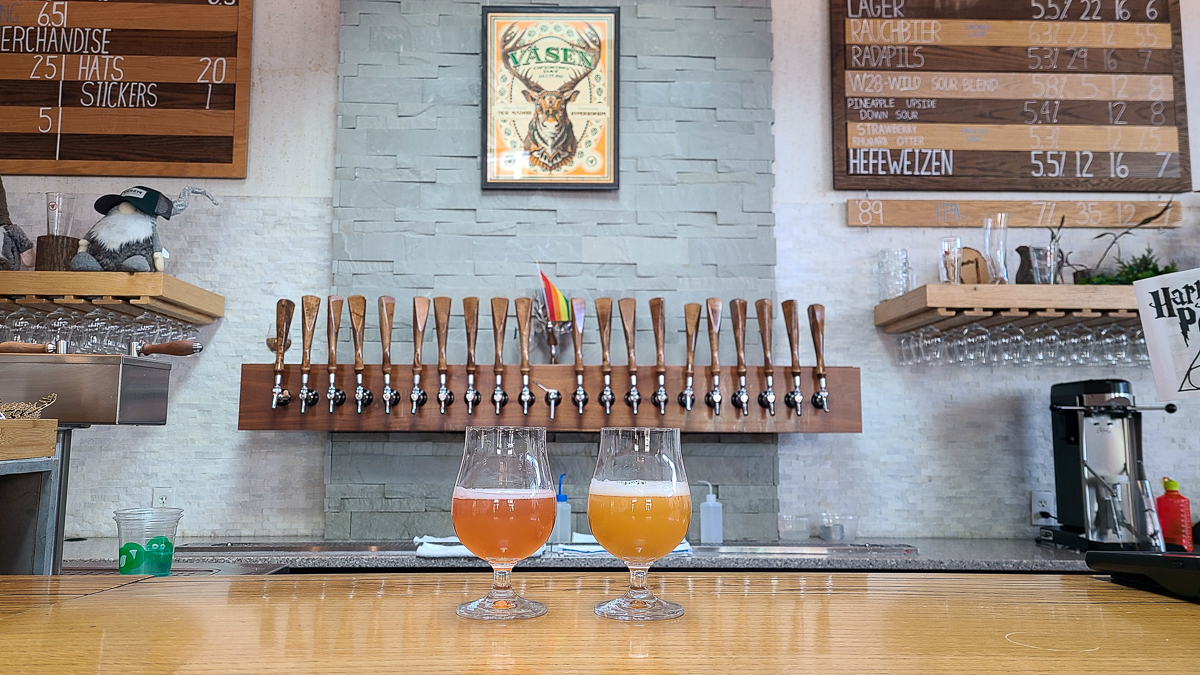 Make this the top of your list for things to do in Richmond, VA.
You can find breweries (and distilleries, cideries, and a meadery, for what it's worth) scattered all over the city, but if you want a solid day of brewery-hopping and not having to worry about transportation, then head to Scott's Addition.
Dubbed Richmond's booziest neighborhood and breeding ground for all things craft beer, this 10 by 10 block neighbrhood is a top spot!
We lived in Scott's Addition when there were only 2 breweries in the area. Today, it is now home to over 15 breweries, cideries, meaderies, and distilleries.
And many more nearby litter this small patch of RVA, making this one of the hottest neighborhoods in the city, if not the region!
Each brewery seems to have their own style of beer that they have perfected, from IPAs and pale ales to sours and saisons.
Hard to pick a favorite around here since they change their lineups so frequently nowadays.
To help you out, we've put together a guide of all of the breweries in Richmond and how to hop around safely and efficiently.
Get your spirit on at local distilleries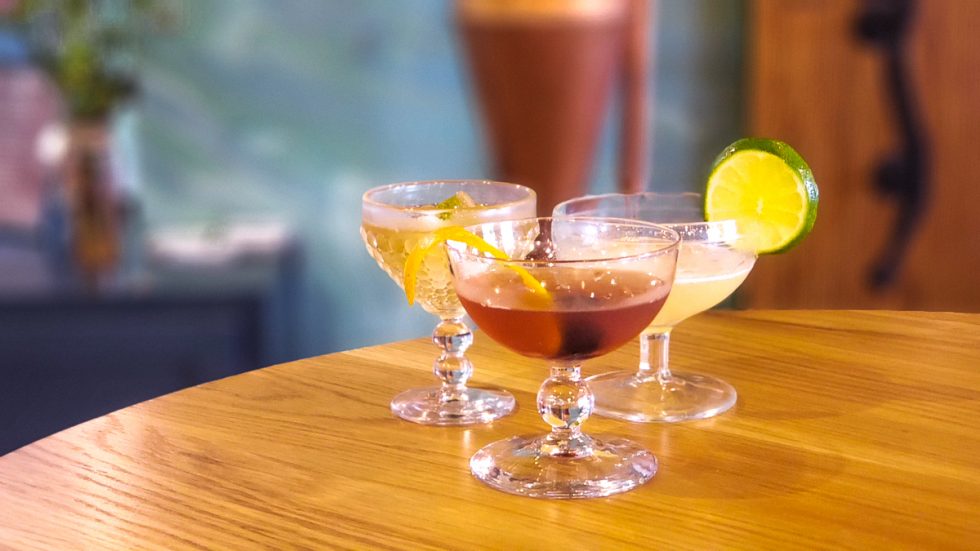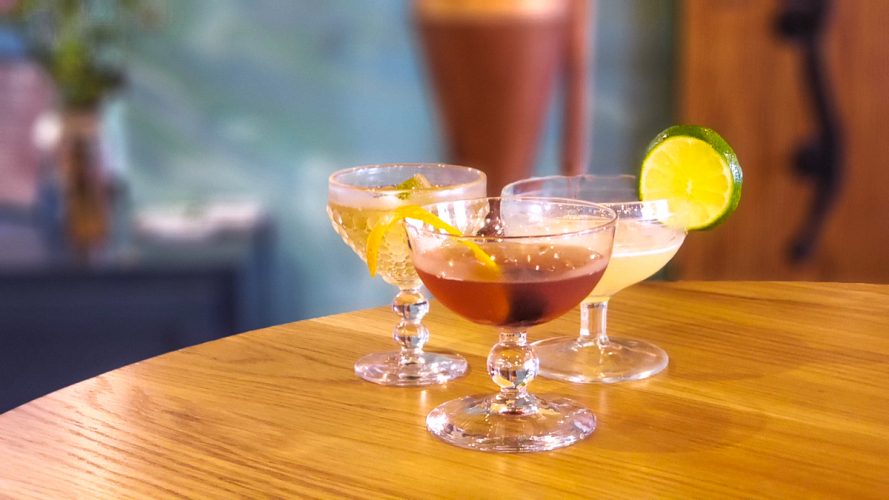 If we haven't mentioned it yet, Richmond loves booze. Distillery hopping can be a fun and unique experience when looking for things to do in Richmond.
To see where to go and how to hop around, read our post, The Ultimate Guide to Richmond Distilleries in Virginia.
Search for Presidents and Ghosts in Hollywood Cemetery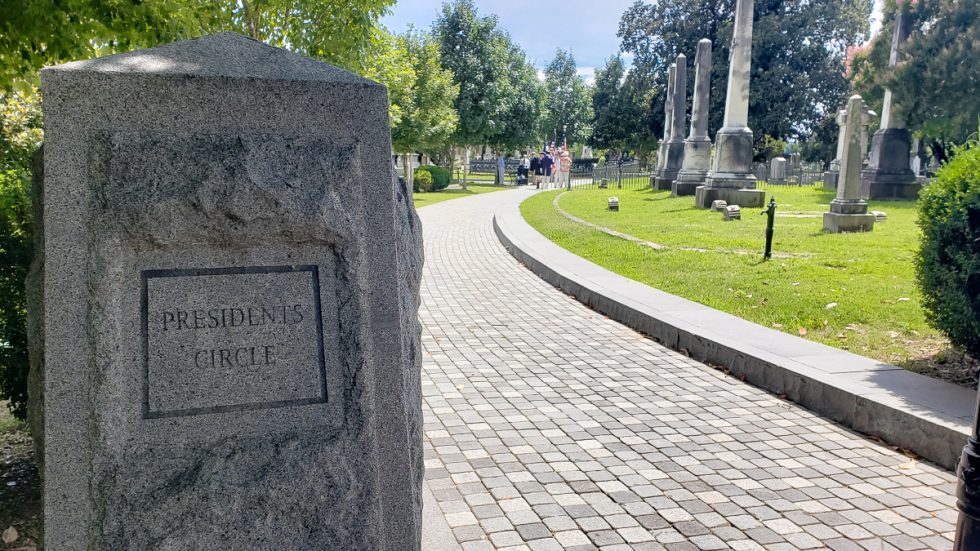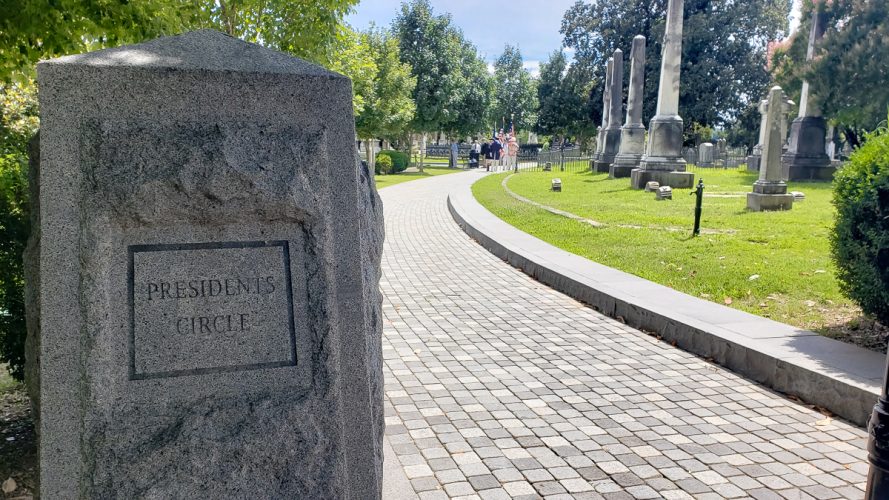 Hollywood Cemetery (named for the numerous holly trees on the property) opened in 1847 and is considered one of the most famous cemeteries in America.
Here, you can find the final resting places for President John Tyler and President James Monroe. This is another FREE activity when visiting Richmond.
Hollywood Cemetery became one of the largest locations for military funerals during the Civil War, burying a total of over 18,000 Confederate soldiers.
In the normal cliché fashion, Hollywood Cemetery is also known for being haunted by the Richmond Vampire. While the story is unclear to the younger generation, the older generations can tell you about the urban legend.
After a railroad tunnel collapsed in 1929, a jagged-tooth, man-like creature doused in blood was seen in Hollywood Cemetery entering the mausoleum of a man named W.W. Pool and can be spotted in Hollywood Cemetery at night.
While this urban legend has since been debunked, the story of the Richmond Vampire continues to be passed down to future generations, keeping the ghost story alive.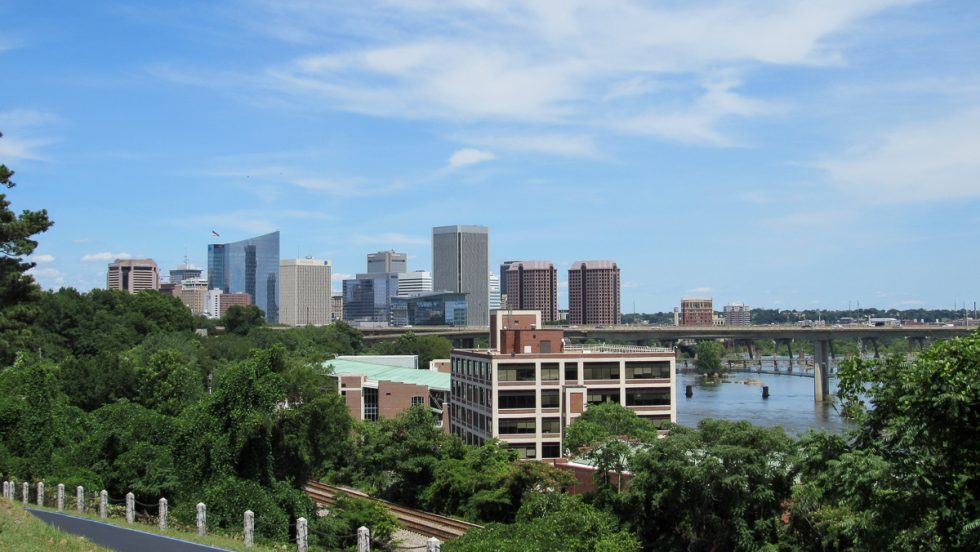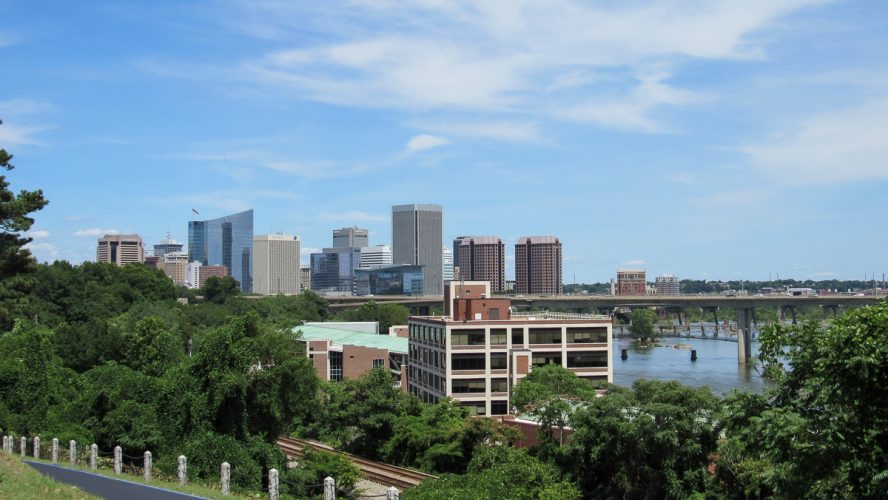 More than just graves and vampires, Hollywood Cemetery offers one of the best views of downtown Richmond, the James River, and Belle Isle.
If you don't want to brave it alone or are looking for an in-depth history lesson, there are various tour options to get you through this maze of a cemetery, including Segway tours, walking tours, and even a virtual tour.
Check out their website for more information.
Find that unique fashion item and clap along with an organist in Carytown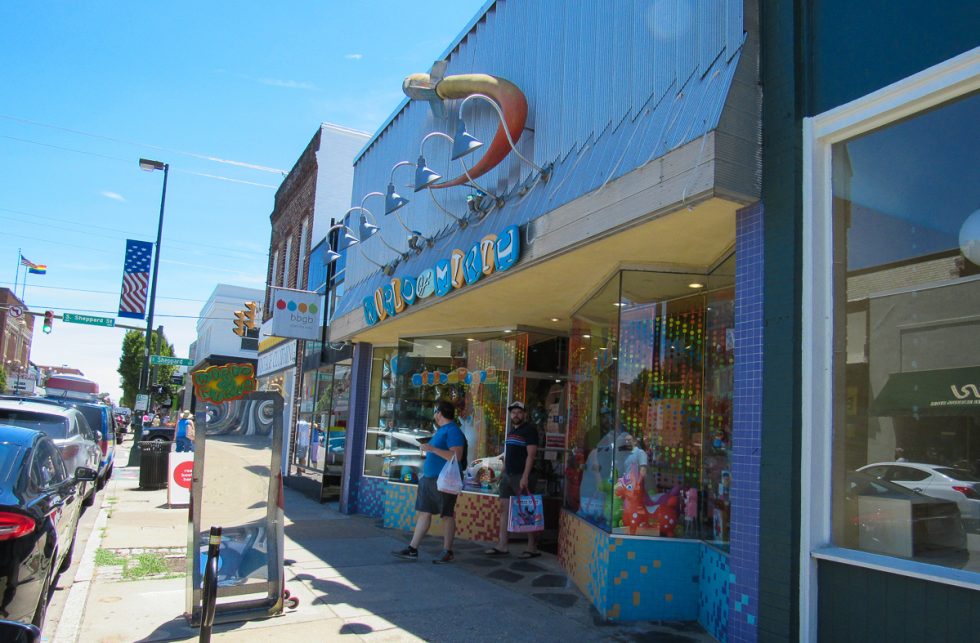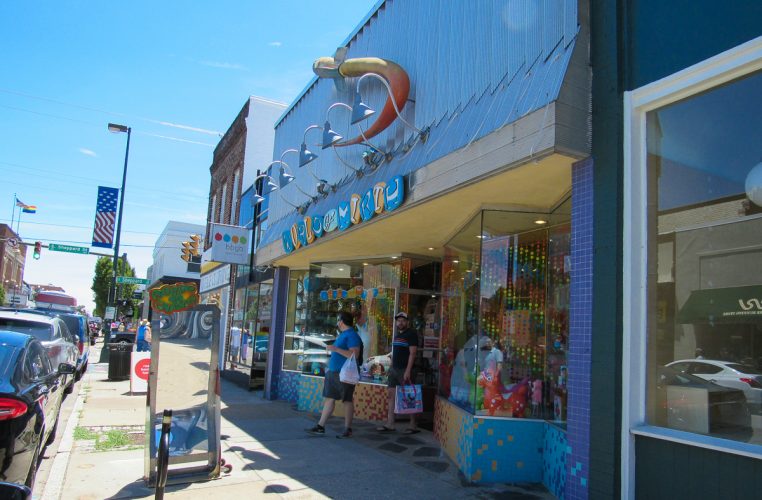 Carytown is the top shopping destination in Richmond for local boutiques and stores and was coined as the "Mile of Style".
On this small nine-block stretch of Cary Street, you'll be amazed at how many options there are for shopping and dining.
Most of the shops in Carytown are open from 10:00 am to 6:00 pm, Monday through Saturday, and 12:00 pm to 5:00 pm on Sundays.
Boasting an interesting collection of trinkets and inappropriate greeting cards, Mongrel is one of our favorite shops in Carytown (not suitable for children or the delicate-minded).
With more than 25 restaurants and a local brewery/urban winery combination, you will be able to refuel and recharge after a day of shopping. Grab a seat at a table by the window and get your people-watching on!
We suggest trying lunch at the New York Deli or munching on some tasty sweets at For the Love of Chocolate.
If you are up for a dive bar & diner, Galaxy Diner has been in Carytown since Samantha was a child and she still raves about the great milkshakes!
If you are getting thirsty (who isn't), be sure to stop in to the Jasper for an epic craft cocktail or Garden Grove for a beer or wine!
The Byrd Theatre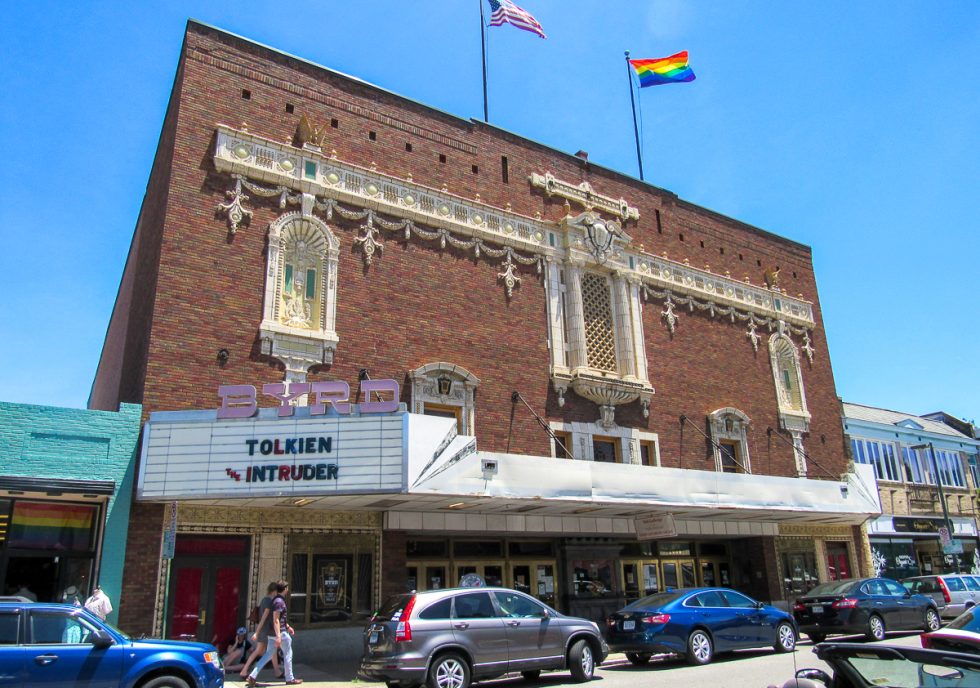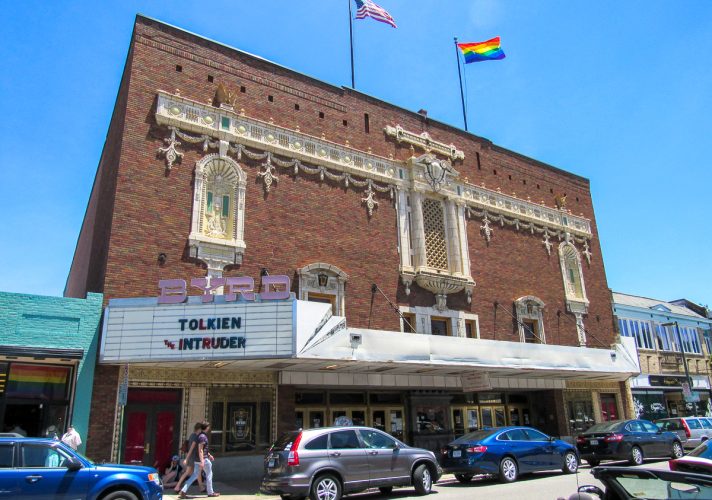 At the east end of Carytown, you'll find the historic Byrd Theatre.
Named after the founder of the city, the Byrd Theatre is an iconic Richmond landmark that has been open since Christmas Eve in 1928.
Fun fact, it was the first movie theater in Virginia to be built with a sound system incorporated as this was during the time when we were transitioning from silent to talking movies.
The Byrd just drips with history and has played thousands of movies over the years and even hosts the Richmond French Film Festival every year, too.
Most movie theaters charge $10+ for a movie ticket, BUT the Byrd's ticket price of $5 is a steal (some newer releases/special screenings are more), especially considering the relatively new releases they screen!
On Saturdays, the Mighty Wurlitzer Organ is played throughout the day before showtimes by the house organist.
Super cool, and local, experience and is a must-do when looking for things to do in Richmond, VA.
Sip wine and enjoy art at the VMFA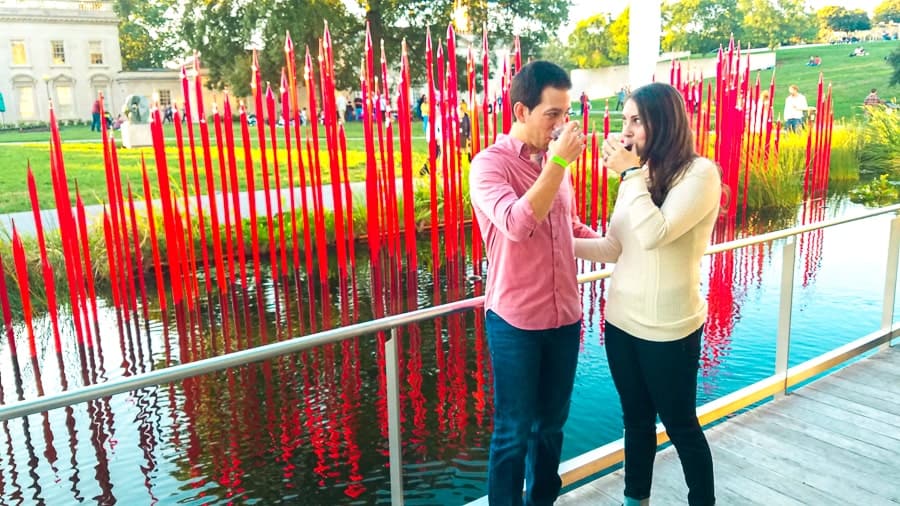 Where can you find the largest collection of Fabergé eggs outside of Russia?
In little 'ol Richmond, of course….at the Virginia Museum of Fine Arts, or the VMFA as the locals call it.
It's FREE admission (for the non-traveling exhibitions) and open 365 days a year!
With some hugely popular rotating exhibitions such as the Hollywood Costume exhibit and the Mummy exhibit, along with some Picasso and Van Gogh thrown in there too (not to mention the always-on-display Fabergé eggs), it's no wonder that the VMFA makes this list of top things to do in Richmond, VA!
Now, we know what you are thinking, get to the happy hour and wine please.
On Friday nights from 5PM to 7PM, the VMFA hosts a popular happy hour in the café.
Our personal favorite is to grab a glass of wine (or beer) and head out to the terrace, which overlooks a koi pond, and/or sit on the huge lawn area and enjoy the weather!
Bring a blanket and some snacks and dog watch for a bit.
Local tip: get there early around 4:15 and do the museum first and get a good parking spot on the Boulevard. Leave your car and walk over to the Fan for dinner afterwards! We suggest Brunch, 3 Monkeys, or Social 52.
Embrace your inner royalty at Jefferson Hotel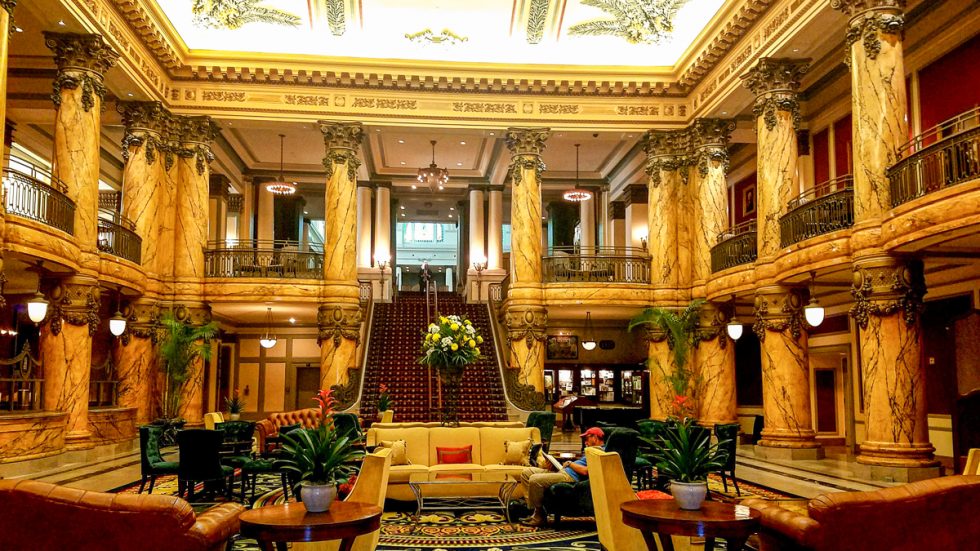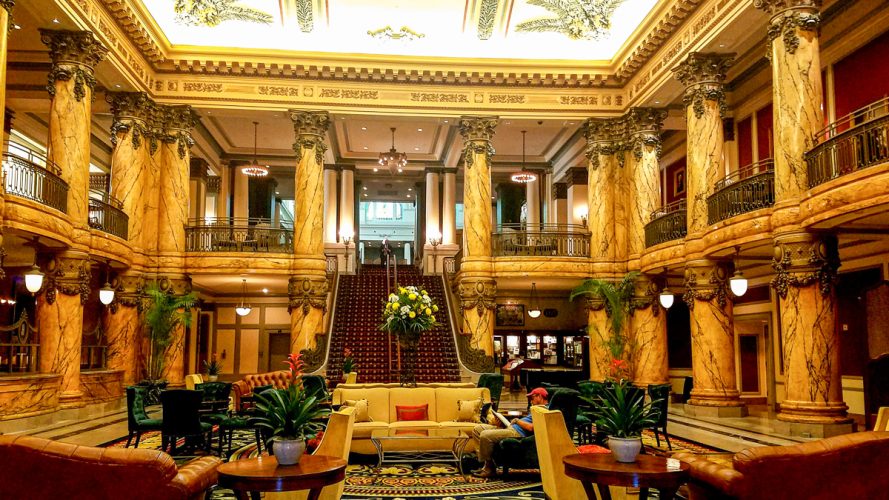 Established in 1895, The Jefferson Hotel is one of the most luxurious hotels in the United States and the top hotel in Richmond.
Even if you aren't staying the night, you can be pampered at their spa or enjoy a glass of bubbly in their majestic lobby.
Patrons have included: 13 United States presidents, famous writers, and celebrities, including the likes of Henry James, Charles Lindbergh, The Rolling Stones, Dolly Parton, Elvis Presley, and Anthony Hopkins, among many others!
Also, make sure you check out Lemaire on the second floor for a little bit of an upscale happy hour experience. Featuring a wine list of over 200 offerings and some great appetizers to nibble on, Lemaire is a great spot to kick back for some drinks with yummy appetizers!
The Jefferson Hotel also boasts one of the most EPIC brunches in Richmond.
To find out more about it, read our The Best Richmond Brunch Guide.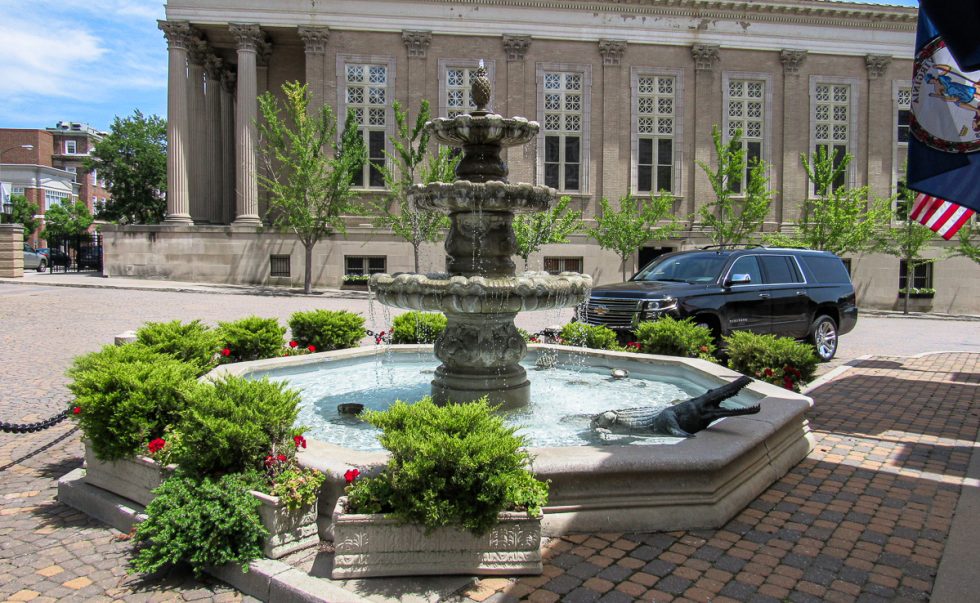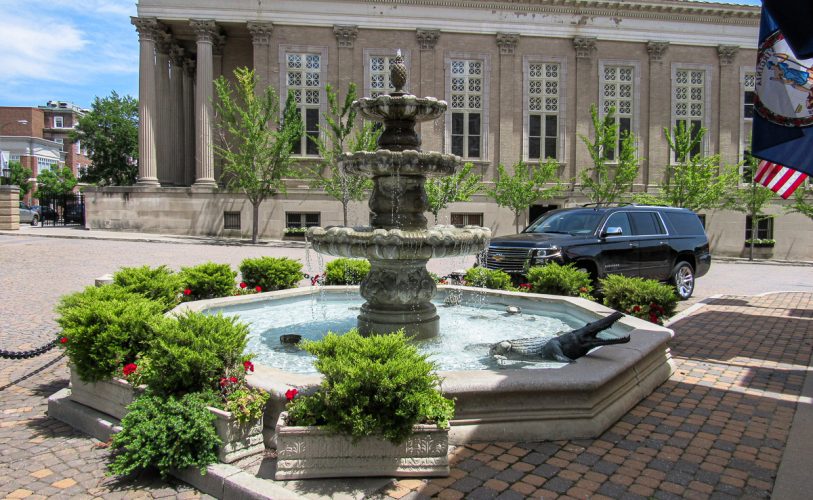 And this may sound weird, but don't miss the alligators!
Back in the early 1900s, alligators lived in the fountain just outside of the main doors.
The real, live alligators are long gone from The Jefferson Hotel, for obvious reasons, but a bronze statue remains near the main hotel entrance in their honor!
Take in views of the city from Libby Hill and Church Hill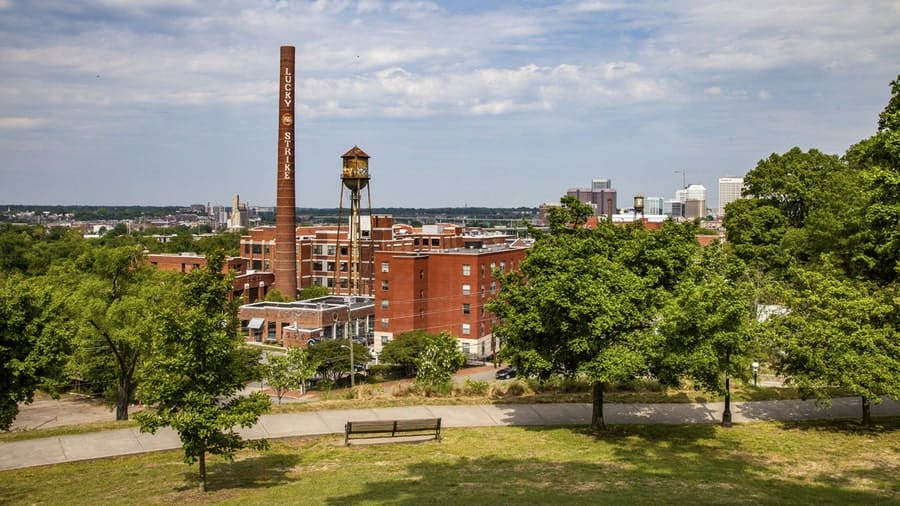 Despite the fact that the first known settlers to Richmond were in the early 1600s, it was the view from Libby Hill in 1737 that actually gave the city of Richmond its name.
William Byrd II named the city based on the view from this hill overlooking the city and the James River and its striking resemblance to the view of the River Thames from Richmond Hill in England.
Located in the historic neighborhood of Church Hill, you can stroll around the neighborhood admiring homes from the 1800s as well as take in the beautiful sunset over the city's skyline and the river!
We lived in Church Hill for a few years and the neighborhood itself is charming.
If you are looking for a treat, be sure to visit Proper Pie or Sub Rosa Bakery in the neighborhood.
St. John's Church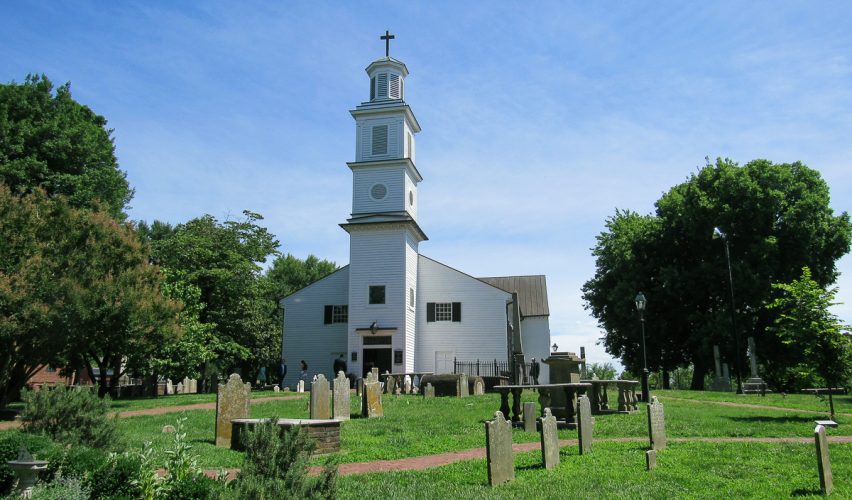 Located a few blocks from Libby Hill Park is historic St. John's Church.
It was here, in 1775, that Patrick Henry gave his famous "Give Me Liberty Or Give Me Death" speech to the Second Virginia Revolutionary Convention, and is considered one of the turning points of the Revolutionary War.
On Sundays during the summer, you can witness a re-enactment of the speech for around $6 a person or you can set up a tour of the grounds for free.
Grab some local grub
To say that Richmond is a foodie town is an understatement. Richmond loves food just as much as it loves booze and there are dozens of good local restaurants to get your grub on.
To narrow down the list, here are the top places we suggest for each meal:
Breakfast – See our compete suggestions here: best brunch in Richmond, VA guide
Moore Street Cafe – Scott's Addition area
This diner / cafe has been turning out incredible breakfast staples for decades. With generous portions and personal pitchers of mimosas, there is no shortage of delicious options.
Lunch
ZZQ – Scott's Addition
Texas Craft BBQ took this neighborhood (and Richmond) by storm. While there are several southern style BBQ options (such as Buz and Neds), ZZQ brings Texas to the south.
There is ALWAYS a line and they do sell out so be prepared to wait.
Dinner near downtown RVA – La Grotta Ristorante
We might be a bit biased in this suggestion since we had our rehearsal dinner for our wedding here, but it goes without saying that this might be the best Italian food in Richmond.
Located in the Marriot Hotel downtown, La Grotta is an upscale Italian restaurant with seriously authentic food.
From carpaccio to calamari, you will find high quality, homemade dishes and pasta that will have your taste buds saying "perfecto".
We highly suggest making a reservation or be prepare to wait.
Best place to go for a view – The Boathouse in Rocketts Landing
To be completely honest, the food here is just okay, but you're coming here for the 5-star views.
Get an appetizer during happy hour and watch the sunset on their deck overlooking the James River.
Putt a hole-in-one at Hotel Greene
Hotel Greene is a fun thing to do in Richmond, VA for everyone.
Modeled after an old Eastern European hotel from the early 1900s, Hotel Greene is an indoor putt-putt course!
It's so much fun to see how they weaved the hotel theme into the golf game.
While it won't be the cheapest game of putt-putt you'll ever play, it might be the tipsiest game ever with a complete cocktail bar and small food menu.
We highly suggest making a reservation but you can walk-in without a reservation. Just be prepared to wait a little bit at the bar.
Attend a Festival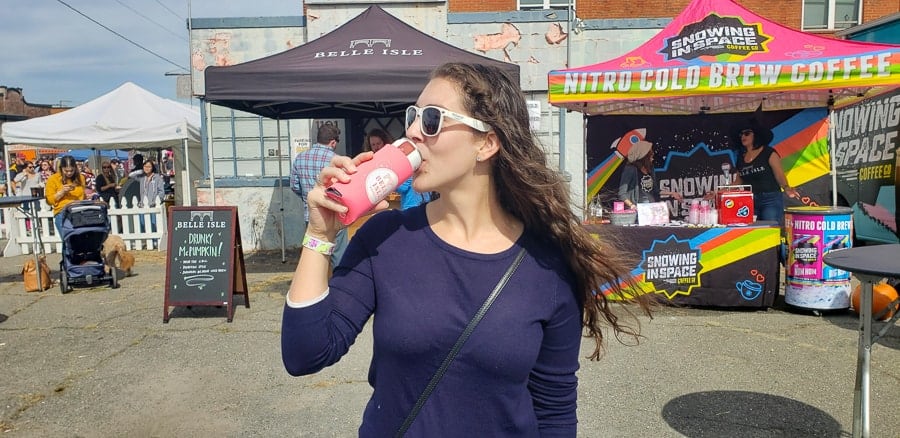 In addition to everything else going on in Richmond, we love a good festival. Festival season really kicks off at St. Patrick's Day and goes through Halloween.
To see when the main festivals are, check out our guide to Festivals in Richmond.
A city that combines big-city amenities with small town charm, Richmond has that Southern historical charm, but also the hip, new trends.
Whether you're in Richmond by yourself, with friends, with a significant other, or with the whole family, there are so many things to do in Richmond, VA, you are sure to find fun to keep you busy for a weekend and beyond.
From numerous breweries to outdoor adventures and art museums to delicious restaurants, the city of Richmond really has it all!