The 4 Best Wineries in New Kent, Virginia
Are you looking for a winery in Richmond? The wineries in New Kent are something unexpected and perfectly located between Richmond, VA and Williamsburg, VA.
New Kent County is only about 30 minutes east of downtown Richmond, and with its small-town charm and picturesque and delicious wineries, you need to make these places stops on your boozy adventures!
Rumor has it that George Washington and wife Martha were married at a church just up the road from New Kent Winery – yay history!
We live in Richmond and chose to start at the farthest New Kent wine stop from Richmond and work our way back closer to home.
However, this route can easily be done in reverse if you are continuing on to Williamsburg.
Short on Time? Here are the key takeaways:
New Kent County has some surprisingly great wine.

Based on our ranking formula, Jolene Family Winery is #1 while w

e personally ranked Saude Creek #1.

If you have time, Upper Shirley offers a great river view.
Psst:  We have a bunch of guides about Richmond. Browse them all here.
This post was originally published in June 2019, and was updated in June 2023.
**Boozing Abroad contains affiliate links throughout the site. If you choose to purchase items through these links, we will earn a small commission at NO extra cost to you. Read the full disclosure policy here**
Map of Wineries in New Kent
Click on the interactive map below.
HOW TO USE THIS MAP: To view the layers and see the names of the places on this map, click the tab in the top left corner. You can select the check marks to show or hide certain layers. If you select the icons on the map, you will get more information about the point of interest.
HOW TO SAVE THIS MAP: If you select the star icon next to the map name, you can save this map to your Google Maps account. To view it, open Google Maps in desktop or on your phone, select the menu button, go to "Your Places," scroll to the right to Maps, and you will see this map.
Best Wineries in New Kent
We tend to have some pretty strong opinions about what makes a winery the best. Instead of telling you why we think something is the best, we've devised our own ranking system based on two factors:
Public ratings (sites such as Google and Yelp)
Popularity
The popularity ranking show which one is most loved by the number of average reviews written.
Since Upper Shirley isn't technically in New Kent, we have left them off the ranking. If we included them, they ranked at 4.41, sliding into spot #4 and bumping New Kent Winery to #5.
In the end, we are ranking each of the wineries in New Kent by this formula to determine the "best" one. If you want to learn more, read our ranking formula.
| | | |
| --- | --- | --- |
| Rank (2023) | Winery | Score |
| 1 | Jolene | 4.80 |
| 2 | Saude Creek | 4.79 |
| 3 | Gauthier | 4.76 |
| 4 | New Kent Winery | 4.07 |
1. Jolene Family Winery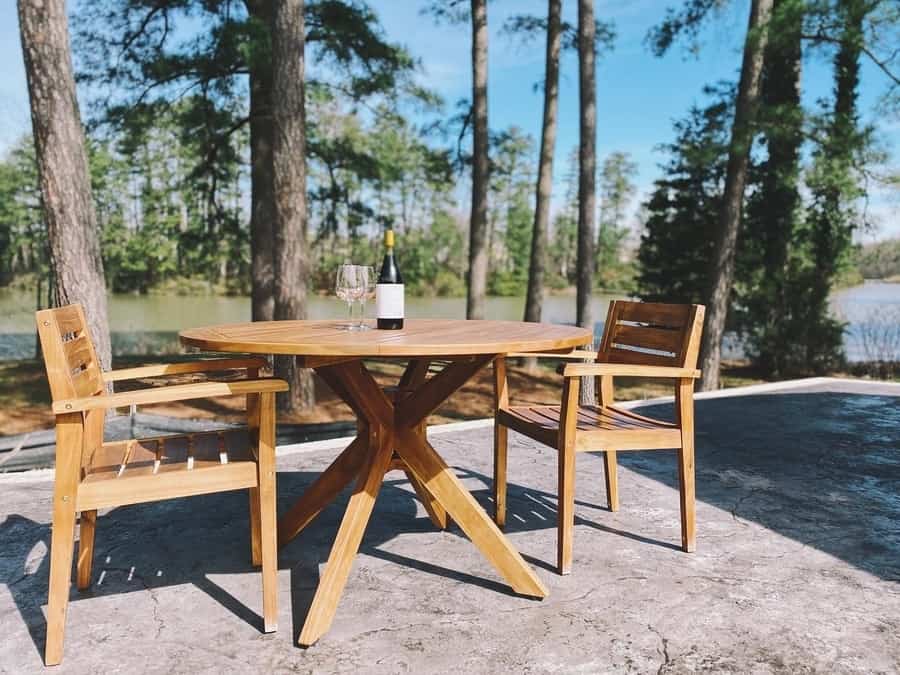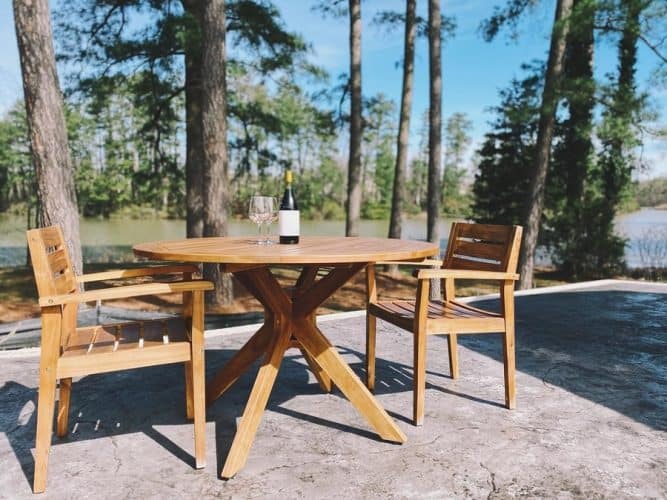 The last winery on the way back towards Richmond (only about 9 miles from New Kent Winery) is also the newest winery to the bunch.
Jolene Family Winery is just that, a family-run winery owned by three siblings who grew up on the same property where the winery now sits.
The winery is located right on a lake so the scenery around here is beautiful, made even better, of course, with a glass of wine in your hand.
They are making many red and white blends, as well as a Cabernet Franc, Chambourcin, Merlot Rosé, Pinot Grigio, and Vidal Blanc.
2. Saude Creek Vineyard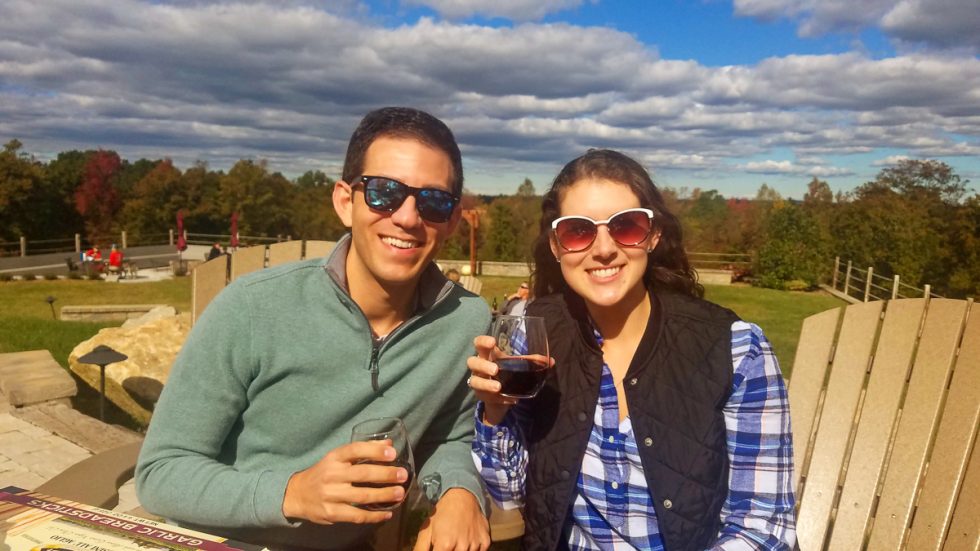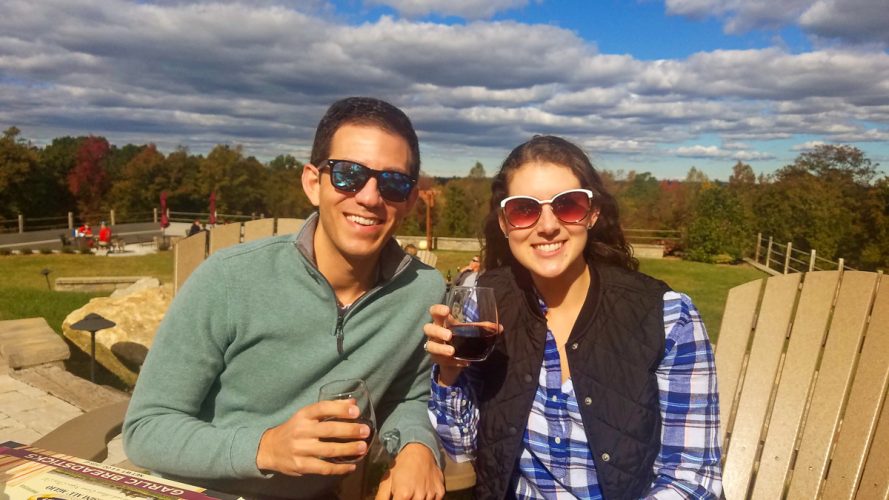 With a large outdoor seating area, Saude Creek Vineyards is situated high on a hillside adjacent to the Pamunkey River in New Kent County with some of the best views in the county.
On clear days, you can see the paper mill in the neighboring town of West Point.
Don't worry though, the paper mill smell doesn't travel this far!
Saude Creek has two options for tastings:
Classic ($10) which includes 7 wines

Premium ($17) which includes the wines from the Classic tasting plus an additional 4 samples of their reserve wines
One of our favorite wines from the New Kent area is the Saude Creek Red, a smooth, lighter semi-dry wine. Our suggestion: pack a picnic and sit outside on the Adirondack chairs and enjoy your bottle! Saude Creek Vineyards also has a great lineup of live music and events.
Check out their Facebook page for a list of upcoming events.
3. Gauthier Vineyard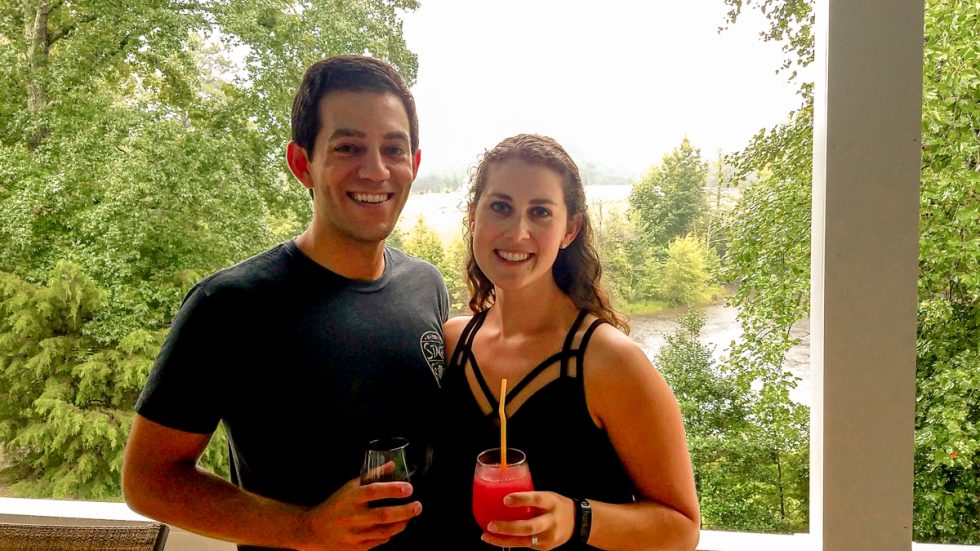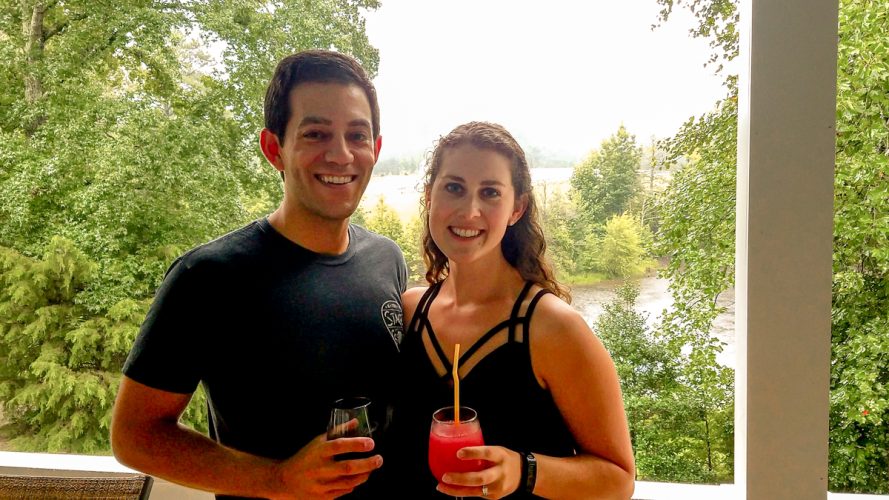 As you drive onto the property for the vineyard, you'll drive next to Gauthier (pronounced go-tee-ay) Vineyard's working farm, complete with an equestrian center and acres of luscious vines.
Following the gravel road, you'll veer to the right at the fork in the road and come up the hill to a beautiful white house adorned with a blue roof, overlooking a small pond.
Walk around the large wrap-around porch (which you could play cornhole on if you wanted to — for some reason, this is how Chris grades all porches) and into the spacious tasting room with a wrap-around tasting bar (I spy a pattern developing).
Now that we have your attention, this Virginia vineyard is great! Located on the eastern edge of New Kent County, Gauthier Vineyards offers two levels of tastings:
Classic ($10), which includes 12 wines (such a great deal!)

Reserve ($12), which includes the Classic tasting plus an additional 2 reserve wines
I don't think you need to even think about this decision (the reserve wine tasting includes 2 delicious port-style wines which are even paired with some chocolate chips to enhance the flavor!).
Did we also mention Gauthier Vineyard has wine slushies during the summer?
Grab yourself a slushie or glass of wine and relax on their porch while gazing across the pond to see the vines. We suggest a bottle of Petit Verdot – one of Samantha's favorite varietals of red wine.
4. New Kent Winery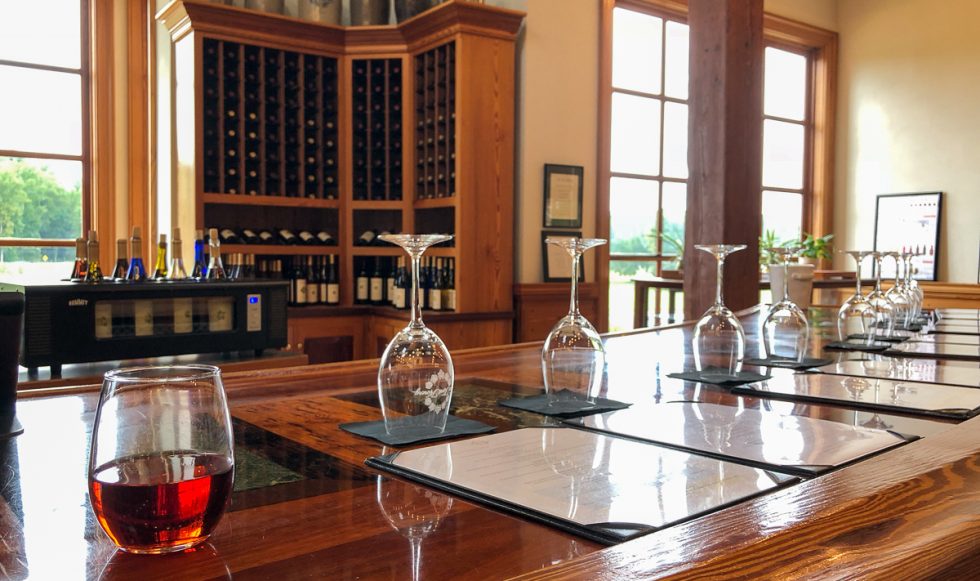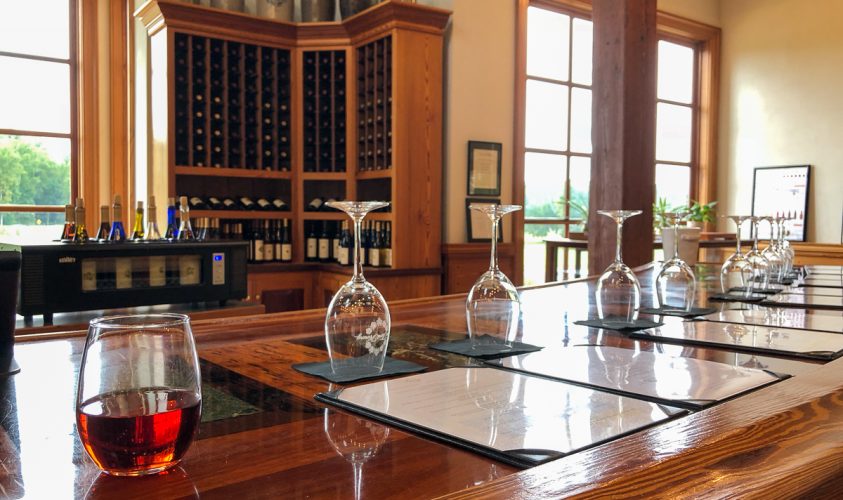 New Kent Winery has an impressive brick building surrounded by vines on the front half which gives it an ultra-luxurious cabin feel. Inside, large wooden beams are exposed with vaulted ceilings and large windows that allow you to peer into the vineyard.
From their large tasting bar, you once again have two options for tasting:
Classic ($10) for 6 wines

Reserve ($18) for Classic plus 4 additional wines
Our favorite is the Meritage, but they are more well-known for their Chardonnay. Our taste buds have come around on Chardonnays of late (maybe we are just getting older?) and we really like the Reserve Chardonnay.
This New Kent county winery has become a great wedding venue and once you visit, you'll know why!
They also host several other events throughout the year including a half-marathon and a 5k race, concert series, and other things like salsa dancing or trivia night.
Be sure to look at their Facebook page for more information and events.
Bonus Stop: Upper Shirley Vineyards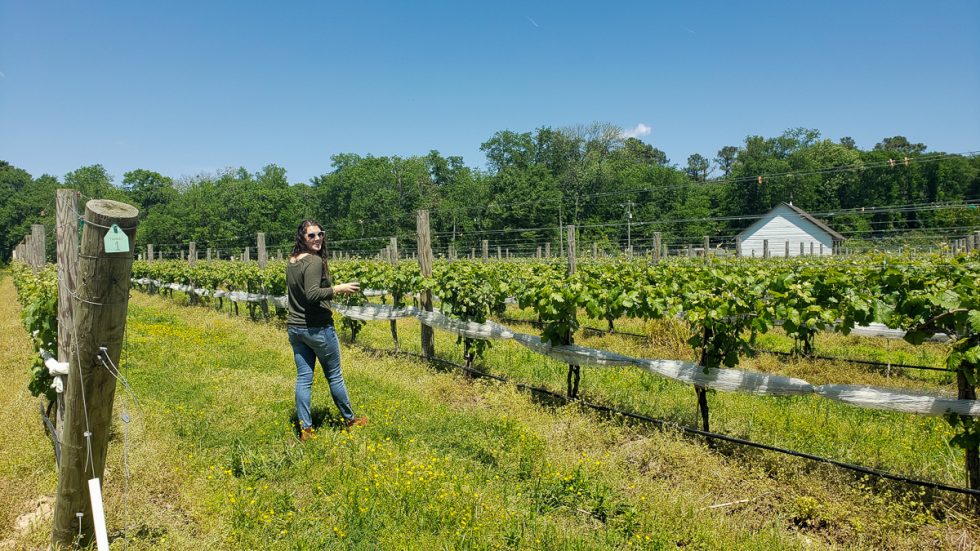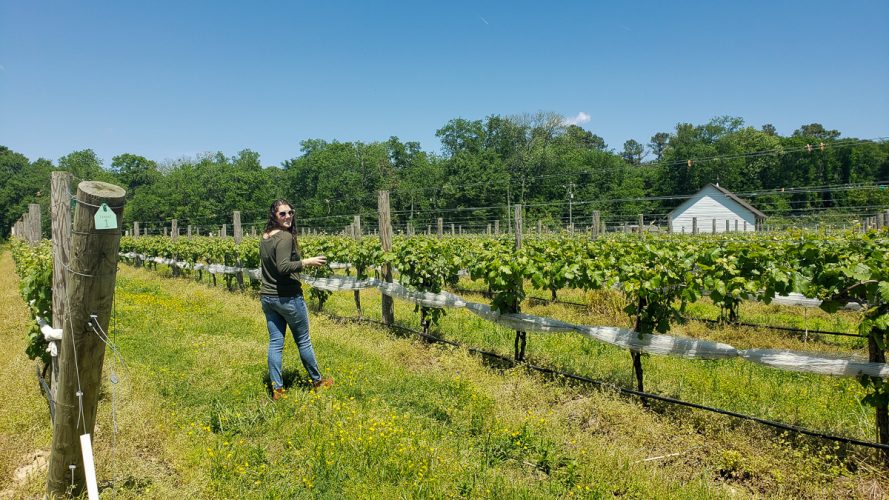 About 30 minutes south of New Kent Winery, you'll find Upper Shirley Vineyards, a large plantation-style vineyard with a backdrop of the James River in Charles City County.
Though not technically in New Kent, it's an easy 35-minute drive from downtown Richmond and just under an hour from Williamsburg. Offering activities like horseback riding through the vineyard or historic bike tours, Upper Shirley offers an all-inclusive tasting of 11 wines for $14.
With a restaurant on site, you can recline on their large covered deck or bring a blanket and hang out in the grass.
We were there most recently for lunch and had a yummy meal before doing the wine tasting at the bar.
We grabbed a glass of the 2017 #1 Red and enjoyed the beautiful weather! Even though technically not part of New Kent County, it is included on the wine trail!
The wineries in New Kent have some great wines worth trying and they are easy to get to from Richmond. We love going out there to drink the local New Kent wine.
While most Virginia wineries are located to the West, these wineries are a great option going east from Richmond!
Have you been to a New Kent County winery? Which is your favorite New Kent wine?