The Top 17 Festivals and Events in Richmond, VA
Plain and simple, festivals and events in Richmond are awesome.
With a reasonable climate year-round, Richmonders will find any excuse to get outside and celebrate just about anything…usually with alcohol in hand, of course!
Read on below to see just a sample of some of the top festivals and events in Richmond VA.
Psst:  We have a bunch of guides about Richmond. Browse them all here or see some of the most popular post below:
**Boozing Abroad contains affiliate links throughout the site. If you choose to purchase items through these links, we will earn a small commission at NO extra cost to you. Read the full disclosure policy here**
Map of Festivals and Events in Richmond, VA
Click the interactive map below!
HOW TO USE THIS MAP: To view the layers and see the names of the places on this map, click the tab in the top left corner. You can select the check marks to show or hide certain layers. If you select the icons on the map, you will get more information about the point of interest.
HOW TO SAVE THIS MAP: If you select the star icon next to the map name, you can save this map to your Google Maps account. To view it, open Google Maps in desktop or on your phone, select the menu button, go to "Your Places," scroll to the right to Maps, and you will see this map.
1 – Shamrock the Block (mid-March) – Scott's Addition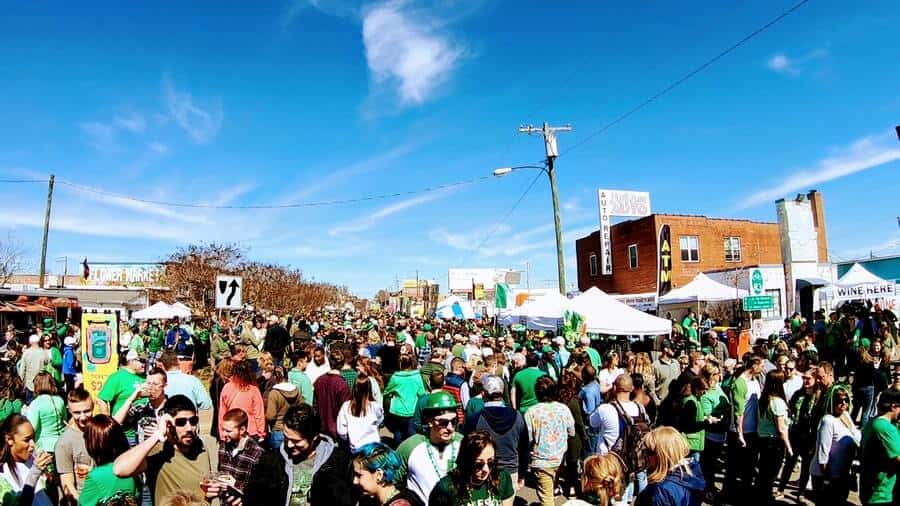 Kicking-off the festivals in Richmond, Shamrock the Block takes place on the weekend closest to St. Patrick's Day on the Boulevard, between Leigh Street and Broad Street (right next to the boozy neighborhood of Scott's Addition).
This free-to-attend event (but-not-free-to-eat-and-drink – wouldn't that be nice?) offers your basic festival necessities: music, beer, and food….just with everyone decked out in green and thirsting (literally) to say goodbye to winter and hello to warmer weather.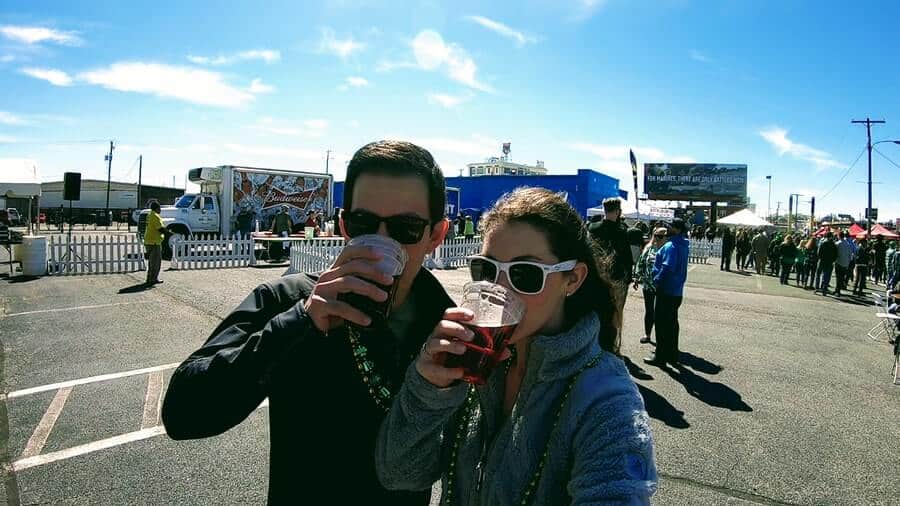 Historically, Shamrock the Block was held in Shockoe Bottom, but things got a little out of hand a few years ago, and it was moved to the Boulevard thereafter.
Okay, maybe a lot out of hand.
Honestly, not sure how the change of location would make this party any less rowdy, especially given its close proximity to several breweries, cideries, and even a meadery and a distillery.
2 – French Film Festival (late March) – Carytown
This is unlike any of the other events in Richmond, VA, but the French Film Festival makes our list of Richmond events because of the notoriety it has gained, both in the U.S. and back in France.
The former French Ambassador to the U.S. even called it the most important French film festival in the country (are there that many?).
The "festival" has been going on for over 25 years and has welcomed nearly 1,000 directors, screenwriters, actors, and other artists to introduce their work to the masses. All of the films are screened at Richmond's historic Byrd Theatre in Carytown.
Side note: when it isn't the French Film Festival, make sure you catch a recently released movie in the Byrd Theatre for only $4.
Check out their constantly changing daily showings at 7:15PM and 9:30PM. Best part = no previews!
3 – The Irish Festival (late March) – Church Hill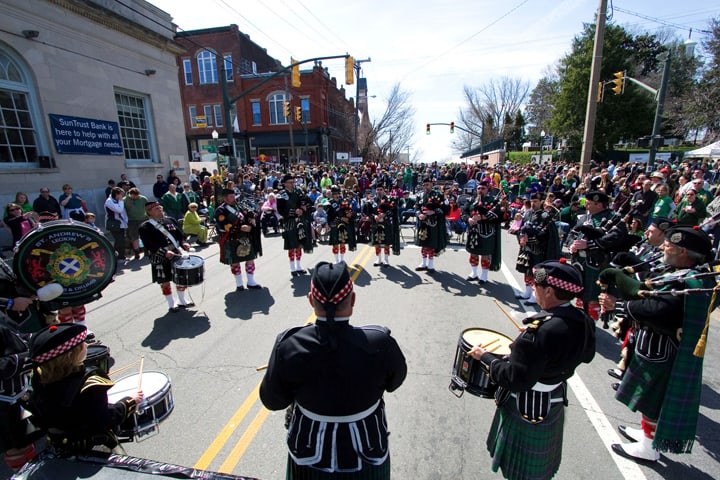 Usually held the week after St. Patrick's Day, this festival is your more traditional Irish festival, complete with a parade full of kilt-wearing bagpipers to kick things off.
Located in historic Church Hill, the Irish Festival is likely to be less rowdy than Shamrock the Block and more family-friendly.
Get your traditional Irish eats and wash it down with a Guinness!
4 – Lebanese Food Festival (mid-May) – Innsbrook/Far West End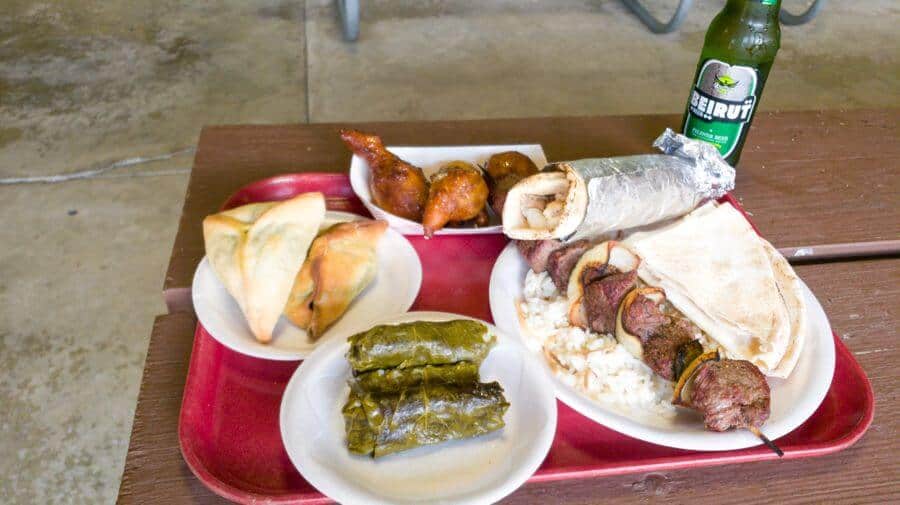 This event, held at St. Anthony's Maronite Catholic Church, has been voted the area's favorite festival, which is saying something considering all of the festivals Richmond has (hence, this post). 2019 will be the Lebanese Food Festival's 35th year, so they must be doing something right!
TIP: Walk through the pavilion tent first to scope out the a la carte selections before grabbing your tray.
Otherwise, you'll fill up your entire tray and you won't even be halfway through the options. Trust us, personal experience!
After you get your food, grab a Lebanese beer, sit down at the large communal tables, make new friends, and enjoy the traditional Lebanese dancing! Never had Lebanese food? Think Greek food, just named something different.
5 – Dominion Riverrock (mid-May) – Brown's Island
Said to be the largest and the premier outdoor sports and music festival in the U.S., Riverrock attracts more than 100,000 people to Brown's Island and Historic Tredegar annually.
To give you a sense of why this Richmond event attracts so many people, take a look at this quote from their website: "From music to mud pits, bikes to beer, SUPs to pups, and climbing to kayaks – it's uniquely RVA! Rock the day and night away, watch professional athletes thrill the crowd, and maybe even get a little dirty yourself.
This isn't your typical festival, but we're not your typical town."
I think that pretty much sums it up! A unique event with things to keep any and everyone busy and/or entertained. This is one festival in Richmond you don't want to miss!
6 – Greek Festival (late May) – Near West End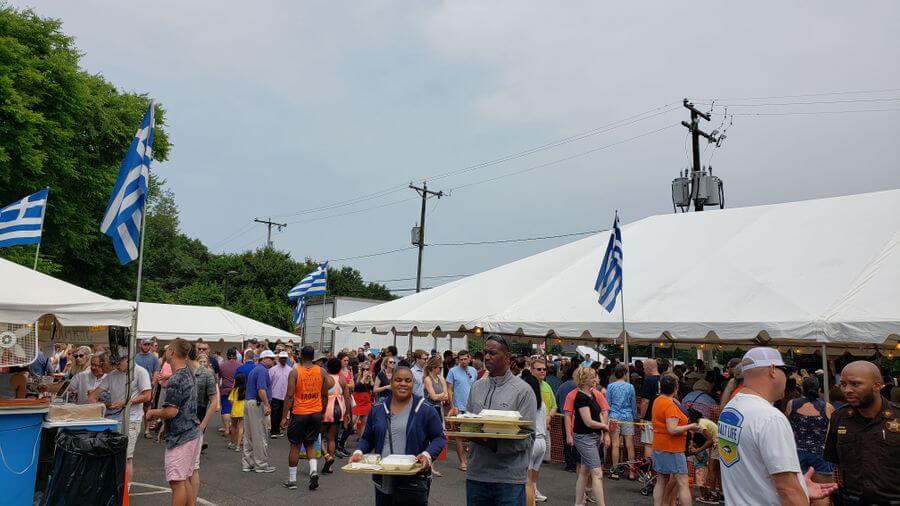 You know this festival has been around a while when its domain name is www.greekfestival.com. It's almost like they were around for the first rendition of the worldwide web and got first pick at their website name! The 2019 event will be the 44th annual edition.
This event is the real deal and is "always the weekend after Memorial Day" as their koozie so eloquently states!
They even have a drive-thru for those of you in a hurry or wanting to eat from the comfort of your own couch while binge watching the latest Netflix show.
Do yourself a favor…get there a little bit before they open (lines for food start forming early), find a parking spot on the street, go in to the actual festival, get your food and a piece (or whole tray) of baklava, and enjoy the atmosphere.
Make sure you try the loukamades which are, as defined on their website, "Fried balls of sweet dough soaked in a honey and cinnamon syrup."
Uhhh, yes please!
7 – Broad Appetit (early June) – Downtown/VCU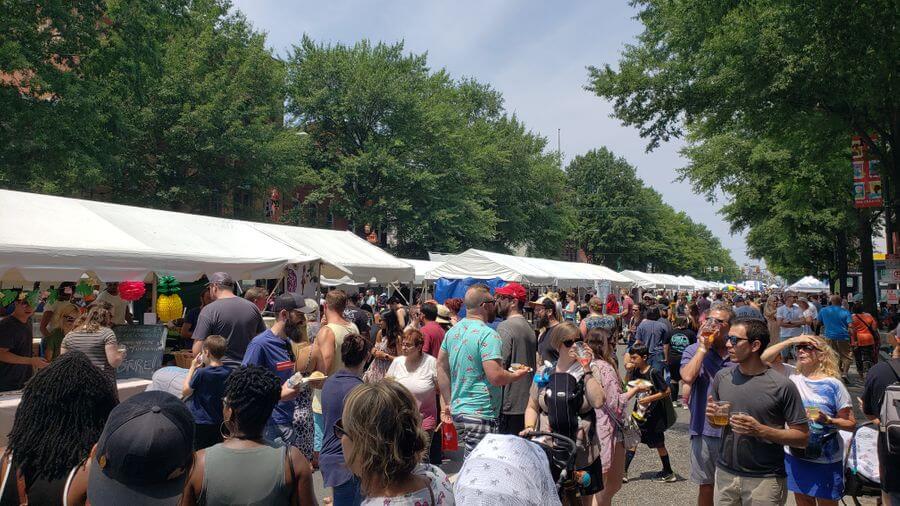 Not surprisingly, Broad Appetit covers a 4-block stretch of Broad Street right near the VCU campus. Upwards of 80 local restaurants converge on this area each summer and prepare mini-dishes of their best creations, all for just $3 a plate.
Many Virginia beers and various wines are available to wash down the good eats.
There are also street vendors and even local farmers and food providers for you to gather up your fresh ingredients for dinner. This is one of our favorite events in Richmond VA!
8 – Hanover Tomato Festival (mid-July) – Mechanicsville
A huge festival located at Pole Green Park in Mechanicsville, the Hanover Tomato Festival has just about every variation of tomatoes you can think of: fried green tomatoes, tomato pie, tomato Po' boy, tomato tacos, tomato burger, fried tomato chips, tomato wraps, salsa, and on and on and on – all, of course, of the Hanover tomato variety.
Come for the obvious star of the show, the tomato, but stay for the music, hundreds of vendors, and even a pizza race! Yes, a pizza race.
If you win this short 2.5-mile race, made even shorter by the multiple "pizza stations" strategically placed at the start and along the race route where a delicious slice of Papa John's pizza will be waiting for you, and you will win Papa John's pizza for year (if you ate one piece of pizza at every pizza stop…and why wouldn't you?)!
Unfortunately, no booze at this festival since it is located on Hanover County park property.
But don't worry, there is plenty else to do to pass the time!
9 -Carytown Watermelon Festival (early August) – Carytown
One of biggest street festivals in Richmond, the Carytown Watermelon Festival serves up watermelon to all festival-goers as they make their way through Carytown…imagine that.
But seriously, this festival has been going on for over 35 years and is another great summer outing for RVA residents.
If you've been to Richmond before, you know how much of a cluster Carytown can be.
Well, just wait until you have over 100,000 watermelon-hungry people converge on the small half-mile stretch of Cary Street! It's usually hot and steamy being in early August, but come out and cool off with the $1 bowls of fresh sliced watermelon.
10 – Armenian Food Festival (early September) – Near West End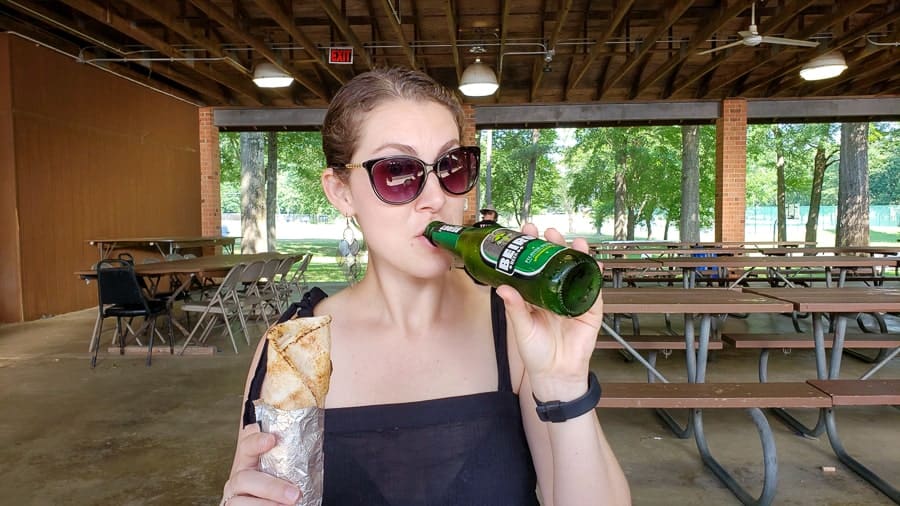 In case you hadn't gotten enough of the Mediterranean-style food back in May at the Lebanese Food Festival and the Greek Festival, check out the Armenian Food Festival a few months later.
This Richmond festival will actually turn 61 at its 2019 event…RVA must like this type of food to support three food festivals for so long that boast similar foods by different names.
11 – St. Benedict Oktoberfest (mid-September) – Fan/Museum District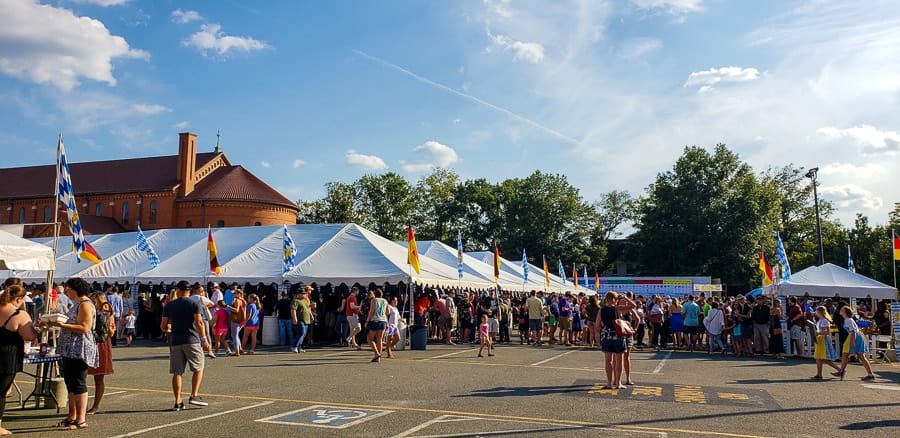 As you might expect, this festival is heavy on the drinking, but also has all of the traditional German food, including a Wurst Platter and a Wiener Schnitzel Platter.
The 2018 St. Benedict Oktoberfest had 47 beers on tap in their two beer trucks and at least 12 more beers located in two different tents on the property.
We haven't been to the real Oktoberfest yet, but I imagine (except for the wide variety of beer options available here in RVA) it's something similar to this festival in how much beer is consumed. Of all of the events in Richmond, VA, this one is definitely the booziest!
12 – Powhatan's Festival of the Grape (early October) – Powhatan
Powhatan's Festival of the Grape just celebrated its Sweet Sixteen in 2018 and brings together over 25 Virginia wineries (starting to add distilleries and breweries to appeal to more folks), live music, over 100 vendors, and several food trucks to Powhatan's historic Courthouse Village.
It is a good 30 minutes outside of downtown Richmond. So plan accordingly with a DD or split your Uber/Lyft ride with your friends.
13 – Hogtober Festival (early October) – Church Hill
If you like BBQ and beer (who doesn't?), this event in Richmond VA is definitely for you. Hogtober is located up on Libby Hill and offers a beautiful view of the skyline of Richmond and the James River, all in one panoramic shot.
The essentials, food, beer, and music, are here. Come try some of the very best BBQ joints in town as they line the sidewalks and offer up mouth-watering plates.
Try to get to this festival, along with most of these festivals, early so you can avoid the lines, but also so you are sure no BBQ runs out!
14 – Scott's Addition Pumpkin Festival (mid-October) – Scott's Addition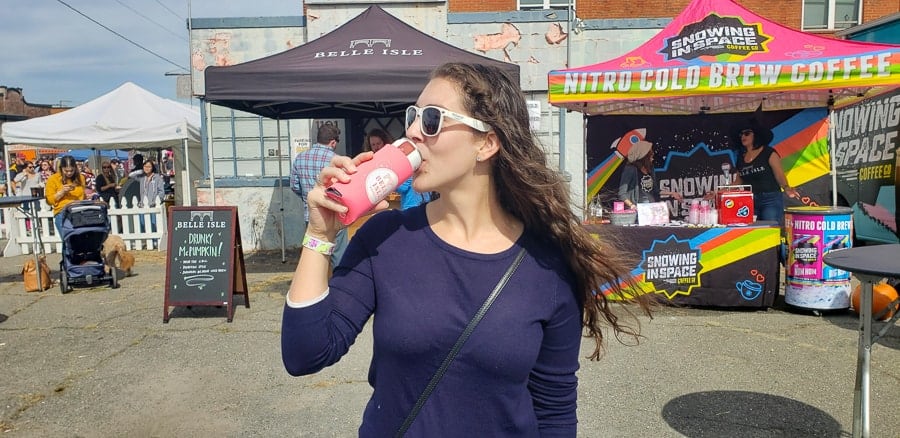 A favorite fall event in Richmond, the Pumpkin Festival features pumpkin foods and craft beers from local vendors and breweries. This free event has something for everyone including an all-ages costume contest for children, adults, and four-legged friends.
The Pumpkin Festival takes place on the Boulevard from Leigh Street to Broad Street and is free.
15 – Folk Festival (mid-October) – Brown's Island
Located on Brown's Island, the Richmond Folk Festival is a free event and attracts more than 200,000 people to downtown Richmond's riverfront to celebrate the roots and variety of our culture through music, dance, and of course beer/wine and food!
This has become one of Virginia's largest events has been voted as the best musical festival in Richmond for several years running.
16 – Brunswick Stew & Stout Festival (late October) – Shockoe Bottom
Yet another festival sporting music, beer/wine, and food, the Brunswick Stew & Stout Festival does just what it says: offers tasty concoctions of Brunswick stew and a delicious selection of stouts.
But what makes this festival special is the fact that the stewmasters all gather on-site at midnight the night before the event and make all of their stew from scratch right there on the spot!
It's the perfect combination of hearty food and booze to enjoy during the fall season in RVA.
17. Grand Illumination (early December) – The James Center (Downtown)
For more than three decades, the Grand Illumination marks the start of the holiday season and is a time-honored event in Richmond.
During the Grand Illumination, the city celebrates it's holiday spirit with the lighting of buildings, a massive tree, reindeer, and more. With caroling and performances from local students and children, this event will launch you into your holiday celebrations.
This is a free event and perfect for all ages. Attendees are encouraged to bring unwrapped gifts for children ages 0-17 to add to the collection sleigh located in the lobby of One James Center. We suggest getting there early with performances starting around 5 p.m.
Did we miss one of your favorite events in Richmond VA? Let us know about it below!