The Best Scott's Addition Breweries Guide in Richmond, VA
Full disclosure: Scott's Addition Breweries open more often than we change our underwear.
Just kidding!
But seriously, every time we turn around, another one has seemingly opened. Okay, so they have slowed down recently, but mostly because they are running out of real estate.
The Scott's Addition neighborhood (and surrounding area) in Richmond, VA, has silently transformed in the last decade to a booze destination in the city. We personally lived in Scott's Addition for 3 years as the big brewery boom was taking off.
Home to 10+ breweries, 2 cideries, 1 meadery, 1 winery, and 3 distilleries, this 8 x 8 block section has a lot to offer to those looking to partake in adult libations. (Not to mention the other bars and restaurants!)
If you are looking for quantity, the most breweries in Richmond, VA are located in Scott's Addition.
Short on Time? Here are the key takeaways:
In our opinion, don't miss these 3 breweries in Scott's Addition: The Veil, Vasen, Isley.
We've included 3 breweries nearby Scott's Addition, but not technically in that neighborhood.
If you're hungover or have the beer-munchies, we suggest the Tachos at Bingo Beer.
Psst: We have a bunch of guides about Richmond. Browse them all here.
This post was originally published in April 2019, and was updated in June 2023.
**Boozing Abroad contains affiliate links throughout the site. If you choose to purchase items through these links, we will earn a small commission at NO extra cost to you. Read the full disclosure policy here**
Map of Scott's Addition Breweries
Click on the interactive map below to see more!
HOW TO USE THIS MAP: To view the layers and see the names of the places on this map, click the tab in the top left corner. You can select the check marks to show or hide certain layers. If you select the icons on the map, you will get more information about the point of interest.
HOW TO SAVE THIS MAP: If you select the star icon next to the map name, you can save this map to your Google Maps account. To view it, open Google Maps in desktop or on your phone, select the menu button, go to "Your Places," scroll to the right to Maps, and you will see this map.
**QUICK NOTE**
To clarify, we are including the area near The Diamond, which is less than 1 mile from the true Scott's Addition neighborhood.
If you are looking at a solid itinerary for Scott's Addition breweries, we had to include them on this list since they are so close – and who doesn't love to go to more breweries?!
We are excluding the cideries, meadery, winery and distilleries from this list, but you can read about the Richmond distilleries here.
>>> Click here for our complete guide on Richmond Breweries <<<
1 – Bingo Beer Company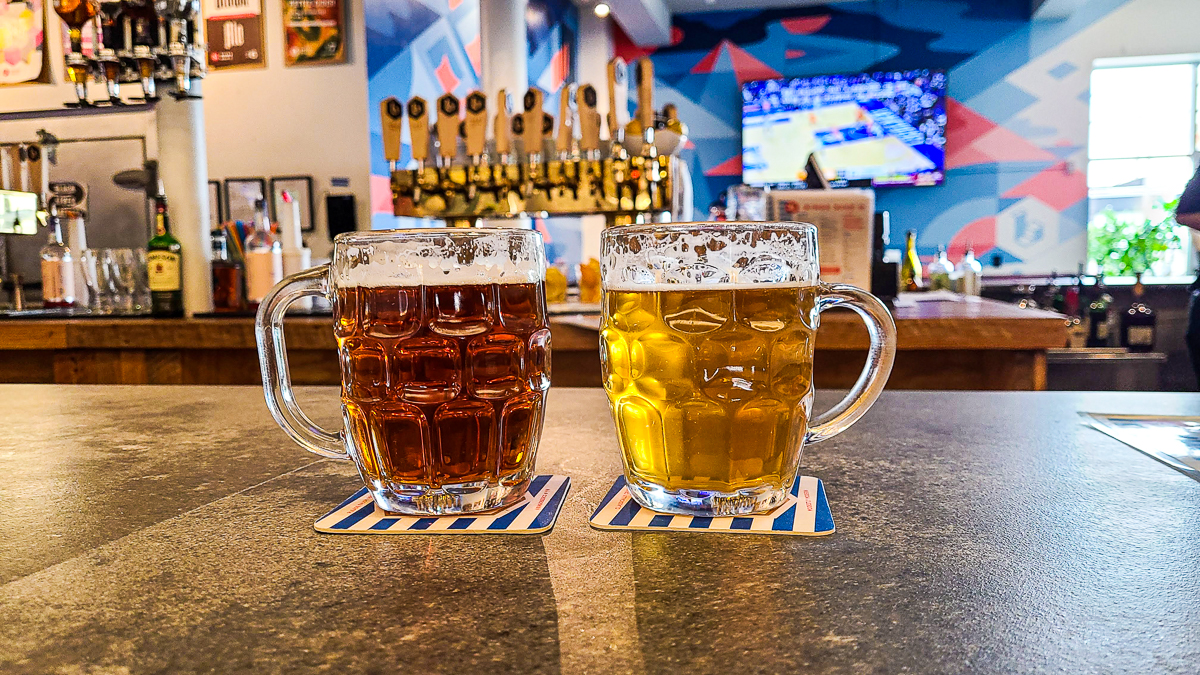 Hours: 7 days a week
Food Available: Full bar and Kitchen
What to order: Mainstay beers – Bingo Lager or Free Space
Pet Friendly: Yes, on patio only
Firstly a brewery, secondly an adult arcade (or bar-cade, as they are now known). Of all the breweries on this list, Bingo Beer will likely have the most things to keep you occupied…other than the beer, of course.
From the pinball machines, skeeball, basketball and much more, this brewery offers a fun atmosphere with good local Richmond beer.
This is also one of the few Scott's Addition breweries with an in-house restaurant and the food is very good!
While all their food is great, we LOVE their tot-chos (tater tot nachos). They would be a perfect complement to help get you through the grogginess from the night before, aka hangover food and it's so freaking good!
Their house Free Space IPA is a hazy IPA made with Mosaic and Idaho 7 hops and was quite refreshing and drinkable. Or if you're just in the mood for a beer that tastes like a beer, try the Bingo Lager, which is defined as a "German-style lager with a modern twist."
2 – Three Notch'd Brewing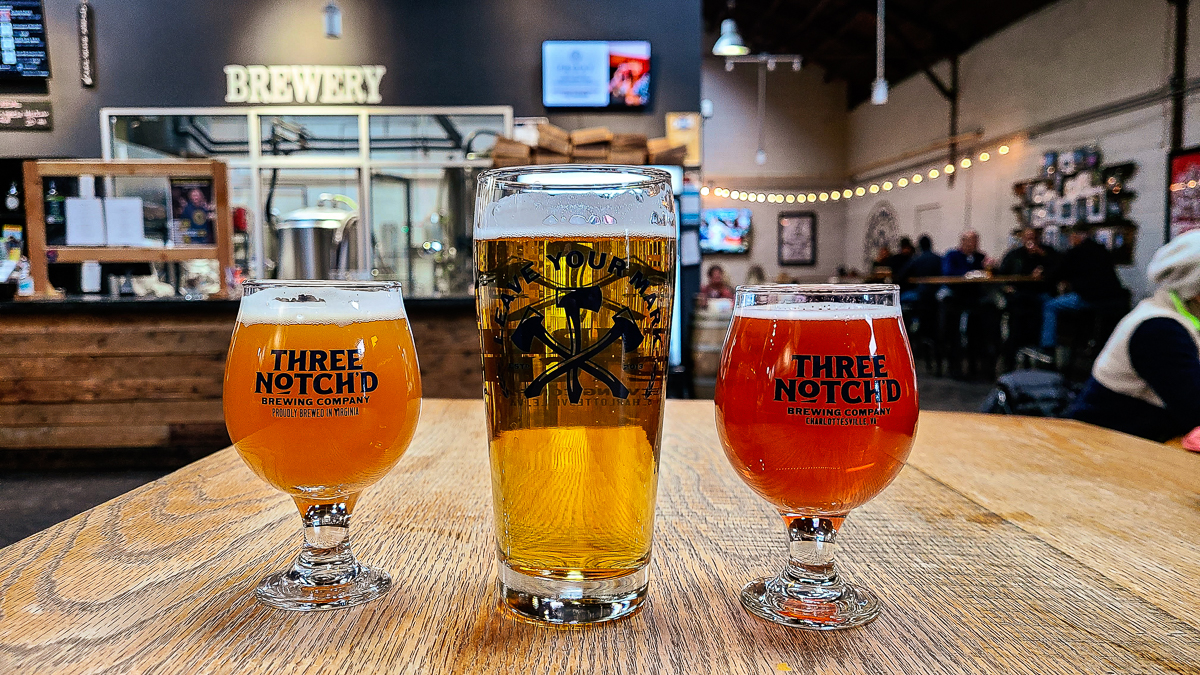 Hours: 7 days a week
Food Available: Lunch, Dinner and Brunch options
What to order: Mainstays – 40 Mile IPA and Mango Wheat
Pet Friendly: Yes
Hailing from Charlottesville, Three Notch'd provides all the staple beers that you would normally find at the original location in Charlottesville, plus Richmond-centric and collaboration beers.
The 40-Mile IPA is Chris's go-to beer, but their collaboration beers are usually pretty good and very relevant to Richmond happenings. An outdoor patio is usually pretty busy and complements their indoor tasting room.
Three Notch'd recently expanded into two vacant businesses next door to increase their production space. As part of this expansion, they also acquired a pizza oven to cook up some delicious 'za to go along with your brews.
3 – The Veil Brewing Company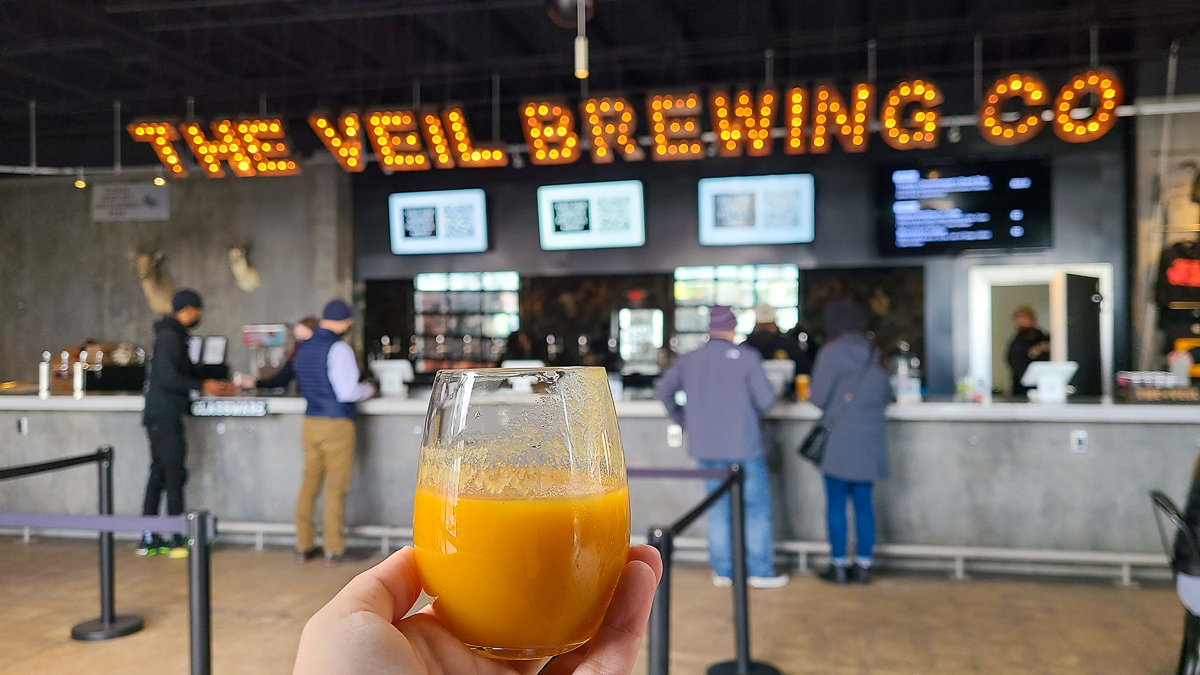 Hours: 7 days a week
Food Available: Yes, Noko Ribi – a restaurant located on site
What to order: Known for IPAs, stouts and smoothie sours; all rotating, no mainstays
Pet Friendly: Yes
The Veil Brewing Co opened in 2016 in Scott's Addition to great fanfare as the head brewer is well-known in the beer world and brews high-quality, and high-gravity, beers. As of April 2023, they moved to a bigger location just a few blocks away and added a new food concept to their mix.
The Veil Brewing Company is very IPA-centric….IPAs, DIPAs, TIPAs, sour IPAs, no-hop IPAs, you name it.
But they aren't only IPA's – they aren't afraid to take on any style of beer, and excel at sours and barrel-aged varieties.
No growlers, no flights of beer, no TVs. Just good beer that is highly sought after on the beer-trading market.
I (Samantha), an occasional IPA-drinker, would opt for one of their sour beers or the cold brew coffee on tap, while Chris will find a delicious new IPA every time. They have also started to dabble in brewing some non-alcohol beers if you are pregnant or just need a night off the sauce.
While it may not always be available (as the Veil loves to make new beers), their house DIPA, Crucial Taunt, is a tropical, juicy explosion and just too easy to drink at 8%!
New England-style IPAs and sour IPAs seem to always be on the draft list, but be on the lookout for any variant of the Hornswoggler chocolate milk stout. The Oreo Hornswoggler made the internet lose its mind back in 2017.
The Veil is slowly conquering the state of Virginia, opening a location in Norfolk, Virginia, as well as an additional small tasting room in RVA. In their funky and wild barrel-aging spot called the Funkhaüst Café, it's just a few miles away from their main Scott's Addition brewery. However, there are very limited hours at Funkhaüst so plan accordingly.
A second Richmond-area Veil taproom opened recently in the Forest Hill neighborhood. Same great beer you'd expect from the Veil, but they also have a full restaurant on-site serving up some damn good tacos!
Their Scott's Addition food concept, Nokoribi, features a Japanese pub style menu that offers high quality food that is "approachable for everyone in the family". While we haven't tried it yet, if they produce the same quality of food as their Forest Hill location, you best come hungry!
4 – Starr Hill Richmond Beer Hall & Rooftop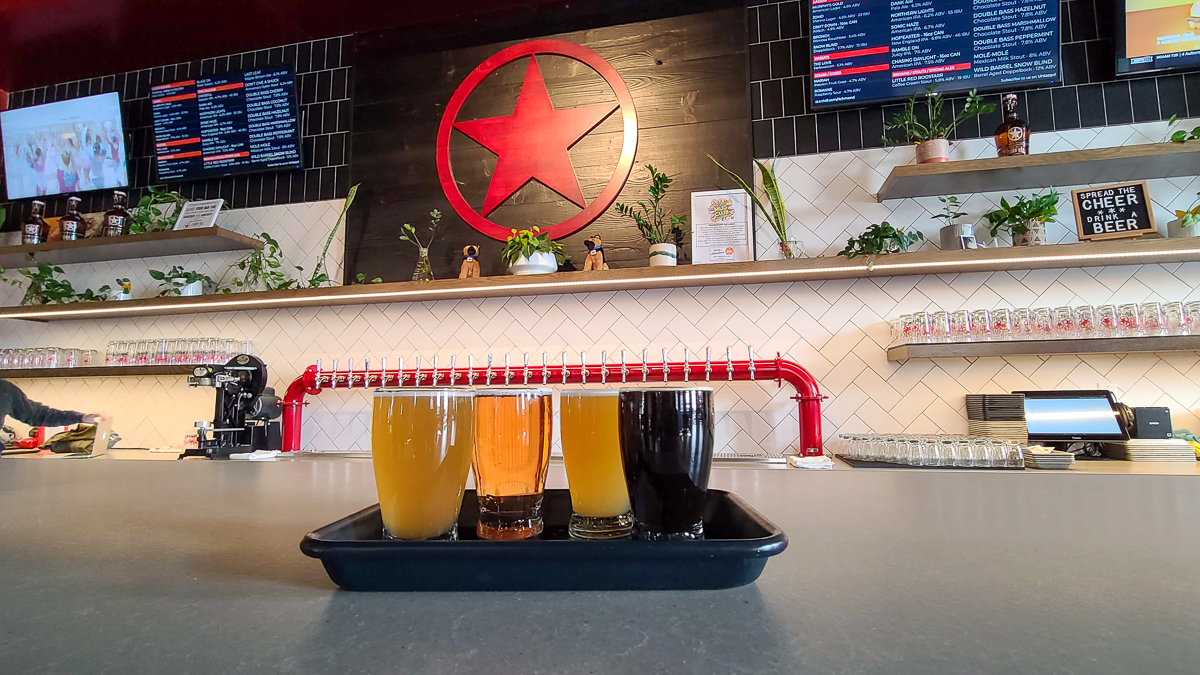 Hours: 7 days a week
Food Available: Snacks only, but usually has a food truck onsite
What to order: Flagship Northern Lights IPA, any limited release batch
Pet Friendly: Yes, first floor patio only
Another Charlottesville transplant, Starr Hill Beer Hall & Rooftop opened in late 2019 and offers beer drinkers a fun new addition to the Scott's Addition brewery lineup.
Complete with a ground-level taproom and an all-season rooftop patio with great views of Richmond, Starr Hill is a great place to grab a beer with friends, listen to some live music, play some trivia, and try some of Richmond's delicious food trucks.
You can get most of their staple beers in Richmond, like Chris's tried and true Northern Lights IPA (one of the first IPA's he ever drank), but they also have a 10-barrel brewing system so you might be able to snag something new to Starr Hill completely.
This is also Starr Hill's first location dedicated to producing wild ales as they have five American white oak foeders (big wooden vats usually reserved for aging wine) so you can find some limited release batches throughout the year.
Looking for more rooftop venues? >> The Top 6 Rooftop Bars in Richmond Guide
5 – Väsen Brewing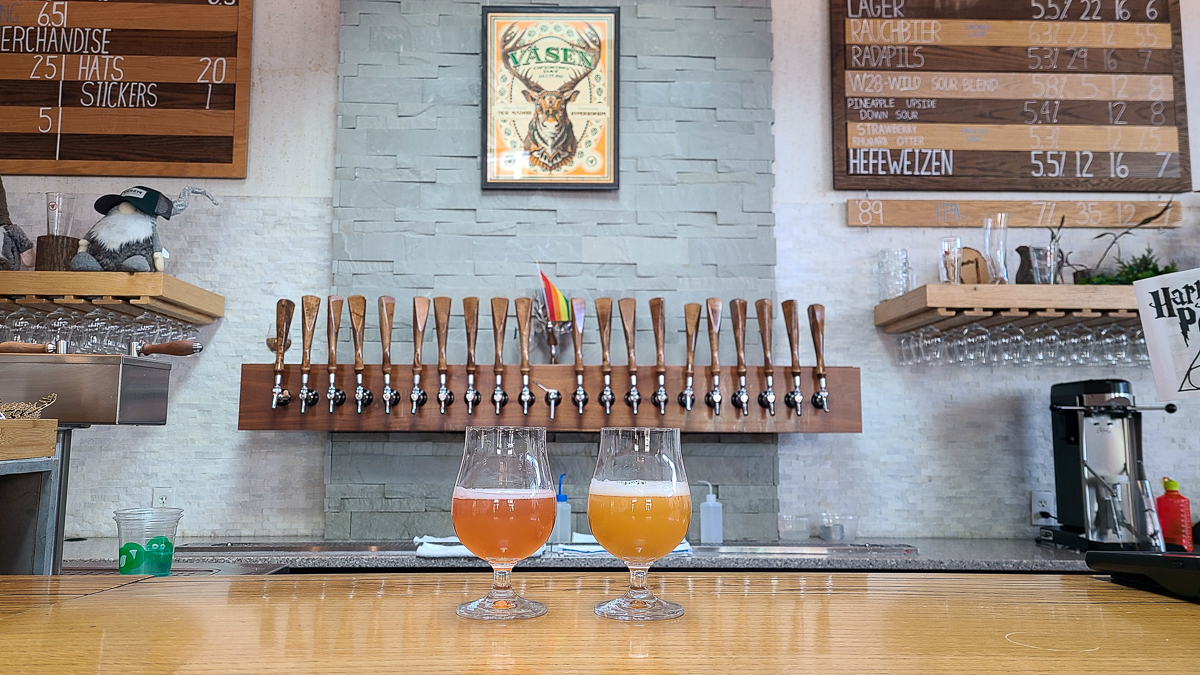 Hours: 7 days a week
Food Available: Food Truck only
What to order: Any Walrus variation or sour
Pet Friendly: Yes
Väsen Brewing beer combines the experimental spirit that defines American craft beer with the funky flavors of Belgian farmhouse and sour ales.
In addition to the sour and funky beers, the lineup also consists of a variety of saisons, wheat beers, and pale ales.
Brewed with a purpose, Väsen's mission is to be one of the most sustainable breweries in the country by reducing energy consumption and reusing or recycling 100% of their resources.
Feel awesome about saving the environment while drinking their beer in the outdoorsy-themed bar!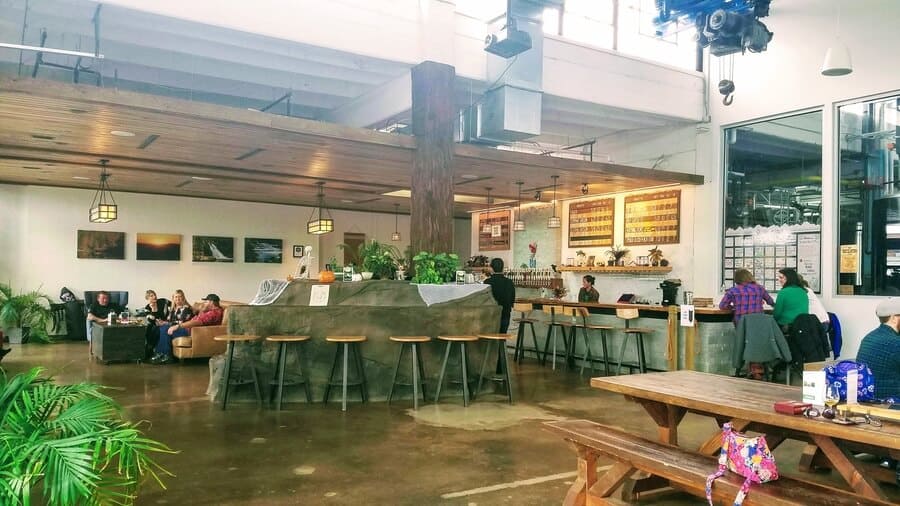 If you see it on tap, be sure to try one of the beers in their Everything Floats series, a juicy and sour beer conditioned on a variety of different fruits.
Also, check out the Imperial Walrus which is a strong dark ale, boldly flavored with dark chocolate and coffee.
While we hate to call out favorites, Vasen is one ours and we highly suggest visiting them.
6 – Ardent Craft Ales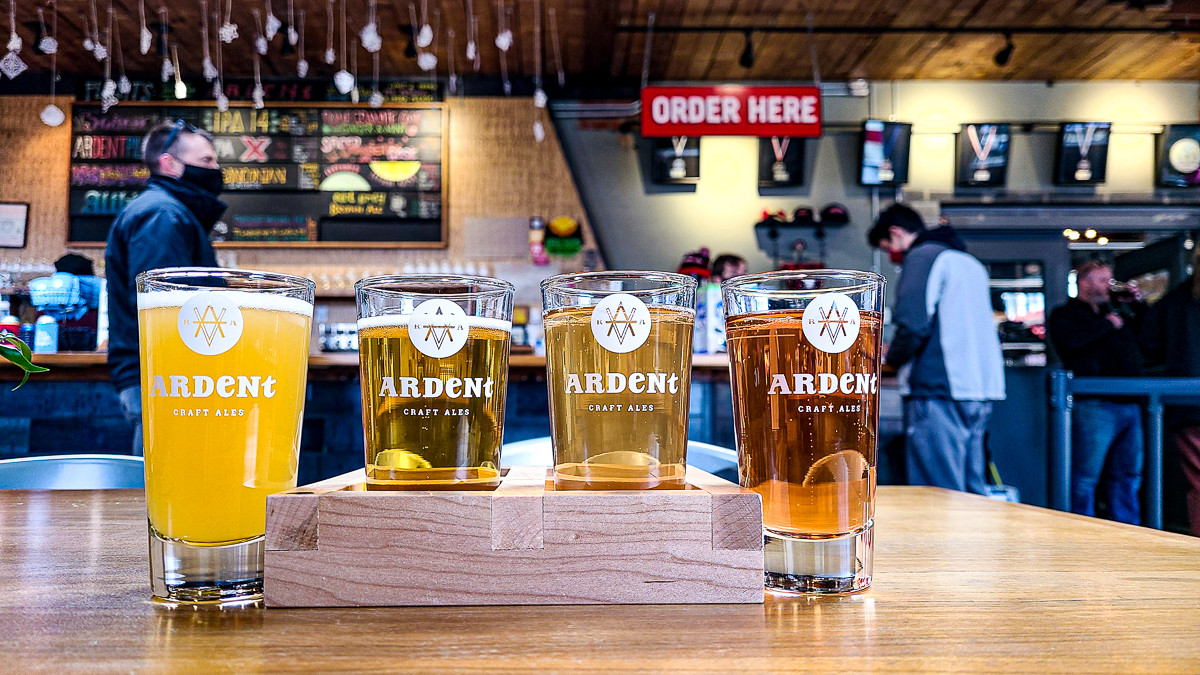 Hours: 7 days a week
Food Available:
What to order: Stouts and IPAs
Pet Friendly: Yes, only patio
The second brewery to claim a home in Scott's Addition, Ardent boasts an extensive rotating draft list which includes: saisons, IPAs, stouts, and goses.
Go enjoy a beer on their large outdoor patio under the large red umbrellas and watch the local pups enjoy their sunshine too.
Try their Honey Ginger ale – be careful though…this is a sneaky 7.8% beer that goes down smooth! It's usually the downfall of Samantha.
Also, plans are in the works for a new burger restaurant right next to Ardent's beer which is being headed up by the folks at Ardent and well-known Richmond BBQ restaurant ZZQ.
7 – Strangeways Brewing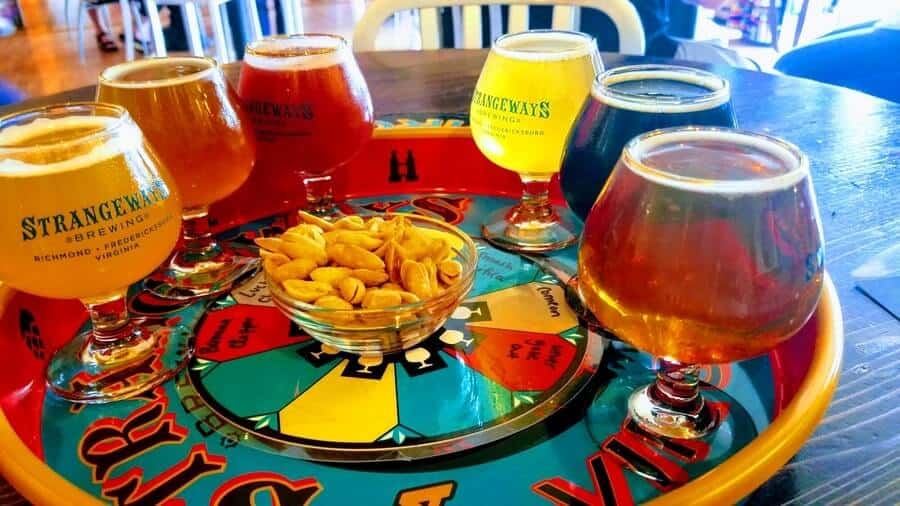 Hours: 7 days a week
Food Available: Yes via BBQ next door
What to order: Belgian Wheats
Pet Friendly: Outside only
The third location in the Strangeways trilogy (original location 2 miles away and a location in Fredericksburg) has many of the regulars you'll see at the original taproom and brewery as well as some specialty brews that are wood barrel-fermented and keg conditioned onsite.
Something that makes this location unique is its partnership with its neighbor, SMoHK, who is smoking up some real southern BBQ dishes which you can order right from the taproom.
8 – Isley Brewing Company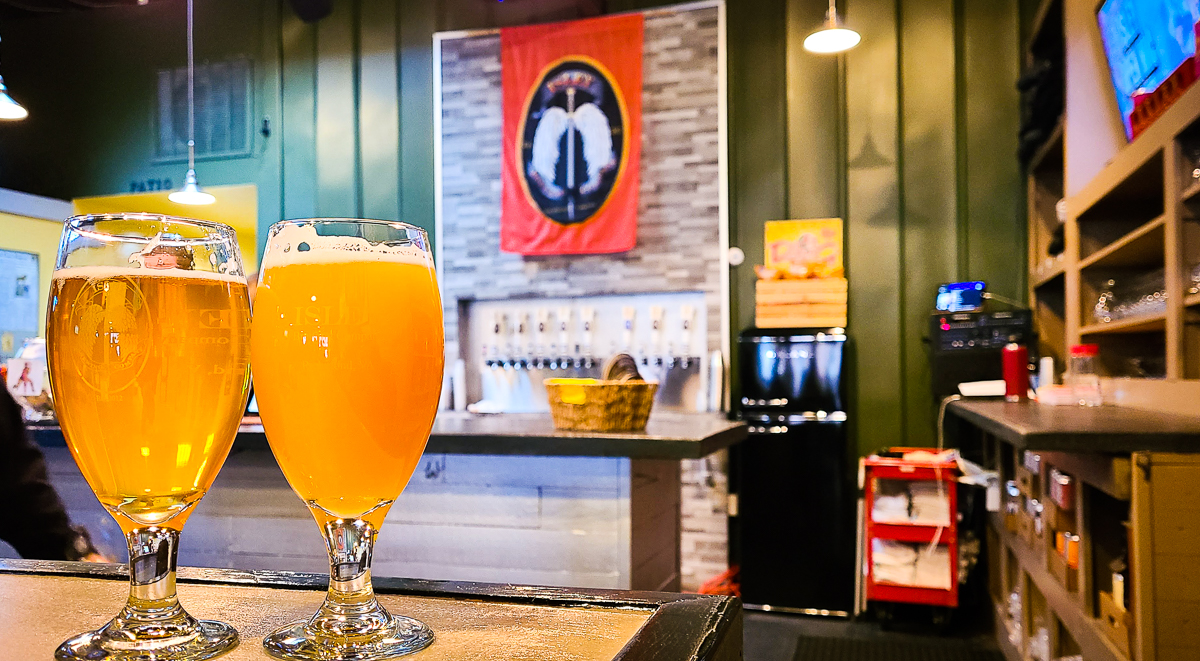 Hours: Tuesday-Sunday, Closed Monday
Food Available:
What to order: Choosy Mother and Plain Jane – BLEND them together for PB&J
Pet Friendly: Yes
Isley Brewing was the original Scott's Addition brewery leading the way for the Scott's Addition breweries.
If you have people with you that don't like beer (first, re-evaluate your friends, and second), bring them here. It's the most drinkable craft beer (again, according to me), a.k.a. "a gateway to craft beer".
Weekly trivia nights, live music, and the sounds of Jenga blocks crashing on the tables makes Isley Brewing a fun place to hang out and enjoy a beer or a flight.
Isley has a wide variety of brews to choose from, making this a great spot to enjoy with friends that have different beer palates.
My favorite is the Plain Jane Blueberry, a light, blueberry Belgian white ale. Chris's favorite is a mixture of the Plain Jane Blueberry and the Choosy Mother, a peanut butter porter. It tastes just like a PB&J! Just ask the bartender to help you out with the right mix.
9 – Hardywood Park Craft Brewery – Pizza Kitchen and Taproom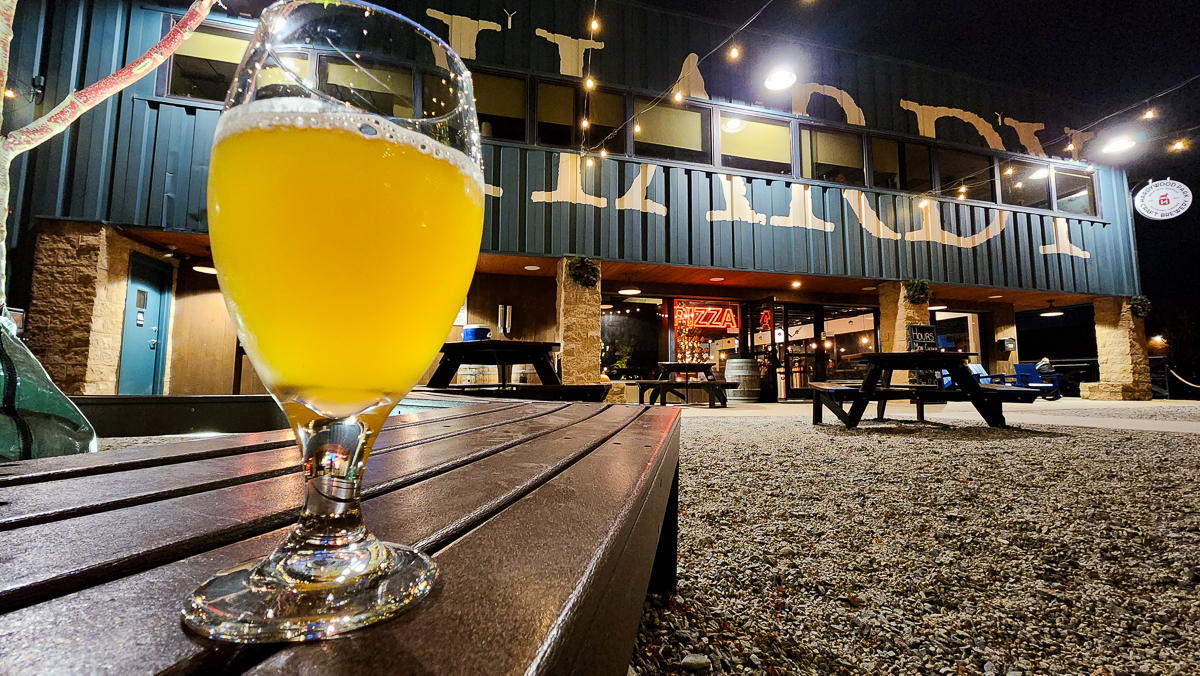 Hours: Tuesday – Sunday, Closed Monday
Food Available: Yes, pizza kitchen
What to order: Gingerbread Stout, Singel
Pet Friendly: Yes
In 2011, Hardywood opened its doors in an industrial neighborhood of Richmond, just north of the Fan and west of Scott's Addition. While Legend's Brewery is the oldest, Hardywood sparked the movement for craft breweries in Richmond and being able to buy and drink a beer at a brewery in the state.
It has grown considerably since opening and now boasts three separate locations: the original RVA, a huge expansion just west of town in Goochland, and an outpost further west in Charlottesville.
Their flagship beer is the Singel, a mellow Belgian Abbey-style blonde ale. But…during the winter months, their special release brews, the Gingerbread Stout and Christmas Morning among them (or the bourbon barrel varieties of the same), are huge hits!
This location has continuously expanded and now includes indoor event space, outdoor stage and a delicious pizza kitchen. Be sure to check out their facebook page for the most up-to-date events!
10 – Main Line Brewery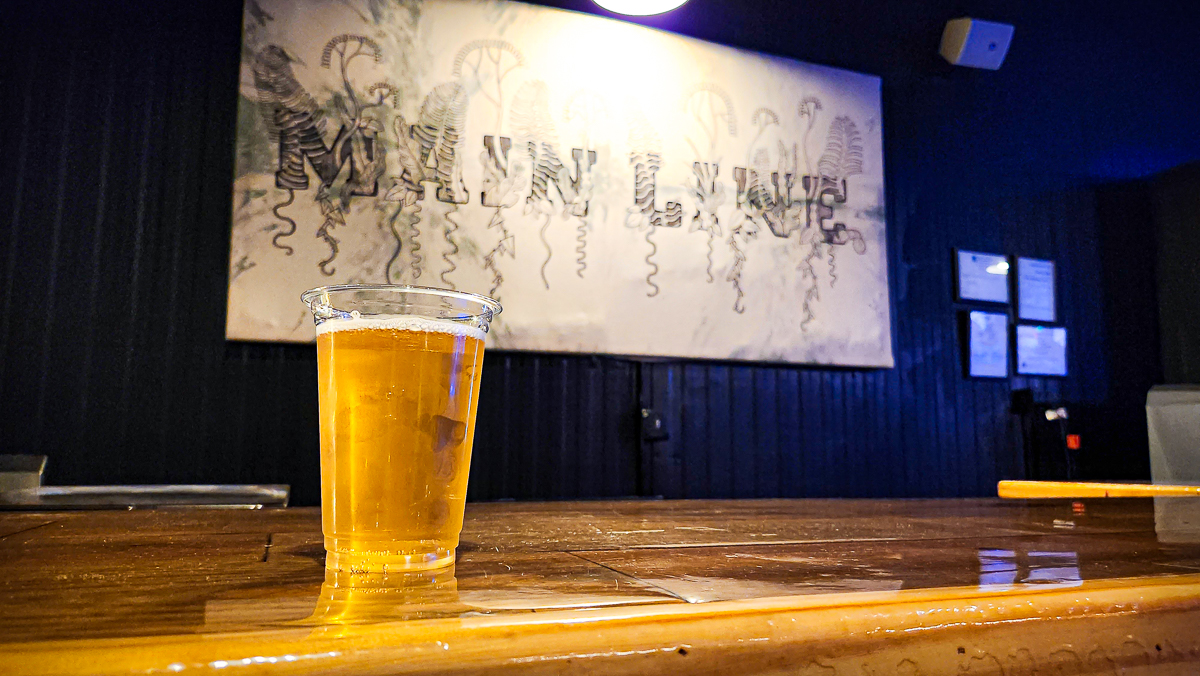 Hours: Tuesday – Sunday, Closed Monday
Food Available: Food Truck only
What to order: Loose Leaf Witbier or Olaf's Revenge DIPA
Pet Friendly: Yes
Main Line Brewery is one of the newcomers to the list of Scott's Addition breweries and comes to us by way of a couple of the former owners of our friends at Cirrus Vodka, which is located right next door.
With quite a bit of real estate in this little hidden cove of Richmond, Main Line has a large outdoor area with a gazebo-style event space and even life-sized beer pong (think full-sized trash cans and kickballs).
As its name suggests, Main Line is located within a stone's throw of railroad tracks and offers up a wide variety of beers, with no specialty or focus in any type. Olaf's Revenge is a heavy hazy DIPA at 8.8% while Drink by Night is a yummy salted caramel stout.
With a massive outside area, there is plenty of room for live music and games to keep you busy while you sip some suds. If you have someone in your party who isn't a friend of beer (ditch them), you can bring them here since Cirrus Vodka serves up delicious cocktails that can also be enjoyed outdoors.
11 – Castleburg Brewery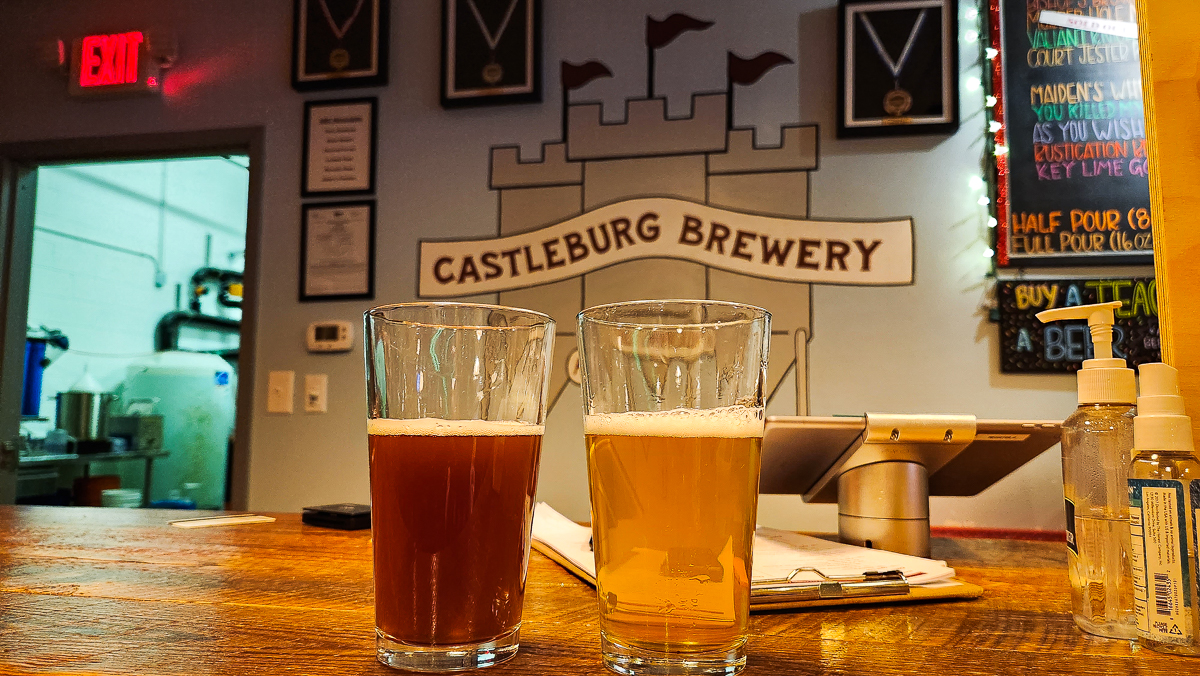 Hours: Wednesday – Sunday; Closed Monday and Tuesday
Food Available: Food Truck only
What to order: Food Truck only
Pet Friendly: Yes
Castleburg opened its fortress in 2016 just around the bend from Hardywood's original Richmond location — literally, it is a 5-minute leisurely stroll.
They expanded their tasting room and have a small outdoor picnic area that serves as overflow. Having started out on a very small scale, Castleburg still brews in smaller batches, meaning higher-quality beer and more frequent tap changes. And live music fills the space seemingly every day.
Their flagship is the cream ale, but Chris is partial to the Run the Gauntlet pale ale series which uses different variations of hops to create different flavors…Pale ale #8 was brewed using a German hop which gave the beer a tangerine and citrus aroma.
Where to stay in Scott's Addition
If we are being honest, the majority of hotels closest to Scott's Addition are sketchy and we wouldn't put our families there.
Until early 2022, there really wasn't a good option for Scott's Addition hotels and there is now only one hotel in the area that is walkable to all the breweries where we feel comfortable suggesting it.
Booking.com probably has the widest selection of budget (and luxury) accommodations in the world. In our experience, they consistently found the cheapest rooms. We also like their easy to use interface and no money down policy. When we book our travel stays, we personally use booking.com.
The only Scott's Addition hotel we suggest:
Courtyard by Marriott Richmond Scott's Addition
Opened in 2022, this brand new Courtyard is the best option for a hotel in the area. We lived direct across the interstate from this location and we know it's relatively safe and walkable. Since it's new, you can expect all the sleek modern finishes and up-to-date guest rooms and digital check-in too.
>>Click here to check current prices or book your stay
While you'll see other hotels nearby by on the Boulevard, we don't recommend staying in that section of town, despite it only being a mile away.
We do also recommend staying in downtown Richmond and Ubering in if you can't get a room. It's a quick 10-minute ride and shouldn't cost too much money.
For downtown recommendations, see below:
Quirk Hotel
Luxury option
Complete with an art gallery on-site, which is fitting considering it's in the Arts district, Quirk is a boutique hotel that was named one of the south's best hotels by Southern Living magazine in 2018!
The rooms are super bright and fun, the seasonal and locally-inspired menus at the Maple and Pine restaurant are delicious, and the Q Rooftop Bar offers some great views of Richmond while soaking up some sun and sucking down some drinks!
>> Click here to book your stay or check current prices
The Graduate
Mid-range option
The Graduate is a newer boutique hotel chain popping up around the country with hotels located in the heart of college towns. It makes sense then for the Graduate Richmond hotel to be so close to the hub of Virginia Commonwealth University's (VCU) campus activity.
With a lobby cafe and bar, game room, fitness room, and a rooftop bar and pool area called The Byrd House, this hotel is a great spot for your Richmond experience. They even rent bikes to guests free of charge so you can bike around town and enjoy the outdoors.
>> Click here to book your stay or check current prices
Linden Row Inn
Budget option
This hotel has so much history to it and is centrally located right near Richmond's restaurant row, just down the road from The Graduate and The Jefferson Hotel.
Legend has it that Edgar Allan Poe courted his life-long love in the gardens on which the hotel now stands. Since being restored in the 1980s, Linden Row offers guests all of the modern hotel amenities to go along with that classic Southern hospitality.
>> Click here to book your stay or check current prices
Looking for more RVA options? See all hotels for Richmond, VA here.
We suggest spreading this hopping out among multiple days, but if you think you can do it responsibly (aka you have a designated driver/walker and you pace yourself), then this guide is the route we'd suggest to hit them all.
If you were looking to add in a couple cideries/meadery or visit the winery to this guide (and don't care about mixing types of alcohol), here is the complete list of alcohol establishments in the Scott's Addition neighborhood:
Hardywood Brewery
Main Line Brewing
Castleburg Brewery
Bingo Beer
Three Notch'd Brewing
Blue Bee Cider
The Veil Brewing
Starr Hill Brewing
Väsen Brewing
Ardent Brewery
Strangeways
Isley Brewing
Buskey Cider
Black Heath Meadery
Brambly Park Winery
We'd also like to mention that both Strangeways Brewery (the original location) and The Answer Brewpub are quick drives and can easily be added to the end or beginning of this hopping adventure. Or, see our North Richmond brewery hopping guide here or click on the picture below.
Looking for brewery hopping guides outside of Scott's Addition? See our guide to Richmond Breweries here.