These are the 5 Sioux Falls Breweries you'll want to visit
Here's a sentence we didn't think we'd ever say….the Sioux Falls Breweries were sensational and left us speechless! Seriously.
While we didn't have many expectations going into our Sioux Falls breweries foray, we were beyond pleasantly surprised by what we found and think that the Sioux Falls Breweries scene is one of the best-kept secrets in the Great Northern Plains.
If you're thinking about a booze-filled weekend getaway, we are dead serious when we tell you to add Sioux Falls, SD to that list.
Short on time? Covert Artisan Ales and WoodGrain were our favorites! Don't miss these.
Psst:  We have a bunch of guides about South Dakota. Browse them all here.
**Boozing Abroad contains affiliate links throughout the site. If you choose to purchase items through these links, we will earn a small commission at NO extra cost to you. Read the full disclosure policy here**
Map of Sioux Falls Breweries
Click the interactive map below!
HOW TO USE THIS MAP: To view the layers and see the names of the places on this map, click the tab in the top left corner. You can select the check marks to show or hide certain layers. If you select the icons on the map, you will get more information about the point of interest.
HOW TO SAVE THIS MAP: If you select the star icon next to the map name, you can save this map to your Google Maps account. To view it, open Google Maps in desktop or on your phone, select the menu button, go to "Your Places," scroll to the right to Maps, and you will see this map.
Sioux Falls Breweries
How many breweries in Sioux Falls?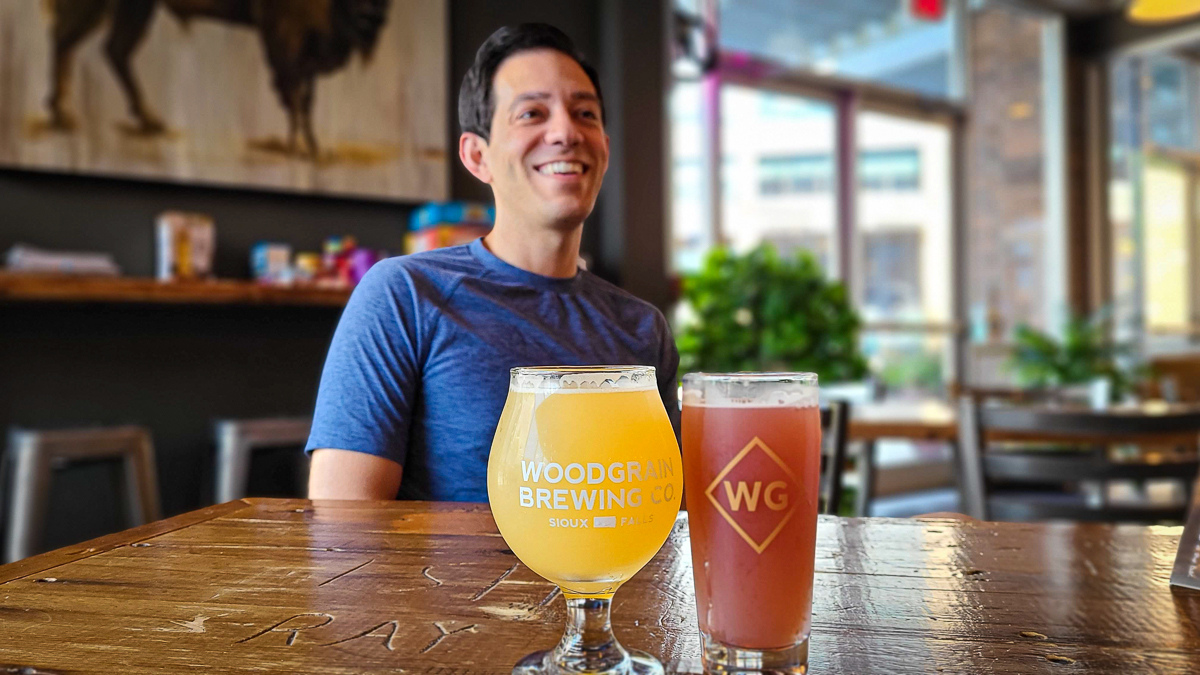 Sioux Falls is home to over 10 breweries producing some top notch craft beer.
1. Covert Artisan Ales & Cellars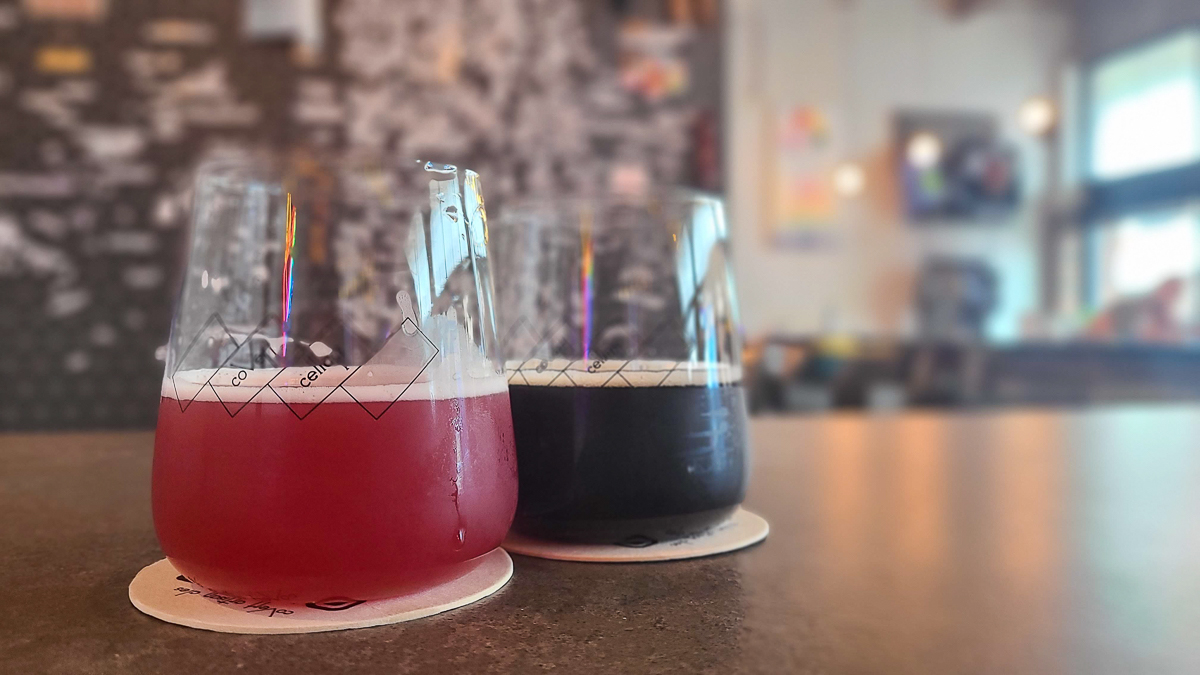 With a top rating on our favorite beer app Untappd, our first stop when visiting the Sioux Falls Breweries was Covert Artisan Ales & Cellars.
Tucked away into a row of stores, Covert Artisan Ales deserves their high marks as their beer is special and makes you remember why you love craft beer.
Using regionally-grown ingredients, Covert combines seemingly common brewing ingredients to concoct beers that are are funky, unique, and delicious. Like many breweries, Covert was established in 2018 as a side project with both brewers working regular full-time jobs (we can relate – i.e. this blog).
After studying, aka sampling, beers throughout Europe for years, they finally opened a downtown taproom in 2020.
Sour and funky is definitely the name of the game at Covert (R&R mango, peach, and passionfruit sour ale, or Blackberry Liquid Crumble which was inspired by a blackberry cobbler), but they mix in a few other beer styles too to keep everyone happy (the IPA staples, stouts, and even a deliciously-dark dunkel).
Everything from the name of the place to the logo is rooted in the founders' background in military intelligence.
Don't worry, they don't spy on you while you drink though…we think 😉
2. WoodGrain Brewing Company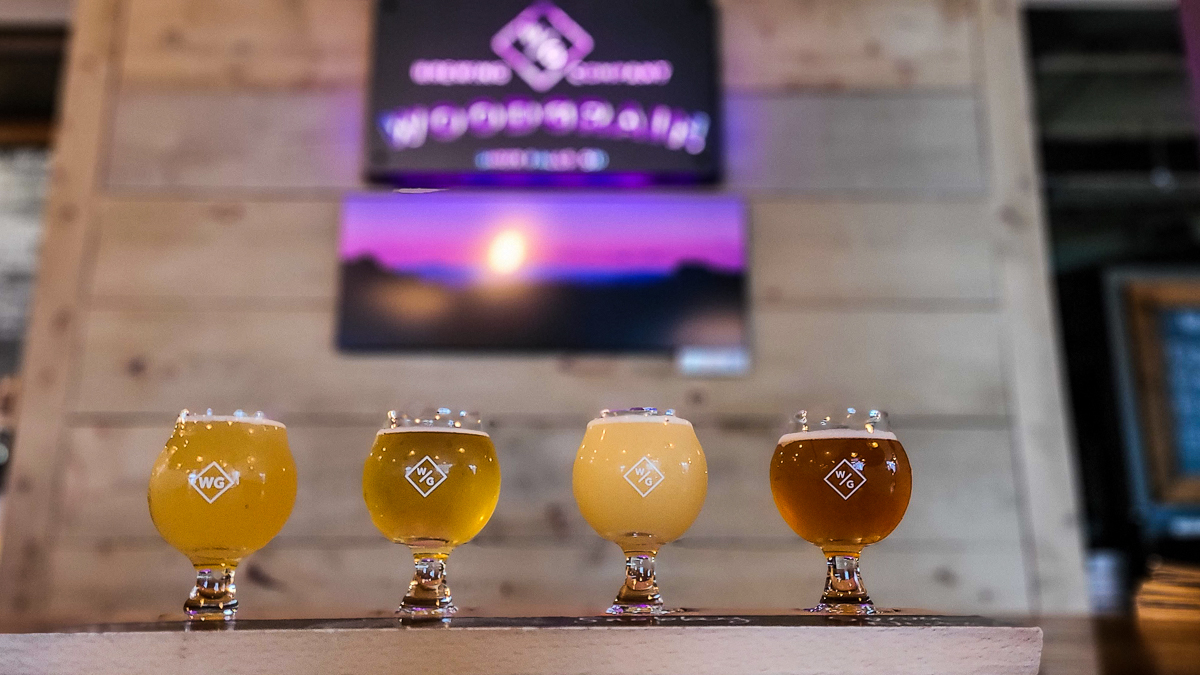 One of our favorite ways to find the best local spots is to ask our bartenders where they would go to drink.
That's exactly what we did when visiting the Sioux Falls breweries and many of them directed us to WoodGrain Brewing, and with good reason.
They have fantastic beer. Simple as that.
WoodGrain is located along one of the main drags in downtown so it's easy to brewery-hop and hit this spot along your way.
Some of the beers we really enjoyed included the Snobbery session IPA, the Lemon Meringue sour, which tasted like a liquid version of the physical pie, and the Spruce Nectar, which tasted like we were literally drinking a Christmas Tree (talk about drinking in the holiday spirit).
The flavor profile really makes sense once we found out that it is made with 15 pounds of spruce tips and 30 pounds of East River honey. Yum!
Unrelated to the beer itself, Sam also bought one of her favorite new shirts here which reads "Life happens. Beer helps." Amen to that.
Woodgrain's beer definitely helped wash away some of the rainy day blues on our visit and should be at the top of your list for the Sioux Falls breweries.
3. Fernson Brewing Co – Downtown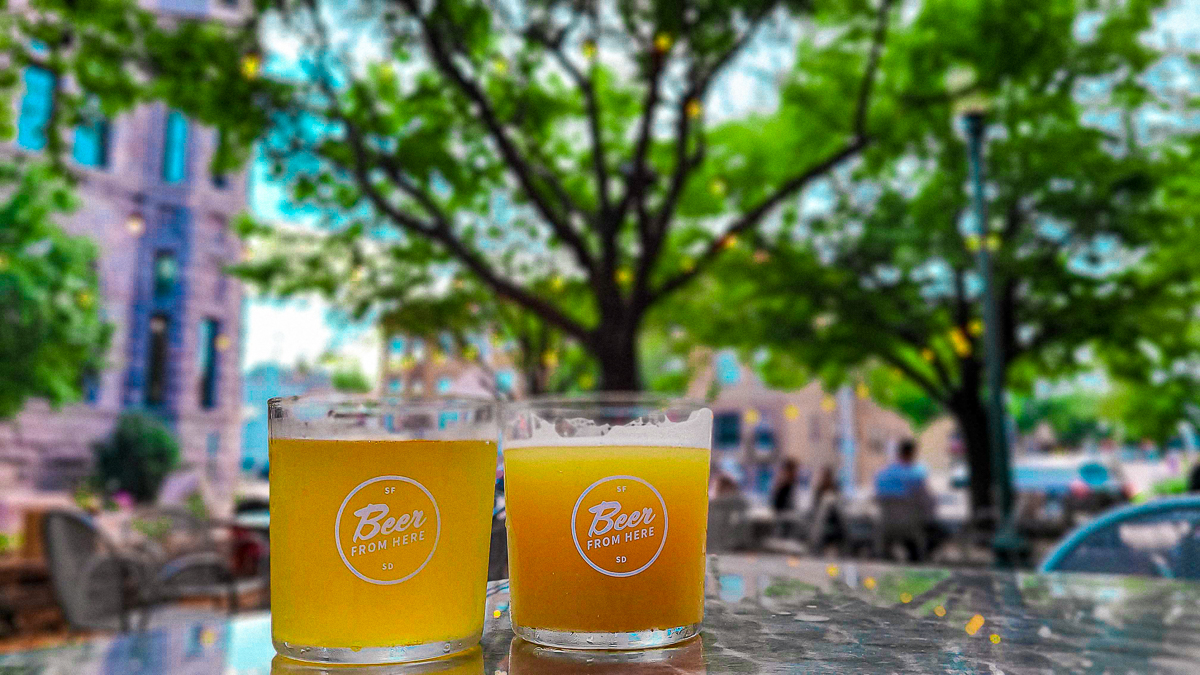 To say that Fernson Brewing is popular is an understatement. When we walked in, the place was bumping.
With a solid tap list and food menu, Fernson has a cool vibe and good beer. We enjoyed the Curio Sour and Shy Giant IPA.
We also loved the name of their seltzer selection called Skip Day. While we never actually pretend to diet, if we were to have a skip day, this sounds like a tasty option!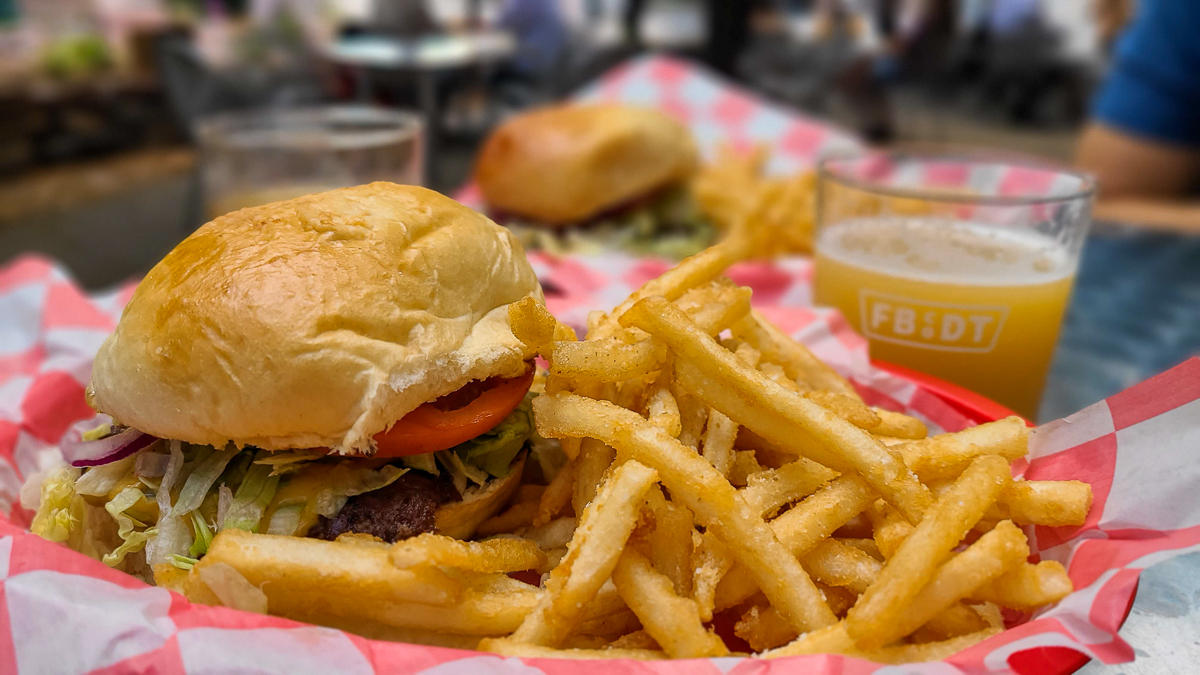 They also have a burger joint attached to them, Wagoo Burger, to satiate all your booze-induced hunger attacks. But this isn't just any burger joint – true barn-to-burger. All of the beef used comes from a farm about 30 minutes up the road and is processed by small businesses and into your hungry mouth.
The standard Wagoo Burger is delicious just as it comes (cheese, LTO, special sauce), but if you're feeling spicy, try the Oooo Bleeeep Burger, complete with jalapeno bacon, pepper jack cheese, LTO, and habanero jam. This one had Chris sweating!
And do yourself a favor…save room for the fries.
Fernson has two taproom locations in Sioux Falls – one at their actual brewery (which is currently closed) and another on the happenin' main street in downtown.
4. Remedy Brewing Company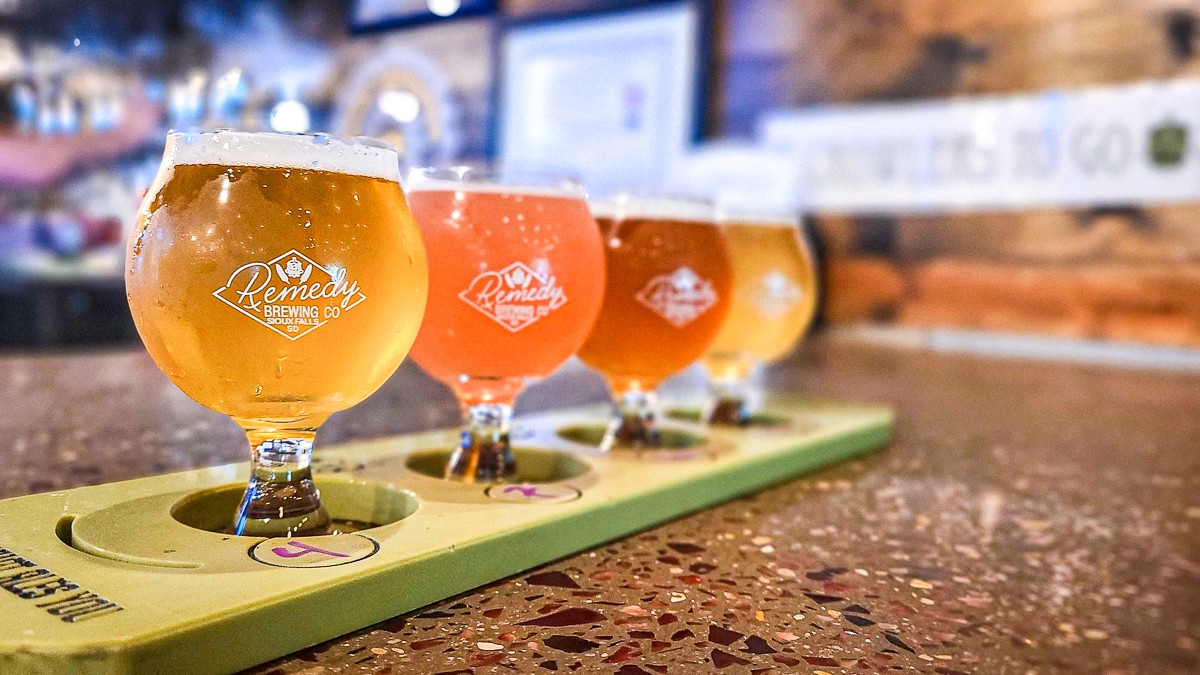 Every city needs a "hometown" brewery and Remedy Brewing seems like the hometown spot of the Sioux Falls breweries.
As one of the first microbreweries in the area, Remedy was established in 2013 when the brewer thought Sioux Falls needed a better beer scene.
The three-headed ownership team are friends from back in the day and joke that their beer is based on each of their personalities and skills: part inspiration, part science, and part mechanical knowhow.
With a tagline of "the cure that ales you", Remedy is brewing up some hometown favorites. Their heavier-than-most Queen Bee cream ale is 7.3% glass of deliciousness. Their Kickball sour series, which has absolutely nothing to do with the game of kickball and everything to do with the fact that an actual kickball was cut open and placed over the steam exhaust port to prevent the sour bacteria from wreaking havoc on all of Remedy's beers.
The rustic taproom is located in a historical building in downtown Sioux Falls and has everything from authentic Oktoberfest tables from Germany to cozy couches and chairs to a large patio to enjoy the South Dakota sun.
5. Look's Beer Co (at Look's Marketplace)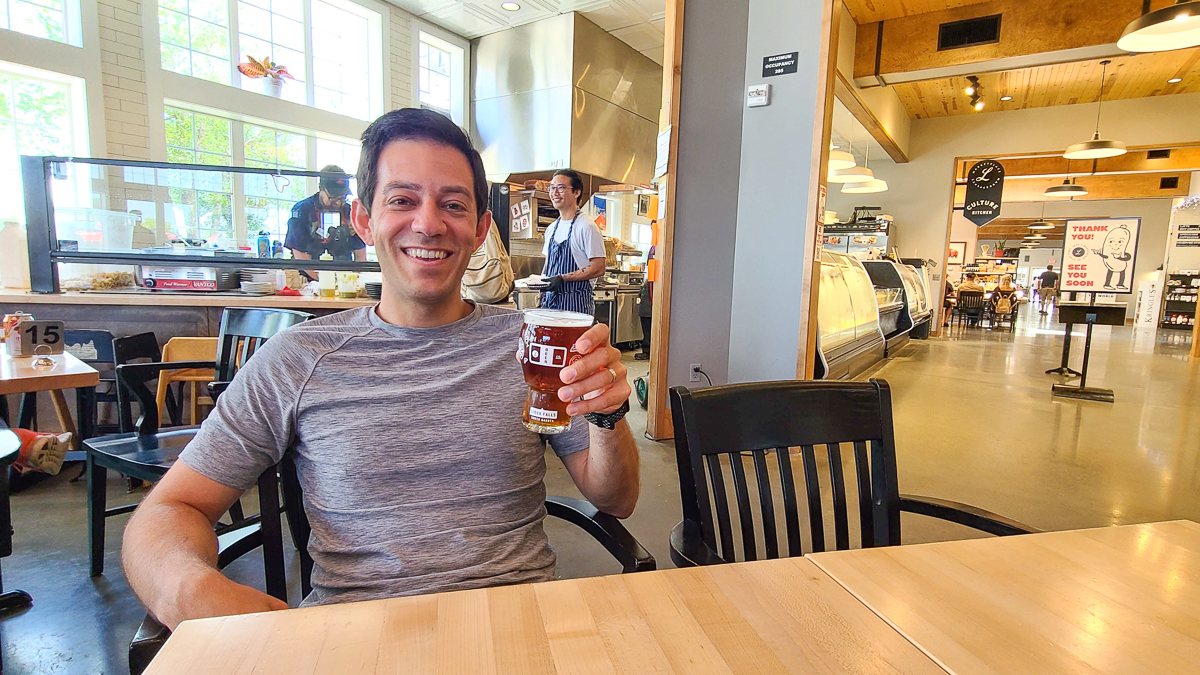 Look's Marketplace has been an institution in Sioux Falls since the 1880s, when a family of German immigrants opened a market in downtown.
Fast forward to today and you'll find Look's Marketplace about 15 minutes south of town, but it's worth every minute of that trip south.
It's a marketplace meets a butcher shop meets a food hall meets a brewery. A bit overwhelming when first walking in? Maybe a little bit. But sit down, grab a beer, and everything will be just fine!
By the time you've walked through the marketplace to get to the food hall/brewery section of Look's, you'll be salivating. Luckily, they have just the fix for you.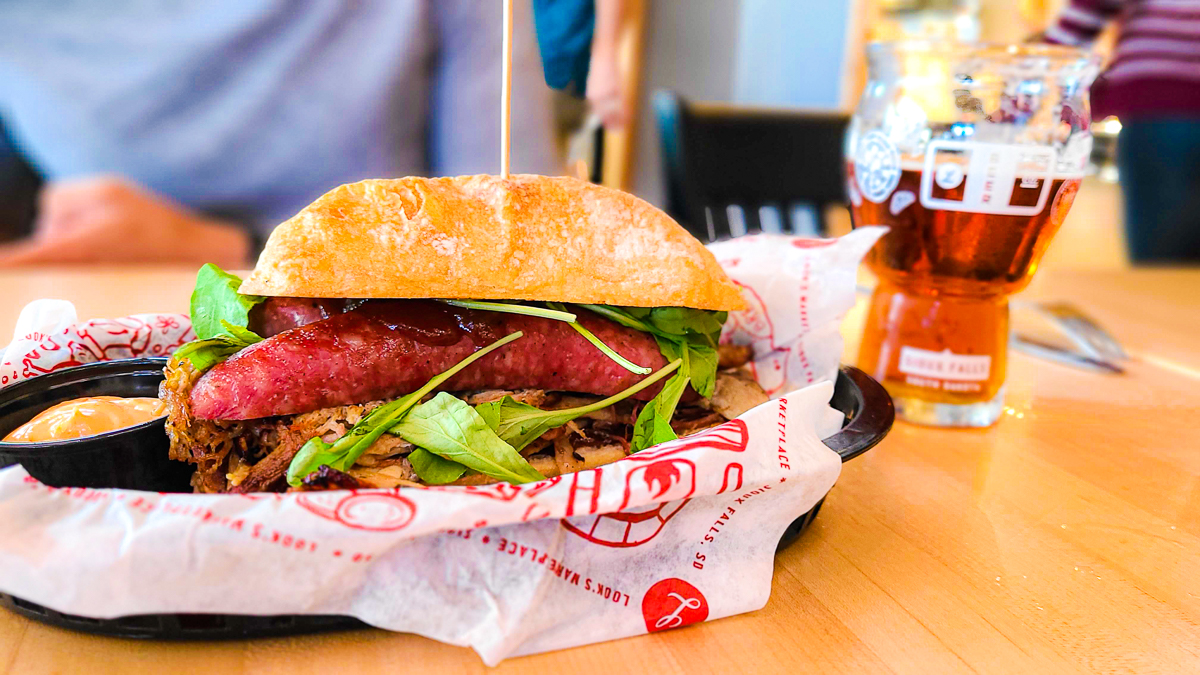 The Porcules sandwich is one of their claims to fame and was even featured on Diners, Drive-Ins, and Dives with Guy Fieri.
The sandwich is a meat-lover's dream with pulled pork, smoked pork belly, pit sausage, BBQ sauce, pickled onions, arugula, and chili lime mayo all on a toasty ciabatta roll. It is a Meal with a capital M!
And to wash it all down, Look's figured they might as well make their own beer too since they were making all of their own food already.
The taplist seriously has a bit of everything for everyone, including The Spacemonk from Zentwerp Belgian pale ale, the Chicken on a Raft English porter, or the Daisy Gazer hazy IPA.
For a place that we didn't even know was one of the Sioux Falls breweries, we absolutely loved our detour south!
If you ever find yourself passing through the Sioux Falls area, definitely take the time to visit. We know, it may not sound like much…what is there to do in South Dakota anyways. We said the same thing.
But come to South Dakota's biggest city and you'll be surprised at how much fun you can have in this charming midwestern city drinking in all of the goodness that the Sioux Falls breweries have to offer.
Ready to visit to Sioux Falls?
Don't forget to pick up a South Dakota guidebook for all your adventures.
Love this guide? Have questions? Get in touch with us on Facebook | Twitter | Instagram | Pinterest