The Best 8 Flagstaff Breweries in Arizona
Welcome to the spirited heart of Arizona, Flagstaff – where craft beer flows like the Colorado River and each pint tells a tale of tradition, innovation, and camaraderie. We're diving into an effervescent exploration of the best Flagstaff breweries, each one a gem in the glittering crown of the city's vibrant beer scene. 
From hearty stouts to aromatic IPAs, these breweries bring more than just impeccable brews to the table; they provide immersive experiences that make every sip a sensory journey.
Short on Time? Here are the key takeaways:
Most of the breweries offer food
In our opinion, Dark Sky Brewing was our favorite and don't skip their pizza
All but 2 are located downtown so you can easily brewery hop
Boozing Abroad contains affiliate links throughout the site. If you choose to purchase items through these links, we will earn a small commission at NO extra cost to you. Read the full disclosure policy here**
Map of Flagstaff Breweries
HOW TO USE THIS MAP: To view the layers and see the names of the places on this map, click the tab in the top left corner. You can select the check marks to show or hide certain layers. If you select the icons on the map, you will get more information about the point of interest.
HOW TO SAVE THIS MAP: If you select the star icon next to the map name, you can save this map to your Google Maps account. To view it, open Google Maps in desktop or on your phone, select the menu button, go to "Your Places," scroll to the right to Maps, and you will see this map.
Flagstaff Brewery Trail
If you like to be rewarded for your brewery endeavors, you download the Flagstaff Brewery Trail digital passport to earn yourself a free pint glass. 
Visit all eight breweries to collect stamps either via a geo-tag feature or by uploading a 'selfie' at each location. Once your brew-trek is complete, exchange your stamped passport for a commemorative pint glass at the Flagstaff Visitor Center or Flagstaff Convention & Visitors Bureau.
The craziest part about this, there is no purchase required (although where is the fun in that?). If you are visiting outside of business hours, to claim the stamp, upload a photo of yourself in front of the brewery's main entrance or sign.
If you do choose to drink at each location, please be responsible.
How many breweries are in Flagstaff?
There are 8 breweries in Flagstaff, Arizona.
The Best Flagstaff Breweries
Rather than trying to explain our pretty strong views on what makes a brewery the best, we've designed our own formula to objectively tell you what's literally the best.
We've devised our own ranking system based on 3 factors:
Public ratings (sites such as Google and Yelp)
The brewery's rating on Untappd
Popularity
The last two rankings showcase how loved they are while our personal opinion also plays into the overall ranking.
In the end, each brewery receives a score out of 5, but a brewery can score higher than five based on the bonuses for Untappd ratings at 4 and above and how popular it is. We will break ties using the total number of reviews. In general, the higher the score, the better!
Here is our ranked list of the best Flagstaff breweries:
| | | |
| --- | --- | --- |
| Rank | Brewery | Score |
| 1 | Mother Road Brewing Company | 5.27 |
| 2 | Dark Sky Brewing Company | 5.10 |
| 3 | Beaver Street Brewery | 4.82 |
| 4 | Wanderlust Brewing | 4.81 |
| 5 | Lumberyard Brewing Company | 4.57 |
| 6 | Historic Brewing Company | 4.55 |
| 7 | Grand Canyon Brewery | 4.18 |
| 8 | Flagstaff Brewing Company | 4.06 |
| *** | Drinking Horn Meadery | 5.28 |
If you want to learn more, read our ranking formula.
Ready to learn about each of these breweries and choose your own favorite brewery in Flagstaff?
1. Mother Road Brewing Company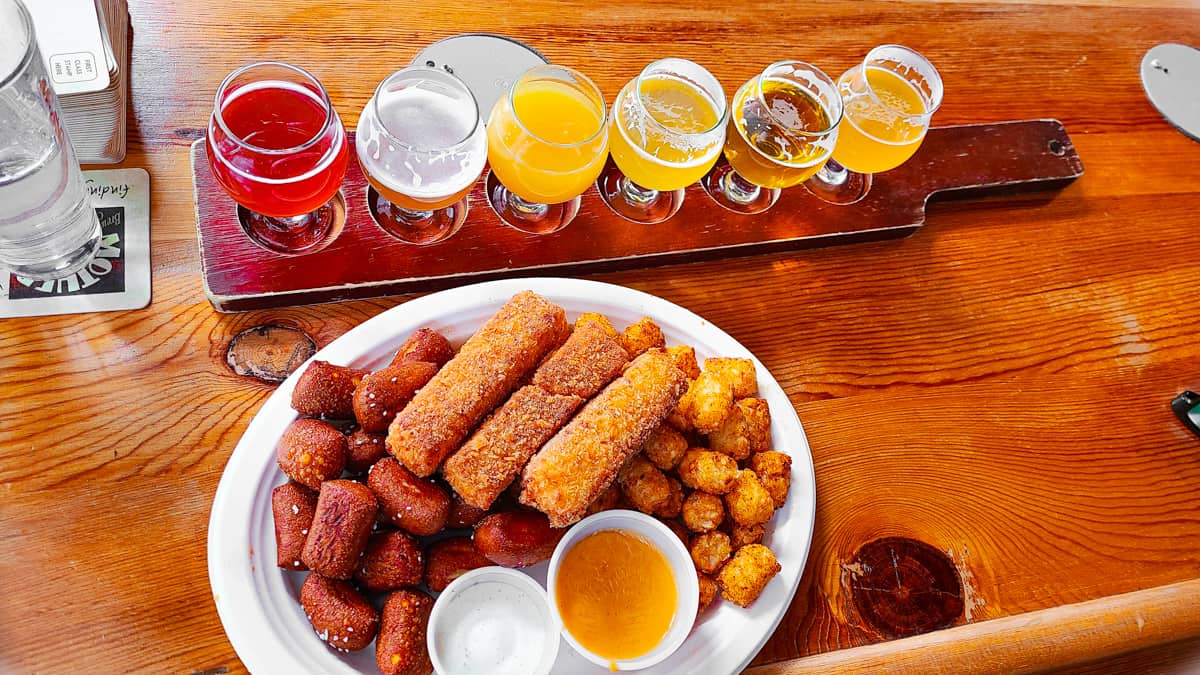 Hours:

Monday – Wednesday 2PM – 9PM
Thursday 2PM – 10PM
Friday – Saturday 12PM – 10PM
Sunday 12PM – 9PM

Food Available: Yes, stationary food truck onsite. No outside food allowed.
Founded in 2011, Mother Road Brewing Company is Arizona's third-largest craft brewer and is located in the heart of Flagstaff, on a historic stretch of the iconic Route 66.
Named after a phrase from John Steinbeck's classic novel "The Grapes of Wrath", this is the perfect place to enjoy what they like to call their "radical" hospitality.
Enjoy a cold one on their large patio, chow down on some delightful bites from their teamed-up venture with Satchmo's Cajun & Barbecue, and take in the unique flavor of Arizona's beer culture.
From their Day Drinker Lager to the Tower Station IPA (which Chris thinks is one of his favorite everyday-drinking IPAs), every mainstay brew we tried was a mouthwatering masterpiece.
But their seasonal Daily Driver Juicy Pale Ale stole the show for us. This brew took us on a journey down a road less traveled with a great citrusy hop character that danced with the tropical notes producing a solid adventure in a glass.
2. Dark Sky Brewing Company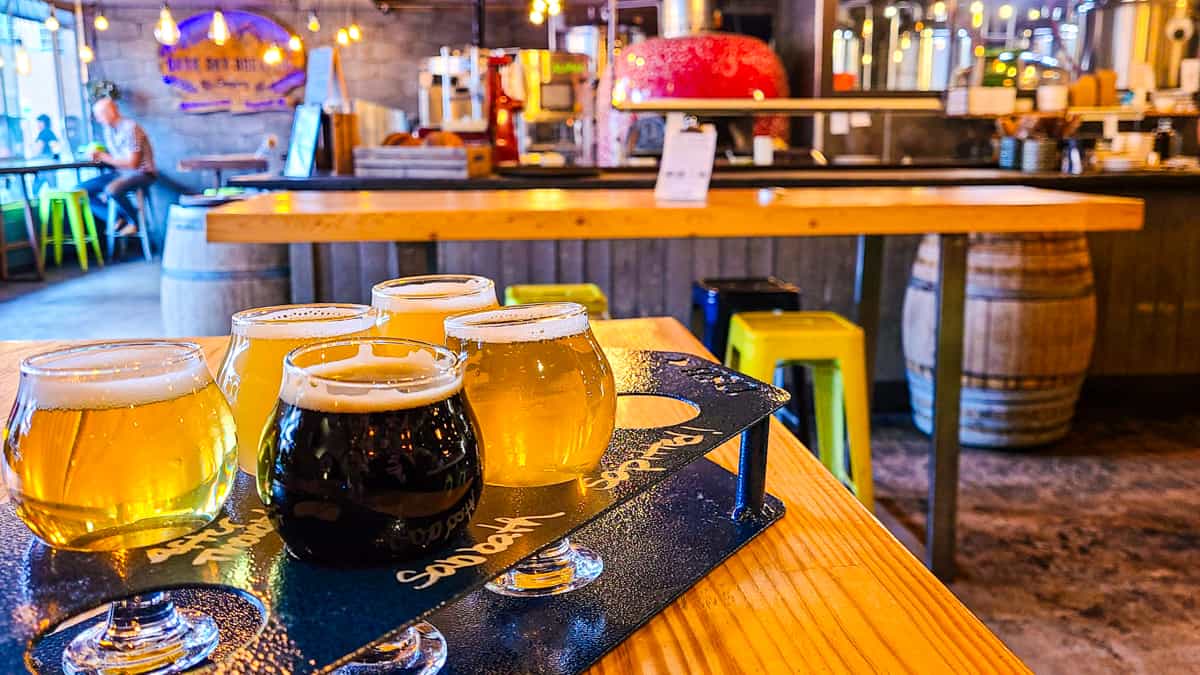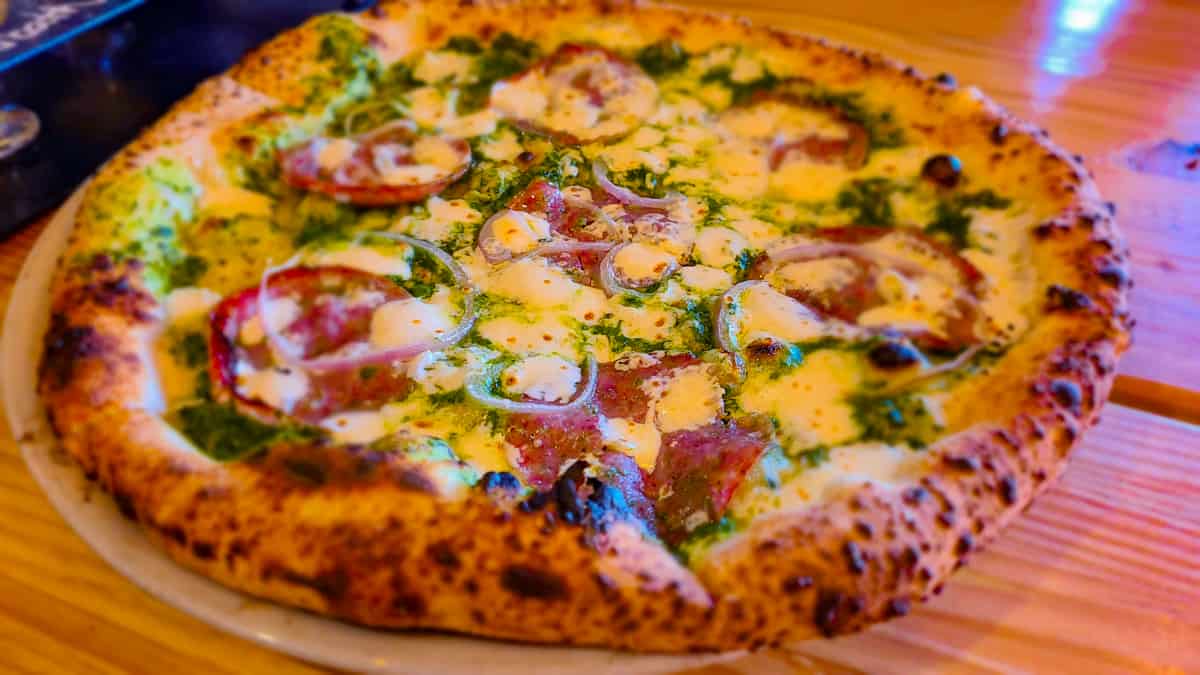 Hours:

Beaver Street: Daily from 12PM – 10PM
Beer Garden with Atmosphere Kitchen (21+ only, no kids allowed)

Friday & Saturday: 12PM – 12AM
Sunday – Thursday: 12PM – 10PM

Food Available: Yes
Dark Sky Brewing is a gem that's been twinkling in the heart of Flagstaff since 2014. 
Imagine a place where the beer is as unique and spectacular as every celestial body you can spot from the backyard. Their microbrewery's creative juices are always flowing, with brews that range from traditional favorites to daring experiments with exotic ingredients.
With 16 taps to choose from, we suggest getting a flight here because every single beer left us wanting more.
One unforgettable moment was my encounter with their So Pitted, a tart kettle sour with a burst of pineapple, vanilla, coconut and cinnamon. It was a tantalizing trip to the wild side of beer. It took my taste buds by storm and left me pining for more.
Dark Sky has spread its wings with a snazzy new beer garden, complete with bright teal umbrellas, draft cocktails, rentable spaces, and a pup-friendly patio. This spot is 21+ only.
BUT don't worry – their original family-friendly taproom, paired with the mouth-watering Pizzicletta kitchen, is still the same cozy haven you know and love.
Whatever you do, don't skip the pizza. In addition to being incredible, they suggest beer-pizza pairings if you're looking to really blow your taste buds out of this world.
3. Beaver Street Brewery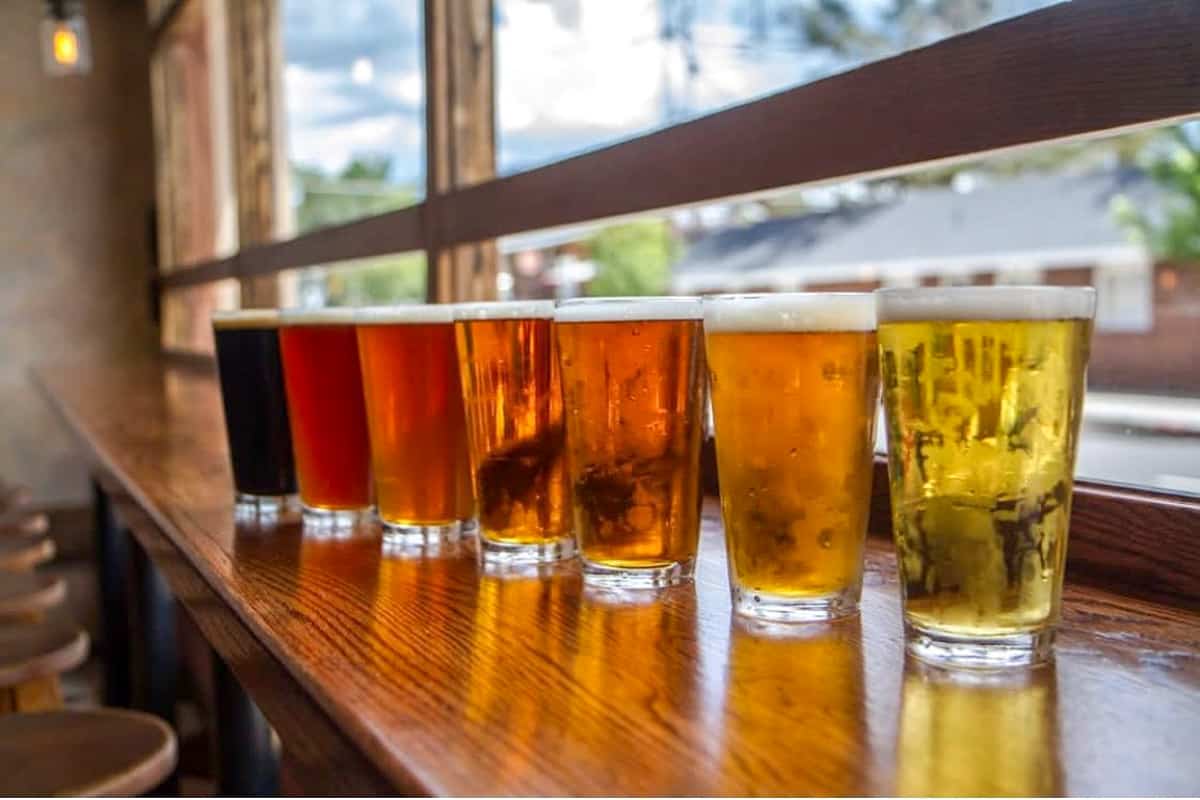 Hours:

Sunday – Thursday: 11:30AM – 9PM
Friday – Saturday: 11:30AM – 10PM

Happy Hour:

Monday – Friday 2:30PM – 5:30PM

$2 OFF Beaver Street Brews
$2 OFF House-made cocktails

Food Available: Yes, full restaurant
Beaver Street Brewery opened its doors in 1994 as Flagstaff's first brewpub. With growing success and demand, owners Winnie and Evan Hanseth established their sister brewery, Lumberyard Brewing Company (number 6 on this list), which continues to brew the flagship Beaver Street beers. 
They've got seven mainstay brews and five seasonals to quench your thirst, while their menu – boasting unique sandwiches, salads, and wood-fired pizzas – tantalizes your taste buds.
Want a sneak peek into the magic? Watch their chefs whip up your meals in an open kitchen, or catch their brewers crafting ales and lagers behind the bar.
For the adults in the group, Brews & Cues, their 21+ bar directly next door, offers pool tables, TVs, draft beers, cocktails, and plenty of good times.
4. Wanderlust Brewing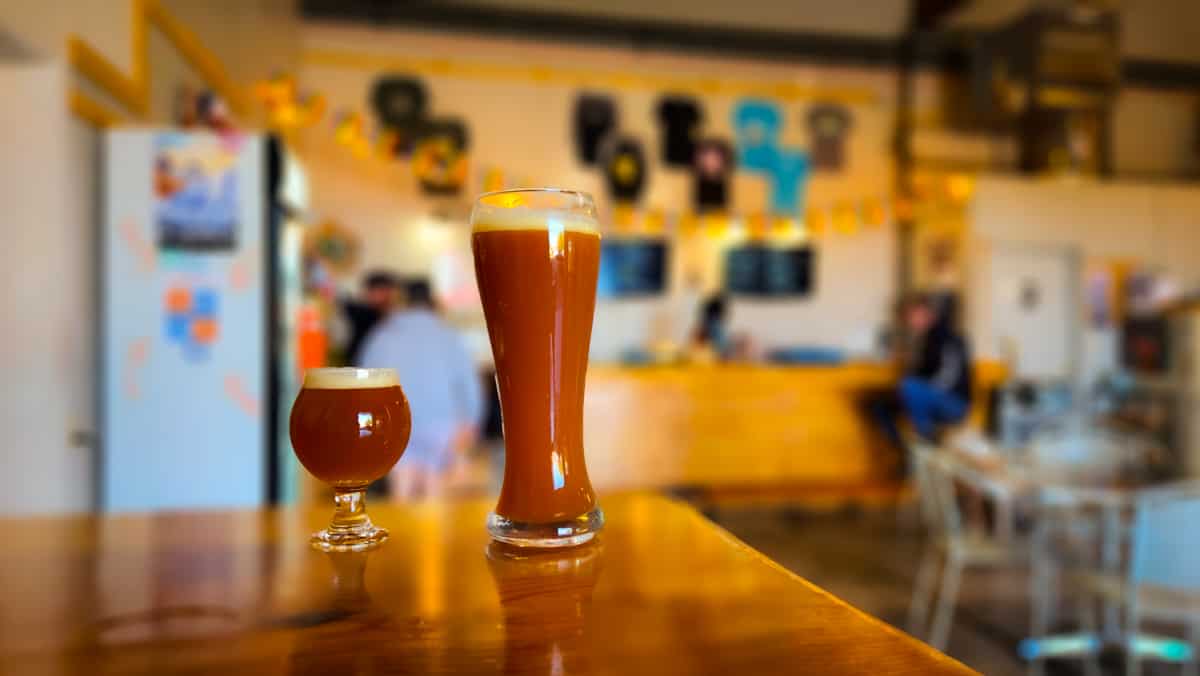 Hours:

Tuesday – Friday 4PM – 9PM
Saturday – Sunday 2PM – 8PM

Happy Hour:

Tuesday – Friday from 4PM – 6PM & Saturday – Sunday 2PM – 4PM

Food Available: No, but they usually have rotating food trucks
Tucked away in a cozy business park in Arizona's high country, you'll stumble upon Wanderlust Brewing, a delightful microbrewery fueled by adventure and a love for travel. 
Their eclectic beer repertoire is as varied as the many places they draw inspiration from – think Saisons, Farmhouse-style ales, German Hefeweizens, Belgian-inspired sours, British-style dark ales, and even obscure delights like Finnish Sahtis and German Gose. Don't be fooled though, they can also whip up a mean hoppy brew!
Brewing, to them, is a fascinating dance between science, for consistency and quality, and art, where they revel in the chaos of their extensive barrel aging and sour beer program.
The name Wanderlust is a nod to their penchant for exploration and the collection of memories and experiences from travels far and wide, which are poured, quite literally, into every brew.
Their taproom boasts their flagship beers, rotating seasonals, and occasional special bottle releases, and they even offer Northern 7 Hard Seltzers and growlers filled from their counter-pressure station for the longest possible shelf life.
5. Lumberyard Brewing Company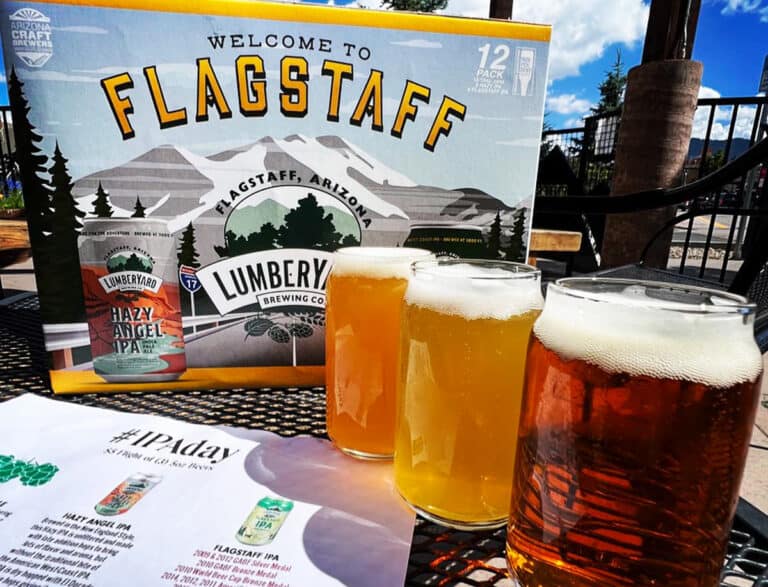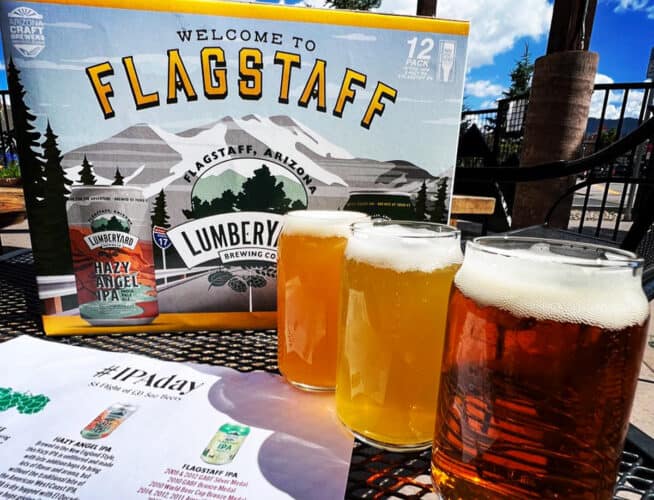 Hours:

Monday – Thursday: 11:30AM – 10PM
Friday – Saturday: 11AM – 10PM
Sunday: 11AM – 10PM

Happy Hour:

Monday – Friday: 3PM – 6PM
$5 Pints & $10 Yard Jars

Food Available: Yes, full restaurant
Nestled in the heart of Flagstaff, Arizona, inside a beautifully restored early 1900s lumber building, Lumberyard Brewing Company has been satiating taste buds with award-winning beers and mouth-watering pub favorites since 2010. 
Beyond its historic charm and a spectacular patio, the 'Yard boasts 7 mainstay brews, a medley of seasonals, limited releases, and of course, their latest brainchild, Hazy Angel IPA.
Founded by the dynamic duo, Winnie and Evan Hanseth, originally of Beaver Street Brewery fame (see #3 on this list), Lumberyard was their answer to the public's insatiable thirst for their brews and a grand vision to distribute their frothy goodness across Arizona.
At Lumberyard, they're not just serving beer and food, they're crafting unforgettable experiences with a dash of attitude, a sprinkle of altitude, and a whole lot of love for their local community.
6. Historic Brewing Company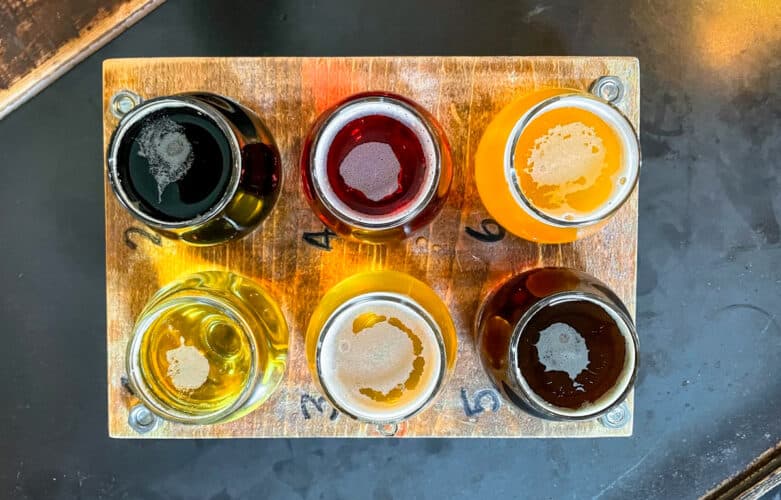 Hours:

Monday – Thursday: 12PM – 9PM
Friday – Saturday: 11AM – 10PM
Sunday: 11AM – 9PM

Food Available: Yes, full restaurant
Introducing Historic Brewing Company, the ultimate party spot in Flagstaff, housing two exciting concepts under a single, lively roof. 
One can savor an array of beer selections in the taproom or enjoy beautifully hand-crafted cocktails in the lounge, all while dining on a menu packed with gluten-free, vegan, and vegetarian options.
Born in 2013 with a solid purpose and the spirit to overcome setbacks, Historic has managed to create an unparalleled experience in the beer industry. Now, they are renowned for their expanded production, distribution, and fan-favorite brews such as the Piehole Porter and Undercover Cucumber.
And you can't miss their refreshing Salt & Lime Arizona Lager, a beer reminiscent of a sunny beach day with its lime and herbal finish. This is literally one of my FAVORITE crushable summer beers and perfect for those scorching-hot Arizona days.
Also, their Cherry Vanilla Porter is a sweet and slightly roasty delight, their Opposable IPA offers a balanced bitterness, while the Oceanfront Property Lager and the Jack Wagon Hazy IPA are perfect choices for those craving crisp and tropical brews.
7. Grand Canyon Brewery
Hours: Open Daily, 11AM – 10PM
Food Available: Yes
Once a humble Navy veteran, John Peasley dove headfirst into the world of hops and yeast in 2007, creating the Grand Canyon Brewing Company in his beloved childhood vacation spot, Williams, Arizona. 
Fast-forward to 2017, and you'd find John leading the brewery's growth spurt, complete with a 40-barrel brewhouse, shiny canning line, and a cozy taproom that wafts the intoxicating aroma of fresh beer.
Not one to rest on his laurels, John then introduced distilling into the mix, creating grain-to-glass spirits and whiskeys with 100% local grain. The expansion didn't stop there as Flagstaff, Arizona got a taste of John's liquid gold with a fun-filled brewpub featuring a game area, full bar, a dog-friendly patio, and a variety of small-batch brews.
As of 2023, the Grand Canyon Brewing + Distillery family grew even bigger, adding a fourth location in Kingman, Arizona (another location in Page), complete with a 7-barrel brewhouse for small-batch brews, making this brewery a home away from home for every beer lover!
8. Flagstaff Brewing Company
Hours: Daily from 11AM – 2AM
Food Available: Yes, full kitchen
Flagstaff Brewing Company has long been a cornerstone of Flagstaff's craft beer scene. 
Tucked away in the heart of downtown Flagstaff, Flagstaff Brewing Company (or Flagbrew for the locals) has been the go-to spot for a laid-back brewpub experience since its inception in July 1994.
Flagbrew likes to keep it cozy and intimate, so don't be surprised if only a select few beers are available on tap. All of their beers are micro-batches so if you like something, you might want to get a growler full.
And if whiskey's more your thing, buckle up – you're about to dive into one of the country's largest collections of single malts and small-batch bourbons. They have some seriously rare finds from Rip and Pappy to Mitchel and Balvenie, we were stunned at the collection.
BONUS: Drinking Horn Meadery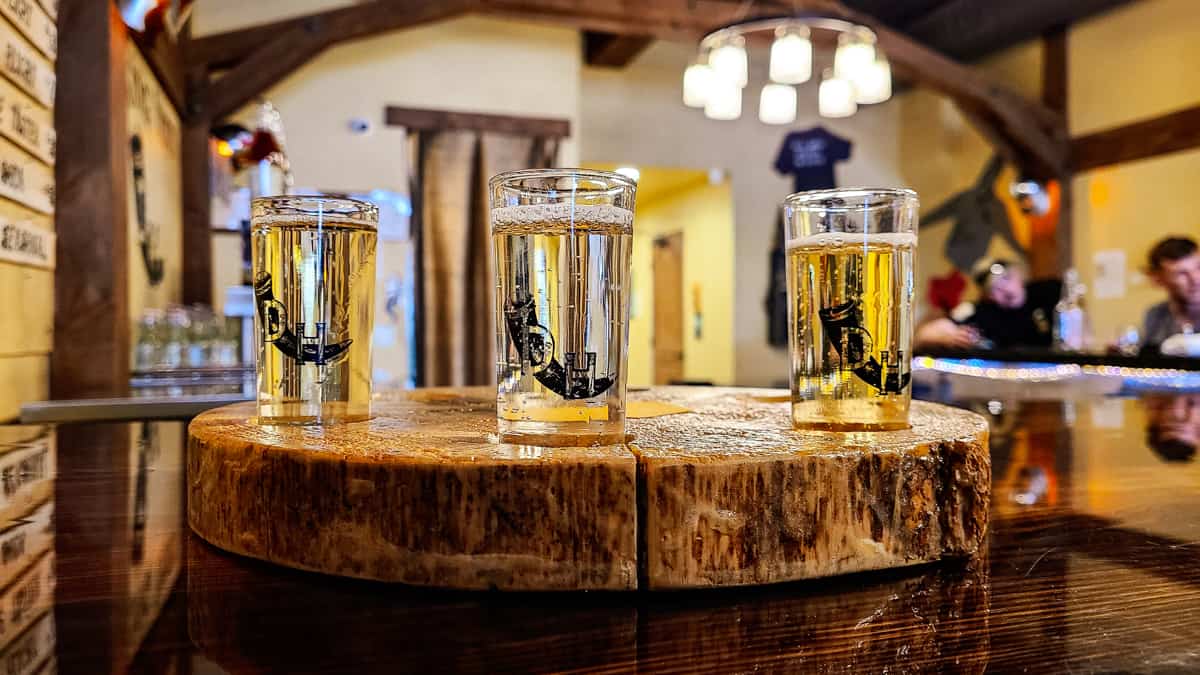 Hours:

Sunday – Thursday: 11AM – 10PM
Friday – Saturday: 11AM – 11PM

Food Available: No, but you can bring your own food
If you saw our ranking list above, Drinking Horn Meadery actually beat out ALL of the above listed breweries! Since mead technically isn't a brewery, we opted to add them here and not at the top of the list.
But this extraordinary place earns a spot on our list for its unconventional offerings and insanely high reviews not only on Untappd, but most public sites.
Once upon a time in the pine-kissed haven of Flagstaff, Drinking Horn Meadery popped onto the scene in 2017, and boy, have they been turning heads since then! As a hive of honey-based libations, this place is all about mead. 
What's mead? Think of it as the Viking's champagne. They're on a mission, a sweet, honey-infused mission, to reconnect us all with one of mankind's earliest sips of delight.
If you've never tried mead before, fear not: the staff at Drinking Horn are just as sweet as their offerings, and they'll guide you through their extensive menu. They've got a mead for every mood, whether you fancy it sweet or dry, bubbly or still.
Trust me, we do NOT like sweet drinks, and were blown away with the options they had.
I tried their Vanilla Bean Mead, a concoction that was smooth and velvety, with just the right hint of vanilla. It had a certain warmth that crept into my soul and curled up there like a contented cat.
As we raise our glass to the vibrant brewing scene of Flagstaff, it's clear why this charming mountain town is a beloved destination for beer lovers.
Each of the 8 breweries, from the adventurous ethos of Lumberyard Brewing Company to the laid-back charm of Flagstaff Brewing Company, offers a unique taste of Flagstaff's brewing genius. Historic Brewing Company's creativity in both beer and cocktails, Grand Canyon Brewing + Distillery's spirit-filled journey, and the pioneering efforts of Beaver Street Brewery only add to the town's beer cred.
The innovation of Dark Sky Brewing, the nostalgic brews of Mother Road Brewing Company, and the vibrant spirit of Wanderlust Brewing Company further enhance the town's reputation as a beer haven. So, whether you're a casual sipper, a beer connoisseur, or an ale adventurer, Flagstaff's top breweries offer a beer-infused journey you simply cannot miss.
Here's to good times, great beer, and the unique spirit of Flagstaff's brewing community!
Thirsty for more? Check out these guides: