Cirrus Vodka – How Potato Vodka is changing the game
Potatoes give us chips, fries… and potato vodka. All other vegetables need to step up their game!
If you are reading this, there is a 99% chance that you have a specific memory related to vodka. Many of us think of vodka as one of the simplest of the spirits because it's colorless, often flavorless, and can be mixed with just about anything.
And it's vodka's lack of flavor (that burn you feel on the way down isn't flavor) that explains a lot about why you see so many varieties of flavor-infused vodkas on the shelves today.
Vodka is typically associated with countries like Russia, but it's actually among the top-selling spirits in the U.S. But what do you really know about vodka?
A common thought is that all vodka is made from potatoes. You'd be wrong. Most of the vodkas out there today are grain-based like corn, wheat, or other grains, resulting in a much lighter (in body, not alcohol) spirit – which explains the need to mix it with some other flavor. There are some vodkas that are grape-based too.
However, since all you really need to make vodka is fermentable sugar, there are a variety of other base ingredients that can be used to concoct this clear drink.
*Quick note: since we posted this, Cirrus Vodka has updated their bottle design and logo*
Psst: We have a bunch of guides about Richmond. Browse them all here.
**Boozing Abroad contains affiliate links throughout the site. If you choose to purchase items through these links, we will earn a small commission at NO extra cost to you. Read the full disclosure policy here**
A Quick History of Vodka
Originating in Russia during the 14th Century, vodka was made from the cheapest and most widely available ingredients, which in Russia, was potatoes or other cereal grains.
Derived from the Slavic word, "voda" meaning water, vodka became the national drink of Russia and quickly spread across the globe shortly after World War II.
Vodka is traditionally distilled at 40 percent because Russians prefer a lower-alcohol beverage consumed un-chilled and unmixed.
However, in other countries, vodka is used as a mixer due to its neutral characters and is void of any specific flavor (unless otherwise added – i.e. cotton candy vodka).
Neutral does not mean tasteless – another misconception. And you'd know that if you tasted Richmond, Virginia's Cirrus Potato Vodka.
Potatoes are our new favorite vegetable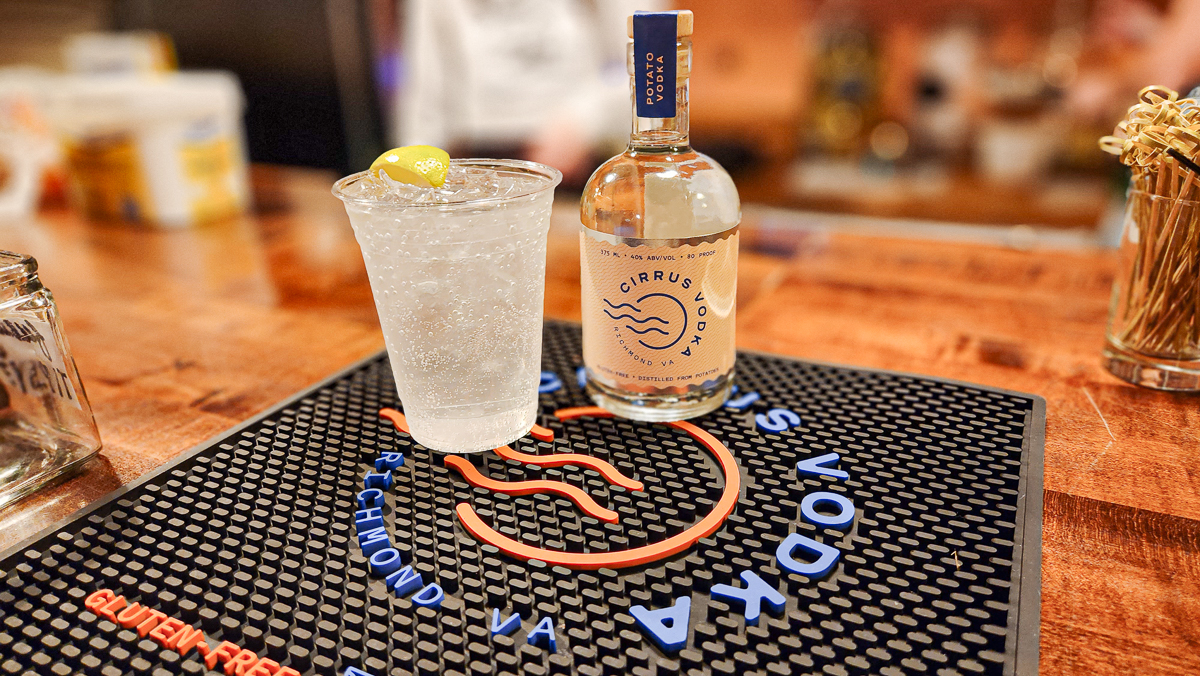 A potato vodka, in addition to being naturally gluten-free, is a creamier version of its grain-based cousin.
This results in a vodka that is less of a one-stop-shop option and more of a sophisticated and sippable spirit.
Grown-up vodka, if you will.
Lucky for us, we have this creamy, sophisticated, grown-up vodka being produced right in our own backyard, compliments of Cirrus Vodka.
We had the chance to go behind the scenes at Cirrus Vodka with Tom Ellington, Director of Sales and Marketing, and Eliad Gebrehiwot, one of the head distillers, to learn more about the history of the company and their process which sets them apart from the rest.
Cirrus Vodka
Back in 2003, founder Paul McCann, a self-proclaimed vodka connoisseur, was looking for something different than the regular ol' vodka he'd been drinking for years.
Instead of continuing his search for the perfect vodka, he decided he would make his own and that it would be 100% potato-based. And we are very thankful that he did – potato vodka is awesome!
Not long after, his potato vodka took home a silver medal in the 2005 San Francisco World Spirits Competition, which is considered one of the most respected and influential international spirits competitions.
The silver medal only fueled the fire as Cirrus Vodka was back again in 2006 and this time, took home the gold medal!
Falling on hard times in 2013, Cirrus Vodka actually ceased production of its award-winning vodka and its production equipment was even sold at auction.
**gasps**
Then, in 2015, the vodka gods, aka new investors (vodka-lovers in their own right), approached McCann about starting production up again, this time with a much bigger still and, thanks to Virginia's slowly evolving liquor laws, a tasting room, too!
Making the Potato Vodka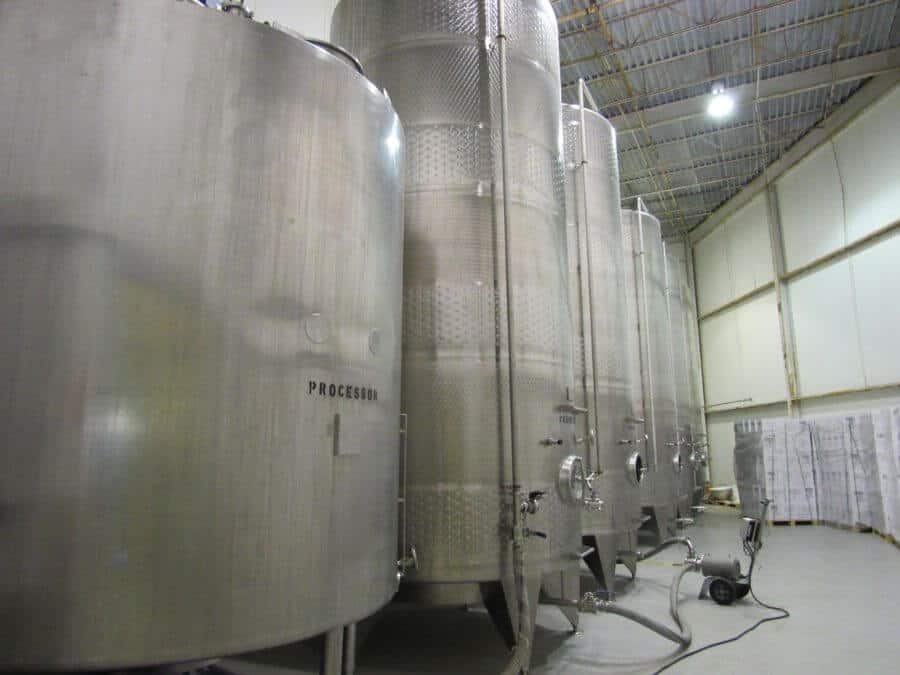 On the Cirrus Vodka tour, you will see and learn all about the distilling process, so we won't go into much depth here – don't want to ruin the potato magic.
Using dehydrated potatoes, Cirrus Vodka heats the potatoes (to kill bacteria) and adds an enzyme to break down the potato starches to sugar because potatoes don't have a lot of sugar (like corn or other grains – think high fructose corn syrup).
The folks at Cirrus Vodka tell us that almost 95% of vodkas out there today use some sort of grain in their distilling process; but not here.
Side note: all you health-conscious drinkers, have you checked what your preferred vodka is made of? Potato-syrup doesn't exist – just saying.
The mash is then cooled, yeast is added, fermentation happens, ethanol is produced, and moves to a distillation column where *more science happens* and bazinga, you have vodka (We'll let you learn this on the tour as it is super fascinating and words couldn't do it justice).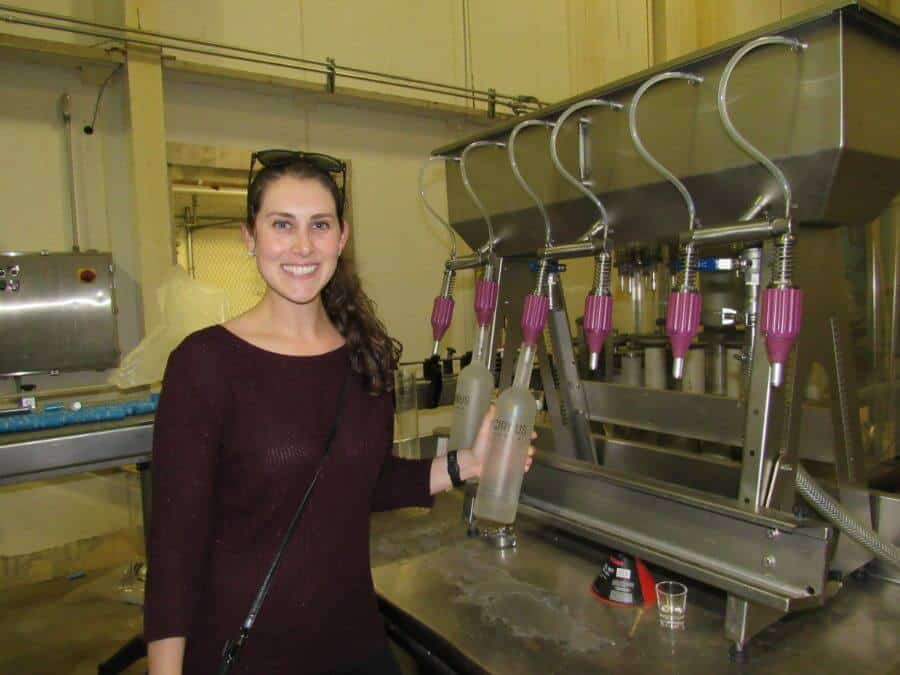 When it comes time to bottle up the good stuff, Tom, Eliad, and others are still hand-bottling, sealing, and packaging on-site, ensuring that you get a high-quality potato vodka with a personal touch (pun intended).
Robots may be coming for some of our jobs, but not at Cirrus Vodka!
Supporting Local
Cirrus Vodka supports local as much as possible by sourcing as many potatoes as possible from local farms in Virginia but also will use other local East Coast farms to help with demand.
Cirrus Vodka informed us that the local City of Richmond water is "soft", making it very pure and clean, which makes for a great base to any alcohol.
It's hard to believe that the James River (known by locals to be dirty and muddy) is the main source of water for the city, but Richmond is actually a pioneer when it comes to water filtration systems as it was the first city to build a sand filter to clean its water (dating back to the colonial era).
For you history buffs out there, although this sand filtration system eventually failed, Richmond's efforts were seen as the beginning of filtration of public water supplies in the U.S.
This pure water plays a huge role in Cirrus's distilling process as it adds purified minerals from the water which adds to the sensual full-bodied character of the vodka.
It's no wonder that distilleries and breweries have come out of the wood works in Richmond with the pure water supply!
California-based Stone Brewing, whose East Coast hub is in Richmond, actually has to add minerals to their water to get the same taste profile as the water out on the west coast.
Getting thirsty yet?
If it's your first time visiting, make sure you try the potato vodka by itself so you can taste the smoothness and sheer perfection of the spirit. 100% potatoes throughout the process make this drink 100% gluten-free!
After you've tasted the vodka, settle down at the bar for a flight of three different mini-cocktails. The jalapeno mule is Chris' favorite and packs just enough heat to keep you on your toes while the tried-and-true Limeade might be one of Samantha's favorite refreshing drinks.
A porch pounder as she might call it. There are a variety of other cocktails available with many of them being seasonal.
Cirrus Vodka even has a Bloody Mary bar on Sundays to help you kick off Sunday Funday!
Samantha's new favorite summer drink is to mix Cirrus Vodka with some lemon seltzer water. It's so smooth, she doesn't even need anything else!
Don't forget that the Virginia state law limits you to 3 ounces of liquor per day at the actual distillery itself. Depressed you can only have a mini-flight? We've felt that too.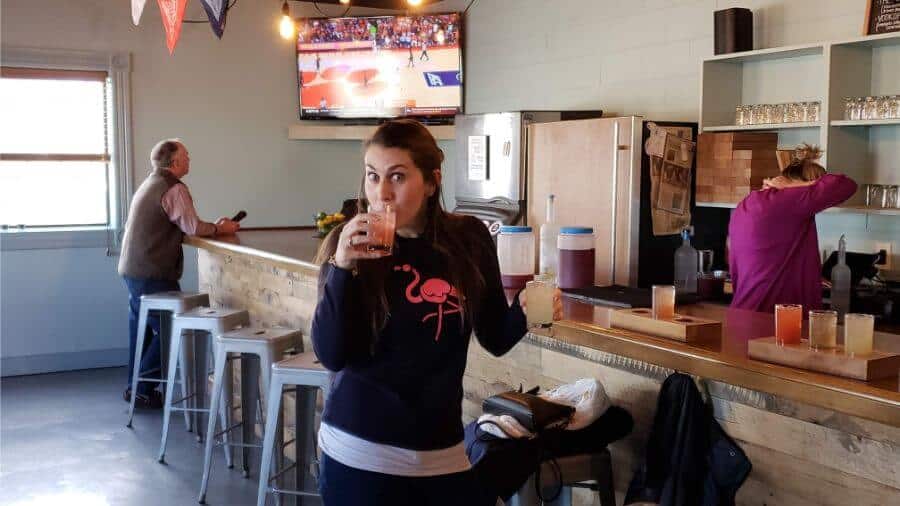 There are other ways you can support them though. Ask for them at a local bar or grab a bottle to share with friends! Heading out to a VCU Rams basketball game?
Ask for Cirrus Vodka in your mixed drink as it is the official premium vodka of VCU basketball!
Not all vodkas are made equally. Potato vodka sports a full-flavored, rich texture that other vodkas fail to provide. Cirrus Vodka is one of the top craft premium potato vodkas on the market, is produced in the U.S. with local potatoes, and has quickly become one of our favorites!
Make sure you stop by their tasting room near Scott's Addition and check out their sister brewery, Main Line Brewery.
They are easy to add to your Scott's Addition brewery hopping adventure, or you can look for them in a local ABC Store.  
For those out of state, Cirrus Vodka can be found in Washington DC, Maryland, West Virginia, North Carolina, and South Carolina.