The Best 6 Downtown Breweries in Richmond, VA
The breweries in downtown Richmond include some very well-known breweries, including Richmond's "first" brewery (quotations explained below).
It also includes the Eastern production and distribution outpost for one of the nation's largest craft breweries!
A lot of other blogs and websites have brewery guides that include a list of breweries that aren't actually located in the DOWNTOWN area.
If you are looking for an overview of all our beer guides for Richmond, see our complete guide on Richmond Breweries.
Click here if you are looking for Scott's Addition Breweries.
**Boozing Abroad contains affiliate links throughout the site. If you choose to purchase items through these links, we will earn a small commission at NO extra cost to you. Read the full disclosure policy here**
Map of Breweries in Downtown Richmond
Click the interactive map below!
HOW TO USE THIS MAP: To view the layers and see the names of the places on this map, click the tab in the top left corner. You can select the check marks to show or hide certain layers. If you select the icons on the map, you will get more information about the point of interest.
HOW TO SAVE THIS MAP: If you select the star icon next to the map name, you can save this map to your Google Maps account. To view it, open Google Maps in desktop or on your phone, select the menu button, go to "Your Places," scroll to the right to Maps, and you will see this map.
Downtown Richmond Breweries (Organized from West – East)
1. Triple Crossing – Downtown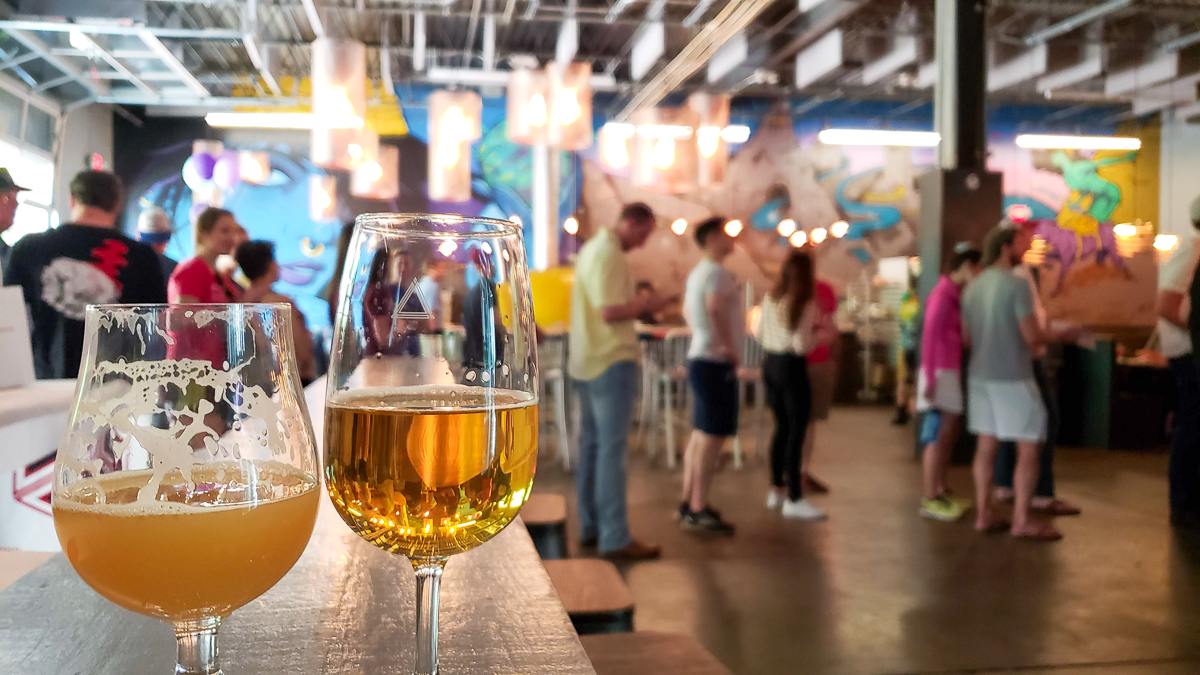 Named for a downtown RVA spot where three railroads intersect, Triple Crossing has two locations, one near downtown and the other in Fulton.
The downtown location is the original and much smaller of the two spots, with a small tasting room and patio.
As Triple Crossing continued to gain notoriety in the beer market and needed to ramp up their operations, they opened the brewpub in Fulton (keep reading).
Their flagship is the Falcon Smash IPA, but be adventurous and try one of their many other creations which tend to be very hop-centric.
While this location is nostalgic, we both prefer their larger Fulton location just 10 minutes down the road.
2. Legend Brewing Company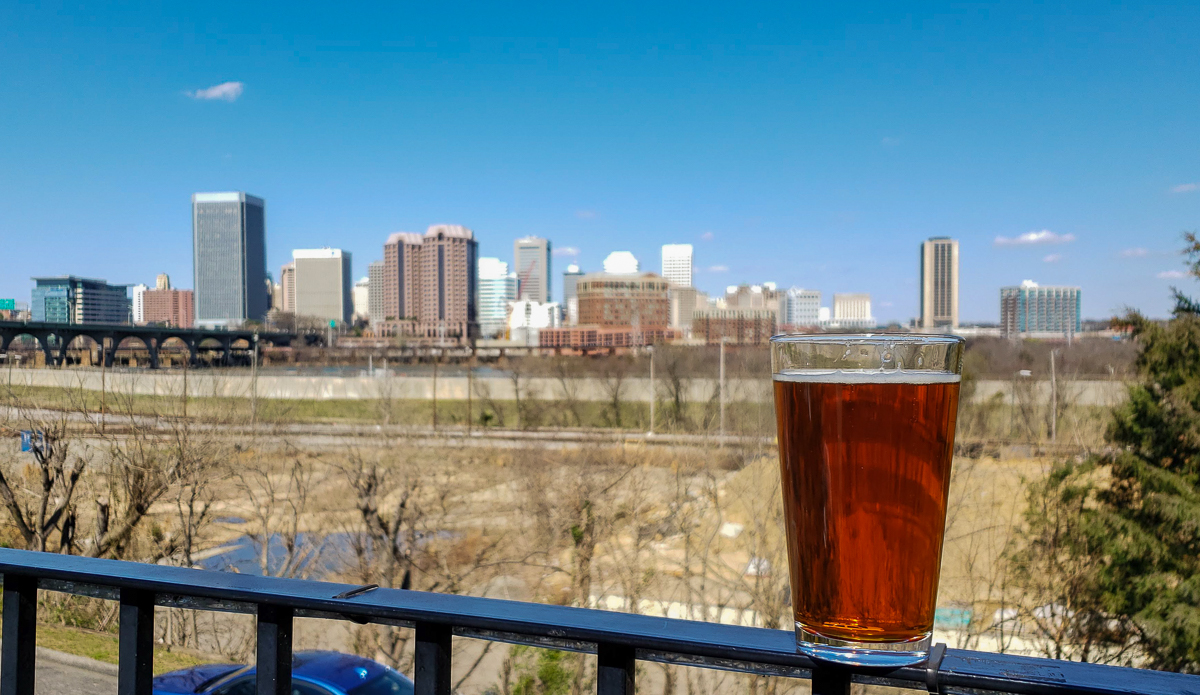 This is where the craft beer scene in RVA all began back in January 1994, (sorta /kind of**. See Richbrau Brewing below).
Legend is Richmond's original craft brewery located in the heart of the Manchester neighborhood. With a sprawling view overlooking the iconic James River, Legend's offers a rare downtown skyline spectacle coupled with a full menu.
The Legend Brown Ale is their most popular beer and one of the original brews. This is an easy-to-drink brown ale, rich with caramel, toasted nuts and coffee undertones that has a delicious balance for a crisp and refreshing taste.
The Z Dam, named for an iconic dam along the James River, is a light-bodied, pale-gold summer ale with hints of ginger, orange and lime flavors balanced in the hops.
This is the best view from any of the breweries in downtown Richmond. While they have broadened their beers in the last 10 years, Legend has mastered the traditional styles of beers.
No frills at this classic Richmond brewery with great pub food too!
3. Basic City Beer Company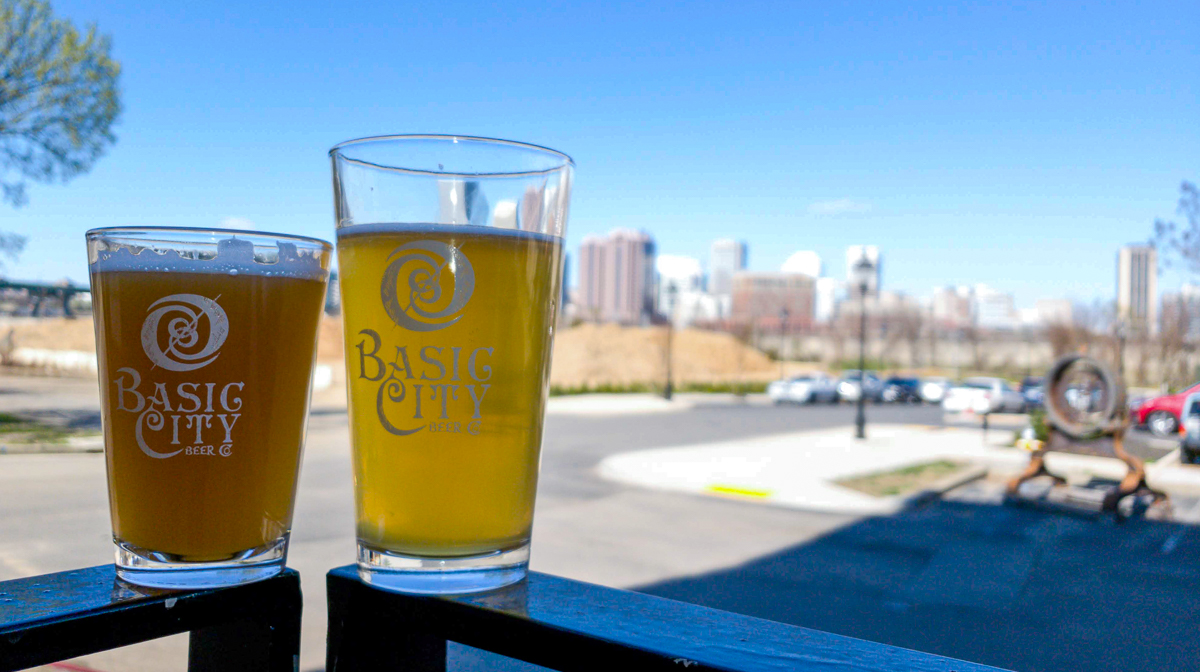 Coming to Richmond from Waynesboro, Virginia (a.k.a Basic City), Basic City Beer Co. moved in to take the spot of a departing brewery and has picked up quickly.
Just a 2-minute walk down the road from Legend, Basic City boasts many types of beer, many hailing from the Waynesboro location, and many unique to Richmond.
The Grinville Vanilla Stout is infused with 2 types of Vanilla Beans: Madagascar & Indonesian, and was perfect to warm us up on a chilly evening while looking across the river at the skyline.
Not quite the view of Legend, but a view of the skyline nonetheless, and a super cool atmosphere with lots of room for games and hanging out with friends.
They also have a large game room for those wanting a spot to kick back and relax while sipping some suds.
4. Richbrau Brewing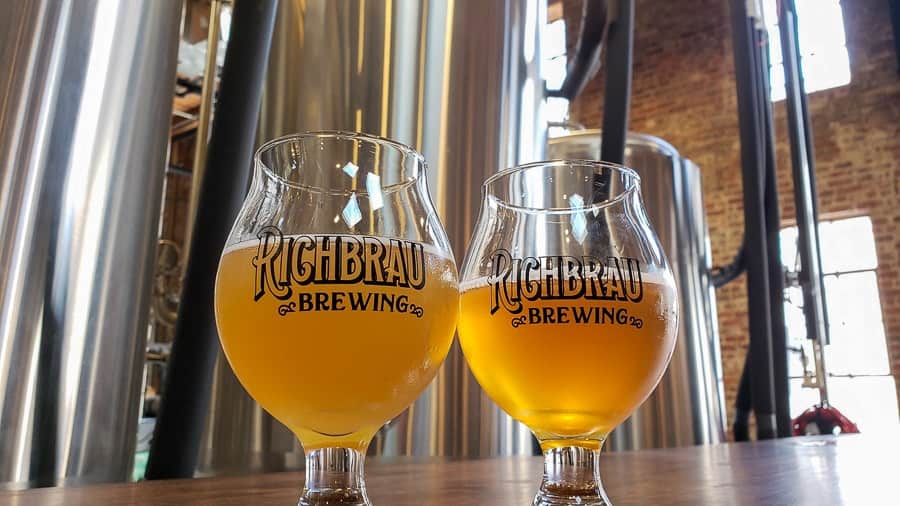 ***We said Richmond's craft brewing scene kind of started with Legend because RVA, like many cities, had a "rich" history with beer dating back to the early 1800s.
Without going into too much of a history lesson, Home Brewing Company — real original, we know — started brewing Richbrau beer in 1892.
They were able to survive throughout Prohibition by making soda. Once legal again, Home Brewing Company switched back to the good stuff and was the only brewery in Richmond producing local beer.
In 1969, Home Brewing Company closed its doors due to competition from national brewers to which the Richmond newspaper wrote, "Saddest Day in Richmond Since April 1865."
For those of you who don't know, and why would you, April 1865 is when Benedict Arnold burned Richmond to the ground.
This place was meant to be a beer city!
Photo credit: Richmond.com
In the early 1990s, Richbrau Brewing Co. opened as a tip of the hat to RVA's beer history. However, tough economic times got the best of Richbrau, and they closed their doors in 2010.
But, in the summer of 2019, a new ownership group revived the Richbrau brand and opened up in Shockoe Bottom. Cue the nostalgia!
Richbrau's large tasting room and brewery are a perfect addition to this part of town, which has been devoid of a craft brewery for some time.
It's just a couple of blocks away from the Virginia Capital Trail, making this a perfect stop post-bike ride or run!
Currently, they have 6 or so beers on tap, including a few IPAs, a few sours, and a couple stouts. They use their base stout to create small Randall style beers, that is, it is infused with some intense flavors on its way to your glass.
We seek our their small batch stouts and have tried a few varieties such as Chips Ahoy cookies, brownies and smores…Nom Nom Nom!
The flavor infusions change frequently, so keep an eye out for your favorite.
5. Stone Brewing Company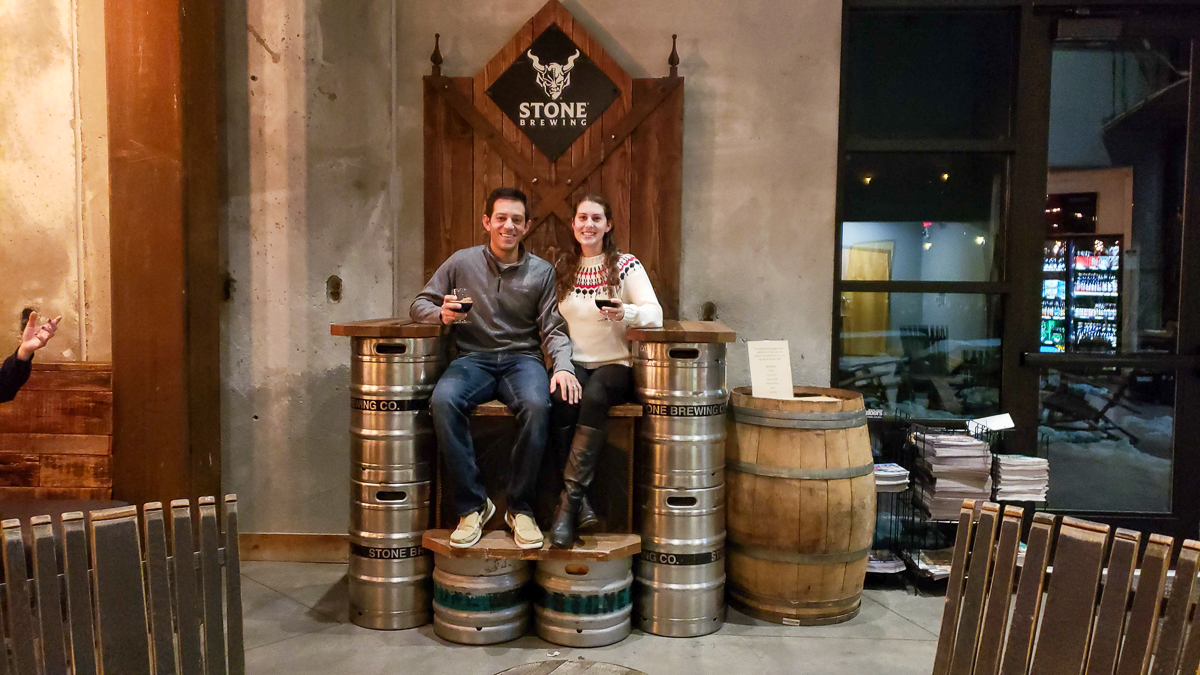 Yes, that Stone Brewing. In 2014, the California-based brewery announced that they were opening a location in RVA to serve as their East Coast distribution headquarters.
Heavily hop-focused brewery located in Richmond's Fulton neighborhood, just southeast of historic Church Hill.
As you might expect, large operations to support large scale distribution. Large patio and outdoor area.
The well-known World Bistro & Gardens restaurant and taproom is still in the works as of late-2019.
The "Enjoy By" IPA series is always hoppy and as Stone says, this beer is "brewed specifically NOT to last."
Make sure you take a tour of the facility, which includes a glass and a tasting, to get a glimpse behind the scenes of the impressive operations.
6. Triple Crossing – Fulton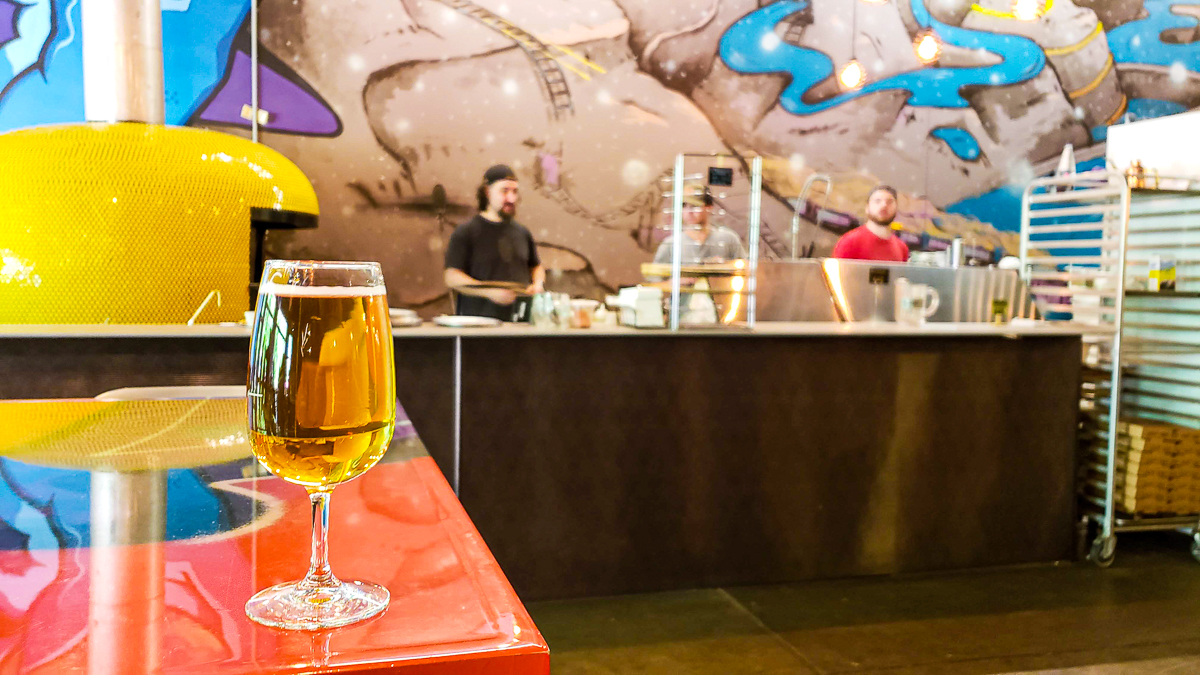 As you read above, Triple Crossing has a second location, the bigger of the two, in Fulton, just a short 10-minute drive from the original spot.
This is where you'll find most of the beers since they are produced here now and where you'll find the numerous events that Triple Crossing puts on, like Can Jam, Covenant Beer Fest, and more!
We suggest hitting up this location on your downtown breweries in Richmond VA guide since there is more to choose from. They also have a great pizza kitchen!
There are so many great downtown breweries in Richmond VA. Richmond has many other breweries to check out too.
Still Thirsty? Keep drinking: