4 Unexpectedly Awesome Craft Cocktail Bars in Sioux Falls, SD
The Sioux Falls cocktail bar scene is something we didn't expect when we visited in Summer 2022. When we visit South Dakota, it's usually on the western side of the state, but we are here to tell you, the cocktail bars in Sioux Falls were unexpectedly amazing!
Psst:  We have a bunch of guides about South Dakota. Browse them all here.
**Boozing Abroad contains affiliate links throughout the site. If you choose to purchase items through these links, we will earn a small commission at NO extra cost to you. Read the full disclosure policy here**
Hello Hi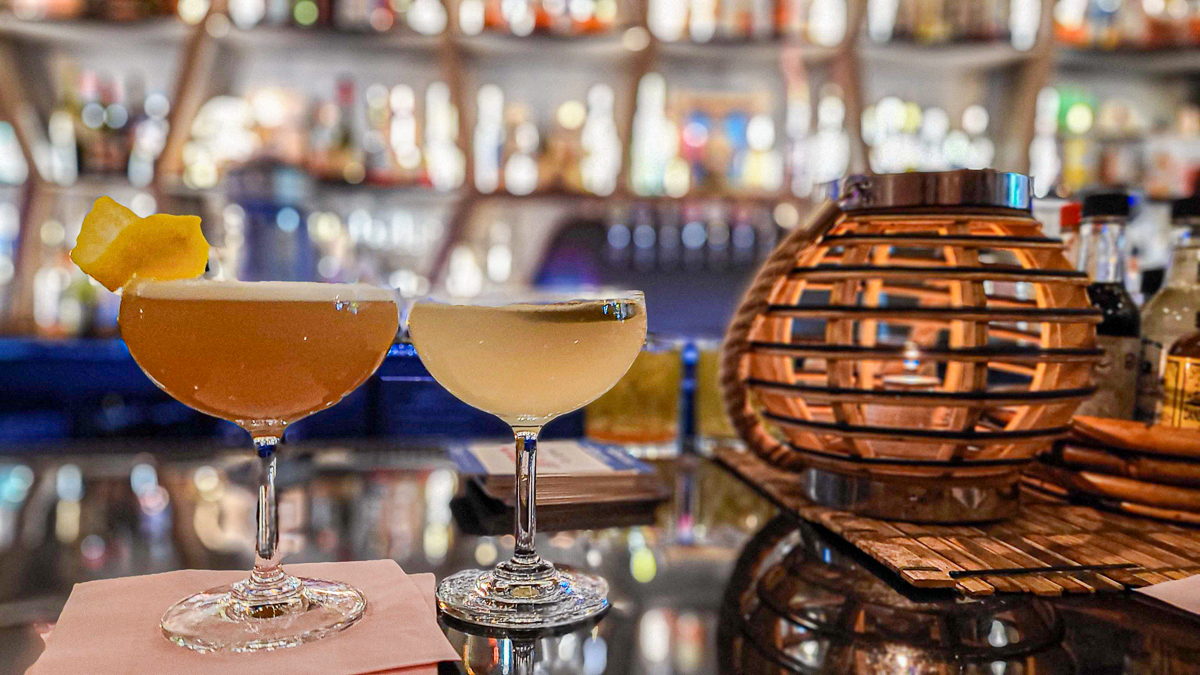 Similar to asking our bartenders where to drink, we oftentimes ask the bar patrons where they enjoy going. That's what happened in this case, except the local was eavesdropping on our conversation with the bartender, butted in, and said we had to go to Hello Hi.
And with a suggestion like Hello Hi, that local can eavesdrop on us whenever they want!
Once we opened the doors to Hello Hi, we were transported to a tiki bar far away from the dusty haze of the prairies.
From wicker basket lights to a tropical fern backsplash, Hello Hi is an oasis in the middle of Sioux Falls.
With tiki drinks that are served on fire to all of the classic cocktails, you'll be dreaming of the islands when you step into this bar on Sioux Falls' main drag.
We stuck with some of the classics like a whiskey sour (made with egg whites, like any respectable whiskey sour should be) and both an Old Fashioned and a Rum Old Fashioned for our drinks, but feel free to test the tiki drink waters. The bartenders know their stuff, so it's bound to be good.
They also have a few of their own beers to try if you don't want a cocktail and a shared space with a pizza restaurant called Pizza Cheeks which you can order straight to your bar seat.
Thanks again to the eavesdropping local for recommending this incredible cocktail bar in Sioux Falls. 🙂
Carpenter Bar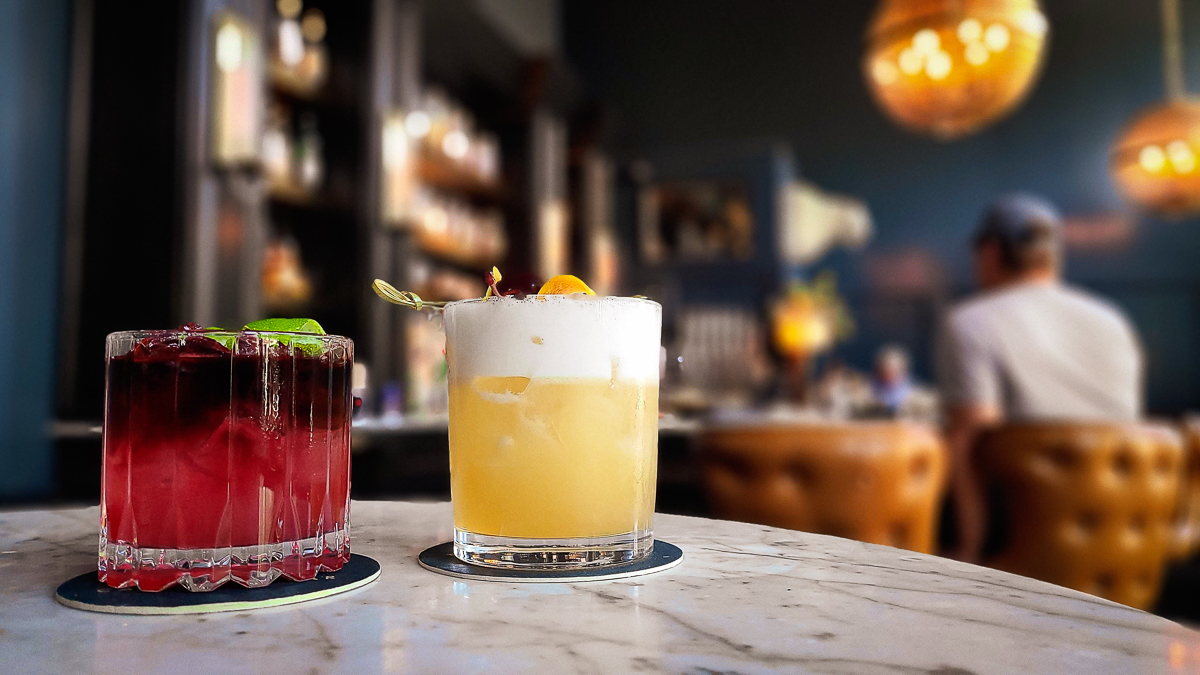 Of the cocktail bars in Sioux Falls, Carpenter Bar is probably the cream of the crop.
Located in the middle of the historic downtown, Carpenter Bar has a classic, yet inventive craft cocktail menu which lets their bartenders really show off.
If you're a bit confused by some of the cocktail offerings or ingredients, fear not. The bartenders were great to talk to and could take your typical flavor profile and craft a delicious libation to match.
Sam is a sucker for a well-made whiskey sour, but opted for the Three Quarter Nelson which was a whiskey sour but with an added twist of amaretto.
Chris opted for the Ghost Pony which was rum, dry Curaçao, sugar, lime, and a hazy IPA floater. Both choices were awesome!
The Treasury at Hotel on Phillips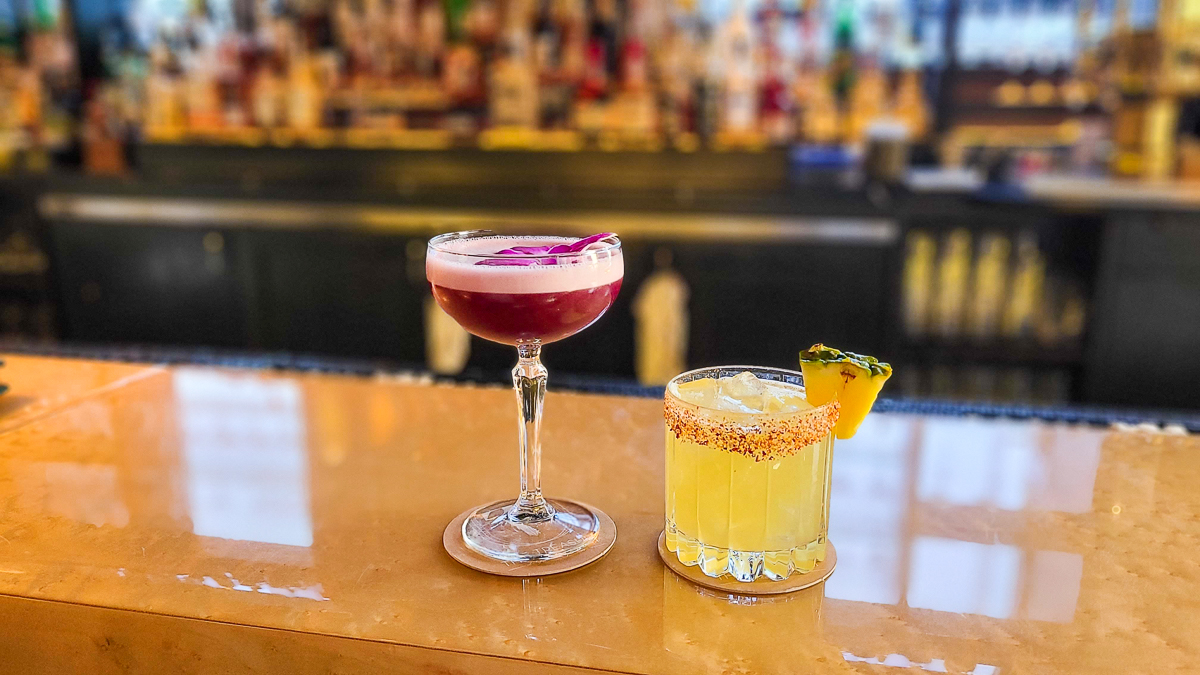 The Treasury might steal the show in Sioux Falls for an absolutely epic location – in an old bank vault.
Once you enter through the massive bank vault doors, you'll travel back in time to a 1920s premiere cocktail lounge. If you've ever wanted to be a character in the Great Gatsby, the Treasury's decor and craft cocktail menu will get you one step closer.
It was a tough choice with so many great options, but with the help of our knowledgeable bartenders, we ordered the Violet Moon and Counterfeiter. The Violet Moon is made with Bombay Sapphire, Cinnamon syrup, lemon, elderberry syrup and an egg white. The Counterfeiter is made with tequila, orange liqueur, serrano peppers, and pineapple lime juice.
Like all of the cocktail bars in Sioux Falls, the Treasury delivered not only a unique environment, but awesome craft cocktails.
Glacial Lakes Distillery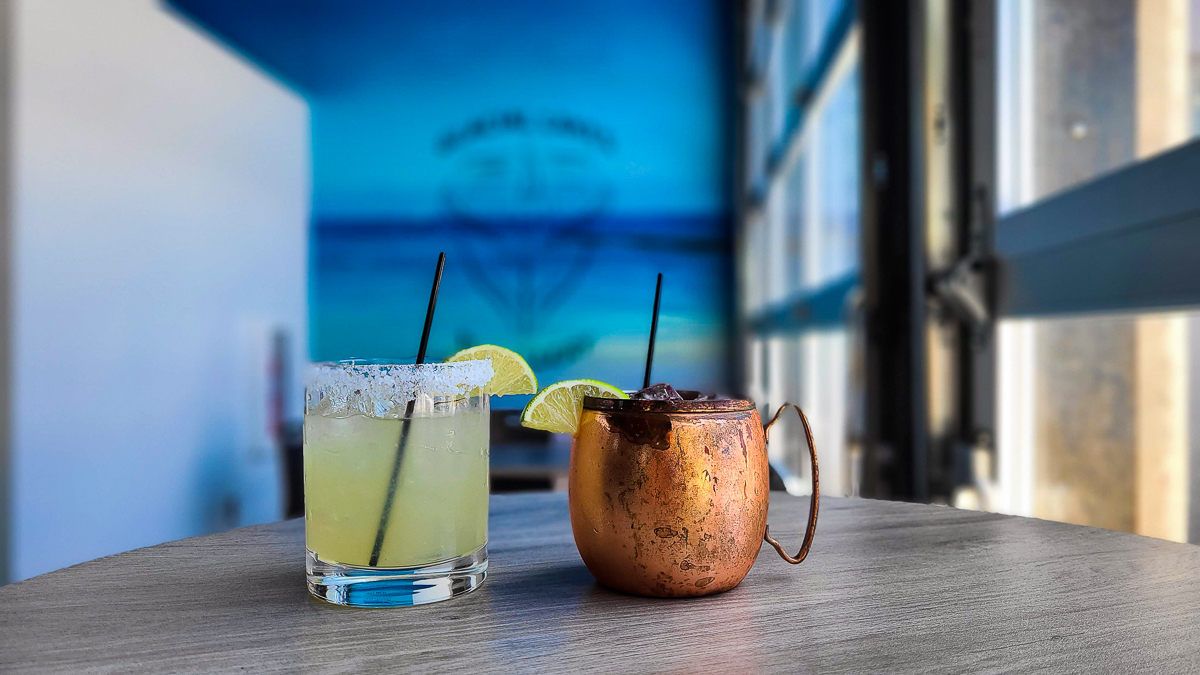 Glacial Lakes Distillery is located just up the hill from the main Sioux Falls street and is offering up a mix of spirits and cocktails to appease those who don't want to partake in the city's craft beer.
At Glacial Lakes, it all started with their vodka made from locally-grown wheat and pure Glacial Lakes water. They certainly qualify as a small-batch distiller considering that they distill one mason jar at a time.
Might sound crazy, but they ensure the highest quality product gets into every bottle.
In addition to vodka, they also make rum, gin, and brandy. They have most of your classic cocktails available, but they also have a seasonal menu of specialty cocktails which use fruits and flavors to match the seasons.
And on Sundays, they offer flights of different kinds of mimosas and Bloody Marys to either kickstart your Sunday Funday or keep it going.
As its name suggests, Glacial Lakes Distillery isn't one of the Sioux Falls breweries, but they do have a rotating tap list of local and regional beers to accompany their liquor.
Well, there you have it folks. 4 unexpectedly awesome cockatil bars in Sioux Falls, SD.
Not done drinking yet? Don't worry, we have another drinking guide for the Breweries in Sioux Falls you won't want to miss.
As always, please drink responsibly.
Love this guide? Have questions?
Get in touch with us on Facebook | Twitter | Instagram | Pinterest