What to do for 3 days in Portland Maine
As you might have read in our Portland Brewery post, Portland sure does offer its fair share of booze in and around the city. However, there are a great deal of other activities that you can do for 3 days in Portland Maine. 
We flew into Portland International Jetport (PWM), which is about a 10-15 minute ride away from downtown.
Fun facts: Portland comes from an Old English word meaning "land surrounding a harbor."
Pretty straightforward and not so fun.
But Portland, Oregon, got its name when its two founders, one from Boston and the other from Portland, Maine, each wanted to name the new Oregon city after their hometown.
To decide, they flipped a coin….I guess we know who won (tails never fails)! Maybe the Bostonian should have lobbied for rock-paper-scissors.
The small peninsula of Portland is organized into smaller neighborhoods, each with its own flair and charm.
We stayed in the East End on Munjoy Hill, which was about a 10-minute walk from downtown Portland, but still amongst quite a bit of hustle and bustle.
The East End neighborhood is filled with numerous breweries, distilleries, and even a winery which made our AirBnb a perfect basecamp for our extended weekend.
**Boozing Abroad contains affiliate links throughout the site. If you choose to purchase items through these links, we will earn a small commission at NO extra cost to you. Read the full disclosure policy here**
Map of 3 days in Portland Maine
Click the interactive map below!
HOW TO USE THIS MAP: To view the layers and see the names of the places on this map, click the tab in the top left corner. You can select the check marks to show or hide certain layers. If you select the icons on the map, you will get more information about the point of interest.
HOW TO SAVE THIS MAP: If you select the star icon next to the map name, you can save this map to your Google Maps account. To view it, open Google Maps in desktop or on your phone, select the menu button, go to "Your Places," scroll to the right to Maps, and you will see this map.
Where to stay in Portland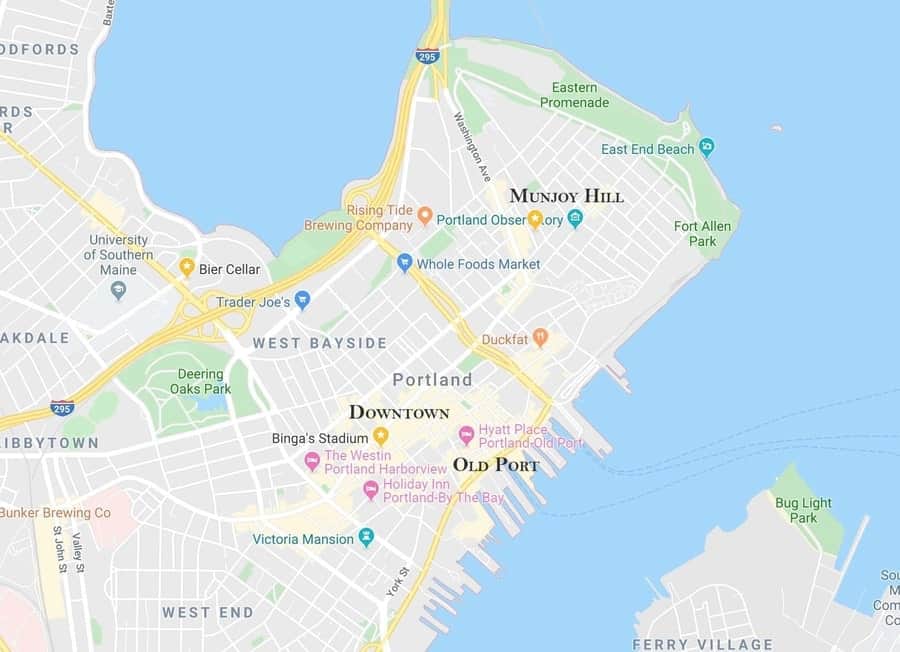 Portland Maine is a small city and we walked around the majority of the weekend. We stayed in the Munjoy Hill neighborhood which is on a hill overlooking the city.
However, you can stay anywhere downtown or old port for 3 days in Portland Maine and we close to all the yummy restaurants, bars and a large portion of breweries.
Hotels in downtown Portland
Luxury: Portland Harbor Hotel
Mid-range: Holiday Inn Portland-By the Bay
Budget: Black Elephant Hostel
Airbnb
Another great option is an Airbnb! If you are new to Airbnb, click this link here to get signed up and experience your home away from home.
Where to eat
Katie Made Bakery
We started our first morning at Katie Made Bakery, just around the corner from our AirBnb. What a great way to kick off our time in Portland! Absolutely delicious egg sandwiches made fresh to order.
We had the Avocado sandwich (egg, cheddar, ham, and avocado) and the Virginia Ham sandwich (egg, brie, and ham). Sit outside on the small driveway/patio and enjoy the crisp morning weather!
From there, you can head down towards the actual port of Portland to get a lay of the land. You'll pass numerous mom & pop stores, restaurants, cafes, etc. Make sure you take mental notes (or actual notes) for what you see along the stroll and what you want to come back to later.
High Roller Lobster Co.
You can't spend 3 days in Portland Maine without stopping for a bite to eat at one of Portland's most popular spots, The High Roller Lobster Co.
What started as a food cart back in 2015 has now grown into a full-scale brick and mortar restaurant in Old Port, a few blocks up from the water.
They do have a few different options here if you aren't into lobster, but lobster, and the lobster roll specifically, is the star of the show.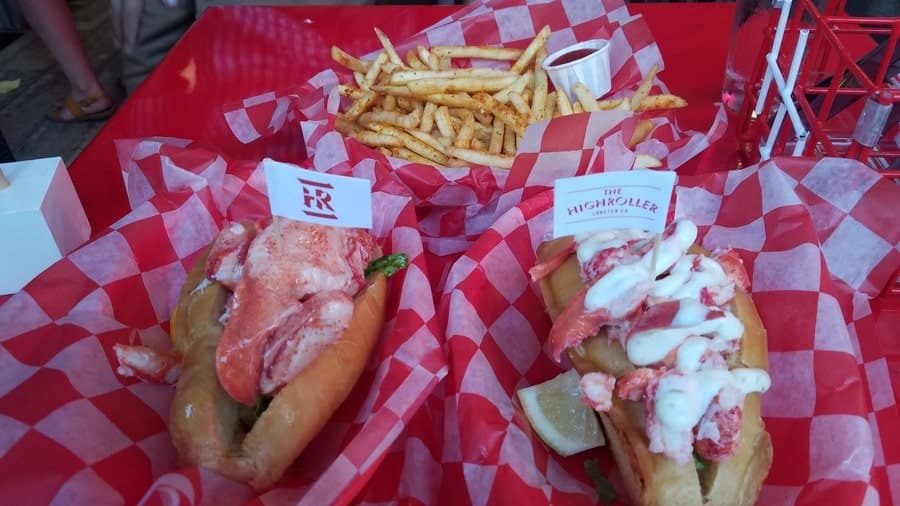 Choose from any of their 9 different sauces. We tried the classic drawn butter and the lime mayo options and split a basket of the Old Bay fries.
Yum!
If there is a wait, which is likely depending on the time of day you get there, grab a local beer, wine from the cellar, or cocktail from the bar to pass the time.
The Portland Lobster Company
Haven't had enough lobster yet or want to compare and host your own battle of the lobster rolls? Well, about 5 minutes down the hill from High Roller, and right on the water, is The Portland Lobster Company.
The Portland Phoenix Magazine has bestowed many accolades upon Portland Lobster Company such as the best lobster roll in Portland for the past 5 years and the best outdoor bar/patio, best waterfront dining, and the best restaurant to take out-of-towners!
Who knew that was a category?
Place your order in the small main building, then grab a beer and find a seat anywhere you can on the open-seating patio. There is usually live music to serenade you while you woof down your lobster roll and take in the sights on the waterfront.
Eventide Oyster Co.
If lobster isn't your thing, and you are more of an oyster person, head over to Eventide Oyster Co. for your fix.
Warning: No matter what time of day you go, there will likely be a lengthy wait.
We got there a little before dinner time on Saturday night hoping to beat the rush and were greeted with a 2.5-3 hour wait (these better be some good oysters).
Luckily, they take your phone number and will text you when your table is ready. Just don't go too far because you only have ten minutes to get back to the restaurant to claim your spot!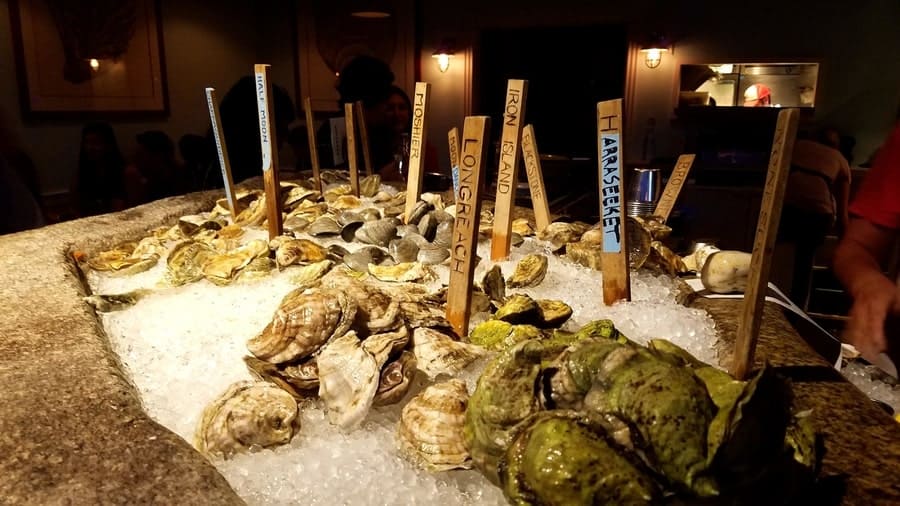 Since we had some time to kill, we went a stone's throw away from Eventide to Tomaso's Canteen.
Cozy little bar with lots of locals, lots of local beers, and some damn good mac and cheese!
Having cut into half of our wait time, we ventured up the road to the Portland Hunt & Alpine Club. This upscale bar featuring quality cocktails, spirits, and beer was recommended to us by a local at Tomaso's so we thought we would check it out.
Just about the time we finished our drinks, we got the text from Eventide and hoofed it back down the road to claim our seats at the bar.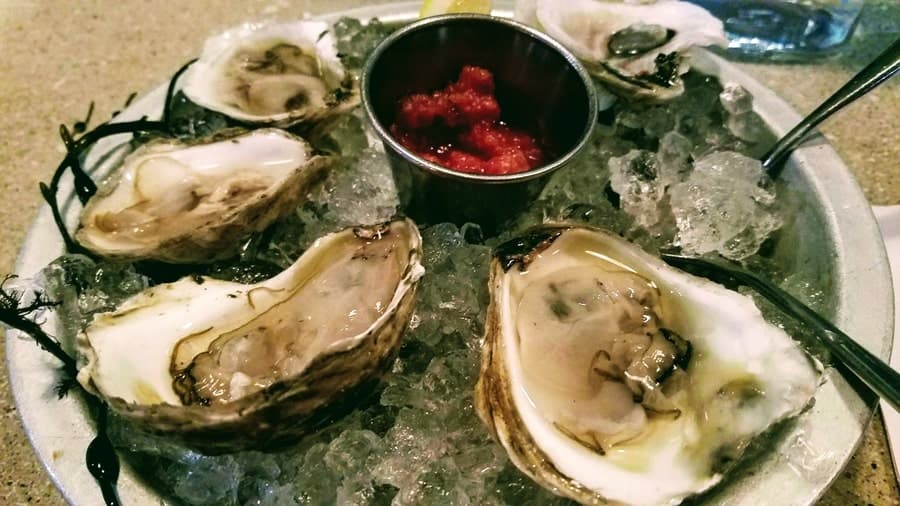 Not knowing much about oysters, we were a bit overwhelmed by the 10 different choices of Maine-oysters, not to mention the numerous other oyster options available.
That being said, we enlisted the help of our waitress to choose three different Maine-oysters for us to try.
Chris says he couldn't tell a difference (perhaps due to the brewery-hopping earlier in the day), but we thoroughly enjoyed them all.
After sharing a few other small plates (they recommend about 3 small plates per person), we were out the door to make way for another hungry pair. A must-do stop on your 3 days in Portland Maine itinerary.
Silly's
Silly's has a been a Portland institution for 30 years, which helps to explain the 20-minute line we waited in for brunch on Saturday morning.
Silly's has been serving up comfort food all these years and offers many vegan, vegetarian, and gluten-free options to appease any diet. We weren't blown away by the food here, but it was a neat, cozy, and eclectic spot.
Two Fat Cats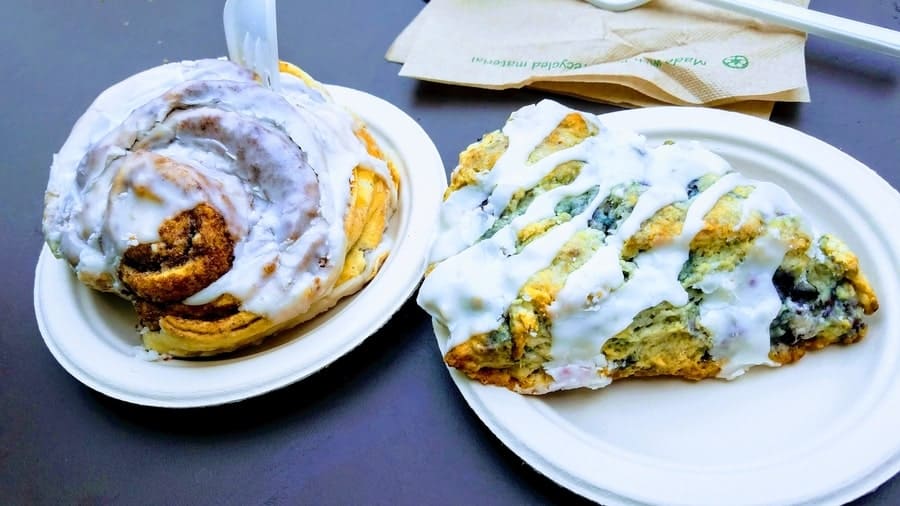 Have a bit of a sweet tooth for breakfast or need to grab a dessert big enough to share with a crowd?
Then stop by Two Fat Cats, a small local bakery about halfway between Eventide Oyster Co. and Shipyard Brewing Company. You don't even really notice the hot and stuffy feel of the space because you'll be too busy salivating over the massive pies and pastries all over the place.
They offer 47 different types of pies! We even heard the folks in front of us ask the baker to tape up their pie boxes really well so they could take them on their plane ride home.
We came for breakfast and had the gigantic cinnamon roll and a blueberry lemon scone. They were both delicious, but so big that we couldn't even finish them all!
The Holy Donut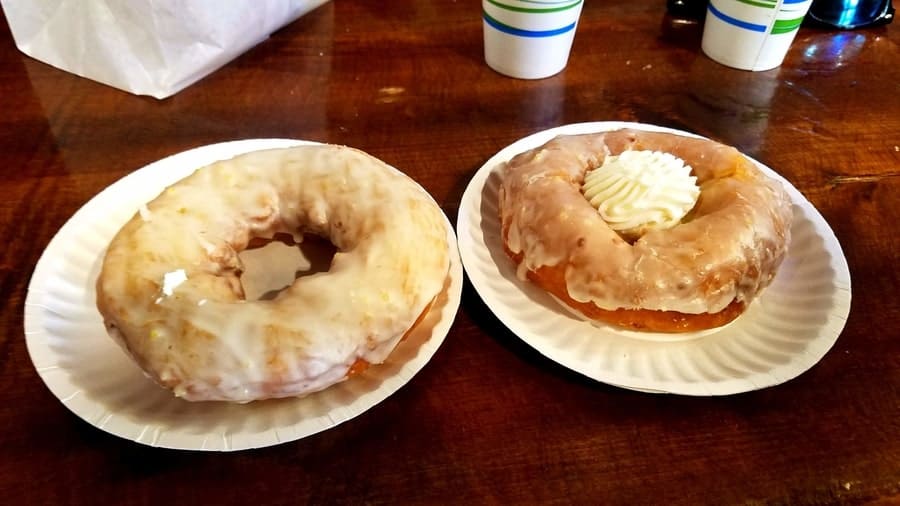 They say you learn something new everyday, and on our last day in Portland, we learned that donuts can be made from mashed potatoes.
Thanksgiving dinner will never be the same!
The Holy Donut's owner started the business back in 2011 from her own kitchen and while operations have expanded quite nicely since then (4 storefront locations, including the one on Exchange Street in the Old Port), the commitment to quality-made donuts has not changed.
Donut flavors are rotating often depending on the season and each location closes when the last donut is sold….which does happen!
The dark chocolate sea salt donut is the most popular, for obvious reasons, but we were looking for something a bit "lighter", and opted for the Fresh Lemon donut and the Lemon Holy Cannoli donut.
Figures that Chris wouldn't be able to turn down the Cannoli-inspired donut! Count us as fans of the potato donut.
What to see during 3 days in Portland
Eastern Promenade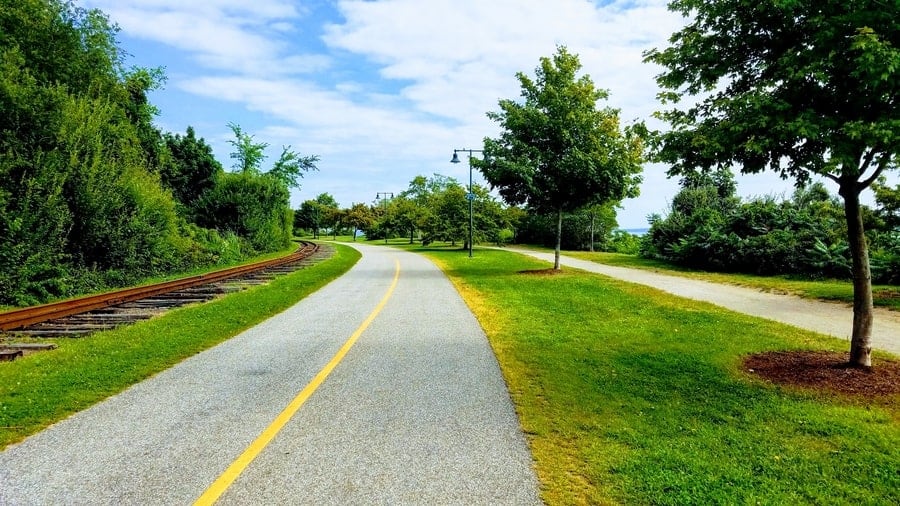 We walked down to Commercial Street, the main drag in downtown Portland, which runs parallel to the water, took our selfies and dodged the seagulls circling overhead.
Looking out towards the water, continue walking northeast on Commercial Street and you will eventually run into the Eastern Promenade, a large public park that occupies the easternmost portion of the peninsula.
This is a great place to ride a bike, walk/run the trails, relax on East End Beach, look out to the boats in Casco Bay, or catch a sunrise/sunset.
Portland Observatory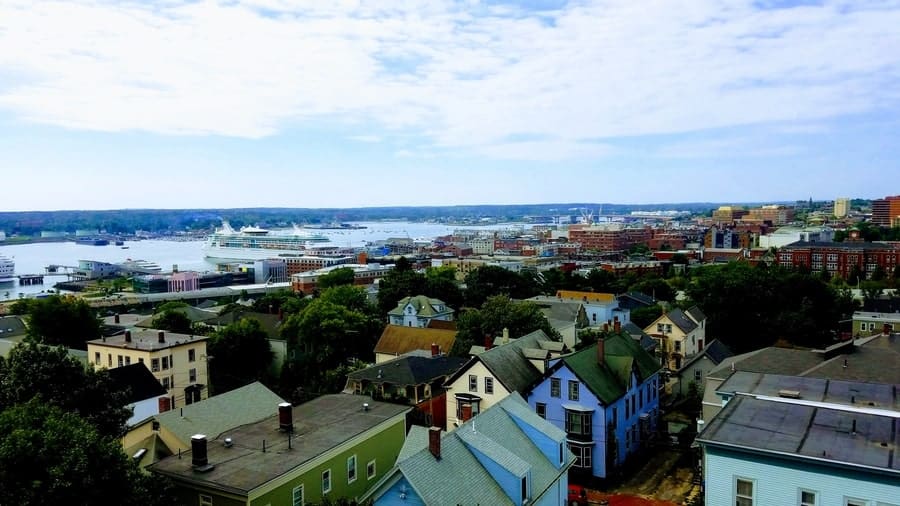 Having walked all the way from Commercial Street in downtown (which turns into Fore Street which turns into Eastern Promenade), we decided to stop at about the midpoint of the Promenade and head back up the hill towards the Portland Observatory, America's oldest maritime signal tower.
The Observatory dates back to 1807 and was necessary because when ships would enter the harbor, they could not be seen from the docks until they had rounded the point and were nearly in the harbor already.
This tower, coupled with a strong telescope, allowed signals to be sent to the harbor well before ships entered, improving the efficiency of the port city. The tower was rendered obsolete when the two-way radio was invented.
A short walk up this 86-foot tower, filled with artifacts and history, rewards you with a beautiful 360-degree view of Portland.
A little pricey ($10 for adults) for the relatively short walk up the tower and limited information, but worth it for the view and to help support the continued upkeep of this historic landmark.
Portland Lighthouses
Being a seaside city, Portland is home to many lighthouses.
In fact, 6 lighthouses are within a 20-minute drive of Portland.
The lighthouse that needs to be on the top of your 3 days in Portland Maine list is the Portland Head Light. One of the most popular, the Portland Head Light is Maine's oldest lighthouse and about 5 miles from downtown.
It was built during the presidency of George Washington and is one of the most photographed lighthouses in the US. While we didn't know this prior to our visit, we can certainly see why!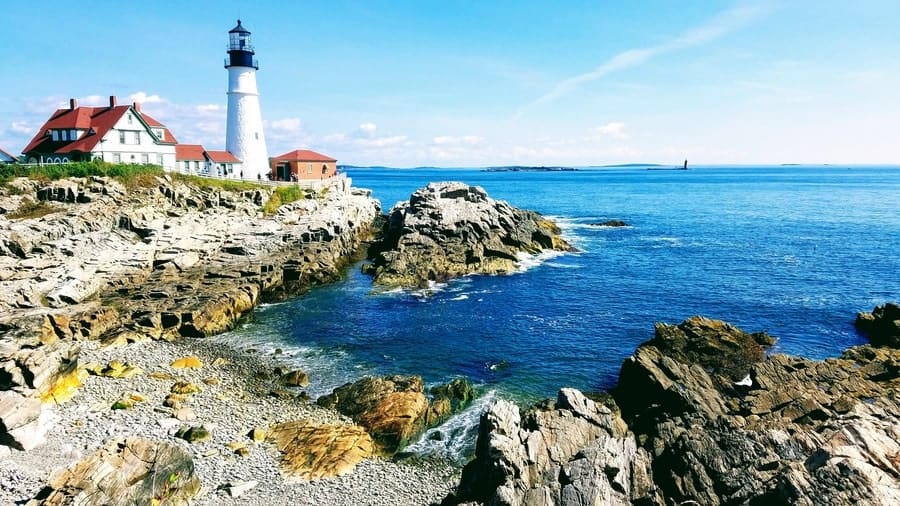 Don't expect to get inside the actual lighthouse though, as that only happens once a year on Maine Open Lighthouse Day (for real, that's actually a thing) on September 8.
However, you can explore Fort Williams Park, a 90-acre park surrounding the lighthouse, if you need something to do.
The other lighthouse we visited was Portland Breakwater Lighthouse, or more commonly referred to as Bug Light. Dilly dilly (you know you thought it too)!
While affectionately named Bug Light because of its small stature, and not for the American light lager, Bug Light offers a great view of downtown Portland across the bay and is interestingly believed to be the only lighthouse in the world shaped like a 4th-century Greek monument.
Again, Maine Open Lighthouse Day is your only chance to get a peek inside this lighthouse which has been around since 1875.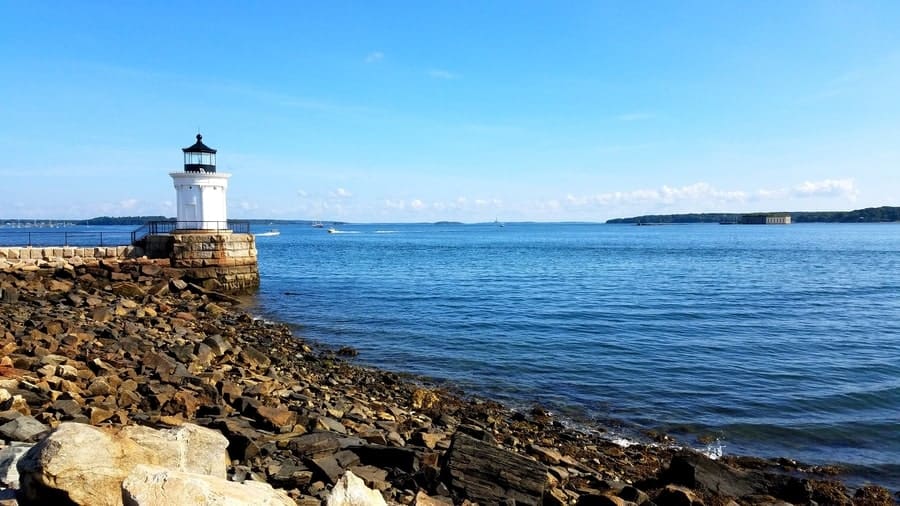 If you have time, you can visit these other beautiful lighthouses/parks:
Two Lights State Park (20 minutes south of Portland) has twin lighthouses built in 1828.
Spring Point Ledge Lighthouse (10 minutes from Portland and only 5 minutes from Bug Light) is the only caisson-style lighthouse in the US to which visitors can walk and is located on the campus of Southern Maine Community College.
Spring Point is also the only one of these Portland lighthouses which can be entered by visitors on a regular. No more waiting until Maine Open Lighthouse Day!
Ram Island Ledge Light is never open to the public because it is located about a mile offshore and accessible only by a private boat. However, it can be seen from Portland Head Light (you might be able to see it way off in the distance in the picture above.
Where to Drink in Portland Maine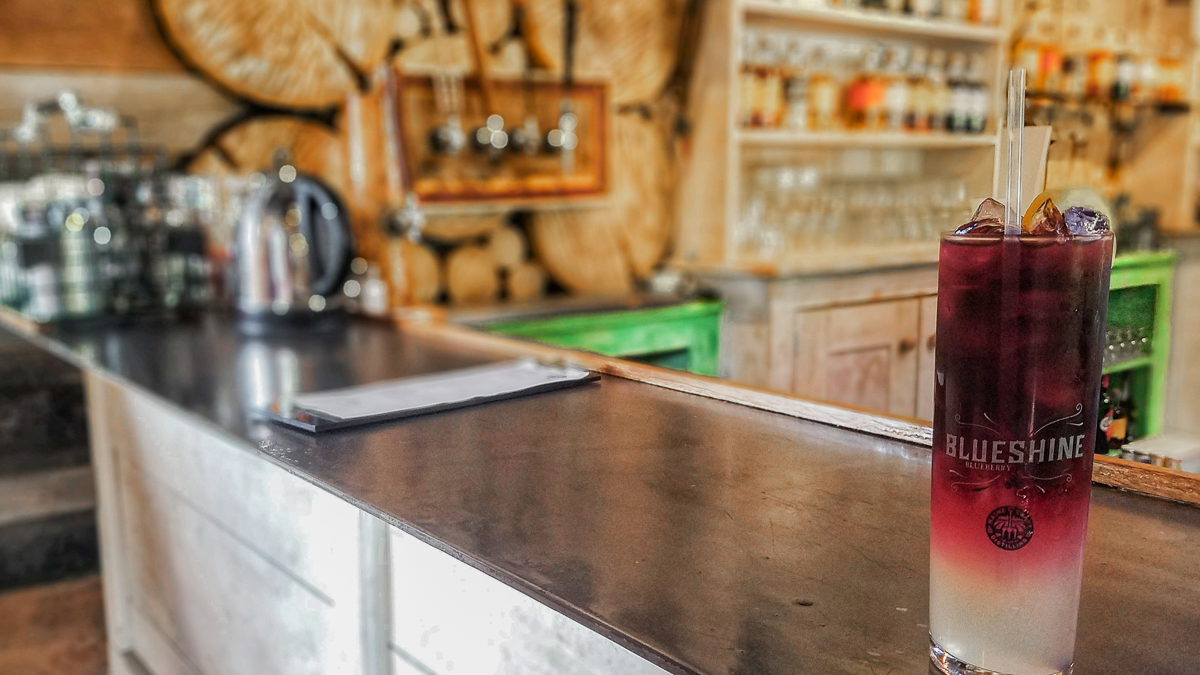 We spent our 3 days in Portland Maine drinking and managed to get through 18 breweries (responsibily, of course)! We also visited a distillery and winery all located in Portland's city center.
Check out our Portland Drinking Guide here!
We barely touched the tip of the lighthouse for what to do for 3 days in Portland Maine. We did take a day trip to Acadia and we recommend the 3-hour road trip to see it.
All in all, the seafood was unreal and the jury is still out on who makes the best lobster roll.