The Ultimate Guide to 18 Breweries in Portland Maine
If you are planning a trip to Maine, chances are you are going to be visiting a few breweries in Portland along the way.
The Portland Maine brewery scene boasts the most breweries per capita in the United States. With roughly 70,000 in population and over 25 breweries, that's a lot of beer per person!
We visited most of the breweries in Portland, Maine over the course of three days in Portland. We even threw in a distillery and a winery just for fun too.
We have grouped the Portland breweries together based on proximity to each other and how we'd suggest hopping around! We've also added brewery tour information, if they have food, and if they offer outdoor seating.
Short on time? Here are the key takeaways:
We've broken up the breweries by location for ease of access. See the Table of Contents for details.
Most breweries in Portland offer a food option.
In our opinion, don't miss Rising Tide, Allagash, and Bissell Brothers.
This post was originally published in October 2018, and was updated in April 2023.
**Boozing Abroad contains affiliate links throughout the site. If you choose to purchase items through these links, we will earn a small commission at NO extra cost to you. Read the full disclosure policy here**
Overview of Portland breweries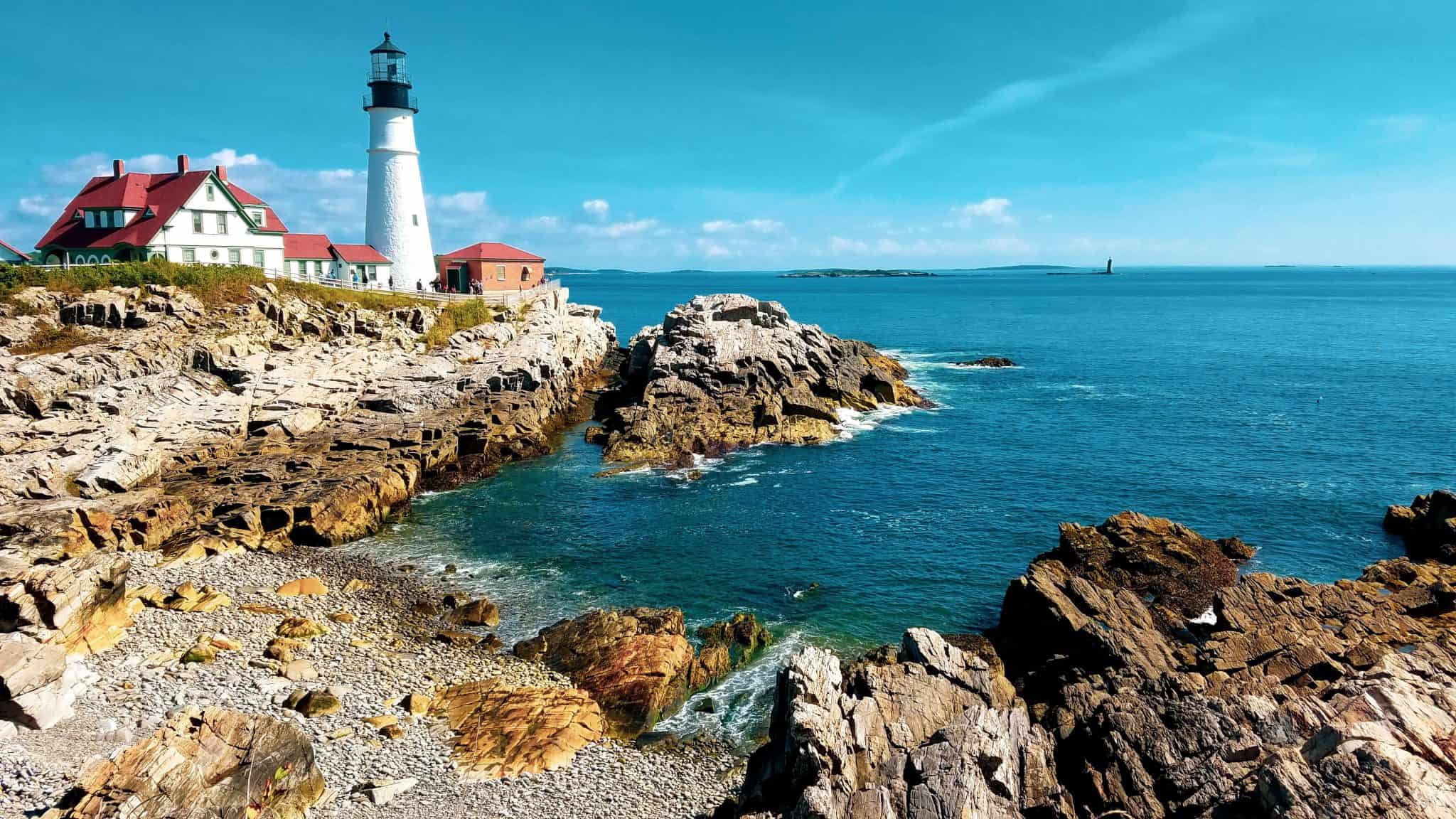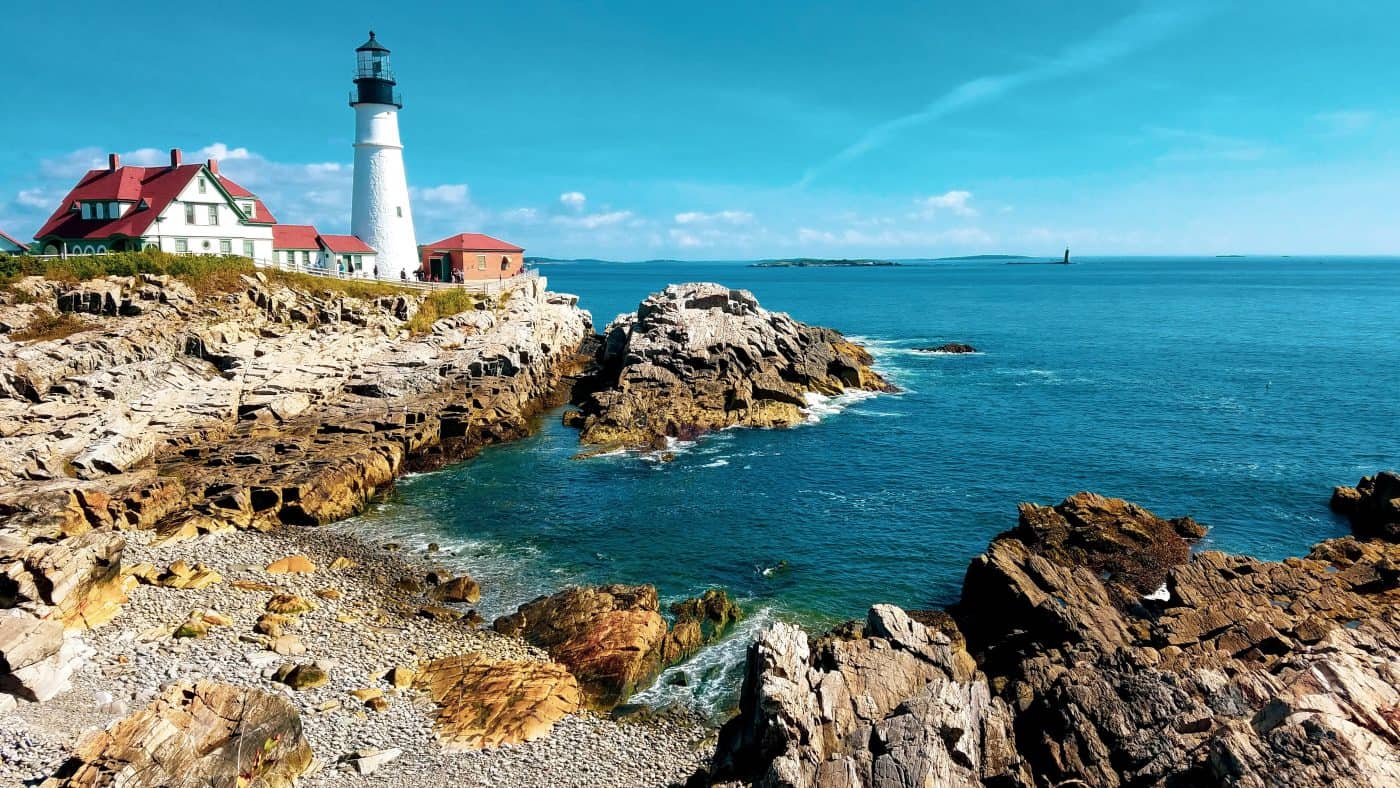 Depending on which region of the country you claim as home, you may hear Portland, Maine, referred to as "The Other Portland."
Often in the shadows of the Oregon city by the same name, Portland, Maine is a bit of a hidden gem in the northeast US.
While you've likely heard about the great beer scene out west in Portland, Oregon, the breweries in Portland Maine rival any other beer city out there.
Must be something about the name Portland that coincides with great beer!
How many breweries are in Portland Maine?
There are over 25 breweries in the Greater Portland area.
Maine Beer Trail Info
While there isn't a specific beer trail that's exclusive to the breweries in Portland, there is a Maine beer trail that will cover all the breweries.
It's free to sign up and you'll get rewarded for your brewery visits.
At 25 visits, you'll receive a hat and at 50, you'll get a t-shirt.
Map of Breweries in Portland, Maine
Click the interactive map below!
HOW TO USE THIS MAP: To view the layers and see the names of the places on this map, click the tab in the top left corner. You can select the check marks to show or hide certain layers. If you select the icons on the map, you will get more information about the point of interest.
HOW TO SAVE THIS MAP: If you select the star icon next to the map name, you can save this map to your Google Maps account. To view it, open Google Maps in desktop or on your phone, select the menu button, go to "Your Places," scroll to the right to Maps, and you will see this map.
Industrial Way breweries
The Industrial Way breweries are about 15 minutes outside of downtown Portland.
Don't let that get you down though – Uber/Lyft are aplenty!
The best part? There are 6 breweries within walking distance, so you can definitely make a day of it hopping around on the outskirts of downtown.
Allagash Brewing Company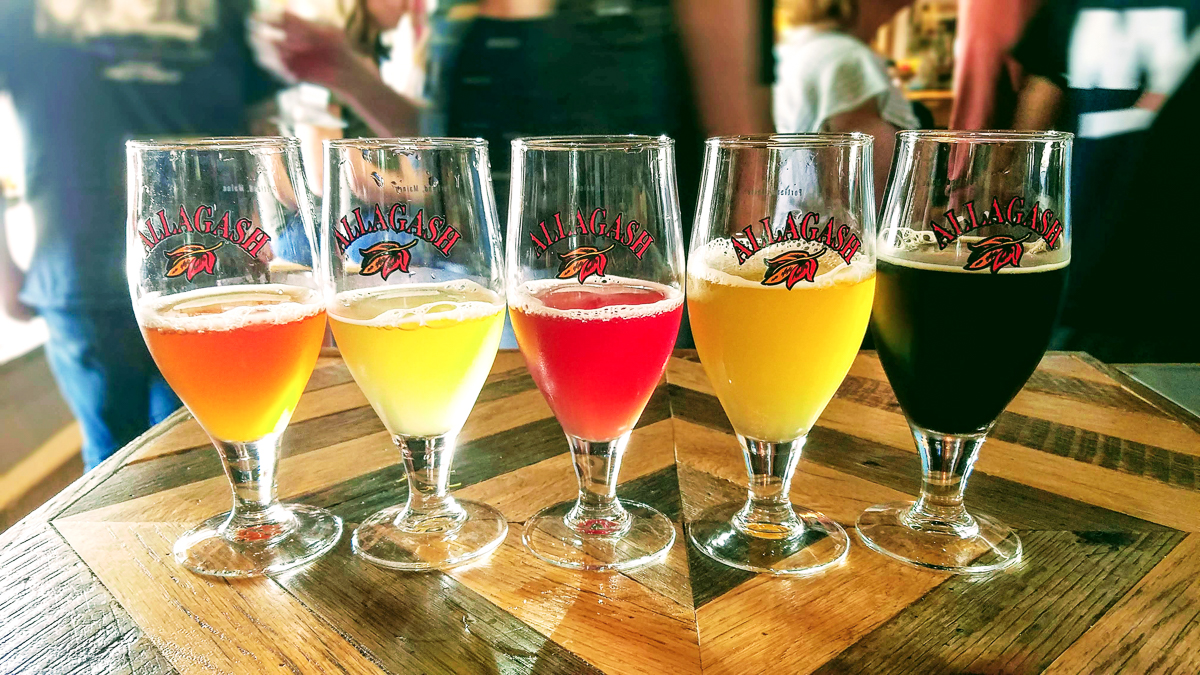 Tour Available: Yes, starting in Nov 2022
Food: Yes, a stationary food truck
Outdoor Seating: Yes
Allagash Brewing is one of the most popular breweries in Portland and one of the places you've likely heard of even if you haven't visited Portland.
While they are known nationwide for their Allagash White, a refreshing and easy drinking witbier, they have an incredible line up of Belgian beers.
Most of their beers are Belgian-inspired which means they'll typically be higher in ABV.
There are so many options from the at least 17 taps inside and out. Grab the pre-determined daily flight of 4 beers or opt to sample some half-pours.
Tour info: Allagash stopped offering tours during 2020, but will be resuming them in November 2022 in a whole new way. Be sure to check their website if you are interested.
Definitive Brewing Company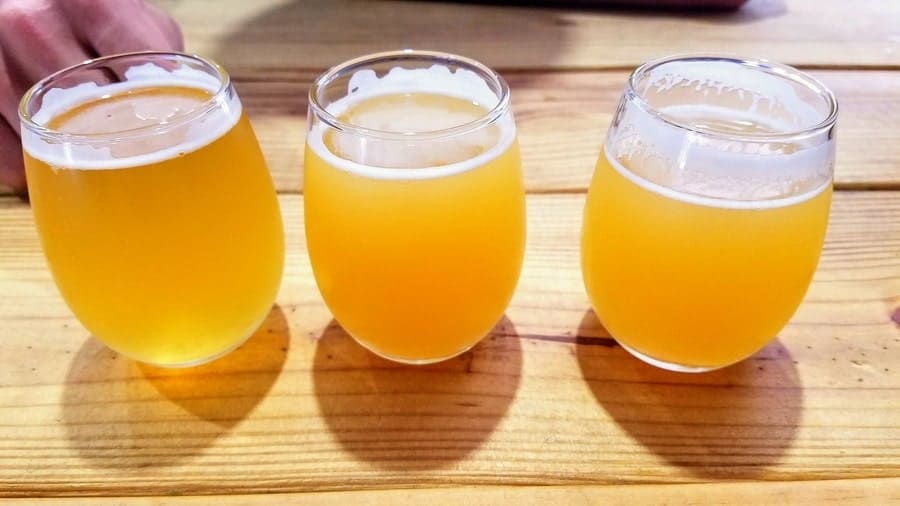 Tour Available: No
Food: Yes, snacks only / Food trucks on weekends
Outdoor Seating: Yes
Right across the street from Allagash, Definitive Brewing boasts a wide variety of different types of IPAs, like most of the breweries in Portland, Maine.
They do not serve flights but offer 5oz pours if you want to try a few.
They did have a few non-IPA choices for those hop-averse folks out there. They also serve wine and cider.
The Definitive Ale gives off notes of cantaloupe and other tropical flavors and is their flagship IPA, as you might expect given the name.
It was "definitely" a good stop for enjoying hop-forward beers!
Battery Steele Brewing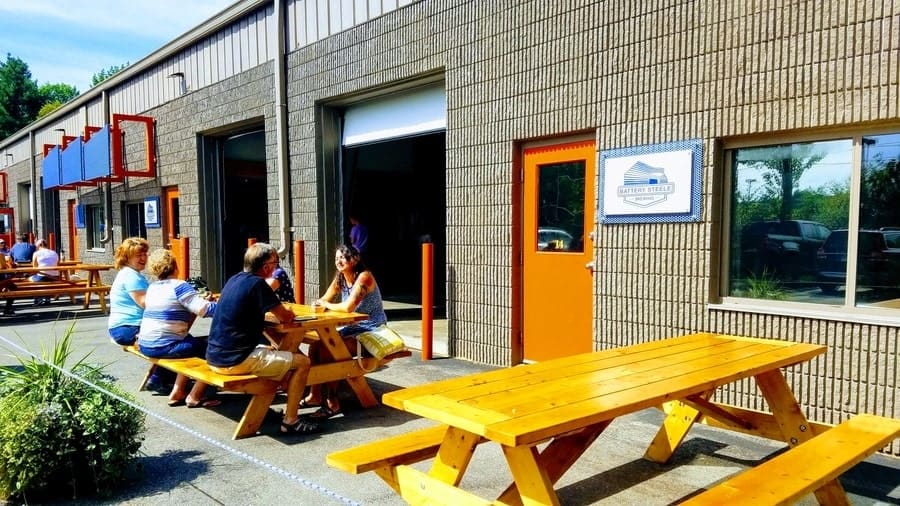 Tour Available: No
Food: No
Outdoor Seating: Yes
Battery Steele Brewing is just down the road (literally, Google Maps says 492 feet) from Definitive Brewing.
Sharing a wall with the Austin Street Brewery, Battery Steele Brewing offers (surprise surprise) many different types of hop-forward beers with the Flume, a tropical and citrusy double IPA, being one of the mainstays.
As you'll continue to see, hoppy beers are a staple at many of the breweries in Portland, Maine!
They have also branched out and offer other options such as sours, pilsners, Helles lagers, and stouts.
The tasting room is rather small, but the back patio outside of the garage doors serves as a nice overflow area to enjoy the beautiful Portland, ME weather.
Austin Street Brewery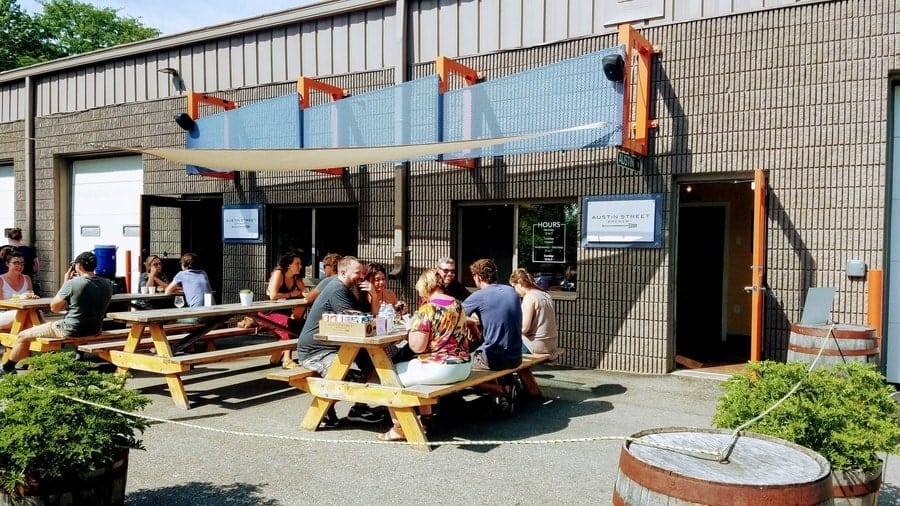 Tour Available: No
Food: Light Snacks only; rotating food trucks
Outdoor Seating: Yes
Austin Street Brewery is right next door to Battery Steele and offers, you guessed it, an array of IPAs and pale ales. (Are you seeing a trend with breweries in Portland Maine?).
The Patina Ale is Austin Street's flagship pale ale which is citrusy, piney, and has just enough bitterness to balance everything out.
Similar to their neighbors, very small tasting room with a larger outdoor patio space and picnic tables.
Foundation Brewing Company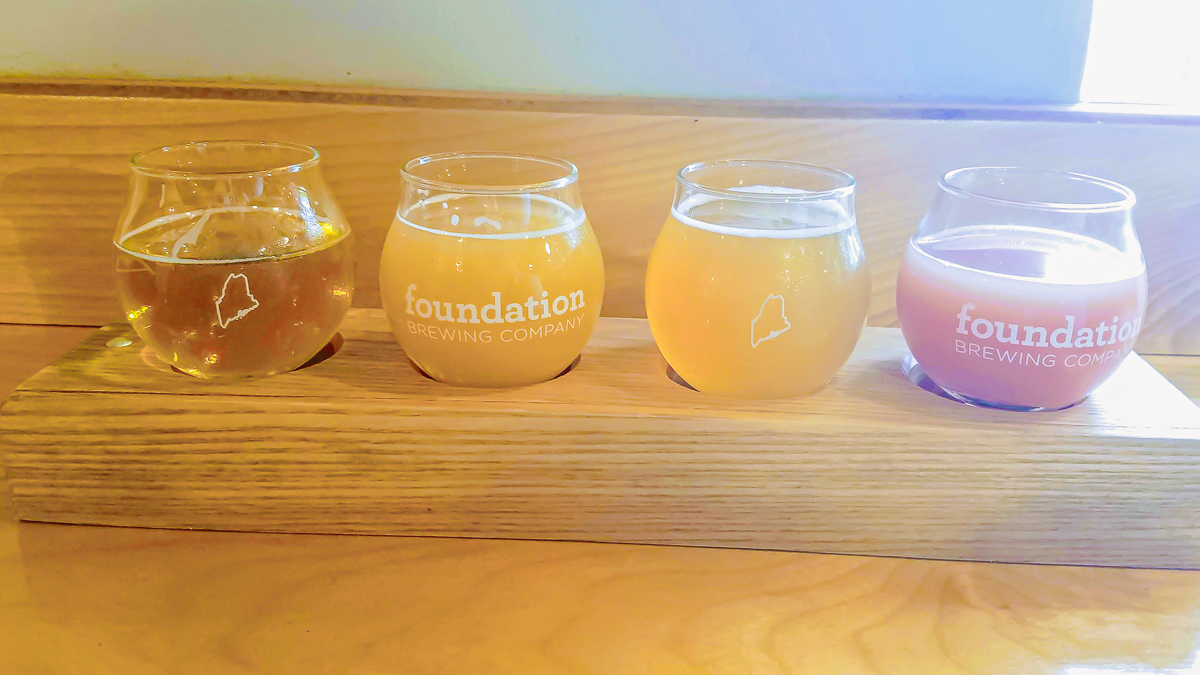 Tour Available: No
Food: Yes, pizza kitchen open Thursday-Monday
Outdoor Seating: Yes
Foundation Brewing Company is on the backside of the building from Battery Steele and Austin Street.
(Seriously, this little building houses three separate Portland breweries – goes to show size doesn't matter…).
It must be something about this building because it was also the former home to Rising Tide Brewing, Bissell Brothers, and Maine Beer Company before each found their current homes in Portland and surrounding cities.
Foundation has the widest variety of beers in our opinion. Yes, it does have the hop-heavy portion of the menu, which is all very good, but it also had several sours, a pilsner, and a lager on tap when we were there.
Flights are 4 generous pours of their beer. Fill out a flight card while waiting in line and then enjoy your brews in the tasting room or out on the patio.
D.L. Geary's Brewing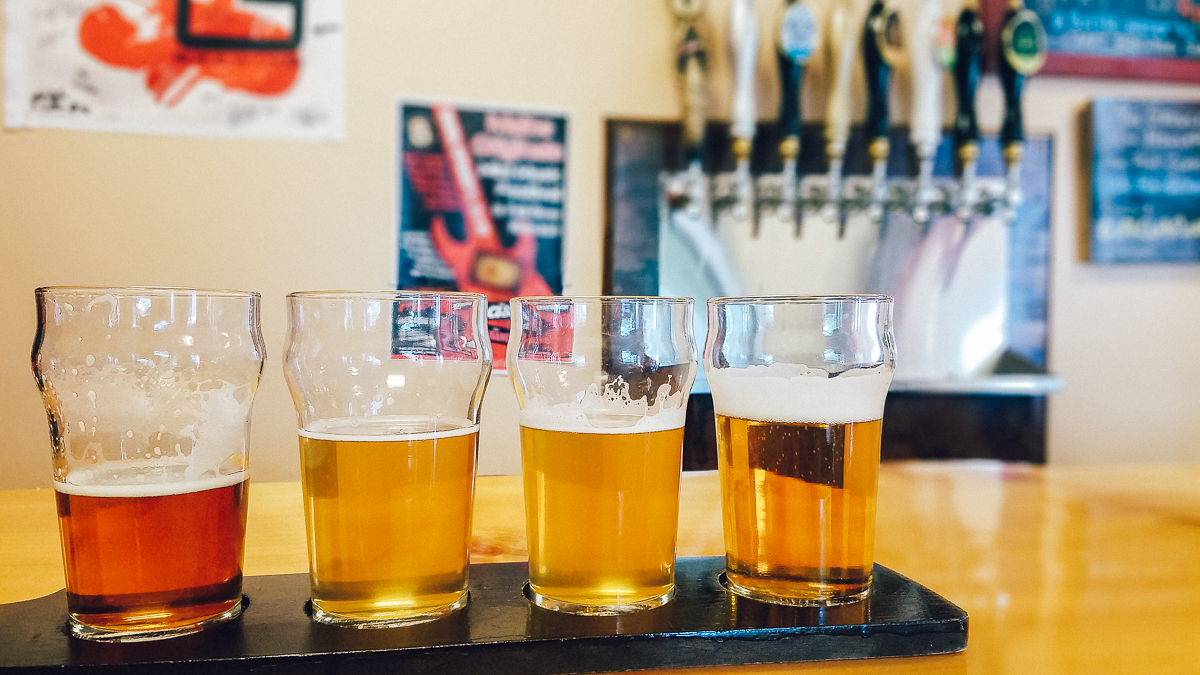 Tour Available: No
Food: Yes
Outdoor Seating: Yes
D.L. Geary's Brewing is said to be New England's first craft brewery – holding the 13th microbrewery license dating back to 1983, also making this brewery the first Maine brewery.
Geary's is about a 10-minute walk (.5 miles) from the cluster of breweries on Industrial Way and only open Thursday – Saturday.
Another small tasting room, Geary's is definitely still doing things its own way. With 8 rotating taps, you can try a few different styles in a flight.
They have stuck to what they've done well for so many years and we found many of their beers true to style.
Geary's Pale Ale was the beer that got this place started back in the 1980s and it continues on today with the boom of breweries in Portland Maine.
Downtown and East End breweries in Portland, Maine
Shipyard Brewing Company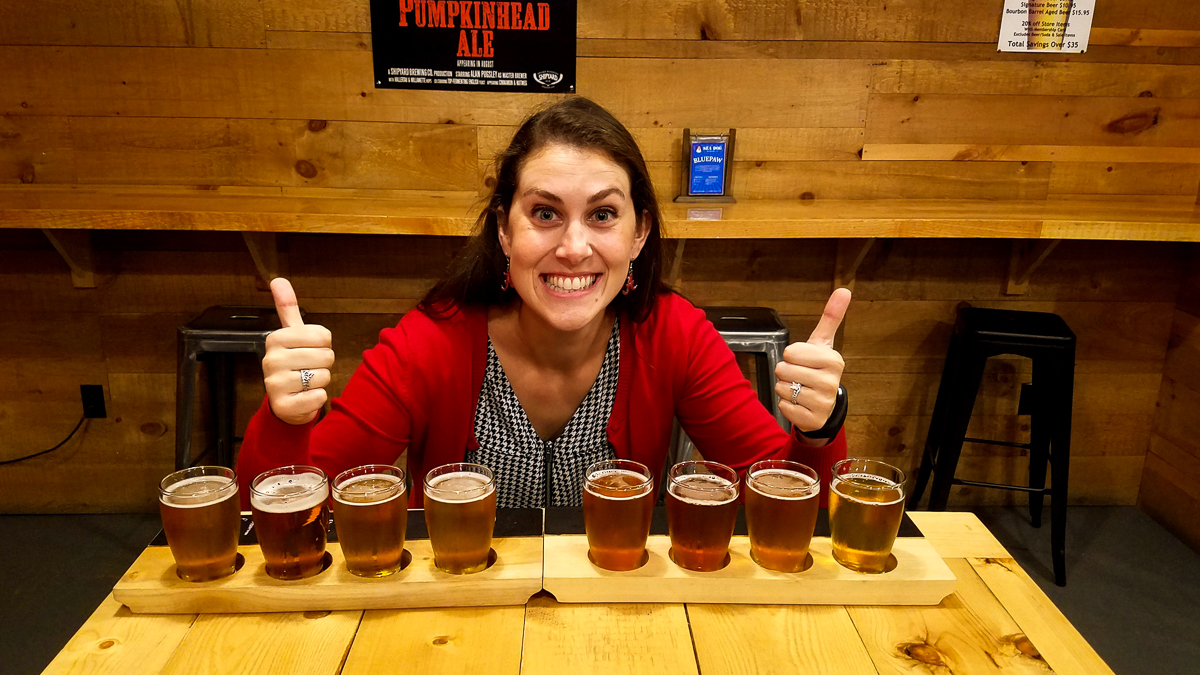 Tour Available: No
Food: Yes, snacks, pizza, sandwiches and salads
Outdoor Seating: No
Shipyard Brewing Company is one of the largest Maine breweries and tend to have crowd-pleasing beers. If you have a pickier beer drinker, we suggest starting here.
We expected an entrance filled with fanfare, but we found the exact opposite. Other than the large mural of Shipyard's logo on the side of the building, the inconspicuous entrance was under a simple blue awning and brings you right into the brewery store.
Walk towards the back of the store and you'll enter the tasting room in which you can do a flight of (4) 5-oz beers or full pours that are 10 or 16 oz.
They had 14 beers on tap and included many beers from Sea Dog Brewing Company, which they also own.
Since this is one of Samantha's favorite breweries in Portland Maine (and in general), we decided to get 2 flights to try as many beers as possible straight from the source.
Some of Samantha's favorites include the Melon Wheat Ale (summer seasonal) from Shipyard and the Blueberry Ale by Sea Dog, both of which were on tap. As you can see above, she was rather happy!
We also made sure to get the Pumpkinhead Ale, one of the most popular Shipyard beers, to ring in the cooler fall weather and the start of football season.
In her opinion, this is a must-do when visiting the breweries in Portland, Maine.
Oxbox Blending & Bottling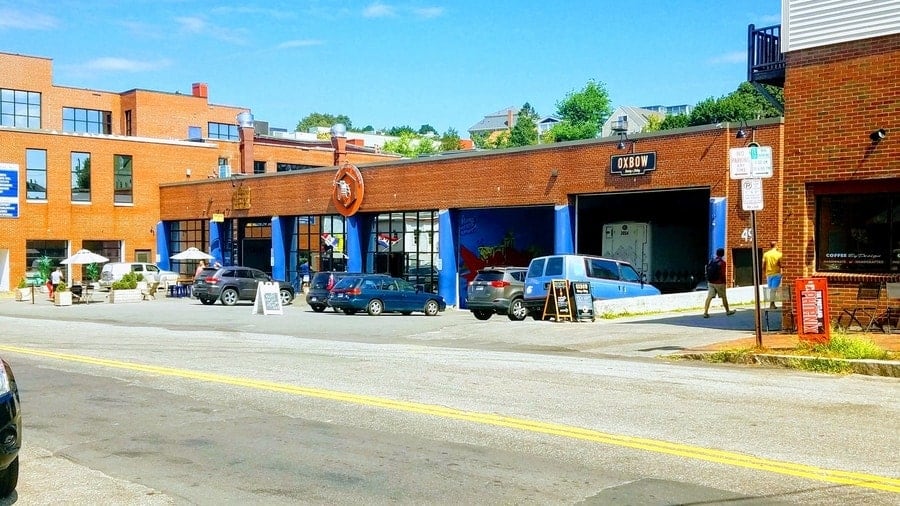 Tour Available: No
Food: Yes, Duckfat is their in-house food partner
Outdoor Seating: Yes
Oxbow Blending and Bottling is actually a small farmhouse brewery located in Newcastle, Maine, which is about an hour north of Portland.
However, their urban outpost, right in the heart of Portland, is where all of their production and bottling occurs…aptly named!
The bar has a wide selection of Oxbow and guest beers on tap, as well as a selection of wines.
Numerous sours, saisons, and other farmhouse-style beers are on tap to sip and enjoy at one of the many large, communal tables.
Duckfat is notorious in Portland for their food and is a perfect combination to add to drinking delicious craft beer.
Rising Tide Brewing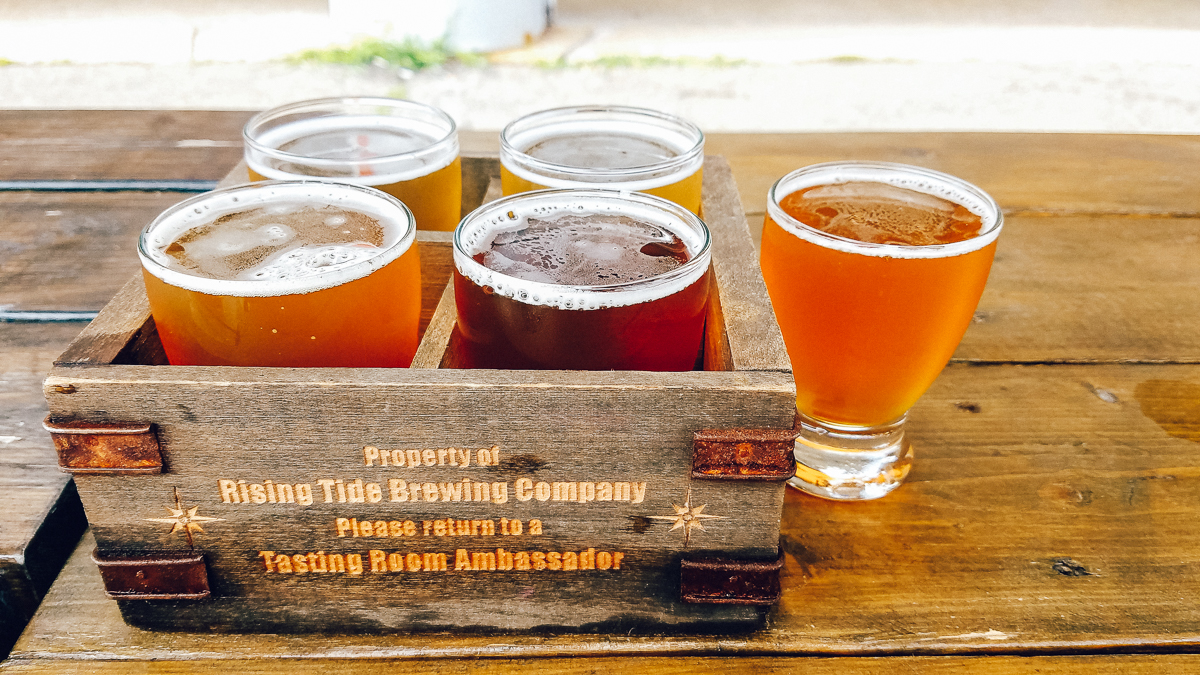 Tour Available: No
Food: Yes,
Outdoor Seating: Yes
Rising Tide Brewing Company is one of the anchors of the up and coming East Bayside neighborhood and boasts a huge outdoor area right outside of the large garage bay doors leading into the tasting room.
A wide-ranging menu of beers should satisfy any beer palate, and includes some of their flagships such as the Ishmael (an interesting copper ale) and the Zephyr (one of the mainstay IPAs).
For those not in the mood for beer, they also have wine and hard cider available.
If you are unsure of what to get, they offer flights in addition to 10- and 16-oz beers.
Overall, a really cool place in a hip neighborhood. The vibes of this place makes this one of our favorites of the breweries in Portland Maine!
Urban Farm Fermentory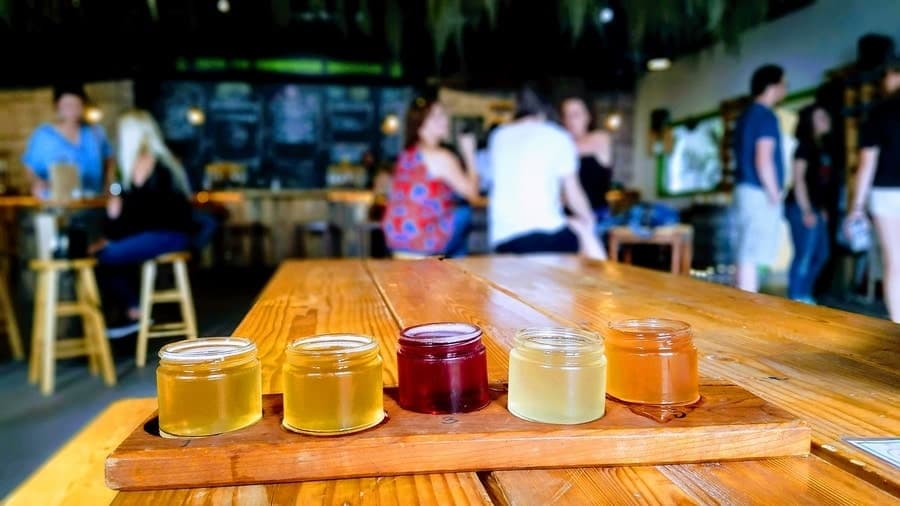 Tour Available: No
Food: No
Outdoor Seating: No
About a 5-minute walk up the road from Rising Tide, Urban Farm Fermentory creates kombucha, jun (similar to kombucha), cider, gruit (used for bittering and flavoring beer prior to the popularity of hops), and mead.
A flight of (5) 2-oz. pours costs $6 if you stay within the same type of alcohol, and $7 if you mix and match.
These were some funky drinks which perfectly matched the funky, hipster-vibe. But nonetheless, it was another stop on our brewery crawl!
Of all the breweries in Portland Maine, this place will have the most unique flavors for your taste buds!
Lone Pine Brewing Company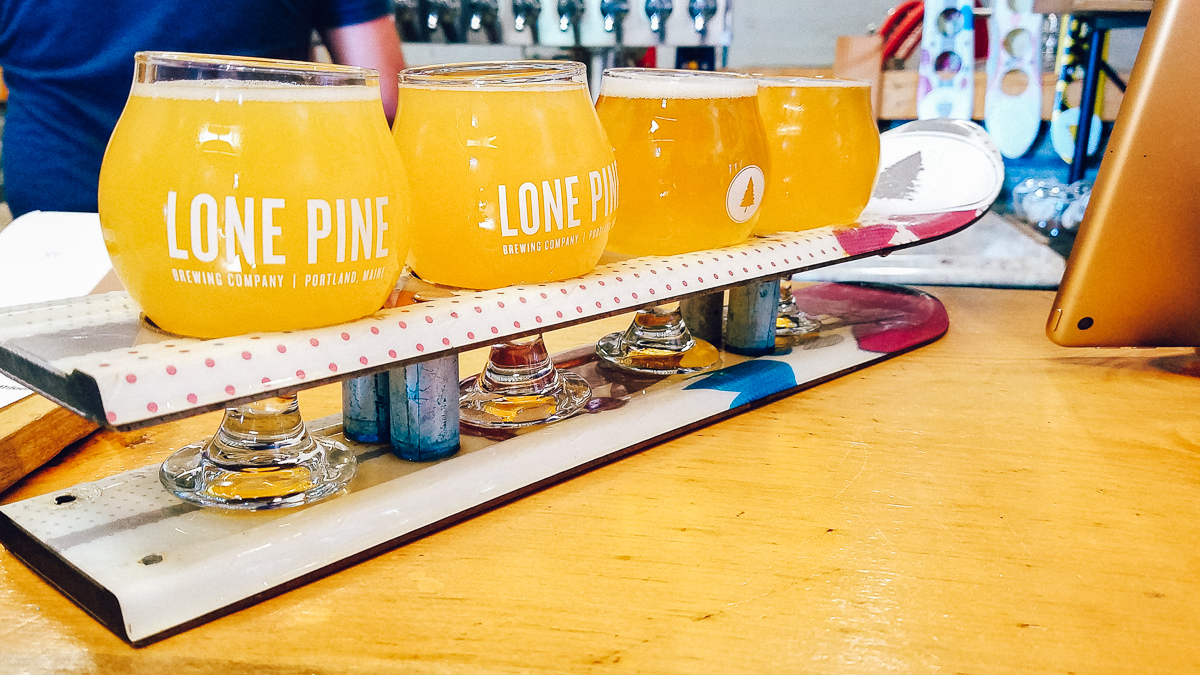 Tour Available: No
Food: Yes
Outdoor Seating: Yes
Another hop-forward brewery in Portland, Lone Pine Brewing Co is located near the northernmost point of the Portland peninsula. While their main location is in Gorham, this taproom is small with limited indoor seating.
They usually have about 7 craft beers on tap, and most, if not all, will be some sort of IPA or pale ale. They do have sours and other seasonals as well.
Our favorite part was their flight board which is a ski!
The tasting room was a bit crowded and cramped, as was the small outdoor patio.
If you want some space to spread out a little, head up the hill and down the alley to Goodfire Brewing.
Goodfire Brewing Company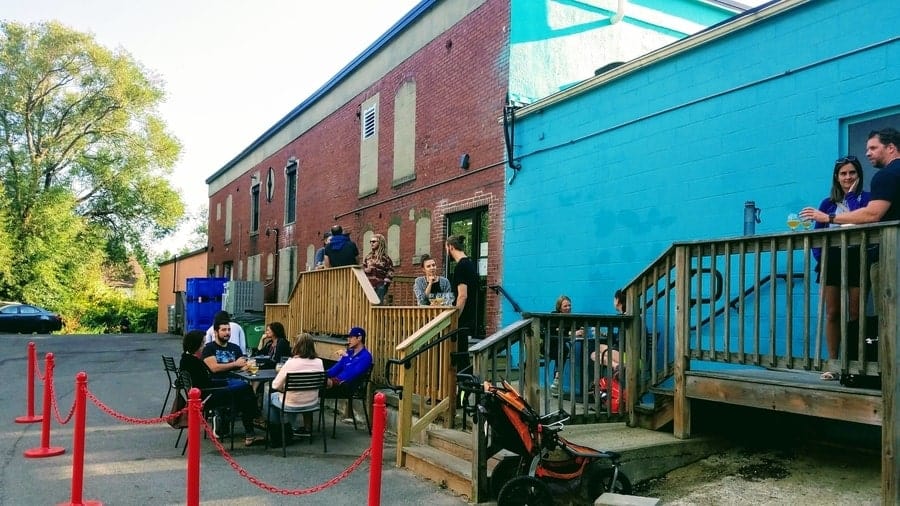 Tour Available: No
Food: Yes, food trucks only
Outdoor Seating: Yes
If you guessed that Goodfire Brewing would have a bunch of IPAs on draft, congratulations.
But you don't win anything because who wouldn't have guessed that?!
The CMYK (yes, those letters on your color-printer ink) is their main IPA and in the popular New England-style. Decent sized tasting room with some overflow picnic tables outside.
They have 8 rotating taps and are currently open 7 days a week.
Old Port, West End, and everything else
Gritty McDuff's Brewing Company
Tour Available: No
Food: Yes, full restaurant
Outdoor Seating: Yes
As one of the only true brewpubs in the heart of downtown Portland, Gritty McDuff's Brewing Company offers many different types of beers. Many of the beers are in that old English-style pub variety and all are brewed onsite and have "never travelled more than 30 yards from 'grain to glass'."
The Best Bitter was the original beer back in the late 80s and is still a part of Gritty's rotating drafts.
They do have seasonal beers as well as pub styles with 2 -3 guest taps too.
Liquid Riot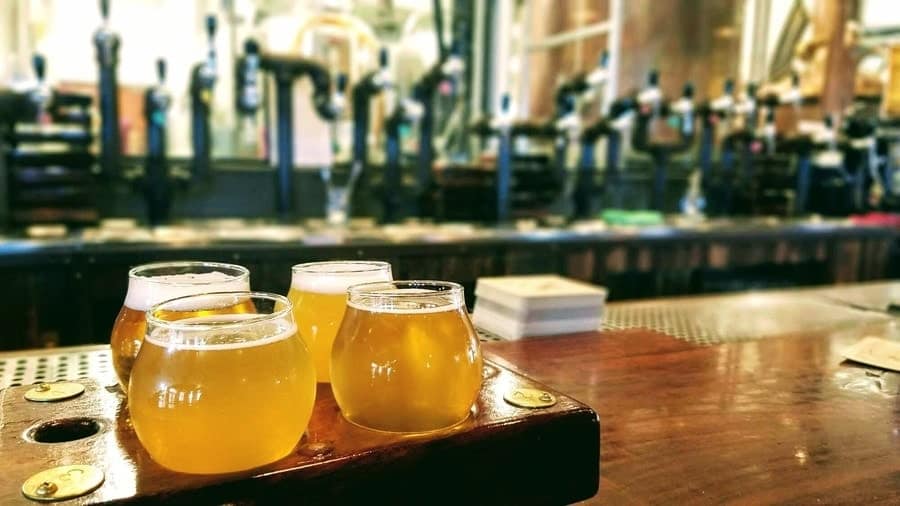 Tour Available: No
Food: Yes
Outdoor Seating: Yes
Liquid Riot Bottling Company is located right on the waterfront in Old Port and was Maine's first brewery/ distillery/ restaurant/ bar.
The setup inside Liquid Riot allows you to sit at the bar while peering into the actual production rooms for the various beers and liquors which are all made onsite.
Since they produce both beer and liquor, you have to make the choice between a great craft cocktail or craft beer. (Or plan to eat at the restuarant and order one of each!).
We hesitate to pinpoint any beer here as they are constantly changing. However, we can tell you that each of the beers that we had, plus the jumbo pretzel with beer cheese, were very good!
If you are feeling frisky, they offer a "happy meal special" which is a sidecar of Bierschnaps or Fernet to any full pour for just $3.
Definitely a must-do when seeking out breweries in Portland Maine.
Bunker Brewing Company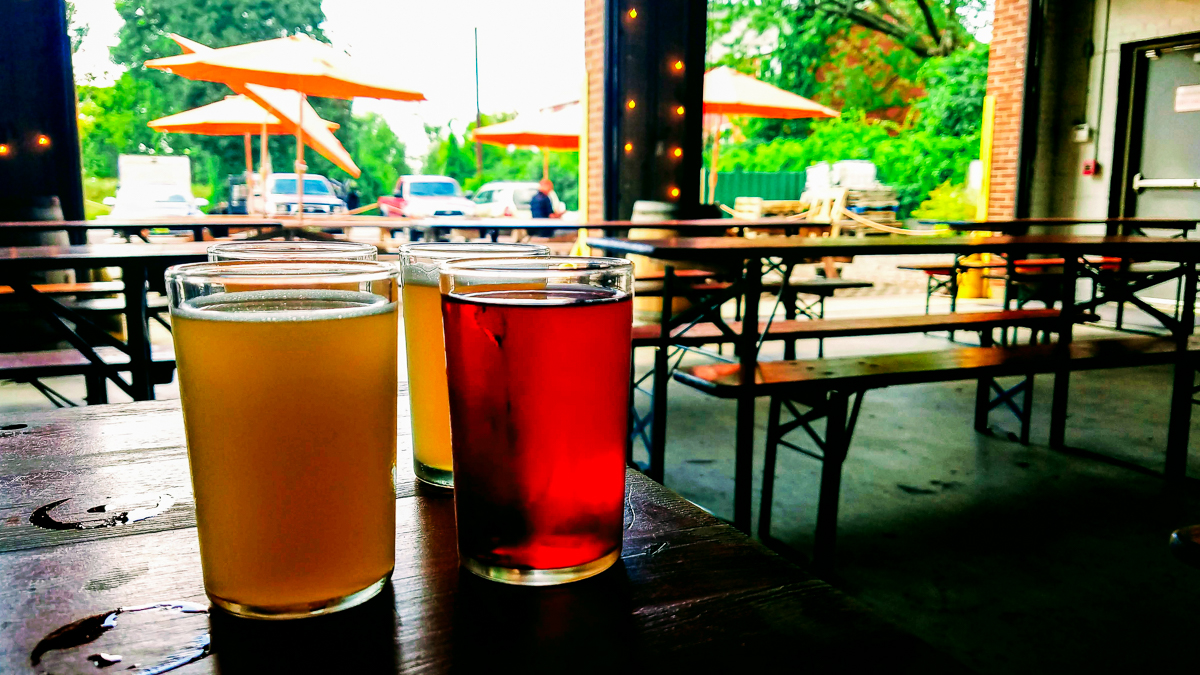 Tour Available: No
Food: Yes, rotating food trucks
Outdoor Seating: Yes
Bunker Brewing is located in the West End of Portland if you're heading back towards the airport from the city.
It was a little bit difficult to get to based on where our GPS took us, but rest assured, it's there.
Just keep going and you'll come upon the building with large garage bay doors leading into the tasting room.
Yet another hoppy Portland brewery, but Bunker also offers sours, lagers, and even porters.
Large indoor tasting room which opens up to the brewing operations to the immediate right.
Bissell Brothers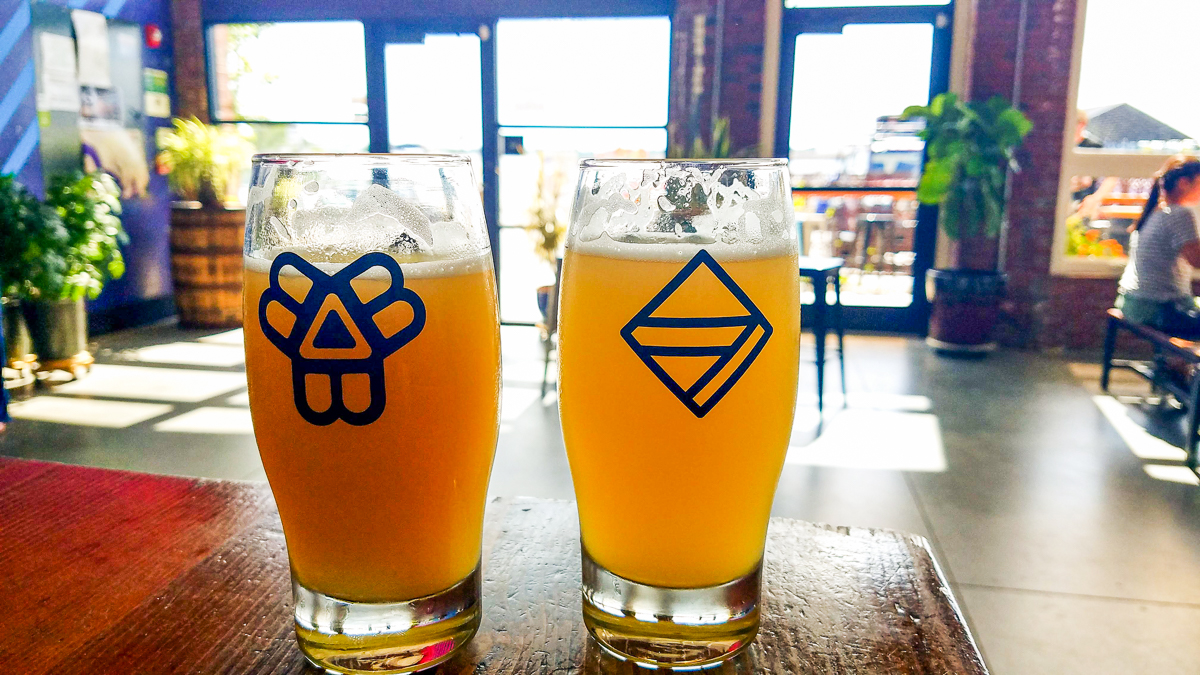 Tour Available: No
Food: Yes
Outdoor Seating: Yes
Only about 5 minutes from Bunker Brewing, Bissell Brothers is very well-known in the beer world for its hoppy New England IPAs and its long lines of people waiting to get their hands on the newest 4-pack of beer.
Since moving to its much larger current location, Bissell Brothers was able to double its production capacity and now boasts one of Maine's largest tasting rooms.
The size of the current brewery on Thompson's Point allows Bissell Brothers to accommodate the droves of beer fans who flock here to scoop up the newest release.
Cans are released every day that they are open (except Sundays) and oftentimes sell out.
Their release schedule is online, so do your homework and figure out what day you want to go. Be prepared for a wait too as this is one of the top breweries in Portland, Maine!
Sea Dog Brewing Company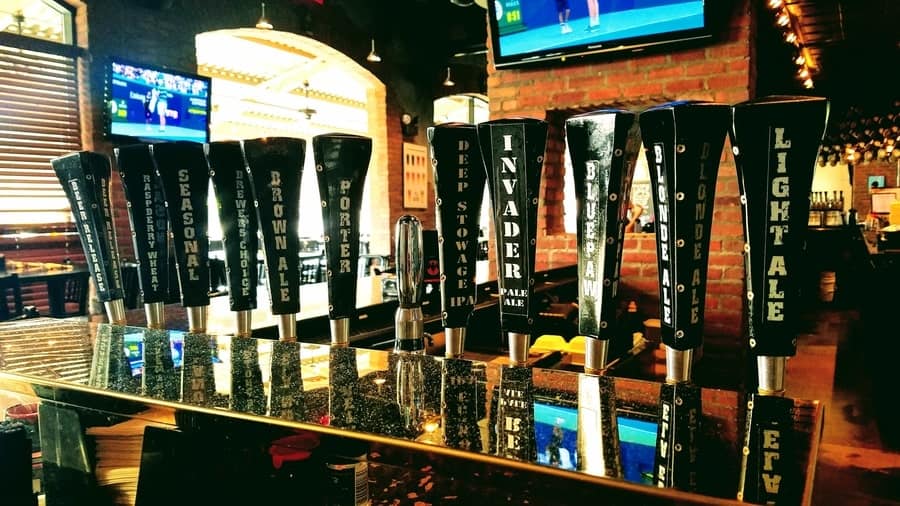 Tour Available: No
Food: Yes
Outdoor Seating: Yes
Sea Dog Brewing Co actually started up in Camden, Maine, which is about an hour and a half north of Portland.
However, there are several brewpubs in Maine, New Hampshire, and even Florida.
The Portland brewpub is located about 5 minutes from the airport, which made it the perfect last stop on our beer journey through Portland.
We had a quick snack, grabbed a souvenir koozie, and Samantha had her Blueberry Wheat Ale one last time before we made our way to the airport.
Sebago Brewing Company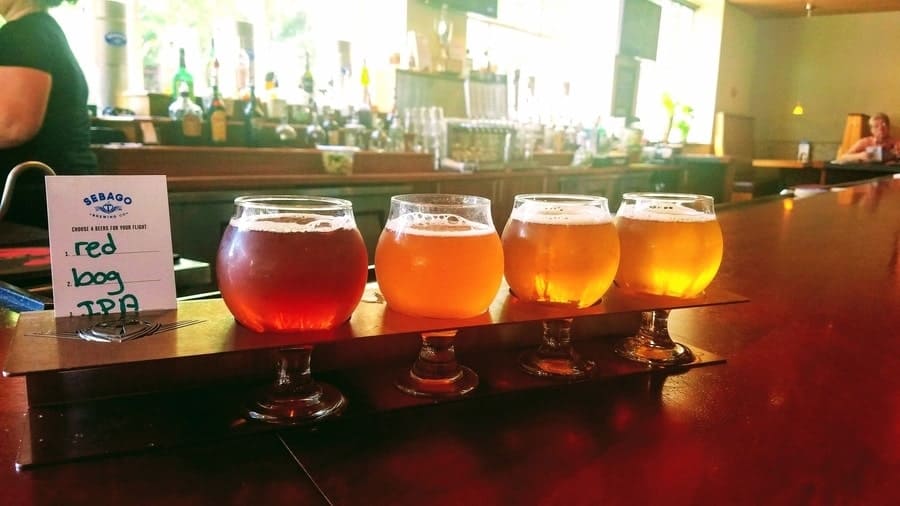 Tour Available: No
Food: Yes, full menu
Outdoor Seating: Yes
The headquarters of Sebago Brewing Co are actually located in Gorham, Maine, about a 20-minute drive west of Portland.
However, there are several brewpubs around Maine, with the closest one to the city just outside the aiport.
The Frye's Leap IPA is what they call "Maine's Legendary IPA", but Chris was actually more partial to the Hop Swap IPA.
The breweries in Portland we missed
These are the breweries that we missed along the way. We added them to the map above.
Banded Brewing Co.

Batson River Brewing & Distilling

Belleflower Brewing Co

Fore River Brewing Co Tasting Room & Beer Garden

Falmouth Brewing Co

HI Fidelity Beer

Island Dog Brewing
BONUS: Maine Craft Distilling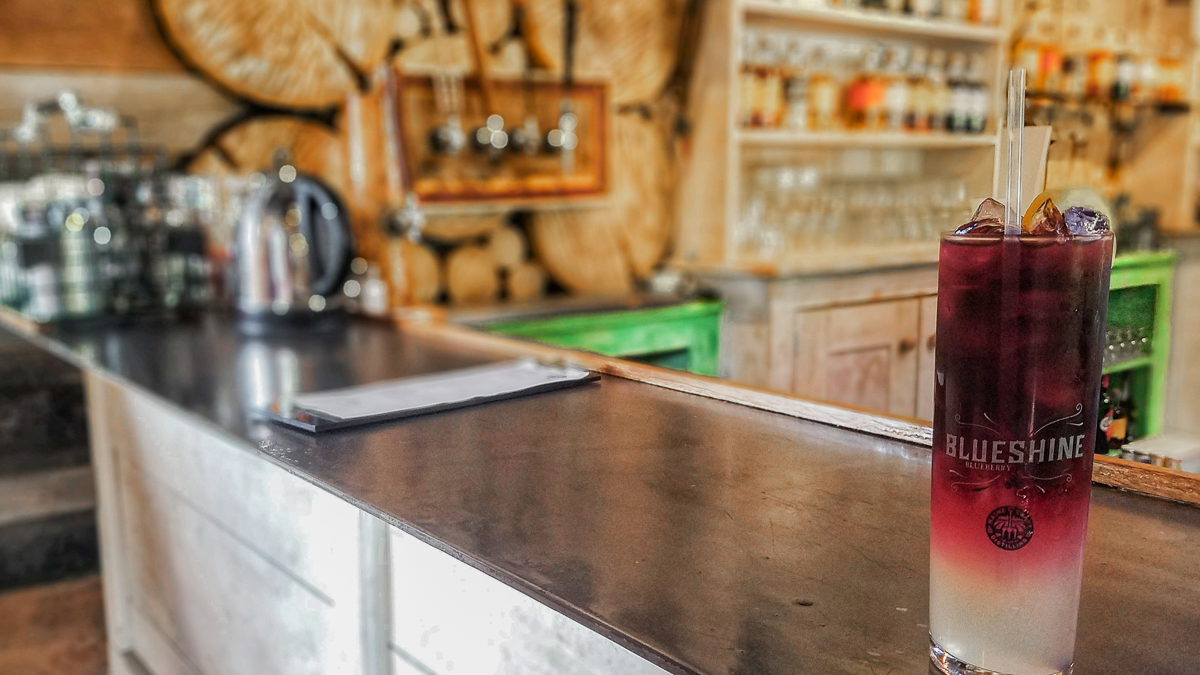 This is a bonus more so because it was on the way from lunch to our next brewery stop, but make sure you stop by this place if you enjoy craft cocktails. Remember, craft isn't just for beer!
Maine Craft Distilling produces many different types of liquor and crafts them into delicious and crafty cocktails. From whiskey and vodka to flavored rums, gins and brandy, we were happy with our detour in.
We had one of their bestsellers, the Lemonshine, which is a mixture of their blueberry liquor and lemonade. Very refreshing! They also have a food menu and offer many local craft beers on tap.
Phew! What a whirlwind of a journey to taste all of the breweries in Portland Maine.
By our count above, over 25 breweries/ wineries/ distilleries are all within a quick drive of downtown Portland, Maine. We know we missed a few, which only means we will have to return to complete the list!
Seems like we only had time for boozing in Maine, right? Wrong! Check out our Ultimate Guide to Portland, Maine post, including where we eat, what to see, and where we stayed!
Before you go signing us up for an AA meeting, we want to say that we did this at an attainable pace by sharing flights and drinks at each location.
We also made sure to drink water at every place and ate frequently. Uber/Lyft or our own two feet were our only modes of transportation. Always drink responsibly. Never drink and drive.