The 7 Best Omaha Breweries in Nebraska
Nebraska is the home to Omaha Steaks, a lot of corn, and craft beer.
Yep, you read that right –  craft beer.
The breweries in Omaha are nothing to balk at either as they are serving up some sensational brews that will not only surprise you, but will delight your senses. 
Short on Time? Here are the key takeaways:
In our opinion, don't miss Lumen or Kros Strain
Almost all are closed on Mondays
Most breweries don't have a lot of food options
Craft Brew Penny Pack
If you know you'll be brewery hopping and want to save a bit of cash, you might want to consider the Craft Brew Penny Pack. 
Simply sign up and receive "Buy 1 Get 1 for a Penny" coupons valid at 12 featured breweries, along with a free souvenir flight glass at the Omaha Visitors Center.
Redeeming your discounts is easy with their mobile app. We didn't know about it when we visited or we would have signed up for it. It's free to join and honestly, you don't have anything to lose by signing up, except for one measly penny.
Map of Omaha Breweries
HOW TO USE THIS MAP: To view the layers and see the names of the places on this map, click the tab in the top left corner. You can select the check marks to show or hide certain layers. If you select the icons on the map, you will get more information about the point of interest.
HOW TO SAVE THIS MAP: If you select the star icon next to the map name, you can save this map to your Google Maps account. To view it, open Google Maps in desktop or on your phone, select the menu button, go to "Your Places," scroll to the right to Maps, and you will see this map.
1.Lumen Beer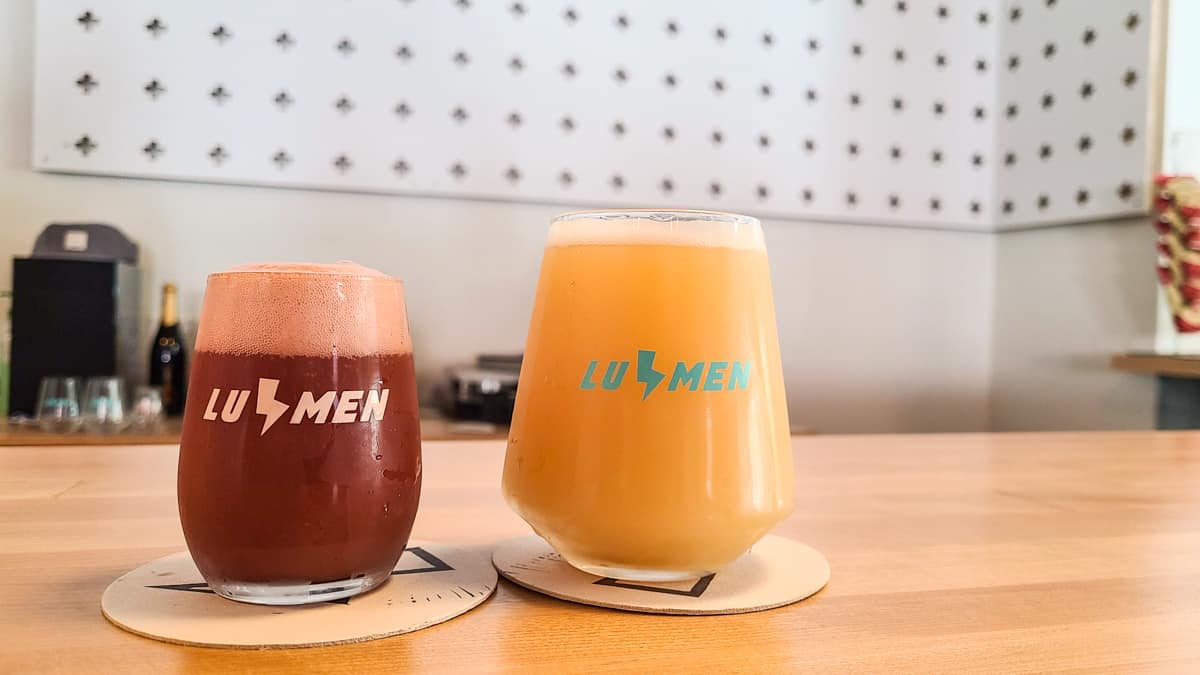 Hours:

Wednesday: 3PM – 9PM
Thursday & Friday: 3PM – 10PM
Saturday: 12PM – 10PM
Sunday: 12PM – 6PM
Monday & Tuesday: Closed

Food Available: No
Opening in 2022, Lumen Beer quickly became one of our favorite spots to unwind and enjoy exceptional craft brews. Located in the trendy Little Bohemia (aka Little Bo) neighborhood, this brewery is offering up one-of-a-kind beers in Omaha with original and unique flavors.
This spot came highly recommended to us from numerous bartenders in the area and we get why, it's damn good beer. Their quaint taproom was warm and inviting with large windows bringing in lots of light. You could say it illuminates the beers (hehe).
When we visited, they had 10 beers on tap with a range of styles. Chris got a half pour of the Kermit, a New England style hazy while Sam sipped on the Skewed Perspective, a tart fruited sour.
Despite being a newer brewery in town, they are lighting the way forward amongst the breweries in Omaha.
2. Kros Strain Brewing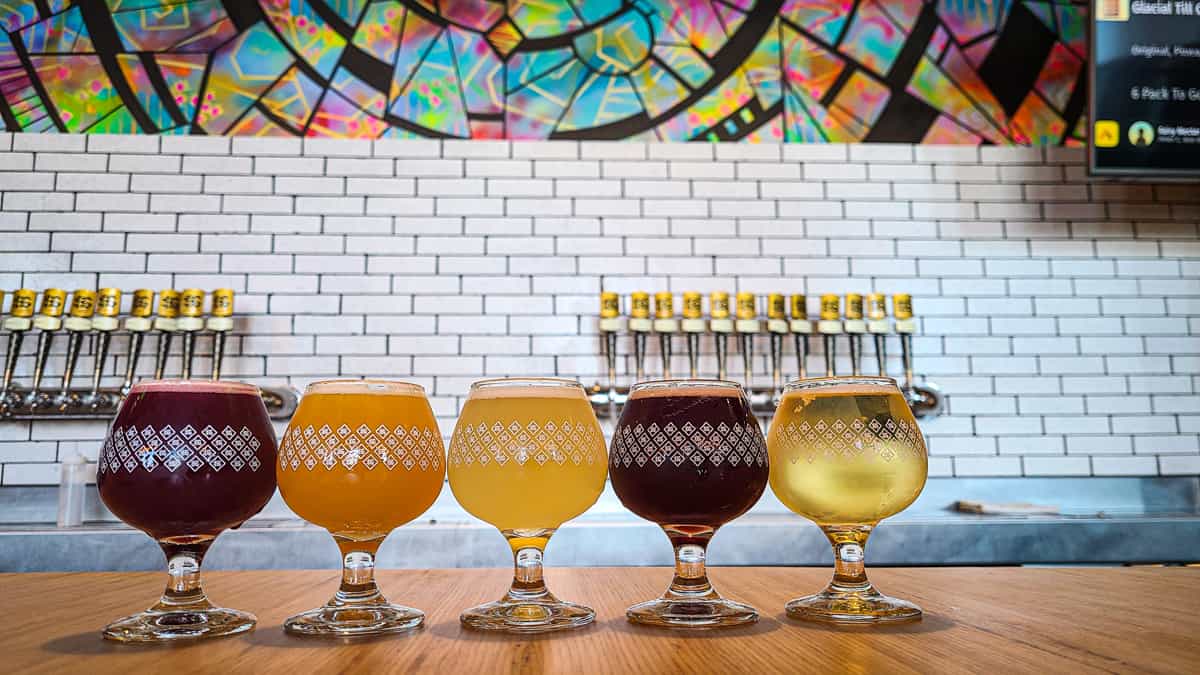 Hours:

Tuesday – Thursday: 3PM – 9PM
Friday: 3PM – 10PM
Saturday: 12PM – 10PM
Sunday: 12PM – 6PM
Monday: Closed

Food Available: BYOF (bring your own food)
Since its inception in 2017, Kros Strain Brewing has rapidly emerged as a prominent player in Omaha's brewery scene. It's a tale you've heard countless times: two guys fueled by their love for beer abandon their jobs to pursue their brewing dreams. 
Devoting two years to honing their craft in basements and homebrew setups, the duo eventually decided to merge their names, giving birth to the renowned Kros Strain Brewing.
At their expansive 17,000-square foot brewery and taproom, visitors are treated to an array of award-winning beers crafted on-site. The focal point is their flagship brew, the Fairy Nectar IPA, which has become synonymous with the Kros Strain brand. Alongside this iconic beer, the brewery continuously explores new recipes and flavors, ensuring an ever-evolving selection that caters to a wide range of tastes.
With an extensive lineup of over 20 beers on tap, complemented by offerings such as cider, wine, and non-alcoholic beverages, you won't go thirsty here. We each got a few 5-oz pours to sample as many as possible and found each beer in the lineup was incredible.
Sam tried 3 different sours, a festbier and a staple lager. One of our favorites was called Tippy Cup, a super light drinking lager that's legit perfect for a hair of the dog or breakfast beer. (Don't judge, we know you've had breakfast beers.) We even got a 4 pack of it to-go and enjoyed every drop of it. Chris got their infamous Fairy Nectar IPA and a few more IPAs to round out sampling and all were delicious.
If you can only make it to a few of the Omaha breweries, add this to the top of your list.
3. Zipline Brewing Co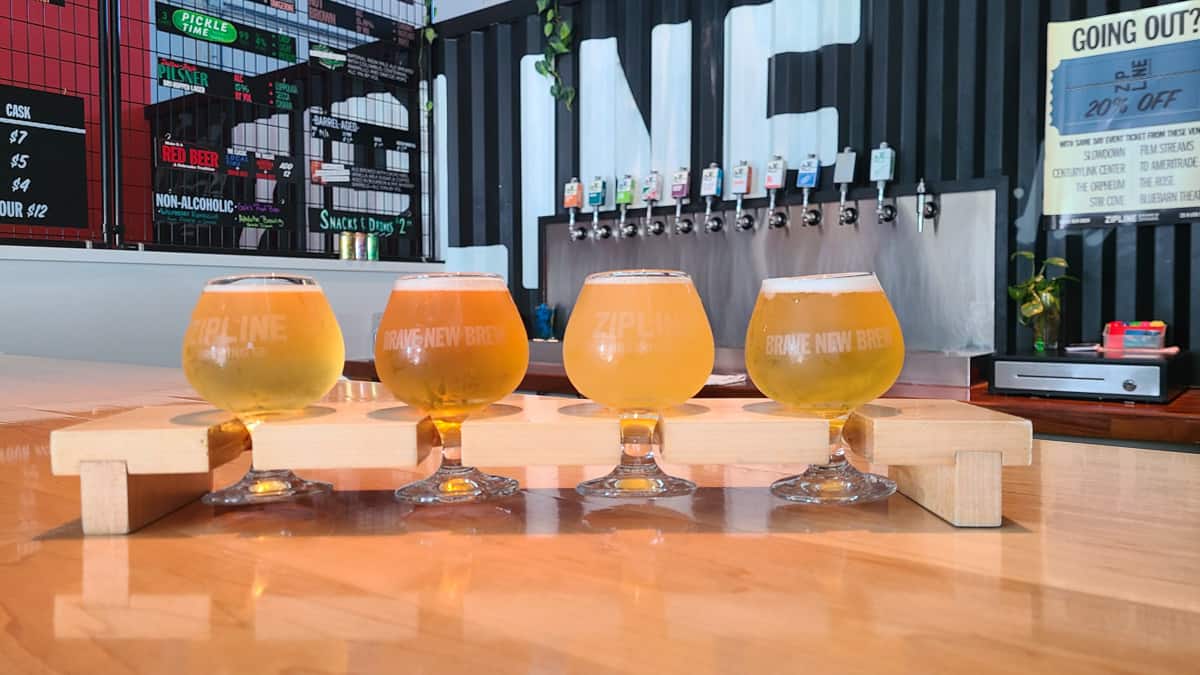 Hours (Downtown Taproom):

Monday – Thursday: 3PM – 9PM
Friday: 2PM – 10PM
Saturday: 12PM – 10PM
Sunday: 12PM – 6PM

Food Available: No
Zipline Brewing Co. is a craft brewery that specializes in artisan ales and lagers. Founded in 2012 in Lincoln, NE, the brewery was driven by their shared sense of adventure and their desire to tap into the thrill-seeking and adventurous spirit of craft beer enthusiasts, hence its name "Zipline".
This esteemed brewery has gained recognition for their impressive range of brews, helping put Omaha, Nebraska on the map within the craft beer community. While ziplining may not be a common activity in the prairie state of Nebraska, enjoying beer is undoubtedly a beloved pastime.
Step into their spacious taproom, which exudes a garage-style vibe, and you'll find locals relishing in the flavors of Zipline's Copper Alt Altbier, the rich and roasty Oatmeal Porter, and the bold and tangy DAAANG IPA! We both enjoyed our flight lineup with a mix of seasonals and mainstays.
Zipline Brewing Co. has been recognized as one of the Best Up and Coming Breweries in the Midwest by Thrillist, and their commitment to excellence has earned them several medals from the Great American Beer Festival (GABF).
Zipline Brewing Co. offers an immersive beer experience through their two locations in Omaha. Their downtown taproom is near TD Ameritrade Park (site of the College World Series) and CHI Center making it a perfect pre- or post-game stop. This location pours pints from an iconic shipping container.
Additionally, the Zipline Beer Lounge in West Omaha offers a comfortable and laid-back environment, complete with oversized lounge chairs, a fireplace, shuffleboard, and a lending library. Whether inside or on the patio, the Beer Lounge is the perfect place to enjoy a beer, play games, indulge in a good read, or engage in lively conversations.
4. Monolithic Brewing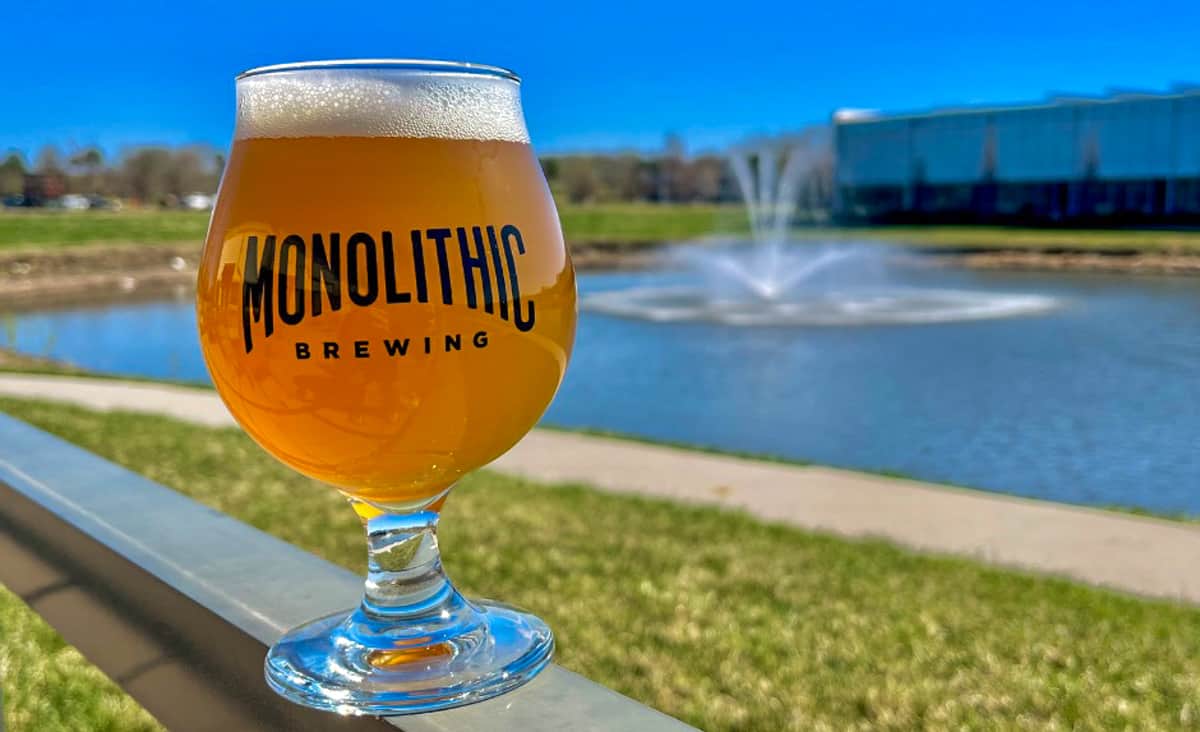 Hours:

Monday & Tuesday: Closed
Wednesday & Thursday: 4PM – 10PM
Friday: 3PM – 10PM
Saturday: 12PM – 10PM
Sunday: 12PM – 6PM

Food Available: Yes
Nestled in Omaha's vibrant beer scene is Monolithic Brewing, a relative newcomer that has made a big splash. Established in 2020, they are all about delivering top-notch, expertly crafted beers. 
As a small-batch brewery, they exclusively serve their beers in their taproom, without any distribution. This gives them the freedom to push boundaries, take risks, learn from failures, and keep refining their brews.
Their lineup of flavors and styles is as diverse as it gets, ranging from light and sessionable beers to bold IPAs, rich Stouts, refreshing Hard Seltzers, and everything in between. While their core beers are always available, they are constantly dreaming up new brews and rotating seasonal offerings.
While we weren't able to visit Monolithic when we visited various breweries in Omaha, they were recommended by a few people so we wanted to be sure to add them to the list.
5. Infusion Brewing Co.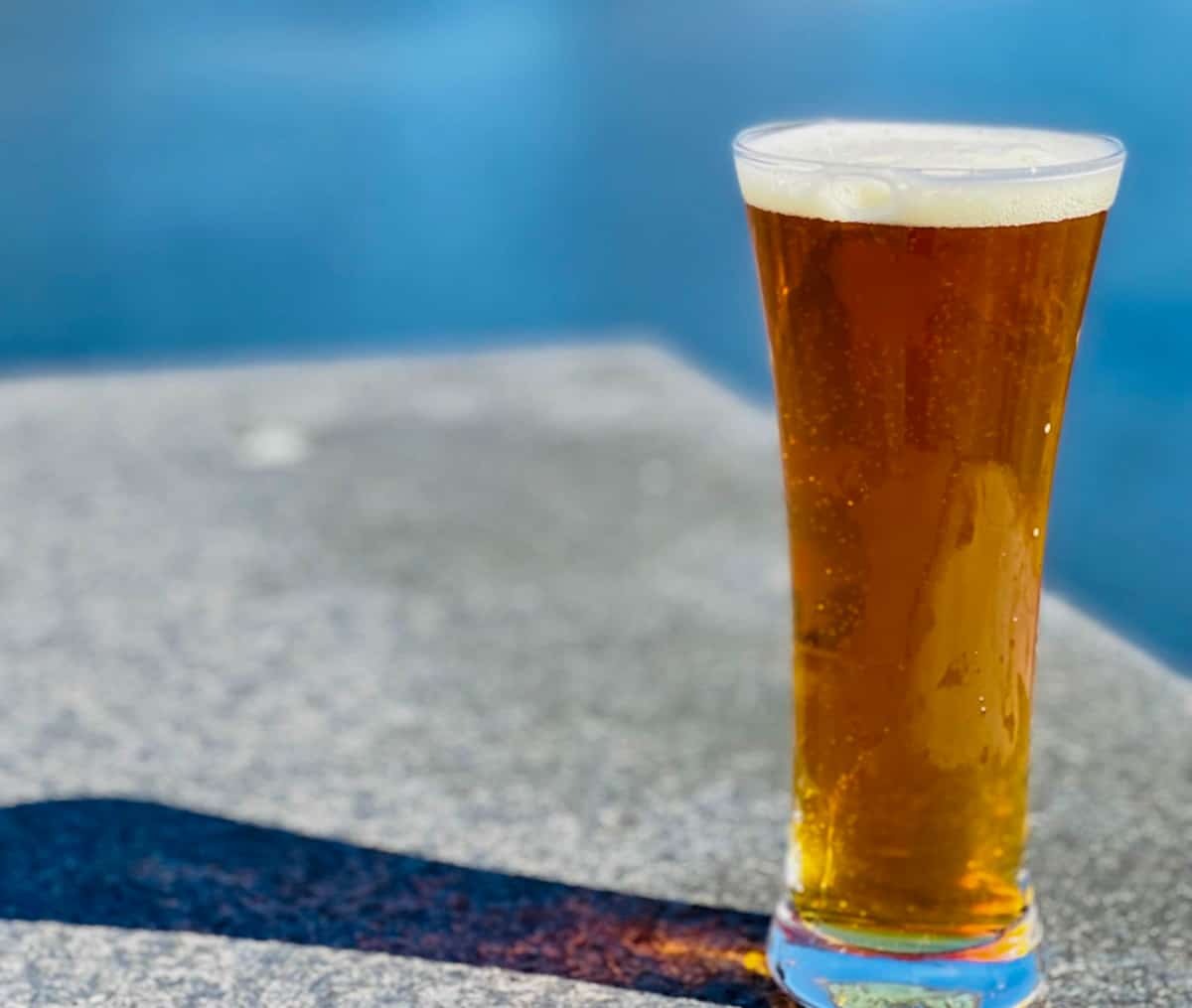 Hours (Benson location):

Tuesday-Thursday: 4PM – 10PM
Friday: 3PM – 11PM
Saturday: 12PM – 11PM
Sunday: 2PM – 8PM
Monday: Closed

Food Available: Yes, snacks only
For those seeking a fusion of bold flavors and innovative brewing techniques, Infusion Brewing Co. is an absolute must-visit. 
Established in 2013, their original brewery and taproom resides in the heart of Omaha's Historic Benson neighborhood. Housed in a building constructed in 1917, which was once Olson's Meat Market, the taproom showcases the authentic architectural elements of a bygone era.
In 2016, Infusion Brewing's Southwest location was established, serving as the hub for their production brewery, taproom, event space, and outdoor patio area. The Southwest facility boasts a 20-barrel brew house, seven fermentation tanks, three finishing tanks, and a canning line with an impressive capacity of filling 50 cans per minute.
With a rotating selection of 17 beers, there is an array of flavors and craft beers to try. While they produce a wide range of styles, they are known for their Vanilla Bean line up. Their main beer is the Vanilla Bean Blonde Ale, but they also infuse in other flavors such as Froot Loops, S'mores, Mexican and Pumpkin just to name a few. For those who don't think they like beer, this line up will be one to try or you can order one of their seltzers.
6. Bearded Brewer Artisan Ales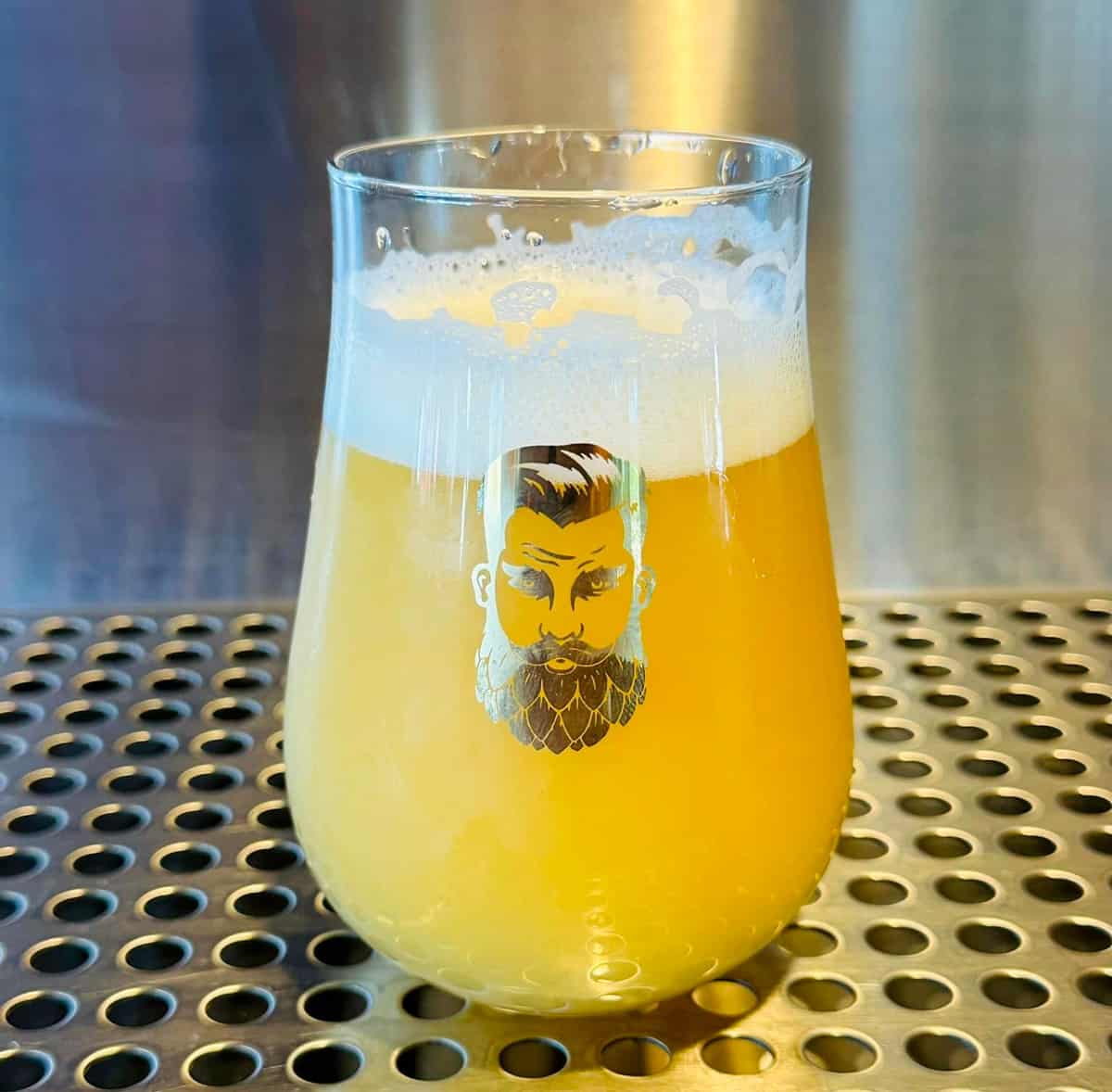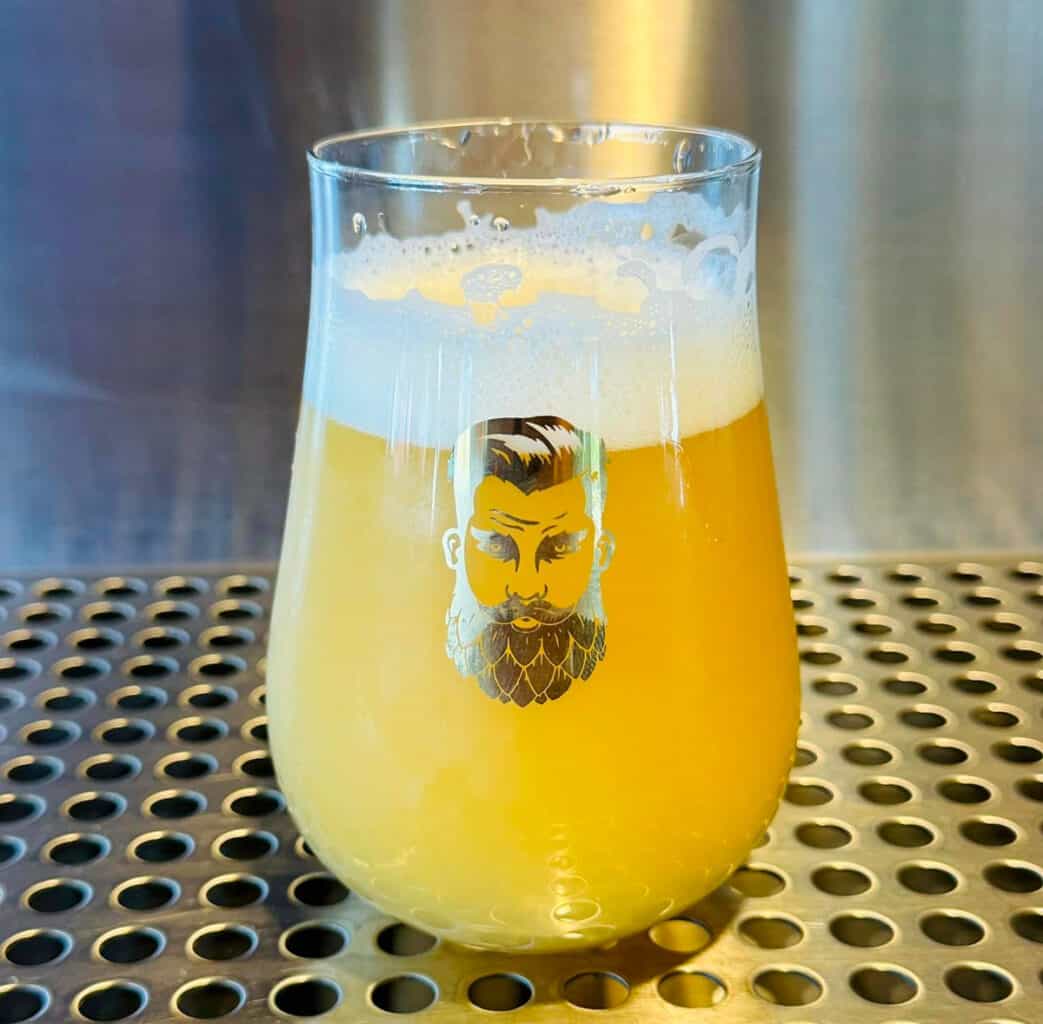 Hours:

Tuesday-Thursday: 3PM – 9PM
Friday & Saturday: 12PM – 10PM
Sunday: 11AM – 7PM
Monday: Closed

Food Available: Yes, food trucks only
Bearded Brewer Artisan Ales, the new hotspot in Omaha, is making waves in the local beer scene. Head brewer Kirk Hearon, known for his distinctive beard and creative mindset, brings over 20 years of preparation to each beer he creates. 
Their collaboration with Core Bank resulted in the creation of the Core Beer, a Kolsch that embodies the easygoing nature of the partnership. With a focus on experimentation and creativity, Bearded Brewer allows themselves to be creative and experiment with different craft concoctions. They don't want to be known for a single type so they have a wide range of types to try.
7. Vis Major Brewing Company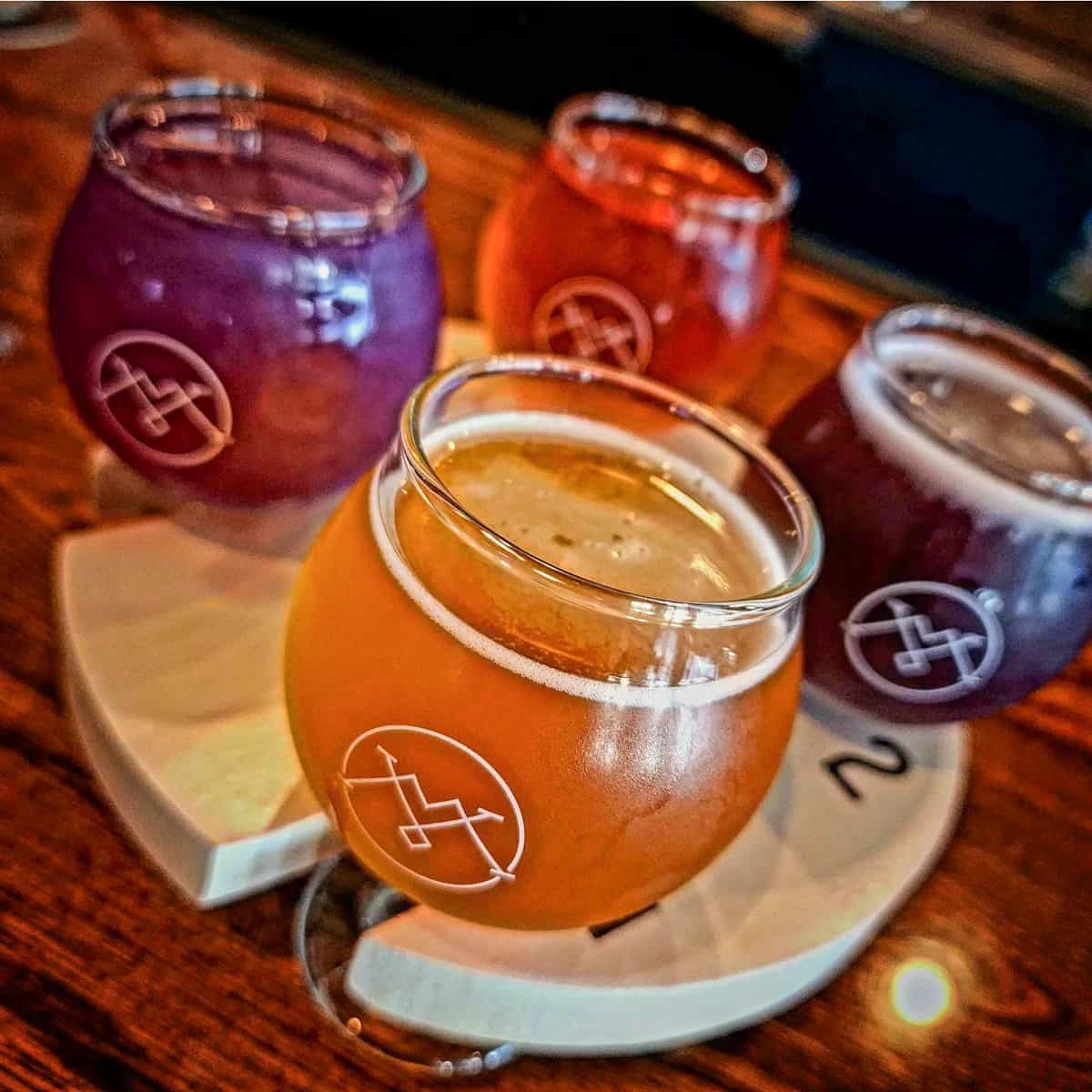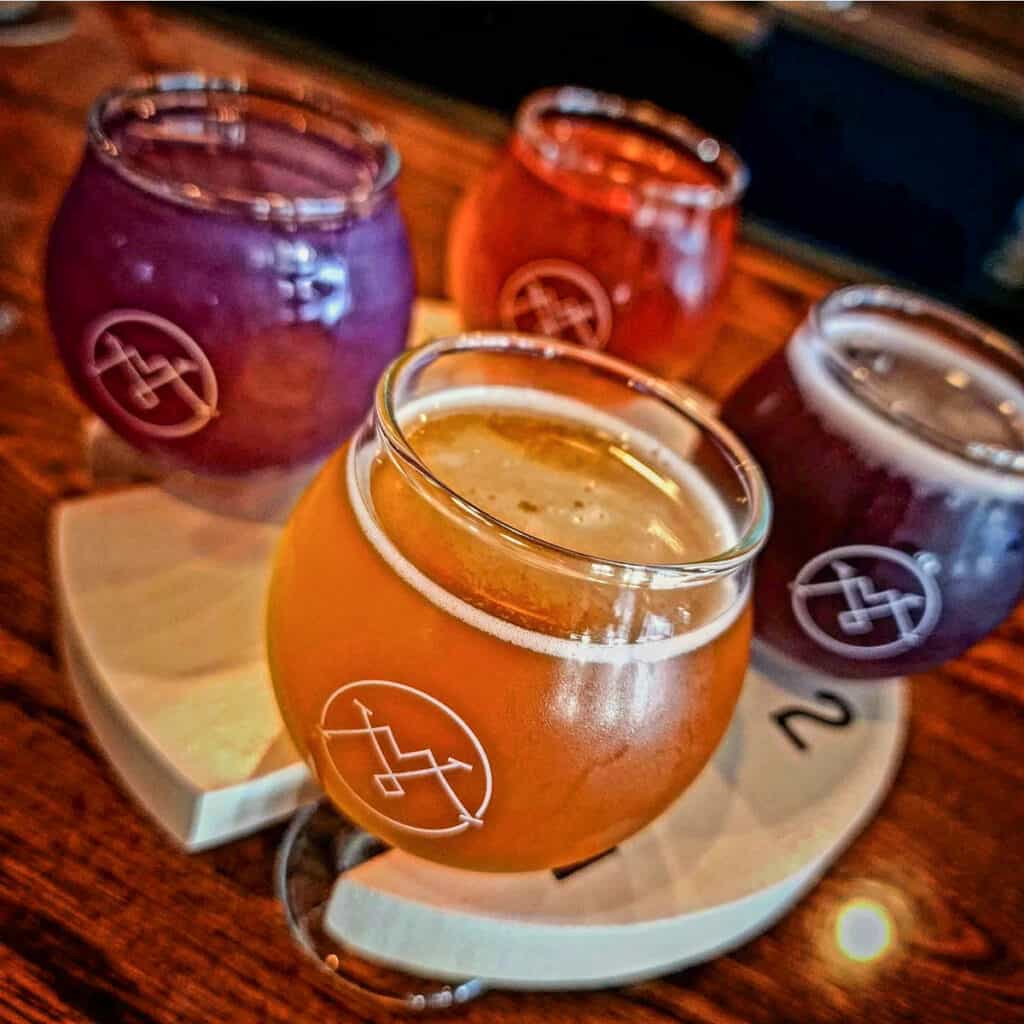 Hours:

Tuesday: 2PM – 9PM
Wednesday: 12PM – 9PM
Thursday & Friday: 2PM – 10PM
Saturday: 12PM – 11PM
Sunday: 2PM – 8PM
Monday: Closed

Food Available: Yes
Established in 2019, Vis Major Brewing Company is all about providing a top-notch and inclusive drink experience for the community. Their focus on balancing tradition and innovation shines through in their carefully curated craft beer recipes and they have quickly gained a reputation for their exceptional small-batch beers. 
Tom and Lindsey Clements, the founders, have put their heart and soul into restoring the former Clanton's Foods building, transforming it into a vibrant neighborhood hub. With their diverse menu of year-round, seasonal, and specialty beers, along with an inviting tasting room, their ever-changing lineup keeps visitors on their toes, always offering something new to discover.
If you're lucky, you might encounter their innovative fruit-infused ales or their intriguing hop-forward creations that defy expectations. 
Omaha, Nebraska, may not be the first city that comes to mind when thinking of breweries, but it is undoubtedly a hidden gem for beer lovers. The craft beer scene here is diverse, vibrant, and filled with passion.
From the modern and hip vibes of Lumen Beer to the fusion of flavors at Kros Strain, each brewery on this list offers a unique experience and a chance to savor exceptional brews. Don't miss the opportunity to explore the best 7 breweries in Omaha and embark on your own sudsy adventure in this beer lover's paradise. Cheers!
Still Thirsty? Check out these nearby location: