the best 17 breweries in Salt Lake City, Utah
Unless you live in Utah, there are several misconceptions about alcohol and the breweries in Salt Lake City. We are here to tell you that not only does Salt Lake have an INCREDIBLE craft brewery scene, they are producing some epic craft beers (pun intended).
We traveled to Salt Lake in 2020 and are planning a trip back to revisit these great breweries.
Whether you are in to hoppy IPAs, crisp lagers or tart sours, you might be surprised just how diverse and delicious the SLC breweries are.
Short on Time? Here are the key takeaways:
Per our ranking method, the top 3 SLC breweries are T.F. Brewing, Fisher Brewing and Kiitos Brewing.
In our opinion, don't miss Grid City or T.F. Brewing.
Most breweries offer a food option and (depending on how they are classified), minor (under 21 years old) are not allowed.
This post was originally published in November 2020, and was updated in July 2023
**Boozing Abroad contains affiliate links throughout the site. If you choose to purchase items through these links, we will earn a small commission at NO extra cost to you. Read the full disclosure policy here**
Info about Salt Lake City Breweries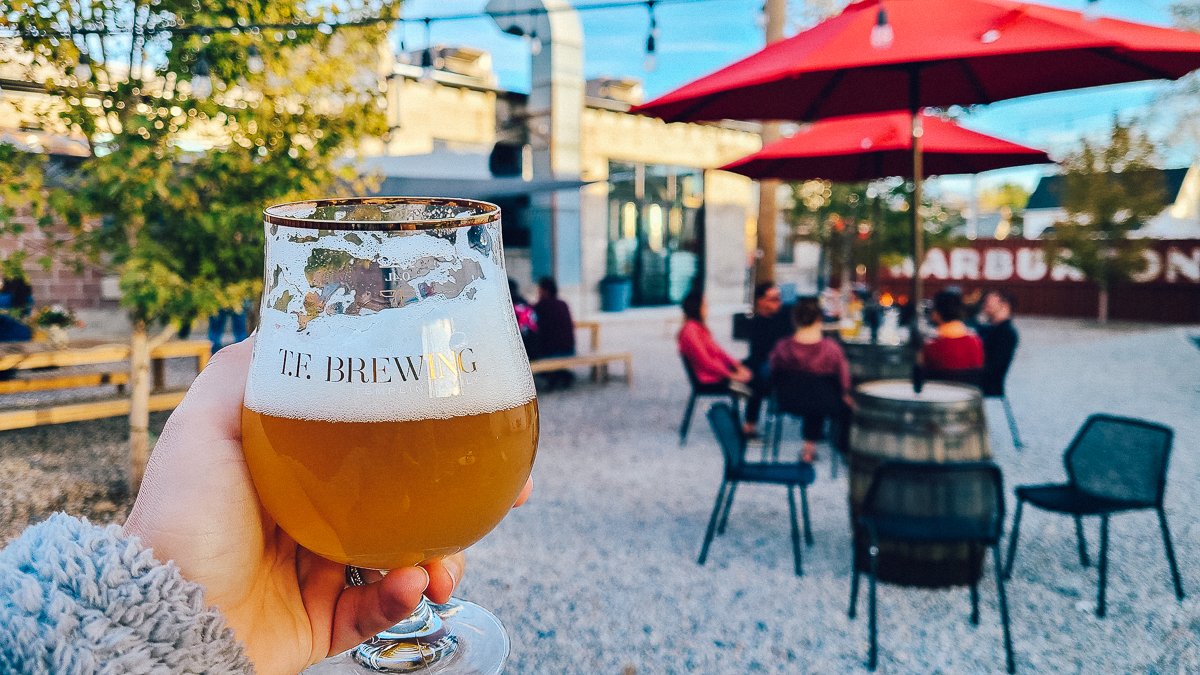 Raise your hand if you've heard a joke about the beer in Utah, specifically the weakness of said beer.
Now everyone put their hands down.
Though the breweries in Salt Lake City Utah are hampered a bit by the archaic beer and brewery laws in Utah, the craft beer scene is definitely coming around of late.
And by "of late", we mean that a state law was just changed in 2019 that now allows the breweries in Salt Lake City to serve draft beer up to 5% ABV. This is up from the previous 4% limit (this also applies to the highest-gravity beers that grocery stores and convenience stores are allowed to sell).
This might not sound like a big jump, but it definitely expands the draft beer portfolio available to the Salt Lake City breweries.
Don't worry, you can still purchase the full-strength beers in bottles or cans to-go (what they call their "high-points"), so you can taste the beer as it was intended.
How many breweries in Salt Lake City?
In 1994, there were only 4 craft breweries. Today, there are more than 30 breweries in Salt Lake City (including Ogden, Park City, and surrounding areas).
We think that qualifies as explosive growth!
Where to Stay in Salt Lake City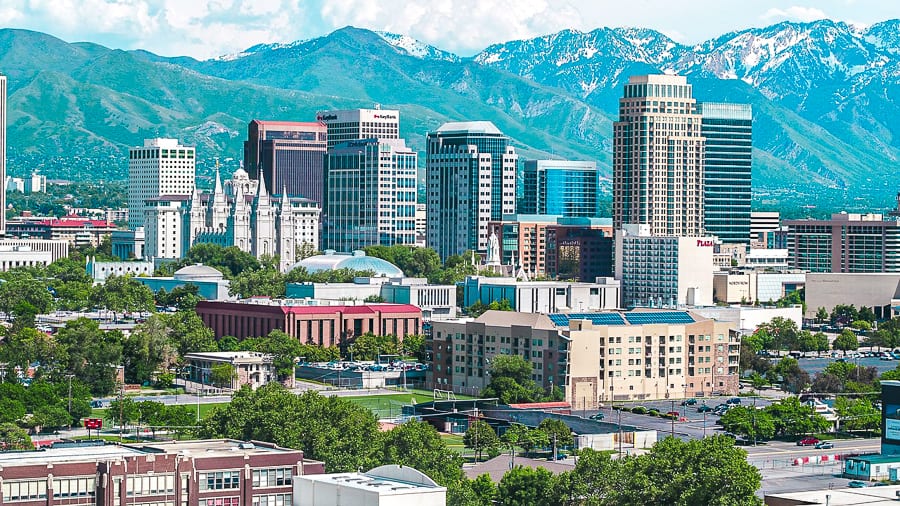 Salt Lake City is spread out and having a good spot to stay is key for the walkability aspect of your trip. We do recommend having a car, but ride-sharing programs and electric scooters are also options for getting around.
Top picks for where to stay in Salt Lake City:
Kimpton Monaco
This fun boutique hotel has lots of quirks and flair and is super walkable to our favorite spot, Caputo's Market and Deli!
Residence Inn by Marriott Salt Lake City Downtown

Just across the street from Pioneer Park, this spot offers great walkability as well and during the summer months, a farmers market is held in the park on Tuesday and Saturdays. With food trucks and local vendors out, this is a great time for local finds!
Looking for more hotel options? Click here now to see all the great options in Salt Lake City!
Map of the Breweries in Salt Lake City
HOW TO USE THIS MAP: To view the layers and see the names of the places on this map, click the tab in the top left corner. You can select the check marks to show or hide certain layers. If you select the icons on the map, you will get more information about the point of interest.
HOW TO SAVE THIS MAP: If you select the star icon next to the map name, you can save this map to your Google Maps account. To view it, open Google Maps in desktop or on your phone, select the menu button, go to "Your Places," scroll to the right to Maps, and you will see this map.
The Best Breweries in Salt Lake City (Ranked)
Rather than trying to explain our pretty strong views on what makes a brewery the best, we've designed our own formula to objectively tell you what's literally the best.
We've devised our own ranking system based on 3 factors:
Public ratings (sites such as Google and Yelp)
The brewery's rating on Untappd
Popularity
The last two rankings showcase how loved they are while our personal opinion also plays into the overall ranking.
In the end, each brewery receives a score out of 5, but a brewery can score higher than five based on the bonuses for Untappd ratings at 4 and above and how popular it is. We will break ties using the total number of reviews. In general, the higher the score, the better!
Here is our ranked list of which breweries offers the best SLC breweries:
| | | |
| --- | --- | --- |
| 1 | T.F Brewing | 5.56 |
| 2 | Fisher Brewing Co | 5.36 |
| 3 | Kiitos Brewing | 5.29 |
| 4 | Bohemian Brewery | 5.25 |
| 5 | Level Crossing Brewing Co | 5.23 |
| 6 | Epic Brewing Co | 5.19 |
| 7 | Grid City Beer Works | 5.09 |
| 8 | Bewilder Brewing Co | 5.08 |
| 9 | Wasatch Brewing | 5.04 |
| 10 | Uinta Brewing Co | 5.03 |
| 11 | Shades Brewing | 4.84 |
| 12 | RoHa Brewing Project | 4.83 |
| 13 | Desert Edge Brewery | 4.83 |
| 14 | SaltFire Brewing Co | 4.82 |
| 15 | Salt Flats Brewing Co | 4.80 |
| 16 | Hopkins Brewing Co | 4.80 |
| 17 | Proper Brewing Co | 4.28 |
If you want to learn more, read our ranking formula.
Ready to learn about each of these breweries and choose your own favorite brewery in Salt Lake City?
1. T.F. Brewing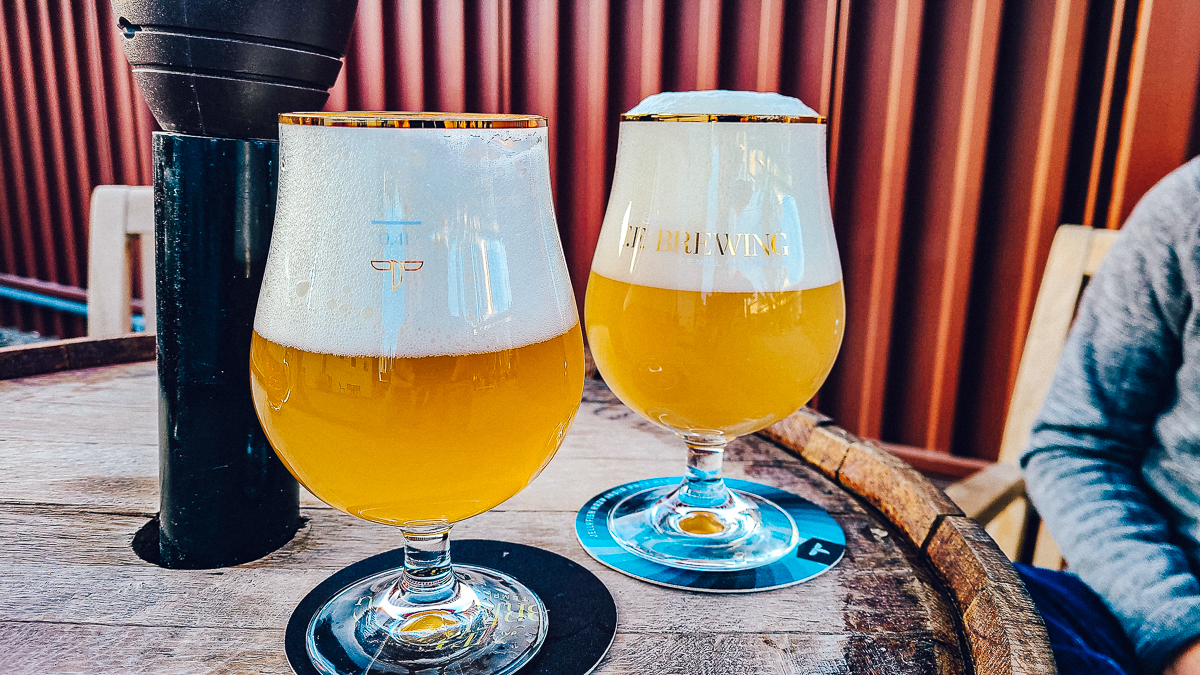 Hours:

Monday – Thursday: 12 PM – 11 PM
Friday – Saturday: 12 PM – 12 AM
Sunday 12 PM – 10 PM

Food Available: Food Trucks
When we asked bartenders and locals at the other breweries in Salt Lake City about where we should go for more good craft beer, we kid you not, EVERY single person said, "You have to go to T.F. Brewing."
So our expectations were already (and unfairly) through the roof. But let us tell you, they absolutely delivered!
A fun and modern vibe complements the great beer at T.F. (short for Templin Family, the family behind the brewery). The owner and brewmaster has been around in the Utah beer scene for a while and has worked at a few of the other Salt Lake City breweries (RedRock and Desert Edge), so he knows his stuff.
They have several beers on tap for you to enjoy, including some great German beers like a Dortmunder, Oktoberfest, Kellerbier, and Schwarzbier.
Or you can have some other favorites like the Pineapple Berliner Weisse, Wicked Sea Party (New England pale ale), or a very interesting hazy Norwegian Kveik ale.
Not to be outdone by the foamy options at Grid City, T.F. offers a pour of beer called a Schnitt.
What's a Schnitt, you ask?
Chris took 12 years of German so he can tell you that Schnitt literally means "cut" and this type of pour hails from Germany when a bartender just opens the tap for a burst and lets it hit bottom rather than pouring a proper beer.
Because of the amount of head that is produced from this pouring style, it's a less expensive beer than your typical draft.
In Germany, a Schnitt is often the last beer as you are heading out or if you're waiting on your slow-drinking friends to finish their full beers and you don't want them to be empty-handed.
2. Fisher Brewing Co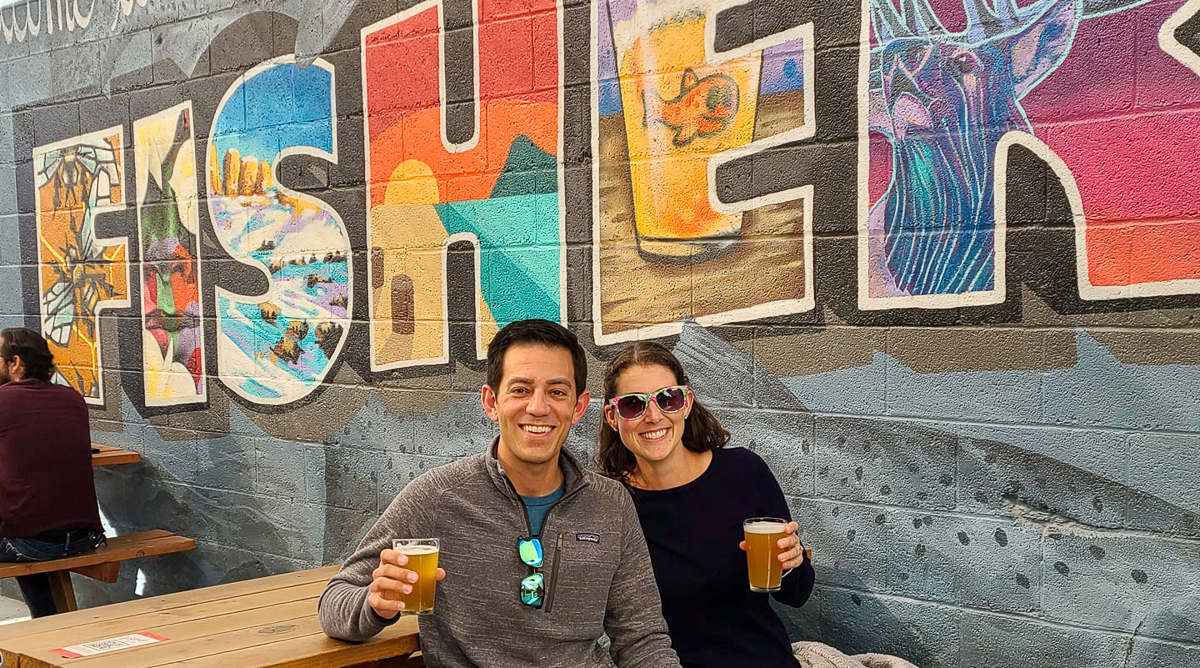 Hours:

Monday – Thursday: 11 AM – 11 PM
Friday – Saturday: 11 AM – 12 AM
Sunday 11 AM – 10 PM

Food Available: Food Trucks
Fisher Brewing was originally founded in 1884, certainly making it one of the first breweries in Salt Lake City. Fisher was a rather large brewery for its time, selling about 75,000 barrels a year in the early 1900s. But then…Prohibition.
Fisher survived and restarted operations after the repeal of Prohibition, but eventually the brewing came to an end in 1967 which began almost 20 years of no beer being bottled in Utah!
But, in 2017, fifty years after the original brewery closed its doors, the comeback kid, or in this case, the great-great-grandson of the original owner, re-opened Fisher Brewing in Salt Lake City as an employee-owned and community-focused craft brewery.
You won't find Fisher beer in cans or bottles, but you can drink their great ales and lagers in the taproom or in their semi-covered outdoor area. Beers like the Fisher Beer (a classic American pilsner), the Sweater Party pale ale, and the Chandler's Backyard wet-hopped pale ale dot their draft list.
3. Kiitos Brewing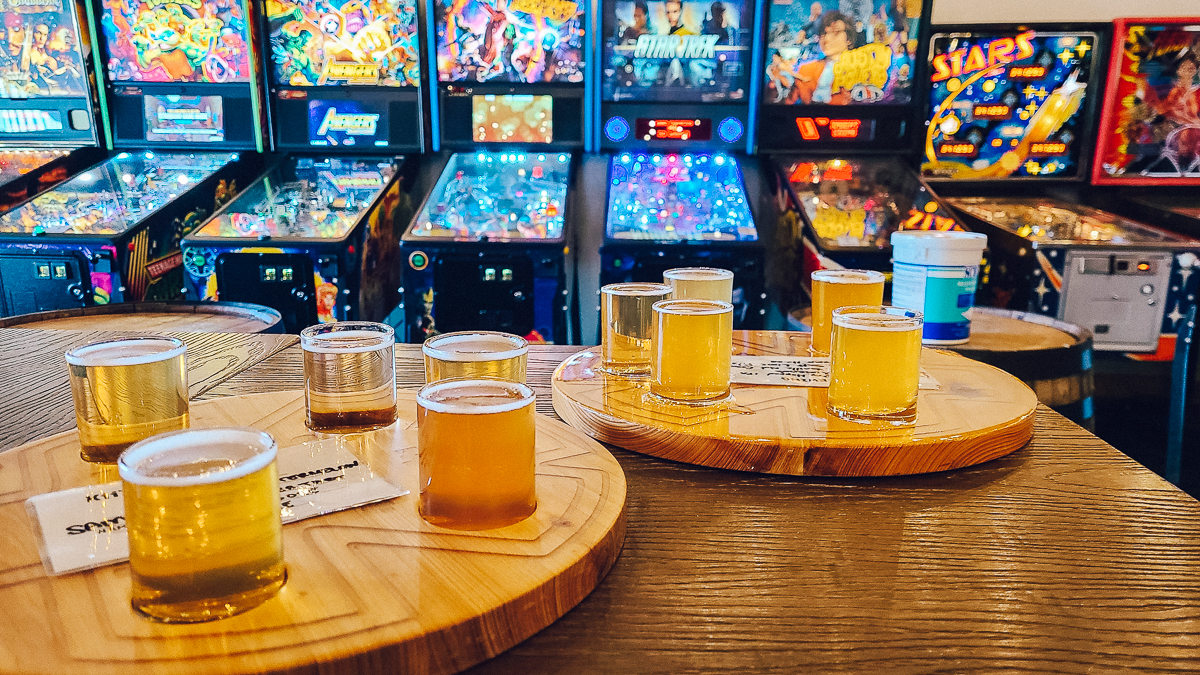 Hours:

Monday – Thursday: 11 AM – 10 PM
Friday – Saturday: 11 AM – 11 PM
Sunday 11 AM – 9 PM

Food Available: Yes
The breweries in Salt Lake City are probably all thankful for their great beer patrons, but there's only one who brewed the thanks right into their name.
"Kiitos" means thank you in Finnish and Kiitos Brewing is thanking all of us by offering a huge list of craft beer that is built to satisfy any beer drinker.
The beer is all brewed on their HEBS, or High Efficiency Brewing System (one of a few in the US), which allows Kiitos to save energy, use 40% less water, and about 20% less grain.
They've got numerous year-round beers with very straightforward names like their Coconut Stout, a Blackberry Sour, or their Amber Ale. When we visited, we also had a few seasonal options including the Vanilla Nut Cream Ale which was extremely smooth and creamy, and the Cucumber Tart which is exactly what it sounds like.
Hooray for naming your beers for what they are!
4. Bohemian Brewery
Hours:

Monday – Friday: 11 AM – 10 PM
Saturday & Sunday: 10 AM – 10 PM

Food Available: Yes, full restaurant
Since we'll talked about one of the northernmost Salt Lake City breweries, we have to give equal publicity to one of the southernmost breweries in Salt Lake City too.
Rounding out the top 3 SLC breweries, Bohemian Brewery was one of the favorites of some of our friends who live in/have been to Salt Lake City, and it's no secret why.
Originally from Czechoslovakia, the founder of Bohemian brought the old-world tradition of "lagering" to Utah, and has been making beers in that old-world style (think the Purity Law – barley, hops, yeast, and water only) since 2001.
Bohemian also has a great restaurant, again serving up some old-world style European food like pierogies and bratwurst or beef stroganoff. Don't worry, if you're not up for that type of food, they do have some of your classic pub fare too. And even better, everything is made from scratch daily!
If you love that German beer style or lots of lagers, you'll love Bohemian..try the 1842 Czech Pilsener!
5. Level Crossing Brewing Co.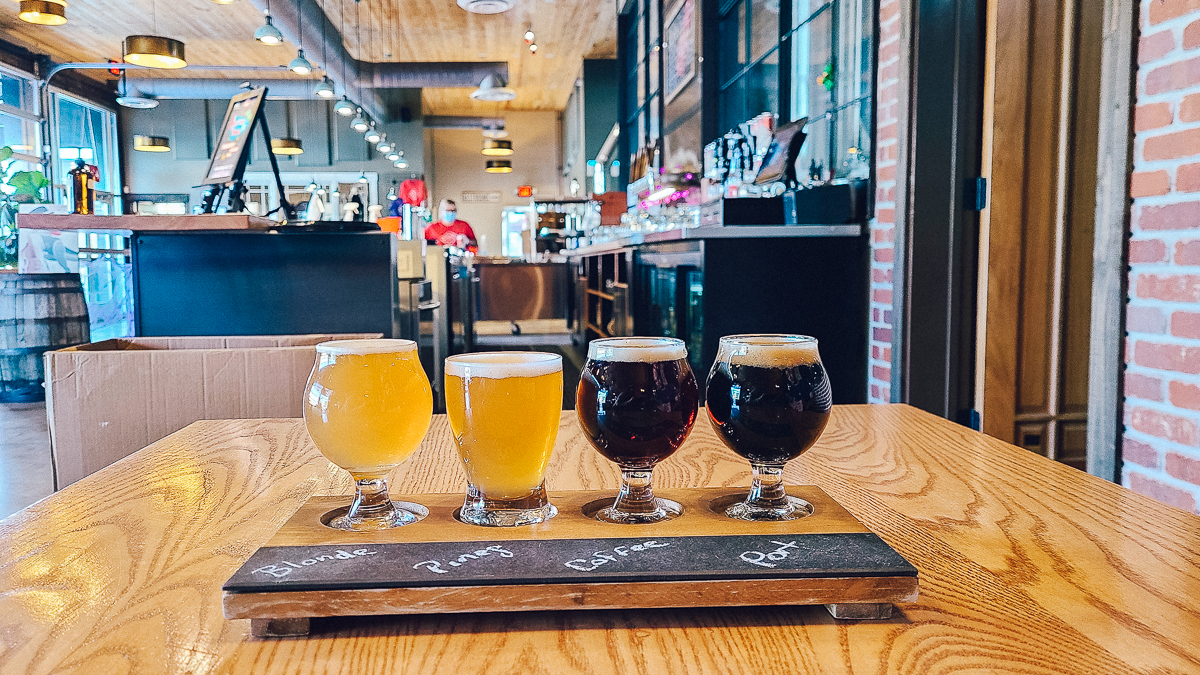 Hours:

Sunday – Thursday: 11AM – 10PM
Friday and Saturday: 11AM – 11PM

Food Available: Yes
While their OG location is one of the southside breweries in Salt Lake City, Level Crossing is opened a new location in June 2023 in the Post District which makes it significantly easier to get to.
They use their beer as the medium for sharing their passion and life experiences.
Our flight did include some extremely drinkable and sessionable beers like the Bat Country blonde ale, the You-tah Coffee Uncommon Kentucky Common ale, their Oat Slayer stout barrel-aged in port wine barrels, and the In the Pines hazy pale ale which was a delicious explosion of citrus flavors.
They serve hand-tossed pizzas (as in we watched them toss the dough) to go along with their beer and their new location boast a large outdoor patio.
Due to Utah's 5% ABV limit law, we weren't able to taste some of their higher-point beers like the Astro Shake milkshake double IPA or the Suss It Out rye IPA as these were only available in to-go cans.
Why the name, Level Crossing? Well, the owner grew up near a "level crossing" which is an expression about where an old dirt road meets a level railroad crossing…a crossroads where people can meet to share their stories and enjoy a laugh. Sounds perfect for describing a local brewery!
6. Epic Brewing Co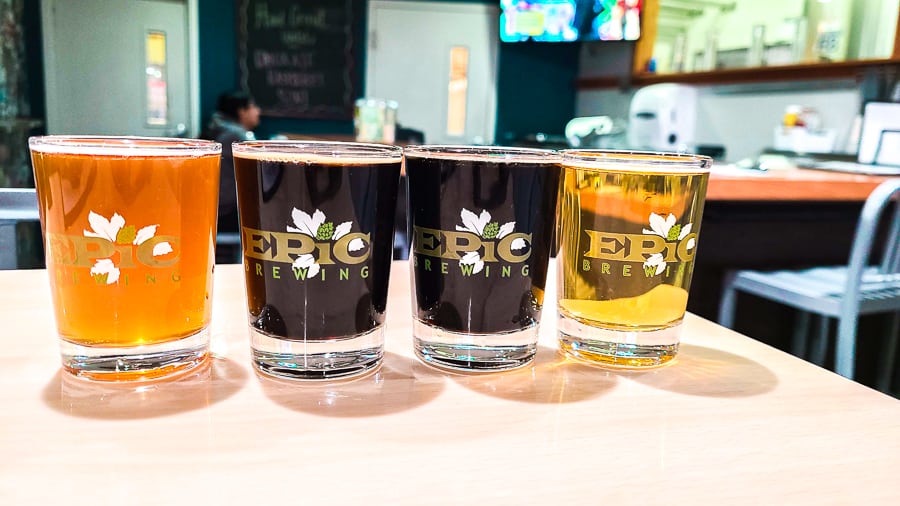 Hours:

Monday – Thursday: 11AM–9PM
Friday & Saturday: 10AM–11PM
Sunday: 11AM–7PM

Food Available: No
Minors allowed: No
If you're a lover of craft beer, you might have heard about Epic Brewing as they have a location in the loaded beer city of Denver and also purchased a brewery out in Santa Barbara, California. But it was the Salt Lake City location that started it all for this great brewery.
Epic is Utah's first brewery since Prohibition to brew exclusively high-alcohol content beer.
That's a big deal for Utah and, more specifically, the breweries in Salt Lake City because of the tight restrictions around alcohol.
They can serve their high-point beers in their tasting room because of the type of alcohol license that they have. We tried to understand all of the Utah alcohol laws, but it's easier to just say, "because Utah."
And these aren't just your generic boozy beers. They're "epic" you might say. Their Tart 'n' Juicy Sour IPA was perfectly named as it was deliciously…tart and juicy.
Their most popular beer is their Big Bad Baptist, which is an incredibly flavorful Imperial stout brewed annually for its highly-anticipated release.
Epic also makes several different variants of the Big Bad Baptist, or BBB, and the variants change based on the year. We had the original BBB and their Pecan Pie BBB which was a perfect marriage of cinnamon and pecans with the bourbon and coffee notes of the base beer.
They also had a Double Chocolate Peanut Butter Cup variant available too, which just sounds delicious!
7. Grid City Beer Works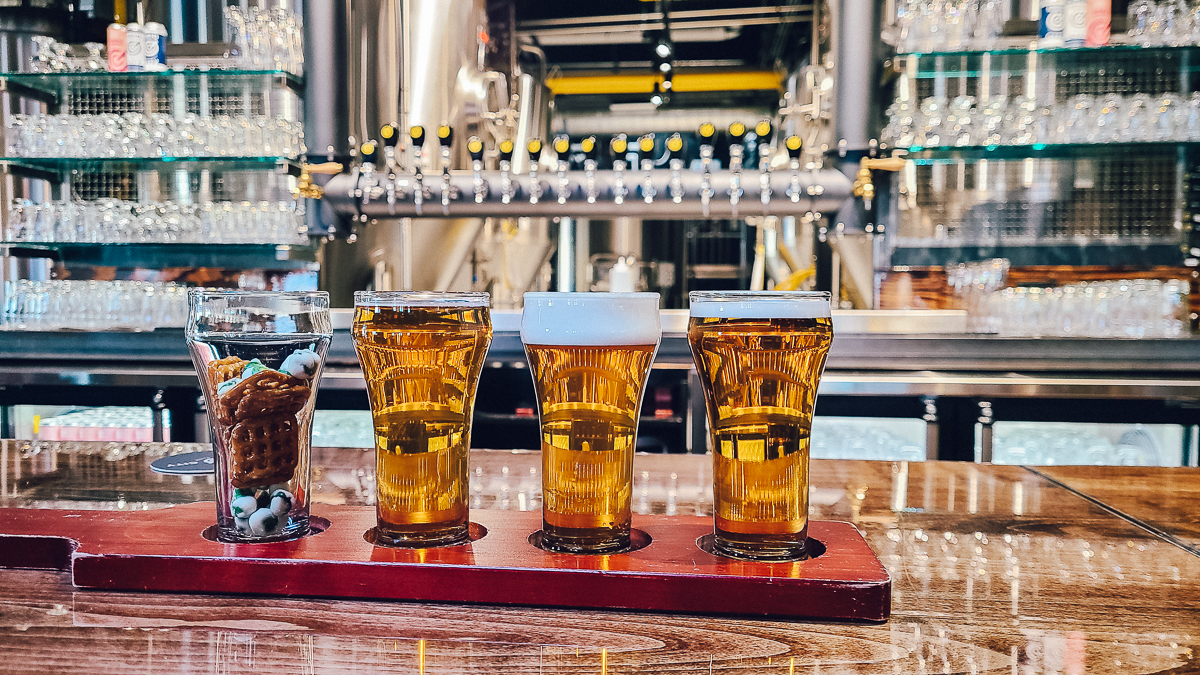 Hours:

Monday – Thursday: 12 PM–9 PM
Friday & Saturday: 12 PM–11 PM
Sunday: 12 PM–9 PM

Food Available: Yes
Minors allowed: Yes
Mark this down as one of the truly unique concepts at any of the breweries in Salt Lake City.
Grid City has three core beers – a cream ale, a pale ale, and a brown ale. Nothing truly unique about that, right? It's the carbonation process that sets this place apart.
The three core beers are carbonated in three different ways: the traditional CO2, a nitro version, and a cask version.
We got flights of their cream ale and brown ale which included one of each type of carbonated beer. It was so cool to taste the differences in the types of beer. Drastic changes amongst the same base beer.
They also have a few different types of Pilsner pours:
More CO2, less foam

Tighter foam, less CO2

A foam shot of beer. Seriously
It's all true to the Czech-style of pilsners. The Lukr Milk (the foam shot of beer) was our favorite and so unique! We've come full-circle from our college years if we're asking for foamy beer on purpose!
To round out their alcohol offerings, they make their own hard seltzers too. If you're feeling hungry, they have a decent-sized menu with burgers, sandwiches, wings, and more.
Despite being one of our favorite SLC breweries, they come in at the middle of the pack at #7.
8. Bewilder Brewing Co
Hours:

Monday – Wednesday: 11 AM–10 PM
Thursday – Saturday: 11 AM–11 PM
Sunday: 11 AM–10 PM

Food Available: Yes
Minors allowed: No
Bewilder Brewing Co. is one of the newest breweries in Salt Lake City, having just opened in December 2019. But the founders aren't new to the Utah breweries scene at all…they used to run a brewing supply store in Salt Lake City and Ogden.
Now, they are sharing their love of craft beer with even more people through a downtown brewery near the popular Pioneer Park. Despite opening right before one of the craziest years on record, for soooo many reasons, they have stayed committed to making craft beer as well as handmade sausages.
A lot of their beer has a European flair to it, like their Patersbier ("father's beer" in Dutch) which is a lower ABV version of a Belgian Dubbel or Tripel, or their ESB. They still have all of your mainstream beers too, like IPAs, wheats, sours, and even a Pineapple Chipotle Cream Ale.
9. Wasatch Brewing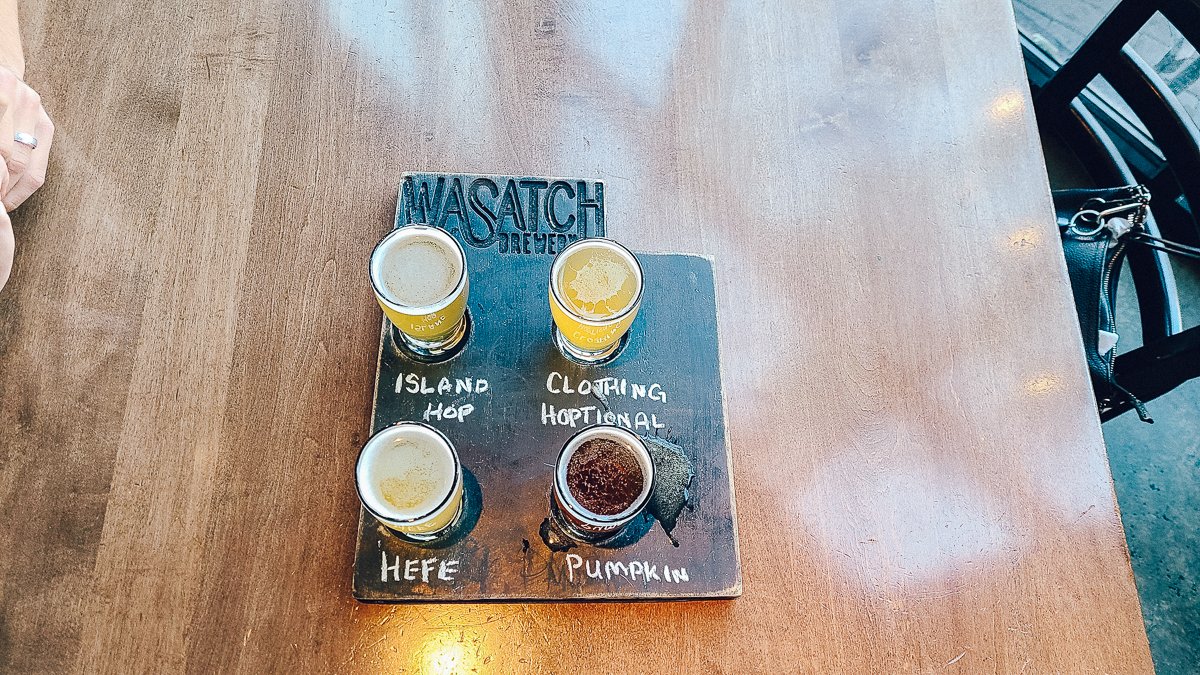 Hours:
Food Available: Yes
Minors Allowed: Yes
When the owner of Wasatch Brewery moved from Milwaukee (one of our favorite beer cities) to Utah in the early 80s, he thought to himself, "Where are the breweries in Salt Lake City and Utah?"
Back then, drinking and brewing were all but non-existent or even forbidden in Utah. So, naturally, he started Utah's first brewery in 1986.
A couple of years later, the owner proposed a bill to the Utah Legislature making brewpubs legal in Utah. It was successful and Utah's first brewpub opened in the nearby resort town of Park City. We visited their Sugarhouse location in downtown Salt Lake City which was right next door to Hopkins Brewing.
Today, you can get their beer at any of their brewpubs in Salt Lake City or Park City. We had their Tropical IPA, the Clothing Hoptional pale ale, their Hefeweizen, and their pumpkin ale (which was perfect for the cooler weather and fall colors).
10. Uinta Brewing Co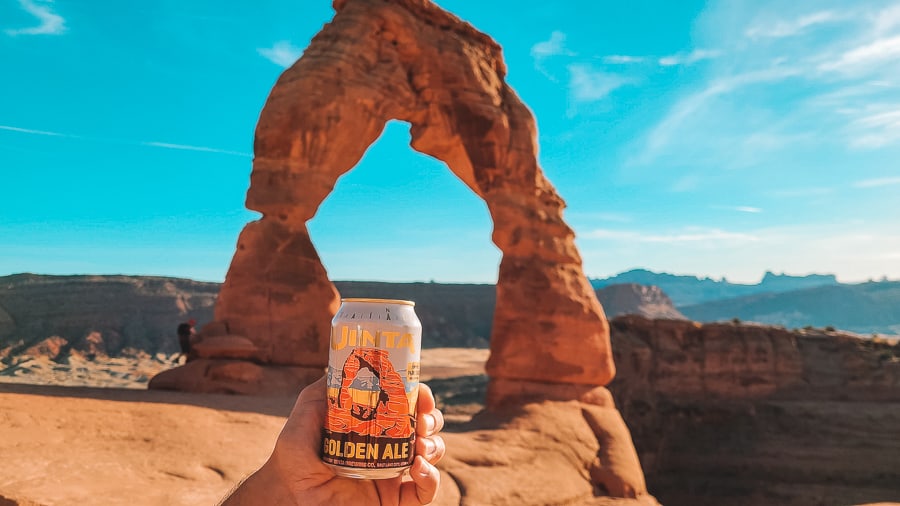 Hours:

Monday – Thursday: 11 AM – 7 PM
Friday: 11 AM – 8 PM
Saturday: 11 AM – 6PM
Sunday: Closed

Food Available: Yes
Minors Allowed: No
If you have a goal of brewing the best beer in the country, why not open a brewery in the least beer-drinking state in the US?
You'll certainly stand out for many reasons. That's exactly what the founder of Uinta Brewing did way back in 1993 when he opened his pride and joy in an old mechanic's garage.
As one of the top 50 breweries in the country (and one of the biggest Utah breweries) based on volume, Uinta is one of the mainstays in the growing market of breweries in Salt Lake City.
Some of their most popular beers are the Hop Nosh IPA and the Cutthroat pale ale, but they have a huge list of beers available, and even have a line of hard seltzers called Westwater.
While on one of our hikes in Arches National Park (our first of Utah's Mighty 5), we enjoyed their Park Series Golden Ale with scenery from the iconic Delicate Arch in the park. Their Park Series beers were brewed (and cans designed) to raise awareness for America's beautiful parks. And beautiful they are!
Uinta is also 100% wind and solar-powered, becoming the first business in Utah to do so.
Now, let's get to the funny-looking (and sounding) name, Uinta. The brewery is named for the nearby mountain range which is the highest range in the contiguous US that runs east to west.
Since even native Utahns pronounce it wrong, we'll help you out…"you-in-tuh".
11. Shades Brewing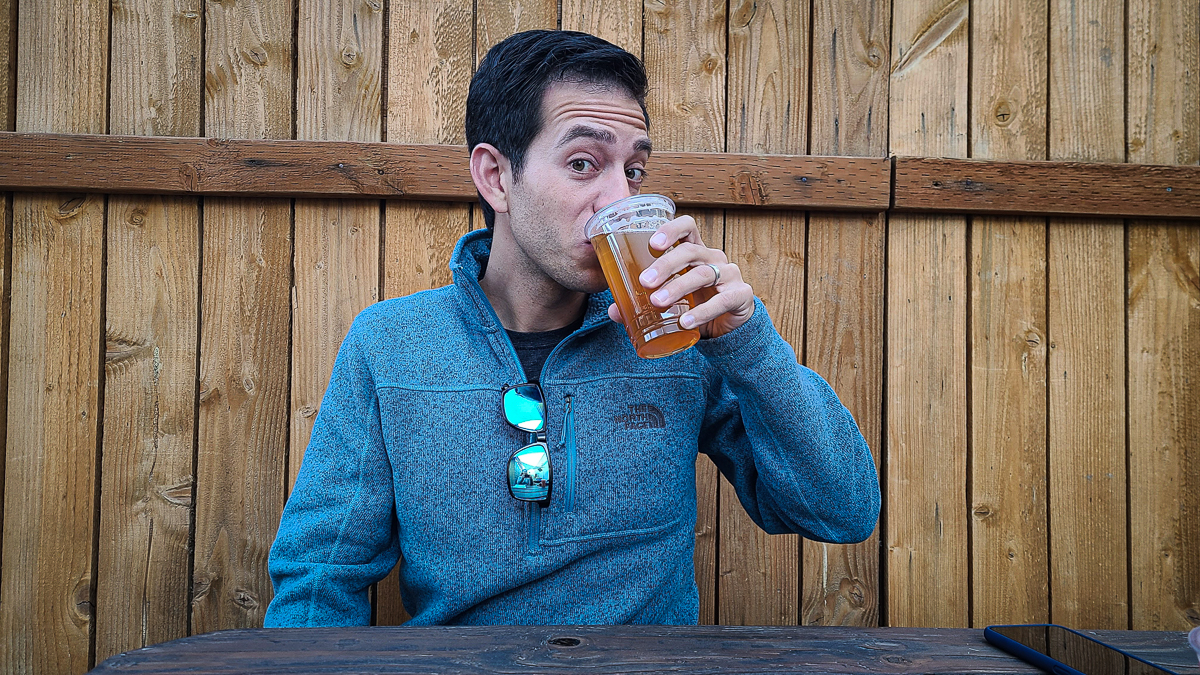 Hours:

Sunday – Tuesday: 3 PM – 8 PM

Wednesday – Friday: 3 PM – 10 PM
Saturday: 1 PM – 11 PM

Food Available: Snacks
Minors Allowed: No
In an industrial part of Salt Lake City, , Shades Brewing was sours galore, aka Samantha's heaven!
Shades has a really nice outdoor area with big picnic tables to go along with their big 20-oz. beers. Our 5% ABV draft beers included a Plum Berliner Weisse and the Misdirected West Coast IPA (a classic IPA).
To restock our RV beer fridge for the road ahead, we put together a six-pack of sour cans (brewed in the Norwegian Kveik style) which included the Pistachio ice cream ale, Guavalicious sour ale, a Peach Cobbler, Mango Chili, a Bloody Mary Michelada sour, and a PB&J sour fruited with blueberries (a perfect complement to an actual PB&J on one of our hikes in Utah's Mighty 5).
If you can't get enough of the sour ales, try their triple-fruited sour ales (mango apricot, peach habanero, or strawberry lemon) which are called Slurry's.
12. RoHa Brewing Project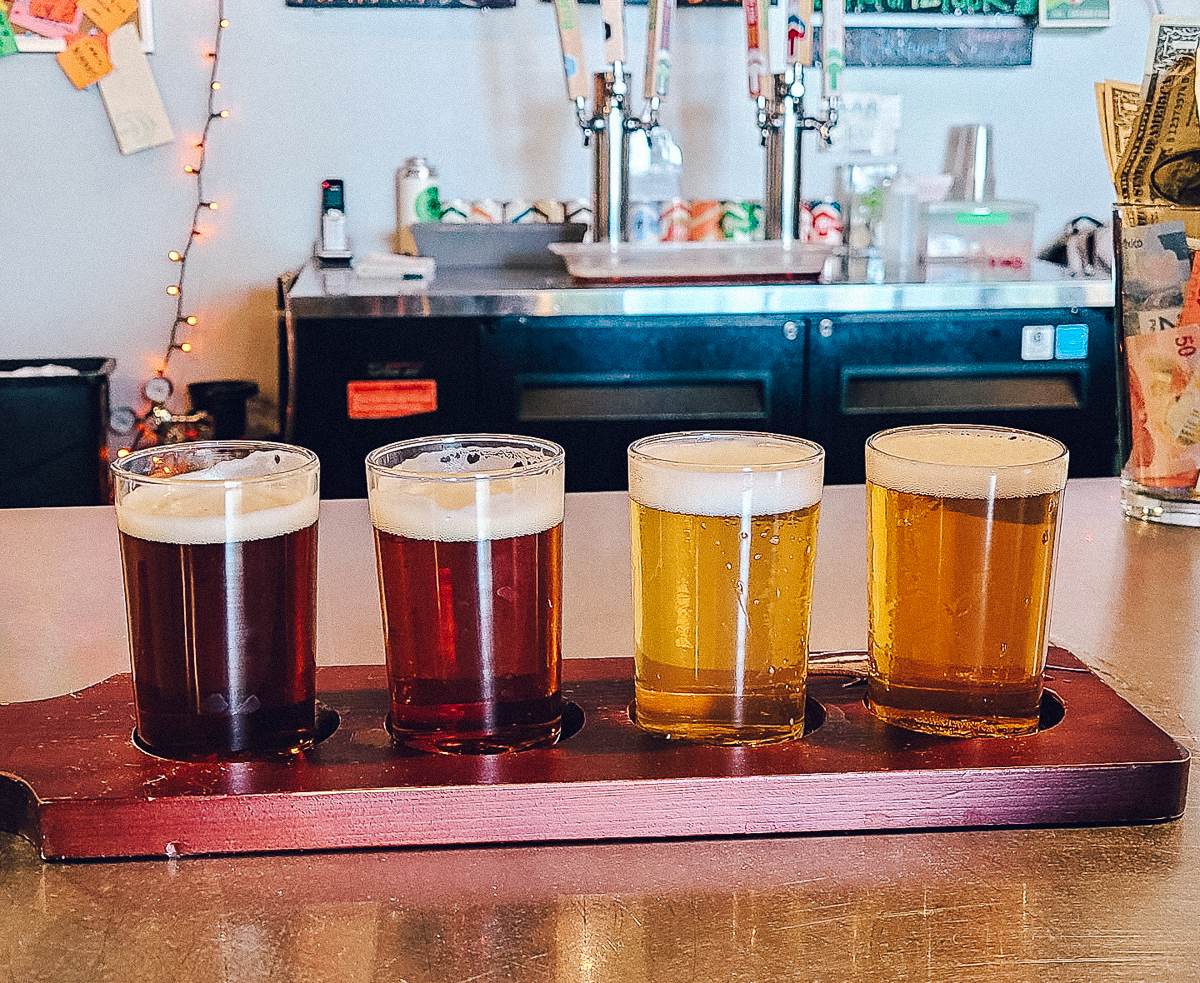 Hours:

Monday – Wednesday: 12 PM – 10PM
Thursday and Saturday: 12 PM – 12 AM
Sunday: 12 PM – 8 PM

Food Available: Yes, but limited
Minors Allowed: No
RoHa Brewing Project was started after a years-long friendship that began at a monthly beer school session between Chris Haas (the Ha in RoHa), one of Utah's craft brewing pioneers, and Rob Phillips (the Ro in RoHa), a passionate home brewer.
Fast forward to today and they are producing and serving some high-quality beers in one of the smaller taprooms of the Salt Lake City breweries. But don't let the small taproom size deter you.
Their draft list includes some approachable beers like their Back Porch pale ale (seriously good for just about any occasion), the Maltese Cross red ale (collab with the Salt Lake City Local 81 firefighters), the Americano coffee golden ale, and one of their fall additions, the Pumpkin Black ale.
As we often do, and while enjoying our beers at RoHa, we asked the bartender and several locals for suggestions for more microbreweries in Salt Lake City as well as all of the greatest restaurants in the city.
Our list of to-dos is now much longer!
13. Desert Edge Brewery
Hours:

Monday – Wednesday: 11:30 AM – 9 PM
Thursday and Saturday: 11:30 AM – 10 PM
Sunday: 10:30 AM – 9 PM

Food Available: Yes
Minors Allowed: Yes
Desert Edge Brewery actually started back in 1972 as a brewpub serving up food and Coors (not the Light version) to college students.
Over the years, they've expanded their offerings of both food and drink and began brewing their own beers in 1995, making them one of the older breweries in Salt Lake City…age is just a number!
In 1996, one of their core beers, the Happy Valley Hefeweizen, won Utah's first Great American Beer Festival gold medal and they've continued to win many awards and medals since. They like to brew their beers a little more aggressively relating to the hops, but they do maintain a good balance that makes things drinkable.
You'll always find the hefeweizen, a pilsner, a pale ale, and their dry Irish stout on tap, and they offer many other seasonal beers that cover most of your other beer styles.
Desert Edge is also very environmentally-focused and is 100% wind-powered. Further, their biggest claim to sustainability is the fact that their beers never see a "bottling line, the inside of a semi trailer or a refrigerated supermarket shelf."
14. SaltFire Brewing Co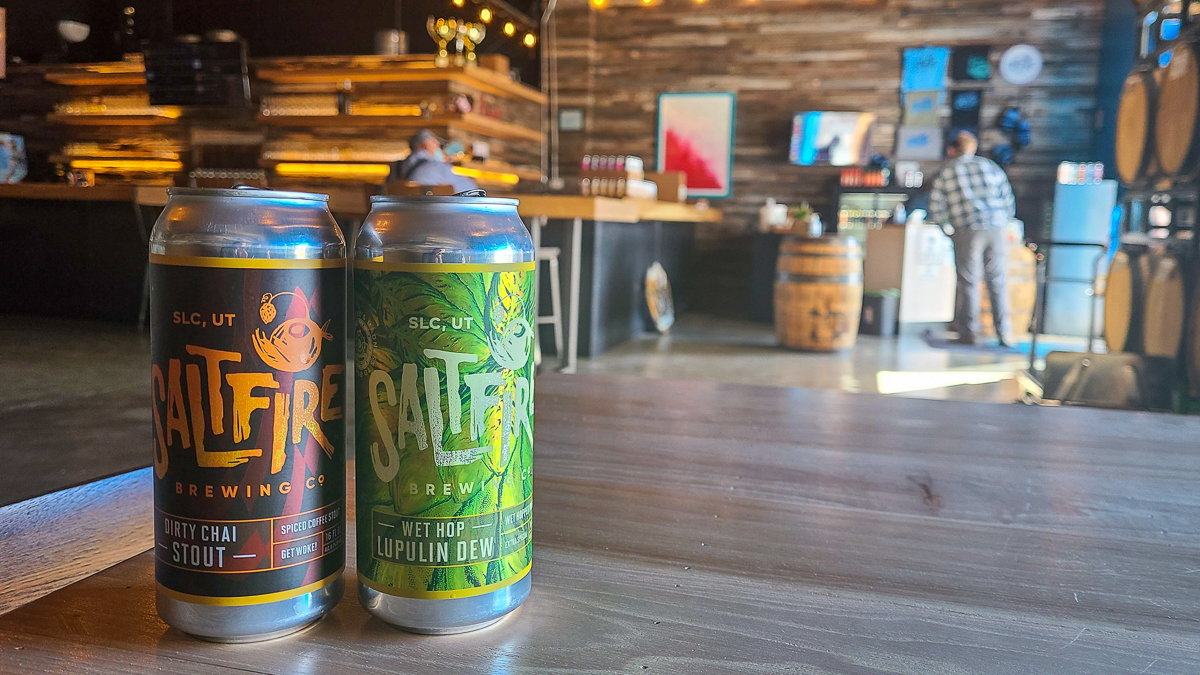 Hours:

Monday – Wednesday: 2 PM – 8 PM
Thursday: 2 PM – 10 PM
Friday – Saturday: 11 AM – 11 PM
Sunday: 12 PM – 8 PM

Food Available: Yes
Minors Allowed: No
In a craft beer industry that is becoming increasingly more saturated every day, it's nice to find those breweries that appreciate true craftsmanship.
SaltFire claims to blur the line and teeter on the edge, but that there is a method to their madness. Or is it the other way around?
Whichever it is, the methods and the madness result in some good craft beer like their Lupulin Dew Wet Hopped pale ale, which features hops picked and thrown into the kettle within 24 hours of harvesting. Chris had this beer the same day it was canned and it was incredibly fresh.
Samantha had the Dirty Chai Stout which was a delicious coffee stout and the perfect pick-me-up to start our brewery-hopping afternoon.
They also have numerous other beers: IPAs, sours, blonde ales, saisons, lagers, porters, and pilsners. Something for everyone!
15. Salt Flats Brewing Co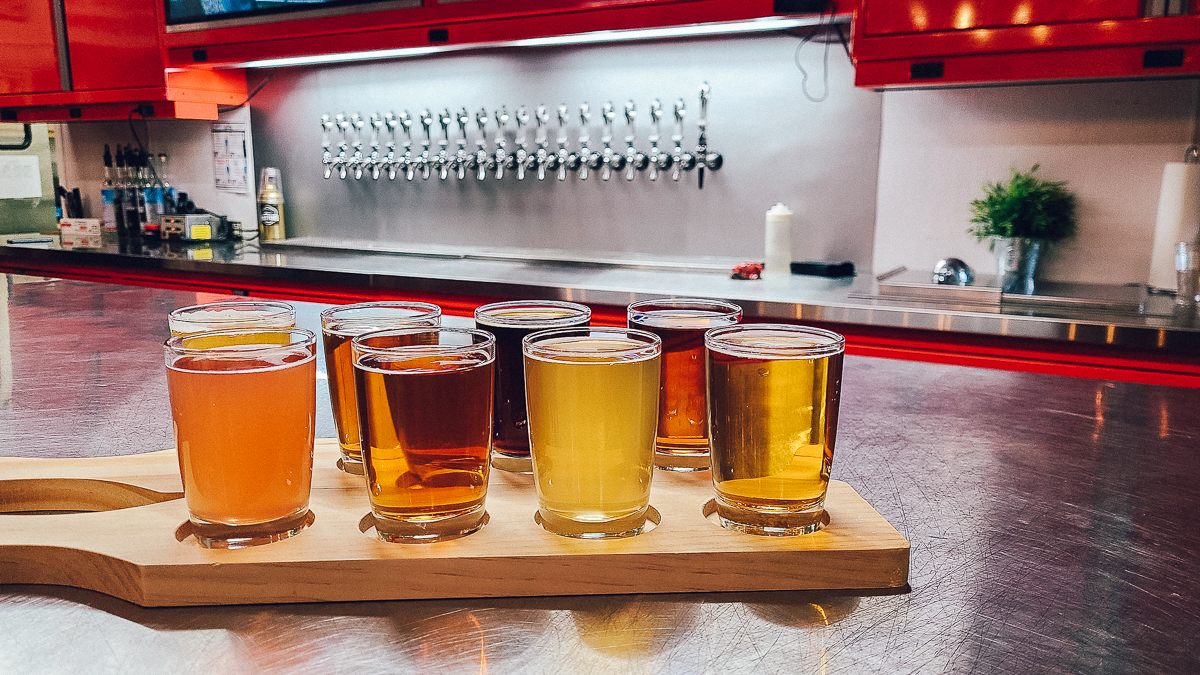 Hours:

Sunday & Monday: 11:30 AM – 3 PM
Tuesday – Friday: 11 AM – 7 PM
Saturday: 12 PM – 7 PM

Food Available: Yes
Minors Allowed: No
Stepping inside the tasting room at Salt Flats Brewing (one of the more industrial-feeling breweries in Salt Lake City), you'll immediately feel like you're in a racing garage, and not just because there is an old Ferrari race car at the front.
You can sit in the car, just no drinking and driving!
The brewery's ownership team has prior racing experience, so you'll find many nods to motorsports culture throughout.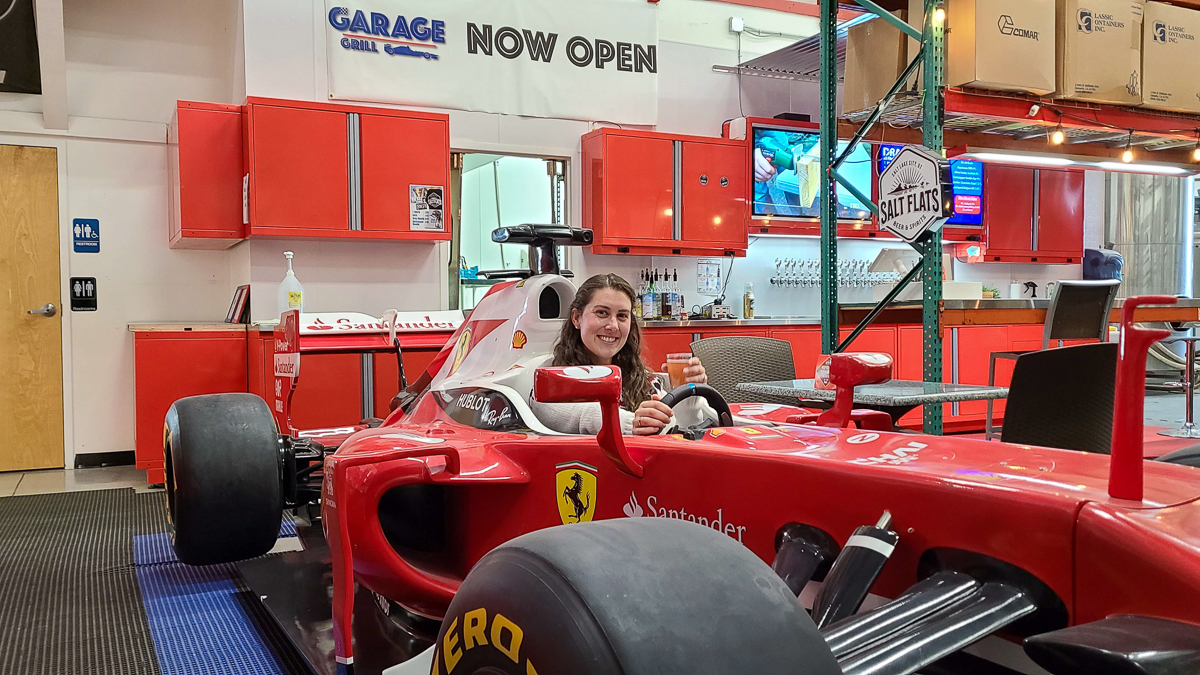 So what's the connection between racing and the Salt Flats?
Utah's well-known Bonneville Salt Flats (about an 1.5 hours away from Salt Lake City) are famous for being in many car commercials, the site of many land speed records, and is where motorheads unite.
The brewery and tasting room used to be a professional race facility filled with race cars, tools, trophies and awards, but today, it's home to the great brewery as well as the Salt Flats Spirits brand (vodka, gin, rum, bourbon, and canned cocktails).
The beers are mostly racing-focused like the Autobahn Berliner Weisse, the Brickyard Belgian Wit, and the Salt Flats Hefeweizen. Also, all of you #PSL lovers rejoice for their Pumpkin Spice Latte beer. We like this alcoholic version better than the Starbucks kind, just sayin'.
16. Hopkins Brewing Co.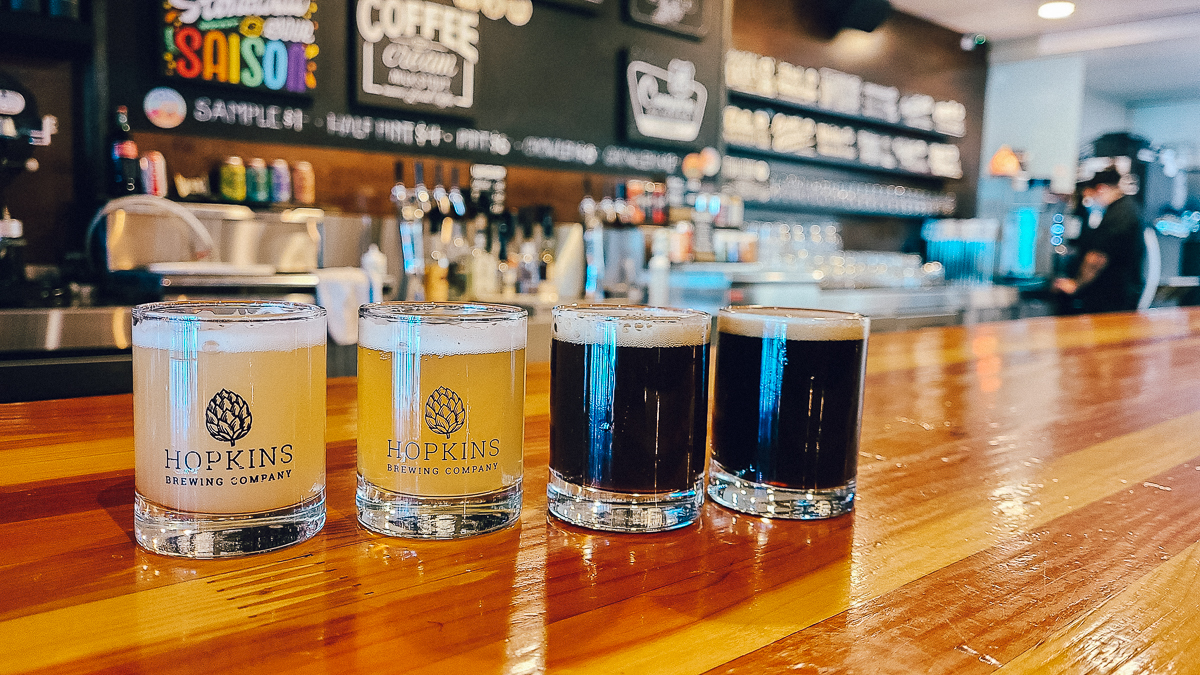 Hours:

Sunday – Tuesday: 11 AM – 11 PM
Wednesday – Saturday: 11 AM – 12 AM

Food Available: Yes
Minors Allowed: No
A literal stone's throw from Wasatch (and not just because Chris played baseball all of his life), Hopkins Brewing has a full draft list with many different types of craft beer.
Their fall lineup included a dunkel, a sour saison, the Coffee & Cream milk stout, the Campfire smoked lager, and of course, a pumpkin chocolate stout called the Basic Witch.
At just $1 per sample (Utah alcohol laws are weird and restrictive), we got to try their whole draft board for a bargain.
Also, the head brewer used to make wine, so his Sauvin Blanc Brut IPA is actually made using Chardonnay grapes and is a dry white wine and an IPA all at the same time. Definitely one of the more interesting beers we had at the many breweries in Salt Lake City.
Something unique about Hopkins is their wall of coasters. You can decorate one of their coasters with any artwork you'd like (some months are themed), and each month, they select one as their "Coaster of the Month" and proudly display it in the middle of their draft board. The winner even receives a gift card so they can buy some beer to put on their coaster!
Hungry? A full menu awaits you, including typical snacks like fries, a soft pretzel, and fried pickle chips, or more filling options like wings, tacos, and sandwiches.
They even have some boozy dessert options like cupcakes or pretzels served with a caramel sauce made with their stout.
17. Proper Brewing Co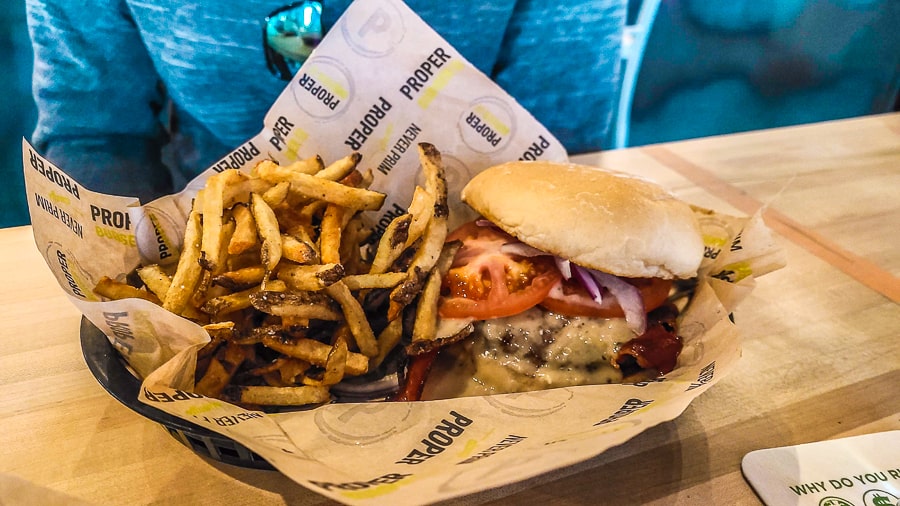 Hours:

Sunday – Thursday: 12 PM – 11 PM
Friday and Saturday: 12 PM – 1 AM

Food Available: Yes
Minors Allowed: Yes, on the burger side
When you're indulging in a day of brewery-hopping (or you're just a red-blooded human being), sometimes all you want is a big, juicy burger.
Most of the breweries in Salt Lake City have some food options or food trucks, but lucky for you and all of us, Proper Burger, related to Proper Brewing, is cooking up those juicy burgers right next door to the brewery.
You can order your burger and then walk over to the brewery where they will deliver your food to your beer-filled table. We recommend the Rarebit burger (bacon and a house beer-cheese sauce) or the Proper Style burger (caramelized onion, cheese, zucchini pickles, and Proper sauce).
Both were absolutely scrumptious and the Rarebit even caught the eye of Guy Fieri (yes, that one) who visited Proper Burger a while back.
The beer is every bit as good too. You can try something as simple as the Proper Beer (English golden ale) or some of their hoppy options like the Hopspital Session IPA or the Yacht Rock Juice Box New England IPA.
They have numerous other draft and canned beers available too, but whatever you get, expect this: "Never prim. Always proper."
Getting to the SLC Breweries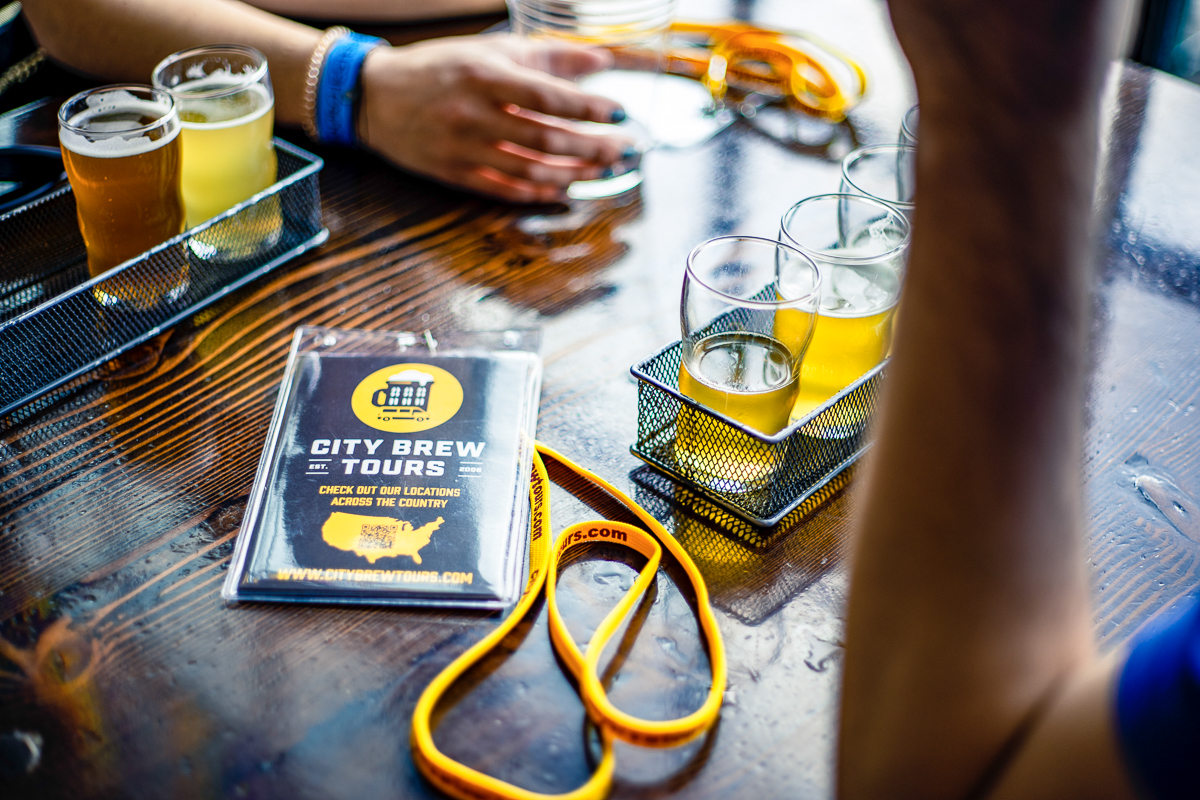 Our quick tip for those looking to visit 3 or 4 of the SLC breweries in a short several hours—take a Salt Lake City Brew Tour.
The Original Brew Tour will take you to 4 amazing local craft breweries where you can sample all sorts of varieties of beer. You'll also get access to behind-the-scenes tours.
In addition to having a D.D., a meal is part of the tour! Yummy options like a pesto caprese sandwich or a turkey reuben.
We love these types of tours since they make it easy to drink your way through a city!
It goes without saying that we were pleasantly surprised with the breweries in Salt Lake City. We genuinely enjoyed all the beer we tried and the people here are absolutely amazing.
While you probably haven't considered Salt Lake City yet for a beer destination, we truly believe that this will be a hot spot for beer in the next 5 to 10 years.