The Best 8 Cocktail Bars in Scottsdale, Arizona
Scottsdale, Arizona is known for its year-round sunshine, vibrant nightlife, and incredible food scene (in addition to shopping and art galleries). But the cocktail bars in Scottsdale are a big part of that scene too.
From classic cocktails to innovative new drinks, the cocktail bars in Scottsdale offer thirsty patrons a great experience, if you know where to go.
There are literally hundreds of bars in Scottsdale, ranging from neighborhood dive bars to cocktail lounges, but there are only 10 in the area that'd we suggest going to for an exquisite craft cocktail.
Short on time? Here are the key takeaways:
In Old Town Scottsdale, don't miss The Beverly or Second Story Liquor Restaurant & Bar.

Just 10 minutes outside Old Town are 4 incredible themed / speakeasy bars. We highly suggest visiting them. See the "bonus" bars below for more info.
**Boozing Abroad contains affiliate links throughout the site. If you choose to purchase items through these links, we will earn a small commission at NO extra cost to you. Read the full disclosure policy here**
Map of Cocktail Bars in Scottsdale
Click the interactive map below!
HOW TO USE THIS MAP: To view the layers and see the names of the places on this map, click the tab in the top left corner. You can select the check marks to show or hide certain layers. If you select the icons on the map, you will get more information about the point of interest.
HOW TO SAVE THIS MAP: If you select the star icon next to the map name, you can save this map to your Google Maps account. To view it, open Google Maps in desktop or on your phone, select the menu button, go to "Your Places," scroll to the right to Maps, and you will see this map.
1. The Beverly on Main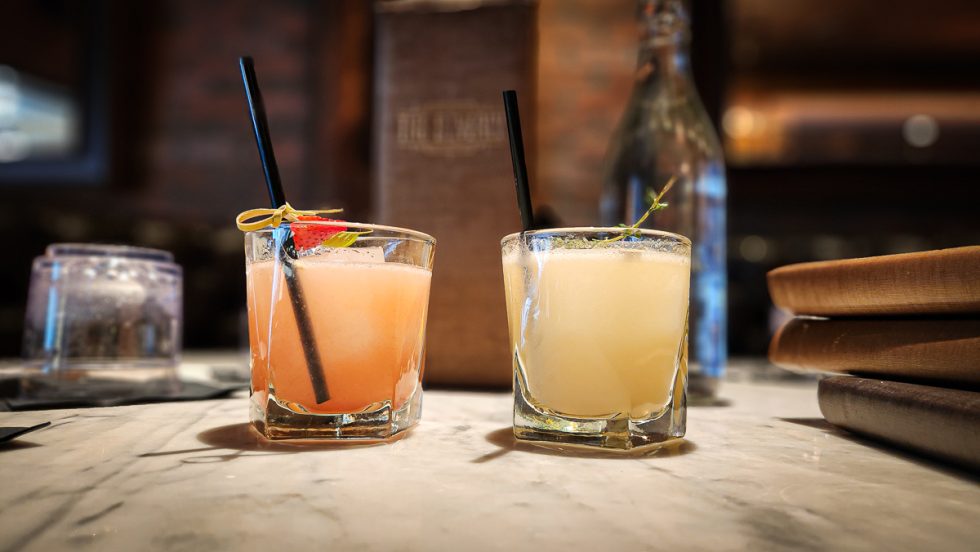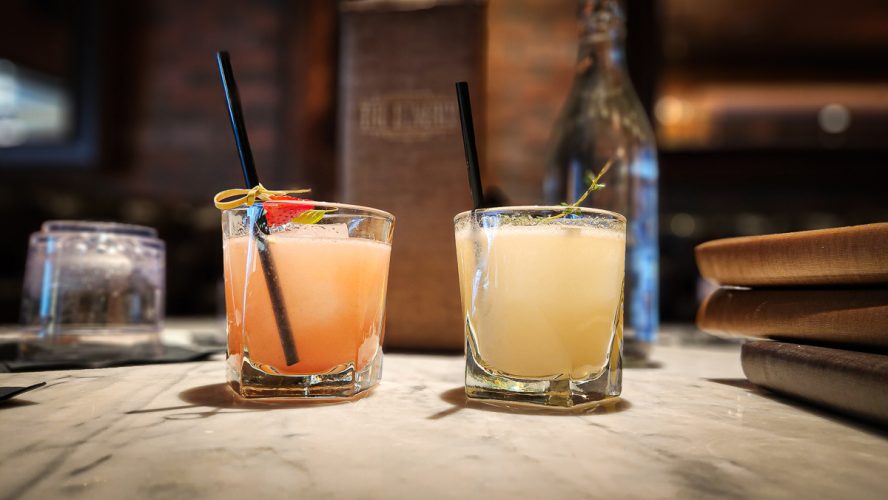 Hours:

7 days a week

Food Available:

Yes

Average Price per drink:

$15-25

Happy Hour:

Sunday – Thursday from 4-7 PM
Located in the heart of Old Town Scottsdale, The Beverly on Main is a classic cocktail bar with a modern twist. The bar's interior is a blend of sass and plush wrapped into an epic craft cocktail bar. (You'll understand the sass when you read their cocktail menu).
The drink menu is equally impressive covering the classic cocktails like the Old Fashioned and the Negroni, but also some truly unique concoctions like the M.I.L.F (Tequila, organic agave nectar, orange cognac, with a chili rim) or the Hot and Bothered (Chai Spiced Captain Rum, Beverly Butter Batter, Ango Bitters, Hot Water, Nutmeg). We told you they had some sass!
If you're a high roller or just looking to burn through a massive amount of cash, they have 10 off-the-wall options ranging from $50 to $500 a drink.
Yes, you read that right. There is an option for a single cocktail priced at $500.
For $500, you can get The Ultimate Sick Chick which is crafted with: Hennessy Paradis Imperial cognac, Grand Marnier Cuvée du Centenaire, fresh lemon juice & orange peel.
In addition to being boujee AF, The Beverly on Main also offers a selection of small plates and charcuterie boards to pair with your drinks.
We visited during happy hour which took $4 off a Classic or Classic AF cocktail and we enjoyed some flatbread too.
2. Second Story Liquor Bar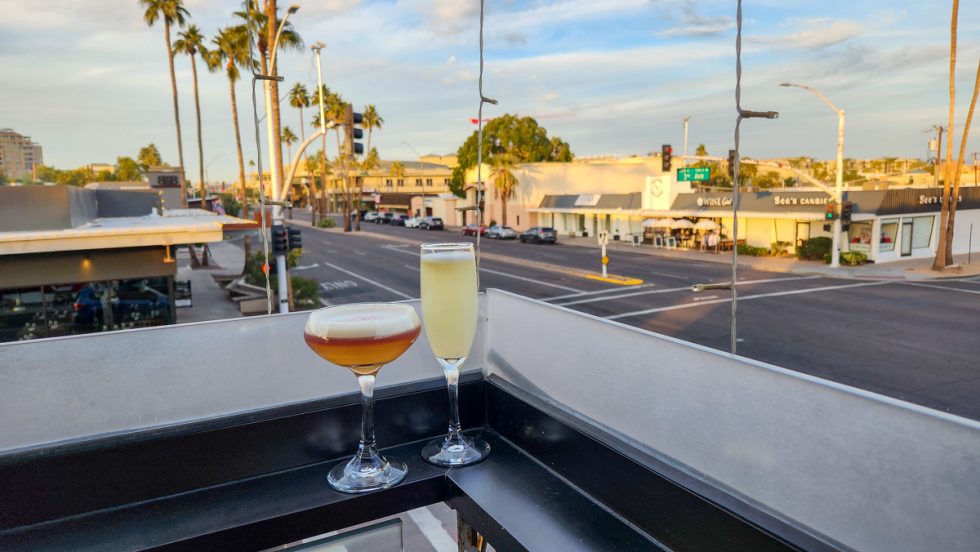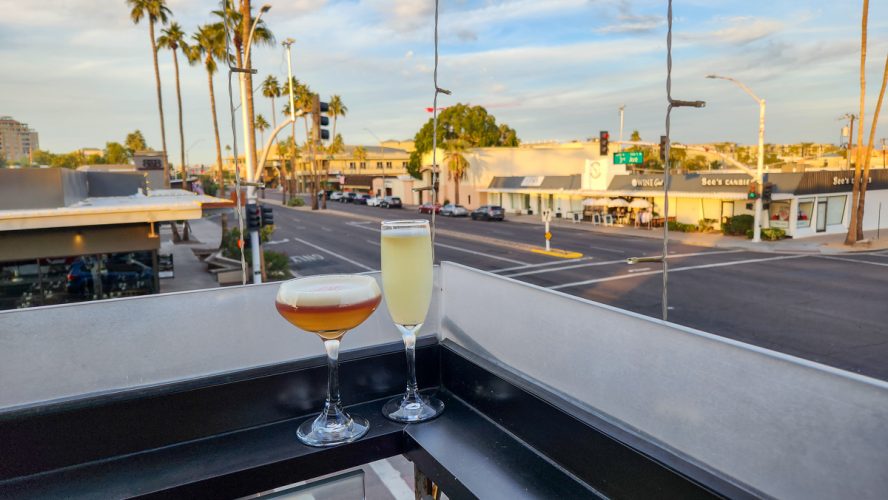 Hours:

Monday – Saturday, Closed Sunday

Food Available:

Yes

Average Price per drink:

$15-25

Happy Hour:

Everyday 4-6 PM
If you're looking for a more upscale cocktail experience, Second Story Liquor Bar is the place to go.
Also in Old Town Scottsdale, this bar is located on the second story (as you probably guessed), and has outdoor balcony seating with views of the bustling street below. The inside offers patrons sultry, dark elegance vibes with dark wood accents, plush leather seating, and very sparkly chandeliers.
Focusing on seasonal ingredients and house-made syrups and bitters, Second Story truly brings luxury to each cocktail.
With standout cocktails such as Blood on the Leaves (El Tesoro Blanco, blood orange, lime juice, agave, rhubarb bitters, and muddled jalapeños), it's hard to stop after just one drink with each craft cocktail tantalizing the taste buds.
And we would be selling this place short to say their drink menu is extensive.
If you arrive during a happy hour and stay for an entree, they'll keep your drinks at Happy Hour prices, even if happy hour ends. We personally love this so we aren't chugging drinks before dinner to get the prices.
Sam's go-to drink is usually a whiskey sour with egg whites. While it wasn't on the menu, the bartender was happy to make it and it was perfect.
We also visited Second Story during their happy hour and enjoyed a $7 classic cocktail.
While we didn't partake in a whiskey tasting, Second Story does offer a tasting flight that showcases fine and rare whiskeys from around the world. If you want to learn more, click here.
3. Bitters Cocktail Bar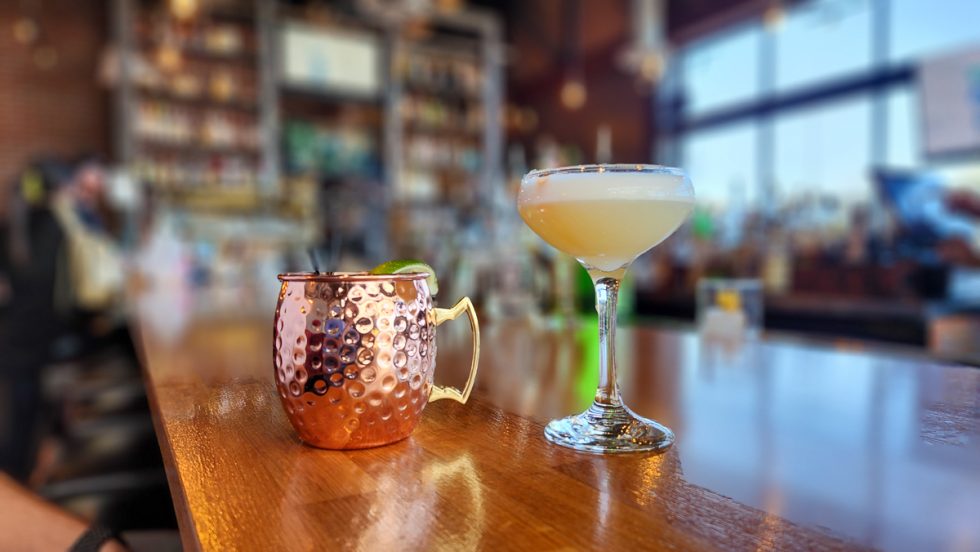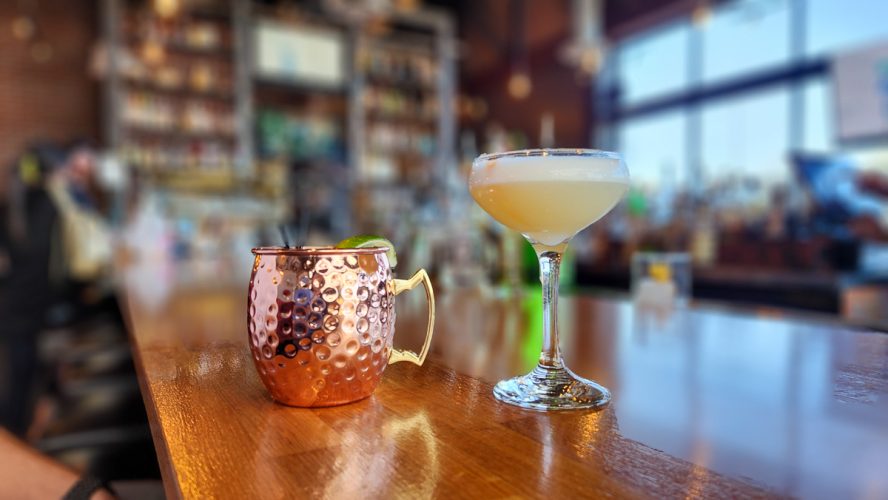 Hours:

7 days a week

Food Available:

Yes

Average price per cocktail:

$14-17

Happy Hour:

Daily from 4 – 8 PM
About 5 minutes south of Old Town, Bitters Cocktail Bar offers craft cocktail lovers a laid-back atmosphere to kick back and just sip away the day.
Their drink menu is two-fold (metaphorically and literally speaking). They have over 15 classic cocktails such as a Manhattan, Cosmo, etc., but they have a line of craft cocktails that put a modern twist on a classic such as a Smoke Manhattan.
All cocktails use fresh and locally-sourced ingredients.
Chris enjoyed his Smoked Old Fashioned while Sam was delighted by their classic Pisco Sour.
They have a large U-shaped bar inside in addition to a large patio out front.
Getting hungry? Bitters also offers a selection of snacks and small plates, including truffle fries, and charcuterie boards as well as burgers, sandwiches, mac and cheese and large entrees.
As per all the cocktail bars in Scottsdale, we suggest trying to go for happy hour to enjoy $3 off a signature cocktail or $4 off a classic.
4. Hula's Modern Tiki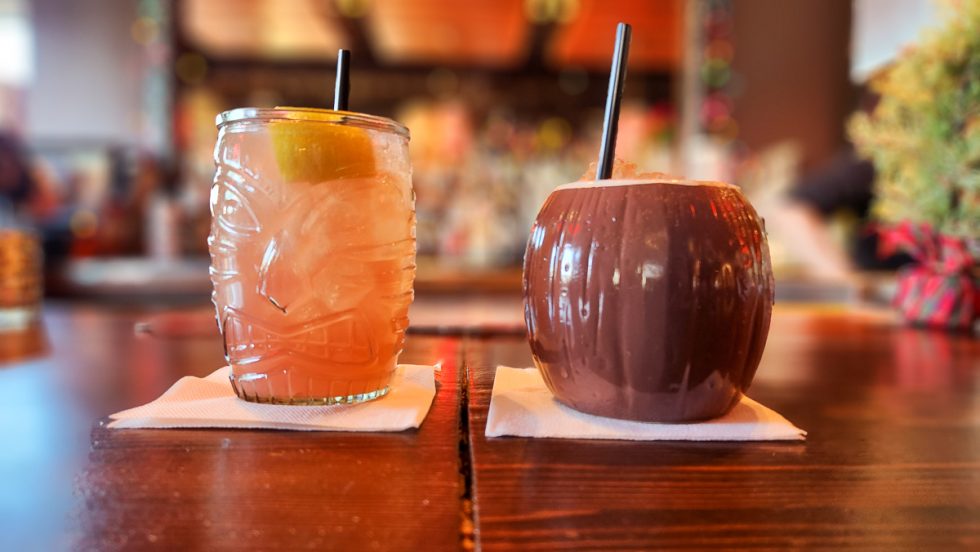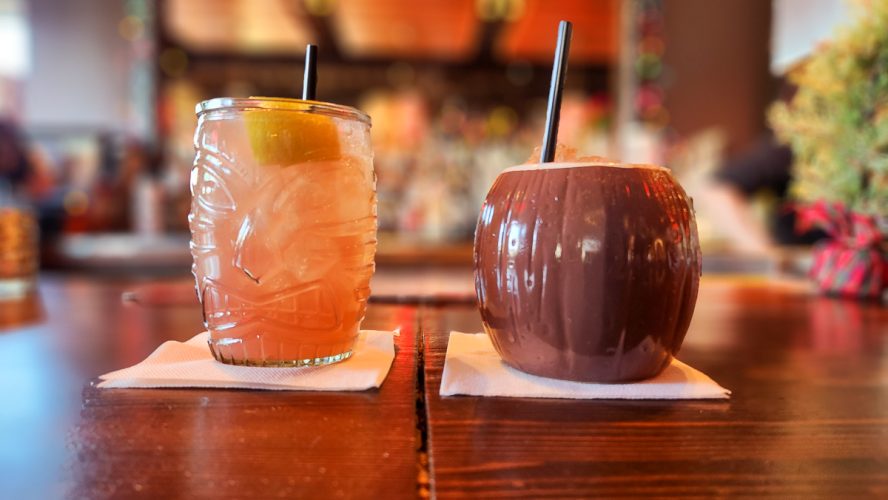 Hours:

7 days a week

Food Available:

Yes

Average Price per drink:

$12

Happy Hour:

Monday, Tuesday, Thursday & Friday from 3:30 – 6 PM

Wednesday from 3:30 – 10 PM

Saturday & Sunday: 10:30 AM – 3:30 PM
For a tropical-themed cocktail experience, head to Hula's Modern Tiki in Old Town Scottsdale.
From the colorful and lively decorations to a bamboo bar and tropical plants, Hula's will make you feel like you have left Arizona and are indulging in a Hawaiian delight.
Inspired by the Hawaiian islands, Hula's drink menu is full of fruity and exotic cocktails served in fun glassware. While we can't prove that the glassware truly adds anything, we personally loved drinking from our tiki man and coconut.
The drink menu at Hula is extensive, with classic tiki cocktails like the Mai Tai and the Zombie, as well as creative new creations like the Pineapple Express and the Island Hopper.
As you might have guessed, happy hour is the time to try this place, with all signature cocktails only $7 (exception is the Scorpion Bowl since that's for 2-4 people).
5. AZ/88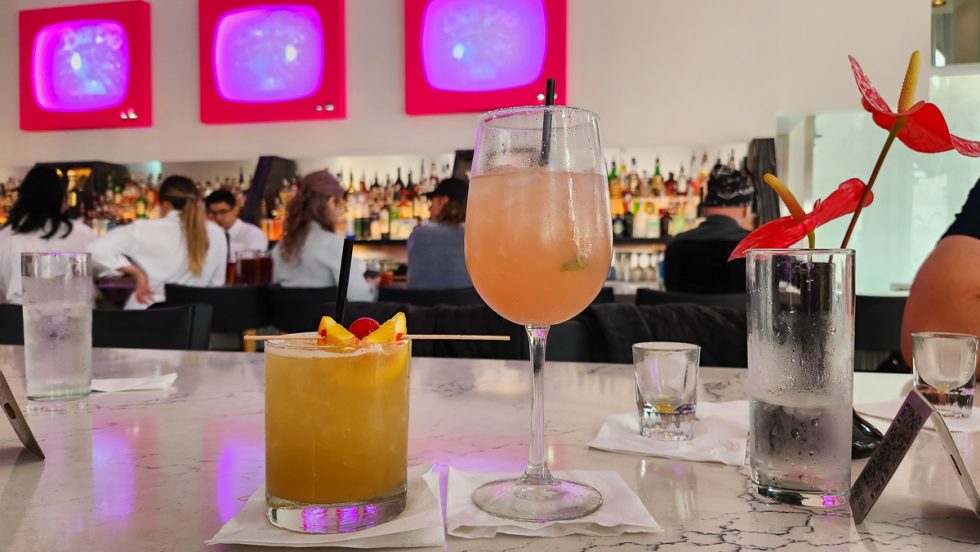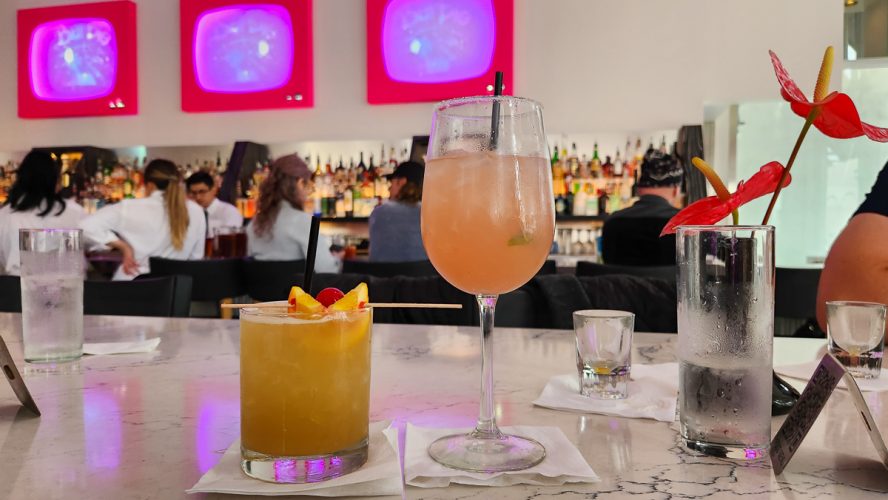 Hours:

7 days a week

Food Available:

Yes

Average Price per drink:

$12-18

Happy Hour: No
Located in the heart of Old Town, AZ/88 is a popular cocktail bar in Scottsdale known for their signature martinis.
In addition to 15 styles of martinis to choose from, AZ/88 has a large cocktail menu that includes classics as well as in-house created drinks.
If you are having a hard time deciding on which flavor you want, they have been voted one of the best Espresso Martinis in the valley.
The bar has a chic and modern white atmosphere inside with a large outdoor patio perfect for sipping a martini in the sunshine and enjoying some local music.
They feature different art exhibits where their bar is transformed into a hybrid experience of bar and art. When we were there in early January 2023, there was a massive pyramid constructed from dolls.
In early February of 2023, Disco Balls returned, which is a local fan favorite (and very immersive).
In addition to the drinks, AZ/88 also serves apps and entrees as well as the AZ88 Experience: for $120/pp, you get a 4-course meal with 2 specialty cocktails included.
Reservations are required for the AZ88 Experience. For more info on the experience, click here.
6. Kazimierz Wine & Whiskey Bar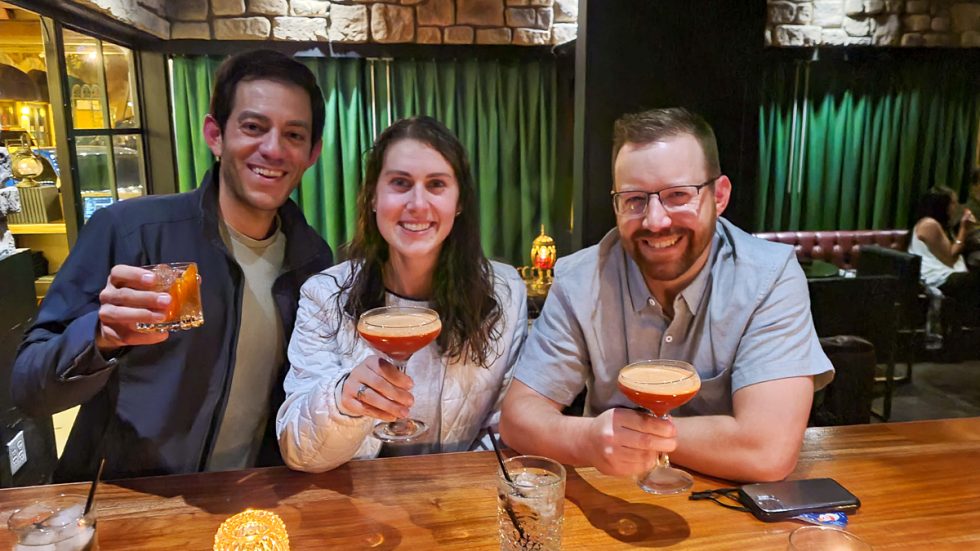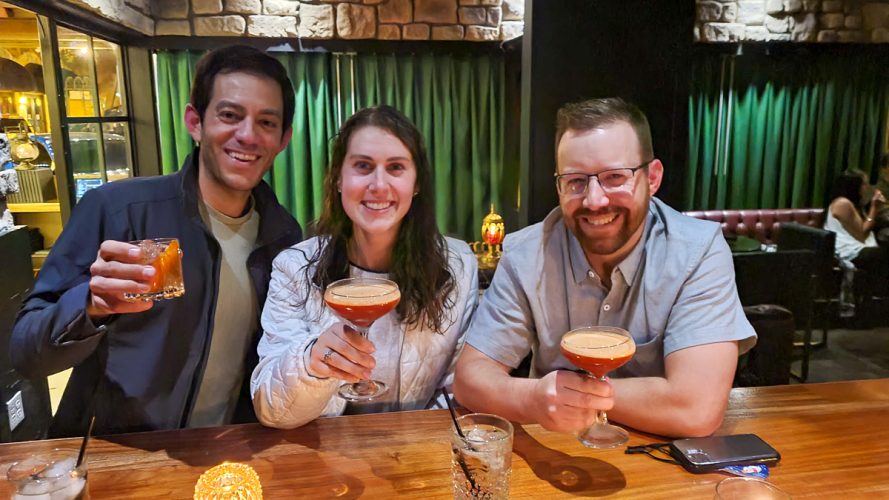 Cocktails with our friend Doug @craftyouradventure
Hours:

Wednesday – Saturday, Closed Sunday-Tuesday (unless there is a live event)

Food Available:

Yes

Average Price per drink:

$18-25

Happy Hour:

No
Kazimierz Wine & Whiskey Bar is the perfect spot for whiskey, wine, and cocktail lovers. The wine menu features numerous red and white wines from around the world, both by the glass and by the bottle.
The whiskey menu offers over 100 different types of whiskey and it even includes Japanese and rare whiskey.
The cocktail menu offers many different kinds of cocktails, including both classic cocktails such as Penicillin and Sazerac, as well as unique cocktails that are made from scratch.
Though Kazimierz Wine & Whiskey Bar is known for their drinks, they also have a dinner menu that includes flatbreads, a chef's board, a shrimp cocktail, hummus, and truffle-parmesan fries.
7. Blue Clover Distillery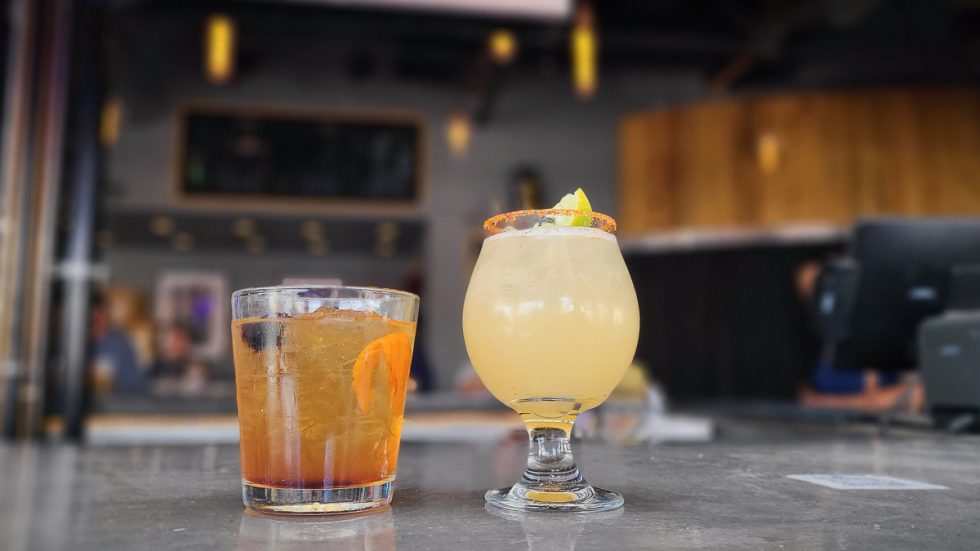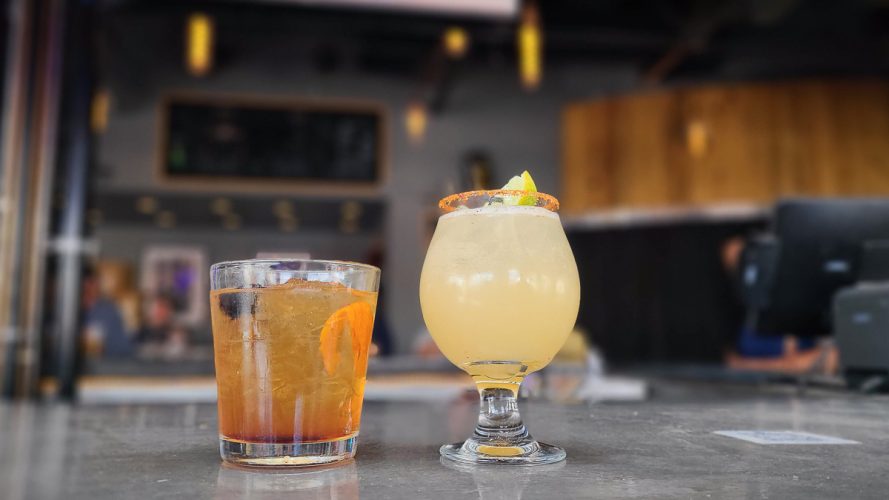 Hours:

Wednesday – Sunday

Food Available:

Yes

Average Price per drink:

$14

Happy Hour:

Wednesday – Friday from 3 – 6 PM
If you're interested in trying handcrafted gin or vodka that's made on-site, you need to check out Blue Clover Distillery in Old Town Scottsdale.
Blue Clover's vodka goes through a lengthy process that leaves it smooth and neat with a little bit of sweetness while their gin features a fresh, floral taste. Bottles of Blue Clover gin and vodka are available for purchase, and you can choose either normal or flavored.
Blue Clover's full drink menu includes handcrafted cocktails, tequila, whiskey, wine, and beer.
The distillery also offers food: build your own salad and build your own pizza. The $10 brunch menu (available Saturday and Sunday afternoon) includes a Green Chile Breakfast Burrito, an Egg and Bacon Grilled Cheese, and more.
Like many of the other cocktail bars in Scottsdale, Blue Clover's happy hour has $7 house spirits and $10 craft cocktails.
8. Bourbon & Bones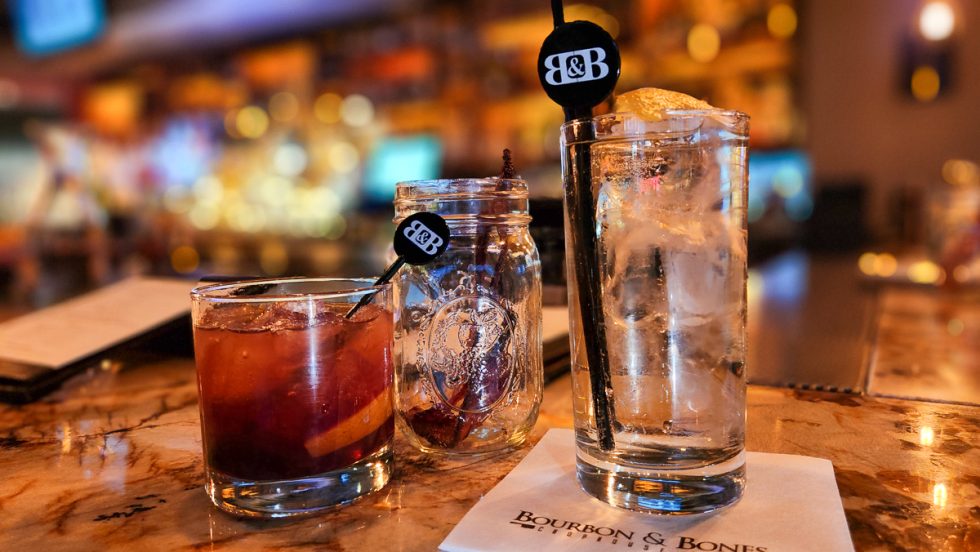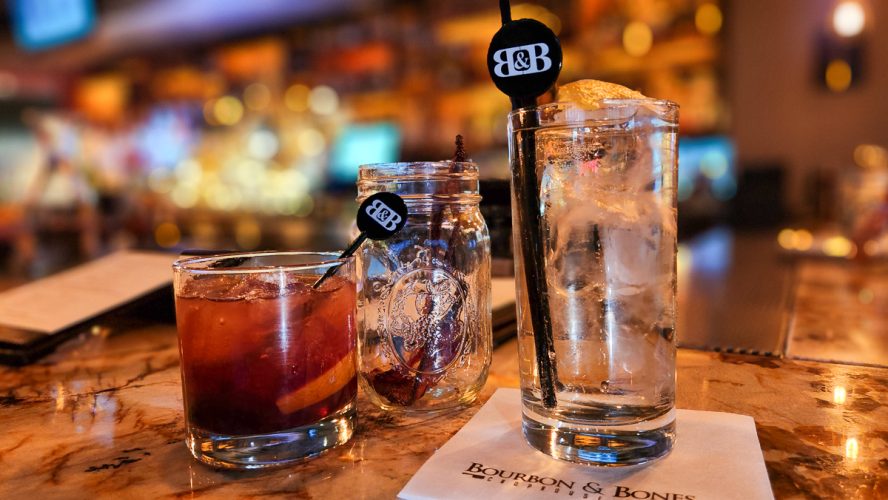 Hours:

Tuesday – Sunday, Closed Monday

Food Available:

Yes

Average Price per drink:

$20-22

Happy Hour:

Tuesday – Friday from 9 PM – Close
If you're a fan of whiskey, Bourbon & Bones is the place to be for a whiskey cocktail in Scottsdale (as its name suggests).
This upscale cocktail bar and steakhouse is known for its extensive selection of bourbon and whiskey with over 100 options to choose from. You can get it neat, in a flight, or in a variety of craft cocktails.
Their drink menu focuses on whiskey cocktails, including classic drinks like the Manhattan and the Old Fashioned, as well as house specialties like the Barrel Aged Negroni and the Whiskey Smash.
Outside of whiskey options, they offer a wide range of other cocktails with unique gins, rums, tequilas, vodkas and more.
They also have a small reserve cocktail menu featuring higher end spirits with drinks ranging from $30-$300.
During happy hour, a limited menu of cocktails are available for $16 making this stop the most expensive happy hour for cocktail bars in Scottsdale.
To help you stomach those prices, we were served two perfectly crispy strips of thick-cut bacon with our drinks. After eating those, we suddenly didn't mind the prices.
BONUS: Grand Century – Themed Bars
Hours:

7 days a week

Food Available:

No

Average Price per drink:

$16-25

Happy Hour:

No
Let's start by saying this bonus stop isn't in Scottsdale, but only a few minutes across the line into Arcadia.
Grand Century is a multi-room building that is home to three themed cocktail bars: Platform 18, Undertow, and Grey Hen.
Each bar has its own unique atmosphere and drink menu, and we can safely say it's truly unlike any other bar we've been to (and that's saying something as we've easily been to over 1,000 bars).
Furthermore, in early 2023, we even took both sets of parents to experience it and they were very impressed by the attention to detail for each themed bar.
If the menu is a bit overwhelming, talk to your train conductor (aka bartender) to help narrow your focus and maybe even try something new!
Platform 18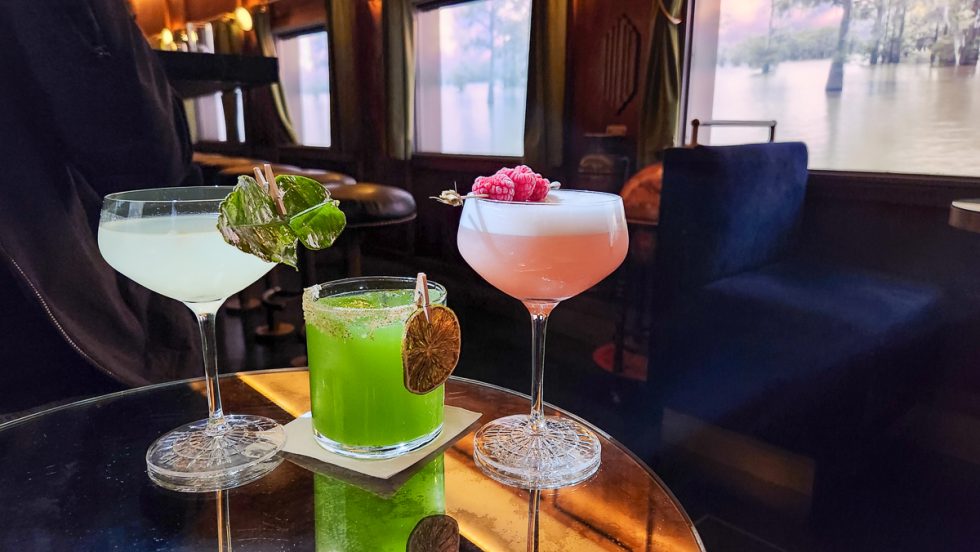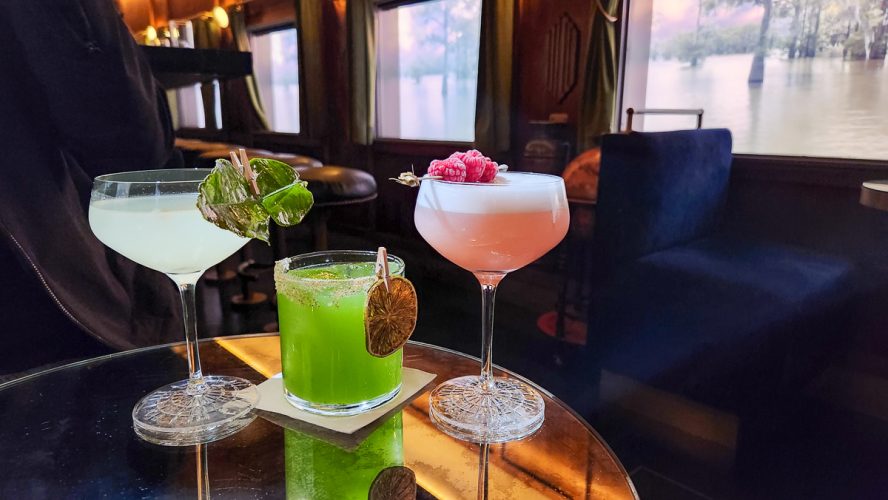 Platform 18 theme is a train car that takes you on a journey through the back bayou of Louisiana.
While the train isn't actually moving, the "windows" on the train are a moving projection of the bayou giving you the feeling of actually moving (side note: the location of the train "ride" does change from time to time).
This bar specializes in classic cocktails but also offers creative and unique drinks.
With over 45 different drinks to choose from, we suggest browsing the menu prior to boarding the train.
Undertow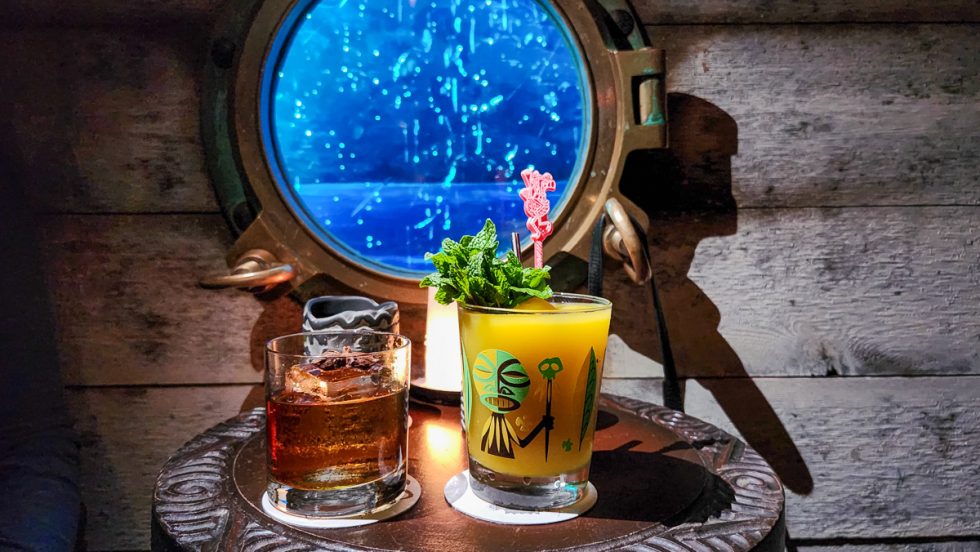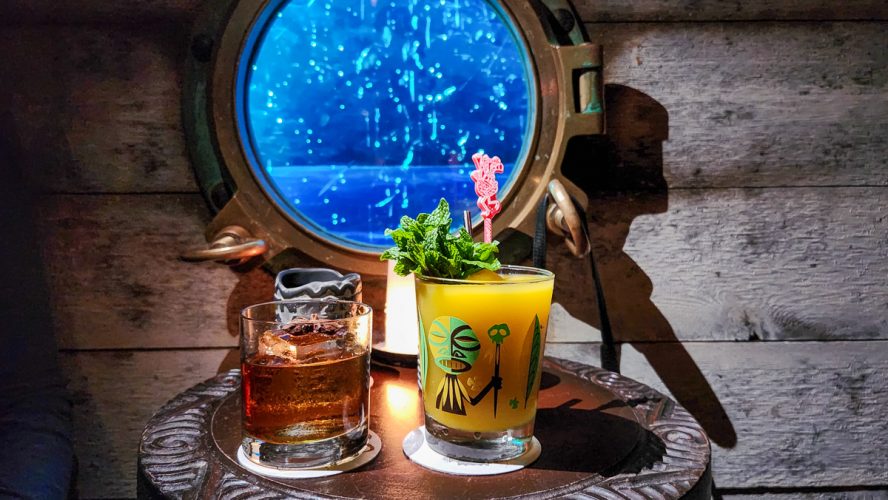 Undertow is a pirate-themed bar that offers an immersive experience of being in the hull of a pirate ship. As you set sail, you'll experience a treacherous storm at sea until you return back to a calm harbor. From thunder and lightning to the creaky sounds that engulf the bar, you can view the entire sea adventure through the portholes lining the walls.
Unlike Platform 18, the drink menu at Undertow is inspired from classic tiki cocktails like the Mai Tai and Zombie, but also a large variety of unique homemade options such as sours and stirred concoctions. If you're only visiting one of the bars, look at the Shots Fired options to help you get your sea legs going.
Grey Hen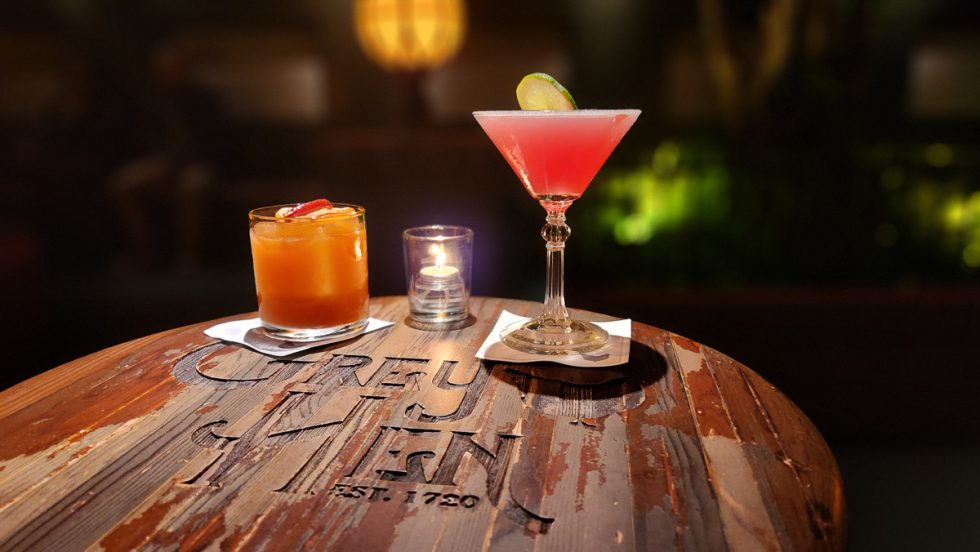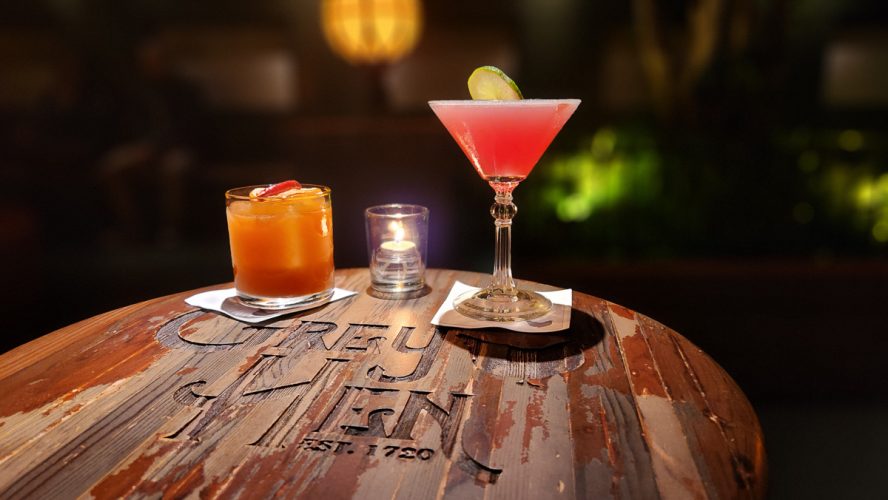 Grey Hen is a speakeasy / apothecary style cocktail bar with a cozy and intimate atmosphere. We were transported back in time to a 1930s apothecary where your pharmacist can serve up a delicious drink to soothe what ales ya.
While this menu does feature a variety of classic cocktails, like the Sidecar and the Negroni, they also have creative pre-prohibition style drinks like the Marigold Mule, made with ginger beer and marigold-infused vodka.
We've listed our favorite themed bars in order above, but don't think you can go wrong with any option. Seating is SUPER limited in all of them so we highly suggest you make a reservation online. If you do want to walk-in, be prepared to wait or be told they are booked and come back another time.
While we know this spot isn't necessarily a cocktail bar in Scottsdale, it's only an 8-minute drive and well worth the detour in our opinion!
BONUS: 36 Below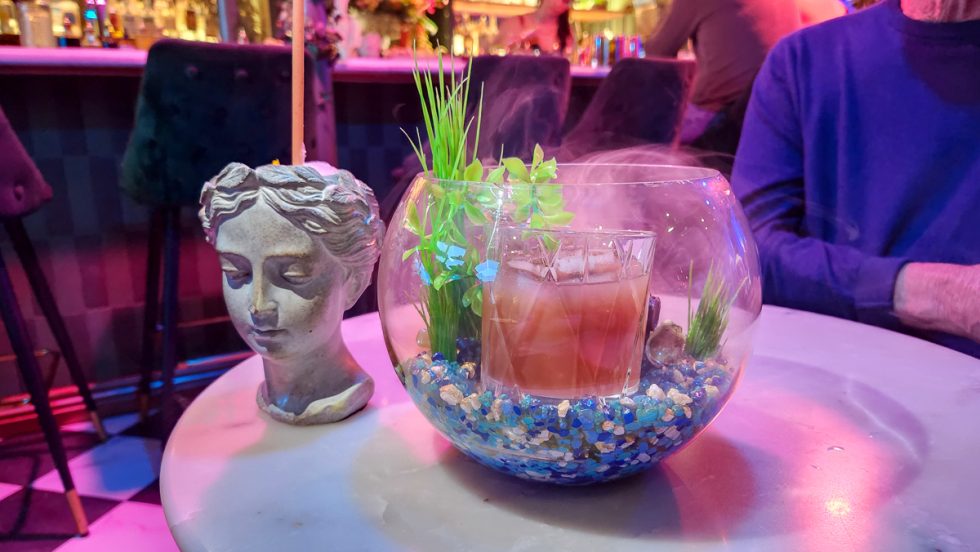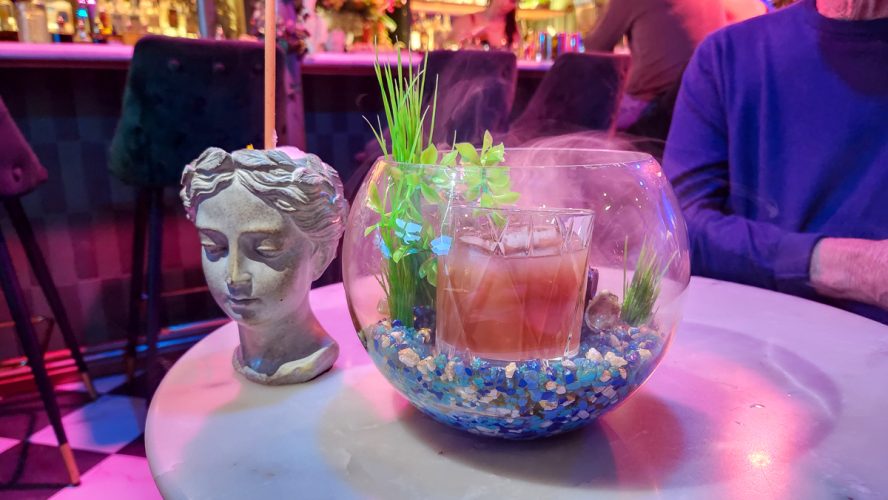 Hours:

7 days a week

Food Available:

No

Average Price per drink:

$16-25

Happy Hour:

No
Literally across the parking lot from Grand Century, 36 Below is a speakeasy cocktail bar located in the Sips Coffee Bar. To get to the bar, go into the coffee shop and look for the staircase (unlike other speakeasies, it's well marked and not super hard to find).
Known for its creative and experimental drinks, 36 Below has a rotating menu of cocktails that often incorporate unique ingredients based on each new theme. We went a few different times while we were in Scottsdale and the theme changed from Ancient Greece to an Under the Sea theme and with it, their cocktail list changed too.
We both enjoyed the cocktails we ordered during each visit and the presentation is great too with unique glassware or effects (like smoke).
While there is no happy hour, if you want a truly speakeasy experience, you can book a private (and hidden) room in their bar. For the private room or just to grab a cocktail, we highly suggest making a reservation on their website as seating is limited.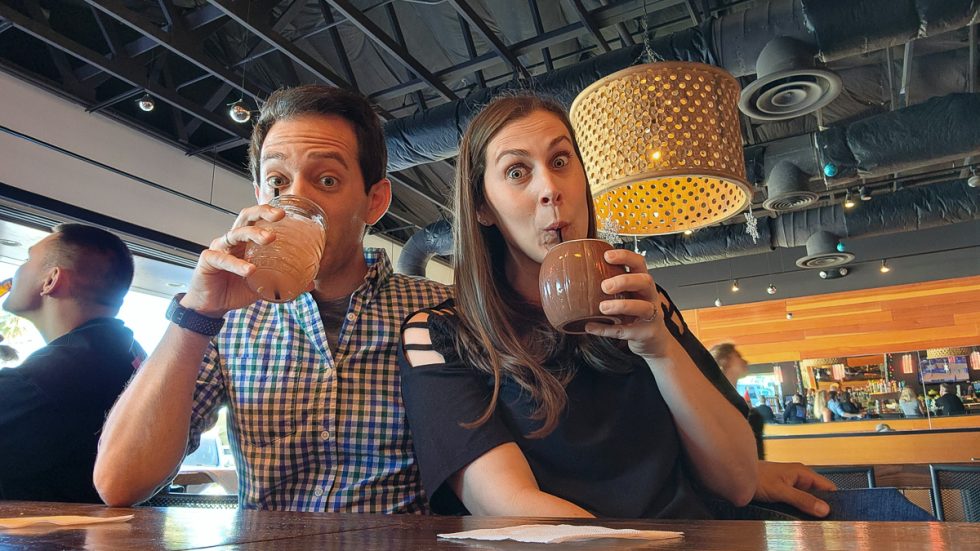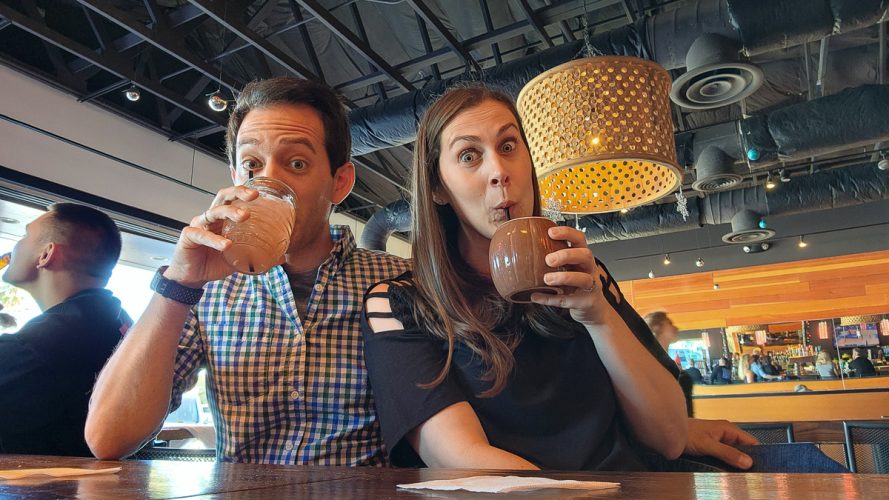 There is no shortage of great cocktail bars in Scottsdale, and these are just the tip of the iceberg with the options in the greater Phoenix area. Whether you're looking for a classic cocktail, an innovative new drink, or a sophisticated whiskey experience, there's a bar in Scottsdale that will fit the bill.
Still thirsty? We have these drinking guide for Scottsdale: