A quick guide to Bozeman Distilleries in Montana
Whether you are heading to Montana to lose yourself in nature or just passing through, a stop at the Bozeman distilleries should be on your bucket list.
We spent 2 weeks in Bozeman and really enjoyed their alcohol scene including their breweries!
Psst: We have a bunch of guides about Montana. Browse them all here.
This post was originally published in September 2020, and was updated in June 2023.
**Boozing Abroad contains affiliate links throughout the site. If you choose to purchase items through these links, we will earn a small commission at NO extra cost to you. Read the full disclosure policy here**
Montana Liquor Laws
Montana has very strict alcohol laws that are slowly catching up to modern times (hopefully in this millennium).
However, Bozeman distilleries still have it pretty bad as they are only allowed to serve 3 ounces of liquor to be consumed onsite per-person, per-day. (Sarcasm: way to support local businesses, Montana…)
With all the being said, similar to our beer guide, this limitation means you can distillery hop or grab a bottle to drink at home.
Map of Bozeman Distilleries
Click the interactive map below!
HOW TO USE THIS MAP: To view the layers and see the names of the places on this map, click the tab in the top left corner. You can select the check marks to show or hide certain layers. If you select the icons on the map, you will get more information about the point of interest.
HOW TO SAVE THIS MAP: If you select the star icon next to the map name, you can save this map to your Google Maps account. To view it, open Google Maps in desktop or on your phone, select the menu button, go to "Your Places," scroll to the right to Maps, and you will see this map.
Bozeman Spirits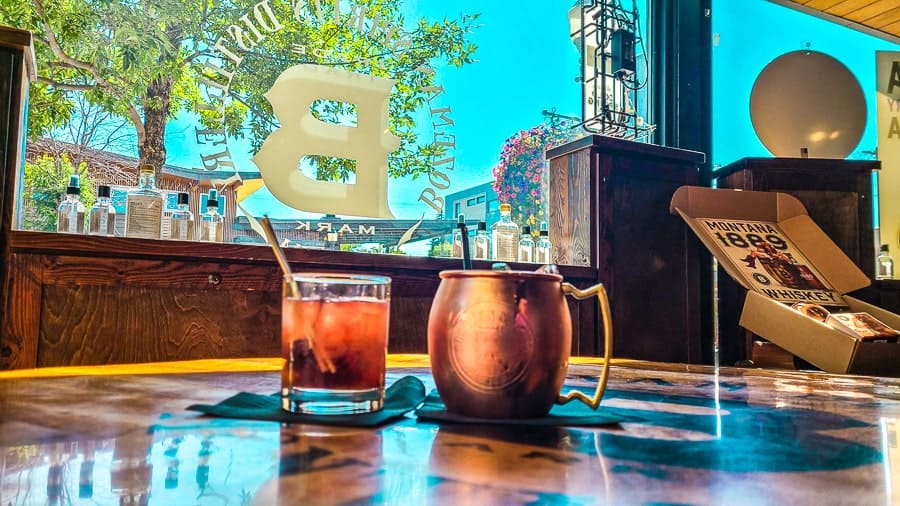 Hours: Monday – Saturday 10:00 AM – 8:00 PM

Sunday 12:00 PM – 8:00 PM

What to Try: Whiskey or Huckleberry Vodka
From mountain top to bar top is what Bozeman Spirits says. It all starts with the water here at Bozeman Spirits Distillery, pure Rocky Mountain water that is. Sourced from the greater Yellowstone area, Bozeman Spirits is making some great spirits for the residents and tourists of Bozeman with snowmelt from the Gallatin mountain range.
Conveniently located right downtown and next to one of Bozeman's many breweries, stop by this Bozeman distillery for a taste of some Montana whiskey, vodka, huckleberry vodka, gin, rum, and even agave.  
Their menu sums up everything you need to know about Montana: Drink Responsibly, be kind to your neighbor, and most importantly, don't feed the bears!
Wildrye Distilling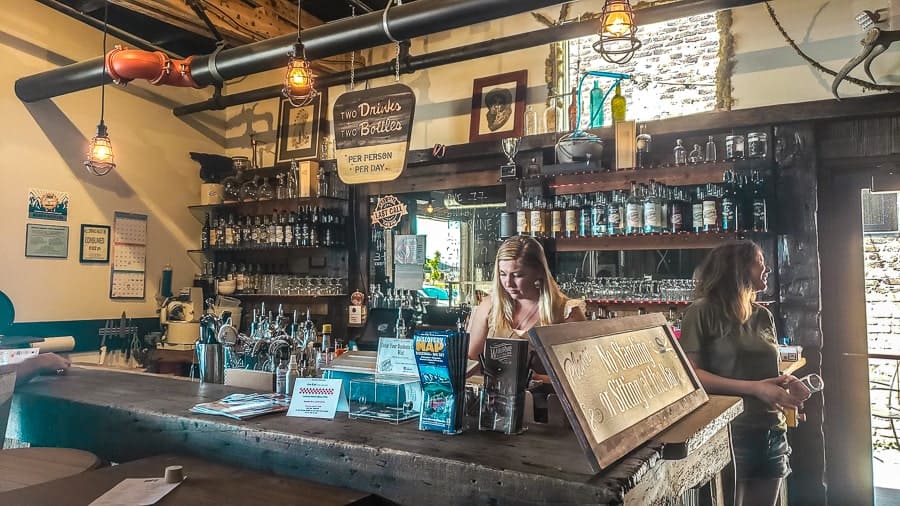 Hours: Daily from 12:00 – 8:00 PM
What to Try: Bourbon
Wildrye Distilling is one of the finest Bozeman distilleries and one of the top whiskey producers in the US.
They produce a full lineup of spirits, including gin, vodka, rum, an apple pie spirit, and of course, bourbon and rye whiskey. Their Five Drops Bourbon Whiskey is so popular that it was recently featured in a Whiskey Advocate article as "Montana's whiskey."
Why is it so popular? Wildrye specializes in producing spirits made with Montana-grown ingredients, whenever possible.
They believe in the support local campaign and letting the uniqueness of Montana's landscape and flora define what you taste….something that is uniquely Montana!
Case in point, in the Five Drops Bourbon, they use fresh sweetcorn (different from the dried corn used in most bourbons and whiskeys) that is picked from the family farm in Corvallis, Montana.
Their bourbon-aging process uses smaller oak barrels which speeds up the aging timeline (more wood touching less whiskey) but still results in an incredibly smooth and delicious bourbon.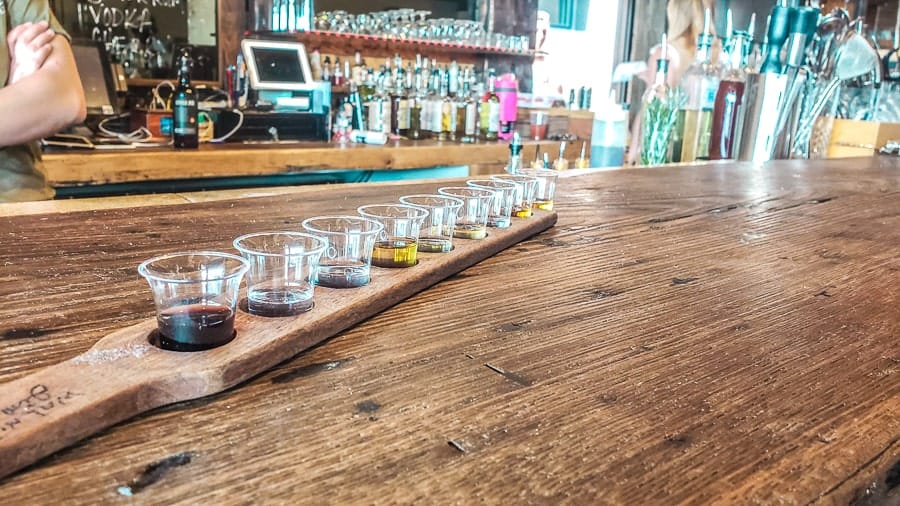 More than just a bourbon producer, Wildrye's Old Tom Gin is made with Montana-grown juniper and is absolutely delicious! It's a bit sweeter than your normal London Dry gins, but can be used for either bright cocktails or the more traditional herbal classics.
During your next western National Parks swing, stop by and try Wildrye's full lineup of spirits and cocktails while gazing at the production process right behind you.
Dry Hills Distillery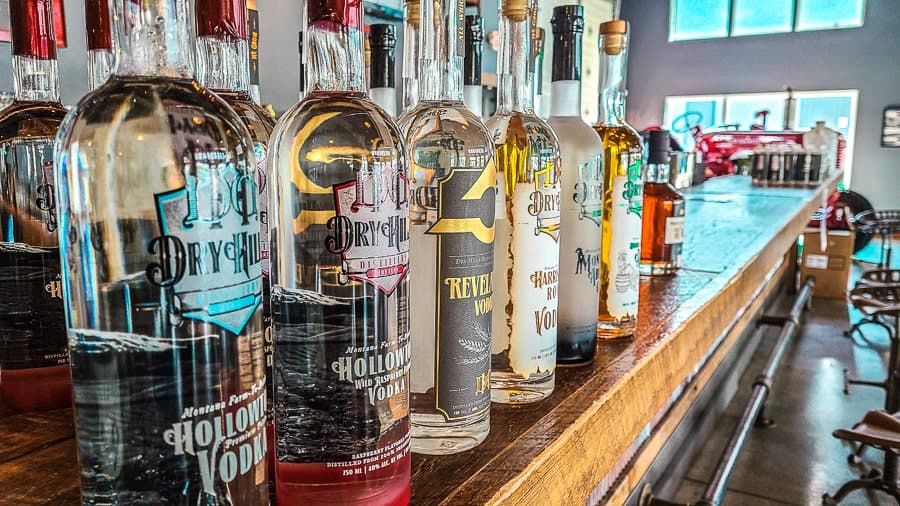 Hours:

Monday-Friday 2:00pm-8:00pm
Saturday 12:00pm-8:00pm
Sunday 12:00pm-6:00pm

What to Try: Vodka
Last on the Bozeman distilleries tour is Dry Hills Distillery. The owners of Dry Hills Distillery settled on their Montana family farm several years ago after attending Moonshine University. Okay, so we loved college, but we think we went to the wrong one.
All of the products at Dry Hills Distillery, which is just outside of Bozeman in Four Corners, are sourced off of the family farm, creating true Montana farm-to-bottle products, including several variants of vodka, gin, and whiskey.
Some of their mottos: "Work hard. Be humble. Drink local." And "We grow good times."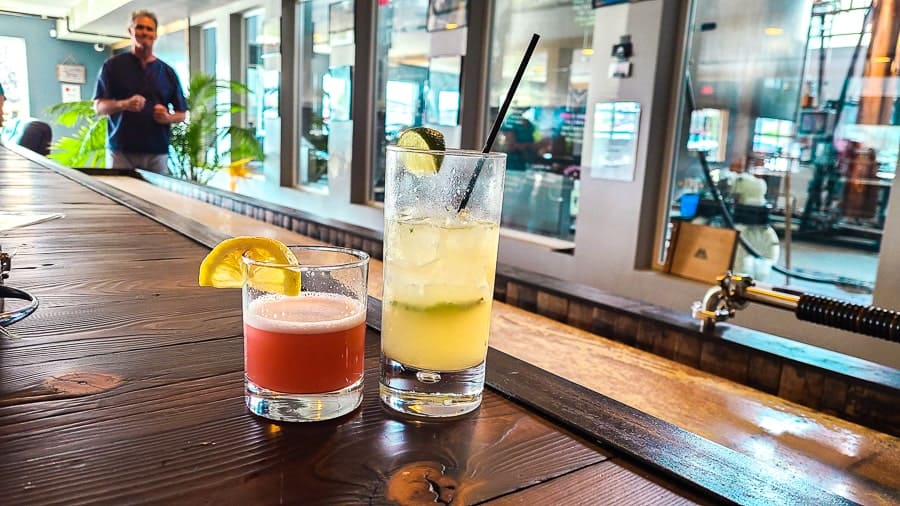 On a hot summer day, we enjoyed the Spicy Watermelon Mule, which was made with Serrano vodka and fresh watermelon juice, and a Whiskey Sour made with a rosemary ginger sour mix.
We even got a sneak peak at their fall menu with the 406 Sour made with their Double Barrel Gin. They proofed this gin down to 40.6% alcohol in honor of Montana's sole area code, 406.
It was made with fresh cranberry purée and egg white. A perfect blend of earthy gin, tart cranberry, and frothiness.
The Bozeman distilleries each offer a unique experience and all distill some impressive spirits. While there are only 3, all of the Bozeman distilleries focus on supporting their local farmers and businesses and each bring the spirit of Bozeman into their tasting rooms and production.
We believe that you can learn a lot about a place through booze and the Bozeman distilleries are a great place to start to capture the spirit of Montana.
Looking for more on Montana's alcohol scene? Check out our guides: