A local's guide for what to do for a weekend in Atlanta, GA
Do you need to get away for a while but can't seem to fit it into your schedule? Consider spending a weekend in Atlanta, the capital of Georgia.
Atlanta is the biggest city in the state with nearly 6 million residents (and trust us, there is no shortage of things to do, eat, and drink).
The city has a unique mix of both traditional southern culture and various international cultures, which makes it a great place to visit no matter where you call home.
Take a weekend trip to Atlanta and enjoy all of the diverse attractions that the city has to offer!
Chris was born and raised in North Atlanta. While we don't live there now, we visit multiple times a year to see family.
Short on time? Our top three things to do in your weekend trip to Atlanta are:
Georgia Aquarium
Ponce City Market
Centennial Olympic Park
Keep on reading to find out why!
This post was originally published in September 2021, and was updated in March 2023.
**Boozing Abroad contains affiliate links throughout the site. If you choose to purchase items through these links, we will earn a small commission at NO extra cost to you. Read the full disclosure policy here**
Map of what to do for a weekend in Atlanta, GA
Click the interactive map below!
HOW TO USE THIS MAP: To view the layers and see the names of the places on this map, click the tab in the top left corner. You can select the check marks to show or hide certain layers. If you select the icons on the map, you will get more information about the point of interest.
HOW TO SAVE THIS MAP: If you select the star icon next to the map name, you can save this map to your Google Maps account. To view it, open Google Maps in desktop or on your phone, select the menu button, go to "Your Places," scroll to the right to Maps, and you will see this map.
Brief History of Atlanta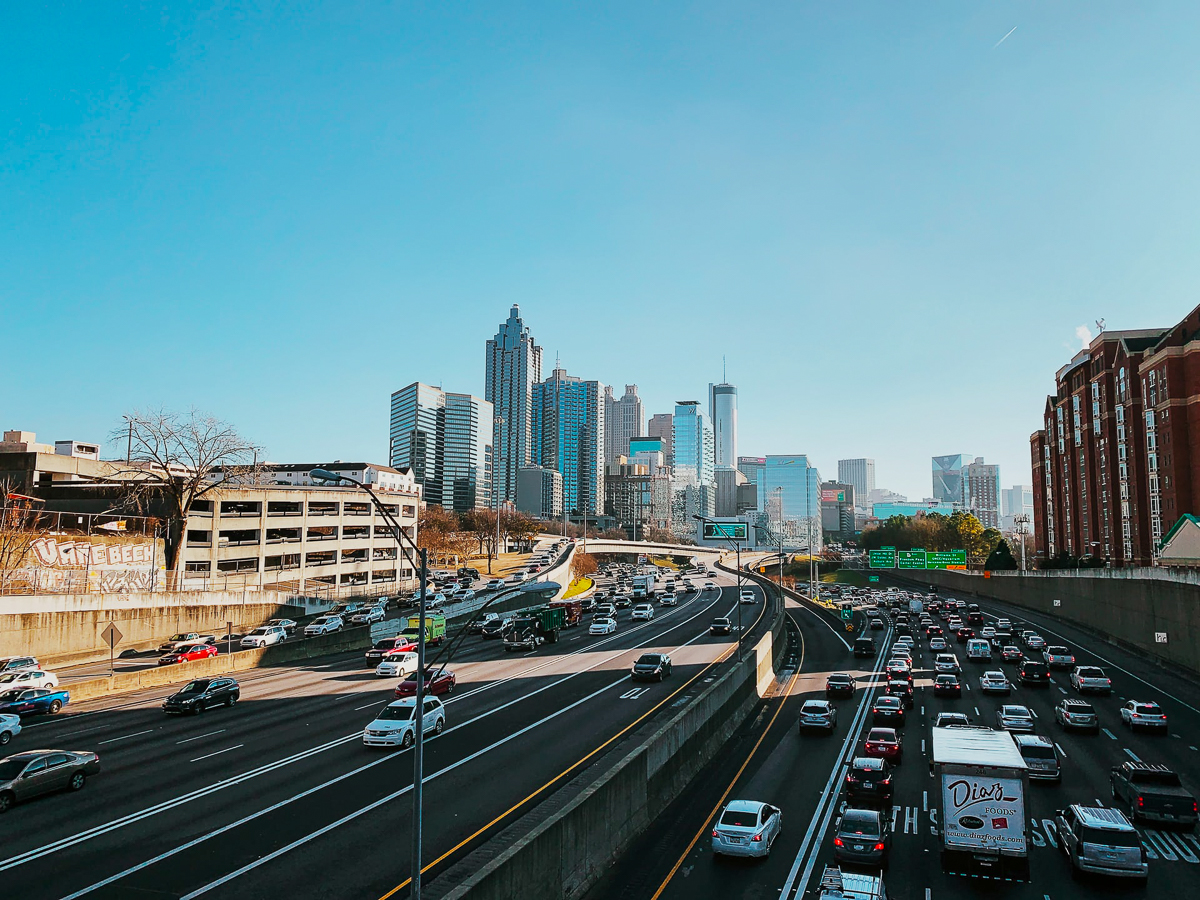 In 1837, Atlanta was founded as the end of the Atlantic Railroad Line, which is why it's now called "Atlanta" (the feminine form of Atlantic). The railroad expanded and Atlanta became a bustling intersection between multiple railroads and gained a reputation as an emerging transportation hub.
During the Civil War, the city of Atlanta was burned and destroyed by General William Sherman's military campaign.
But the city didn't stay down for long, making a quick recovery and creating many new businesses. And from that moment on, Atlanta became the unofficial capital of the "New South."
Today, the rebuilt Atlanta is still known as a transportation hub. Atlanta is home to Hartsfield-Jackson Atlanta International Airport, which is the world's busiest airport in terms of daily passenger flights.
The airport offers direct flights to and from hundreds of locations across the US and all over the world, contributing to the continued evolution of Atlanta's culture.
How to get to Atlanta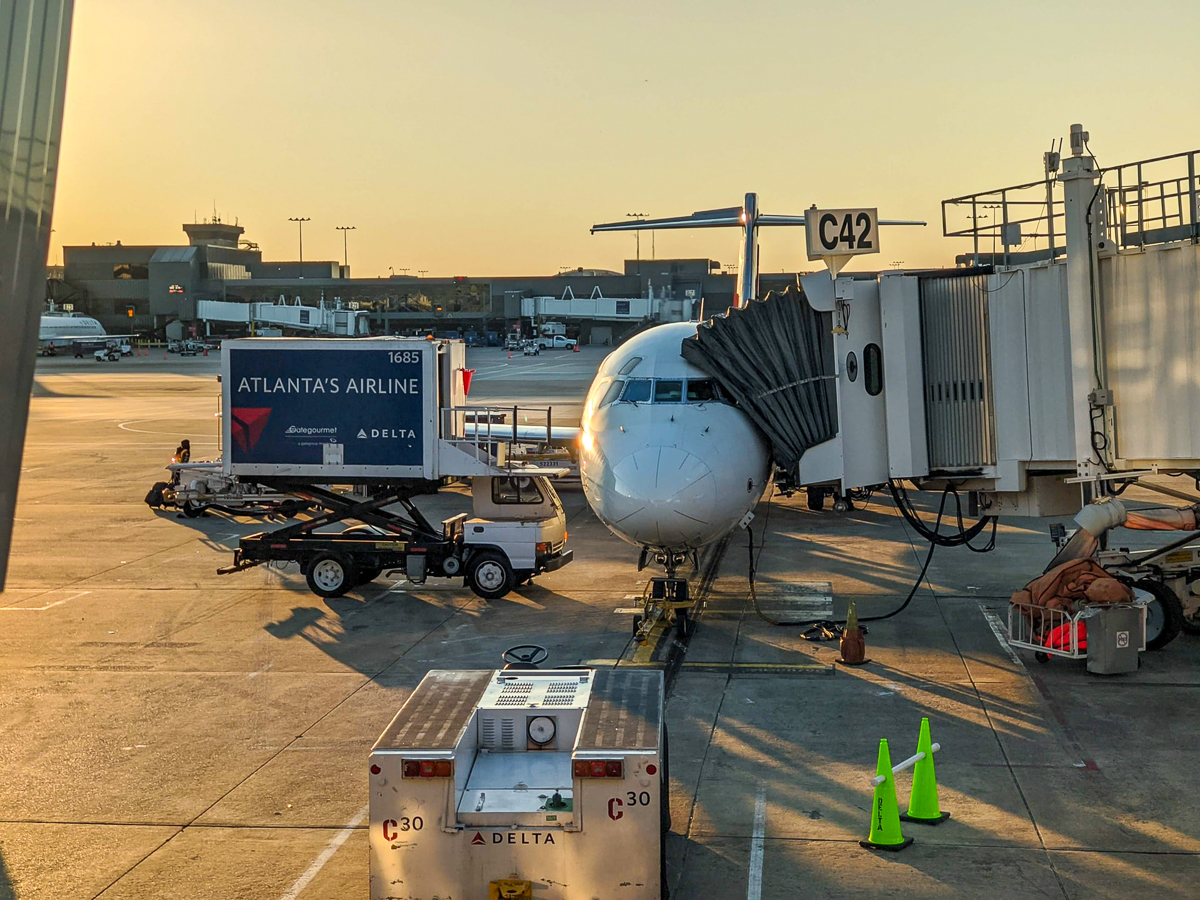 A weekend in Atlanta couldn't be easier. Hartsfield-Jackson Atlanta International Airport (ATL) is the busiest airport in the world. (Yes, in the world!). Hartsfield-Jackson even holds a world record of serving more than 100 million people in a single year.
ATL offers non-stop flights to over 150 domestic destinations and 70 international destinations, making Atlanta a convenient place to visit no matter your point of origin.
Once you arrive at the airport, you can enjoy over 300 different venues including plenty of shops and restaurants. The airport also has an art program that features various exhibits and performances that you can enjoy during your lengthy layover – just don't miss your next flight!.
Getting Around Atlanta
1. MARTA
If you're wondering how to get around on your weekend trip to Atlanta, MARTA (Metropolitan Atlanta Rapid Transit Authority) might be the best option. MARTA has been around since 1971 and it's the main transportation system in Atlanta, providing around 420,000 daily passenger trips.
MARTA operates buses, trains, and streetcars, which run nearly all day and night.
Plus, MARTA will take you to and from the airport. MARTA's Airport Station is located inside the domestic terminal.
MARTA is affordable as well. A single trip only costs $2.50! Considering the cost of a rideshare (Uber/Lyft) can run you $40+ from the airport to downtown, this MARTA option is an absolute steal!
You can purchase one of MARTA's convenient Breeze cards as well for only $2. You can load your card with as many trips as you need. Once you have the card, just go to the station and look for the blue Breeze targets, then simply tap your Breeze Card on these targets and go! No hassles.
MARTA is safe and clean. Please keep in mind that like any major city, some areas are better than others. Know which stop you need before getting off and pay attention to your surroundings.
2. Scooters
Renting an electric scooter is a great way to get around on your weekend in Atlanta. They're easy, convenient, and environmentally friendly.
You can rent a scooter from 3 companies in Atlanta: Bird, Lime, and Spin. The unlocking fee ranges from $1 to $3.50 and the cost per minute for each company is $0.39.
3. Rideshare (Uber/Lyft)
Ridesharing is perfect for those who want an affordable and convenient way to get around on their weekend in Atlanta. We usually prefer NOT to drive because Atlanta traffic sucks and parking can be a b****!
You can use ridesharing.com, which will put you with a driver going to the same destination that you are or you can use apps like Uber and Lyft.
Uber and Lyft both have luxury cars available as well as an "XL" option for larger groups of up to 6 people.
4. Rent a Car
Renting a car is a great choice for those who have families or people who want the freedom to drive wherever they want whenever they want without restrictions. The upside to Atlanta is the great public transportation. The downside is traffic and parking.
When we rent, we usually go through National Car Rental. If you're around for just a weekend, it might be cheaper to Rideshare.
Where to Stay Downtown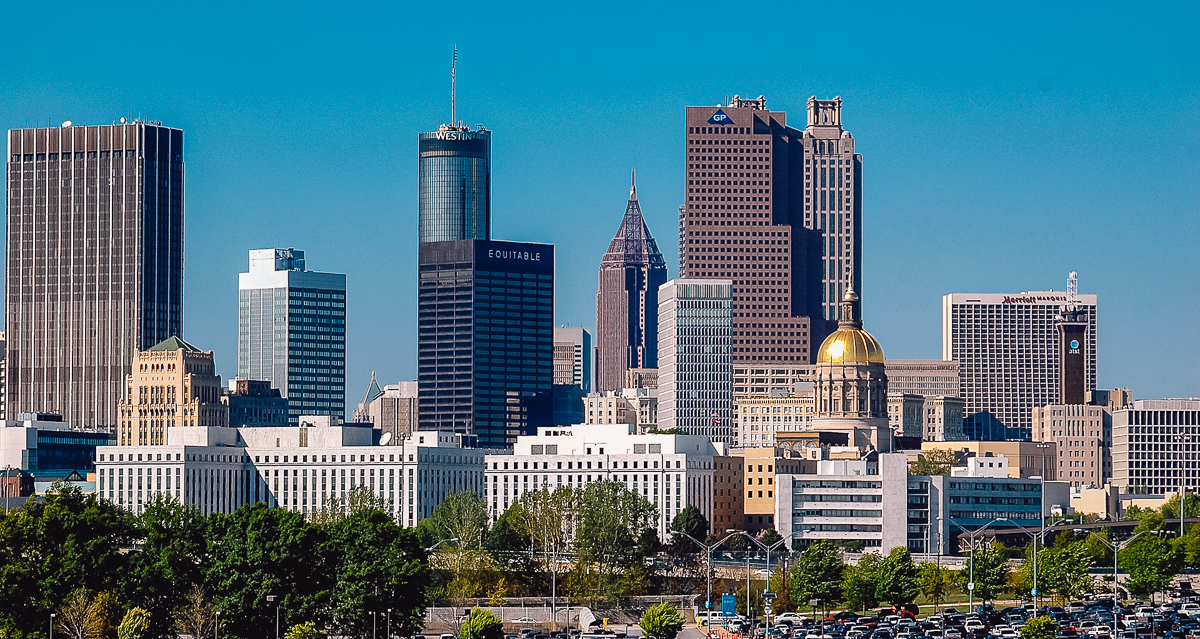 Booking.com probably has the widest selection of budget (and luxury) accommodations in the world. In our experience, we consistently found the cheapest rooms using Booking.com. We also like their easy-to-use interface and no money down policy. When we book our travel stays, we personally use Booking.com.
Hyatt Regency Atlanta
If you need a place to stay downtown during your weekend in Atlanta, we recommend the Hyatt Regency Atlanta close to Centennial Park. This hotel is conveniently located next to many attractions like the World of Coca Cola, the Georgia Aquarium, Mercedes-Benz Stadium, and the Martin Luther King, Jr. National Historic Site.
There are many amenities at the Hyatt Regency Atlanta hotel, including the iconic rotating restaurant, an outdoor pool, a gym, and free WiFi as well as flat-screen TVs in every room.
>>>Book your stay now at the Hyatt Regency Atlanta
Brand loyal to a specific hotel? Book your stay at other chain hotels downtown:
Other areas – Midtown
If being downtown isn't your scene, we'd suggest checking out Midtown. A few MARTA stops north of Centennial Park, Midtown offers a more laid back vibe and definitely more opportunities to drink local.
You'll be closer to Ponce City Market and the Beltline which are both full of incredible eats and local favorites!
It can be a smidge pricier than downtown, so it would depend on your plans for your weekend in Atlanta.
Our top suggestions are:
What to do for a Weekend in Atlanta
One thing is for sure: your weekend in Atlanta will never be boring. There's a huge range of attractions located in Atlanta, including parks, sporting events, history centers, and much more.
1. Centennial Olympic Park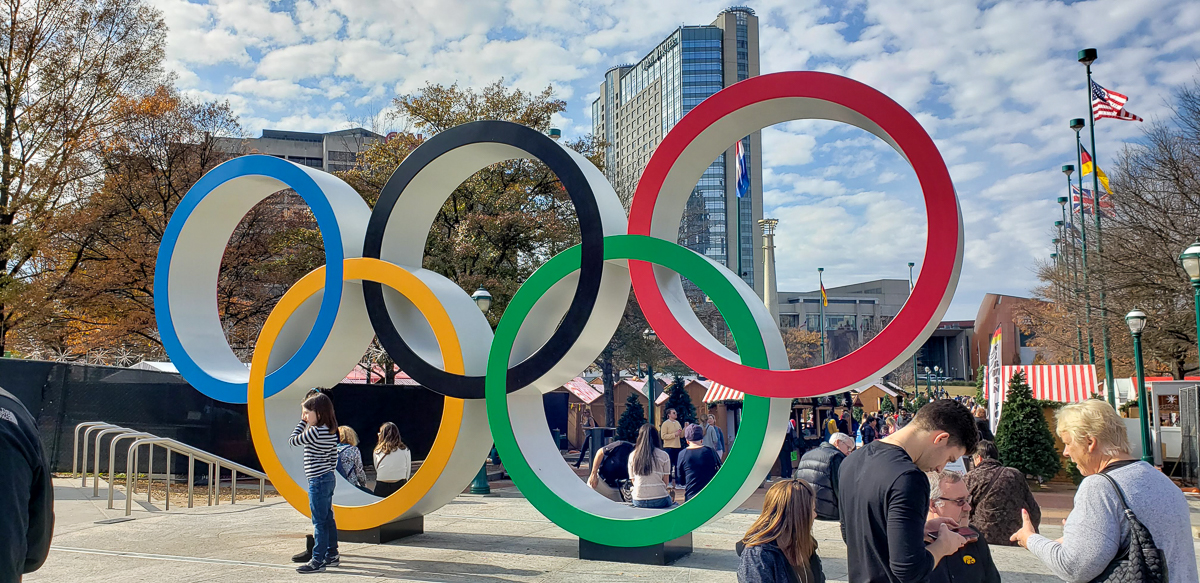 Centennial Olympic Park is 22 acres packed full of landmarks and features. As its name suggests, the park is known for being home to the 1996 Olympics.
The park features a large insta-worthy Olympic Rings sculpture that you can take selfies in front of and there is also the Fountain of Rings, which incorporates the Olympic Rings symbol as well.
The fountain has an exciting synchronized water and music show that plays 4 times a day, 7 days a week. When you're not watching the show, you can use the fountain to cool off in between visiting the park's attractions.
Centennial Olympic Park holds many events, like a Fourth of July celebration, a Holiday Lights Festival, the Sweetwater 420 Festival, the Shaky Knees Music Festival, and much more. The park also has a weekly music series.
Be sure to check out the Hermes Towers, the Ivan Allen Tribute, the Magnolia Tribute Garden, and the Water Gardens as well.
Centennial Olympic Park is located in downtown Atlanta and its hours are 7 AM to 7 PM daily.
2. Georgia Aquarium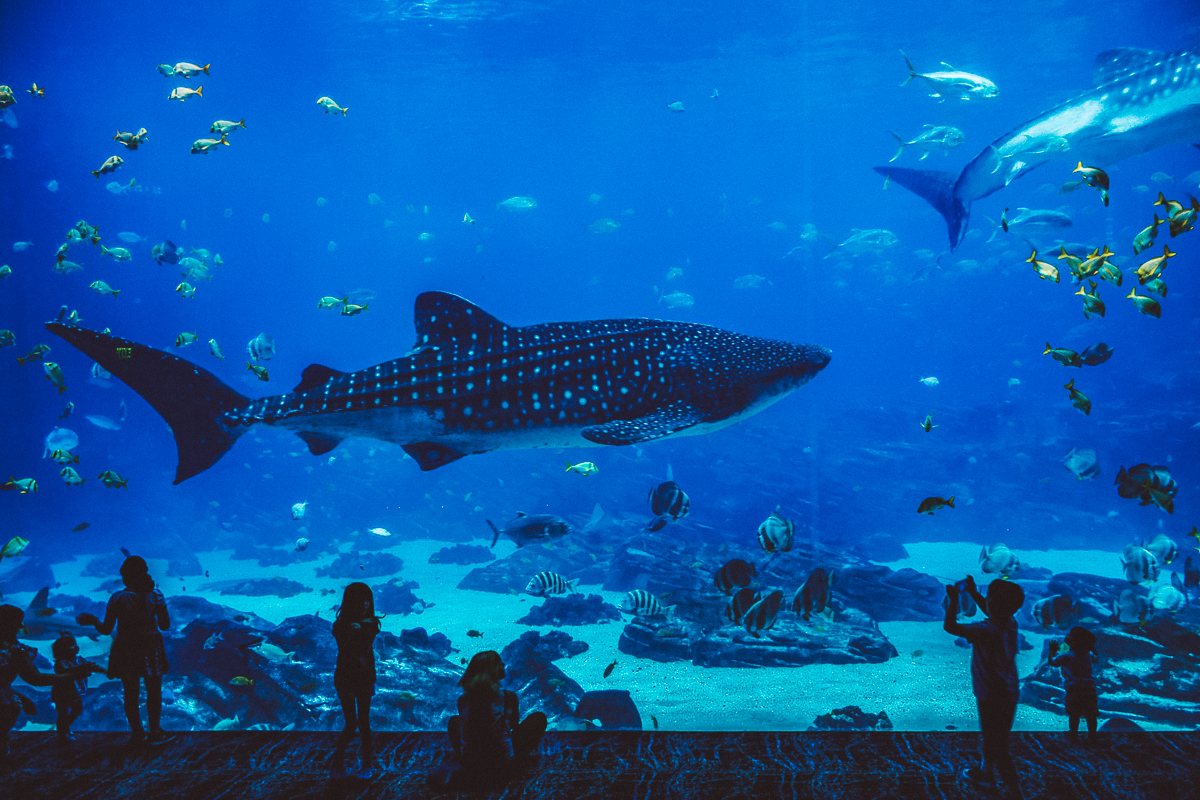 Your weekend in Atlanta wouldn't be complete without visiting the Georgia Aquarium. Georgia Aquarium contains more than 11 million gallons of water and is home to thousands of animals including sharks, manta rays, whales, sea lions, dolphins, penguins, alligators, and more.
One of the many exciting activities that the aquarium offers are animal encounters. The encounters are available for beluga whales, dolphins, harbor seals, penguins, sea lions, and sea otters.
You'll get to spend time with the animals face-to-face and participate in a training session with the animal trainers. If you want to get even closer to the animals, check out the "Dive with Gentle Giants Encounter" or the "Swim with Gentle Giants Encounter" where you can either snorkel or scuba dive with whale sharks, manta rays, and other sea creatures!
Georgia Aquarium also offers a "Behind The Seas Tour" where you can see what happens behind the scenes of the exhibits, a 4D theater that plays 4 family-friendly movies a year, a virtual reality simulator, and sleepovers where you can spend the night in the aquarium under the amazing view of all the sea creatures.
Georgia Aquarium is open 365 days a year and its hours are:
Monday: 9 AM to 8 PM

Tuesday: 9 AM to 6 PM

Wednesday-Friday: 9 AM to 8 PM

Saturday: 8 AM to 9 PM

Sunday: 8 AM to 8 PM
3. World of Coca-Cola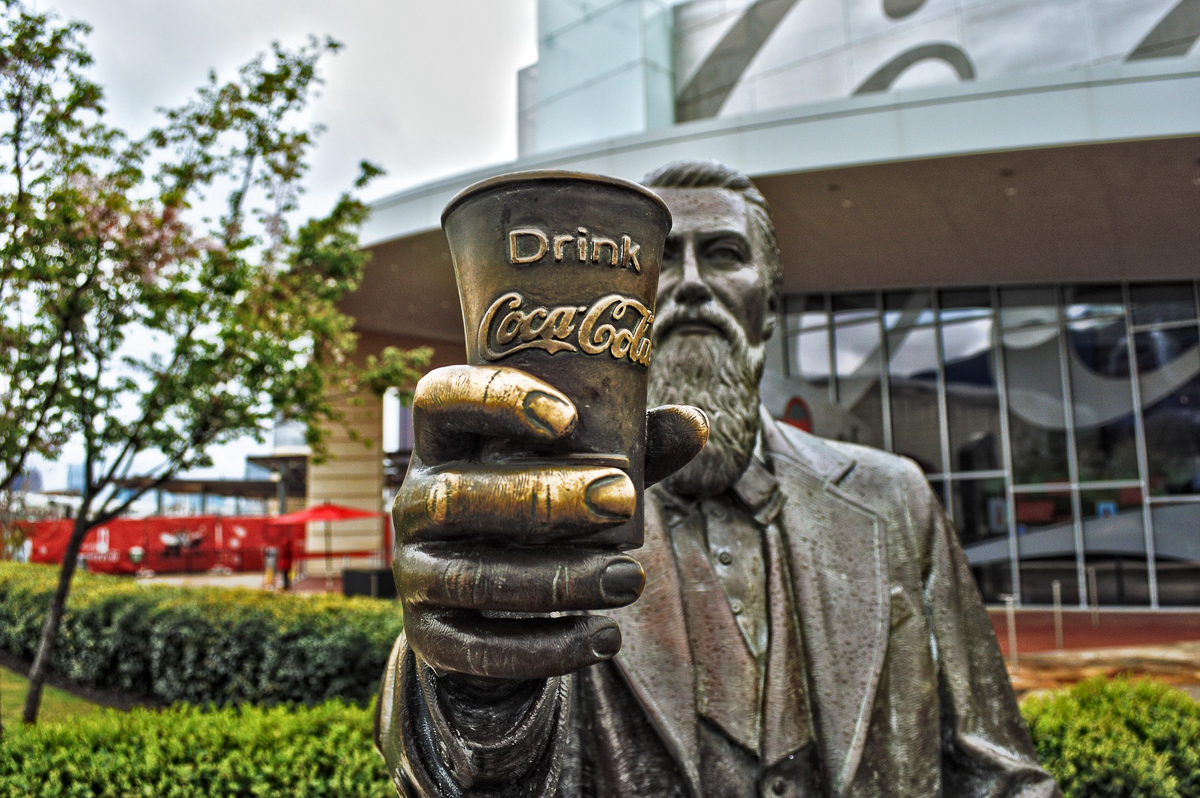 The World of Coca-Cola is a museum and tourist attraction that explores the history of the Coca-Cola company through various interactive exhibits.
"The Loft" is an area inside the museum that holds over 200 historical artifacts that date back to the very beginning of Coca-Cola. Some items include a Coca-Cola syrup urn from 1896, historic advertisements, and more.
A World of Coca-Cola Ambassador will share stories about the artifacts while you go along.
"The Vault" includes not only the top-secret Coca-Cola formula but an exciting journey toward the Secret Formula Chamber where you'll learn all about the history of the Coca-Cola secret formula.
There are also interactive experiences available throughout the exhibit like the Virtual Taste Maker, where you can create and taste your very own Coca-Cola, just like the early inventors did.
Throughout the "Milestones of Refreshment," you can explore 10 different galleries that exhibit the history of Coca-Cola with many artifacts like a soda fountain from the 1880s, the Coca-Cola contour bottle, and a 1939 delivery truck as well as the stories behind each artifact.
Milestones of Refreshment holds over 1,000 original artifacts!
At the World of Coca-Cola, you'll also get to see how Coca-Cola is bottled, watch a movie in the 3D movie theater, learn how Coca-Cola benefits people from around the world with the interactive Portrait Wall, guess the origin of scents at the Scent Discovery exhibit, and more.
Their hours change daily so be sure to visit their website as you plan.
4. College Football Hall of Fame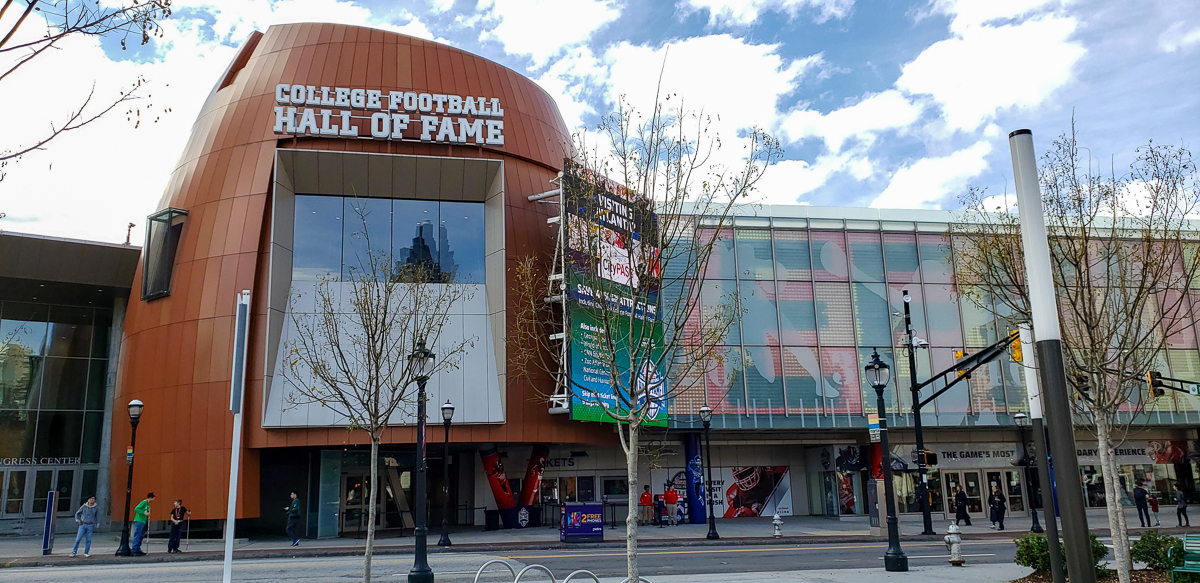 The College Football Hall of Fame is 95,000 square feet and it includes a 45-yard indoor football field, 50 interesting exhibits, and more.
Your journey starts at "The Quad," where you'll register your All-Access Pass and choose your favorite team out of the 775 schools represented. Then, your team's helmet will light up on the helmet wall.
The rest of your journey is up to you. You can test your skills on the 45-yard football field, watch "The Game of Your Life" in the ultra high-definition Game Day Theater, immerse yourself in the Game Time Gallery, learn about how champions are built at "Building a Champion," view the greatest players in The Football Hall of Fame, and more.
The College Football Hall of Fame is open Thursday-Monday from 10 AM to 5 PM.
5. Atlanta History Center
What better way is there to spend your weekend in Atlanta than learning about the history of Atlanta? The Atlanta History Center is a history museum that was founded in 1926 and it contains 33 acres full of historic gardens, houses, and exhibitions.
There are more than 10 exhibitions about military, culture, society, business, industry, and various other topics.
There are also numerous buildings and grounds such as the Kenan Research Center where you can learn about your past, the Wood Cabin where you can learn about early settlement and trade, the Veterans Park where you can reflect on those who have served the United States, the numerous gardens filled with beautiful flowers, and much more.
The Atlanta History Center is open Tuesday-Sunday from 9 AM to 4 PM.
6. Atlanta Botanical Garden
The Atlanta Botanical Garden is 30 acres full of picturesque plant collections, displays, and exhibitions.
Be sure to check out the indoor Dorothy Chapman Fuqua Conservatory which features the largest collection of orchids in the United States as well as an amphibian conservation program that includes fascinating frogs from Central and South America.
The outdoor collections are a must-see as well, which feature a camellia, conifer, hydrangea, magnolia, maple, and rose collection.
The Botanical Garden also hosts many events that occur throughout the year and is open Tuesday-Sunday from 9 AM to 8 PM.
7. Piedmont Park
Piedmont Park is Atlanta's biggest public park at 200+ acres. The park has several attractions to explore nature like trails, bike paths, playgrounds, and more.
If you'd like to learn more about the history of Piedmont Park and how it ties into the development of Atlanta while also getting some exercise, check out the Piedmont Park History Walking Tour. This tour is free and goes for 60-90 minutes. There are also monthly bird walks available.
Feeling hungry?
Visit Piedmont Park's Green Market, which has been voted one of the best farmer's markets in Atlanta. This market allows shoppers to buy baked goods, jams, fruits and vegetables, and more from local farmers and small businesses.
The Green Market is open from 9 AM to 1 PM every Saturday, March-December.
You can also go running on the park's trails, go for a swim at the aquatic center, play with your kids at the playgrounds, or take your dog for a walk at the Piedmont Park Dog Park, which has been voted as one of the best dog parks in Atlanta. The fun never ends at Piedmont Park!
Piedmont Park is open daily from 6 AM to 11 PM.
8. Ponce City Market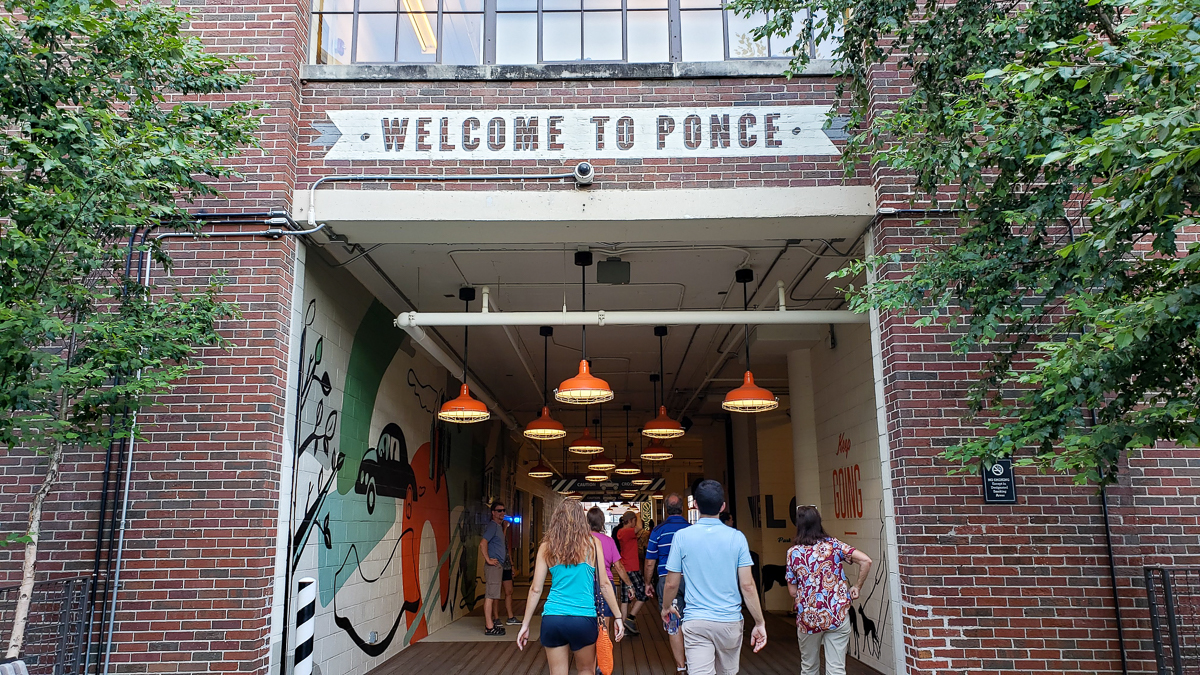 Ponce City Market is a mixed-use development that contains shops, restaurants, events, an amusement park, and more.
Ponce City Market has nearly 40 shops including brands like Anthropologie, Sephora, and Nike, but it also has local merchants on the 2nd floor. The Market has nearly 40 restaurants as well that offer different cuisines from all around the world.
Before you leave, make sure to check out "The Roof," which is, you guessed it, the roof of Ponce City Market. "The Roof" features an amusement park, a restaurant, and a cocktail bar. "The Roof" also has an ice skating rink and cozy igloos that you can rent during the holidays.
9. Ride or Walk the BeltLine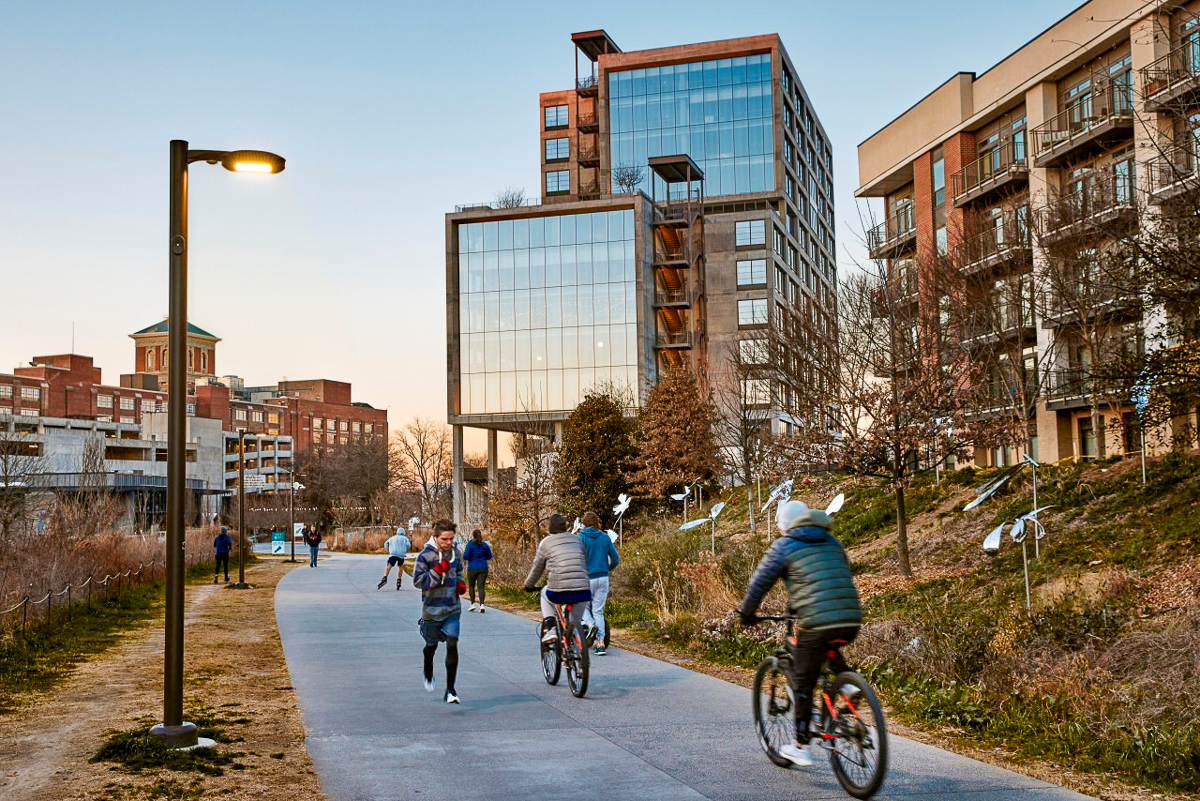 The Atlanta BeltLine used to be 22 miles of railroad tracks that ran through the core of Atlanta, but now they've been turned into trails, walkways, parks, and more that connect the city's neighborhoods together.
Let us tell you, it's worth the visit. With every major scooter company on the BeltLine, you can zip between bars, breweries and yummy food markets for a fun afternoon.
There are numerous parks at the BeltLine where you can play sports, take your kids to the splash pad, view art, skateboard, take fitness classes, and much more. The BeltLine also has many different trails where you can hike, ride your bike, or just relax and enjoy the beautiful scenery.
Be sure to check out the BeltLine's walking and biking tours as well as their events. Also, while you're strolling along the BeltLine, be sure to check out Krog Street Market for one of the best food halls out there – this is just a short scooter ride away from your stop at Ponce City Market.
10. Zoo Atlanta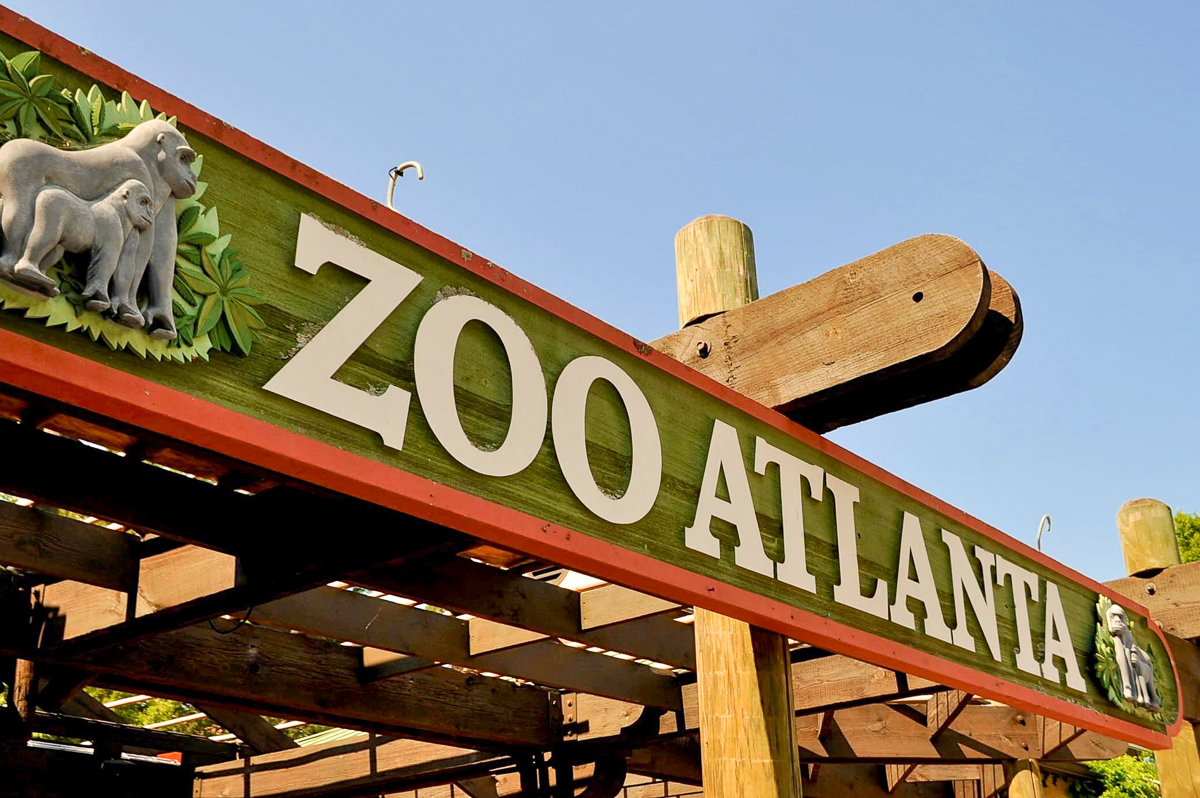 If you're going to Atlanta for the weekend, then you need to check out Zoo Atlanta. The zoo houses over 1,000 animals and 200 species, including pandas.
Did you know that Zoo Atlanta is 1 of only 3 zoos in the United States that houses pandas?
Zoo Atlanta also houses elephants, lions, giraffes, gorillas, zebras, and much more.
If you'd like to get closer to these animals, check out Wild Encounters, which allows you to see, feed, and touch lemurs, elephants, tortoises, pandas, and rhinos.
There are also Giraffe Feedings available, where you get to feed these tall creatures 2 pieces of romaine lettuce.
Zoo Atlanta features rides and attractions including a carousel, train, splash fountain, and petting zoo. The zoo also has wildlife presentations, children's activities, dining options, and a gift shop.
The zoo is open every day of the year from 9 AM to 5 PM except for Thanksgiving and Christmas.
11. See From New Heights With SkyView Ferris Wheel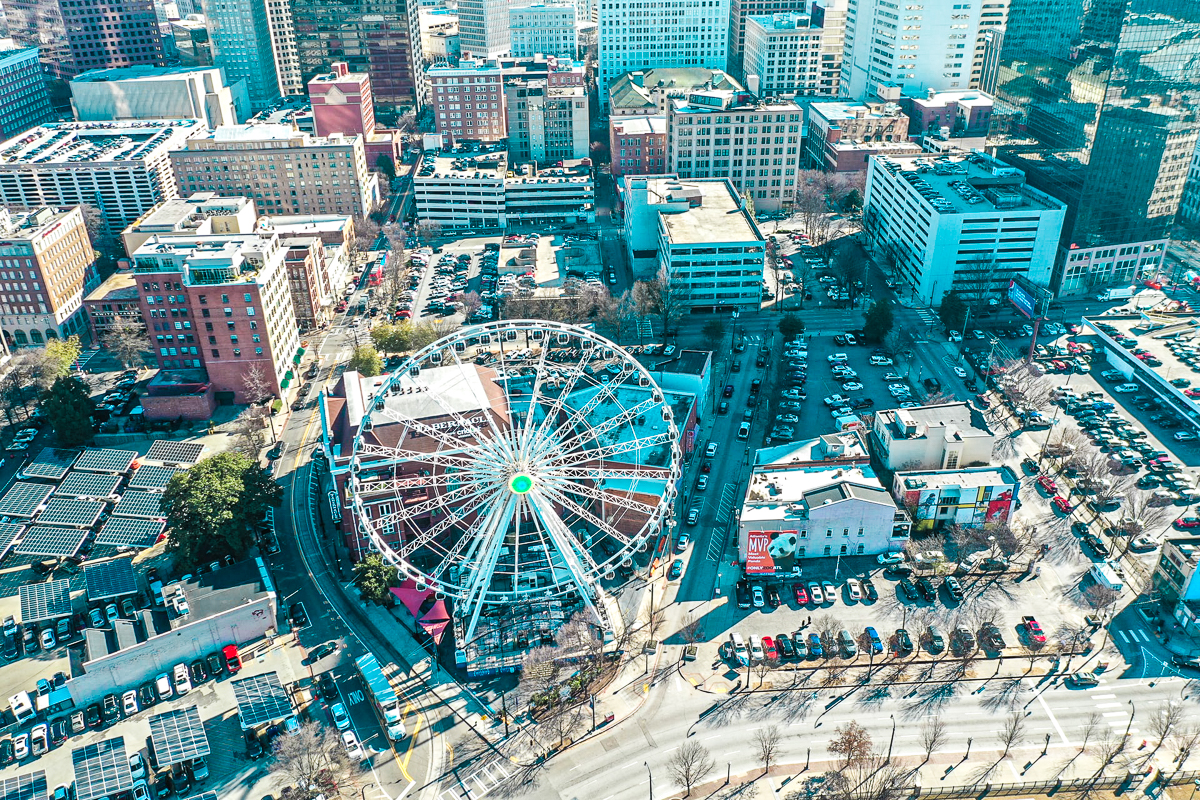 Want to get a gorgeous view of the city on your Atlanta weekend trip?
If so, visit SkyView Atlanta. SkyView Atlanta is a 20-story Ferris wheel located in Centennial Park. The Ferris wheel contains 42 climate-controlled gondolas and each one can seat up to 6 people.
There is a VIP gondola option as well, which features glass floors, Ferrari-style seats, and a longer flight time. You also get to skip the line!
If you get hungry, check out the delicious Carlo's Pizza stand located onsite where you can purchase pizza and non-alcoholic beverages.
SkyView Atlanta's hours are as follows:
Monday-Thursday: 12 to 10 PM

Friday: 12 PM to 12 AM

Saturday: 10 AM to 12 AM

Sunday: 10 AM to 10 PM
12. Catch a Sporting Event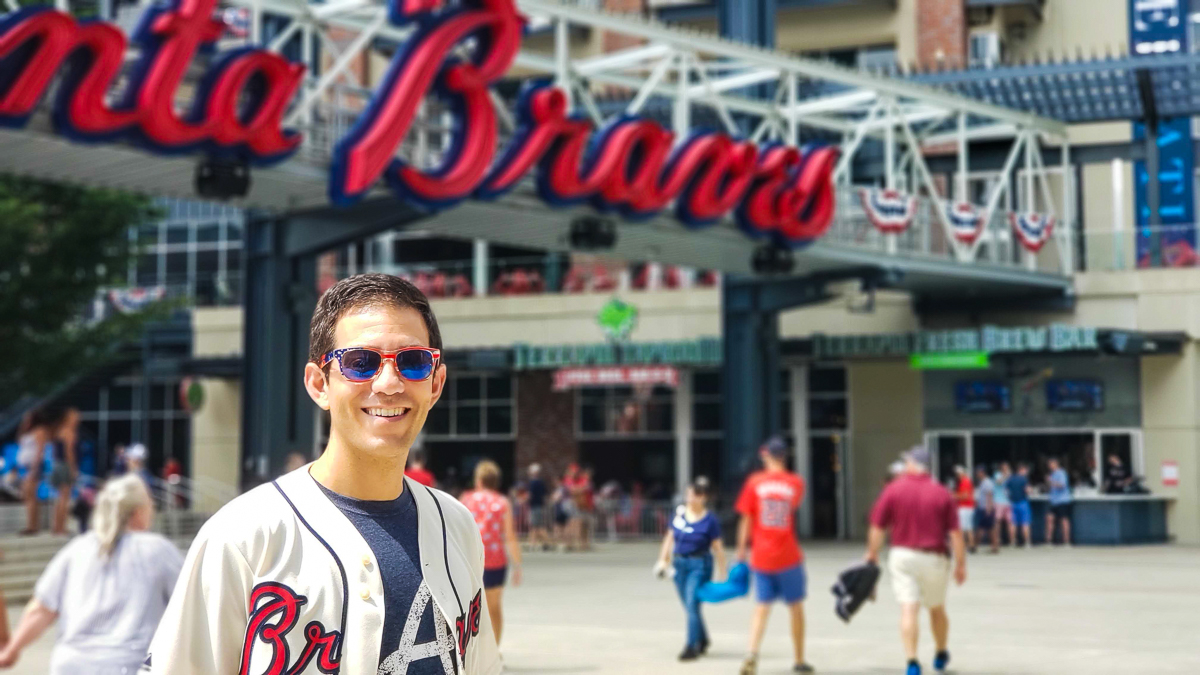 Like sports? Put a sporting event on your Atlanta itinerary! You can watch the Atlanta Braves, the Atlanta Falcons, the Atlanta Hawks, Atlanta United FC, or Georgia Tech football in Atlanta.
Did you know that the Atlanta Braves franchise is the only professional team to have played every season since baseball existed?
Plus, they have won 4 World Series (including the most recent in 2021, which we attended!) and are the only major league baseball team to have won the World Series in 3 different home cities.
You can watch the Atlanta Braves play at Truist Park, which has been their home stadium since 2017.
Truist Park is about 10 miles from Downtown Atlanta and the stadium only has 41,000 seats, allowing visitors to see the game better.
Also of note, there is more to do then just visit the stadium. The Battery is the area outside that has numerous bars, restaurants and shops.
When you visit, be sure to check out Terrapin's Brew Lab for some local beer!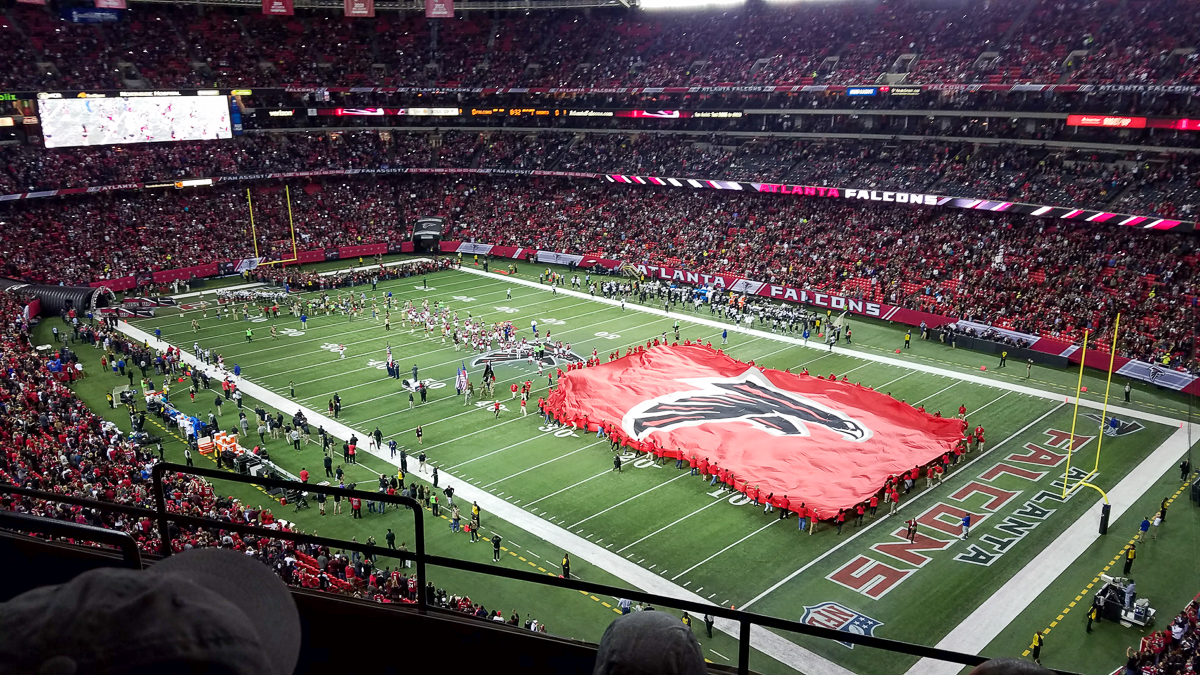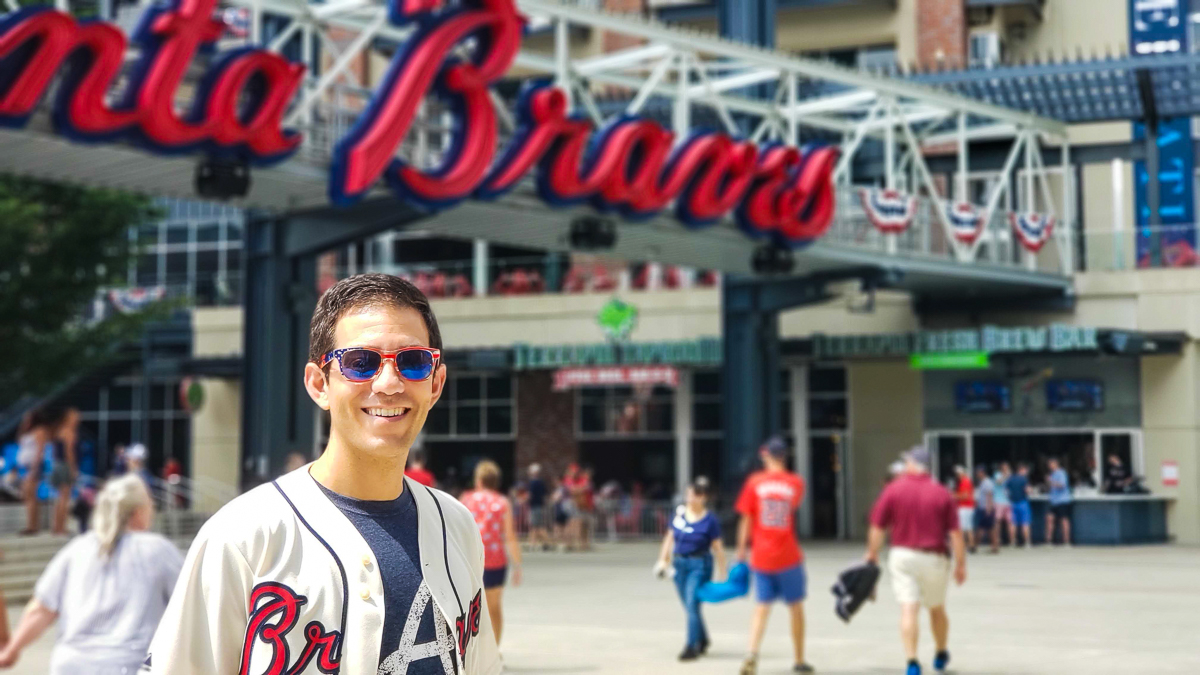 The Atlanta Falcons football team has been around for 55 years and won division championships 6 times. They have also played in 2 Super Bowls.
And since Chris is from Atlanta and a diehard Atlanta sports fan, there will be no further mention of the Falcons in the Super Bowl (if you say "28-3", we won't be friends anymore).
You can watch the Atlanta Falcons play at the world-class Mercedes-Benz Stadium which has more video display boards than any stadium in the world and also some of the best (and most affordable) stadium food in the world.
You can also watch Atlanta United FC play at the Mercedes-Benz Stadium. Atlanta United FC was founded in 2014 and won the U.S. Open Cup in 2019.
The Atlanta Hawks are a professional NBA team based in Atlanta and they're 1 of only 4 NBA teams that were eligible to play in the NBA playoffs 10 seasons in a row during the 21st century.
You can watch the Atlanta Hawks play at the State Farm Arena which has won various awards over the years, including an NBA Best In-Game Experience award.
The Georgia Tech Yellow Jackets football team represents the Georgia Institute of Technology. The team is one of the most successful college football teams since they have won 4 national championships over the years.
You can watch the Georgia Tech Yellow Jackets play at Bobby Dodd Stadium which is located on the Georgia Institute of Technology campus downtown.
13. Buckhead
Bougie found its start in Buckhead, which is a residential district in Atlanta that is known for its upscale malls, dining options, art galleries, nightlife, and more.
If you want to get a little shopping in during your Atlanta weekend trip, check out Lenox Square Mall. Lenox Square has over 250 shops ranging from Bloomingdales to Louis Vuitton.
Lenox Square also has 50 shops that are only available in Georgia. Be sure to check out the mall's restaurants as well, which offer everything from pizza to Japanese food.
Phipps Plaza is another shopping center located in the Buckhead district. Phipps Plaza contains over 100+ iconic brands like Gucci, Saint Laurent, Versace, and more. You can also catch a movie at the AMC theater or grab a bite to eat at one of the plaza's restaurants or cafes.
If you have kids, be sure to take them to Legoland located in the Buckhead district.
Legoland is full of rides and attractions such as a "Miniland" made out of 1.5 million legos, a 4D cinema, the "Pirate Adventure Island" playground, and much more. Legoland also offers an adult night (definitely putting this on our list!), a store, and a cafe.
14. Little Five Points
Little Five Points is a neighborhood in Atlanta that's known for its indie stores and trendy restaurants. The eclectic neighborhood has vintage clothing stores, an indie radio station, pubs, independent bookstores, a 30-foot-tall skull, street performers, art galleries, and more.
If you're in the mood for some entertainment, check out Dad's Garage Theatre Company, an improv and comedy club, or Variety Playhouse, a theater and a nightclub. Or just sit back, relax, and watch the street performers!
15. Drink Local Beer
There are plenty of breweries to visit in Atlanta, but we have picked some of our favorite to talk about here. We'll be coming out with an Atlanta Breweries post asap. 
Monday Night Brewing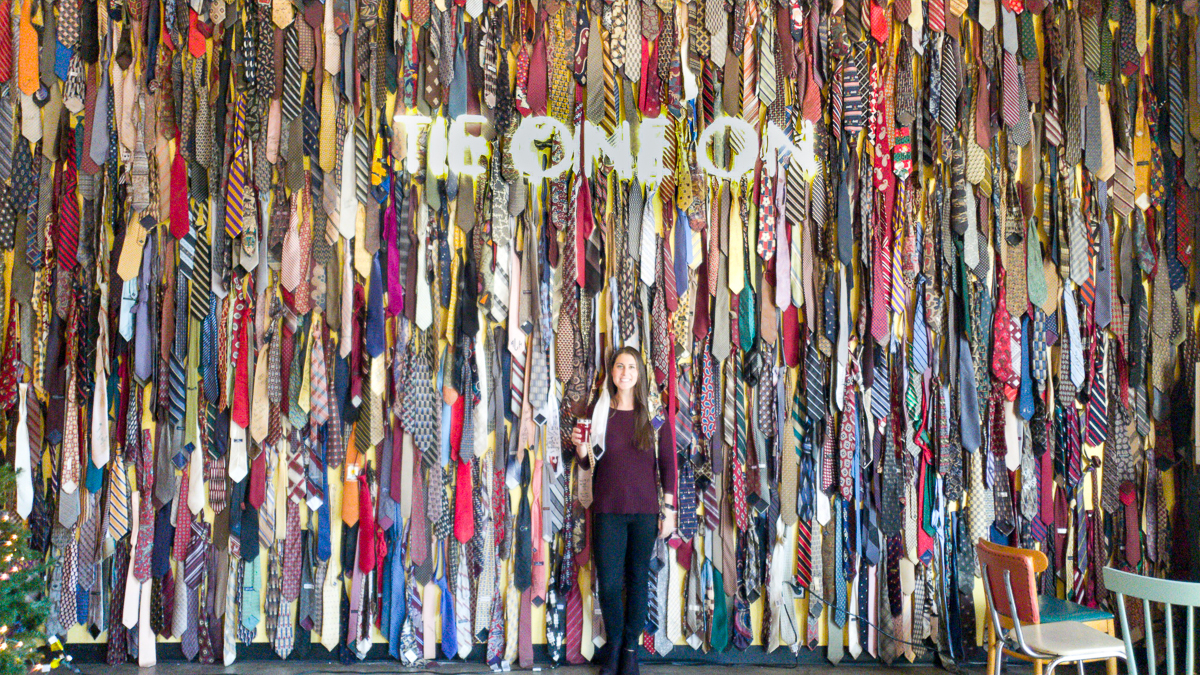 The founders of Monday Night Brewing actually met each other at a Bible Study group, and in order to get to know each other better, they got together on Monday nights to homebrew.
Each of the founders had regular tie-wearing day jobs, so they would loosen their ties on Monday evenings before brewing and doing what they loved.
Hence why you'll see a massive wall of neckties when you visit their original location in Midtown.
Monday Night released its first beers to the market back in 2011, opened a taproom in 2013, and opened another location in 2017, called Monday Night Garage, which is where they do all of their barrel-aging, sour beers, and experimentation.
Today, they also have locations in Nashville, TN and Birmingham, AL.
Some of their go-to beers include the Blind Pirate blood orange IPA, the Taco Tuesday Mexican lager, and the Drafty Kilt scotch ale.
Come tie one on at Monday Night Brewing, where "weekends are overrated."
Atlanta Brewing Company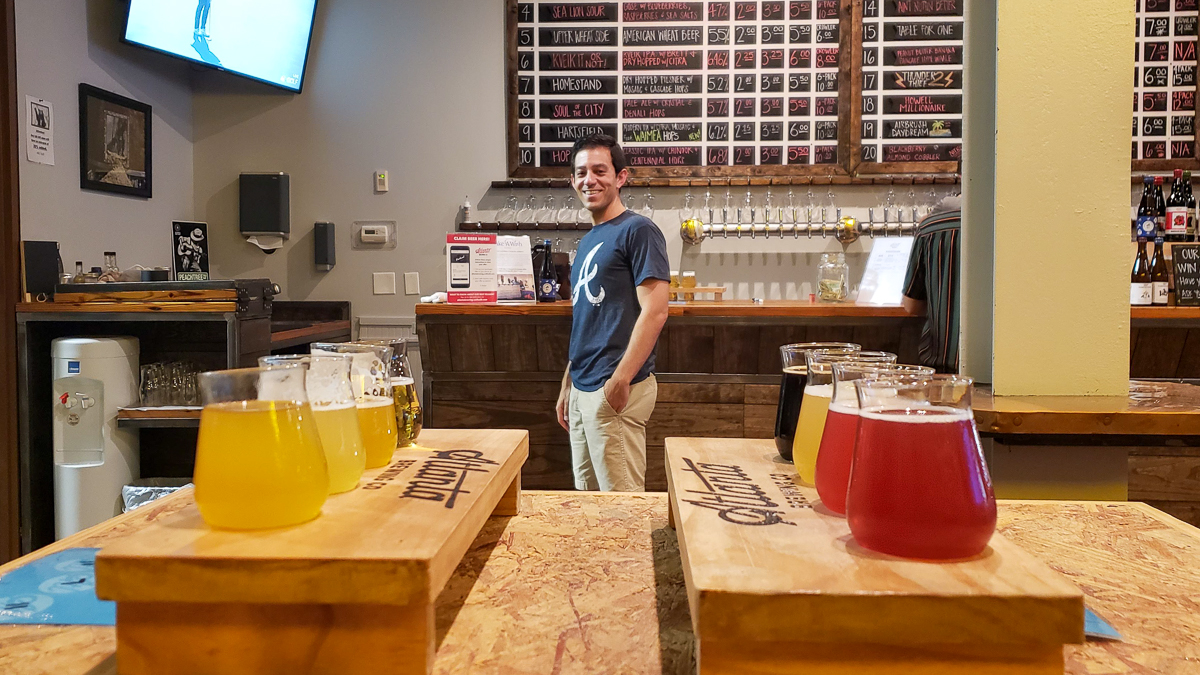 Atlanta Brewing Company was Georgia's first craft brewery way back in 1993 and has been at the forefront of the Atlanta craft beer scene ever since. 
If the name today seems unfamiliar, that's because the brewery actually changed names to Red Brick Brewing Company in 2010, before rebranding back to the original Atlanta Brewing name in 2018 to celebrate its 25th anniversary.
You can find some of their beer staples like the Hoplanta West Coast IPA all throughout Atlanta, but you'll have to visit the taproom to try some of their over 20 beers on tap, some of which are never packaged and/or exclusive to the taproom.
They currently have a series out called the Aquarium Series, for which a portion of each beer goes to support the Georgia Aquarium's research and conservation efforts around the world. If you needed a reason to stop by, consider this drinking for a good cause!
Check out the Tiger Shark Stout (sweet stout brewed with dulce de leche, coffee, and cinnamon) or the Stingray Sour (tart ale brewed with cranberry, orange, and sea salts).
SweetWater Brewery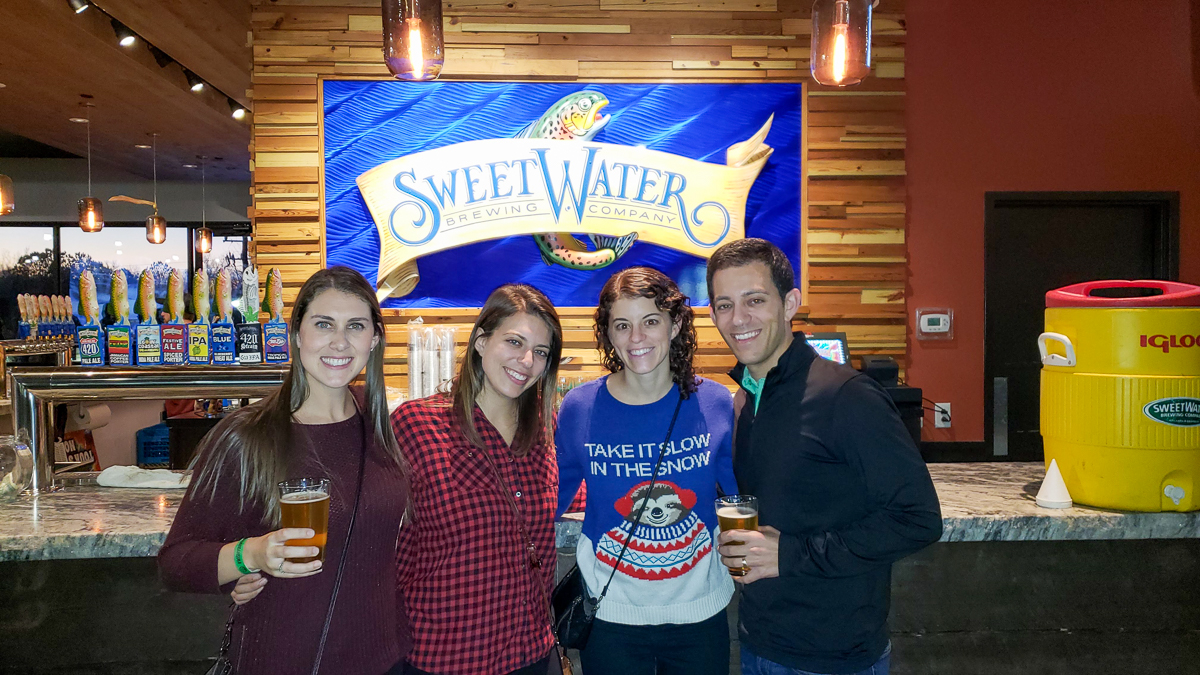 One of Atlanta's (and the country's) most recognizable craft breweries, SweetWater Brewing Company has been around since 1997 brewing up its iconic 420 Extra Pale Ale, along with numerous other hoppy creations.
Their taproom was expanded and updated a few years ago and now has a full kitchen to go along with its 24 taps that are constantly rotating. There is a fantastic patio and even a stage for live music.
SweetWater has been a family-favorite for many years during the holidays when Chris, his siblings, and any significant others got back together.
Come check it out for yourself and remember, "don't float the mainstream as we all find our path in life."
Atlanta Beer Bus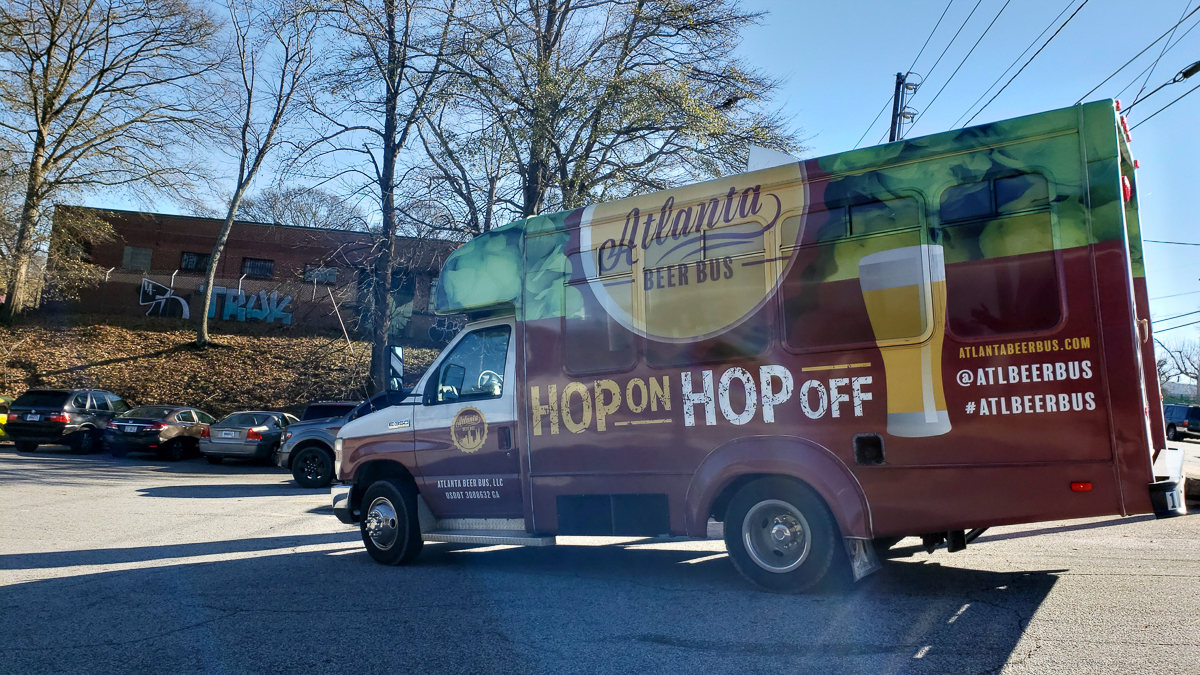 The Atlanta Beer Bus is a great way to experience all that the Atlanta craft beer scene has to offer without having to worry about transportation in between each stop.
Usually, on Fridays and Sundays, you can book a hop-on/hop-off shuttle that runs in a continuous loop so you can just get on and off whenever you want.
Unfortunately, due to the pandemic, this option is not available currently, but they hope to return for this very soon. It's a great deal at only $15 for Friday and $20 for Sunday.
Although the HOP-on/HOP-off shuttles aren't available right now, the Atlanta Beer Bus is still offering four different guided tours so you can have a more personalized experience.
You'll get to visit four different locations and receive a drink ticket at three of your stops, plus a personal "Beer Nerd" for expert tips along the way.
These tours are $50 per person and require a minimum of six riders and a maximum of 14.
Where to Eat During a Weekend in Atlanta
You definitely won't go hungry while you're in Atlanta for the weekend. Everywhere you go, yummy restaurants are waiting to be explored!
Atlanta Breakfast Club
Atlanta Breakfast Club is a modern diner known for its southern breakfast, serving meals like peach cobbler french toast, crispy fried chicken and waffles, shrimp and grits, and more.
For lunch, the Atlanta Breakfast club serves seafood gumbo, fried chicken sandwiches, a house salad, shrimp, burgers, and a number of a la carte items. Drinks include coffee, tea, milk, juice, and sodas.
Krog Street Market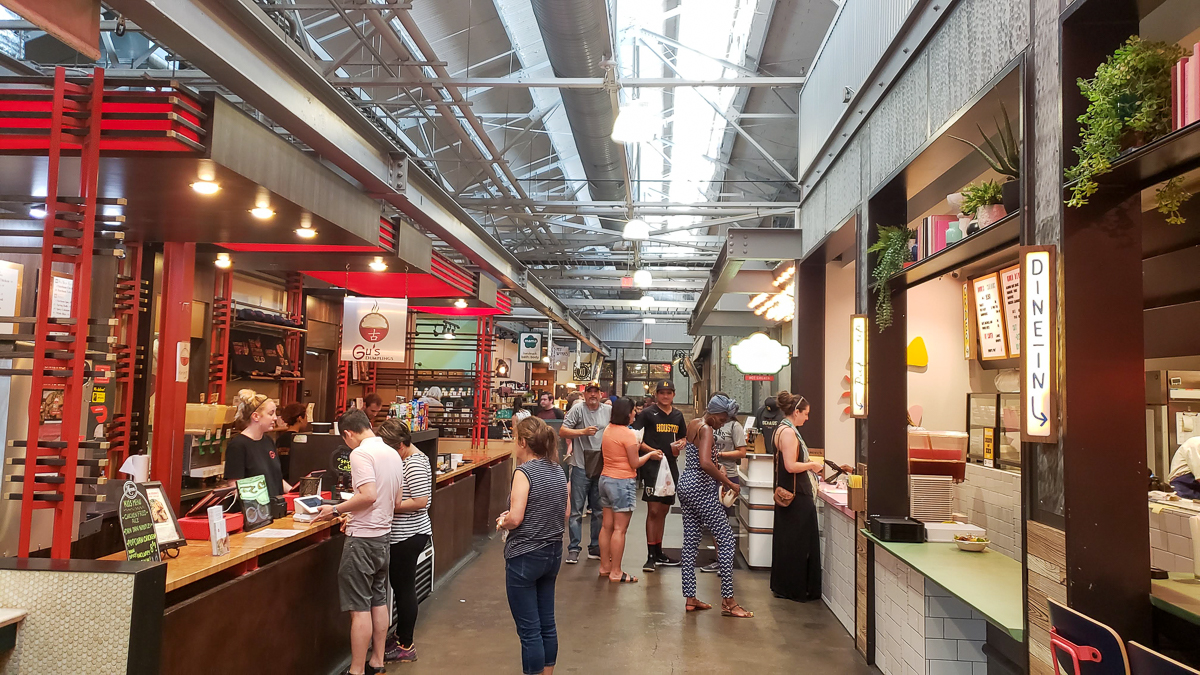 Krog Street Market is a collection of several restaurants and has been named one of the world's best food halls.
Here you can find over 20 restaurants serving cuisines from all around the world including Middle Eastern, American, Indian, Japanese, and more.
The market also features original brick walls, 20-foot ceilings, and large glass windows that allow natural light to flood the hall.
Fox Bros Bar-B-Q
Fox Bros BBQ all began when two brothers from Texas moved to Atlanta and missed Texas-style barbeque. They started cooking barbeque in their backyard with no prior experience and it turned into a huge success.
In 2007, Fox Bros BBQ officially opened. Now, Fox Bros has 3 locations (plus serving their food at the Terrapin Brew Lab at Truist Park) and has been rated as a top BBQ restaurant, serving smoked brisket, pulled pork, wings, and much more.
Antico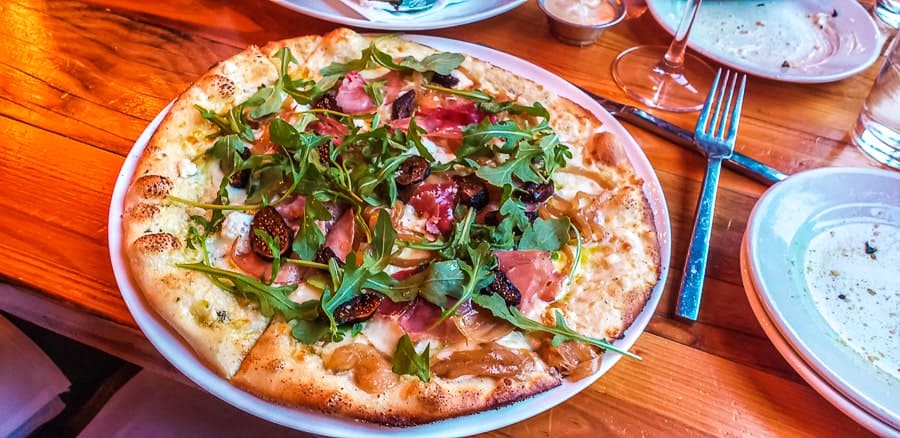 Antico is a family-owned Italian pizzeria known for its delicious Neapolitan pizza and calzones. In fact, Antico has been rated the 7th best pizzeria in the United States!
You can't visit Atlanta for the weekend without trying some of Antico's unforgettable pizza. With multiple locations around the city, we highly suggest grabbing a slice or more likely an entire pie.
TWO Urban Licks
TWO Urban Licks is a beautiful modern restaurant featuring wood-fired cuisine, live music, incredible views of downtown, live rotating rotisseries, outdoor dining, and more. You can order a wide variety of food including seafood, salads, burgers, desserts, and more.
TWO Urban Licks also has an extensive drink menu serving cocktails, beer, wine, and spirits.
Pure Taqueria
Pure Taqueria opened in 2005 and has grown into a very successful company with 7 locations in the Atlanta area. Pure Taqueria specializes in delicious authentic Mexican food and drinks, serving tacos, sandwiches, enchiladas, burritos, fajitas, and more.
Pure Taqueria also serves a wide range of drinks including margaritas, cocktails, beer, and wine.
Barcelona Wine Bar
Barcelona is a wine and tapas bar that is inspired by, drumroll please…Spanish culture. The menu is constantly changing and focuses on fresh, seasonal ingredients.
Barcelona also has one of the largest Spanish wine programs in the US. You can order charcuterie, tapas, salads, desserts, and more at Barcelona. Also, be sure to check out the extensive drink menu.
Barcelona's hours and contact information vary by location.
There aren't many cities that have such a unique blend of tradition and modernity like Atlanta does. You can't help but be in awe over how far the city has come!
While staying in Atlanta for the weekend, the possibilities are endless. You can do everything from exploring history and nature at some of Atlanta's many parks, gardens, zoos, and museums to spending a night out on the town in Buckhead or Little Five Points.
Come see what this beautiful city has to offer!