The Complete Guide to 14 Boise Breweries in Idaho
While most people aren't visiting Idaho for its craft beer scene, the Boise Breweries have put this city and state on the map as a great beer destination in the United States.
Boise, Idaho has some delicious creations that rival nearby cities like Salt Lake City and Las Vegas. And as one of the fastest growing cities in the country, more and more people are looking for/demanding great and local craft beer.
Short on time? Here are the key takeaways:
The majority of the breweries are in the downtown area, but we've included a few in Garden City.
Meriwether Cider has great options for "non cider" people.
Our top 3 favorites are Barbarian, Mad Swede and White Dog!
This post was originally published in January 2021, and was updated in November 2022.
**Boozing Abroad contains affiliate links throughout the site. If you choose to purchase items through these links, we will earn a small commission at NO extra cost to you. Read the full disclosure policy here**
How many breweries does Boise have?
Boise has 14 unique breweries in and around the downtown area, but many have a secondary location in Garden City.
Map of Boise Breweries
HOW TO USE THIS MAP: To view the layers and see the names of the places on this map, click the tab in the top left corner. You can select the check marks to show or hide certain layers. If you select the icons on the map, you will get more information about the point of interest.
HOW TO SAVE THIS MAP: If you select the star icon next to the map name, you can save this map to your Google Maps account. To view it, open Google Maps in desktop or on your phone, select the menu button, go to "Your Places," scroll to the right to Maps, and you will see this map.
Breweries in Boise
1. Barbarian Brewing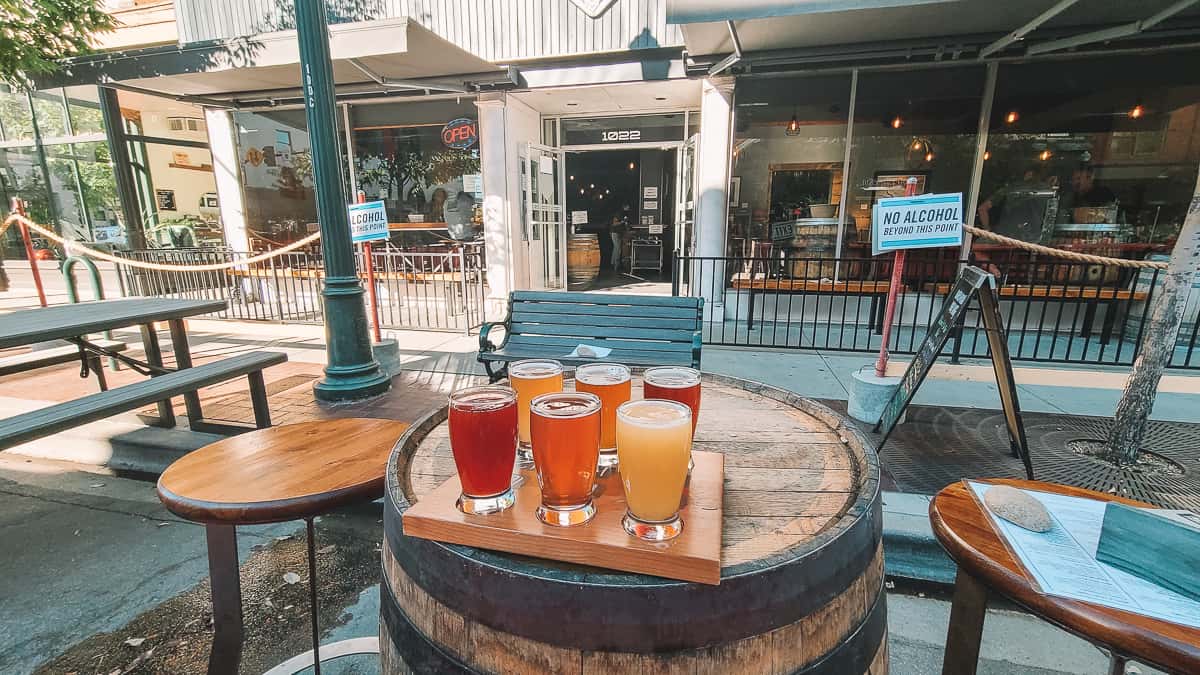 Hours: 7 days a week
Food Available: No, BUT they have partnered with Calle75 Tacos who will deliver the food to your table
Dog Friendly: Yes, on patio only
Minors allowed: No
Barbarian Brewing is serving up a little bit of everything, including IPAs, porters, stouts, wheat beers, dessert beers, barrel-aged beers, lagers, pilsners.
The motto around here? "Why the f**k not?"
Totally agree! They say that if the ancient barbarians didn't have to bother with those pesky things like rules and limits, why should they.
The hipster-yet-mainstream-vibe to the downtown tasting room is a little mysterious with the dimly lit seating area but it pairs perfectly with the boundary-defying beers that honor the tradition of the Valhalla-loving barbarians/brewers who loved funky and sour beers while the rest of the world sipped on wine.
Handcrafted, small-batch beers is the norm here with few flagship, but always delicious, beers.
After trying most of the Boise breweries, we took home a decent haul of to-go beer from here and will be enjoying the creations long after we leave Idaho!
Visit either their original location in Garden City or their downtown Boise taproom.
This is hands-down one of our favorite breweries, not just in Boise, but on the western half of the United States. Every time we visit this incredible city, it's not a lie that this the first stop.
2. White Dog Brewing Co
Hours: Tuesday – Sunday, Closed Monday
Food Available: Yes
Dog Friendly: Yes
Minors allowed: Yes
Coming in at number three on our Boise Breweries guide, White Dog's tasting room is big and airy with plenty of room for all of your friends.
And if your friends are good at cornhole, put together a team for their cornhole league and come Fetch the Good Life.
Owners and brothers Joe & Troy Moore began brewing beer in their garage and became fascinated by craft beer.
Bow, from home-brew to store-front, White Dog Brewing Company is brewing up a little bit of everything.
The draft list includes a coffee vanilla cream ale, a blood orange Hefeweizen, and several IPAs and pale ales, including a 0-IBU hazy pale ale which benefits the Ales for A.L.S. organization and finding a cure for A.L.S.
3. Mad Swede Brewing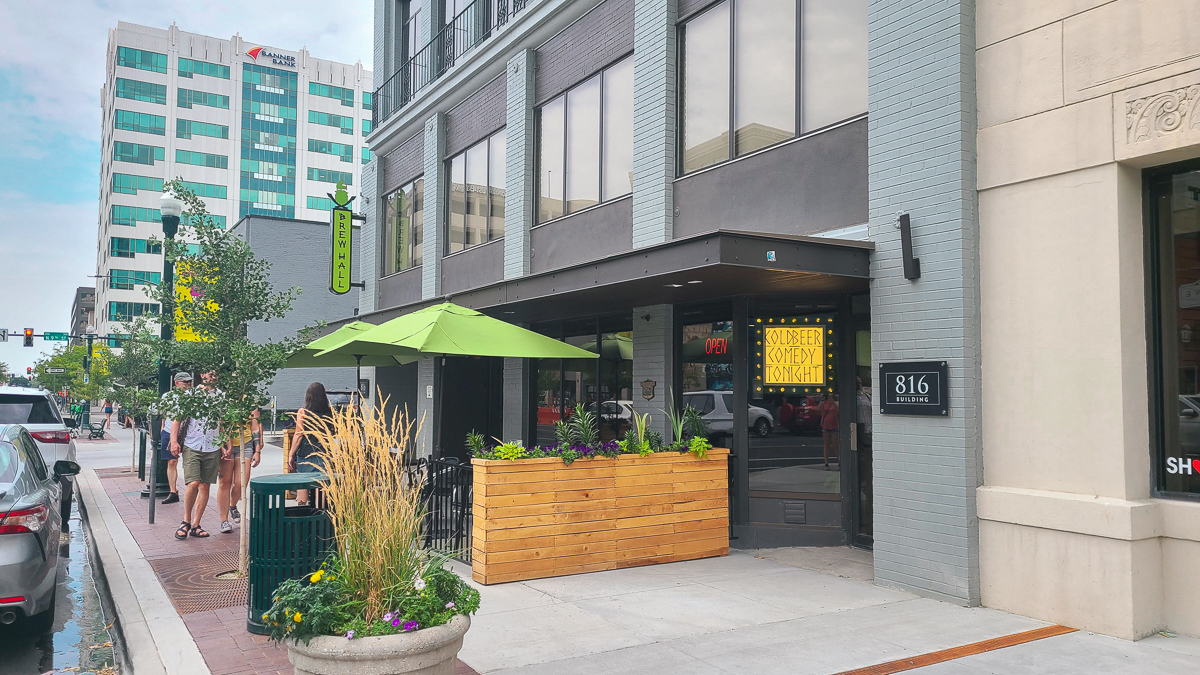 Hours: Wednesday – Sunday; Closed Monday and Tuesday
Food Available: Yes
Dog Friendly: No
Minors allowed: Yes
The owner of Mad Swede Brewing started brewing while he was still in college over 30 years ago.
Since then, he has continued to experiment with next recipes and methods like a mad scientist! The husband-and-wife owners are Boiseans who are dedicated to sharing their delicious craft with the community.
They like to say that they are comprised of "adventurous drinkers, brewers, dreamers, and thinkers who, like the Vikings themselves, dare to venture toward new and exciting territory."
Their Naked Sunbather brown ale won gold at the 2019 Great American Beer Festival, and many of their IPA offerings are hoppy and wonderfully juicy.
They do have another location on Cole Road that is open 7 days a week if you are looking for some suds on Monday or Tuesday.
4. Boise Brewing Co.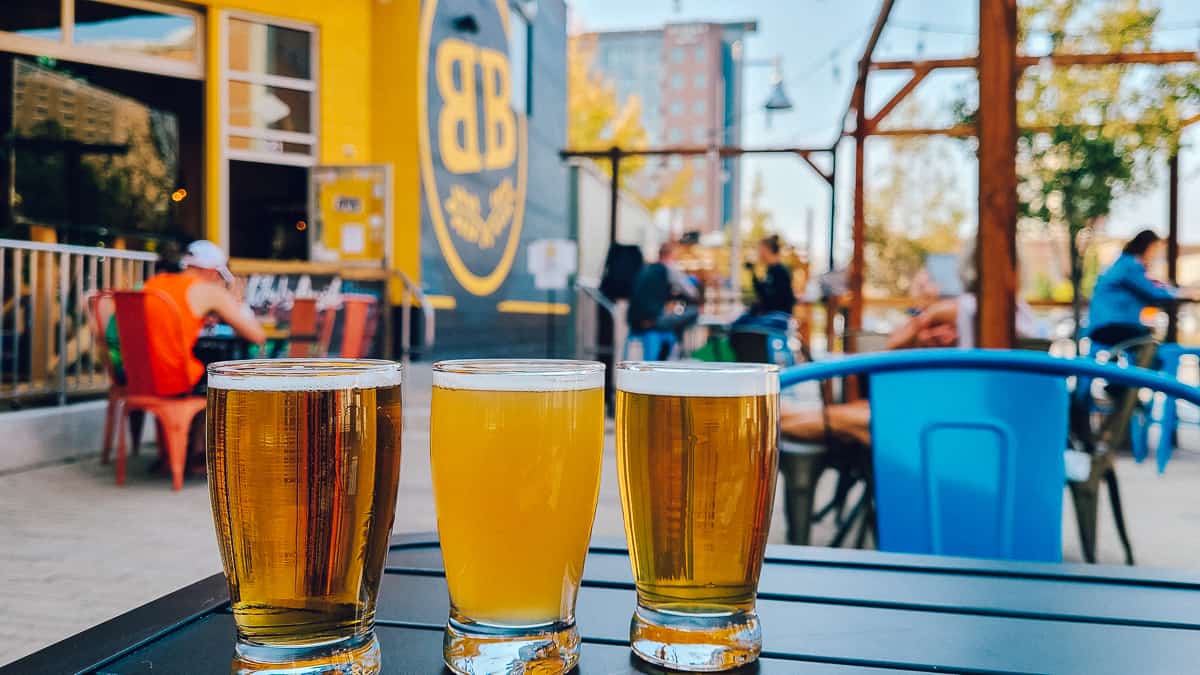 Hours: 7 days a week
Food Available: Yes, sometime in 2023 they'll have their kitchen up and running
Dog Friendly: Yes, on patio only
Minors allowed: Yes
Boise Brewing is actually the result of an online Kickstarter campaign to cover some of the start-up costs for the brewery.
But that was only the beginning of the community-focused concept. With a modest minimum investment, Boise Brewing invited the average craft beer drinker to invest in and own a part of the brewery right alongside the typical investment bankers.
It remains one of the only breweries in the country to offer an ownership program of this kind.
Over 280 individual owners and businesses helped raise enough money to open the doors in June of 2014.
One of Boise's popular downtown hang-out spots, Boise Brewing is offering up a wide variety of beers like the Mr. Freshy's fresh hop pale ale, Dark Daisy chocolate milk stout, and the Witch's Tit winter ale.
5. Payette Brewing Co.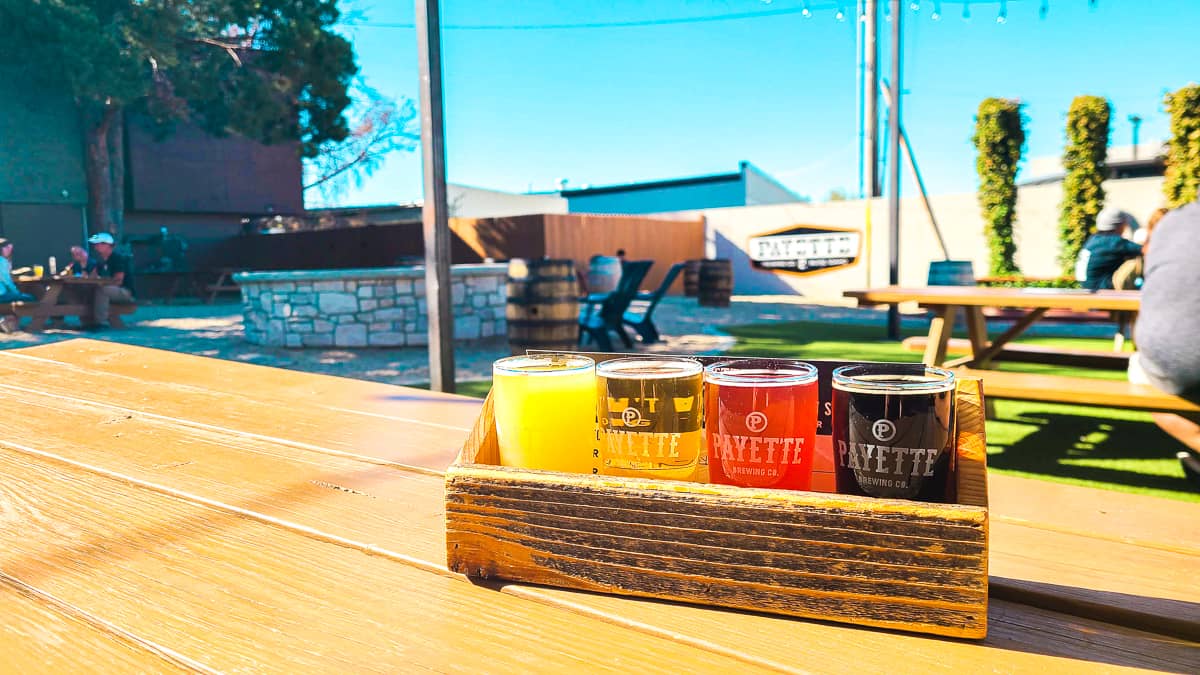 Hours: 7 days a week
Food Available: Yes, food truck (closed Wednesday)
Dog Friendly: Yes, in the Beer Garden
Minors allowed: Yes
We had our first taste of Payette Brewing's Stroopwafel beer we picked up in a craft beer shop in Montana.
Fast forward to today and we are drinking Payette beer again, but this time at their downtown Boise tasting room and as Samantha is about to start her brand new job. What a difference two months makes!
Proof that if you put your mind to it and stay motivated (and drink some beer along the way), you can always turn a difficult situation into an opportunity.
6. Clairvoyant Brewing Co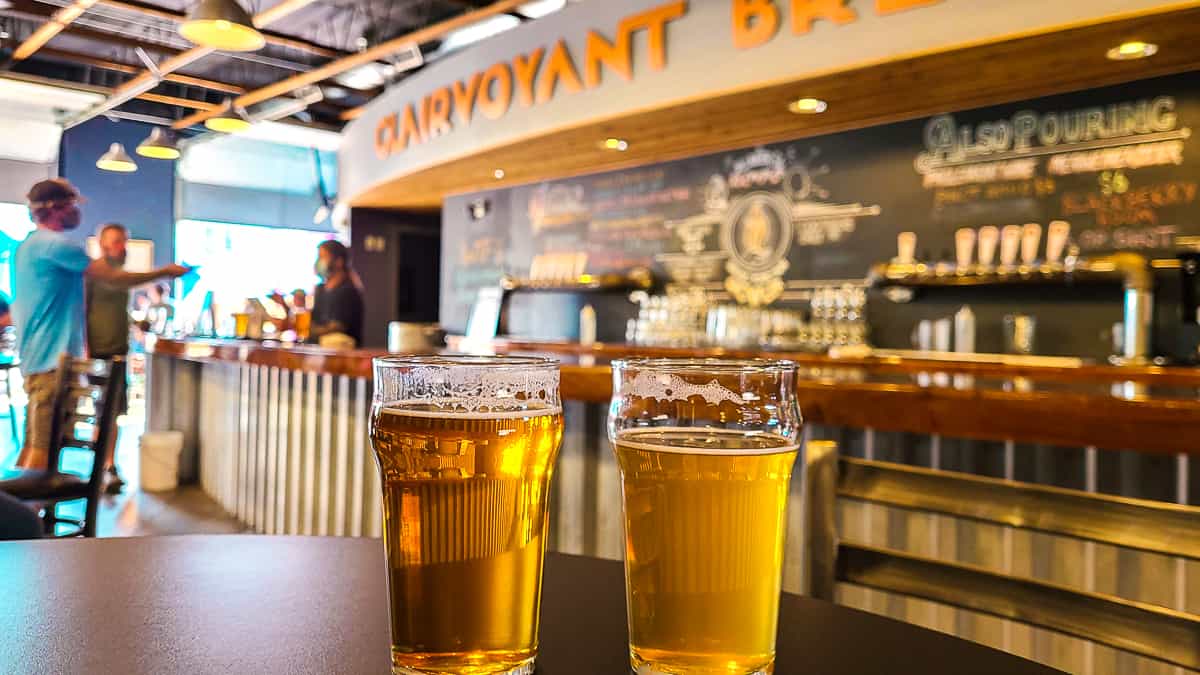 Hours: 7 days a week
Food Available: Yes, food trucks
Dog Friendly: Yes
Minors allowed: Yes
On the northwestern side of Boise, Clairvoyant Brewing is led by two young Idaho-native brewers who have almost 25 years of experience in the brewing industry and are making some of the best beer in the Treasure Valley.
No fancy or funny beer names here. What you read on the draft board is what you get: some solid craft beer.
We had a Belgian Wit and an English pale ale which were both incredibly on point in terms of style and were flavorful and delicious.
Their tasting room butts up against the brewery operations…you can literally touch the tanks from your seat (though we're sure the brewers would prefer you didn't). Rotating food trucks are almost always out front to feed your appetite.
7. Cloud 9 Brewery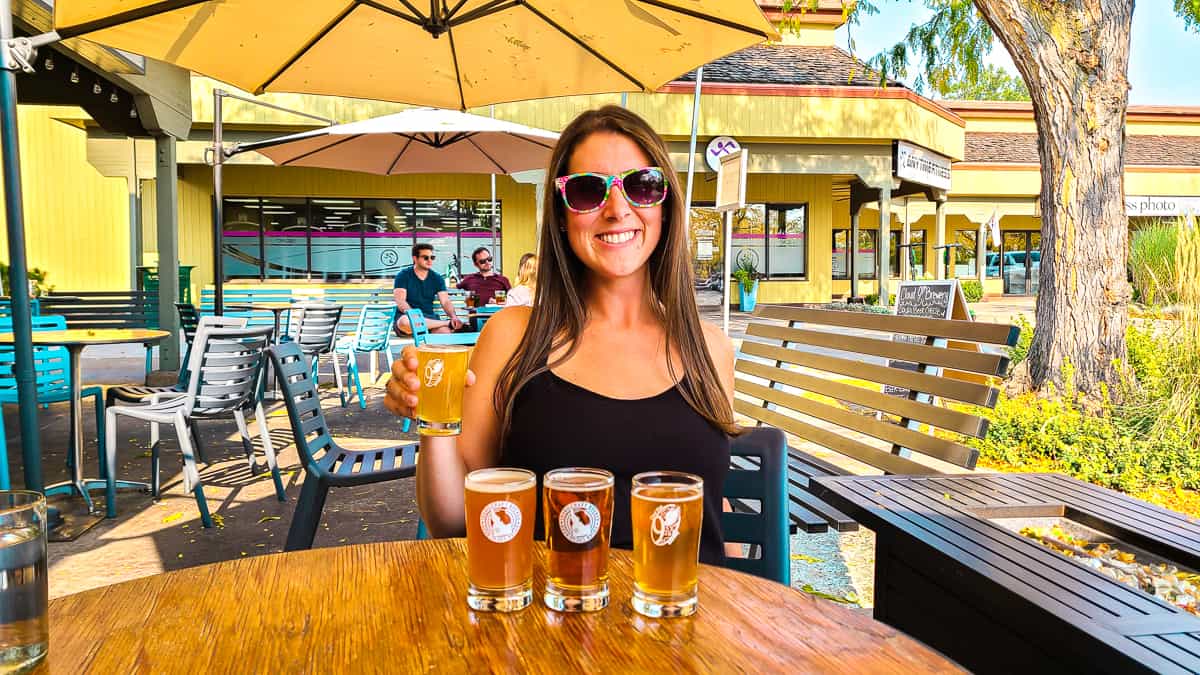 Hours: Tuesday-Sunday, Closed Monday
Food Available: Yes
Dog Friendly: Yes, on patio only
Minors allowed: Yes
Cloud 9 Brewery is the only certified organic brewery in the state of Idaho and they also produced Idaho's first gluten-free beer, their Against the Grain pale ale. If you are looking for some gluten free beer options, they paved the way for the other Boise breweries.
They are a true nano-brewery, brewing on a 4-barrel system which nets only 8 kegs per batch. There are 6 staple taps and 6 rotating taps, which due to the size of the brewing operations, change regularly and as soon as one beer kicks.
A full food menu complements their tap list that features the gluten-free pale ale, the Notorious RBG IPA, a honey basil ale, and a German festbier, among many others.
8. Lost Grove Brewing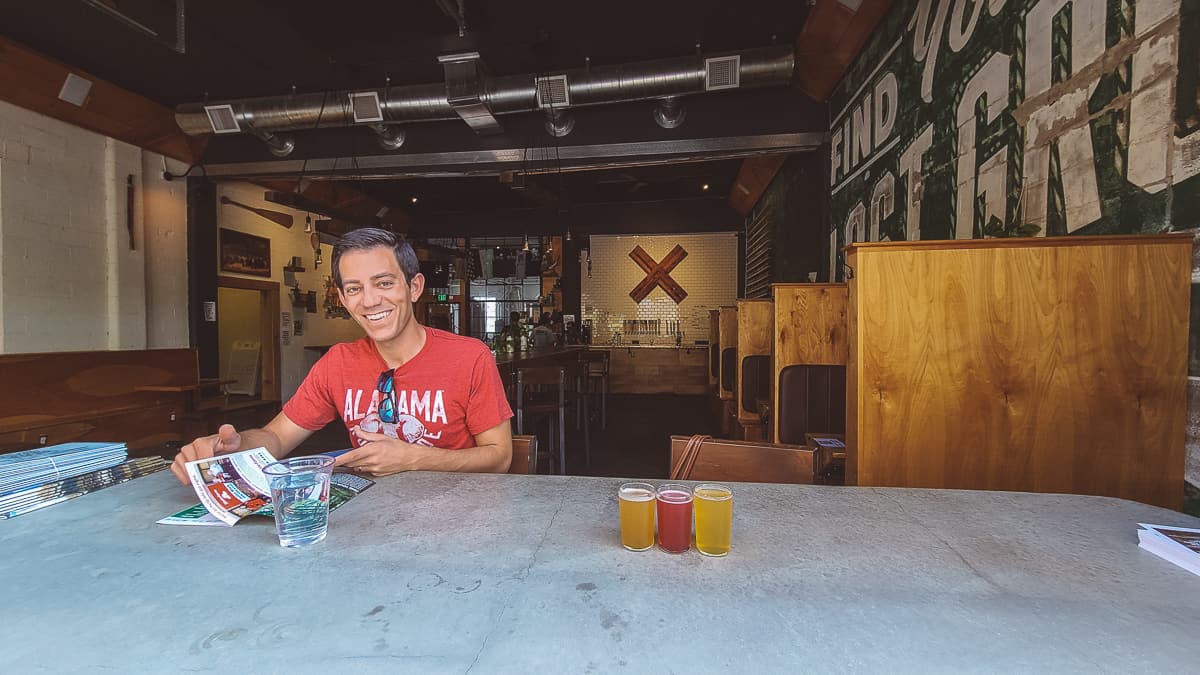 Hours: 7 days a week
Food Available: Yes
Dog Friendly: Yes, on patio
Minors allowed: Yes
Opened in 2017, Lost Grove Brewing is located in between Boise State University and the beautiful downtown Ann Morrison Park.
They take great pride in producing beer using environmentally-sustainable and socially-responsible methods.
At Lost Grove, they think the concept of a lost grove, whether it be a wooded forest or an endless beach, is more than just a destination, it's a feeling and a mindset.
Get lost, live in the moment, be present, and enjoy the here and now.
Huge garage-style doors let you sip on your brews while watching the world go by, or head towards the back of the tasting room for a glimpse at the brewing operations.
9. Edge Brewing Co.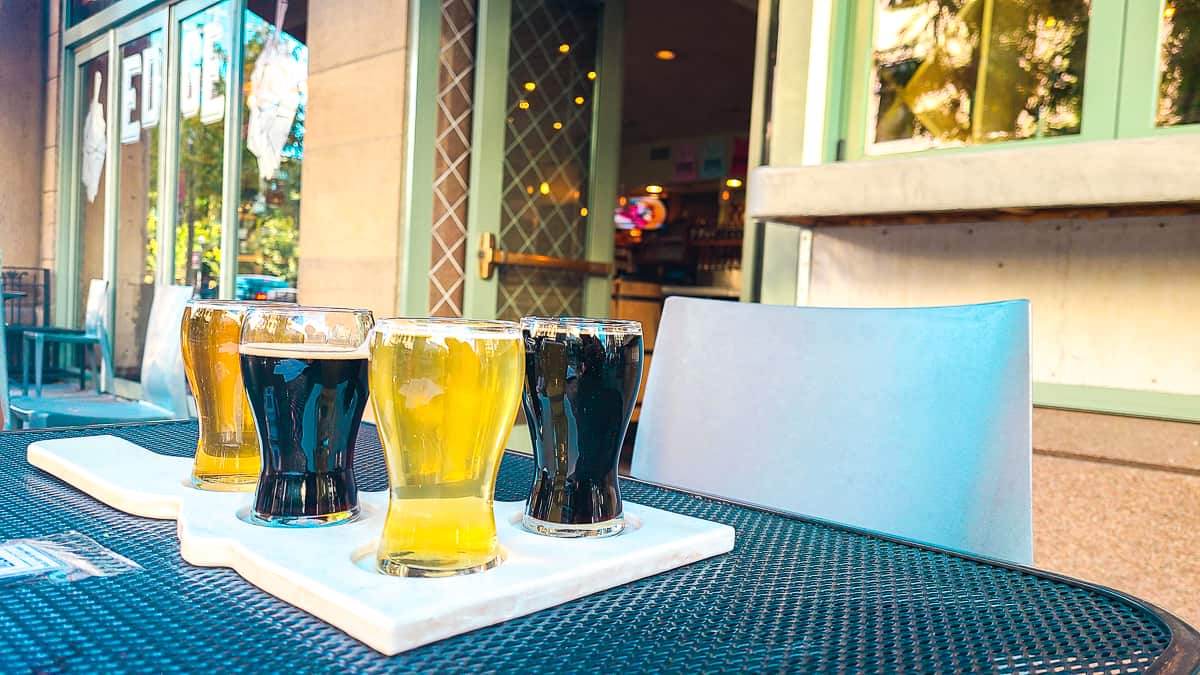 Hours: 7 days a week
Food Available: Yes
Dog Friendly: Yes, on patio only
Minors allowed: Yes
Edge Brewing was actually featured on the TV show Man v. Food for one of its delicious burgers.
But that's not why we were here.
There are some really good craft beers, in addition to the craft pub grub and lively atmosphere.
Beers like their Hipsters Dufus (Pilsen sour with peach and lemon), the Pugzilla (old-fashioned West Coast IPA), and the Watchtower Chili Cocoa Stout were all great beers on their rotating tap list.
This is another Boise brewery that has a downtown taproom and a second non-Boise location. Come for the food and beer and stay for the good company.
10. Woodland Empire Ale Craft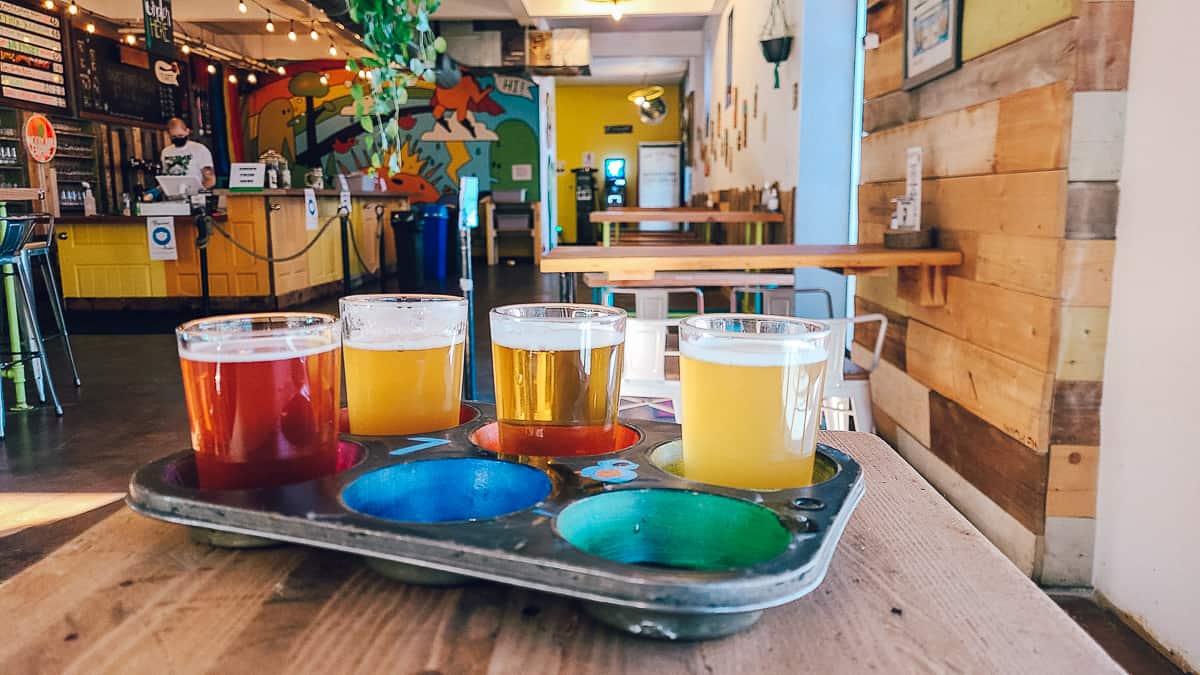 Hours: 7 days a week
Food Available: Yes, they partner with a restaurant next door
Dog Friendly: No
Minors allowed: Yes
Woodland Empire knows that it might not be the biggest brewery in Idaho (6th largest if you're wondering) and even concedes that it might not be the best.
But they pride themselves on being "real good" and staying true to flavors and local Idaho farmers whenever possible.
Delicious, weird, and local as they put it.
In addition to their rotating lineup of in-house craft beer, like their City of Trees IPA, which is actually clear and not hazy, or the Peach Party sour, you can also find many other cans and bottles in their makeshift bottle shop (to-go only on these though).
11. 10 Barrel Brewing Co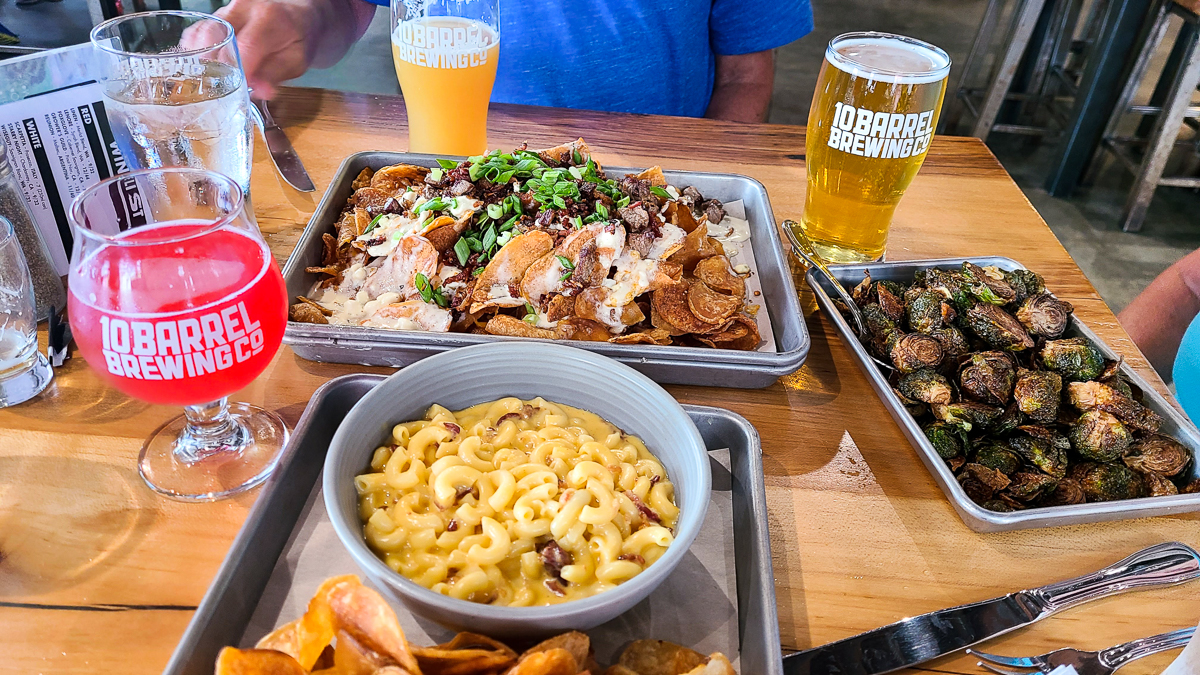 Hours: 7 days a week
Food Available: Yes
Dog Friendly: No
Minors allowed: Yes
If you love craft beer, you might know that 10 Barrel Brewing actually started in Bend, Oregon, not Boise.
But the beer has become so popular that there are 6 brewpubs in 4 states plus the original brewery in Bend.
The head brewer in Boise is very well-known in the beer industry and to say he is award-winning would be an understatement.
He has won over 60 medals and has his hand in many of the 10 Barrel beers you love. With access to great local ingredients (Idaho is now the second-leading producer of hops in the US behind Washington), it's no wonder these beers are fresh and delicious.
The Boise brewpub is in the middle of all the action, just a block away from the popular Freak Alley/8th Street corridor.
A full food menu complements their full beer menu, which consists of the ever-popular Apocalypse IPA, Profuse Juice hazy IPA, and the light and refreshing Pub Beer lager.
They even have a new line of sours under their Crush series, like the Guava or the Cucumber.
12. Meriwether Cider Co.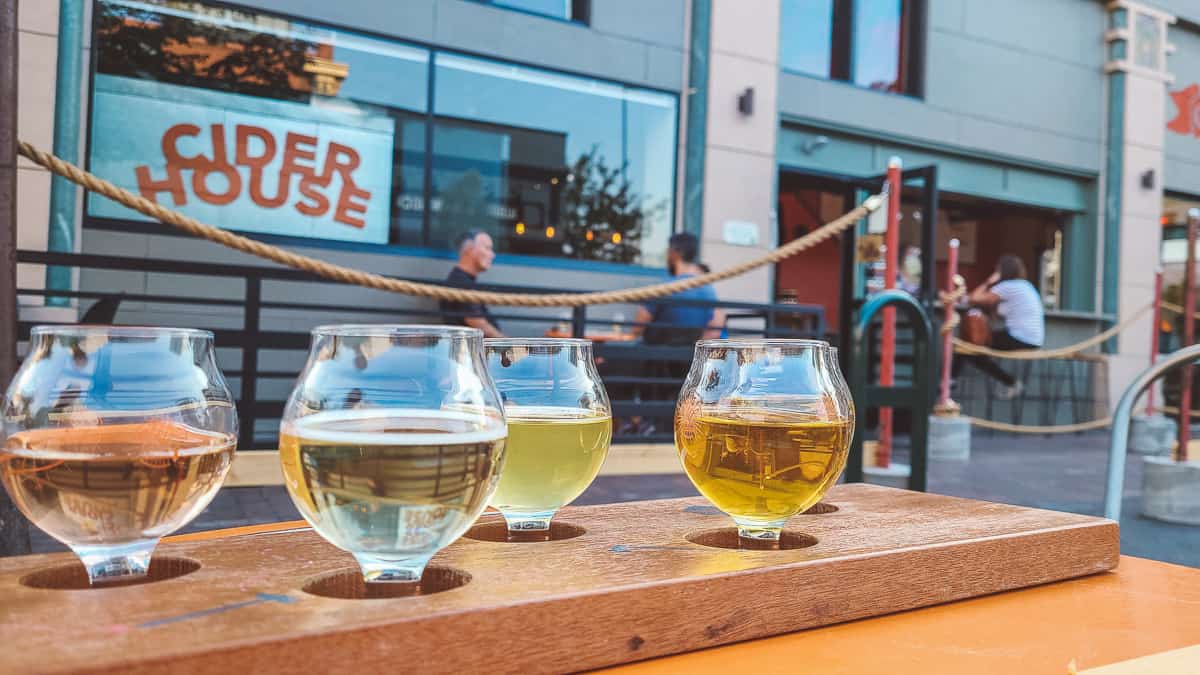 Hours: Tuesday – Sunday, Closed Monday
Food Available: No
Dog Friendly: Yes, on patio
Minors allowed: Yes
They say cider is the missing link between wine and beer.
In a city filled with urban wineries and craft breweries, Meriwether Cider Co., is bridging that gap with fizzy and refreshing ciders that are easy enough for a day in the outdoors, but sophisticated enough for that upscale dinner party.
We'll admit, we are not usually cider fans because we don't really have a sweet tooth when it comes to alcohol.
But as Meriwether says, their cider "isn't sweet enough to give you flashbacks from freshmen year of college, but just sweet enough to transport you to hot summer days or to champagne powder on your favorite slope."
Don't think you'll like cider?
If you like beer, try their hopped cider.
It's made with the same hops you have in your hoppiest beers and this cider has won many awards including Best in Show in the Hopped category at GLINTCAP (which is apparently the largest cider competition in the world!).
And their ginger offerings are sure to cure any ailment you might have, or the Pineapple Habanero will warm your insides.
Long story short, they have ciders all across the spectrum and a little bit of something for everyone. Because of this, we wanted to make sure they made the Boise breweries guide!
Garden City Breweries
13. Powderhaus Brewing Co.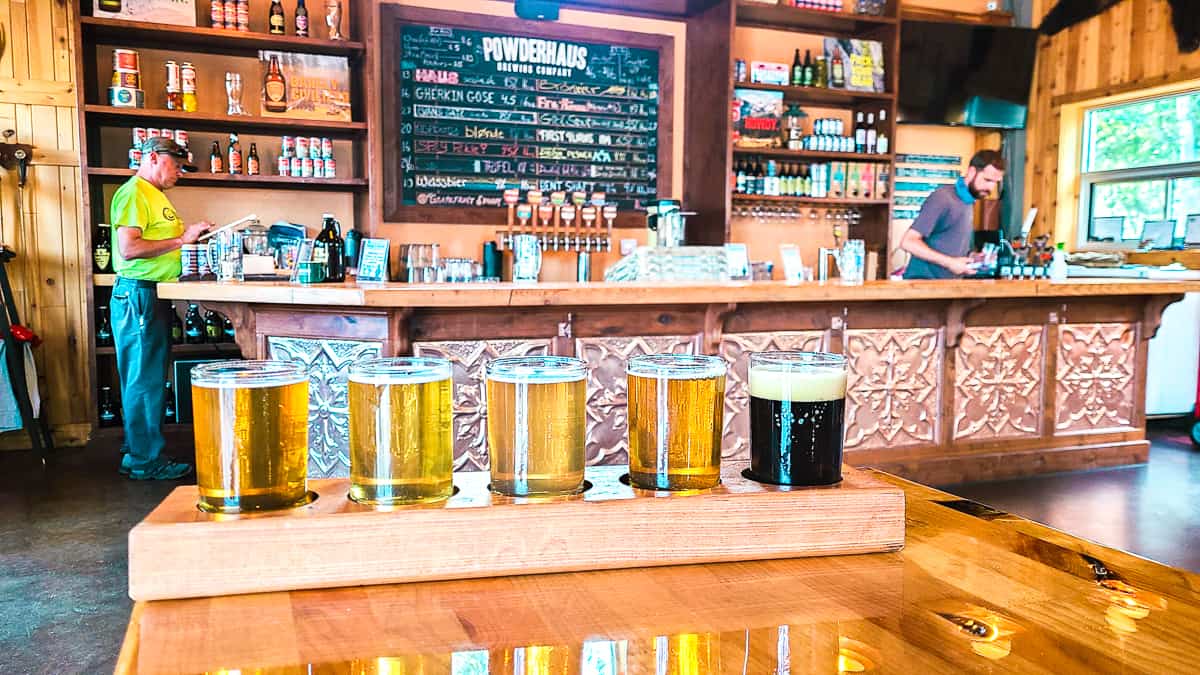 Hours: 7 days a week
Food Available: Yes, food trucks
Dog Friendly: Yes
Minors allowed: Yes
Powderhaus Brewing definitely has a German feel to it to go along with the German name, but their beer expands beyond the lager-laden lineups (alliteration for the win!) that you see at typical German-themed breweries.
Our flight consisted of the First Turns IPA, a blueberry blonde ale (reminded Samantha of her favorite beer from Shipyard in Portland, Maine), the Hot Haus jalapeño ale, a solid Gose, and the Girl Stout (Thin Mint stout).
Some really solid beer here!
We enjoyed our time here so much that we made it back for their epic Oktoberfest celebration later in the week for more beer and some delicious German food.
14. Bear Island Brewing Co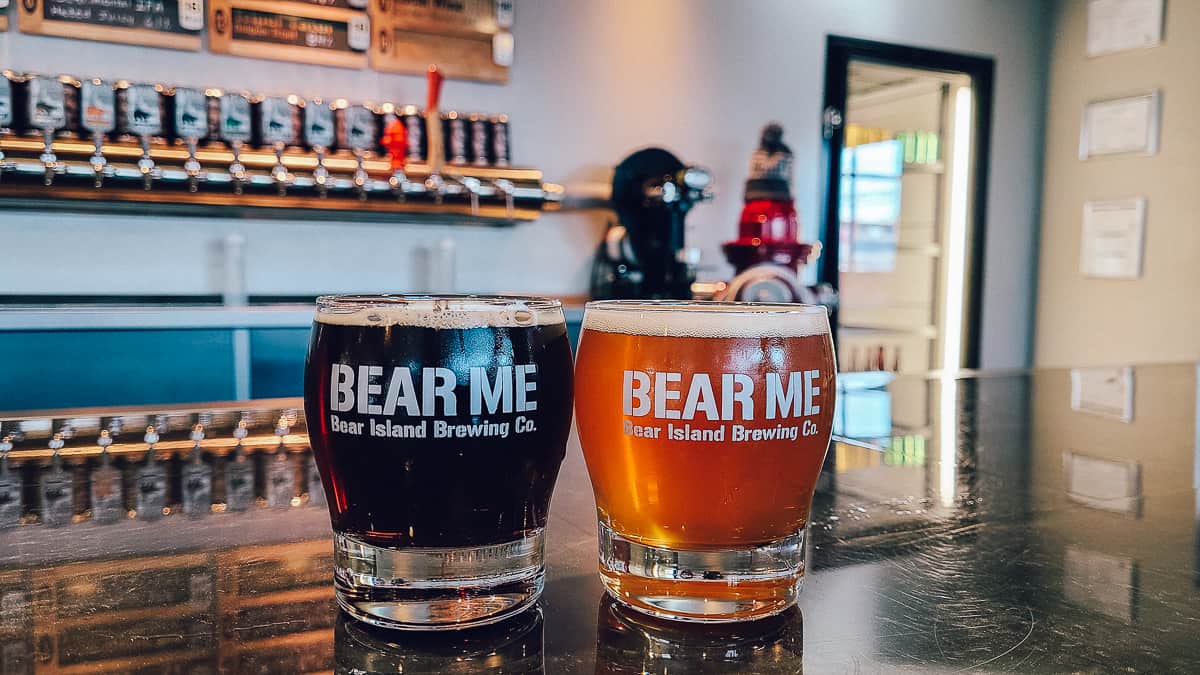 Hours: Monday – Saturday, Closed Sunday
Food Available: Yes, food trucks
Dog Friendly: Yes, on patio
Minors allowed: Yes
Bear Island Brewing Co. is located in an old firehouse on the northside of Boise.
As former Navy EOD officers, the owners have some subtle and some obvious nods to the first responders and military personnel that are part of their past and present.
The name Bear Island actually comes from an old family story/inside joke.
Being surrounded by wilderness, the children asked their parents about the possibility of running into a bear.
The parents has some fun with it and told their children that when the reservoir froze over in the winter, all of the bears went out to the island in the middle to hibernate.
And when they woke up in the spring, the lake thawed out and they were stuck out there! So, naturally, there is no need to be afraid of the bears because they are all on "Bear Island".
A tap list featuring at least 12 of their beers, plus some local cider and wine, includes the BearFaced honey-nut brown ale, the xBearimental hazy IPA, and a fresh hop rye IPA with smoked hops which has just the right amount of smoky flavor which is a perfect beer as we head into cooler weather.
To add to your experience, all of the employees at Bear Island are educated in beer by the Siebel Institute, so you can definitely geek out talking about craft beer.
For a city that isn't yet known for its beer scene on the national level, the Boise breweries sure are cranking out some high-quality craft brews.
They are trying, with pretty good success, to put the Boise breweries scene on the craft beer map.
From small mom-and-pop nanobreweries to larger microbreweries with multiple locations, Boise has it all!
We have a couple of boozy guides for the Boise area: