Top 10 Cottonwood Wineries in Arizona
Located less than 45 minutes away from Sedona, you'll find incredible wine at the Cottonwood wineries.
This region is called the Verde Valley Wine Region and is a certified American Viticultural Area (AVA) region in the United States.
We stumbled upon the wineries in Cottonwood kind of by accident and just had to extend our Sedona trip so we could explore this tasty region! Thank goodness we did because it led us to visit Arizona's other wine regions, Willcox and Sonoita, later on!
Short on time? Here are the key takeaways:
There are 10 wineries in and around Cottonwood to visit for a wide variety of wines.
Not many have food options, but there are a lot of restaurants nearby.
In our opinion, don't miss visiting Pillsbury, Chateau Tumbleweed or Bodega Pierce.
Click here if you are looking for our Jerome Wineries or Cornville Wineries info.
This post was originally published in January 2021, and was updated in September 2023.
**Boozing Abroad contains affiliate links throughout the site. If you choose to purchase items through these links, we will earn a small commission at NO extra cost to you. Read the full disclosure policy here**
About Verde Valley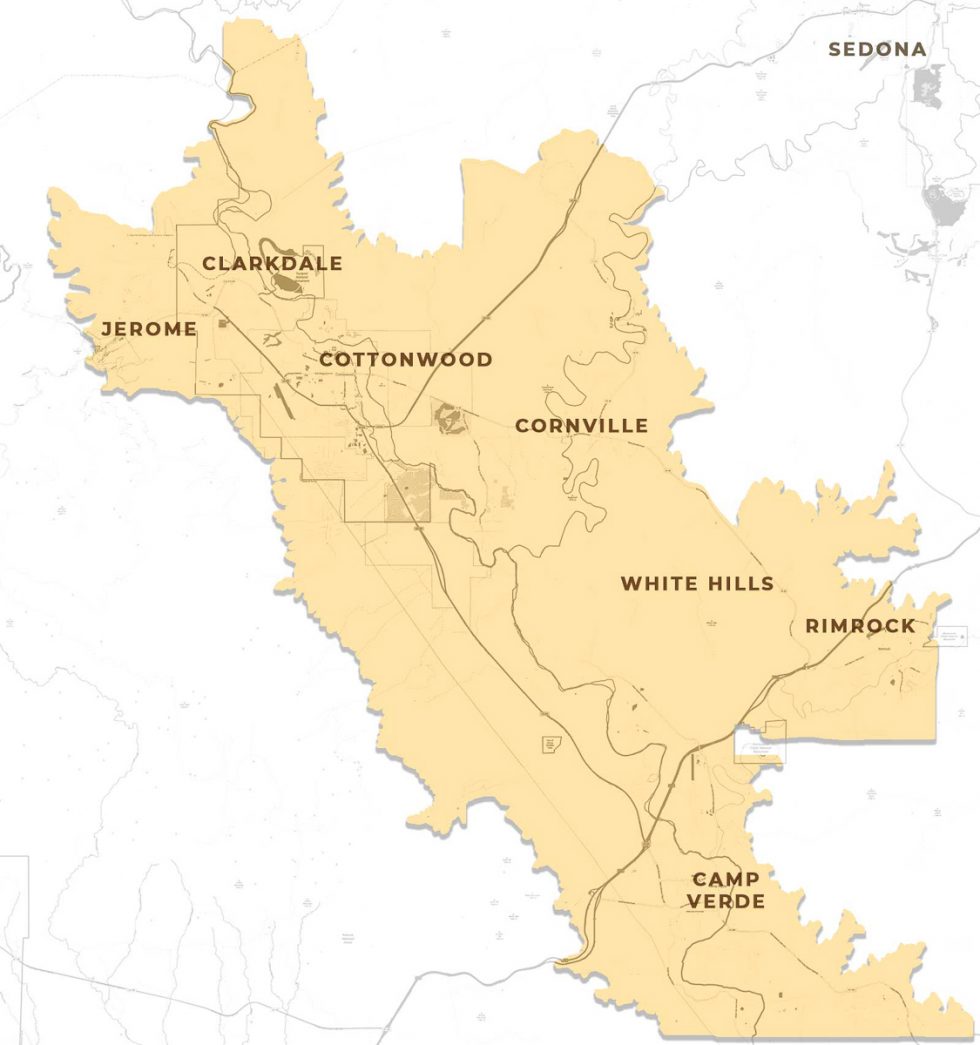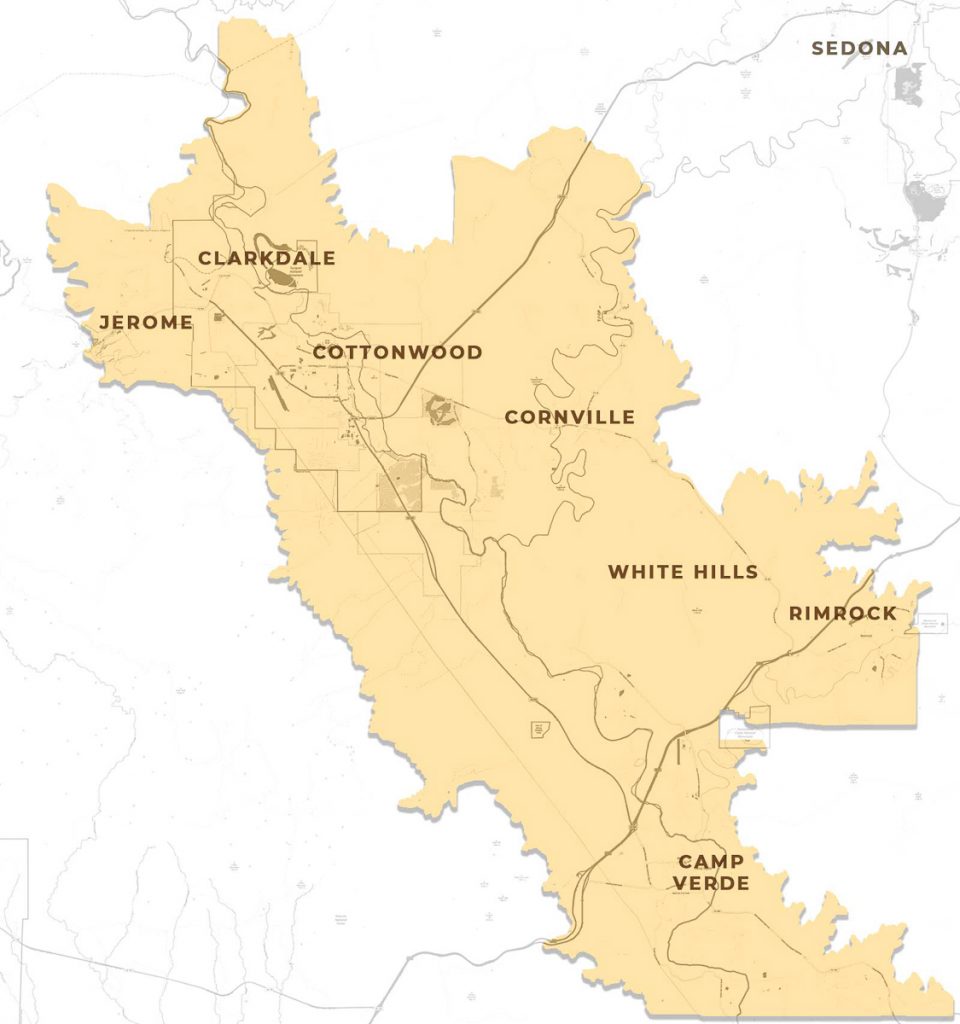 The Verde Valley AVA is located in the center of Arizona, covers roughly 200 square miles, and currently has over 18 wineries.
There are more than 40 wine grape varietals being grown in the region. The top white varietals include: Malvasia Bianca, Viognier, Chardonnay, Vermentino, Seyval Blanc, and Picpoul Blanc.
The top red varietals in the region include: Syrah, Petite Sirah, Cabernet Sauvignon, Sangiovese, Tannat, and Barbera.
How many wineries are in Cottonwood?
There are 7 wineries in Cottonwood and 3 located just outside Old Town Cottonwood.
How many wineries are in the Verde Valley?
There are over 25 wineries in the Verde Valley AVA wine region in Arizona.
Arizona Wine Trail Passport
Visit Arizona offers the Arizona Wine Trail Passport. It's free to join and the best part is, it's exclusively on your mobile device. No paper passports needed.
Once you sign up, you'll receive a text to access your info. The biggest advantage to signing up is some wineries offer 10% off a bottle purchase.
While there aren't guaranteed prizes, you can check in at different wineries locations to potentially win a shirt, wine glasses, wine gadgets and more.
Verde Valley Wine Trail App
Brand new to 2022, the Verde Valley Wine Trail created an app to support the region. If you visit 10 stops in the Verde Valley, you'll be entered to win a weekend getaway for 2 in the region.
While we both downloaded the app in November 2022, most of the locations listed we visited didn't have the QR code to scan to log your visit.
In addition, none of the locations had a paper copy to get stamped. Also of note, at least 4 locations listed on the app were permenantly closed.
Our advice, keep reading our guide for the most up to date info!
Where to Stay in Verde Valley
If you aren't staying in Sedona or just want to spend a few days in the Verde Valley, there are a number of great places you should consider.
Booking.com probably has the widest selection of budget (and luxury) accommodations in the world. In our experience, they consistently found the cheapest rooms. We also like their easy to use interface and no money down policy. When we book our travel stays, we personally use booking.com.
Cottonwood
Nestled into the heart of the Verde Valley, Cottonwood is a small town with numerous winery tasting rooms, making it a great getaway for wine lovers.
In comparison to Jerome, it's a large town so you'll have more options when looking for somewhere to stay.
Iron Horse Inn – Located in the heart of Main Street, this hotel is ideal for walkability. There are 5 tasting rooms within a few blocks.
Little Daisy Motel – a great budget friendly option on Main Street that is also great for walkability
Map of Cottonwood wineries
HOW TO USE THIS MAP: To view the layers and see the names of the places on this map, click the tab in the top left corner. You can select the check marks to show or hide certain layers. If you select the icons on the map, you will get more information about the point of interest.
HOW TO SAVE THIS MAP: If you select the star icon next to the map name, you can save this map to your Google Maps account. To view it, open Google Maps in desktop or on your phone, select the menu button, go to "Your Places," scroll to the right to Maps, and you will see this map.
Cottonwood Wineries
Looking at the map above, you can see there are several Cottonwood wineries and/or tasting rooms located within about a tenth-of-a-mile of each other.
That's why Old Town Cottonwood is considered Arizona's Napa Valley.
And it isn't just because of the quantity of wineries either.
These Cottonwood wineries are producing some top-notch wines amongst the state of Arizona, but also amongst the wineries across the country.
Burning Tree Cellars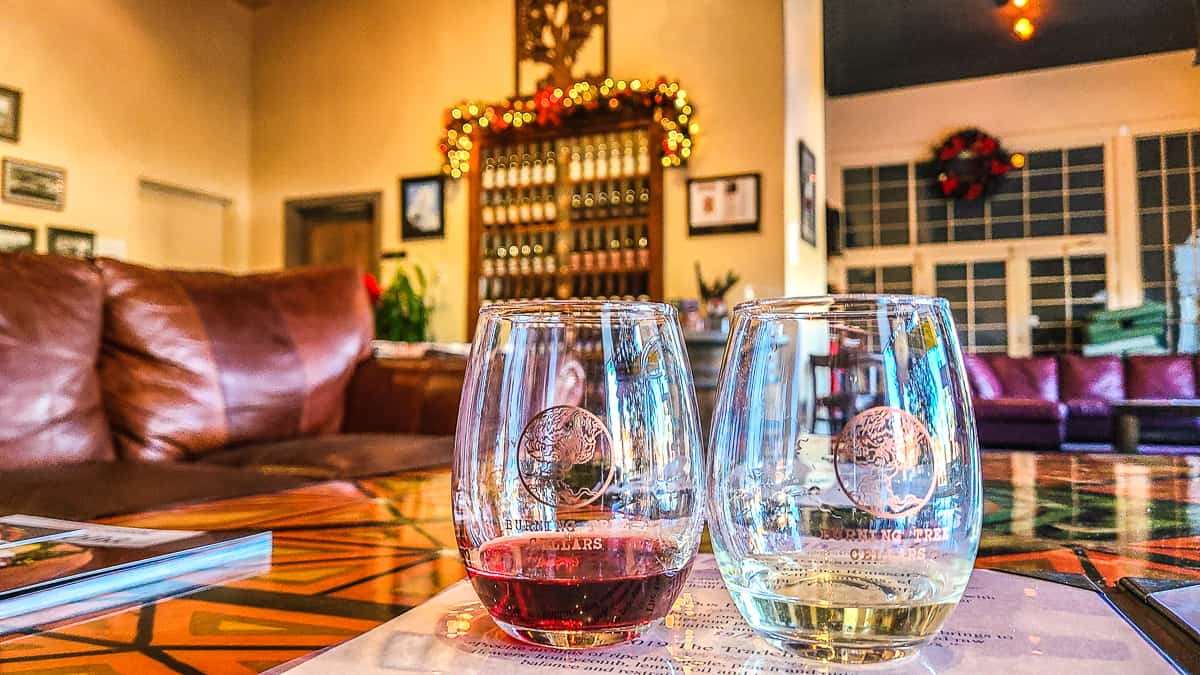 Days open: 7 days a week
Reservation Required: No
At the top of Old Town Cottonwood's Main Street, Burning Tree Cellars was voted Arizona's best winery in 2019 and 2020. Burning Tree was the first of the Cottonwood wineries that we visited and it kick-started our expectations for what was to come!
They are committed to small-batch production (their wines aren't available anywhere but the tasting room) and using quality grapes from all over the state of Arizona, some from as close as 10 minutes up the road.
You can do a white flight, a light flight (mix of lighter whites and reds), or the red flight.
We really liked everything we tasted as it was all complex and very drinkable. Their Chardonnay (not aged in oak) was smooth and yummy and even won Best in Show at a recent competition. The Lotus red was a blend of Petite Sirah, Merlot, and Syrah and was the boldest of their wines but still very good.
The Architect white is a blend of various whites which changes every year based on the varietals that the winemaker has remaining from harvest. It's a collection of leftovers that come together to make a delicious porch pounder!
Also, they are going to be changing their name in 2023. If you can't find them when you visit, that's probably why.
Arizona Stronghold Vineyards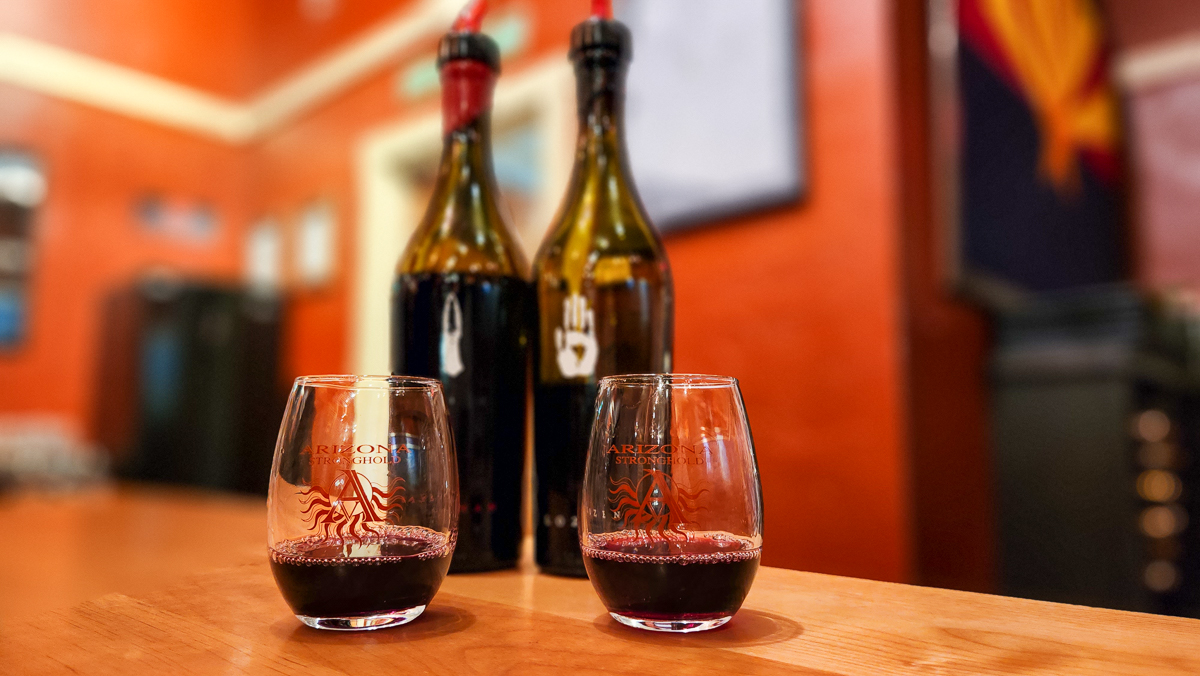 Days open: 7 days a week
Reservation Required: No
Arizona Stronghold Vineyards was started back in the late 2000s (Maynard James Keenan was involved here too until 2014) and has grown into one of the largest and best-selling Cottonwood wineries as well as one of the largest and best-selling wineries in all of Arizona.
They've done this by "keeping their nose level," as one of their bartenders said. It's wine, but it's approachable, which is so refreshing in a sometimes-stuffy industry.
The wines at AZ Stronghold express the unique Arizona terrain and the winemakers do their best to let that shine through in the wines.
Most of their grapes come from their vineyard down in the Willcox area and are then produced at their winery in Camp Verde (25 minutes south of Cottonwood).
But if you want to taste their wines, you'll need to head to their tasting room in Old Town, near all of the other Cottonwood wineries on Main Street.
They offer 4 different flights of wine (white, combo, or two different red flights) which all showcase the assortment of delicious varietals and blends. Wines by the glass and bottle are also available, but we love doing flights to try a little bit of everything.
Stronghold also has an outdoor patio and a full kitchen with grilled skewers and tapas to pair with the wine.
Some of our favorite wines were the Dala Cabernet Sauvignon which was just awesome for a $20 bottle of wine, the Nachise (Grenache, Syrah, Mourvedre, Petite Sirah), and the Lozen (Merlot, Cabernet Sauvignon, Malbec).
Carlson Creek Vineyards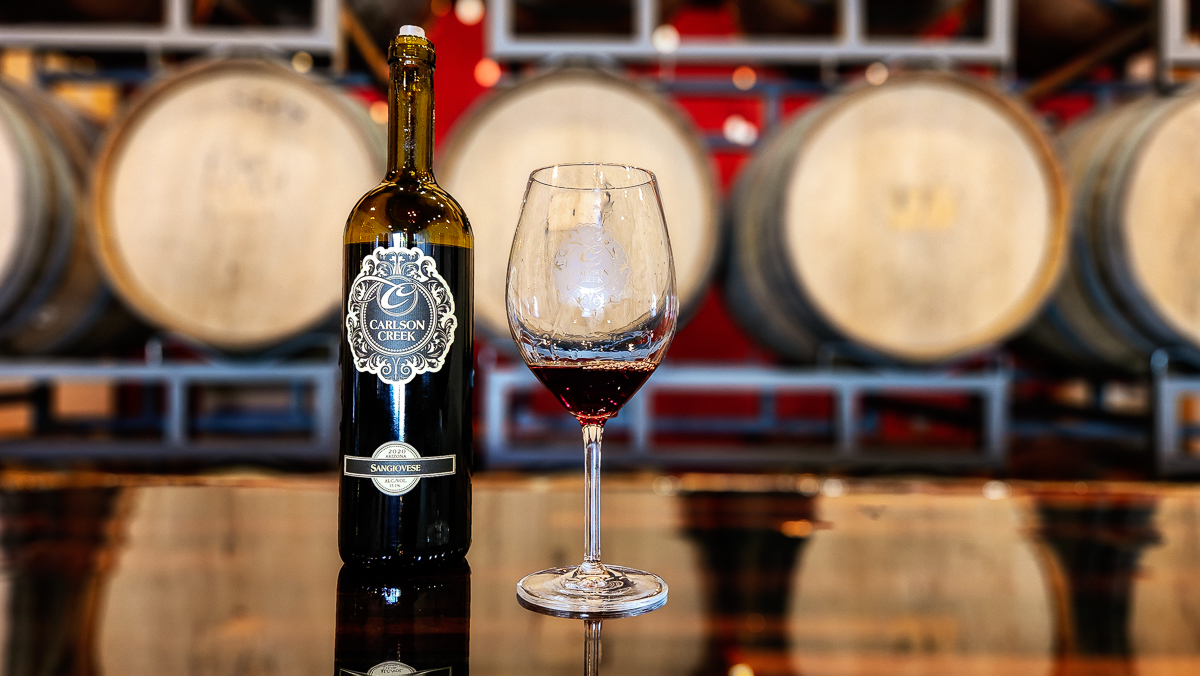 Days open:
Reservation Required: No
Carlson Creek Vineyard is actually the third largest vineyard in the state.
While their vineyard is located in Willcox, their location on Main Street in Old Town Cottonwood provides a great satellite tasting room to enjoy their wines.
We tried both their mixed and red flights when we visited last and we both preferred the wines on the red flight that were a bit more dense in flavor with higher tannins.
If you can, make sure you try the 2014 Sangiovese and 2015 Sangiovese side-by-side. The 2014 won gold at 2019 World Wine Championships and it's amazing how different the harvest was just one year apart!
The Rule of Three is a GSM blend (Grenache, Syrah, and Mourvèdre) that the state is known for. Be sure to grab a sample of that before you go!
Merkin Vineyards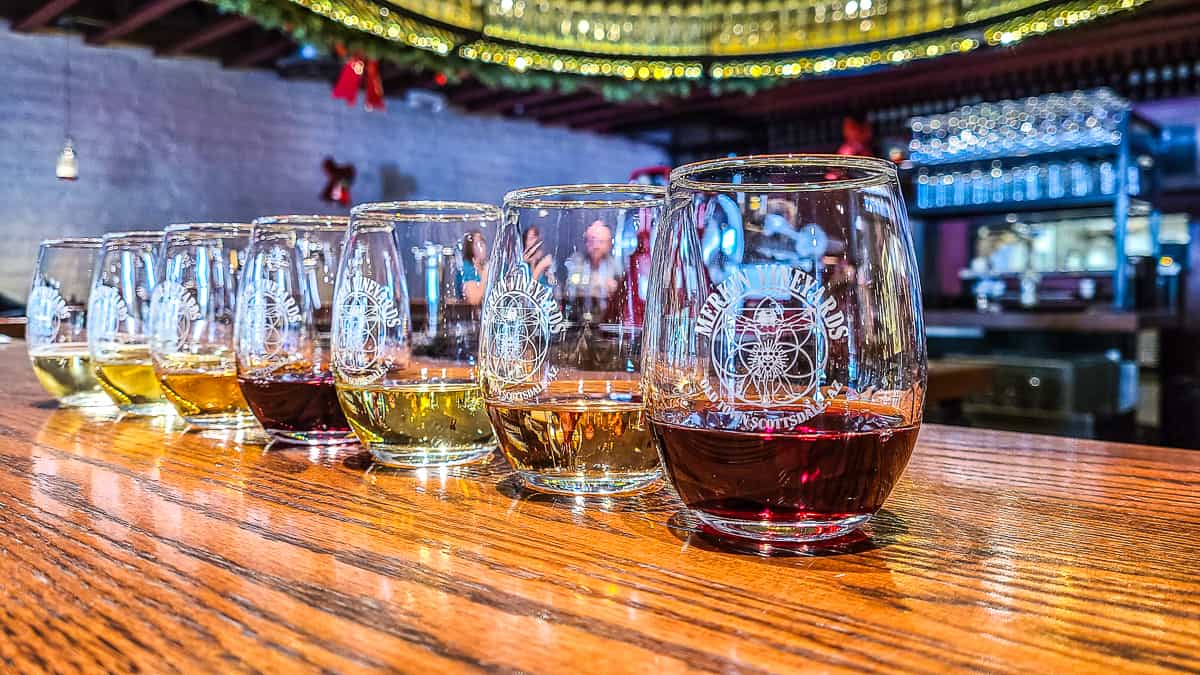 Days open: 7 days a week
Reservation Required: No
As previously mentioned, Merkin Vineyards is related to Caduceus Cellars in Jerome.
We opted to visit the standalone Merkin tasting room in Scottsdale, AZ, but you can find them on Main Street in Old Town Cottonwood.
Merkin strives to meet their mission of "Our Farm to Your Table. Our Vines to Your Glass."
The wines are all made with grapes from their estate vineyards in Willcox and the Verde Valley and they source much of the food ingredients from Arizona farms and businesses.
It's a true Arizona experience when you come here!
And while you can try both brands at most locations, we'd recommend focusing on the Merkin options here as there are 3 different wine programs to choose from.
The Chupacabra line is produced using French varieties, the Shinola is the Italian varieties, and the Tarzan/Jane is the Spanish/Iberian varieties.
Grab a flight of each and make your decision for which country's variety you prefer!
Tantrum Wines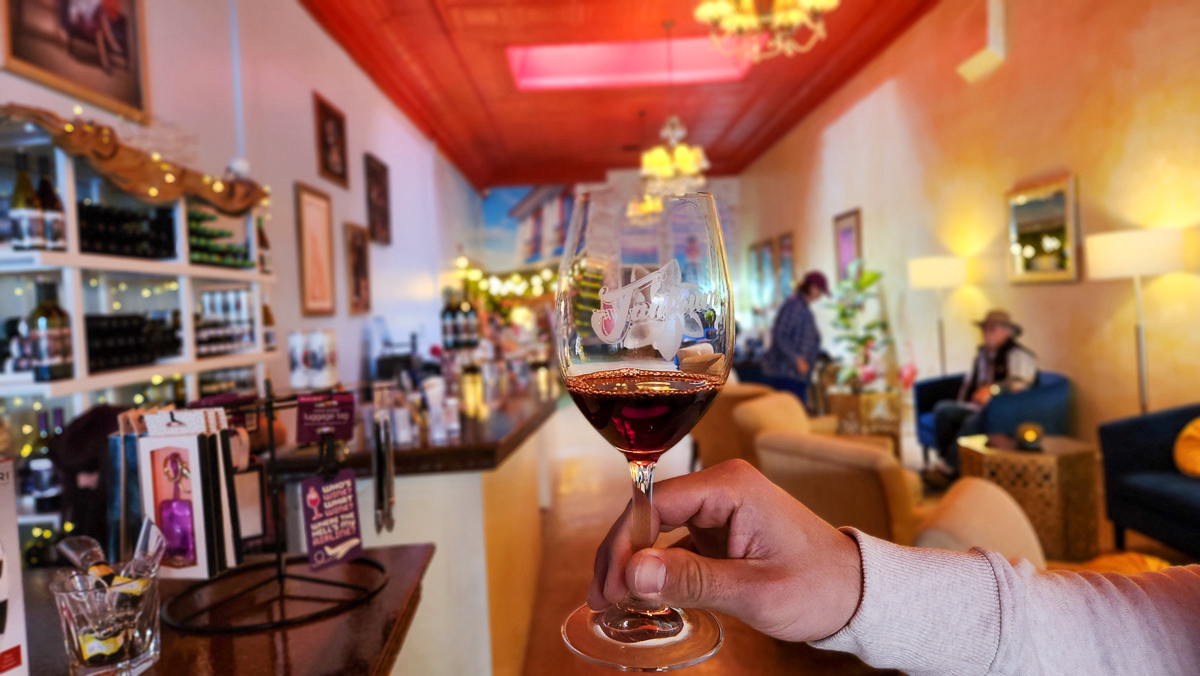 Days open: unsure (read more to find out why)
Reservation Required: No
We are going to be honest, we tried to visit Tantrum Wines on three separate occasions. Each time, their tasting room was closed despite their website, Facebook page, and sign on the front door listing the open hours of 12-7 daily.
On the fourth try (a Friday), they were open.
The female winemaker crafted wines for women, which means they are sweeter than most. We each did a red flight of 4. Given that we only liked 2 of the 4, we'd encourage you to make your own decision and try them for yourself.
Just because it wasn't our cup of tea, doesn't mean it isn't yours.
The tasting room was very Instagrammable so if you want some cute photos, this is the spot for that.
Given the issues with their hours, you'll want to call before hand to see if they are open (although no one answered when we did).
Wineries within 10 minutes of Old Town
Pillsbury Wine Company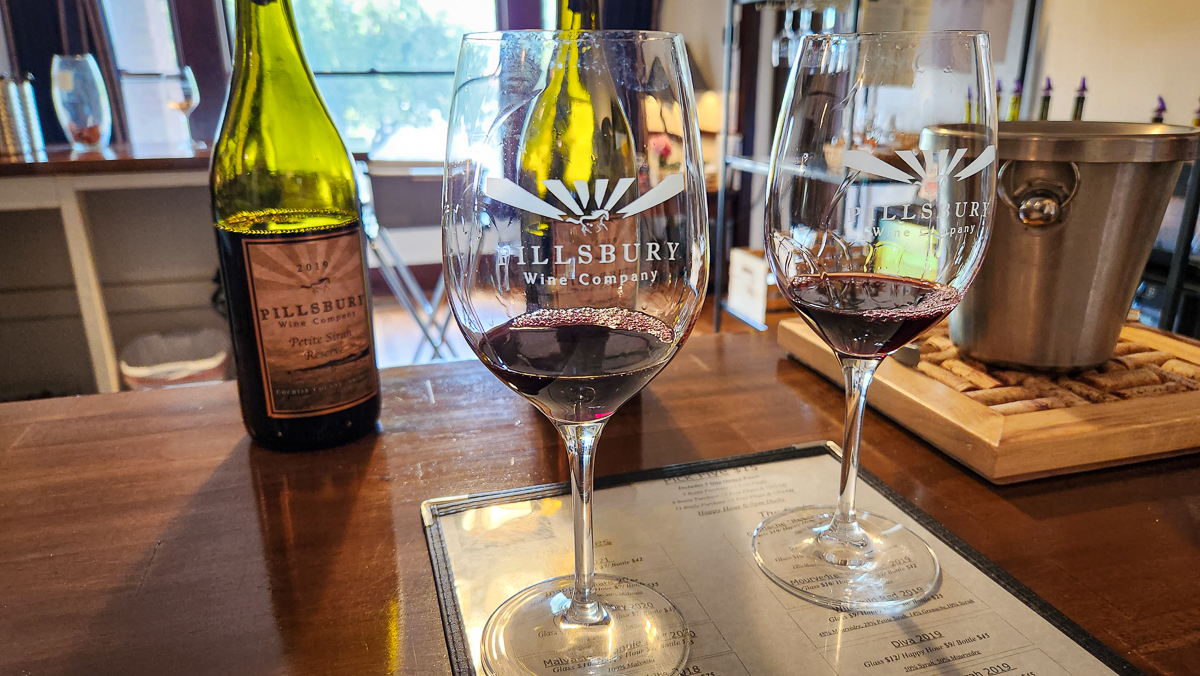 Days open: 7 days a week
Reservation Required: No
Since their vineyard and original tasting room are both located in Willcox, Pillsbury Wine Co. isn't necessarily a local when it comes to the Cottonwood wineries.
In Fall of 2022, they left their Main Street location for a new farmhouse style location just outside of Old Town Cottonwood.
The Cottonwood tasting room does have slightly more accessible hours than the Willcox location, so that could be a factor in which one you visit.
Whichever you visit, you'll enjoy the great wines that Sam Pillsbury has been crafting for many years.
We both really enjoy his Viognier, a light white wine, but love all his reds too. He is also paving the way for many winemakers here and just has really damn good wine!
Pillsbury is probably one of our favorite Arizona wineries and we highly recommend visiting them if you are wine tasting in the Cottonwood area!
Read more about our time at Pillsbury's Willcox location and the other wineries in Willcox here.
Bodega Pierce Winery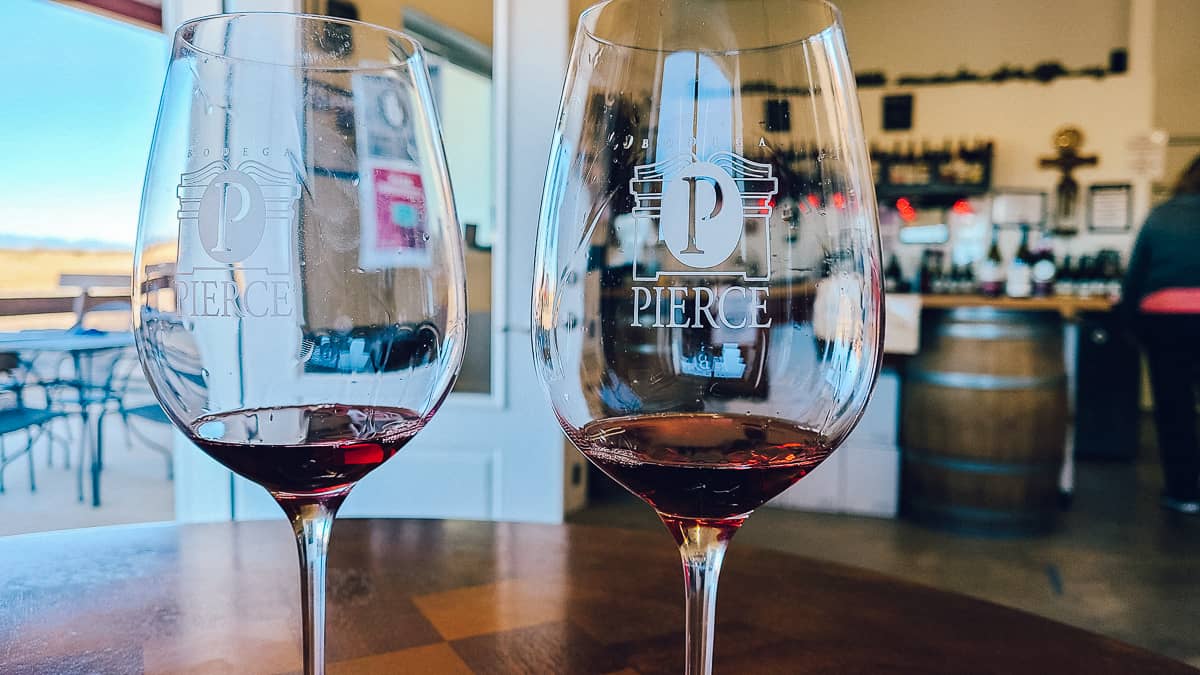 Days open: Thursday – Sunday
Reservation Required: No
Bodega Pierce Winery is a true family affair. The winemaker is the son of the husband-and-wife duo who served us wines in the Willcox tasting room.
This winemaker-son isn't only molding his own wines. He's molding the minds of our winemaking youth, teaching the wine program at Yavapai College's Verde Valley campus in Clarkdale, AZ.
Their grape varietals, of which there are many, are all grown in their Rolling View Vineyard in Willcox. Rolling View was named for the generations-old family farm in Nebraska.
Today, they've continued on with the family business of agriculture, just this agriculture can make you tipsy.
Saeculum Vineyards is their second wine label that does some of the one-offs and less-mainstream wines, but no less delicious.
This is one of our favorite wineries in Cottonwood and well worth the 8-minute drive from Old Town to visit!
Chateau Tumbleweed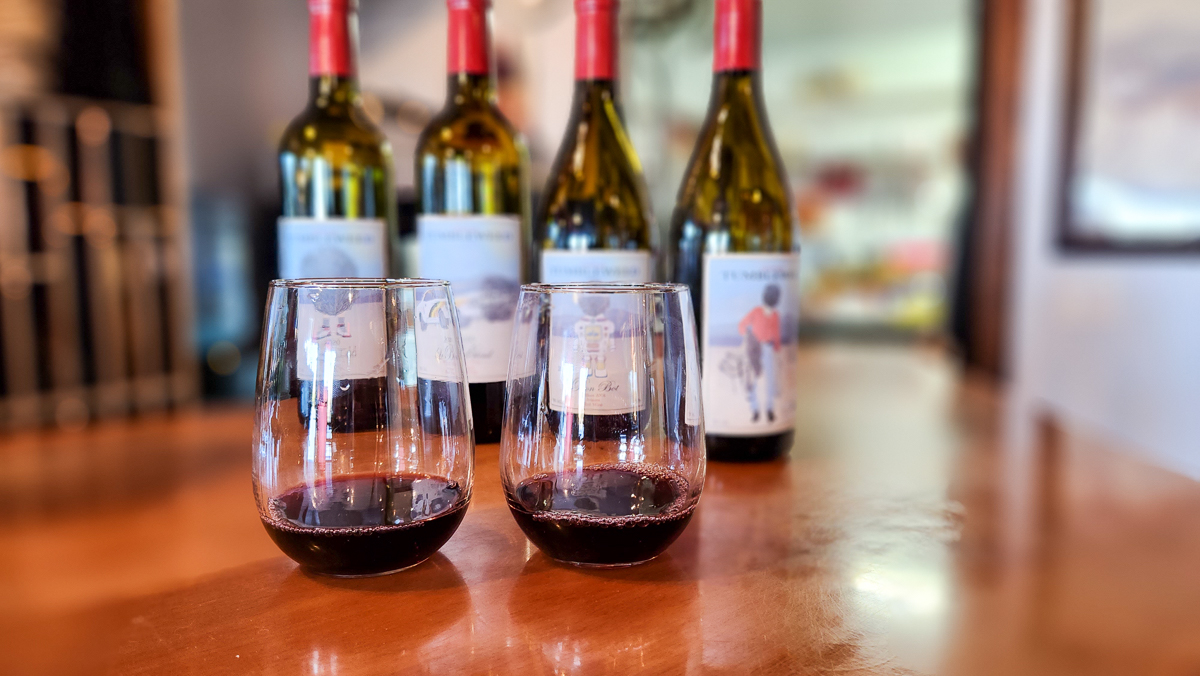 Days open: 7 days a week
Reservation Required: Groups 6 or more, call ahead
Chateau Tumbleweed is another must-do winery in the Cottonwood area. Only 6 minutes from Old Town, Chateau Tumbleweed is located in Clarkdale and is a local favorite and consistently recommended among the bartenders we talked to.
This winery is the result of two great friendships. When four friends (two couples) decided to turn their passion of wine into a business, Chateau Tumbleweed was born.
They spent a few years getting their footing at the Four Eight Wineworks in Jerome until landing at their current tasting room locating in Clarkdale.
While they are a fun group, they take their wine seriously and it shows. We both did a flight of different styles and all of them were superb!
If you love reds, be sure to try their Tempranillo. If you're up for something totally unique, try the Stinkbeast. We won't ruin the surprise for you, but it was, without a doubt, the most interesting wine we've tasted in this region.
Southwest Wine Center at Yavapai College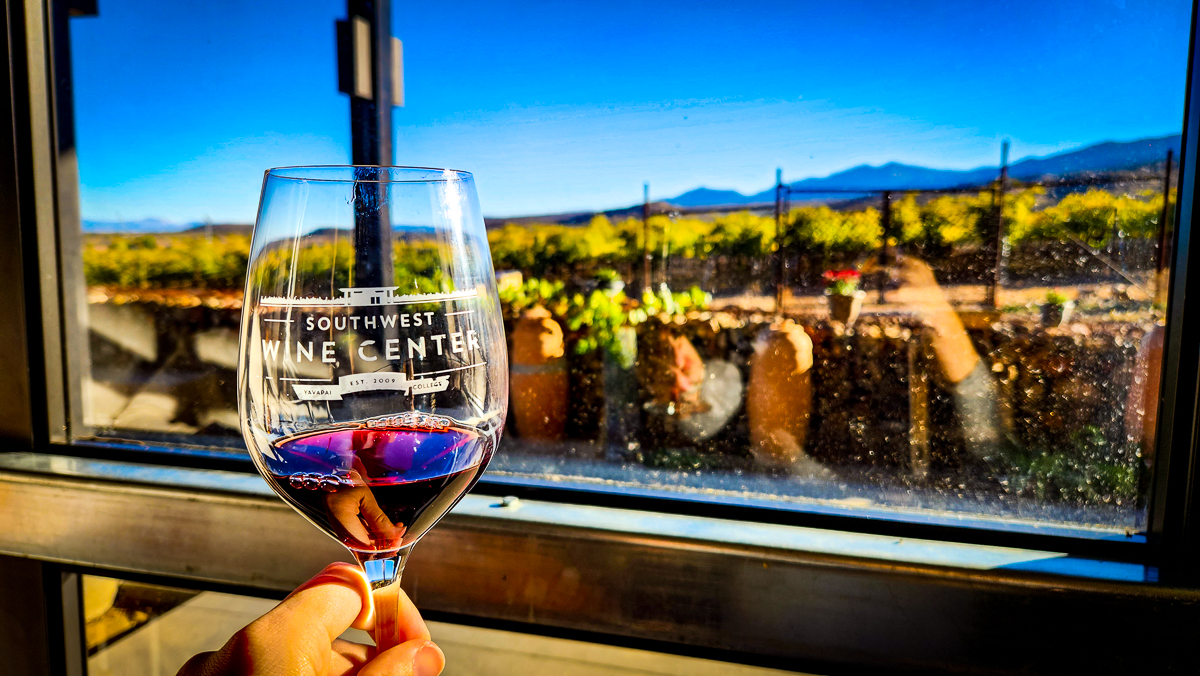 Days open: Thursday – Sunday
Reservation Required: Yes, can schedule online
Yavapai College in Cottonwood offers certification and an Associates Degree for winemaking and their students get to showcase their craft at the Southwest Wine Center.
While it is a tasting room, the Southwest Wine Center is a learning lab where the students studying wine have worked to produce wines to sell directly to the consumer.
Before you go thinking these wines aren't up to industry standards, these student wines have won countless awards over the years including winning at the Jefferson Cup, the AZ Central Grand Wine Competition, and The San Francisco Chronicle Wine Competition.
One of the things we loved about this tasting was they don't tell you what flavors you might get in the wine. They told you the grapes used, but didn't suggest any flavors as not to suggest something for your unique palate.
Reservations are required for a tasting. You can also purchase a glass or bottle as well.
DA Vines Vineyards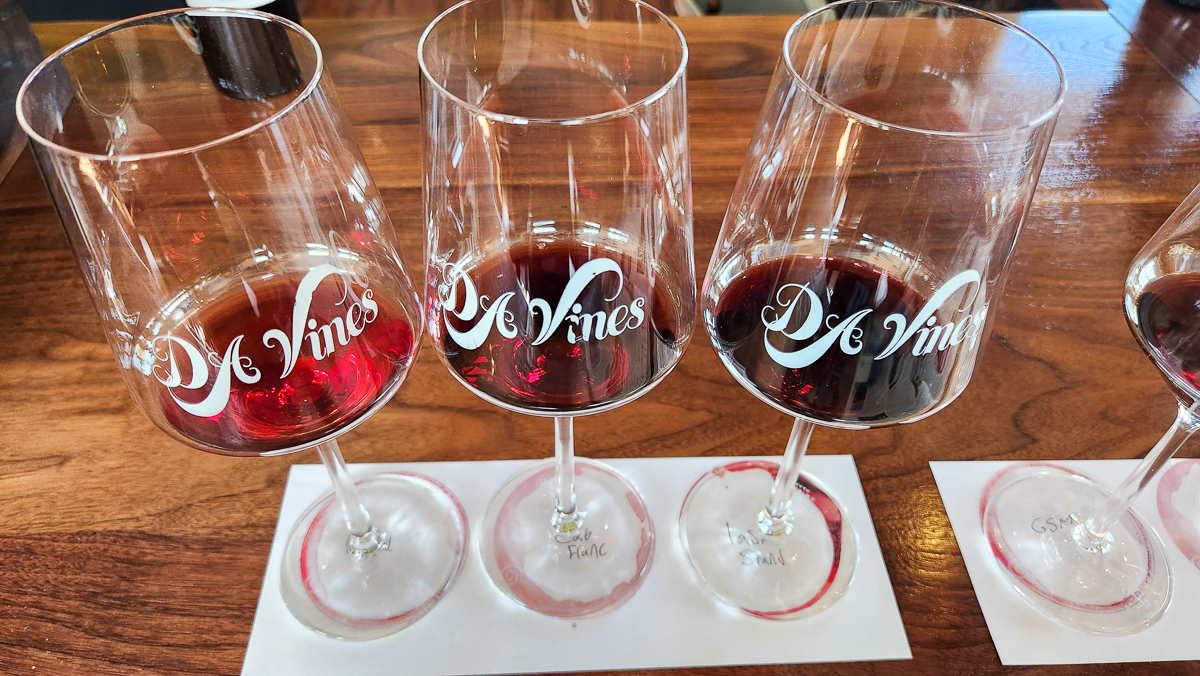 Days open: Wednesday – Sunday, Closed Monday-Tuesday
Reservation Required: No
Da Vines Vineyards was established in 2017 by Chicago native John Rachel. If you happen to like sports, you'll know the reference "Da Bears", but if you are like Sam and don't like sports, you'll miss it.
John relocated to the Verde Valley region in 2004 but it wasn't until 2007 that he took an interest in wine. His neighbor planted Merlot grapes and John became fascinated with the process.
He enrolled in the previously-mentioned program at Yavapai College and in 2017, he opened DA Vines Vineyards.
The 2014 Merlot took silver at the San Francisco Chronicle Wine Competition and we found all their reds were fantastic.
While we didn't get a chance to indulge in their food, we've heard great things as well.
BONUS: Pizzeria Bocce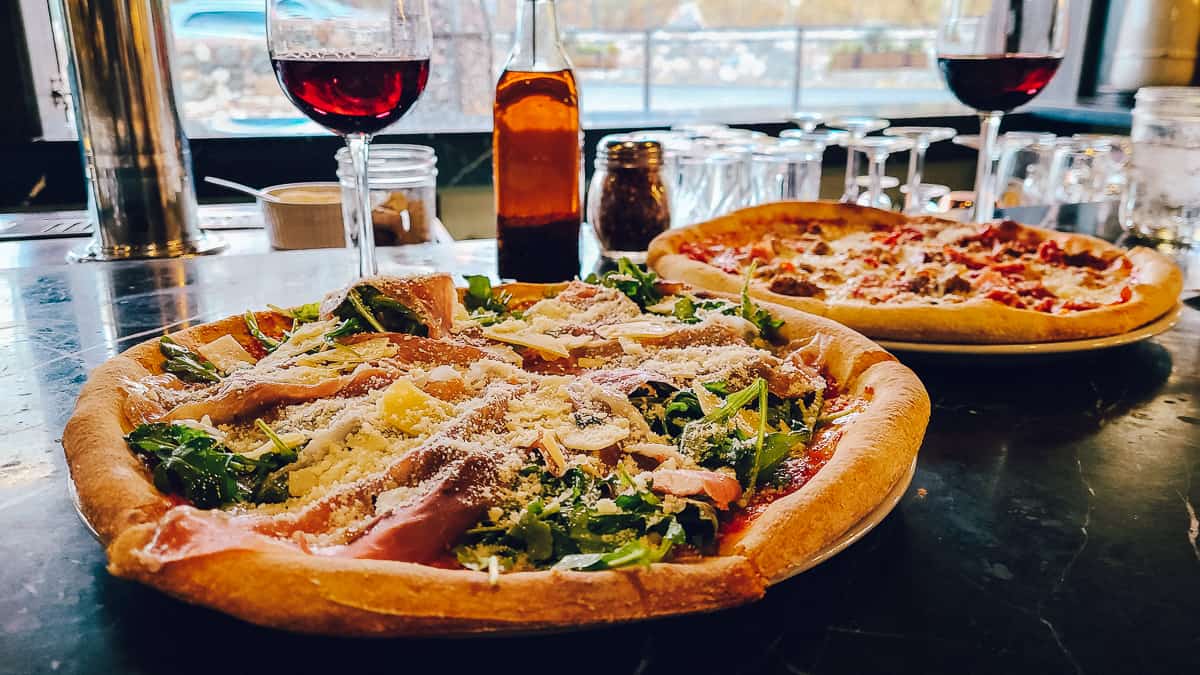 Just before you enter (from the north) or exit (from the south) Old Town Cottonwood, make sure you stop at Pizzeria Bocce for some classic Neapolitan pizza.
When she decided to open a pizzeria, the head chef traveled back to her native Naples, Italy to become certified in the art of making Vera Pizza Napoletana (true Neapolitan pizza) by the Associazione Verace Pizza Napoletana.
This association was created to protect and to professionalize pizza makers across the globe and to ensure the quality of the ingredients and production process used.
Pizzeria Bocce is just pure happiness for your senses: the sight of the wood-fired oven as you walk in, the smell of deliciousness from every corner of the restaurant, the sound of oohs and aahs as diners dig in, the feel of the gritty pizza crust, and the heavenly taste of authentic Neapolitan pizza (and Italian wine).
We had a glass of their house red wine (duh!) and two amazing pizzas: Prosciutto & Arugula and the Meat Pie.
Before or after you've indulged in all of the Cottonwood wineries, do yourself a favor and go here.
If exploring wine tasting through the Cottonwood wineries has you thirsty for more, head down to Cornville and Camp Verde, which are towns further southeast in the Verde Valley.
If you are looking for more Verde Valley Wine Info, check out our complete guide to the wineries in Jerome or the wineries in Cornville.
We thoroughly enjoyed our time in the Verde Valley and it inspired us to travel to Willcox to get to the source of the grapes.
Psst: Looking for more Arizona wine info? We have a few guides! Browse the most popular post here: