5 Incredible Cornville Wineries in the Verde Valley Wine Region
The Verde Valley wine region in the northern part of Arizona is home to 3 distinct areas. Unlike some other sites, we've chosen to break each of these areas down so you can dive deep into each location and enjoy local wine.
The Cornville wineries in the Verde Valley AVA are more rurally-located than those in Cottonwood and Jerome. However, they are all located along North Page Springs Road, making them easy to visit in a day.
For the purposes for this article, we are only going to cover the wineries located along this road. We do cover almost all the wineries in this AVA through these guides here: Cottonwood Wineries and Jerome Wineries.
Short on Time? Here are the key takeaways:
There are 5 wineries located in the Cornville, AZ area.
In our opinion, don't miss Cove Mesa even though it's not in the cluster of wineries on Page Springs Road.
D.A. Ranch has the most beautiful setting with a unique farmhouse vibe.
The Cornville wineries listed below are organized by location from North to South.
*Boozing Abroad contains affiliate links throughout the site. If you choose to purchase items through these links, we will earn a small commission at NO extra cost to you. Read the full disclosure policy here**
About Verde Valley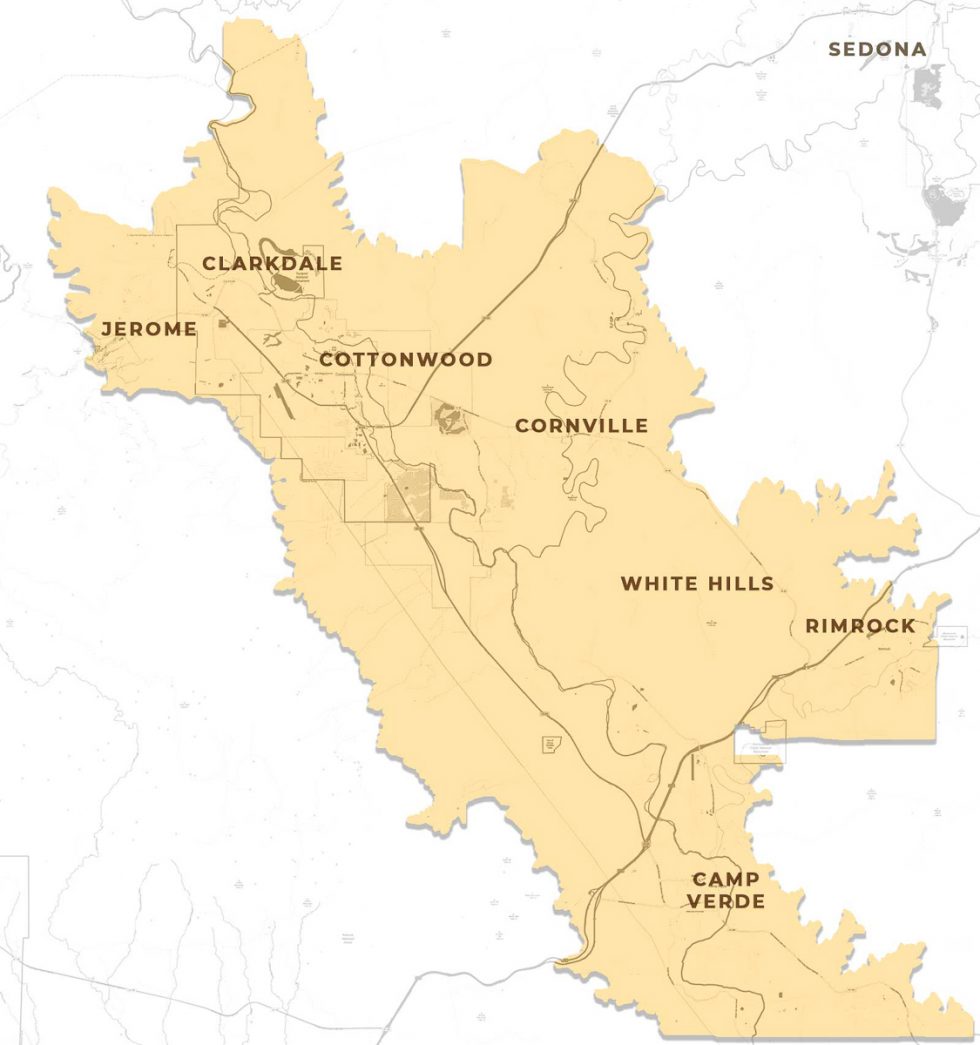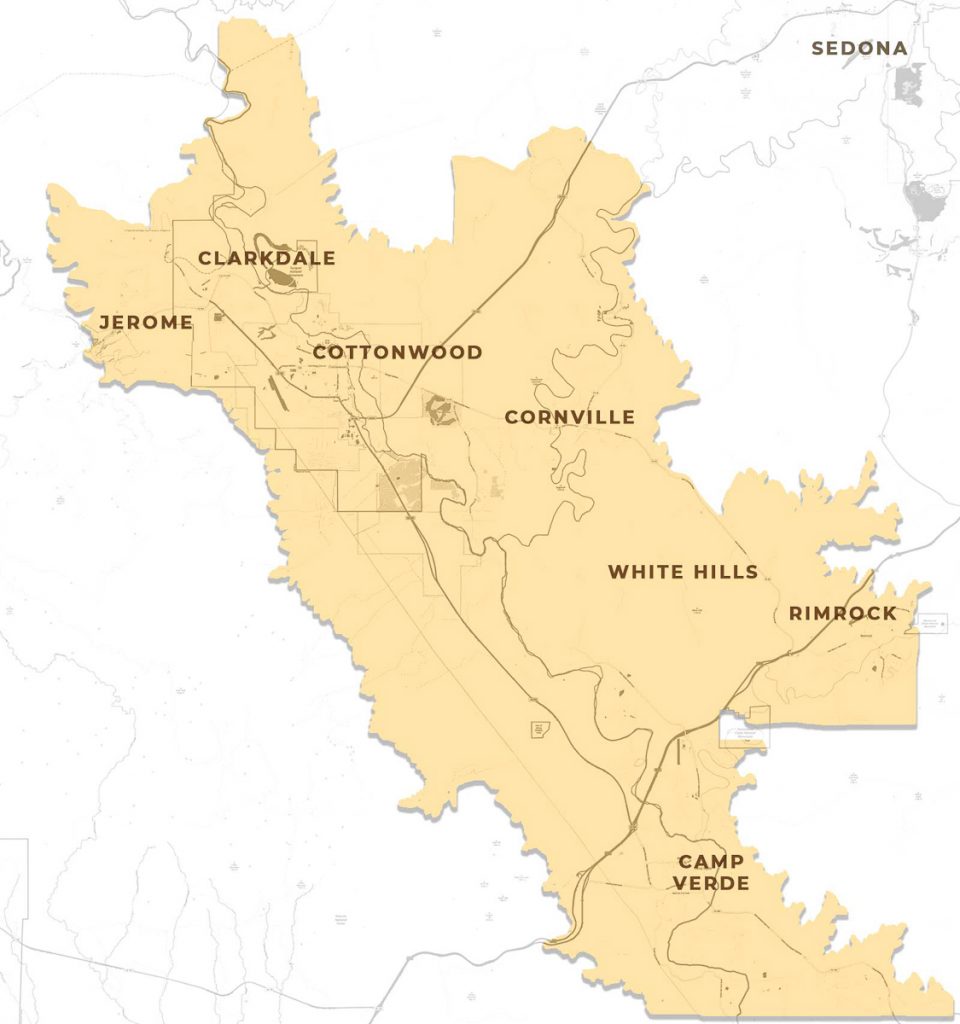 The Verde Valley AVA is located in the center of Arizona, covers roughly 200 square miles, and currently has over 18 wineries.
There are more than 40 wine grape varietals being grown in the region. The top white varietals include: Malvasia Bianca, Viognier, Chardonnay, Vermentino, Seyval Blanc, and Picpoul Blanc.
The top red varietals in the region include: Syrah, Petite Sirah, Cabernet Sauvignon, Sangiovese, Tannat, and Barbera.
Arizona Wine Trail Passport
Visit Arizona offers the Arizona Wine Trail Passport. It's free to join and the best part is, it's exclusively on your mobile device. No paper passports needed.
Once you sign up, you'll receive a text to access your info. The biggest advantage to signing up is some wineries offer 10% off a bottle purchase.
While there aren't guaranteed prizes, you can check in at different wineries locations to potentially win a shirt, wine glasses, wine gadgets and more.
Verde Valley Wine Trail App
Brand new to 2022, the Verde Valley Wine Trail created an app to support the region. If you visit 10 stops in the Verde Valley, you'll be entered to win a weekend getaway for 2 in the region.
While we both downloaded the app in November 2022, most of the locations listed we visited didn't have the QR code to scan to log your visit.
In addition, none of the locations had a paper copy to get stamped. Also of note, at least 4 locations listed on the app were permanently closed.
Our advice, keep reading our guide for the most up to date info!
Map of Cornville Wineries
HOW TO USE THIS MAP: To view the layers and see the names of the places on this map, click the tab in the top left corner. You can select the check marks to show or hide certain layers. If you select the icons on the map, you will get more information about the point of interest.
HOW TO SAVE THIS MAP: If you select the star icon next to the map name, you can save this map to your Google Maps account. To view it, open Google Maps in desktop or on your phone, select the menu button, go to "Your Places," scroll to the right to Maps, and you will see this map.
D.A. Ranch Estate Vineyards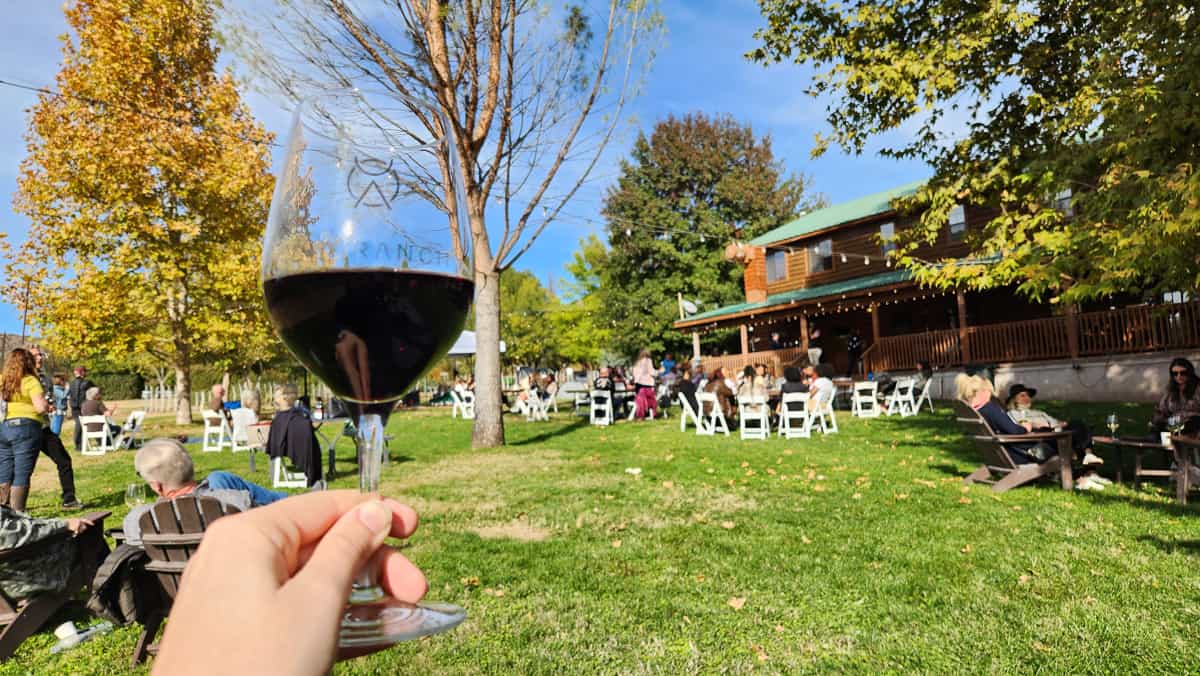 Hours: Usually Wednesday – Sunday from 11 AM – 6 PM, but this is a popular venue so it will vary
Food Available: Yes
Reservations Required: No, unless group is 13+ people
D.A Ranch is a family-owned winery that began back in 2002 when the family, who operates one of the oldest privately-owned agricultural businesses in Arizona, purchased the ranch and quickly realized the fertile soil was perfect for a vineyard.
Fast forward to 2008 and the first wines were being produced from their 100% estate-grown grapes of Syrah, Cabernet Sauvignon, Petite Sirah, Tannat, and Seyval Blanc.
While D.A. Ranch is located right off of the main road, it is a bit more tucked away than the other wineries in Page Springs and really gives you that "winery" feel on the drive up.
Before you arrive at the tasting room, which is a huge and beautiful log cabin, the gravel road up and down to the property will bring you past many of the vines whose fruits you'll soon be tasting.
But the surrounding grounds are what really makes this place so great.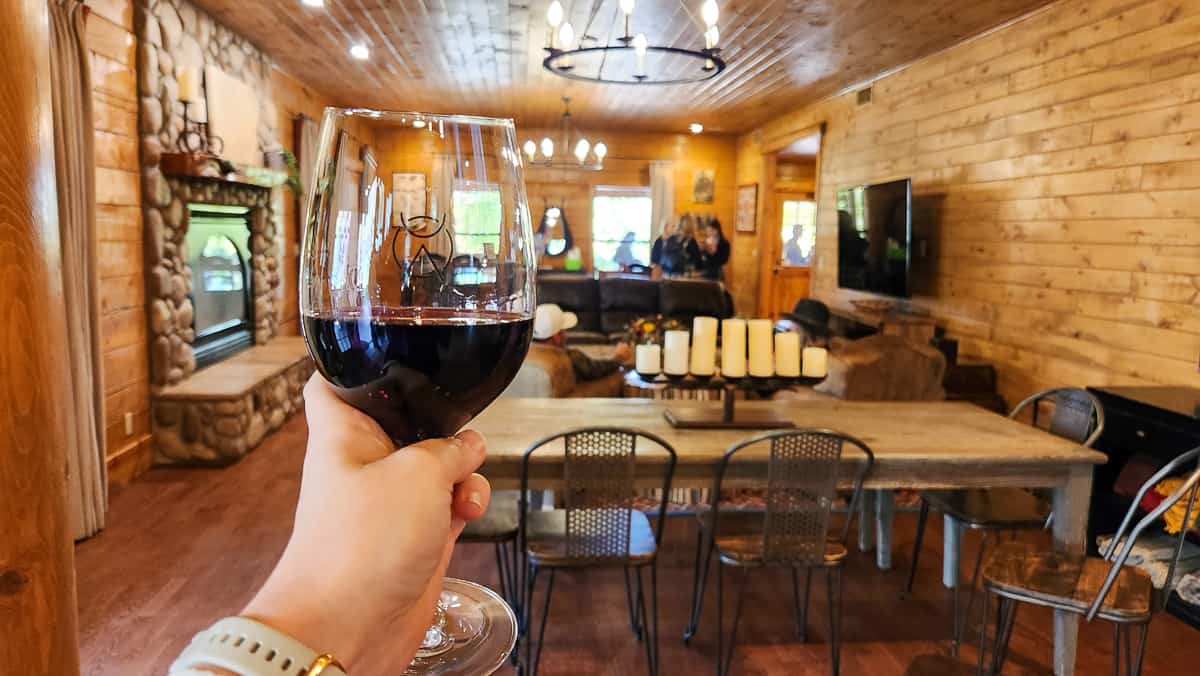 Feel free to grab your glass/bottle of wine and roam around the property. There is a huge grassy area all around the tasting room which is perfect for relaxing in the grass and listening to their occasional live music.
We each opted for a glass of wine, partly to escape the chaotic tasting room on a busy fall Saturday, and partly to relax without being ushered through a wine tasting.
The wines we had were good, though we will warn you that they were some of the most expensive glasses we had ($18 each), not just in the Cornville wineries area but in the entire AVA.
We suggest buying a bottle as this might be the cheaper route at this spot. Whatever you don't finish you can cork and take with you.
As stated above, DA Ranch doubles as one of the only high-end wedding venues in this area so their hours vary. Check the home page to see their calendar.
Javelina Leap Estate Vineyards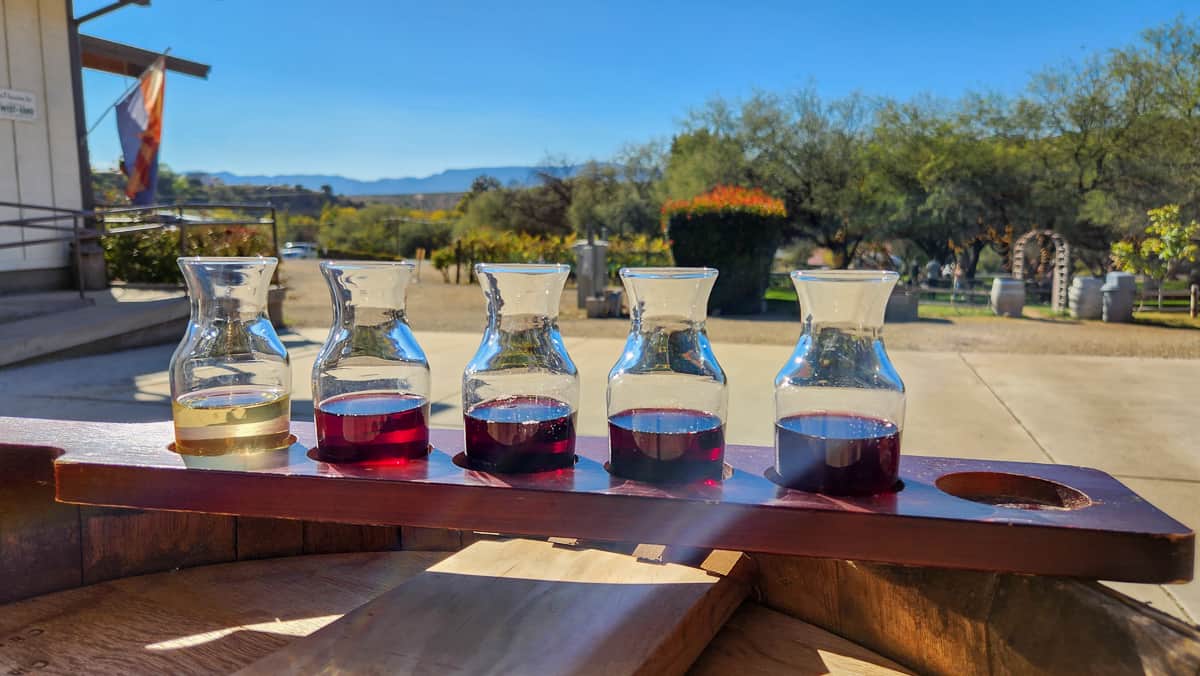 Hours: 7 days a week, 11AM – 6 PM
Food Available: Yes
Reservations Required: No
About 2 minutes down the road from D.A Ranch, you'll find Javelina Leap Estate Vineyards. Another family-owned-and-operated winery, Javelina Leap is churning out Arizona-grown wine that is worth a visit.
The winery has a great setup with many different options for enjoying your wine – there is an outdoor area underneath some beautiful trees to enjoy nature, a few different tasting rooms/areas, and an outdoor patio to enjoy some live music.
No matter the wine(s) you get, every part of the production process (de-stemming, pressing, fermenting, aging, bottling, and labeling) is performed on-site at the winery – a true vine-to-wine experience.
You might also be wondering about the name, Javelina Leap. Well, it's actually a combination of a couple of things.
First, Javelina is the name of the wild boar-looking animal that is native to this area of Arizona and can often be seen roaming the vineyard at dusk.
Second, Leap is an ode to Stags' Leap Winery from Napa as they are the winery credited with putting American wine on the map at the "Judgment of Paris" tasting competition in 1973.
We shared a flight and enjoyed our time on the sunny patio taking in some subtle mountain views of Cornville in the distance.
Oak Creek Vineyards & Winery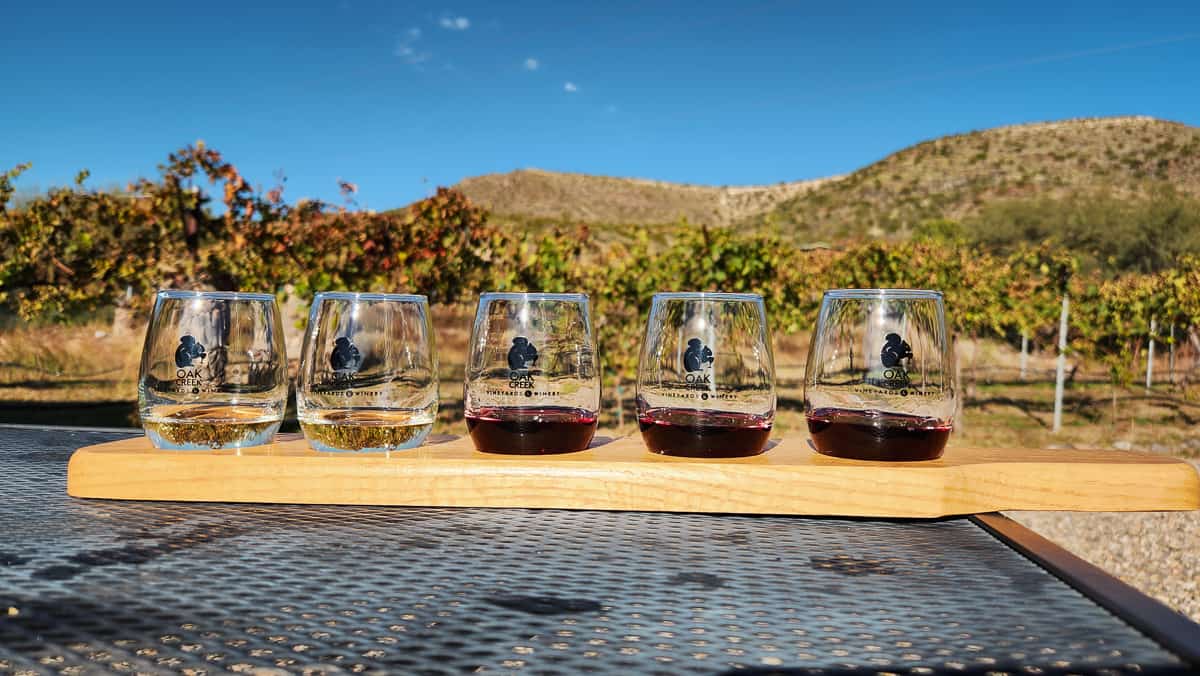 Hours: 7 days a week, hours vary by day
Food Available: Yes, cheese and veggie plates only
Reservations Required: No
Right next door to Javelina Leap is Oak Creek Vineyards & Winery (Google Maps says 476 feet away).
The 11-acre vineyard sits in the shadows of House Mountain and only about 500 feet from the literal Oak Creek, one of the few natural year-round bodies of water in Arizona.
As of 2020, the winery is under new ownership, but the new owners are still dedicated to making wines just the way they are meant to be drank – with family and friends. They strongly believe that the experience and atmosphere of sharing/drinking wine enhances the overall experience, so you'll find the tasting room and patio area to be relaxed and casual, allowing you to enjoy your wines however you see fit.
They offer three different flight options (white, red, and a staff pick) or you choose a wine by the glass/bottle to enjoy at your leisure.
Because of the tannins and higher alcohol that usually result from the warmer climate, they strive to balance their wines and make them bright and enjoyable for all palates, times of year, and food pairings.
Given that our palates sway to the bigger and bolder reds, we were partial to the Syrah.
Page Spring Cellars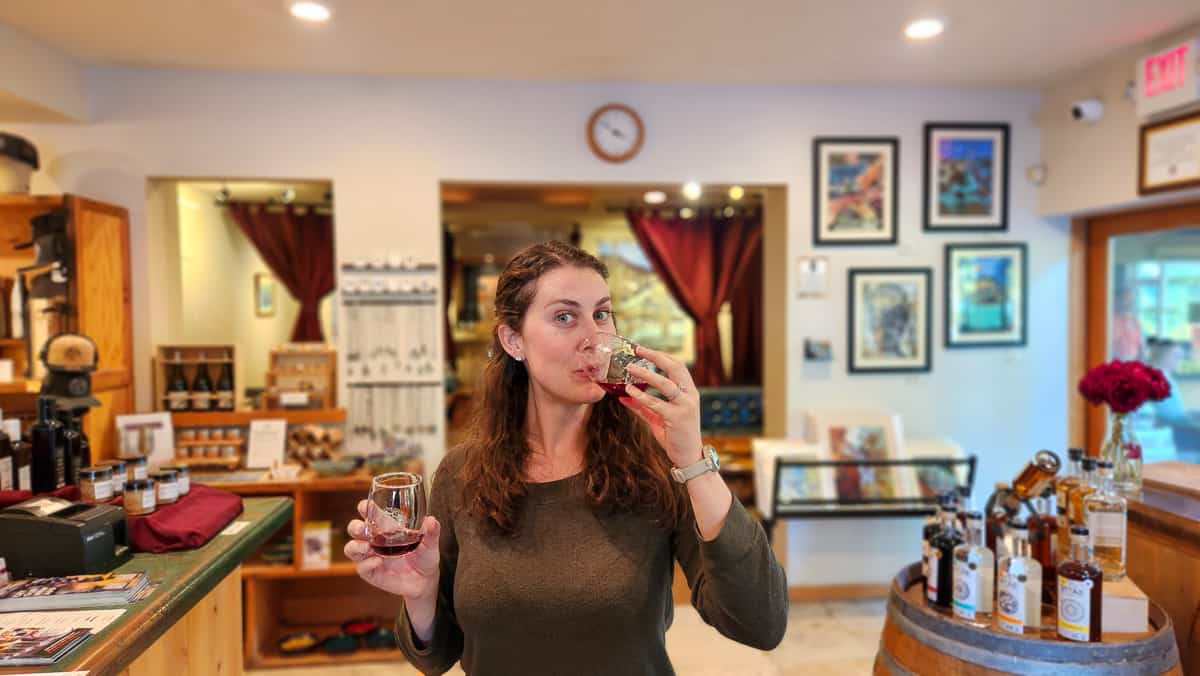 Hours: 7 days a week, hours vary by day
Food Available: Yes, full kitchen
Reservations Required: No
Page Springs Cellars is located just another hop, skip, and a jump up the road. You could make an entire day of it at Page Springs Cellars tasting wine, walking through the vineyards, connecting with your inner-self through some yoga, and eating at their bistro.
Something that is near and dear to the owners of Page Springs is sustainability as they believe to make great wine, they must also take responsibility for the lands that produce it.
That's why they take various practices in their operations – they don't till their soil which can release carbon, their solar panels produce 100% of their electricity, they have an on-site wastewater treatment and disposal system, and they minimize transportation by only distributing in Arizona.
Most of the grapes come from their estate vineyards in the Page Springs area, but they do source some of their grapes from other well-known Arizona wineries.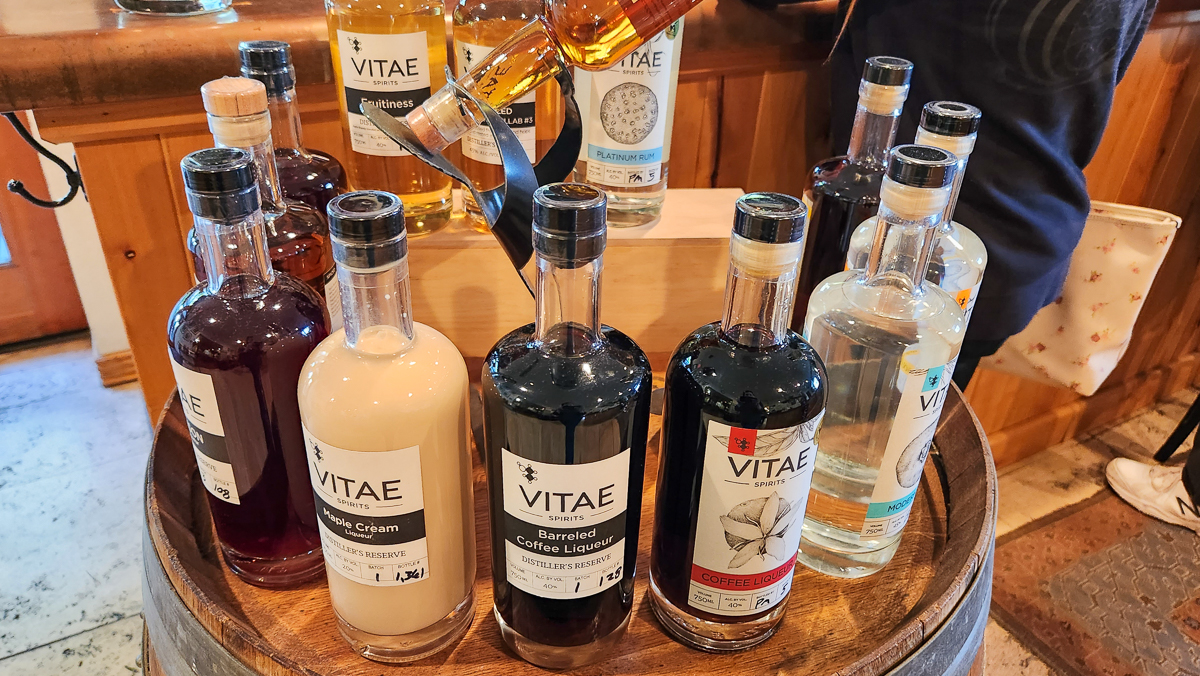 In addition to the wine, they also carry a line of spirits and liquors called Vitae Spirits. The Page Springs founder, Eric Glomski, is also an integral member of the Vitae team, helping to craft small-batch, artisanal distilled spirits. If you are looking to kick up your tasting experience, you can taste 3 craft liquors.
We were lucky enough to sample the Vineyard Brandy and almost left with a bottle.
Page Springs Cellars was the busiest of all the Cornville wineries and did have a little bit of a wait, so come prepared. Reservations are only available for their wine club members. But, you can reserve a private event if you don't want to risk it.
Page Springs Cellars has a lot to offer, including live music during the week. They are open 365 days a year so you can enjoy their wine any time!
Cove Mesa Vineyards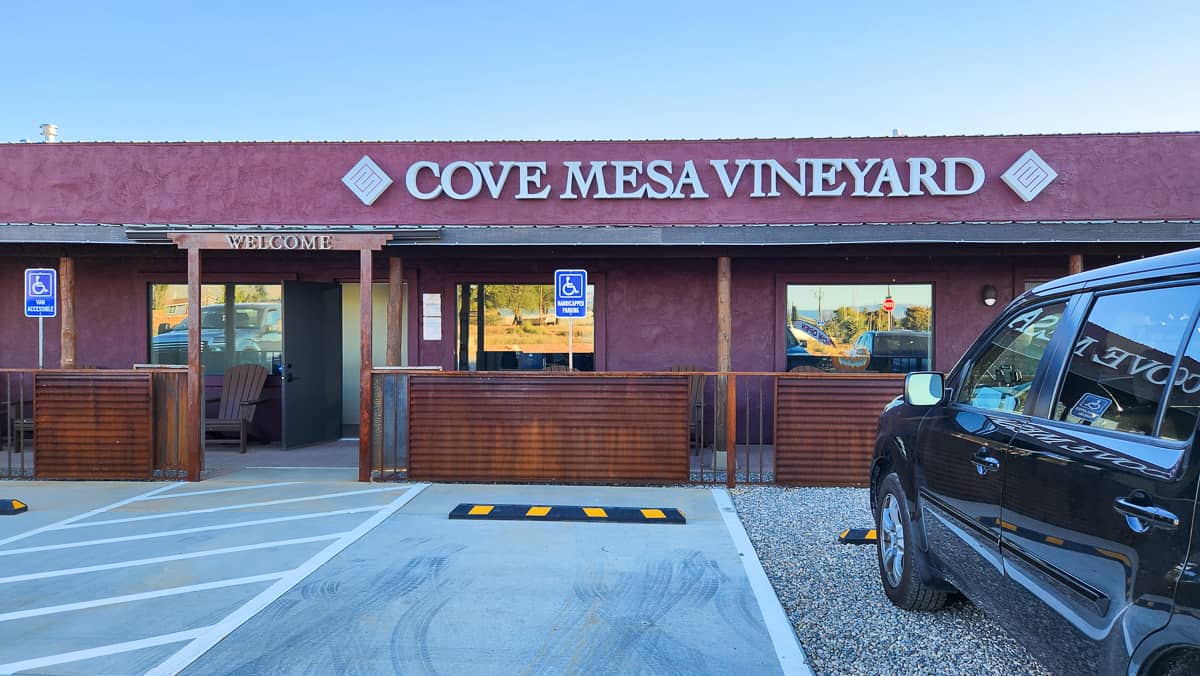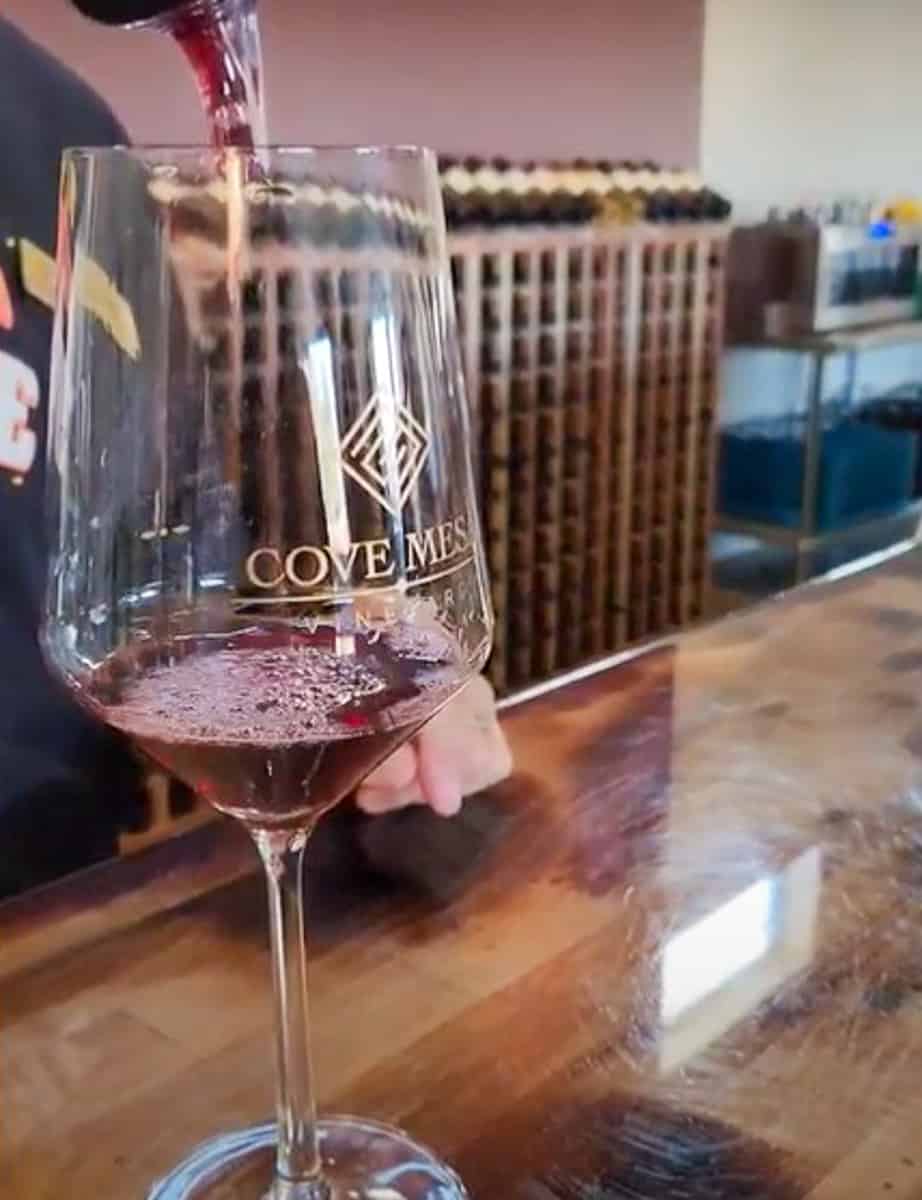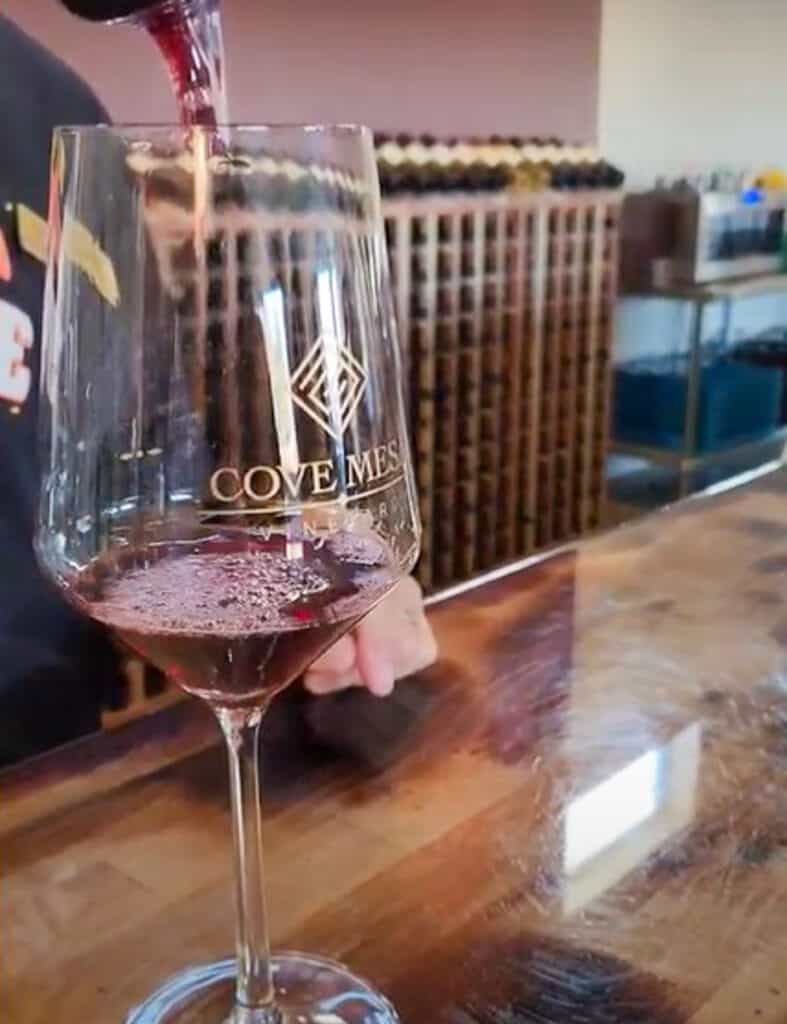 Hours: 7 days a week, hours vary by day
Food Available: Yes
Reservations Required:
Cove Mesa Vineyards is an entire 5 minutes(!) from the cluster of Cornville wineries mentioned above. As the newest winery to the area, Cove Mesa is focusing on old-world style wines that are just phenomenal.
Much like the other wineries nearby, Cove Mesa sources all of their grapes from Arizona, many from their estate vineyard in the Verde Valley and others from the Willcox area.
Wine flights or glasses/bottles can be enjoyed from their new tasting room, which often has live music, in the heart of Cornville.
Small bites (think charcuterie boards and flatbreads) are available to complement the wine.
Since the winery's first vintage was in 2020, they are still growing their portfolio of wines and varietals, but everything we had in our flight was fantastic (Sangiovese, Malbec, Cab Sauv, and Tempranillo).
Also, by happenstance, we had a chance to meet and talk with the owner/winemaker for a while about how he got into the business, his travels, and his love for wine.
It was a great experience, and much like we mentioned above, it elevated the overall experience.
Of all the Cornville wineries, Cove Mesa was our favorite and it was the only place we purchased a bottle to go.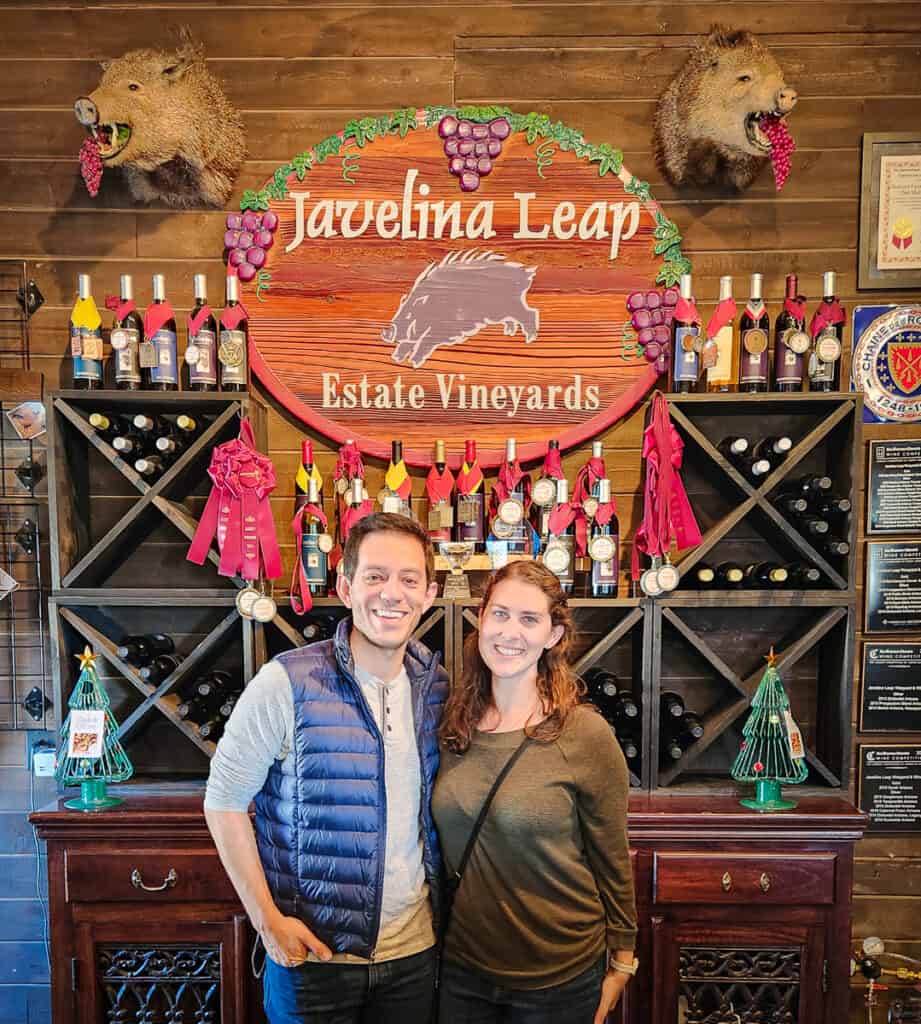 Still Thirsty? We have a few more Verde Valley Winery Guides to check out: