The 6 Best Wine Bars in Scottsdale, Arizona
If you are looking for a list of the best wine bars in Scottsdale, you've come to the right spot. Scottsdale offers 6 locally-owned wine bars that range from local Arizona wine to carefully-crafted wines from around the world.
We personally love Arizona wine (and wine in general) and there are some great options to consider while in Scottsdale.
Short on Time? Here are the key takeaways:
The Wine Collective focuses on local AZ wine producers

Sorso Wine Room has a self-service wine bar option

Scapegoat's food might be the "best thing ever"
Psst: We have a bunch of guides about Arizona. Browse them all here.
**Boozing Abroad contains affiliate links throughout the site. If you choose to purchase items through these links, we will earn a small commission at NO extra cost to you. Read the full disclosure policy here**
Map of Scottsdale Wine Bars
Click the interactive map below!
HOW TO USE THIS MAP: To view the layers and see the names of the places on this map, click the tab in the top left corner. You can select the check marks to show or hide certain layers. If you select the icons on the map, you will get more information about the point of interest.
HOW TO SAVE THIS MAP: If you select the star icon next to the map name, you can save this map to your Google Maps account. To view it, open Google Maps in desktop or on your phone, select the menu button, go to "Your Places," scroll to the right to Maps, and you will see this map.
The Wine Collective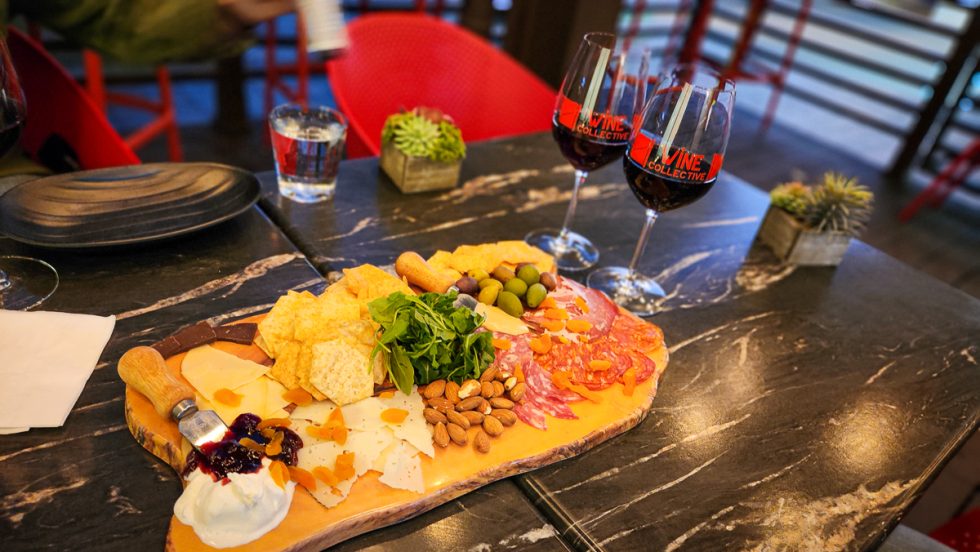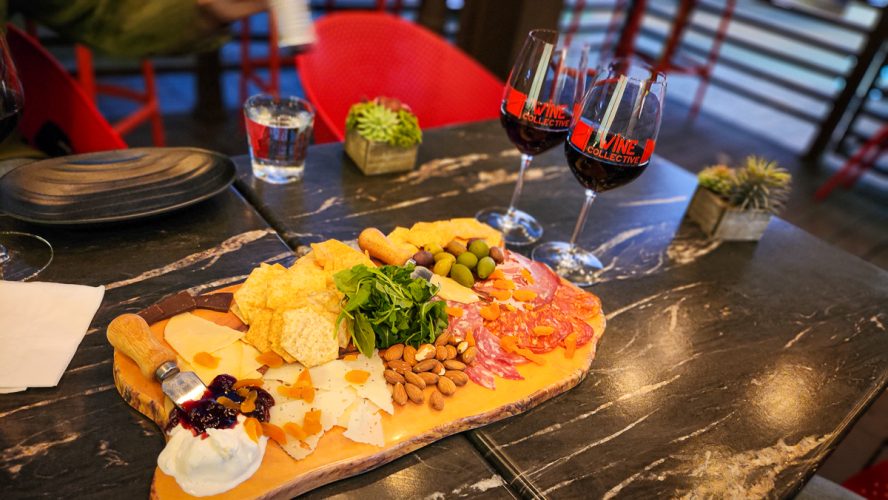 Hours:

7 days a week

Food Available:

Yes

Dog Friendly:

On patio only

Happy Hour:

No
If you are looking for a wine bar in Scottsdale that showcases local Arizona wines, The Wine Collective is our top suggestion on this list.
Unlike the majority of wine bars listed below, The Wine Collective focuses exclusively on representing the local wine producers through guided tastings. In case you didn't know this, Arizona is home to three AVA regions and is producing incredible award-winning wine.
While you can easily visit one of the 6 wineries in Scottsdale, this wine bar offers you the opportunity to taste wine that isn't available in the Scottsdale area.
We each picked a glass of red wine from wineries we haven't visited yet in the Willcox AVA region and ordered a charcuterie board to snack on.
If you opt to do a tasting, each flight includes 4 wines and they can suggest a small snack to accompany it.
If you love the wine you are drinking, they offer half-case and full-case purchases at a discounted rate so you can take home all the delicious Arizona wine!
Wine Girl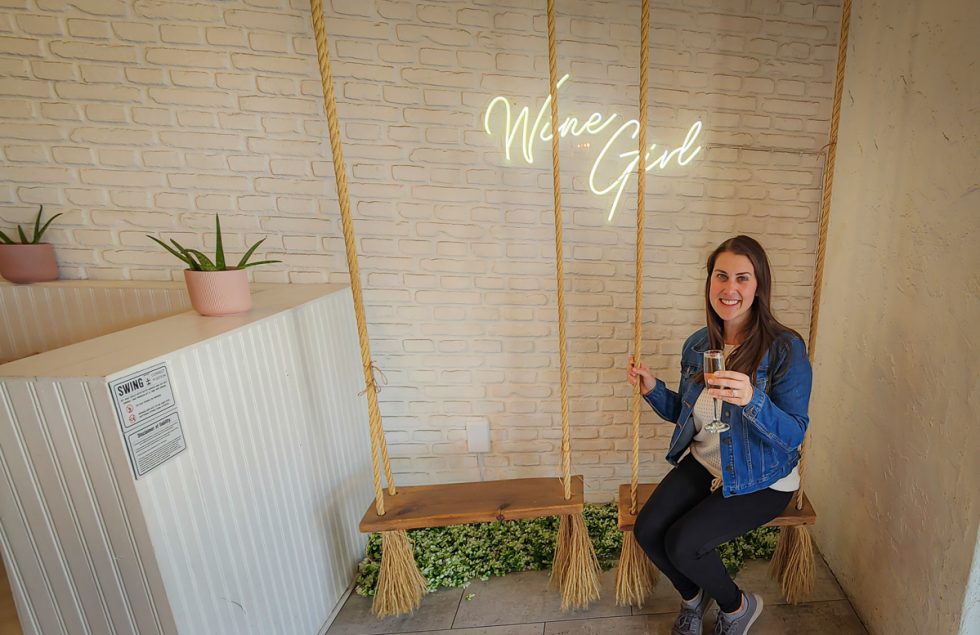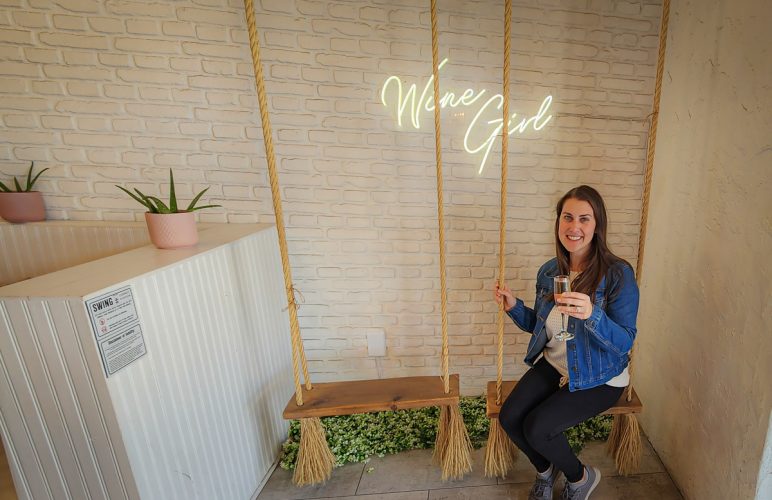 Hours:

Tuesday – Sunday, closed Monday

Food Available:

Yes

Dog Friendly:

No

Happy Hour:

Monday-Wednesday all day, half off select bottles

Monday – Thursday, open to 6 PM; $2 off food, tap wine and beers
Looking to kick back with a group of girlfriends?
Wine Girl is a girly-girl's wine bar in Old Town Scottsdale that is Instagram ready for you.
They have several wine options depending on your tastes: 12 wines on tap, wine flights, wine cocktails ("winetails"), bubbles, and bottles to purchase. If you are traveling with someone who doesn't like wine, there are a few non-wine options such as beer, seltzer, and hard kombucha.
The majority of their wines are sourced regionally from California or Oregon, with a few from Italy, France, and Spain as well.
They also have a generous selection of clothing, jewelry, and adorable trinkets that cater to the wine lover – I (Samantha) have personally shopped here and found some really fun stuff!
In addition to the swag, they have a small menu of nibbles and flatbreads if you start to get peckish (we know we do when we drink wine).
As this place draws in bachelorette parties, be sure to get there early on a weekend or book a reservation for large groups.
Scapegoat Beer and Wine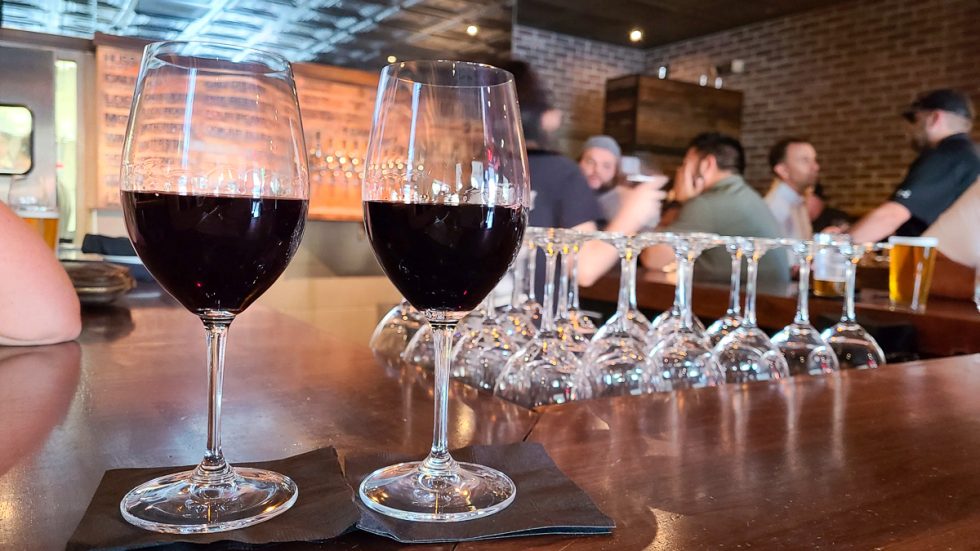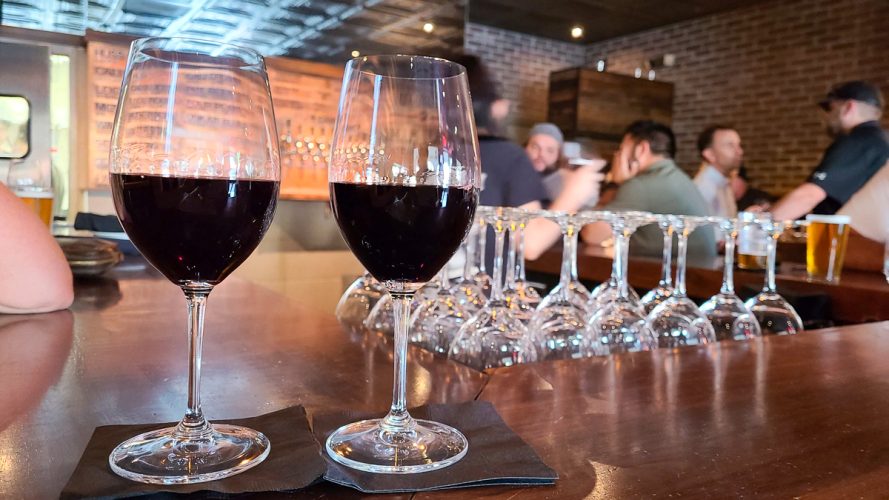 Hours:

7 days a week

Food Available:

Yes

Dog Friendly

: No

Happy Hour:

Monday-Friday from 3-6 PM
Located in the heart of Old Town Scottsdale, Scapegoat Beer and Wine Bar wants to bring people together in their quaint taproom.
With no more than 20 seats available, Scapegoat opened in 2016 and has built a fantastic reputation among the locals.
They offer over 15 wines by the glass from around the world as well as a few bottle options. Doubling as a beer bar, there are equally as many beers on tap, most of which are from Arizona.
What steals the show is their small, yet mighty menu with shareable bites for you and your crew.
We recently tried the Asiago Spinach Dip. While we don't want to be dramatic and call it "life changing", let's just say we haven't shut up about how good it was. And that was a few months ago.
We also overheard a couple near us (you'll understand how once you visit) that their meatballs "were the best ever". In our opinion, we think that the food is a MUST.
Happy Hour is Monday through Friday and they offer occasional food specials throughout the week, like Taco Tuesday. Be sure to check their Facebook to see the latest yummy options.
Sorso Wine Room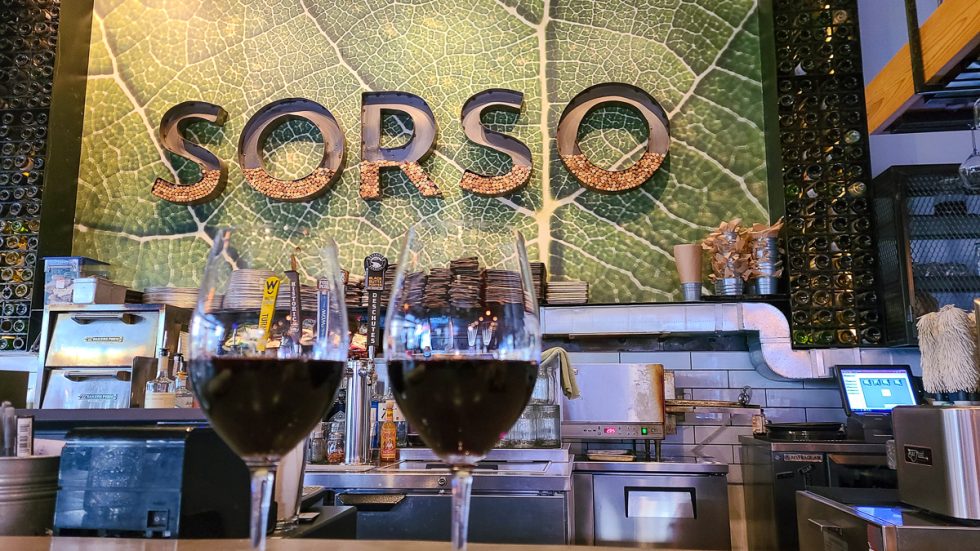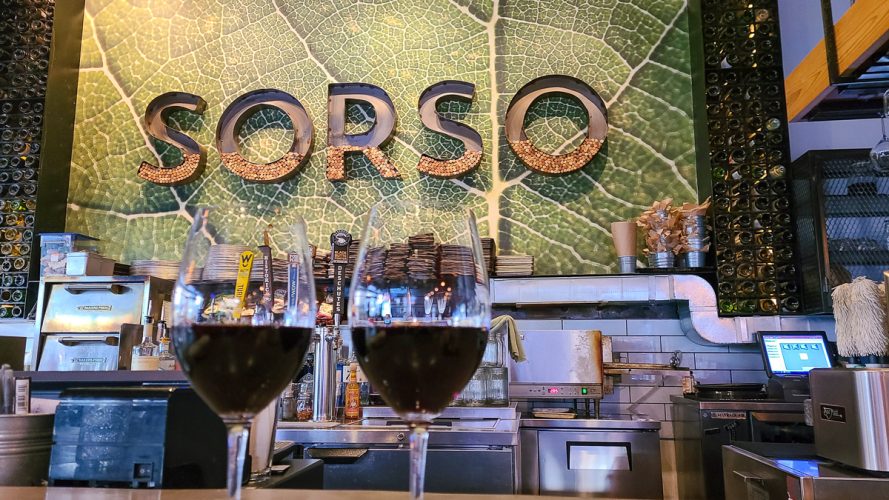 Hours:

7 days a week

Food Available:

Yes

Dog Friendly:

On patio

Happy Hour:

Monday-Friday from 3-6 PM (all day on Wednesday)
Sorso Wine Room is one of our favorite and one of the best wine bars in Scottsdale.
Sorso offers 32 constantly-changing wines from around the world through their self-dispensing taps, over 125 different bottled wines, a few house wines, and even craft beers and cocktails.
Sorso's husband-and-wife founders had traveled the country for many years following the husband's MLB career, but when that career was nearing its end in the U.S., a potential baseball career in Italy was next in line.
They took a trip to Italy to immerse themselves in the Italian culture and ended up, like so many of us do, at a wine bar in the Chianti region. Needless to say, this is where the baseball dream ends and the wine dream begins.
They fell in love with the wine bar's ambiance and the criss-cross of Old World and New World.
They especially fell in love with the way that the wine was stored and served: in those self-serve dispensers that are popping up at beer and wine bars all over the place.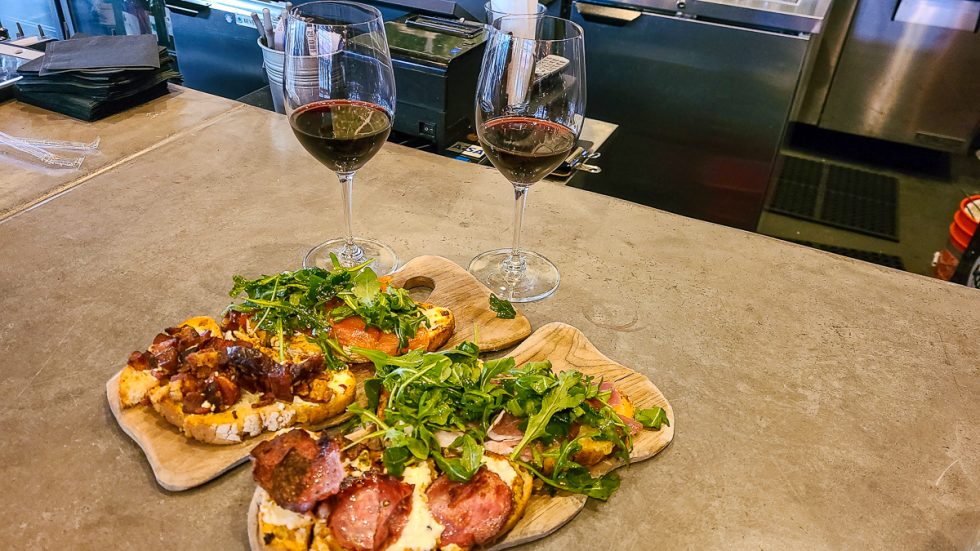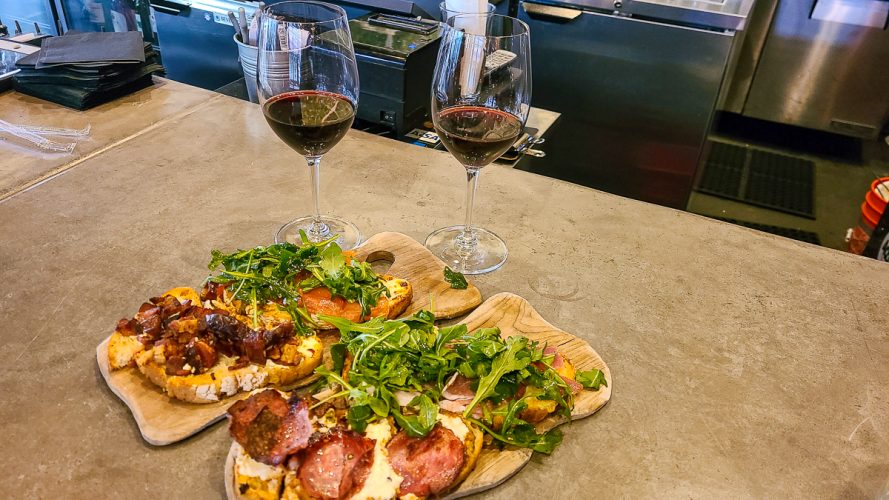 Turns out that these wine dispensers are more than just fun concepts for us drinkers. They store the wine so well (preventing oxygen from entering the bottle) that they deliver the quality of a newly-opened bottle for up to four weeks.
And these dispensers also allow you the ability to pour a full glass, just a taste, or a "sorso" which is the Italian word for a sip.
Having experienced numerous dining and wine-ing experiences through their baseball travels, and wanting to fill a void in Scottsdale, Arizona, they decided to bring a similar wine bar concept back to Scottsdale. So in 2015, Sorso was born in the hip and trendy North Scottsdale Quarter shopping area.
You can indulge in their Happy Hour every day from 3 to 6 (and all day on Wednesdays) which nets you some great deals on wine and many of their food options off the full menu.
We picked a couple of offerings from their list of 16 different bruschettas, which included a Burrata-Sopressata-Sun-Dried Tomato Pesto option and a Prosciutto-Brie-Arugula delight. We've also been for brunch and would highly recommend that too!
Rift Wine and Tap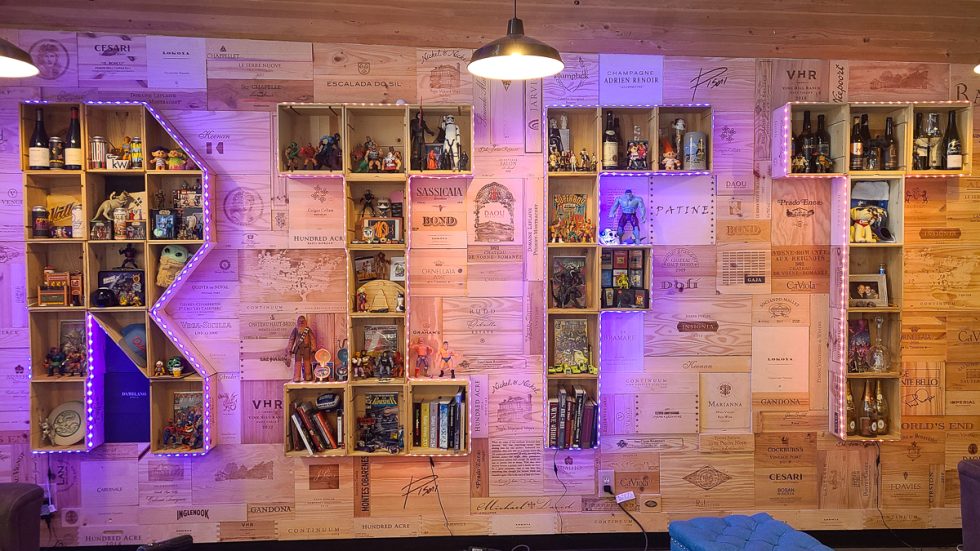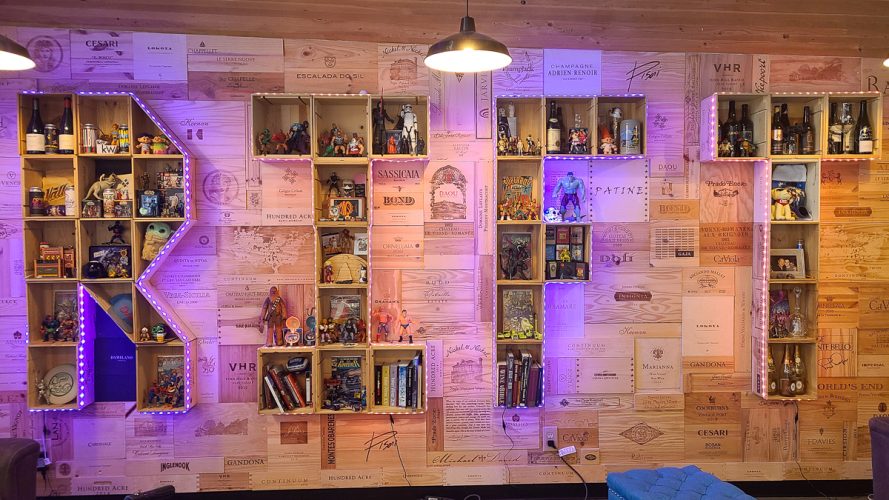 Hours:

7 days a week

Food Available:

Yes, food truck only

Dog Friendly:

No

Happy Hour:

No
Just minutes from Old Town Scottsdale, Rift Wine & Tap is a cozy wine bar that takes great care in its carefully-curated beer and wine list.
Founded in 2020, Rift has a wine-by-the-glass menu and over 150 wines in store to purchase, with a good bit from Arizona. In addition, they have 25 rotating beer taps with an emphasis on Arizona breweries.
With a large selection of memorabilia adorning the walls as decorations, their taproom is inviting and comfortable and offers beer and wine nerds alike a good time.
Be sure to check out their rotating food truck schedule on their website as well as other events such as wine tastings and trivia nights.
Terroir Wine Pub
Hours:

7 days a week

Food Available:

Yes

Dog Friendly:

On patio only

Happy Hour:

Yes, but TBD (website didn't specify)
We'll be honest, we didn't make it to Terroir Wine Pub on our last visit to the area in early 2023, but wanted to make sure it was included on the list.
In 2004, Terroir Wine Pub was converted from a wine shop to a wine bar in Scottsdale. In 2019, they underwent a massive remodel and expanded their wine menu.
Their wine list is constantly rotating to give you the most exposure to different types of wines from both the US and abroad. At the time of writing this, they were showing wines from California, Oregon, Argentina, Australia, France, Italy and Spain.
If you want to try more than one, they offer wine flights of three, 3 oz pours.
According to our extensive research, many people like their food, their generous glass pours and the live music. To find out more, check out their calendar on their website.
If you've been, drop us a comment below and let us know what you think. We hope to visit when we travel back to Arizona again.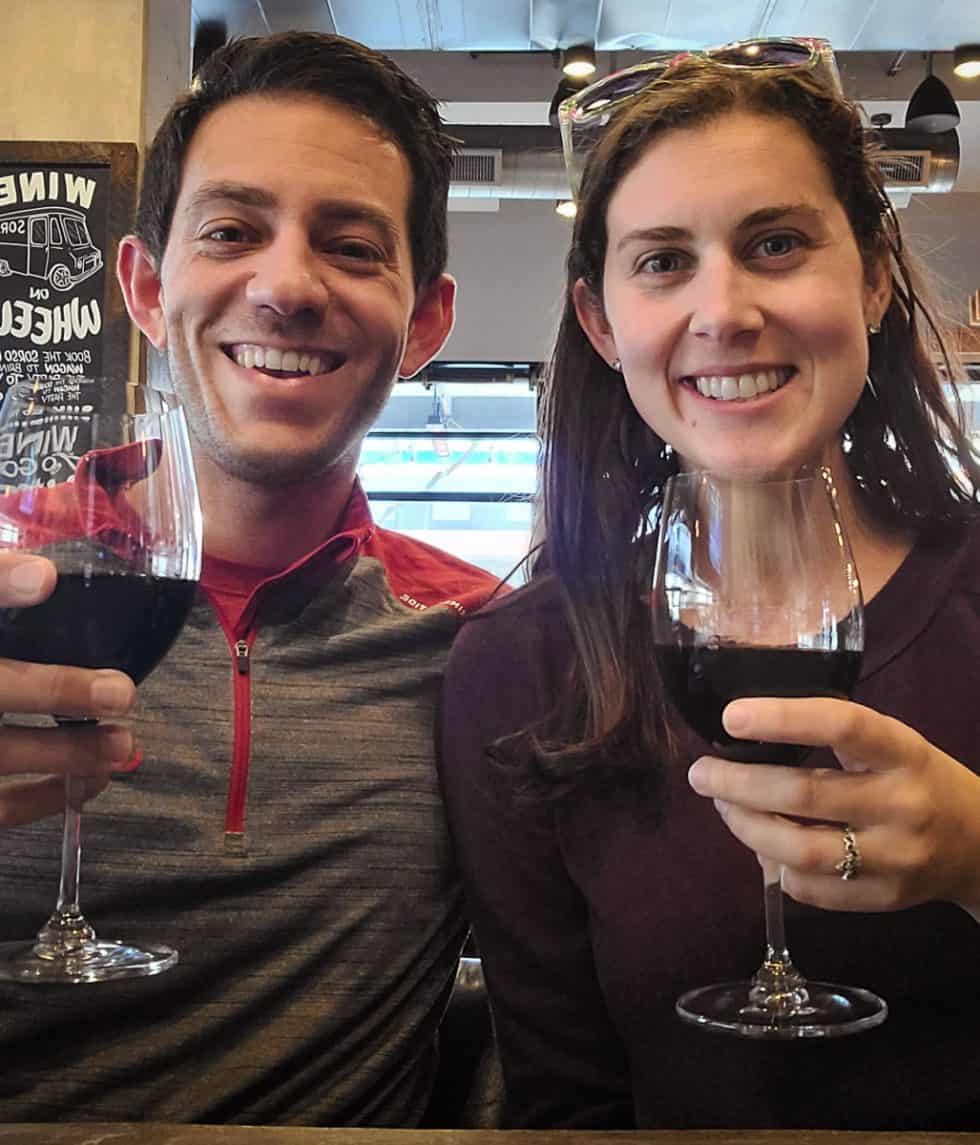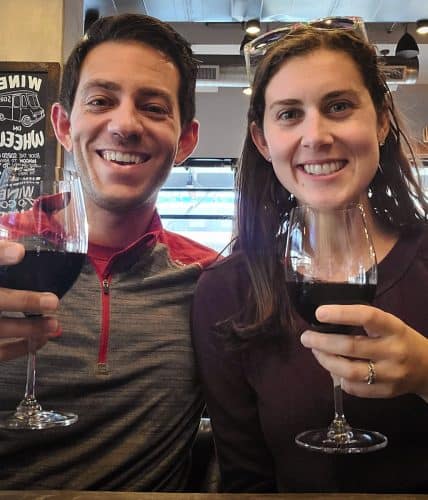 Ready to keep drinking? We have several Scottsdale guides:
Love this guide? Have questions?
Get in touch with us on Facebook | Twitter | Instagram | Pinterest