Things to do in Deadwood, SD
Deadwood, South Dakota is our favorite town we never knew existed. The things to do in Deadwood, SD is limitless.
A small town located in the Black Hills region, Deadwood was a gold rush town established in the late 1800s. Known for its Wild West history, it's become a popular tourist destination for those visiting Mount Rushmore.
No South Dakota trip would be complete without a visit here. From family-friendly gun-fight shootouts to historical saloons, there are so many things to do in Deadwood, SD for all ages.
We visit South Dakota yearly and it's still one of our favorite places to visit in the Black Hills!
Short on Time? Here are our top 3 things to do in Deadwood:
Watch a Shootout
Visit one of the many historical sites
Drink delicious local spirits, wine or beer
Psst: Vacationing in South Dakota? We have a bunch of guides. Browse them all here.
This post was originally published in September 2019, and was updated in March 2023.
**Boozing Abroad contains affiliate links throughout the site. If you choose to purchase items through these links, we will earn a small commission at NO extra cost to you. Read the full disclosure policy here**
Map of Deadwood, SD
HOW TO USE THIS MAP: To view the layers and see the names of the places on this map, click the tab in the top left corner. You can select the check marks to show or hide certain layers. If you select the icons on the map, you will get more information about the point of interest.
HOW TO SAVE THIS MAP: If you select the star icon next to the map name, you can save this map to your Google Maps account. To view it, open Google Maps in desktop or on your phone, select the menu button, go to "Your Places," scroll to the right to Maps, and you will see this map.
Deadwood South Dakota History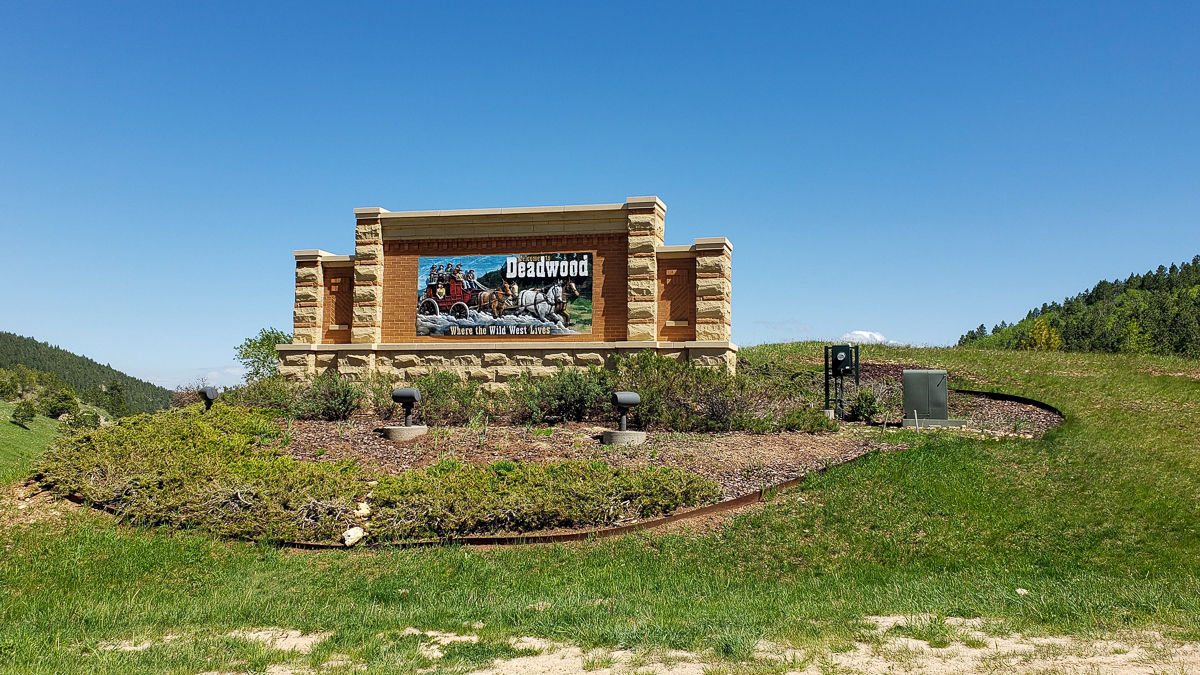 You wouldn't think a city with a population of less than 1,500 would be such a fun and interesting destination, but that's exactly what Deadwood, South Dakota is: fun and definitely interesting.
Deadwood, named by early settlers for the many dead trees found in its gulch (real original), is located at the northern tip of South Dakota's beautiful Black Hills.
Deadwood experienced its heyday back in the late 1870s, thanks to the discovery of gold in the hills surrounding the area, which brought upwards of 25,000 people to the city at its peak.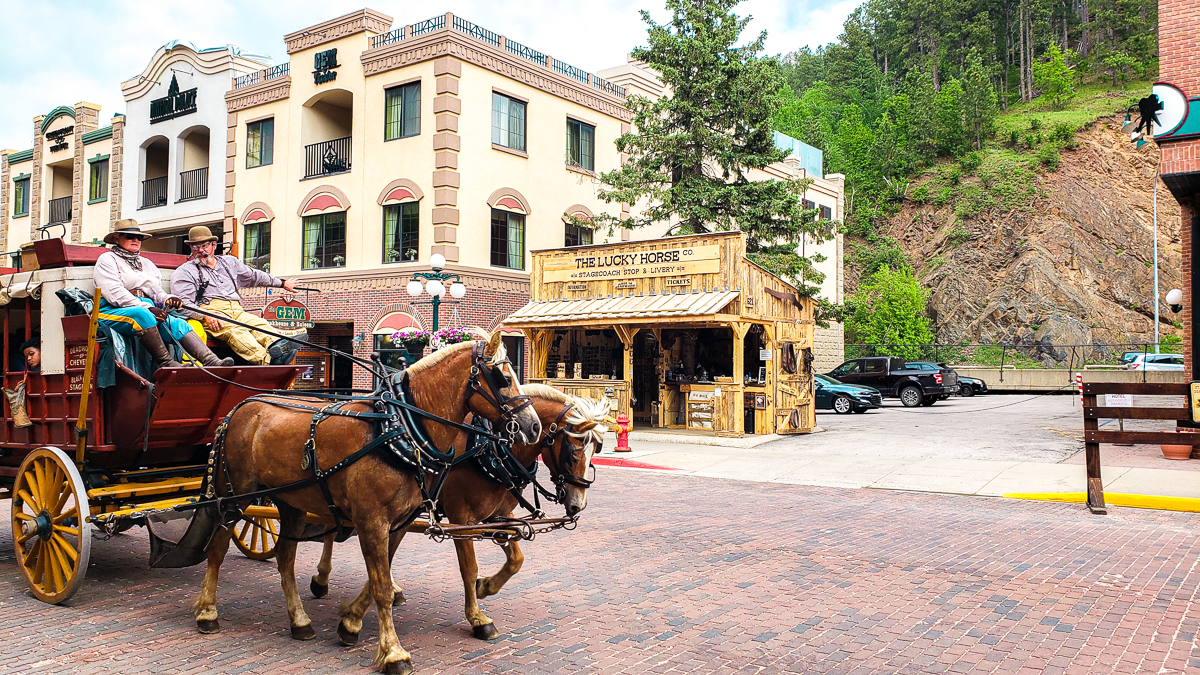 But Deadwood is more infamously known for its Wild Wild West characters who roamed the streets, its adult-playground of casinos, brothels (no longer operational, of course), and saloons, and as the site of Wild Bill Hickok's murder during an innocent game of poker.
You'll see pictures and shrines to this old Western folk hero everywhere you walk around this little city.
Everywhere.
Check out our time in this wild, wild city and to see all of the things to do in Deadwood SD.
Where to stay in Deadwood
If you are looking to stay in a downtown hotel in Deadwood, you'll have a variety of choices, depending on your budget and how close to the action you want to be.
Booking.com probably has the widest selection of budget (and luxury) accommodations in the world. In our experience, they consistently found the cheapest rooms. We also like their easy to use interface and no money down policy. When we book our travel stays, we personally use booking.com.
Deadwood Hotels
*Historic Hotels in Deadwood*
Historic Franklin Hotel (owned by Silverado)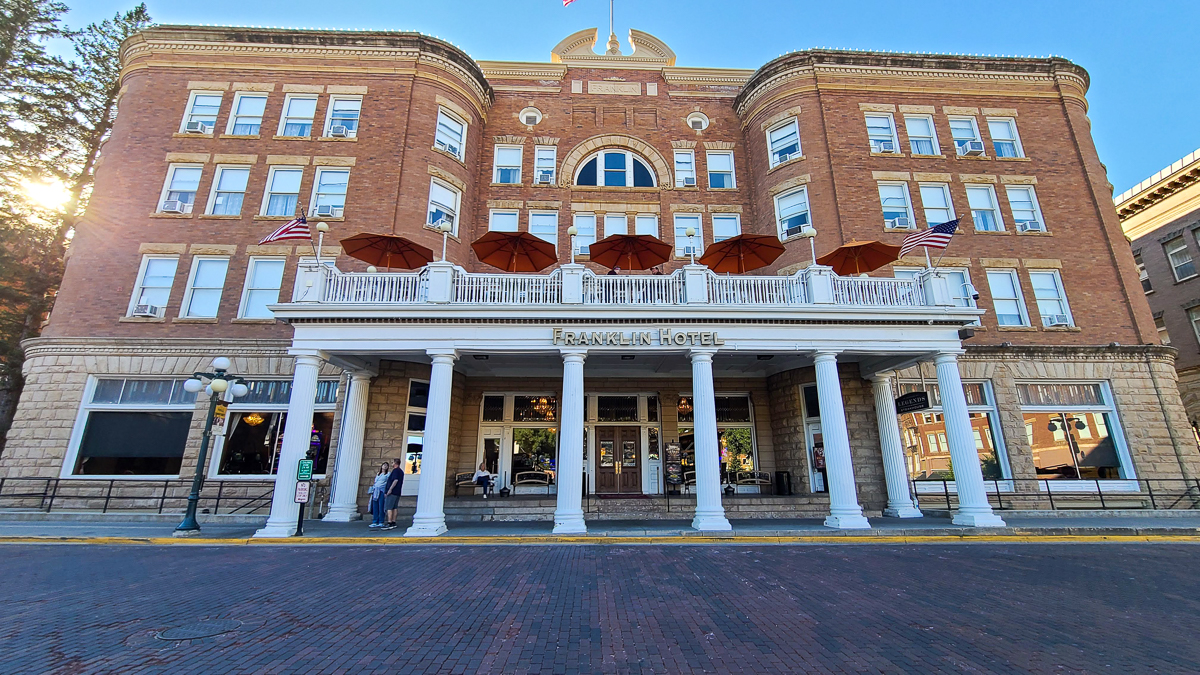 Opened in 1903 (coincidentally, the same year Calamity Jane died), The Historic Franklin Hotel is a real gem right on Main Street. The rooms are western-style and are equipped with modern touches (wifi, AC, etc).
It's conveniently located right across the street from the Outlaw Square and Silverado Casino. This is also where you'll find Legends Steakhouse, one of the best Deadwood, SD restaurants.
>>Check current prices or book your stay here now!
Historic Bullock Hotel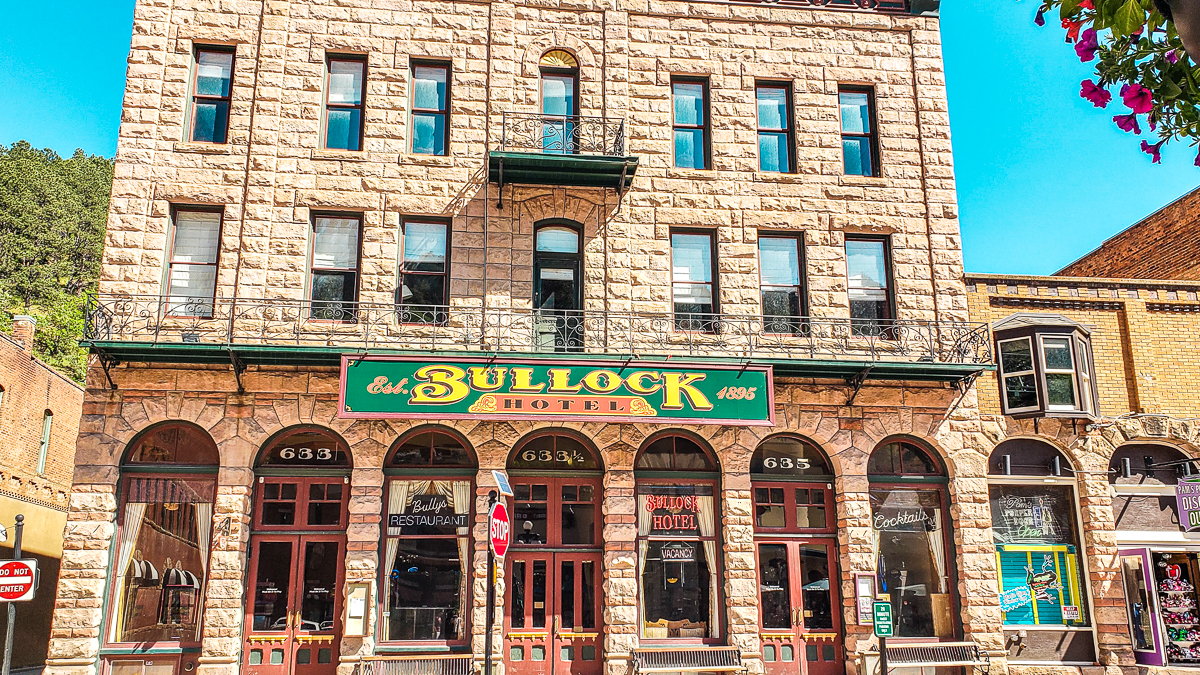 Do you believe in ghosts?
If not, you can add this hotel to your list of things to do in Deadwood, SD for their resident ghost, Seth Bullock, that proudly haunts the place.
A quick bit of history on Seth.
Seth was a former sheriff in Montana and arrived in Deadwood just 2 days before Wild Bill Hickok was murdered. Realizing Deadwood needed a lawman, Seth took the job as sheriff. He purchased several businesses in Deadwood (including this hotel) and spent his lifetime trying to make Deadwood a prosperous place for future generations.
According to numerous reports, Seth Bullock continues to play host at his beloved hotel with several documented occurrences happening to staff and guests.
There are reports of a strong paranormal presence in the hallways of the second and third floors.
If you are brave enough to experience Seth, the Historic Bullock Hotel is just a few buildings down from Saloon No. 10 and located in the middle of Main Street.
>>>>Check current prices or book your own paranormal stay now!
Casinos in Deadwood
The Lodge at Deadwood
The Lodge at Deadwood made our list because it's outside of town and has a nice slot machine selection. This is one of the newer hotels to Deadwood and offers great mountain views of the Black Hills.
If you happen to have an RV, they have electric-only hookups for $30/night in a mostly-flat parking lot.
>> Check current prices or book your Stay Here Now
Hickok's Hotel and Gaming
Combine your historic stay with a casino at Hickok's Hotel. Constructed in 1899, Hickok's Hotel originally housed a department store.
Today, Hickok's has completely renovated their 22 hotel rooms and suites and has a great pizza place to boot!
>> Check current prices or book your Stay Here Now
Budget
Gold Country Inn
Gold Contry Inn is located at the south end of the Main street just a quick 8-minute walk to Saloon No. 10. If you don't want to walk, you can hop on the trolley stop just outside the motel.
This motel offers low-key rooms with regular amenities such as free Wi-Fi and cable TV with a onsite casino, restaurant and cafe.
There is also free parking which makes this option affordable a great busget friendly place.
>> Check current prices or book your stay here now
Travelodge Inn & Suites by Wyndham Deadwood
Set within Black Hills National Forest, the Travelodge Inn is a great budget-friendly hotel just a few minutes from Deadwood.
These basic rooms feature flat-screen TVs and free Wi-Fi, plus minifridges, microwaves, and tea and coffee making facilities. Complimentary perks include a buffet breakfast and parking.
>> Check current prices or book your stay here now
There are 8 campgrounds located in Deadwood, but only 1 is located near downtown, Days of '76 Campground (located next to Days of '76 Museum). All have RV parking and tent campsites are also available (except at Creekside Campground).
In our RV, we stayed in the parking lot of The Lodge at Deadwood. There are 8 first-come, first-serve spots that are electric-only for just $30/night and a quick 5-minute drive to town. If you aren't towing a car, there is a trolley that will take you downtown for $1 per ride.
Things to do in Deadwood SD
Saloon Hop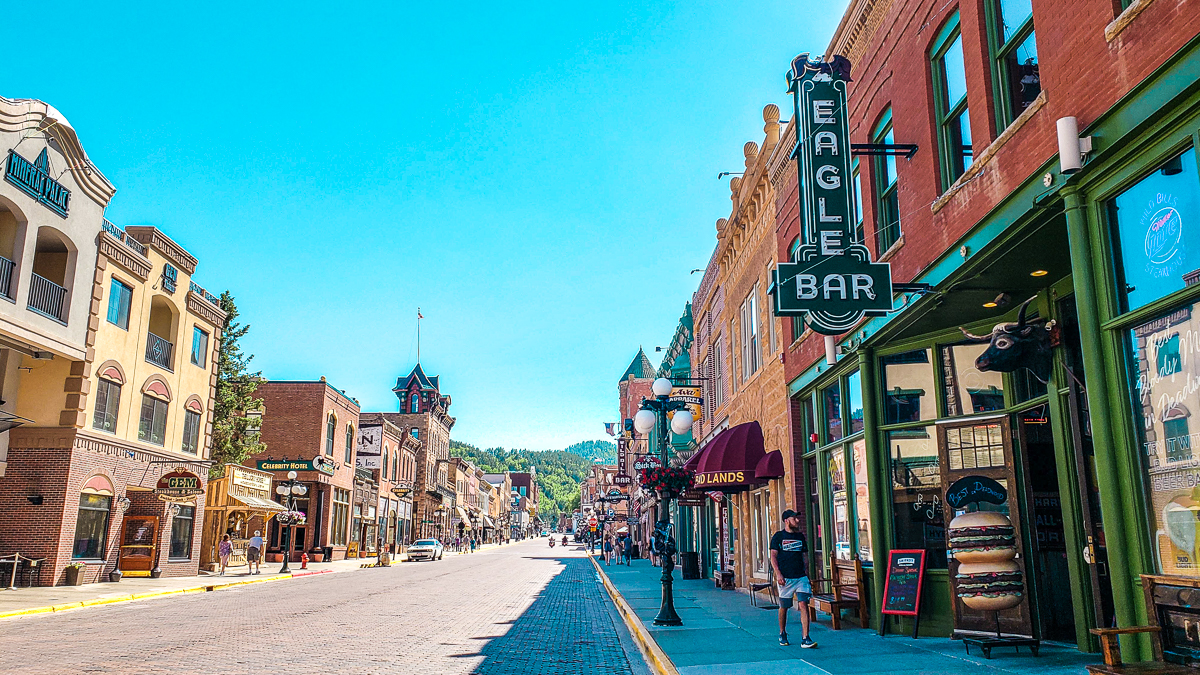 What's a good gold town without an array of saloons?
This is a must-do when planning your list of things to do in Deadwood SD. All of the saloons in Deadwood have unique décor and things to see, including slot machines.
Our two favorite stops were Saloon No. 10 and Wild Bill Bar.
Stroll down the streets and pop into whichever saloon meets your fancy (side note: none of them are actually fancy).
Saloon No. 10
Why Visit: Wild Bill's final card game show: free
Must-order drink: Wild Bill's Old Fashioned
Saloon No. 10 has embraced the legacy of Deadwood's most famous resident, Wild Bill Hickok. While the original bar is down the street (more on that next), Saloon No. 10 has become the go-to for Wild Bill's history.
Marketing themselves as "the only museum in the world with a bar", the saloon's walls are covered in old photos and strange artifacts that will please the curious minds.
Be sure to pick up your feet when you are puddering around as the floor is covered with saw dust to give it even more of a timely feel! Needless to say, we had to empty our shoes when we left.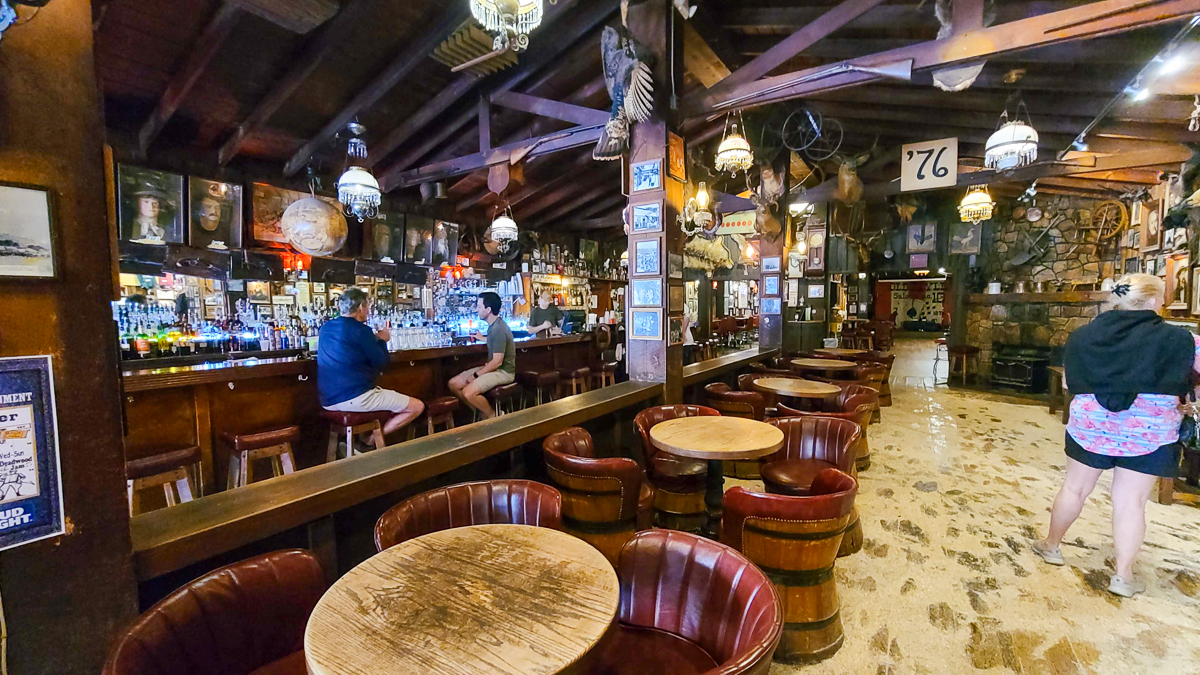 Each day in the back of the saloon, you can watch Wild Bill Hickok himself give you a brief autobiography and then see a re-enactment of his murder during "Wild Bill's final card game". (Don't worry, it's not overly-violent and it's appropriate for most ages).
The story goes, Wild Bill was playing poker when Jack McCall shot him in the head. He was holding 2 black Aces and 2 black 8's, which is now known in the poker world as "the Dead Man's Hand".
*Note: There is a loud bang sound when they fire the gun during the reenactment.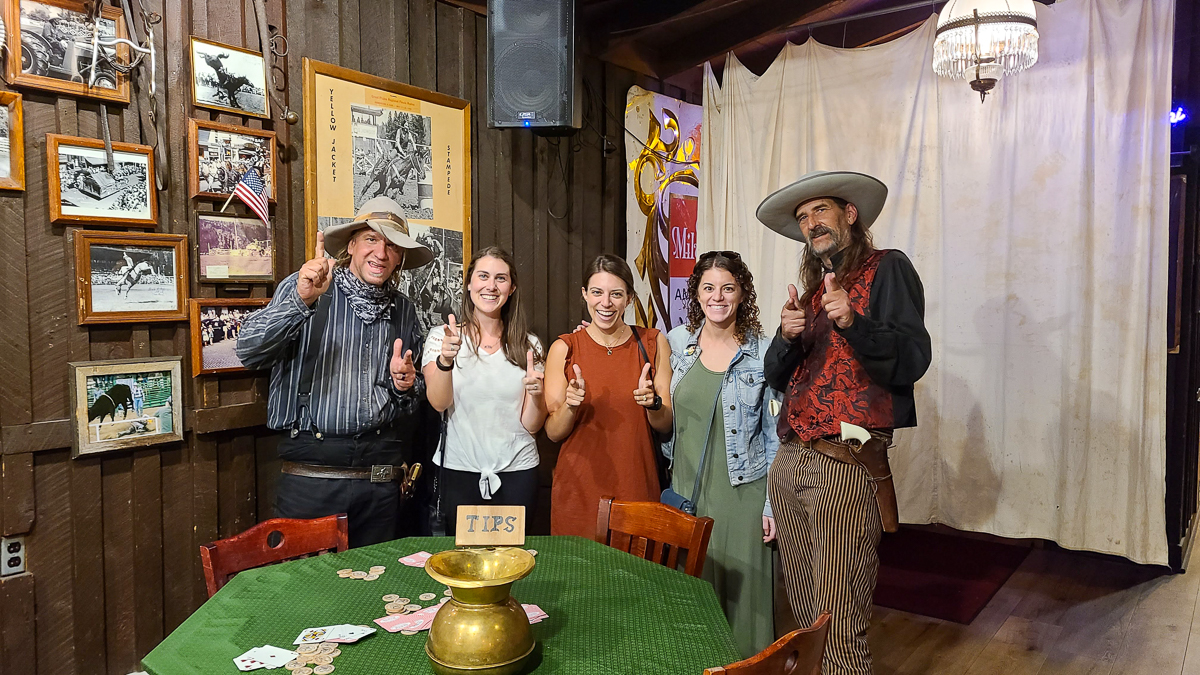 If you want pictures with the actors, be sure to hang around after the show!
These performances are free and are performed daily at 1, 3, 5, and 7 PM. We suggest arriving at least 15 minutes before each performance.
The last performance ends in a heated chase of Jack McCall out of the saloon and up the street.
If you want to see how the chase ends, the Trial of Jack McCall takes place in the Masonic Temple just up the road (for more info, read our "Watch a Shootout" section below).
Wild Bill Bar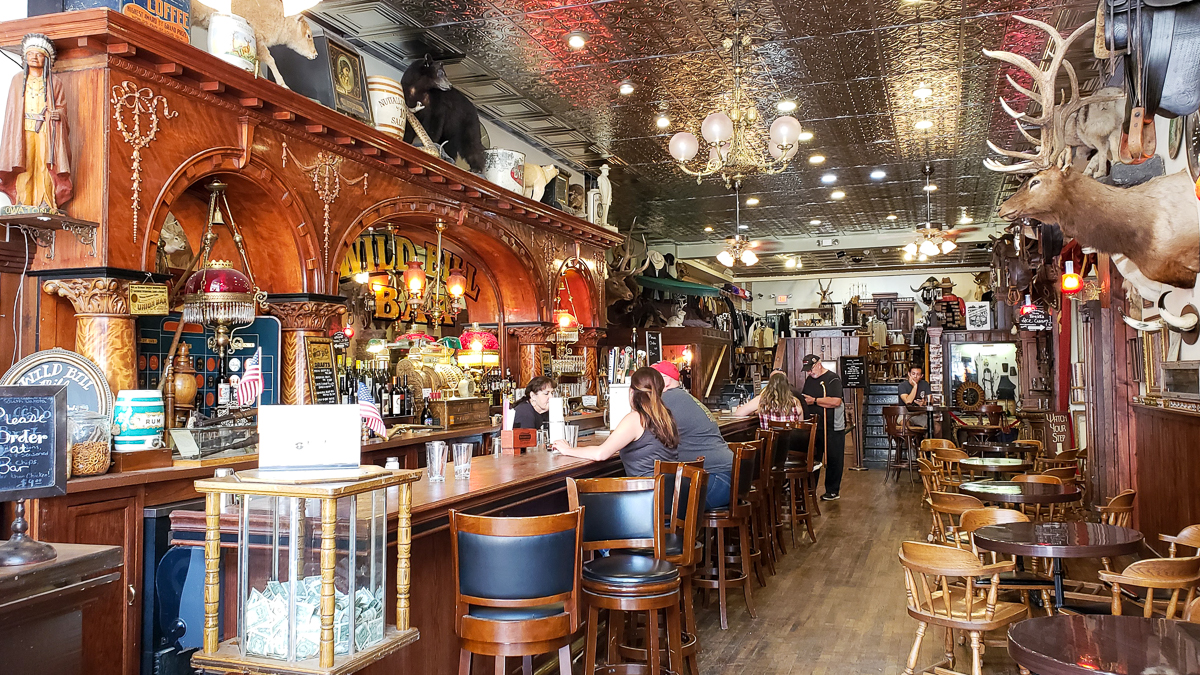 Why Visit: $10 a person to tour the original site where he was murdered
What to order: Local beer on tap
While all the live-action, re-enacted action takes place in Saloon No. 10, Wild Bill Bar, located just about 400 feet down the street, was the original location of the bar where Wild Bill actually was shot.
Nonetheless, this bar has a true Western feel to it and you feel like Wild Bill might even walk in and grab himself a whiskey.
The original site of Wild Bill's murder was named Nuttal and Mann's Saloon, which earned the nickname No. 10 for being the 10th claim to be registered in Deadwood.
Because of extensive flooding, Deadwood was built up to its current level and the original saloon is now in the basement level of Wild Bill's Bar.
Visiting the original site of Wild Bill's demise will cost you $10 a person. No reservation needed. Just ask the bartender.
The bar itself doesn't serve liquor, but for convenience, it is adjoined with an ice cream parlor and a souvenir store so you can grab your brew, satisfy that sweet tooth, and get your Deadwood trinkets all under one roof.
Watch a Shootout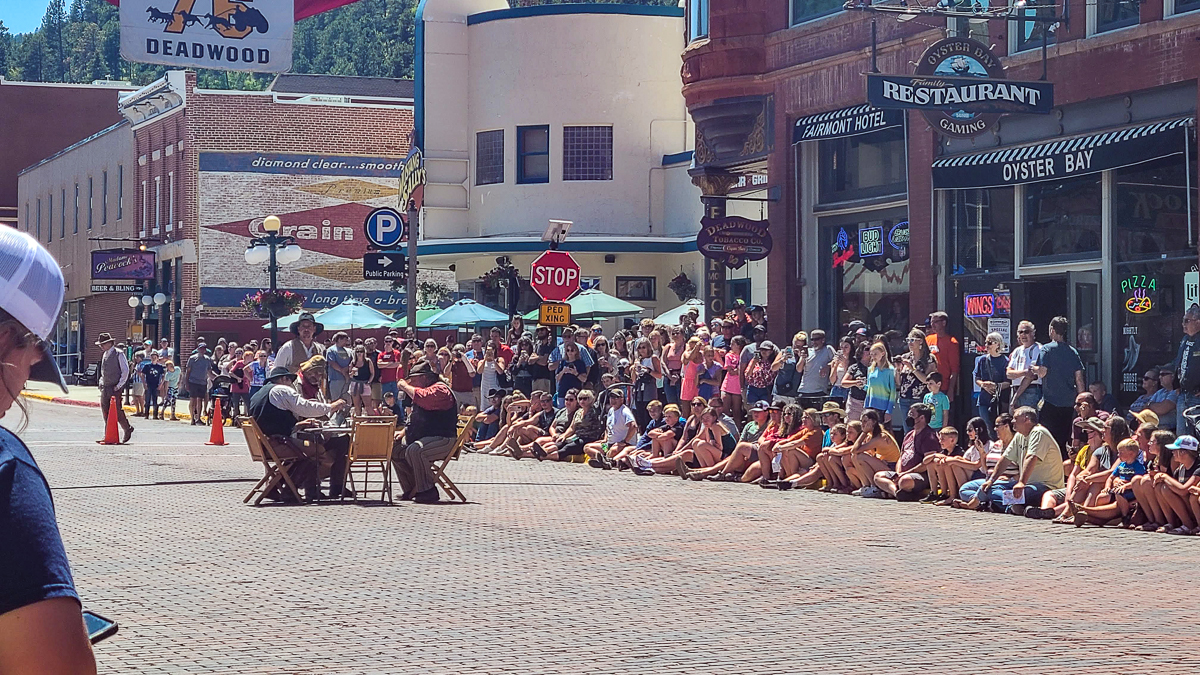 Thinking about the Wild Wild West, one of the first things that probably comes to mind is John Wayne shootouts.
And Deadwood does its best to keep the Old West alive with re-enactments of these shootouts everyday, but in an informative and family-friendly way (if that's possible).
Naturally called Outlaw Square, this gathering space and entertainment venue is on Main Street in the heart of Deadwood. This is where you'll find most of your shootout re-enactments, though you might see some throughout the streets depending on the time of day.
Every day at 2, 4, and 6 PM (except for Sunday), the group "Deadwood Alive" performs a different show and provides some historical context around it too.
The actors, in costume and always in character, roam the streets all day long and interact and take pictures with tourists.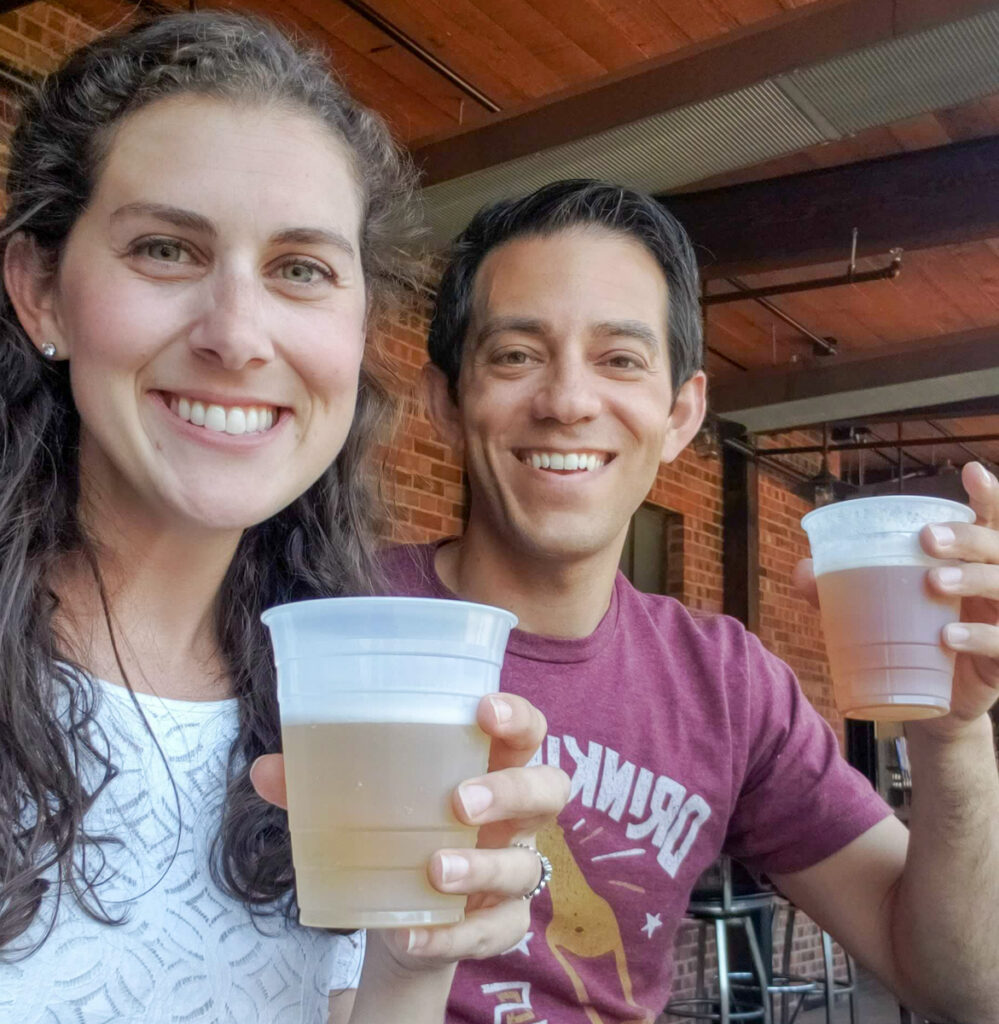 PRO TIP: Grab a local South Dakota beer from the patio bar at Silverado Casino, which overlooks Outlaw Square, and enjoy while you watch the shootout. We thoroughly enjoyed watching the show from here.
When the square isn't being used for shootout purposes, it's home to a popular summer concert series, movie nights, farmers markets, and more.
The Trial of Jack McCall
With all of these shootouts happening around town, there has to be some justice somewhere, right?
Performed since the 1920s (making it one of the nation's longest-running plays), The Trial of Jack McCall takes place just up the road from Saloon No. 10 and is based on the actual trial that took place when Jack McCall was tried (for the second time) for murdering Wild Bill during his poker game.
This, too, is fun for the whole family and you might even get to participate as a member of the jury.
If you want to see the whole sequence, go to Saloon No. 10 for the 7 PM re-enactment of Wild Bill's murder and then follow along outside where they chase Jack McCall into the street, capture him, and bring him to the Masonic Temple for trial.
To experience this bit of Wild Wild West history, it's just $6 for adults and $3 for children.
This play takes place every day but Sunday and starts around 8 PM, just after they capture Jack McCall.
Strike it rich in the casinos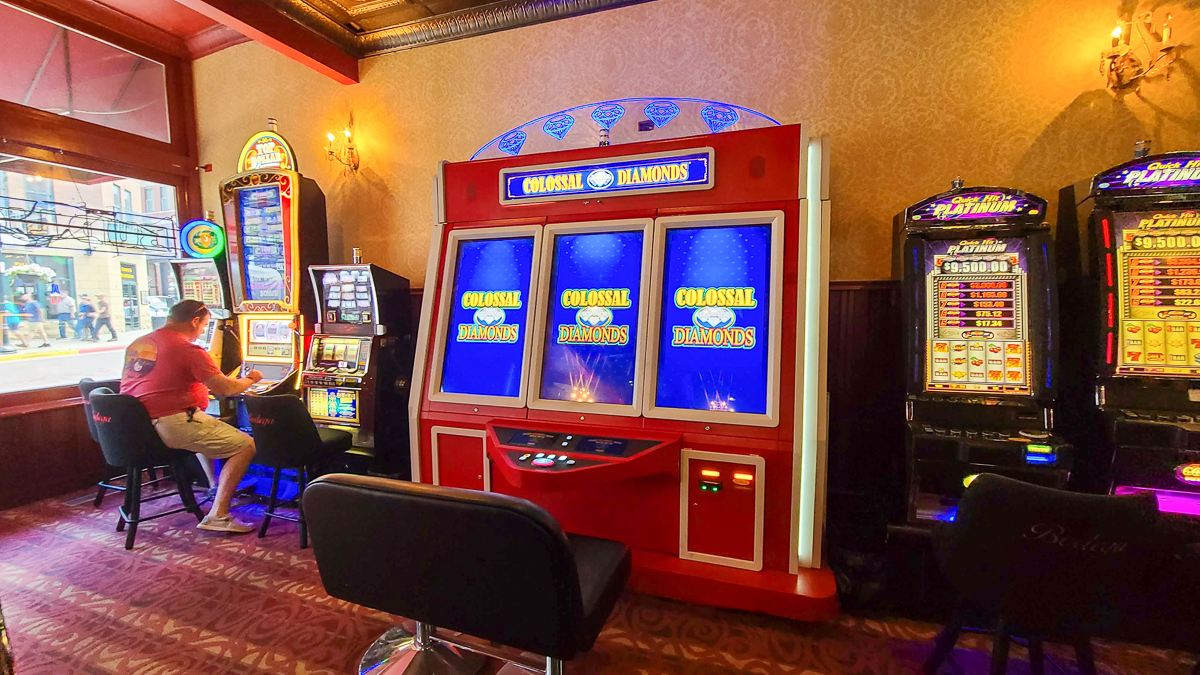 Like any good gold-boom town, you can try your luck, not digging for gold, but at a casino. There are over 20 places to try your luck with table games, live poker, slots, craps, and roulette.
Slot machines are the most common casino game in Deadwood (even the laundromat has some).
Try your hand at some penny slots to get you warmed up and then head over to Cadillac Jack's Gaming Resort or Silverado Casino to take your chances on a table game.
When looking at the different things to do in Deadwood, SD, searching for your gold in the modern world needs to be on the list.
Drink Local
Whether your preference is beer, wine or liquor, there are 5 easy spots to drink local in Deadwood, SD.
Curious on all the local booze options in the Black Hills?
Read all in-depth guides about:
Belle Joli' Winery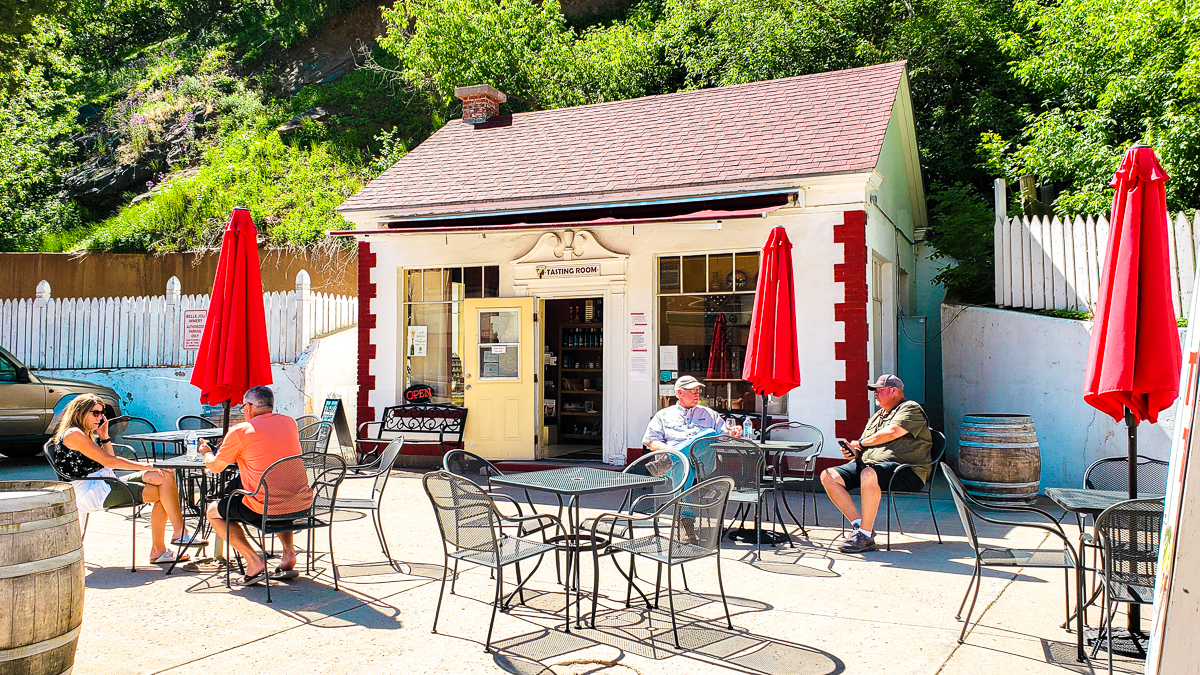 A quaint tasting room nestled into the Main Street area, Belle Joli' Winery has a splendid selection of wines to taste!
For $5, you get to select 5 wines to sample, ranging from traditional reds and whites to delicious dessert and sparkling wines. Grab a glass and sit outside on their patio to people-watch before heading off to a saloon.
Have someone in your party that hates wine? (Unfriend them). You can head over to His & Hers Ale House and Wine Bar to sip on some of their wines as well as find a new friend who likes beer.
Deadwood Distillery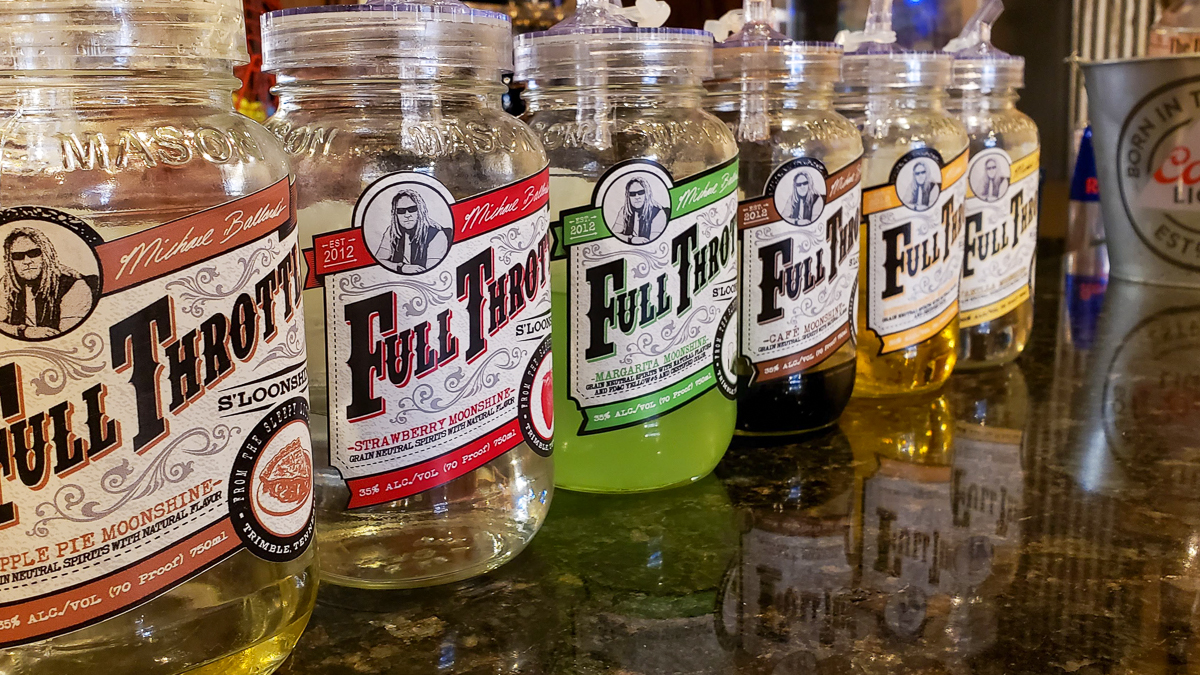 Deadwood Distillery is located in the middle of Main Street and will pack a punch that's more lethal than Jack McCall's shot (well, maybe not).
This moonshine distillery has a variety of its Full Throttle Moonshine flavors, all as equally delicious as the next. We tried 8 in total and agreed that the vanilla and green apple were our favorites.
Do yourself a favor though, try the Potato Creek Johnny's Whiskey and ask about the story. It's like a fireball, but 1000% better (and local)!
West River Whiskey Distillery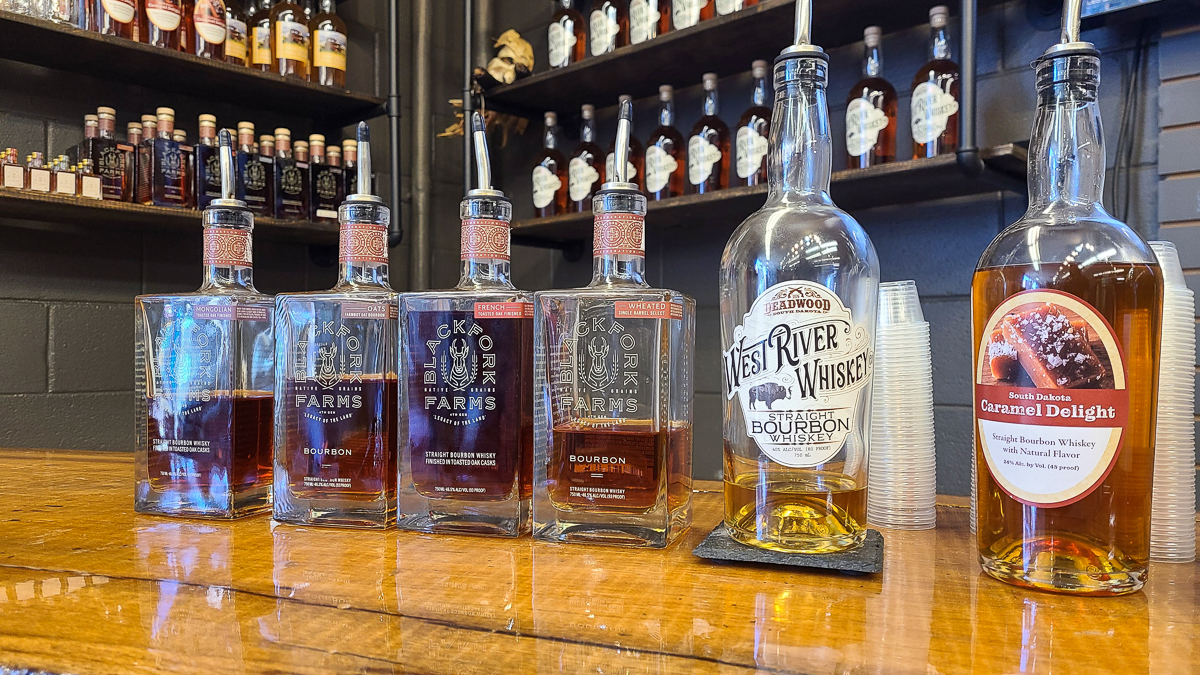 Located on Main Street, West River Whiskey Distillery is a craft distillery producing a variety of small-batch whiskeys using locally sourced grains and water from the Black Hills.
Their whiskeys are aged in oak barrels and range from traditional bourbon and rye to more unique flavors such as honey and cinnamon.
We each drank a flight to sample all the spirits. The Caramel Delight was so smooth, it was hard to taste the alcohol! It was very delicious.
Each tasting comes with a souvenir glass that you can take home.
Sick-N-Twisted Brewing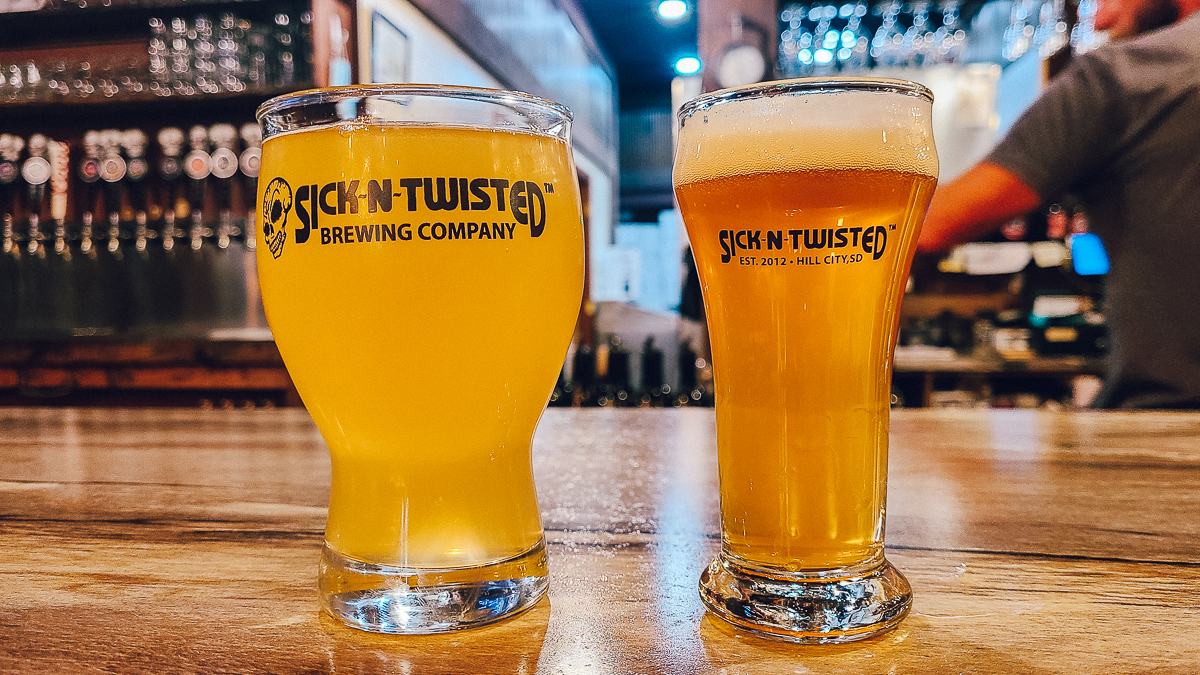 Sick-N-Twisted Brewing was one of Hill City's first craft brewery for thirsty residents and tourists alike. Since their opening in 2012, they have expanded a taproom to Deadwood.
They offer a large tap list of locally-crafted brews, and like their sister winery, Naughti Winery, they have some fun and naughty names, like the Hop on Top double IPA, the Panty Dropper porter, the Nut Hugger brown ale, or the Just the Tip pale ale.
Not sure if we were laughing because of the beer names or we were just getting tipsy. Maybe both.
Looking for more beer options in Deadwood and the surrounding areas? Read our Black Hill Breweries Guide.
Take yourself for a history lesson on a brothel tour
Yes, you read that right, a brothel tour.
Prostitution was legal in Deadwood, SD until 1980. 1980!
If you are feeling adventurous, you can tour one of the former brothels located on Main Street.
If you are looking for something a little more family-friendly, you can pick up a free brochure and take a self-guided walking tour of Deadwood instead.
Information for both can be found at either visitors center in town.
Days of '76 Museum
Cost: $8 Adults, $3 Children (ages 6-12; when did 13-year olds become adults?), Children 5 & under free
The Days of '76 is a huge celebration that began back in the 1920s as a way to honor Deadwood's first settlers (not Wild Bill): the prospectors, miners, and their families who flocked to the Black Hills in 1876 in search of gold.
Ever since, the Days of '76 has blossomed into an all-out annual event with a parade and even a rodeo.
The Days of '76 Museum actually began as a place to simply house all of the wagons, stagecoaches, carriages, clothing, memorabilia, etc. that were used in the yearly celebrations.
Today, the museum is a state-of-the-art facility filled with some really neat artifacts and exhibitions. Whether you love history or just looking to explore the past, the Days of '76 museum is a must add item on your list of things to do in Deadwood, SD.
Adams House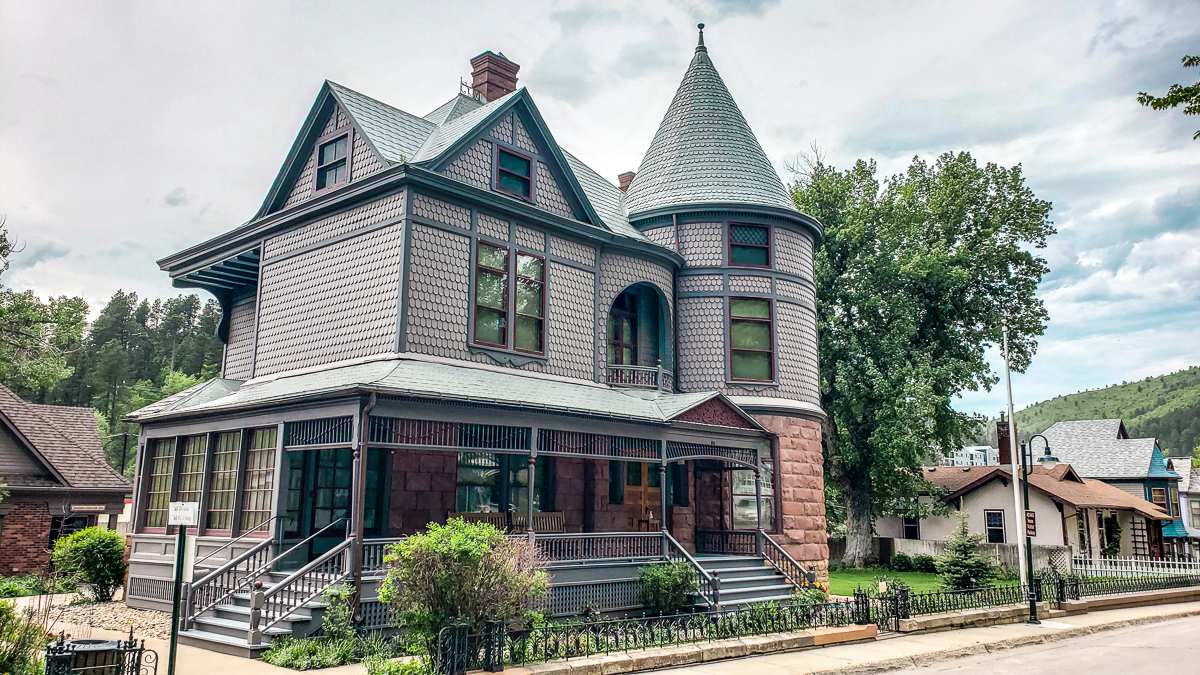 Cost: $10 Adults; $5 children
Built in 1892, the Adams House was home to some of the most influential merchant families in Deadwood.
This house is essentially untouched with timely furnishings, stained-glass windows, and hand-painted art covering the walls. While not related at all, Samantha can't stop humming the Addams Family theme song.
Channel the spirits of Wild Bill and Calamity Jane at Mount Moriah Cemetery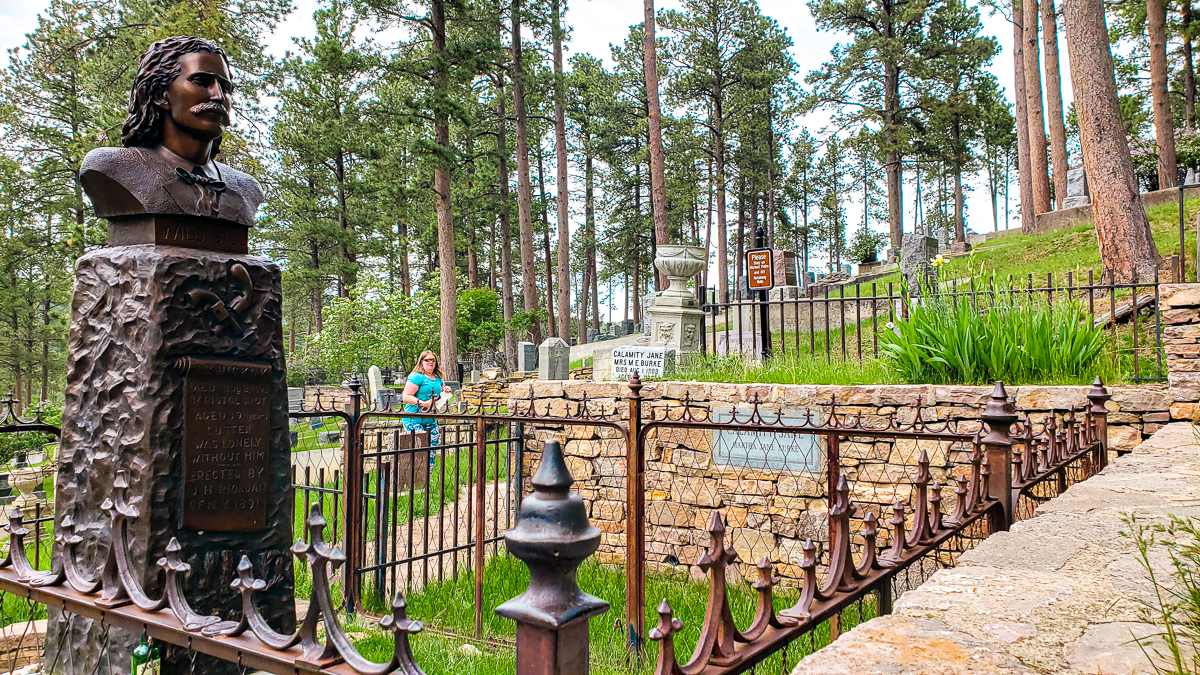 Cost: $2 Admission (Guided tours available for an additional fee)
Located on top of the hill on Lincoln Avenue, Deadwood's first cemetery is also the final resting place of Wild Bill Hickok and Calamity Jane at Mount Moriah Cemetery.
While you can't drive through the cemetery, it's a short walk to see their gravesites (albeit up a small hill). Wild Bill and Calamity Jane are laid to rest next to one another, as that was Calamity Jane's dying wish, "bury me next to Bill".
Other points of interest in the cemetery include the Chinese section and the paupers' section.
Booze and Shop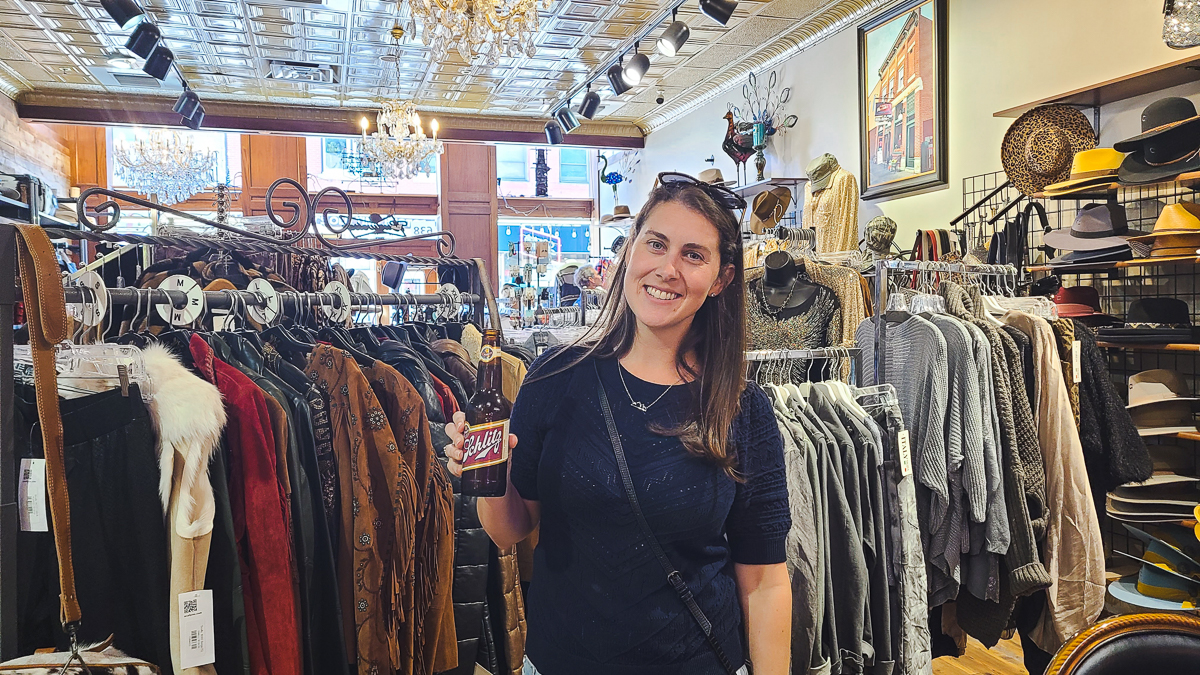 If the saloon-hopping you did earlier wasn't enough, you can even imbibe in some adult beverages while you shop.
That's right, booze and shopping at the same time…Samantha's dream!
At Madame Peacock's, you can shop for trendy and fashionable women's clothing, boots, and accessories, all while enjoying an ice cold beer.
And this place isn't just for the ladies.
Guys can pull up a seat at their in-store bar to throw back some Schlitz beer (once the largest producer of beer in US) while their lady friends engage in some much-needed retail therapy.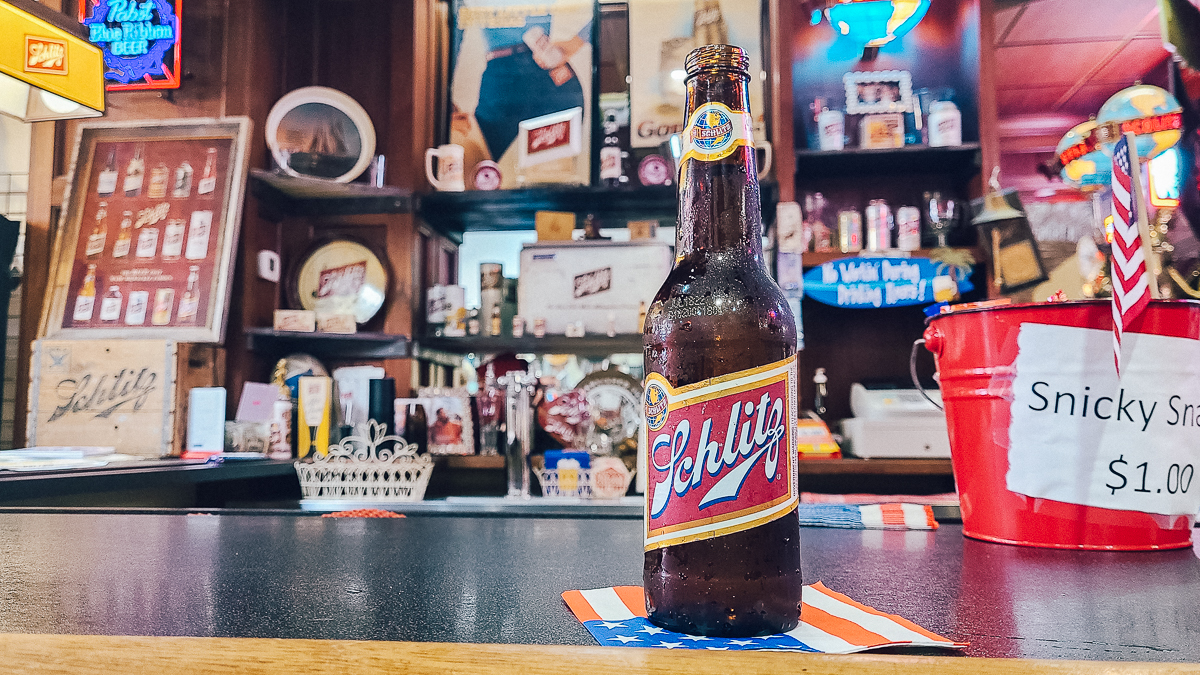 Though Schlitz is their main beer (some refer to the store as the most dedicated Schlitz "museum" in the West), they do have some other old-time favorites like Pabst Blue Ribbon and Budweiser.
For the experience alone (not for the local beer options – there are none, put this on your list of things to do in Deadwood SD.
Eat until your pants burst
Though Deadwood, SD restaurants might be short on options, but that doesn't mean these restaurants aren't worth a visit. From fine-dining to casual elegance and casino eats to bar food, the numerous Deadwood, SD restaurants will keep you satisfied and full.
One thing you'll see no shortage of in Deadwood: steak.
To help narrow things down, here are some of the places we ate which came by way of recommendations from locals around town:
Mavericks Steak & Cocktails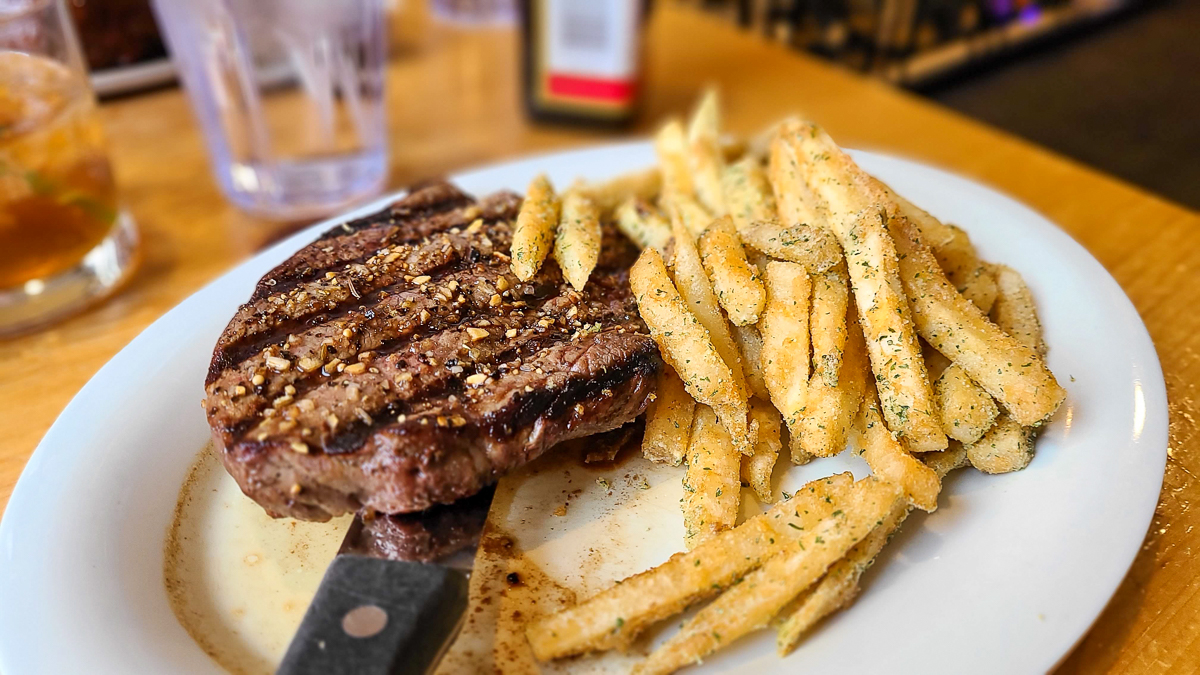 Located on the second floor of the Gold Dust Casino, Mavericks has some really great steak options (pictured above).
Samantha ordered the steak, but Chris ordered the baby back ribs since they claimed to "fall off the bone". They were factually accurate as the meat just melted away. Highly suggest this spot for a slightly more expensive option.
Deadwood Social Club
The Social Club is one of the most popular Deadwood, SD restaurants, and not just because it's located right above Saloon No. 10.
This Italian steakhouse features pastas, steaks, and even South Dakota buffalo products. They feature quite the wine list with over 200 wines and also over 100 different martinis.
Legends Steakhouse at the Franklin Hotel
Deadwood has been home to some legendary figures in its history (Wild Bill and Calamity Jane) and The Franklin Hotel has been host to some legendary figures as well (Teddy Roosevelt, Babe Ruth, John Wayne and Kevin Costner, to name a few).
So it stands to reason that Legends Steakhouse, located inside of the Franklin Hotel, would be serving up some great (and perhaps legendary) steaks.
Of note: this is THE steakhouse to visit so get in line about 15 minutes before they open or be prepared to wait!
Mustang Sally's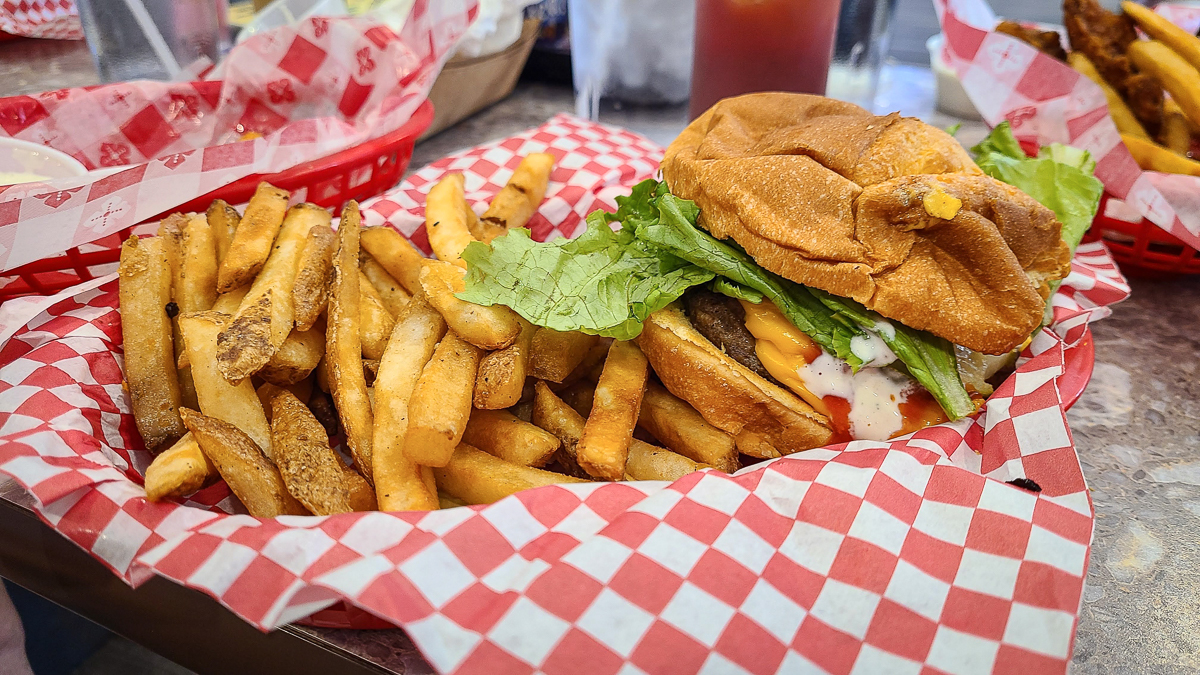 According to several of the bartenders that we asked, Mustang Sally's has the best burger of all the Deadwood, SD restaurants.
Other things to do in the Black Hills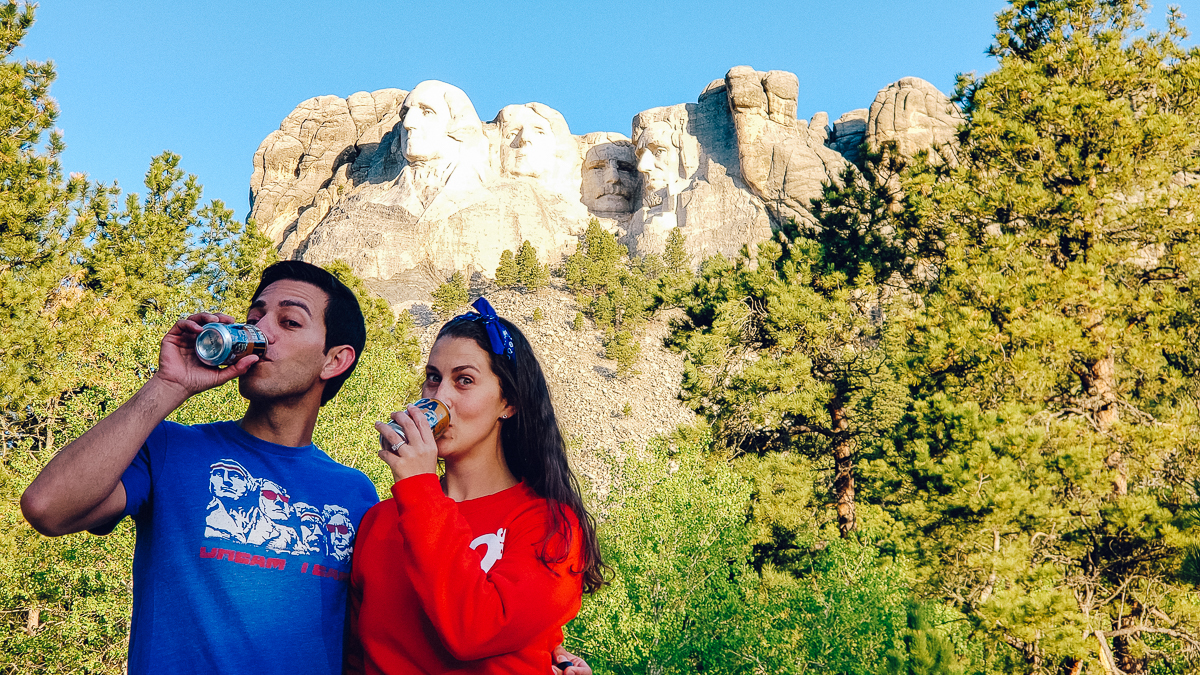 Chances are you didn't come to the Black Hills solely for Deadwood. If you are planning a vacation, Deadwood, SD is a great stop-over for a few nights.
Distances from Deadwood (assuming no traffic/snow, etc):
Spearfish Canyon = 15 miles / 20 minutes
Mount Rushmore National Memorial = 50 miles / 1 hour 10 minutes
Badlands National Park = 100 miles / 1 hour 40 minutes
Devils Tower National Monument = 75 miles / 1 hour 15 minutes
Hill City = 43 miles / 1 hour
Be sure to check out our South Dakota Road Trip Guide!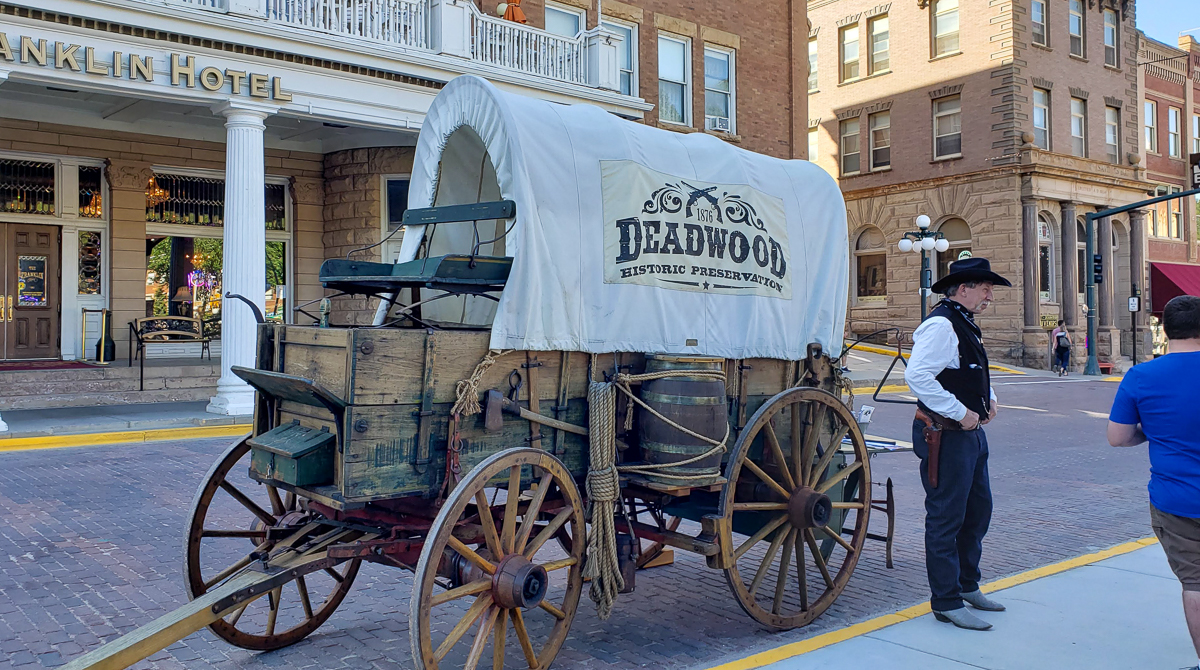 With so many things to do in Deadwood, SD, it's no wonder why people love coming here.
We loved it so much, we started to watch the HBO TV show Deadwood to help us reminisce about our time there.
Whether you stop by for an afternoon or stay for a weekend, you are sure to love all the different things to do.