The Ultimate Guide to the Baseball Hall of Fame Induction Weekend in Cooperstown, New York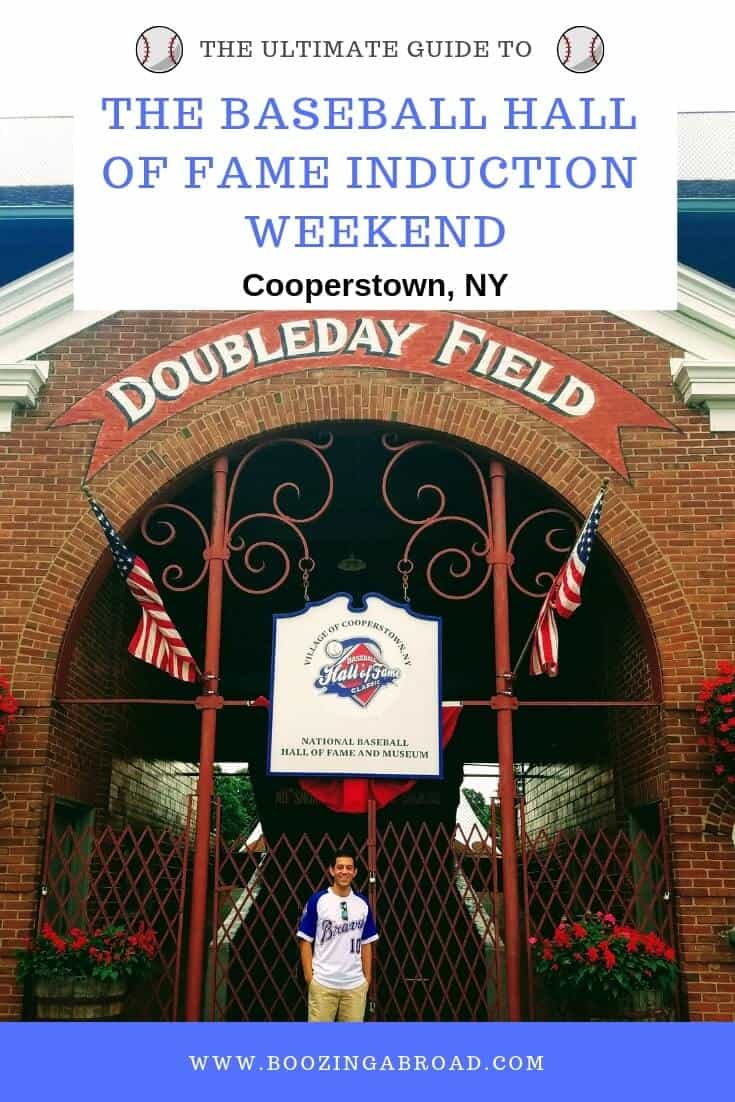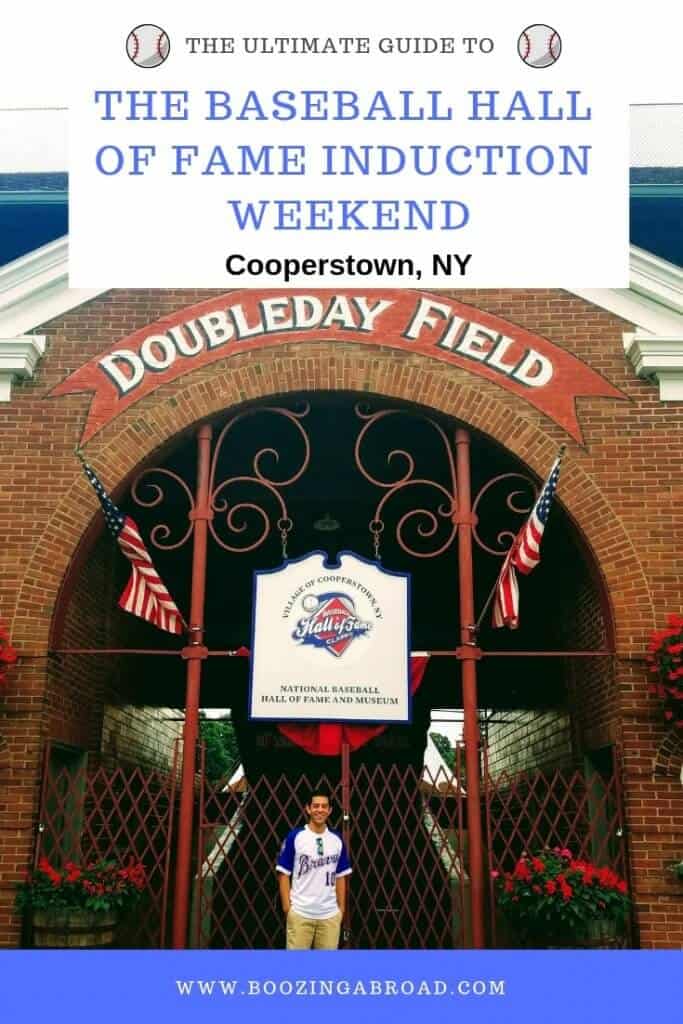 If you are reading this guide to the Cooperstown Baseball hall of fame, chances are you are a baseball nut (or a significant other of a baseball nut) and you're trying to plan your visit to the place where baseball legends are enshrined each summer.
The best news is, most of the activities for this annual event are FREE. You just need to know when things are happening so you don't miss out.
The 2023 Baseball hall of fame induction ceremony will take place on Sunday, July 23, 2023.
For those looking to attend the Induction Ceremony or just a guide to visit Cooperstown, NY, keep reading below.
This post was originally published in August 2018 and is updated annually for each induction ceremony. It was most recently updated in June 2023.
**Boozing Abroad contains affiliate links throughout the site. If you choose to purchase items through these links, we will earn a small commission at NO extra cost to you. Read the full disclosure policy here**
Map of Cooperstown and Induction Ceremony Weekend
Click interactive map below
HOW TO USE THIS MAP: To view the layers and see the names of the places on this map, click the tab in the top left corner. You can select the check marks to show or hide certain layers. If you select the icons on the map, you will get more information about the point of interest.
HOW TO SAVE THIS MAP: If you select the star icon next to the map name, you can save this map to your Google Maps account. To view it, open Google Maps in desktop or on your phone, select the menu button, go to "Your Places," scroll to the right to Maps, and you will see this map.
About Cooperstown
Cooperstown, NY is situated about an hour and 10 minutes west of Albany, and about an hour and 30 minutes southeast of Syracuse.
If you are planning to go to the Baseball Hall of Fame Induction Ceremony, and unless you are reading this a year in advance of your trip (or are buying one of the many travel packages available), best of luck with finding a hotel room or Airbnb in Cooperstown for that Hall of Fame Weekend.
We stayed in Schenectady, just north of Albany, and drove in daily, which was a very easy and scenic drive west on Interstate 88.
Honestly, this drive saved us hundreds of dollars trying to stay in Cooperstown. Just remember, you need to wake up EARLY to be in Cooperstown before the crowds show up or you'll hate yourself – trust us.
Where to Stay in Cooperstown
If you are lucky enough to find a place in Cooperstown, here are some places we'd suggest below.
Please keep in mind, this is a 2-stoplight town and options are very limited, especially on Induction Weekend.
Booking.com probably has the widest selection of budget (and luxury) accommodations in the world. In our experience, they consistently found the cheapest rooms.
We also like their easy-to-use interface and no money down policy. When we book our travel stays, we personally use booking.com.
Luxury
The Otesaga Resort Hotel
Cost: $350+/night
Top reason to book: Incredible lake views with a touch of historical elegance, also walkable to main street.
The Otesaga Resort Hotel is an award-winning hotel less than a 10-minute walk to downtown Cooperstown and the Baseball Hall of Fame.
Dating back to the early 1900s, this resort hotel offers a classy country-house design with towering white pillars complete with a large white porch equipped with rocking chairs to take in views of the lake.
Breakfast (as well as afternoon tea and cookies) are complimentary with your stay.
Other incredible amenities include a scenic lakeside golf course, a heated outdoor pool, a fitness center, and multiple onsite restaurant and bar options.
>> Check current pricing or book your stay now!
Mid-Range
The White House Inn
Cost: $150+/night
Top reason to book: homemade breakfast in a country-style B&B
The White House Inn is a beautiful, unassuming B&B nestled in the heart of downtown Cooperstown.
With cozy sitting rooms decorated with handmade quilts, you will feel at home with the incredible staff.
A quick walk to the Museum, Doubleday Field and more, this Inn will surely be a home run!
Their amenities include: a garden with a pool, and a sitting room with a fireplace, books and movies. Off-street parking is also available.
>> Check current pricing or book your stay now!
Affordable
The Railroad Inn
Cost: $120+/night
Top reason to book: updated clean rooms, 10-minute walk to downtown and right across the street from a distillery!
Built in the 1890s, the Railroad Inn is listed on the National Register of Historic Places in the Glimmerglass Historic District but has been newly remodeled to include new amenities such as an outdoor recreation area.
Located near the city center, you will enjoy efficiently clean rooms with free continental breakfast and parking (which could come in handy during the induction weekend).
>> Check current pricing or book your stay now!
If all those options are sold out, check out these great options too:
Lake Front Hotel – on the lake and a 5 minute walk to Main Street
Visions Inn – a quick 3 minute walk to the Baseball Hall of Fame and Museum
Landmark Inn – tucked away from the noise, but still close to town
>>> Click here to search all hotels in Cooperstown here on booking.com
Outside of Cooperstown
If you're like us and didn't book ahead because you waited to see who the inductees were going to be, hotel rooms (if they were even available) were priced at insane levels!
Refusing to pay over $500/night, we booked outside of Albany and drove in daily. It's a quick 1 hour and 15 minute ride.
Budget
Quality Inn Schenectady – Albany
Cost: $85+/night (during induction weekend)
Top reason to book: You don't want to pay $500+/night for the induction weekend and it's right off of the interstate (1 hour and 10 minutes from Cooperstown); Walmart 5 minutes away
This Quality Inn is your standard, no-fuss, no-frills hotel. The hotel was quiet and clean and honestly, we weren't there much since we ventured to Cooperstown each day (and evening).
All rooms have in suite bathrooms, as well as free WiFi, premium cable TV, and coffeemakers. Some rooms add minifridges and/or whirlpool tubs.
Free perks include continental breakfast and parking. The hotel also has an indoor heated pool.
>> Check Availability or book your stay now
Other budget options in Schenectady
Home Rentals
If you really want to stay in Cooperstown and can't find a place, you can always rent a home through Vrbo. With dozens of options in and around the area, this is a great choice to be close to all the Baseball action.
Click here to start looking for your home rental options in Cooperstown.
Parking in Cooperstown
Since we drove in, we opted to park in the Blue Lot off of Chestnut Street and Linden Avenue.
This is the largest of the three free official parking lots in Cooperstown, and provides a trolley which will escort you directly to the National Baseball Hall of Fame on Main Street.
It's $5 to take the trolley up to town (during the induction weekend) and is good for unlimited rides to and from your car all day.
Tickets are purchased on the trolley from the driver. CASH ONLY!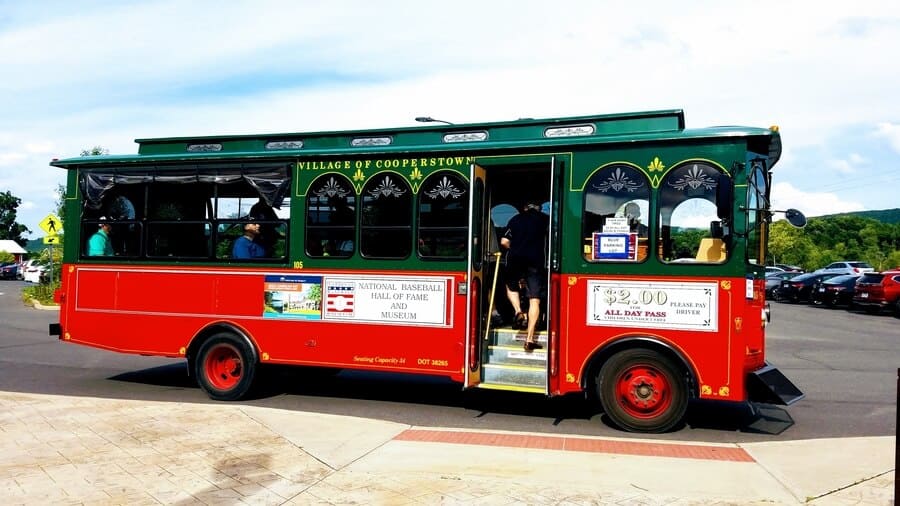 There is also a Red Lot and a Yellow Lot, which are a bit smaller, but closer to town. Same rules apply for these lots – $5 for the trolley and unlimited rides.
There probably isn't a right or wrong choice here for which lot to use; just depends on where you are coming from and if you'd prefer to walk to many of the attractions.
Otherwise, there is street parking available close to Main Street, but pay attention to the street signs as there are numerous restrictions.
*Note – the Blue Lot is just about one mile away from the Induction Ceremony site at Clark Sports Center, so you might want to consider parking there on Sunday and making the walk over to the Induction if you've already covered everything in town.
Otherwise, you can take the trolley up to Main Street and catch a shuttle to the Induction site, or make the approximate one mile walk from town.
Whichever you choose, don't worry, there will be plenty of other fans doing the same thing and leading the way in front of you!
Baseball Hall of Fame Induction Ceremony Weekend – Saturday
There are only two official events on the Saturday of Induction Ceremony weekend:
The Awards Presentation (Private Event at Alice Busch Opera Theater)
The Parade of Legends from Otesaga Resort Hotel up to the Hall of Fame which starts around 6PM. (Free)
Don't scoff at the parade just yet. Chairs already lined the entire stretch of Main Street when we arrived at noon on Saturday. If you want a premiere spot, get there early Saturday morning to stake your claim!
The parade starts down Main Street and features all the prior inductees in town as well as the current year inductees.
The parade concludes with a red carpet arrival at the Hall of Fame. While the parade doesn't last too long, the Hall of Famers do mingle with the crowd and sign autographs, so have your Sharpies ready!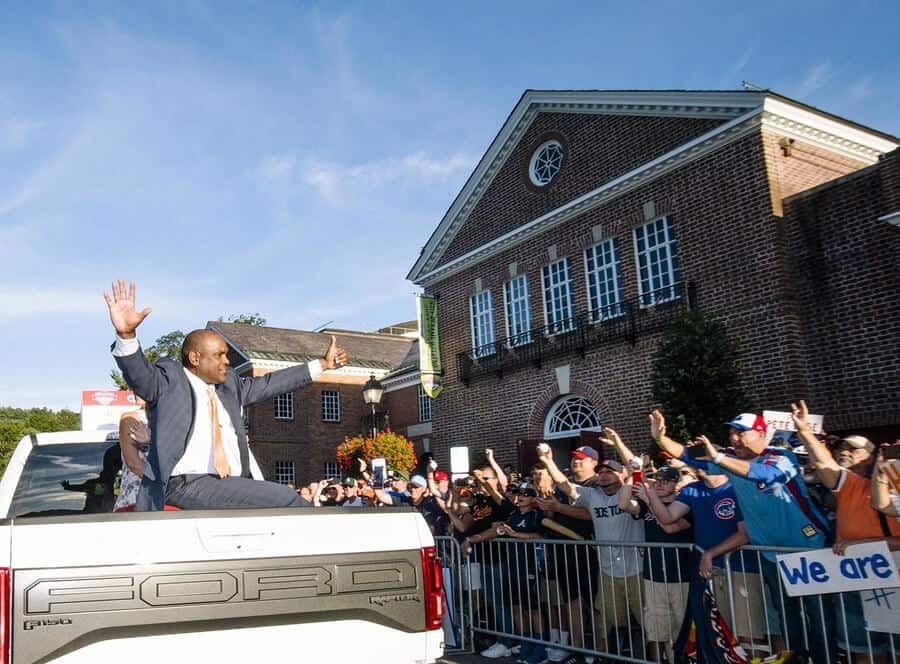 TIP : **You are able to drop chairs and blankets off at the Induction site (Clark Sports Center) on Saturday.
Lawn seating is free and unlimited so find a good spot and drop your stuff.
Access stops at 4 p.m. Saturday afternoon and doesn't re-open until Sunday morning at 8AM.
We highly recommend doing this as it saves you time on Sunday and it means less to carry on your walk or ride to the site.
Although we were initially skeptical of leaving our things overnight, there is security on site all night long and there are thousands of others doing the same thing as you.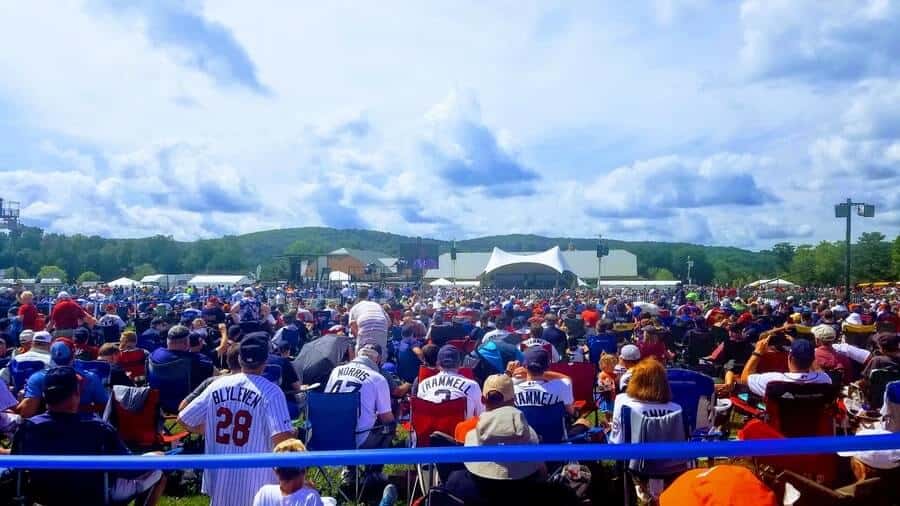 We didn't arrive to the site until noon on Sunday and our chair and blanket were unharmed and right where we left them!
Baseball Hall of Fame Induction Ceremony Weekend – Sunday
Induction Ceremony at Clark Sports Center starts promptly at 1:30 p.m. (Free)

Rain or shine event – bring sunblock or a raincoat depending on the forecast
The main event of the weekend can last anywhere from 2-4 hours depending on how many inductees and how chatty they are…so come prepared.
This event will go on rain or shine, unless there is severe weather.
But we don't think the baseball gods would cause a cancellation this weekend (or so Chris says!).
There is a large TV screen and numerous speakers, so you'll be able to see and hear no matter where you sit on the lawn.
The Baseball Hall of Fame website lists that bags must be clear (like many sporting events nowadays), but there was no enforcement of this that we saw. Coolers, umbrellas and large totes were a plenty.
There is no sale of alcohol on the site, so bring your own in a cooler. We aren't completely sure if it's is allowed, so just be smart and respectful of why you are there in the first place.
There's a local high school selling food, bottled water and soft drinks for $3+ each – however, there is free water from a trough, so bring a bottle and refill it.
Leading up to the ceremony, the big screen shows tributes and recorded interviews of the inductees. Without much else to do in the massive field, we found this to be entertaining.
The shuttles from Main Street down to the site will stop running at 1PM and won't start again until the ceremony has concluded. You and 50,000 of your closest friends will be trying to get on these shuttles.
Wear comfy walking shoes and walk the mile back to your car or to town. Or, pack enough food and booze and wait it out. The choice is yours.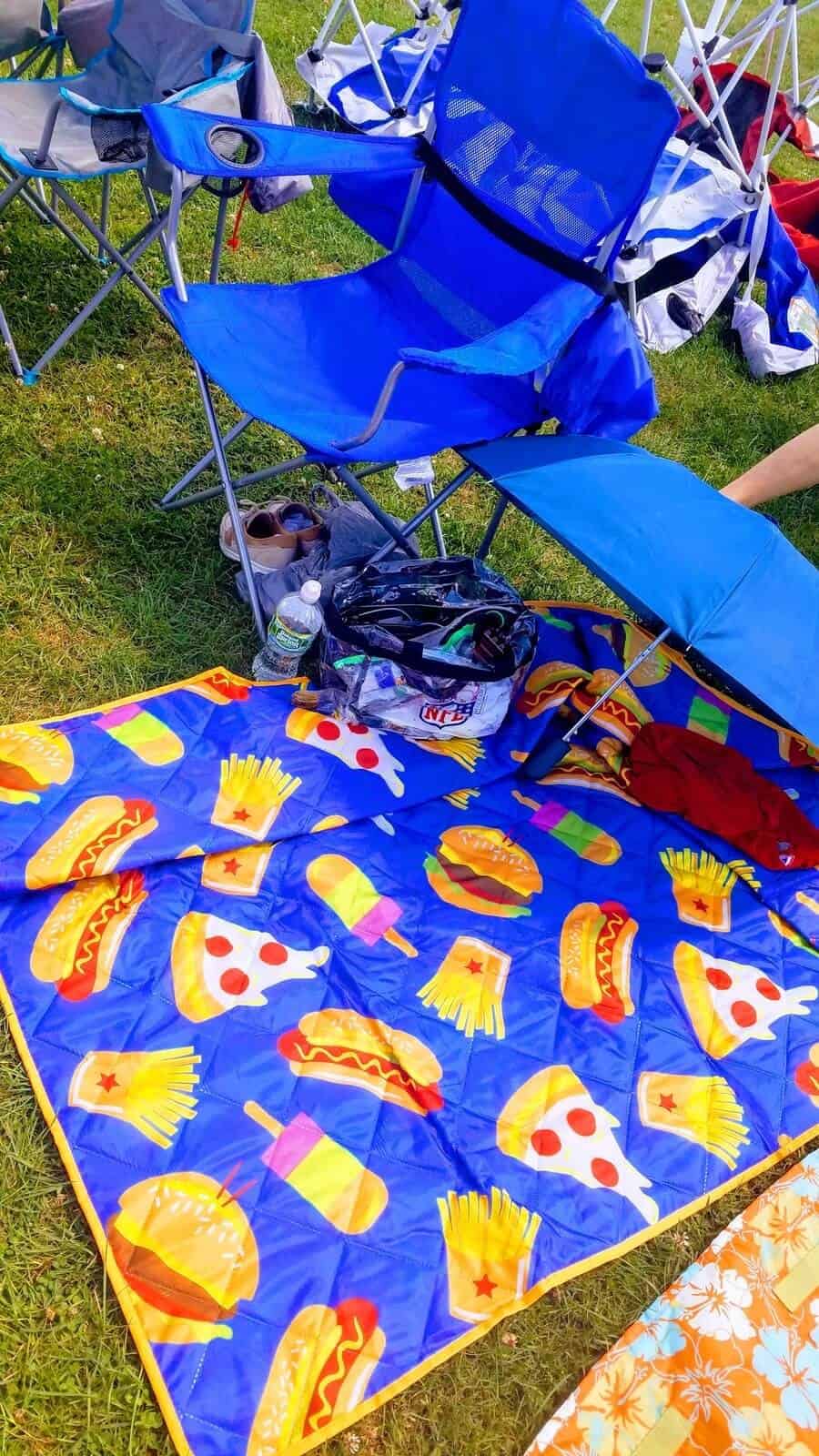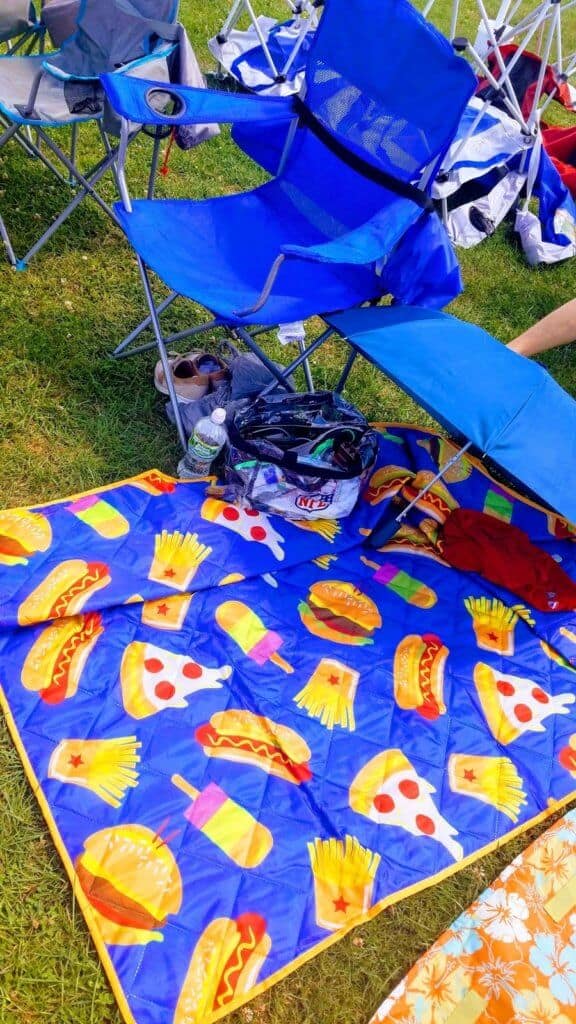 For those of you flying in to the area:
**Seek out a Walmart/Family Dollar/etc. and buy your choice of seating there. We purchased a blanket, chair and umbrella for $20 and were extremely satisfied with our decision!
After the ceremony, you can just leave your chairs and blankets and not have to worry about lugging them back home. (Chris actually liked his chair purchase so much that he lugged it home on the planes without much issue, other than the laughs and odd looks he got from folks in the boarding area.)
Baseball Hall of Fame Induction Ceremony Weekend – Monday
Legends of the Round Table at Clark Sports Center which starts at 10:30 a.m. (Paid entry required)
This is open to Museum members only ($60 for the year) and tickets to this event are a separate fee.
The new Hall of Famers host a round table discussion where they reminisce, tell stories, answer questions, and have fun on the last official event of the weekend.
If you want to attend this, buy your Museum membership now. It's safe to assume, this will be a sought after event depending on the inductees.
Visiting the Baseball Hall of Fame Museum
Hours: special hours on induction weekend – check their website for the most up-to-date info
Price: Adults $28

Seniors $22
Military Veterans $19
Kids – $17

Time to budget: at least 1-2 hours, more if the crowds are large
The Cooperstown Baseball Hall of Fame Museum is open daily, but will have special hours on Induction Weekend.
It will close early on Saturday due to the parade on Main Street.
Click here to go to their website to see their official hours throughout the year.
We highly recommend getting there when they open, as well as purchasing your tickets online in advance. You can also reserve a time slot for entry.
To our surprise, many people did not purchase their tickets in advance and because of that, we were able to quickly bypass a monstrous line.
If you have your tickets already, proceed directly to the 3rd set of doors on the far right and waltz right in!
For your run-of-the-mill, non-sports fan, the museum was fascinating! There was plenty to see and gape at in the Baseball Hall of Fame for fans of all teams and players.
There are some really neat interactive sections with videos and there were several children-based activities scattered throughout as well.
While the museum is vast, the hordes of people on Saturday of Hall of Fame Weekend made it difficult to see and read everything.
Again, go as soon as they open or try to get there on Friday or stay on Monday when there isn't as much going on in town.
Drinking Town with a Baseball Problem
Looking to drink the local in Cooperstown, NY? Be sure to read out guide to the 5 Best Cooperstown Breweries!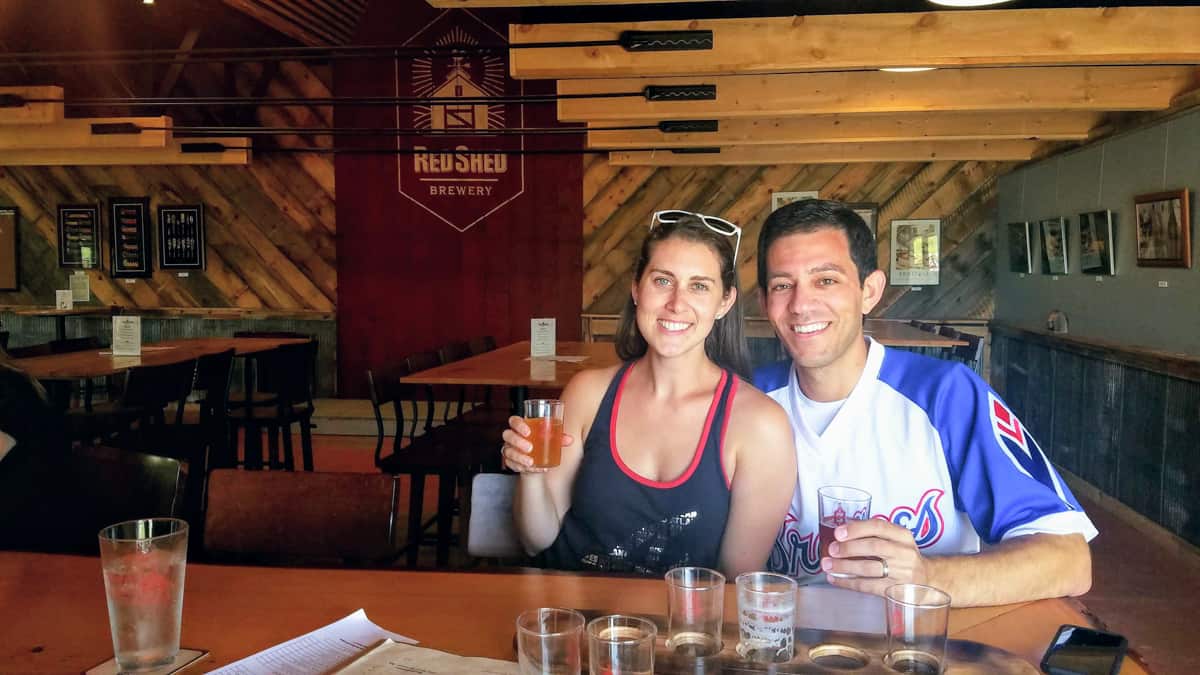 Without Cooperstown, you don't have baseball.
All in all, we highly recommend this trip to all baseball fanatics and non-sports fan alike.
Whether you are attending the Cooperstown Baseball Hall of Fame Induction Ceremony or just visiting for a long weekend, Cooperstown has plenty of things to see, do and taste to keep you busy!