The 5 Best McMinnville Wineries for first-timers
If the streets of a city were veins, then certainly the wine that courses through them must be its lifeblood. In the heart of Oregon's Willamette Valley, the city of McMinnville pulses to the rhythm of a wine lover's dream. With over a dozen wine tasting rooms, we've crafted a list of the best McMinnville wineries to visit.
For purposes of this list, we are exclusively talking about the wineries in DOWNTOWN McMinnville, specifically the tasting rooms on 3rd, 4th and 5th streets.
Unlike several articles out there, we are only bringing you the options that are walkable which makes for easier winery hopping!
We've been fortunate enough to visit Oregon 3 times over the last few years and we always make sure to stop in McMinnville when we visit.
For those looking for info on the broader Willamette Valley wineries, check out this guide here.
Short on Time? Here are the key takeaways:
The ones listed in this guide are only in the downtown area
In our opinion, don't miss R. Stuart for trying Pinot Noirs
If you are tired of Pinot Noir, definitely visit Terra Vina
If you have limited time, Pinot Vista Tasting Lounge offers a number of wines from the area in addition to their own label
Map of McMinnville Wineries
Click the interactive map below!
HOW TO USE THIS MAP: To view the layers and see the names of the places on this map, click the tab in the top left corner. You can select the check marks to show or hide certain layers. If you select the icons on the map, you will get more information about the point of interest.
HOW TO SAVE THIS MAP: If you select the star icon next to the map name, you can save this map to your Google Maps account. To view it, open Google Maps in desktop or on your phone, select the menu button, go to "Your Places," scroll to the right to Maps, and you will see this map.
About McMinnville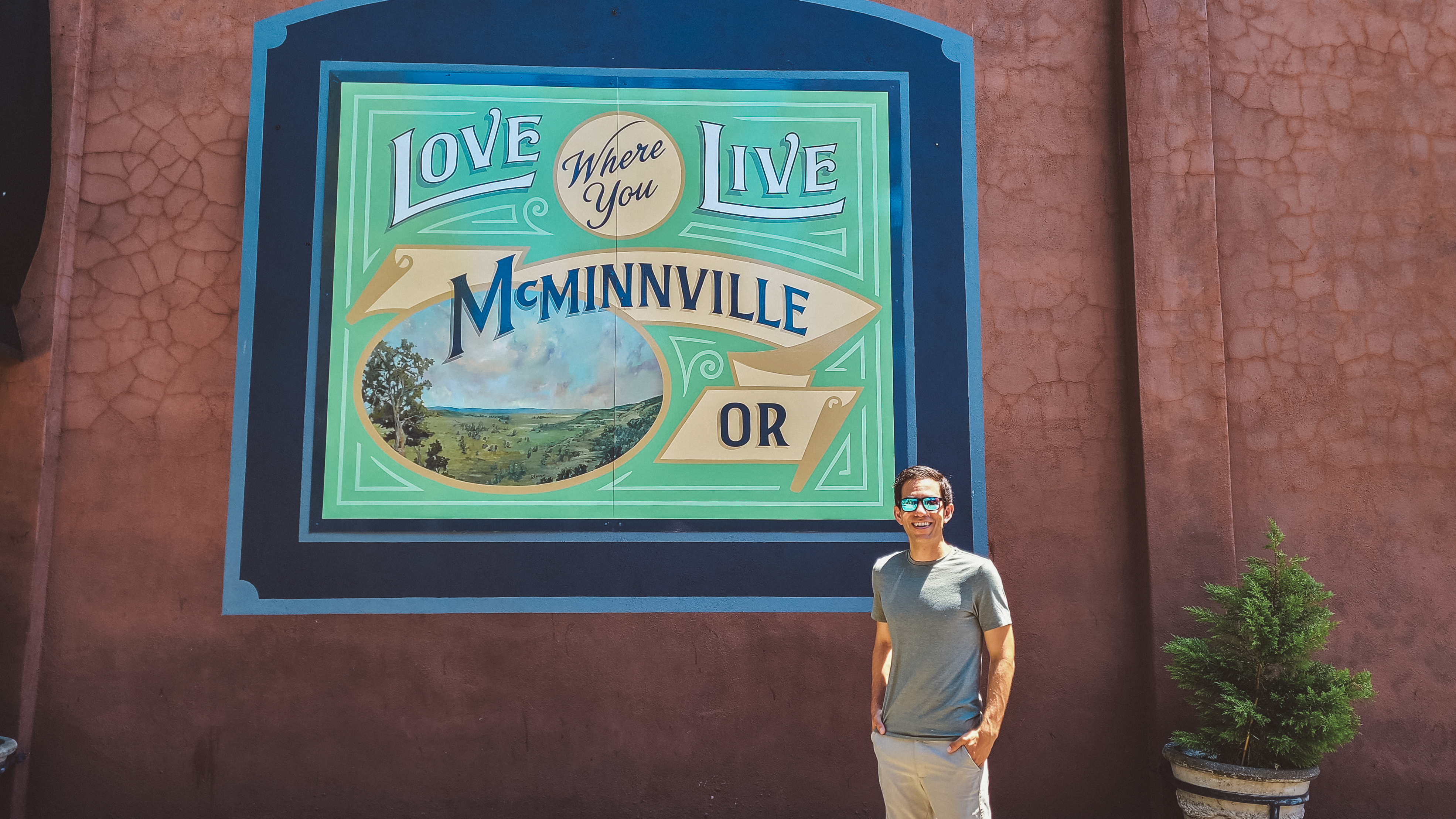 There's something peculiarly enchanting about McMinnville. Picture this: A vibrant downtown that doesn't just stop at being a picture-postcard beauty, but pairs it with the robust, layered notes of some of the finest wines this side of the Pacific.
As we stroll down McMinnville's quaint streets, each turn reveals a new winery, each more inviting than the last.
McMinnville, Oregon is a small city located in the heart of the Willamette Valley. The city was founded in 1856, during the height of the Oregon Trail migration, by William T. Newby and his wife, who named the town after their hometown of McMinnville, Tennessee.
In its early years, McMinnville was a bustling agricultural center, with farmers growing wheat, hops, and other crops in the fertile soil of the valley. The city also became an important center for the wine industry, with its location in the heart of the Willamette Valley making it an ideal spot for growing grapes.
The city's downtown area is renowned for its well-preserved historic buildings that house a vibrant collection of boutiques, art galleries, restaurants, and of course, its famed wine tasting rooms. 3rd Street, the main thoroughfare, has been recognized as one of the "Great Places in America" for its distinctive, locally-owned shops and beautiful streetscape.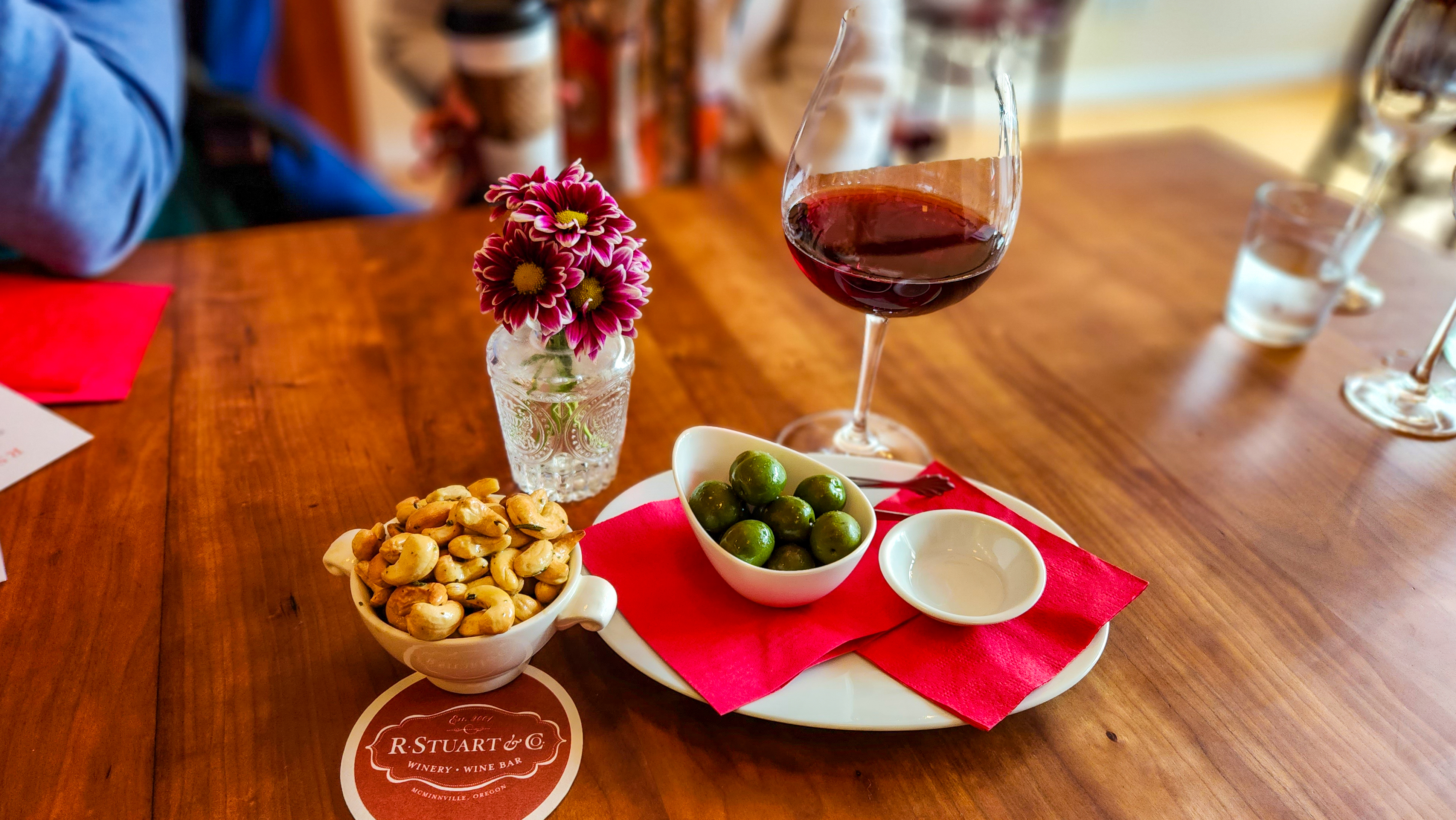 McMinnville is known for its thriving wine industry, with the downtown area serving as an urban gateway to the surrounding vineyards of the Willamette Valley. Numerous tasting rooms are dotted throughout the city, offering visitors the opportunity to sample locally-produced wines, particularly the region's acclaimed Pinot Noir.
The city also hosts a variety of festivals and events throughout the year, including the International Pinot Noir Celebration and the UFO Festival, showcasing its diverse and quirky character.
How many wineries are in McMinnville?
There are over 15 tasting rooms in downtown McMinnville.
How to Get to McMinnville, OR
Assuming you are flying into Portland, it's about a 1 hour and 20 minute drive from the airport. You'll want to rent a car as Willamette Valley is spread out across multiple AVAs. If you don't want the hassle of driving, you can book a tour or driver in McMinnville.
Willamette Valley Vineyards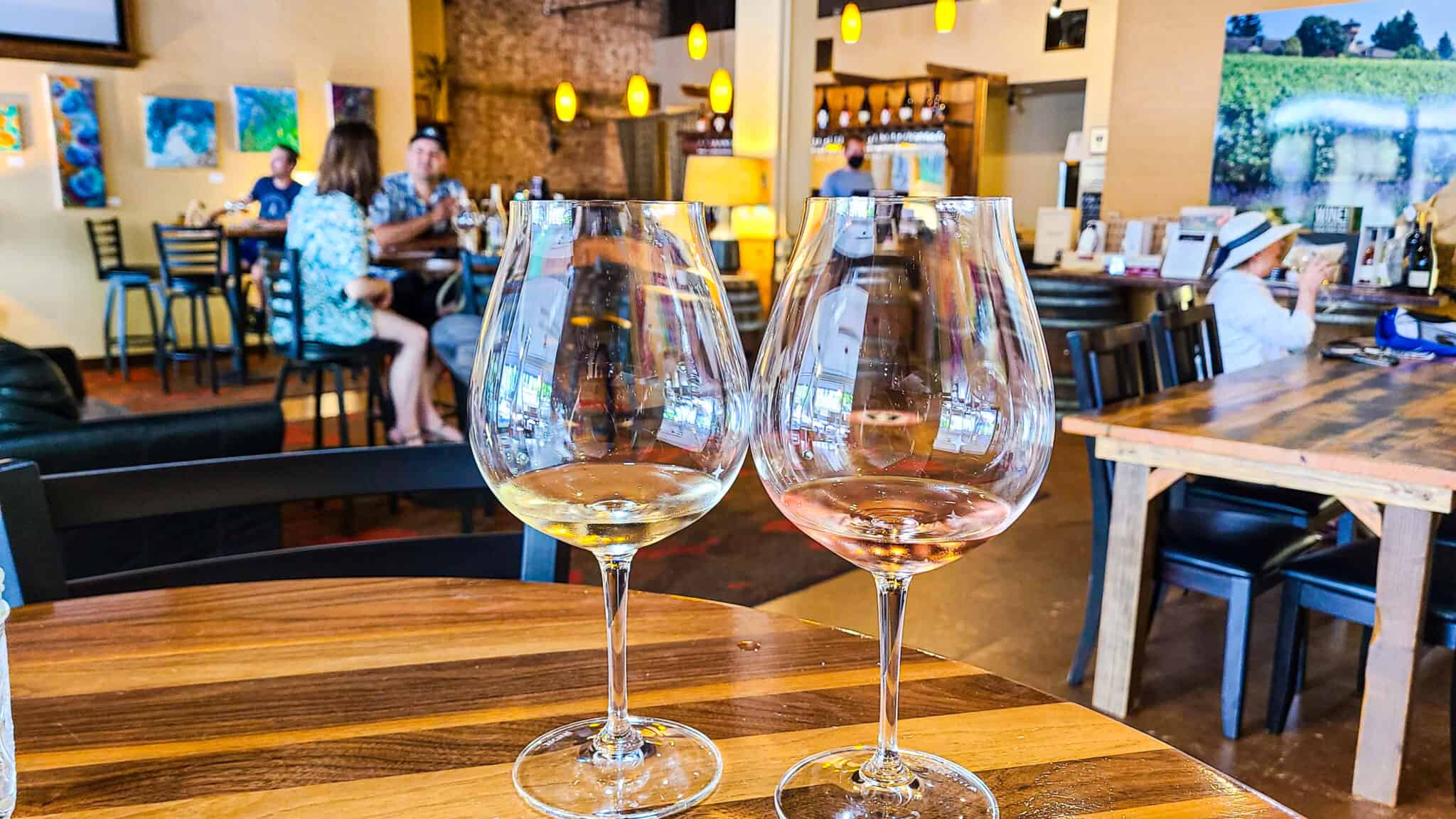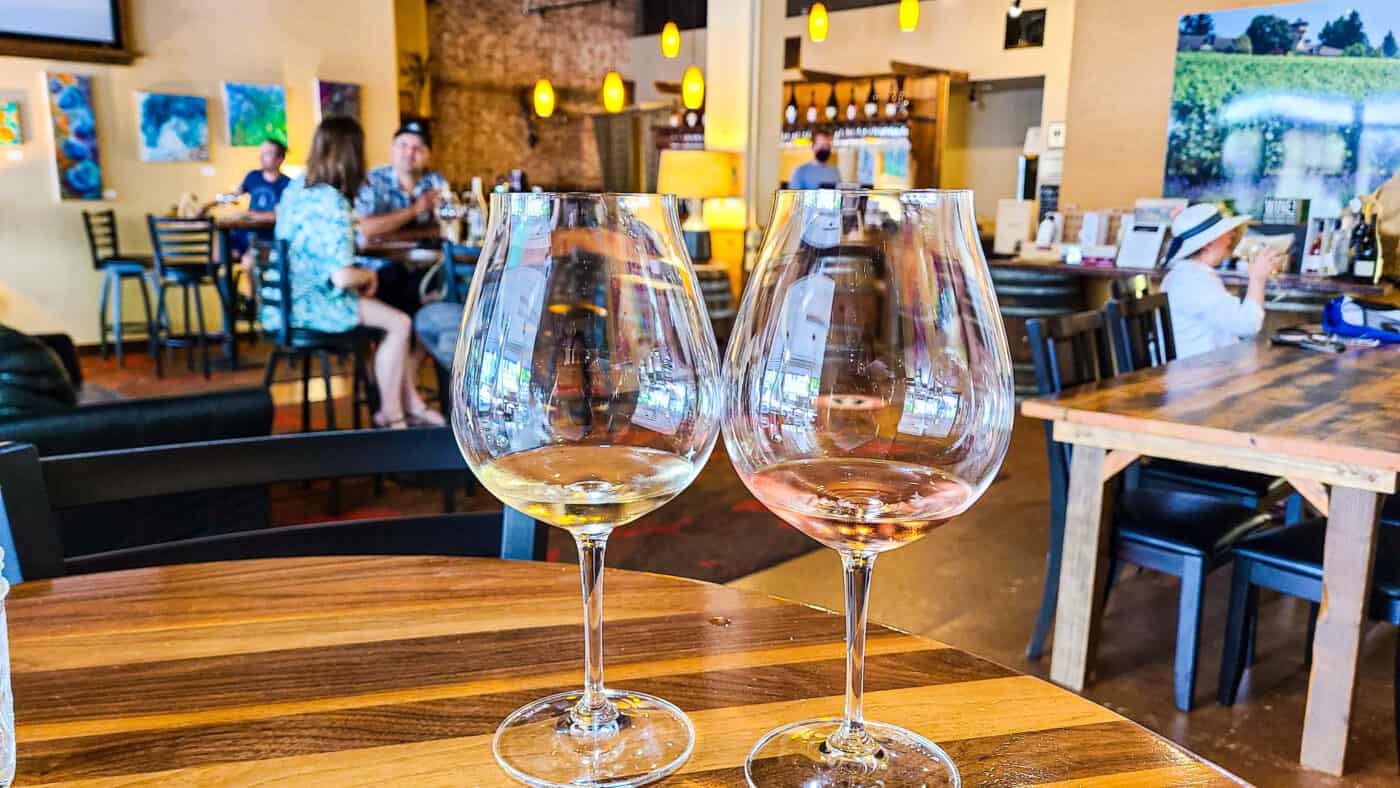 Hours: Monday – Thursday: 11AM – 6PM

Friday & Saturday: 11AM – 7PM
Sunday: 12PM – 6PM

Food Available: No
Reservations Required: No
Willamette Valley Vineyards is one of the largest wineries in the area and their main estate vineyard is in Turner, OR about 1 hour from McMinnville. They opened a wine tasting spot in downtown McMinnville on 3rd Street.
The winery was founded in 1983 by Jim Bernau, who had a vision of crafting world-class Pinot Noir wines in Oregon. Since its establishment, Willamette Valley Vineyards has become one of the leading wineries in the region producing well over 200,000 cases yearly.
The winery specializes in Pinot Noir, the flagship grape of the region, which thrives in the cool climate and volcanic soils of the Willamette Valley. In addition to Pinot Noir, Willamette Valley Vineyards also produces other varietals such as Chardonnay, Pinot Gris, Riesling, and more.
Willamette Valley Vineyards has received numerous accolades and awards for their wines, including recognition for their sustainable practices and contributions to the Oregon wine industry.
R. Stuart & Co Tasting Room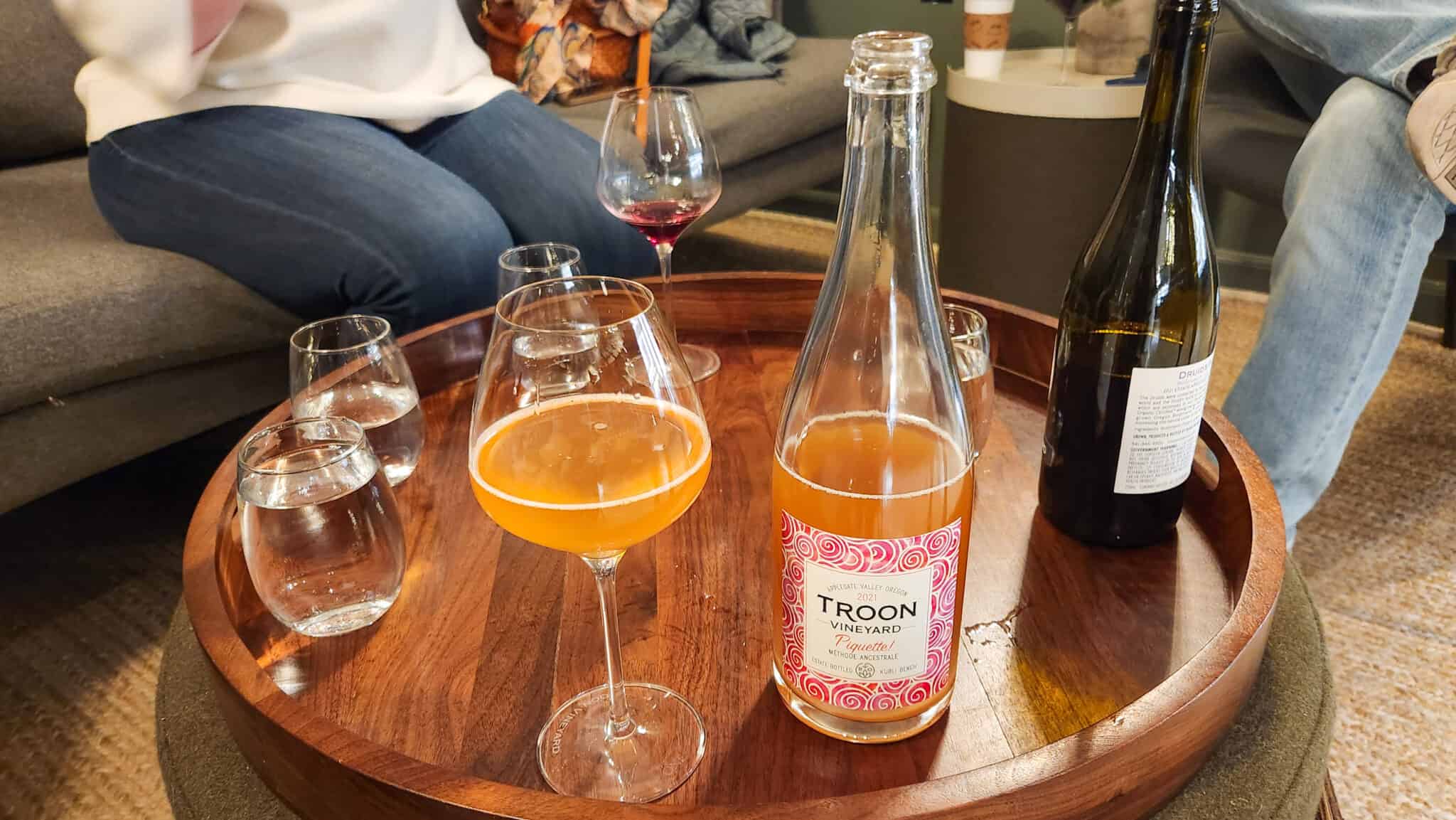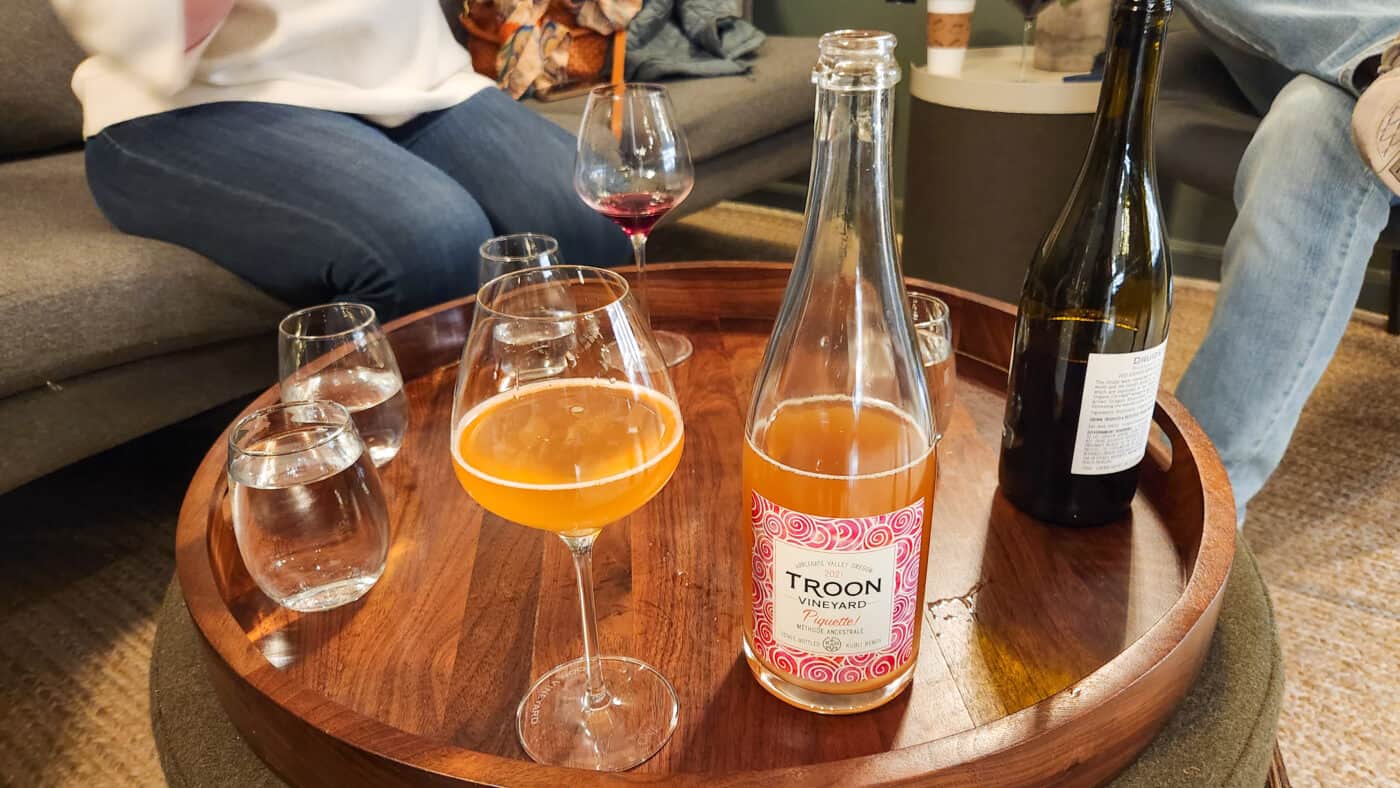 Hours: Daily from 12PM – 8PM
Food Available: Yes
Reservations Required: Yes for 6 or more people
R. Stuart Winery primarily focuses on Pinot Noir, Pinot Gris, sparkling wines, and other intriguing varietals, crafting authentic and balanced wines that pair well with food.
In 2001, Rob and Maria Stuart fulfilled their dream of creating a winery that offers high-quality wines at affordable prices. They stay true to their winemaking style by thoughtfully crafting wines year after year from fruit sourced from various vineyards in the Willamette Valley.
The Big Fire label offers approachable and everyday wines, while the Love, Oregon wines pay homage to the spirit of Oregonians. The Reserve and specialty wines, under the R. Stuart & Co. label, combine elements of Burgundian and New World winemaking.
Located in McMinnville, Oregon, the tasting room is conveniently situated blocks away on Historic 3rd Street.
While reservations aren't required, their tasting room is a bit smaller so we'd suggest having some if you are visiting in peak season.
Pike Road Wines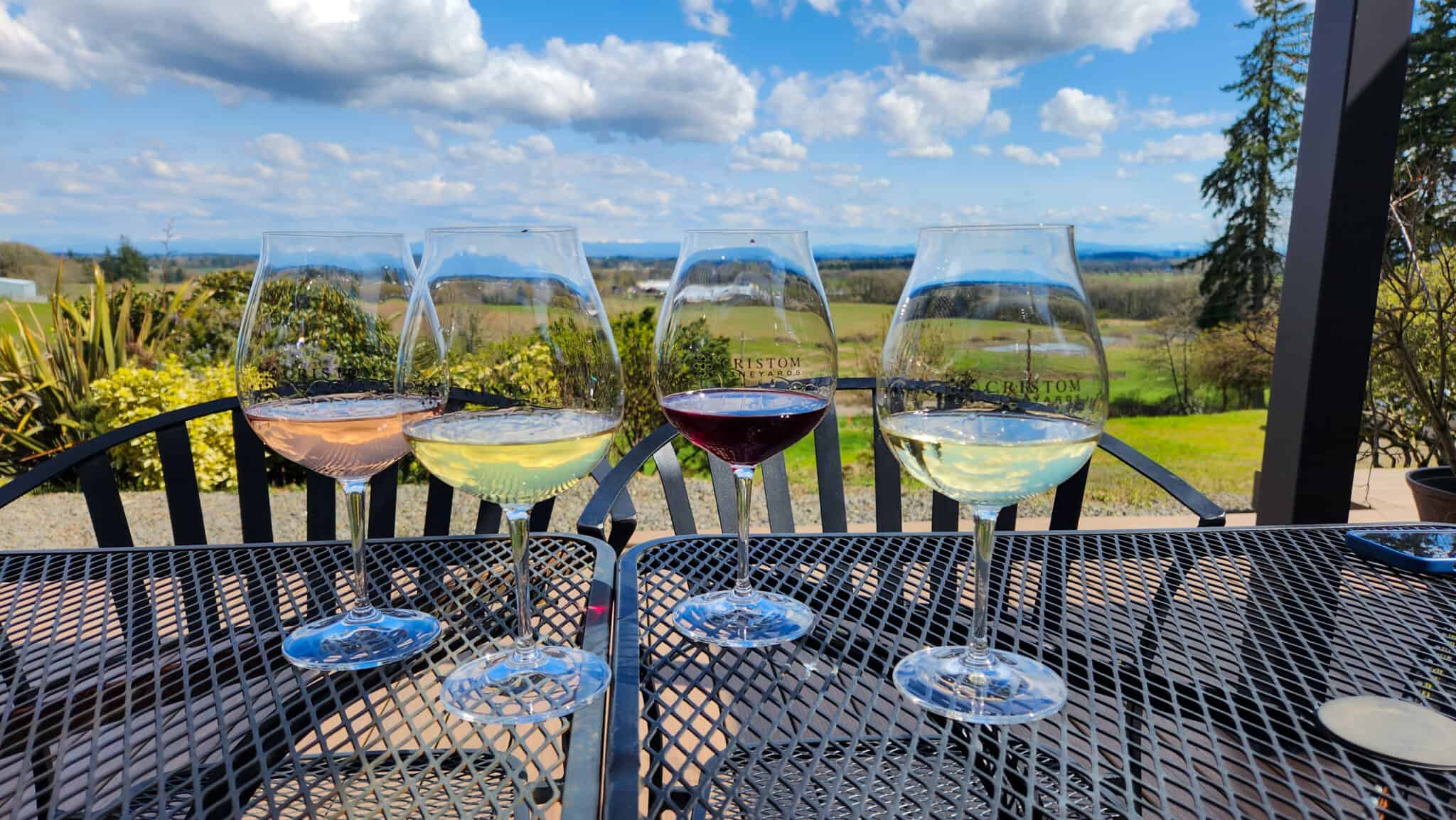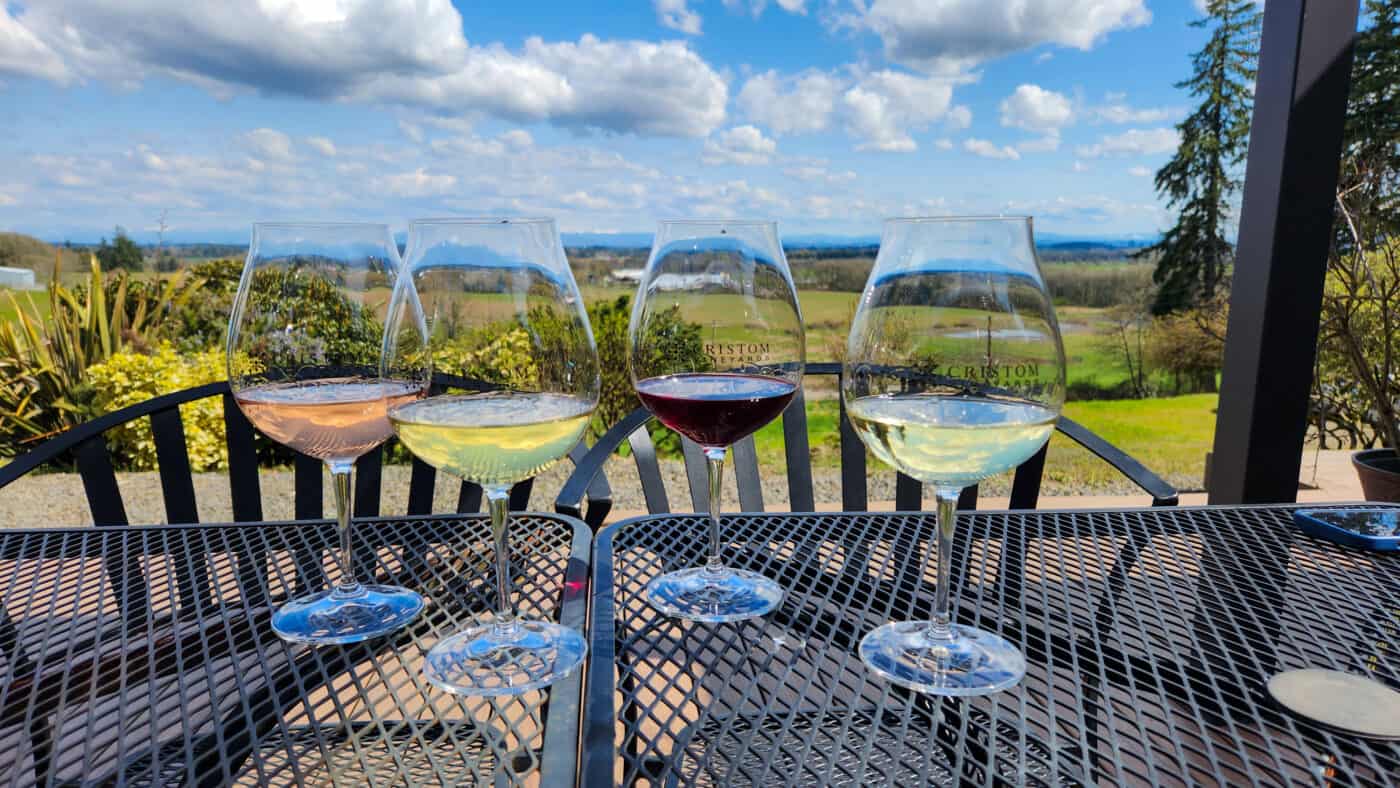 Hours: Sunday – Wednesday: 12PM – 6PM

Thursday & Friday: 12PM – 7PM
Saturday: 11AM – 7PM

Food Available: Yes
Reservations Required: No, but encouraged
Founded in 2016, Pike Road Wines is a relative newcomer to the Willamette Valley wine scene. However, they have quickly established themselves as a producer of exceptional wines that showcase the unique terroir of the region.
Pike Road Winery takes its name from the actual road that runs alongside their vineyards, situated in the Oregon Coast Range Mountains.
With a deep appreciation for great farming, Pike Road sources fruit from over 20 small family-owned vineyards across the northern Willamette Valley, encompassing six distinct sub-AVAs.
With their belief in the exceptional potential of the region, they focus on crafting wines exclusively from the Northern Willamette Valley, specializing in Pinot Noir, Chardonnay, and Pinot Gris, reflecting the unique character of this remarkable winegrowing region.
We really enjoyed a bottle of Sparkler Rose with a build-your-own-cheese plate.
Pinot Vista Tasting Lounge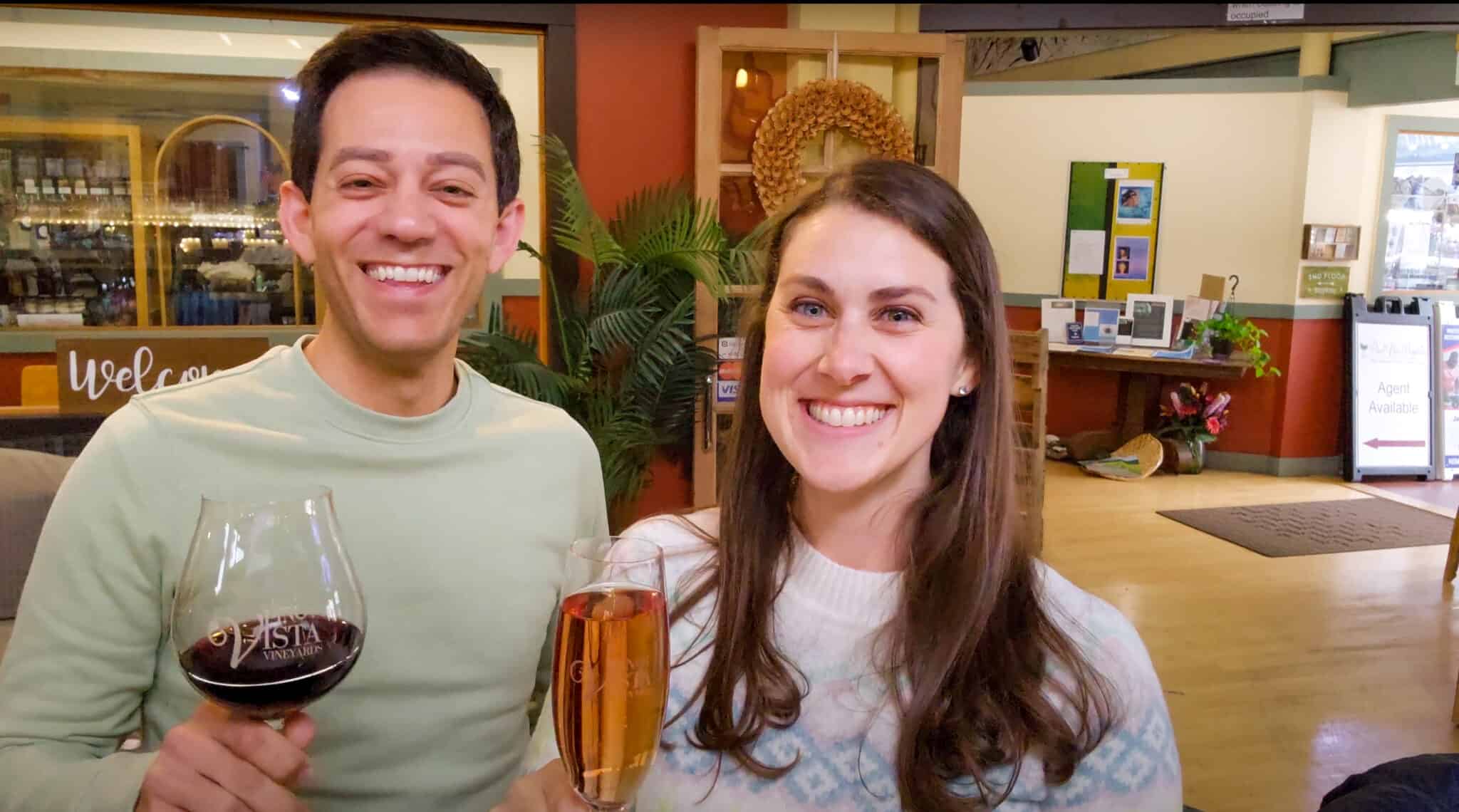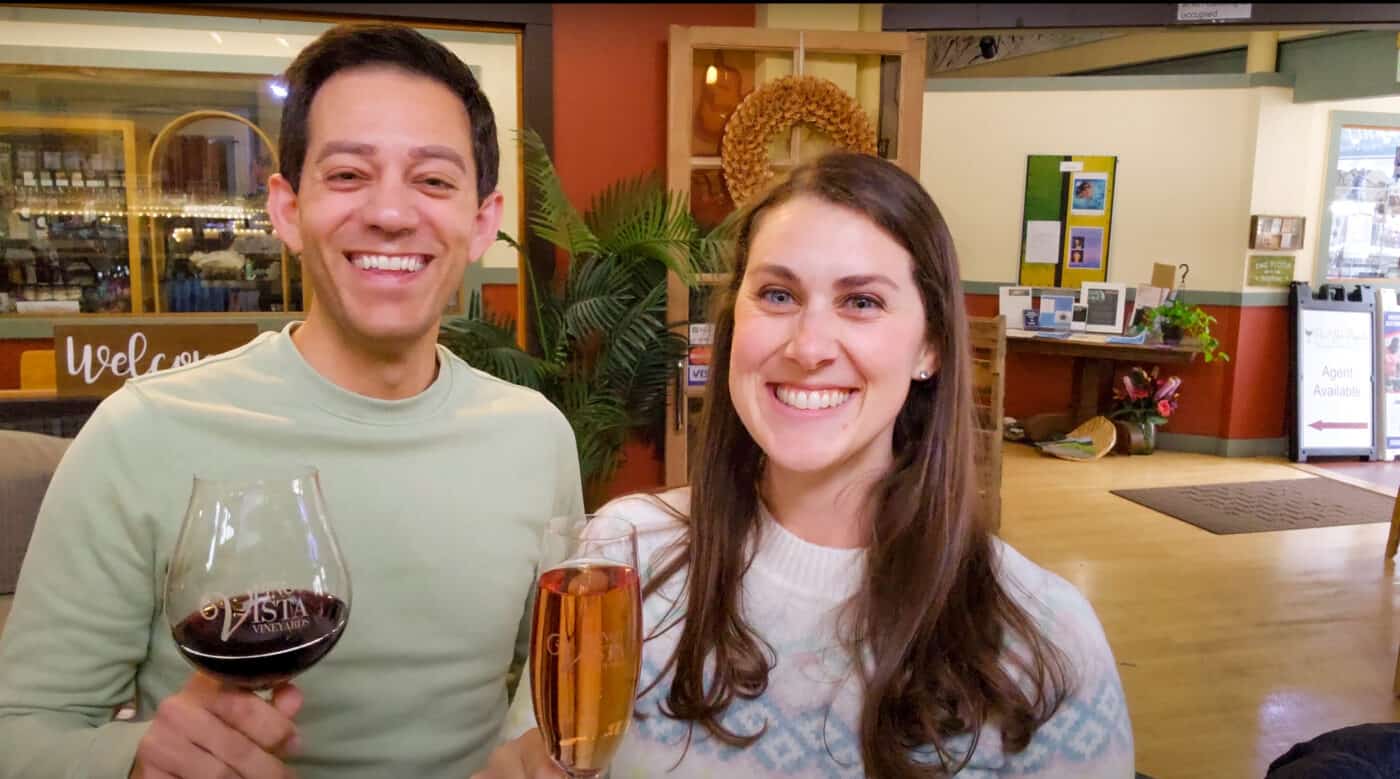 Hours: Tuesday – Saturday: 12PM – 7PM

Sunday & Monday: 12PM – 5PM

Food Available: Yes
Reservations Required: No
Pinot Vista Tasting Lounge is a unique concept in the Willamette Valley wine scene. Located in downtown McMinnville, the lounge offers a curated selection of wines from some of the best wineries in the region.
Visitors can enjoy a flight of four wines, or choose from a variety of wines by the glass or bottle. The lounge also offers a small selection of food and snacks to accompany the wine.
Pinot Vista Vineyards is a family-owned estate in the Eola-Amity Hills AVA, fulfilling the dream of owner Sherry Lewis and carried forward by the Washburn family.
The vineyard's premium location and nutrient-rich soil contribute to their award-winning Pinot Noir, complemented by a hazelnut orchard.
Their tasting lounge, "The Lounge," located in Downtown McMinnville, offers a welcoming and country-themed ambiance, featuring a wide selection of wines from Pinot Vista Vineyards and other esteemed wineries.
Chris drank a glass of their 2019 Sangiovese which he described as subtly bold. I enjoyed the 2020 Sparkling Pinot Noir Rose by Schone Tal Cellars which was dry and crispy.
Terra Vina Wines Tasting Room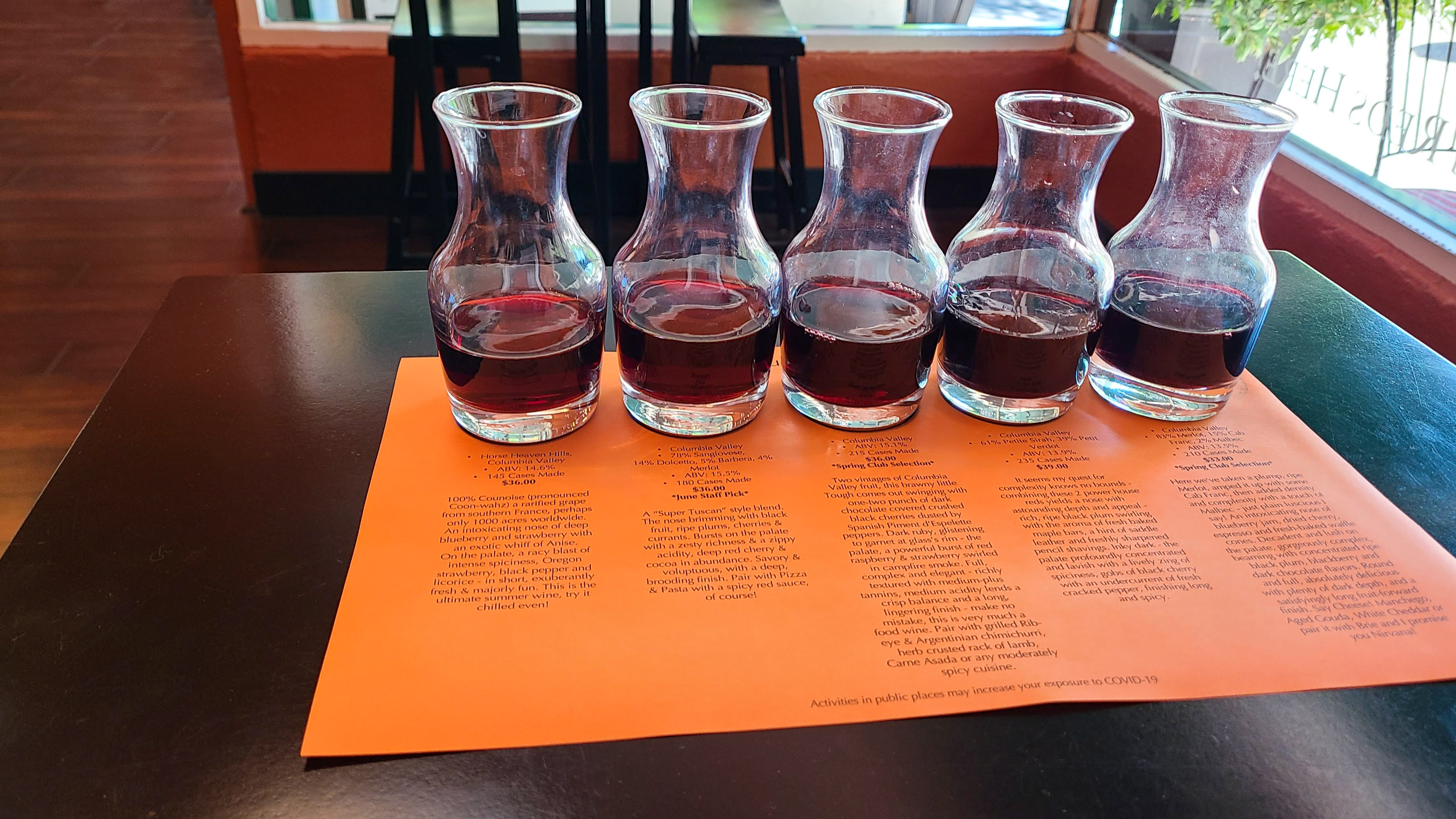 Hours: Thursday: 2PM – 7PM

Friday & Saturday: 12PM – 7PM
Sunday: 12PM – 5PM

Food Available: No
Reservations Required: No
Terra Vina Wines, a small family-owned vineyard located in the Chehalem Mountains AVA on Parrett Mountain, produces delicious wines known for their full-bodied and opulent complexity.
Their commitment to natural farming techniques and respect for the environment results in wines that showcase purity of flavor and balance. Unlike many other wineries in the area, Terra Vina focuses on big, bold reds and doesn't actually offer a Pinot Noir, which is what the region is known for.
They offer a range of wines, including Big Reds sourced from vineyards in Eastern Oregon and Washington, as well as the "La Famiglia" label featuring estate-grown fruit, including unique varietals like Dolcetto and Cabernet Franc.
We personally love big, bold reds so if you need to refresh your palate with something other than a lighter Pinot Noir, this is definitely the spot for you.
The Wineries we missed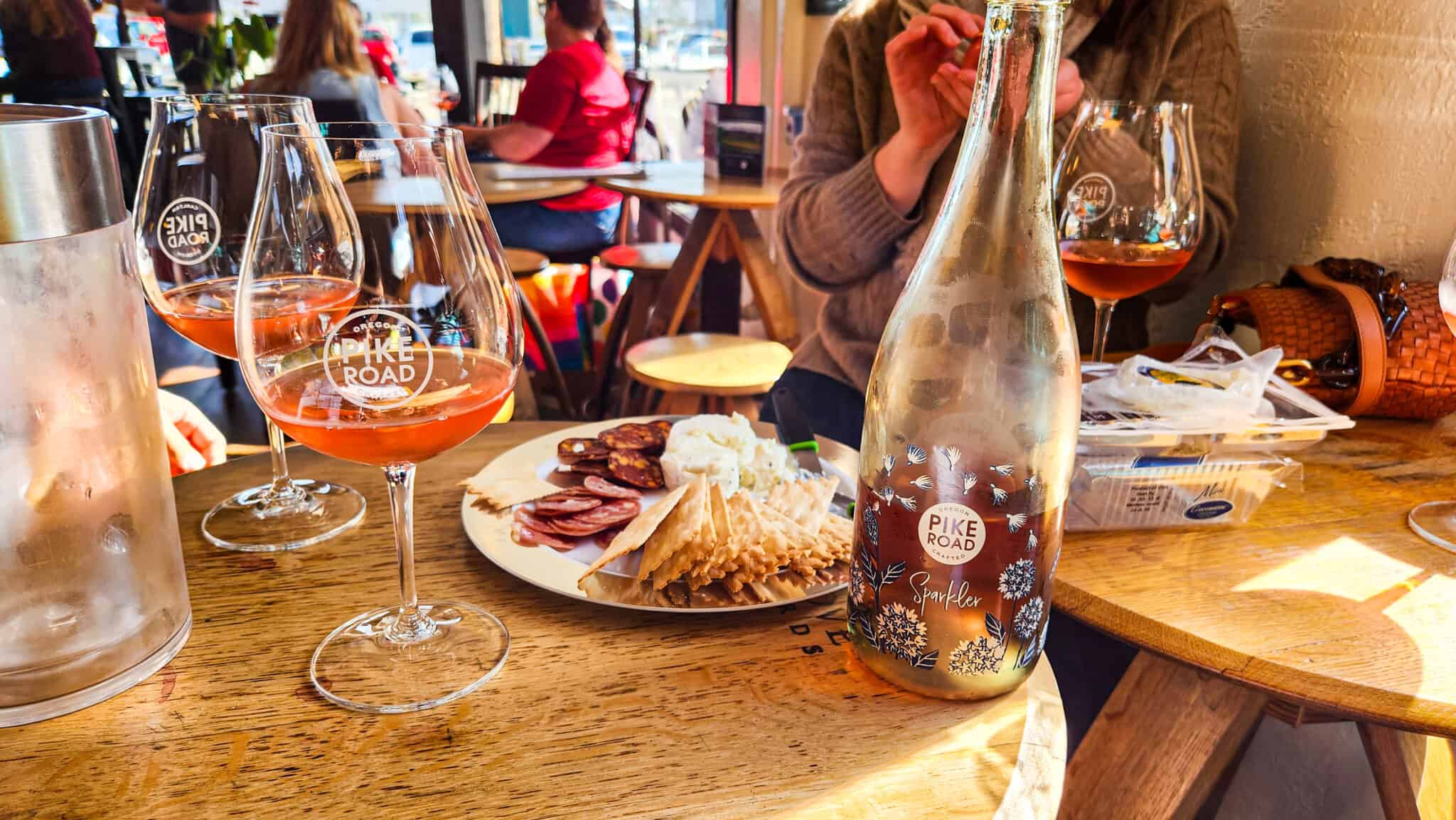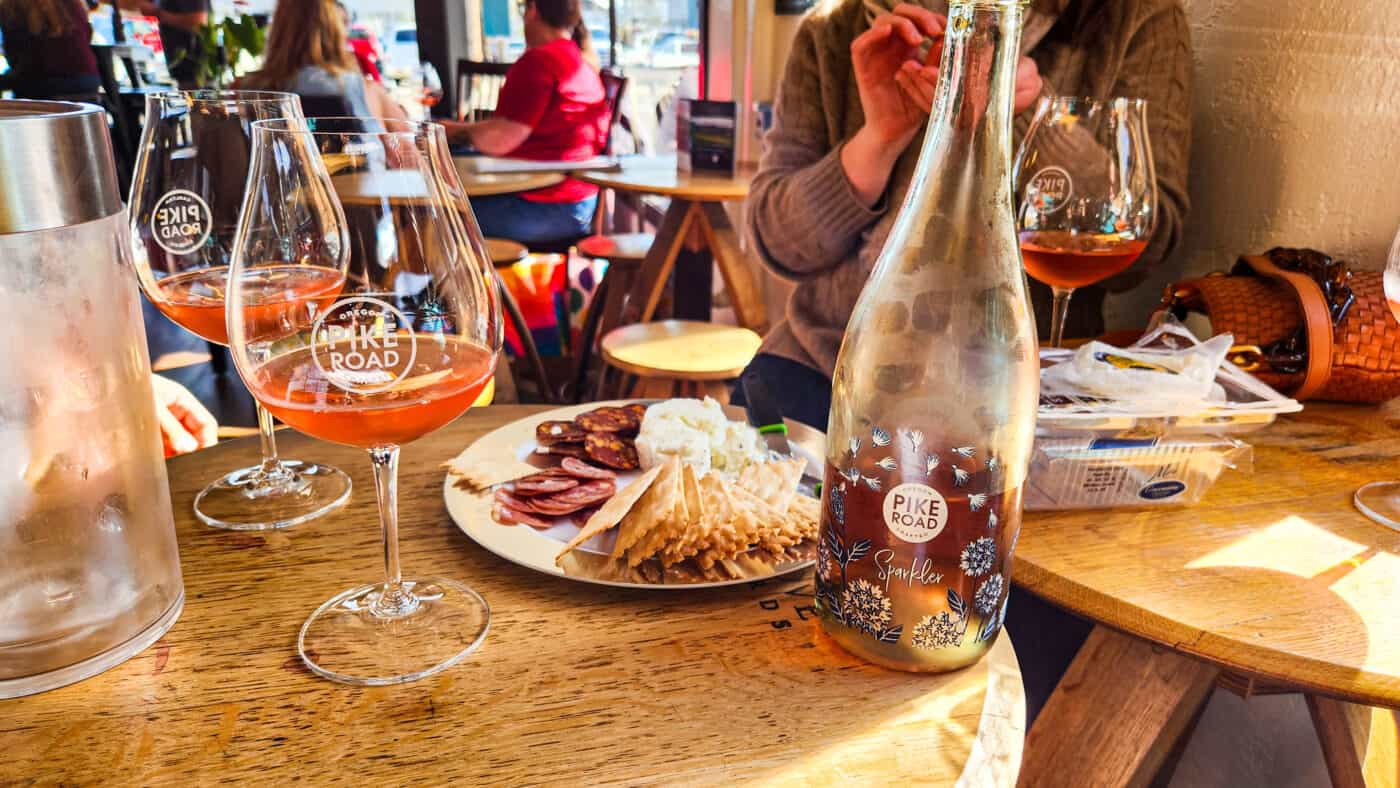 While we did visit Troon Vineyards, we excluded them from this list as they are actually produced in the Rogue Valley AVA and not in the Willamette Valley AVA. If you do visit, they are known for more creative, funky wines and we personally prefer a more traditional style.
We also wish we had more time (and liver stamina) to drink at all the McMinnville wineries, so we had to miss these this trip.
Harper Voit Wines
Retour Winery
Chris James Cellars
The Eyrie Vineyards
Good Fellows Family Cellars
Brittan Vineyards
Domaine de Broglie
Still thirsty for more?
We have another guide for the wineries OUTSIDE of McMinnville in the Willamette Valley. Click here to read the 5 Best Wineries in Willamette Valley for First-time Visitors.
Until then, check out some nearby spots!
To see all our shenanigans in the area, check out our Youtube video here: