Top 13 must visit breweries in Bend, Oregon
Bend is a small city along the Deschutes River, located in the center of Oregon. It is known for hiking trails, mountains, parks, and overall natural beauty.
However, Bend is also known as the beer capital of Oregon and one of the top beer destinations anywhere.
In fact, there are 22 breweries in Bend, Oregon as of 2022 (and even more in the surrounding areas)! We've compiled a list of some of the best ones that are a must-see during your trip to Bend.
Short on Time? Here are the key takeaways:
Monkless, Crux and Bend Brewing were our favorites. We suggest you don't miss these.

Don't skip visiting the last Blockbuster!

If you want to work off some of the beer, walk up to Pilot Butte (disclaimer: we drove it!)
This post was originally published in August 2022, and was updated in March 2023.
**Boozing Abroad contains affiliate links throughout the site. If you choose to purchase items through these links, we will earn a small commission at NO extra cost to you. Read the full disclosure policy here**
Map of the Breweries in Bend, Oregon
Click the interactive map below!
HOW TO USE THIS MAP: To view the layers and see the names of the places on this map, click the tab in the top left corner. You can select the check marks to show or hide certain layers. If you select the icons on the map, you will get more information about the point of interest.
HOW TO SAVE THIS MAP: If you select the star icon next to the map name, you can save this map to your Google Maps account. To view it, open Google Maps in desktop or on your phone, select the menu button, go to "Your Places," scroll to the right to Maps, and you will see this map.
Breweries in Bend, OR
Deschutes Brewery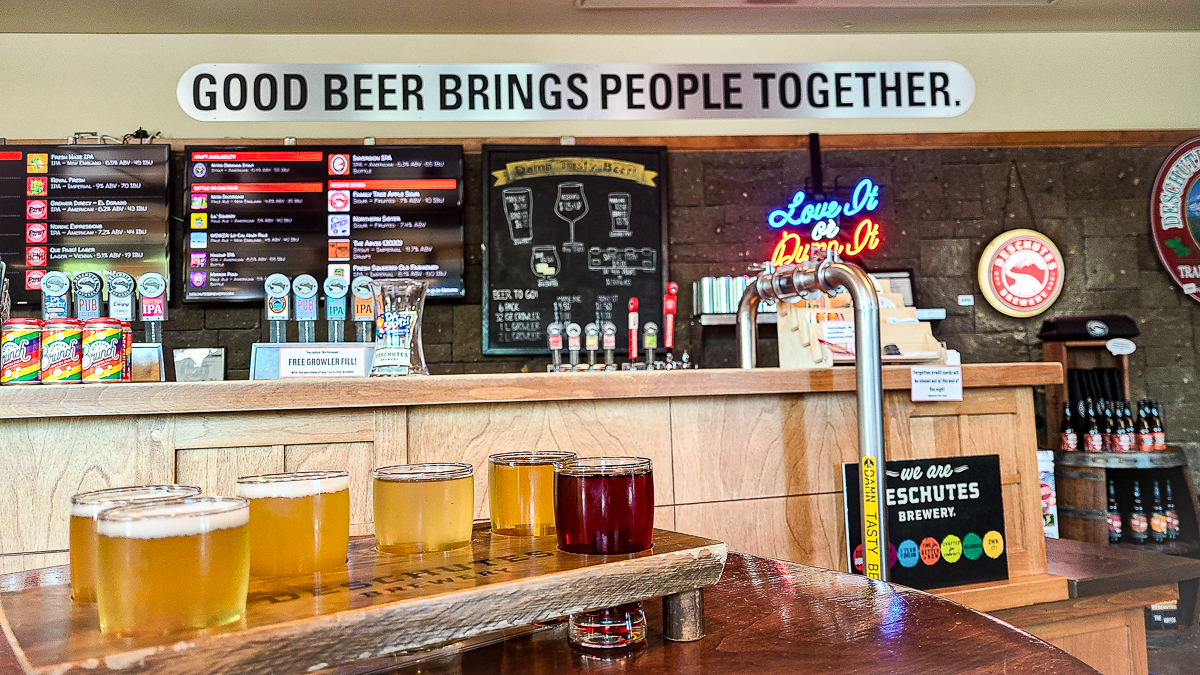 Deschutes Brewery was started in 1988 by a man named Gary Fish. His goal was to make a place where the community could hang out, make friends, and relax – all with a great beer in their hand. Over 30 years later, Deschutes Brewery has achieved just that.
The brewery currently sells over 225,000 barrels of beer each year and is distributed in at least 32 states, as well as a few countries. Deschutes is definitely one of the biggest breweries in Bend Oregon!
Deschutes Brewery offers indoor and outdoor dining, a game room upstairs, and more. However, one of the best parts about Deschutes is the delicious food, which is made from fresh ingredients, mostly from local farms.
The food is also made to complement the beer and some items are even made from leftover grain that wasn't used for brewing. The menu offers a variety of foods like chicken wings, burgers, pizza, dessert, and more.
The brewery offers 19 taps including IPAs, lagers, ales, stouts, sours, and more. Some of the most popular beers are the "Fresh Squeezed" IPA, the "Black Butte" porter, and much more. Deschutes also offers a fairly large cocktail and wine menu.
Monkless Belgian Ales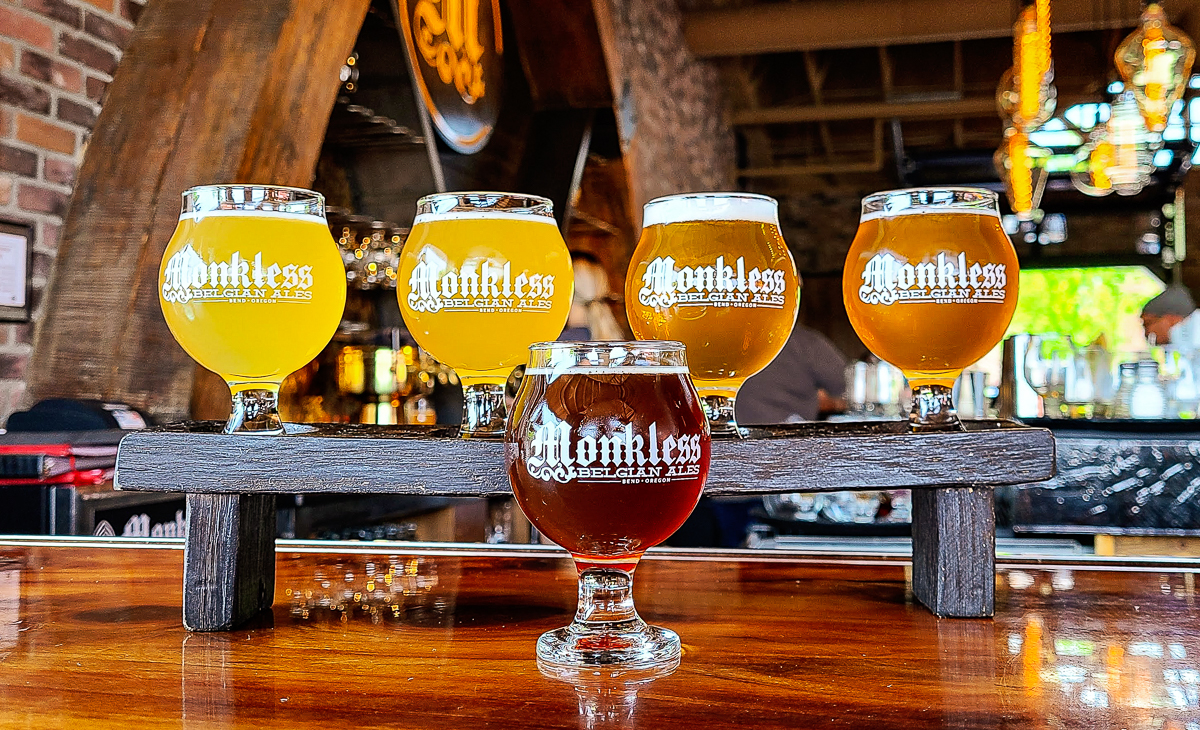 Monkless Belgian Ales was started when Todd Clement was frustrated with the lack of good, Belgian-style ales. He decided that that needed to change that and Monkless Belgian Ales was officially opened in 2014. Since then, Monkless Belgian Ales has gone on to win numerous awards.
Monkless Belgian ales also serves European-inspired food like Belgian hamburgers and meatballs, Bavarian pretzels, moules, and much more. The drink menu doesn't just stop at beer, either; wine, cider, and non-alcoholic options are available as well.
You can enjoy your food and drinks inside the cozy taproom or outdoors on the patio, which overlooks the water.
Todd is extremely focused on making high-quality beers that get most of their taste from Belgian yeast, nothing extra! Some of their most popular beers include the "Peppercorn Imperial Wit" wheat beer and the "Capitulation" Belgian tripel.
Crux Fermentation Project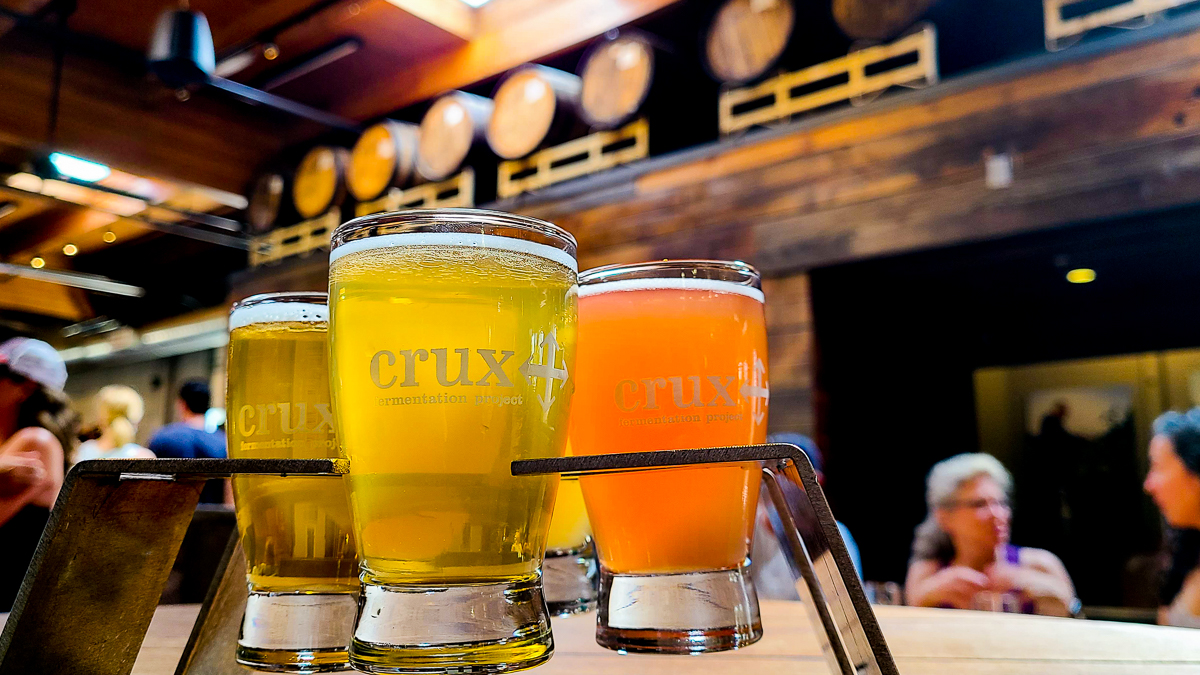 Crux Fermentation Project was founded by Larry Sidor and his two friends, Dave Wilson and Paul Evers. Larry Sidor had already been working in the brewing industry for over 40 years when he decided that he wanted to open his own brewery, one that focused on unique brewing and aging processes to make the best possible beer.
So, in 2012, Larry and his co-founders bought a building that used to be an AAMCO Transmission shop and the rest is history!
Inside, the brewery still has an industrial feel to it, but things like artwork and decorations have been added to make the space a bit more comfortable.
There's also an outdoor space where you can see views of the Cascade Mountains and attend events. If you're feeling hungry, Crux has an amazing food menu that includes things like pretzel boards, salads, sandwiches, and more.
Crux Fermentation Project has a large tap list with over 25 beers and features popular beers like the "Half Pitch" IPA and the "Crux Pilz" German pilsner. A unique thing about Crux is that they offer a non-alcoholic beer as well, which is called NØ MØ!
Boneyard Beer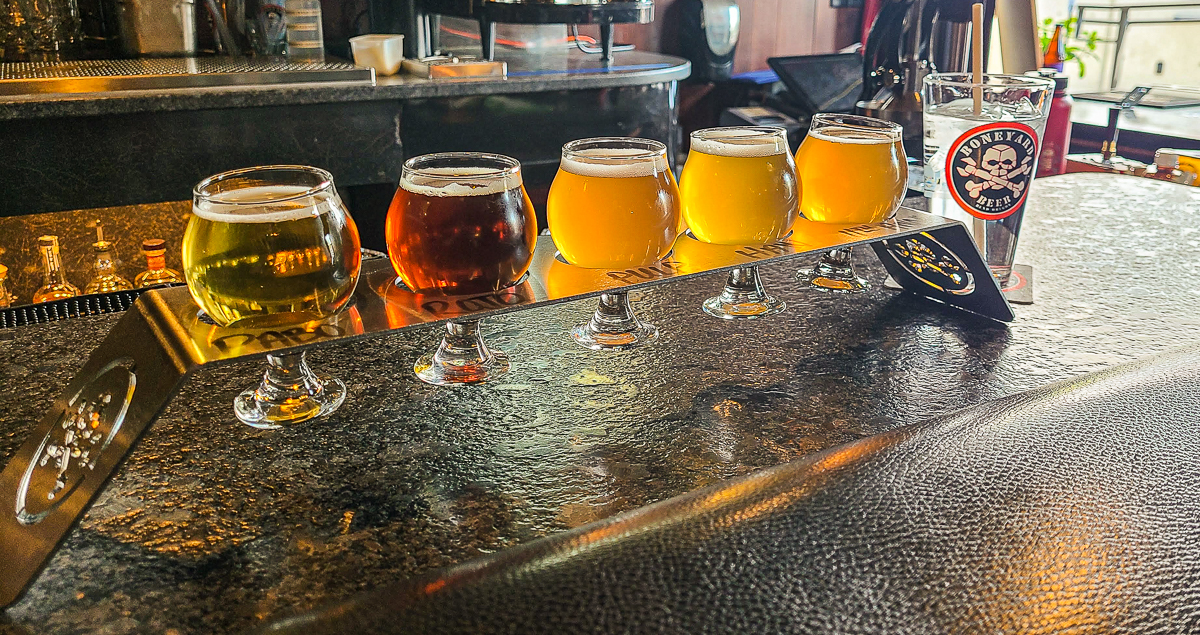 Boneyard Beer comes from humble beginnings. It was started by Tony Lawrence and co-founders Clay and Melodee Storey in what used to be an auto shop. Tony used old brewing equipment that he had gathered from working at numerous breweries in the past and he started to bring Boneyard Beer to life.
Now, all of that hard work has obviously paid off because the brewery is thriving! Boneyard brews around 38,000 barrels of beer each year and it's looking to expand even further.
Boneyard Beer features a "punk-rock" theme with black walls and skull decor throughout the space. Boneyard now has three different areas to choose from, depending on your mood: a large beer hall that has lots of windows for sunlight and large tables for big groups, a small and intimate bar where you can watch TV, and an outdoor patio that features fireplaces, heaters, and great views.
Boneyard Beer also features a delicious menu that includes burgers, chicken bowls, waffles, and much more. Boneyard Beer has one of the largest beer menus of all of the breweries in Bend Oregon! There are tons of beers to choose from, but some of the most popular ones include the "RPM" IPA and the "Diablo Rojo" red ale.
Bend Brewing Company
Wendi Day, along with her husband, Rob, and her father, Jerry Fox, established Bend Brewing Company in 1995, making it one of the oldest breweries in Bend Oregon. It was created with the goal of making great beer and delicious food that would bring the community together and now, over 25 years later, it's a thriving hotspot for both locals and visitors.
If you're a sports lover, Bend Brewing Company is the place to go since they offer a laid-back vibe and numerous TVs around the space to watch the big game.
And, if you'd rather spend time outdoors, they have a large outside space that overlooks Mirror Pond and occasionally hosts live events. Bend Brewing also features a wide selection of American food like Wisconsin cheese curds, burgers, fried chicken sandwiches, and much more.
Bend Brewing Company brews their beer upstairs and doesn't brew as much as some of the other breweries in the area, focusing on quality. Check out some of their most popular beers like the "Ching Ching" sour and the "Tropic Pines" IPA.
Sunriver Brewing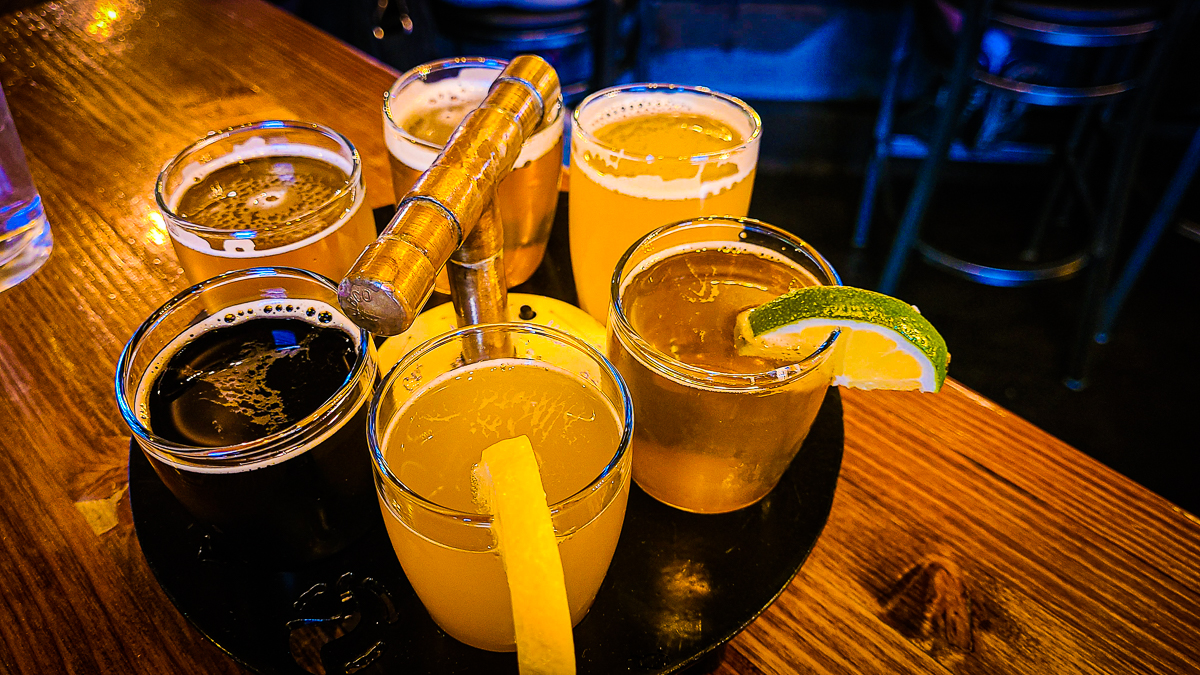 Sunriver Brewing was created by the Cameron family in 2012. Their goal was to create fantastic beers and foods to go along with them. They achieved their goals, and with only two small brewing tanks!
Sunriver Brewing started in Sunriver (just down the way from Bend), then expanded to Bend, and now they have four locations throughout Oregon. Since their opening, they have gone on to win numerous awards for their beer.
The atmosphere at Sunriver Brewing is cozy and relaxed with an industrial theme. There's also an outdoor patio that can be suited to any type of weather. One of the best things about Sunriver Brewing, though, is the food. The menu includes things like burgers, nachos, chicken wings, salads, and more.
Sunriver Brewing experiments with various ingredients year round to ensure you'll be drinking high-quality beer. Some crowd favorites include the "Vicious Mosquito" IPA and the "Cocoa Cow" stout.
Avid Cider Co
Avid Cider Co is a family-owned business and was started by Samantha Roberts and Dan McCoy in 2013. They were disappointed with the ciders at the time and thought that many of them were too dry or too sweet.
So, Samantha and Dan took inspiration from the beautiful landscape of the Northwest that was full of fruit, and they started producing their own natural cider from local sources. Nearly 10 years later, Avid Cider Co produces about 250,000 gallons of cider a year.
Avid Cider Co is the perfect place to relax and have some fun! You can either sit inside and enjoy playing some arcade games or sit outside and cozy up next to the fire pits. Don't forget to bring your furry friend either, since Avid is dog-friendly! There is no food available, but food trucks stop by frequently.
The ciders at Avid are not only natural but delicious as well. They come in many different fun flavors like blackberry, pear apple, watermelon rhubarb, and much more. If it's your first time visiting, we recommend trying out the grand slam flight that lets you try everything on tap.
However, if you'd just like to stick to one or two, some favorites include the "Dragonfruit" and "Apple Peach" ciders.
Bevel Craft Brewing
Bevel Craft Brewing was started by two professional disc golfers, Nate and Valarie Doss. Through their disc golfing career, they've been around the entire country, checking out numerous breweries while also winning several championships. In 2019, they decided to open their own brewery using all the notes and inspiration that they had taken from all the breweries that they had seen.
But when picking a name for their brewery, they didn't stray far from their disc golf hearts, as Bevel refers to the edge of a golf disc! Nate and Valarie made a goal to bring that same "edge" to their brewing business.
The interior of Bevel Craft Brewing is casual and laid-back with plenty of TVs throughout the space. If you'd rather sit outdoors, there's a large patio that has fire pits to stay warm. It's also dog-friendly! Bevel doesn't serve food, but there are four food trucks near the patio that sell a wide variety of foods like Mexican, Hawaiian, and more.
Bevel Craft Brewing focuses mostly on IPAs and experimenting with hops. Their goal is for each beer to have a unique flavor by changing up the level of bitterness, maltiness, and more. Some of their most popular beers include the "First Run" IPA and the "Funday" IPA.
Spider City Brewing
Spider City Brewing was started by three women: Melanie, Michele, and Tammy. The trio met in college and discovered that they all shared a love for craft beer. After they finished school, they traveled to various countries around the world and tasted different kinds of beer in each one, which sparked a desire to start their own brewery and, in 2019, they did just that!
Out of all the breweries in Bend Oregon, Spider City is the only one that is owned completely by women!
The interior of Spider City is large and open with an industrial vibe to it. There are plenty of seating options, so it's a great option for large groups. Outside seating is available too, and it's dog friendly. Spider City doesn't offer food, but there are food trucks outside if you want to grab a bite to eat.
Spider City prides itself on offering a wide variety of beers including IPAs, sours, stouts, and more. Some of their most popular beers are the "Sneaky Deer" IPA and the "Soleil Rubis" sour.
GoodLife Brewing Co
GoodLife Brewing was founded in 2011 by Ty Barnett and Curt Plants, who are both Bend natives. Ty and Curt used to be roommates, which is when they started homebrewing and becoming more passionate about beer. In fact, Curt liked it so much that he took a master brewing program and even studied for a while in Munich, Germany!
Since its opening, GoodLife Brewing has become very popular. It was one of the first breweries in Bend Oregon to can beer, and now some of its canned beers have even gone on to win awards.
The interior of GoodLife Brewing is fun and fresh with plenty of artwork, decorations, and TVs filling the space. If you'd rather sit outside, they have a nice little outdoor area with firepits, umbrellas, and even some games to play – like cornhole. It's dog friendly as well! As far as food, GoodLife offers salads, sandwiches, wraps, and a kid's menu.
GoodLife Brewing focuses on creating balanced and unique flavors in all of its beers. They pride themselves on using special ingredients and high-quality hops and malt. Some of their most popular beers are the "Descender" IPA and the "Sweet As!" Pacific Ale.
Bridge 99 Brewery
Bridge 99 Brewery was started by Trever Hawman and Rod Kramer in 2013. The two friends used to be carpenters, but they decided to take their passion for beer and put it to use by opening a small brewery.
They have grown a lot since 2013, but they always make sure to grow sustainably and stay humble. If you're wondering where the name comes from, it's inspired by the famous "Ninety-Nine Bottles of Beer" song, as well as "Bridge 99" in Oregon.
Bridge 99 Brewery has a cozy, rustic cabin feel to it with wooden walls, tables, chairs, as well as a wooden bar. There are large TVs throughout the space as well. Outside, there's a patio with umbrellas and even a heated section.
Bridge 99 doesn't serve a full menu of food; however, there is a decent selection of pizzas available, as well as food trucks outside.
Some of the best beers at Bridge 99 are the "Wizard Falls" IPA and the "Rock Crawler Red" red ale. A unique thing about Bridge 99 is that they focus on being environmentally friendly when making their beer.
They do this by using fresh and local ingredients, sending the leftover ingredients to a rancher instead of letting them go to waste, and using the grain wastewater to fertilize a local farm instead of pouring it down the drain. They might be one of the most eco-friendly breweries in Bend Oregon!
Oblivion Brewing Co
Oblivion Brewing Co was all started by a man named Darin Butschy. Darin started homebrewing when he was still in high school, and it quickly became a passion of his. He spent many years working at various breweries, and he even studied chemistry at the same time!
Darin always had a dream of starting his own brewery, and this dream grew even stronger when he visited Bend for the first time and couldn't believe how amazing the beer was. Finally, after a lot of hard work and dedication, Darin achieved his dreams and Oblivion Brewing was established in 2012.
Oblivion Brewing has a simple and laid-back atmosphere with its main focus being the beer. The interior is open and airy with beer barrels for tables and some unique artwork hanging on the walls. Oblivion Brewing does not currently offer food.
Oblivion Brewing offers flights if you'd like to try a bit of everything. Otherwise, some of their most popular beers include the "Backside" IPA and the "Road Ryder" red ale.
Worthy Brewing Co
Worthy Brewing Co was founded by Jack Worthington, a lover of not only beer but also science and the environment. Jack decided to combine these three passions and Worthy Brewing officially opened in 2012. Since then, the brewery has doubled its production and they now have two full-time pubs.
Worthy Brewing is one of the most unique breweries in Bend Oregon because it features an observatory, or, as they like to call it, a "hopservatory." You can bring your friends or family and get amazing views of the mountains as well as stars, galaxies, and planets. The brewery is also completely solar-powered!
The interior of Worthy Brewing is huge and lively with high ceilings, cool artwork, and plenty of seating options, both inside and outside. If you'd like to sit outside, make sure to check out the gardens, where Worthy grows its very own plants and vegetables. The brewery also serves delicious food like pizza, tacos, burgers, salads, soups, and more.
Worthy Brewing prides itself on making great beer while also prioritizing the environment by using sustainable brewing methods. As they say, "Earth first, beer second." Some of their best high-quality and eco-friendly beers are the "Lights Out" milk stout and the "Strata" IPA.
Other Non-beer Things to do in Bend, OR:
Oregon Spirit Distillers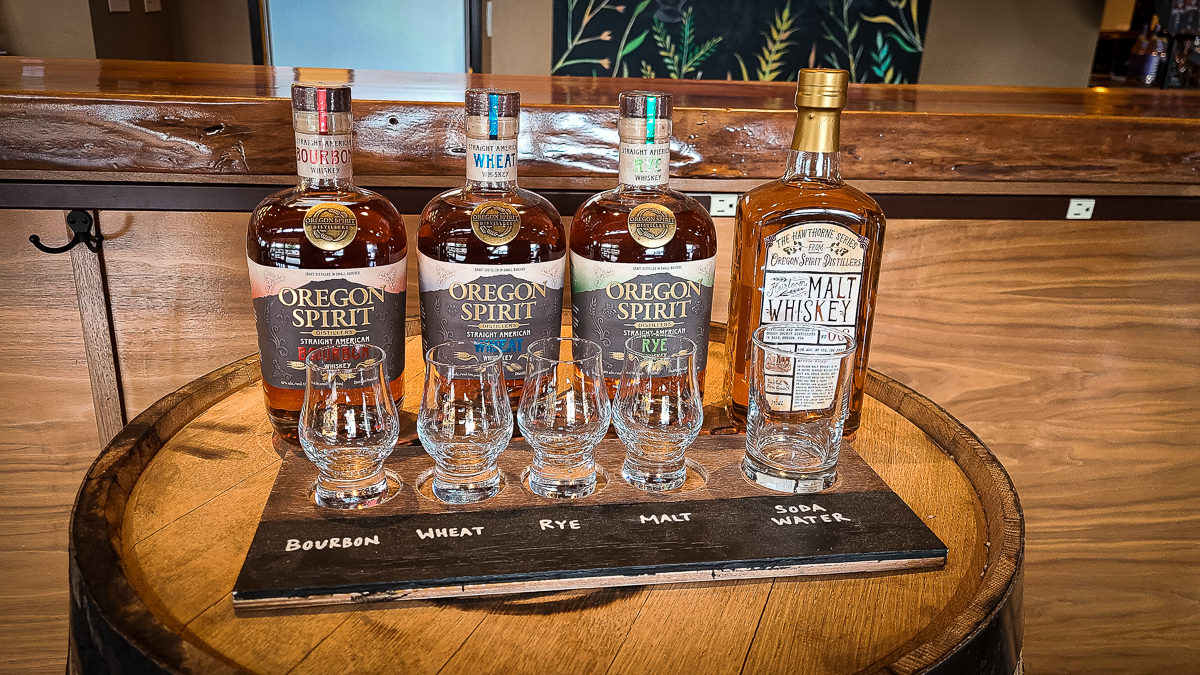 If you'd like a change of pace from visiting the many breweries in Bend Oregon, check out Oregon Spirit Distillers. This family-owned distillery focuses on making great spirits that are made from locally-sourced ingredients, even as it expands beyond Bend.
When visiting Oregon Spirit Distillers, you have a few different options. You can check out the tasting room to try out various spirits, either in flights or individual pours. Or, you can head to the cocktail lounge if you'd like to sit back and relax while trying the creative cocktails that Oregon Spirit Distillers has to offer. The cocktail lounge features a large patio with fire pits as well.
Finally, you can go to the bottle shop to purchase various types of whiskey, rum, vodka, gin, and more. Some spirits are exclusive, and can only be found at the bottle shop.
If the distillery process fascinates you, you're not alone! Oregon Spirit Distillers offers guided tours for a fee where you can see behind the scenes of how these amazing spirits are made, and a flight of whiskey is complimentary on each tour!
The World's Last Blockbuster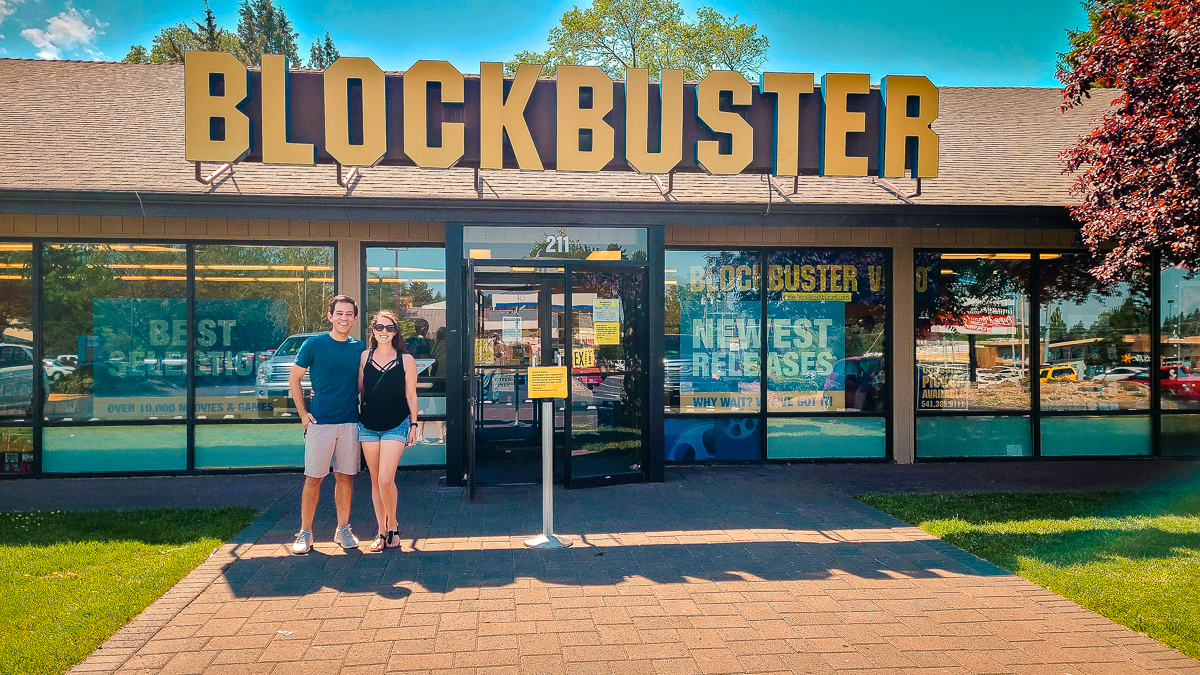 If you'd like to take a trip down memory lane, what better way than to visit the last Blockbuster in the world? The video rental store was opened in 1992 by Ken and Debbie Tisher, and, while all the other Blockbusters started to close around 2010, the Blockbuster in Bend managed to remain open.
In 2018, it officially became the last remaining Blockbuster in the world.
Now, the Blockbuster store is a popular tourist destination and still rents out movies every month. It has even been visited by Ellen Degeneres, and has had a documentary made about it called "The Last Blockbuster."
When you visit the Blockbuster, you can not only rent movies, but you can also buy apparel like shirts, hats, socks, and much more. You can also see memorabilia from various films including Robin Hood, Les Misérables, Cinderella Man, and American Gangster.
Hike or Drive up to Pilot Butte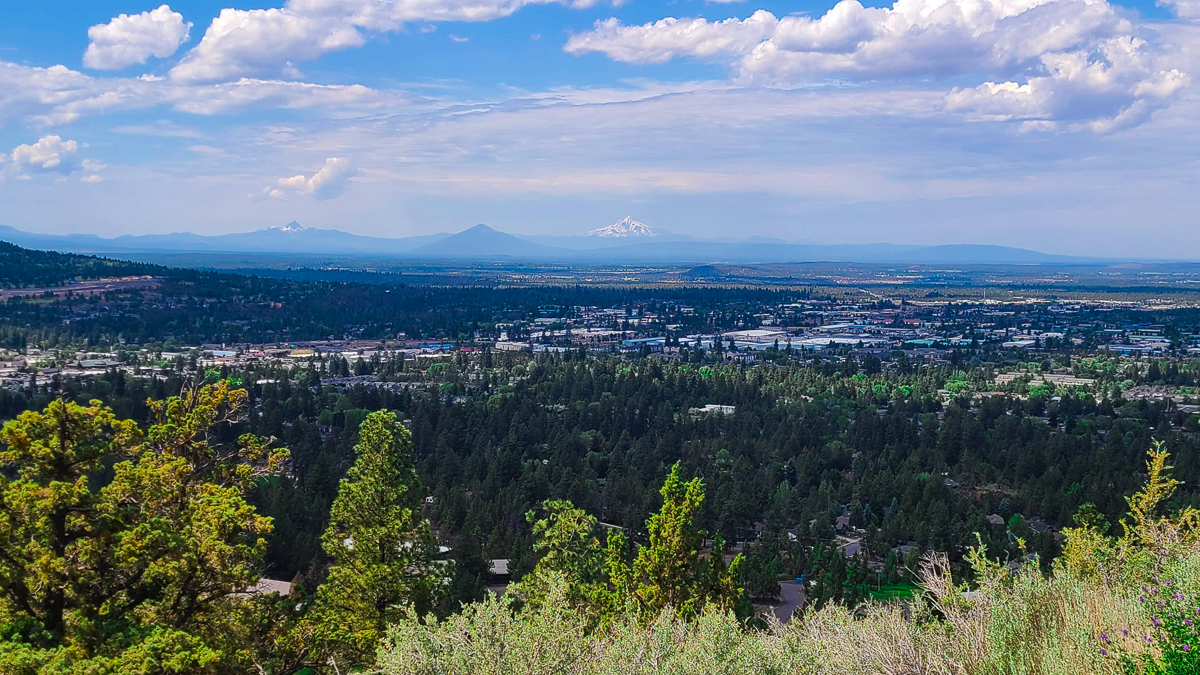 Pilot Butte is an extinct volcano, and is one of the largest landmarks in Bend. Almost no matter where you are in Bend, you can see the iconic formation, and the views from the top are spectacular. You can either drive or hike to the top.
Keep in mind that driving is seasonal from April 15th to November 1st, depending on the weather. If you decide to hike, there are three different easy/moderate trails, and all of them lead to the top where you'll see amazing views of the Cascade Mountains, Mt. Hood, Mt. Jefferson, Black Butte, and more. We recommend going around sunset for the best views!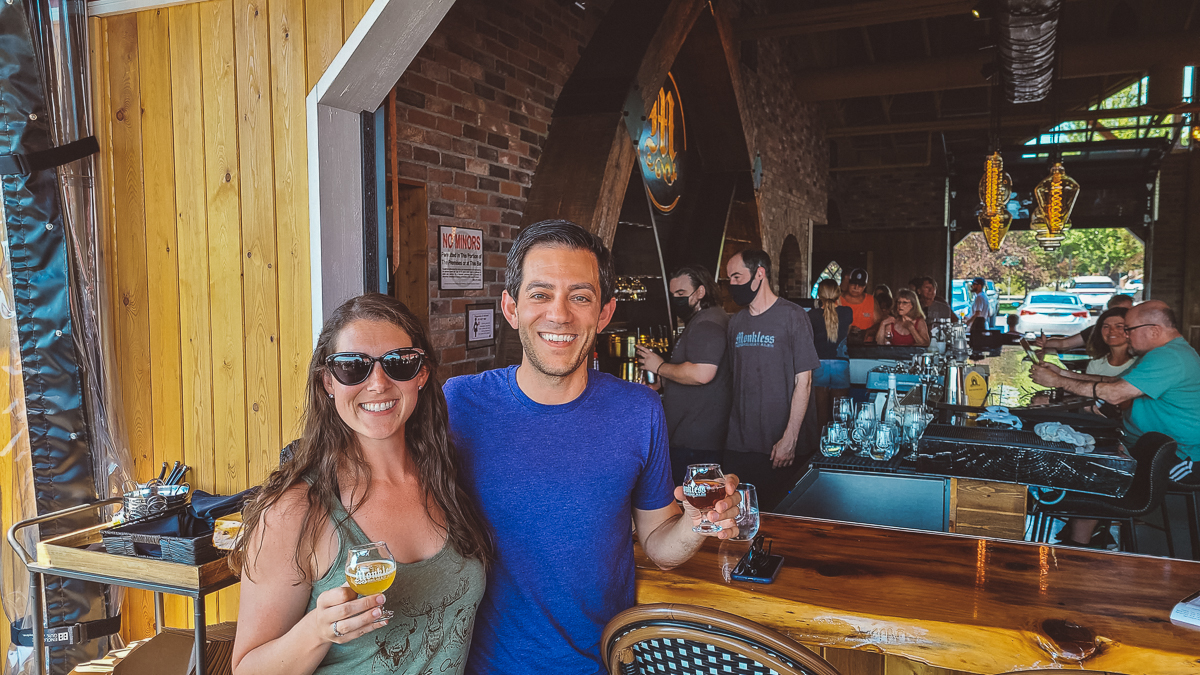 Bend, Oregon is a thriving community packed with breweries. Whether you're in the mood for an IPA, lager, stout, or sour, there's a brewery for you. Also, many of the breweries in Bend Oregon focus on using local and fresh ingredients from the beautiful landscape of the Northwest, so you can be sure you're drinking clean and eco-friendly beer!
Many of these breweries double as restaurants as well, so you can bring your family and enjoy a delicious meal together.
Still Thirsty? Check out these nearby locations: