Where to Drink in Prescott, Arizona
Looking where to drink in Prescott, Arizona? Prescott, Arizona is a hidden gem nestled in the picturesque landscapes of the American Southwest. This charming city not only offers breathtaking views and outdoor adventures but also boasts a vibrant and eclectic drinking scene. 
Whether you're a craft beer connoisseur, a wine enthusiast, or a saloon lover, Prescott has something to quench your thirst and elevate your taste buds.
And before we go too much further, we should probably let you in on the correct pronunciation of Prescott so you fit in. If you want to be singled out as a tourist, say "Pres-COTT" (as in "cottage"). But if you want to blend in with the locals, say "Pres-KITT".
Short on Time? Here are the key takeaways:
In our opinion, LazyG Brewhouse and Superstition Meadery were can't-miss stops
Whiskey Row is the best area to saloon hop
The Palace surprised us with how good the food was
Psst: Looking for more Arizona info? Browse all our AZ guides here! 
Map of where to drink in Prescott, Arizona
Click the interactive map below!
HOW TO USE THIS MAP: To view the layers and see the names of the places on this map, click the tab in the top left corner. You can select the check marks to show or hide certain layers. If you select the icons on the map, you will get more information about the point of interest.
HOW TO SAVE THIS MAP: If you select the star icon next to the map name, you can save this map to your Google Maps account. To view it, open Google Maps in desktop or on your phone, select the menu button, go to "Your Places," scroll to the right to Maps, and you will see this map.
Wineries / Wine Bars
Del Rio Springs Vineyard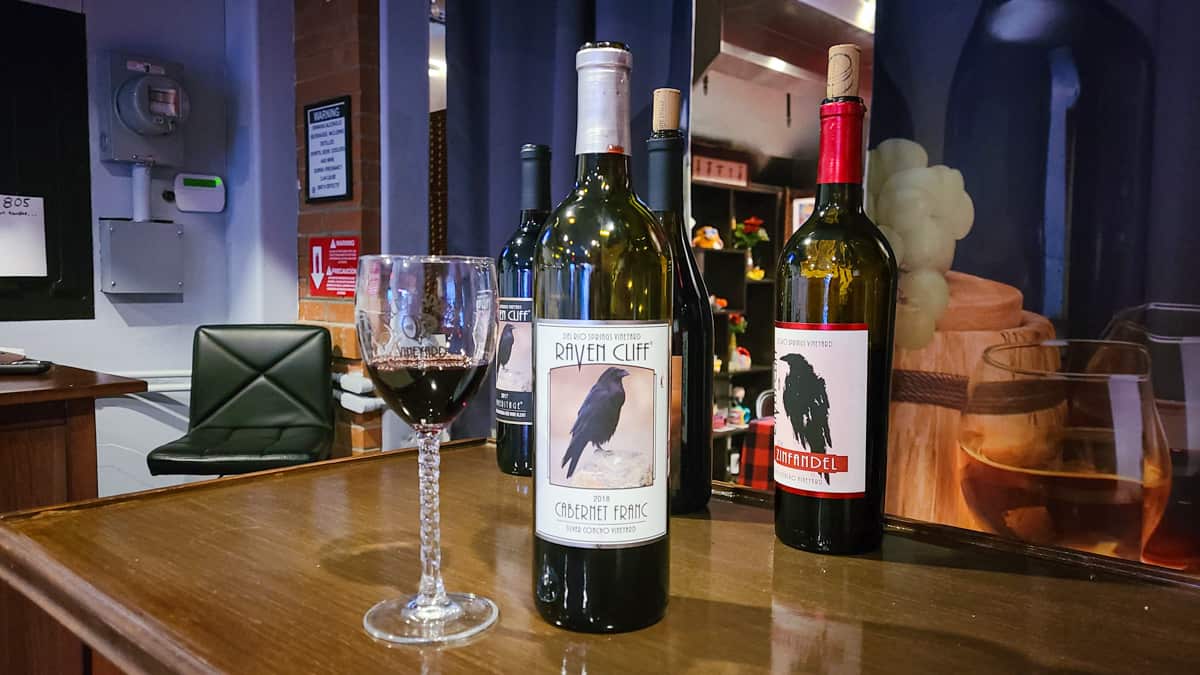 Hours:

Tuesday – Thursday & Sunday: 2PM – 6PM
Friday – Saturday: 2PM – 7PM
Monday: Closed

Food Available: No
Reservations Required: No
Located in the Old Firehouse Plaza in downtown Prescott (on the back side of Whiskey Row), Del Rio Springs Vineyard is the result of husband-and-wife owners and winemakers who have a long history in the wine business.  
The tasting room is small and cozy and the wines are just delicious, using Arizona-grown grapes from their vineyard just north of Prescott. They have a full assortment of whites and reds, but our favorites (as they usually are) were the reds, including the Cabernet Franc and the Pinot Noir which were the first grapes planted in their vineyards back in 2009.
If you get a chance to visit the tasting room, say hello to the bartenders who are incredibly knowledgeable about wine and the wine industry, but in a fun and approachable way. They often have live music, so be sure to check their facebook for all their events.
Flying Leap Vineyards (and Distillery)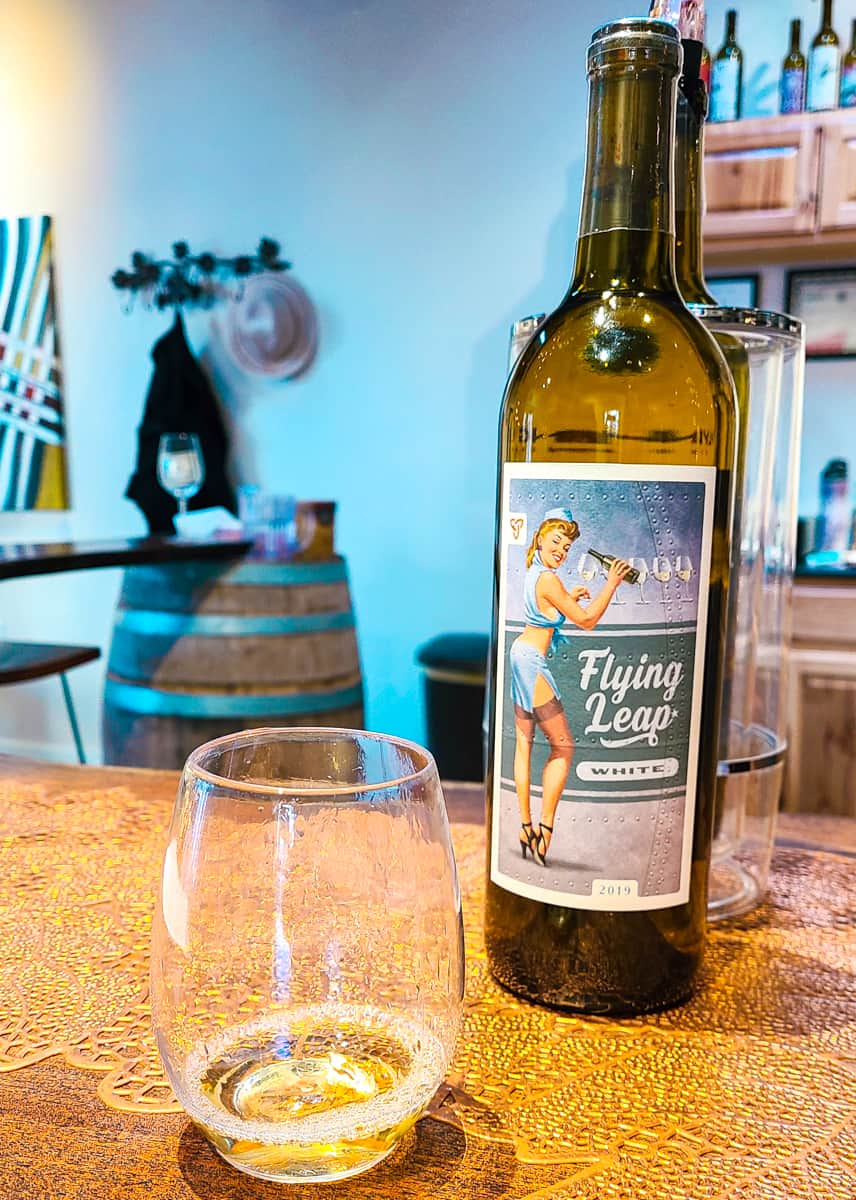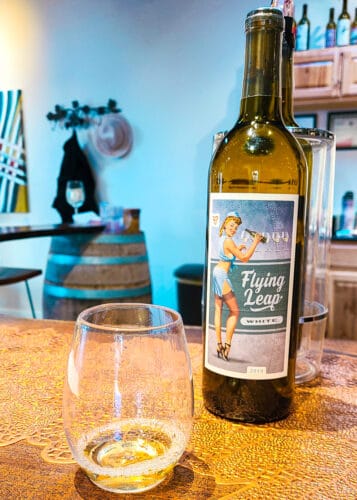 Hours: Wednesday – Friday: 12 – 5PM

Saturday – Sunday: 12 – 6PM
Monday – Tuesday: Closed

Food Available: No
Flying Leap Vineyards is located only about a tenth-of-a-mile from Del Rio Springs and their Prescott tasting room is one of six Arizona locations where you can taste their wine. 
The folks even got into distilling grape-based spirits (vodka, brandy, grappa) in 2016, but these spirits are only available at their location in Elgin which is near Tucson and just north of the US-Mexico border.
The vineyard itself is located in Arizona's wine country (yes, they have one) in Willcox, just east of Tucson, and their main winery/tasting room is located in Elgin.
They also have a variety of whites, reds, and dessert wines available to taste. The Union red wine is a blend of Cabernet Franc, Cabernet Sauvignon, and Petit Verdot and was incredibly delicious. The Habanero wine is a Grenache infused with fresh Habanero peppers and then blended with Graciano wine. It's a warming sensation from the spice and uniquely southwestern.
The tasting fee was a bit on the high side (about $28+ for a tasting of six), but it does come with one of their branded stemmed-wine glasses, and you can even save $10 off this fee if you purchase a bottle.
Back Alley Wine Bar
Hours: Monday -Thursday 12PM – 9PM (ish)

Friday 12PM – 10PM
Saturday 12PM – 10PM
Sunday 12PM – 7PM

Food Available: Yes
While we didn't make it there, Back Alley Wine Bar came highly recommended from a few different locals and we were bummed to miss it.  This charming wine bar, located in a back alley (shocking surprise!) offers an extensive selection of wines from around the world including a local Arizona wine selection. 
If you have someone in your party that doesn't like wine and you don't want to ditch them, they do offer craft beer and cider here as well.
Also of note, they have a sister CHEESE bar down the alley. Long story short, these two stops will be very high on our list when we return.
Breweries / Mead
LazyG Brewhouse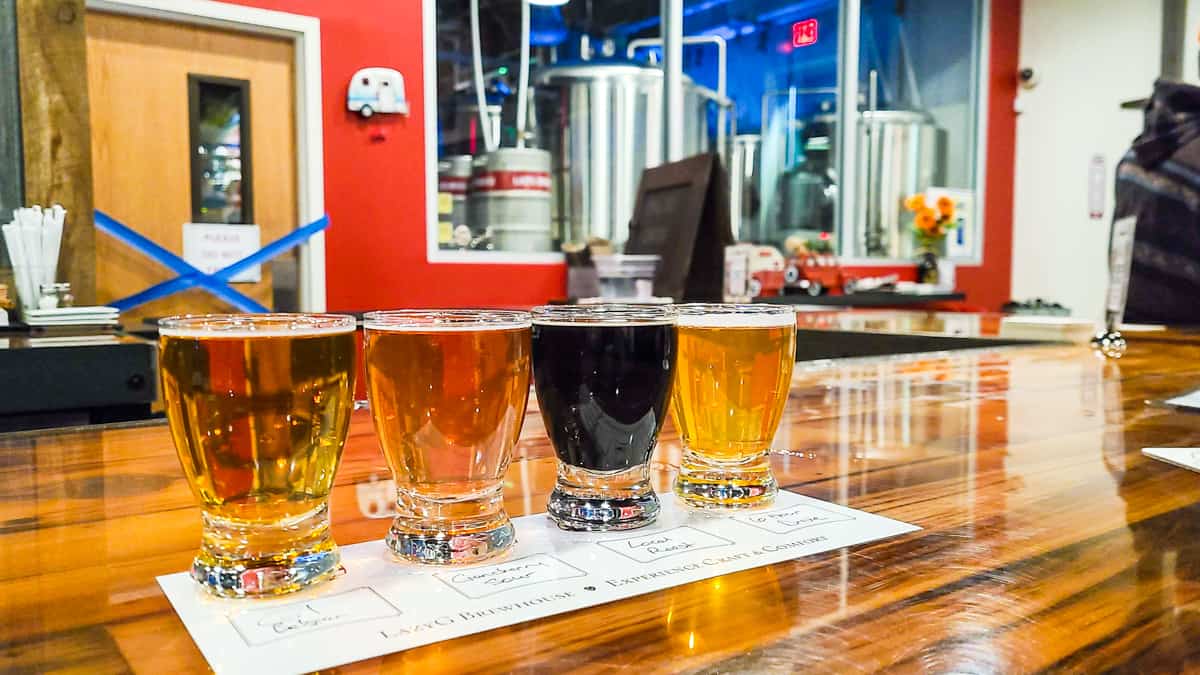 Hours: Monday, Wednesday, Thursday & Sunday: 11AM – 9PM

Friday – Saturday: 11AM – 10PM
Tuesday: Closed

Food Available: Yes
Located just a half-mile from downtown Prescott's Whiskey Row, LazyG Brewhouse has a homey, industrial feel and you can tell this is where the locals hang out when stepping inside. 
On that note, this place was a suggestion from a local for one of the many things to do in Prescott Arizona and they were absolutely spot on! The beer was really good, our favorite of the Prescott breweries.
Our favorites were the Local Roast, a brown porter made with locally roasted coffee and a hint of vanilla, the Crancherry Wheat, a delightfully flavorful sour, and the Six Hour Drive IPA which was aggressively hopped but extremely drinkable (even for Samantha) and delicious!
The head brewer is nationally-acclaimed and has worked at some other stalwarts in the craft beer industry, like Russian River and The Bruery. This place has an even more special place in our hearts as they have a cute travel trailer/RV on their outdoor patio.
Superstition Meadery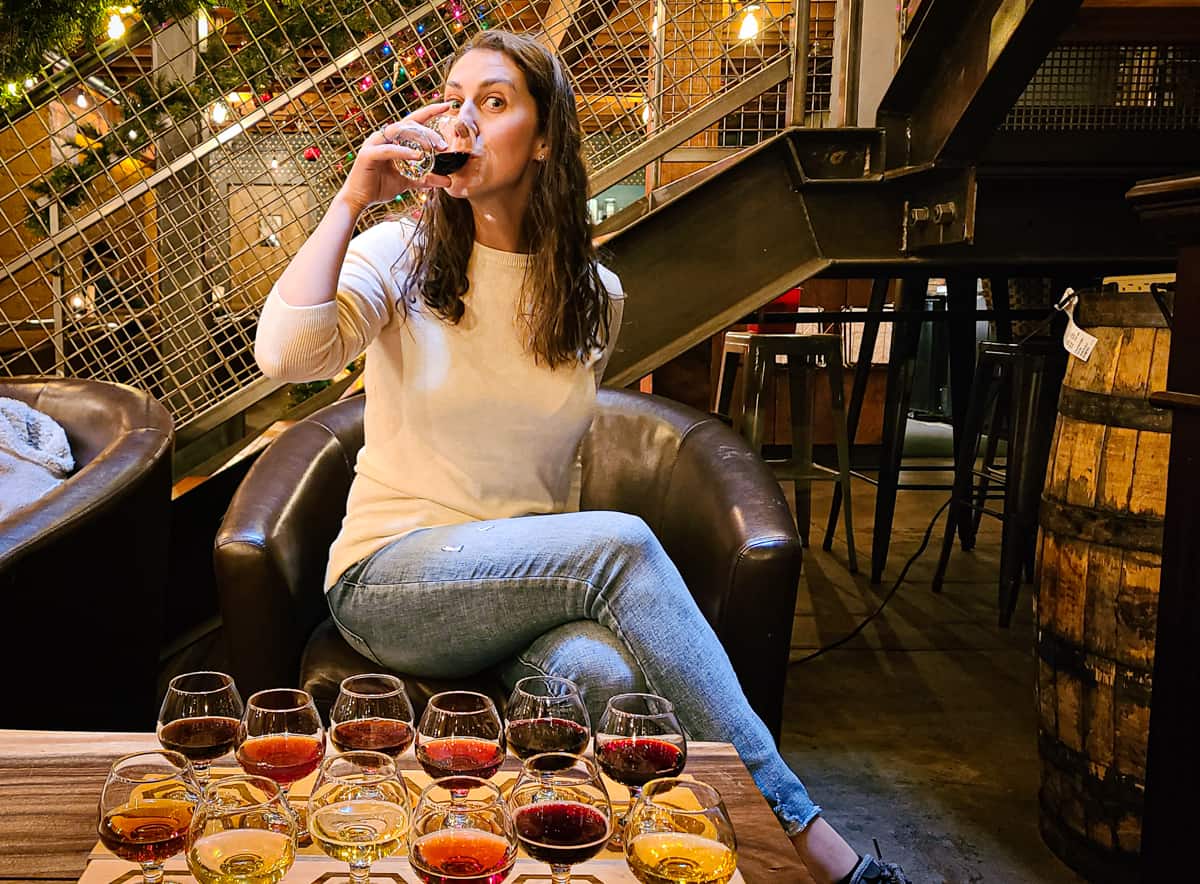 Hours: Sunday: 11AM – 7PM

Monday – Thursday: 11AM – 9PM
Friday – Saturday: 11AM – 11PM

Food Available: Yes
We usually aren't huge fans of mead as we don't like our alcohol to be too sweet. But when we were looking for where to drink in Prescott, Arizona, we saw that Superstition Meadery has some of the most recognized meads in the world. The world. So, of course, we had to check it out. 
Their Prescott tasting room is an underground bar with a super cool vibe. You can hang out at the bar, in some comfy chairs by the fireplace, or in their room with barrels and huge vats of fermenting mead.
We had their pre-selected flight of 12 tasters (3 ciders and 9 meads) and all were incredibly delicious and flavorful. Our favorites were the Blueberry Spaceship Box (top-rated cider in the world), the Peanut Butter Jelly Crime (straight liquid PB&J), and the Amante (coffee, cacao, cinnamon, and a hint of red hatch chili). We also tried their Blueberry and White Chocolate dessert mead which was out of this world!
In addition to the full-flavored mead, they also have cider, seltzers, wine, and many barrel-aged meads. Their mission is to reintroduce the world's oldest fermented beverage to mankind. Mission accomplished.
If you're looking for things to do in Prescott Arizona, you definitely need to check out Superstition! And if you're in Phoenix, check out their first-of-its-kind mead and food pairing restaurant.
Whiskey Row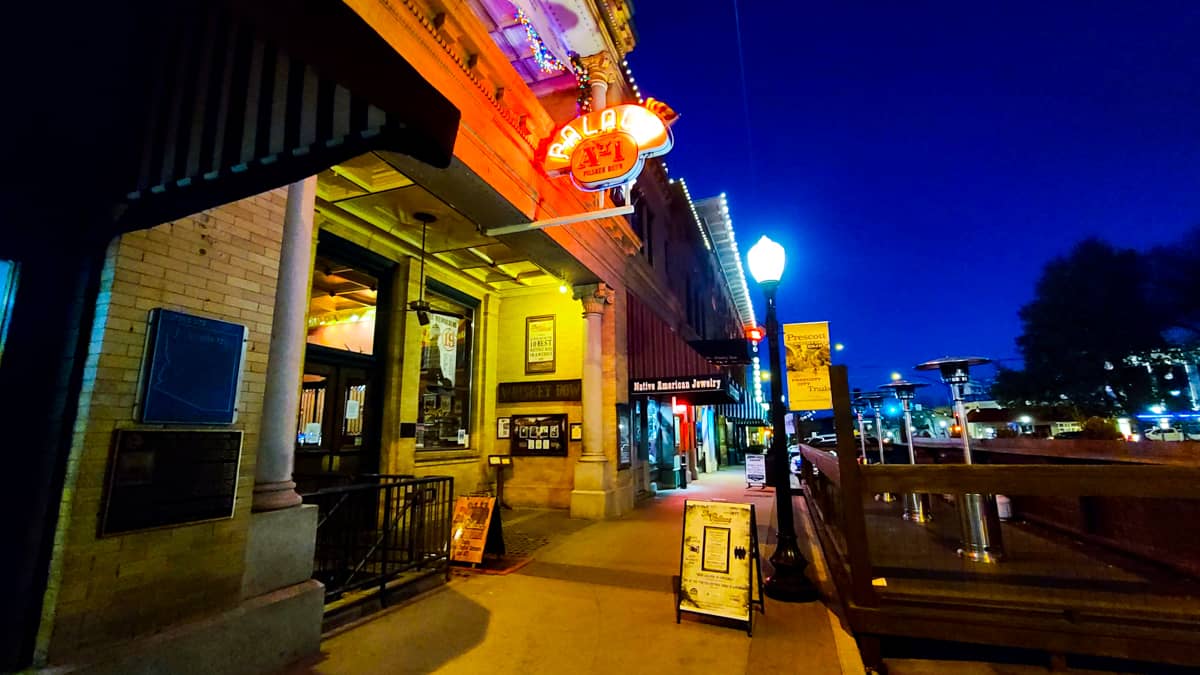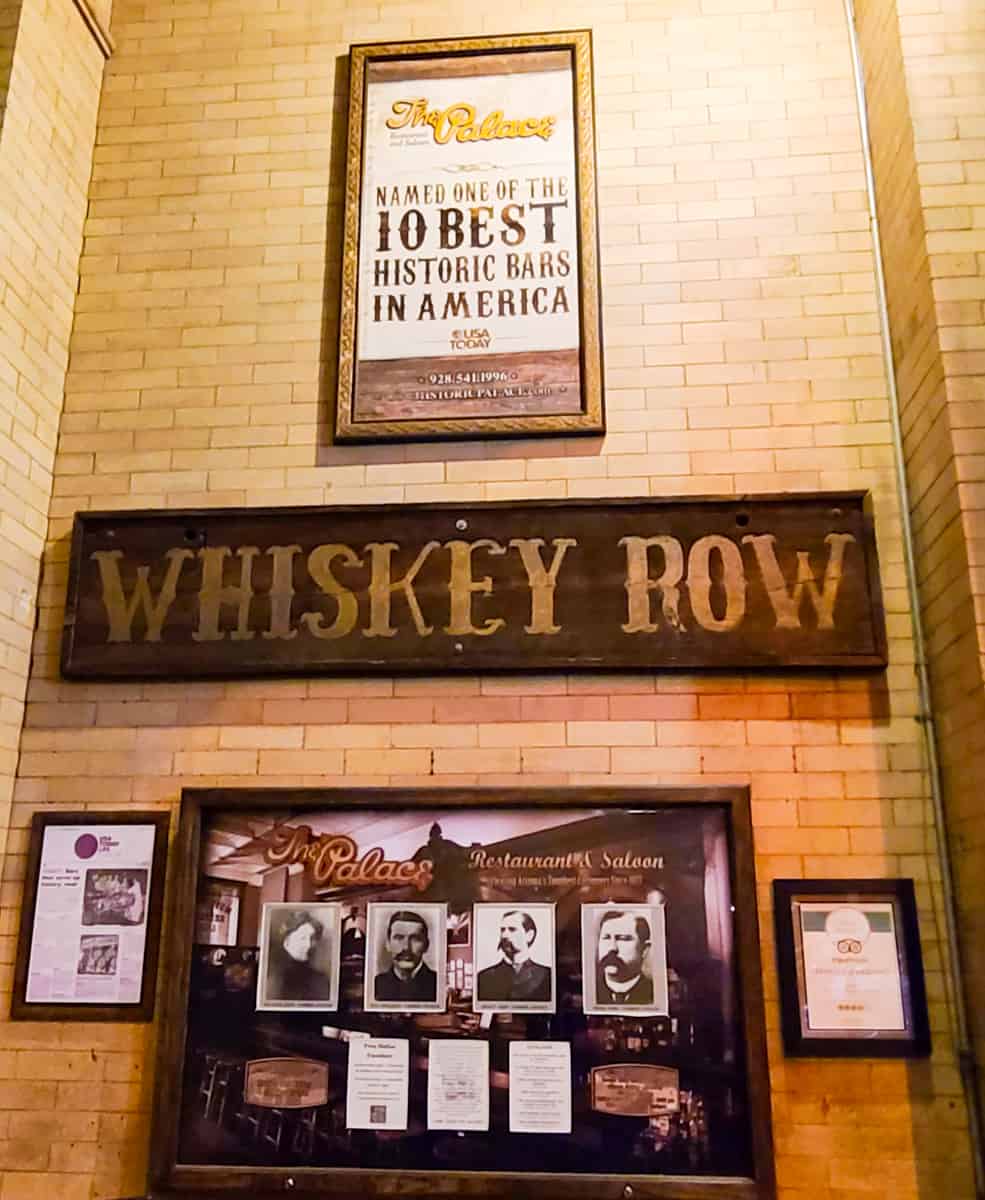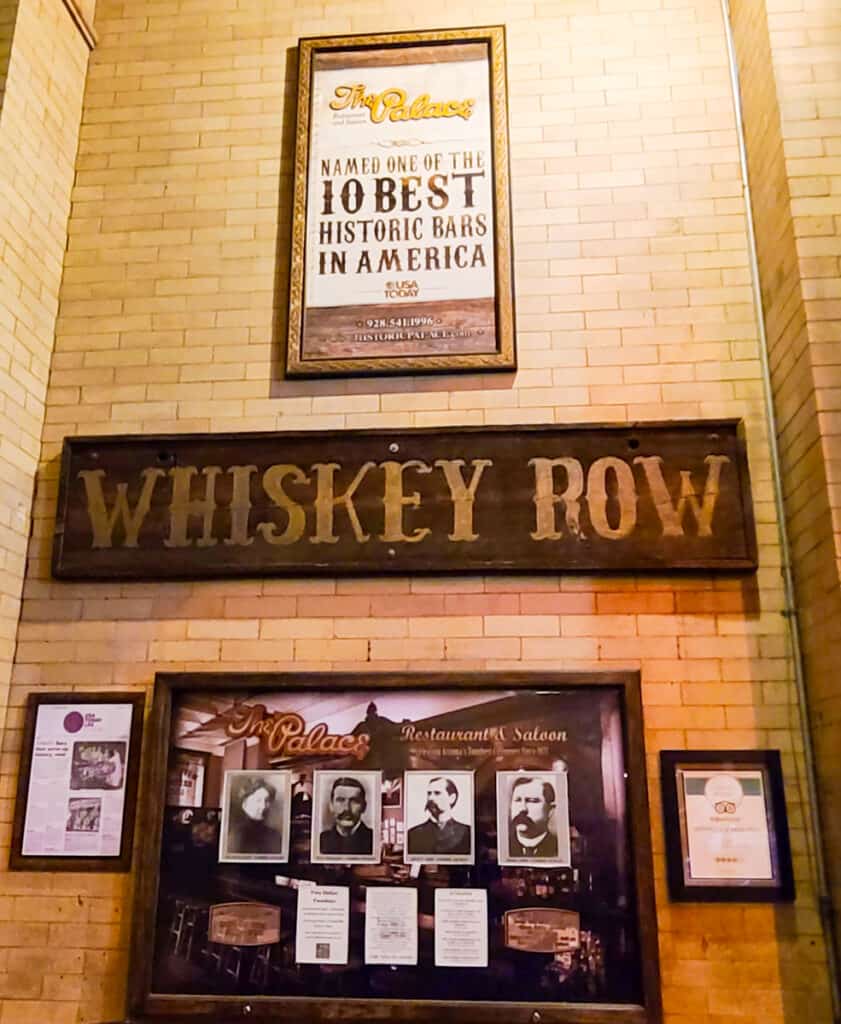 Whiskey Row is a small stretch of street in downtown Prescott that at one time had close to forty bars and saloons next to one another. Naturally, the county courthouse is located right across the street!
Today, many of these old-time bars and saloons remain, paying homage to the late 1800s when they were all in full swing. The most famous saloon of the time, and still today, is The Palace Restaurant and Saloon which is located in the heart of Whiskey Row.
The Palace Restaurant and Saloon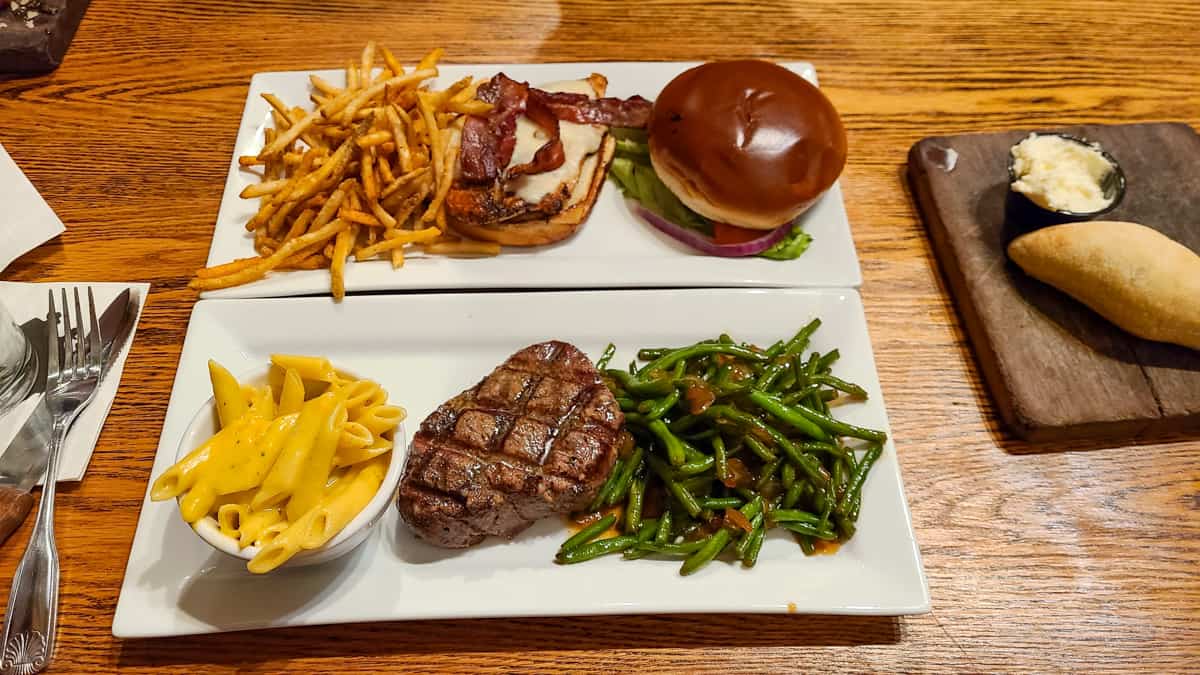 Hours: Monday – Thursday: 11AM – 10PM

Friday – Saturday: 11AM – 11PM
Sunday: 11AM – 9PM

Happy Hour

Monday, Wednesday, Thursday: 4PM – 6PM
Tuesday & Friday: 4PM – 8PM

Food Available: Yes
Having opened in 1877, it is both the oldest business and oldest bar still operating in the state of Arizona.  The Palace has been the watering hole for many well-known Western legends, including Wyatt Earp, Virgil Earp, and Doc Holliday, to name a few.  
In addition to the saloon (as well as the brothel and opium den that operated upstairs and downstairs, respectively), the Palace was also a place for people to check for notices of work available, an election center, and even a place where mineral claims were bought and sold over the bar.
In 1900, a fire broke out and burned most of Whiskey Row, including the Palace. But determined saloon-goers picked up the fancy bar, carried it out of the Palace, and set it down across the street where they continued drinking and watching the fire. The Palace was rebuilt fairly quickly and that fancy bar is still in use today. So they did something right!
Today's version of the Palace has that true Western feel, complete with swinging saloon doors at the front and wood paneling everywhere. And it's not just a tourist trap either as the food and drinks are very good.
We had a Whiskey Sour and an Old Fashioned made using their Palace whiskey, and a delicious dinner (Brussel sprouts appetizer followed by a steak dinner with all of the fixin's and a blackened chicken sandwich).
Matt's Saloon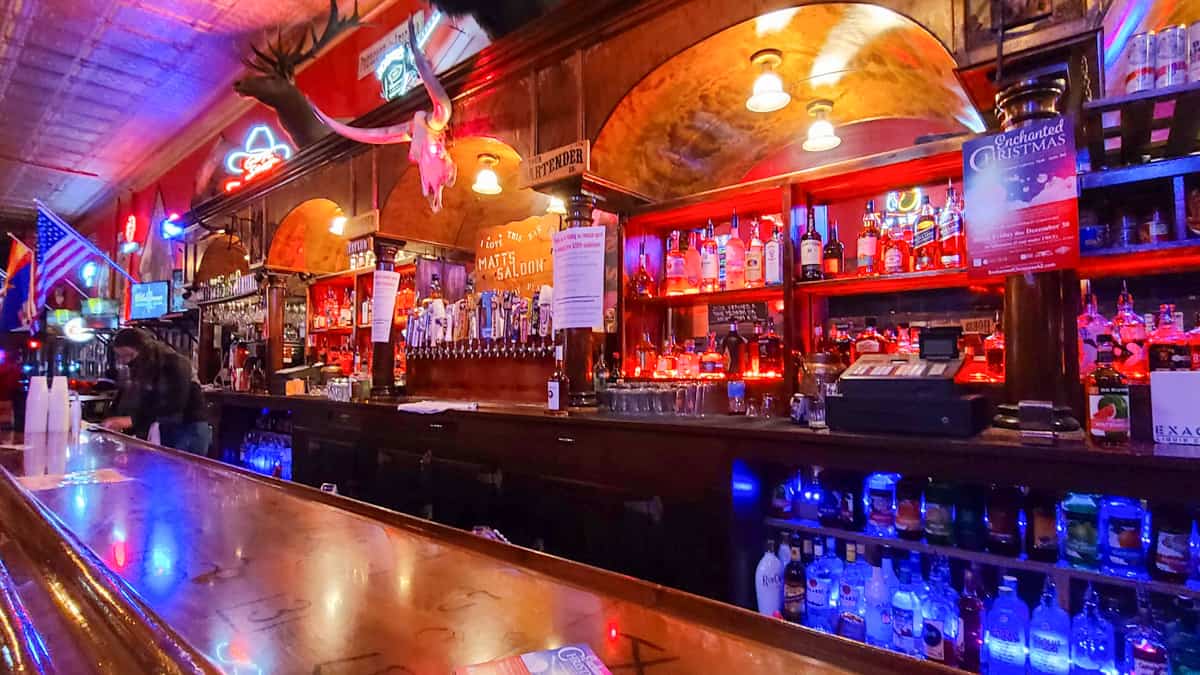 Hours: 7 days a week; 11AM – 2AM
Food Available:
Matt's Saloon is a legendary establishment that has been serving locals and visitors since 1960. Just a stone's throw from The Palace, this iconic bar and restaurant has a rich history and a reputation for providing an authentic Wild West experience. 
The rustic décor, adorned with vintage cowboy memorabilia and old photographs, transports patrons back in time to the days of cowboys and saloons. 
With its lively atmosphere, live music performances, and a wide selection of beverages, including a variety of beers, wines, and spirits, Matt's Saloon is the perfect spot to unwind and enjoy the spirit of the Old West.
We kept it basic here, drinking some good old fashioned light beer! Sometimes, you just want something simple when you're in a saloon!
From the historic Whiskey Row, where you can step back in time and savor the rich heritage of the Old West, to the charming wineries that beckon with their vineyard vistas and fine vintages, the small city offers thirsty travelers an array of options.
Overall, we were delightfully surprised to learn about the numerous options for where to drink in Prescott, Arizona. While we only spent 1 weekend, we'll be back to keep drinking at all the fun places! 
Still thirsty? We have a ton of drinking articles for Arizona. Read them all here or check out these nearby locations: