The Ultimate Glacier National Park Hikes and Trip Planning Guide
Glacier National Park is, without a doubt, one of our favorite national parks that we have visited. With over 700 miles of trails, there are so many great hikes with jaw-dropping views throughout and at the end.
From traversing the entire Highline Trail to take in sweeping views of the valley or emerging through dense cedar trees to views of cascading waterfalls, you can "get lost" in the beauty of this world when on a Glacier National Park hike.
Just don't get too lost – there are bears.
Psst: We have a bunch of guides about Montana. Browse them all here or check out the most popular post below:
**Boozing Abroad contains affiliate links throughout the site. Read the full disclosure policy here** We are a participant in the Amazon Services LLC Associates Program, an affiliate advertising program designed to provide a means for us to earn fees by linking to Amazon.com and affiliated sites.
About Glacier National Park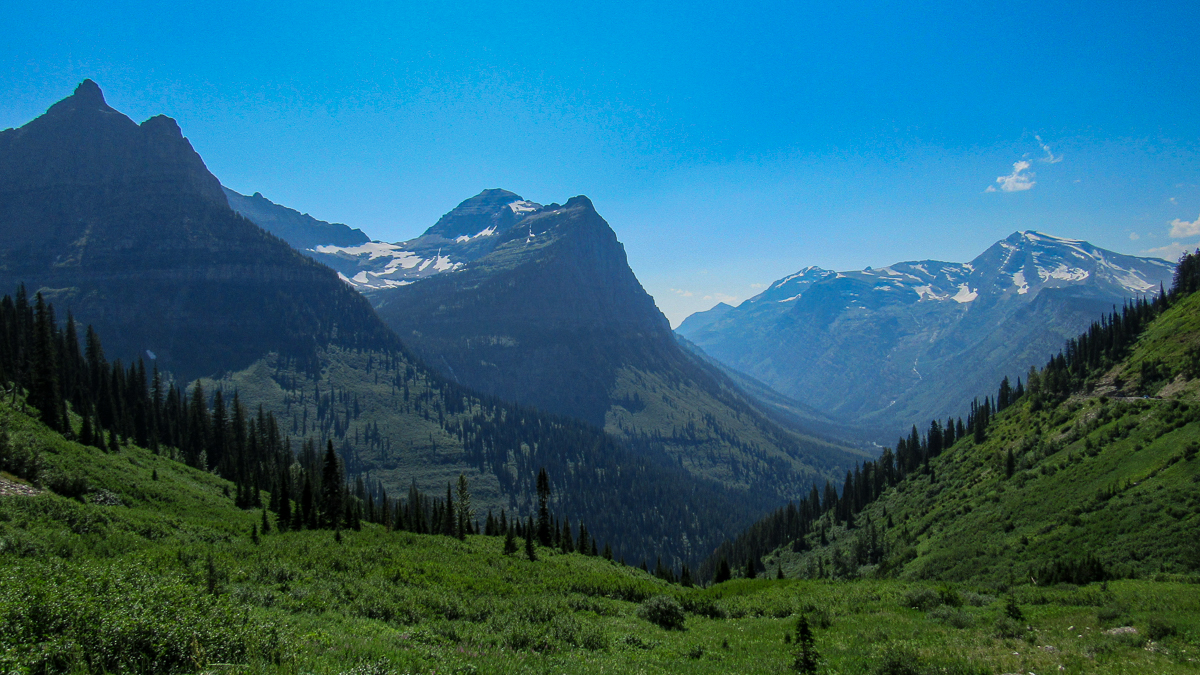 Glacier National Park became America's 10th National Park when it was established in 1910. The early reports about this place enticed visitors to come to northwestern Montana by raving about the beautiful alpine scenery and numerous glaciers (still very much the case all these years later).
Back in the day, the Great Northern Railway, the only successfully-built and privately-funded transcontinental railroad in US history, brought eager travelers to the Glacier area by inviting them to "See America First".
Stops along the famed railway included new hotels, chalets, and horse-trails through the beautiful backcountry.
Glacier gets its name from the many glaciers and glacial forces (duh!) that shaped its rugged terrain over two million years. Even if you're scared of heights and narrow, windy roads, you can't leave this park without driving at least a section of Going-to-the-Sun Road.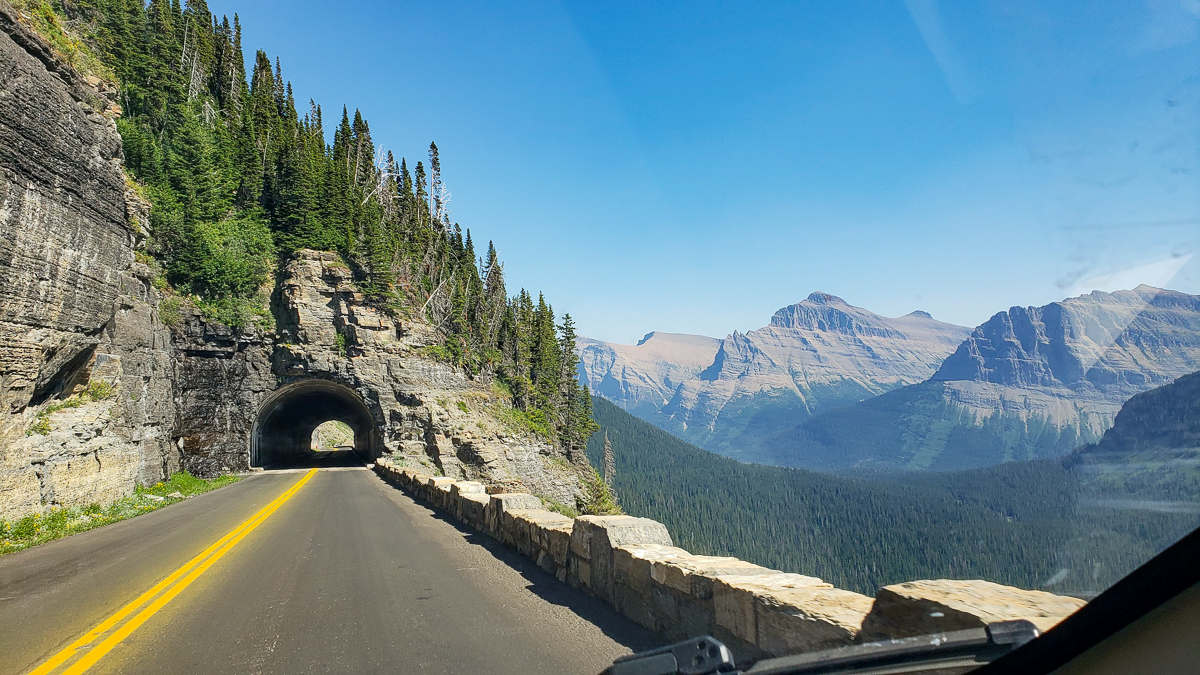 The Going-to-the-Sun Road is a 50-mile engineering marvel that was constructed during the Great Depression by Civilian Conservation Corps workers and could easily double as a rollercoaster ride up and over the Continental Divide.
Once back on flat ground (and wider roads), you'll definitely have earned yourself a drink from the white-knuckle drive!
Given all the circumstances in today's crazy and uncertain world, we think it's a great idea to See America First!
Having visited over 20 parks, we'll be the first to tell you that the US has some incredible National Parks and scenery that you don't want to miss!
And Glacier National Park should be near the top of everyone's bucket list.
Best time to visit Glacier National Park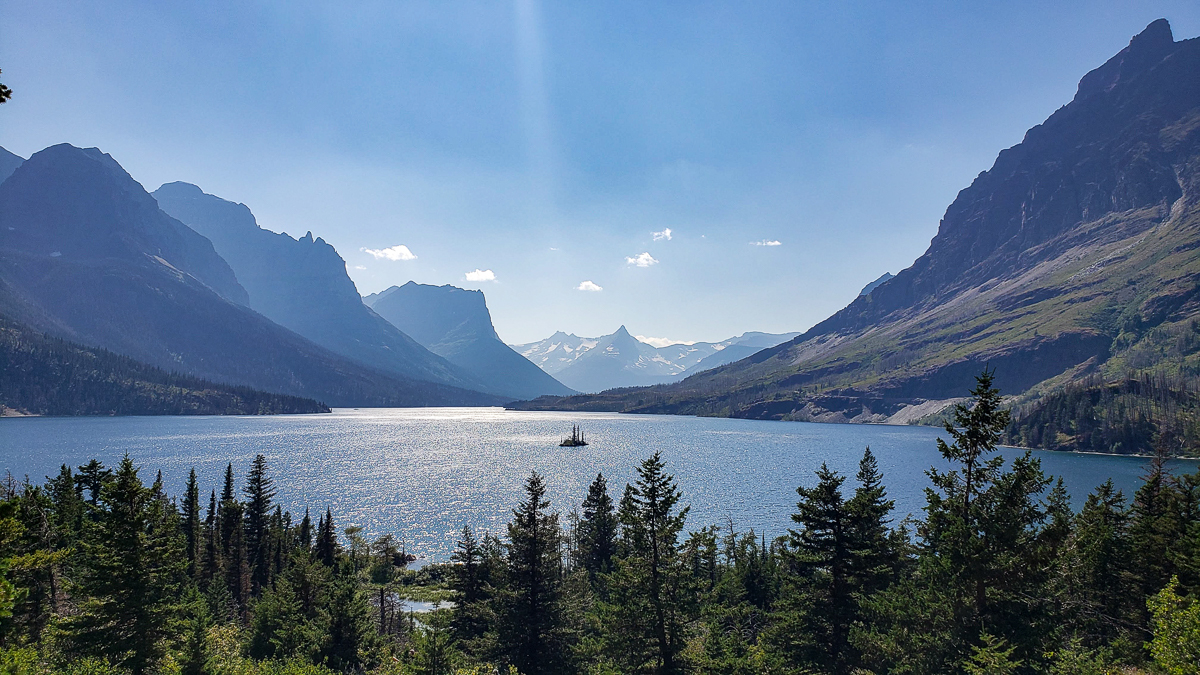 For the majority of people, the best time to visit Glacier National Park is from mid-June to late September. With average annual snowfall totals of around 20 feet and temperatures dropping down into the -40ºF range during winter, it's no wonder people want to visit during the summer months.
As mentioned above, one of the main attractions is driving along the Going-to-the-Sun Road which is an easy way to enjoy some all-encompassing scenery that the park offers.
Due to the huge amounts of snowfall each year, the Going-to-the-Sun Road remains closed until a dedicated bunch of snowplows can clear the snow and ice completely for vehicle traffic – typically around mid-to-late-June.
With the majority of trailheads along the iconic road, most visitors won't be able to visit until the road is plowed in early summer. For the most up-to-date information on road conditions in the park, visit the NPS website here.
If you are planning on enjoying one of the many Glacier National Park hikes, we'd recommend going as soon as the park opens in late June.
While the temperatures are colder than they are in August, we've been later in the season and had limited views due to smoke from wildfires in neighboring states.
How to get to Glacier National Park
Airports near Glacier National Park
Unlike Grand Teton National Park which has an airport adjacent to it, Glacier National Park isn't so lucky, so you'll need to fly to a nearby airport and then drive a bit to actually get to the park area.
Glacier Park International Airport
Glacier Park International Airport is located in Kalispell, MT and is the closest regional airport to Glacier National Park (30-40 minute drive from the airport to the west entrance of the park).
If you are staying on the east side of the park, it will be roughly 2 hours depending on traffic and conditions of the Going-to-the-Sun road.
While it's the closest airport, it tends to have limited flights to and from the area. During the busy season, they fly to 18 major cities, but in the off-season, that number drops considerably due to the weather and lack of demand. To see the full list of cities and other flight info, click here.
Given the choice, we'd personally suggest flying into Kalispell to not waste hours of drive time on the other options below.
Missoula International Airport
Missoula International Airport is about 135 miles south (2.5 hour drive) of the west entrance and could be another option depending on your needs. This shouldn't be your first choice if you are staying on the east side of the park, as that drive will take you over 4 hours.
To see the full list of cities for flying into/out of Missoula, click here.
Helena Regional Airport
If you are heading to the east entrance, this could be a good option and is about 3 hours to the St. Mary entrance on the east side. Offering similar connection cities, Helena Regional Airport should only be considered if you are staying on the east side of the park, as it would take almost 4 hours to get to the west entrance from Helena.
To see the full list of cities for flying into/out of Helena, click here.
For more info on where to stay – east versus west, jump to the "Where to Stay" section below.
Bozeman Yellowstone International Airport
Last, but not least, you could consider Bozeman Yellowstone International Airport. From Bozeman to Glacier National Park, you'll have a 5.5-hour drive to the west entrance or a 5-hour drive to the east entrance.
While certainly a longer drive than those above, the benefit of flying into Bozeman is that it's slightly larger than the others and serves more cities.
Another benefit would be if you are trying to do both Yellowstone and Glacier National Parks in one swing as the Bozeman airport is only 1.5 hours from the north entrance to Yellowstone. However, we don't suggest this unless you have a ton of time to dedicate to both parks.
We can't tell you how many people we've met that have booked a week-long trip to visit Glacier, Yellowstone, and the Grand Tetons. Outside of the assured impending burn-out, you'll definitely be wishing you had more time in each park to explore.
Take our advice: don't do this. You can spend weeks in any of these parks alone and still not get to see everything. Take your time and enjoy the parks!
Where to Stay when visiting
Before we can advise you where to stay (i.e. campground/hotels), we've got to talk about where to stay (i.e. east or west). Got it?
In our opinion, the east side has better, longer, and more beautiful hikes. BUT, it would be a crime to not tell you that every Glacier National Park hike is INCREDIBLE, so really, you can't lose.
West Entrance vs. East Entrance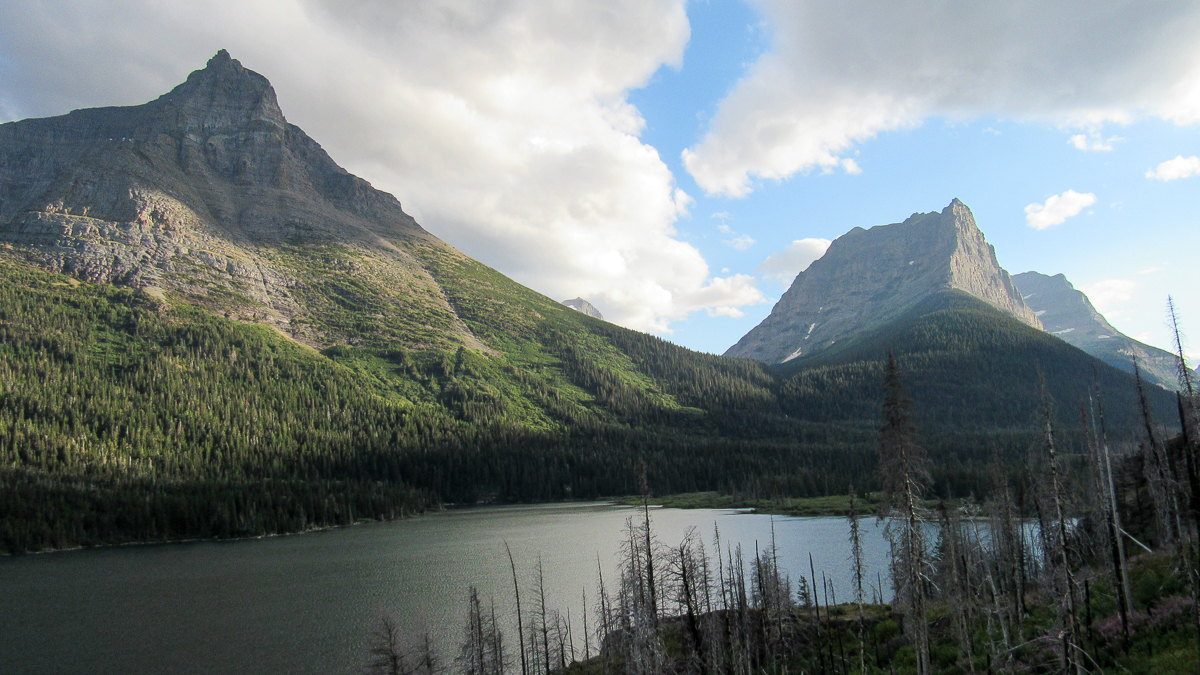 The advantages of staying near the West entrance is that it is easier to get to and there is more to do. In the event there is bad weather, you can drive down to Kalispell or Whitefish for the day and explore these adorable towns.
The only real disadvantage to staying near the west entrance is the drive time to get to the Many Glacier area and its jaw-dropping hikes.
Having stayed on both sides of the park, we'd suggest your first time to stay on the West side since the most popular Glacier National Park hikes are closer and easier to access.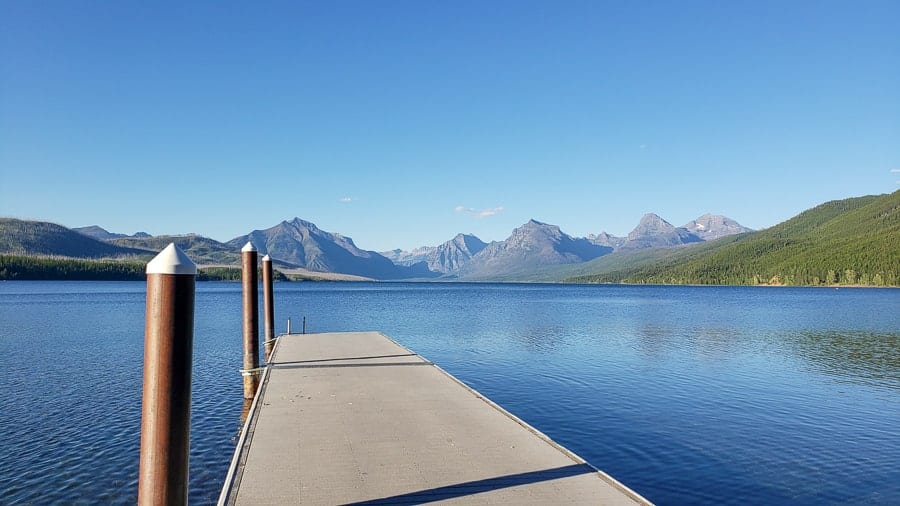 However, if you are going exclusively to hike in Glacier National Park, then you'll want to stay on the east side with the main advantage being that you are closer to Many Glacier and the trailheads there.
The biggest disadvantage to the eastern side is that there are limited hotels, restaurants, bars, and other amenities. If you are traveling with kids, we definitely don't advise this until they are able to do lengthier hikes.
The second time we returned to Glacier National Park, we stayed on the east side and were blown away by the difficulty of the hikes – but with the increased difficulty came epic and more incredible views.
Ultimately, you can't go wrong as every inch of this park is breathtaking. It only matters if you want to be closer to a town or deeper into nature.
Hotels and Campgrounds IN the park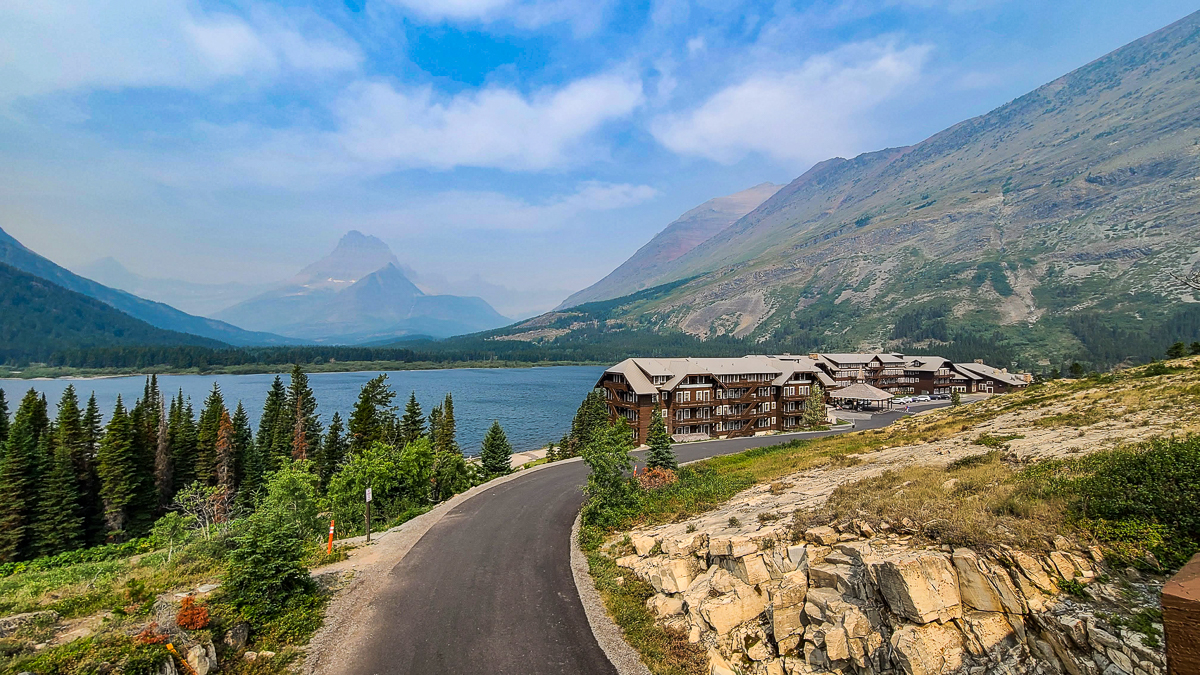 There are 5 main hotels in the park. Staying in the park means you can skip the entrance gates and already be in the park, closer to attractions, and cutting your travel time to get to trailheads.
While conveniently located, they can be pricey.
The main lodges include: Lake McDonald Lodge, Many Glacier Hotel, Rising Sun Motor Inn & Cabins, Swiftcurrent Motor Inn and Cabins, Village at Apgar. To check pricing and availability, you'll have to go through the NPS premiere vendor, Xanterra.
Cozy Apgar Village Abode in Glacier National Park
This was the only option in the park we could find where you didn't have to go through the vendor. This option has 2 twin beds, 1 queen bed, and a full kitchen, so perfect for a family or small group of friends.
>> Check price and availability here
Backcountry Chalet
There are also 2 backcountry chalets that you can stay at to really get cozy with nature. But it's a hike to get to them. No, seriously, they are not accessible by car, rather only via one of the Glacier National Park hikes. These options can be pricey so be sure to do your research prior to arrival. Click for more info: Sperry Chalet and Granite Park Chalet.
Hotels and Campgrounds OUTSIDE the park
Booking.com probably has the widest selection of budget (and luxury) accommodations in the world. In our experience, they consistently found the cheapest rooms. We also like their easy to use interface and no money down policy.
When we book our travel stays, we personally use booking.com.
West Entrance of Glacier National Park
Glacier Outdoor Center
The Glacier Outdoor Center is one of the closest options to the West Entrance just under 1 mile away. Each cottage is private and amenities will vary based on which option you pick. They can accommodate up to 16 people in different homes and Wi-Fi is available.
>> Check current prices and availability here
Under Canvas Glacier
Under Canvas Glacier is a unique experience for those who are looking to go "glamping". With a variety of luxurious options, you can book a tent, treehouse, or suite. The Deluxe tent options include a private bathroom, wood stove, lanterns, and fans. The Safari tents will give you a true camping experience with just a touch of glam (a fireplace or fan).
>> Check current prices and availability here
If you like to visit the great outdoors, but like your more traditional hotel stays, we suggest these options about 25-40 minutes from the entrance:
East Entrance of Glacier National Park
St. Mary VillageSt. Mary Village is the best option located on the east entrance. With incredible views, this is the perfect option for being near the Going-to-the-Sun Road and east entrance. The lodge includes a restaurant on site and is about an hour from Many Glacier trailheads. >> Check current prices and availability here Montana's Duck Lake LodgeMontana's Duck Lake Lodge is one of the closest options for the Many Glacier area. Amenities include: onsite bar/restaurant, Wi-Fi, and mini-fridge. Of note, you will have access to shared bathrooms. >> Check current prices and availability here 
Animals in Glacier National Park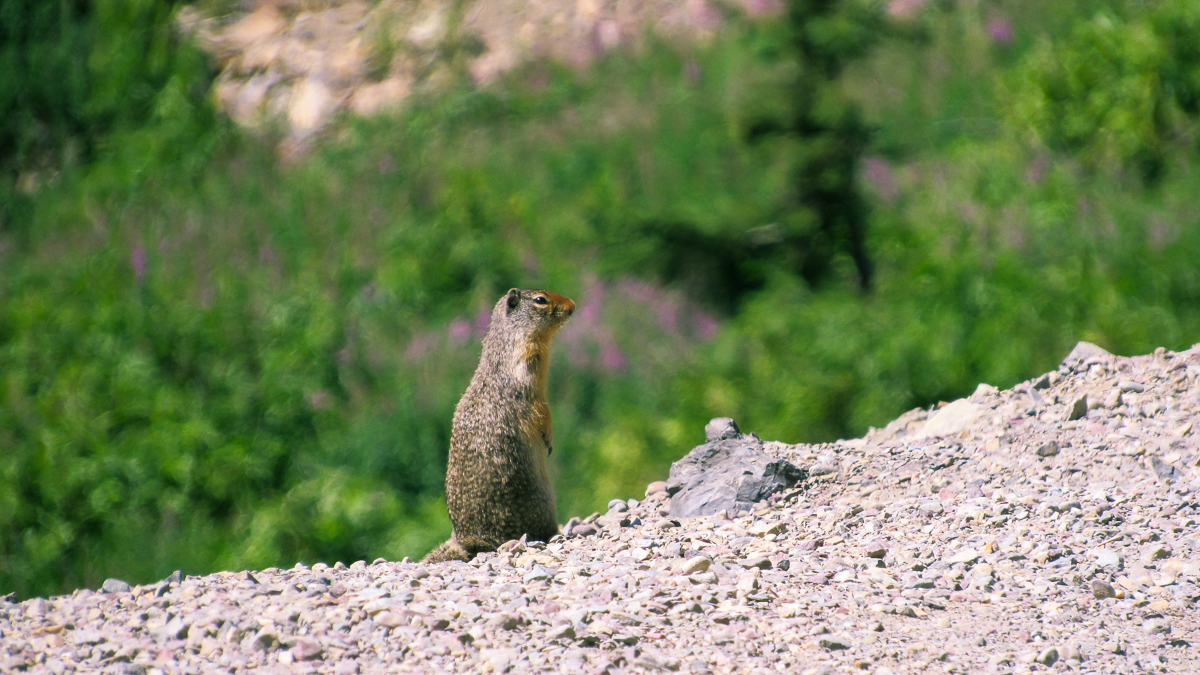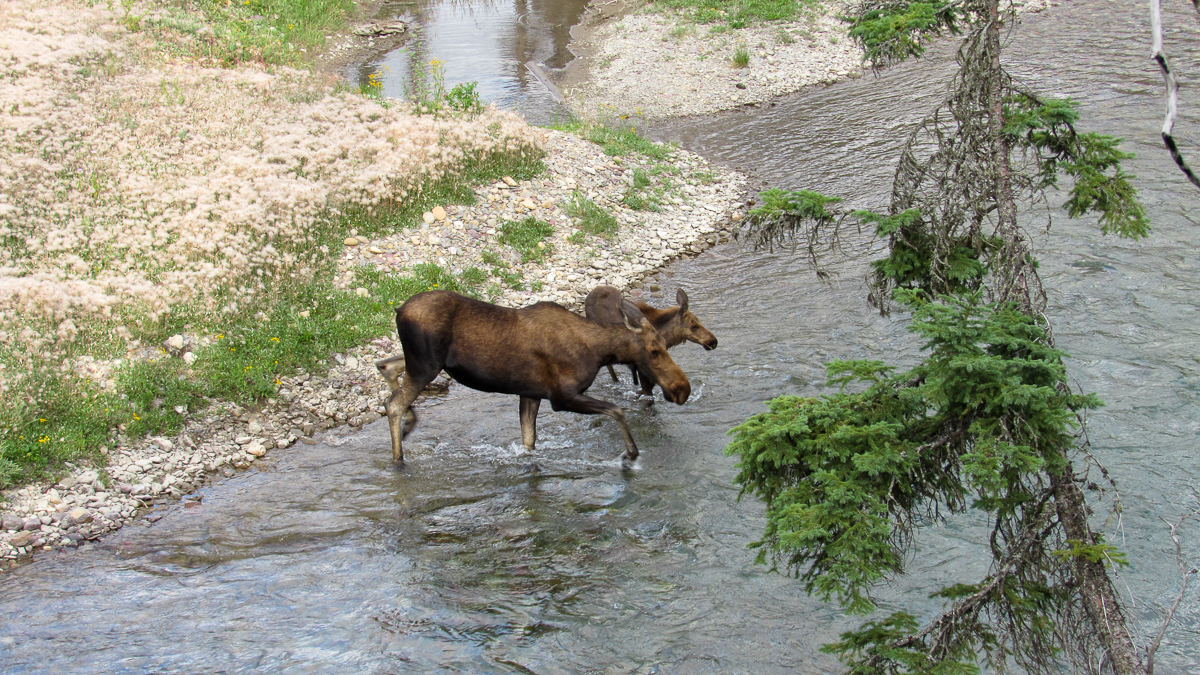 When we say you are in bear country, we aren't kidding you. Montana is known for their bear population including grizzlies, brown bears, and black bears. While we've seen many animals on a Glacier National Park hike, our favorites include Marmots, Mountain Goats, Moose, and Elk.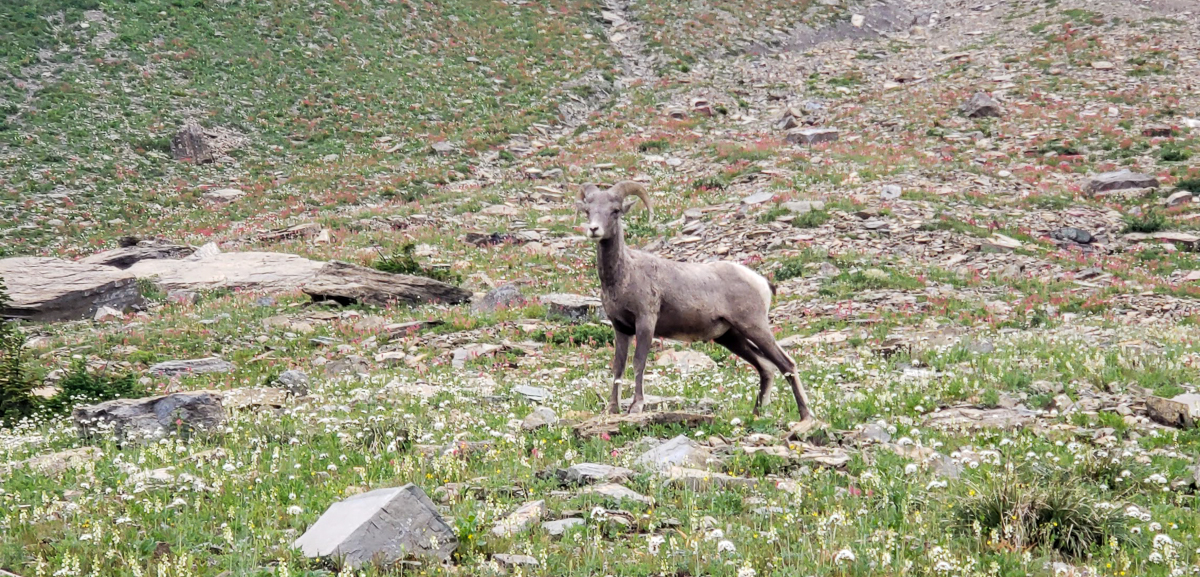 We've also come across Big-Horned Sheep (aka Rams) and we highly suggest giving them a wide berth! We came across one on our hike to Grinnell Glacier and he was quick to show his force and aggression and scare us off the trail for about 15 minutes (until we had more hikers join for safety in numbers).
As with all wild animals, do not approach, feed, touch, ride, or get close to them. It's recommended to stay at least 25 yards away from all animals and over 100 yards from bears and moose.
In case you aren't convinced to stay away from these creatures, a bear will toss you around like a toy and kill you with their "bear" hands while a moose will simply knock you over and trample you to death. Don't play games. Give them space!
Now that you've had your animal safety lesson, let's get to the Glacier National Park hikes!
Glacier Hiking Tips / Gear Suggestions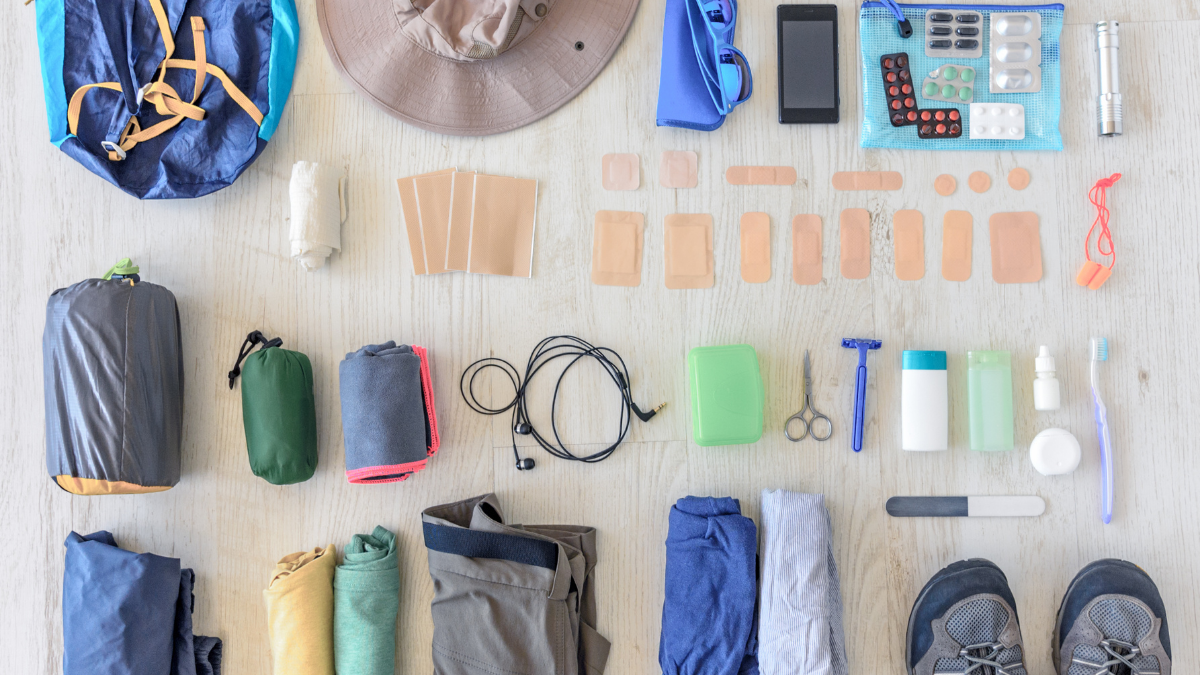 Practice "Leave No Trace"
If you're unfamiliar with "Leave No Trace", it means to keep the land as you found it. Don't leave trash. Stay on the marked trails. Don't feed/pet wildlife.
Sunscreen, layers, and hats
The sun and weather can be intense on hikes and shade isn't always available. Always carry sunscreen with you. You'll never catch us without it.
Water, water, water
Don't underestimate how quickly the body can dehydrate on a hike. We typically hike with our hydration bladders and suggest a minimum of 1 gallon per person, per day, depending on the length/difficulty of your hike(s).
Map of Glacier National Park Hikes (Trailheads)
Click the interactive map below!
HOW TO USE THIS MAP: To view the layers and see the names of the places on this map, click the tab in the top left corner. You can select the check marks to show or hide certain layers. If you select the icons on the map, you will get more information about the point of interest.
HOW TO SAVE THIS MAP: If you select the star icon next to the map name, you can save this map to your Google Maps account. To view it, open Google Maps in desktop or on your phone, select the menu button, go to "Your Places," scroll to the right to Maps, and you will see this map.
Glacier National Park hikes
Highline Trail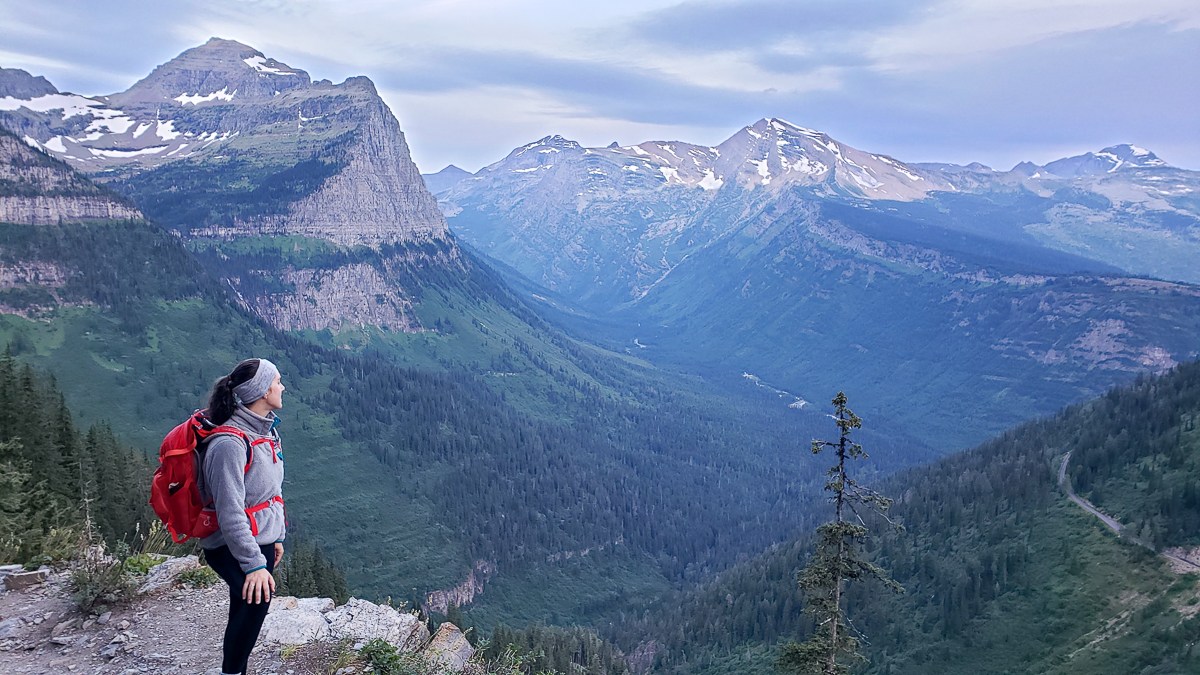 Distance: varies on how far you actually want to go (kind of like any hike…)

From Logan Pass to The Loop (aka Granite Park Trail), about 11.5 miles one-way

From Logan Pass to Garden Wall (aka Grinnell Glacier overlook) – about 14.7 miles round-trip

Elevation gain: varies on which trailhead you start from

From Logan Pass to The Loop, about 1,450 ft

From Logan Pass to Garden Wall, about 3,500 ft


Trailhead: Logan Pass Visitor Center (or The Loop/Granite Park)
The Highline Trail is one of the most popular and best hikes in Glacier National Park and after our 16-mile hike along this picturesque trail, we know why! It is firmly inside our Top 10 hikes that we've ever done. EVER.
Of note, our hike was about 16 miles as we did the optional Garden Wall climb and went a little bit further towards Granite Park before turning around.
We suggest starting at Logan Pass. It's less overall elevation gain than if you started at Granite Park.
Due to its popularity and easily accessible trailhead, start early. Like 6 AM early. When we were there in August, the parking lot was filling up by 6 AM most days.
Starting just across the street from the Logan Pass parking lot, the Highline Trail gets you to spectacular views rather quickly.
At roughly a quarter-mile in, you'll arrive at the famous ledge that overlooks and hangs over the Going-to-the-Sun Road.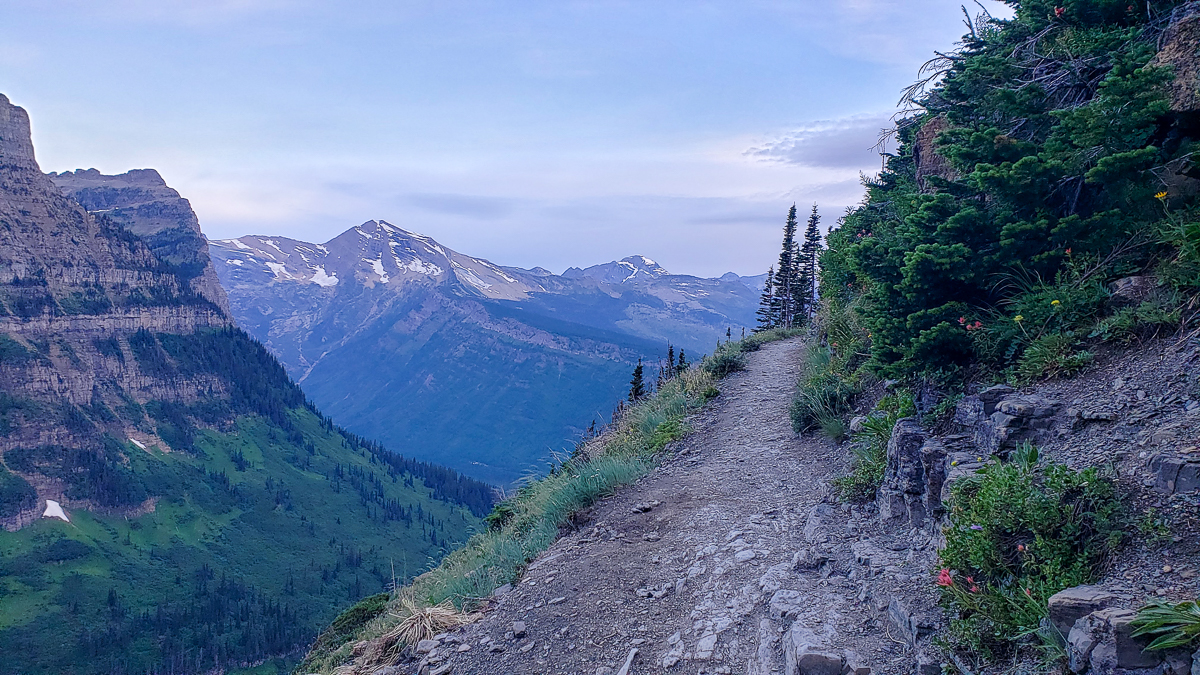 If you're afraid of heights, well, just don't look down, because you'll be traveling along this ledge, known as the Garden Wall, with 100-foot falls to the road below for about a half-mile.
It's an incredibly scenic hike that follows the Continental Divide for most of its length, with views of the hairpin turns of Going-to-the-Sun Road, gorgeous glacial valleys, snow-capped mountains, and loads of wildlife (marmots, grouse, deer, bighorn sheep, mountain goats).
At about 7 miles in, you'll reach an optional side trail to walk up the "Garden Wall" (just before the Granite Park Chalet – also part of this trail). If you're up for it, we think it's a mandatory side trail!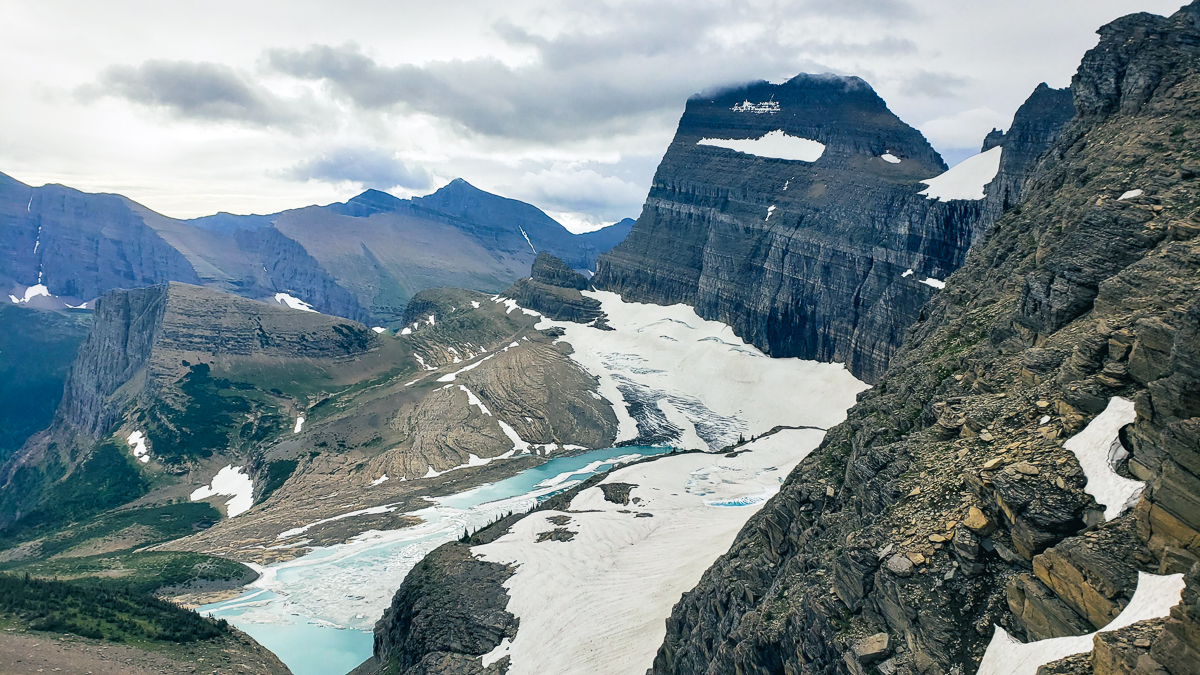 Warning: it's grueling. But SO worth it!
This side trail, which you might hear called the Grinnell Glacier Overlook trail, reaches the top of the Continental Divide and provides a birds-eye view of the Grinnell Glacier below.
This trail climbs just about 1,000 feet in what feels like 5 miles, but is somehow only about a half-mile. Talk about a calf-burner!
On our way up this short, but demanding trek, we probably stopped 10 different times to contemplate our life choices and catch our breath (we weren't the only ones). The air is thin and the climb is steep!
But again, 1,000% worth the challenge.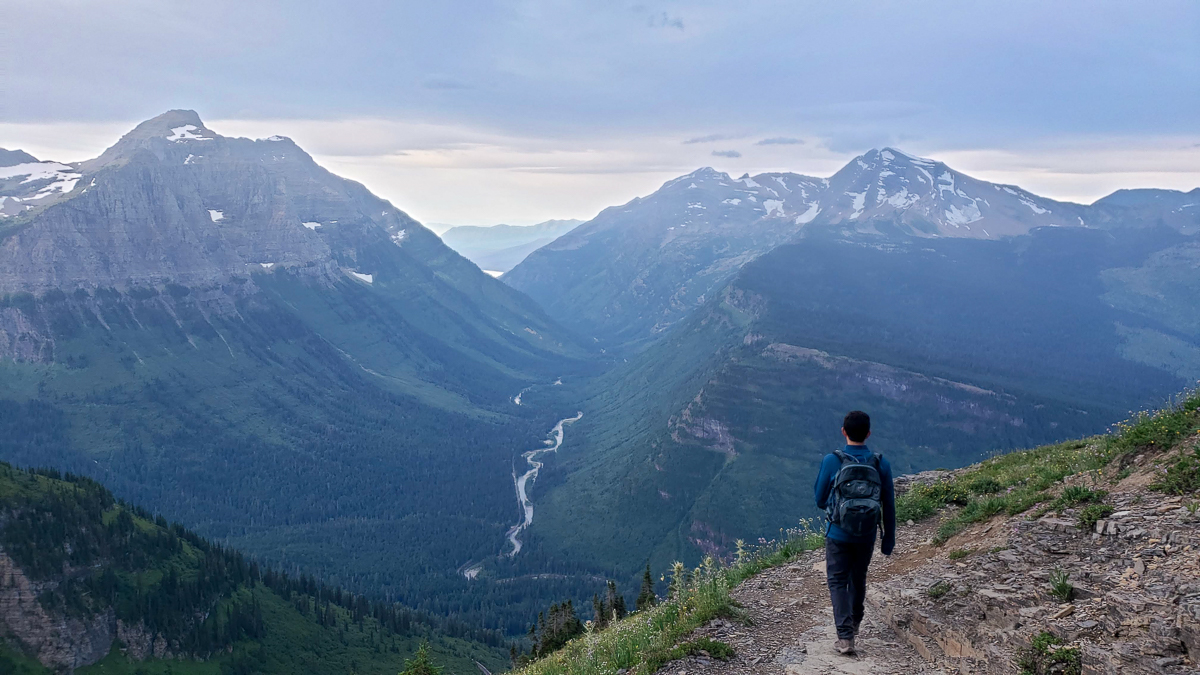 If you only have time for one of the Glacier National Park hikes and can handle the overall length, this is the one to do.
Along this hike, we saw mule deer, mountain goats, big-horned sheep, and marmots – along with numerous tired people climbing the Garden Wall.
Also of note, the elevation from either entrance to this trailhead is misleading.
This hike is susceptible to winds, cold temperatures, and swift weather changes, so please be sure to check the trailhead weather prior to driving up to Logan Pass. To check the mountain forecast, click here.
Hidden Lake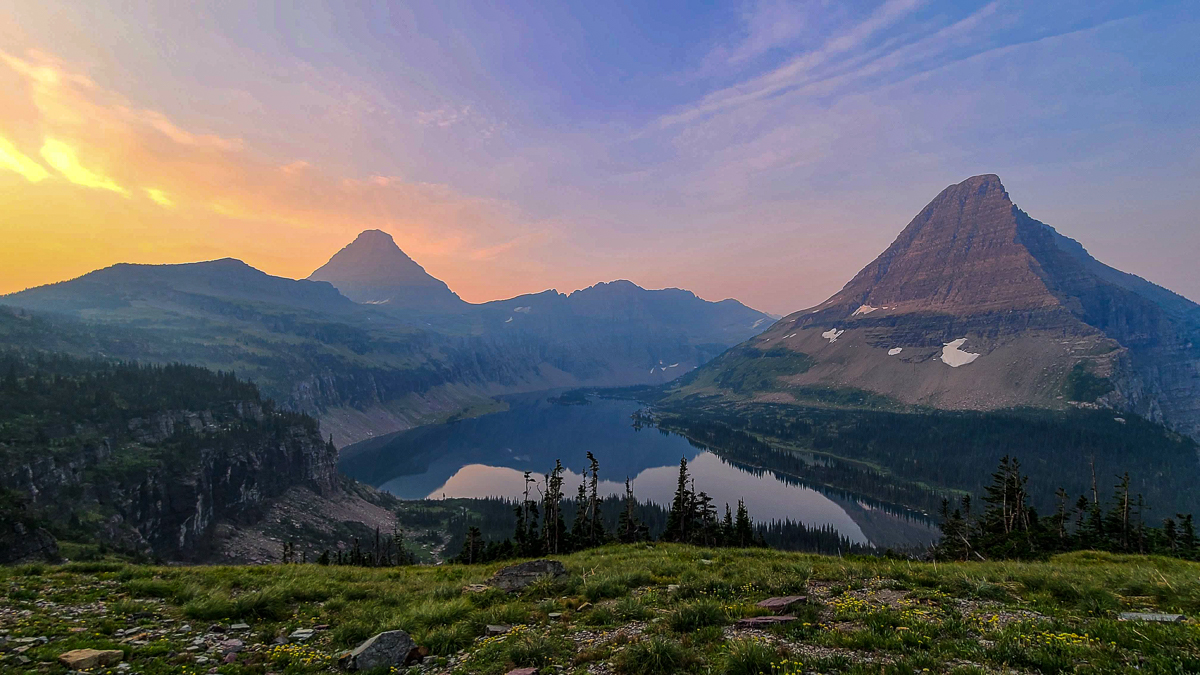 Distance: Overlook – 3 miles round-trip; To the Lake – 5.3 miles round trip
Elevation gain: Overlook – 600ish feet; To the Lake – 1,374 feet
Trailhead: Logan Pass Visitor Center
Another of the popular Glacier National Park hikes, Hidden Lake is another one where you'll need to start early or be prepared to fight the crowds. We highly suggest starting this trail as early as possible since it shares the same parking lot as the Highline Trail and numerous others.
Starting at the Logan Pass parking lot, the first portion of this hike will be on a wooden boardwalk. Don't let that lack of ruggedness fool you – it's quite an incline. The first mile of this trail is all uphill until it flattens out as you start to make your way to the lake.
On a clear day, you can see the reflection of the mountain along the lake from the overlook. If you are feeling up to it, we suggest making your way down to the bottom to get a different view, including sweeping views of the valley below.
On our hike, we even got to meet the most handsome mountain goat on his way up to graze for breakfast in the grassy plain. We had to walk off the trail to maintain a safe distance, but he stopped long enough for us to capture this photo.
At the bottom, the temperature is warmer and at the peak of summer, the bugs were out in full force. We stopped along the lake to eat some breakfast and make our way over 1,000 feet back up in elevation.
Important things to note:
The entire trail to both the overlook and lake have minimal tree coverage

The trail has frequent bear sightings and is often closed as a result. Be sure to check with a ranger at the gate/visitor center before making the drive up to Logan Pass.
Avalanche Lake via Trail of the Cedars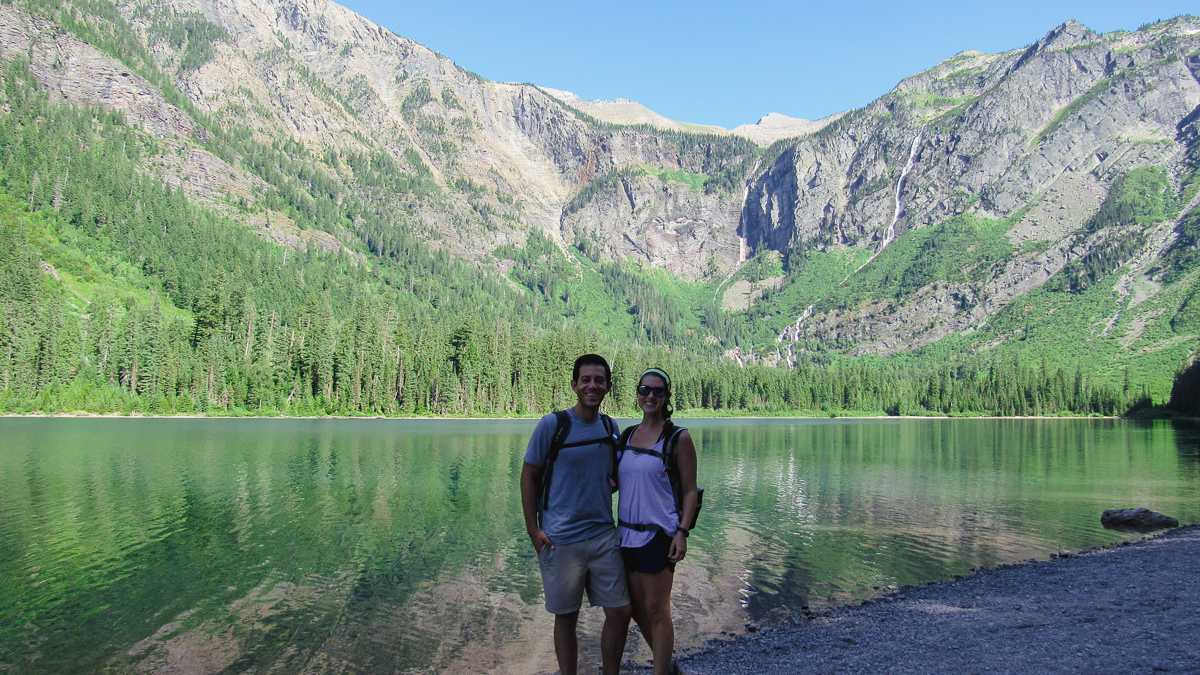 Distance: 5.9 miles round-trip
Elevation gain: approx. 750 feet
Trailhead: Parking lot for Avalanche Lake
Avalanche Lake is one of the most popular Glacier National Park hikes. Because of its popularity and relative ease, expect crowds on this path and a hard time finding parking. As with many hikes, we suggest starting as early as possible to avoid the crowds. You can also take the free park shuttle if you plan your day properly.
Avalanche Lake was named in 1895 by Dr. Lyman Sperry who saw multiple avalanches roaring down these mountains and called this part of Glacier National Park, the Avalanche Basin.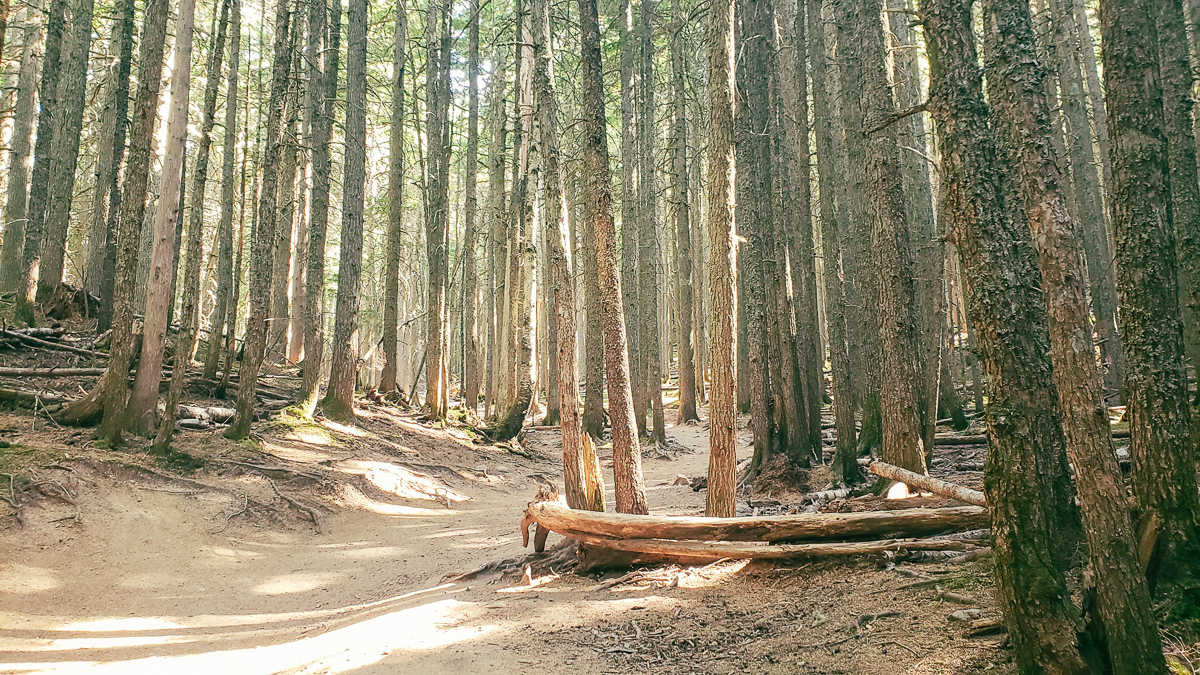 The hike starts with Trail of the Cedars, a 0.8-mile loop that weaves through the dense forest. As you walk down the wooden boardwalk, you'll take in the lush greens of the forest and the magnificent cedar trees that block out the full force of the sun.
In the middle of the loop, you'll find the Avalanche Lake trailhead. Once at the trailhead, you'll continue up into the forest for another 2 miles until you come to Avalanche Lake. This portion of the trail is mostly uphill and a mix of dirt and rocks.
Once at the lake, you can continue an additional 0.5 miles to the right but we think the best views are at the first beach which is where the trail officially ends.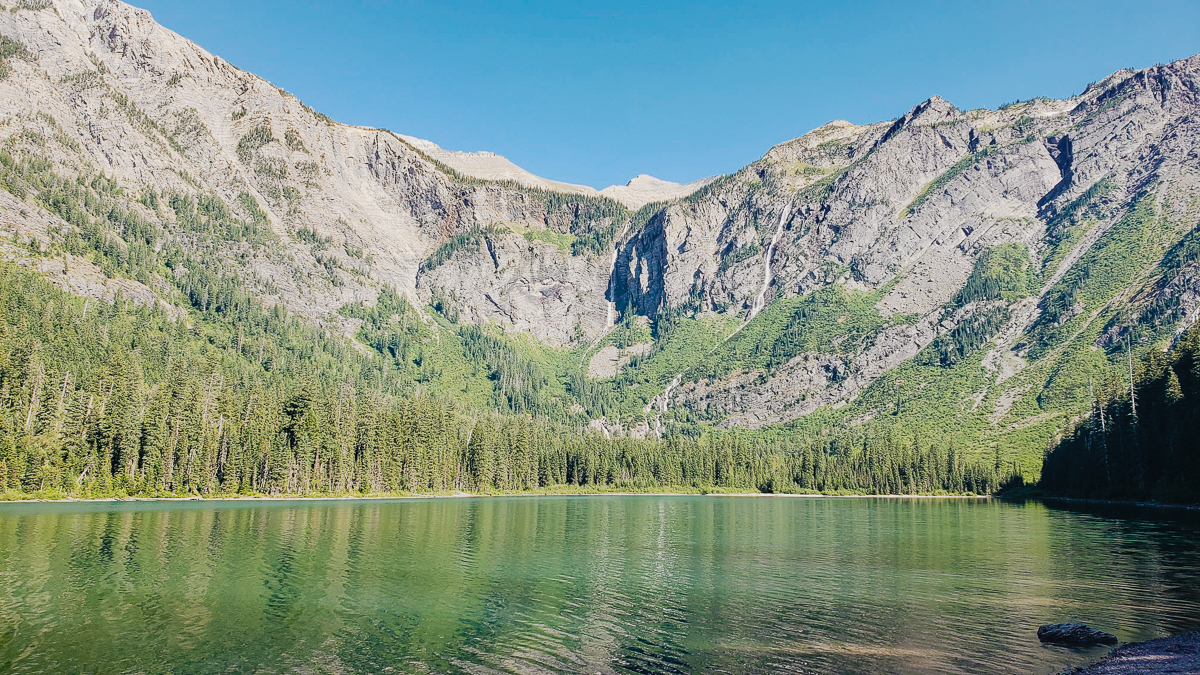 At 3,995 ft in elevation, Avalanche Lake sits at the foothills of Bearhat Mountain. While you can't see glaciers from the lake, the mountains surrounding the lake are covered in various waterfalls from the glaciers which create a spectacular sight and a great place to enjoy a beer.
The path is 90% shaded but the uphill hike will definitely get you sweating. Bring lots of water and sunblock for the beach. People were swimming in the lake and sunbathing on the beach (must have been people from Canada or Alaska, because it was still pretty chilly for us).
While it's one of the top Glacier National Park hikes, it's important to know that the waterfall starts to dwindle as the summer goes on. Starting in late July, the waterfalls start to dry up. Not saying this to discourage you, but just managing expectations.
St. Mary's Falls, Lower Virginia Falls and Upper Virginia Falls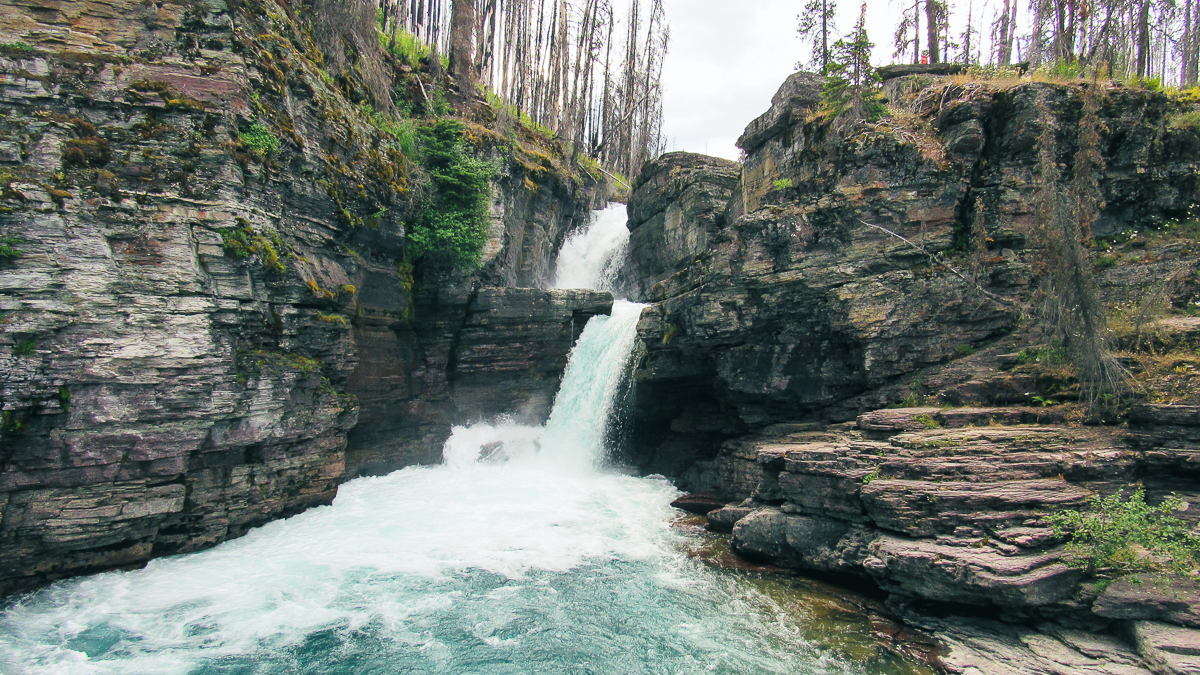 Distance: depends on where you find parking; max is 6.3 miles round-trip
Elevation gain: depends on parking; up to 680 feet
Trailhead: Piegan Pass parking lot, St. Mary's lot
Waterfalls, views, and moose – could these Glacier National Park hikes have pulled out any more amazing things while we were here?
St. Mary's Falls is a relatively easy trek in Glacier National Park that takes you along the iconic St. Mary's Lake. This hike has 3 different access points and with the park being crowded, we could only find parking at the farthest one at Piegan Pass. But, this ended up being perfect because of the spectacular views along the lake.
Upon arriving at St. Mary's Falls, there were dozens of people jumping off the rocks into the FREEZING cold water of the multi-tiered falls. Remembering how cold the lake was when we cliff-jumped in the Tetons in Wyoming, we agreed that we didn't need to be frozen or loudly drop any F-bombs again…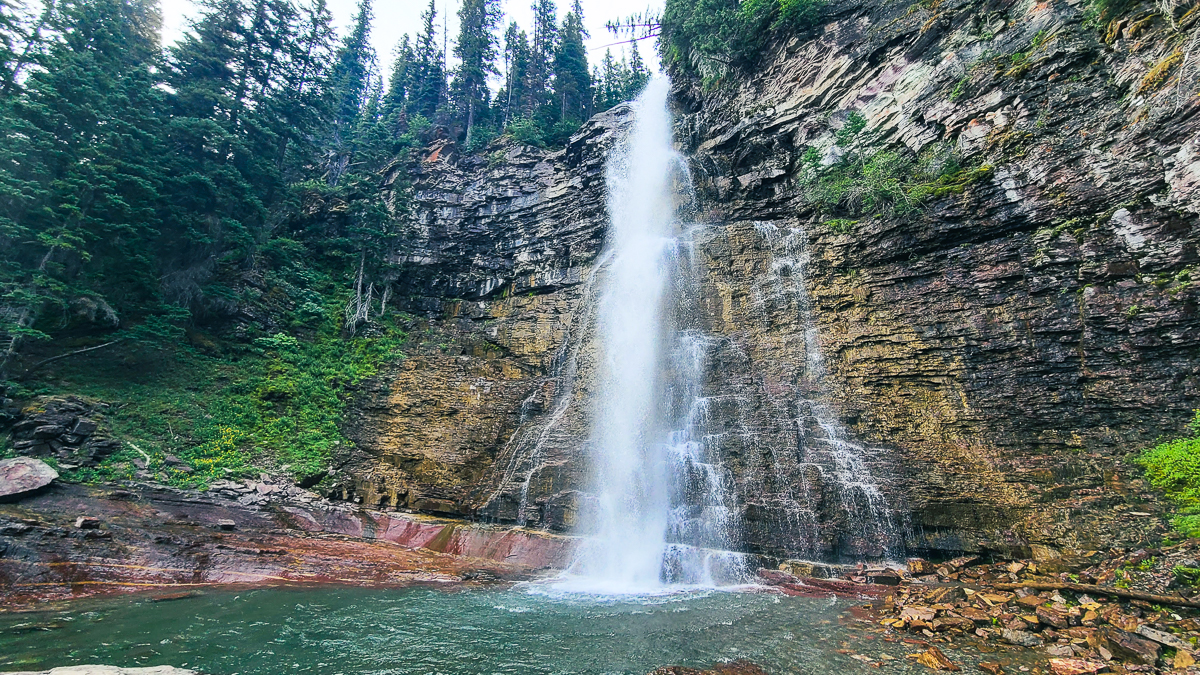 The highlight of this hike was seeing a Mama and Baby Moose on our trek to the second set of falls, Virginia Falls. Full disclaimer, moose are rare in this part of the park due to the amount of human activity and are more easily seen on the park's east trails.
This hike is relatively level with most of the elevation gain coming in the shorter 0.7-mile trek from St. Mary's Falls to Virginia Falls. The hike to St. Mary's Falls is relatively unprotected from the elements, with tree cover thickening as you get towards the end. There are no facilities on the path.
Grinnell Glacier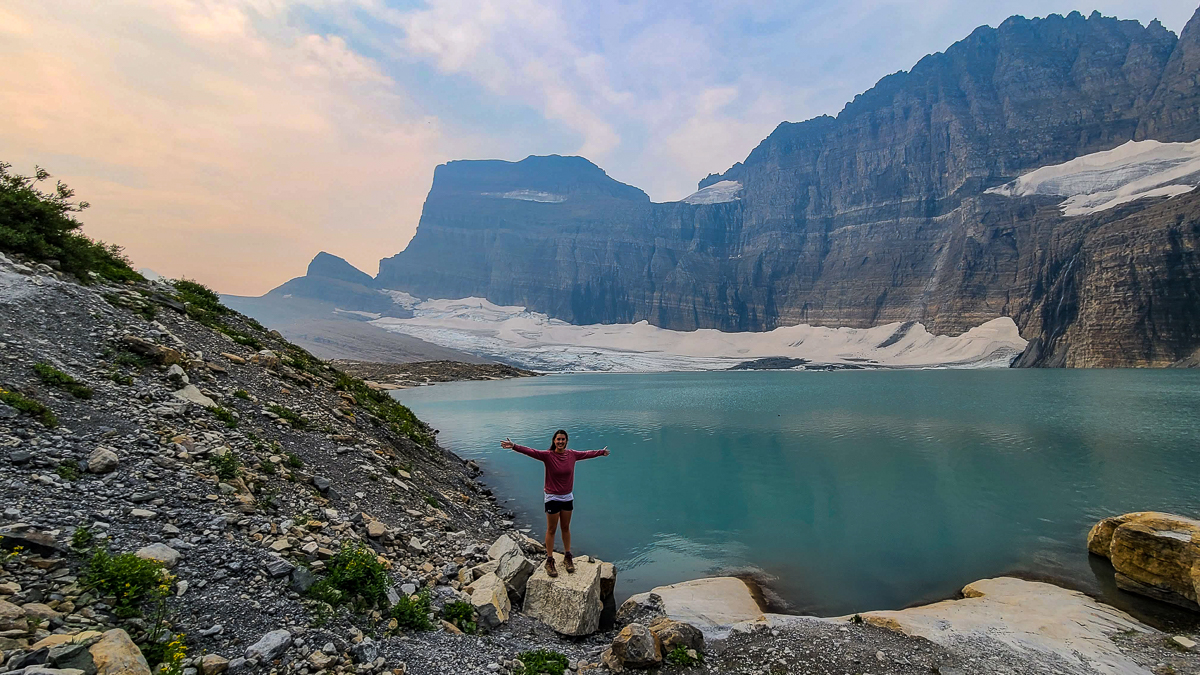 Distance: 11.2 miles round-trip
Elevation gain: 2,181 feet
Trailhead: near Many Glacier Hotel
Grinnell Glacier is arguably one of our favorite Glacier National Park hikes. On our first visit to Glacier, we were only able to get to the Grinnell Glacier Overlook (aka the Garden Wall and Highline Trail) and we are absolutely stoked that we were able to visit on our return trip to Glacier.
Discovered in 1887 by George Bird Grinnell, the glacier covers approximately 300 acres and is shrinking in size yearly with climate changes.
Let's just get right to it as there's no way around it…this is a tough hike. It's consistent elevation gain on a mostly exposed trail, but it leads to sweeping views of the valley that only get more awe-inspiring as you climb.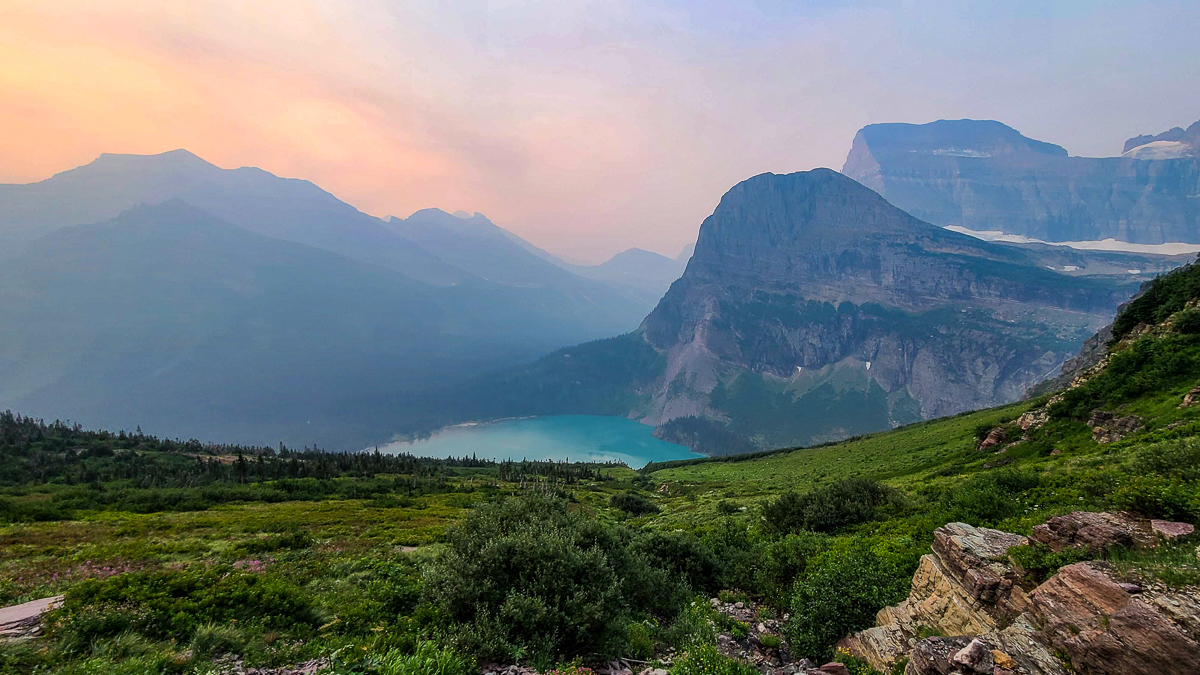 Walking along the edge of the mountain, the Grinnell Glacier trail starts level and then sharply ascends once you pass the second lake with no reprieve until you reach the glacier.
As with many of the hikes in Glacier, you will want to start this one as early as possible. The majority of this hike has no shade once you get above the tree line after about 2 miles. Also, if you are uneasy walking along cliff edges, you might want to consider another hike as this one has no shortage of that!
In addition to the views, this hike had countless waterfalls and small water crossings. Plus, moose, big-horned sheep, and marmots.
Depending on the time of year, you may or may not get very wet as there is a medium-sized waterfall you must go under/through on the hike.
We suggest you bring a small towel, wear waterproof hiking boots and/or bring an additional pair of socks. (More on what we specifically recommend in the "hiking gear" section below.)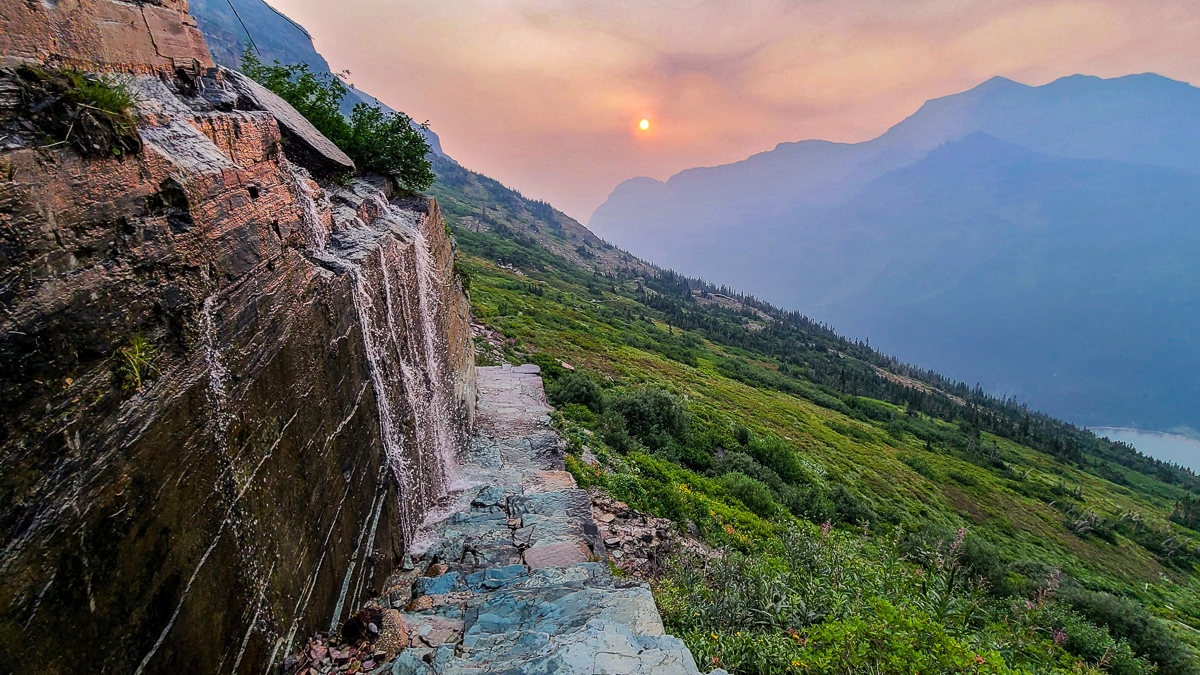 Right near the end of the first half of our hike, we may or may not have been bullied down the steepest, rockiest part of the trail by a big-horned sheep. These guys can weigh up to 500 pounds and will ram you if you get too close. Serious injury will occur. Please keep your distance. They're much cuter from far away anyways.
At the end of the hike, you'll reach the Grinnell Glacier. Do not walk on it as there are deep crevasses that are hidden by snow-covered bridges. The temperature at the glacier is colder too so make sure you have plenty of layers.
There is a pit toilet located near the end of the trail.
If you want to shorten this hike a bit, there is an option to take a shuttle boat, actually two shuttle boats, from Many Glacier Hotel.
Pick up the first shuttle boat at the Many Glacier Hotel, ride about 10 minutes across Swiftcurrent Lake, get off and hike about 0.2 miles, get on another boat for another 10-minute ride across Lake Josephine, and then hike about 0.4 miles to link back up with the main Grinnell Glacier trail.
In all, this option saves you over 3 miles of hiking, but does come with a decent price tag (in 2022, $35.25 for adults, $17.50 for children 12 and under). You can purchase advance tickets here – some time slots even offer a free guided hike to Grinnell Glacier.
One thing to note about the shuttle boat is the fact that the first boat doesn't leave the hotel until 8:30 AM, so you wouldn't start hiking until 9/9:30 AM. Keep this in mind if you're trying to beat the heat/crowds.
Two Medicine Lake/Upper Two Medicine Lake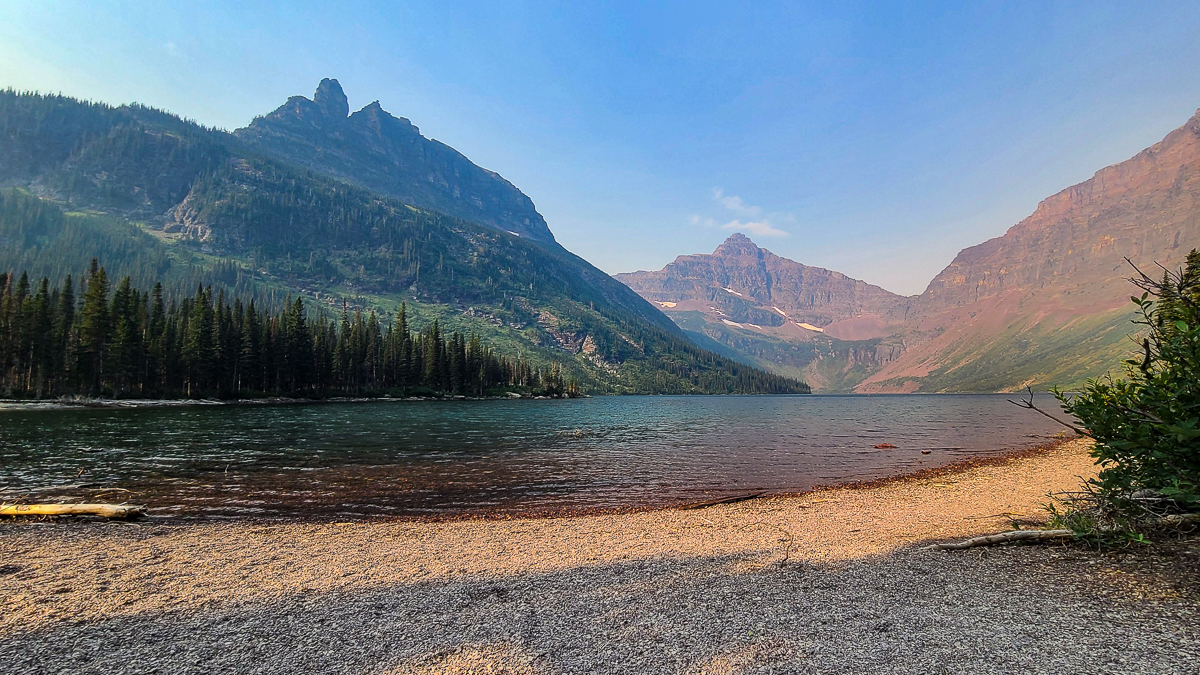 While bears can be anywhere in the park, moose are very common on this particular hike and you might not even need Lady Luck to see one. Disclaimer: moose will charge you if threatened and stomp you to death. So please, stay at least 100 yards away.
This is a moderate path with gradual incline that is a nice change of pace from some of the dramatic incline hikes we did elsewhere on the other Glacier National Park hikes.
Once you reach the other side of the lake, you'll escape the tree line for a bit as you make your way to Upper Two Medicine Lake. There are 2 vault toilets on this side, one near the ferry boat dock and the other at Upper Two Medicine Lake.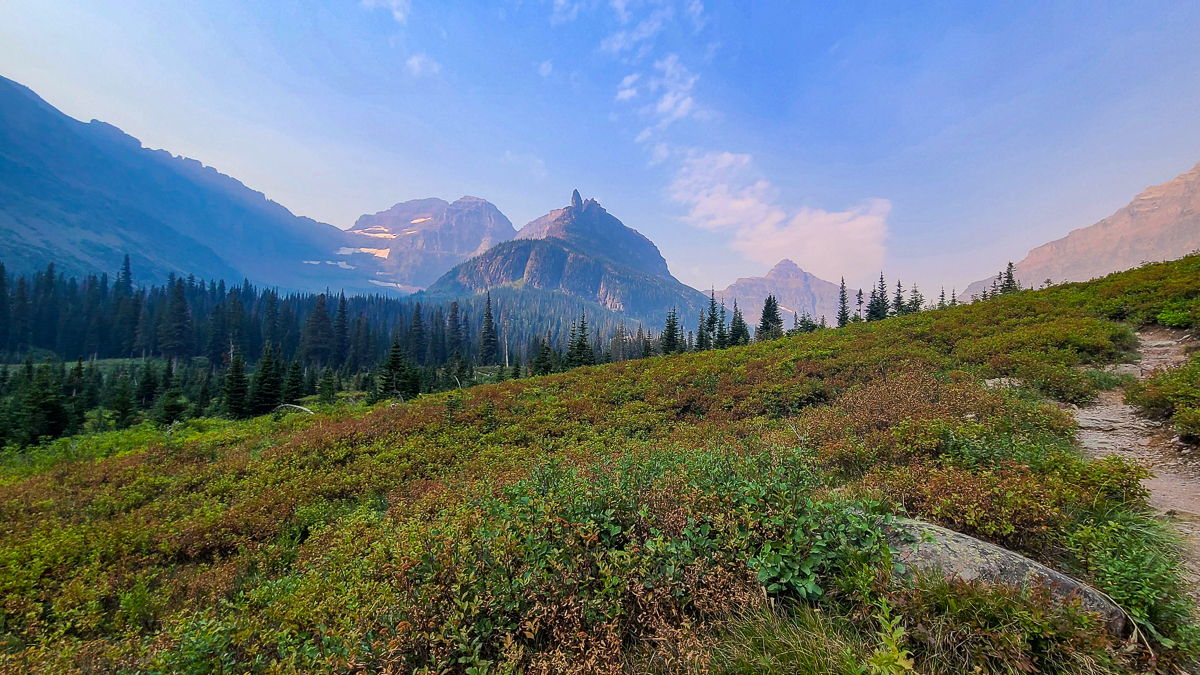 You'll also have the opportunity to take a short detour (about a quarter-of-a-mile) to a waterfall, Twin Falls, on the way to or from Upper Two Medicine Lake.
Pro tip: be sure to bring some money with you on this hike if you didn't already book a round-trip ferry boat ticket. Samantha hurt her knee on the first half of the hike, so we took luckily grabbed the last two spots on the ferry boat back across Two Medicine Lake.
This shaved off about 2.5 miles of our return hike. Round-trip ticket prices in 2022 were $17.50 for adults and $8.75 for children 12 and under.
Howe Lake Trail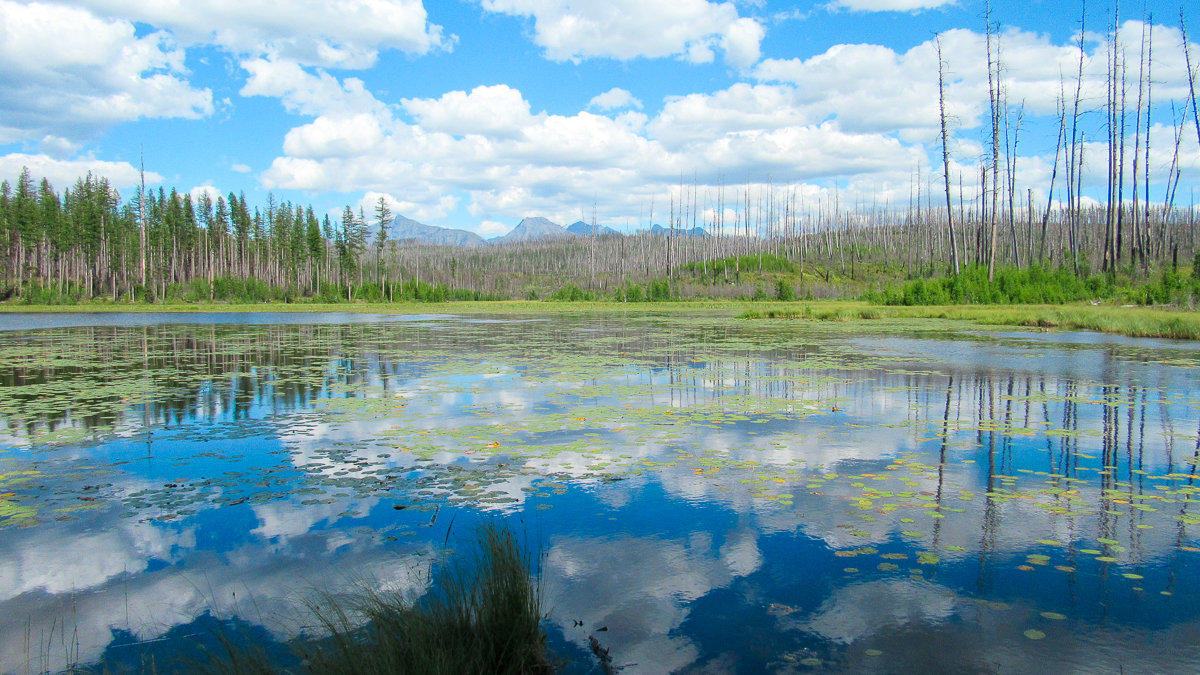 Distance: 3.2 miles round-trip to first lake
Elevation gain: 240 feet
Trailhead: off an unpaved road near the west entrance, see map above for exact location
Howe Lake Trail is an easy 1.6-mile (one-way) trail with minimal elevation gain. To get to it, you take a rather bumpy gravel road about 5.5 miles past the Fish Creek Campground. The path is mostly uncovered with views of the mountains through patches of woods that were ravaged by wildfires.
With an elevation gain of less than 250 feet, this is an easy hike for all levels. The trail ends at Howe Lake with distant views of snowy mountains as a backdrop. If you're lucky, you'll see a moose or two. While we didn't get to see one, a couple on the trail told us they did.
This hike can be combined with the Howe Ridge Fire Trail for an additional few miles.
In the same parking area, you'll see a sign for the Matejka Cabin which was constructed in 1908. We didn't walk the path very far as it was very overgrown, but the sign alone told a fascinating story.
While we did this hike, we honestly wouldn't suggest it unless you are literally out of Glacier National Park hikes to do, which seems unlikely. We did it originally in 2020 when the park's east side was closed. We thought to mention it if you want an easy hike, but it's nothing mind-blowing and pales in comparison to the other Glacier National Park hikes.
Things to do nearby
Hungry Horse Dam
If you're looking to get outside of Glacier National Park for a bit, you can head about 25 minutes south of the west entrance to the Hungry Horse Dam.
Hungry Horse Dam is one of the largest concrete dams in the country at 564 feet high and its spillway is the highest in the world, with water falling cascading over the rim and dropping almost 500 feet. You can drive across the length of the dam to access various campgrounds and boat launches.
Unlike many dams from its time, Hungry Horse wasn't built for irrigation, but for water storage used to increase hydroelectric power production.
The dam, reservoir, and the four generators in its power plant also provide flood control and electricity to the surrounding areas of Kalispell, Whitefish, and Columbia Falls.
Drink Local
Kalispell and Whitefish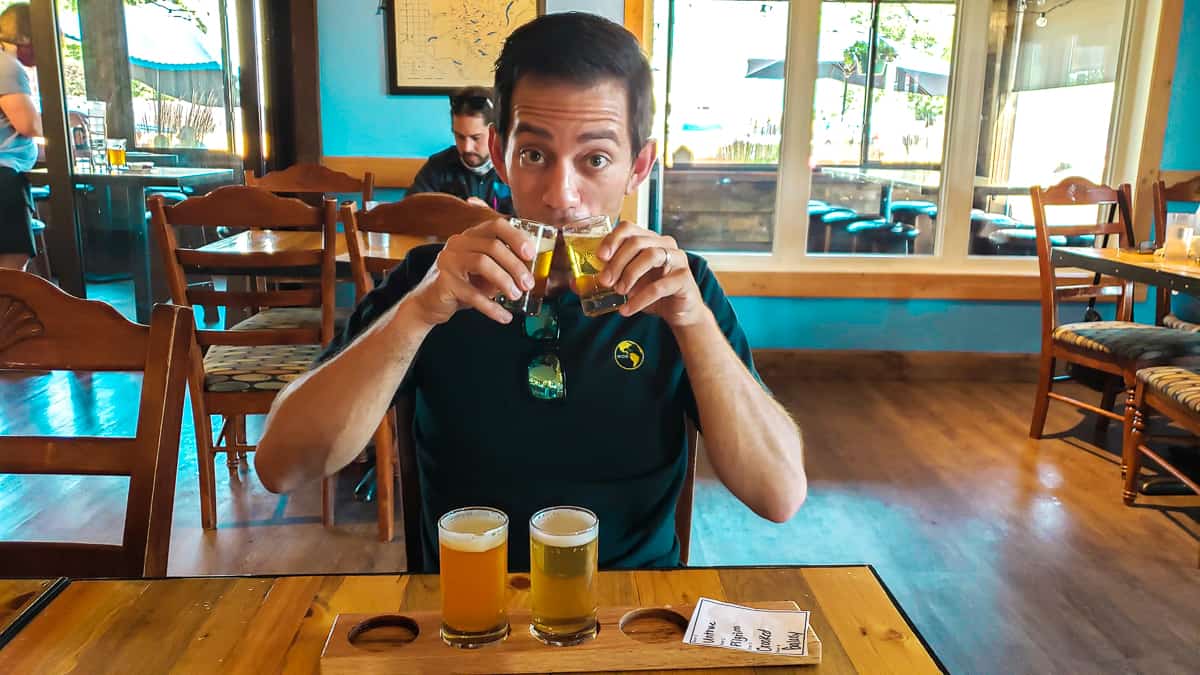 If you are staying on the west side of the park, we highly suggest taking some time to explore the towns and cities nearby. Whitefish was one of our favorite small towns. To see where to drink, check out our guide to the Kalispell and Whitefish Breweries.
As mentioned above, getting from Glacier National Park to Yellowstone National Park isn't easy with a drive time of 6.5 hours and about 400 miles. If you can swing it, we suggest at least a full week in Glacier National Park and then booking a separate trip to see Yellowstone and the Tetons.
In our opinion, the Glacier National Park hikes are some of the top hikes we've experienced in the lower 48. We love Glacier so much that we are going back again this summer to explore deeper into the park on longer hikes only accessible on the east side.
No matter which hike you choose, the views will take your breath away, oftentimes quite literally. Go outside and enjoy!
Ready to visit to Bozeman? Read hotel reviews on TripAdvisor then book your room here!
But where do we personally recommend? The Lark is our hands-down favorite for location and style.
Don't forget to pick up an Montana guidebook for your other Bozeman adventures.
Love this guide? Have questions? Get in touch with us on Facebook |Twitter | Instagram | Pinterest