5 Can't Miss Banff Breweries and Beer Bars in Canada
If you're looking for info on the Banff breweries and beer bars, our guide has got you covered.
The town of Banff is such a special place because, unlike many of the U.S. national parks, it's actually located within Banff National Park and this little town is a true gateway to the park. And even better, they are lucky enough to have breweries and bars to visit!
For the purpose of this article, we are only going to cover the ACTUAL Banff breweries and beer bars that are physically located IN Banff and not in the nearby towns (like Canmore).
With that being said, there are only 2 Banff breweries and 3 beer bars on this list for you to grab a frothy beverage at. Buckle up, buttercups!
We're about to embark on a sudsy, hop-filled tour of Banff's best beer spots.
Short on Time? Here are the key takeaways:
There are only 2 actual breweries in Banff
While there are a lot of bars, only a few focus on beer
In our opinion, don't miss Three Bears Brewery
Boozing Abroad contains affiliate links throughout the site. If you choose to purchase items through these links, we will earn a small commission at NO extra cost to you. Read the full disclosure policy here**
Map of breweries and bars in Banff
Click on the interactive map below!
HOW TO USE THIS MAP: To view the layers and see the names of the places on this map, click the tab in the top left corner. You can select the check marks to show or hide certain layers. If you select the icons on the map, you will get more information about the point of interest.
HOW TO SAVE THIS MAP: If you select the star icon next to the map name, you can save this map to your Google Maps account. To view it, open Google Maps in desktop or on your phone, select the menu button, go to "Your Places," scroll to the right to Maps, and you will see this map.
Banff Breweries
Banff Ave Brewing Co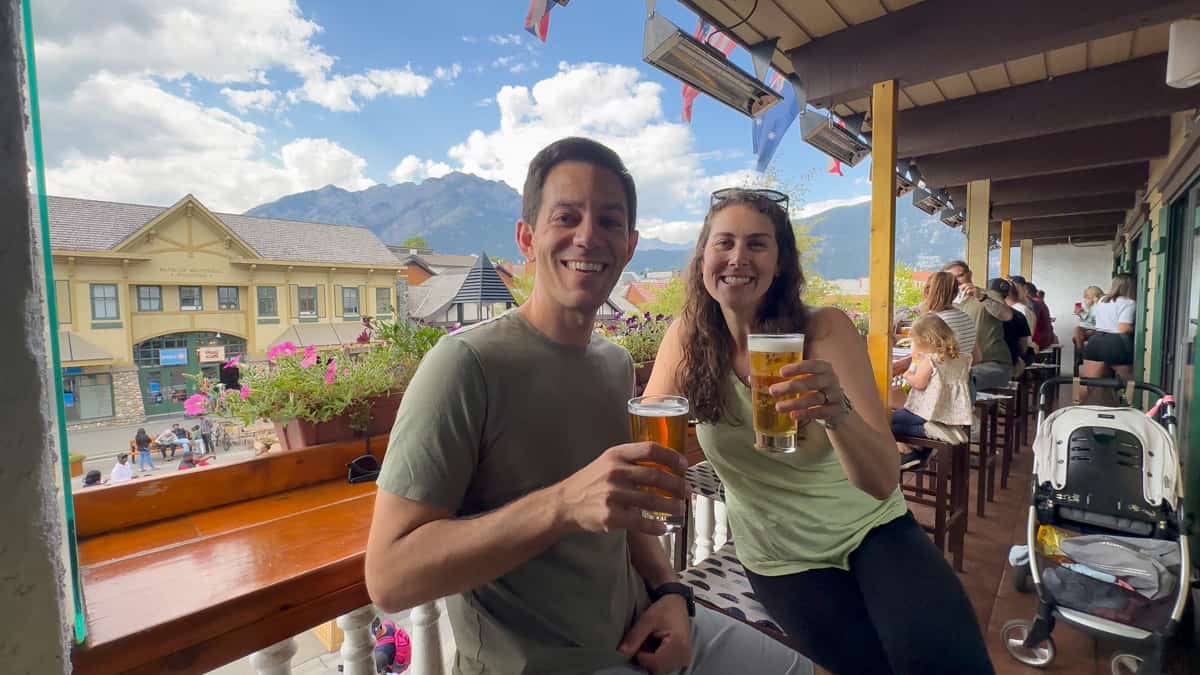 Hours:

The Pub:

Monday – Wednesday: 12PM to 12AM
Thursday & Friday: 12PM to 1AM
Saturday: 11:30AM – 1AM
Sunday: 11:30AM – 12AM

The Taproom: Daily 12PM – 10PM

Happy Hour: Daily from 9PM – midnight
First stop: Banff Ave Brewing Co. – the spot where they take brewing beer more seriously than a moose in mating season (just kidding! sorta).
Born in 2010 and sired by Jasper Brewing Co, this joint is as much a part of Banff as the mountains and the grizzlies.
Banff Ave Brewing Co. specializes in crafting its own exclusive, drool-worthy beers. And here's the cool part, these brews are like rare diamonds (as rare as a polite Canadian hockey player). They can't be purchased anywhere else outside of Banff, so you're tasting a piece of the Rockies with every sip!
Sink into the relaxed vibe at their taproom on the street level to watch Banff's own "wildlife" amble about. Their upstairs pub is more of a restaurant, complete with a fully stocked bar, a spacious balcony and a pool table located towards the rear. The hours do vary between the two so check the times before visiting.
As they say at Banff Ave Brewing, "life tastes pretty good at 1383 meters!" (That's 4,537 for all you Americans out there). When we visited, we each grabbed a pint and enjoyed the view from the balcony.
Of note, while there are still a lot of recent reviews that rave about this place, there has been an uptick in people mentioning slower food service. Give yourself a little extra time to really enjoy those beers while you wait.
Three Bears Brewery & Restaurant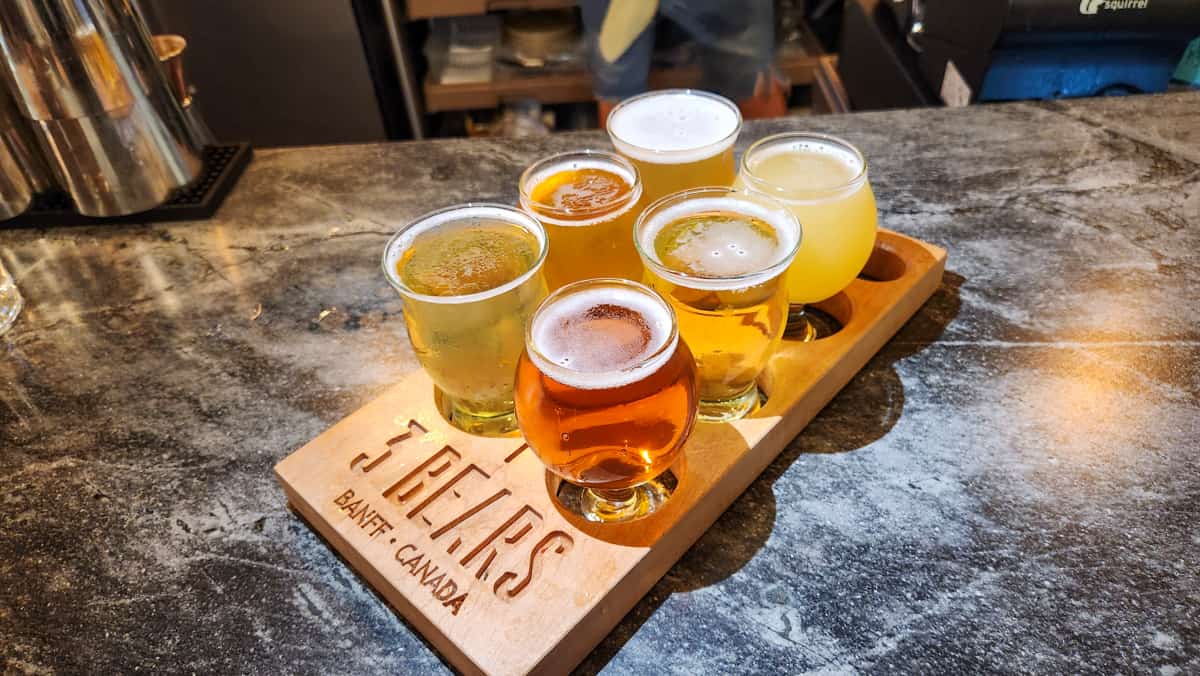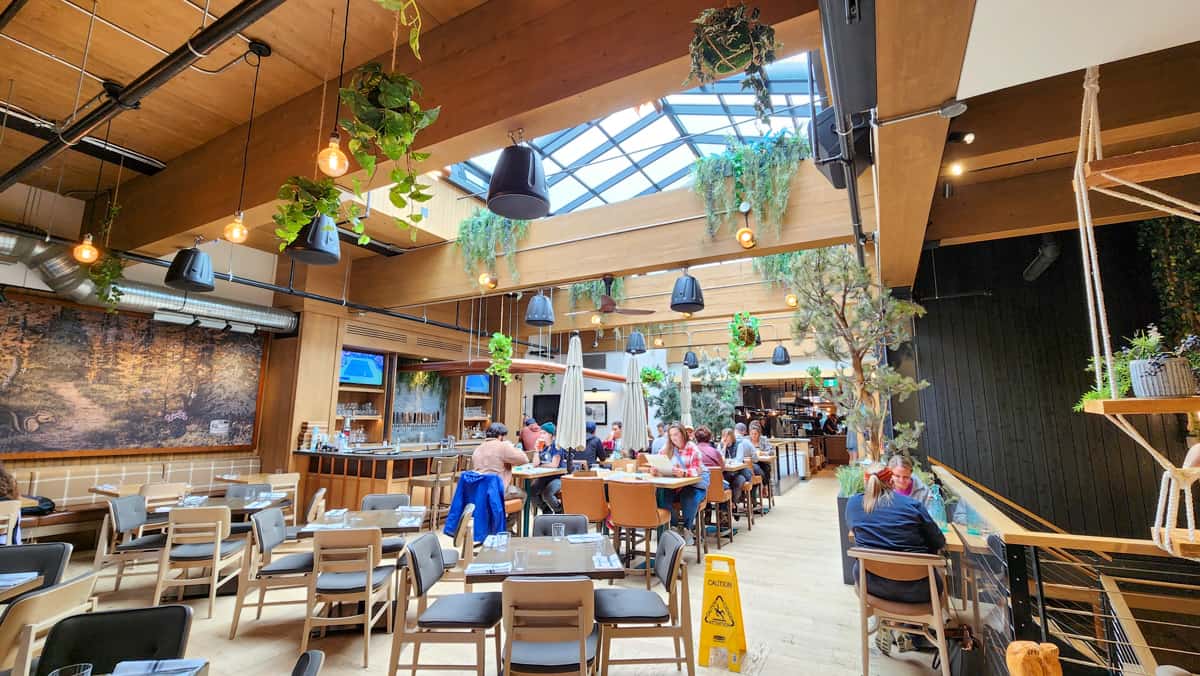 Hours: Daily from 11AM – 10PM
Happy Hour: 3PM – 5PM
Picture sipping beer under a pine tree while staring at the stars. Nope, you're not dreaming, you're at Three Bears Brewery & Restaurant. They've managed to bring the wilderness inside with deep browns and luscious green plants strewn about in addition to a retractable roof for stargazing and a beer garden for those sunny days.
Their upstairs patio overlooks the mountain range so no matter where you sit, you'll have a small bit of Banff inside with you.
Don't be fooled though, this isn't just a brewery, it's a full-blown culinary adventure. The menu is vast and they consistently get rave reviews for their food. From lamb ribs and chicken wings to crispy waffle fries and pizza, come hungry.
Their flights come with 6 samplers including a rotating tap. They usually "infuse" one of their beers daily which is a fan favorite.
Banff Beer Bars
The Canadian Brewhouse (Banff)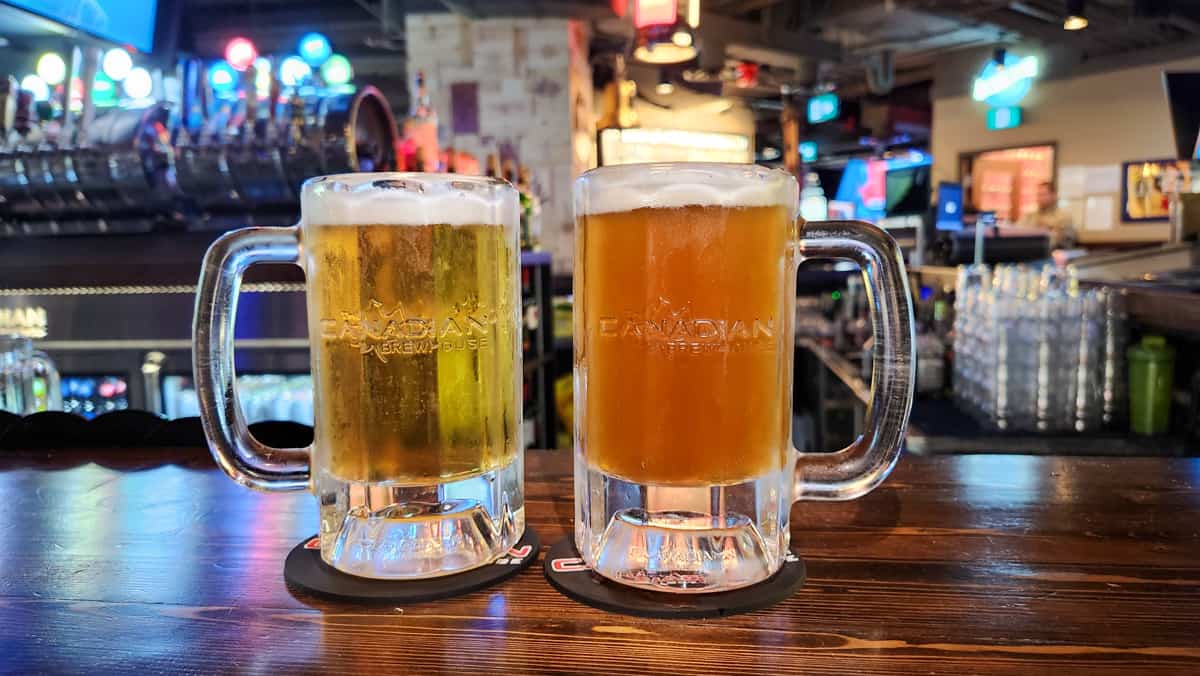 Hours:

Monday – Thursday: 11:30AM – 2AM
Friday – Sunday: 11AM – 2AM

Happy Hour: Monday – Friday: from open – 7PM ($5.99 steins for all beers)
The Canadian Brewhouse, a lovechild of Roger Newton's passion for sports and Canadian heritage, makes you feel right at home, but with more TV screens and way better beer. It's the ultimate sports bar, serving up great food, strong drinks, and a bucket load of fun events.
With roots dating back to 2002 in Edmonton, this sports bar has made its mark across the country, recently adding Banff to its roster in 2022. This is a fairly large Canadian restaurant chain and offers a sports bar vibe. It reminded us of a TGI Friday's or Applebee's in the states.
Unique to their Banff location as of December 2022 is the Belvedere Ice Room. Offering a one-of-a-kind tasting experience in their exclusive sub-zero spirit tasting room, this designed room is made entirely of handcrafted ice and snow, maintaining a constant temperature of -35°C (-31°F) to preserve the purity of their products.
You'll be given a loaner goose-down jacket and mittens to keep you toasty while you drink literally ICE cold drinks. Although most people don't make it past the 15-minute mark.
You must be 18 years or older to enter. Reservations are not required, but it does cost $29.99 CAD per person. Since it's sponsored by Belvedere, expect to do some vodka tastings.
High Rollers Bowling & Beer Hall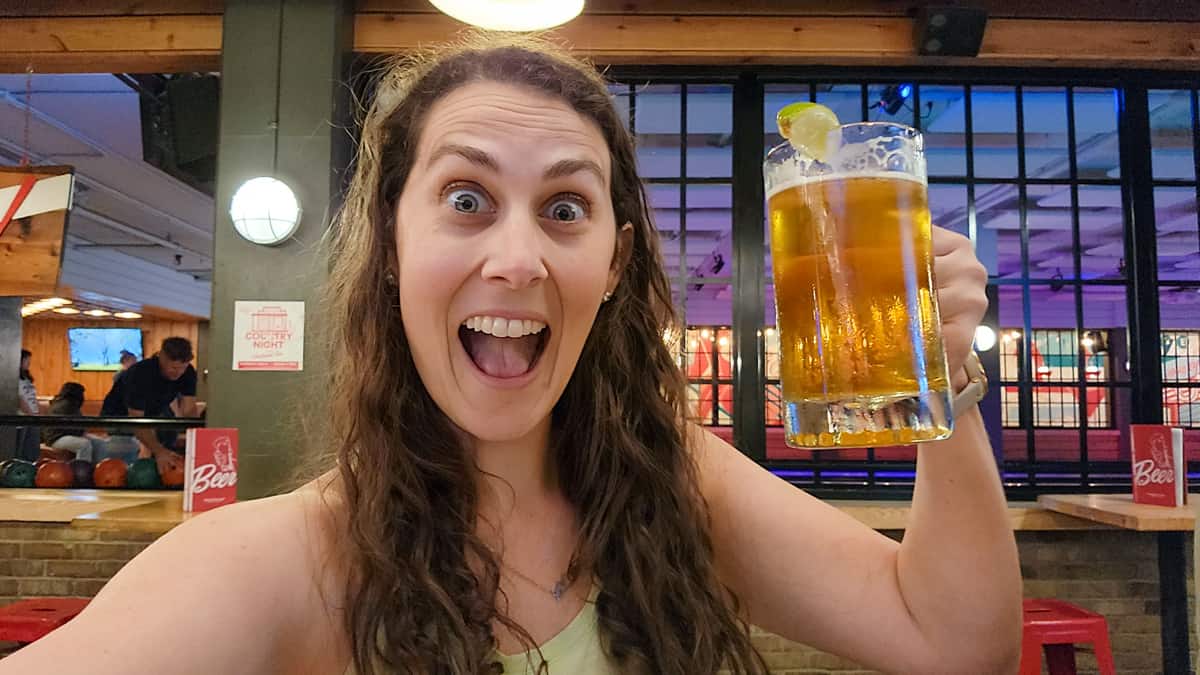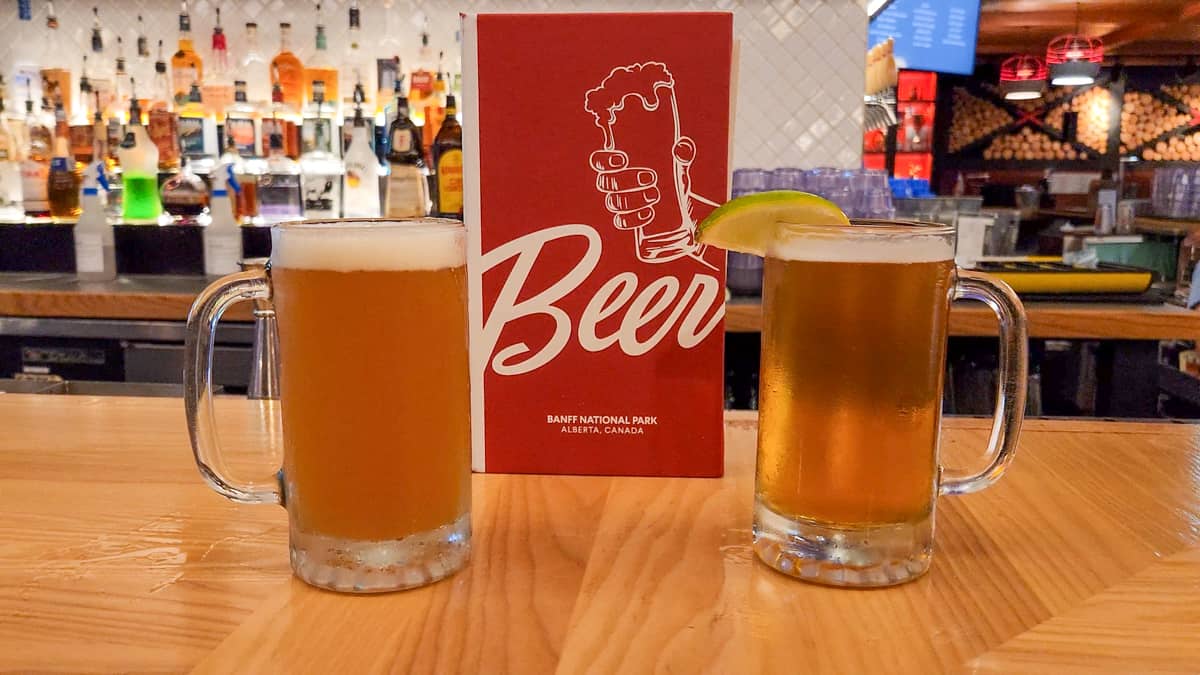 Hours:

Monday, Wednesday – Friday: 3PM – 2AM
Tuesday: 3PM – 1AM
Saturday & Sunday: 12PM – 2AM

Happy Hour: Daily from 3-5PM, specials rotate by day

Draft pint beers at $6.50 CAD!
High Rollers Bowling & Beer Hall probably feels strange to have a bowling alley on this Banff breweries list, but hear me out.
Nestled in the heart of Banff, High Rollers is more than just a boutique bowling alley. It's a beer lover's paradise with 48 craft beers on tap – sourced from British Columbia, Alberta, and the US.
Yes, 48 craft beers on tap.
We visited during their happy hour and were absolutely delighted to learn that all 48 beers are just $6.50 CAD a pint. They also do flights as well, but you can't be that happy hour price in Banff in our opinion.
Couple things to know before you go. If you want to bowl, there are only 4 lanes so just be prepare to wait a bit if they are busy. They also have a full menu and bar if you get hungry or have friends that don't want beer.
Bear Street Tavern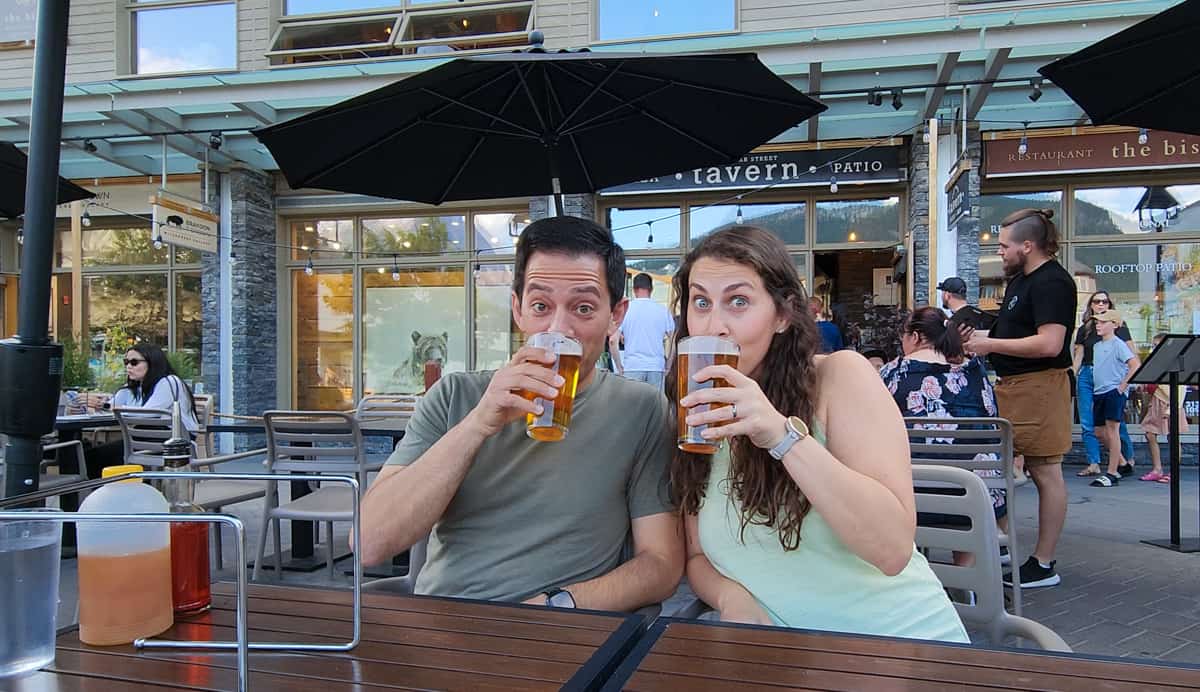 Hours: Daily from 11AM – 10PM
Happy Hour: Yes, but specials rotate by day. Check Facebook for the most up-to-date info.
Prepare to witness a tantalizing feast for the senses at Bear Street Tavern where signature pizzas, sandwiches, and cast iron specialties await to satiate the hunger of any daring Banff adventurer.
While there are only 7 beers on tap, they have over 30+ bottles and cans that showcase local Canadian beers. You may have come for the beer, but the showstopper here is their pizza.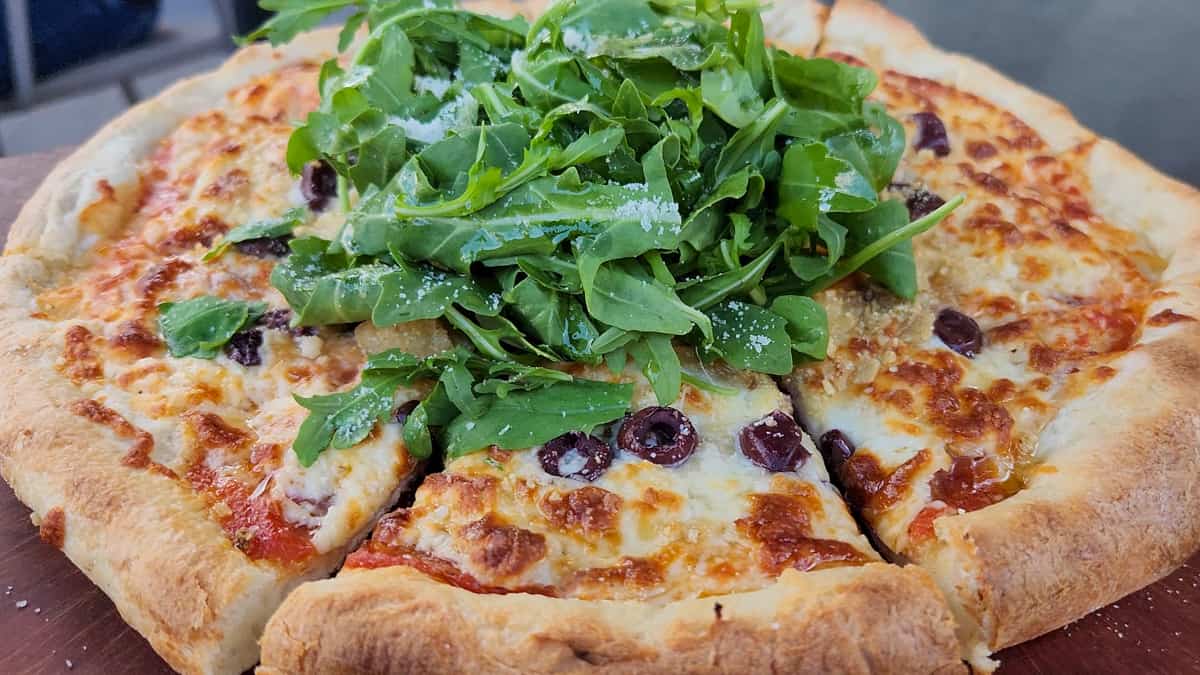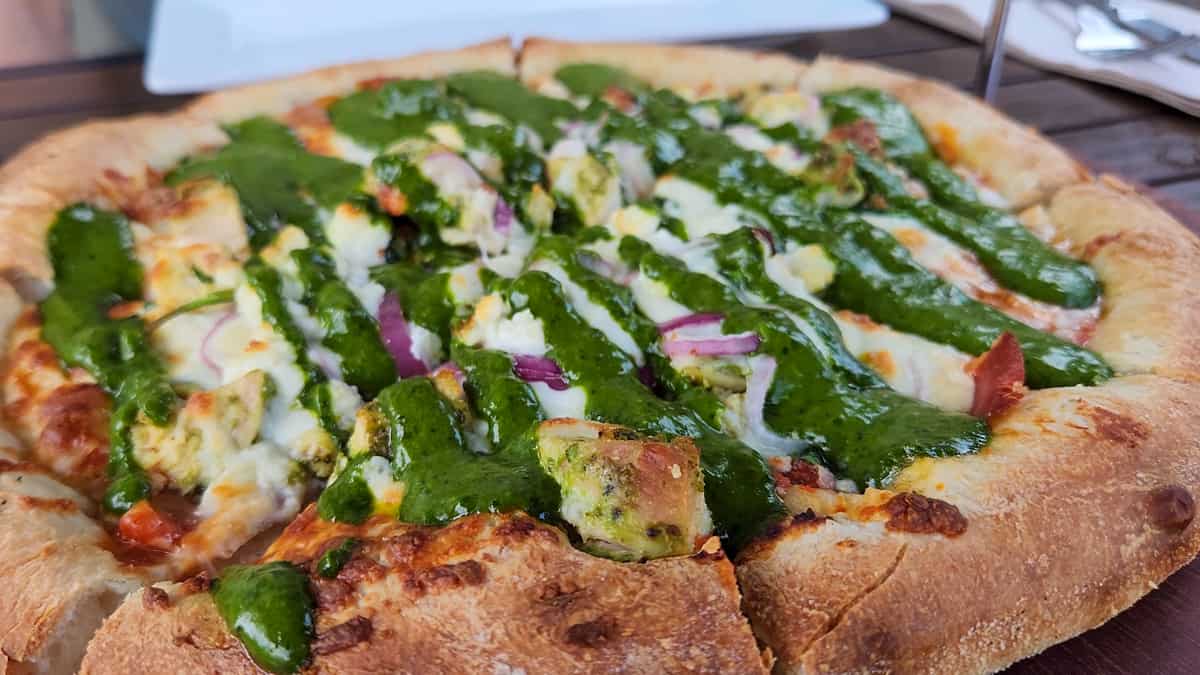 Behold the culinary masterpiece known as "The Godfather" from their signature menu (above left).
This divine creation intertwines the flavors of savory prosciutto, peppery arugula, and delectable cheese, resulting in a dish that may seem simple at first glance, but is undeniably refreshing and absolutely delightful to the palate. Chris ordered this and was absolutely impressed how much flavor this pizza had.
I got The Big Bird which included basil, marinated chicken, bacon, spinach, red onions, goat cheese, mozzarella and topped with this savory spinach / basil pesto.
It was very good and I was excited to have leftovers the next day! Prepare to be enchanted by this harmonious blend of ingredients that will leave you craving more with each scrumptious bite.
Whether you're looking to nestle in a cozy booth or have a large party, there's ample space for everyone to grab a brew and slice. They have two outside patios as well to enjoy the mountains in the background.
From forest-inspired interiors to beers so unique they're practically unicorns, Banff's beer scene is as vibrant as a double rainbow. But remember, kiddos, the real magic of Banff is the whole package – the majestic views, the wonderful people, and the unforgettable experiences.
So, when you're done with your mountain shenanigans, get your tired tush into a cozy brewpub and soak in all that Banff has to offer. Because nothing says "I love you, Banff" quite like a locally-brewed beer clutched in your hand as you watch the sunset over the Rockies. Bottoms up, Banff!
Still Thirsty? We have another beer guide for Banff.