Things to do in El Calafate – Gateway to Patagonia in Argentina
Let's be honest, if you're looking for things to do in El Calafate (in the Santa Cruz province of Argentina), you're probably either passing through to go to the Parque Nacional Los Glaciares, Argentina's Glacier National Park where the Perito Moreno Glacier is, or bussing up to El Chaltén to hike Fitz Roy or Cerro Torre.
For us, our stop in El Calafate was part of our 10-day Argentina itinerary to get to Patagonia.
In its 2001 census, El Calafate had only about 6,000 permanent residents.
However, with the construction of its own airport in 2000, this small city really took off (pun intended), with an 20,000 estimated residents today, and tourists have been flocking here ever since as a base camp of sorts to do all things Patagonia.
Psst! Looking for more Argentina guides? We have a bunch. Browse the 10 day Argentina guide here or check out: Day Trip from El Calafate – hiking on the Glacier Perito Moreno
**Boozing Abroad contains affiliate links throughout the site. If you choose to purchase items through these links, we will earn a small commission at NO extra cost to you. Read the full disclosure policy here**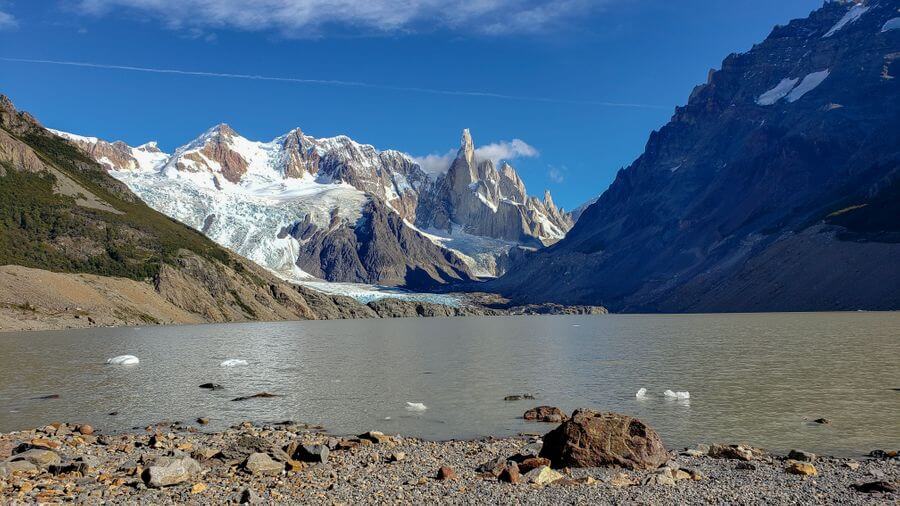 Getting to El Calafate from the airport
First things first, the airport is about 20-30 minutes (about 21 km or 13 miles) outside of downtown El Calafate, so transportation to town is a must. Not to worry though, as when you enter the baggage claim area, there are all sorts of stands offering ways of getting to the city.
From what we saw, there were two main options: either a shuttle bus or a taxi.
We chose the taxi because it was a much quicker ride and would take us directly to our Airbnb.
It was a set price of $900ARS ($21 USD) for the both of us and there was no need to reserve in advance (getting back to the airport from town should only cost you $600ARS).
The shuttle bus is definitely the cheaper option though if you're on a money budget and not a time budget.
Downtown El Calafate
Once you get to downtown, there is really only one main street, Avenida del Libertador, where you'll find things to do in El Calafate: all of the shops, bars, and restaurants.
It's a cute little downtown area with light poles, wrapped in string lights, illuminating the large grassy median, and packs of dogs roaming all over the streets (and outside the restaurants with large hunks of meat cooking in the window….smart pups).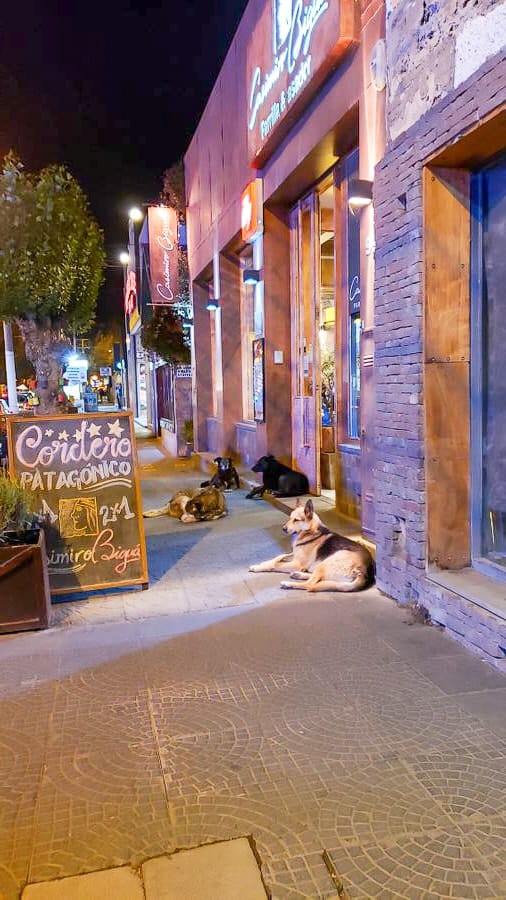 You can find just about everything you might need here as there are supermarkets, pharmacies, drug stores, convenience stores, shops for gifts (chocolate, alcohol, magnets, shot glasses, etc.), and bars and restaurants.
On our one and only night in town, we strolled up and down the main avenue looking for a quiet place to grab a drink.
After befriending a few of the stray dogs for a couple of blocks, we came upon a small cove of little shops where we found Borges y Alvarez Libro Bar.
Located on the second floor, this bar has a large bookshelf on the back wall filled with different books for you to read if you so desire.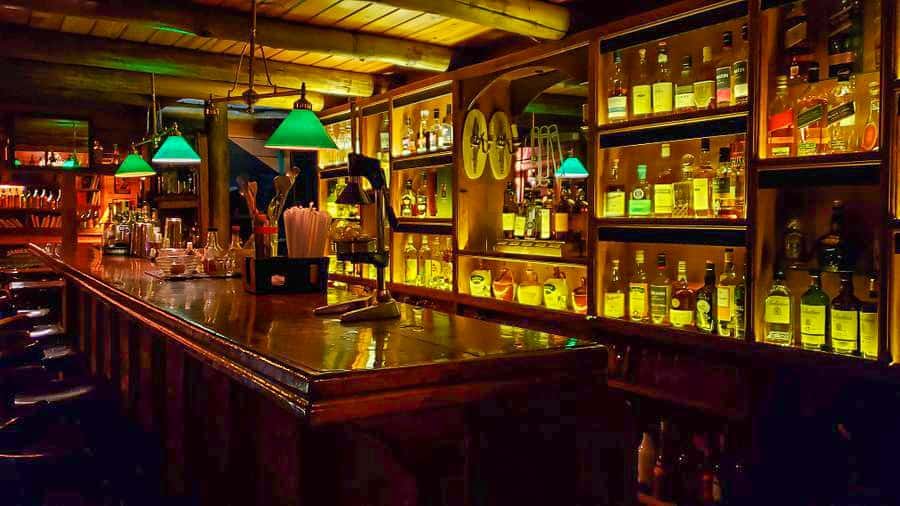 We grabbed a local beer on tap and enjoyed the atmosphere and people watching down on the street.
A couple of guys even popped in to play/sing a few songs on a guitar and harmonica.
They played maybe 3 or 4 songs, packed up, and left. But it was really enjoyable while it lasted!
If you're here for only a short time, make sure you try something that is flavored with the Calafate berry, which is naturally where the city's name comes from.
The Calafate is a little bush with yellow flowers and dark blue berries, and you can find jams, wine, liquor, liqueur, etc., flavored with the little berry.
Legend has it that if you pluck and eat a naturally-growing Calafate berry, you will soon be drawn to return to Patagonia…..that's enough of a reason for us!
Bus to El Chaltén
If you are catching a bus up to El Chaltén from here, the bus station is about a 5-minute drive from the downtown area.
A taxi (which will be metered) cost us about $160ARS ($3 USD) for our ride. From here, the bus to El Chaltén is about a 2.5 to 3-hour drive on a large coach bus.
Depending on the time of day that you go and the weather, you might get some spectacular views of the Patagonian "skyline", including Fitz Roy and Cerro Torre!
Things to know before you go
#1: There are a few ice-bars (think dressed up in big coats to have a drink) in town, given El Calafate's close proximity to the glacier, but we didn't venture into any of them because they just seemed super touristy and overpriced.
If you're here for more than one day, add it to your list of the things to do in El Calafate, but know you will pay alot of money for those IG pics.
#2: If you're heading up to El Chaltén from here and need some hiking gear, DON'T buy it in El Calafate.
Wait until you get to El Chaltén and rent it for only the time you need it. Much more economical and less to lug around!
Click here to read about our day of hiking on the Glacier Perito Moreno and click here to read all about our Patagonian hikes in El Chaltén.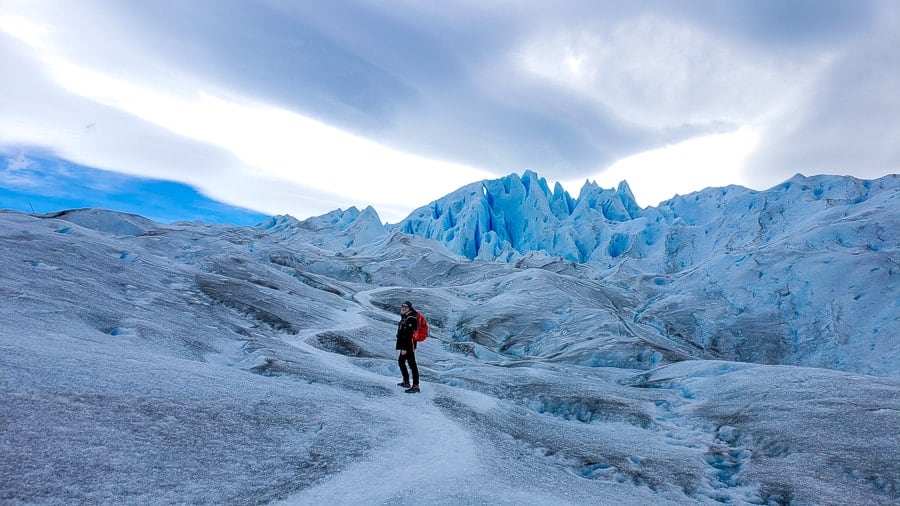 Finding things to do in El Calafate was a challenge, especially if you're looking to stay in town. While our 1 night in town was brief, we found this small town to be charming and easy to navigate on foot.
We wish we had more time in El Calafate to explore the Glaciarium (another touristy thing), La Leona Petrified Forest, or a few of the museums on the history of the area.
Our advice: if you are crunched on time, you can get away with spending just 1 night here with a day excursion to the Glacier Perito Moreno.