The Complete Guide to El Chaltén Argentina – Patagonia Basecamp
No matter where you do your research, if you look up the town of El Chaltén, you'll likely see that it is often called the Trekking or Hiking Capital of Argentina.
We couldn't think of a better way to describe this place because of the vast number of hiking trails available from this super small town.
When we say super small town, we mean it….it's estimated that there are only about 400 people who live here year-round! The official El Chaltén website refers to it as a "Tourist Village".
Fun fact: In the mid-1980s, Chile and Argentina were at a war of words over who actually had rights to this part of land.
Thankfully, an actual war never broke out, and the dispute ended with Argentina being awarded the city! Being officially found as El Chaltén on October 12, 1985, it is the youngest city in Argentina.
Psst! Looking for more Argentina guides? We have a bunch. Browse our Argentina guide here.
**Boozing Abroad contains affiliate links throughout the site. If you choose to purchase items through these links, we will earn a small commission at NO extra cost to you. Read the full disclosure policy here**
How El Chaltén Got Its Name
When you're in El Chaltén, one of the things that you'll notice is the fact that the peak of Mount Fitz Roy is almost always visible from town (even out your living room window).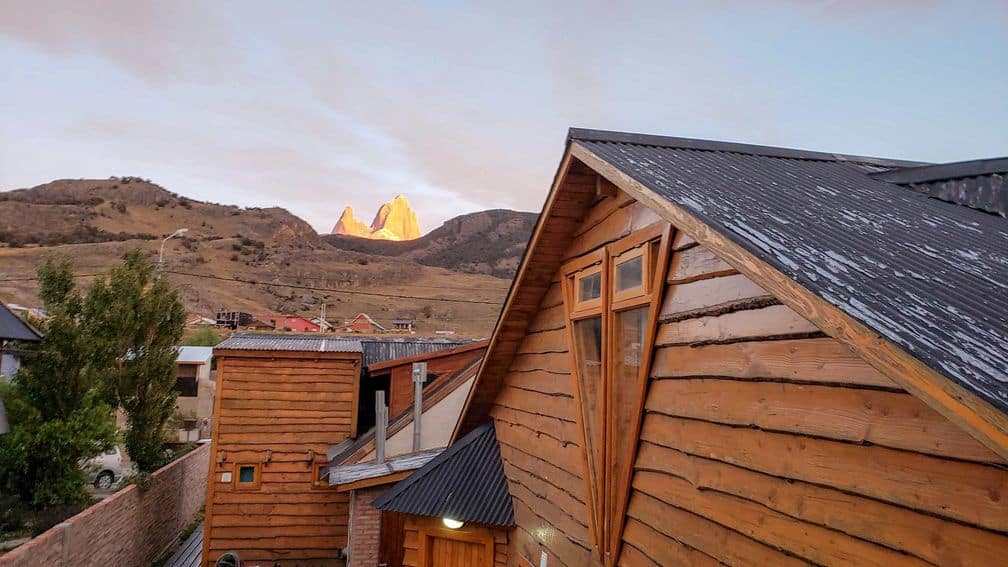 Another thing you'll notice is that the peak of Mount Fitz Roy is almost always covered by clouds (unless you're SUPER lucky like us! We had several hours with no clouds).
Well, as it turns out, long before the tourists and backpackers arrived in El Chaltén, the Tehuelche Indians confused those clouds for smoke and thought Mount Fitz Roy was actually a volcano.
Hence, they named the peak Chaltén, which literally means "smoking mountain". It wasn't until the late 1870s that Mount Fitz Roy got its current name.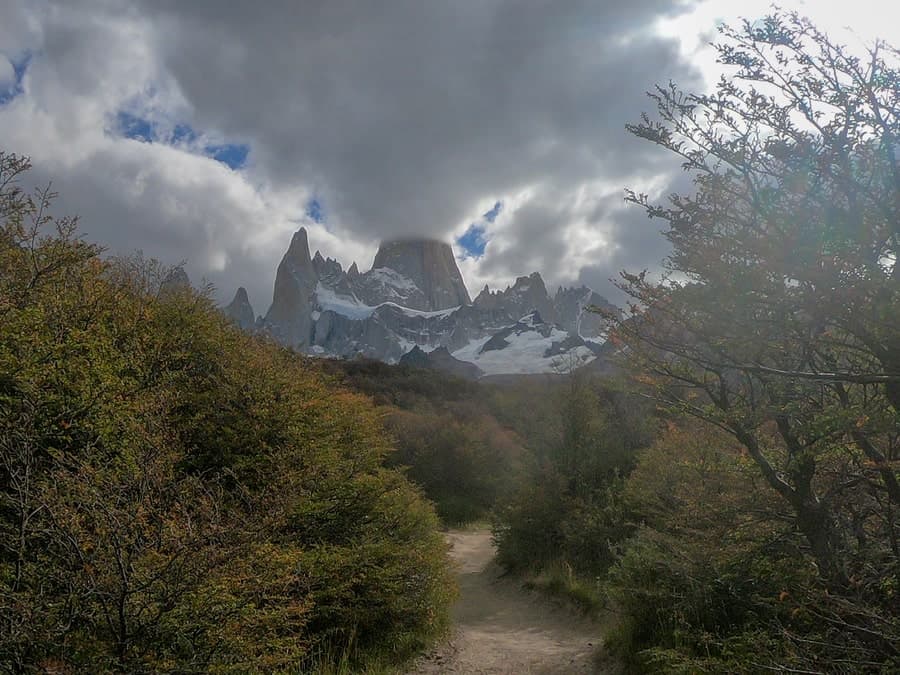 Getting to El Chaltén
As we mentioned in our post on El Calafate, the easiest way to get to El Chaltén is to catch the 2.5 to 3-hour bus ride from El Calafate.
If your schedule requires it, you can even get here from Chile too. The bus ride should cost you around $20 each way per person.
Make sure you stay awake during the ride too, as you'll get a glimpse of Mount Fitz Roy off in the distance.
We were riding up there at sunset, and the views were unbelievable, even if it was from a bus window!
Don't forget to keep an eye out for wildlife on the ride in. You'll also see all sorts of animals along the way, including the guanacos, a close relative of the llama.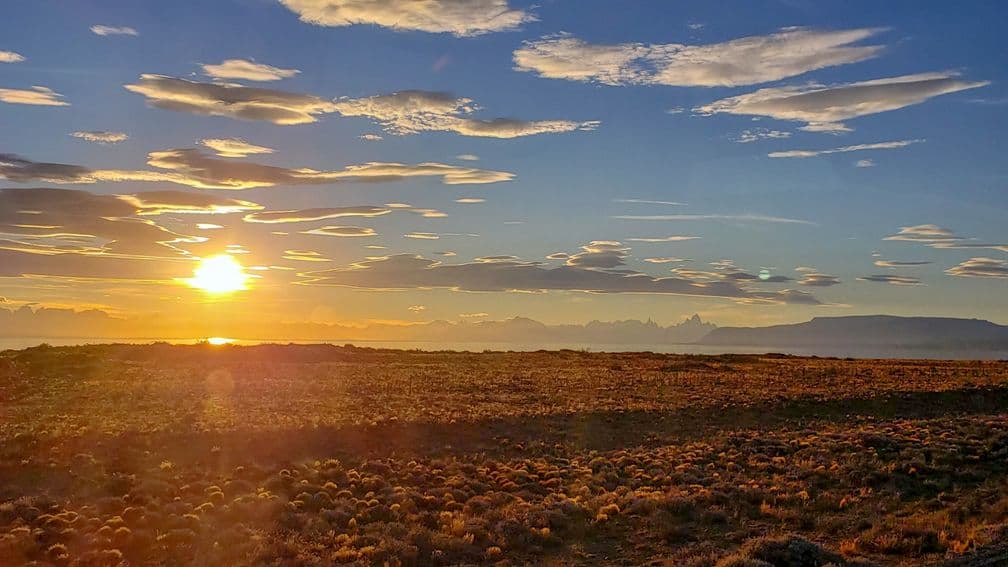 The bus station in El Chaltén is literally at the very beginning of town.
Depending on how much gear you have, you can probably walk to just about anywhere that you are staying because of how small the town is.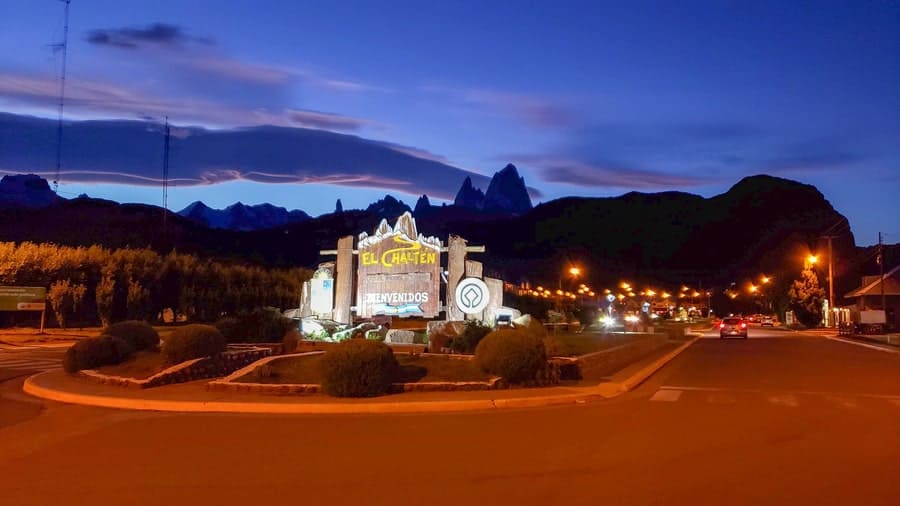 Things to do in El Chalten
If you've made it to El Chaltén, chances are you'll be hiking, climbing, and/or camping.
More specifically, you'll probably be doing the Fitz Roy or Cerro Torre treks, or maybe even both, as we did.
This small mountain village is the perfect basecamp for both of these hikes, as well as dozens of other trails to suit your fancy.
Prior to arriving, we had trouble finding any information on equipment rental shops in El Chaltén. However, rest assured, there are at least 6 rental shops in town.
We went to Patagonia Hikes for trekking poles. Here is a picture of their prices in ARS. Do your homework, as it might be cheaper to rent then bringing them with you.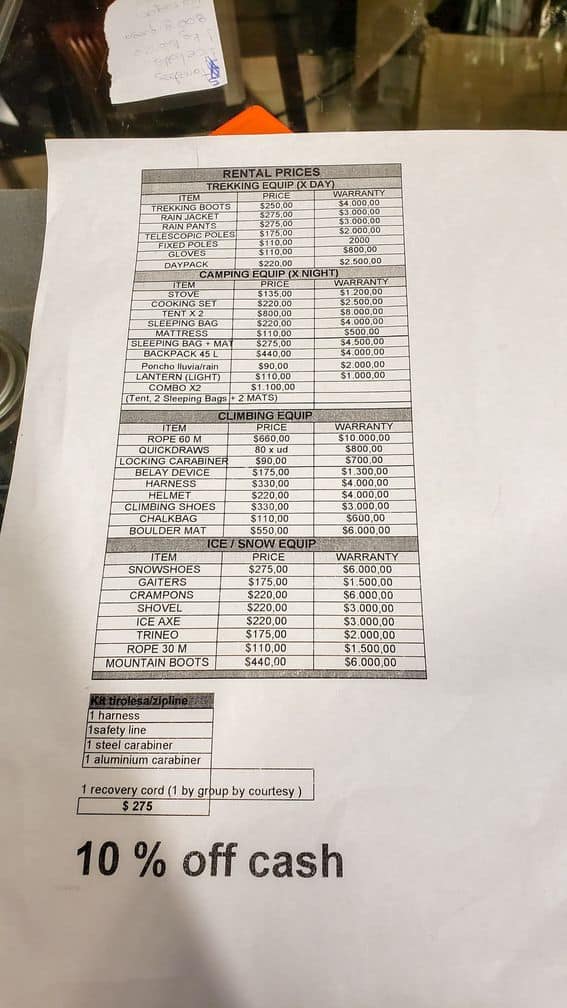 The map below shows the town of El Chaltén as well as the two trailheads for Fitz Roy and Cerro Torre.
For a complete guide of both hikes, including food and kilometer breakdowns, read more about our day trek to Fitz Roy here and read about our day hike to Cerro Torre here.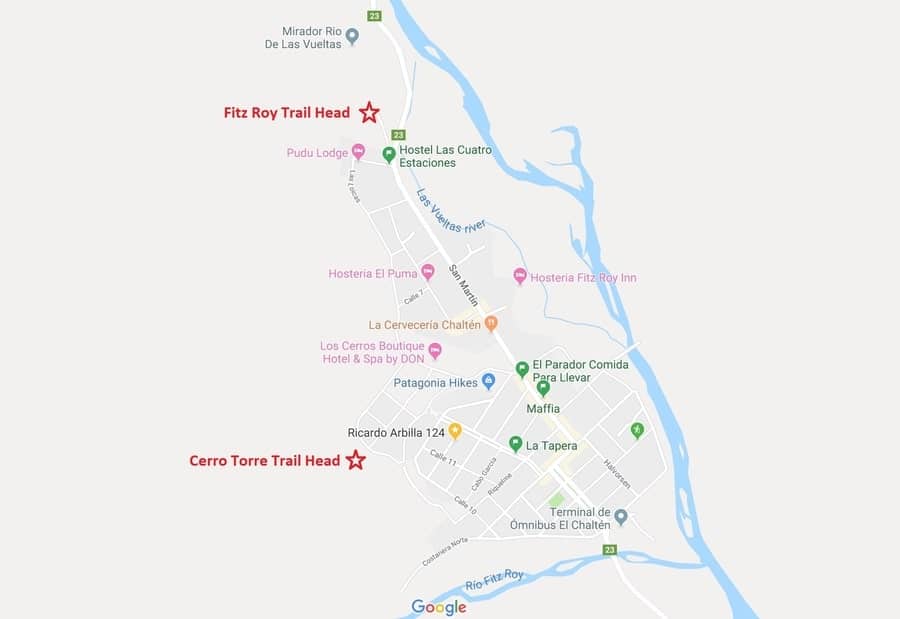 Downtown El Chaltén
For being such a tiny town/village, El Chaltén sure does have a lot going on. There are really only three main streets in town where all of the action happens (bars, restaurants, markets). Everything else is just houses, hostels, hotels, Airbnb's, etc.
Leaving the bus station, you'll walk up Miguel Martín de Güemes (main street #1) where there is a variety of shops and restaurants.
Once you reach the end of this short 4-block street, you can go left or right. Go left and the first street will be José Antonio Rojo (main street #2) where you can find restaurants, a brewery, a rental shop, and even a massage parlor.
Go right and you'll find the busiest road in town, San Martín (main street #3).
This is where you will find the bulk of the restaurants and bars and where we did most of our bar-hopping on our last night in town!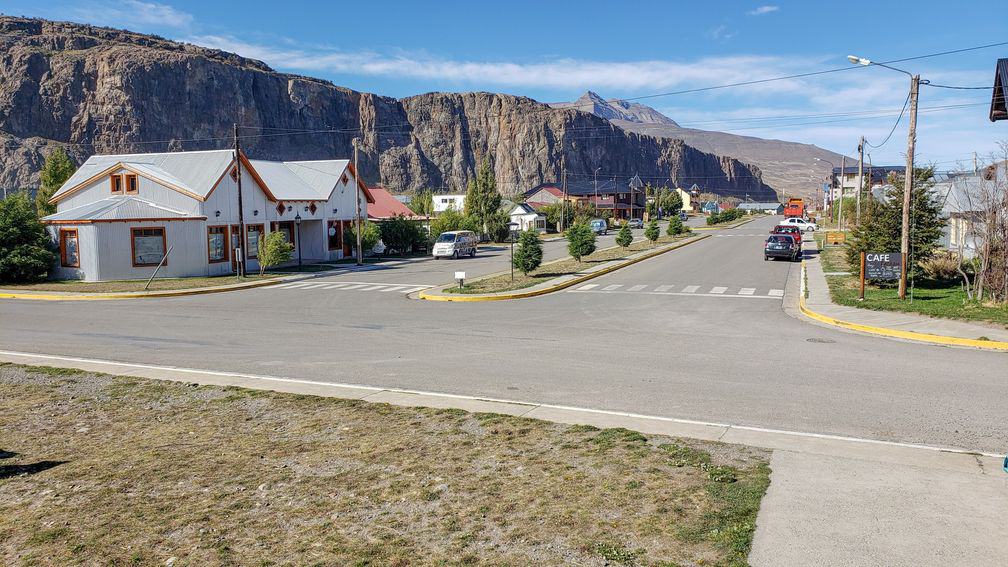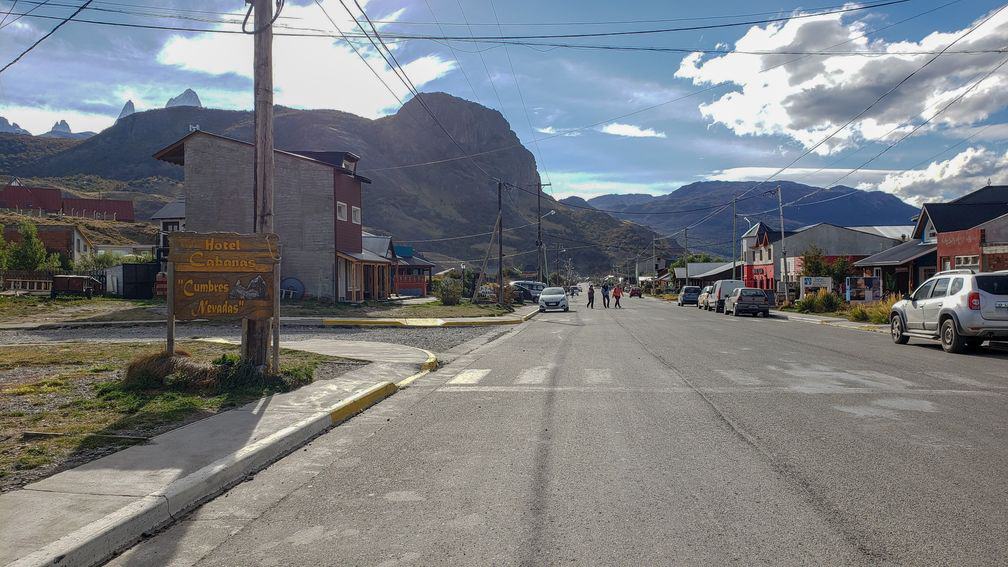 Although you may read elsewhere that amenities are sparse here due to El Chaltén's isolation from everything, we were able to find anything we really needed, and at reasonable prices too.
When we were out hopping around town, we saw cleaners/laundry services, a couple of supermarkets, spas, souvenir shops, at least 6 rental shops, corner stores, breweries, tons of restaurants, and on and on.
Our point being, El Chaltén didn't feel as isolated as it was geographically.
However, one thing that did make the town feel isolated was the WiFi connection. Our Airbnb host explained that the signal is fully reliant on satellite (no hard-wiring), so speeds are drastically reduced to what you are used to.
Uploading to Facebook was a joke, refreshing your IG was frustrating, and Snapchat worked mildly at best…..and to think we survived the dial-up era!
Our recommendation: use this time to unplug and enjoy the fact that you can't be reached for a few days!
Something else you might read about El Chaltén is the fact that nobody takes credit cards and that you must have enough cash to last you before arriving in town because of the inconsistent ATMs. A few things:
If you run out of cash while here, you won't go hungry. We saw some restaurants, bars, and markets that were taking credit cards, while some only took cash. Just make sure you ask before you sit down and order.

We only know of two ATMs in town, one at the bus terminal and one at the bank. We had enough cash to last us through our time in town, but we have heard that they can run out of cash on the weekends, especially during busy season. There is also an ATM at the bus station in El Calafate, so plan accordingly.

If you have US dollars or Euros, we did see various places that advertised money exchange services (hotels/ hostels/ bars/ restaurants) at pretty attractive rates! So even if the ATM is out of cash (or if you don't want to pay the ATM fees), you should be able to get some pesos.
Getting Around El Chaltén
We've already mentioned a couple of times about how small this town is, so naturally, walking is going to be your main mode of transportation.
It really is the best way to get around and make sure you can hit all of the spots along the streets.
But, if you're too tired from a day of hiking, or if it's 6AM and raining sideways because of the 50 mph (80 km/h) winds and you have to get to the bus station that is a 10-minute walk away with all your bags (*true story*), you can find a taxi.
Given our early morning situation, we looked up taxis in El Chaltén and used WhatsApp to contact the first one on the list, Remis Keoken.
Thankfully, we had a strong enough WiFi connection (before everyone was awake and online) to send a message for them to come and save the day for us!
I imagine that hailing a taxi at a more normal hour, and less intense weather conditions, would be a little less harrowing!
Language – Not specifically related to transportation, but there is definitely a language barrier here if you don't know any Spanish.
We were able to get by with some very basic terminology and hand gestures (and some friendly locals who spoke English), but we'd definitely recommend knowing at least some of the basics and/or having a translating app.
Where to Stay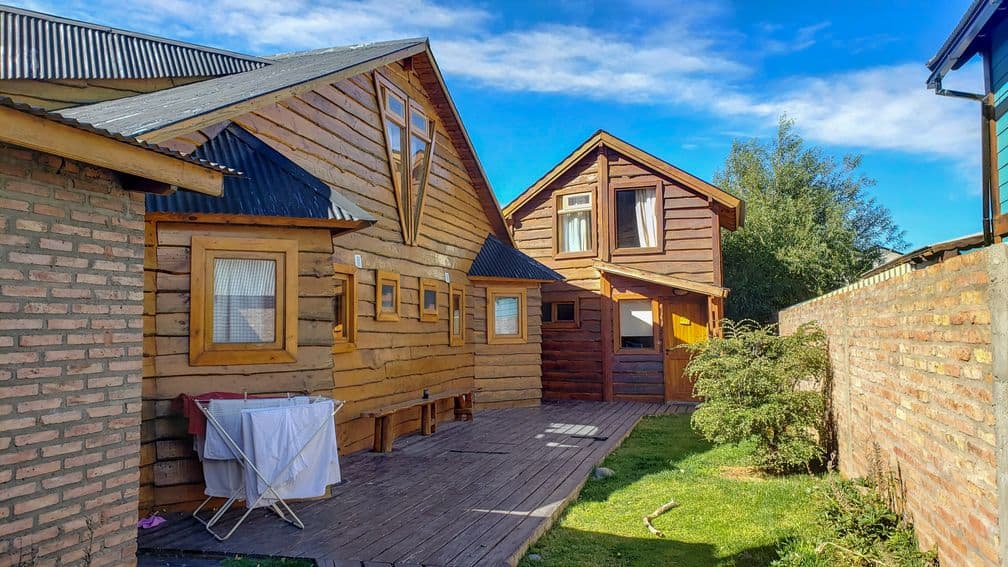 Airbnb
Another great option is an Airbnb! If you are new to Airbnb, click this link here to get signed up and experience your home away from home.
El Chaltén definitely has more tourists than it does residents, so accommodations are aplenty.
If you're coming during the busy summer months, make sure you book in advance or you might end up paying more than you wanted. Hostels were everywhere and there were a few hotels around town as well.
We booked a place on Airbnb called Aires del Fitz, which was right off of main street #2 from above, José Antonio Rojo, and was very close to the trailhead for Cerro Torre.
Again, with the size of this town, and how close all of the trailheads are to town, you can't really go wrong in terms of location. Do your research, read some reviews, pick a place, and go with the flow.
For what it's worth, we highly recommend the place we stayed.
Super friendly host (she spoke English, too) and a great location!
Where to Eat
Lunch for Hiking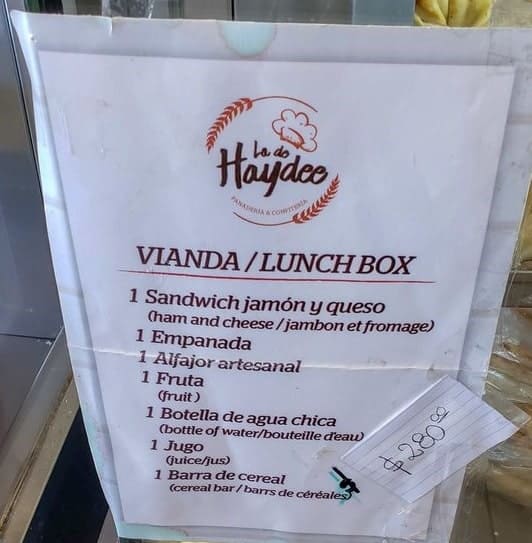 If you are going to be hiking, you are going to need a lunch of some sort to get you through the long day. Well, lucky for you, many of the bakeries around town do boxed lunches for you.
We stopped at "Lo de Haydee" Panaderia y Cafeteria, which is right next to the Patagonia Hikes rental shop, where they were selling boxed lunches for $280 ARS (about $7 USD).
The lunch came with a large ham and cheese sandwich, a spinach empanada, an apple, a cereal bar, a bottle of water, a juice box, and an alfajor for dessert. A pretty great deal for all that food and more than enough for our hike!
Eating
We had three nights here so we definitely got to explore what there was to eat and drink. At the suggestion of our host, and right down the road from our place, we tried La Tapera on our first night at about 9PM.
Much to our dismay (but a very good sign of the food), it was slam-packed busy and there was a long wait for a table.
If you feel like waiting, you can order a bottle of wine or drinks from the bar and sit outside while you wait.
We ended up at another highly popular place called Maffia Trattoria. Luckily, we were seated almost right away at a shared table (with other people) and got to work on deciding on dinner.
Pick your pasta and then pick your sauce, or pick one of their suggested combinations.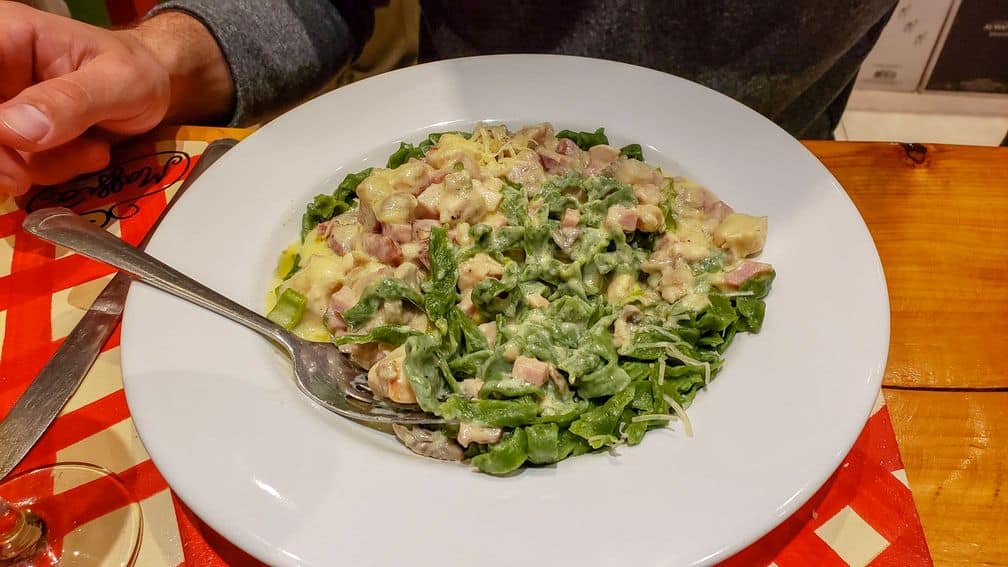 Samantha had the mushroom ravioli and Chris had the spinach fettuccine with carbonara. Both delicious and the perfect carb-loaded meal for our hike the next day!
A pretty extensive wine list here too, but we just stuck with their red table wine, a Malbec of course.
On night 2, our long hike up and down Fitz Roy, it was time to recharge and refuel. La Tapera opens for dinner at 6 PM and we arrived shortly after opening. We sat down, ordered a bottle of Malbec, and then ordered two steaks.
Having not yet had steak while in Argentina, the Lomo steak (tenderloin) and the bife de chorizo (think sirloin, not Mexican sausage) were a sight for sore eyes and were devoured!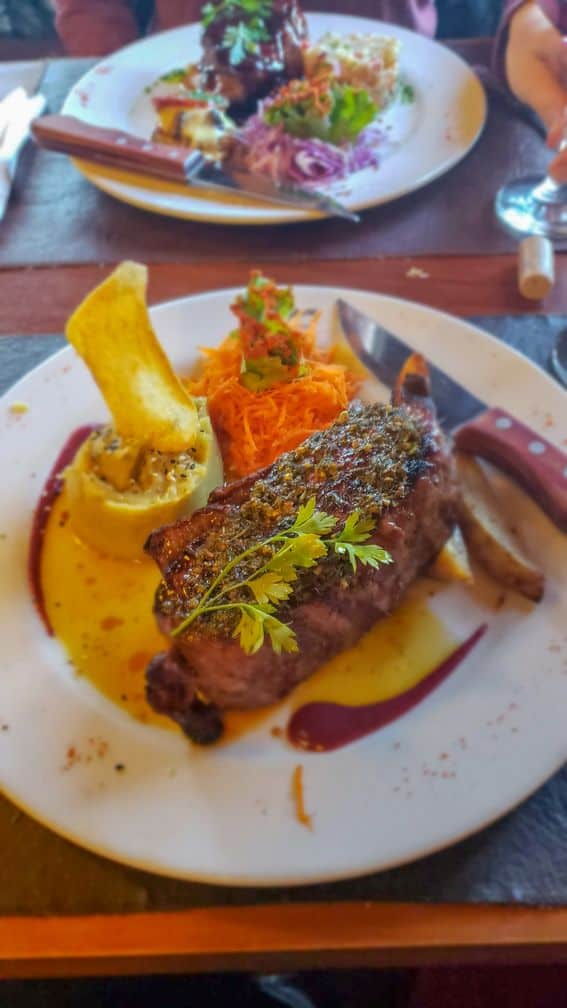 These were full plates of food with sides and homemade bread, too! The marinated eggplant appetizer was a great starter as well.
After dinner was over, and while we were paying our bill, the waitress came by with a bottle of homemade liquor (some sort of honey flavor) and let us each try it.
That, too, was delicious!
If only all restaurants did this when paying your bill….La Tapera was a little more pricey than some of the other places in town, but definitely worth the visit.
On our last night in town, we were bar-hopping a bit and trying to visit as many places as we could in our short time remaining. To see where the breweries are in El Chalten, click here.
In the midst of bar-hopping, we stopped at La Nieve, right next to the Chaltén Suites hotel, for some made-to-order tacos and a beer.
We can't find much about La Nieve online, but damn if those weren't some good tacos!
Maybe it was the beer, maybe it was the tacos, but we dare say they are in the top 10 of our "Most Epicly Delicious Tacos Ever Eaten" category!!
Also, they do box lunches….more expensive and offered a little less than the bakery we went to, but the sandwiches looked hardier.
Once it was time for actual dinner, we made our way up the main drag to El Parador Comida Para Llevar. This might have been one of the smallest restaurants we've ever been inside, and there were 6 tables, none of which were available when we were there.
Not willing to wait, we placed a to-go order to take back to our Airbnb. We didn't know this at the time, but the name of this place literally means "The Parador Meal Takeaway"…..that small dining room makes a LOT more sense now!
Yes, we know we need to brush up on our Spanish. We ordered the tagliatelle pasta and some of the most delicious empanadas we had on our trip, and we had a lot of them!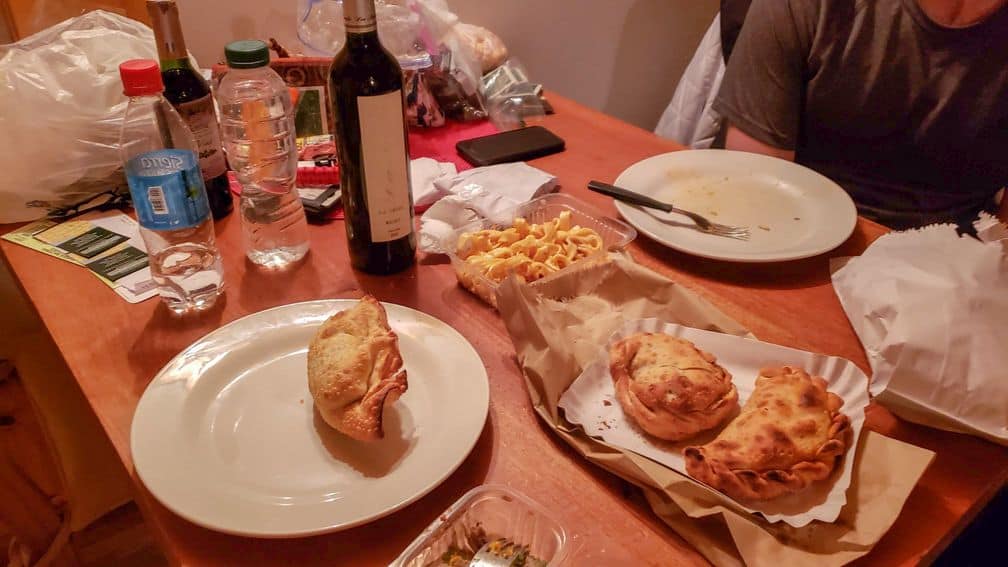 Overall – El Chatlen
El Chaltén is a must-visit, adorable basecamp for hikers, climbers, and campers in the Patagonia region.
If you aren't on a strict time-schedule, plan on being here 4-6 days to maximize your good weather days.
The weather is unpredictable here, so you are at the mercy of Mother Nature for if you'll be able to hike. We were very lucky with the weather being good both days we were in town and had hikes planned.
Even if you aren't a hiker, there are various day hikes for beginners that you can do. We wish we had more time here.
The town has a great positive atmosphere and we would have liked to explore more trails during the day.
Overall, everyone was very friendly and helpful. The food was good and the beer was great. We met and mingled with several hikers in the bars and everyone we met was excellent.
This was our last stop before heading to Buenos Aires on our 10-day Argentina trip.