The Complete guide for Mount Fitz Roy hike from El Chalten, Argentina
The Mount Fitz Roy hike is arguably one of the most heavenly and beautiful hikes in Patagonia, Argentina.  Yes, we know that's a bold statement.  
Mount Fitz Roy (also known as Mount Fitz Roy Cerro Chalten, or Cerro Fitz Roy) is the mountain border that separates Argentina and Chile and the Laguna de los Tres is the crown jewel of hikes for Argentina, which ends at the base of Mount Fitz Roy.
After all, the clothing brand, Patagonia, designed their logo after the peaks of Mt Fitz Roy. 
We want to start this post by saying that we did not train for this hike. The fact that we were brewery hopping days before in Buenos Aires should put that in perspective.
This hike was listed as "moderately challenging", but we found it to be more than moderately challenging, especially if you aren't in the best shape of your life (like us).
This post below was designed as a step-by-step hiking guide for your trek of Laguna de los Tres to the base of Mount Fitz Roy.
Short on Time? Here are the key takeaways:
While this hike is considered "moderately challenging" the first 2 km and last 2 km were the hardest parts due to elevation gain. The overall length of this hike is what made this even harder for us.
Poles aren't necessary until the last bit. We didn't use them until KM 9 and we were very happy we had them.
The Mt Fitz Roy hike can easily be done in a day if you want to avoid camping (or pumas) like we did.
**Boozing Abroad contains affiliate links throughout the site. If you choose to purchase items through these links, we will earn a small commission at NO extra cost to you. Read the full disclosure policy here**
Quick Overview of Patagonia
The name Patagonia came from Ferdinand Magellan who thought the Tehuelche Indians looked liked 'Patagon', a dog-headed monster from a 16th-century Spanish romance novel.
From then on, the original inhabitants were known as Patagones.
Seriously?!
We can't make this sh** up. When we found this from the encyclopedia, we had to share it.
Today, Patagonia is made up of the southern region of Argentina and Chile that spans over 260,000 square miles (673,000 square kilometers) and encompasses the Andes mountains, grasslands, deserts and more.
Located in the Los Glaciares National Park, Monte Fitz Roy is 11,171 feet (3,405 meters) tall and can be accessed through El Chaltén in Argentina on the Laguna de los Tres trek.
READ MORE: Complete Guide to El Chaltén Argentina, Basecamp to Patagonia
Renting Hiking Equipment
We rented trekking poles from an appropriately-named shop in town called Patagonia Hikes; but, there are at least 6 shops where you can rent equipment.
The last 1 kilometer of the Laguna de los Tres trail is rather steep and very rocky, and it was suggested that we had trekking poles.
Because they aren't needed the whole hike, we wanted (telescopic) adjustable poles that we could hang on our daypacks when not in use.
They were $175 ARS (about $4 USD) per pair per day. If you damage them, they are $2000 ARS (about $45 USD) to replace.
Even if you break the poles and have to replace them, that's still cheaper than buying a pair at home, putting them in a checked bag (not allowed in carry-on luggage) and carrying them with you for your trip. So unless you are married to your personal trekking poles, consider renting them here.
Here is a list of all the equipment you can rent (and prices in 2019). To be honest, if we were camping, we'd probably rent everything we needed.
Price it out for yourself, but it might be cheaper (and easier) than lugging it all with you around Argentina – unless you are badass and here solely for hiking.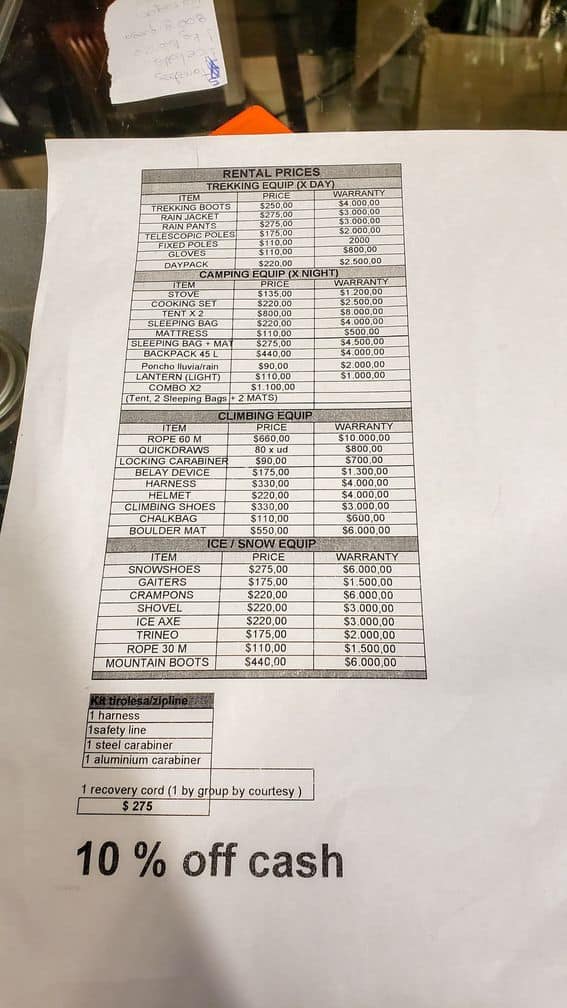 Where to Stay in El Chalten
Let's start by saying that you can walk across town in about 15 minutes so no matter where you pick, you won't be far from anything.
There are two "main" streets in El Chalten where you will find everything you need from restuarants and hiking gear to massages and breweries.
Picking a place is super easy and you'll be close to everything.
Booking.com probably has the widest selection of budget (and luxury) accommodations in the world. In our experience, they consistently found the cheapest rooms. We also like their easy to use interface and no money down policy. When we book our travel stays, we personally use booking.com.
Places near the Monte Fitz Roy Trailhead
Rancho Grande – Hostel
When you complete this hike, the last thing you want to do is walk any further than you have to and the Rancho Grande is less than a minute from the trailhead. A dorm room/hostel style hotel, this places is cheap and the restaurant on site is tasty with massive portions.
Cabañas Austral – Low-key Cabin vibes
If you'd like a little more privacy than the hostel, Cabanas Austral is a great option. These quaint cabins have full kitchens, private bathrooms and a loft sleeping area. While the cabins don't have a living area, the location is ideal as it's off one of the main roads.
Hosteria El Puma – Hotel
Hosteria El Puma is a true hotel and on the main street just a short walk from the trail head. The rooms are larger than most and laundry is available on site.
Laguna de los Tres – the Hike
Length: 20 km (12.42 miles) round trip, 8-10 hours
Difficulty: This is listed as moderate or medium on actual hiking blogs. AKA: not for beginners (Boozing Abroad); hard and strenuous due to the long distance and long stretches of uphill hiking.
When to start: We highly suggest starting as early as possible. The first viewpoint of Monte Fitz Roy is about 1 hour in. If you can get there when the sun rises (or shortly after), you will be rewarded with a gorgeous orange hue on the mountain.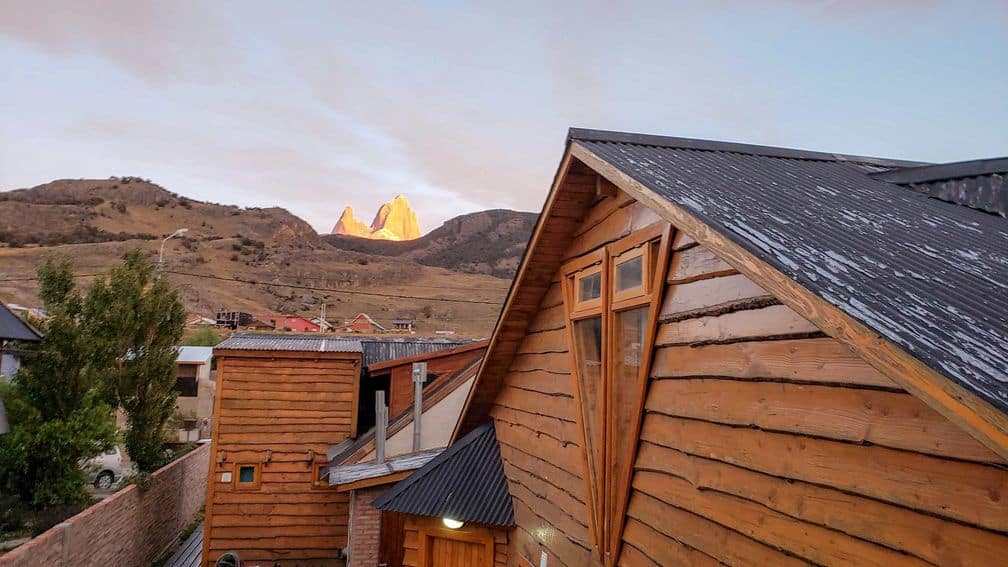 Laguna de los Tres trek is a doable all-day hike from El Chaltén or you have the option of camping along the trail with 2 different campsites available:
Campamento Poincenot (near kilometer 8)

Campamento Laguna Capri (near kilometer 3.5 – by the lake)
There are portable toilets near the sites (bring your own toilet paper) and if you do camp, you can NOT use fire to cook food.
Also, there is a way to combine this hike with the Cerro Torre hike. We did not do the full loop, but you are able to access the other trail in between kilometers 7 and 8 at "Madre E Hija, Camp de Agostini and Lag. Torre".
Also, you can drink the water from any stream or lake, so refilling your hydration pack/water bottle is super easy!
How to Find the Trailhead (Laguna de los Tres)
With the small size of El Chaltén, this should have been more straightforward; but a lack of sleep and no caffeine made this fun at 6:30AM.
We want to spell this out for you since it took us an embarrassingly long time to find it (again, we weren't hikers at the time and there are literally a dozen different trailheads in town).
It's near the top of the map below (downtown El Chaltén is basically the bottom half of the map):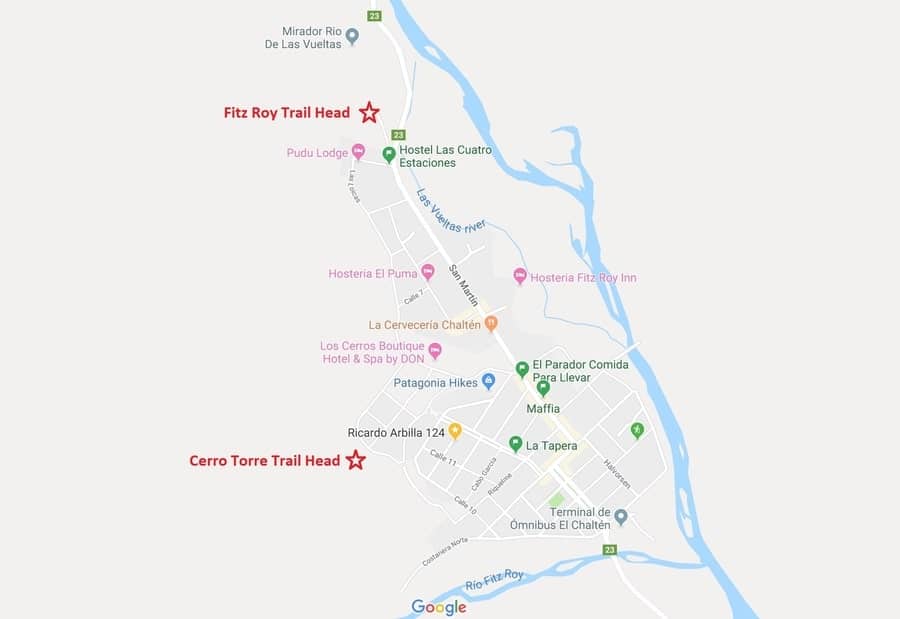 Once you know where it is, it's hard to miss the big sign that reads "Sendero al Fitz Roy".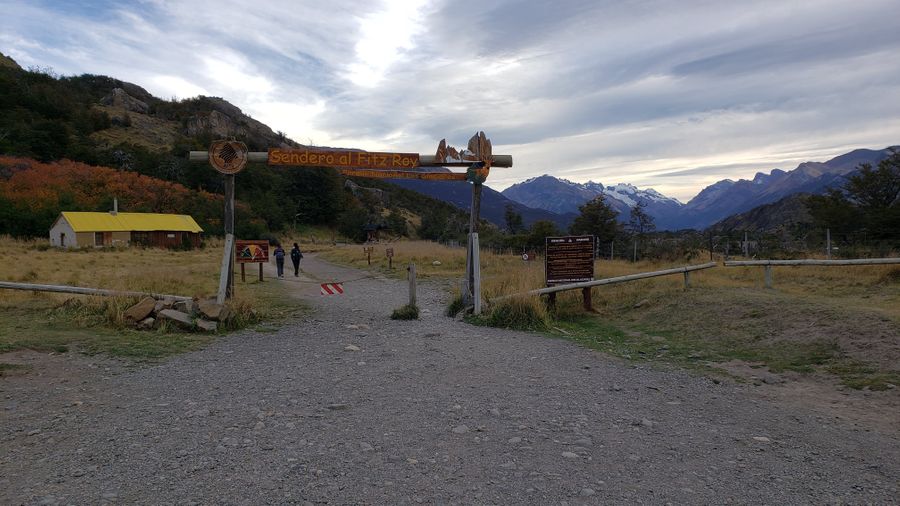 If you don't know Spanish, you will also see this sign below and might assume it's talking about the trail difficulty – it's not. It's talking about the fire danger.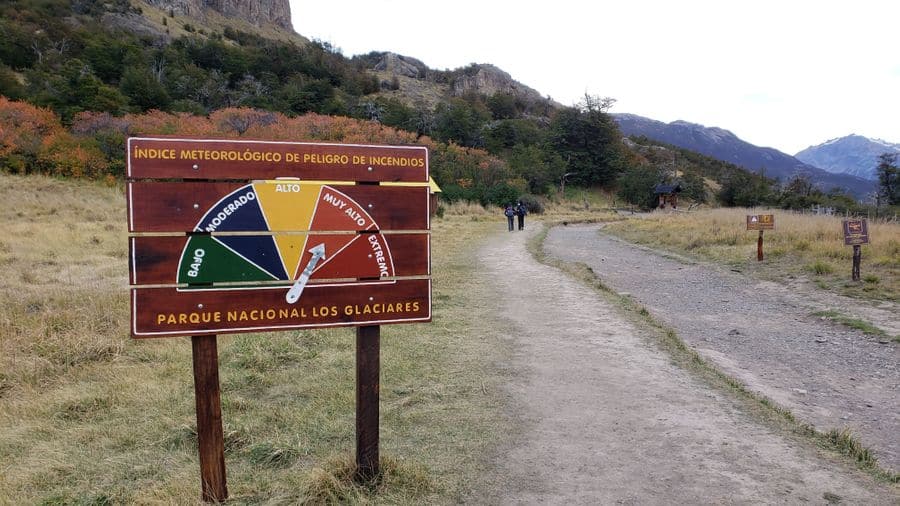 The sign below is where they begin to track the kilometer readings on the path. The Laguna de los Tres hike is clearly marked and you can do it easily without a guide.
Each kilometer is marked so you know your progress as you hike.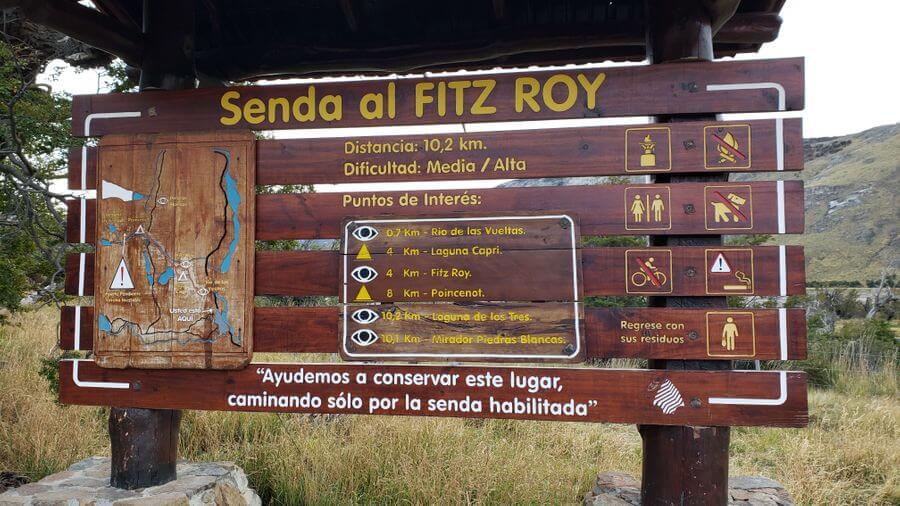 From here, you start your epic journey.
Monte Fitz Roy Hike -Laguna de los Tres
Kilometers 0 – 2
Climb a small mountain – uphill 75-80% of the time
KM 1: The start of this hike will leave you gasping for as the first kilometer is pretty much straight uphill. It's a great first test to make sure you are committed!
As it's shaded by trees with no view, put your camera away until you get the to Mirador (viewpoint) Rio de las Vueltas about 0.7 km from the sign at the beginning.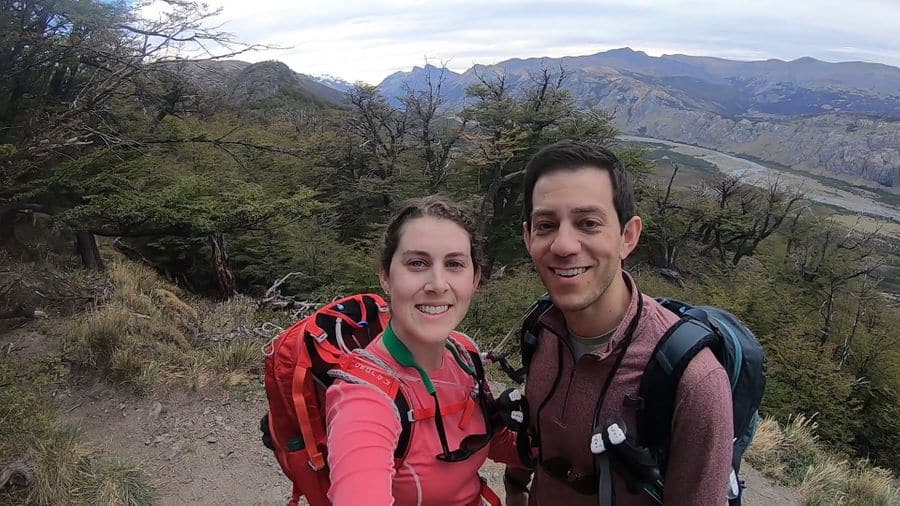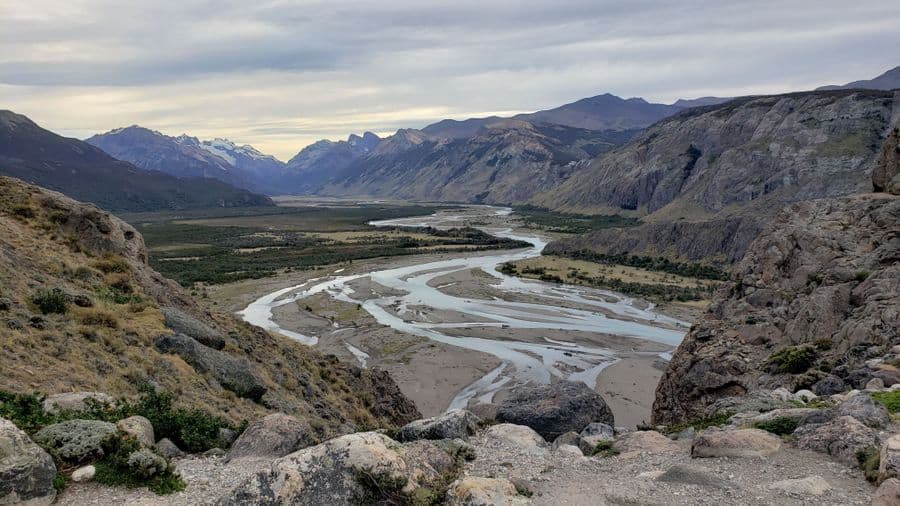 We rested for a few minutes here since our calf muscles were burning and we just started this damn hike (remember, we said we weren't in shape for this hike).
Here, we pulled out the cameras as the next kilometer is a great view of the valley and river below.
KM 2: Go in and out of the forest and will start to level out.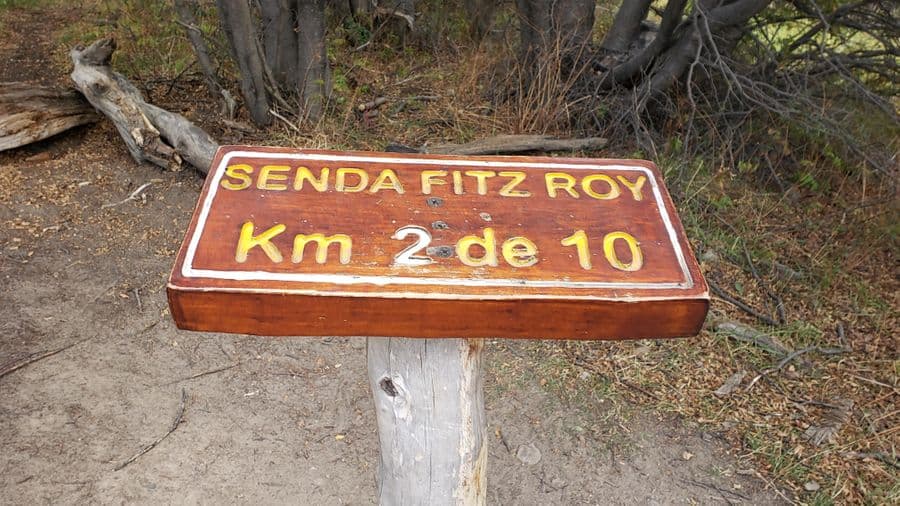 Kilometers 3 – 5
Over the hill and through the woods (Grandma's house doesn't await you)
KM 3: Not even 1 minute after the sign for kilometer 3, the path splits.
As you can see below, the path is a circle, so whatever way you pick on the outbound, choose the other one on the return.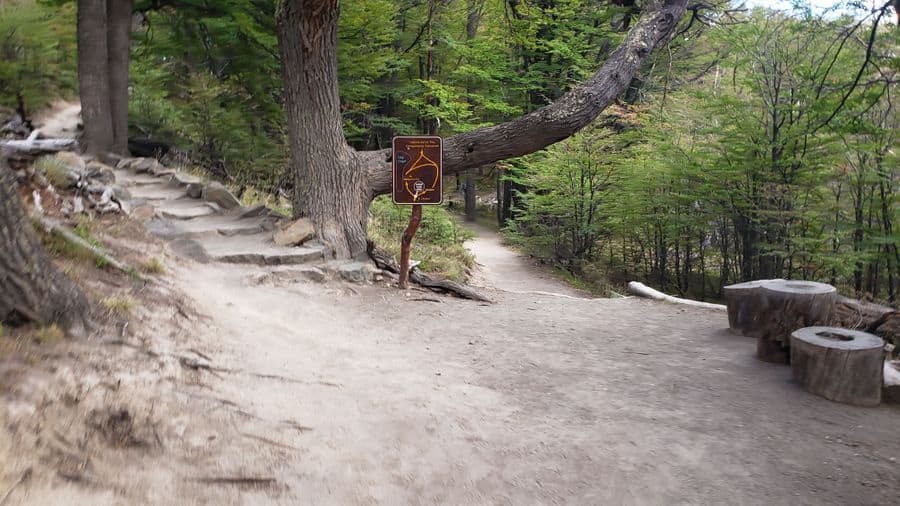 No matter which direction you go, you will be rewarded with a view Mount Fitz Roy.
If you go right, you will end up at the Mirador (pictured below).
It was here at this viewpoint that we got our first true glimpse of why people make this trek!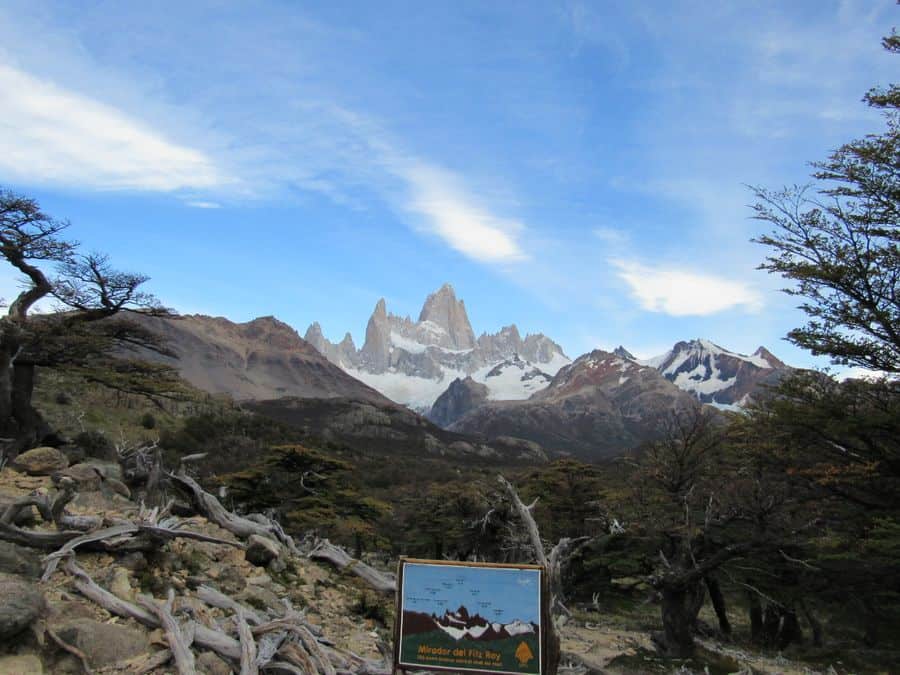 The sign details the stunning scenery and explains the landscape in front of you. If you can make it here at sunrise, I can't imagine just how beautiful it would be.
Also, this is also where we first experienced the full force of the legendary Patagonian winds they talk about. We quickly through another layer on.
If you go left at the fork (pictured above), you will find the first campsite, a toilet and a view of Fitz Roy mountain over Lago Capri. This picture below from the lake was from our walk back.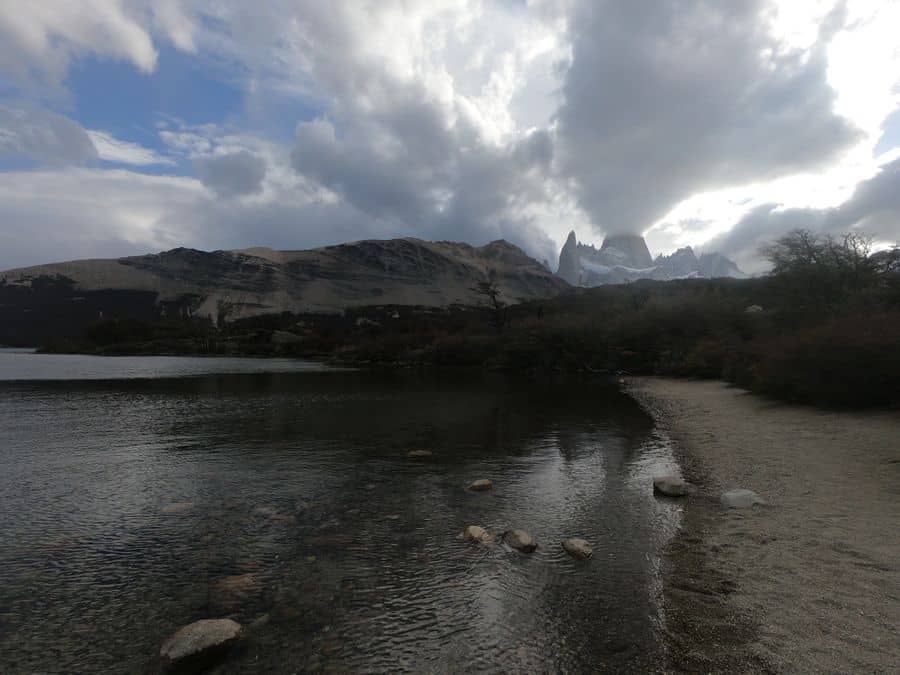 Making your way around the loop, you will walk in and out of trees and brush while continuing to see Fitz Roy mountain.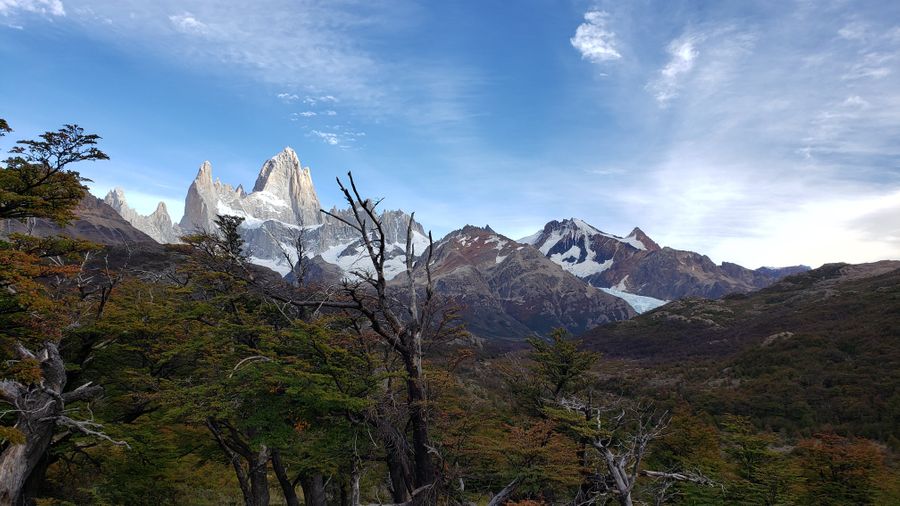 KM 4: Past the 4-kilometer mark, you will come to another fork in the road.
Follow the arrows to Laguna de los Tres and Compamento Poicenot.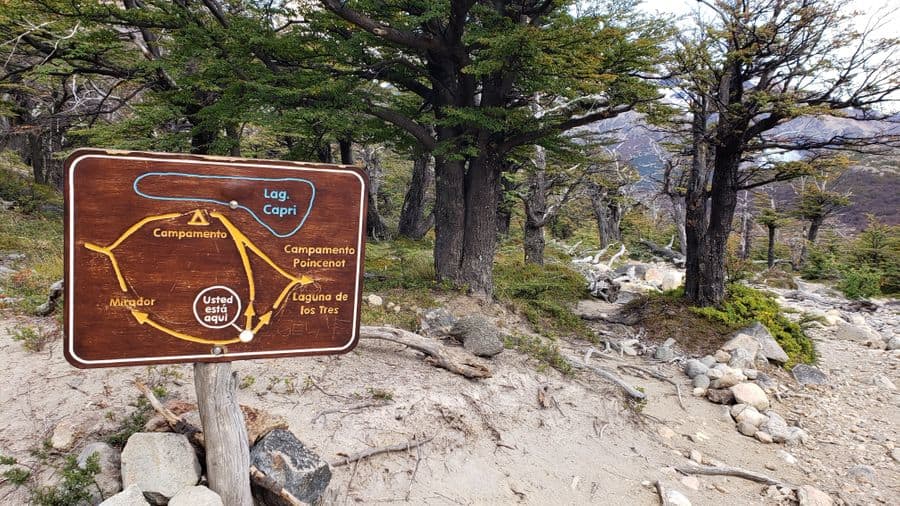 KM 5: This will be in the woods (short, uncovered trees) and relatively flat with rewarding views and will open up towards the end to a flat, open valley.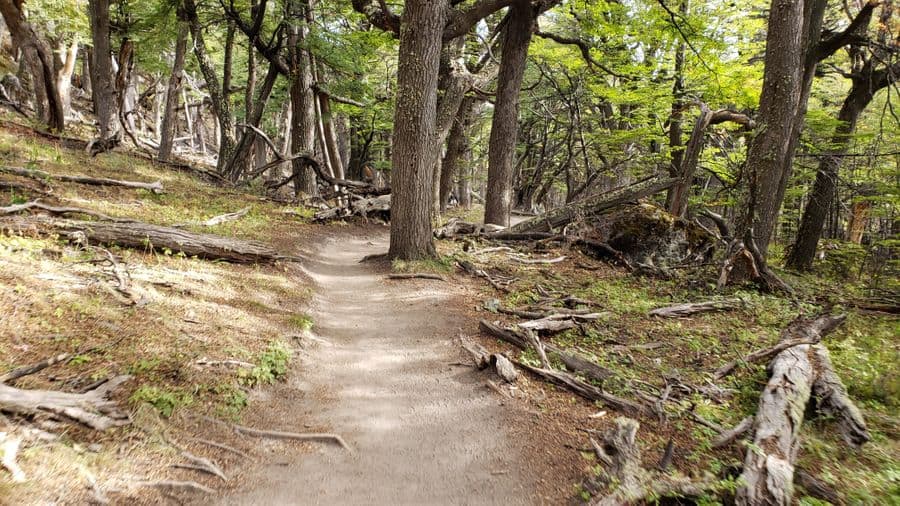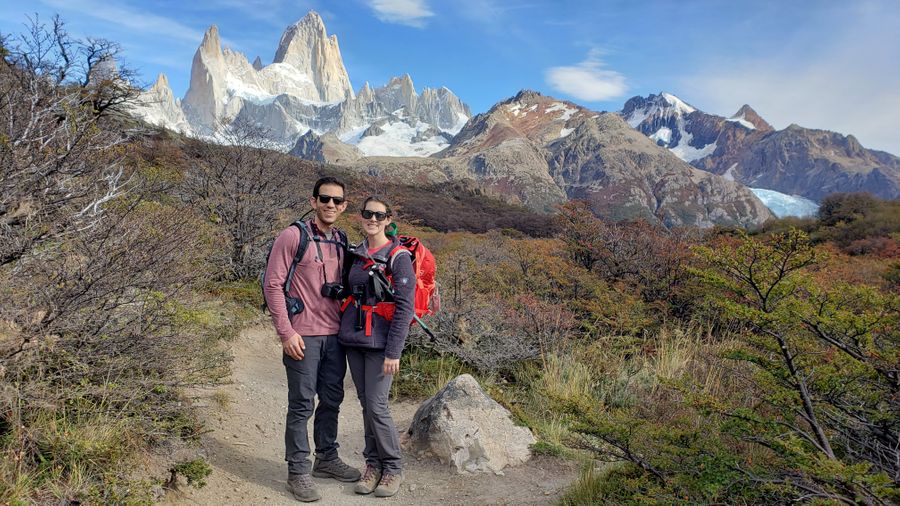 Kilometers 6 – 7
The Calm Before the Storm
KM 6: This will be a welcome change of scenery with an open, flat trail that leads around a small pond with Monte Fitz Roy's peak teasing you as you continue to walk along the path.
If you are running low on water, there will be a stream on the right that you can walk to for a refill.
Water will be easily accessible from this point through kilometer 10.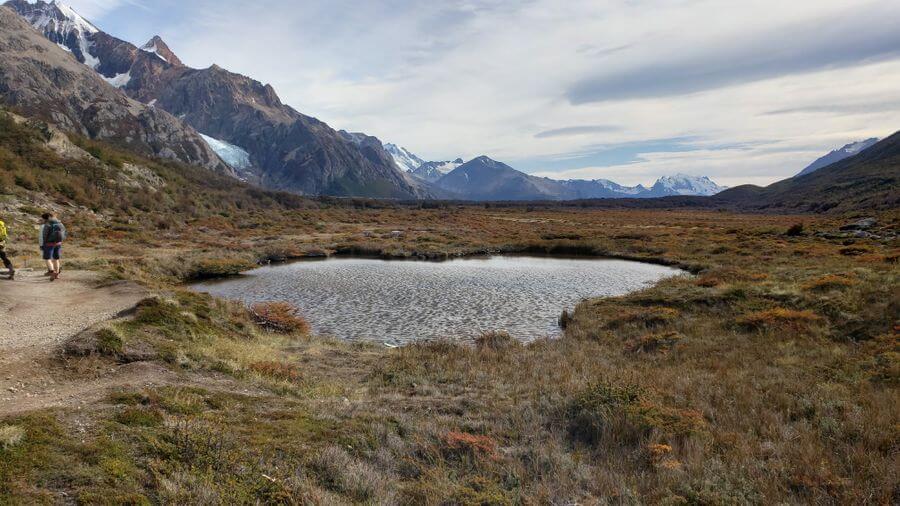 KM 7: This will be mostly open with more river and marsh crossings, and still with gorgeous views.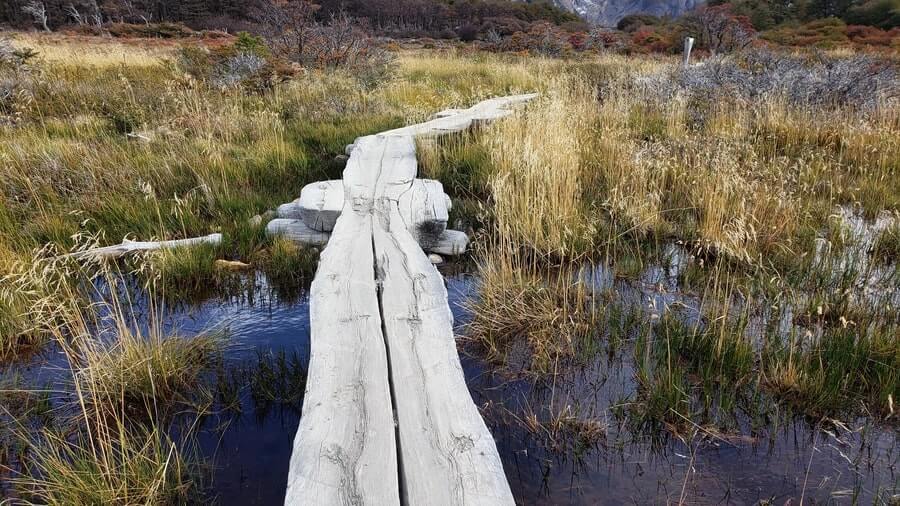 Here, you will also see this fork in the road below. If you were looking to go to Laguna Torre (aka Cerro Torre hike) in the same day (because you're either crazy or a badass), this is where you can pick up the path here on the way back.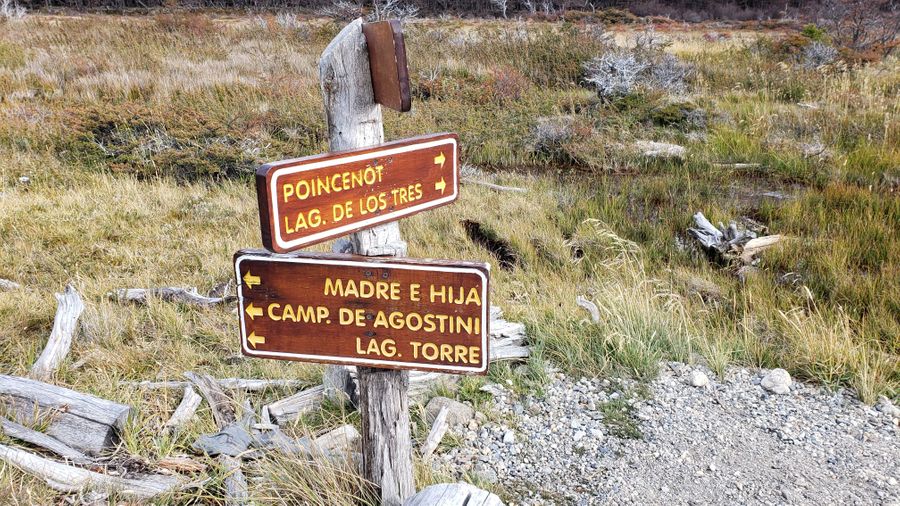 Kilometers 8 – 9
Camping at Campamento Poincenot
KM 8: This is the second of the campsites on the trail and is flat and under large trees.
There will be signs to let you know you've arrived as well as a Puma warning (yes, the big kitty). There is a toilet here as well.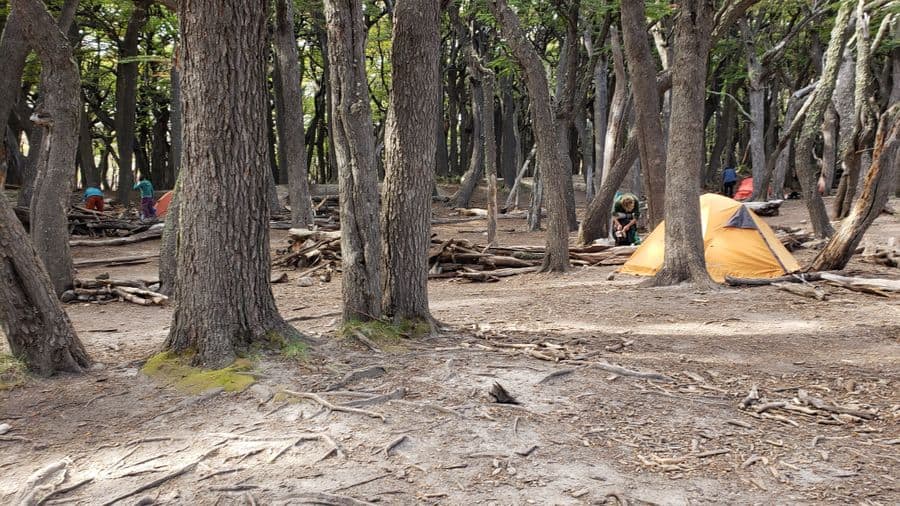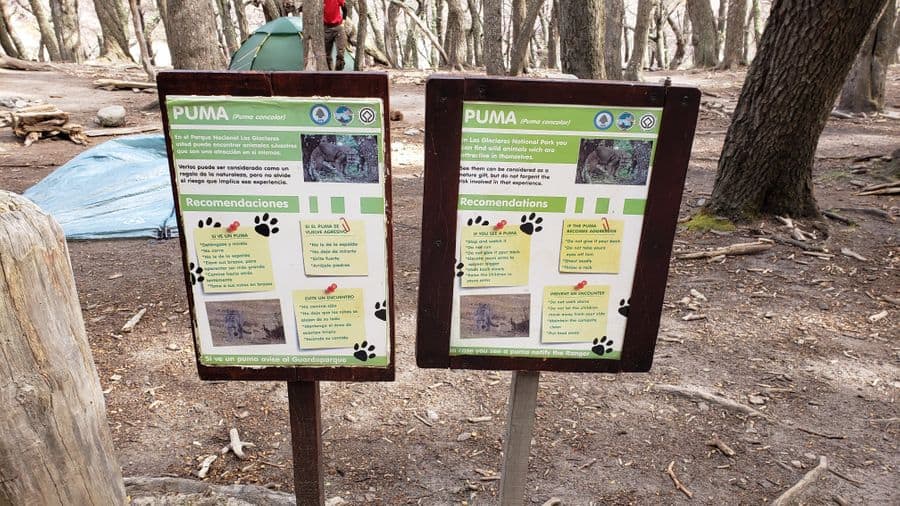 There are several small streams with bridges you will cross as you start to get into more rocky terrain.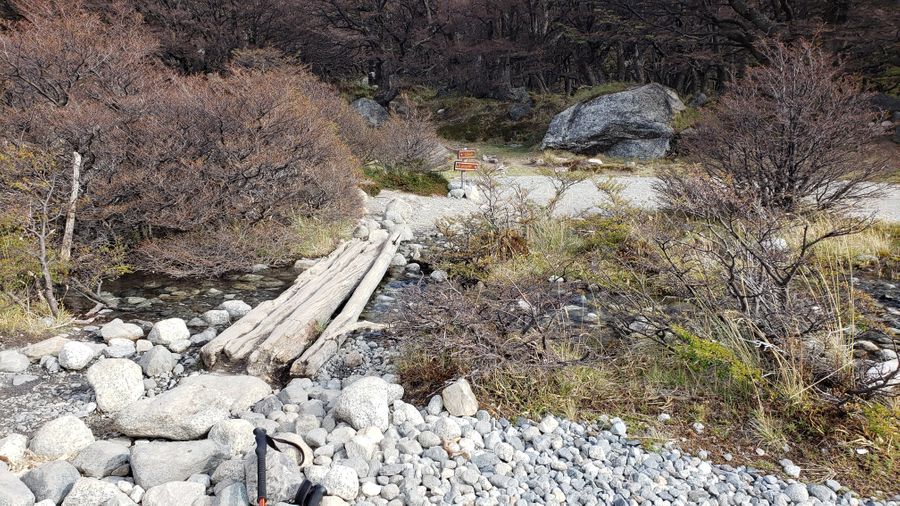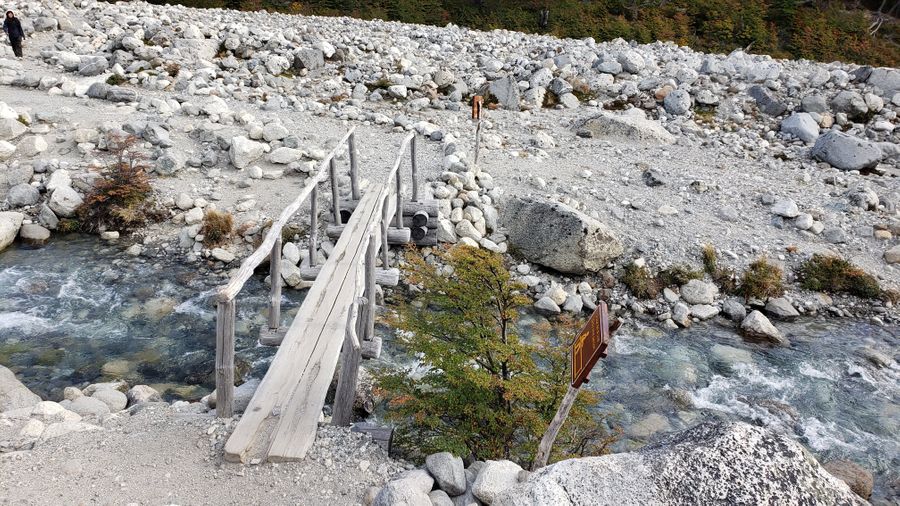 Kilometers 9 – 10
Challenging: (Adjective) meaning difficult to do and involving a lot of effort
You know in a fairy tale when the hero is just about to accomplish something epic, but a dragon shows up, spits fire, releases havoc, and then there is a big fight scene before you can move forward?
This is that point of the story.
The warning sign at the base of this reads, "Good physical condition is required."
They aren't joking.
Get your trekking poles out.
Make sure your laces are tight because you are about to fight a dragon.
This isn't shaded either, so put on your hat and sunglasses and reapply sunscreen now.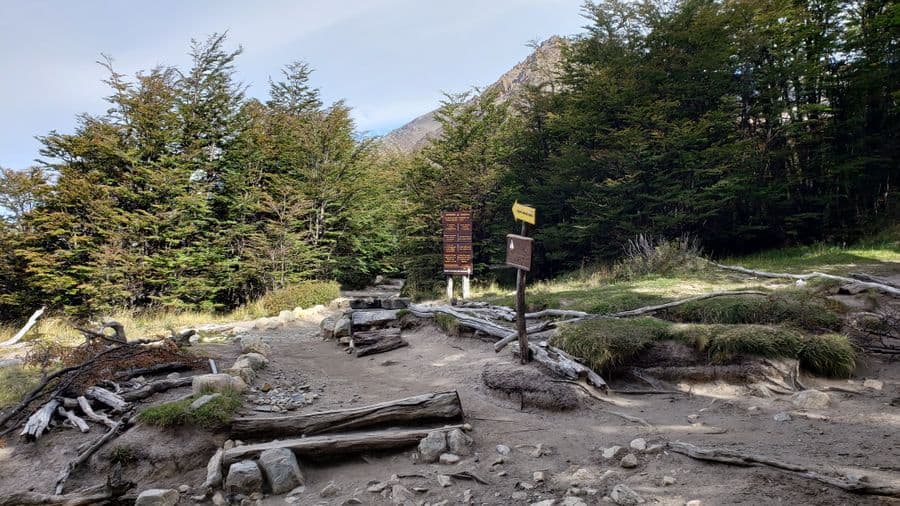 The very last part of this hike gains elevation at 400 meters per kilometer – in layman's terms – this is steep.
It takes roughly 1 hour to get up if you don't stop.
It took us around 1 hour and 15 minutes.
Roughly a 45-degree angle up, you are ascending a mountain. You will feel the burn with every step and to make matters worse, the majority of this is very rocky with loose gravel.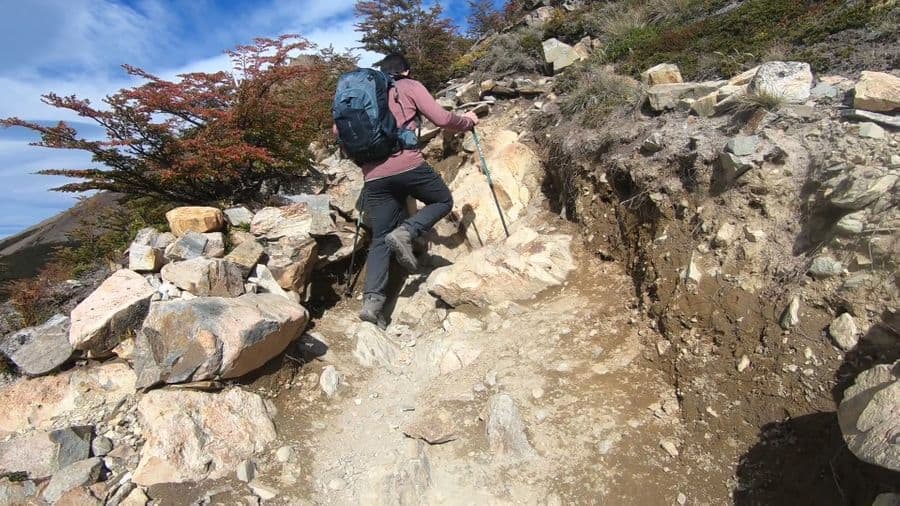 Feeling hopeless on this part of the hike, you make it to what you think is the top. Because the universe wants to test your sanity, the path flattens out, and you think you've made it.
Then you look forward and what lies ahead can only be described as a hill that continues to ascend on an open, steep, and pebbly path.
You climb the slippery, windy path to the top, with the sun beating down on you, and then finally…..
You made it!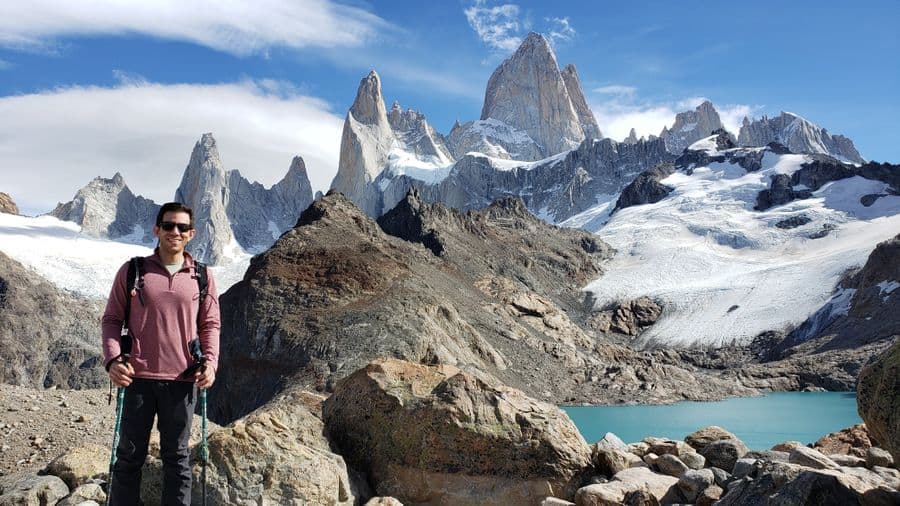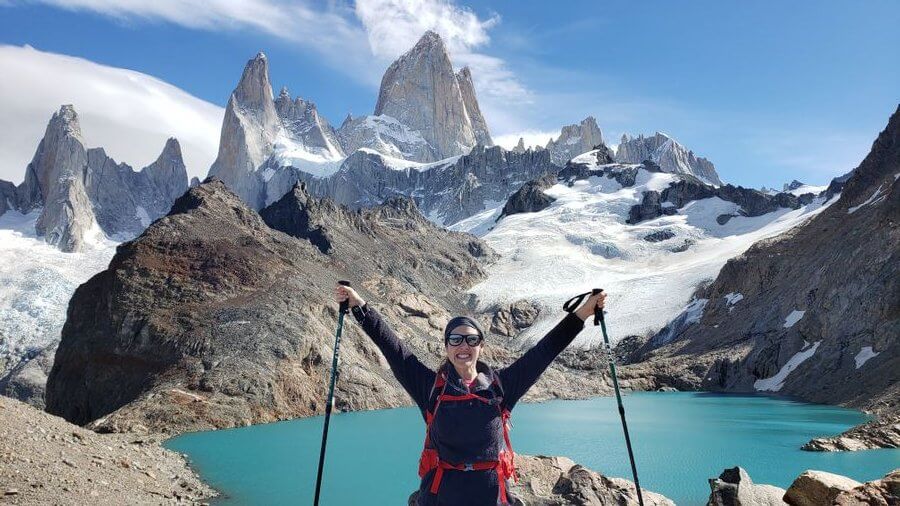 The only sound you can hear against the wind is your heart pounding in your ears. Your legs feel as though they might give out and your lungs literally might explode out of your chest.
Take a rest on the rocks near the top, eat your lunch, and enjoy the view of the incredible Monte Fitz Roy. And bask in the glory of accomplishing a pretty challenging ascent.
We ventured down the hill to the Laguna de los Tres lake where we refilled a water bottle, took several photos, and shared a beer. Yes, a beer. A Patagonia beer, of course!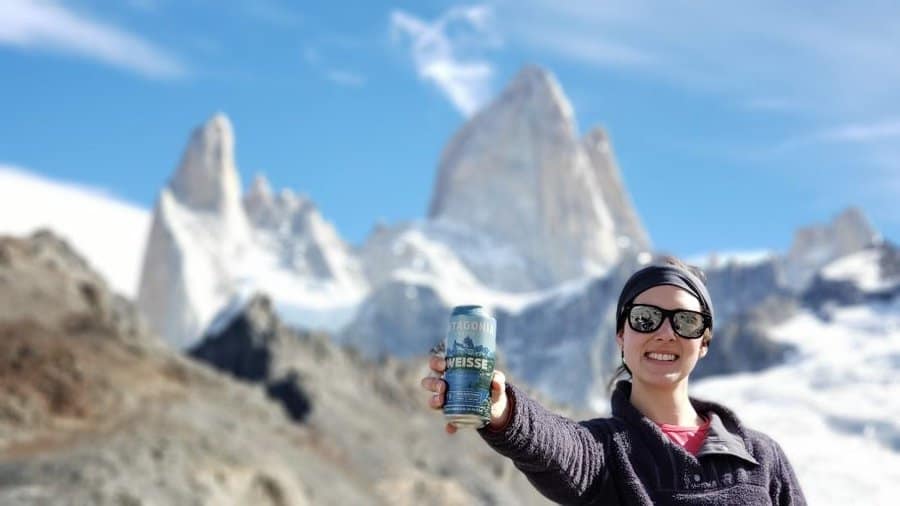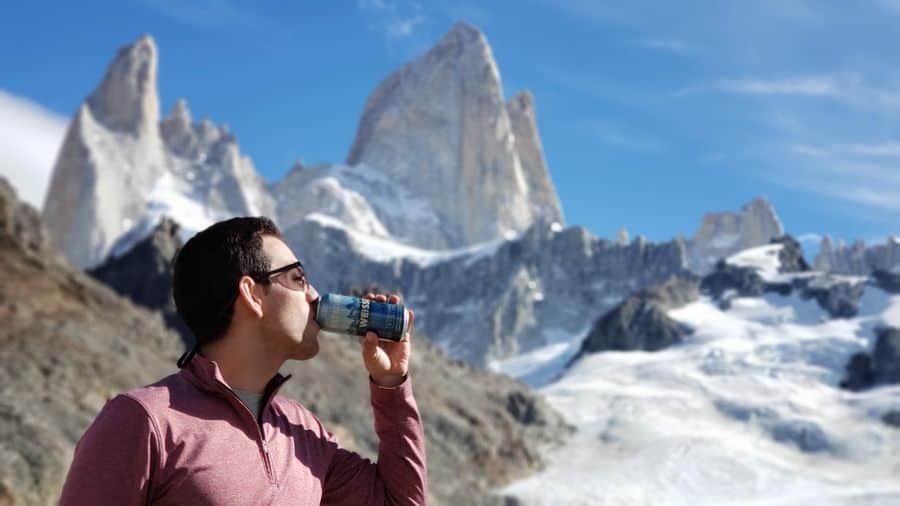 From here, there is another 2 kilometer hike that takes you to different vantage points, but we were too tired (and honestly, out of shape) to even fathom that hike.
We also reached the summit at 1:20PM, having started later than planned. We started at 9:03AM so it took us roughly 4.5 hours to reach the end.
We sat for about 20 minutes relaxing, stretching, and eating lunch and then another 20 minutes by the lake.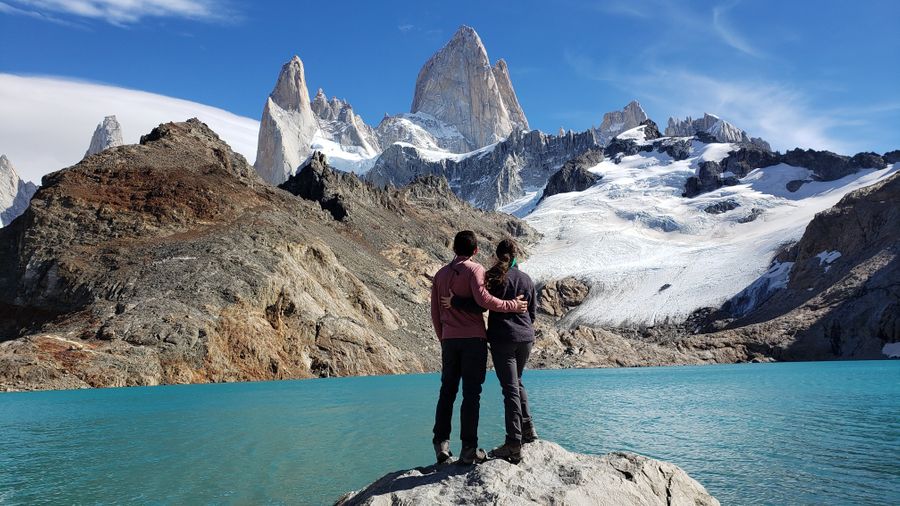 If you only have time for 1 hike near El Chaltén, you need to do this one. Was the last part brutal? Absolutely — but 1000% worth it!
To see a virtual tour of the hike, which is the coolest thing I've seen, click here. Click on "Virtual Tour" and press "Start Virtual Tour".
You can see what the entire path looks like from a bird's eye view!
Things we wish we knew
The first lookout point is only an hour into the hike. If you can time it for sunrise, do it.
Shame on us for not doing enough research as I'm sure this is somewhere on the web, but we didn't know and would have altered our time accordingly.
The "toilets" on the trail are 4 walls with a massive hole in the floor. Thinking about the smell still makes us gag. (Side note: Who's job is this to maintain the hole and how is it cleaned?
Are you telling me you carry crap (literally) for kilometers out of the park?!)
Ladies, as previously mentioned in the What to Pack post, Samantha purchased a Female Urinary Director and she's beyond grateful she did. This saved her from having to squat over this hole.
It's awkward, yes, but she couldn't have imagined peeing without it on this hike.
Monte Fitz Roy is without a doubt the longest (and most challenging) hike we've ever done.
Well, we've only ever done a handful together at this point in our lives with this being one of them.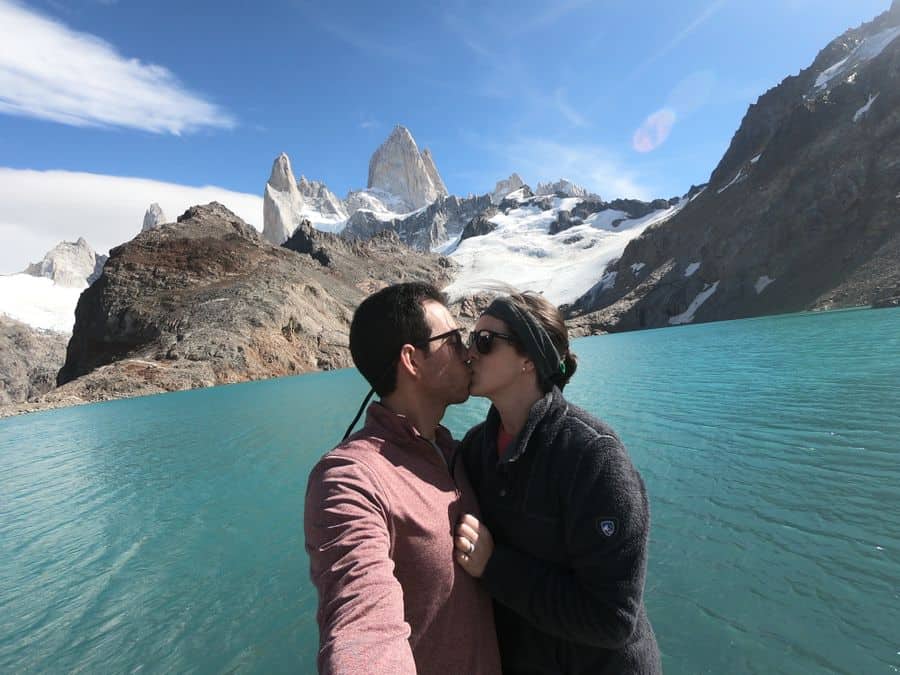 The hike to the top was spectacular as the peak of Fitz Roy mountain was seen the majority of the hike.
We were told by fellow hikers who had done Torres del Paine that you aren't able to see the peaks until the very end of that hike so we were constantly amazed at the beauty of the landscape the entire time.
Hiking in Patagonia isn't necessarily a bucket list item for everyone. The physical requirements alone rule out a large portion of the world's population as you must push your body to the max.
If we are being honest, we can't believe we did it. There were several times Samantha muttered, "leave me here" as she was gasping to breathe.
Granted, we aren't in the best shape of our lives either.
You can't have a booze blog, drink beer all the time, and expect this to be easy!
We didn't stop with this hike either. We hiked Cerro Torre the next day too, which in comparison to Monte Fitz Roy / Laguna de los Tres, easy-peasy.
Psst! Looking for more Argentina guides? We have a bunch. Browse the 10 day Argentina guide here or check out the most popular post below: