How to spend the best 2 days in Ushuaia, Argentina
Looking for a guide on how to spend the best 2 days in Ushuaia? There is so much to explore and do and we've helped create an easy to follow itinerary.
Ushuaia is commonly referred to as "The City at the End of the World," but don't let that fool you into thinking there aren't plenty of things to do in Ushuaia.  This isn't some remote city, even if it is isolated geographically. 
A bustling tourist hub, things to do in Ushuaia are plentiful and diverse, including cruises to Antarctica as well as some others which we will mention below.
You see, once I saw the words "penguin tour" used in a sentence talking about things to do in Ushuaia, there was no turning back!
Short on Time? Here are the key takeaways:
There is plenty to do in and around Ushuaia for 2 days, especially if you do an excursion.
The town itself is very walkable and taxis are easy to find
In our opinion, do NOT miss a Beagle Channel Cruise or Penguin Tour
We crammed a lot into 2 days (we know)… this can easily be spread out to build in more time to relax
**Boozing Abroad contains affiliate links throughout the site. If you choose to purchase items through these links, we will earn a small commission at NO extra cost to you. Read the full disclosure policy here**
Getting to Ushuaia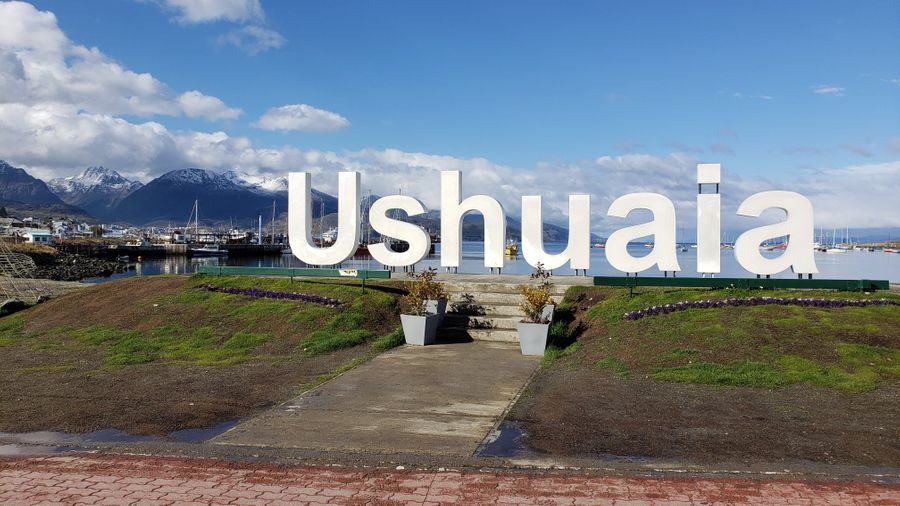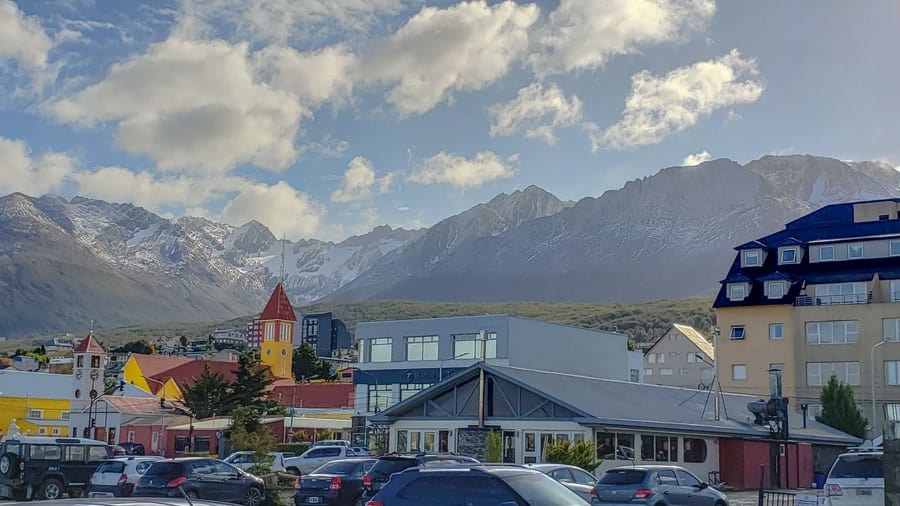 Ushuaia does have an "international" airport, the world's southernmost international airport for that matter. From the United States, we flew into Buenos Aires and caught a connecting flight to Ushuaia.
This isn't your typical international airport though as it is very small, but does regularly service flights to and from El Calafate, Buenos Aires, and Santiago, Chile.
There was really no "Customs" to speak of here other than putting our bags through a scanner, which didn't really seem to be manned by anyone.  Bags in hand, we headed out to see the city!  
Airport to town 
The airport is about 10 minutes to get to downtown (about 6 kilometers / 3.7 miles). While it's proximity to town would lead you to believe there might be a public transportation option, there isn't one.
You have just a few options:
Taxi
Hotel Shuttle
Rent a car
There were plenty of taxis (remis) right outside of baggage claim to take you into the city if you don't have an arranged ride.  The cost is around ARS $300 ($5-6 USD).
If you don't want to hassle of trying to find out a taxi, you can arrange a pickup through Viator here. It's only $5 USD per person.
Most big hotels will have airport shuttles to get you to your booked lodging. Check their website or call them to check.
While you can absolutely rent a car, the city is easy to navigate on foot. If you are looking to save some cash, we suggest skipping this for your 3 days in Ushuaia.
We also got very lucky as our extremely gracious Airbnb host, Maria, actually picked us up at the airport and drove us to our condo. If you look for an Airbnb, maybe ask them what they'd recommend and might offer to pick you up too!
Where to Stay 
Booking.com probably has the widest selection of budget (and luxury) accommodations in the world. In our experience, they consistently have the cheapest rooms.
We also like their easy-to-use interface and no money down policy. When we book our travel stays, we personally use booking.com.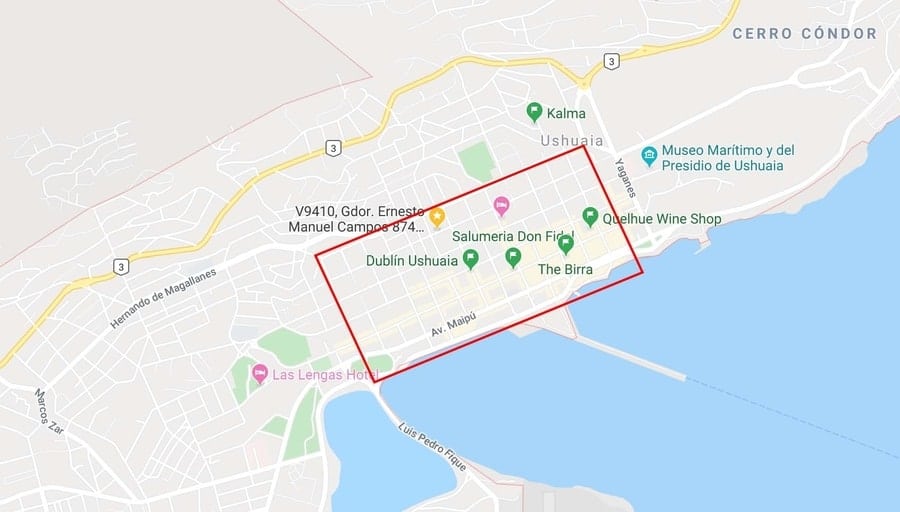 Ushuaia isn't that big of a town (probably 15-20 minute walk from one end to the other) so you really can't go wrong with where you stay, so long as it is near the two main roads we mentioned above and somewhat close to the harbor/pier.  Being centrally located when visited for 2 days in Ushuaia will make it easier to get to all the activities!
With it being such a tourist town, accommodations are everywhere, including hotels, hostels, and numerous Airbnbs.
To be centrally located around all of the things to do in Ushuaia, we suggest staying in the area in red above – which is super walkable. There are several resorts outside of the heart of downtown, but we opted to stay closer to save money and not need a car.
When we go back, we'll be staying at one of these three locations based off their location and amenities:
1. Lennox Hotel
>>>Check Prices or Book your stay at Lennox Hotel
Lennox Hotel is a bit upscale on one of the main streets downtown. The hotel's rooms are elegant and well-equipped, with minibars, cable TV and free Wi-Fi. Parking and breakfast are free as well and they have an onsite restaurant.
2. Hotel Albatros
>>>Check Prices or Book your stay at Hotel Albatros
Hotel Albatros is a bit more casual and super close to the port. They offer stylist rooms with free Wi-Fi, a restaurant and a spa with a massage room and sauna.
3. Hotel Mustapic
>>>Check Prices or Book your stay at Hotel Mustapic
Hotel Mustapic is a budget friendly option that offers a simple, yet cozy stay. While the rooms are basic, they are comfortable and clean. Breakfast is free as well with an unbeatable view.
AirBnB
The yellow star on the map above is where we stayed here, with the aforementioned host (nicest host ever).  Disclaimer: this is just three blocks up from the main road although up a pretty steep hill!
However, being up a steep hill meant we had a fantastic view of the bay from the living room/kitchen window!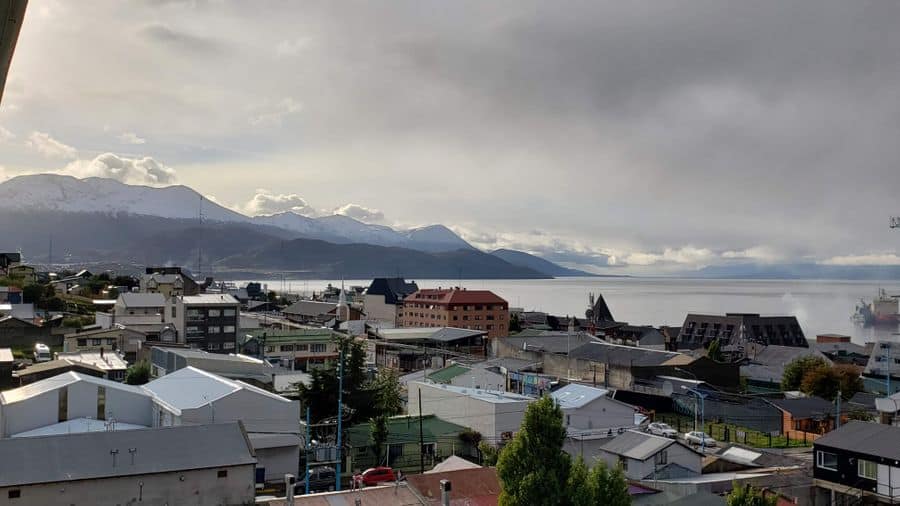 Getting Around Ushuaia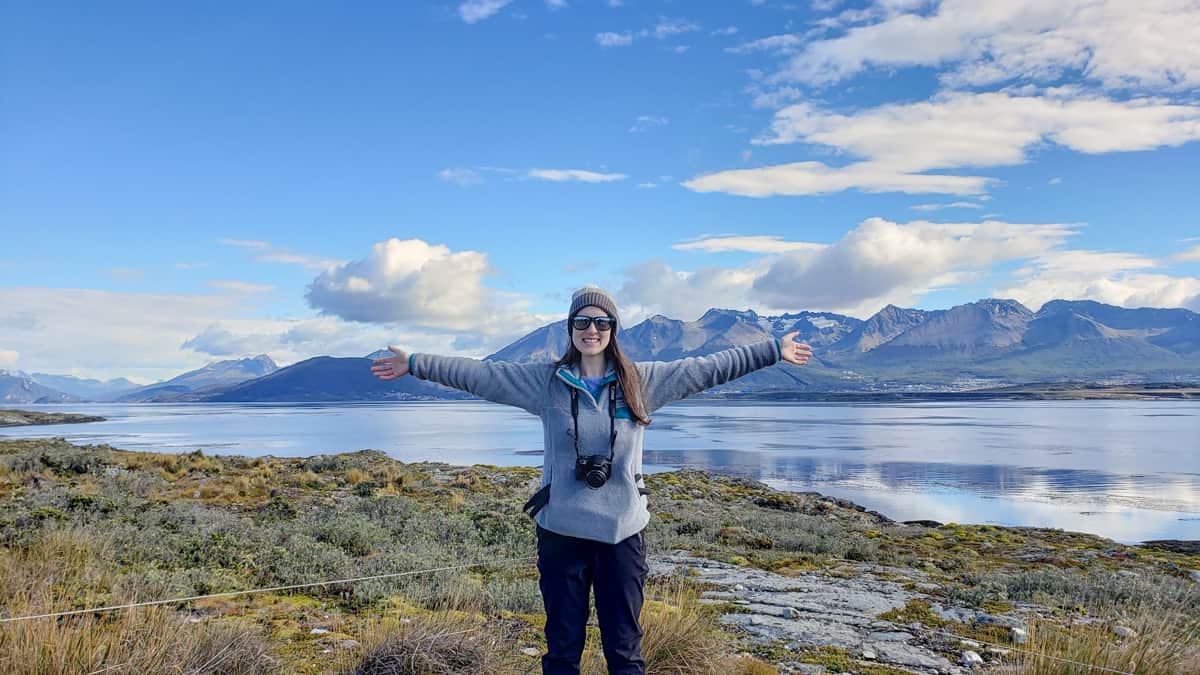 As we said, Ushuaia isn't that big, so getting around can be as easy as using your two little feet. However, to get to and from the airport and/or Tierra del Fuego National Park, you'll need to arrange some sort of transportation.
You can NOT flag down a taxi but hailing a taxi is rather easy (other than the language barrier) as there were several taxi stands throughout the city where the drivers would congregate waiting for passengers.
The most convenient taxi stand was located right near the tourist pier, the hub for things to do in Ushuaia.
Fun Fact: How Ushuaia Got Its Name 
Naturally, Ushuaia got its name from the language of the group of people indigenous to the area, The Yaghan (also known as Yámana).   The word Ushuaia comes from the Yaghan language and means "deep bay" or "bay to background", which makes sense given the surroundings of the city.   Well done, Yaghan! Well done.
One Day in Ushuaia
Whether you only have one day or are spending 2 days in Ushuaia, these are definitely the things you can't miss. As we stated in the intro, we crammed A LOT into 2 days, but you can move around these activities if you are able to visit for longer.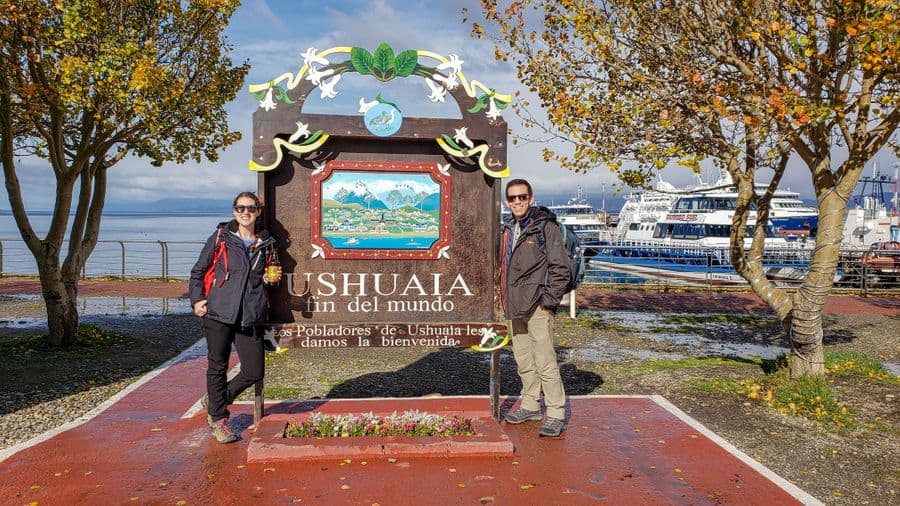 Assuming you have 2 full days, take advantage of your free breakfast in your hotel or pop into a bakery to grab some quick if you are staying in an Airbnb!
Of all the tours we did, we highly suggest doing the Beagle Channel Cruise to kick off your Ushuaia adventures.
Beagle Channel Cruise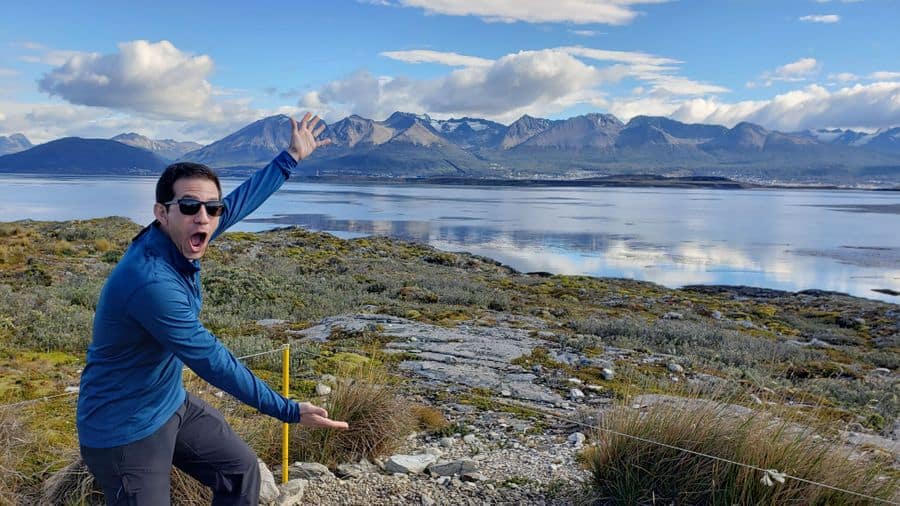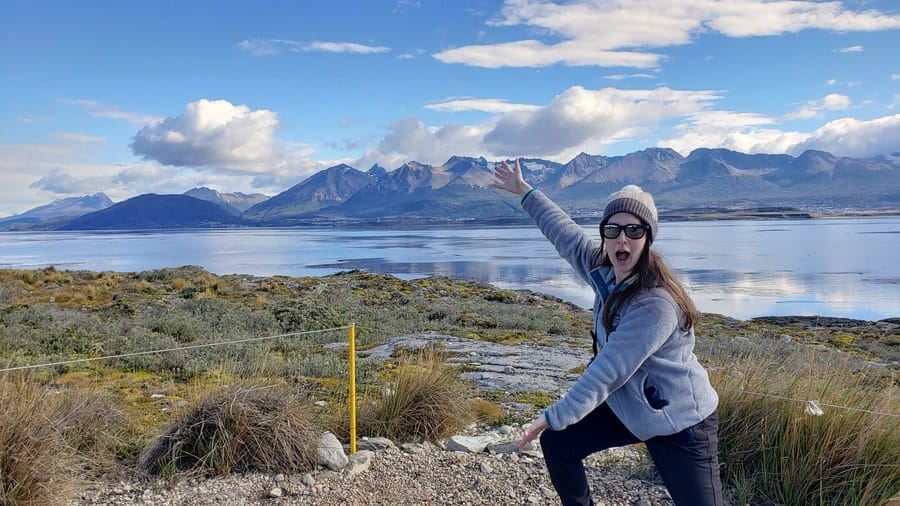 Tour: about 2.5-3 hours
Prices:

Catamaran: Adults start at $70 USD
Yacht: Adults start around $60 USD

NOT included: Port fee (expect to pay an addition $2-$4 USD)
If you have a good weather day, we highly suggest hopping on a boat to see the area from the water.
We sailed on the Beagle Channel via Catamaran where we got to see the beautiful city of Ushuaia situated at the foothills of the Andes.
In addition to the gorgeous surroundings, we saw all sorts of wildlife, including thousands of Magellanic Cormorants (black and white seabirds), hundreds of sea lions, and even a few humpback whale sightings!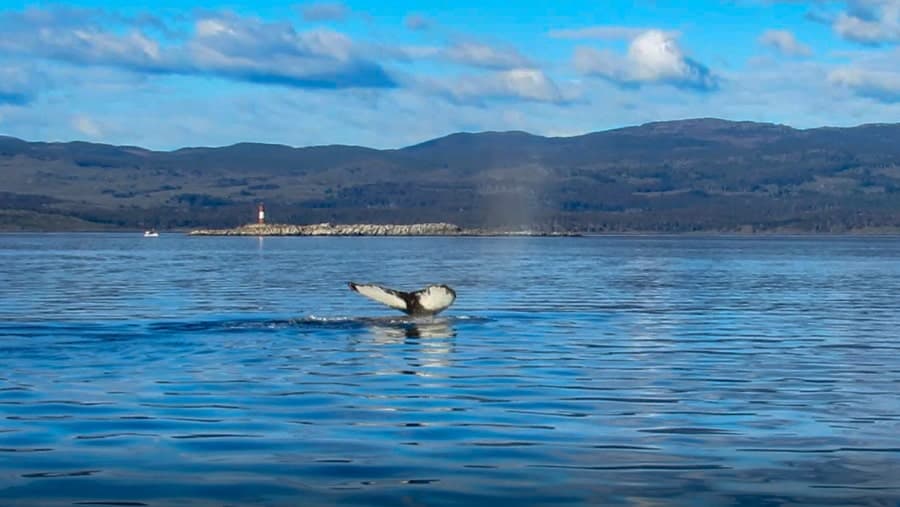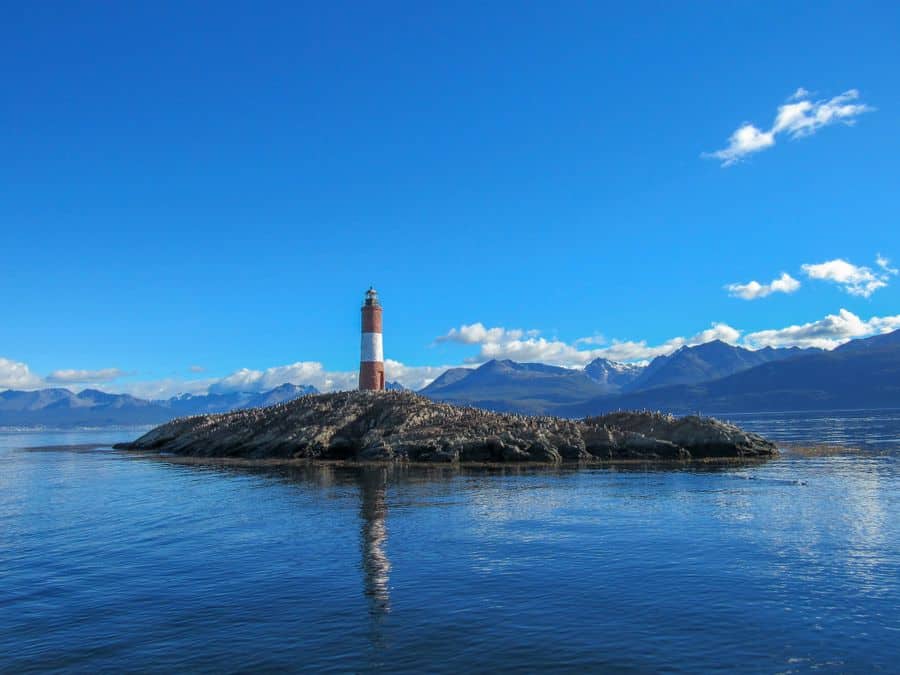 We sailed by the Les Eclaireurs lighthouse, an iconic lighthouse about 5 nautical miles east of Ushuaia and still operating today! We actually got to get off the boat for a bit at this island and walk up to its highest point to take in our surroundings.  That's where we snapped these pretty awe-inspiring photos (see above)!
The tour we did started at 9:30AM and lasted about 3 hours, so it was the perfect morning activity to mark off our list of things to do in Ushuaia before the city really got going!
Check out these popular Beagle Channel tour options:
Catamaran Tour through the Beagle Channel – This is the one we did and HIGHLY recommend it! It's a little bit pricier, but the big boat gave us lots of views.
Navigation in the Beagle Channel – This is a slightly more affordable option on a smaller boat. Same experience we had per their description.
Beagle Channel Sailing Tour with Penguins – If you only have one day and want to combine the Beagle Channel cruise with penguins, this would be your best option. Please make sure you read the details as you do NOT get to walk on the island with the penguins like we did on Day 2.
See all Beagle Channel tours here on Viator.
Lunch on Day 1
Mercado del Jardin
Along Avenida San Martín, and right down the road from the Hard Rock Café, Mercado del Jardin offers a wide variety of food and beverage options in a very relaxed environment.  
The wide variety includes a bakery, a coffee shop, a diner, a candy shop, a pizza place, a creperie, a salumeria, a sushi truck, and a burgers & beers joint. We'll give you one guess which one we chose!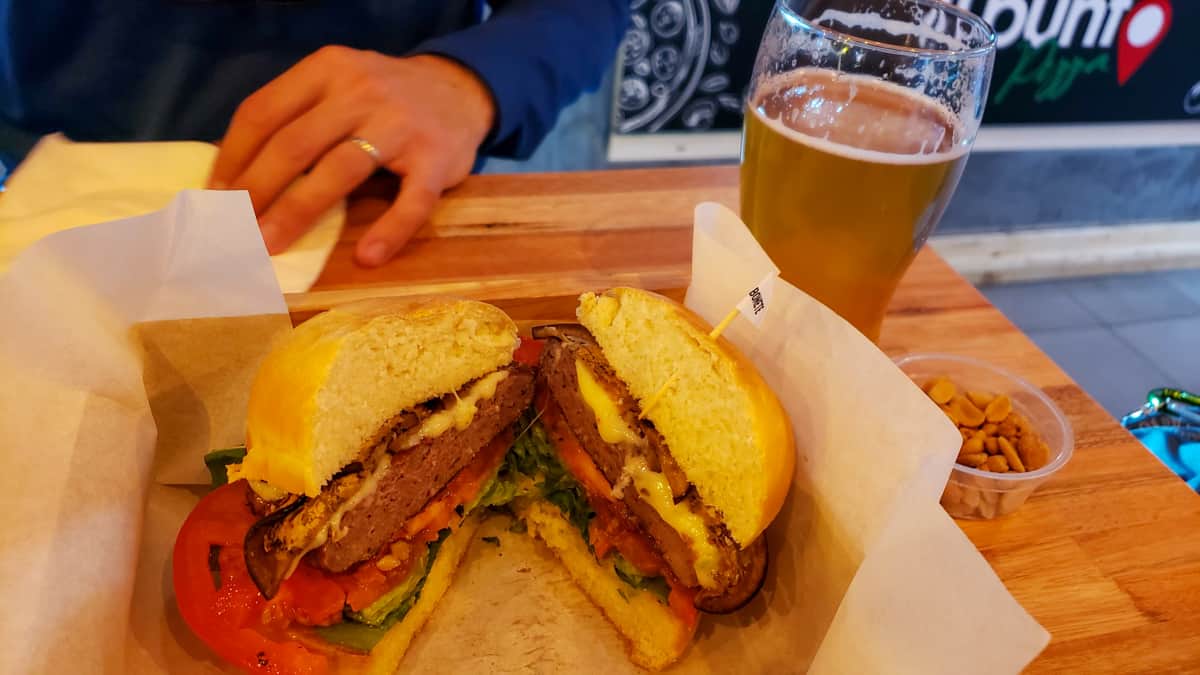 Clearly, Pepo's Burger – Beer didn't try to get cute with its name. What you see is what you get!
They had many different styles of burgers and various toppings for each too, and they were actually pretty good!
The six beers on tap were from a couple of different breweries local to Argentina, so naturally, we imbibed a couple of pints to wash down our burgers and fries!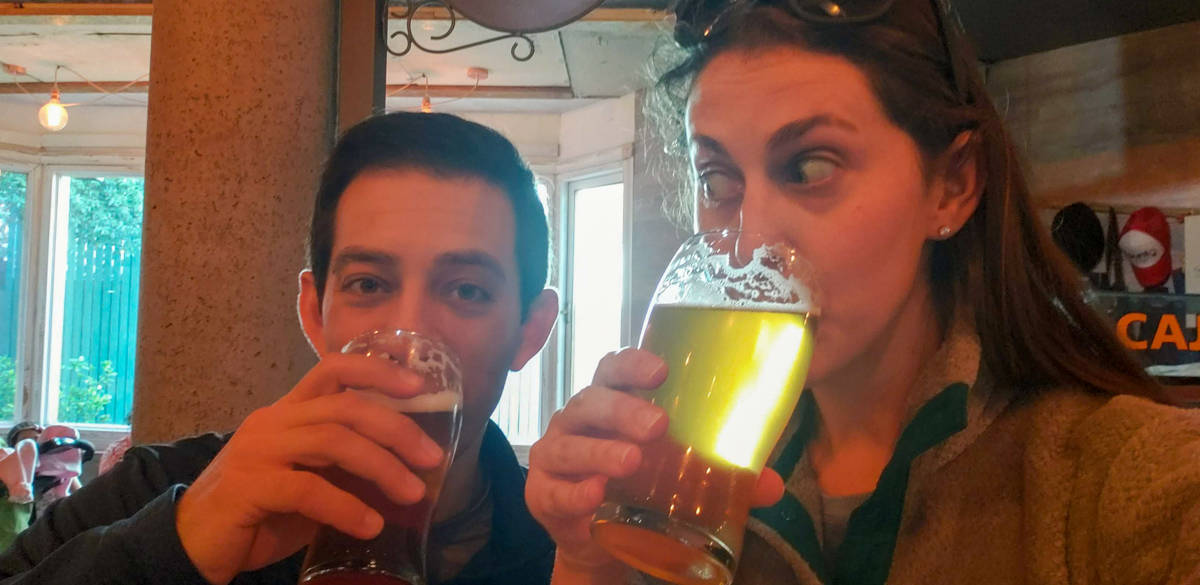 There were even some non-food shops in the market, including a technology store, an art/paintings shop, and a library.
If you're in need of respite from the elements outside, or just need to kill some time, this mercado is a great option to do just that! There were a lot of options here for food. Had we stayed longer than 2 days in Ushuaia, we would definitely have been back to try some other spots
Piratour – Walk with Penguins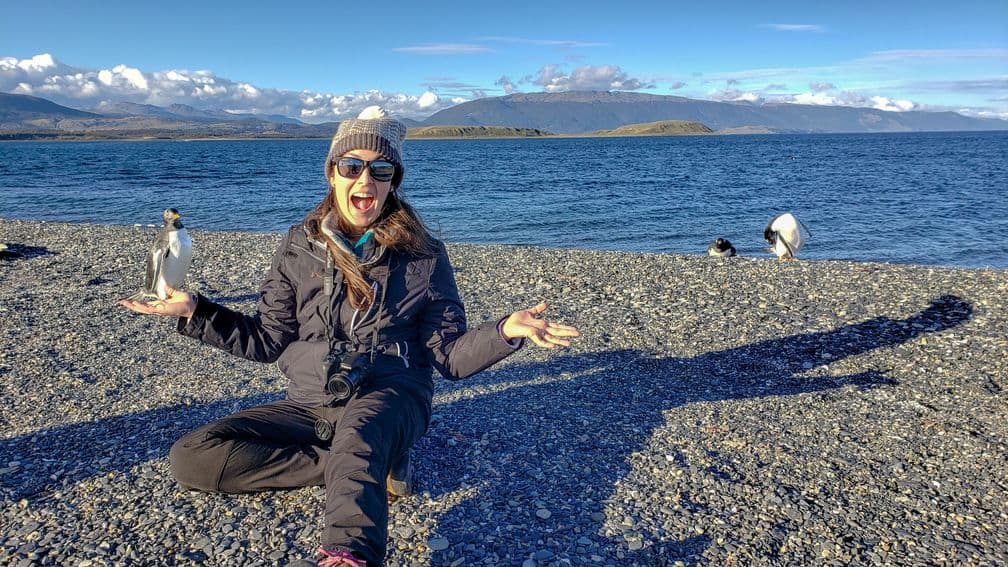 Tour: Departs at 2:30pm from our Tourist Pier office
Price:

Adults: $400 USD adults + $16 USD entrance fee to Harberton ranch
We also booked the Walk with Penguins tour, which started at 2:30PM and lasted until about 9PM.  
On the tour, and before we even got to the penguins, we rode along the iconic Route 3, which is the only way Ushuaia is connected to the rest of civilization (by land, at least), and toured the Acatashún Museum which had loads of skeletons of marine animals that we had seen during our earlier Beagle Channel excursion.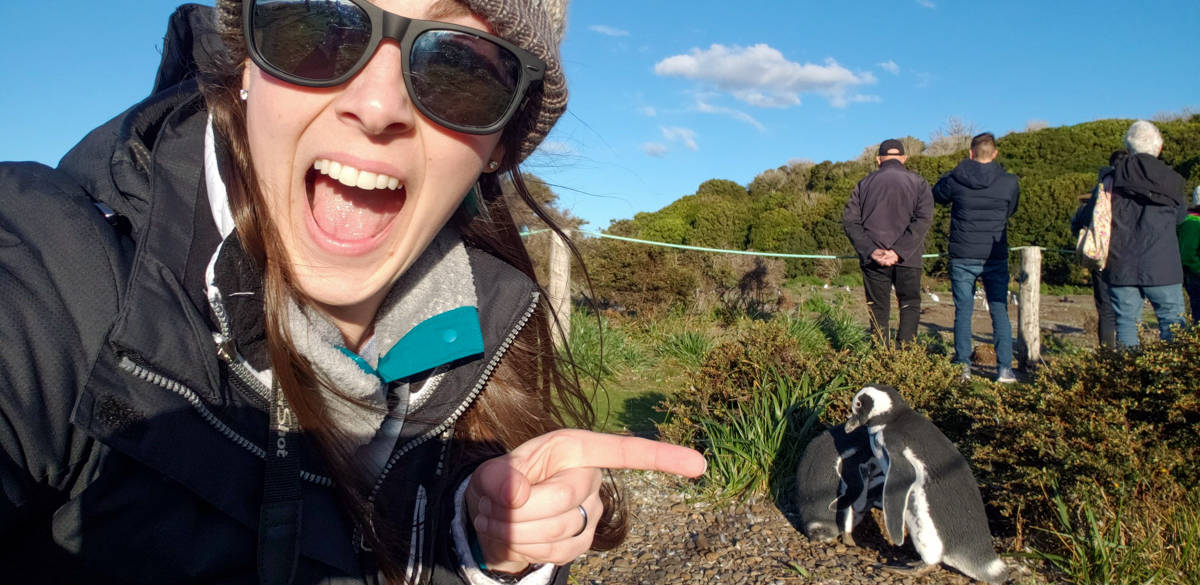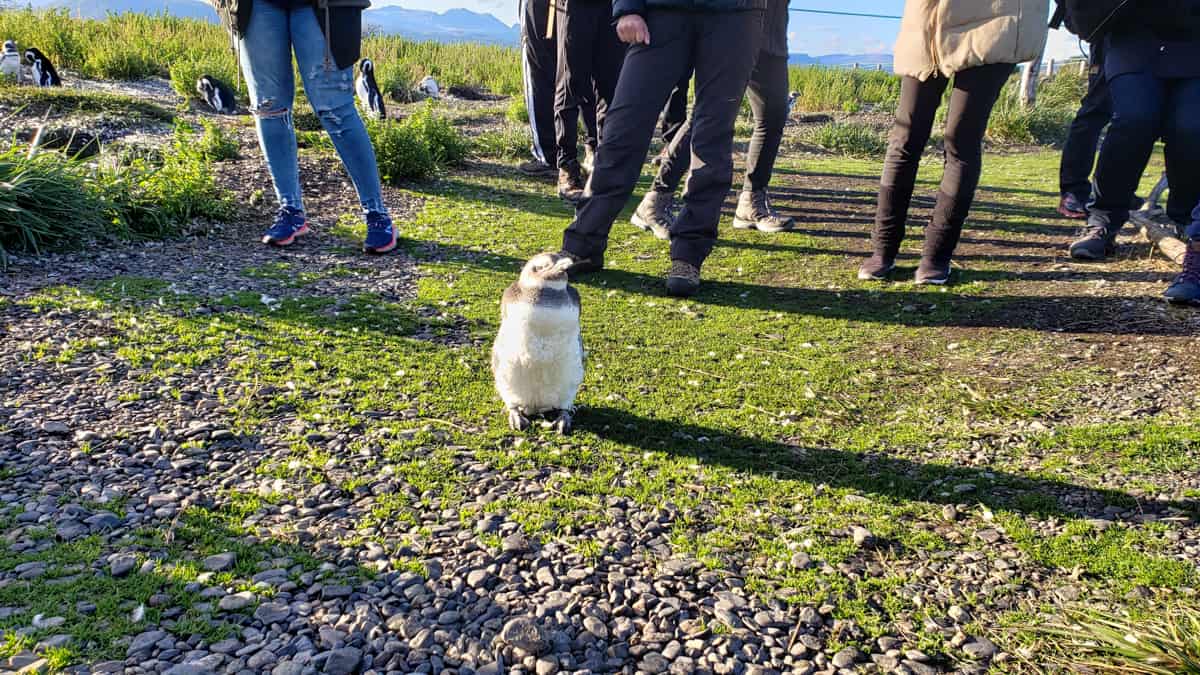 PiraTour is the only tour that allows you to walk with the penguins on Martillo Island. An absolute must-do and probably our favorite of things to do in Ushuaia!
As such, it's not a cheap option but well worth it. If you book directly through PiraTour, it's $200 per person.
You can also book this tour through Viator which gives you free cancellation up to 24 hours before. While this option is a bit more, if you need the flexibility of cancelling for any reason, you might want to book through them instead: Check out current prices or book here on Viator.
Dinner on Day 1 in Ushuaia
Quinquela
Quinquela has a diverse menu but also has pizza, which is an easy option after a long day.
We found one of my freaking favorites, a white pizza with spinach, and took it home to eat in the comfort of our living room in the airbnb while overlooking the city.  
They are open from 9AM to 2AM everyday, so you're sure to be able to satisfy your cravings at almost any time of day! Pretty cool shipping-container-as-its-walls vibe inside the restaurant too!
Day 2 in Ushuaia
Tante Sara Café & Bar Ushuaia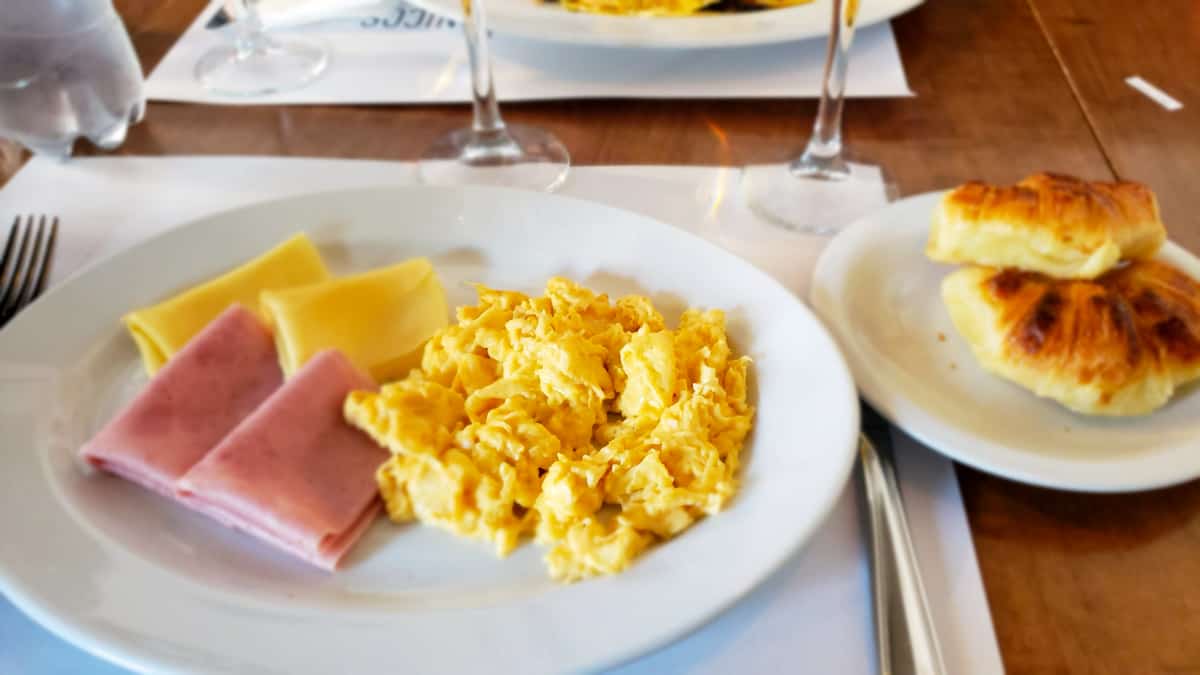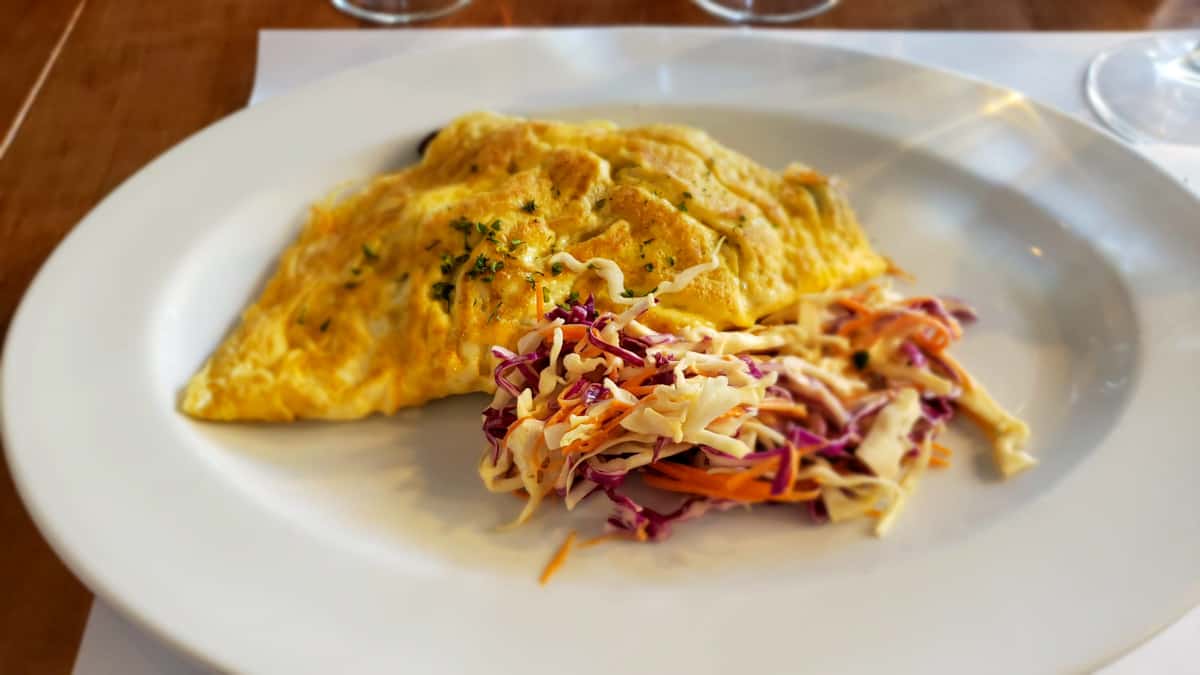 At the suggestion of our Airbnb host, we ate breakfast at Tante Sara.  
I enjoy an omelets and Chris had the continental breakfast and both were very good options to get us going for the day!  
The continental breakfast was such a great deal too….a glass of orange juice, two eggs, a couple pieces of ham, a couple pieces of cheese, two croissants, a basket of toast, and a coffee, all for only about $10 USD.  
The End of the World Train / Tierra del Fuego 
Train ride: Roundtrip about 2 hours
Getting there:

About a 15-minute taxi ride from downtown Ushuaia

Price: (depending on ticket class)

Adults (ages 13+) $33-$65 USD

Minors (ages 4-12) $16-$33 USD
Back in the early 1900s, this part of the country was actually used as Argentina's penal colony where re-offenders and serious criminals were exiled to because of its remote location.
The prisoners were put to work building the settlement with the timber from the forest surrounding the prison and even built a railroad to help with the transport of construction materials.
Why all the random talk about a penal colony and timber?
Now that the prison is closed, this area has since been turned into a tourist attraction, El Tren del Fin del Mundo (The End of the World Train).  
More details on the Train Ride
The 7-kilometer ride takes you from the train station, past La Macarena Waterfall, into Tierra del Fuego National Park, and through the Cementerio de Árboles (Tree Cemetery) where you will see the remnants of the prisoners' work cutting down all those trees.
Along the ride, there is a pre-recorded narrative that gives you all of the history of the area and of the Convict Train.
Once the hour-long ride is over, you'll end up at Estación del Parque (National Park Station) where you can either set off on a self-guided hiking tour of the park or meet a guide for a similar hiking excursion.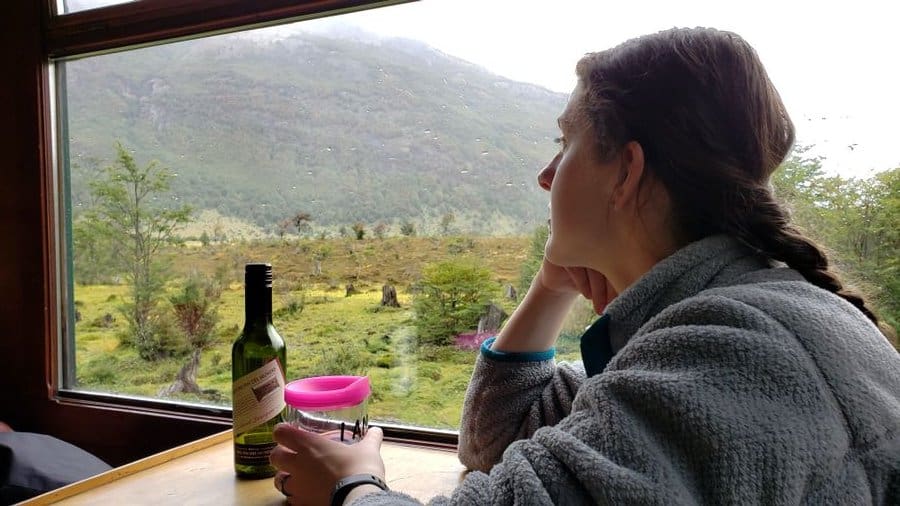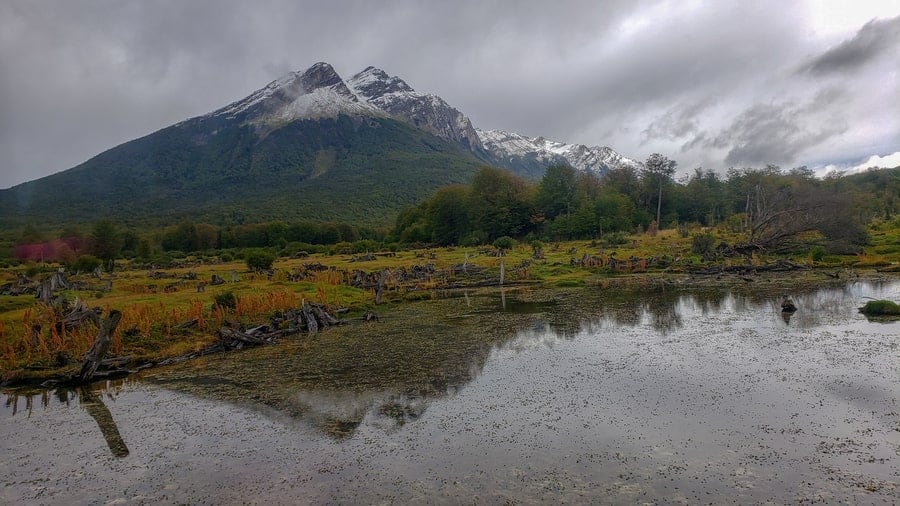 Since we were limited on time remaining in Ushuaia, we hopped back on the train for the 45-minute ride back to the starting point.
Although we would have liked to explore the park, it was on-and-off raining and we had a bottle of wine to drink…..and drink we did!
Yes, the train is probably one of the most touristy things to do in Ushuaia and it isn't the cheapest thing to do in the city either, but it was neat to ride the southernmost (there it is again) railroad through all of the history of the area.
Check out their website for fares and schedules for when you'll be in town.  If you're planning to make a day of it by riding the train, hiking in the park, and catching the train back to the beginning, make sure you plan your time wisely so you don't miss the last train in the afternoon!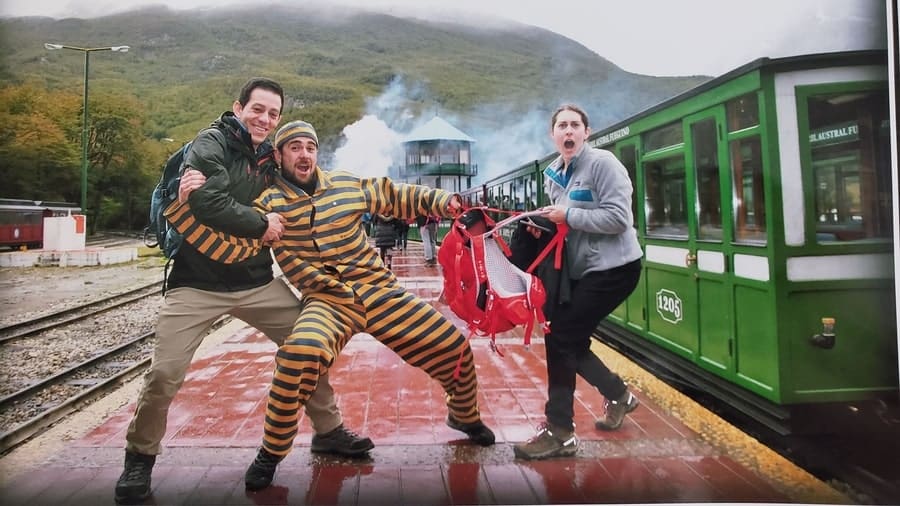 Being in a country that produces the fifth-most wine in the world, you can find wine literally everywhere….as evidenced by our many drinks throughout our time in Ushuaia.  
Most of the souvenir shops had small wine shops attached to them making it very easy to pick up that last minute bottle for your excursion!
Exploring Downtown Ushuaia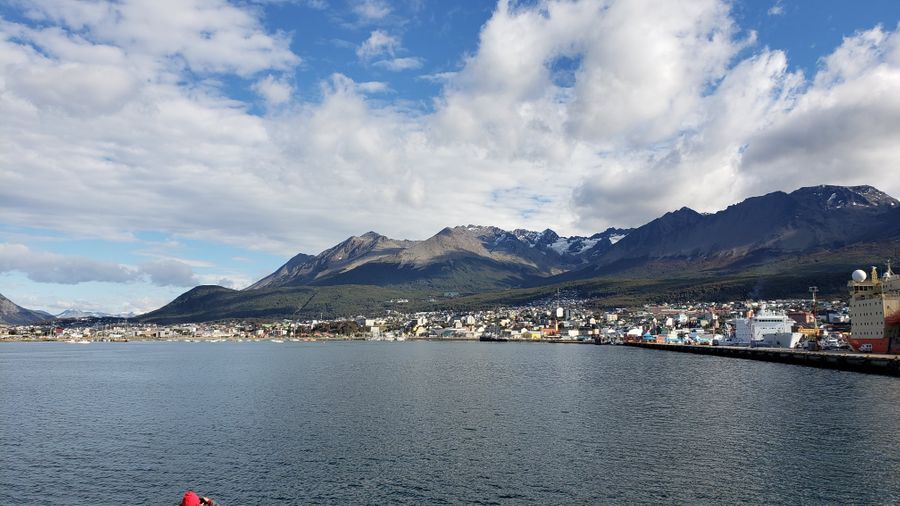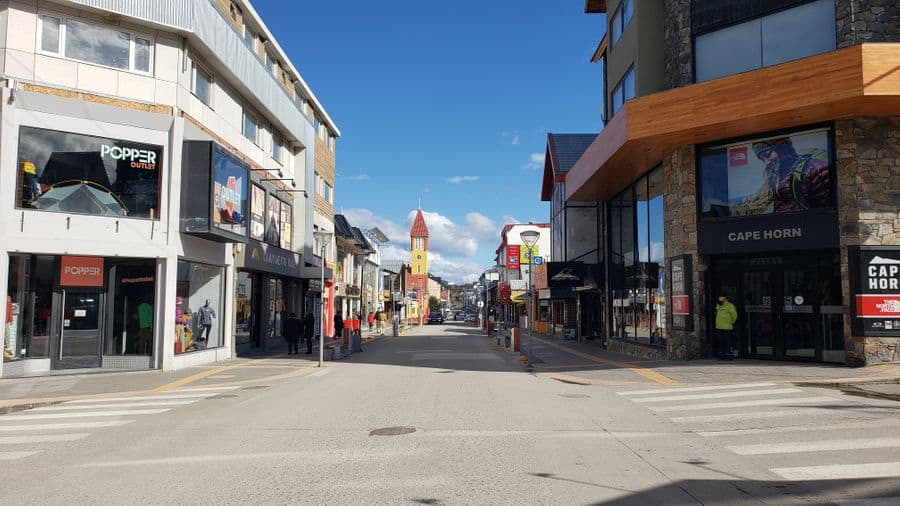 Now that you've explored Ushuaia by boat, walked with Penguins and took a great train ride, you can start to explore this charming downtown area.
There are really only two main roads that you need to worry about – Avenida Maipú and Avenida San Martín – which run parallel to each other as one-way streets.  This makes wandering around without getting lost a lot easier!
Avenida Maipú runs along the water, which leads out to the Beagle Channel, and is where you'll find the tourist pier to check-in for many of your day-excursions.
One block further up the hill, Avenida San Martín is where most of the action happens with just about everything you could need available here.  Just about all of your things to do in Ushuaia will center around or launch from these two roads.  Get to know them.
There are restaurants, bars, souvenir shops, convenience stores, and even outdoor-gear shops for those last-minute cold weather necessities for your trip. We spent a few hours meandering around and finding some great souvenirs to take with us.
The Birra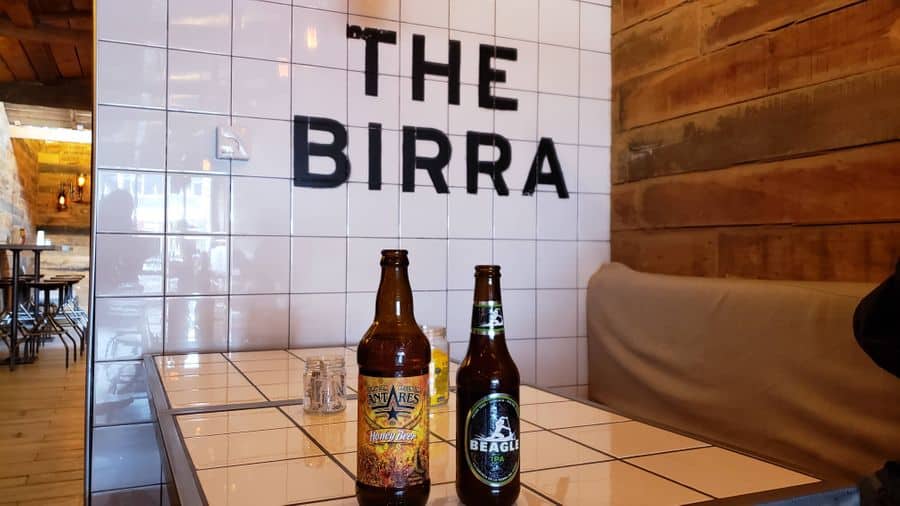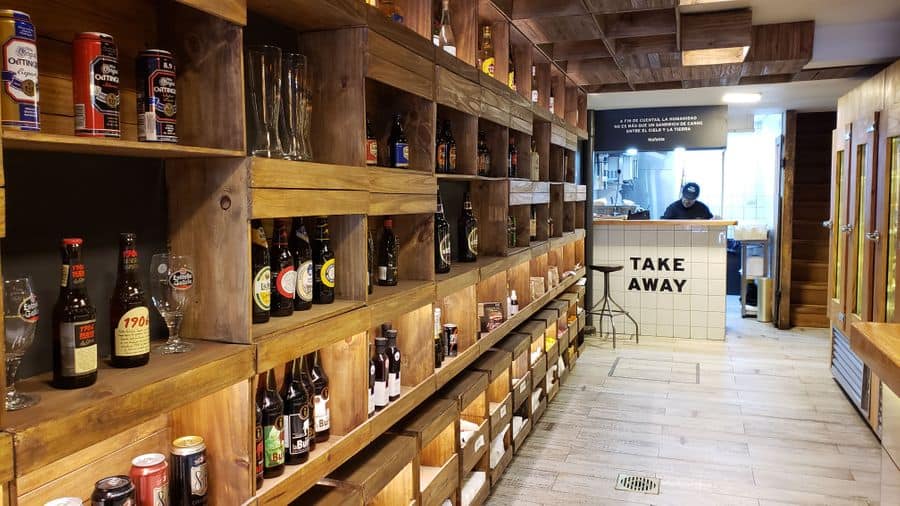 The Birra is a great spot to enjoy a local craft brew in a bottle, on draft, or even grab a growler to go.
They had a pretty decent selection of beers too lining the shelves and in the refrigerators! Of course, we had the honey beer made by Antares, a Buenos Aires brewery, and an IPA made by Ushuaian-brewer Beagle Brewery.  
Head upstairs for more seating and if you can, grab the seats by the window so you can look out over the bay.
Although we didn't order anything, they do serve up hamburgers and fries from the back of the store. Make sure you check their hours because they do take a "siesta" from 3PM until 7PM.
The Dublin
Because of our unexpected late arrival into Ushuaia, which is a whole other story, we didn't have the chance to visit one of the most well-known bars in town, The Dublin, but all of our research mentioned that this place should definitely be on your list of things to do in Ushuaia.  
Plus, it has got to be the world's southernmost Irish pub!
Having not been, we don't want to comment too much, but we suspect you'd find your typical pub food here, and of course, beer!
Overall, this was an adorable town set amongst snow-capped mountains on the water and we could easily see ourselves spending more than 2 days in Ushuaia. With views of Chile, access to wildlife, and cruises to Antarctica, don't short-change yourself on time here.
We missed our incoming connecting flight from the US which robbed us of a half-day/night here and we were bummed we didn't have more time because there was still plenty left on our list of things to do in Ushuaia.
That just means a return trip is in order!
Looking for more Argentina guides? We have a bunch. Browse them all here!
From Ushuaia, we jumped on a plane to El Calafate to hike on a glacier before heading off to Patagonia.