The must visit Recoleta Breweries in Buenos Aires
When you only have 24 hours in one of the most populous (about 15.6 million people) cities in the Western Hemisphere, you seek out beer at the best Recoleta breweries in Buenos Aires. Well, if you're Boozing Abroad you do. 
Recoleta is one of the top neighborhoods to visit and is known for their craft beer scene, spooky cemetery and astounding restaurants.
Hey, when you have limited time in Buenos Aires, you have to prioritize what you'd like to accomplish! As the last stop on our 10-day itinerary for Argentina, we had to make the most of it.
Buenos Aires is sometimes referred to as the "Paris of South America", and it's easy to see where the nickname comes from while walking the streets of this bustling city with strong European influences.
From the culture to the architecture, Samantha couldn't stop thinking she was actually in Paris…..except for all of the Spanish speaking, of course.
This post was originally published in April 2019, and was updated in October 2022.
**Boozing Abroad contains affiliate links throughout the site. If you choose to purchase items through these links, we will earn a small commission at NO extra cost to you. Read the full disclosure policy here**
About Recoleta
Before we get to the booze, it's important to quickly understand the neighborhoods of Buenos Aires.
There are 48 neighborhoods, called barrios, that comprise the city, but among the most visited and populated barrios are Palermo, Recoleta, Puerto Madero, Belgrano, San Telmo, La Boca, Monserrat, and Caballito.
As you can see in the map below, most of these popular neighborhoods are at the eastern-most point of the city near the water.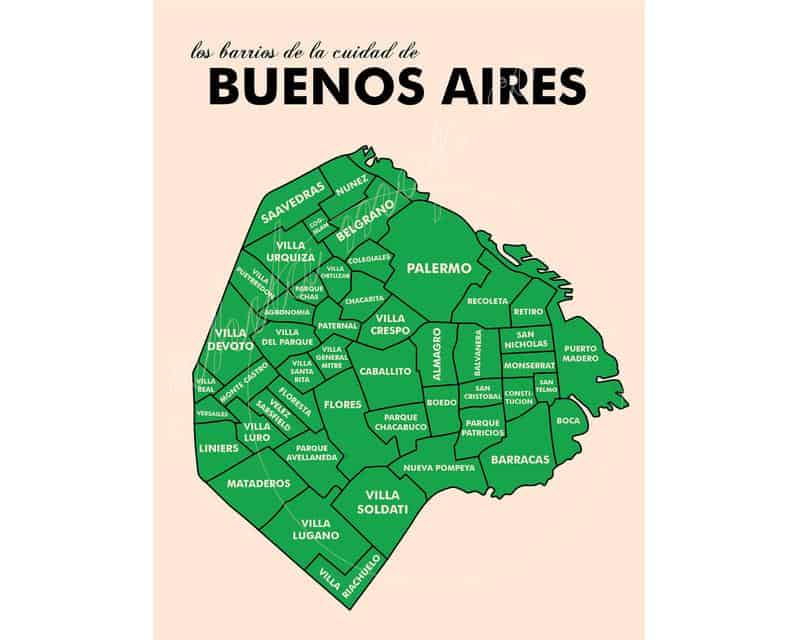 While we wished we had more time, we spent those 24(ish) hours in and around the Recoleta neighborhood, which is considered one of Buenos Aires' most cultured and ritziest barrios (and drips with European flair).
Once we found out about the Recoleta breweries, we made it a priority to spend our time there.
Most of the city's finest hotels, boutiques, and restaurants are located on Recoleta's wide avenues, including the so-called widest avenue in the world, 9 de Julio Avenue (named for Argentina's Independence Day on July 9, 1816).
It was the perfect neighborhood to take in, and drink, as much of the culture as we could during our short stay.
Recoleta Breweries
Although Argentina may be known for its wine, the craft beer scene in this active neighborhood, and Buenos Aires, in general, is rather vibrant and should not be missed.
Antares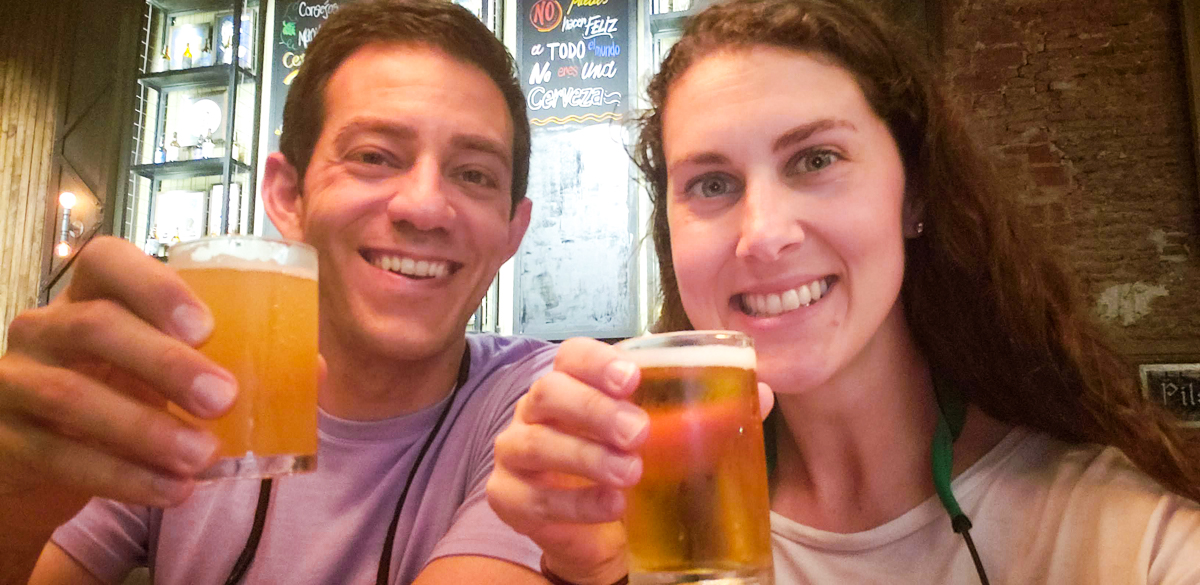 Antares is actually an outpost for one of Argentina's biggest micro-breweries!
We're not even sure if "micro-brewery" should be used anymore for Antares, because they have over 45 locations scattered across Argentina, including nearly twenty in Buenos Aires alone.
However, their size doesn't take away from the quality beer that they are producing or the atmosphere at the bar and should be at the top of your list for Recoleta breweries.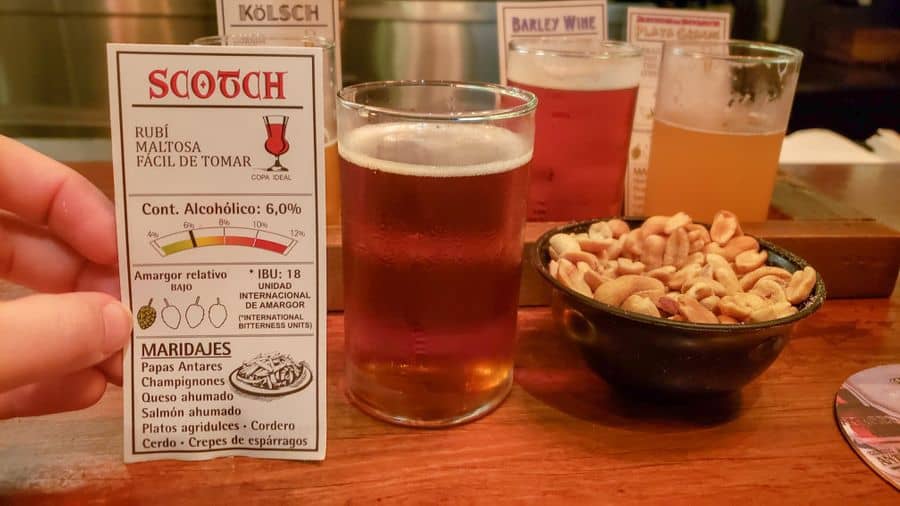 Happy hour is from 6 PM to 8 PM and showcases 2 for 1 beers! (Heck yeah!) We were lucky enough to find a few seats near the end of the bar and decided to split a flight of 4 because we knew there were more places on our list for the night (and, more importantly, we hadn't eaten dinner yet).
With so many beers to choose from, it was very hard to narrow down our choices to four beers. Once we did, they came in a nice tray with little cards for each beer explaining more about the beer and what to pair it with.
Super nice touch and something we wish more places would do!
After drinking down the first flight and munching on our bowl of peanuts, we impulsively decided to get another flight to try even more of their beer! Everything we tried was delicious!
We didn't try any of the food, but everything we saw coming out of the kitchen looked to be your standard bar food, but it actually looked really good too!
Some of our favorites included the Cream Stout, the Honey beer, and the Barleywine, but you can find a little bit of everything here. If beer isn't your thing, they even have a full bar, so anyone can drink here!
Buller Brewing Company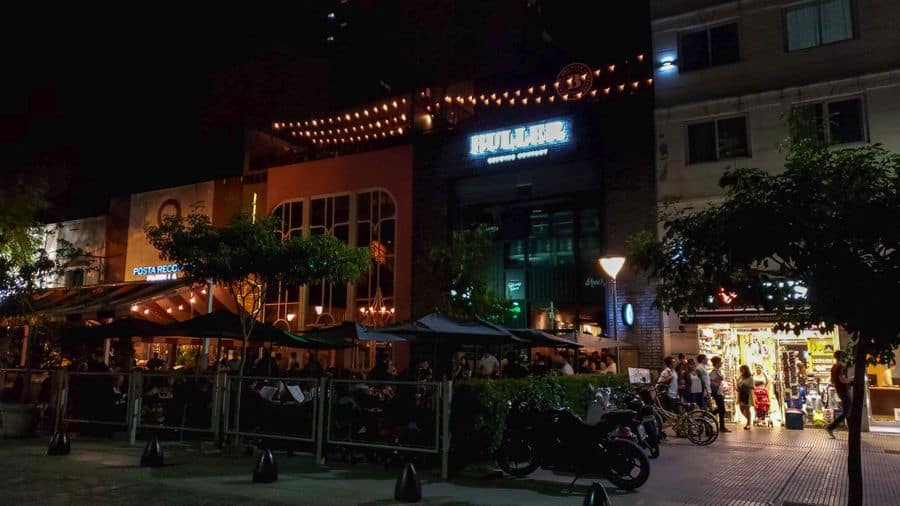 Just a couple of blocks away from Antares, and right across the street from the Recoleta Cemetery, Buller Brewing Company is serving up its six core beers in a trendy spot of town.
Yep, that's right, a trendy spot of town sits directly across from a cemetery containing thousands of above-ground tombs.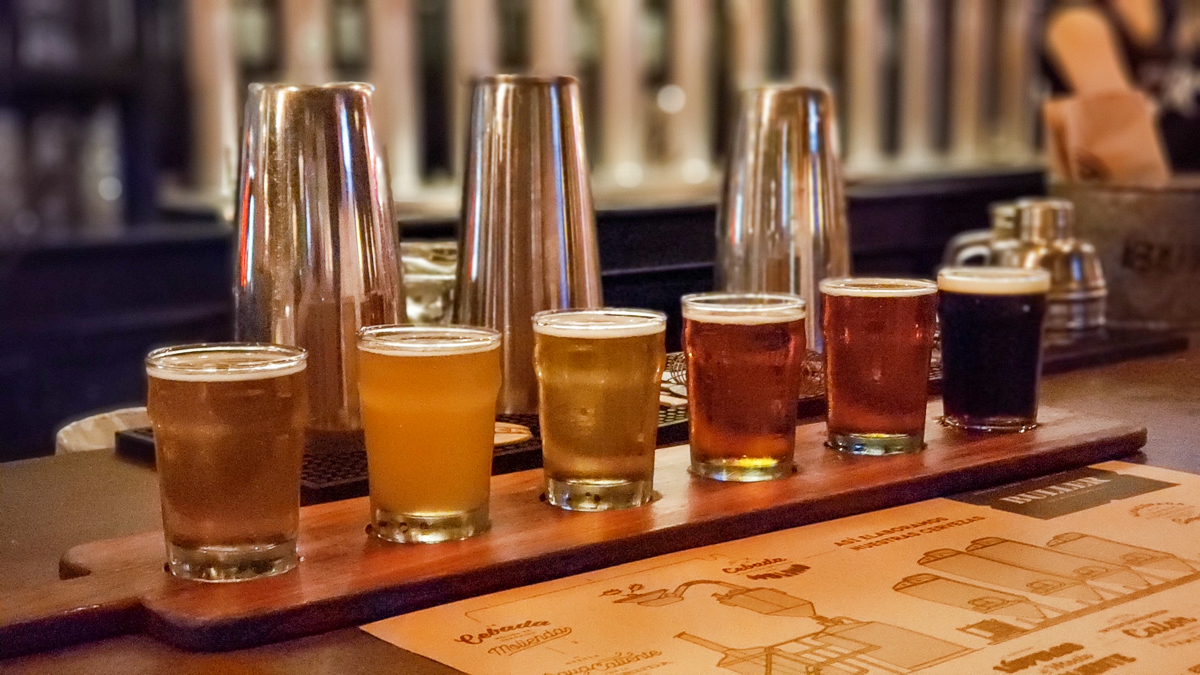 Seriously, you'll have to go visit this cemetery, which was named one of the most beautiful cemeteries in the world. We walked around first thing in the morning here and it was truly a rare experience. It rivals that of the Père Lachaise Cemetery in Paris.
Not to distract from the beer, but here are some photos of our walk there.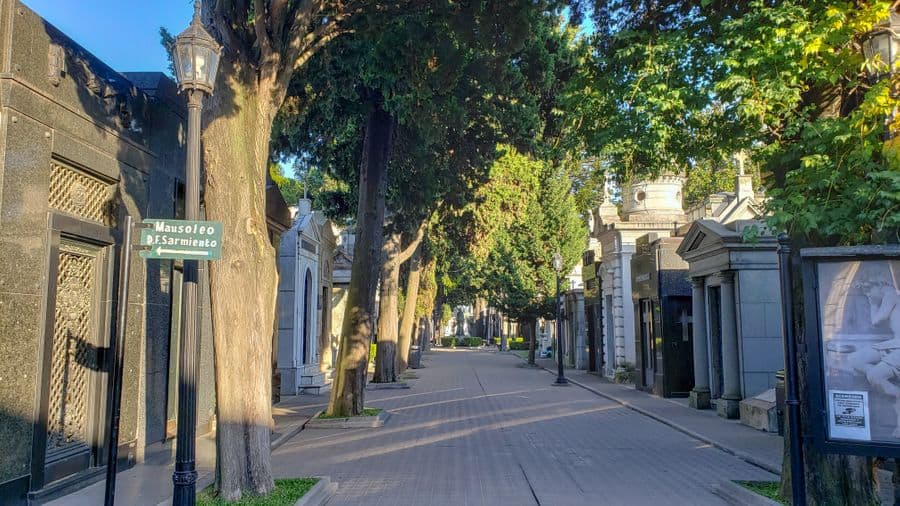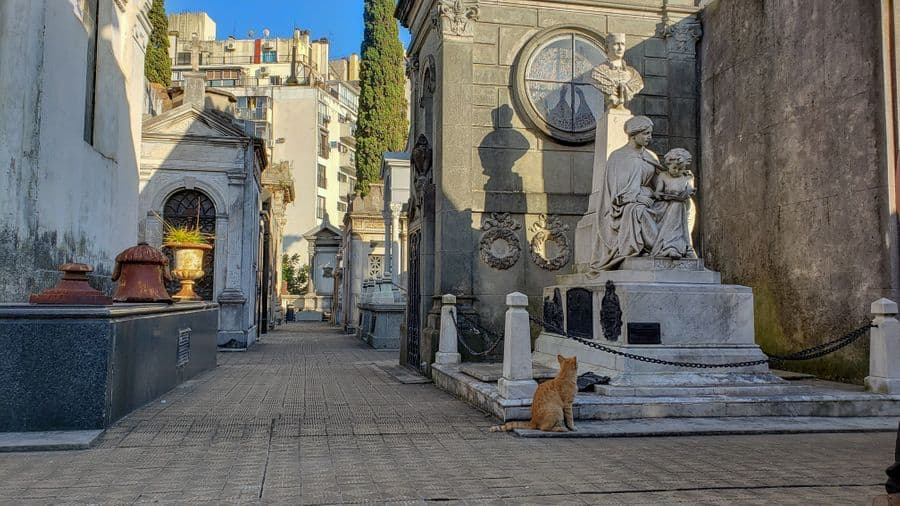 Back to the drinking….grab a beer and head upstairs to the rooftop where you can enjoy your beverage while overlooking the cemetery.
Or, if looking at dead people while drinking isn't your thing, sit in Buller's large dining/tasting room downstairs and order their sampler flight so you can taste all six of their beers.
They even have a huge outdoor patio right out front so you can enjoy the warm weather while sucking down your beer.
We really enjoyed the Hefeweizen and the Honey beer (must be something about the honey beers in Argentina).
During happy hour, beers are about $2 USD. Buller also has a full bar for all of your non-beer drinking buddies, and a full food menu too!
Boca a Boca Cervecería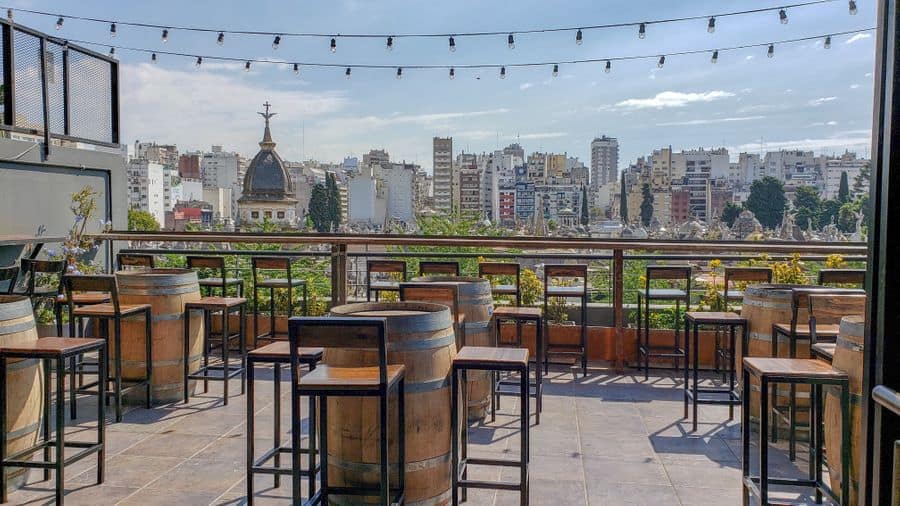 Right next door to Buller, Boca a Boca Cerveceria is serving up beers, at least 12, from a variety of different brewers around the area.
And it's a war of rooftop patios as Boca a Boca sports a very nice rooftop that shares a wall with Buller's (Boca claims to be the first beer rooftop in Argentina).
No need to fight though, just get a beer at both places!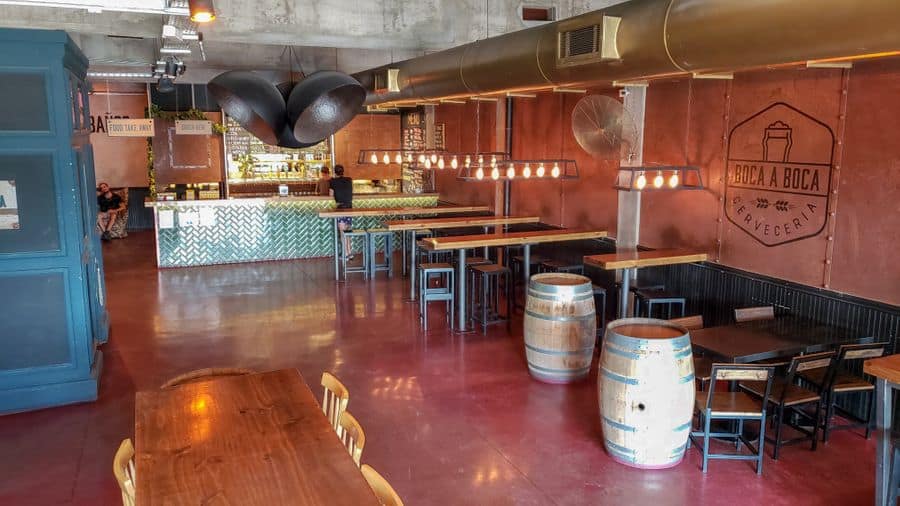 Boca a Boca, or BAB as they like to call it, is located on the second and third floors of its building, above another restaurant.
Order your food and drink downstairs (second floor) and then head up to the third floor for the rooftop area, which also overlooks the cemetery full of dignitaries, former presidents, and even Eva Perón.
Don't cry for me Argentina, the truth is we really like beer!
For those who don't get that reference, watch more movies.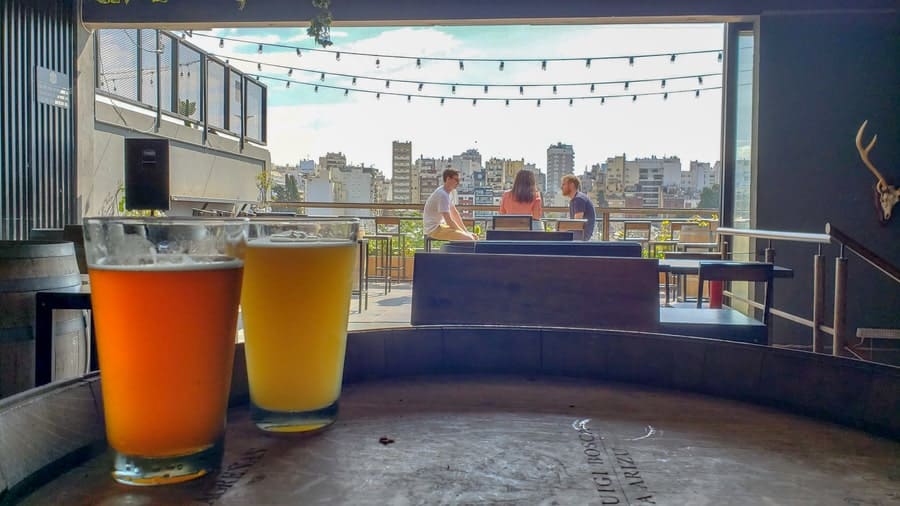 Depending on the weather, there is a covered portion of the rooftop (yet still open-air) so you can still enjoy your beers even if it's hot as hell and/or raining cats and dogs.
Their happy hour runs from 6PM to 9PM and also offers 2 for 1 beers….Argentinians know how to happy hour!
1516 Cervecería Multibrand – Recoleta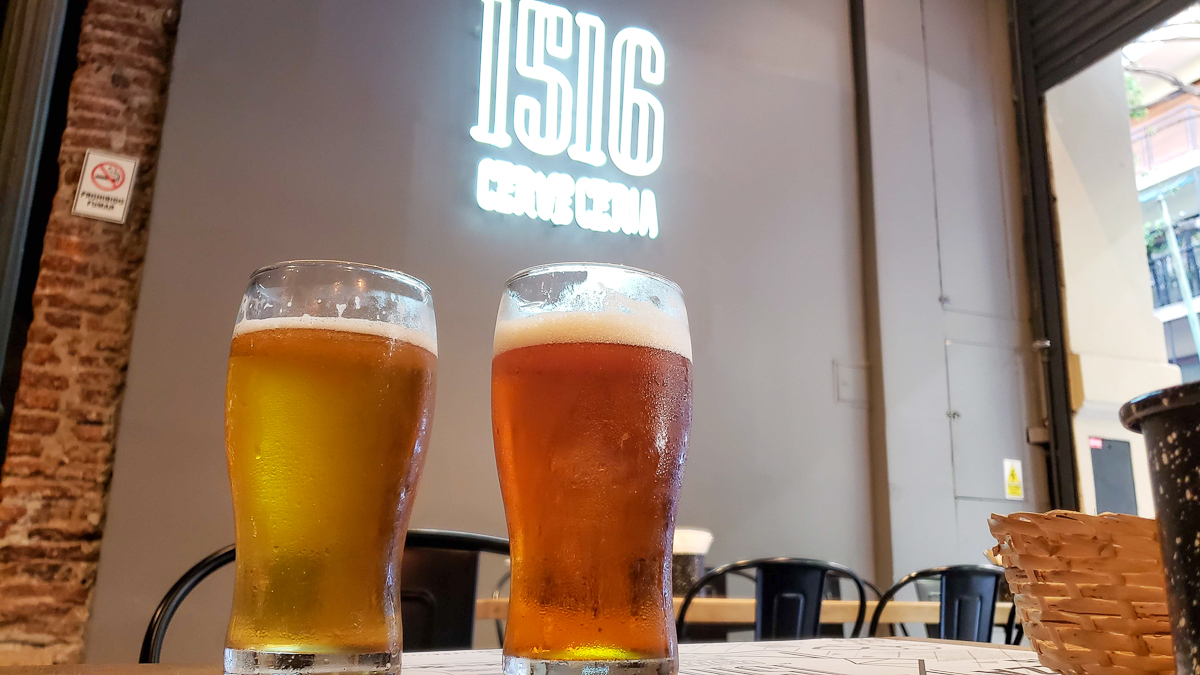 We found this place while roaming around the streets of the Recoleta neighborhood and because it said beer and burgers, we decided to head in and sit down for a while.
As the "Multibrand" in its name implies, 1516 offers a few different beers from 3 separate breweries (Antares, Cheverry, and Ogham) and had a beer style to fit any palate.
Since we are explaining the name, the 1516 in the name is the year that the Spanish first arrived via the Río de la Plata.
Who said you couldn't learn history while boozing abroad?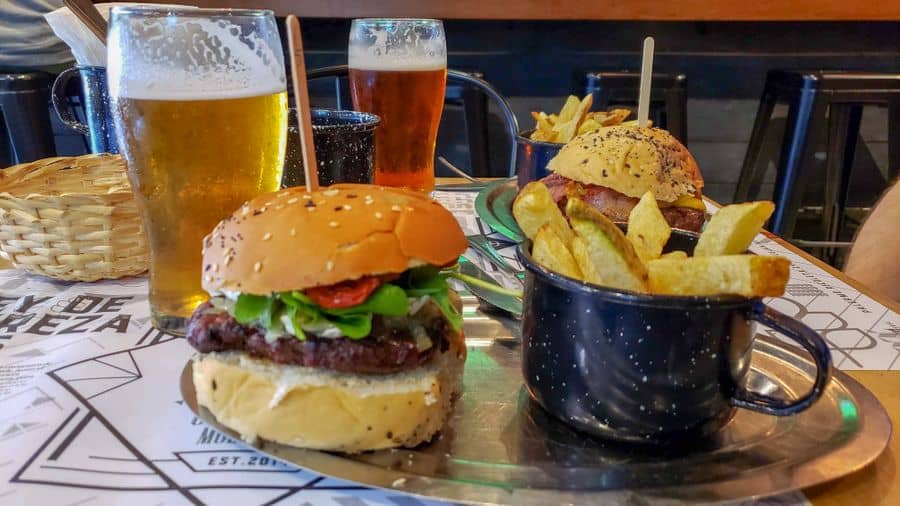 Much like the other breweries in Recoleta, they also had a full bar.
We each ordered a burger, the 1516 burger (brie, onions, arugula, and tomato) and the Palermo burger (cheddar, bacon, and onions) and they were decent, if not good.
Winemakers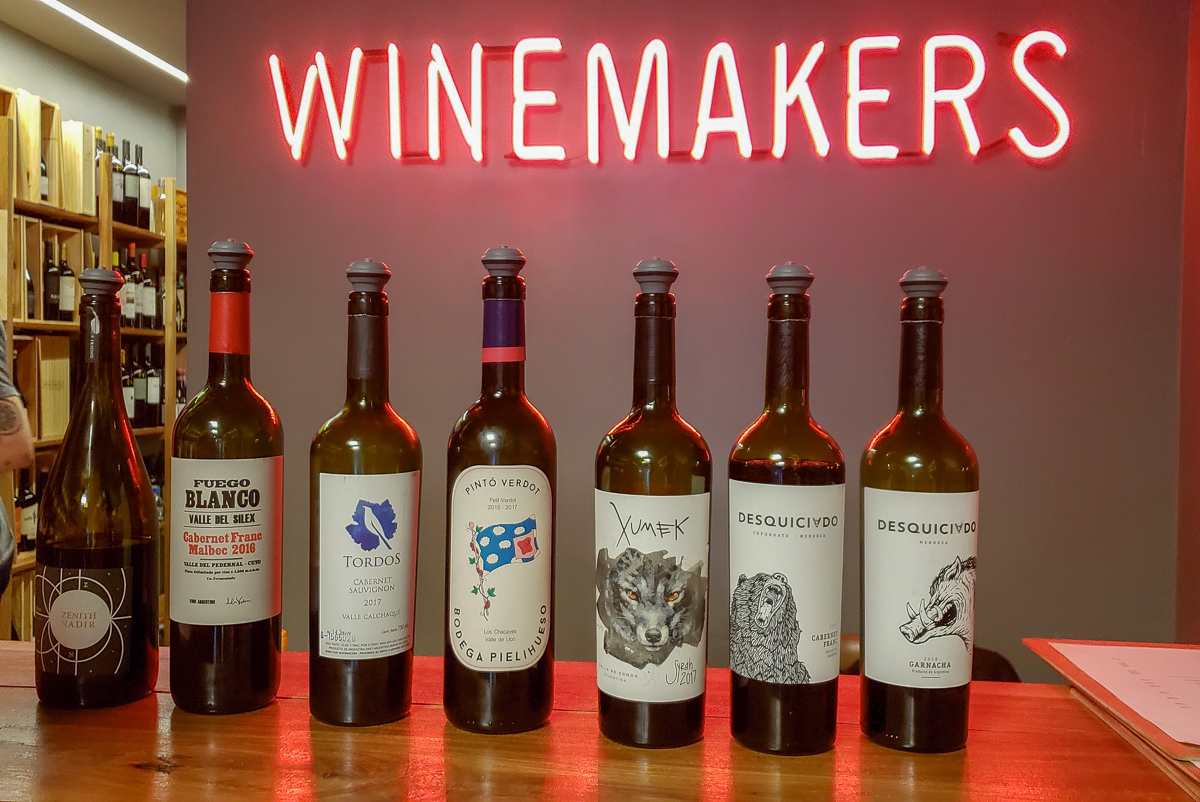 If you didn't know, Argentina is the world's fifth largest producer of wine, so naturally, we wanted to try out a wine bar as it was still a little too early for dinner when we arrived (other cultures just eat so dang late!).
Doing some searching for wine bars near our hotel, we landed on Winemakers Vinoteca Bar de Vinos.
Winemakers is a really great spot if you're into high-quality wine produced by some of Argentina's top winemakers. Most people know Argentina for its abundance of Malbec wine, but you'll find that and so much more here!
We recommend trying a glass of one of the several bottles that they are pouring that day and also getting a small cheese plate to nibble on while sipping.
We sat outside at one of the street-side tables and did some people watching.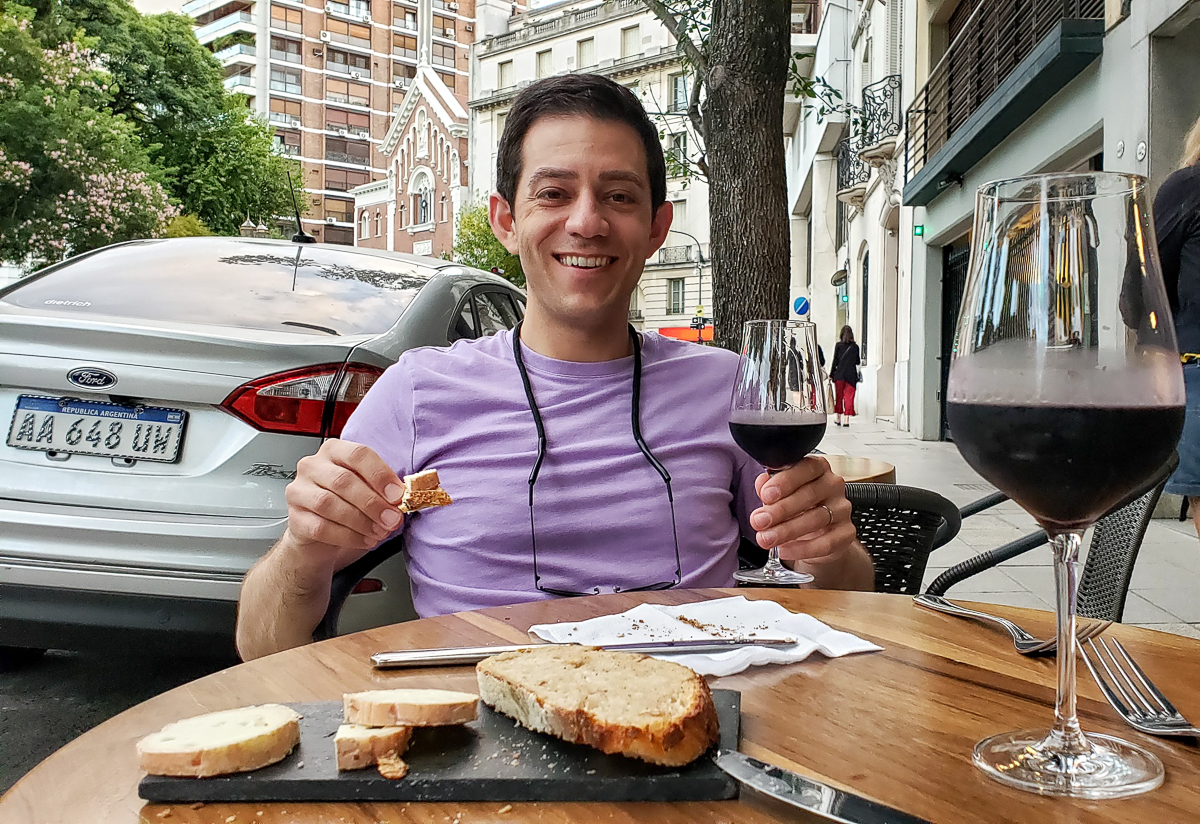 Afterward, we headed back inside to browse the well-curated shelves and purchase a few bottles to take home with us. The gentleman in the store was very helpful and explained a lot about the different winemakers and the various varietals they had in stock.
After much deliberation, we chose our two bottles, that you can only get at Winemakers, and the clerk even wrapped them bubble wrap for us!
Overall – Recoleta Breweries
First things first, to properly explore the massive city of Buenos Aires, you need far more than 24 hours.
But, if that's all your travel schedule allows, what better way to soak up the culture of this energetic city than soaking up suds of beer and alcoholic grape juice?
Don't worry, we were still able to see some of the non-alcohol related highlights in and around the Recoleta neighborhood, like the Recoleta Cemetery, the Feria de Recoleta and Plaza Francia (giant flea market full of crafts and knick-knacks), walking across 9 de Julio Avenue (widest in the world), and watching tango dancers in the streets.