Perito Moreno Glacier Tour – Trekking a Patagonia Glacier in Argentina
Can you say that you've strapped on a pair of ice crampons and hiked on a glacier that is 97 square miles in total size and 19 miles in length?
No?
Well, believe it or not, in Argentina's Patagonia region, this is actually possible with a Pertito Moreno glacier Tour.
As a top tourist attraction in Argentina, Perito Moreno Glacier is located in the Los Glaciares National Park in southwest Santa Cruz Province (not actually in the city of Perito Moreno, just to confuse you) and isn't exactly a cheap day-excursion from El Calafate, but it's 110% worth the adventure!
There are a few ways to get there, either by bus or taxi (remis) but if you are going to make the trip out there, we highly recommend doing a trek on the ice through Hielo & Aventura (more on that later — keep reading).
Note: we had spectacular weather for this trip and feel very lucky. Wait for a clear day to do your visit if you have time.
**Boozing Abroad contains affiliate links throughout the site. If you choose to purchase items through these links, we will earn a small commission at NO extra cost to you. Read the full disclosure policy here**
Perito Moreno Glacier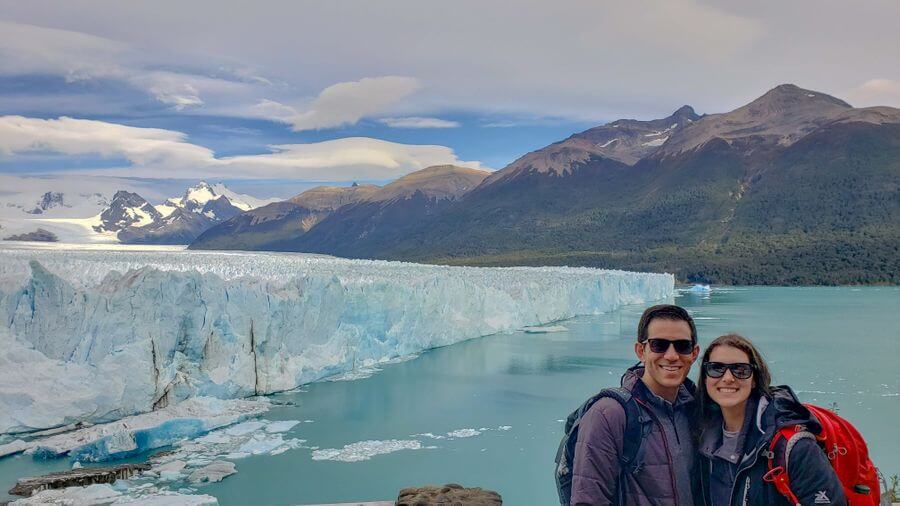 We aren't glaciologists (yes, that's real) so we won't pretend to know everything or bore you with scientific details.
This glacier is over 200 feet (60 meters) tall and since that in itself isn't amazing enough, the biggest spectacle is hearing and watching large chunks of ice fall off of this massive glacier and crash into the water below it.
What is left are large ripples of water and floating icebergs that surround the jagged edges of the steep glacier walls.
If this isn't enough of a reason to go see the Perito Moreno Glacier, we don't know what is.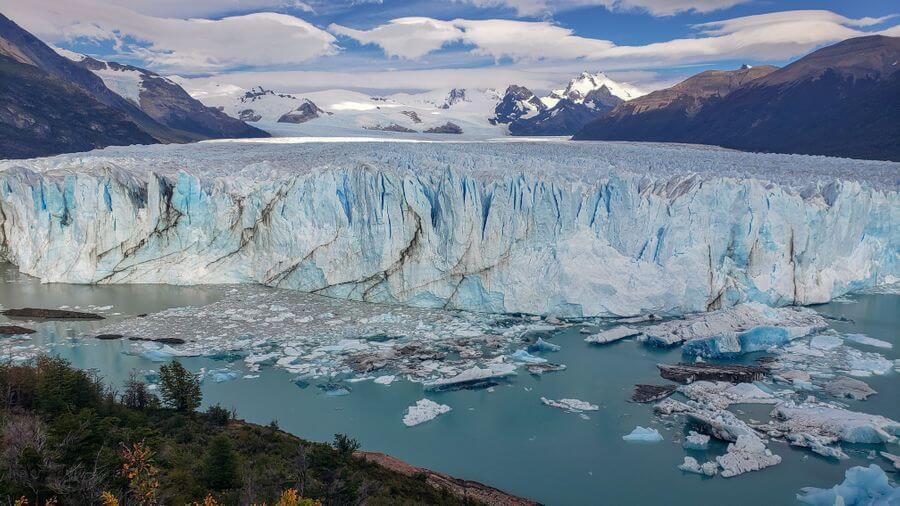 Perito Moreno Glacier Tour with Hielo & Aventura
There is only one company that can take you on the actual glacier, and that company is Hielo & Aventura.
With limited time in El Calafate, we could only squeeze in their MiniTrekking Tour (which was incredible), but if you have time and are physically capable, look into booking the BigIce trekking.
The biggest difference between the Perito Moreno glacier tours is the actual time spent on the glacier itself. In the MiniTrekking tour, you will have about 1 hour and 30 minutes on the glacier; on the BigIce trek, you will have 3 hours and 30 minutes on the Perito Moreno glacier.
This allows you to really get into the glacier and see more of the magic. To be honest, either option you pick will be epic and the experience alone was unimaginable!
The MiniTrekking Tour is a 10-hour tour with the option to be picked up from your hotel or Airbnb for an additional $900ARS per person.
Out of convenience, we selected this option, but you can skip the pickup and take a taxi out to the glacier if you want.
Chris did a cost analysis and found that it was about the same amount of money for transportation either way.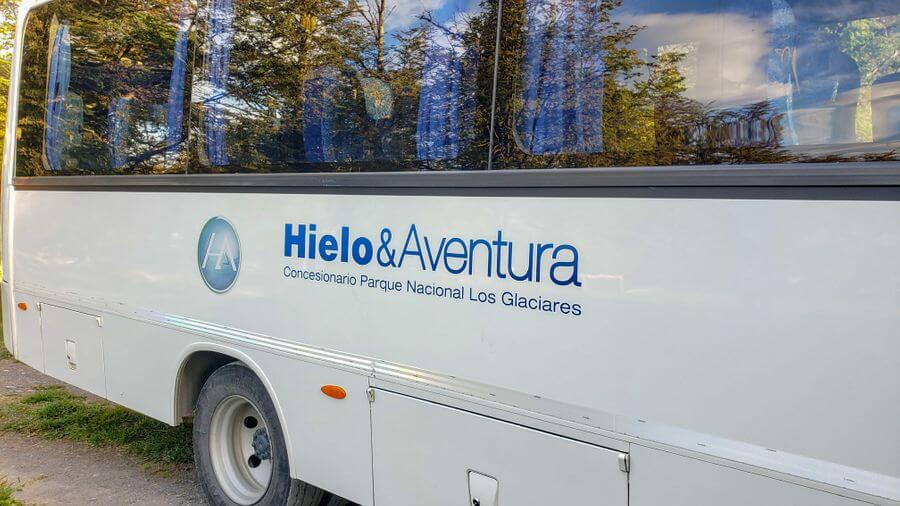 Once onboard the bus, you are shuttled out (about 45 minutes from the edge of El Calafate) to the Los Glaciares National Park.
Before you can enter, you need to pay a $700ARS ($16USD) entrance fee per person to the park (in cash) which is not included in the price of your ticket. BRING CASH!
From there, you are taken to use restrooms and a viewpoint of the glacier before heading to the balconies.
Balconies
Back on the bus, and another 15 minutes from the restrooms, you reach the top of the balconies where there is a small gift shop with snacks, a cafe, and restrooms.
If you forgot to bring a lunch, you can eat here, but you will have time to eat after the upcoming boat ride.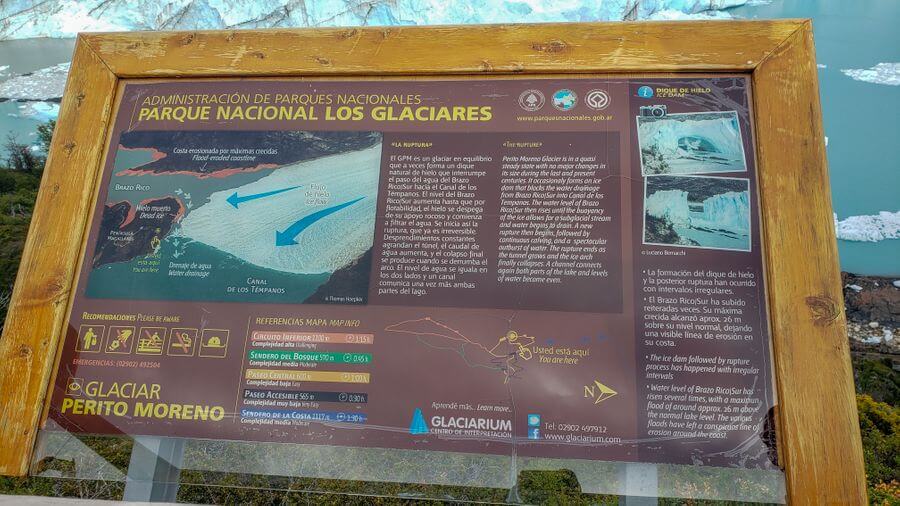 The balconies are an intense set of man-made balconies that wind up and down the hill giving you a great view of the glacier, AKA you are about to earn your beer later by climbing and walking down a crap-load of stairs.
If you aren't on a tour, this is a great option for exploring the different parts of the glacier from afar.
There are several different walks you can take, but on the tour, you only have one hour.
The guide told us to stay on the yellow path since we wouldn't have time to do the others. (See the bottom of the picture above. Those are all the paths on the balconies).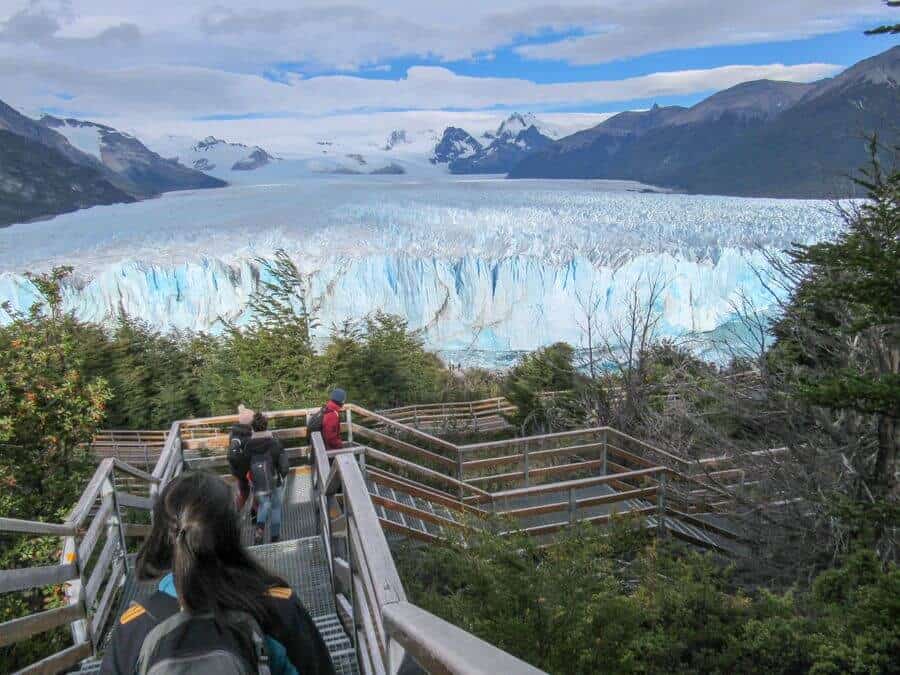 Let me tell you this, we could have spent an entire day on the balconies as Perito Moreno is an active glacier.
You won't understand it until you experience the deafening crack of the ice breaking from the glacier (called "calving") and colliding with the water below as it forces the water to respond in a massive wake across the canal.
After quite possibly the quickest one hour of our lives, or maybe that's because we were busy taking a few hundred photos of the glacier, it was time to make the climb back up the few dozen sets of stairs to reach the top of the balconies and our bus.
Although we were close to a massive chunk of ice, all that climbing definitely had us sweating!
Boat Ride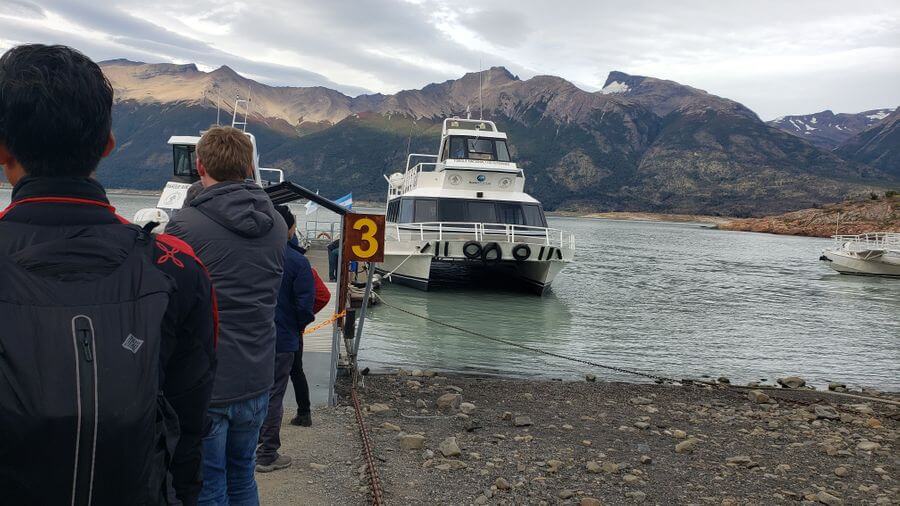 Viewing the glacier from the balconies was an eye-opening experience, but we were anxiously awaiting our mini-trekking hike on the ice!
A quick 10-minute bus ride from the top of the balconies to the docks only added to our excitement.
Once on board the boat, you have the option of viewing the glacier from inside or going up on the deck.
Obviously, you pick the outdoor deck option, but the wind is freezing and will quickly force you back below if you aren't properly dressed.
A short boat ride across a canal on the Argentino Lake drops you on to a rocky shoreline with great views of the Perito Moreno Glacier.
Here, you will have about 30 minutes to eat lunch while overlooking the glacier, use the restroom, and take photos before you hike to the glacier.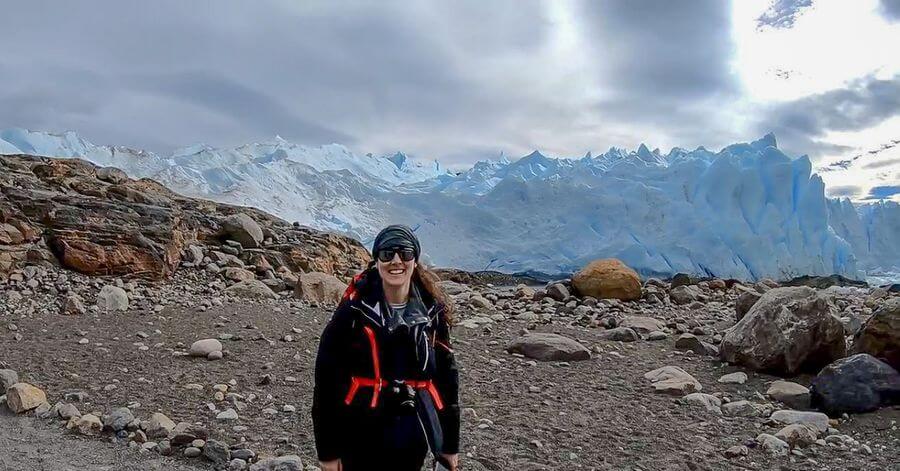 Well, not exactly "hike" but a solid 10-minute walk to get you to the beach for your first lesson on the glacier. Make sure you use the facilities and eat because it will be a couple of hours before you get the chance again.
Fun facts kiddos: glaciers aren't ice, it's compacted snow.
Glacier tour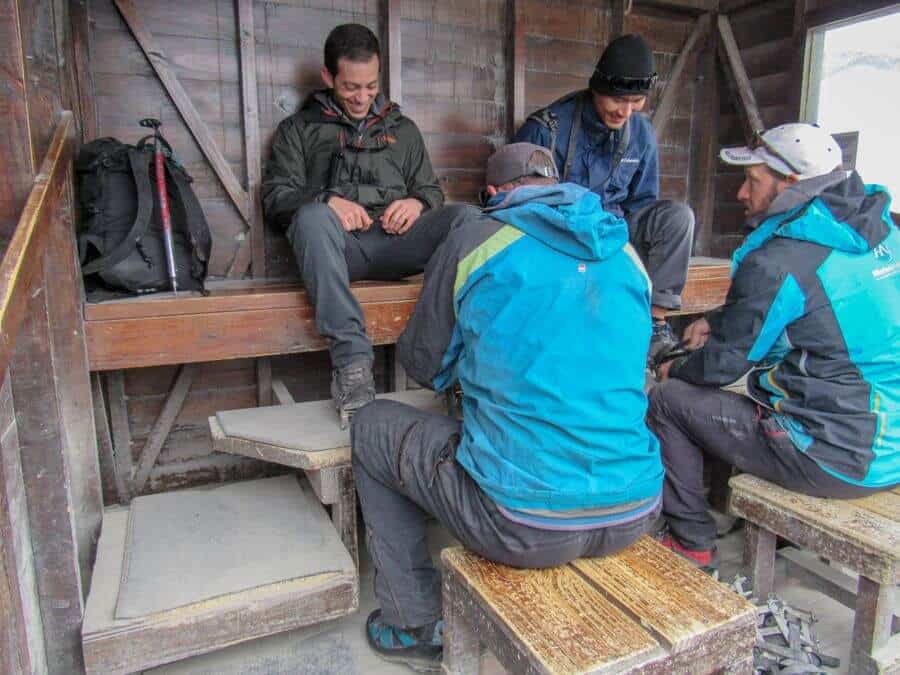 It's the moment you have been waiting for. It's time to walk on the Perito Moreno glacier.
Very efficiently, our group was fitted for crampons. If you aren't wearing high-ankle boots, this can create a more challenging walk for you. Doable, but challenging.
After a lesson on "how to walk in crampons" from our guide, Tato, we were told the most important thing was not to fall….thanks Captain Obvious!
The ice is very sharp and falling could lead to a pretty nasty injury. Once we were all strapped in our crampons, we followed our guide, with a large ice pick in hand, onto the ice to start the Perito Moreno glacier tour.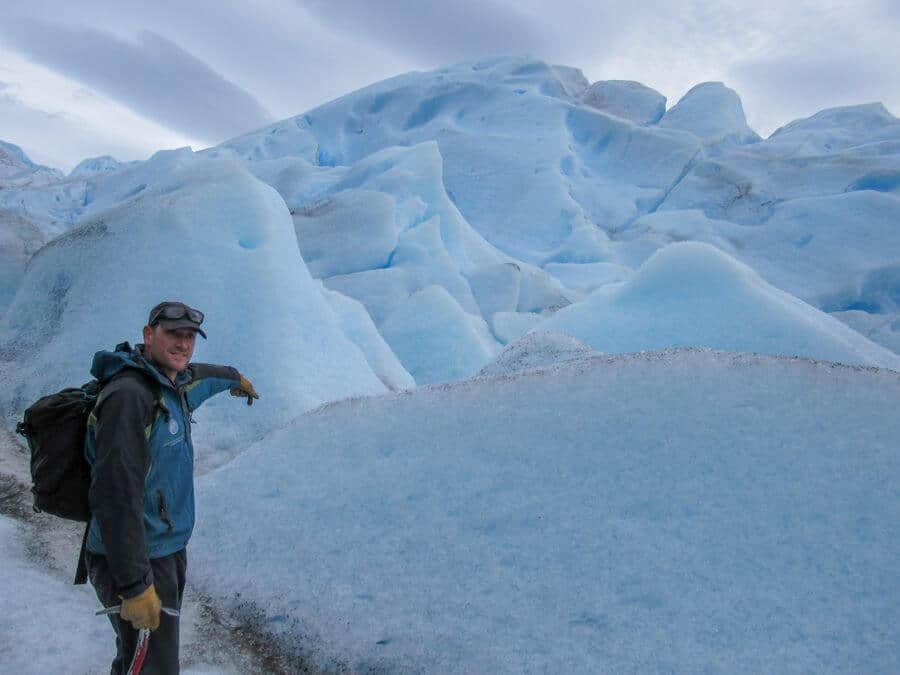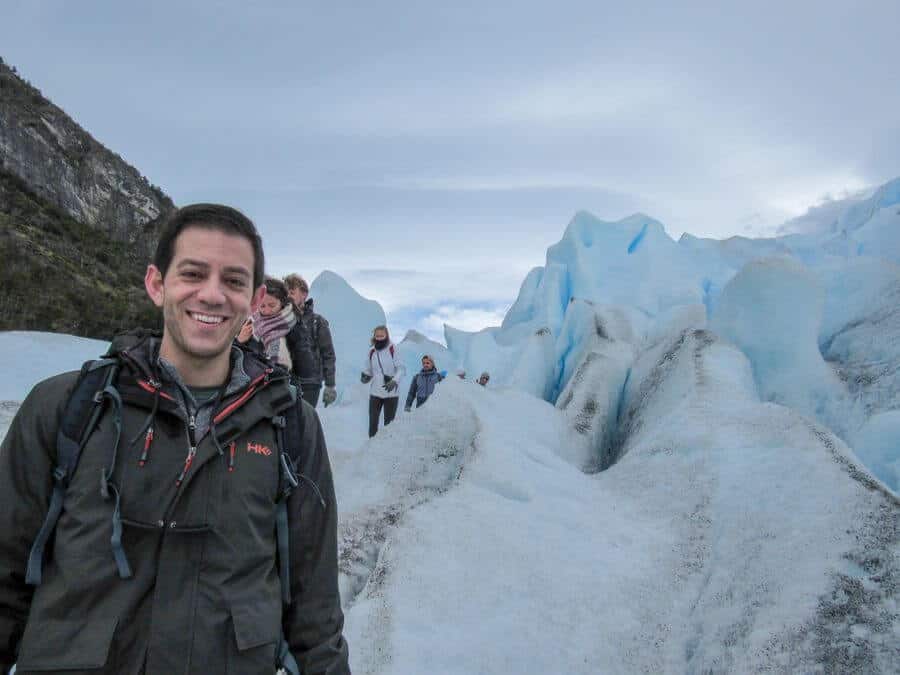 It takes about 10 minutes to figure out how to feel comfortable walking with the crampons on ice.
You really need both hands for balance, so be sure your camera has a strap – specifically a cross-body strap as the one Samantha wore around her neck set her off-balance on more than one occasion.
This trek is considered to be moderately difficult — and we're pretty sure that is because of the challenges of walking on ice in crampons.
The surface is uneven but very hard and safe to walk on.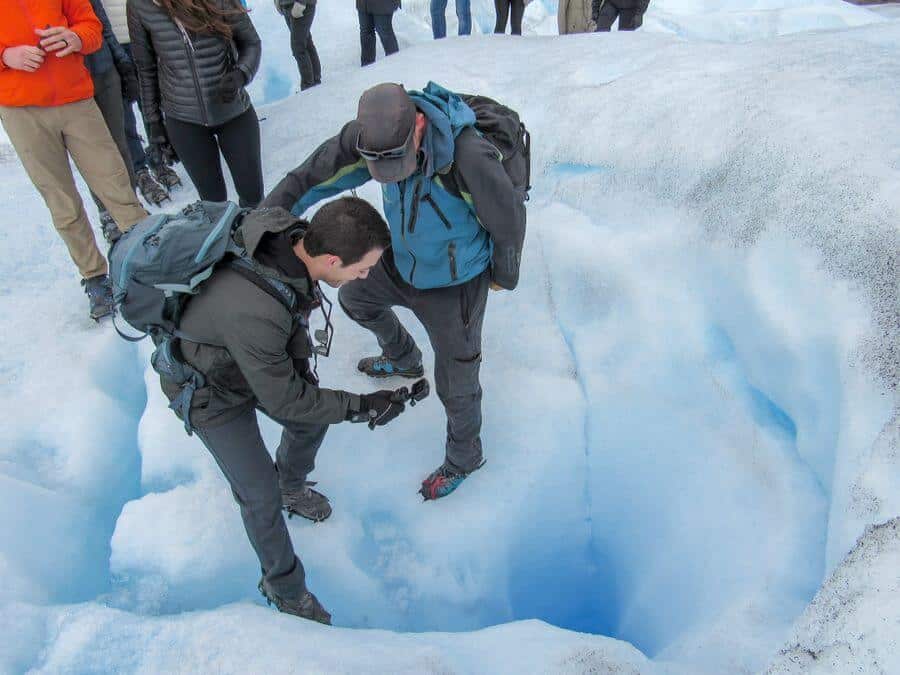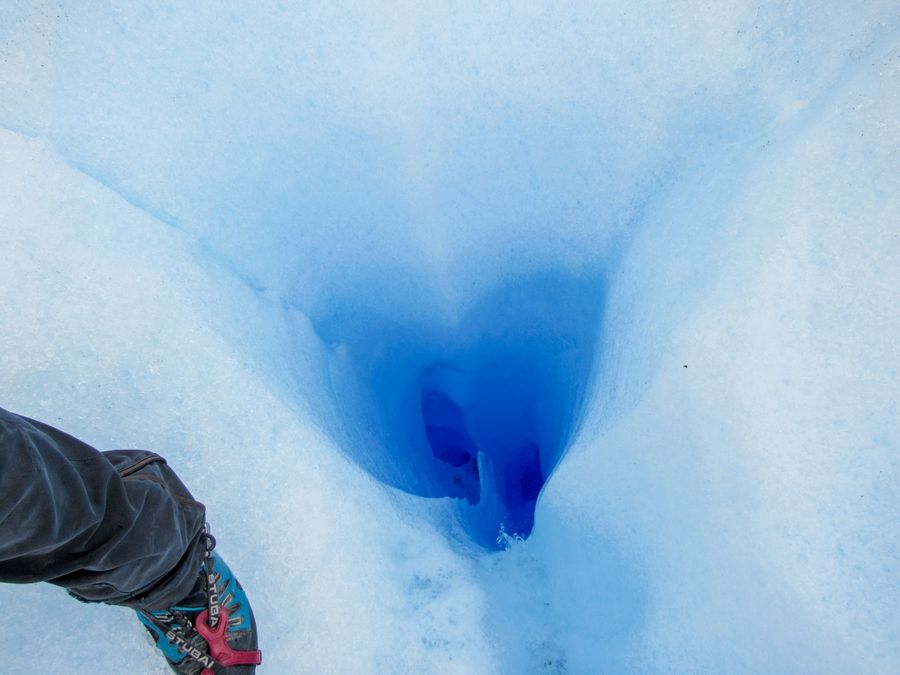 Weaving in and around pockets of water, massive cliffs, and caverns of ice, our guide continued to educate us on the Perito Moreno Glacier formation and how the paths they take on the ice change from month to month as it continues to change, melt, and repack.
We drank water from a small crack in the ice and it was some of the freshest and most delicious water we've had to date!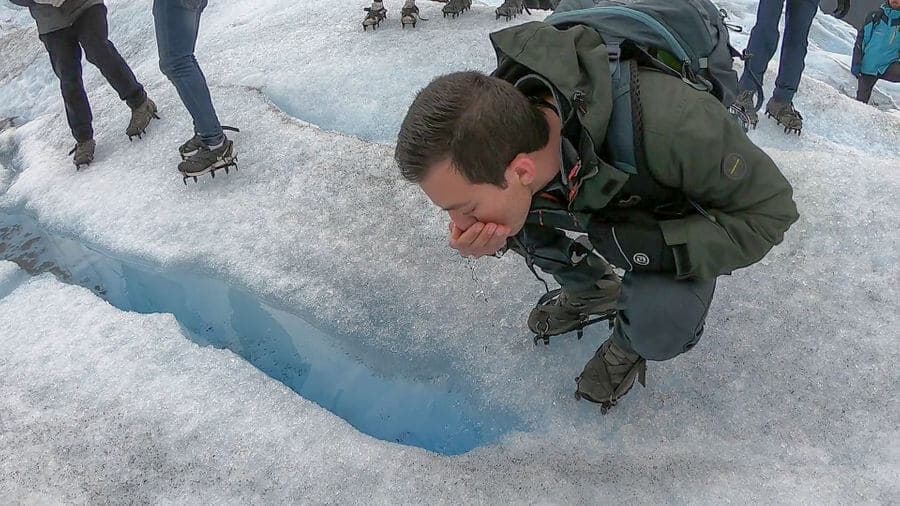 Just as quickly as it began, the 1.5 hours on the ice was coming to an end. What could only make this better would be a little pick-me-up of alcohol to help get over the despair of leaving the glacier.
Well, what do you know?
The Boozing Abroad Gods answered our cries with Sir Edward's Blended Scotch Whiskey over – wait for it – glacier ice!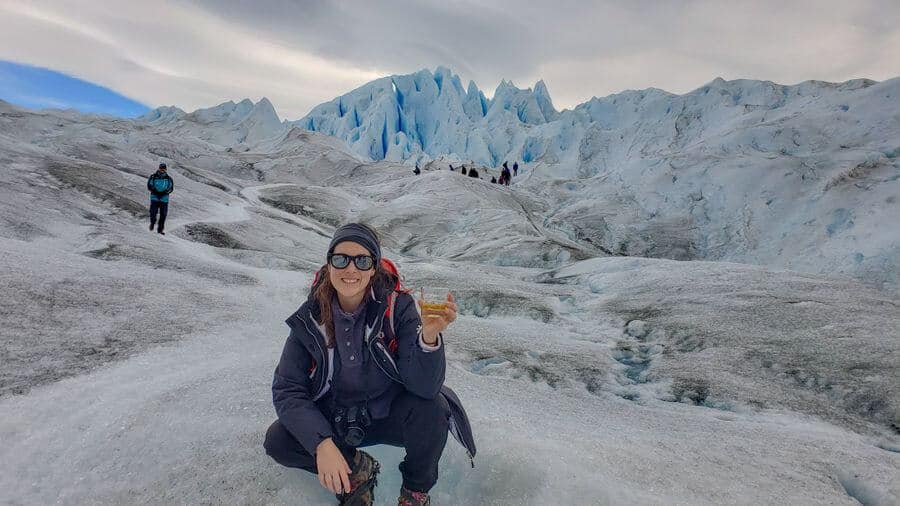 Of course, we had to sweeten the deal with some local Calafate berry liquor, also over glacier ice!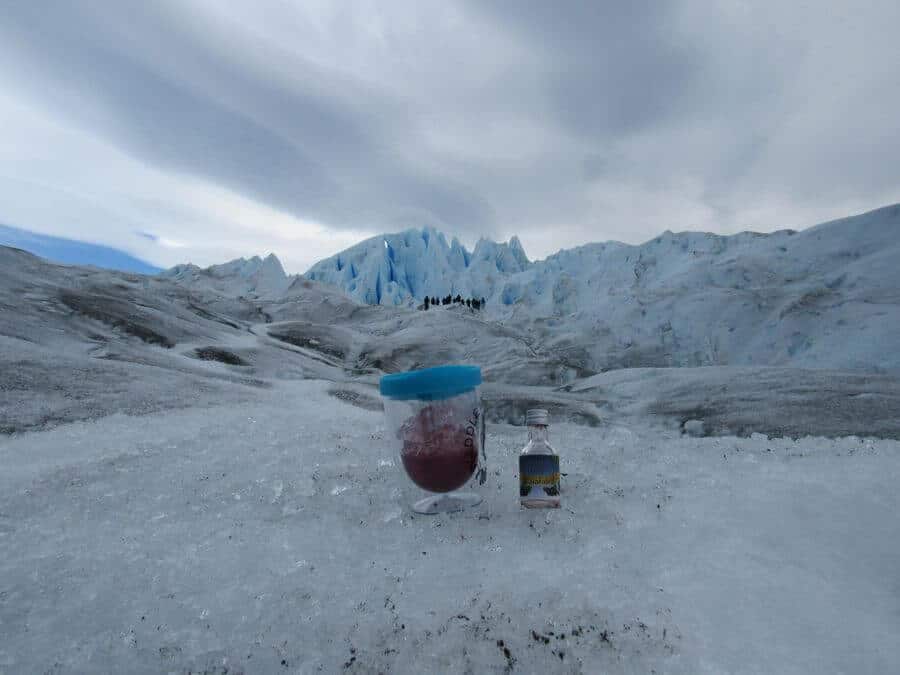 We abandoned the glacier, removed the crampons, and hiked about 10 minutes back to the shelter for a few last photos while we waited for the boat.
We also happened to have a bottle of Calafate wine with us for the bus ride home and decided to snap a few photos here – why not, we are Boozing Abroad after all.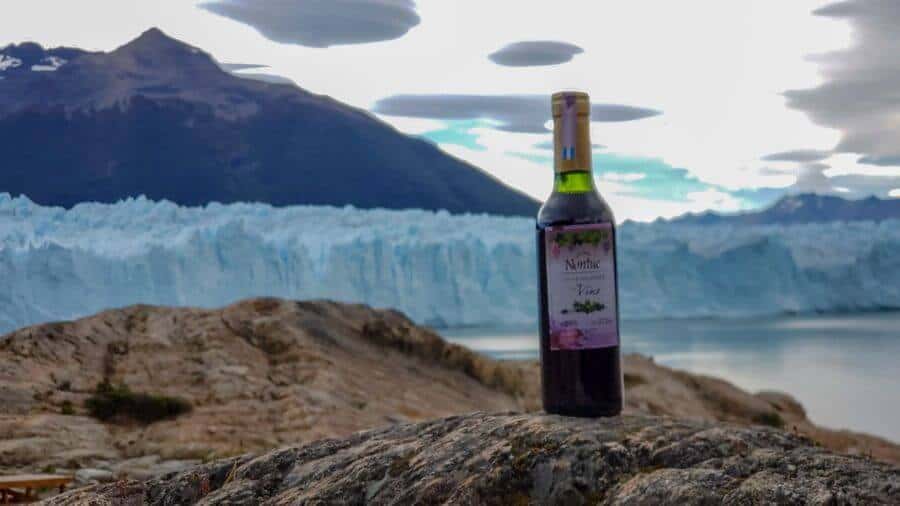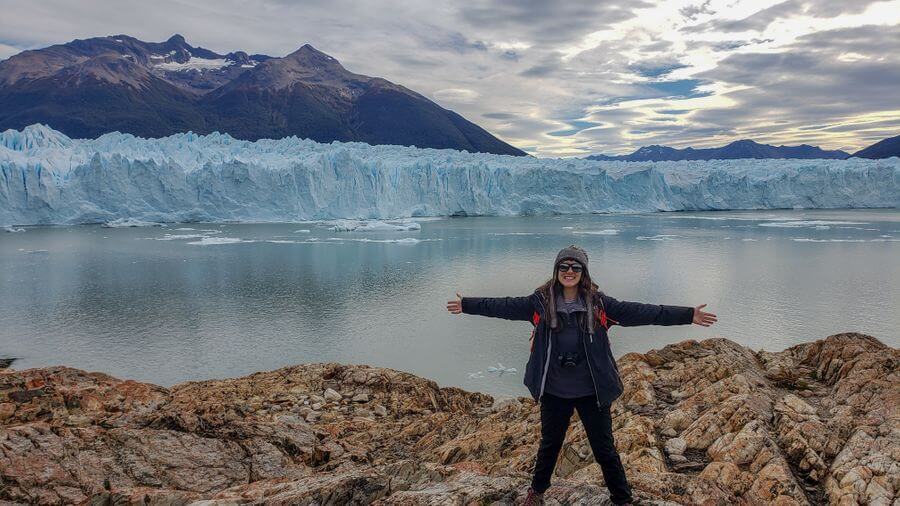 Overall Perito Moreno Glacier Tour
Retracing our steps from earlier in the day, we got back on the boat to head to the bus for the 1.5-hour ride straight back to El Calafate, where we were dropped off in front of our Airbnb.
All in all, this was by far one of the coolest experiences we've had to date!

✔️ Saw ice break off of a glacier and fall into the water with a thunderous boom
✔️ Boat ride with views of the 200-foot high Perito Moreno Glacier
✔️ Walking on ice
✔️ Drinking liquor over glacier ice
Things to know before you go:
Waterproof shoes are suggested for the hike

Find a long (cross-body) strap for cameras

It is cold on the glacier….duh!

High-ankle boots make walking in crampons easier

Gloves are a must

Whiskey tastes better on glacier ice, especially Perito Moreno Glacier ice

Bring 700ARS in cash per person for entrance

Bring a lunch and some snacks to enjoy (ham and cheese sandwiches are everywhere in Argentina FYI)

Don't worry about bringing a huge water bottle to last all day….the glacier water is wayyy better than your hotel room tap water!
From here, we kept on our 10-day itinerary through Argentina and headed towards El Chalten to hike in Patagonia.