What to pack for Patagonia Hiking – a day hiking pack guide
Patagonia is known for its high winds and unpredictable weather, which is why you need to be prepared for anything when you are preparing for Patagonia hiking.
Lady Luck was shining down on us the 2 days we were in El Chaltén as we had literally perfect Patagonia hiking weather. It was in the low 60s with mostly mild winds (until our last night).
See the video below! The wind was so strong it pulled Sam's hair tie out of her hair!
**Boozing Abroad contains affiliate links throughout the site. Read the full disclosure policy here** We are a participant in the Amazon Services LLC Associates Program, an affiliate advertising program designed to provide a means for us to earn fees by linking to Amazon.com and affiliated sites.
While our Patagonia hiking weather was perfect, we did experience the full force of a storm during our last night in Patagonia and we wouldn't want anyone to be caught unprepared in this environment if you were going out hiking. It will make your Patagonia hiking experience miserable if you aren't prepared.
For hiking backpacks, we prefer Osprey Packs for their durability and layout. We've tried others, but both prefer Osprey when we hike and usually start with that brand when we look to buy new packs. To view the Osprey store on Amazon, click here.
Here are some options available on Amazon:
Women's
Men's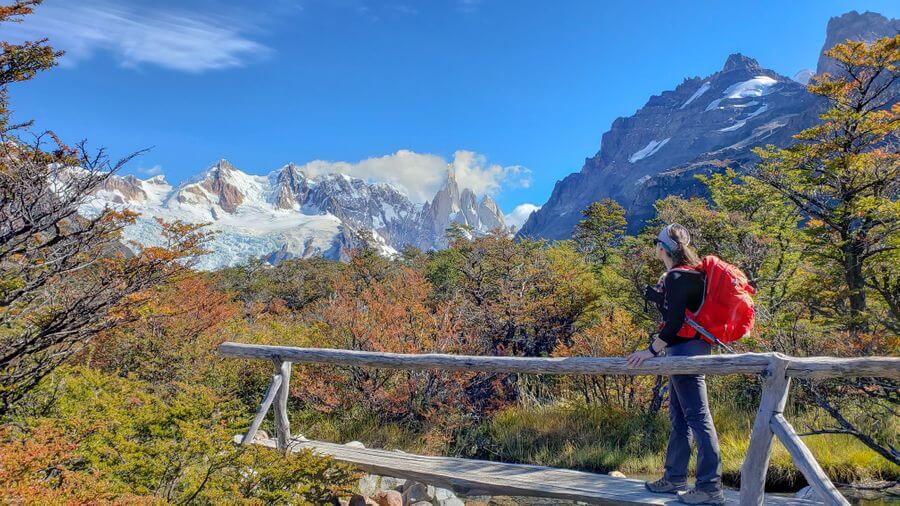 We suggest the 24 size which is really a great size and fit for day-hiking! It's comfortable, functional, and the hydration pack features were really great. Our Ospreys, as do many of them, also have a magnet near the mouthpiece which is a game-changer while enjoying the Patagonia hiking (or any hiking, for that matter) as the straw and mouthpiece don't bounce around all day.
The easy-access storage for trekking poles was also a great feature.
We had read some other blogs that said don't bring hydration packs because they were heavy and you could just drink from the numerous streams. But, we respectfully think that is a huge mistake.
Number one, having your water accessible at all times throughout your hike is key and it only takes an extra 30 seconds to fill the packs in the streams.
Most of the streams that we found were moving quickly so filling the packs took only seconds.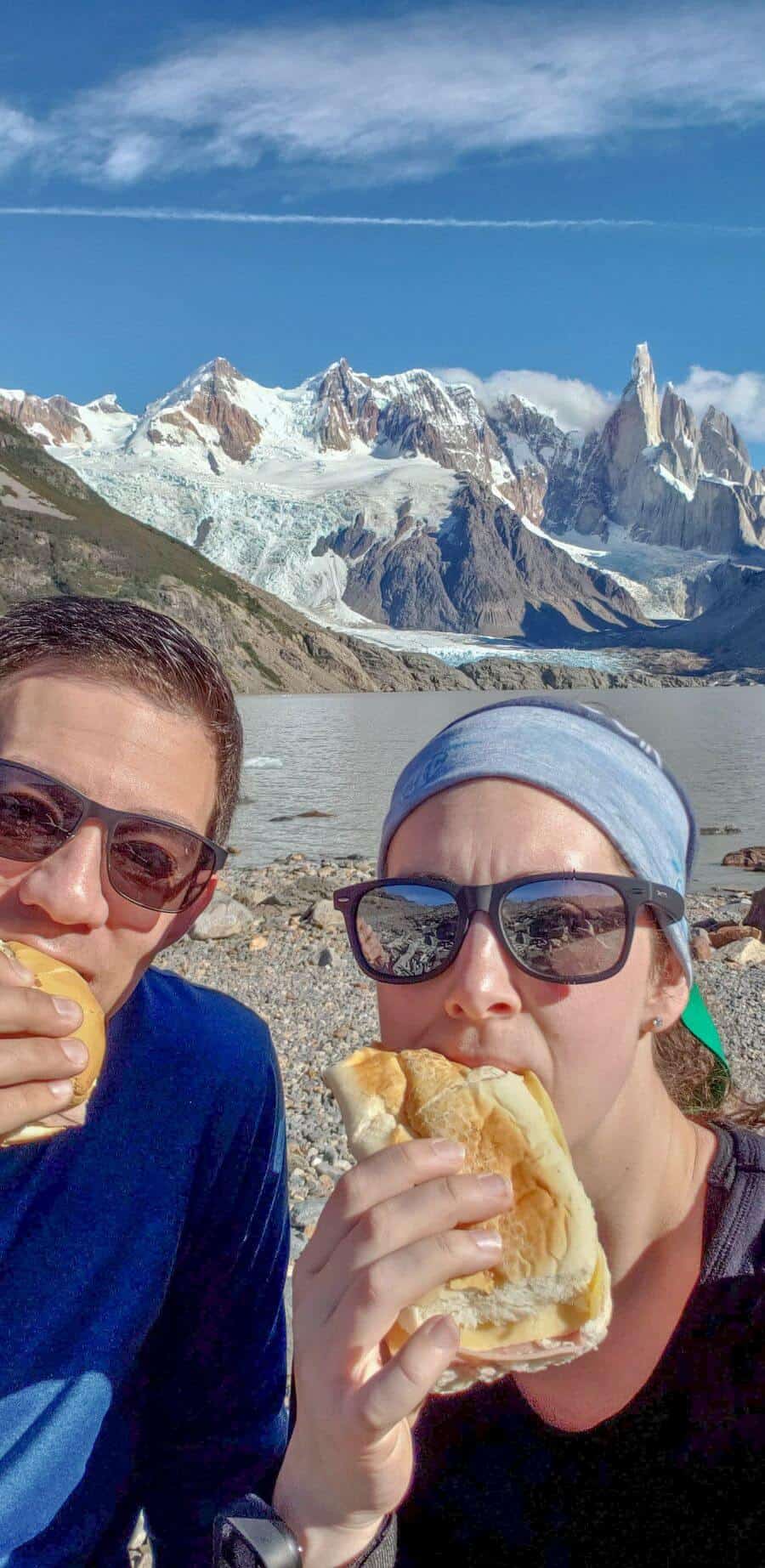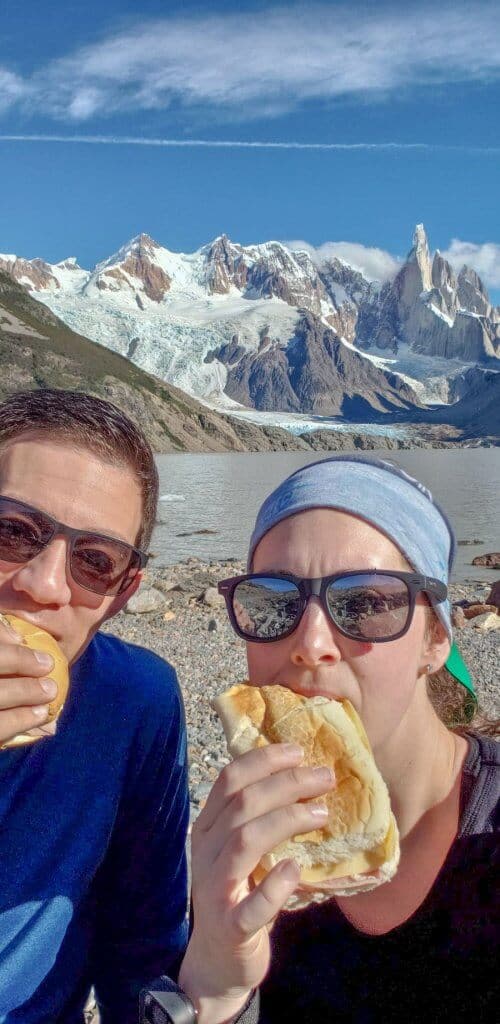 Day-hiking must-haves for Patagonia Hiking
Here is a list of what we had split among our packs for both hikes we did in Patagonia.
Emergency Heat Ponchos
While we didn't use these on this trip, we've used the Emergency Heat Ponchos DOZENS of times on other hikes. They are small and portable. It's a no brainer to have these on your Patagonia hiking trip.
As we've mentioned, weather is often unpredictable, even when not in Patagonia, so these are essential for any hike.
First Aid Kit
Being prepared for anything is essential when hiking in Patagonia. When picking out a First Aid Kit, we consider the difficulty of hikes and also length. If you are just going for a day, having a big kit might not be necessary.
We prefer this smaller First Aid Kit for long day hikes and this Larger First Aid Kit for overnight camping.
Lady's Only – Female Urinary Director

All joking and awkwardness aside, the Female Urinary Director is the BEST hiking accessory you can buy as a female. Sam first purchased hers for our Patagonia hiking trip and she's never hiked without it since.
It's easy to use and saves you from having to squat awkwardly with your pants down in a forest and hope to GOD no one passes you on the trail.
It's important to know the "toilets" on the trails for both Fitz Roy and Cerro Torre (2 of the most popular Patagonia hiking trails) are just 4 walls with a massive hole in the floor. Thinking about the smell still makes us gag.
Thankfully, Sam was able to stand over the hole and relieve herself without having to attempt to aim at the hole.
Ok, that's probably enough visualization and potty talk for one day. In short, this will change the way you pee on hikes and for the better.
As the #2 most important item that compliments the Female Director (pun intended), it's biodegradable toilet paper. This pack is small and perfect for hiking so it won't take up much room in your pack. Don't forget to pack a small trash bag for the used pieces.
Quick Dry, Microfiber Towels

When we were buying our Patagonia hiking accessories, we made sure we had a small microfiber towel. These came in handy when we were filling up our hydration packs in the water.
All the fresh water in Patagonia is safe to drink so no need to carry extra water bottles with you unless told otherwise by a local.
We liked that these had a small loops for hanging off our packs to dry as well as a mesh pocket for storage.
Blister Block Kits
There is literally NOTHING worse than being on a 16-mile hike and ripping open your heel (or toes) with a blister. It's happened to us and it's debilitating.
We've personally tried every bandaid, tape, etc. on the market and nothing compares to these Compeed Blister Kits.
Funny story with these actually. We were hiking and saw a lone hiker rummaging through their pack in search of Band-Aids for their blisters. Since we had 2 packs, we offered him one of ours. He thanked us and we continued on our way.
He ended up catching up with us at the summit and came over to us to get a picture of the product box. He said they were the BEST thing he's ever used.
Even if you never get blisters, these are super small and lightweight. Just put a couple in your first aid kit when you hike. You never know if you (or someone else) might need them!
Other essential day hiking items:
Food Items
Safety First
We were there in late summer/early fall and had the best luck EVER with weather, but our last night there, a storm rolled in.
The wind was easily up to 50 mph and we thought it was going to knock down every building in it's path. Rain was coming at us sideways and within seconds of being outside, we were soaked.
Luckily, we were heading to the bus station, but we just as easily could have been camping or on a trail.
We prepared for the worst case scenario for our Patagonia hiking day packs. We read dozens of blogs where people had hiked 3 hours in to Fitz Roy just to have the heavens open and get pounded by rain, sleet and snow.
While we didn't use half of our supplies, had we been in a serious situation, we would have been warm, dry and not hungry! Before you go, check the mountain forecast and make sure you know what the wind/rain will be!
To see other stops on our 10 day Argentina itinerary, click here.