What to do in Catania Italy: the perfect guide for visiting eastern Sicily
The island of Sicily, and more specifically, Catania, is usually a forgotten land when it comes to planning trips to Italy because of everything else that Italy has to offer (think Rome, Florence, Venice, etc.).
It gets the proverbial "boot" if you will.
There are also many things to do and deciding what to do in Catania can be hard. Skipping this city on the Mediterranean's largest island couldn't be more of a mistake.
Read on below to find out more on what to do in Catania, Sicily, a destination on your next Italian getaway.
Psst: Looking for more Italy info? We have a few guides! Browse them all here or see the most popular below:
**Boozing Abroad contains affiliate links throughout the site. If you choose to purchase items through these links, we will earn a small commission at NO extra cost to you. Read the full disclosure policy here**
Map of what to do in Catania
Click the interactive map below!
HOW TO USE THIS MAP: To view the layers and see the names of the places on this map, click the tab in the top left corner. You can select the check marks to show or hide certain layers. If you select the icons on the map, you will get more information about the point of interest.
HOW TO SAVE THIS MAP: If you select the star icon next to the map name, you can save this map to your Google Maps account. To view it, open Google Maps in desktop or on your phone, select the menu button, go to "Your Places," scroll to the right to Maps, and you will see this map.
About Catania Italy
The city of Catania is located on Sicily's eastern coast and is the second-largest city in Sicily (and one of the ten largest in all of Italy) behind the western-coast city of Palermo.
This charming, old-world city was founded by the Greeks way back in the 700s BC and has been an important economic and cultural hub of Sicily and Italy through present-day.
Catania's most well-known attraction is Mt. Etna, which has propped up Catania's industrial and agricultural economies for so many years because of the sulfur that can be extracted and for the fertile soil that the volcanic ash leaves behind (hence, the abundant options for wine tasting in Catania).
However, Catania is more than just where you come to see a magnificent, and still active, volcano in action. The city of about 1.1 million people is also known for its history, architecture, food, and our personal favorite, its ever-growing wine scene.
Plus, because you're outside of the main tourist cities on Italy's northern mainland, you'll experience a more local feel to your trip and at a MUCH lower price tag to "boot". OK, no more boot jokes!
Best Time to Visit Catania Italy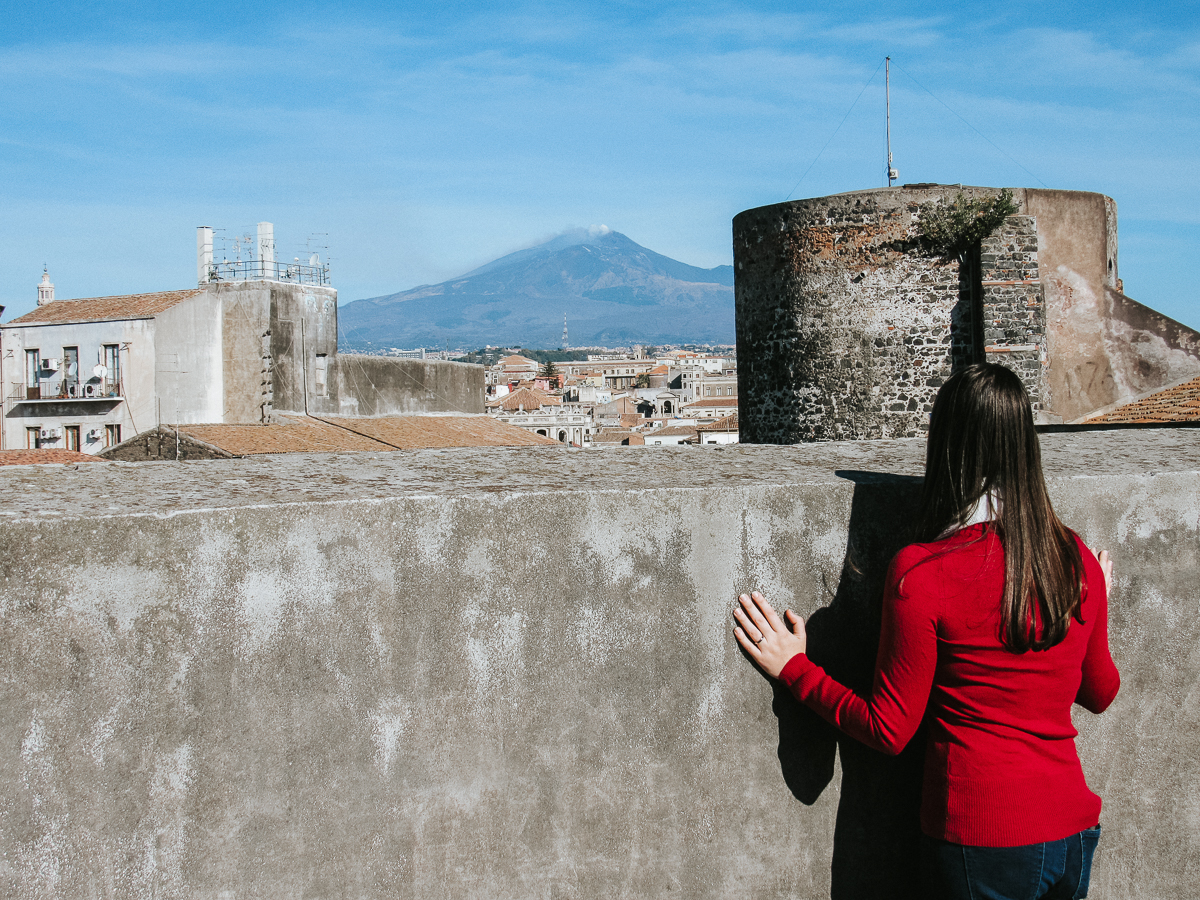 One of the great things about Catania is its warm coastal climate, making it a year-round destination option. Summers are some of the hottest in all of Italy, with average highs near and exceeding 90°F (33°C) in July and August.
Winters are fairly mild with average highs around 60°F (16°C) and average lows only around 40°F (4°C). In fact, the lowest temperature ever recorded in Catania was only about 23°F (-5°C), which isn't too bad at all compared to some winters we've heard about and experienced ourselves!
Catania is also pretty dry throughout the year, especially in the spring and summer, so your trip agenda is likely safe from any complete rainouts.
Snow is not as common in the main part of Catania either because of Mt. Etna's protection, but some of the surrounding hilly towns do experience some light snowfall, but it's nothing too crazy.
The tourist season in Catania is busiest during the normal summer months (June through August) when the temperatures are at their hottest. Visiting during the shoulder seasons (either April and May or September and October) will expose you to fewer tourists and milder temperatures.
If you visit during the off-months (November through March), you'll encounter even fewer people, cheaper prices if you hunt around, but also earlier closing times for various attractions which can make it hard to plan when deciding on what to do in Catania.
We visited Catania in late February and experienced highs in the 60s (16-20°C) and lots of sun during the day with lows in the mid-40s (around 7°C). And we didn't see a drop of rain during our few days in town. It was really great, comfortable walking-around weather and the only time we started to get some colder temperatures was when we were climbing on Mt. Etna at a higher elevation.
Where to stay in Catania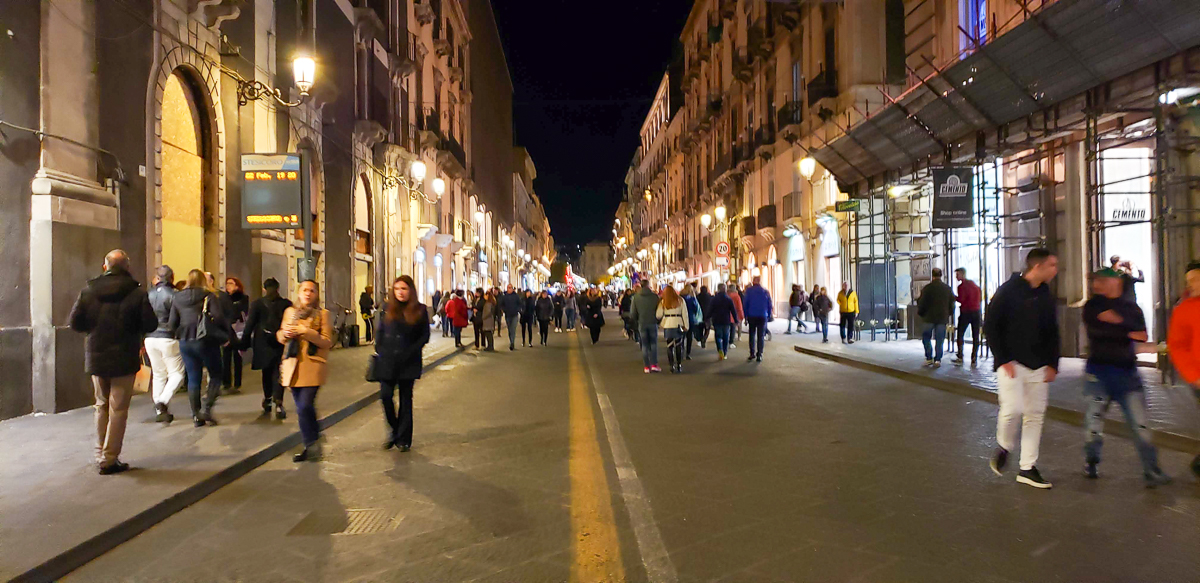 While Catania seems expansive on a map, it's very easy to navigate on foot. Via Etnea is the main street in Catania and we'd suggest staying a block or two off of it. 
This main street is heavily trafficked by pedestrians until late in the evening and can make for a noisy sleeping environment.
Plus, you can snag a better deal by not being right on the main drag!
Booking.com probably has the widest selection of budget (and luxury) accommodations in the world. In our experience, they consistently found the cheapest rooms. We also like their easy to use interface and no money down policy. When we book our travel stays, we personally use booking.com.
All of these are located near the city center close to the main streets:
Getting Around Catania
Public bus
Like most of Europe, the public transportation system is cheap and can get you where you need to go.
Getting to Catania from the airport, you'll exit near baggage claim to jump on the Alibus, which will take you into the city center for €4 round-trip or a one-way ticket is just €2.50. It runs every 25 minutes from 5 AM to midnight.
In town, the local bus system is €1 for a one-way ticket and will connect you anywhere you want to go in the city center.
Walking
Catania is a very easy-to-navigate town and we walked the majority of our time here.
The upside to walking is window shopping and we were able to browse many different boutiques because of it. Also, more exercise means more wine and cheese!
What to do in Catania
Visit Mount Etna (not on a tour)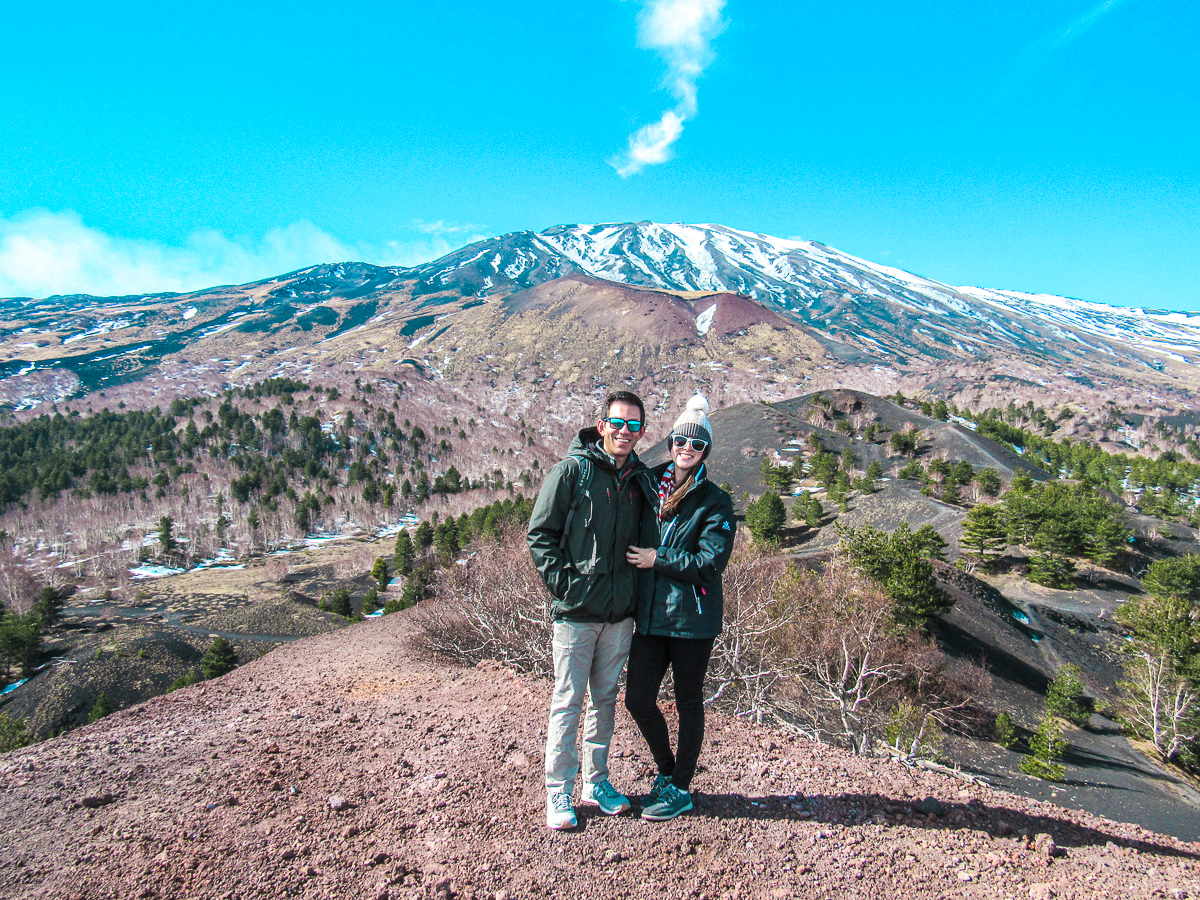 In addition to shaping Catania's economy for years, Mt. Etna has literally been shaping the city of Catania and its surrounding towns for hundreds of thousands of years.
Mt. Etna, known to the locals as Mongibello or "beautiful mountain", has been called both a curse and a blessing because the numerous eruptions have destroyed huge parts of the city and created new landscapes.
But she (the Italians have dubbed Mt. Etna a female) also yields incredibly fertile soil, perfect for vines, resulting in more wine tasting in Catania for you and us.
Mt. Etna is one of the world's most active volcanoes and if you look up behind the Catania skyline, you'll see that she is in an almost constant state of activity and eruption. Naturally, we flock to hike, ski, and climb it!
Don't worry though. Because Etna is so active and there aren't major build-ups of lava and gas, the eruptions are more lava flow than an actual volcanic explosion.
Plus, with our current scientific capabilities, we can tell before she will erupt and have plenty of time to evacuate the hillside.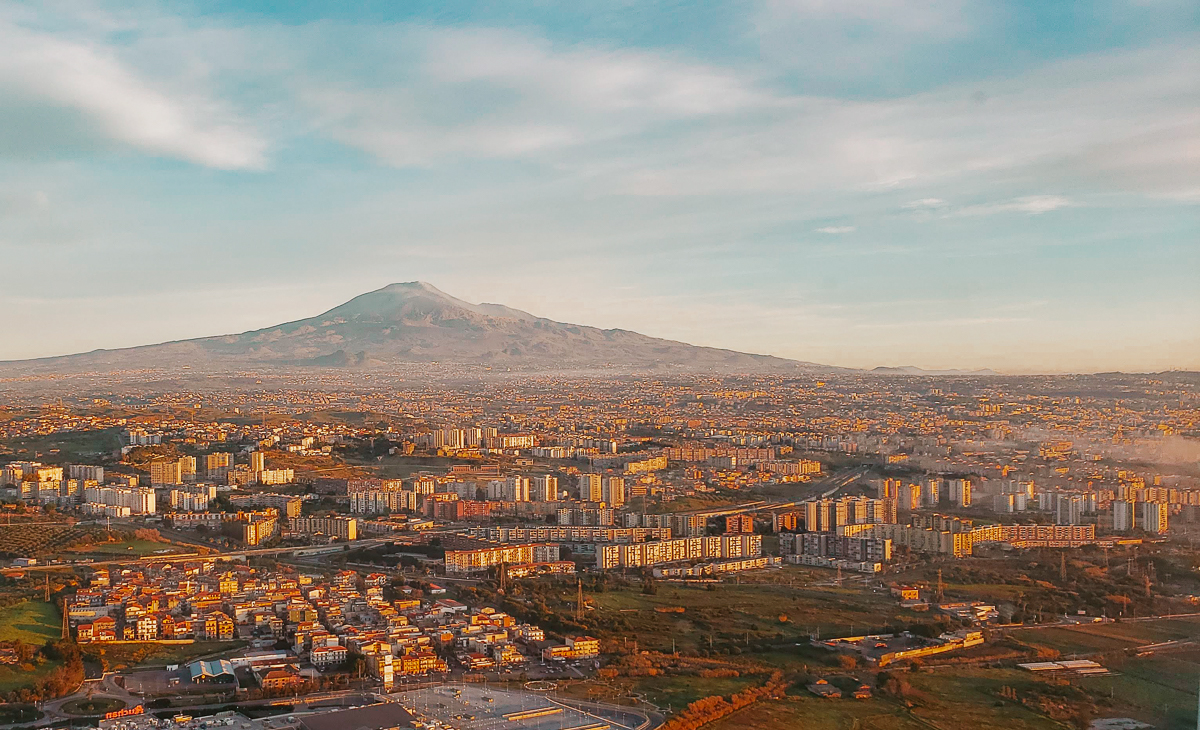 Assuming you aren't going to book any sort of organized door-to-door tour, you'll need to get to Rifugio Sapienza or "Etna South", which is the launching point for almost everything you'll want to do around Mt. Etna.
To get here, you might have to forgo that morning cappuccino in order to catch the only public bus that leaves Catania for Mt. Etna at 8:15 AM each day. Yes, the most popular tourist attraction near Catania = 1 bus a day.
First, you'll need to purchase your ticket from the AST Ticket Office, which is just across the street from the bus station at Via Don Luigi Sturzo 236.
You can buy your tickets the morning of, but if you're in town and want to be sure you have a seat, purchase them a day before and scope out where you need to go the next day. Tickets are €6.60 for a roundtrip fare.
The bus "station" is really just a large parking lot at Piazza Papa Giovanni XXIII in the center of the traffic roundabout. Once you have your ticket in hand, head to the bus loading area at least 30 minutes early.
Italian public transportation is notorious for schedule changes and just general chaos, so better to be safe than miss your only chance of the day.
Once on the bus, you'll travel for about an hour before stopping at the town of Nicolosi for about 30 minutes. Here, you can stretch your legs and grab that cappuccino you missed earlier before getting back on the bus heading to the main attraction where you'll arrive at about 10:15 AM.
The bus will leave Etna for its return to Catania at 4:30 PM (again, there's only one bus back), so make sure you get there in plenty of time to secure your seat. Your ride back to Catania doesn't stop at all, so it's a shorter return trip that arrives around 6 PM.
Now that you've navigated Italian public transportation and made it to Mt. Etna basecamp (at about 2,000 meters elevation), what's next?
Independent hiking and cable cars
Depending on how tight your budget is, there are several options for experiencing this majestic volcano.
If you're cash-strapped, there are a few volcanic craters (the Silvestri Craters) that you can explore right near Rifugio Sapienza. Or, if you're up for a little more activity and adventure, you can hike up 900 meters to get to the summit.
This will be the highest elevation to which you can climb without splurging for a guide. The first part of this hike isn't all that interesting (photo ops improve as you climb higher) and you'll be watching the easier and quicker transportation options pass you by, but it's a free way to experience Etna.
Have a little more cash to burn?
You can opt for the cable cars that will take you from basecamp up to 2,500 meters (€30 and 10 minutes). If you're still itching to go higher, you can then jump into a 4×4 Jeep (another €30 for the ride plus another €9 for the mandatory volcanologist at the top) and head up to the summit at 2,920 meters, or almost 10,000 feet!
Once you get to the cable car area, there are restrooms, a small cafe, and even a jacket rental for your unprepared friends.
Honestly, if you're physically capable, we'd definitely recommend hiking at least part of the climb as it can get pretty pricey and the views along the way are astounding!
If you choose to do the combined cable car and jeep, you should be able to buy a combo ticket for €57.
Take in views of Mount Etna
Rooftop bar with view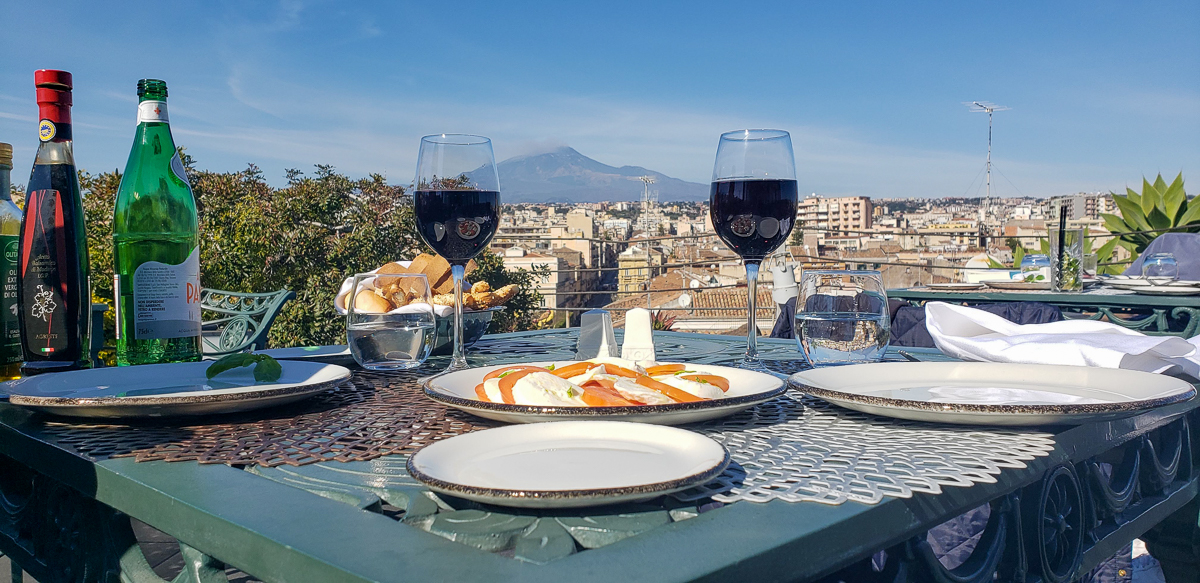 If you are limited on time or cash or missed the only bus to get to Mount Etna, you can enjoy the mountain from several rooftops in the city.
Most rooftop bars do not have a cover in Catania so you'll just need to splurge on the cost of a drink.
We suggest the Etnea Rooftop Bar since the view is unobstructed and the prices are mid-range.
Church of the Abbey of Saint Agatha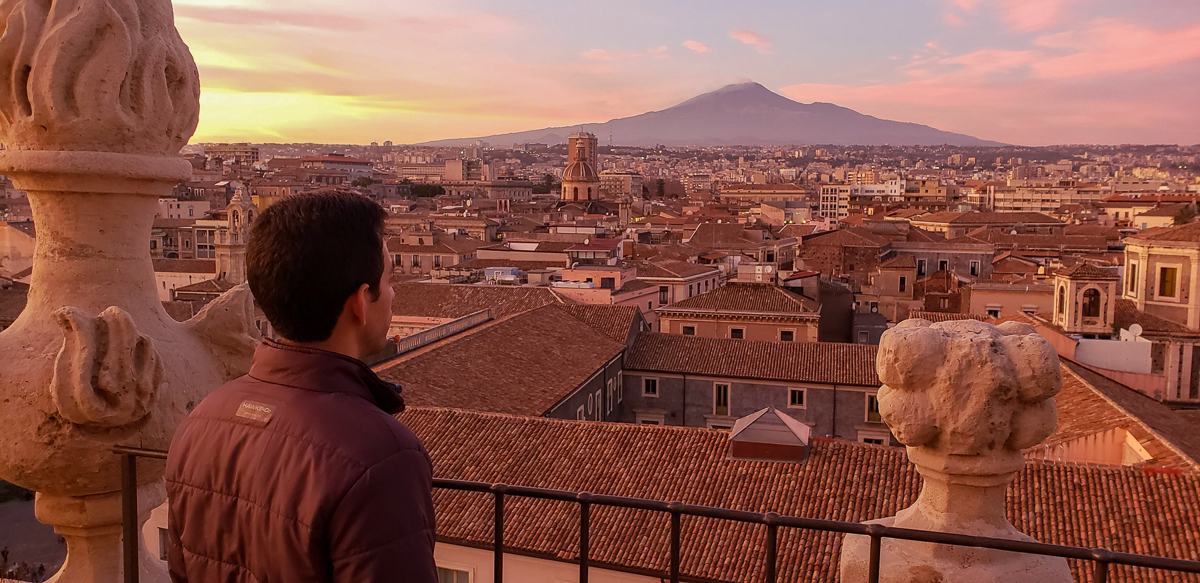 For about €5, you can climb the dome at the Church of the Abbey of Saint Agatha.
Modeled after the Church of Sant'Agnese in Agone in Rome, the church was constructed during the late 1600s and the dome was completed in the late 1700s.
A new set of terraces opened in 2016 allowing for 360-degree views of Catania, including Mt. Etna.
We suggest going before sunset to experience the striking colors over the city skyline. Afterwards, stroll around the square below and bask in the Italian outdoor culture.
Castello Ursino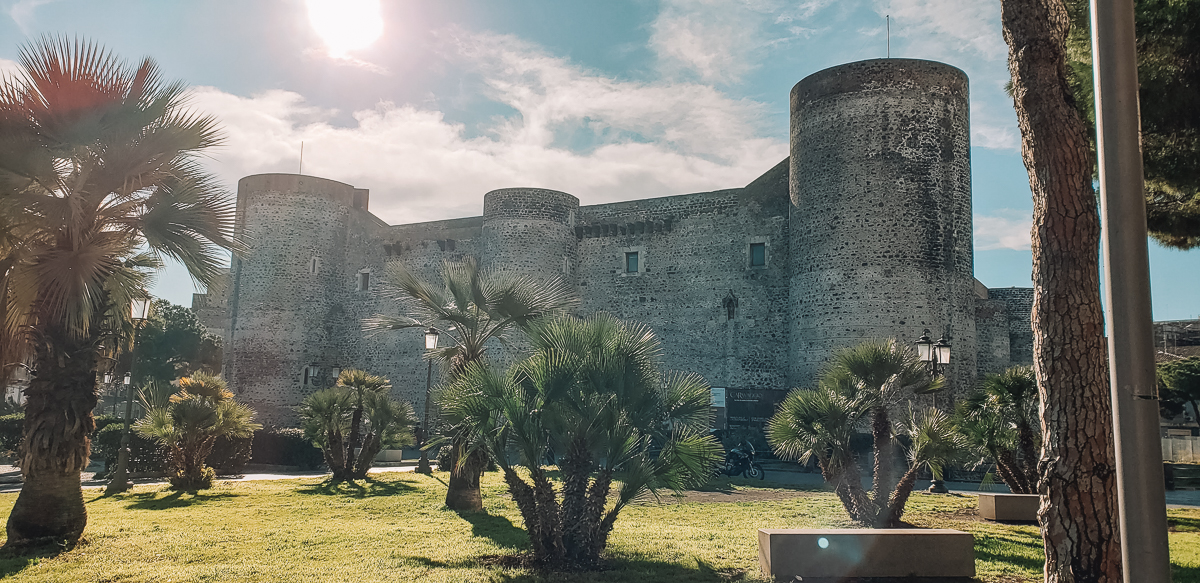 Castello Ursino was built way back in the mid-1200s as a sign of royal power and to defend the capital of Sicily at the time, Catania.
Once considered impregnable, the castle served in its military role until it was re-purposed as a prison when the capital was moved away from Catania and powder weapons became more commonplace.
The symmetrical castle used to have an oceanfront view out of some of its corner towers, but you can blame Mt. Etna for filling in the moat with lava and ash and today being over a half-mile inland.
In the 1930s, the castle was acquired by the city of Catania and restored into a museum, which is still open today. The museum has artifacts and artwork from throughout its history and from the surrounding areas.
For an epic view of Mount Etna, climb up to the top rooftop to see a great view of Catania and the roaring volcano.
Ticket prices are only €6 for adults but can be more expensive if there is a special exhibit on display.
Buying + Bargaining for Souvenirs in the local Market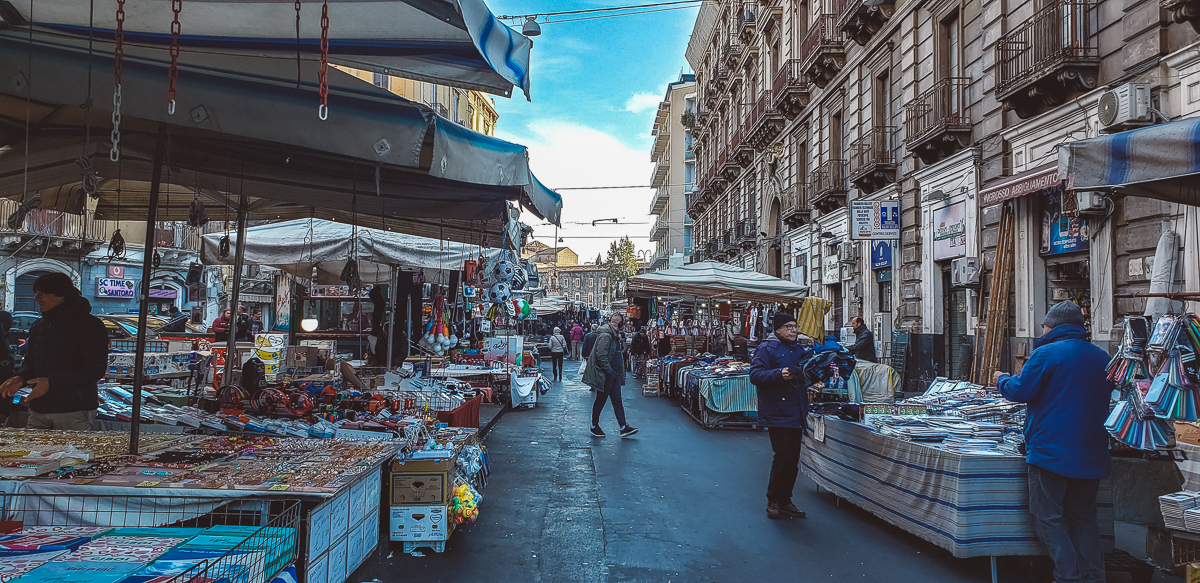 Mercato di Piazza is a large outdoor market open Monday-Saturday starting at 8 AM.
Plan on spending an hour weaving in between the packed stalls and listen to the customers bargaining in Italian for lower prices. You can find just about anything you are looking for here from souvenirs to gently-used designer jeans to locally-grown produce or freshly-caught fish.
Whether you are looking for something to buy or just wanting to browse, this market will be sure to entertain you.
Cheap Happy Hours and Eats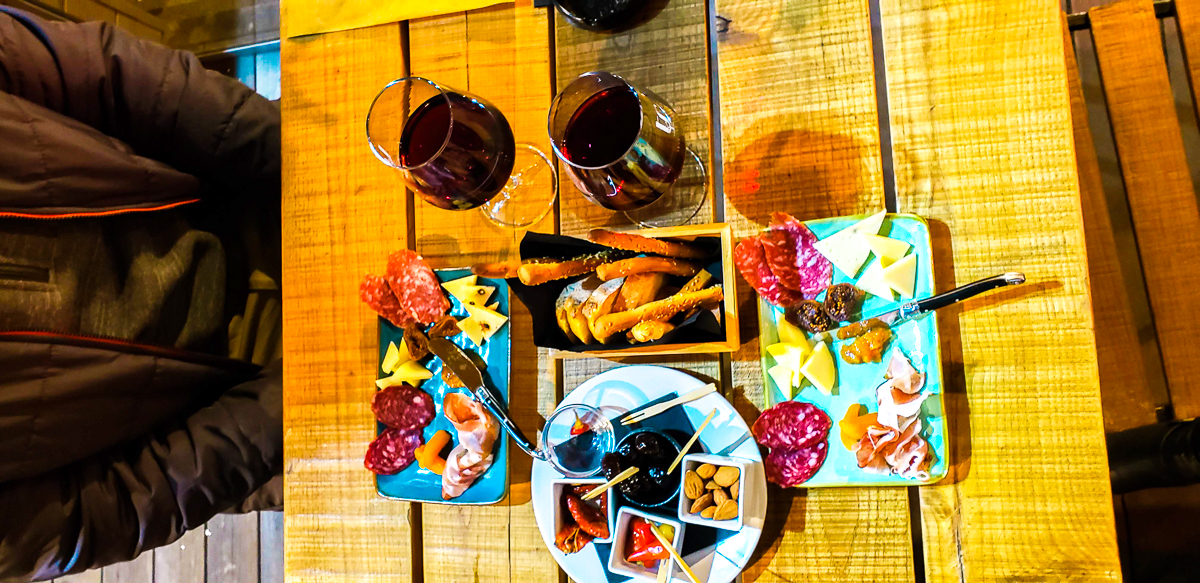 The Italians take happy hour seriously, and for anyone on a budget, this is great news!
As defined, an aperitivo is an alcoholic drink meant to stimulate your appetite before a meal.
In Italy, "aperitivo" is more than just a drink though, it's a full-fledged culture. Most Italian aperitivo involve a reduced-price drink that comes with a small cheese plate or other finger foods.
You'll be able to walk the streets of Catania and find numerous aperitivo offerings, but we enjoyed two different aperitivos, one on Cru Enoteca outdoor patio and the other within a quaint outdoor square at the famed Razmataz wine bar, complete with ambient live music.
Via Santa Filomena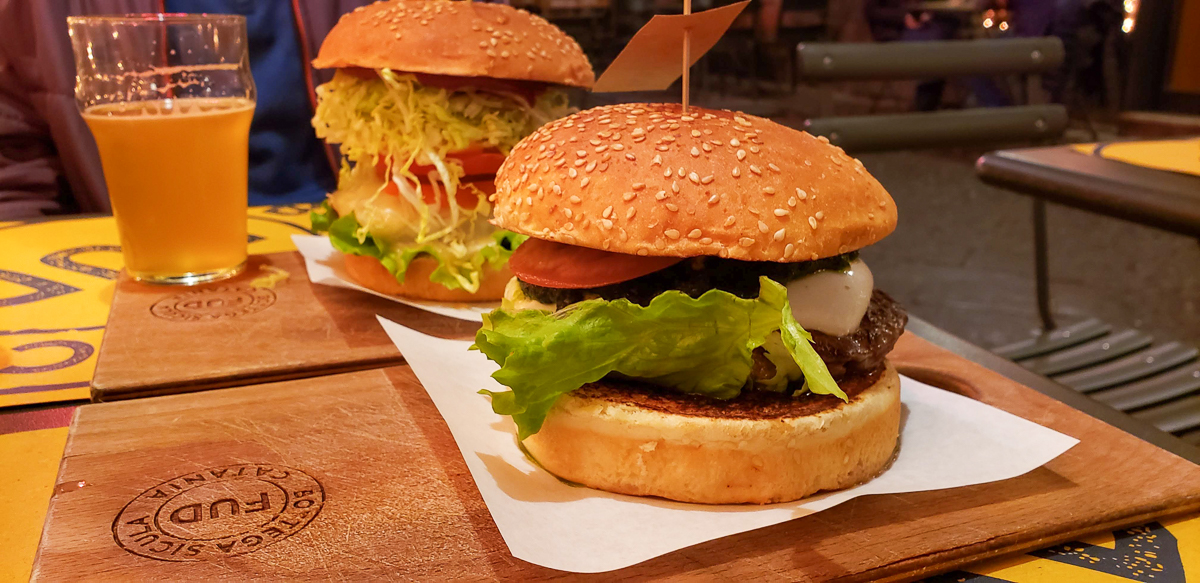 Via Santa Filomena is where you'll find a food mecca for all types of preferences.
From gourmet burgers to classic Italian pizza, you can walk down this pedestrian-only street to find the best cheap eats or bounce around during happy hour for budget-friendly drinks and small plate options.
We ate dinner on Via Santa Filomena two nights in a row.
The first night at Curtigghiu for some delicious pizza and the second night at FUD for burgers. We saw the burgers being ordered while we were sitting outside on night one which is what made us come back again. We were NOT disappointed!
Wine a bit, you'll feel better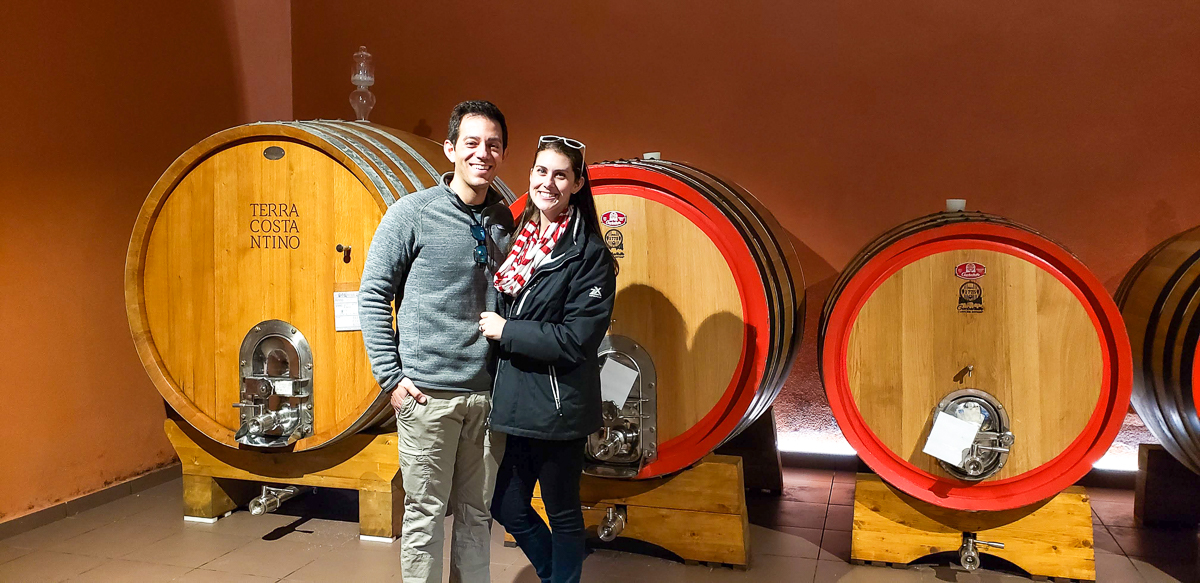 Though it's often overshadowed by Tuscany or other well-known Italian wine regions, the Etna wine region is an up-and-comer in the wine industry (even though it's been around forever) and wine tasting in Catania is definitely alive and well.
In addition to the fertile volcanic soil from Mt. Etna, Sicily's dry, warm climate and abundant sunshine are perfect for grape-growing, including the Nero d'Avola, Nerello Mascalese, and Carricante grapes.
While wine tours in the region can be expensive, every restaurant and wine bar in town will have all of your favorite Sicilian wines at great prices!
Take advantage of the free things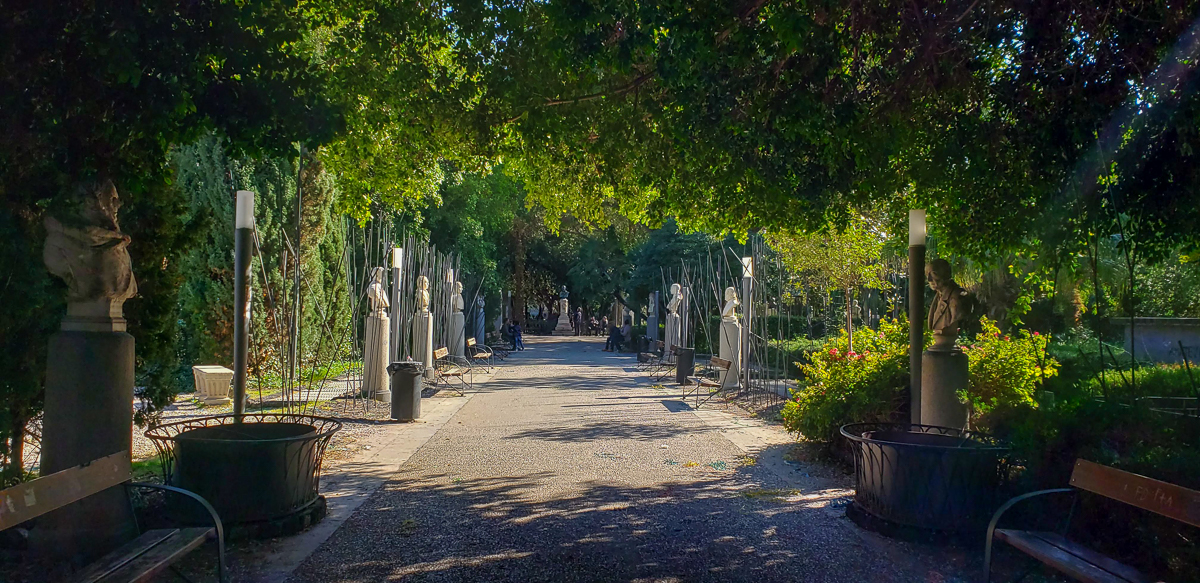 Like most of Europe, the parks are free to explore and Catania is no exception.
Located off the main strip is La Villa Bellini, the Villa Bellini is a city park and garden that is a great place for a picnic or just to stroll around.
There are drink and food stalls located at the entrance and scattered throughout the park.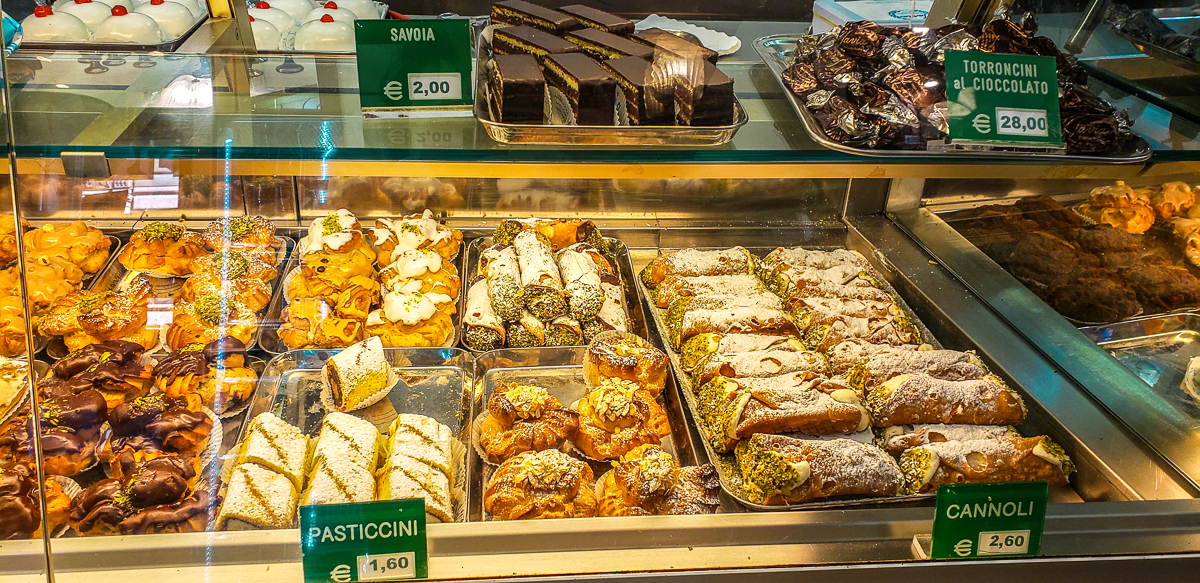 Directly across the street from the park is Pasticceria Savia, one of the most famous bakeries in Catania. Opened in 1897, this bakery has great prices and a large variety of confectionery treats!
The line will be long, but it will move quickly. We suggest popping in for a treat, like a cannoli or cassatelle cookie, to take in the park with you.
Roman Amphitheatre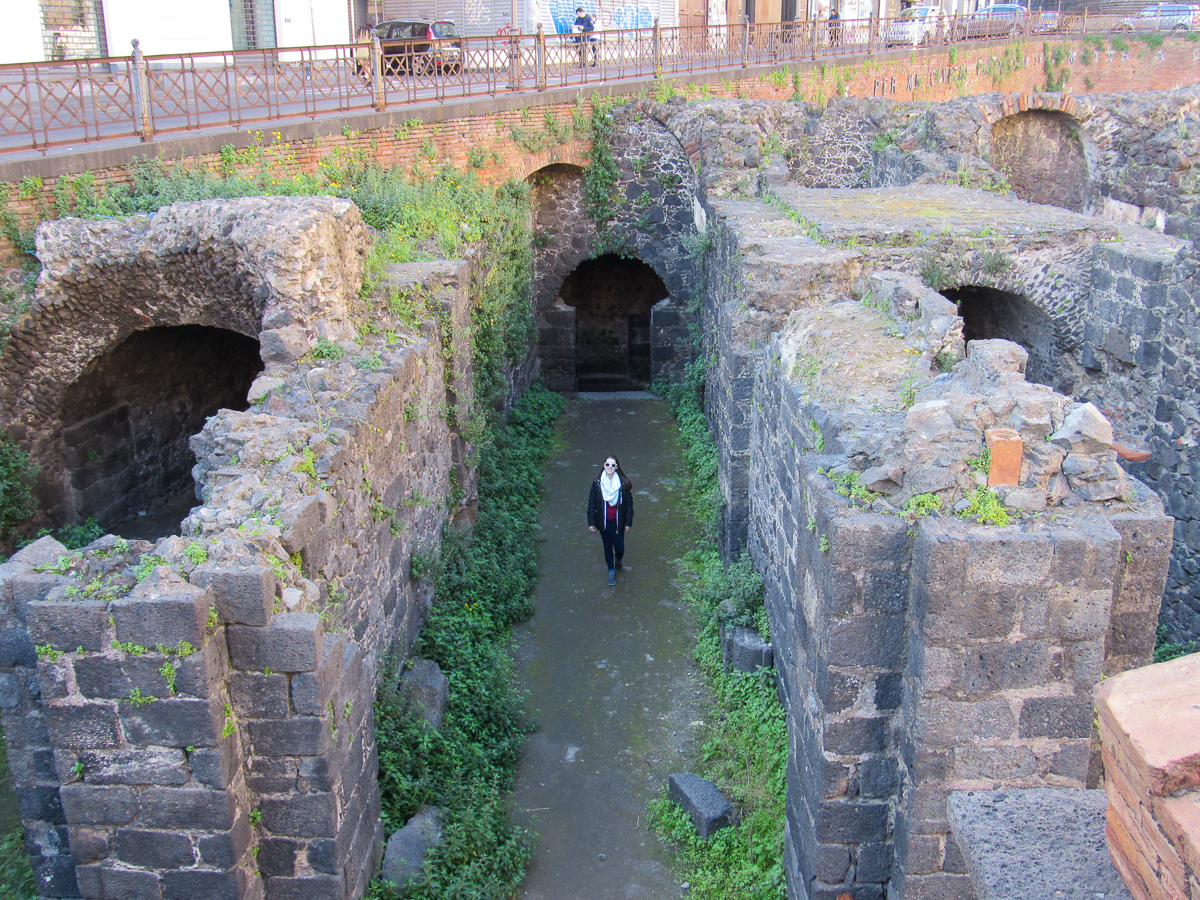 Located within Piazza Stesicoro, which is just off of the main drag of Via Etnea, the Roman Amphitheatre is a true Italian marvel lying beneath the streets of the bustling downtown.
With no entrance fees, you can descend down into the amphitheatre to explore the maze of hallways and try to imagine what this place looked like back in the 2nd century!
You'll only be able to explore a portion of these ruins since the vast majority of it is still under the surrounding streets.
Archaeological Complex Terme della Rotonda
This complex in downtown Catania is just north of the amphitheatre and takes you back in time to experience the magnificent architecture of Catania.
The ruins, including the large rotunda building that was once a bath house, but later transformed into a church and dedicated to the Virgin Mary, date back to the 1st and 2nd centuries.
While it's only open on Wednesdays and Saturdays, it's always free to enter.
Although Catania might not be at the top of your Italian getaway list, it's a city rich with culture and character which has been rebuilt and reborn after destruction from numerous wars and Mt. Etna eruptions.
From the majestic Mt. Etna to the charming and bustling streets of the old downtown, Catania is sure to delight those travelers looking for a little bit more authentic and rugged Italian experience!
Ready to visit to Catania? Read hotel reviews on TripAdvisor then book your room here!
But where do we personally recommend? Let's B&B is perfectly located and truly amazing staff.
Don't forget to pick up an Italy guidebook for your other Italian adventures.
Love this guide? Have questions? Get in touch with us on Facebook | Twitter | Instagram | Pinterest