How to spend 3 days in Rome, Italy: complete itinerary
Rome is a massive city, rich with historical landmarks and attractions. Rome has so many things to see, drink and eat that you need to determine how many days in Rome you'll have to maximize your time.
When we were planning a trip to Italy for the first time, we weren't sure how many days to spend in Rome, but found we covered most of the top attractions in 3 days in Rome.
Did we miss stuff? Absolutely. You could easily spend an entire year living and exploring in Rome without doubling up on attractions.
However, we have created this best 3 days in Rome guide to help you plan your Italy vacation.
Short on Time? Here are the key takeaways:
Our itinerary breaks up the top Rome attractions into 3 manageable days.
We recommend the Monti Neighborhood and Centro Storico for hotel stays.
Our favorite attraction was going up on the roof at Vittorio Emmanuel and the Colosseum.
Our favorite experience was the Italian cooking class.
Psst: Looking for more Italy info? We have a few guides! Browse them all here.
This post was originally published in November 2019, and was updated in April 2023.
**Boozing Abroad contains affiliate links throughout the site. If you choose to purchase items through these links, we will earn a small commission at NO extra cost to you. Read the full disclosure policy here**
Is 3 days enough for Rome?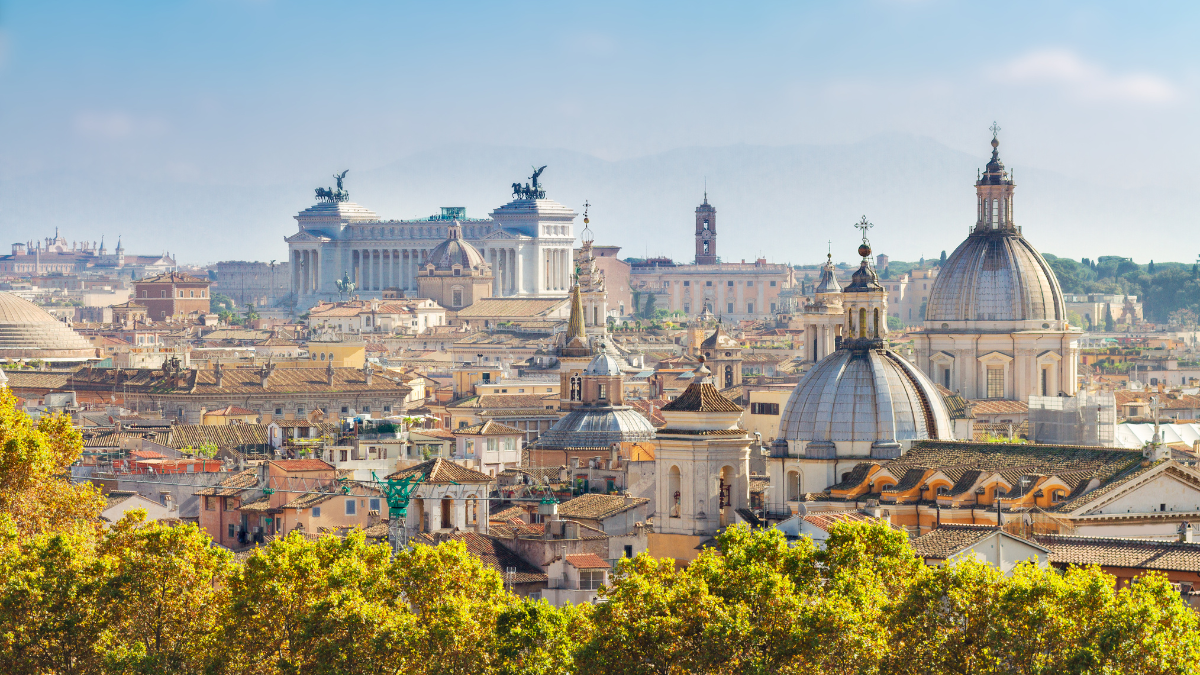 3 days in Rome is doable, but you'll need to be on the move alot. The city is expansive with a lot to see so you'll need to plan your days a bit more to ensure you see everything you want to see.
How to get to Rome?
Rome airport to city centre
There are 3 ways to get to Rome from their main airport, Leonardo da Vinci–Fiumicino Airport (FCO): train, taxi or uber. We personally suggest the train, but we'll included all options for you below.
Rome Airport To City By Train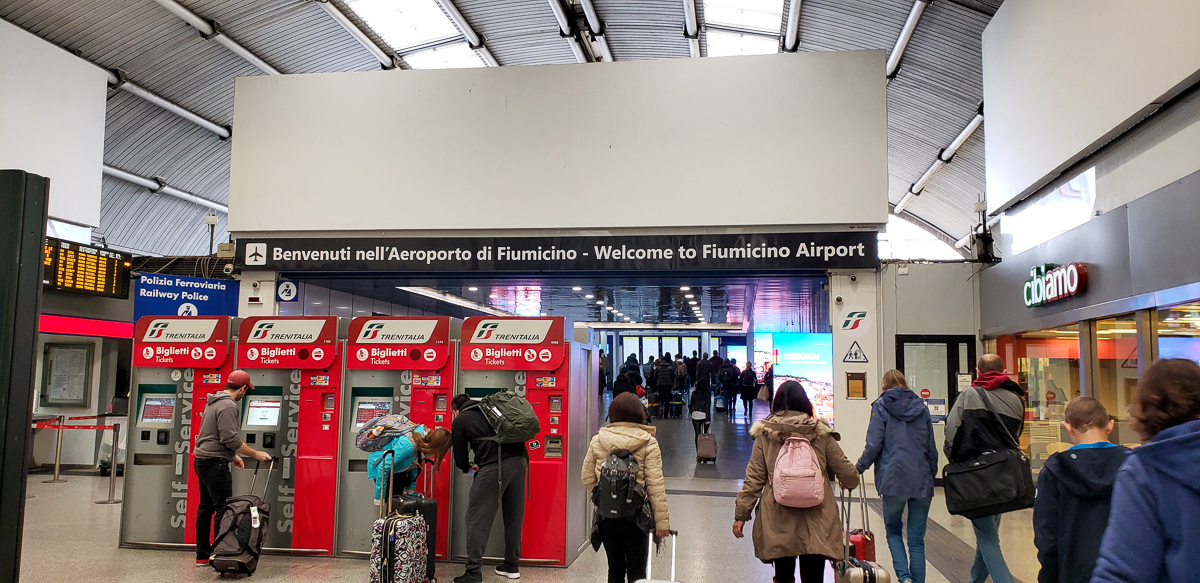 Cost: Leonardo Express: €17 (about $17 USD)
In our opinion, this is the easiest option to get from the Rome airport to the city or vice versa.
There are two trains, a non-direct and direct, that you can take to get to Termini station, which is the main station in the heart of Rome.
Unless you are staying outside of Rome, the direct train is probably your best bet.
The direct train, Leonardo Express, will take you directly to Termini, with no stops, in about 30 minutes. This is the most popular option, so the train can be crowded at peak times.
Leonardo Express departs from the Rome airport's railroad station (called Stazione Ferroviaria). Just outside of baggage claim, you will see blue overhead signs that show trains (and all transportation options).
Follow the train signs which is in the same direction as the Hilton airport hotel.
Once at Termini, you'll have to switch to the local metro trains to get to other stops in the city.
If you are heading to the airport from the city, your Leonardo Express train will depart from either platform 23 or 24, which is on the far right side of Termini.
You can purchase your tickets online or at one of the ticket kiosks at Termini. If your schedule changes and you can't make your original departure time, check with one of the customer service people to see if you can get on a different train (it usually isn't a problem).
>>Traveling to Florence too? Check out our How to do Florence in 2 days guide <<
Rome airport to city by taxi
Cost: €48 (about $53 USD)
There is a fixed fare for taxis from FCO to central Rome for about $53 USD (48 Euros) and it takes about 45 minutes. However, depending on time of day, this can take 1-2 hours, so plan accordingly based on traffic.
Taxis are required to accept cards now (although some might say their machine isn't working). Just be sure to ask before jumping in or find an ATM at the airport (probably a good idea to get a few Euros in your pocket anyway).
Make sure you follow the signs from the baggage claim area to the taxi stand and get in the line. Do NOT accept a ride from someone inside the terminal – chances are, you'll be scammed. Also, make sure it is an official white-colored taxi.
Rome airport to city by Uber
Uber is available in Italy, despite what the taxi drivers will claim. Check the app to see the rates. When we checked, the fare was about $75 to Termini station so you're likely better off with the train or taxi.
Where to stay in Rome
The most important part of your Rome trip planning decision will be where to stay in Rome. Rome has great public transportation options, but we typically prefer to walk to take in the sites as well as cruise down small local roads.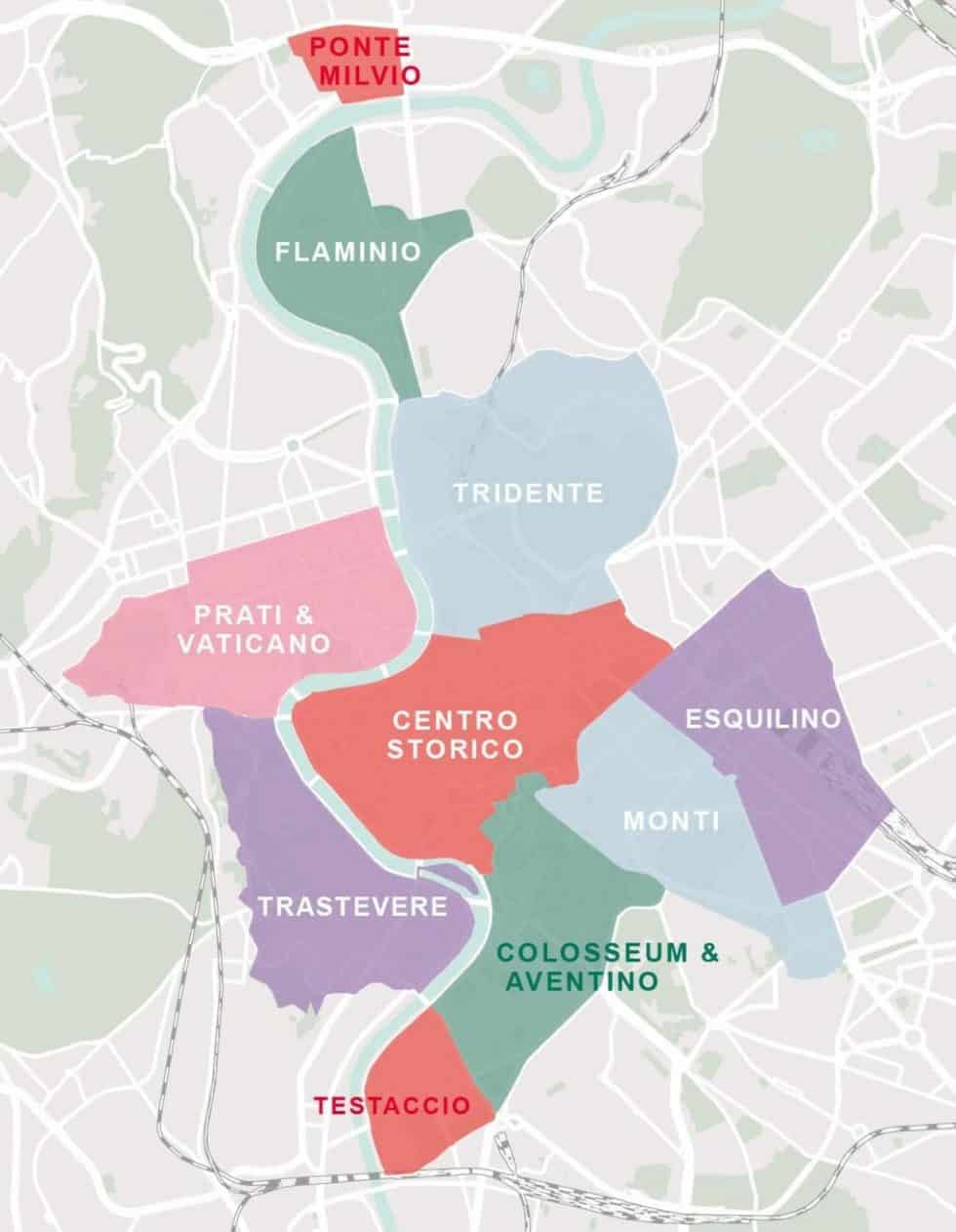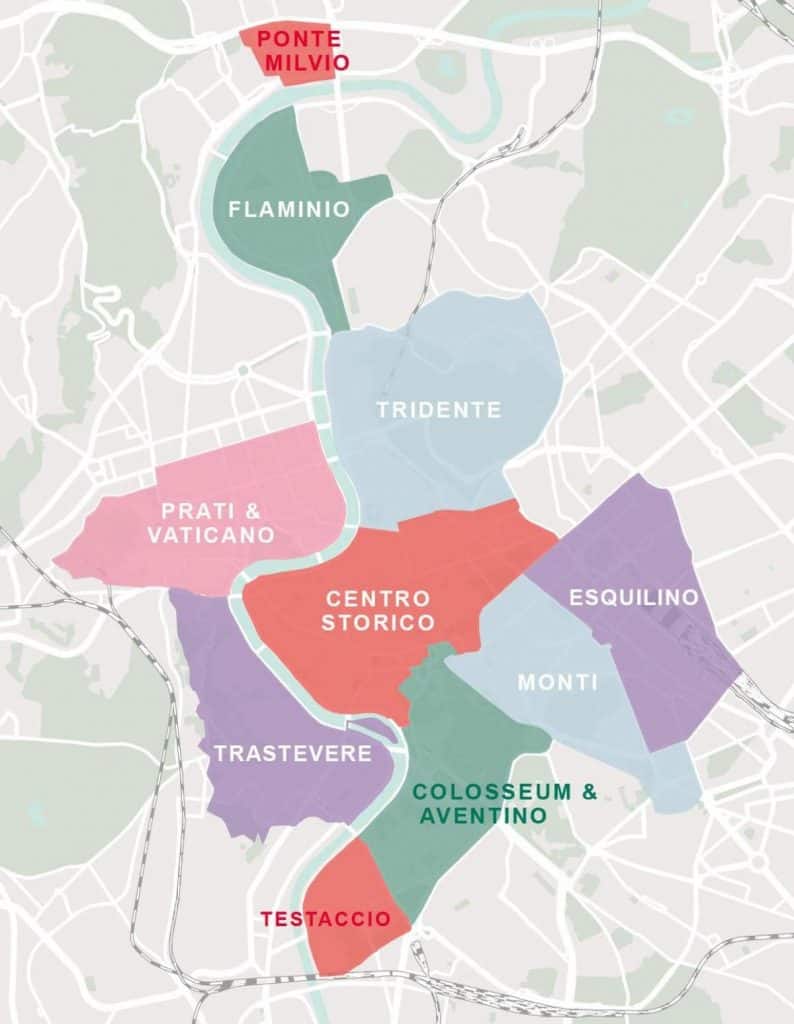 1 – Monti Neighborhood
The Monti neighborhood is where we stayed on our first visit and we absolutely loved it. An easy one-stop metro ride from Termini station to Cavour station, you can't go wrong with this part of town.
We rented an Airbnb for this trip, which we frequently do as hotels can be pricey. This Airbnb  was within a 5-minute walk of the Colosseum, about 10 minutes from the Trevi Fountain, and 15 minutes from the Spanish Steps.
Not to mention, the local nightlife and restaurants around the area were great. We also found a small market near the metro and stocked up on wine and cheese for cheap!
2 – Centro Storico
Centro Storico is the historic center of Rome. While this might not be the cheapest of options, you will be able to easily cover items on your 3 days in Rome itinerary.
On our second visit to Rome, we stayed at the Unico Argentina Suites. Within a 5-minute walk of the Pantheon, Trevi Fountain, Piazza Navona, and more Roman attractions, this neighborhood is easy to navigate and its central location makes this a great place to stay.
From Termini, take the Metro Line A to Barberini – Fontana di Trevi (2 stops) and you'll be just a short walk from this centrally-located neighborhood and the Trevi Fountain (as if the station name didn't give it away).
How to plan 3 days in Rome?
The best way to plan your 3 days in Rome is to have an itinerary that tackles attractions by location. Our 3 day guide breaks down what to see and where to eat by day. You'll notice everything is close together to maximize your time in that area.
Map – 3 days in Rome itinerary
Click the interactive map below!
HOW TO USE THIS MAP: To view the layers and see the names of the places on this map, click the tab in the top left corner. You can select the check marks to show or hide certain layers. If you select the icons on the map, you will get more information about the point of interest.
HOW TO SAVE THIS MAP: If you select the star icon next to the map name, you can save this map to your Google Maps account. To view it, open Google Maps in desktop or on your phone, select the menu button, go to "Your Places," scroll to the right to Maps, and you will see this map.
3 days in Rome Itinerary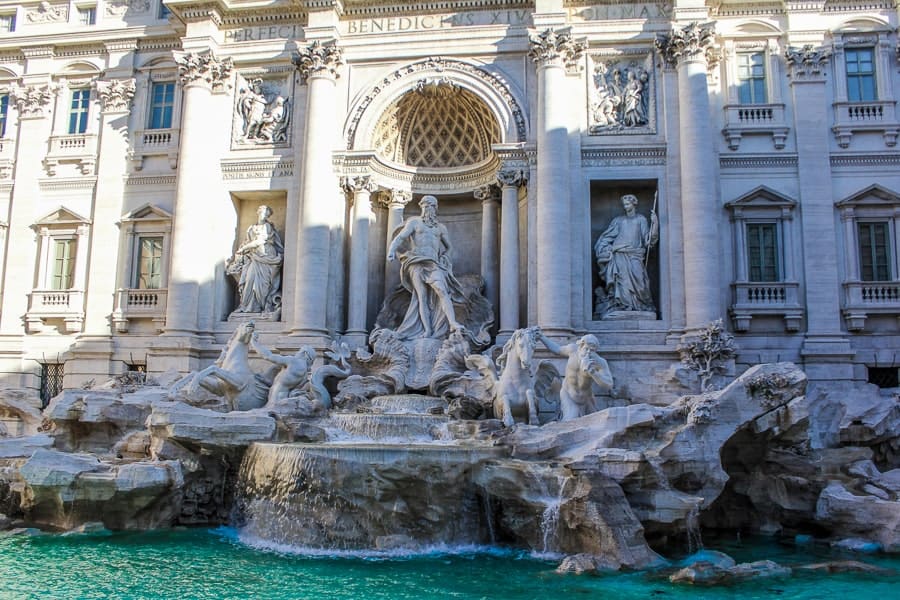 For our 3 days in Rome itinerary, we are going to assume you have traveled in and have 3 full days in Rome and that you're leaving on the evening of day 3.
PRO TIP: All the fountains in Rome are drinkable. Buy/bring bottled water and refill from any fountain to save money! Think they'll ever have a beer and/or wine fountain? We can dream, can't we?!
Day 1 of 3 days in Rome
Roman Colosseum

Roman Forum

Palatine Hill

Lunch

Vittorio Emanuele Monument

Rome Walking Tour or Pasta tour

Hostaria da Nerone
Roman Colosseum (Colosseo)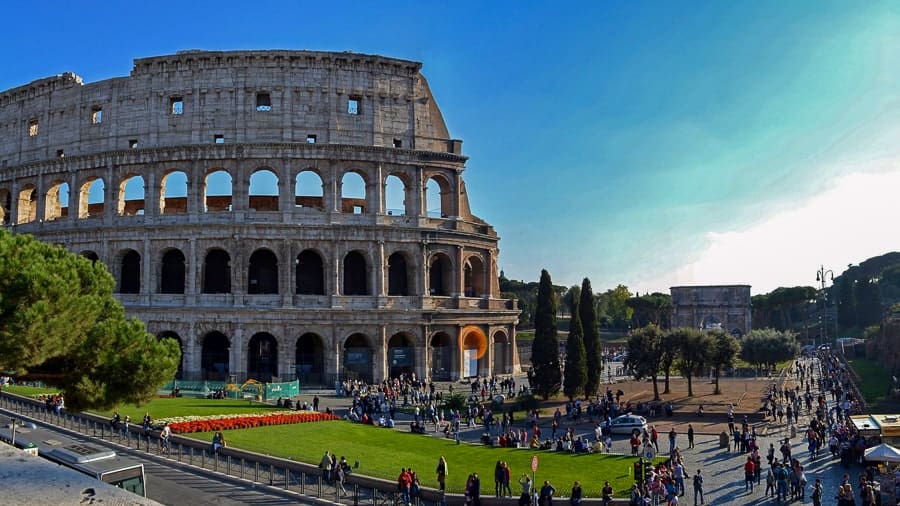 Cost: $13.25 USD (€12) for the combo ticket. Your ticket includes entry to: Colosseum, Roman Forum and Palatine Hill
Hours: 8:30 AM until one hour before sunset
Getting There: Metro Line B to "Colosseo" stop (2 stops south of Termini)
The Colosseum is one of the top attractions in Rome and the line to buy tickets will be long. We suggest buying tickets in advance online or at the Palatine Hill entrance as it tends to be less crowded.
Or, depending on when you actually have the Colosseum on your Rome itinerary, you can even stop by the night before near closing time to purchase tickets for the next morning.
The lines are usually much shorter, if any at all.
There are several options for guided tours ranging from audio and video tours to in-person tours. These start at $6 US (5.50 euros) and can go up to $25 USD (22 euros) depending on the level of tour you'd like.
We'd personally suggest downloading Rick Steves' app, which is free. This will provide you a guided audio walking tour of the Colosseum. We did this and absolutely loved it! Give yourself a solid hour to walk through this iconic Rome attraction and listen to the history.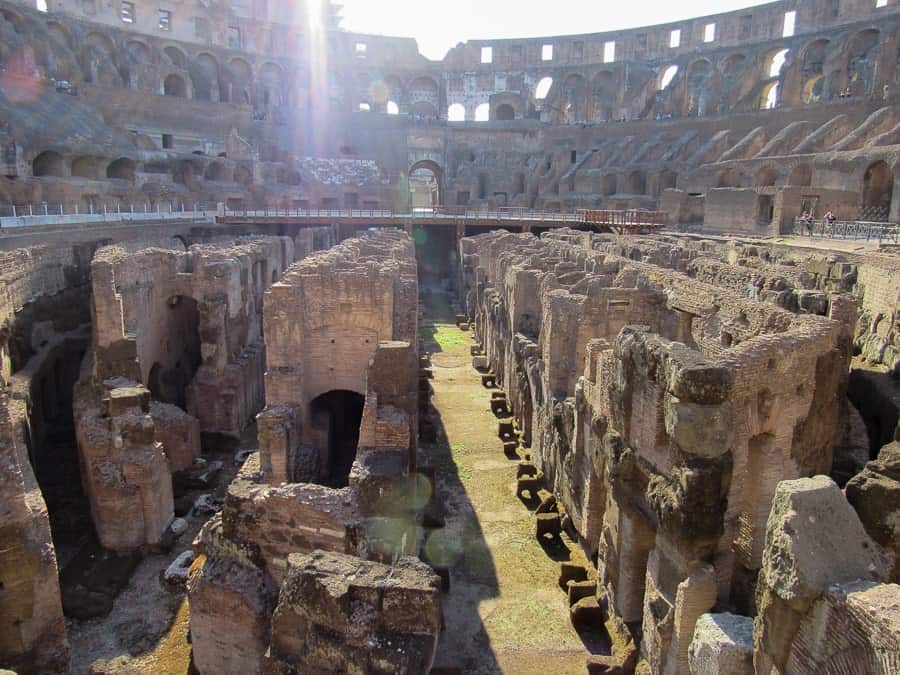 Fast Facts about the Colosseum:
The Colosseum was built during 70-80 AD during the rule of Emperor Titus. More than 50,000 people watched exhibits of exotic animals, executions, and most notoriously, gladiator fights.

In 2007, the Colosseum became one of the Seven Wonders of the Modern World and is visited each year by over 6 million people.
We were at the Colosseum and the Forum by 7:45 a.m. and were some of the first people in line.
After patiently waiting, the gates opened and we ran up to the top of the Colosseum.
We'd highly recommend to anyone visiting to go early (prior to opening) and wait to get in. We ran up to the top of the Colosseum (as far as we were allowed to go) and were able to take some fantastic photos – it looks like we have the place to ourselves!
Just outside of the Colosseum, you'll find the Roman Forum about a 5-minute walk across the street and up the hill.
Roman Forum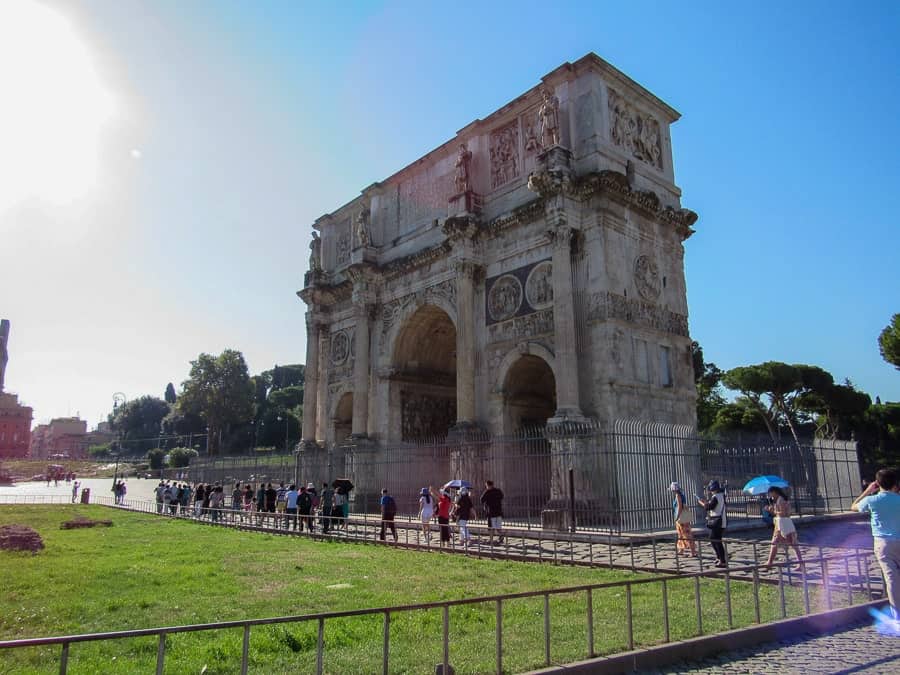 Cost: $13.25 USD (€12) for the combo ticket. Your ticket includes entry to: Colosseum, Roman Forum and Palatine Hill
Hours: 8:30 AM until one hour before sunset
Getting There: Metro Line B to "Colosseo" stop (2 stops south of Termini)
The Roman Forum was the hub and original city center of Rome, housing political, religious and commercial activities dating back to 500 BC (according to historians). With a lot of things to see and great views, we suggest 1.5 hours to walk and explore Ancient Rome.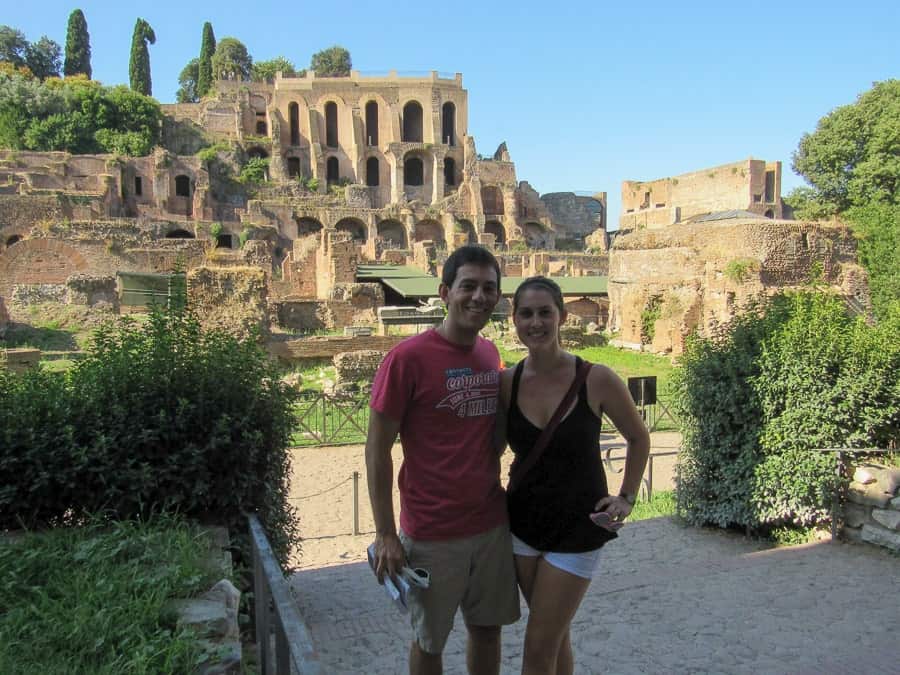 Again, we'd suggest downloading Rick Steves' app (see link above) which is free. This will provide you a guided audio walking tour of the Roman Forum to make sure you hit all of the highlights.
Don't be afraid to adventure off of the audio tour a bit to see any hidden treasures, just allot your time accordingly.
Fast Facts about the Roman Forum:
When the Roman Empire collapsed in the 3rd century, the area was reduced to a field for grazing animals. Becoming overgrown and neglected, it took more than 100 years to excavate the ruins with initial efforts beginning in the early 1800s.

Julius Caesar's body was burned in the Roman Forum after his assassination in 44 B.C. There is a temple in the Forum that was constructed in his honor.
The Roman Forum will lead you directly into Palatine Hill from the Arch of Titus.
Palatine Hill
Cost: $13.25 USD (€12) for the combo ticket. Your ticket includes entry to: Colosseum, Roman Forum and Palatine Hill
Hours: 8:30 AM until one hour before sunset
Getting There: Metro Line B to "Colosseo" stop (2 stops south of Termini)
The Palatine Hill will give you a view of Rome fit for an emperor, but you have to walk up the damn thing to see it! 130 feet (40 meters) above the Roman Forum, the Palatine Hill is considered the birthplace of the Italian capital.
In case you didn't get the memo, free audio tour via Rick Steves. Just do it. The Palatine Hill will take you about 1.5 hours to explore and do the tour. The best view is through the Renaissance gardens of the Farnese family.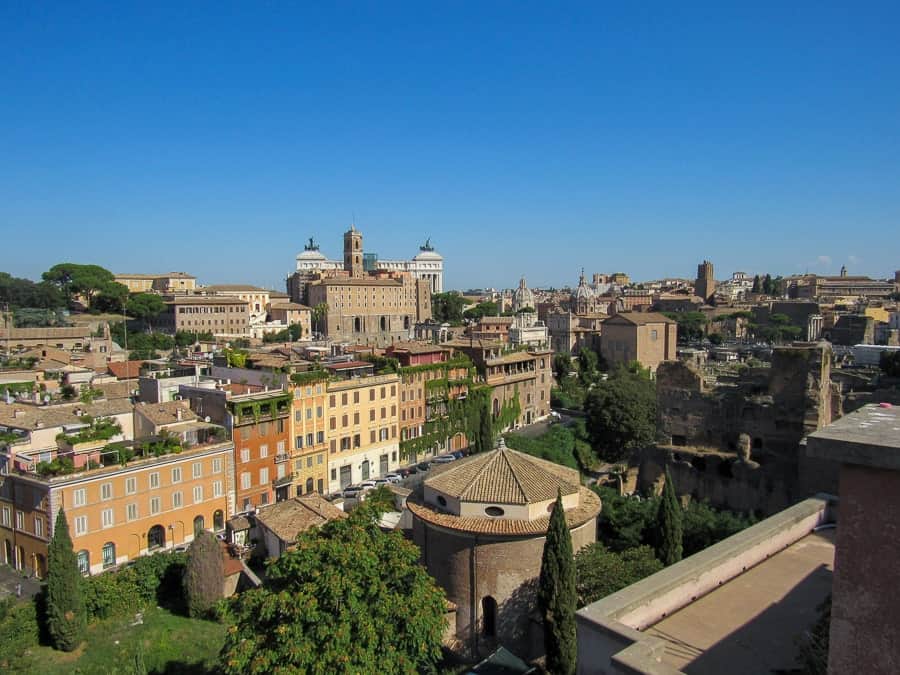 Fast Facts about Palatine Hill (and naming of Rome):
According to Roman legends, there was a cave located in the Palatine Hill that was inhabited by a she-wolf, that took care of Romulus and Remus. According to the myth, when the brothers grew up, they decided to form a city on the banks of the river. But like all brothers do, they disagreed about certain things, so Romulus killed Remus (not something brothers do) and founded the city of Rome.
Lunch at Enotecca Cavour 313
Hours:

Lunch: 12:30PM-2:45PM
Dinner:

Monday-Thursday 6PM-11PM

Friday-Saturday 6PM-Midnight

Sunday 7PM-11PM
If you've done all of the above on day 1, we know you're hungry having physically felt like you've walked back in time (we were actually hangry by this point).
About a 10-minute walk from the Arch of Titus at the Roman Forum, you will find Enotecca Cavour 313.
This wine bar is dedicated to helping you discover good food and wine. Amen!
Founded in 1935, the wine bar is a great place to put your feet up after all the walking and sightseeing at the Roman Colosseum, Roman Forum and Palatine Hill.
Vittorio Emanuele II Monument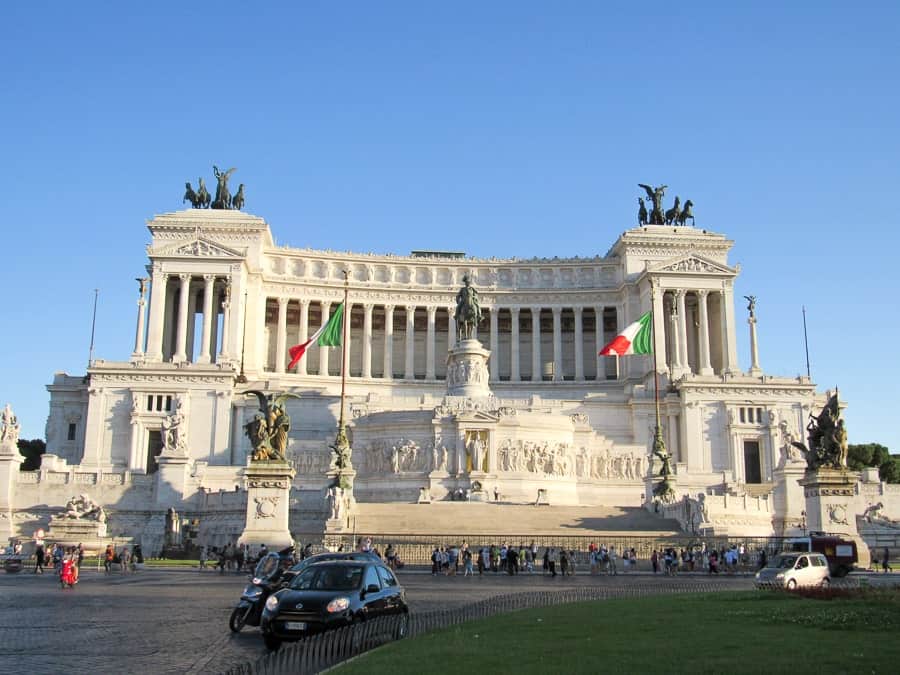 Cost: €10 for the ticket on the elevator to the top. Free to climb the steps to the first few levels
Hours: 9:30 AM – 7:30 PM (last admission at 6:45 PM); closed on Christmas Day and New Years Day
Getting There: Metro Line B to "Colosseo" stop (2 stops south of Termini)
Now that you've refueled with food (but more importantly, wine), you can make a 10-minute walk towards Piazza Venezia in the heart of central Rome where you'll find one of the other iconic Roman attractions, the Vittorio Emanuele II Monument.
Because of its size and stark white marble color (compared to the earth-toned colors of much of Rome), this monument is a great landmark if you ever lose your way.
Finished in 1911 (in Roman terms, that's like yesterday), this is one of the newest buildings in Rome and was built to commemorate the first king of Italy, Vittorio Emanuele II, who played a major role in the unification of Italy in 1870.
Climb the initial set of steps in front of the monument/building and you'll find the Altare della Patria, or Altar of the Fatherland, which is where the tomb of the unknown soldier is found, ever-guarded by two Roman soldiers.
Keep climbing and you'll get your first sweeping view of Rome from above.
But trust us, keep climbing and follow the queue of people towards the left side of the monument (if looking at it) where you'll find a restaurant/café to have a coffee or glass of wine with a view of the Colosseum.
Down the side of the building, there is a large glass contraption that houses two elevators to get you to the top of the monument for fantastic panoramic views of the Eternal City on both sides.
With handy maps pointing you to what you're looking at, you'll have a much better appreciation for Rome's footprint and how expansive it is.
Rest/Relax/Get cleaned up
By now, you've earned a well-deserved nap and shower so we'd suggest taking a break at this point.
There are 3 options that we'd recommend for after you've rested: Night Walking Tour, Pasta Tour or just a self-guided stroll (like you've already been doing today).
Both tours will need to be reserved and cost money so a great alternative is the self-guided option. Most on all 3 below.
You can also use this time to start your day an hour or so later or just meander around the streets in Rome instead.
Option 1: Rome Walking Tour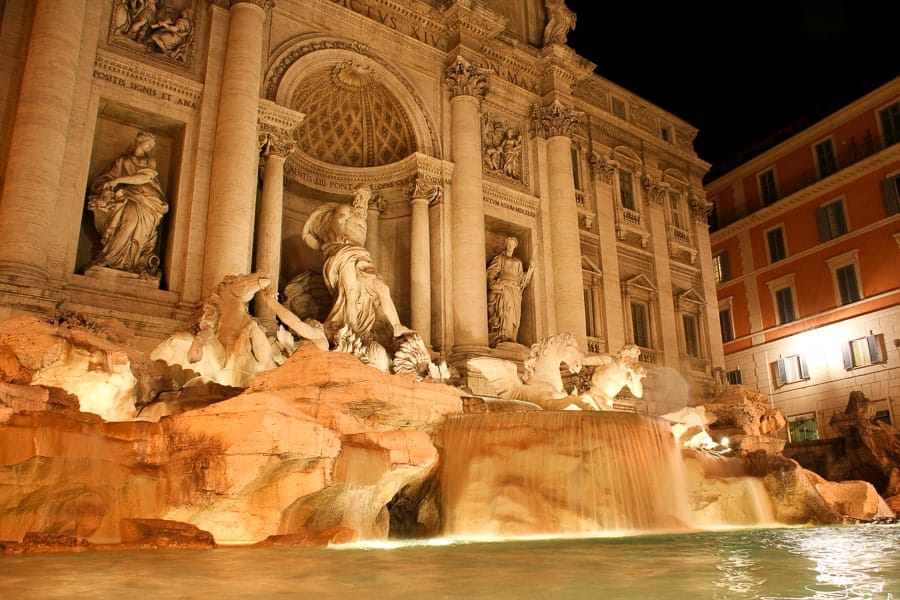 Cost: $69 USD (€73)
Time: 2.5 hours
Start time: 6 PM
We booked the Rome Evening Stroll Walking Tour through What a Life Tours and we weren't disappointed!
In the 2.5-hour tour, we visited: Michelangelo's apartment, a noble family's residence and private church, the Trevi Fountain, Egyptian statues, Parliament, The Senate building, several churches, the Prime Minister's House, the Pantheon, Piazza Navono, Campo de Fiori, Piazza Venezia, and the French Embassy and Church.
To clarify, we didn't go into any of these places, but got up close and personal with the historic buildings and heard the fascinating history behind them. We carved out additional time for heading inside the Pantheon and milling around Piazza Navona, among other things, on a different day.
The best part of the tour in Chris's opinion was being treated to authentic gelato at a 100-year old business.
PRO TIP: You can recognize authentic gelato just by looking at. Steer clear of the places with super bright colors (usually means artificial colorings and flavors) and the perfect looking mounds of gelato (look for the big cylinders of the creamy goodness).
This walking tour was a great way to see Rome with a local guide who was very knowledgeable and clearly loved the city. We really enjoy doing walking tours as it helps us get acclimated to the city in a more intimate way by strolling around the streets and experiencing the charm of the city.
Note: we chose this tour on our own – this was non-affiliate and non-sponsored.
Option 2: Pasta Making Class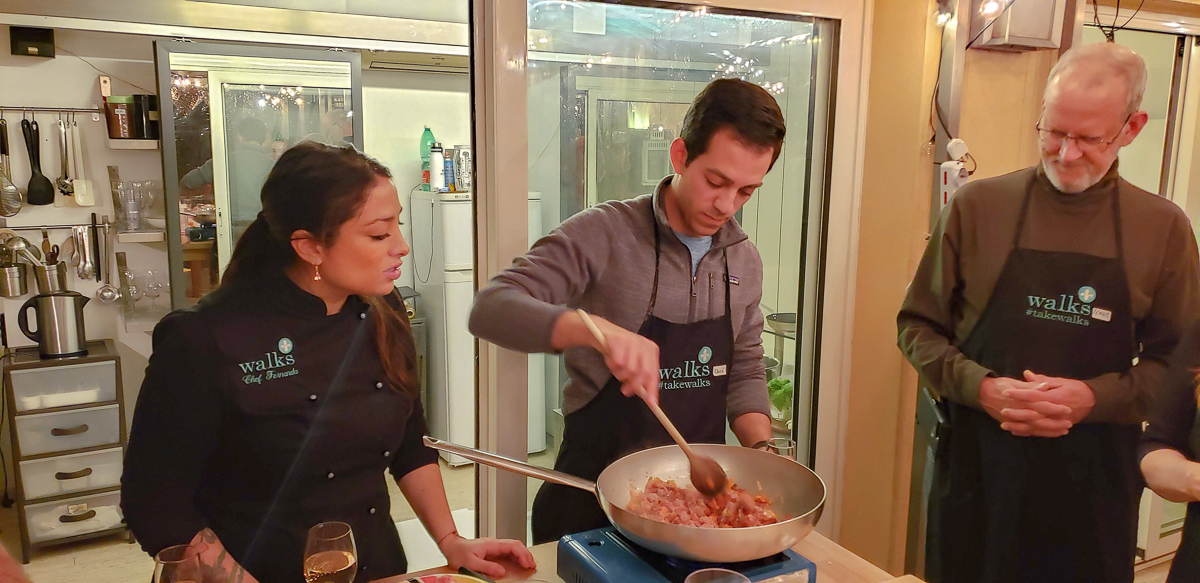 We've done several different tours in Italy and we absolutely loved our Pasta-Making class through Walks. This class is roughly 3 hours and includes hands-on training from true Italian chefs on how to make pasta from scratch.
On arrival, you'll be greeted with prosecco and aperitivi, then move on to the pasta-making (which you get to eat at the end). After you've devoured your incredible pasta creation, to go along with healthy portions of wine, you'll get to cap the night with gelato.
Depending on what you're up for, this option wouldn't let you explore the city like a normal walking tour, BUT you get to eat homemade pasta in Italy. The choice is yours.
Option 3: Self-Guided Walk
If you are looking to save money or are just too pooped to consider doing a tour/class, you can walk around the city at night to explore some of the most iconic attractions.
First up, you need to go to the Trevi Fountain. We didn't include this in the day 1 portion since it's on the walking tour.
We've done the Trevi Fountain both during the day and at night and it's quite a different experience. The fountain is tucked away in an alley and HUNDREDS of people are trying to get close to it during the day for photos and to toss in a coin. At night, the crowds thin out and it's much easier to get closer without being bumped by people trying to get the best photo for the 'Gram.
We also personally think the way the fountain is lit at night makes it more magical. You won't be sorry either way as it's an incredible sight to see on your 3 days in Rome itinerary.
Piazza Venezia
Another great option for day 1 in Rome is Piazza Venezia. You can slide this in after Vittorio Emanuele or on the way to or from the Trevi Fountain. Drinking in the streets is legal and many restaurants that line the plaza will sell food and wine. If you are looking for a low-key option, this is always a great choice. People watching is the best here too!
Hostaria da Nerone
Hours: Monday – Thursday 12 PM – 3 PM & 7 – 11 PM; closed Sunday
Cost: $15-30
Hostaria da Nerone isn't going to dazzle you, but after a long day of walking, you will enjoy their traditional Italian pastas as well as traditional Roman meals (such as saltimbocca which is veal, ham and sage). This is directly across from the Colosseum and a bit touristy, but when you are hungry – you eat. We enjoyed it!
Day 2 of 3 days in Rome
Vatican City

Vatican Museum – Sistine Chapel
St. Peter's Cathedral aka "the dome"

Spanish Steps
Villa Borghese
Piazza Navona
Rome to Vatican City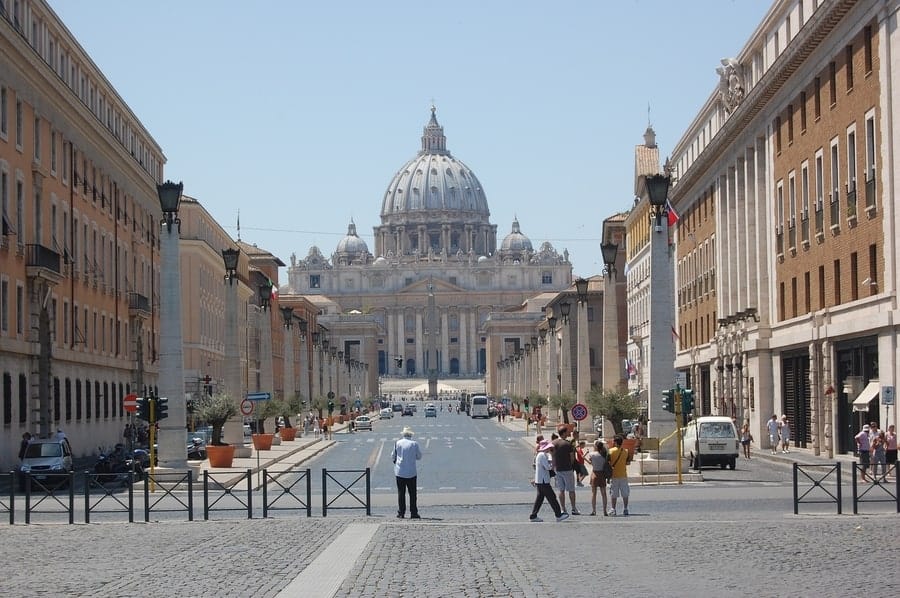 Getting from Rome to Vatican City is easy on the metro. From Termini, take the Metro Line A for 6 stops to the Ottaviano "San Pietro". From here, follow the masses and it's roughly a 5-minute walk to St. Peter's Square and the entrance to the Vatican.
The Vatican City is headquarters to the Roman Catholic Church and is the smallest country in the world! Surrounded by a 2-mile border, the Vatican City is governed by an absolute monarchy with the Pope.
The Vatican City is a vast area to cover with thousands of things to see. From courtyards and museums to artwork and tapestry, it's important to prioritize what you want to see.
We covered everything in under 2 hours, which felt very rushed. We highly suggest giving yourself a minimum of 3 hours. If you are following Rick Steves, his guide is around 2.5 hours.
Vatican Museum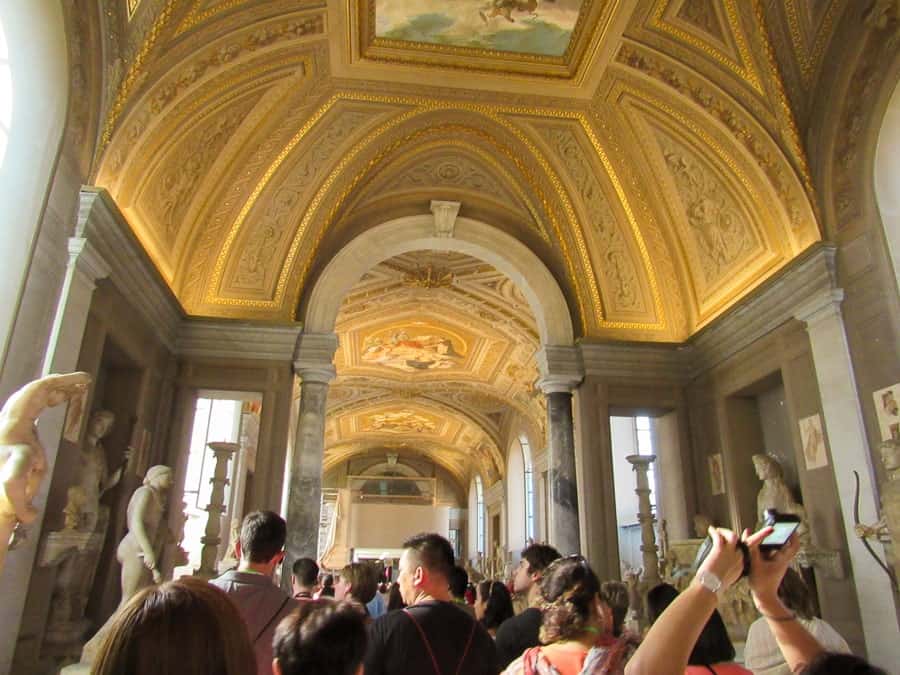 Cost: Tickets start at $20 USD
Buy your tickets in advance. There is a fast pass line (shamelessly, we didn't do our research beforehand, which is why we were in line at 7:30 a.m.).
Get there EARLY! They open early to the pre-ticketed holders. If you don't get tickets ahead of time, just go first thing in the morning and prepare to wait for an hour in line. We can't stress enough the need to get there early to beat the tour buses.
The museum isn't air-conditioned so depending on the time of year, it's incredibly warm with the crowds of people hovering around.
There is a STRICT dress code for the Cathedral. Ladies and gents, your shoulders and knees must be covered when inside of the Cathedral. Everywhere else on the property you should be fine to relax your dress a bit (especially if it's sweltering hot outside).
The Vatican Museum has over 4-miles of art from ancient sculptures and statues to modern paintings including Michelangelo's Sistine Chapel. With the fall of Rome in the 3rd century, the Vatican became the preserver of Rome's history, art and civilization.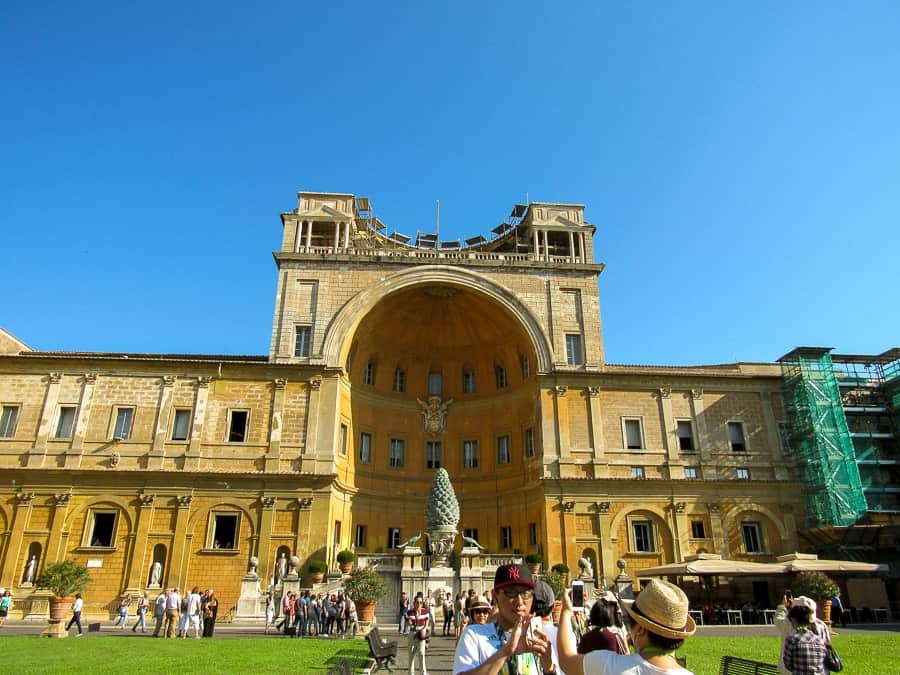 There are various types of guides for purchase starting around $8, but there is a comprehensive free guide from Rick Steves' app.
Remember when you get in the Sistine Chapel: keep quiet and no pictures whatsoever. The "friendly" employees will be sure to remind you if you forget aka you will be screamed it rudely.
St. Peter's Basilica – Climbing the Dome (Cupola)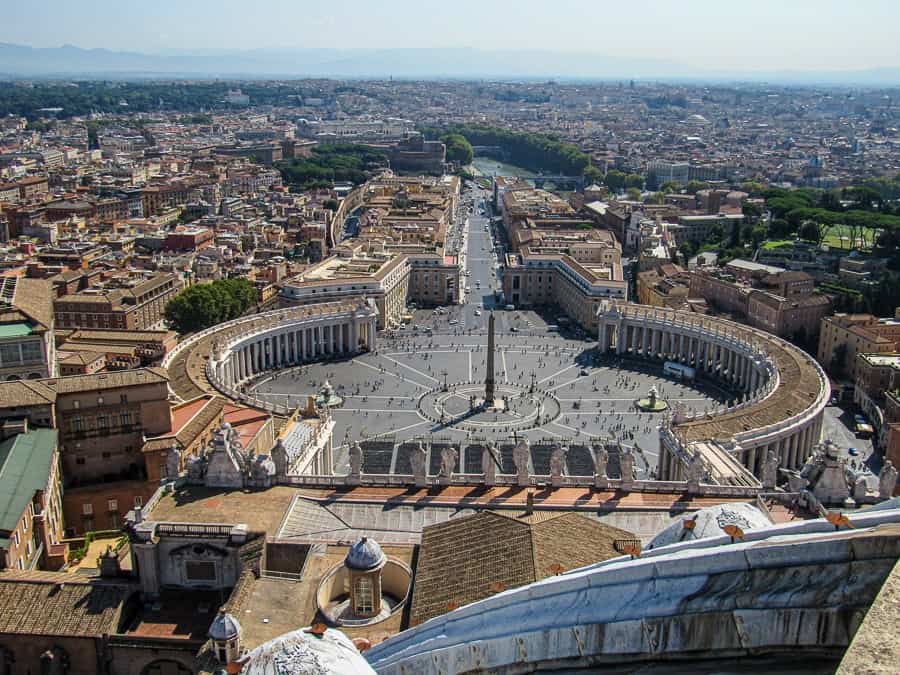 Cost: ($8+) (€5+)
Entry: Look for signs for Cupola outside the Sistine Chapel
Let's be honest, you probably aren't looking for an intense climb in the middle of Rome, but if you are up for the challenge, climb the dome at St. Peter's Basilica. It's 100% worth it.
You can pay 6€ to walk up the first 231 steps (or you can pay a few euros more to take the elevator) to reach the first level of the dome. Knowing what we know now, take the damn elevator! It was 90 degrees the day we did this and we had to go shower afterwards.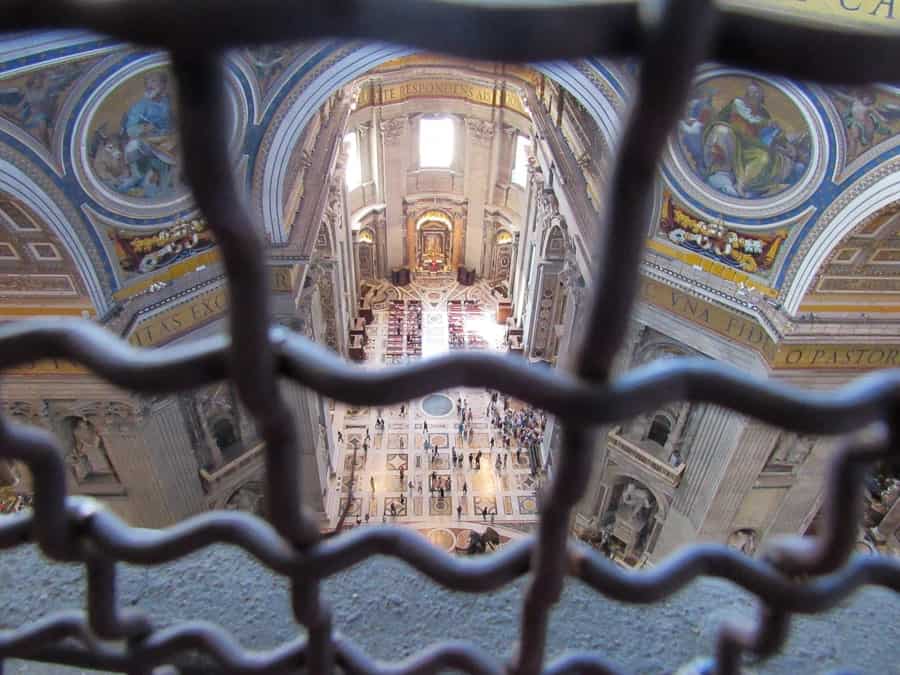 From the first level, you can see the Apostles, a close-up view of the Dome, and a view looking down into St. Peter's Basilica below. Thought this first part was fun? Just wait!
The second part of this climb is where your sense of adventure comes in and you get steps closer to God (see what we did there?). Ascend the extra 330ish steps to get closer to heaven and the tippity-top of St. Peter's dome, or cupola.
Disclaimer: If you are claustrophobic, you might want to stop at the first level.
The second part of this climb gets very narrow and has 2 sets of steep and narrow spiral staircases. (Samantha became very closely acquainted with the person's butt in front of her on the stairs when they stopped quickly).
It was also extremely warm that day and there is no air conditioning to speak of.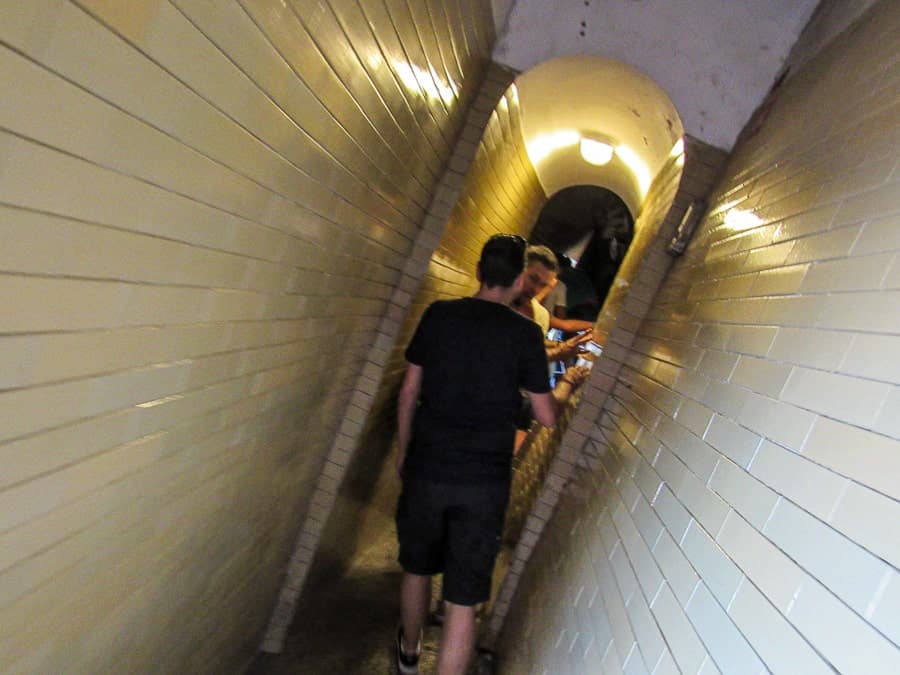 Testing your mental (and physical) strength through slanted corridors, crooked stairways, and the world's narrowest spiral staircase (which had a rope hanging down in the middle as a handrail), you will make it to the top to a gorgeous and jaw-dropping 360-degree view of Rome.
You made it! Now you get to take it all in (and catch your breath). After you've cooled down and snapped all of your sweaty selfies, it's time to head back down. And what goes up must come down…so get ready to do it all again in reverse.
St. Peter's Basilica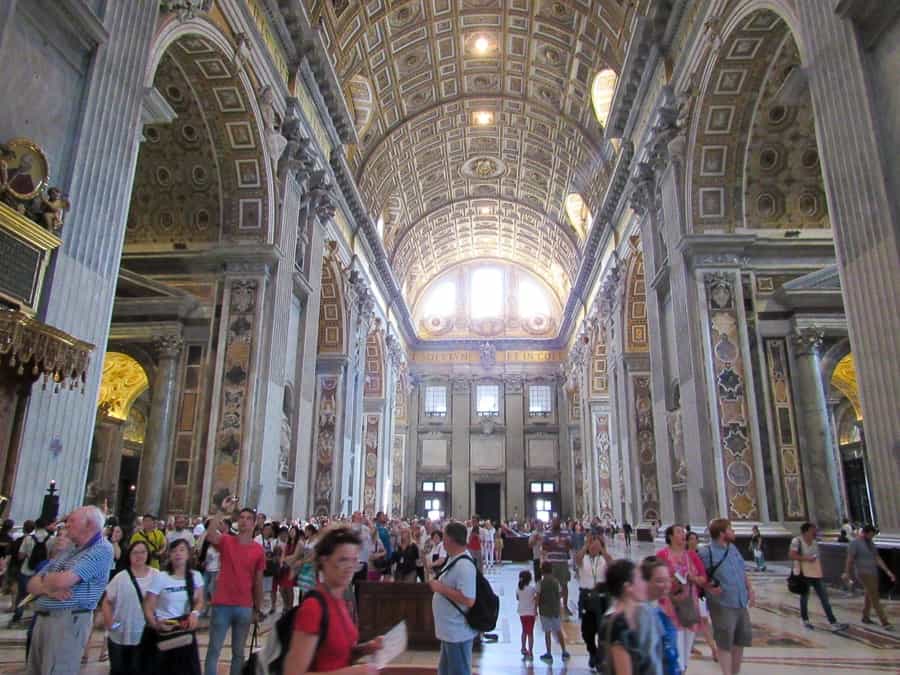 We will say this again – They are very strict about the dress code so please have shoulders and knees covered (both male and female).
This place was packed with people so prepare yourself. The best time to go is first thing in the morning or before they close at 7 PM (October-March it closes at 6 PM). We used Rick Steves' guide for St. Peter's Basilica which covers in-depth historical information on the Dome, St. Peter's remains, the Altar and much more.
Lunch – Street Cart
After the cathedral, we grabbed sandwiches from a food truck outside of the Vatican (sorry we didn't get the name) and ate on the way back to our Airbnb to shower and change after sweating profusely during our ascent to the heavenly view.
Spanish Steps (Piazza di Spagna)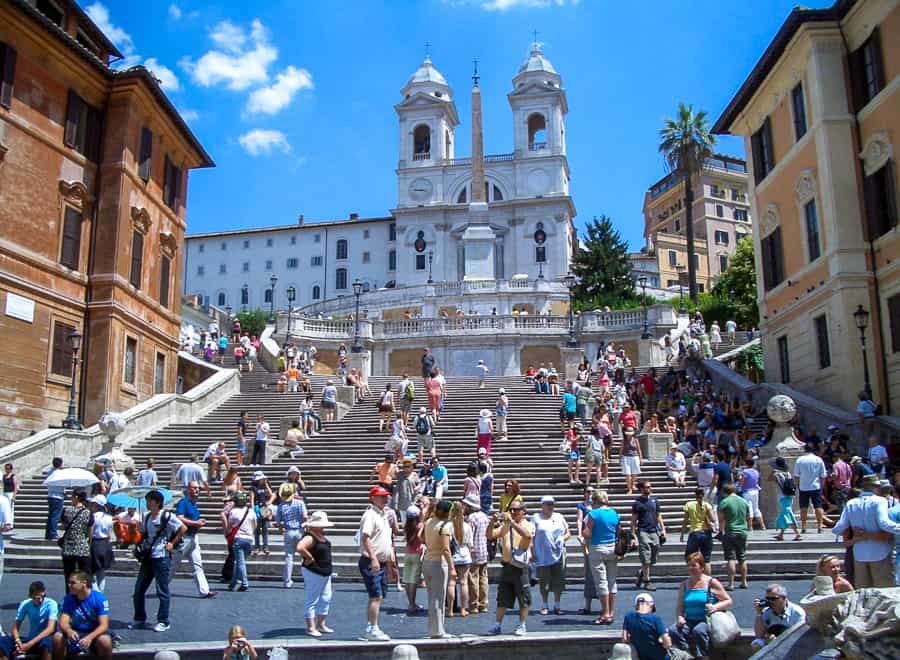 Cost: Free (as long as you don't sit, seriously)
The Spanish Steps were named for the Spanish Embassy which has been there for over 300 years.
Historically, tourists and locals alike could be found sitting on the steps.
BUT, in August 2019, the Roman government banned it. People caught sitting on the stairs will now face fines of $276 USD (€250). This fine can go up to $440 (€400) if the stairs are dirtied or damaged.
We found that the police were very lenient and would just ask you to not sit rather than just slapping you with a fine. Still, better safe than sorry.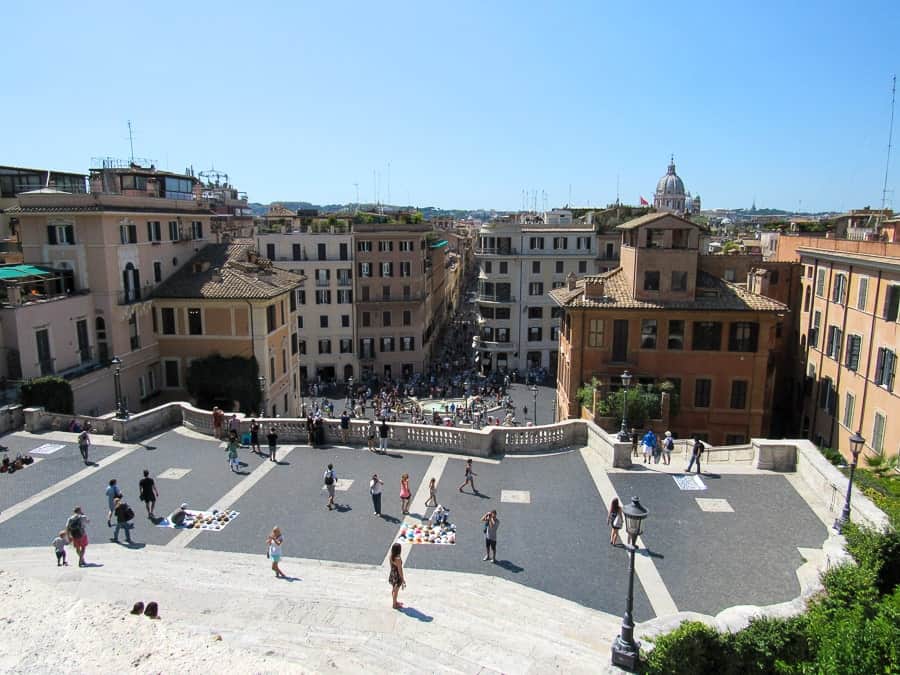 If you didn't walk up the stairs at St. Peter's (because you were smart and took the elevator) or you want some more exercise, climb the 138 steps.
There is no shade on the steps so if you are visiting in summer, get ready to sweat again.
Located at the bottom of the Spanish Steps is the world's largest McDonald's which has over 400 seats, a salad bar, cafe, dessert bar, etc. We didn't eat here, but we popped in to grab an iced latte.
Designer Shopping
It's worth noting that some of the top names in fashion are located at the base of the steps.
Since you can't sit on the steps anymore, do some shopping instead. Walk down Via Condotti to get your posh on… OR if you are like us, window shop.
If designer shopping is your style, then have at it!
We enjoyed sipping on iced coffees while leisurely walking down the street. If you aren't in the mood to drop a few hundred, head on down to the Pantheon.
Pantheon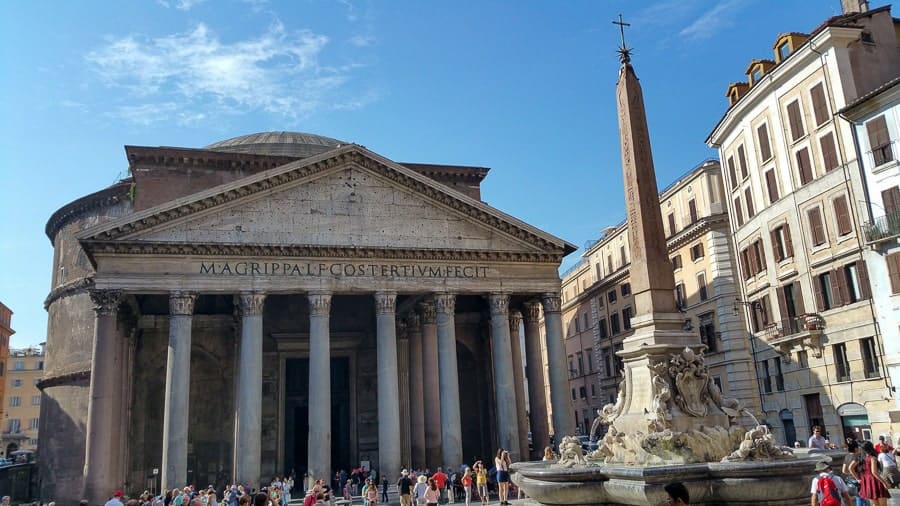 The Pantheon (in Greek, pan means "to all" and theo means "gods" – so literally, a temple to all of the gods) is a short 15-minute walk from the Spanish Steps.
Built in 27 B.C., the Pantheon was a Roman temple dedicated to the Pagan Gods and is arguably the most influential building in art history and Rome's best-preserved monument (most likely because it's actually still in use today as a Catholic Church).
Fast Facts:
The U.S. Capitol Building in Washington D.C. is inspired by the Pantheon's dome.

The iconic dome has a huge (and on purpose) hole in the middle of it (almost 8 meters in diameter) and serves as the main source of light for the inside. Because there is a big hole, that means rain can occasionally get in. However, the architects thought of everything and created slanted floors so the water drains.

The dome was the largest until the Renaissance and was constructed perfectly with Roman engineering – no computers or machines were used (

obviously

)

In 609 A.D., it was converted to a Catholic Church, saving it from ruin by future destruction during the Middle Ages (even though it's a church today, it is still called the Pantheon)

Michelangelo and Brunelleschi studied the Pantheon's dome before constructing other domes in Florence and the Vatican

Victor Emmanuel II, Italy's first king, is buried here. You can't miss the huge shrine to him on the right side of the Pantheon
Guess who has a free audio guide on this? We aren't saying it again, scroll up or pay better attention. His audio guide covers the Pantheon and a few other nearby churches.
Miscellanea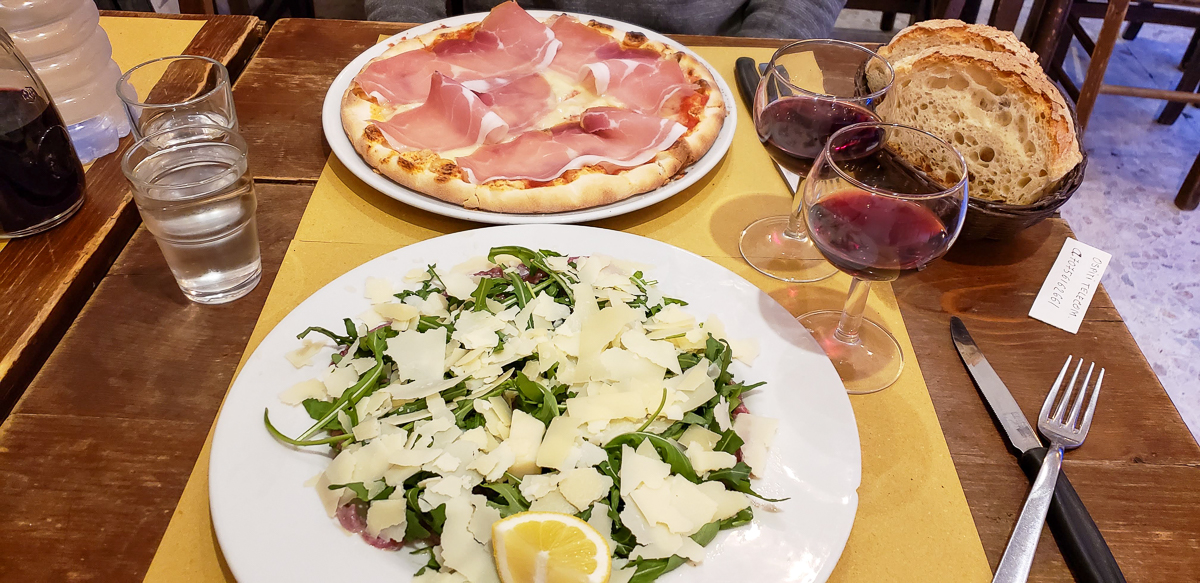 If you are looking for a great meal that won't break the bank, head over to Miscellanea near the Pantheon.
This unassuming pub caters to college kids so the prices are reasonable and the food is great. We honestly walked passed it several times trying to find it as it's hidden between large signs for Vineria Hosteria. We ordered wine, bruschetta, and pizza.
Once our meal was done, and to our surprise and delight, they brought out a bowl full of oranges for dessert.
Day 3 Of 3 Days In Rome
Luggage Storage Termini Station

Villa Borghese

Convento dei Frati Cappuccini – Cappuccin Crypt
Luggage Storage – Termini Station
To help you maximize your 3 days in Rome, we highly suggest dropping off luggage at the Termini station, especially if you are flying out.
There are several options for luggage storage at the Termini station in Rome. Here are a few options:
Roma Termini station
Located in the basement, it is easy to find following the "suitcase sign" to the luggage office. You can deposit suitcases, bags, backpacks and trunks.
Where: B1 Terminal station
Hours: 6 AM – Midnight
Cost:

First 5 hours: € 3.80
6 to 12 hours: € 0.60 (per hour)
After 13 hours: € 0.20 (per hour)
KiPoint Storage in the station
Hours: 9 AM – 7 PM
Cost:

First 5 hours: €6
6 to 12 hours: € 1 (per hour)
After 13 hours: € 0.50 (per hour)
Self-Service Luggage
Stow Your Bags
Where: 1 minute outside Termini station, Via Turati, 52, Roma
Hours: 7 AM-11 PM
Cost: Starts at $3.30 USD (€2.99) + $.55 USD service fee

Add $2-3 dollars per hour with a max of 7 hours = $18.75 (€16.99)
1 day (24 hours) flat rate is $20 USD (€18.50)
For our last day of our 3 days in Rome itinerary, we decided to see the Villa Borghese gardens on the North End of the city. We didn't want to stray too far from the city and wanted to take in Rome one more time.
Villa Borghese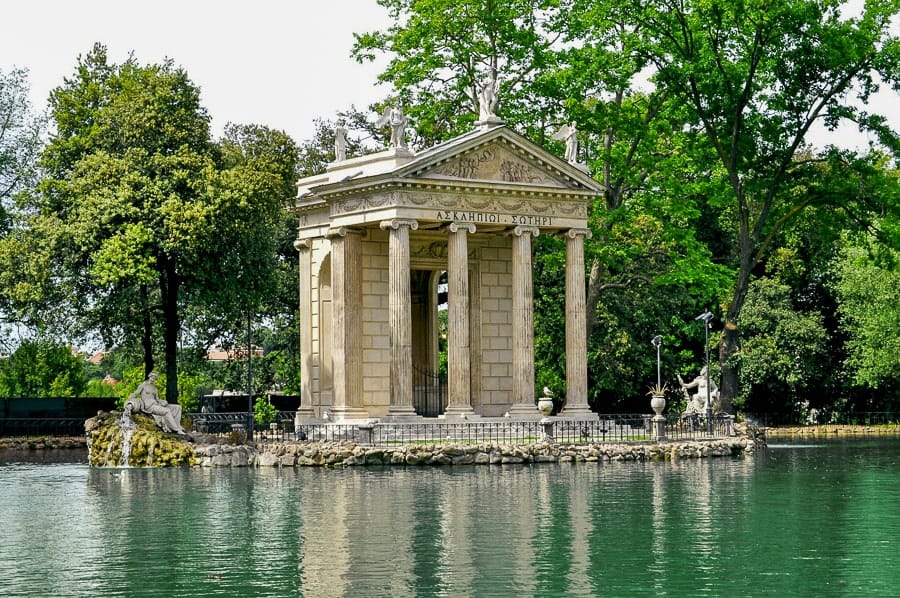 Heading north, about a 20-ish minute walk from Termini station will lead you to the south end of the garden via Vittorio Veneto. Often referred to as Rome's "Central Park", Villa Borghese is 3-square miles of shade, sunshine, sight-seeing and people-watching.
You can rent a bike to cruise around the park discovering fountains, cafes, statues, lakes, and a great view of the city over Piazza del Popolo.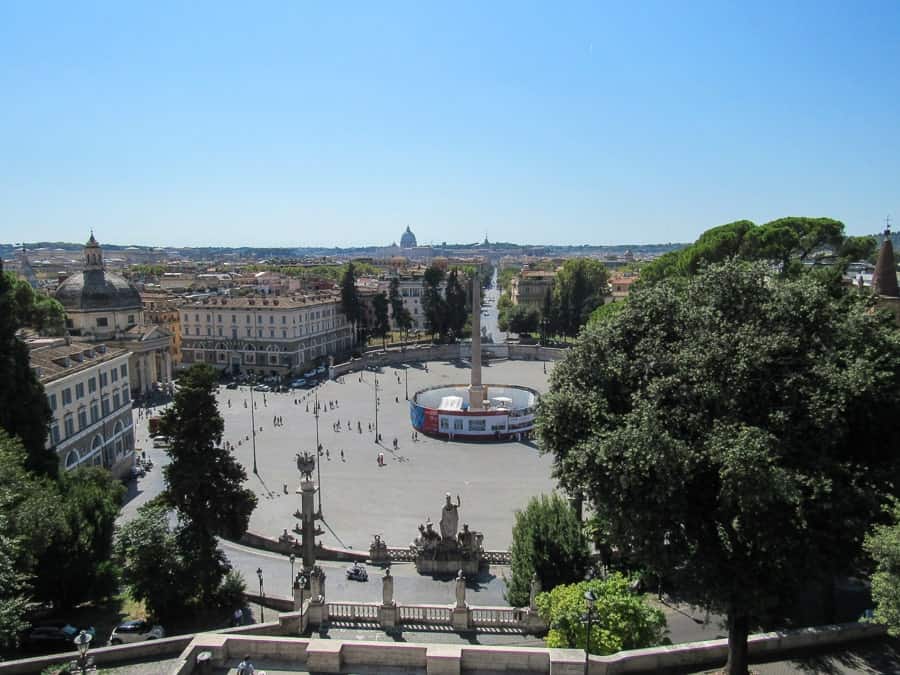 You can also get to Rome's zoo and the National Gallery of Modern Art depending on how you'd like to spend the rest of your day from the Villa Borghese.
Borghese Gallery
Cost: $10-14 USD (

€

9-

€

13) depending on exhibits

Hours: 9 AM – 7 PM (closed Sundays)
We'll be honest, we opted not to go here, but have been informed that this is the most splendid art showing in Europe. If you are into art, this is a must-see and you should add it to the 3 days in Rome itinerary. If you aren't much for art (like us), then you can go see 4,000 dead people at the Capuchins Crypt.
Capuchins Crypt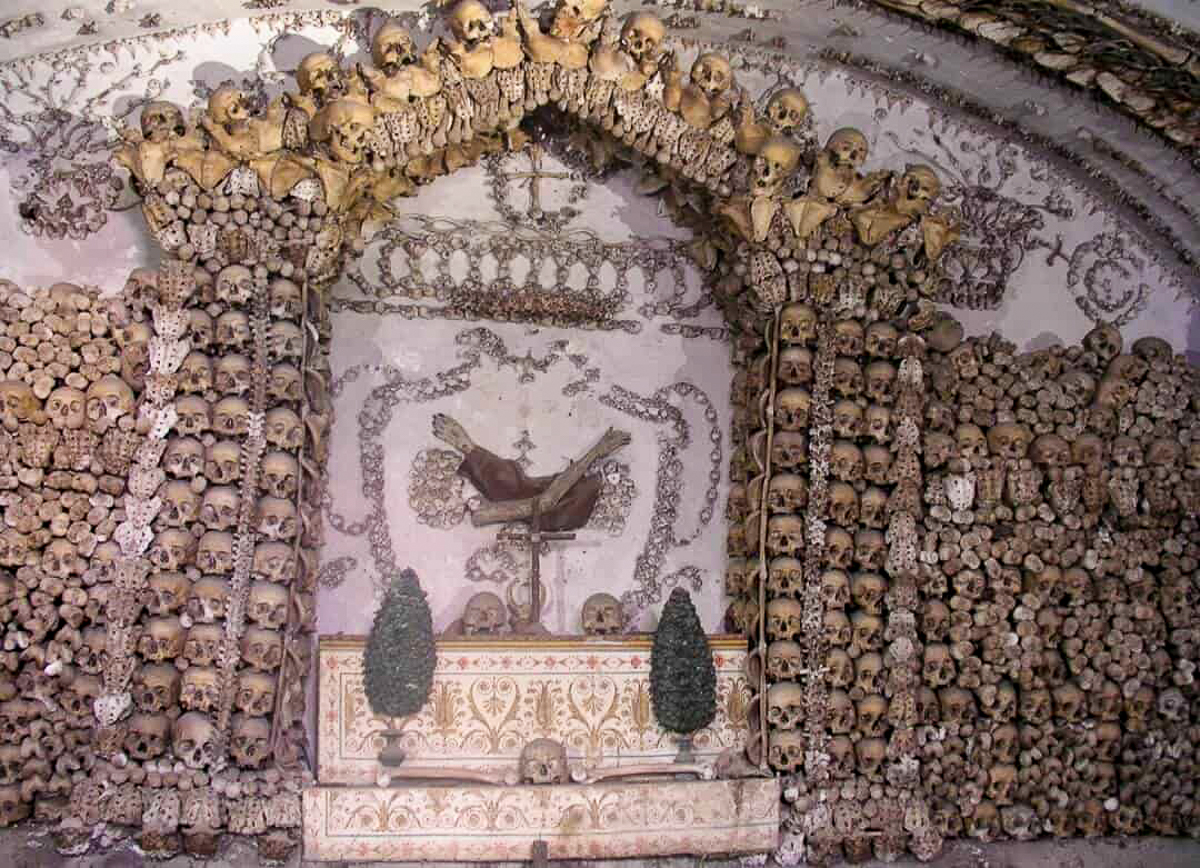 Cost: donation of $1-2 (€1-2)
Hours: 9 AM – 12 PM & 3 PM – 6 PM
Dress Code: Modest dress (no shoulders, no short-shorts)
No photos or videos, phones must be on silent to enter
We lied before when we said we aren't into art. We just didn't know that the art we were into was the bones of 4,000 friars arranged throughout 6 rooms in altar-style artistic messages in the crypt of the church.
Il Convento dei Cappuccini di Via Veneto is the church above the basement crypt. This slightly disturbing and yet, strangely fascinating crypt is located about a 10-minute walk from the Villa Borghese.
We'll let you research the details and save you the suspense, but the last room you walk into leaves you with a not so cryptic message "We were what you are….you will become what we are now." Creepy!
Lunch – Pizza at Pinsere
Cost: $12-25
Hours: 12 PM -3:30 PM & 7 PM – 12:30 AM
Can't leave Rome without 1 more slice of pizza! Pinsere is a quick grab and go style restaurant with sidewalk seating.
This is only 2 blocks from the Termini making it the perfect stop before heading out.
Arrivederci Roma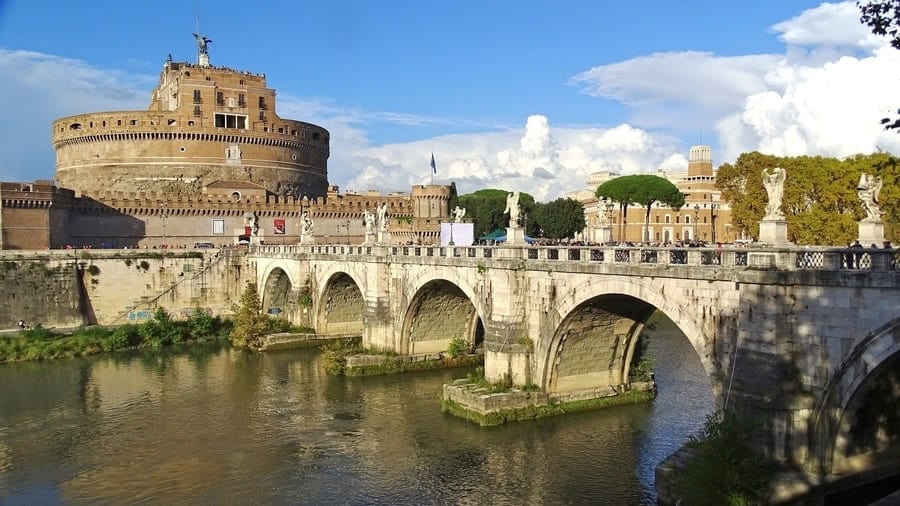 When it was time to head to the airport, we were able to jump on an earlier Leonardo Express train. Having a few hours to kill in the airport, we decided on a place to grab a pre-dinner snack, walked through the duty free shop and, of course, bought 6 bottles of wine and spices to bring home.
Things To Do In Rome At Night
Piazza Navona
Originally built as a stadium for athletic events, Piazza Navona is currently home to three large fountains and the rim of the square is lined with restaurants and cafes.
Piazza Navona comes alive at night, offering a great people-watching scene. With street music, ice cream, cafes and live acts, you'll enjoy the throngs of people coming and going in this lively square. We suggest grabbing a seat outside somewhere and take in the sights.
Drinking outside
If you are an American, it's rare you can drink in public without the ire of the police, so we took full advantage of the legality of this while in Rome. A few minutes from our Airbnb was Finnegan Irish Pub, which claims to be the only Irish-owned bar in Rome.
Outside of their pub, there is a to-go window situated on a large staircase so you can sit on the steps with numerous expats and locals. This wasn't grand by any stretch, but we did get a lot of local tips and pointers, including the best club scene in Rome (see below).
Nightclubs
Looking for a club scene?
We don't typically frequent nightclubs, but the locals from the Finnegan stairs told us to check out Monte Testaccio for a good nightlife scene. We didn't go, but it's easy to find information on their clubs. Akab and Villaggio Globale have big dance floors.
Most open at 11 PM and close around 5 AM.
Other Rome Attractions to see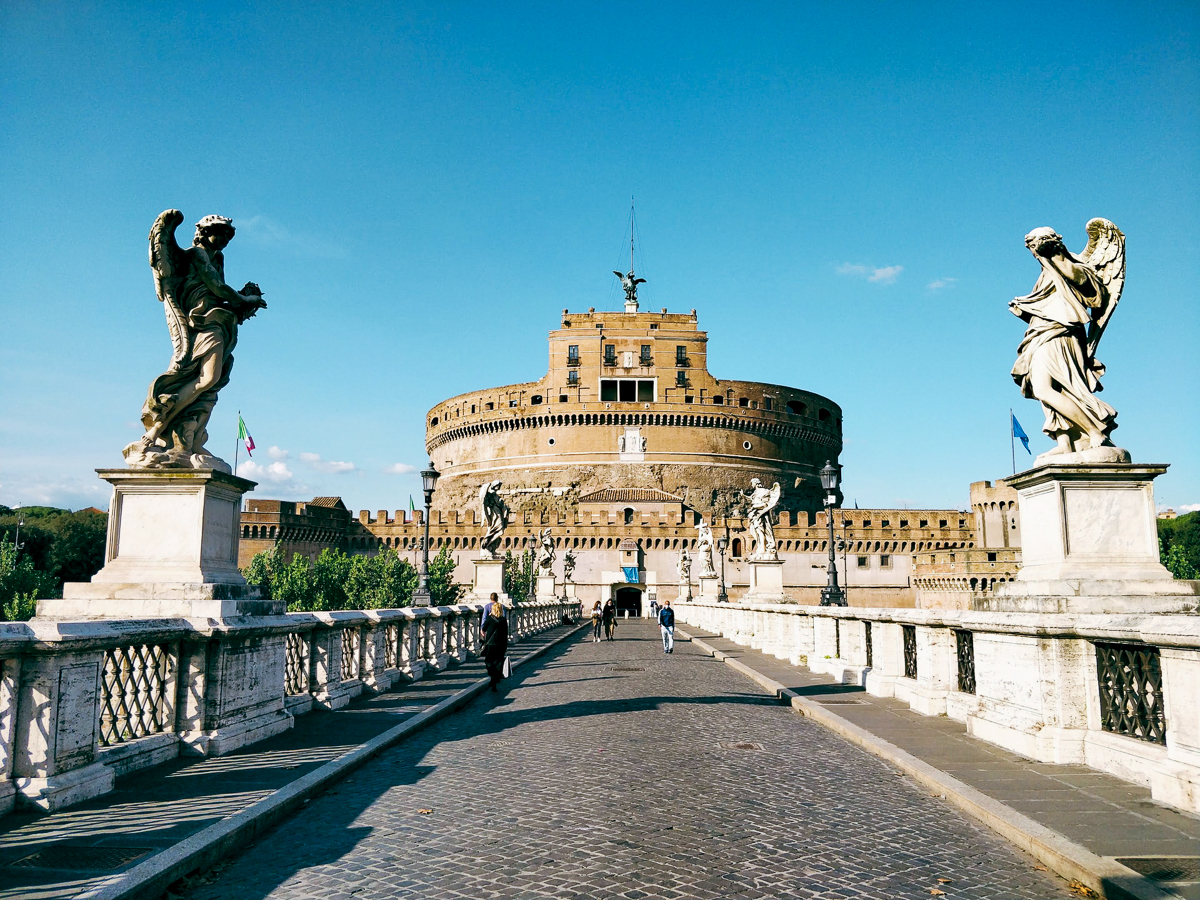 With only 3 days in Rome, you are bound to miss something. We tend to look for more traditional landmarks than museums (unless we are in a place for a week). We missed some big Rome attractions and want to make sure you know about them so you can decide whether or not you want to add them to your list. They include:
National Museum of Rome

Capitoline Museums

Ara Pacis

Catacombs

St. Peter-in-Chains

Trajan's Column, Museum and Forem

Castel Sant'Angelo

Bath of Diocletian
Scams and Schemes
Gladiators at the Colosseum
As you approach the Colosseum, there are several very large, strapping men dressed in Gladiator outfits offering to take a photo with you.
Remember that nothing in life comes free and they will ask you (more like hound you) for money. They can be rude and intimidating so be prepared to pay €5 for a photo.
Street Performers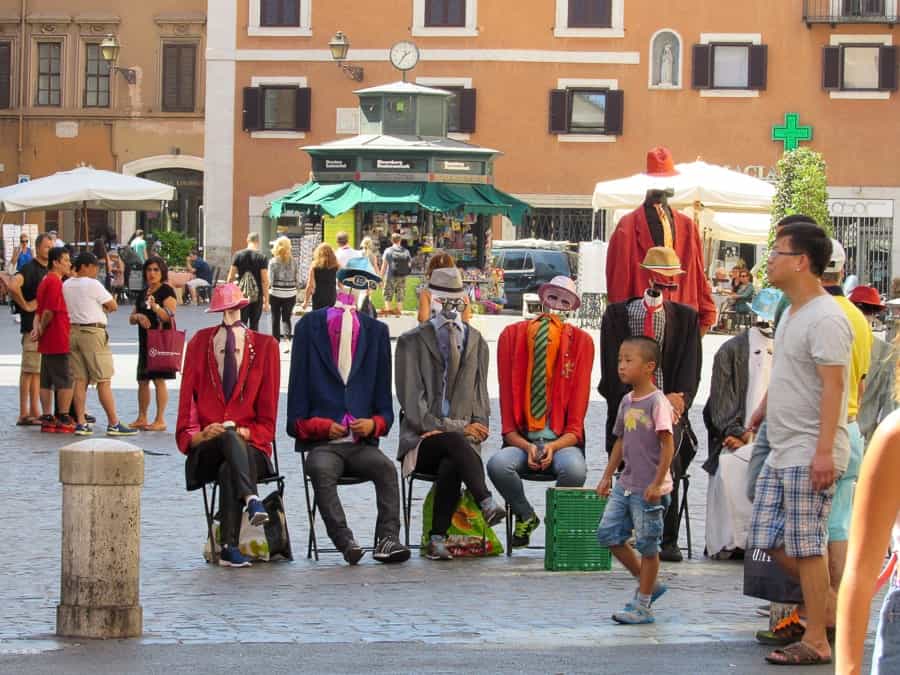 Similar to the gladiators, you will come across some really interesting street performers throughout Rome. There is a group of floating heads that roams around town and will have a member of their group (one of the non-floating heads people) chase down people who take a picture without paying. Luckily, I was far enough away to zoom in to snap this one.
Pickpockets
Like most big cities, pickpocketing can be a real issue on the crowded streets of Rome, especially around the big tourist attractions and on public transportation. There are too many types of pickpocket schemes to mention here (kids, roses, pretty women, injuries, etc.), but just trust your gut. If it seems like something is up, get out of the situation quickly.
Scheme at Termini Station
This happened to us (embarrassed, but now smarter). If you are using the automated machines to get tickets at Termini station, a person with a lanyard will be eager to assist you.
They are actually very helpful if you don't know what you are looking for, but be prepared to give them money – they will demand it, and forcefully so.
Yes, we were short on time and wanted assistance so this was a good option for us.
They will help you buy your tickets and then walk you all the way to your train (they'll often carry some of your luggage too) at the world's fastest pace, so just be aware.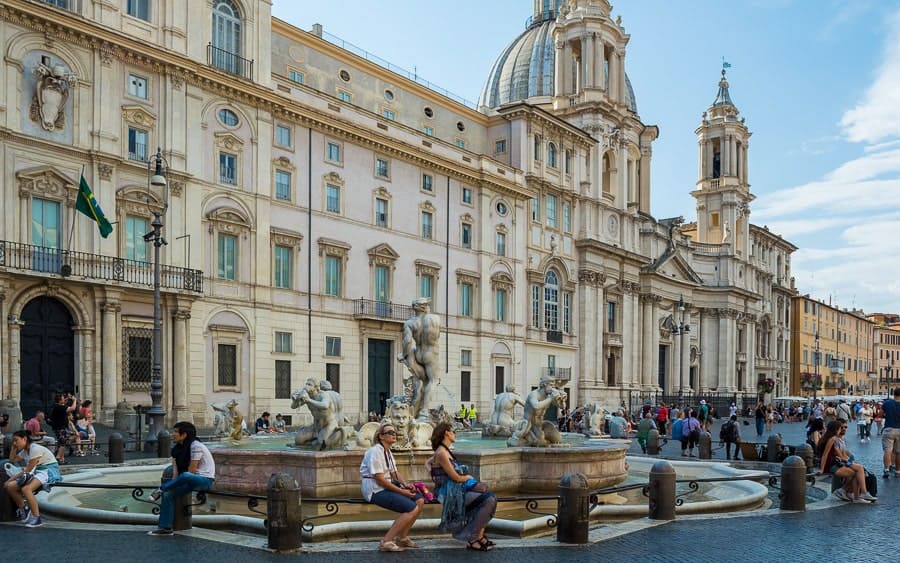 3 days in Rome is hardly enough time to scratch the surface of one of the oldest cities in Europe. Magnificent and memorable sights and tastes are everywhere in this wonderful city. We had a great time during our 3 days in Rome and can't wait to go back and explore even more!
Have you been to Rome? What did you love? What did we miss? Let us know below.