Greece Cruise Port: One day in Mykonos, Greece
Cruising around the Greek Islands was a truly incredible vacation. Having only one 1 day on each island, we had to know exactly what to do for one day in Mykonos. 
You are going to be pressed for time since this is such an incredible island. We highly suggest getting off the cruise in the morning and letting the port town wake up as you stroll through the beautiful streets.
Southeast of mainland Greece, the island of Mykonos, known as the Island of the Winds, is one of the party capitals of the world. I say "one of the party capitals" because there is a great debate over whether Mykonos or Ibiza, Spain, is the better party island.
Mykonos has many St. Tropez-meets-Ibiza influences and happily flaunts its aforementioned party-like-a-rockstar vibe. While known for throwing some of the craziest beach parties, Mykonos is without a doubt a stunningly beautiful island.
Short on Time? Here are the key takeaways:
You can do many things in the Port town of Hora, but if you want to get to the beaches, you'll need to take a bus or water taxi
We took a water taxi from Ornos Beach to get to Paradise Beach and then caught a bus on the way back. To see the island via taxi boat was absolutely worth it.
Paradise Beach is home to the infamous Tropicana Beach Bar, although mostly tame during the day time hours.
This post was originally posted in September 2018, but has been recently updated in June 2023.
**Boozing Abroad contains affiliate links throughout the site. If you choose to purchase items through these links, we will earn a small commission at NO extra cost to you. Read the full disclosure policy here**
Hora – Mykonos Port City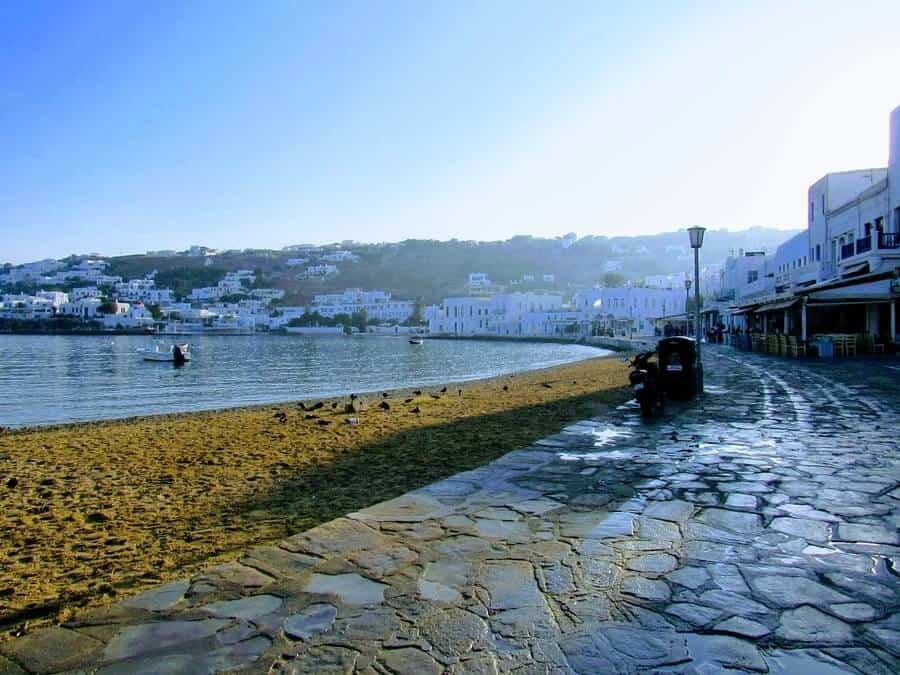 We woke up early to catch the first tender boat to port at 8AM from our Royal Caribbean Cruise boat docked at sea.
We were one of the first people off the boat and discovered the beautifully quiet port city of Hora, which is filled with shops and restaurants.
We started walking around Hora, which seemed more like a maze of powder-white houses than a cosmopolitan city. There are NO street signs anywhere and all paths seemed to lead to either blue-door dead ends or hordes of feral cats which I (Samantha) loved.  
The Greek Islands are known for their countless feral cats meandering and lounging around, and most of them are used to the tourists and are even somewhat friendly!
There is something absolutely exquisite about these old European cities and their maze-like layout (did we mention the lack of street signs) that allows you to get completely lost in a stunning environment.
Even in the early morning hours before Hora was awake for the day, every "street" we went down had a tangible energy just waiting to awaken.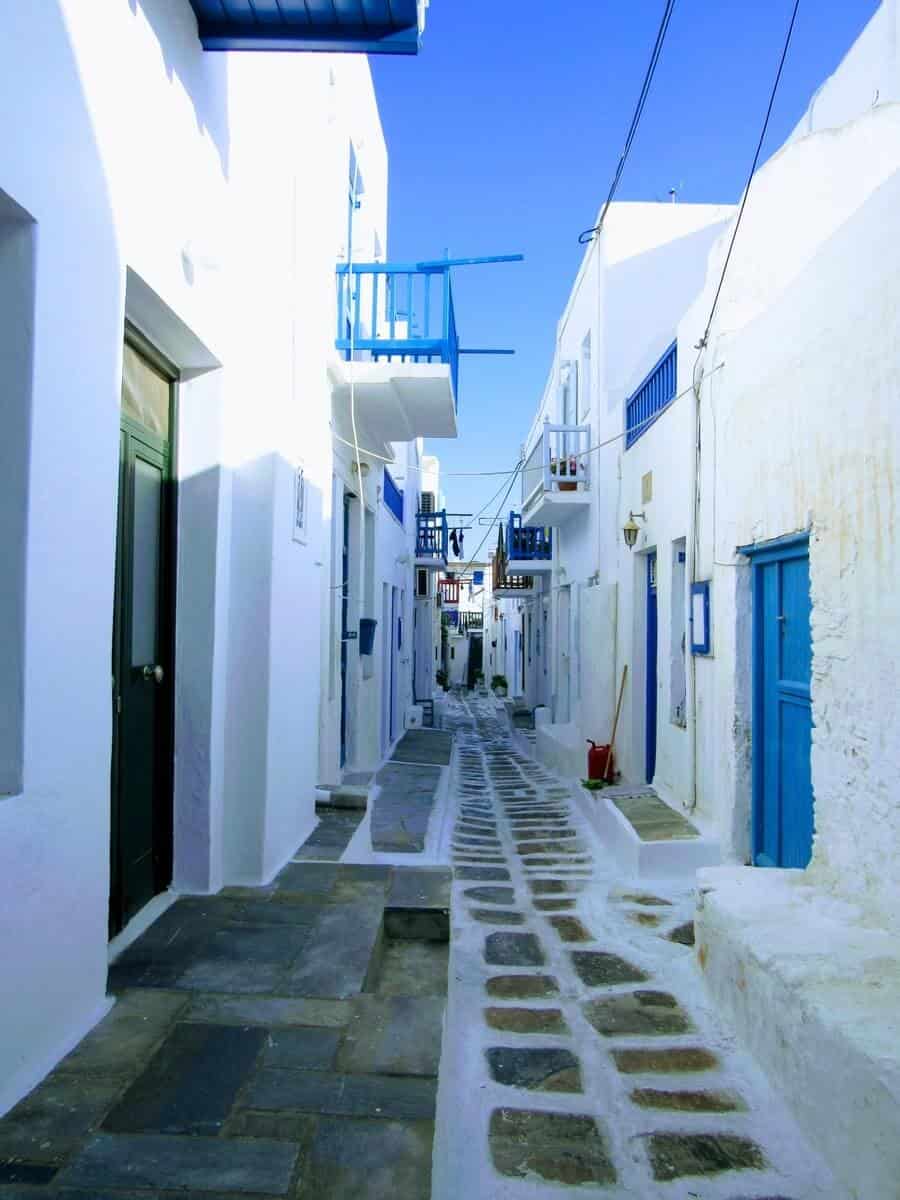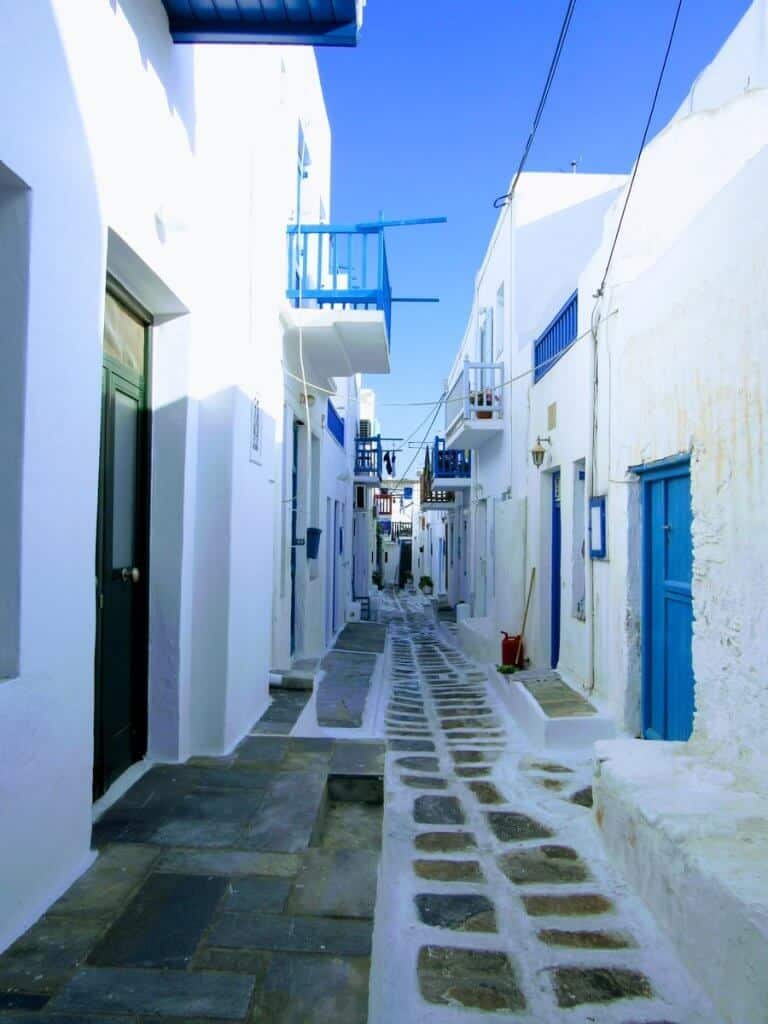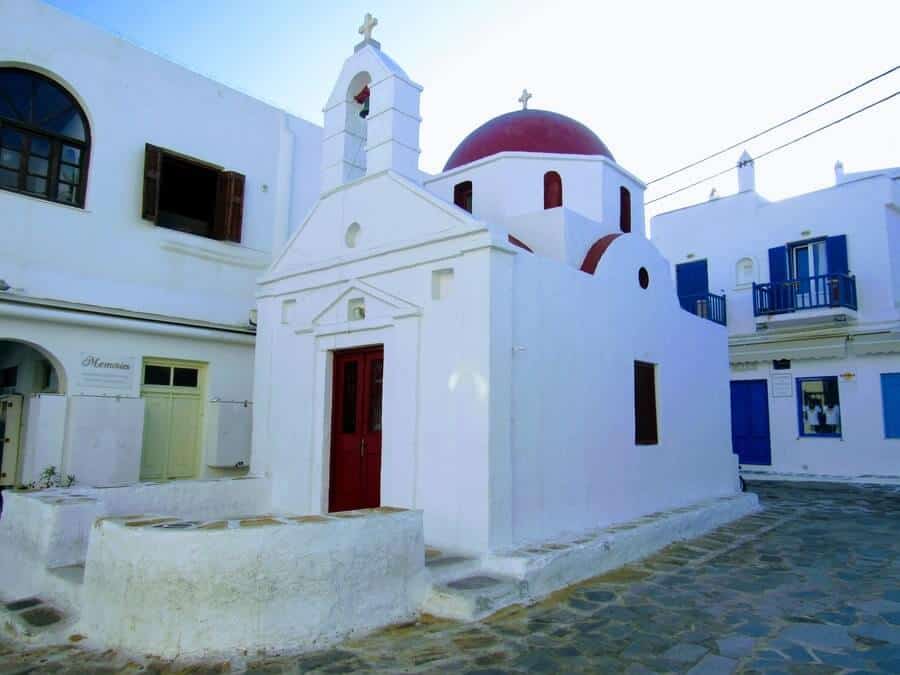 Windmills of Kato Mili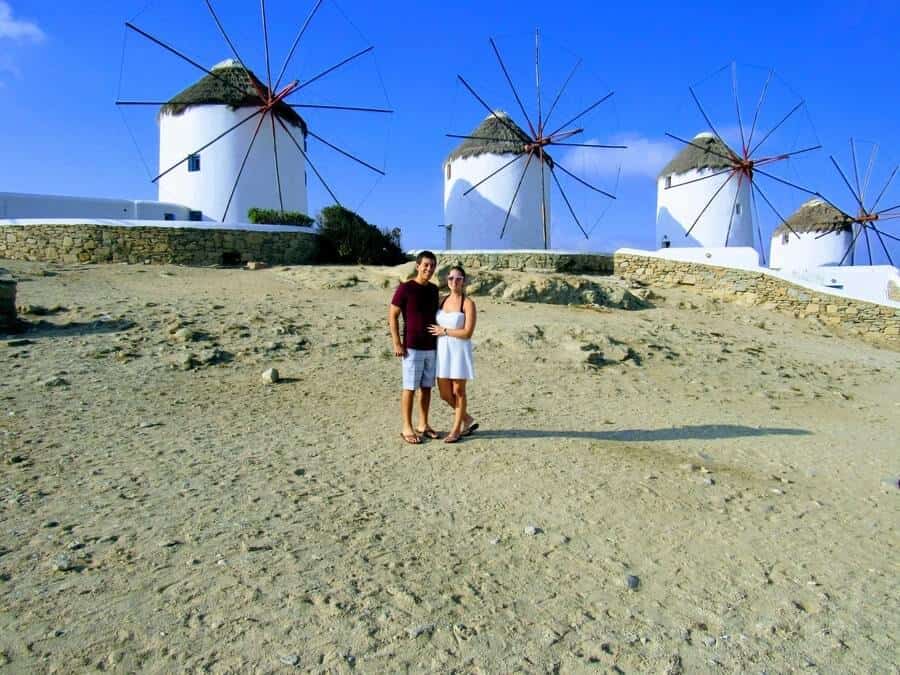 One of the top things to do in Mykonos is visiting the windmills.
Making several wrong turns and passing several red-domed churches (unlike the blue-domed churches of Santorini), we managed to make it through the winding streets to a main road, which was conveniently, and thankfully, the same road as the windmills, named Kato Mili (or Kato Myloi).
TIP: Get to the windmills early and you'll be able to take a picture with no one else!
There iconic seaside windmills were built during the 16th century with wood-&-straw rooftops. Make sure you turn around after your pictures as there is a great view of the sea and harbor, too!
After enjoying the sunrise, we continued to walk around the confusing streets of Hora. We had done extensive research on things to do in Mykonos but had no real definite plans in terms of what beach we wanted to see.
There are so many incredible beaches — how do you pick just one?!
We knew we wanted to get to the Tropicana Bar on Paradise Beach, one of the best and most notorious party scenes (a different type of iconic feature of Mykonos). 
Still unsure of what to do in Mykonos for the rest of the day, we spoke with a local at one of the souvenir shops.  Our only requirement was that her beach suggestion have a bar, of course! 
Without missing a beat, she suggested to travel by bus to a local beach nearby.  A few minutes later, we jumped on the KTEL Mykonos bus and off we went!  
Ornos Beach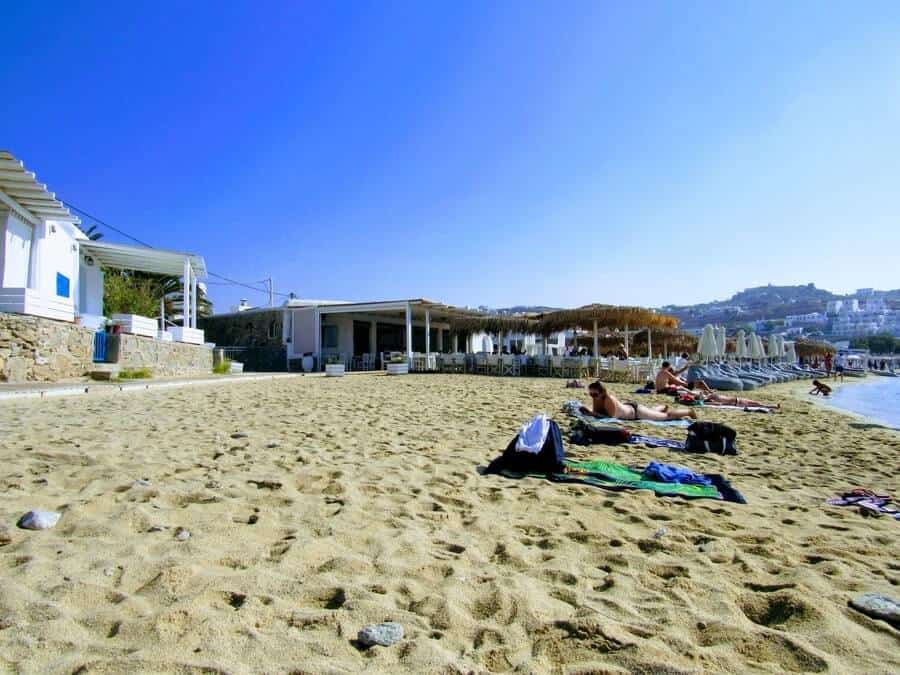 After about a 10-minute bus ride, we arrived at Ornos Beach, a "family-friendly" beach.
Most of Greece has pay-to-play sunbeds or a "free" beach area nearby, so we walked around 50 yards down to an empty spot where there were several topless locals tanning.
Family-friendly or not, you're likely to see at least a few topless folks at just about every beach on this island.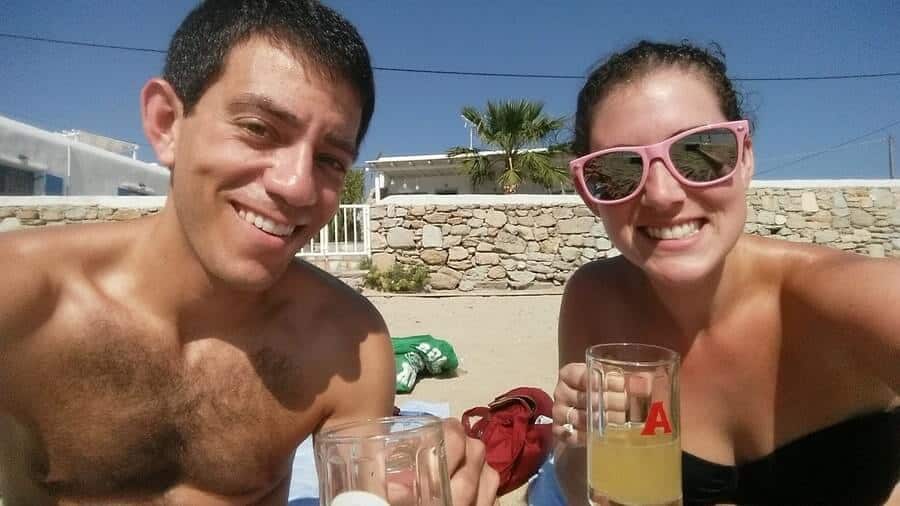 We grabbed some local beers at the bar, Kuzina Mykonos, which the in-town local had suggested. This beach is very laid back and relaxing with gorgeous blue waters in a peaceful cove.
Ornos Beach is definitely under-appreciated by tourists and the locals tend to prefer it that way!
After a few Alfa beers, the hot Grecian sun had us craving some shade and a change of scenery. Once again, we consulted a local – this time, the bartender.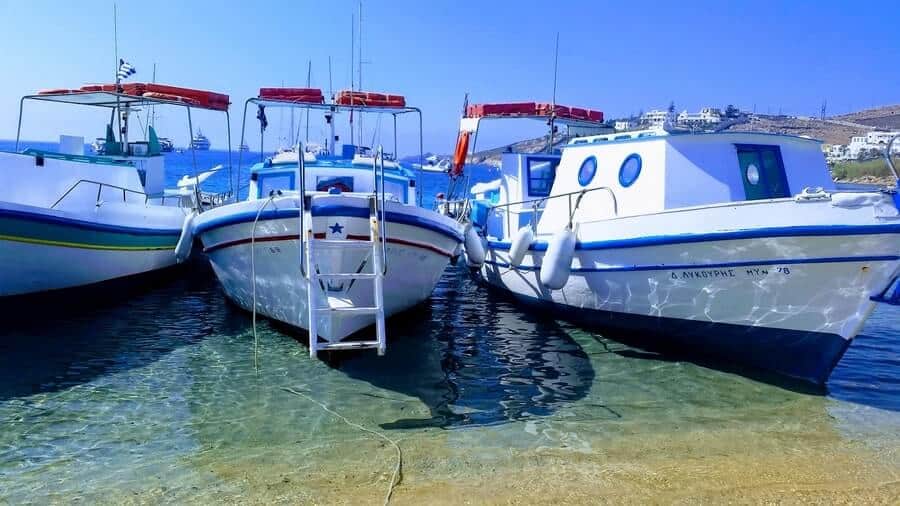 We were told that to get to Tropicana Beach Bar on Paradise Beach, a water taxi was the easiest way to get there. We ventured along Ornos Beach until we found the takeoff point for the water taxis. If you are unsure about what to do in Mykonos – we highly suggest finding a water taxi!
For only 7€ ($7.25) per person, we were cruising around the beautiful Mykonos water and stopping at every cove we passed!
A unique way to explore Mykonos, we sailed by several mammoth yachts along the way — oh to be rich and be able to yacht at the party island! The sparkling blue waters in these pictures don't do the journey justice.
The boat ride was just over an hour but well worth the cove-hopping tour. We picked out several luxury yacht's we'd want if we ever won the lottery. Until then, we just enjoyed our boat ride.
Paradise Beach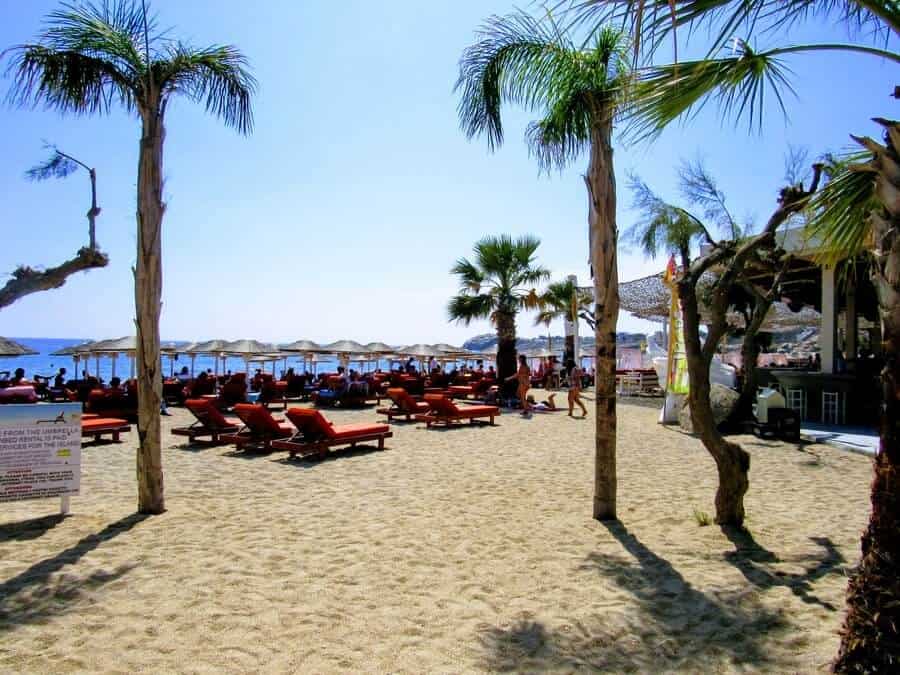 Once we arrived to Tropicana Beach Bar, on Paradise Beach, we tried the local Grecian beers, Fix, while enjoying some pizza before heading to a sunbed to tan. For those that don't know, Tropicana Beach Bar is one of the top beach bars for partying on the island!
Everything we had read said that all beaches are topless. However, only about 10% of the women chose to shed their tops. Nonetheless, it definitely led to some interesting people-watching.
The beach itself was great!
They had these big pillow loungers that you can rent by the hour or by the day and the waitstaff would come bring you food and drinks. Guess we don't need a mega-yacht to feel like royalty after all!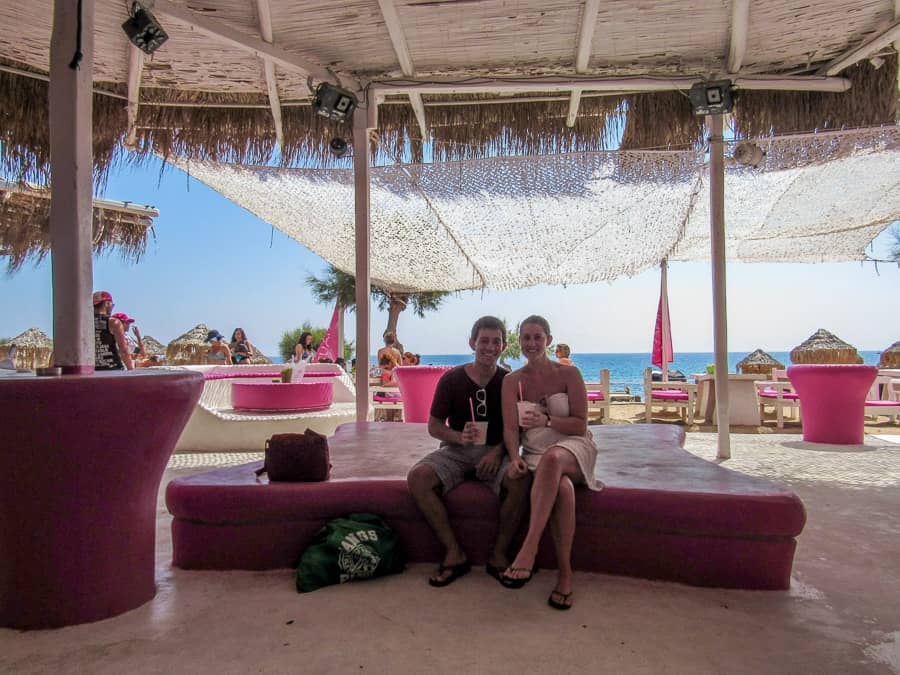 The party doesn't really get started here until later in the day, made evident by the huge pile of bottles which hadn't been cleaned up from the night before. Sadly, our cruise was leaving in the early afternoon so we knew going into the day that we were going to miss all the crazy action.
However, we did enjoy sunbathing at the notorious bar!
At about 2 PM, we walked down the beach, passing a cluster of bars, and purchased drinks under their special buy one, get one free promotion – no wonder this place is known for their party!
We bravely chose the Kamikaze cocktail from the array of options they offered!
TIP: The farther away you walk from Tropicana, the cheaper the drinks. If you're on a budget, go farther down the strip.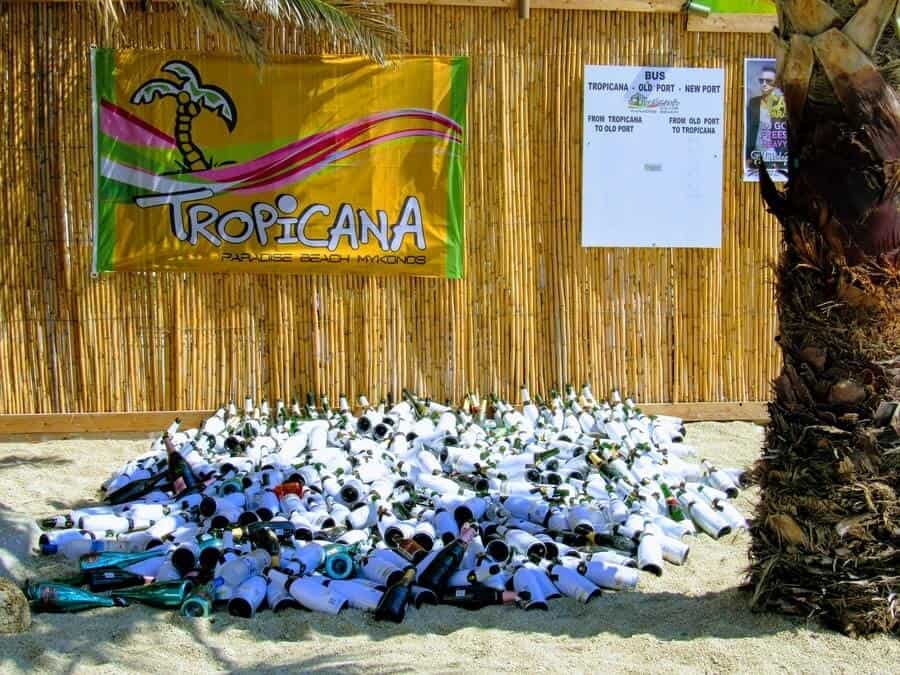 Psarou Beach
If you aren't ready to stop the party, one cove over from Paradise Beach and the Tropicana Beach Bar is Psarou Beach.
For more info on this epic little party spot, check out this guide, Nammos Mykonos: The Ultimate Guide to a Killer Beach Club.
Back to Hora
Feeling a bit fuzzy, we walked to the bus station to head back to town. The bus ride was about 30 minutes from Tropicana to "old port".  If you've been drinking, make sure you get on the right bus to "Old Port" or you might end up somewhere you weren't expecting to go.
Once in Hora, we needed to run through the maze of streets, which were much more crowded and lively this time of day, to get back to our cruise ship.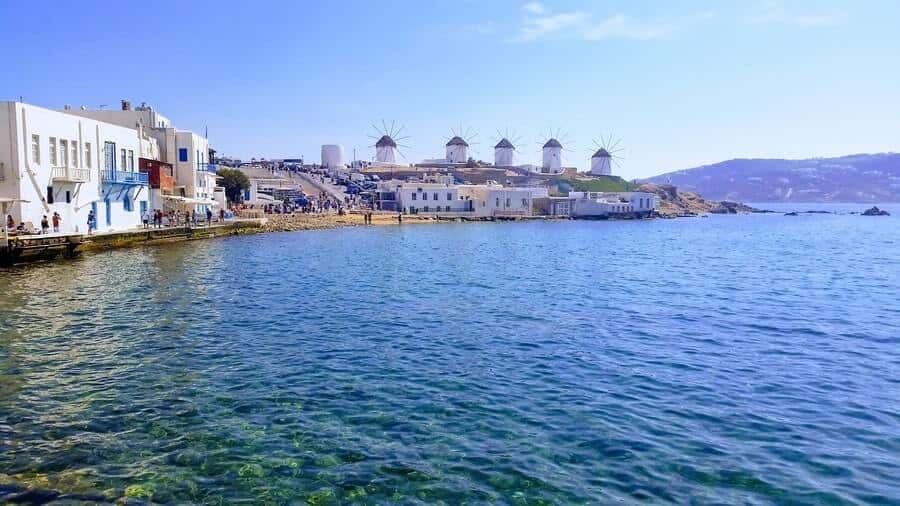 After buying some souvenirs at a shop and a frozen iced coffee, which was nothing more than powder and ice — the Greeks aren't known for their Frappuccinos — we took a tender boat back to the cruise ship and grabbed a snack before dinner.
Since you can never have too many sunset pictures, we captured another night of breathtaking views and pictures from the ship as we sailed away from the party island!
Feeling a buzz-kill at the fact we weren't going to be able to party on the island, we made the decision to one day come back and stay for more than a day to really experience the party!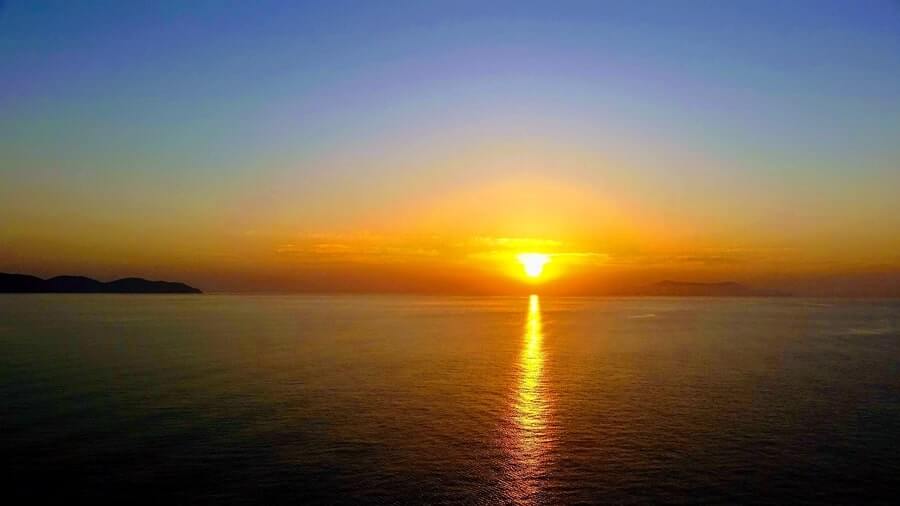 Deciding what to do in Mykonos for 1 day is a hard task. We could have easily spent an entire week here exploring. With all the beaches we saw in the coves, no matter what beach you pick, you'll enjoy the gorgeous crystal waters and powder sand beach.
Mykonos was a charming island during the day that flips the script and changes to a wild party at night (in some places).
We were bummed to miss out on the latter half, but enjoyed both beaches we visited. We will be planning a trip back soon to experience the full party life!
Have you partied in Mykonos? Is it better than Ibiza? Let us know your thoughts below!
Looking for more 1 day guides for Greece? Check out: