How to do Florence in 2 days – The Ultimate Florence, Italy Itinerary
When planning a trip to Italy, Florence is no doubt a top destination. Known for housing Renaissance art and architecture, Florence, the capital of the Tuscany region, is centrally located in Italy making it an easy stop on your way to/from Venice or Rome.
Check out our Florence in 2 days guide below to help you make the most of your Italy vacation.
Psst: Looking for more Italy info? We have a few guides! Browse them all here or see the most popular ones below:
**Boozing Abroad contains affiliate links throughout the site. If you choose to purchase items through these links, we will earn a small commission at NO extra cost to you. Read the full disclosure policy here**
How many days in Florence?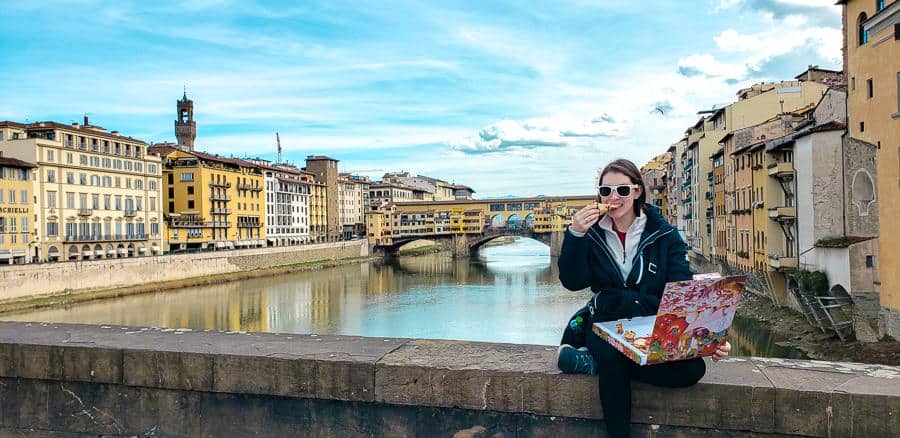 We know what you are actually asking: Is 2 days in Florence enough?
In our opinion, and based on our experience, you can see all of the main attractions in Florence in 2 days – we've done it on two separate occasions. BUT, if you are going to see everything, you need to hustle and plan in advance.
If you book a wine tour out in the Tuscan countryside (highly recommend this, obviously), you're going to lose out on some time in the city.
You'll have to choose what is most important to you when planning your itinerary for Florence in 2 days.
You can use this guide if you only have one day in Florence too. We'd suggest going to the Piazzale Michelangelo to end your day instead of the bar hopping option listed under the Florence in one day section.
These days are packed so get your walking shoes on and get ready to explore Florence!
Getting to Florence
Florence, Italy airport
The small Florence airport (FLR, also known as Peretola or Amerigo Vespucci Airport) is located about 15-20 minutes northwest of Florence's city center.
Somewhat surprising (to us, at least) is that the Florence airport is actually not the busiest in the Tuscany region; that title would belong to the Pisa airport (PSA).
If you do arrive in Florence via the FLR airport, you have a few options for getting to the city, including by tram, bus, or taxi.
Florence airport to city center by tram
Cost: 1.50€. If you have massive luggage, you may need to purchase a ticket for it too…seriously.
Approximate time: 20 minutes (including the individual tram stops)
The newest and cheapest way to Florence's city center is the T2 tram route, which operates between Piazza dell'Unità Italiana (right near the main railway station – Santa Maria Novella, or SMN for short) and the airport.
For the most part, the trams run about every 10 minutes and do have various stops along the way, but you'll still get to the city in about 15-20 minutes. The first tram leaves the airport at 5:00 AM and the last tram leaves the airport around 11:50 PM. See the website for more specific timetables.
All tram stops have automatic ticket machines that accept cash and credit cards (including contactless cards). You can also pay with Google Pay and Apple Pay if they are activated on your phone. Once you buy your ticket, it can be used on ATAF buses in Florence for 90 minutes after first boarding the tram.
Florence airport to city center by bus
Cost: one-way is 6€, round-trip is 10€
Approximate time: 20 minutes each way (direct with no stops)
The orange ATAF Volainbus shuttle offers round-trip service between the Florence airport and the city center (BUSITALIA SITA bus station, which is just outside of the main train station, Santa Maria Novella – SMN).
Departures from the airport are every hour between 5:30 AM and 12:30 AM, while departures from the city center are every hour between 5:00 AM and 12:10 AM. See more information here.
You'll catch the Volainbus from the right side of the arrivals hall as you exit the airport, across the street from the taxi stand. You can purchase your tickets inside the airport or directly from the driver (or your contactless credit card to purchase directly from the machine onboard).
Florence airport to city center by taxi
Cost: Fixed rate of 22€; holiday rate of 24€; night time rate (11:00 PM to 6:00 AM) of 25.30€. Rides starting at the airport have an additional charge of 2.70€. Luggage is 1€ per piece, maximum of 7 pieces
Approximate time: about 15 minutes
If you're not one for mass public transportation, you can take a taxi from the airport to any point in the city center for a fixed rate. This is also a good option if you have a lot of luggage and/or are not staying super close to the SMN train station (where the other options drop you) as you can get door-to-door service in a taxi.
The taxi stand is located just outside of the arrivals hall across the street from the Volainbus. See more information here.
Florence Italy train station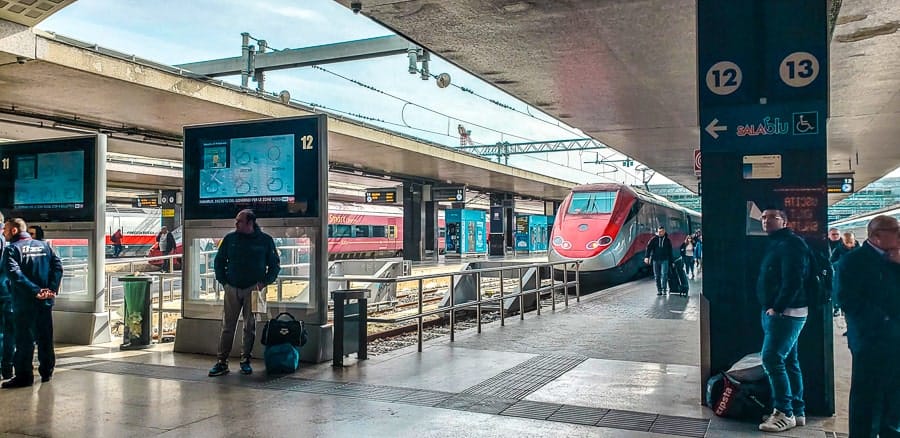 As alluded to above, the main train station in Florence is Santa Maria Novella, or SMN (your train ticket likely says Firenze SMN). With 19 platforms for trains criss-crossing all over Italy, SMN services nearly 59 million passengers each year, making it one of the busiest train stations in Italy.
There are several shops and restaurants inside the terminal so you can grab one last espresso and pastry before heading on your way.
A short 10-minute walk from the Duomo (15 minutes from Ponte Vecchio) and other major attractions, SMN is probably going to be more accessible and cheaper to travel to/from Florence than the airport. With numerous high-speed and nonstop trains, getting to many of Italy's major cities is quick and easy.
It is the only way we have traveled in to and out of Florence during our Italy trips and would suggest it for tackling Florence in 2 days.
By train:
Venice to Florence – about 2 hours and 15 minutes

Bologna to Florence – about 35 minutes

Rome to Florence – about 1 hour and 30 minutes
Where to Stay in Florence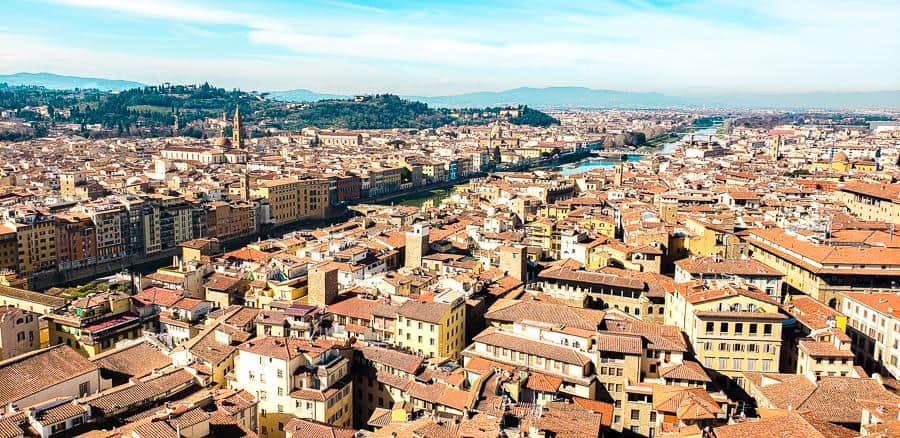 Assuming you only have 2 days in Florence, you're going to want to stay close to the city center where many of the main attractions are located. 
Luckily, the city center is rather concentrated, making it one of the best places to stay in Florence. You can walk the city end-to-end in about 30 minutes, but most of the things you'll want to see and do are only about 10-15 minutes on foot.
Luxury: Granduomo
Granduomo offers apartment-style rooms in an 18th-century Florentine home. The rooms all have hardwood floors and fine Italian furniture, as well as free Wi-Fi and breakfast included (croissants, jams, fruit, and homemade cookies).
What really sets this place apart as one of the best places to stay in Florence is its location (especially when doing Florence in 2 days), which is right next door to the Duomo. Book one of the deluxe rooms with a small balcony and you'll be looking directly at the Duomo.
Keep that in mind if you need extreme quiet for sleeping, because this area is always bustling with tourists.
Bed and Breakfast: FuordArno Bed & Breakfast
FuordArno B&B is not located in the main downtown hub, but is a quick 15-minute walk to Il Duomo and only 6 minutes from Ponte Vecchio. This riverside B&B overlooks the banks of the Arno river and is located on the corner of a small garden.
The rooms are larger than most European rooms and each room has a different theme. This is truly a hidden gem in Florence!
Budget Friendly: Renaissance Hotel
If you are looking to experience the hustle and bustle of Florence, Renaissance Hotel will suit your needs. In between Il Duomo and Ponte Vecchio, you will be able to quickly navigate to all of the top attractions in Florence.
This is a small boutique-style hotel with 9 rooms to ensure each guest is attended to. Spacious rooms and modern baths will delight! It's important to note that you will hear the street sounds due to its central location!
Airbnb
Another great option is an Airbnb! If you are new to Airbnb, click this link here to get signed up and experience your home away from home.
What to know about Italy
Tipping in Italy
As Americans, we tip whenever we are at a bar or restaurant, but it isn't customary to tip in Italy. Fight the urge to do it. If you've had INCREDIBLE service, you can leave an additional 1-2 euros, but it truly isn't necessary.
Servizio Charge
Before selecting a restaurant, check the menu for a servizio (service) charge. This can range from 10% – 20%, and will be common in touristy areas. The servizio charge MUST be listed on the menu, or you do not have to pay it.
It's unfortunate, but some waiters might try to add it to your bill. Be aware of all charges before sitting down. If you do pay the service charge, do not tip on top of it! Also, if you see a service charge or a cover charge on your bill, but it's not listed on the menu, ask for it to be removed.
Standing versus Sitting at a
Café or bar
This is specifically for cafes and bars, not restaurants. When traveling to Italy, do as the locals do! Italians like to take their coffee and drinks while standing at the counter, rather than sitting down at a table. There are typically two menus, banco (standing) and tavolo (sitting).
As you might have guessed, the prices for sitting are higher, so walk up to the counter and order! Be one with the locals! This will also help to keep you on schedule as you try to tackle Florence in 2 days.
Map of 2 days in Florence itinerary
Click the interactive map below!
HOW TO USE THIS MAP: To view the layers and see the names of the places on this map, click the tab in the top left corner. You can select the check marks to show or hide certain layers. If you select the icons on the map, you will get more information about the point of interest.
HOW TO SAVE THIS MAP: If you select the star icon next to the map name, you can save this map to your Google Maps account. To view it, open Google Maps in desktop or on your phone, select the menu button, go to "Your Places," scroll to the right to Maps, and you will see this map.
Florence in a day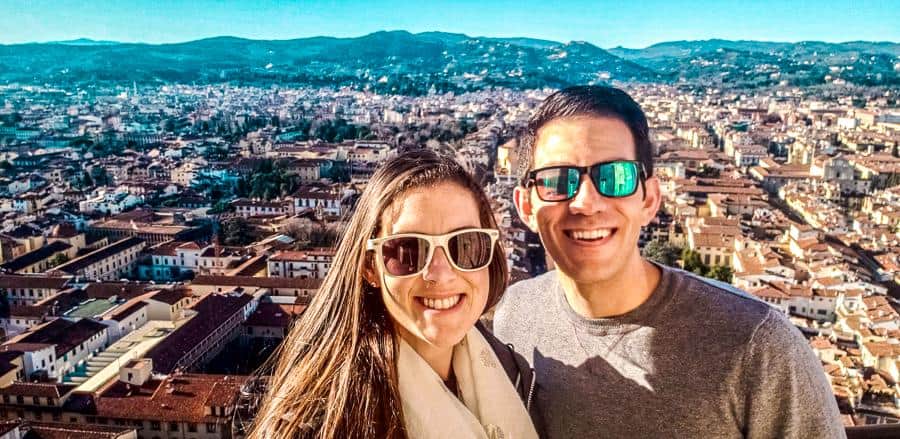 One day in Florence Itinerary
Visit Piazza del Duomo

Climbing il Duomo

Crypt of Santa Reparata

Giotto's Campanile

Baptistery of San Giovanni

San Lorenzo Market

Mercato Centrale

Galleria dell'Accademia

Basilica di San Lorenzo

Gelato or Booze Break

Tasting an Italian Delicacy

The Wine Window and Dinner
Piazza del Duomo
Cathedral of Santa Maria del Fiore – il Duomo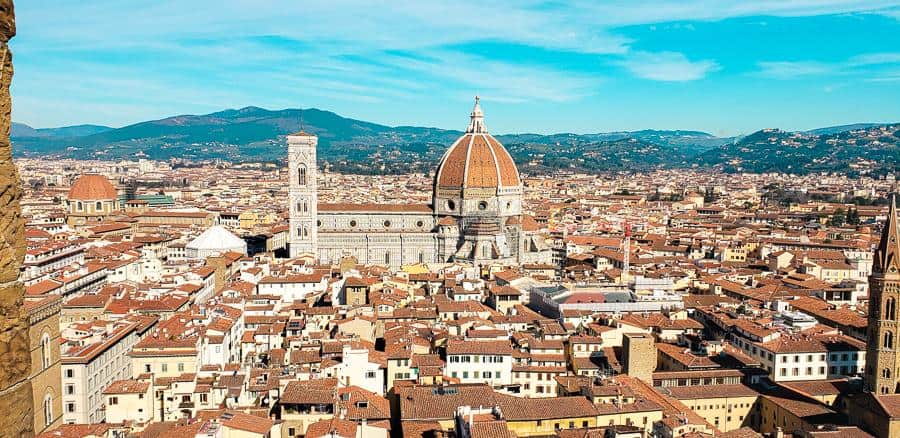 Cost

: Free for the cathedral, 18€ for the Grand Museo del Duomo pass which includes the dome climb (reservations required for the dome)

Hours

: Generally, 10:00 AM to 5:00 PM, but you can check

here

for your exact dates

Things to know

: Remember, you are entering a place of worship, so proper attire is required (no short shorts, tank tops, sandals, hats or sunglasses). Also, here's a

handy map

of the Piazza del Duomo
Only have one day in Florence? Or even trying to do Florence in 2 days? Then your itinerary has to start in Piazza del Duomo for arguably Florence's most iconic structure, the Cathedral of Santa Maria del Fiore, or simply, "il Duomo". And given the prominence of this attraction, we recommend doing it first thing in the morning to avoid the crowds (and the heat).
The Grande Museo del Duomo pass is 18€ per person and can be purchased online or at the ticket office which is along the right side of the cathedral (near the exit) in the building with 4 columns and 2 statues out front.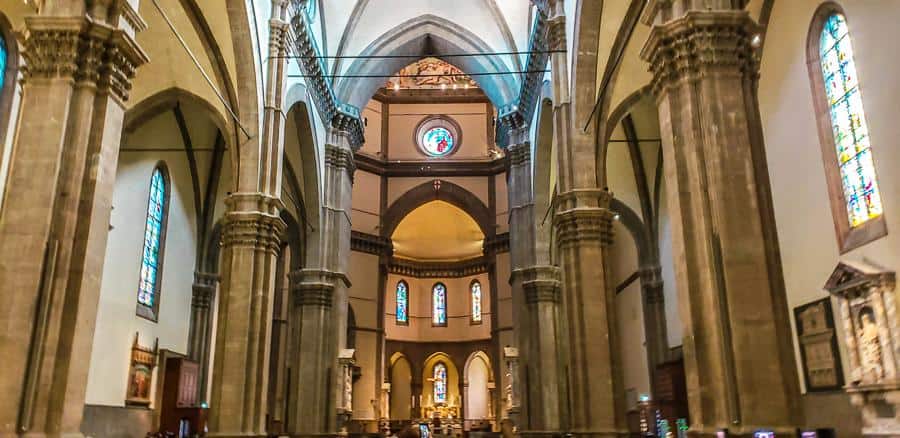 You can enter the cathedral for free, but to experience many of the other attractions associated with the cathedral (i.e. climbing il Duomo, climbing the bell tower, the Baptistery, and the crypt), you'll need to purchase the Grande Museo del Duomo pass.
This pass is a no-brainer if you are doing Florence in 2 days as the attractions are clustered together in the square and you can easily do all of them in a few hours, leaving you plenty of time for the rest of your one day in Florence. And trust us, you'll need it.
Il Duomo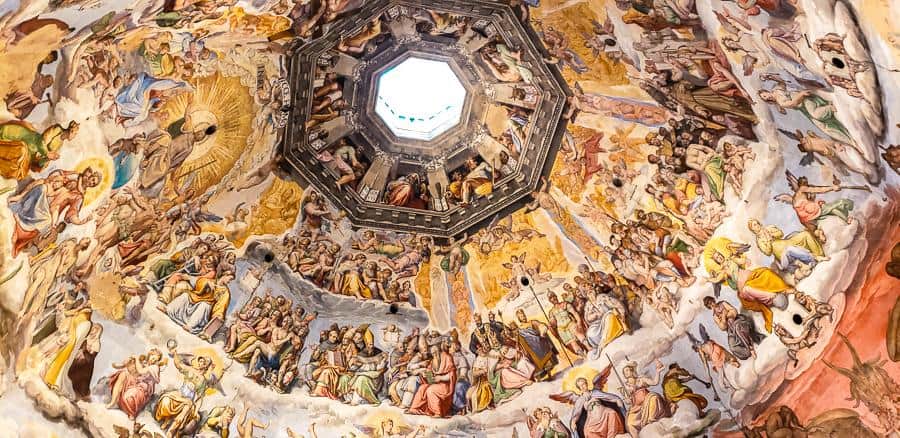 Construction began on Duomo in the 13th century, but the recognizable dome was not added until the mid-15th century because no one could figure out how to build a free-standing dome large enough to enclose the space (nearly 150 feet wide). That is until Brunelleschi came along.
The exterior of the world's 4th largest cathedral is just beautiful: shades of pink, green, and white marble, with intricate detailing and sculptures all over the walls.
The line to enter the cathedral is naturally at the front, right across the way from the Baptistery of San Giovanni. Once inside, you'll likely get an empty impression, but just appreciate how massive this cathedral really is: 500 feet long, 300 feet wide at its widest, arches in the aisles that reach 75 feet and the dome which towers about 375 feet overhead.
**Reservations Required**:  Once you purchase your pass, immediately set a reservation for climbing the dome (reservations are required for this).  Once you make a dome-climbing reservation, your pass is good for 72 hours at the other attractions.  Inside the ticket office, there are self-service machines where you can claim your reservation spot by scanning your pass. This can also be done in advance online.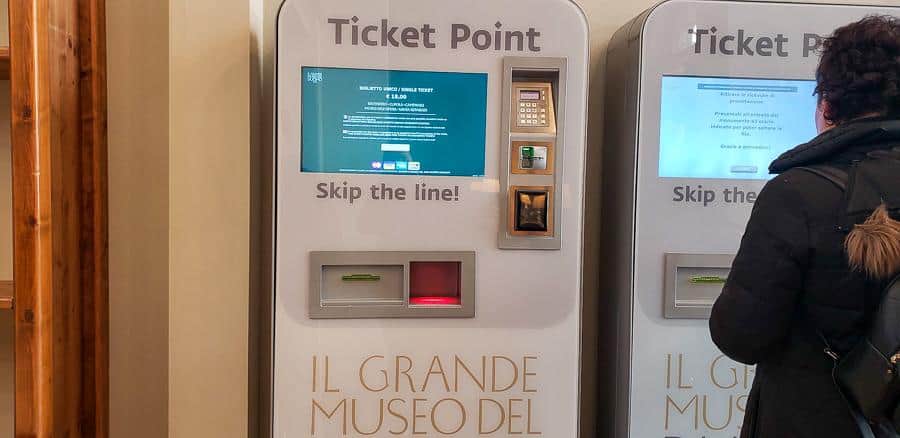 If you're visiting Florence in 2 days (and are physically capable), you must make this 463-step climb to the top of il Duomo (there is no elevator). The queue for the dome climb is around the left-hand side of the cathedral.
These old staircases leave little to no room for passing slow pokes or letting the in-shape, fast climbers get by you, so be in line a bit earlier than your reservation if you want to be one of the first few up in your group.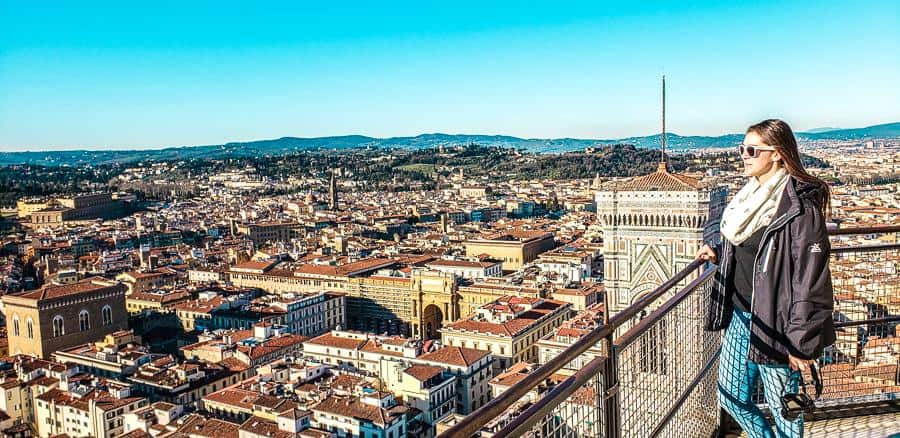 Once you reach the top, you're rewarded with a stunning 360-degree view of Florence. It's truly breathtaking (in more ways than one)! Plus, you'll have earned more wine, bread, and cheese for exercising your way to the top. Win-win!
Crypt of Santa Reparata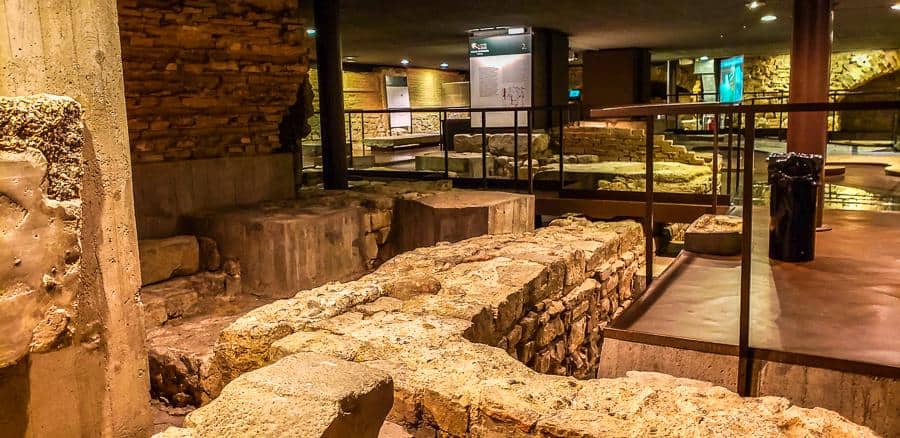 Cost

: Included in your 18€ Grand Museo del Duomo pass

Hours

: Generally, 10:00 AM to 5:00 PM, but you can check

here

for your exact dates

Things to know

: Same rules apply here for attire as this is within a place of worship. Also, entrance to the crypt is inside the cathedral (you'll have to wait in the cathedral line to get in)
Beneath the cathedral that stands today, the remains of an even older cathedral are present and visible. There isn't hard evidence to say when the Santa Reparata cathedral was built, but historians think it was between the 5th and 6th centuries.
However, it is believed that the cathedral was eventually seen as too rough and too small for the new Florence. As such, they decided to reconstruct the building on the same footprint. That's right, they built an even grander cathedral (what you see today) right on top of the old one.
Excavation efforts occurred in the 1960s and 70s and finally opened this area to the public. Accessed from the inside of the cathedral, you can walk through the crypt/museum and read more about the history of Florence and the Santa Reparata cathedral. You can even see the simple and humble tomb of Brunelleschi, the mastermind of the dome you just climbed.
Entrance to the crypt is included in the Grand Museo del Duomo pass and you do not need a reservation to enter.
Giotto's Campanile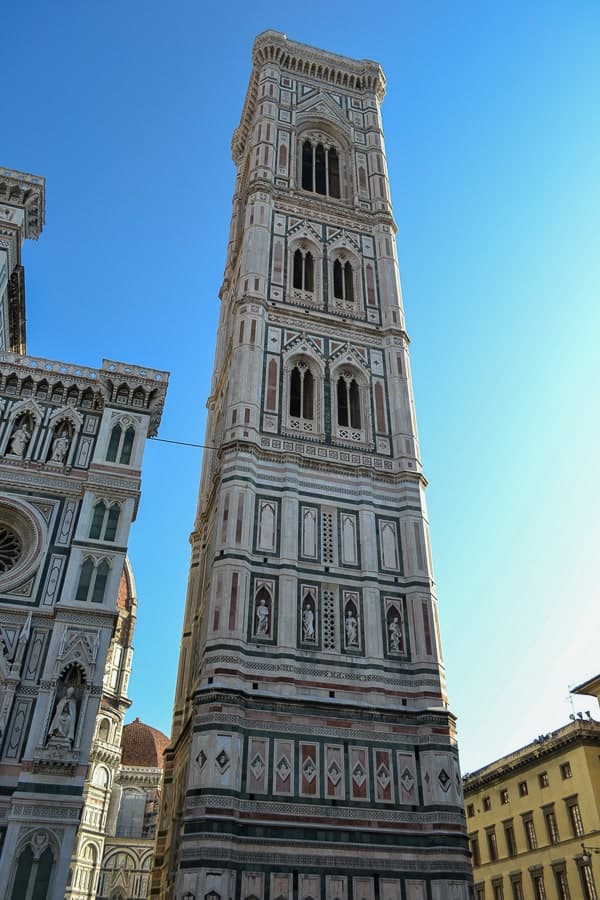 Cost

: Included in your 18€ Grand Museo del Duomo pass

Hours

: 8:15 AM to 7:20 PM; check

here

for your exact dates

Things to know: There are various terraces on the way up where you can stop, take photos, rest your legs, and most importantly, catch your breath. **No reservation required**
Contrary to what many believe, the bell tower that sits adjacent to and rivals the height of il Duomo is actually a completely separate building from the cathedral.  Giotto's Campanile, or bell tower, is about 280 feet tall and is considered one of the showpieces of Florentine Gothic architecture.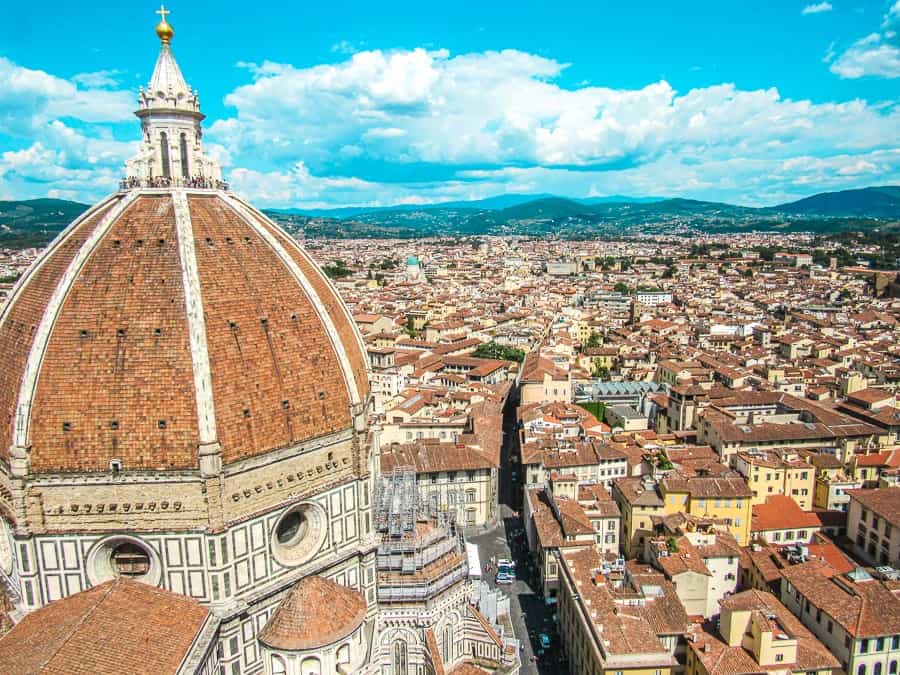 Although the bell tower is named for Giotto, its first designer, he actually only worked on it for 3 years before his death. Two additional designers were involved in finishing the tower in 1359, at a height that was less than Giotto's original spire-shaped roof design.
You can climb the 414 steps to the terrace at the top for more panoramic views of Florence and a different perspective of il Duomo. This attraction is included in your Grande Museo del Duomo pass.
If your legs and calves can't muster the strength to do 2 separate climbs on one day, consider doing the dome on one day and the bell tower on the following day. Florence in 2 days = 2 climbs to see fantastic views of Florence (and 2 workouts). More wine, bread, and cheese, please!
Baptistery of San Giovanni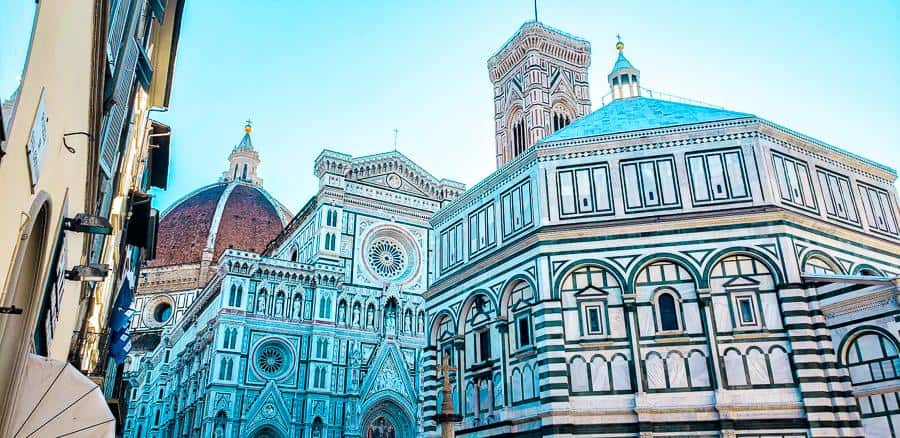 Cost

: Included in your 18€ Grand Museo del Duomo pass

Hours

: 8:15 AM to 10:15 AM, and the 11:15 AM to 7:30 PM; Sundays 8:15 AM to 1:30 PM; check

here

for your exact dates

Things to know

: Attire – if you get in the other attractions, you'll be fine here too
There is little known history about this building, which sits just outside of Florence's main cathedral, but it is thought to be one of the oldest buildings (and churches) in Florence, first being mentioned in writings in 897 and originally thought to be a temple to the Roman god Mars.
The current structure was constructed in the 11th century and its octagonal shape and green and white marble make this building equally recognizable, even if much smaller than its surrounding neighbors.
Perhaps the most important features of the baptistery are the three bronze and gold doors on the southern, northern, and eastern sides of the building. The beautiful doors are meant to be visual interpretations of the Bible, including depicting the life of John the Baptist, virtues, the Old and New Testaments, and the fathers of the Catholic Church. Inside, you'll also find huge mosaic depictions of various religious scenes.
San Lorenzo Market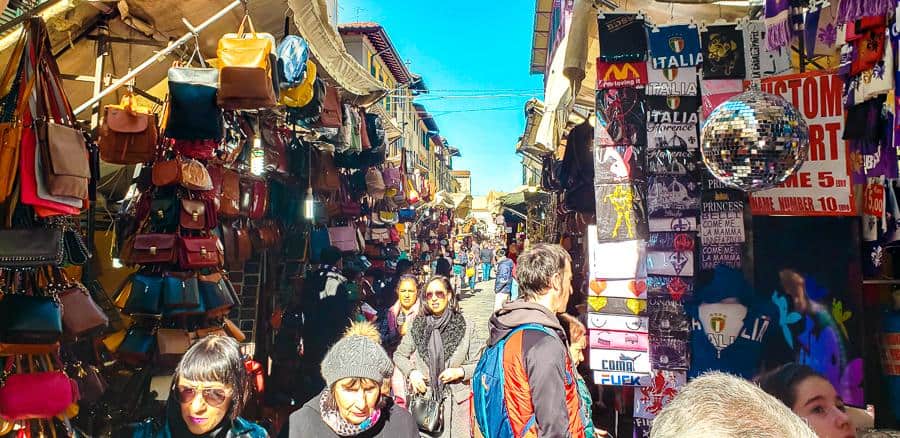 Cost

: FREE to visit and browse

Hours:

8AM – midnight

Things to know

: Make sure you walk the length of the market to see what's available and at what price before you even start to entertain the vendors about buying.
If you love haggling with street vendors, make sure you set aside some time to come to the San Lorenzo Market which is smack dab in the middle between the SMN train station and the Accademia Gallery (home of the David statue).
At this outdoor market, you'll find all of your touristy knick-knacks as well as your authentic Florentine leather jackets (and probably some not-so-authentic leather jackets). We aren't leather-aficionados by any stretch, so you'll have to do your own research on best places to buy and what to look for.
Since you are only in Florence for 2 days, be sure to pick out something memorable to take back home with you! By the time you're done shopping, you'll have likely worked up an appetite. Luckily, just behind the outdoor market is an indoor market called Mercato Centrale, which is a two-level market dedicated to Italy's one true love: food.
Mercato Centrale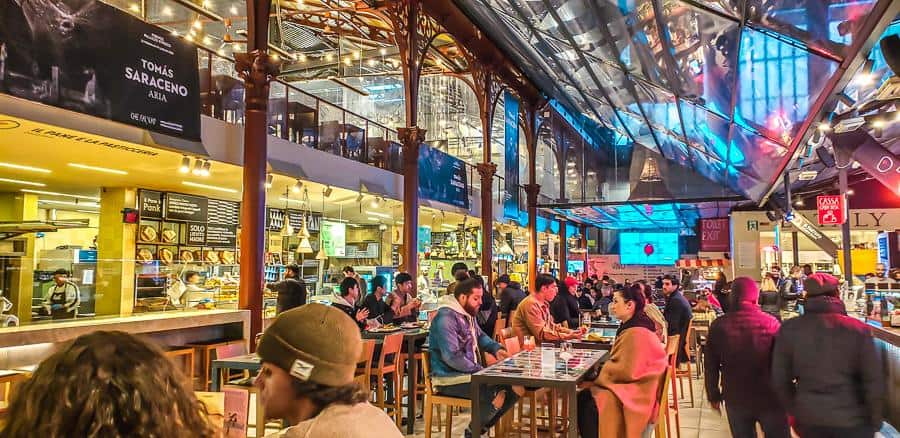 Cost:

FREE to walk around

Hours:

10AM – 10PM daily

Things to know:

Come hungry (and thirsty)! You can grab a glass of wine to eat with any meal!
On the ground floor, you'll find butchers, fishmongers, cheese shops, fruit and vegetable vendors, olive oils, spices, and so much more Italian-goodness. Stroll the entire footprint to feast your eyes on all of the deliciousness. If you want to bring anything back home with you, talk to the vendors as most are pretty knowledgeable about what can and can't be brought back and will even vacuum pack certain items for fresh-keeping.
Now that your tastebuds and stomach have been teased for a bit, head upstairs for the food court which has space for 12 food stalls, all specializing in and serving up something different (cheese, wine, coffee, dessert, pasta, fish, etc.).
Again, make sure you walk around the entire floor to make sure you know what you want.  It's a big decision.  If you're traveling in a group, we'd recommend getting something from several places so everyone can try something different.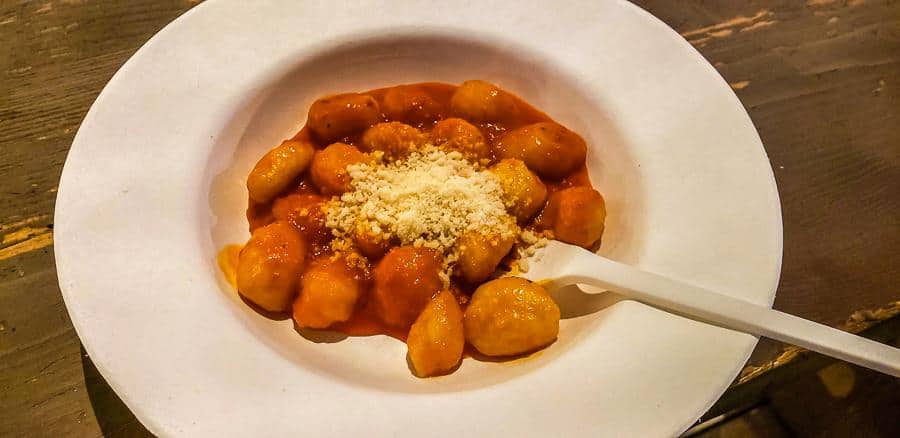 After walking around for a few minutes seeing and smelling all of the yummy food, we sat down to have some fresh gnocchi with a light tomato sauce from La Pasta Fresca. So simple and yet so delicious.
Galleria dell'Accademia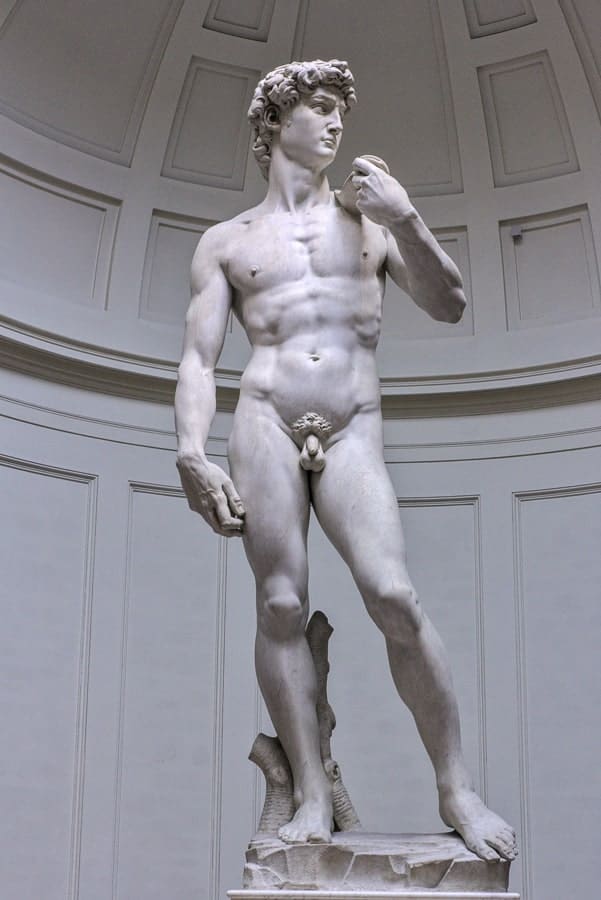 Cost

: 12€; you can book online

here

to skip the line, but you will incur an additional 4€ fee

Hours:

Tuesday thru Sunday 8:15 AM to 6:50 PM and ticket office closes at 6:20 PM (closed Mondays)

Things to know

: First Sunday of every month is "Sunday at the Museum", which means free admission. You can't book this online so you'll have to wait in line, which could wrap around the block. Be patient, free is free.
Best known as the home of Michaelangelo's original David sculpture since 1873 (there are a few replicas throughout the city), the Accademia Gallery houses some other amazing sculptures by Michaelangelo and many other artists.
You'll find the most crowded section of the gallery in the Hall of the Prisoners, which displays Michelangelo's unfinished "Slaves" statues lining the walls and leading up to David, which is magnificently lit under a circular skylight. It is truly awe-inspiring to walk around the statue and admire the beauty, precision, and scale of the sculpture.
Word to the wise: don't just marvel at David and then leave. There are so many other masterpieces here that you should spend some time exploring the other corridors of this museum. We know this is hard when you are only in Florence for 2 days, but spend at least an hour taking in the art!
Basilica di San Lorenzo
Cost

: 7€; 9.50€ if you want access to the Medicea Laurenziana Library as well. You can book online

here

to skip the line, but you will incur additional fees

Hours:

Monday thru Saturday 10 AM to 5:30 PM with final admission at 5 PM. The church is closed on Sundays unless attending a religious service

Things to know

: The most celebrated part of the church are the Medici Chapels, which the family was still paying for when the last member of the family passed away in 1743
Staking its claim to being the oldest church in Florence (consecrated in 393), the Basilica di San Lorenzo actually was THE cathedral of Florence before the official seat was moved to Santa Reparata, which sits under il Duomo today.
This church is very distinct from the others in Florence because its facade is unfinished and because it was the church that the Medici's went to during their time. In fact, the church is the burial place for all of the prominent Medici's from Cosimo il Vecchio (died in 1489) to Cosimo III (died in 1723). More marvelous architecture, artwork, and even green space (within the cloister, or courtyard) await you once inside the walls of the church.
**If you are running short on time, skip this. It's impressive and amazing, but isn't a must do!**
Gelato or Booze time
Antica Gelateria Fiorentina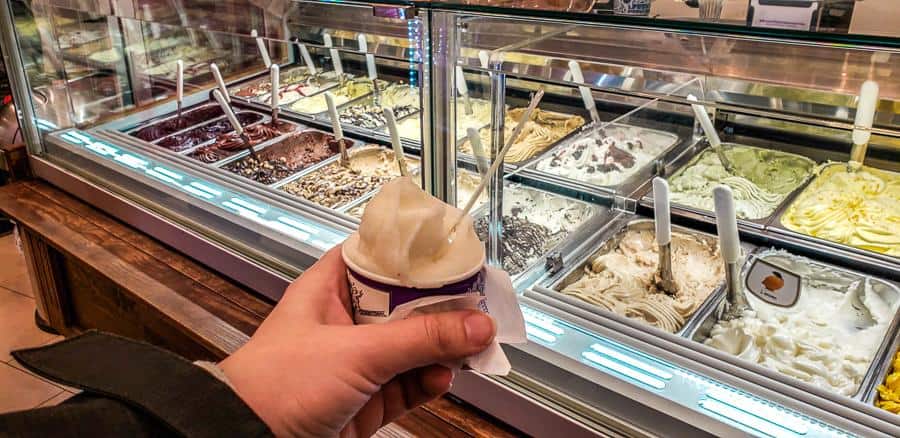 Hours:

Monday-Saturday 12PM-10PM; Sunday 3PM-10PM

Things to know:

small family-owned shop with traditional gelato
The gelato at Antica Gelateria Fiorentina is just the right blend of sweet and creamy. There are only a few tables inside so be prepared to take it to go!
PRO TIP: When looking for gelato in Italy, you don't want the stuff that is presented in huge mounds with bright and vibrant colors. It sounds counter-intuitive as they command your attention and are pleasing to the eyes, but these bright colors aren't natural, and with so many gelato shops making homemade gelato, make sure you treat yourself to the real stuff!
Wine option: La Divina Enoteca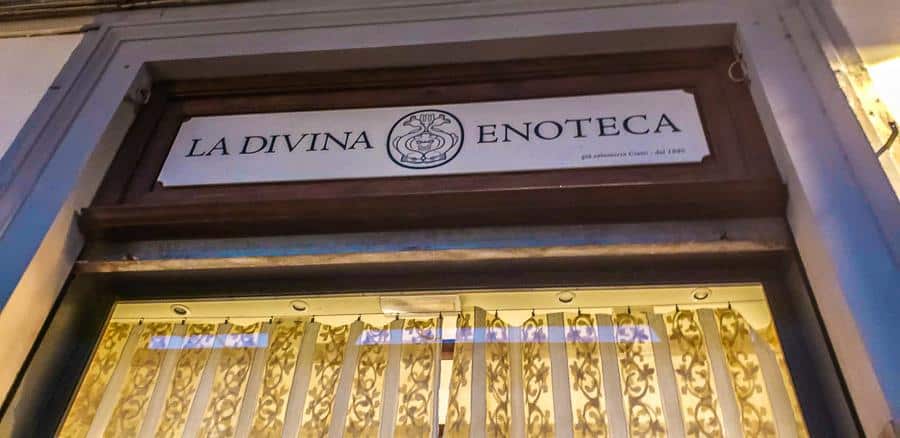 Hours:

12PM-9PM

Things to Know:

More than just a wine bar, they have specialty spirits as well!
We did a wine tasting here, led by the resident-sommelier, of several distinct Italian wines from the region which were all expertly paired with different Italian cheeses. He led us through the tasting and explained all of the intricacies of the wine and cheese. It was definitely learning experience for us and a fun experience while we were in Florence for 2 days!
Beer option:  BrewDog Firenze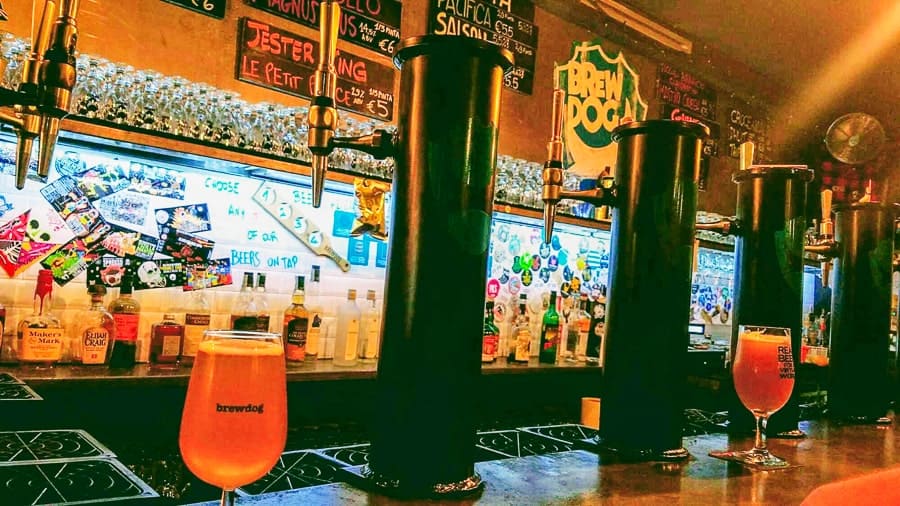 Hours:

Sunday – Thursday 5PM – 1AM; Friday-Saturday 5PM – 2AM

Things to know:

Global brewery who makes their own local beer in each location
You might think that such a classical and historical city like Florence, steeped in art, culture, food and certainly wine, could never be home to the new hip thing to do: craft beer. Think again. Brewdog, known for its provocative and out-there marketing and its even stronger beers, set up shop in Florence just a short walk from Mercato Centrale.
As is the case with BrewDog's around the world, they offer up many of their own craft beer creations as well as many different guest taps from around the region and world. This location also has a food menu, but don't think you're just going to get the same old Italian menu with pastas and pizza galore, because that isn't even on the menu.
Procacci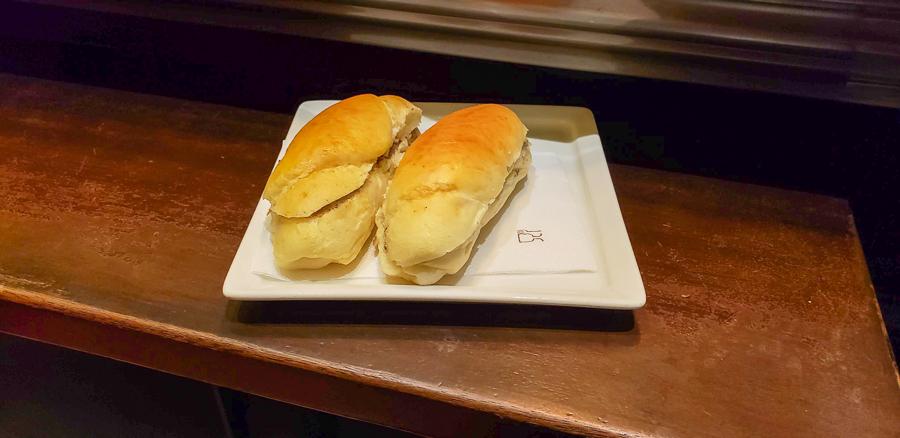 Hours:

Monday-Saturday 10AM-9PM

Things to know:

if you are looking for the Italian truffle delicacy, this needs to be a must-do
Procacci is a wine bar and deli that has been open since 1885. Their claim to fame is everything truffles and we had one of their delicious truffle sandwiches. It was just the right size to be able to appreciate the truffle without being overpowered by it. Today, Procacci sits along the ritziest street in Florence among many of the luxury stores.
Florence wine window and dinner at Babae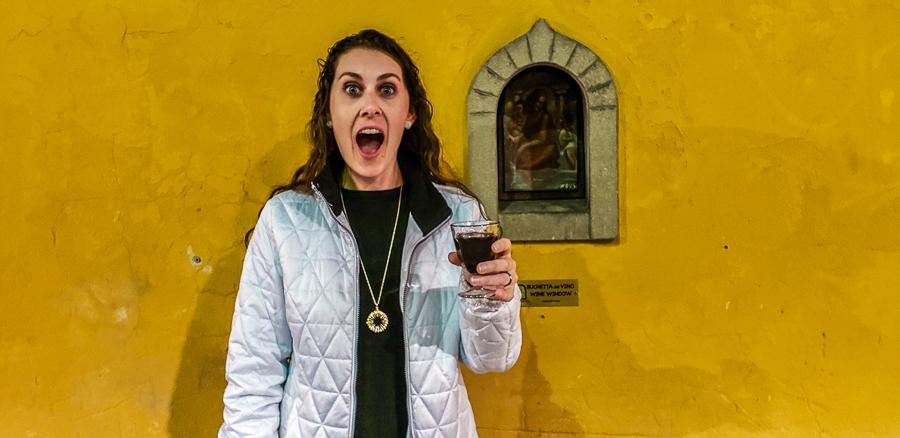 Hours:

Tuesday-Friday 6PM-Midnight; Saturday 12PM-2AM; Closed Sunday and Monday

Things to know:

This is the coolest thing in Florence that no one knows about
Walk around the streets of Florence for long enough and you may notice some miniature doors that seem to be randomly placed on the walls of buildings (we'll admit that we missed these on our first trip to Florence several years ago).
As it turns out, dating back to the 16th century, these "miniature doors" were actually used as wine windows and these "buildings" were old Renaissance palaces of the Florentine elite.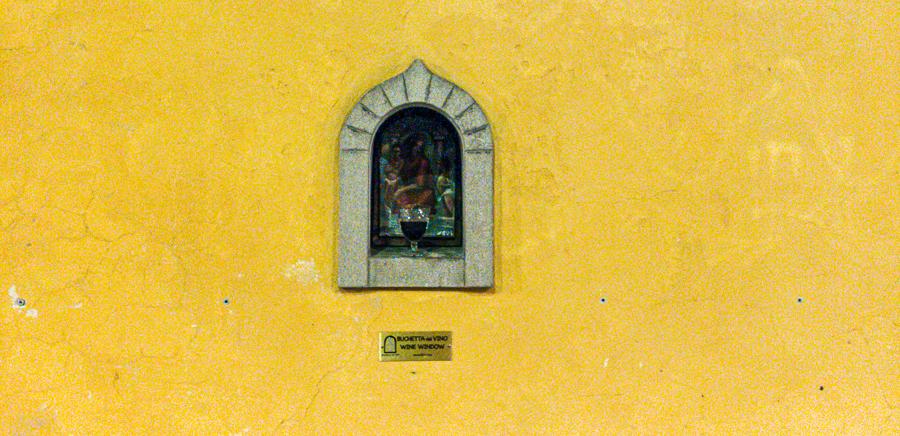 What's a wine window, you ask? Well, back in 1559, the ruling Medici allowed Florentine families to sell their wine directly out of their palaces, instead of through taverns and innkeepers, eliminating the middleman and saving these wealthy families even more money.
And so, the buchette del vino (literally, "the wine holes") were born.
These wine windows allowed the families to create a marketplace for the family vineyards but keep the riff-raff out of their courtyards and their homes. Wine windows were so popular back in the day that almost every wealthy family had one installed in their palace.
The story goes something like this: Locals would be walking along the streets of Florence looking to enjoy a glass of wine or take home one of those old-fashioned straw-covered jugs for later.
They'd simply knock on the small window and out pops someone (or their hands, at least) with the wine.  After exchanging a few coins for the wine, they'd continue on their way.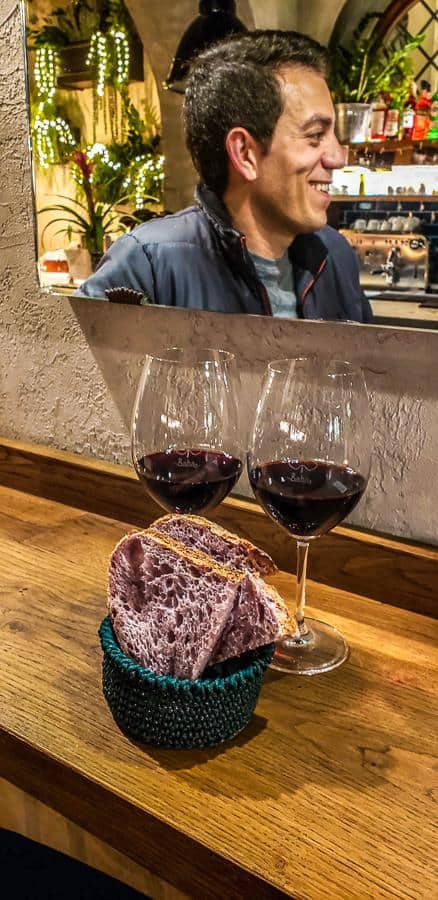 Over the years, as wine taverns became more popular, these wine windows were (unfortunately) converted into mail slots, door bells, intercom posts, and worst of all, just plastered over. In 2016, an association, simply called The Wine Windows Association, was established to create a list of the remaining wine windows in Florence as well as helping current wine window owners protect and restore them.
Today, there are hundreds of visible wine windows in Florence with more being cataloged as they are found, and using this interactive map will ensure you don't miss them.
Now, you're probably thinking, "Great story, but now I'm thirsty for wine."
You didn't think we'd tell you this cool story and not reward you, did you?
Just a short 5-minute walk from the southern side of Ponte Vecchio, Babae restaurant is transporting us back in time by operating the only known wine window from 7 to 8 each evening, what they call the L'ora della Buchetta ("the hour of the hole").
When we visited, we went inside first to ask about the process because there was no one getting wine from the window when we arrived. Once the bartender knew why we were there, we went back outside, knocked on the window, ordered two glasses of the house red wine, paid, and enjoyed our wine on the streets of Florence. We'd like to think this is exactly how it worked in the old days, except for the whole paying with a credit card thing! Minor details.
If you want more than just wine from the wine window, you can head inside to the restaurant for one of the newer and hipper spots in Florence.
Florence in 2 days 
Day 2 in Florence itinerary
Piazza della Signoria

Palazzo Vecchio

Ponte Vecchio

Afternoon and Lunch options:

Pizza or Sandwiches

Uffizi Palace and Gallery

Palazzo Pitti and Boboli Gardens

Wine or Gelato

Piazzale Michelangelo

San Miniato Church

Soul Kitchen

Basilica of Santa Croce

Dinner
Piazza della Signoria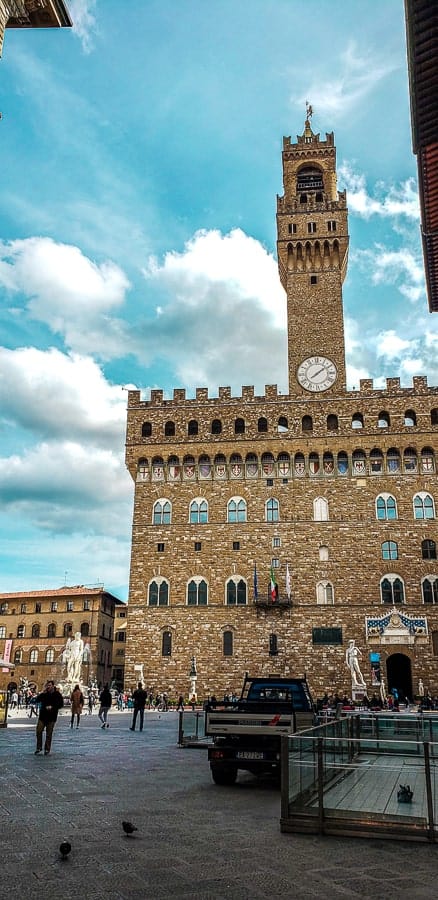 Cost

: FREE

Hours

: 24/7

Things to know

: this square will be busy most of the day so if you are looking to take photos with fewer people, go early!
This square has been the center of Florentine politics since the 14th century and is still a gathering place for locals and tourists today. In addition to the towering Palazzo Vecchio that dominates the square, there are numerous other sculptures positioned throughout, many of which are even politically contradictory to each other.
The replica David statue is said to be a symbol of the Republic's defiance of the Medici family, while Bandinelli's Hercules and Cacus, which sits just to the right of David, was paid for by the Medici family to show their physical power after they returned from exile.
The Loggia dei Lanzi is an open-air sculpture gallery with many more Renaissance-era sculptures depicting various scenes. One that might stick out is a statue of Perseo holding Medusa's head and is a strong reminder of what would happen if you crossed the mighty Medici.
Palazzo Vecchio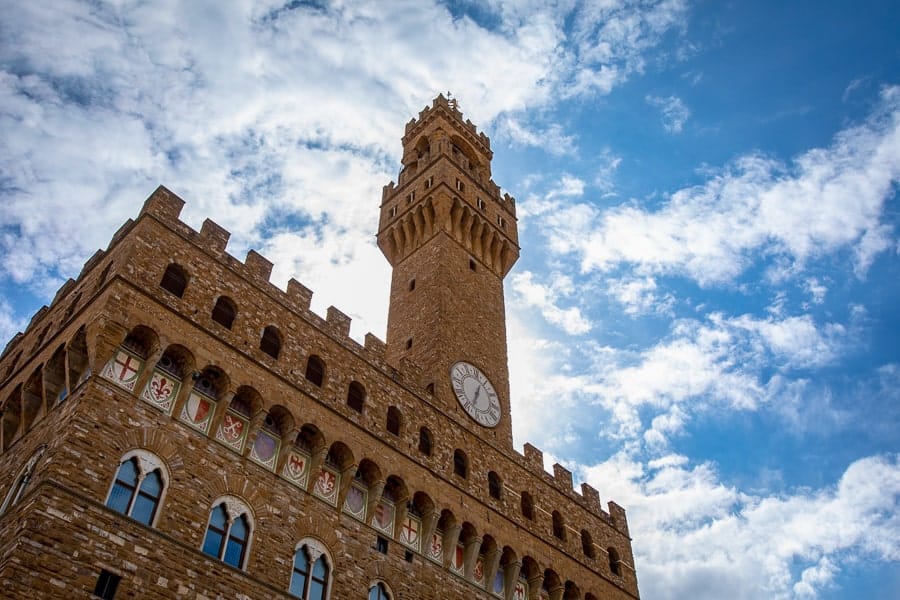 Cost

: Museum 12.50€; Tower 12.50€; Combined museum and tower 17.50€

Hours (Museum)

: April thru September – 9:00 AM to 11:00 PM (except Thursdays – 9AM to 2PM); October thru March – 9:00 AM to 7:00 PM (except Thursdays – 9AM to 2PM)

Hours (Tower)

: April thru September – 9:00 AM to 9:00 PM (except Thursdays – 9AM to 2PM); October thru March – 10:00 AM to 5:00 PM (except Thursdays – 10AM to 2PM)

Things to know

: There is an archaeological site below the palace that you can also visit (additional cost, but combo tickets available) as well as numerous hidden passages and secret routes, which are accessible to visitors if you know where to look.

Also, backpacks and large purses are not allowed in the museum or tower, but free lockers are available to drop your stuff. Trust us, you don't need to be carrying when you climb the tower.
Palazzo Vecchio, the symbol of political power in Florence, is located in Piazza della Signoria just down the road from the craziness surrounding il Duomo and is where Michelangelo's original David stood from its completion in the 1500s until it was moved to the Accademia Gallery in 1873.
Today, a David replica (one of several in Florence) stands watch at the entrance to the now-museum and tower.
If you're up for yet another climb, over 400 steps will get you to the top of the tower for more fabulous views of Florence. You really can't have too many great views of this beautiful city.
While we didn't make it into the museum portion of the palace, it's a collection of some magnificent sculptures, frescoes, old-age maps, private apartments of the Florence political-elite, and other Florentine artifacts.
Ponte Vecchio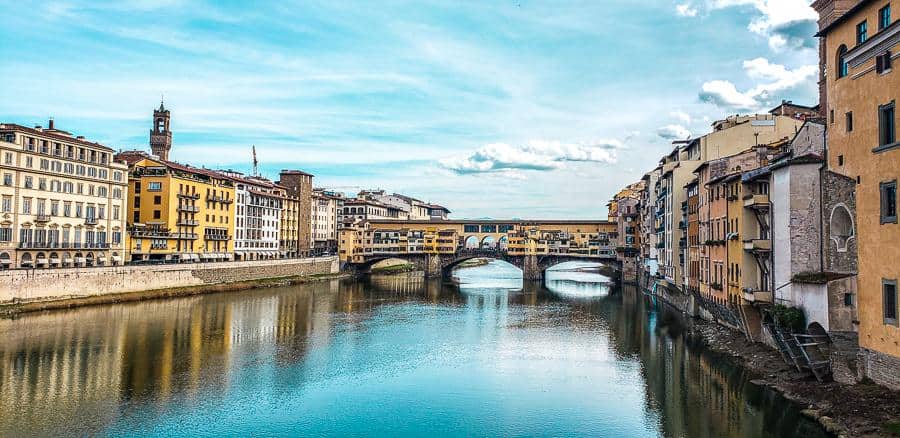 Cost

: FREE

Hours

: 24/7

Things to know

: Looking for the best place to take pictures of Ponte Vecchio? Walk one bridge over to Ponte Santa Trinita for the best views.
Other than il Duomo, Ponte Vecchio might be one of the most recognizable structures in Florence. Spanning the width of the Arno River, Ponte Vecchio is known for the numerous shops built along it (butchers, tanners, and farmers in the early days).
Today, along with hundreds of other tourists, you'll find jewelry, art, souvenirs, and gelato lining the bridge.  Make sure you stop in the middle where the bridge opens up a bit for some great views of Florence along the river.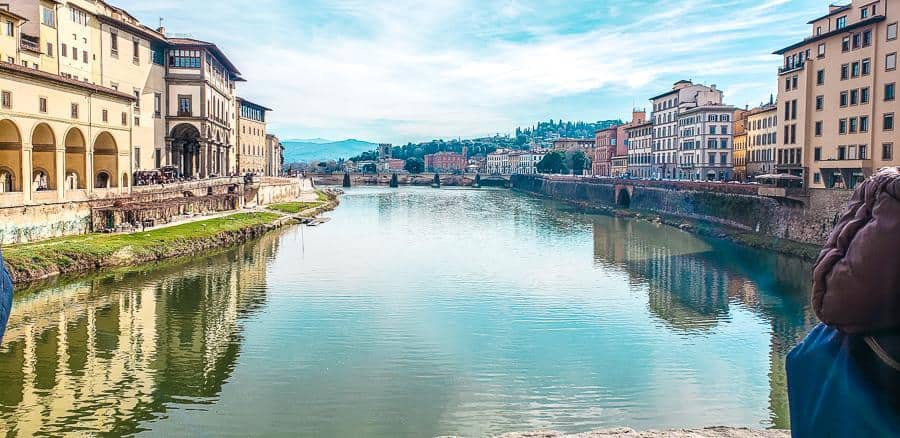 Also, if you know anything about Florence, you probably know that the Medici family basically ran this city back in the day. Well, above the Ponte Vecchio, there is a secret passageway called the Vasari Corridor that connects the Palazzo Vecchio (Florence's political center) with the Palazzo Pitti (the former private dwelling of the Medici family).
This 1-kilometer long corridor begins at the Palazzo Vecchio, passes through the Uffizi Gallery, over the shops on Ponte Vecchio, and continues all the way up to the Palazzo Pitti. All of that so the Medici's could have some privacy and keep watch over their citizens!
Unfortunately, the corridor was closed to visitors in 2016 for safety reasons, but it hopes to reopen sometime in 2022.
Afternoon and Lunch options
There are two options depending on what you want to do this afternoon.
If you are into museums, we suggest the

Uffizi Palace and Gallery

and we suggest lunch at

All'Antico Vinaio

.

If you want to explore a palace and gardens, we suggest the Palazzo Pitti and Boboli Gardens with lunch at Gustapizza. You really can't go wrong with whatever you pick!
Museum and Sandwiches:
All'Antico Vinaio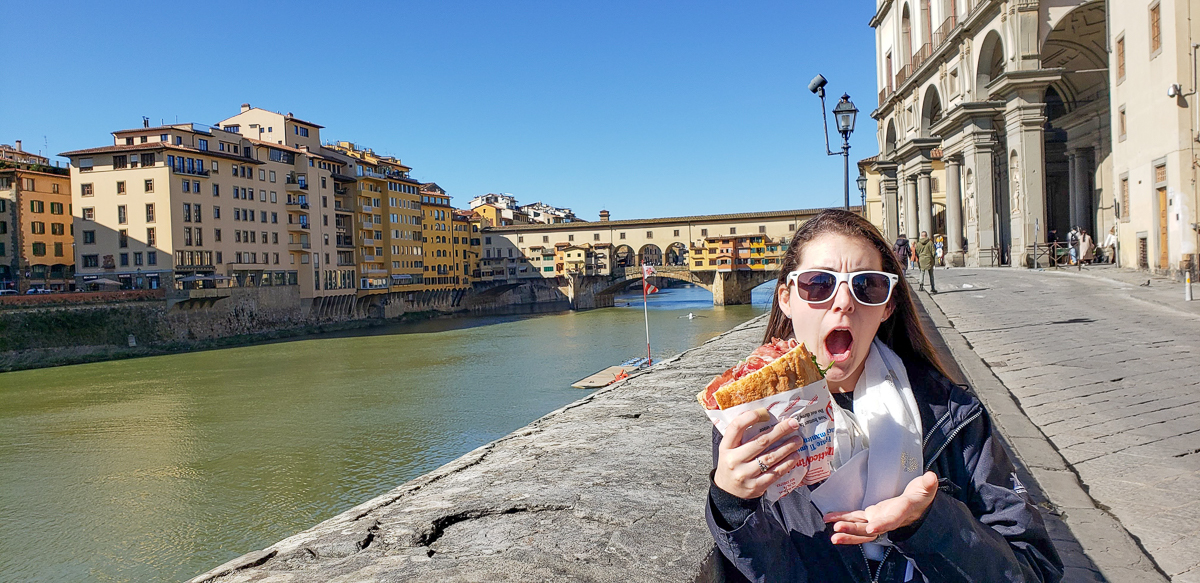 Cost:

5€ per sandwich

Hours: 10AM – 10PM
Things to know:

One of the cheapest eats in Florence!
This is probably the most well-known food stop in Florence and you'll understand why once you eat here. When you show up to this fast food location (minus the drive-thru), located just behind Palazzo Vecchio and the Uffizi Gallery, you're bound to find a line, or maybe even three lines.
There are usually three lines which all lead to three separate locations of All' Antico Vinaio, but they all serve the same stuff. Make sure you scope out all three lines before getting in one of them as they aren't always the best-formed lines.
The lines move quickly as the many workers squished behind the service bar craft your sandwiches at warp speed.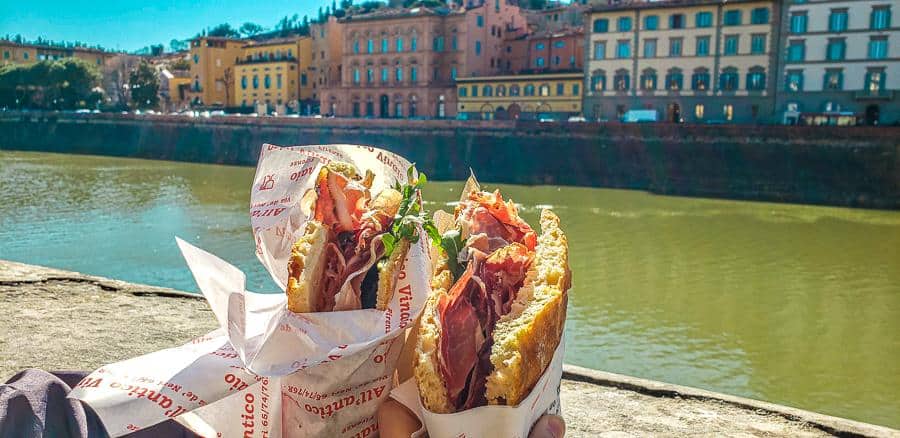 You can create your own, pick from the large menu boards, or you can strike up a conversation with those eating around you to figure out what you want. 
No matter what you get, it's easy on the wallet at only 5€. And the sandwiches are absolutely ginormous, so if you aren't that hungry or won't be saving it for later, ask them to slice your sandwich in half so you can share.
Without much seating available, we took our massive sandwiches around the corner and enjoyed our lunch along the river. Side note: the pigeons also liked the sandwiches.
If you're trying to do Florence in 2 days, you have to experience a true Italian sandwich!
Uffizi Palace and Gallery
Cost

: 20€ (if you book

online

, you will be charged an additional 4€, but you will choose your date and time of entry to skip the long lines). You can also buy a combo ticket for 38€ that will get you into the Pitti Palace and the Boboli Gardens

Hours

: Tuesday thru Sunday – 8:15 AM to 6:50 PM (closed Mondays; ticket office closes at 5:45 PM)

Things to know

: One of the most well-known paintings in the world, The Birth of Venus, painted by Botticelli, can be found in the Uffizi. Make sure you find it during your visit. Look for the crowds of people.
Located just down the street from Palazzo Vecchio and right behind the Loggia dei Lanzi, the Uffizi Gallery is one of the first modern museums and also one of the most important Italian museums.
As one of the top two museums visited in Italy (the Vatican Museum in Rome being the other), the Uffizi is full of sculptures, paintings, and other works of art that mainly date to the Renaissance period.
The majority of the collection was left by the Medici family to the state of Tuscany so that they could "adorn the State, be of utility to the Public and attract the curiosity of Foreigners".
Judging by the long lines to get into the museum, we'd say the collection has certainly attracted the curiosity of everyone!
Housing so many precious pieces of art, the gallery was open to visitors by request since the 16th century, but it was officially opened to the public in 1765 and then formally became a museum in 1865.
Today, the art is organized mostly in chronological order (super helpful) throughout the long U-shaped building.
Palace, Gardens and Pizza
Gustapizza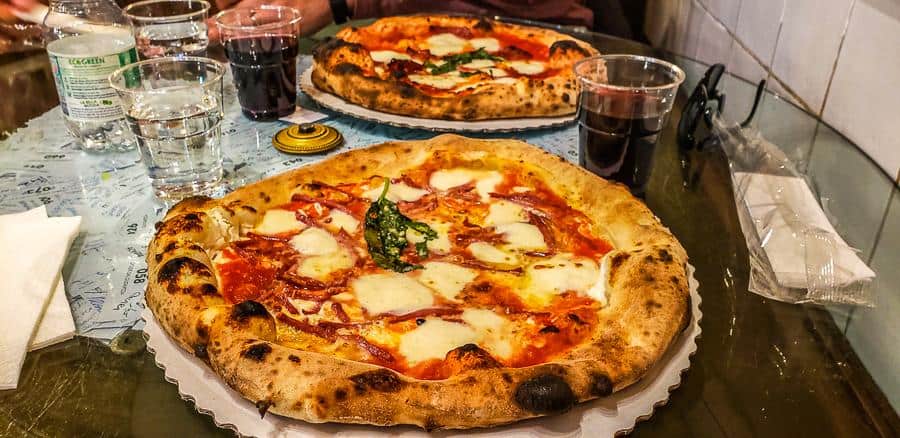 Hours:

12PM-3PM; 7PM-11PM

Things to know:

Go early or be prepared to wait! Great pizza at a great price!
Because you have to eat good pizza while in Italy. Serving up a small menu of only seven Neapolitan-style pizzas, Gustapizza packs a punch and a lot of people into its small space.
Just a few-minutes walk from Ponte Vecchio and Pitti Palace, get here early for dinner to avoid a long wait or consider coming for lunch when things are a little less crowded. Of course, get the house wine to wash down your pizza.
We had the Napoletano (tomato, ricotta, salami, mozzarella) and the Calabrese (tomato, mozzarella, spicy salami, basil, and olive oil) and both were absolutely delicious!
Palazzo Pitti and Boboli Gardens
Cost

: 16€ for the Pitti Palace and 10€ for the Boboli Gardens; or, you can book a combo ticket which includes the Uffizi Gallery for 38€. Book tickets online

here
Hours (Pitti Palace):

Tuesday thru Sunday 8:30 AM to 1:30 PM and ticket office closes at 12:30 PM (closed Mondays)

Hours (Boboli Gardens):

Open every day (closed first and last Monday of every month, plus January 1, May 1, and December 25); November thru February 8:15 AM to 4:30 PM; March 8:15 AM to 5:30 PM; April, May, September and October 8:15 AM to 6:15 PM; June thru August 8:15 AM to 6:30 PM

Things to know

: If you're up for it, walk down the steep-sloping avenue, Viottolone, to get to Isolotto, the large pond with a huge fountain in the middle called "Ocean" surrounded by three more sculptures.
We'll admit it. On our first trip to Florence, we didn't know about this place. Looking back, we can't believe we missed it because you cross the Ponte Vecchio and walk about 300 more meters and you're there.
Don't be like us on our first trip to Florence….make sure you stop here.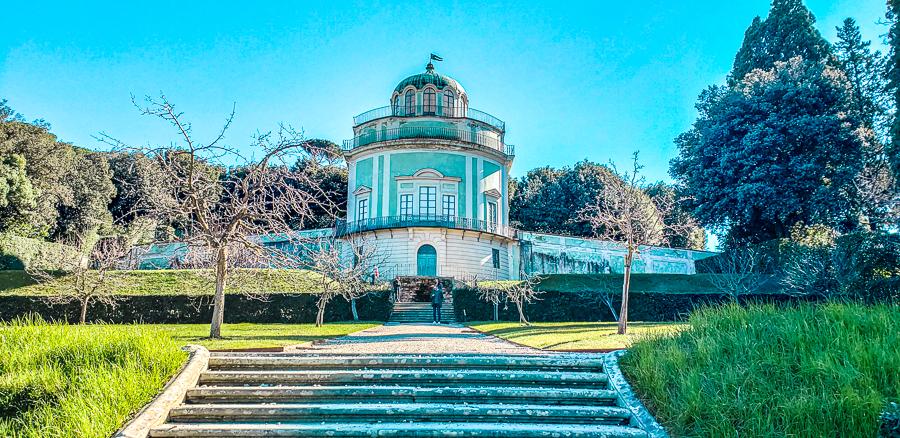 The Pitti Palace was built back in the 1450s but was later purchased by, surprise surprise, the Medici family in 1549 and became the chief house of the family.
Hence why the Vasari Corridor meandered from Palazzo Vecchio (where politics happened) to Pitti Palace (where the Medici's lived).
One look at this massive palace and you surely will not pity anyone who called this place home.
Today, the Pitti Palace is broken up into several different museum sections, each housing some of the most important pieces of art in Florence.
The Palatine Gallery contains many 16th and 17th century paintings, the Royal Apartments contain furnishings from a remodeling done in the 19th century, and the Treasury of the Grand Dukes displays a vast collection of Medici household treasures, including silverware, precious stone vases, rock crystals, and jewelry.
You can even see some more modern art from the 19th and 20th centuries in the Gallery of Modern Art on the top floor.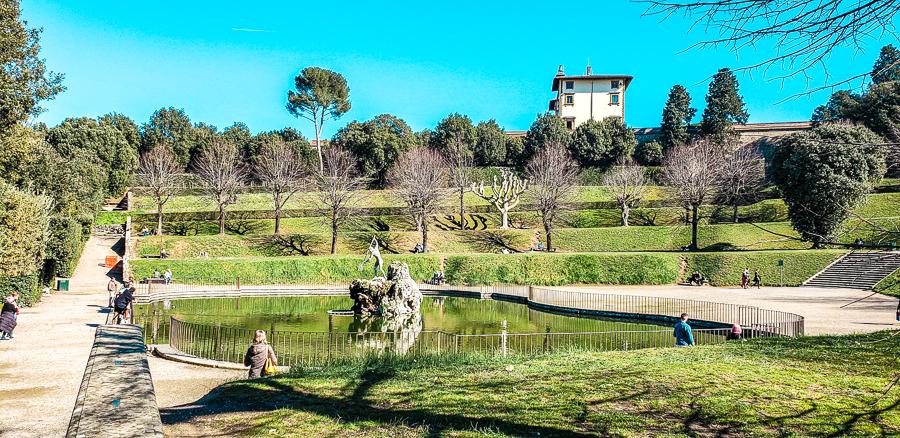 Just outside of the palace is where you will find the Boboli Gardens, the largest green space in Florence. When we visited, it was unbelievable to us that something so massive, so beautiful, and so peaceful was tucked away in this bustling city.
But the gardens are more than just green space, they are an open-air museum with countless sculptures, fountains, and caves scattered throughout the massive 111-acre site.
You can stroll through the grand gravel avenues lined with centuries-old trees which lead you to the large amphitheater and then to The Fountain of Neptune. Continue up the hill and stairs and you'll come upon another massive statue and more great views of the palace and gardens below.
Head up even more stairs to find Giardino del Cavaliere, which is a maze of sorts and fun to walk through. Next to these gardens is the building that houses the Porcelain Museum, a huge collection of everything imaginable in porcelain. It's included in your ticket to the Boboli Gardens.
As you continue to walk throughout the gardens, you'll find little coves here and there where you'll have great views of the city and beauty surrounding you. Once you make it all the way around and are at the end of your walk near the Palazzo Pitti, make sure you wave "goodbye" to the court dwarf Morgante as he rides a tortoise!
Wine or Gelato break
No matter which option you picked (museum or palace), both the wine bar and gelato shop below will be within a 5-10 minute walk.
Signorvino – wine bar
Hours:

10AM – Midnight

Things to know:

They might have one of the best views of Ponte Vecchio from their patio. We suggest you book a table online as they are hard to get!
Located along the banks of the Arno River just across the Ponte Vecchio, Signorvino is a wine bar that aims to educate you about and promote Italian wine, many of which are lesser-known varieties from different regions.
As a chain of bars around Italy, things are a little more touristy and commercialized than other shops in Italy, but it was nice to read the cool wine-region map while sipping on our wine flight. Come during aperitivo for some complimentary Italian-style finger foods.
DONDURMACI Gelateria Della Passera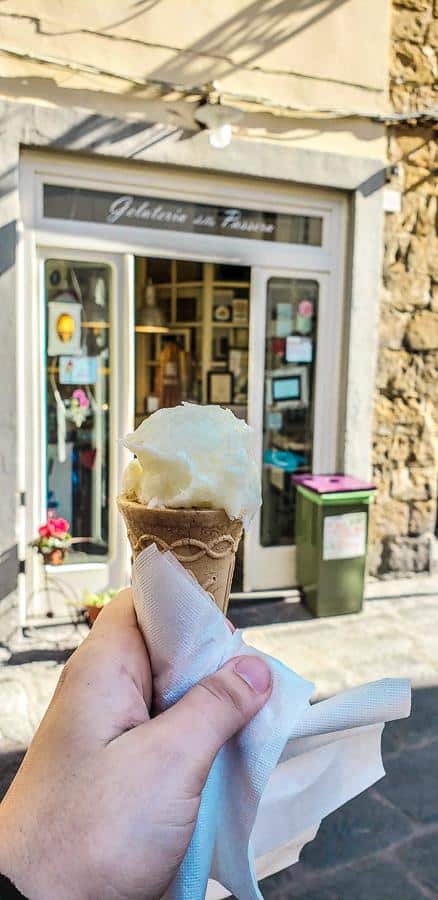 Hours:

Tuesday-Thursday 12-8; Sat-Sun 12-10

Things to know:

This is where the locals go and worth the yummy treat!
This is a very small gelato shop located right near Ponte Vecchio and would be a good stop on your way back from the Pitti Palace.
Again, remember that gelato that is presented in huge mounds with bright and vibrant colors has fake stuff added. Not all gelato is created equally!
Piazzale Michelangelo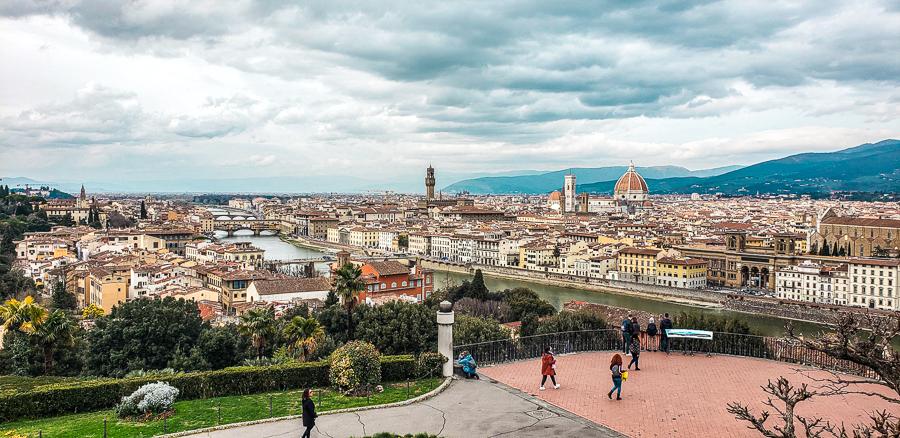 We've said a few times that you can't have enough pictures of Florence from high above, and you can thank us later for the panoramic views of this beautiful city from this perch.
A little bit further away than most things in Florence, this lookout point is about a 20-minute walk from Ponte Vecchio.
It's 110% worth it.
Of note, the walk up to this lookout is up a rather long hill (much of it is paved with steps), but you'll appreciate the breeze from the top even more once you make it to the top.
Also, you'll pass some beautiful terraced rose gardens on the way up the hill. Stop and admire (and catch your breath) the more than 300 types of roses that are growing here.
If you don't want to walk, the bus or a taxi are options, but it really is a charming walk through Florence if you are physically capable.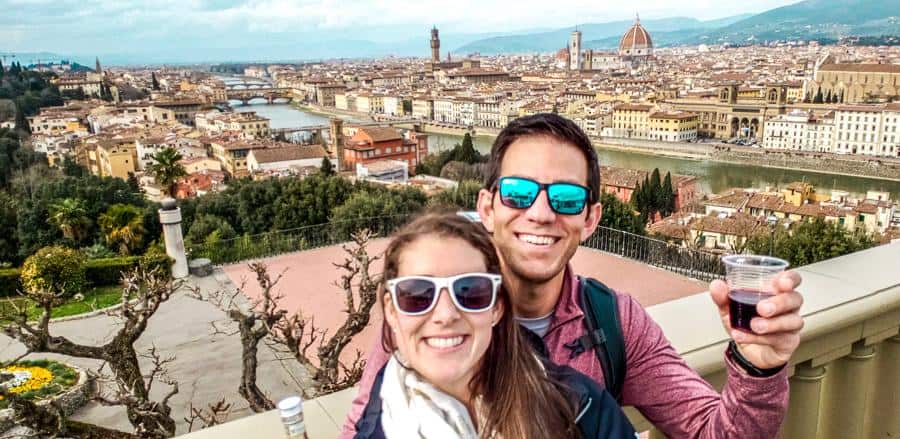 Along the way, make sure you stop in at any shop and grab a bottle of wine and cheese/meat/bread (PRO TIP: remember to bring a knife or find sliced cheese).  You'll pass numerous shops on the way, so don't worry if you miss the first one.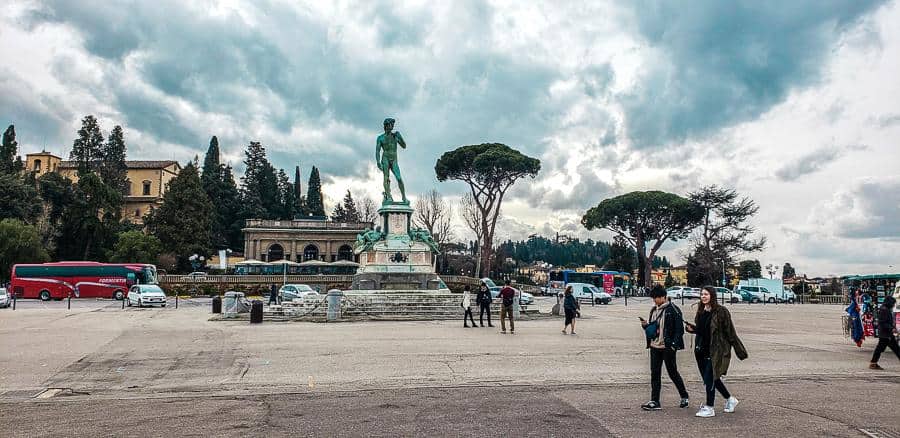 This is one of the best spots to catch a sunset in all of Florence.  Just remember that everyone else knows it too. If you can't fit sunset into your schedule, it is still a magnificent sight to see at any time of day.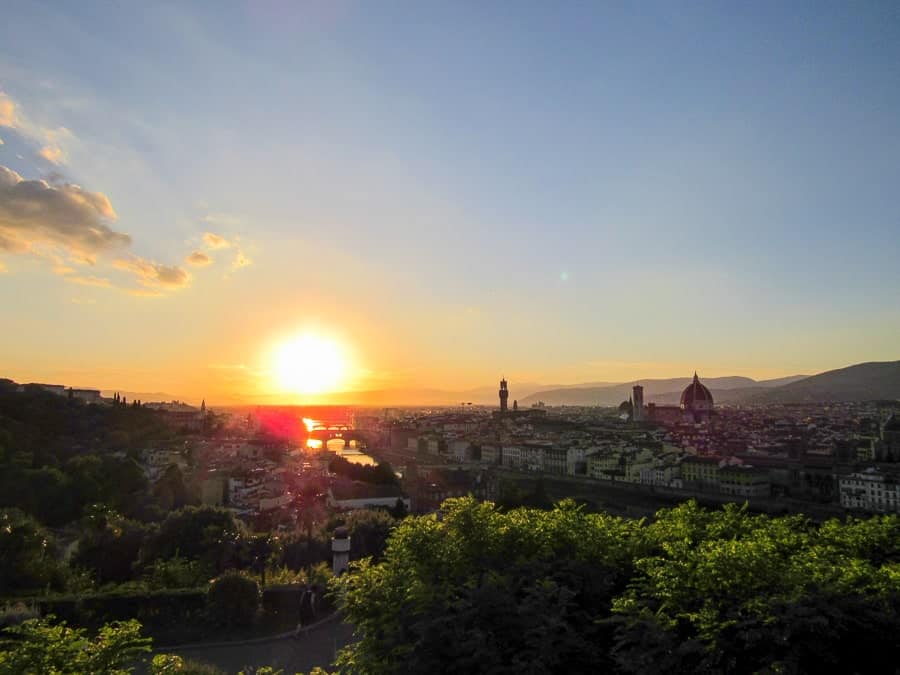 If you didn't take our advice about the wine earlier, there will be little food carts at the top of the hill selling a little bit of everything, it will just be far more expensive than if you had just listened to us originally.
You'll also find another one of the David replicas in this square, so you can admire and take pictures with him here too if you haven't elsewhere, or even if you have.
San Miniato Church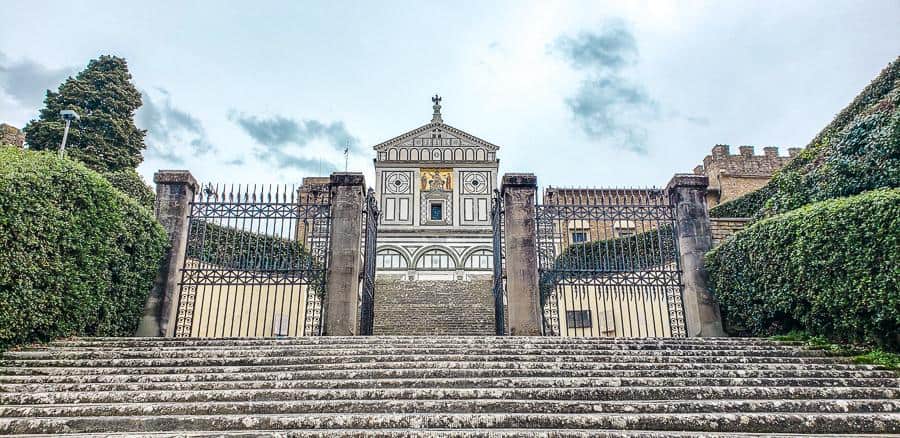 Cost

: FREE

Hours:

9:30AM – 1 PM; 3:30-7PM

Things to know

: This church is one of the highest points in the city and has a beautiful view!
Just up the road from Piazzale Michelangelo is the Abbey of San Miniato al Monte which has the green and white marble we know and love from many of the other Florence churches.
We know we have climbed a lot of things in Florence, but if you are up for another short climb, you can see another impressive view of Florence from even higher up than Piazzale Michelangelo.
Just outside of the church, to the front, back and side, there is a monumental cemetery that contains the tombs of some very important men, including the author of Pinocchio.
Not lying.
We didn't have the opportunity to enter the church, but would you believe us if we told you there was more beautiful art and mosaics inside?
Happy Hour aka Aperitivo
Soul Kitchen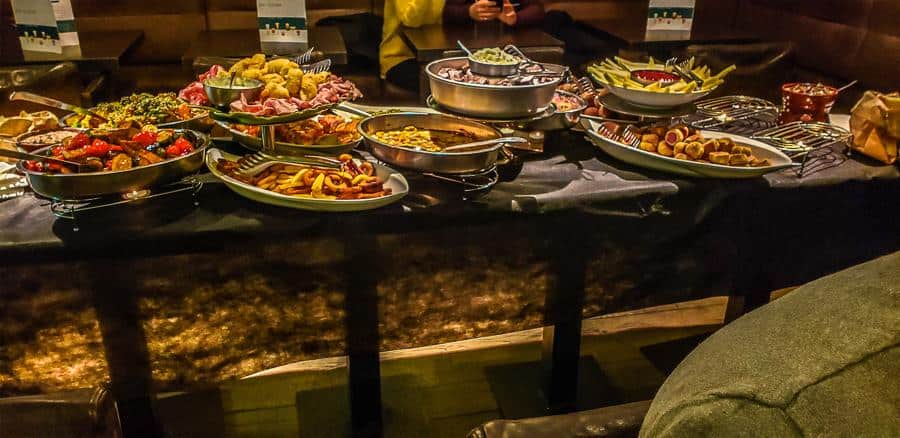 Hours:

Monday-Friday 11AM-2AM; Saturday-Sunday 6PM-2AM

Things to know:

the best aperitivo in town!
One of the things you need to experience during your time in Italy is the art of the aperitivo (pronounce uh-pear-uh-tee-vo). Think of happy hour, but combine it with finger foods to hold you over until the late-European dinner.  An after-work drink/light meal to whet your appetite. 
Basically, you order a drink and along with it comes seemingly endless Italian snacks like cheese, bread, olives, meats, etc. Or heaven, as Chris refers to it.
Soul Kitchen is one of Florence's top spots for aperitivo because of its 10€ deal. For 10€, you get a drink and access to an all-you-can-eat buffet. The food was pretty decent and consisted of a wide range of options from french fries and onion rings to more typical Italian meats, cheeses, and pasta.
There is a younger college-aged vibe here, but don't let that stop you from this great deal. We've read the cocktails aren't that great, so we stuck with the wine to be on the safe side.
Basilica of Santa Croce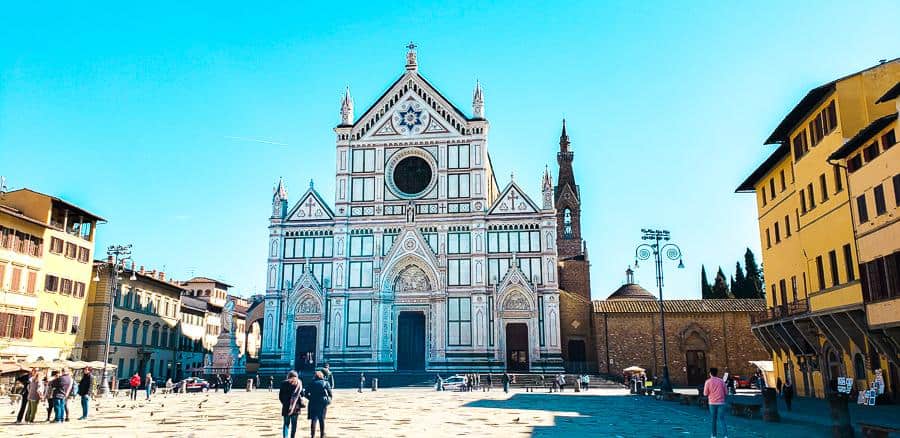 Cost

: 8€ which gives you access to the Basilica, the Pazzi Chapel, the Museum of the Opera, the Refectory, three cloisters, and a few other spaces. Visit

here

for more information

Hours:

Monday – Saturday 9:30 AM to 5:30 PM; Sundays and Holy Days of Obligation

2:00 PM to 5:30 PM

Things to know

: Remember, it's a place of worship first, tourist attraction second, so dress accordingly.
Less than 800 meters, or about half-a-mile for us American folks, from il Duomo lies the world's largest Franciscan church, the Basilica of Santa Croce, which was built starting in 1294. It's front facade is covered in that beautiful white marble that you saw earlier at il Duomo.
Inside, you'll find more beautiful works of art, sculptures, and chapels built and decorated in honor of prominent Florentine families, and numerous resting places for some of the most admired Italians, such as Michelangelo, Galileo, and Machiavelli, among many others.
The church is also well-known for something a bit more cheery, an annual celebration called Calcio Storico Fiorentino that takes place directly in front of the church on Piazza Santa Croce.
Every June 24, Florence's patron saint's feast day for St. John the Baptist, four teams from the historical neighborhoods of Florence play against each other in a mix of soccer, rugby and wrestling to crown a champion. And to the victors goes a year of pride and glory…..and a Chianina calf. Seriously.
The square is covered in dirt and the players all don 16th-century costumes to transport back in time. This is a ticketed event, and tickets are usually only sold locally in person to give the locals the best shot at securing a seat.
If you miss the game, you can catch it on livestream, or just join in on the fun at the parade that precedes the final match or the fireworks over Piazzale Michelangelo later in the evening.
Dinner
We like to munch on food throughout the day when we are in Italy so we didn't have a formal sit-down meal in Florence. If you are looking for a meal, we suggest Cucina Torcicoda, right near the Basilica above.
This was a local suggestion from our tour guide on the food tour (see below). While we didn't eat here, this came highly recommended and it seemed popular with locals based on the crowd outside.
Beer and Wine bars in Florence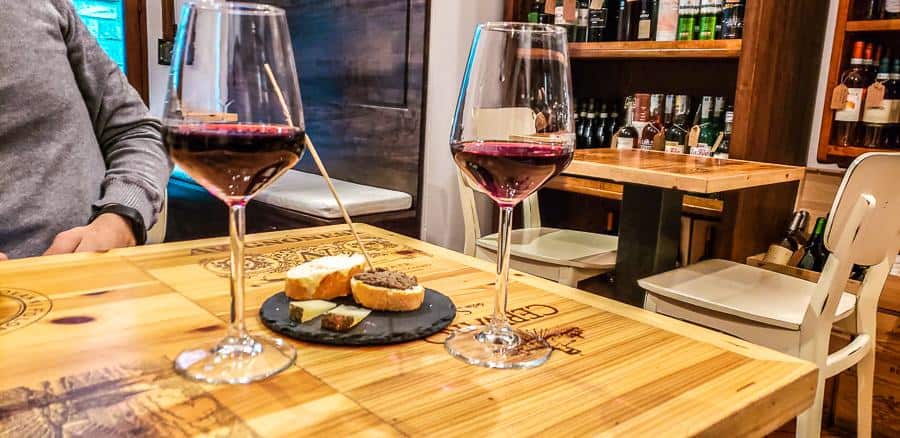 Whether you are experiencing Florence in 2 days or staying for longer, no trip would be complete without trying local wine at wine bars.
There is even a small craft beer movement happening in Florence. If you are looking to try some local booze, we suggest trying these places out too!
Obsequium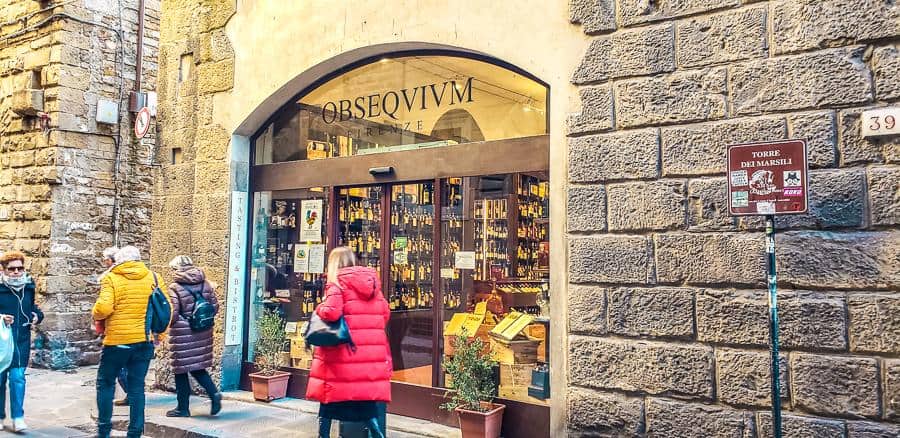 Cost: wine tastings start at 15 euros
Hours: Check their website as their hours vary
Things to know: they also do olive oil tasting and balsamic vinegar tasting PLUS they ship overseas!
Just two minutes from Ponte Vecchio, Obsequium is a great wine shop offering hundreds of labels of different wine from all over Italy and the world.
We sat and enjoyed glasses of Chianti and Montepulciano while nibbling on some bread and cheese. They also offer pre-set wine tastings with options to add cheeses and meats!
Le Volpi e L'uva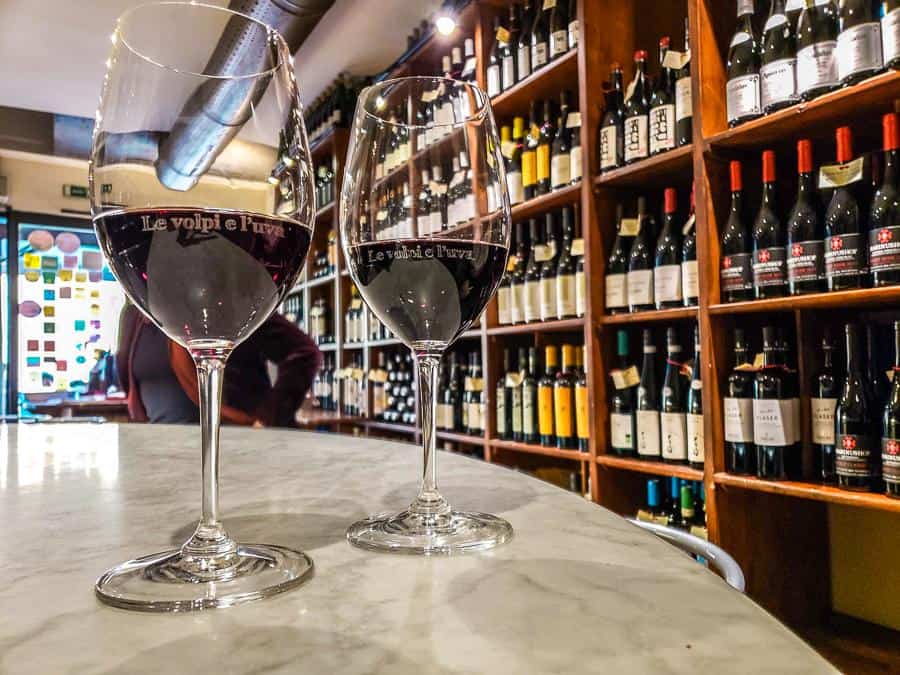 Hours:

11:00am-3pm; 6:00pm to 9:00pm

Things to know:

this is a smaller wine bar with limited seating
Le Volpi e L'uva opened back in 1992 and approached wine in a new way, at least for the time. Their intention was to develop relationships with small wine producers and create an environment where wine was accessible and approachable to everyone.
We always feel like wine is approachable, for what it's worth.
It's a cozy atmosphere tucked into a great spot near Ponte Vecchio and it's definitely not pretentious like some wine bars you may have visited. We tried some wines we hadn't drank before, including a Toscana IGT Canaiolo and a Rosso di Montalcino DOC, and befriended the bartender as best we could.
King Grizzly
Hours:

12PM-2AM

Things to know:

cozy tavern with a good beer selection
Stuck in a perfect spot between il Duomo and Ponte Vecchio, King Grizzly is widely regarded as one of Florence's top beer bars. For such a wine-heavy culture and city like Florence, this true beer bar is a great change of pace.
This corner pub looks quite unassuming from the outside and is much of the same on the inside with wood floors, wooden bar, wooden stools….you get the picture.
But you didn't come here for the pleasing aesthetics. You came here for the great beer from all over Europe, the cozy atmosphere, and the friendly and helpful bartenders. Stop in for a pint during your journey.
Florence Walking Tours
Fat Tire Florence Food Tour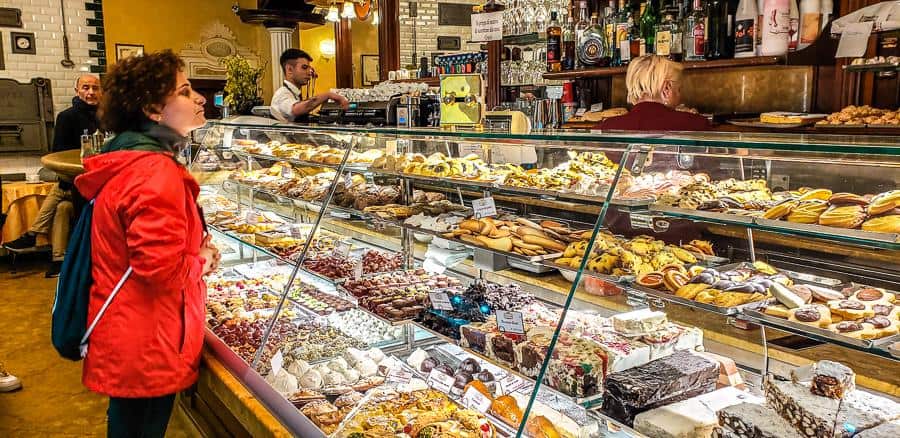 Cost:

70 euros a person

Hours:

3.5 hours

Things to know:

wear good walking shoes and be prepared to eat!
One of our favorite ways to become more immersed in a culture and city is by doing a walking tour. It's usually more intimate, you get to go down small alleyways to explore, and you can get the nitty gritty details from your tour guide.
While in Florence, we decided to take our walking tour up a step and do a food walking tour with Fat Tire!
This was one of our highlights to our Florence trip because we got to taste so many different local food specialties, were absolutely stuffed at the end of the night, and got to spend some time with our local tour guide who gave us all sorts of tips and tricks for visiting the city.
We did this tour in late February on a rainy and chilly evening, and although that doesn't sound like great walking tour weather, it meant we had a private tour!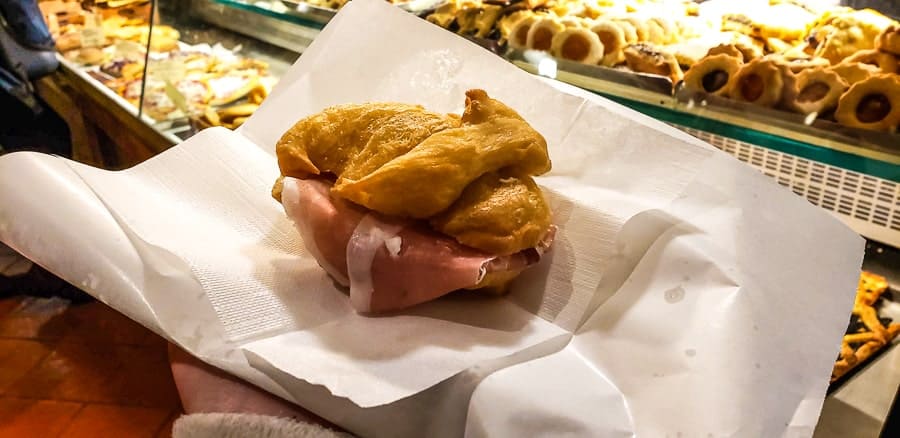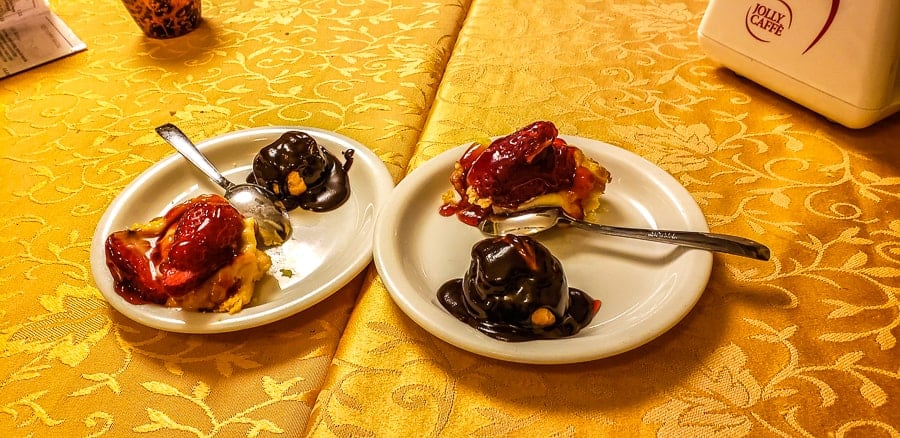 Highlights from our tour included:
Cantuccini: mini versions of the cantucci, or Italian almond cookies

PRO TIP: Dip your cantuccini in the sweet wine. It's so delicious!

Italian pastry tasting

Creamy gelato

Wine tasting

Pasta sampling

Truffle sandwiches

And our favorite: Coccoli, which translates as "cuddles" in Italian. Small balls of dough fried in olive oil and stuffed with prosciutto and a creamy cheese called stracchino. Our mouths are watering thinking about them!
Day trips from Florence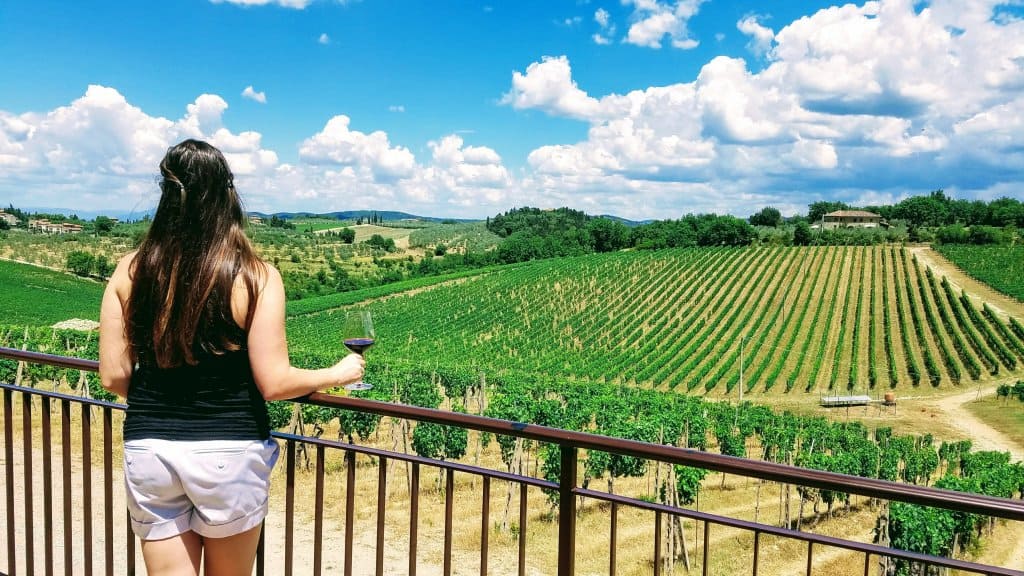 On our first trip to Florence, we took a half-day tour to Tuscany for a Chianti wine tasting.
We highly recommend it! See our guide here!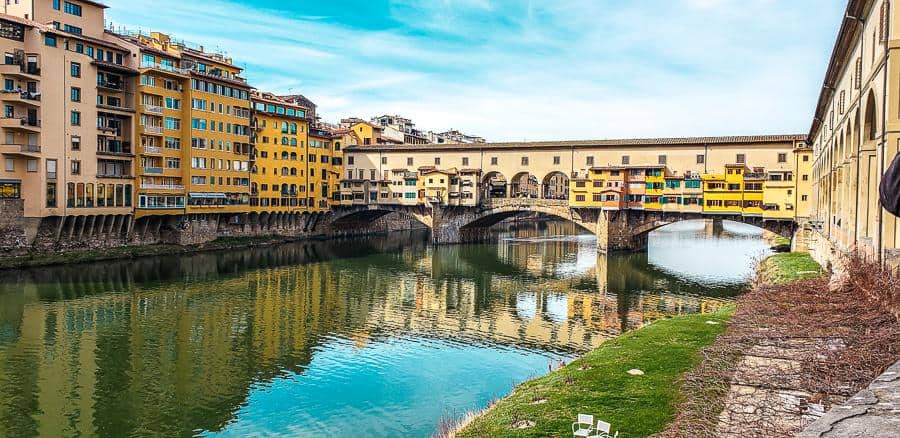 Consistently ranked as one of the most beautiful cities in the world, Florence blends together culture, architecture, art, food, and booze so well that it is one of the top travel destinations in Italy and all of Europe.
From its skyline dotted with church domes and bell towers to its hole-in-the-wall wine shops and restaurants, Mark Twain said it best when he called Florence a "city of dreams." Every twist and turn of its old streets and every climb up its steps and hills is mesmerizing and nothing short of spectacular.