Things to do in Manuel Antonio National Park in 1 day
If you're on a cruise through Costa Rica (like we were) or you're just traveling through the Central American country, you'll probably want to see the beautiful beaches and lush rainforests, as well as do some hiking.
Luckily, these are all things to do in Manuel Antonio National Park which is just south of the town of Quepos, on the Pacific coast of Costa Rica about 3 hours from the capital city of San Jose.
Short on Time? Here are the key takeaways:
Guided Tours are really the best way to see the wildlife in the park.
Bring your swimsuit and a towel to relax at the beach.
Absolutely no outside food is permitted.
There are lots of bugs – if you can spray down your clothes.
**Boozing Abroad contains affiliate links throughout the site. If you choose to purchase items through these links, we will earn a small commission at NO extra cost to you. Read the full disclosure policy here**
About Manuel Antonio National Park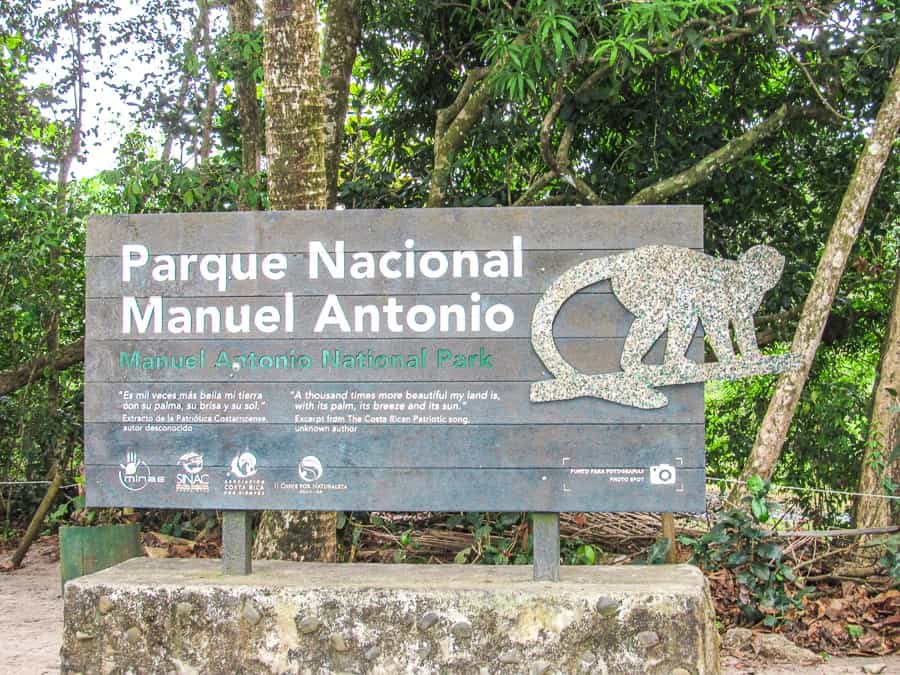 Fun fact: Costa Rica accounts for only 0.03% of the Earth's surface. However, it contains nearly 6% of the world's biodiversity!
That's a lot of Costa Rican wildlife in a small slice of land. And nowhere is this fact more prevalent than in Manuel Antonio National Park, Costa Rica's smallest, but most-visited, national park.
Manuel Antonio National Park, once called one of the most beautiful national parks in the world by Forbes, was established in 1972 and offers a combination of rainforests, beaches, and coral reefs, along with all of the wildlife that inhabits these environments.
With hundreds of species of mammals, birds, insects, plants, etc., you are sure to see and experience several things that make you say "Wow."
Things to do in Manuel Antonio National Park
Guided Tour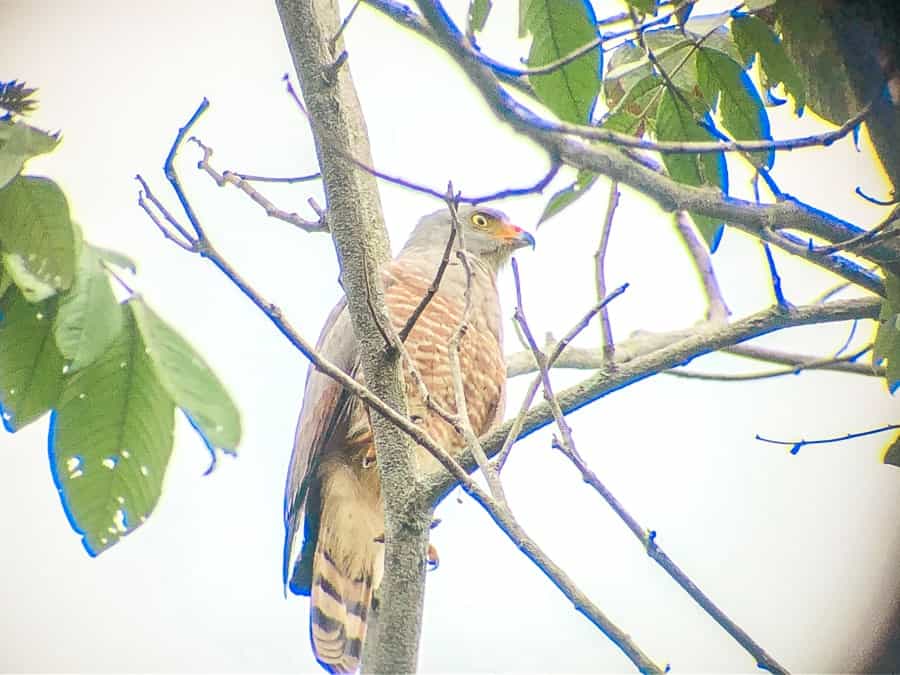 Of all of the things to do in Manuel Antonio, walking through the national park is definitely a must-do and should be at the top of your list. We strongly urge you to book a guided tour through the park as opposed to going on your own.
We'll admit that we normally like self-guided tours because a) they are cheaper (duh!) and b) they allow us to experience things that interest us at our own pace.
However, this is one scenario when you really need a guide to get the most out of your visit.
Are you stubborn and just really want to do the self-guided option? Fine. It will cost you $16 (free if you're under 12) to get in the park and walk around on the well-maintained hiking trails. But again, we don't recommend this at all. You'll see why soon.
The entrance to the national park is a little strange and hectic, to say the least. It's a small road lined with people, hotels, restaurants, cars, and buses.
You'll likely see people that look super official trying to sell tickets up and down the street leading to the entrance….don't bite.
The only legitimate place to buy your tickets is at the Coopealianza booth right outside the park.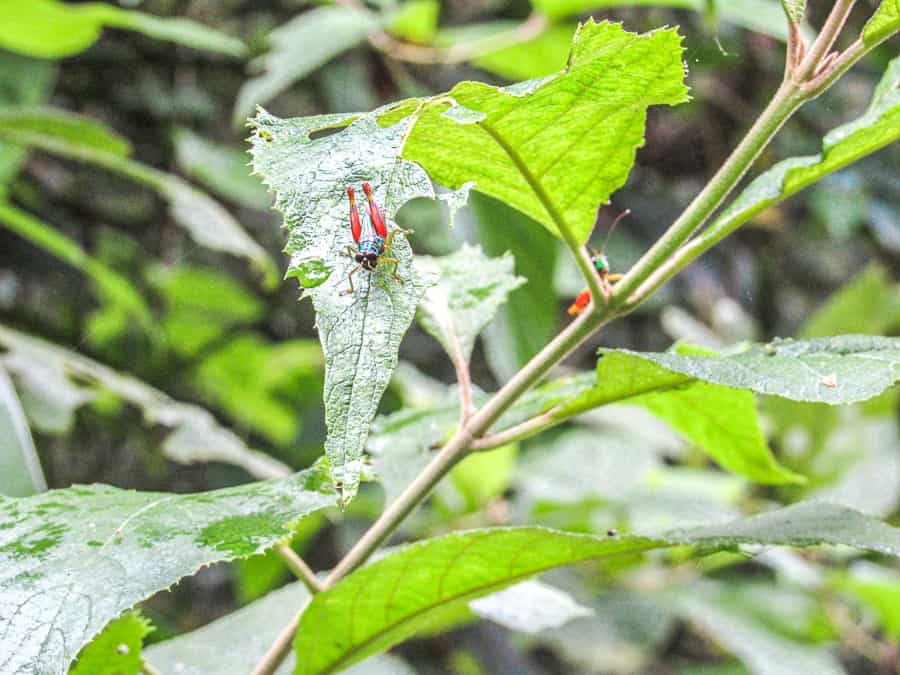 Or, if you want to do a little pre-planning (highly recommended), you can book a guided tour in advance directly with the national park.
You'll pay a deposit when you book to confirm and reserve your spot, and the remainder of your payment is due to your guide (who is certified by the Costa Rican Tourism Board) in cash on the day of the tour.
Hopefully you won't only be here on a Monday, as the park is closed every Monday.
Guided tour (8-10 people max – we got lucky and it was only the two of us): $51 ($26 deposit) for adults, $35 for kids ($15 deposit)
Private tour: $71 for adults and $55 for kids
The tours start at either 7:30 AM or 12:30 PM, and last anywhere from 2 to 3 hours, just depending on how fast your group moves. We did the morning tour and would recommend it because it was getting pretty hot and sticky even at 8 AM.
We can't imagine doing this in the afternoon.
Because we were coming to town by way of a cruise, we were picked up by our guide at the marina about 15 minutes away, but no matter how you are coming to town, transportation from Quepos or various nearby hotels is included in your guided tour.
You'll confirm all of this during booking and via email with the national park office.
As we were researching more about the park, it became clear that of the things to do in Manuel Antonio National Park, seeing a sloth was high on our list. Well, before we had walked 15 feet into the park, we saw two sloths just hanging out (literally) in the trees.
Having already crossed this off of our list of things to do in Manuel Antonio, we turned around and left. – Just kidding!
Why you need a guided tour in Manuel Antonio
From here on out is where you'll realize why you have to book a guided tour.
We would just be strolling along the hiking path and our guide would suddenly stop, set up his high-powered scope (reason #1 to book a tour), and point it towards what was no more than a colored blob to the naked eye.
Come to find out that it was some beautiful exotic rainforest creature. It was truly unbelievable what he was able to spot before setting up his scope!
Even better, the scopes are great for taking pictures with your cameras/phones and your guide will help you take some great close-up pictures of the wildlife through the lens (reason #2 to book a tour).
Yay for non-pixelated pictures!
Animal Watching
Here's just a sample of the animals we saw on our guided tour, almost none of which we would have seen without our guide and his handy-dandy scope:
Jesus lizard (because the lizard can walk/run on water)
Chameleon
Monkeys
Sloths
Agouti – a hybrid of a rat, rabbit, squirrel, and guinea pig (see picture below)
Iguanas
Rainbow grasshopper
Hummingbirds
Roadside hawks
Massive spiders and spider webs
Crabs
Wasp nest
So much more!
Not only are you getting to see these creatures in their natural habitat, but you are also learning about them and their ecosystem as the guides are so knowledgeable about this place (reason #3 to book a tour). It's fun AND educational!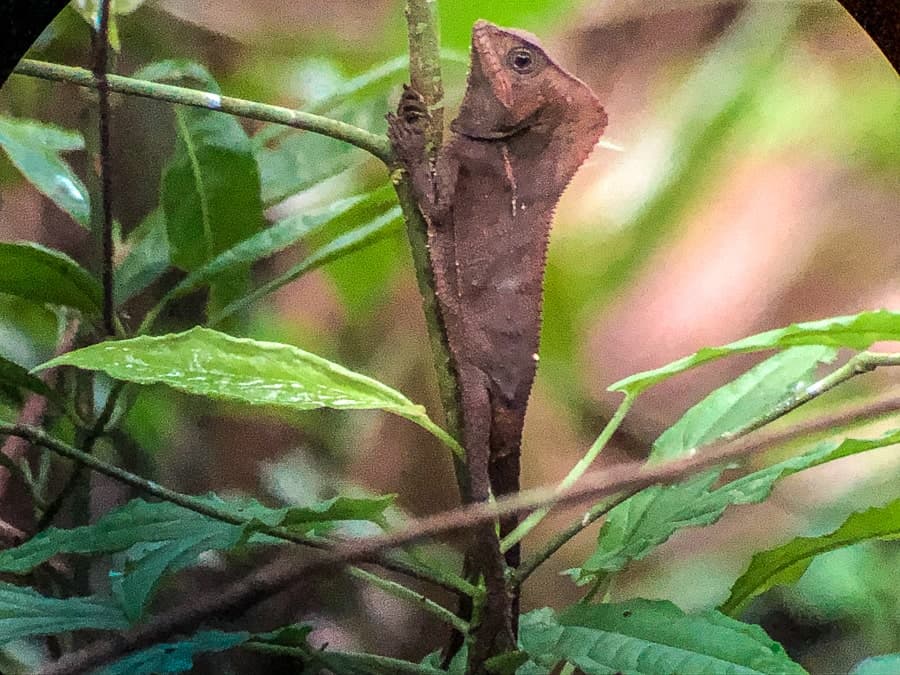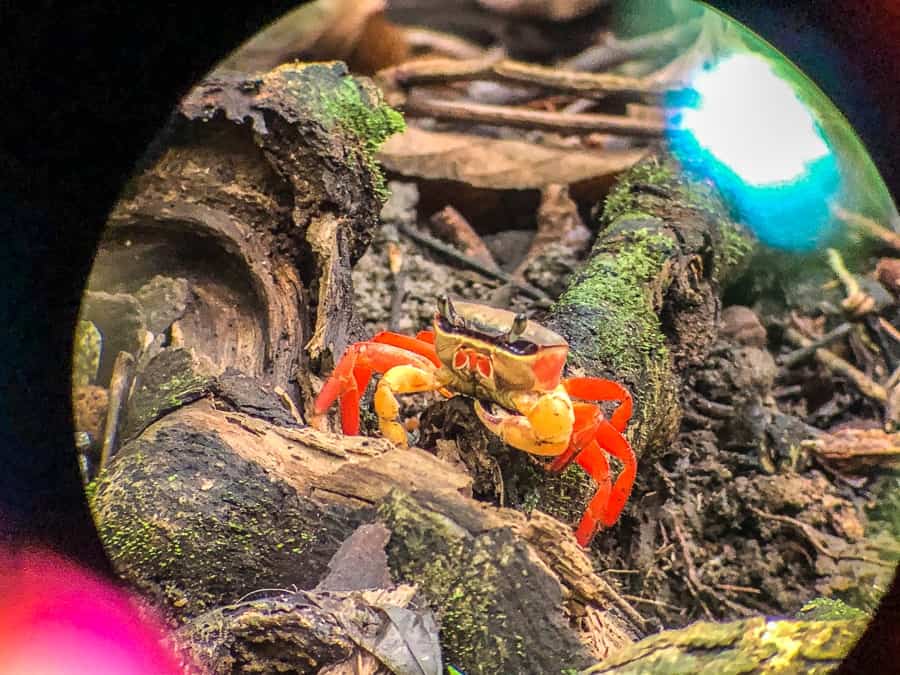 There were probably hundreds of tours going on at the same time as ours, all of varying sizes, but it never really felt too crowded because everyone is moving at a different pace and because there is so much to see at every twist and turn of the path that spacing wasn't really an issue.
The main interior path heads about a mile into the center of Manuel Antonio where you'll come upon a small cafeteria for a short break.
If you booked a guided tour, you'll stop here for some local fruit (watermelon, pineapple, and papaya) and some flavored iced tea (reason #4 to book a tour).
Beaches in Manuel Antonio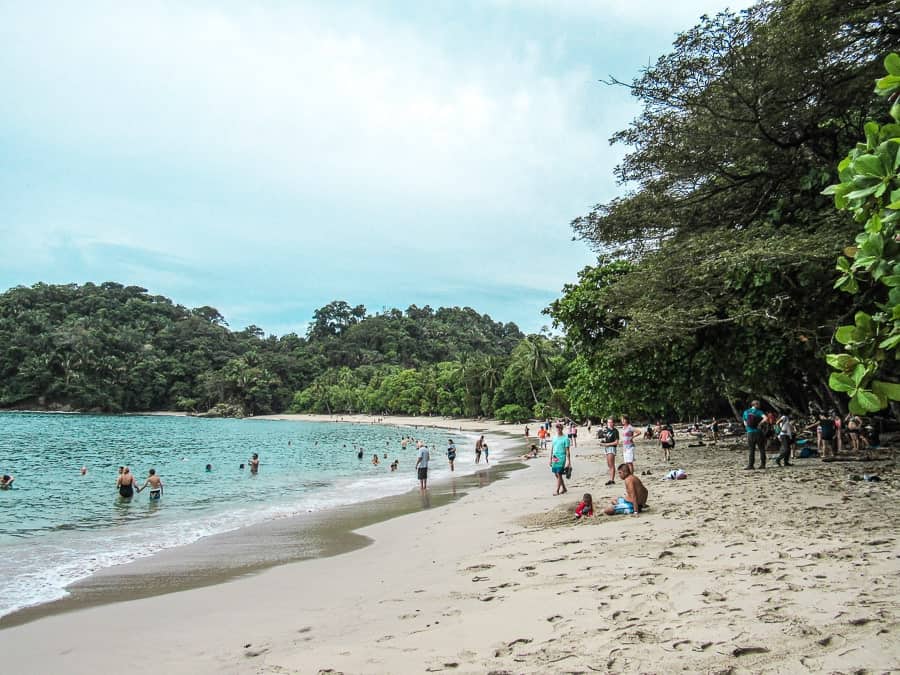 From here, you can walk down the hill where you'll find one of the other main things to do in Manuel Antonio: beaches, specifically, Playa Manuel Antonio.
There are three beaches within the confines of the national park (Manuel Antonio, Espadilla Sur and Espadilla Norte), but Playa Manuel Antonio is the most popular, most likely because of its proximity to the main walking path.
If you want a little more privacy, head further down the trail to Playa Espadilla Sur. Also, keep an eye on your stuff while at the beach to prevent theft by the cutest little burglars around – racoons and monkeys.
When you leave the cafeteria, there are bathrooms and changing stations if you'll be hanging out at the beach after your hike. We parted ways with our guide at Playa Manuel Antonio so we could explore a little more of the park before our next adventure.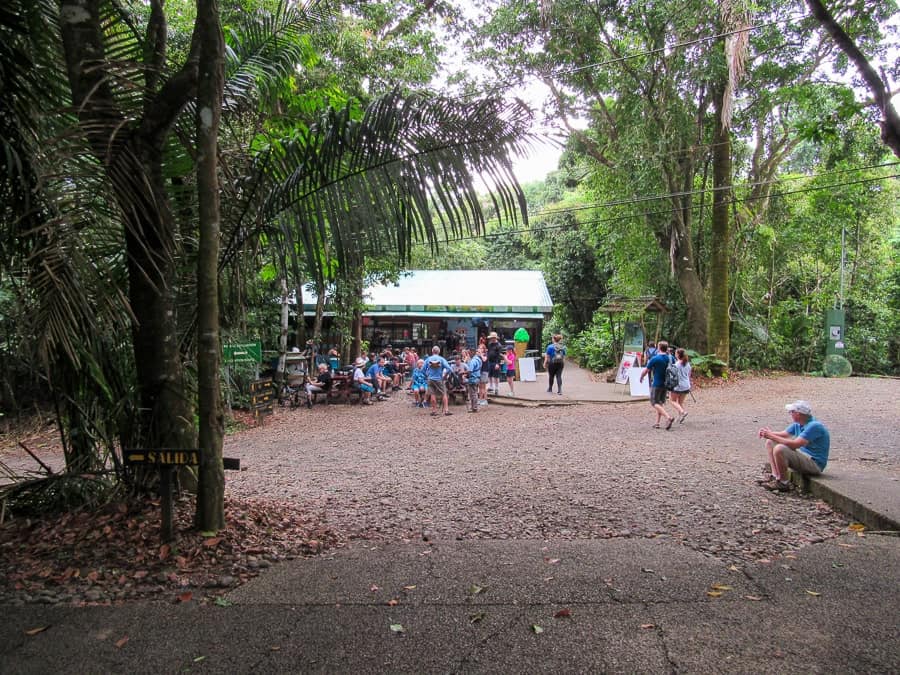 You can choose to go back on the same walking path you came in on (weaving through all of the other tours – don't recommend this) or you can take the path back which parallels the beach.
All of the paths are well marked with signs of where you are on the path.
By this point in the day, you'll be expert wildlife spotters so you won't even need your guide (except for his scope) to find wildlife on your trek back.
Remember to give your neck a break every once in a while though. Sloths move slow, so you may be staring up into the trees for a while!
Outside the Manuel Antonio National Park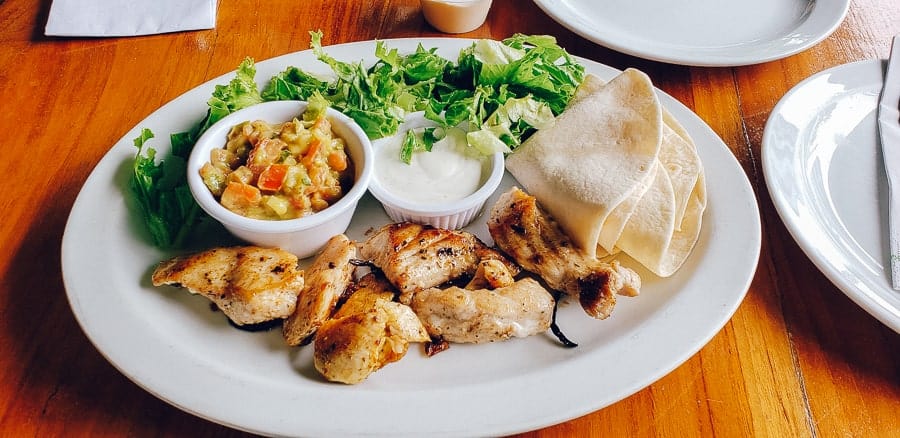 Once back to the main entrance of the park, we made a short 10-minute walk back to "downtown" Manuel Antonio where we stopped for some food and booze at Marlin Restaurant.
Although it was only 10:30 AM, we had been up for a while already and it was 2-for-1 happy hour on mojitos. Enough said.
We each had a couple of mojitos, and got the fish tacos and nachos to split. It might not have been the best meal we've had, but the food was good, and you couldn't beat the beachside views and loads of people watching.
Things to remember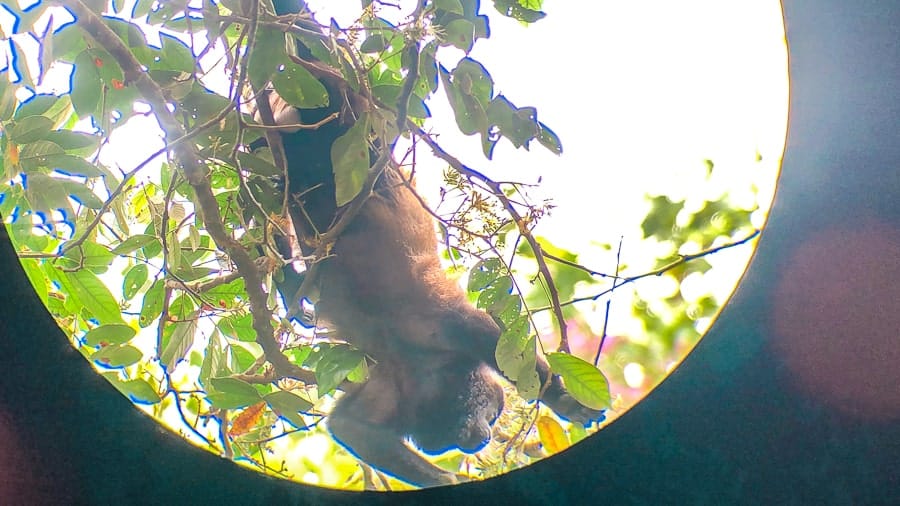 Because the national park is THE most popular of the things to do in Manuel Antonio, we highly recommend booking a guided tour in advance. Currently, they are only allowing 600 visitors at a time into the park during the week and 800 at a time on weekends.
If you're visiting during high season and don't book a tour, you should get to the park as early as possible (park opens at 7 AM) in order to purchase tickets (remember, only at the Coopealianza booth) and get in line.
You can also purchase tickets to the park the day before, but it's still probably best to arrive early to get in line.
What to Bring with you
Whether you book a tour or you're just going for a self-guided visit, you need to bring the following:
Good hiking shoes/sandals

Bottled water – it gets hot!

Insect repellent – it is a rain "forest" after all

Waterproof gear just in case – it is a "rain" forest after all

Bathing suit in case you want to swim at the beaches

Camera/phone

Sandwich (in a bag) if you're going to stay in the park after your tour

Don't

bring snacks (crackers/chips/peanuts/etc.) – they will take them from you at the entrance, even if they are unopened.  We never did get our Ritz crackers back!
We choose to spray our clothes with this spray before we arrived. While there were a lot of bugs, we weren't bothered much by them.
If you're up for a little more challenging hike than the main path through the park, a hike around Punta Catedral is another of the things to do in Manuel Antonio.
This beautiful 1-mile loop is moderately difficult with some steep inclines. The trail is accessible from both Manuel Antonio Beach and Espadilla Sur Beach.
What else to do in Costa Rica
Now that you've gotten a taste for Costa Rica, you'll be itching to explore more (we know we are)! With so many options of things to do, make sure you don't miss out on these 8 Best Things to Do in Costa Rica on your vacation.