Top 12 Must Visits Bars in Grenada
On vacation and looking for the best bars in Grenada?
If you're like us, when you think of the Caribbean, you likely picture fun in the sun, at a beach bar with a cold drink in your hand.
Having been to many of the Caribbean islands throughout our travels, that image is pretty much spot on!
Making sure you know where the top Grenada bars are located should be high on your to-do list when visiting so you can enjoy a drink with the view above.
We drank our way around the island for almost 2 weeks sampling all the data below. It was a hard job, but someone had to do it!
Read on below to see the can't miss bars, restaurants, beach shacks, hotel resorts, distilleries, and breweries on the island of Grenada.
Short on Time? Here are the key takeaways:
There is no shortage of places to grab a drink in Grenada.
Our favorite beach bars are La Plywood and Esther's.
The Lightship is a little out of the way, but a very unique experience.
West Indies Beer Co has great beer and a really fun atmosphere!
This post was originally published in March 2019, and was updated in April 2023.
**Boozing Abroad contains affiliate links throughout the site. If you choose to purchase items through these links, we will earn a small commission at NO extra cost to you. Read the full disclosure policy here**
Grenada Alcohol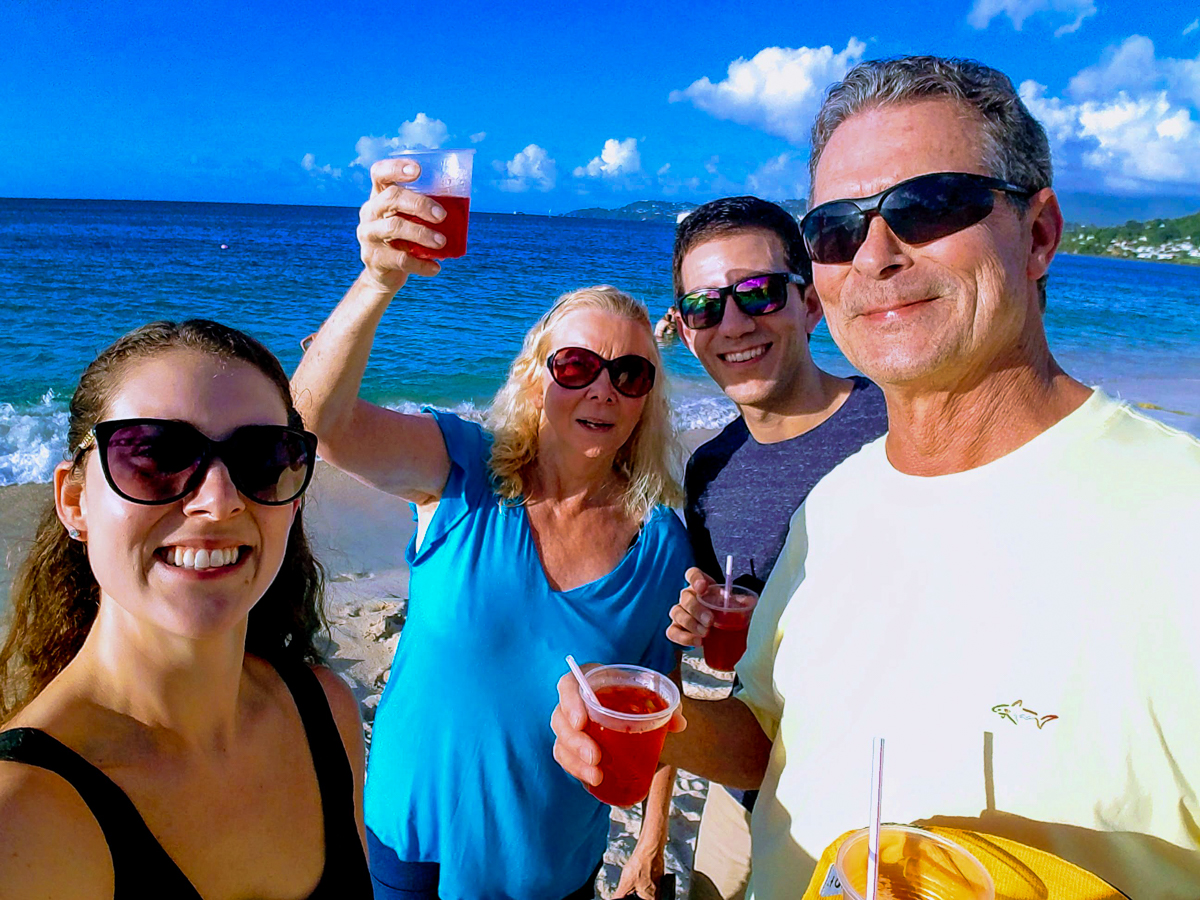 A 2014 report by the World Health Organization listed Grenada, one the Caribbean's southernmost islands, as having the highest alcohol consumption per capita in the Caribbean, and even in the Americas as a whole.
For this small and relatively obscure island, that's quite the accomplishment in our books!
During our long stay on the Spice Island, and in addition to our other activities, we consumed our fair share of alcohol at many of Grenada's bars, including the iconic Rum Punch.
What Liquor is Grenada known for?
Grenada is known for their rum! Therefore, i's very easy to find rum punch no matter where you are on the island.
The largest rum distillery is Clarke's Court, which produces a variety of rums and blends you can enjoy.
Map of Bars in Grenada
HOW TO USE THIS MAP: To view the layers and see the names of the places on this map, click the tab in the top left corner. You can select the check marks to show or hide certain layers. If you select the icons on the map, you will get more information about the point of interest.
HOW TO SAVE THIS MAP: If you select the star icon next to the map name, you can save this map to your Google Maps account. To view it, open Google Maps in desktop or on your phone, select the menu button, go to "Your Places," scroll to the right to Maps, and you will see this map.
1 – Esther's Bar
Esther's Bar is located in the "Grand Anse Craft and Spice Market", and the rum punch is a must have! We were told by a local it was the best on the island.
This family-owned bar has been open for decades and their drinks are known for their potency. Esther is heavy-handed, so be sure to enjoy slowly or you might be face-first in the sand.
Tell her you are staying on the island (not a cruise ship tourist) and the price might drop a dollar or two!
Esther's Bar is a great time but will sneak up on you if you drink too many.
2 – Radisson Grenada Beach Resort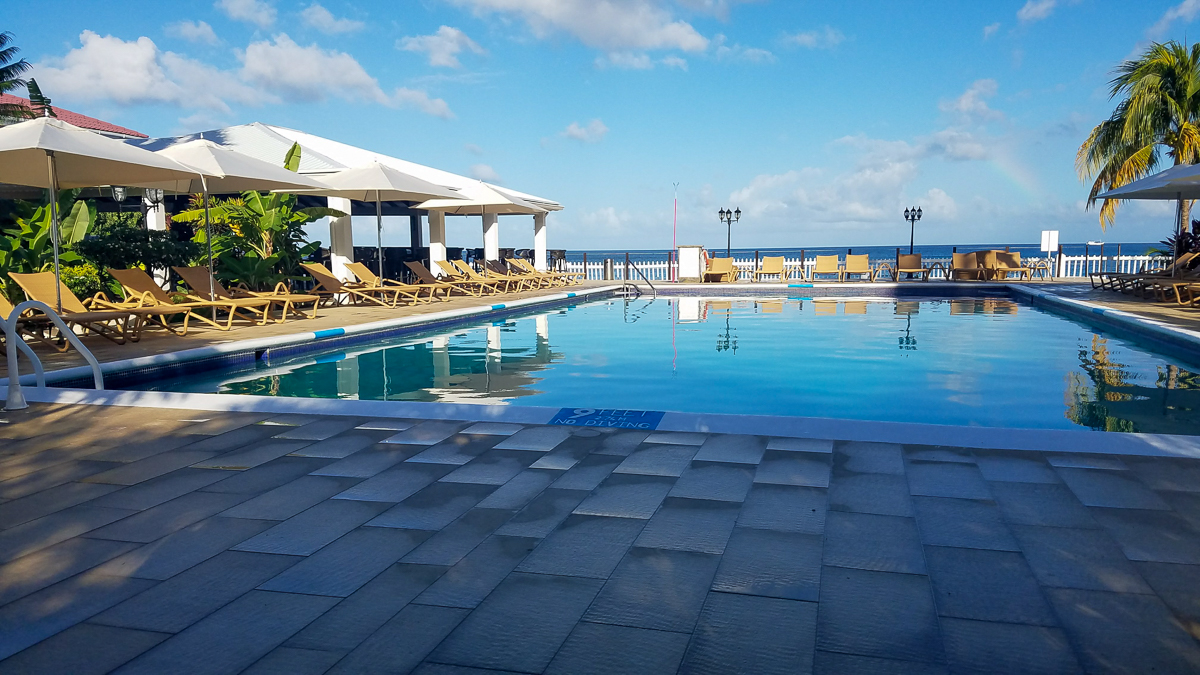 Radisson Grenada Beach Resort is where we stayed for our vacation, and there are 5 bars on the property (including one on the beach) to wet your whistle. If you are bar hopping, this would be the next stop after Esther's.
When you are here, seek out bartender and do-everything-employee, Timothy, who normally works the main bar.
His Rum Punch and Pain Killers are top-notch and he always makes it with love.
To read more, read out Things to to in Grenada guide.
3 – Umbrellas Beach Bar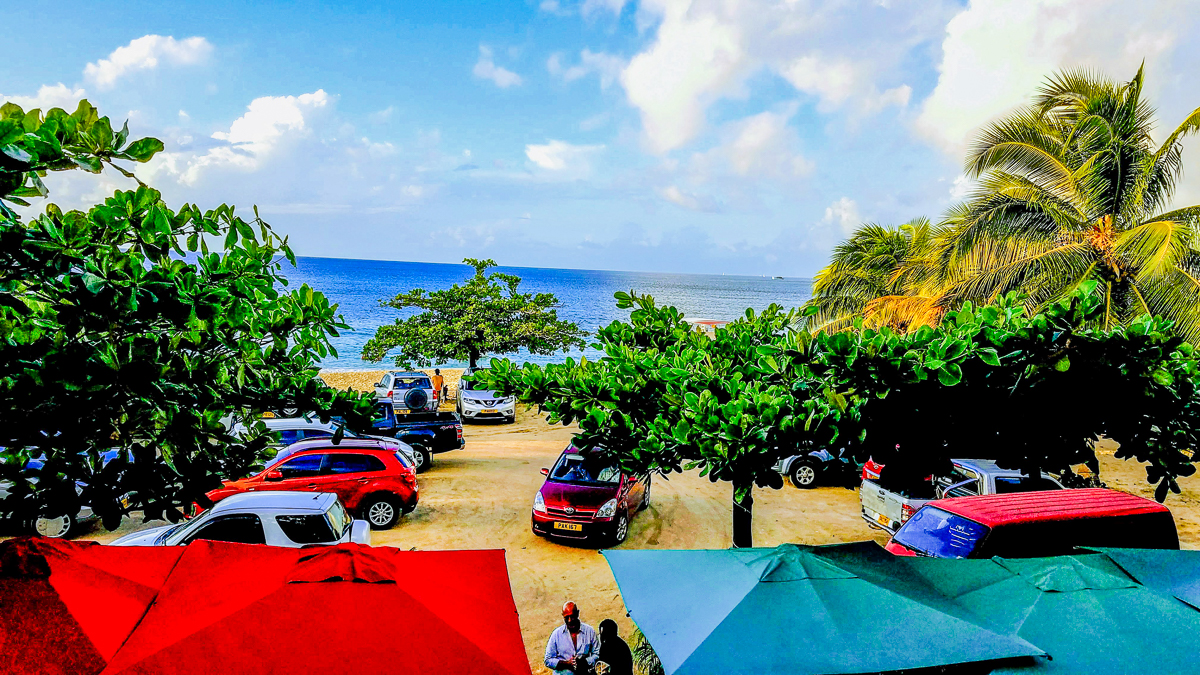 One of the most popular bars in Grenada is also on Grand Anse Beach. Umbrellas Beach Bar is a great place to grab a drink up on the second floor deck and look out into the Caribbean Sea.
It's called Umbrella's because there are bright colorful umbrellas on their patio so it's easy to spot.
If you are feeling hungry, we ate here a few times and the food was very good.
They have decent drink prices, with different drink specials nightly.
4 – Savvy's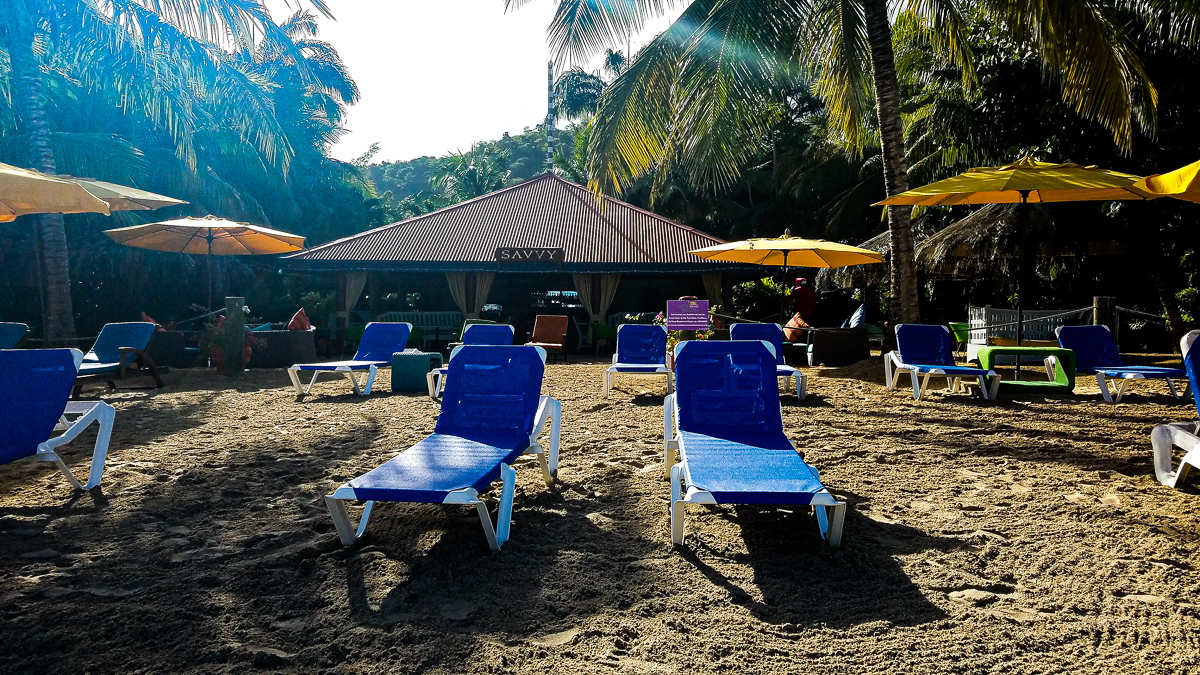 Savvy's is a restaurant and bar that is part of the Mount Cinnamon Resort & Beach Club and is right on the beach.
It was here that we discovered "Rivers", which is a local rum made by River Antoine Rum Distillery.
The bottle states "Slightly Overproof Rum", which should have been a warning, but Chris just had to try what the locals drink. Slightly overproof is right!!
This rum is so potent, it's considered a combustible liquid and not allowed on airplanes. If you want to try it, this spot has it.
Savvy's also has a regular bar list and beers available if you aren't feeling brave enough to try Rivers.
5 – La Plywood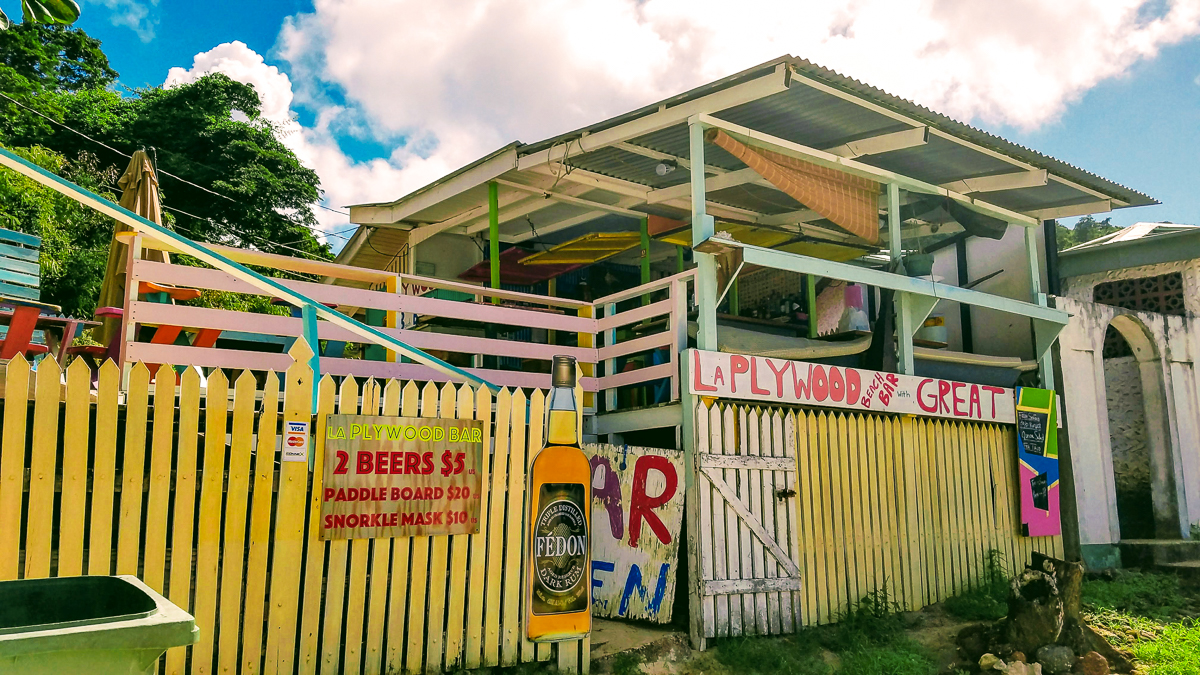 La Plywood is just as it sounds – it is literally a bunch of plywood nailed together. We almost walked by it, but noticed the 2 beers for $5 sign.
However, this Grenada beach bar boasts a fantastic view of Morne Rouge Beach, which the locals call BBC Beach.
If you're hungry, make sure to try the fresh fish tacos! They were sensational!
Parking can be tricky around here so make sure that you are prepared to walk down a hill to get to this beach!
6 – Laluna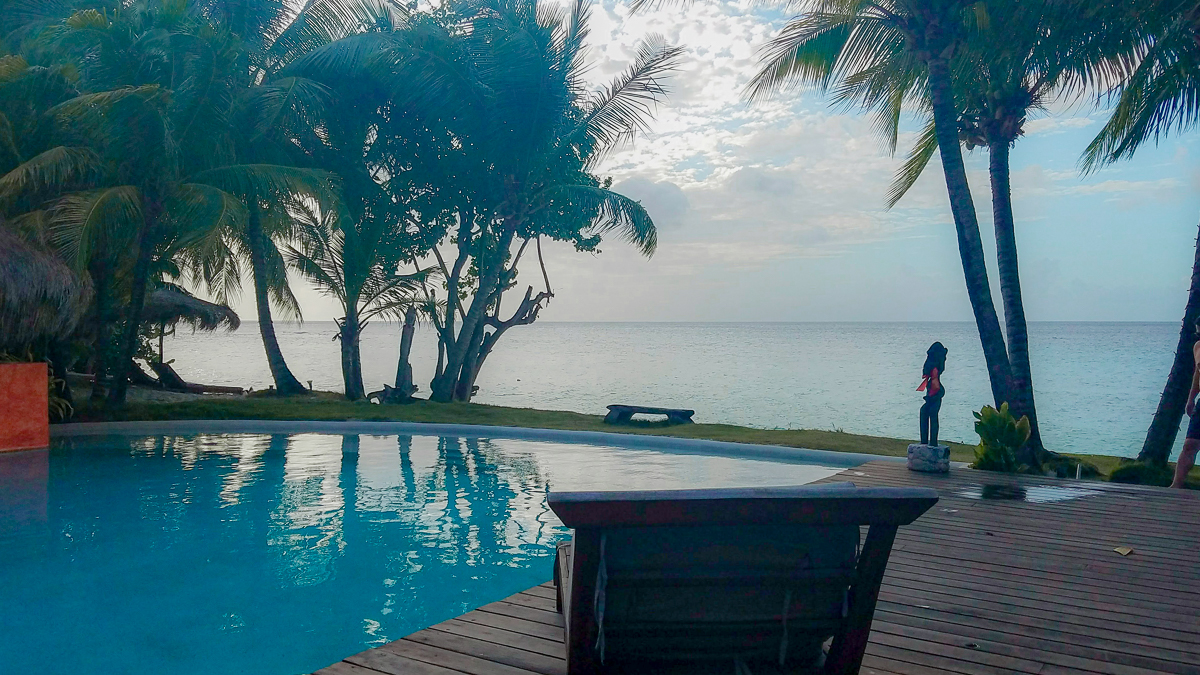 Laluna is a luxury boutique resort on the other side of Morne Rouge Beach. They have an extensive wine list and offer classic cocktails as well as local concoctions.
During non-happy hour times, prices start at $12 USD for a drink so we suggest you try to visit during happy hour for more affordable options.
To get to the bar, you have to walk down a steeply sloped road. If you have any mobility issues, consider getting dropped off down at the bottom and meeting your party inside.
A super secluded beach will await you with soft sand, and during the summer, a great sunset!
7 -The Lightship at La Phare Bleu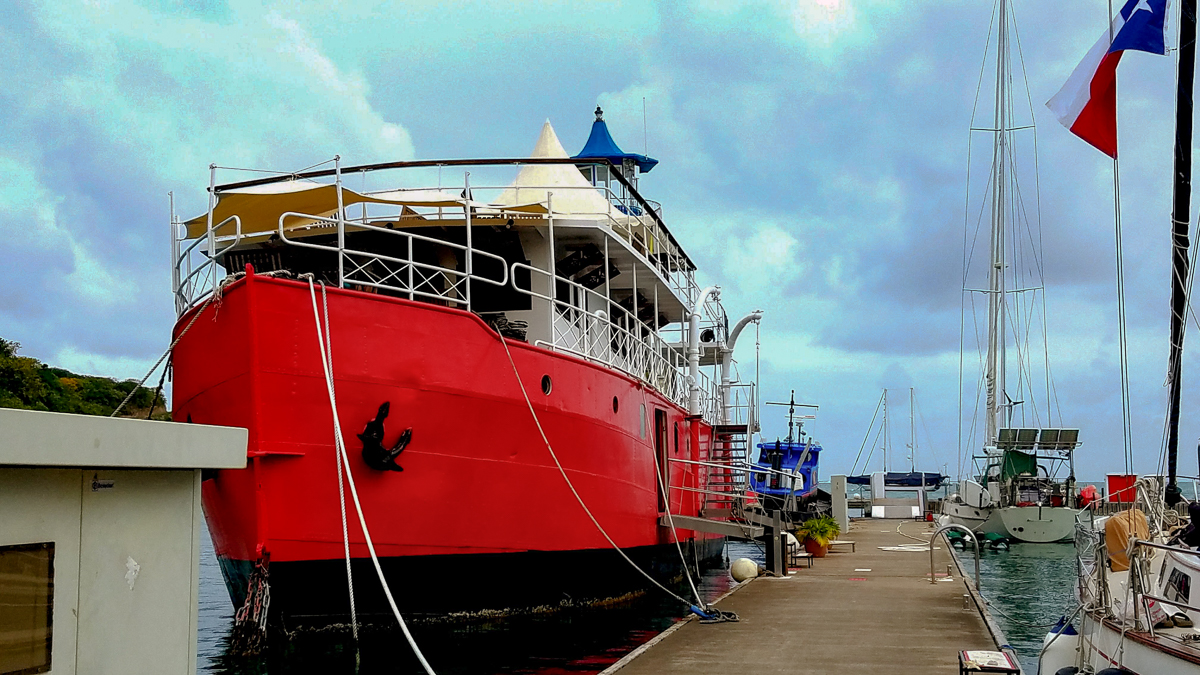 Located at Le Phare Bleu Marina, the Lightship is without a doubt one of the most interesting bars/restaurants we've ever been to.
Located on a large ship built in 1900, this is a unique setting to enjoy a drink or meal. They also serve a local distillery's creations, Blue Light Gin and Vodka, in their craft cocktails.
This is a great bar to catch a sunset, enjoy some live music, and try some local cuisine.
8 – Prickly Bay Tiki Bar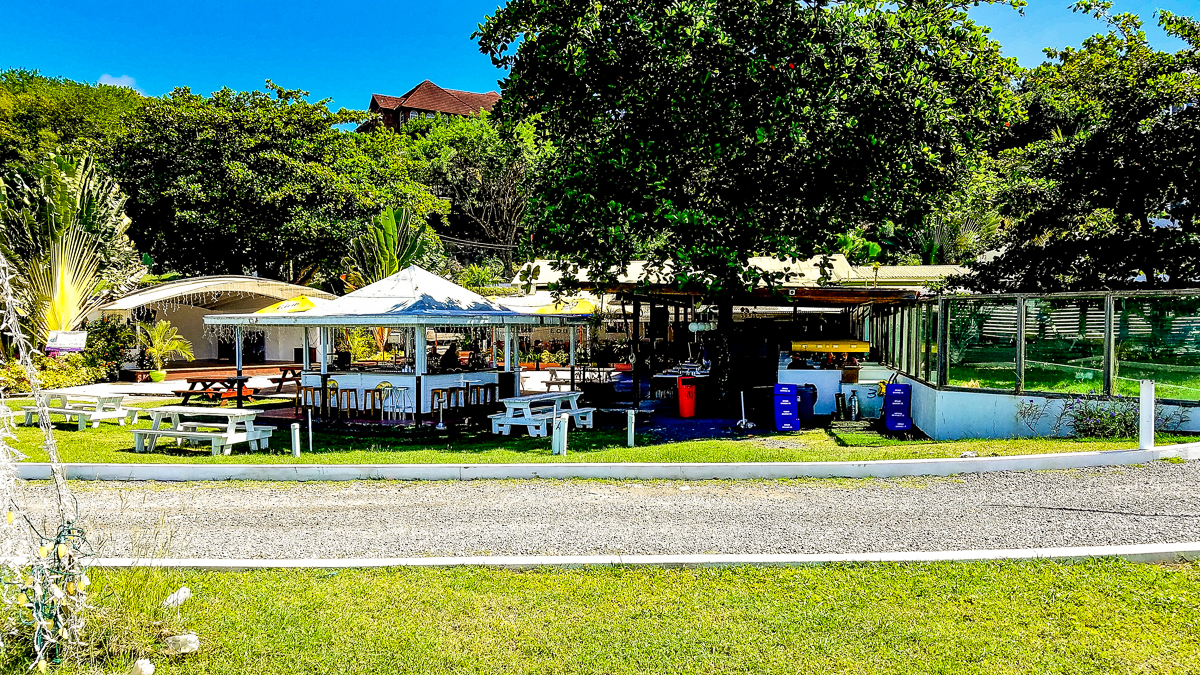 Located in the Prickly Bay Marina, Prickly Bay Tiki Bar and Restaurant is a full service marina, tiki bar, and restaurant offering breakfast, lunch, and dinner 7 days a week.
A lively spot to enjoy, the Prickly bar hosts game nights several times a week, including trivia and bingo. With a stage area, this bar in Grenada was always busy when we visited and had live music and DJs as well.
While this isn't located on a beach, it does have great views of the marina across the way.
This is a great bar to grab a drink, some pizza, and enjoy the good vibes.
9 – Dodgy Dock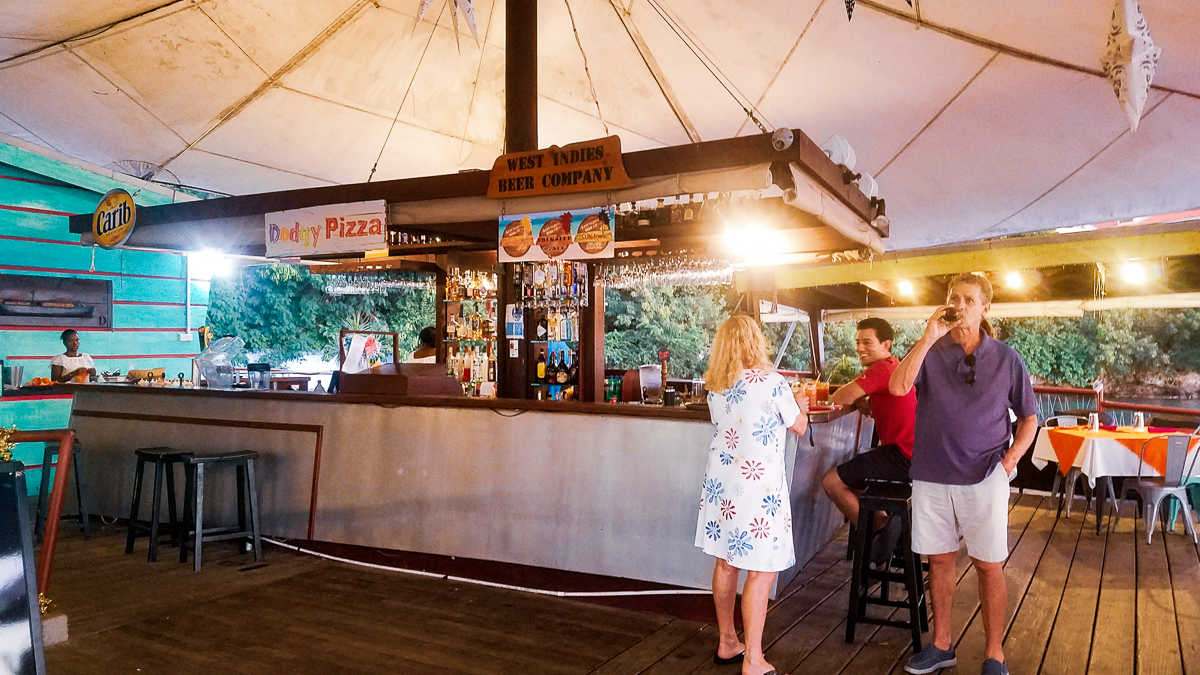 Appropriately named, Dodgy Dock is restaurant and bar that literally has a dock that should be dodged as it is floating and never seems to be flat.
The restaurant is located at the boutique True Blue Bay Resort near the southern tip of the island.
The Dodgy Dock has a great happy hour, live music and nightly food themes! They have a full bar, beer bucket specials and really good food.
Make sure you hit up happy hour and try their buffet. It has local dishes that highlight all the local spices on the island and was absolutely delicious.
10 – Aquarium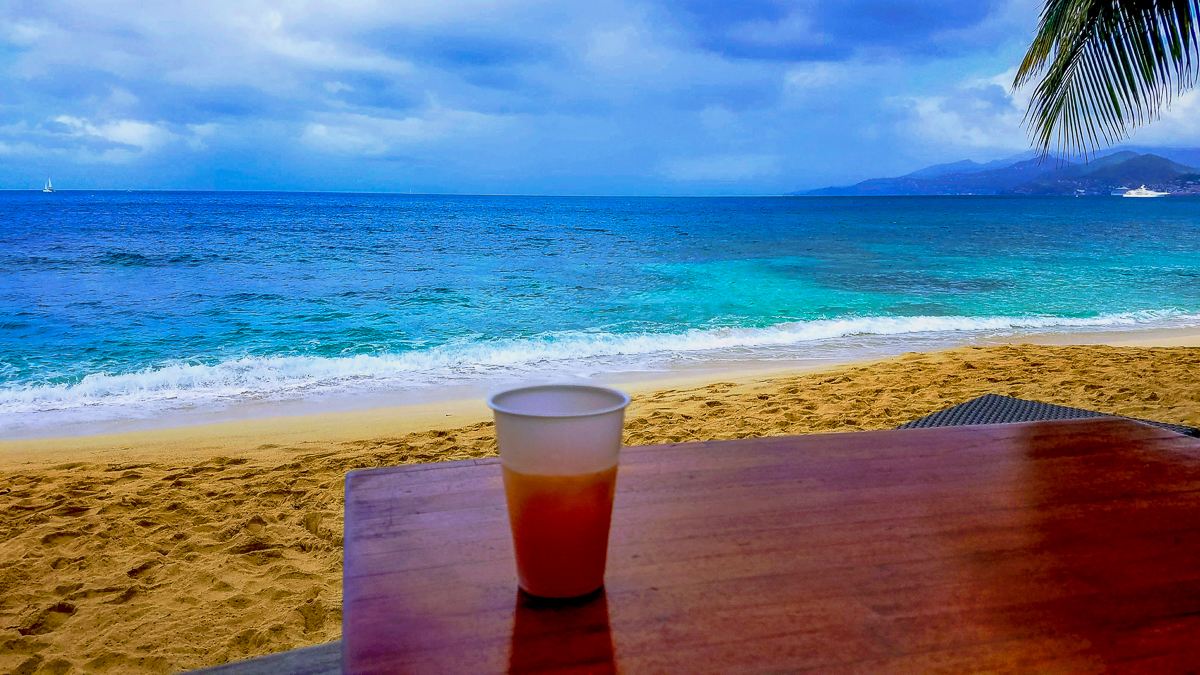 Located on the tip of Magazine Beach, Aquarium Restaurant and Bar is a secluded beach bar at the base of Maca Bana resort.
They have 2 bars on site, a rooftop bar and a beach bar. From casual lunches to fine dining options for dinner, Aquarium offers spectacular views and fresh ingredients.
They offer weekly specials and every Sunday, they have a BBQ lunch with live music starting at 11 a.m.
To get here, you will need to walk down the hillside hotel or drive down a steep (not really paved) hill to Magazine Beach and walk.
Magazine Beach was one of our favorites for the seclusion so finding this beach bar tucked away was a great treat!
11 – West Indies Beer Company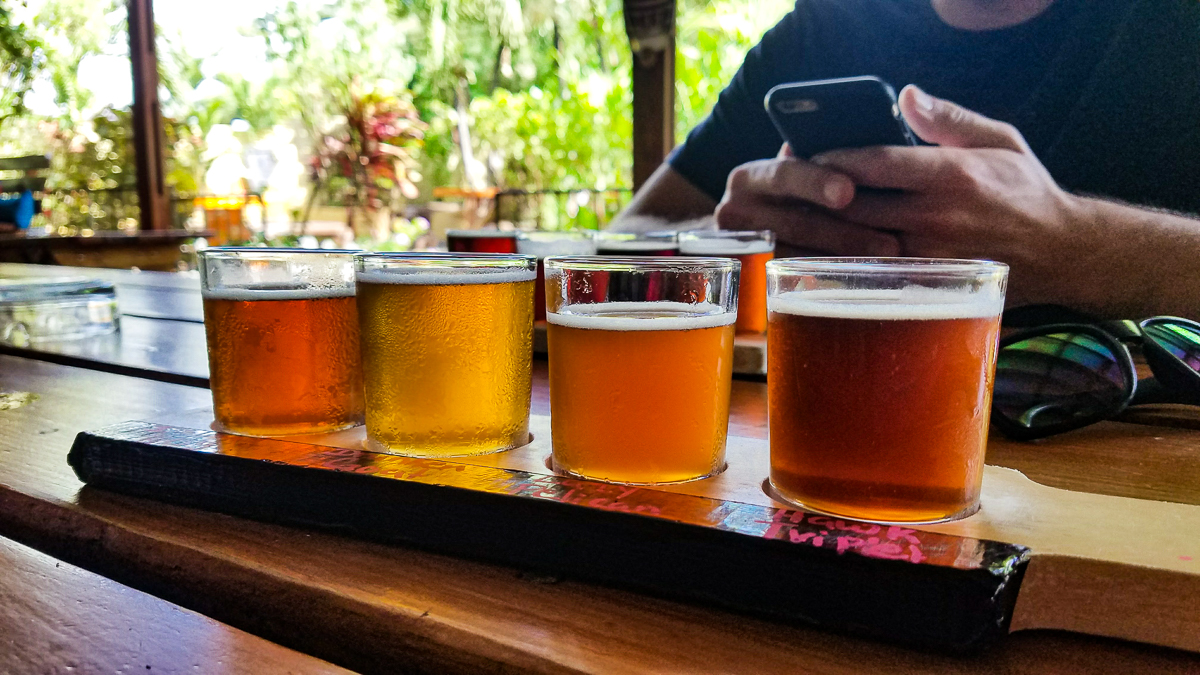 Nearing the southern tip of the island is L'anse Aux Epines ("The Bay of Thorns"), where you'll find the only brewery on the island.
West Indies Beer Company offers 15 beers and 4 ciders on tap, and is huge inside with a wrap-around bar serving as the divider between you and the brewing equipment.
They have a good variety to choose from, including ciders, IPAs, wheat beers, porters, tripels, lagers, and ales….pretty much every type of beer is represented!
They also have a full liquor bar as well if beer isn't your thing.
When looking for one of our favorite bars in Grenada, this place is equipped with plenty of activities for both sunny and rainy days: a dartboard, a pool table, and a sizable patio area with the infuriatingly-addicting ring toss game.
With good food on-site, and the various games and activities to keep you busy, you could spend an afternoon here and have a great time. We know that because we did!
Try your luck at the ring toss game and see if you can match Samantha's record of 1 try.
12 – Clark's Court Distillery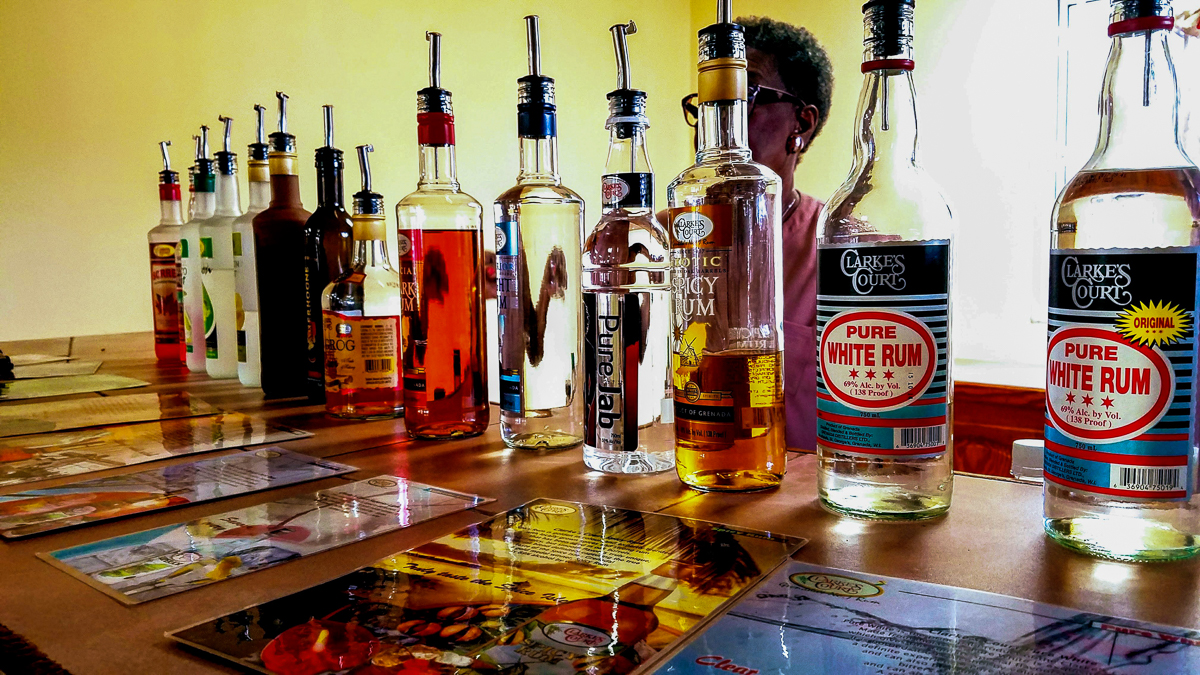 Clarke's Court Distillery was established in 1937 and is the largest distillery in Grenada. The facility itself has old equipment and engines dating back to the late 1800s.
For just $2 US, you get a 15-minute tour and can sample all 15 of their rums.
While it's not technically a bar, they will give you cocktail recipes to take home with you.
The Chocolate Amaz-in rum is a must-try and one of Samantha's favorites. They also sell airplane bottles, which are great gifts to give to those back home and perfect for those not checking luggage.
Get them here because they are terribly expensive in the airport.
The island of spice offers plenty of drinking holes you can enjoy on your vacation. From beach bars, breweries or floating boats, the bars in Grenada offer visitors a unique experience to connect with the island through booze.
If you are looking for other non-boozy activities to try, check out our Top Things to do in Grenada guide.