The Most Useful Travel Gifts that they'll actually use and love
We've probably traveled over 1 million miles by car, RV, train and plane together so we know a thing or two about useful travel gifts. Whether cruising around the U.S. in a car or jet setting off to a foreign place, there are several gifts for travel lovers that are not only nice, but functional.
If you're looking for useful travel gifts for someone who loves to travel, look at these items below. (We carry/use all of these with us when we travel).
What are good, useful travel gifts?
Useful travel gifts are small, functional, and can be reused numerous times! We love our travel accessories to be multi-functional too, getting more bang for the buck and maximizing the limited space.
Anything that can make your travel life easier and more organized is a win in the useful travel gifts category.
Useful Travel Gifts:
**Boozing Abroad contains affiliate links throughout the site. If you choose to purchase items through these links, we will earn a small commission at NO extra cost to you. Read the full disclosure policy here** We are a participant in the Amazon Services LLC Associates Program, an affiliate advertising program designed to provide a means for us to earn fees by linking to Amazon.com and affiliated sites.
Luggage
Packing Cubes
Believe it or not, we never owned packing cubes until we received them as a gift a few years ago. And thank goodness we were gifted these because they are now one of our favorite and most useful travel gifts.
Whether going away for a weekend or flying halfway around the world, packing cubes are, without a doubt, one of the most useful travel gifts we've ever received.
There are several types of packing cubes, but our recommendation is to buy the Amazon Basic 4 Piece that are the same size. While the mixed sizes are nice, we have found that the same size is more useful and practical for travel.
If you are camping or potentially in a smaller space, we suggest trying some hanging Packing Pods. We've used these in the RV and while out camping and absolutely love them. You can hang them on door knobs, bathroom hooks, and much more.
Hanging toiletry bags

Yet another of the useful travel gifts we have actually received, the hanging toiletry bag is super functional for staying organized in the bathroom.
We have a Hanging Travel Toiletry Bag (which is great for both men and women) and it comes in handy in small spaces like cruise ship and/or RV bathrooms as well as smaller bathrooms in Europe.
What makes this so great is the hook at the top that can be placed on a towel rack or over the shower door for easy access. There are a few mess pockets at the top and larger pockets in the bottom that can hold larger shampoo/conditioner bottles with no issues.
For longer trips, this has been very helpful in staying organized in tight spaces!
Jewelry case

I'll (Sam) be the first to admit that I don't typically travel with a lot of jewelry, but that didn't stop my family from trying to find jewelry-related useful travel gifts for me. A lot of jewelry cases are hard-sided, like this one, which is great if you have a lot of room in your luggage.
For me, I didn't want a bulky item, but something that was smaller and flexible, yet still functional. I didn't think the travel bag existed until I received it as a Christmas gift.
This rollable jewelry bag has separate zippered pockets for organization and has a hanging hook so you can easily see what you've packed. My favorite part is how small it folds. Depending on the size of your bling, it can be as small as 1 inch when folded up!
Luggage tags

This gift might seem silly, but it's something small and is one of the most useful travel gifts! When waiting around to find your checked luggage, we always suggest making your luggage tag (somewhat) obnoxious so it stands out from all of the numerous bags that look the same.
Whether it says "Hands Off" in neon pink or a customized tag with your info on it, you can't go wrong with the most tried-and-true of useful travel gifts!
Shop all luggage tags on Amazon here: All Luggage Tags
Shoe Bags

We didn't start using shoe bags when we traveled until we started adding hikes to our bucket list and wanted to keep our clothes away from our dirty shoes. The nice thing about these bags is they can be used for more than just shoes too (e.g. dirty clothes).
Don't forget to pack your socks into your shoes to save more space and keep the form of your shoes!
Collapsible bags

We never thought a collapsible bag would be one of our useful travel gifts until we took a cruise out of Europe.
We used the waterproof bag on the cruise to carry stuff to the beach. We used it in the grocery stores in Italy because they charge for plastic bags. We even used it to carry local booze back to the ship. Again, multi-functional is key to useful travel gifts.
Honestly, we still use our bag all the time at home when we go to the grocery store. It's reusable, machine washable, and fits neatly in a purse.
Luggage scale

We don't know about you, but there are several times we pack, unpack, and repack our bags trying to make sure we don't break the scales at the airport. Who thought 50 lbs of luggage for a 5-day vacation was enough anyways?!
One of the more inexpensive, yet still extremely useful travel gifts, this digital luggage scale is a no-brainer. We highly suggest weighing your luggage before getting to the airport to avoid having to rearrange in a hurry (or worse, leave something behind).
It's even more useful for your return trip home when you've purchased souvenirs that might weigh down your bag.
Useful travel gifts for ladies: All-in-one hair tool

No joke, this is my (Sam) favorite hair tool I've ever bought. Ever. I was at a bachelorette party last year when one of the ladies jumped out of the shower and her hair was SOAKING wet. She whipped this tool out of her bag and after a quick 20 minutes with the Revlon brush, not only was her hair dry, but it was straight and styled.
I came home and quickly purchased the Revlon One-Step Hair Dryer and haven't used my regular hair dryer in months. I have long, thick curly hair and this tool is amazing!
Dry shampoo
When you want to spend more time on exploring than getting ready, dry shampoo is a must and this pairs nicely with the all-in-one hair tool listed above for a combination of useful travel gifts. I've personally tried dozens of dry shampoos but this one is without a doubt my favorite.
I like it because it doesn't leave white residue in my hair.
Available in both a travel size and a full size, Klorane Dry Shampoo uses oat milk and other organic ingredients.
Carry On
Travel Guides
We love travel guides. You never know the quality of internet connectivity you'll get in a foreign country or in remote places in the U.S. (looking at you, Montana.)
For us, it's a no-brainer to take along a guide with you. Even if you only use it for a few of your travel days, if you are exploring, it's nice to have a trusted resource with you. And it's good reading material on your lengthy plane ride.
For us, we almost exclusively use Rick Steves when traveling to Europe. Rick's travel guides are informative and packed with incredible information (and some wit and charm, too). Specifically, for Paris and Rome, his guides gave us deeper insights into the most popular tourist attractions and even to some off-the-beaten-path places too.
Shop now for Rick Steve Guide on Amazon
For non-Europe Travel, we rely on Moon Guide books. These are typically written by locals who have first-hand knowledge of the area.
Shop now for all Moon Guide books on Amazon
If you are worried that these useful travel gifts will take up too much space and weigh you down, you can always purchase the Kindle version for a smartphone or tablet.
Power bank/solar power chargers
When we travel, we typically leave first thing in the morning and don't come back until after dinner, so keeping our cell phones charged is top of mind (screen time for pictures, videos, navigation, and research adds up).
We have found that the 4Patriots solar power panel does the trick and is one of our most useful travel gifts.
It's water-resistant, has 2 USB charging ports for both of our cell phones, and is compact for easy traveling. While there are numerous solar power chargers on the market, we specifically use 4Patriots since it's a family-owned, American company based out of Nashville, Tennessee.
If you know us, we always try to support local so this is an added perk when trying to find useful travel gifts to give!
Phone holder for tray tables
The SkyClip is one of the travel accessories we never board a plane without. We travel a lot, specifically over 90,000 miles in the air (since we started tracking it), and having a mounted cell phone holder makes a world of difference (pun intended) when you are flying the friendly skies.
Easily attaching to most seat-back tray tables, the clip allows you to have your phone near eye level without having to hold it. For longer flights, this is absolutely essential for helping with your posture and avoiding potential neck strain.
An added bonus, the SkyClip on Amazon is sold in a 2-pack making this an ideal travel gift for couples.
Convertible Neck pillow
We've all seen neck pillows, but we aren't here to tell you why a neck pillow is one of the most essential and useful travel gifts. We are here to tell you why this JML 3 in 1 CONVERTIBLE Travel Pillow should be the king of all neck pillows.
We stumbled on this convertible neck pillow a few years ago and it's made all the difference when we travel. As a neck pillow, it's great for sleeping on an airplane. But what makes this even better is that you can convert it into a small pillow which is fantastic for back support or as an additional pillow for sleeping on a bed.
I like to have a pillow between my legs when I sleep and this convertible pillow has more functionality beyond a traditional neck pillow (which doesn't convert). Added bonus, this pillow comes with ear plugs and nightshades!
Collapsible water bottles
Having a water bottle when you travel is essential. Having a collapsible water bottle that can fit neatly into an overstuffed bag is one of the useful travel gifts that everyone needs.
In case you didn't know this, you can take empty water bottles through airport security and fill it up on the other side, saving $4 on the overpriced, plastic water bottles you'll buy after passing through security.
The nice thing about these collapsible bottles is that when you are done, you can collapse them back down and carry on (haha!) with your trip.
We personally use the Nomader Collapsible Water Bottle and love it. We've never had any issues with leaks and it collapses easily. The one thing we'll mention is that it does have a bit of a funky rubber taste for the first couple of uses, but after that, it's just fine. Our tip would be to squeeze a lemon in your first use to help.
Another great option is this Special Made Collapsible water bottle. Sold in a 2 pack, this is a great gift for travel couples.
Selfie stick – tripod combo
Sure, selfie sticks have a negative stigma around them for many reasons (safety, narcissism, etc.), but we are here to say these gadgets can be remarkably useful travel gifts, especially when you are traveling alone or in more remote places.
While we don't whip out the selfie stick for every photo op, we find ourselves using it when there is no one else around to lend a helping hand. Our selfie stick also moonlights as an extendable tripod, making it a great way to take a selfie from much further away to capture the entire landscape.
Even better, our selfie stick has a wireless remote so we can take those hard-to-get pictures without worrying about being in place when the timer goes off.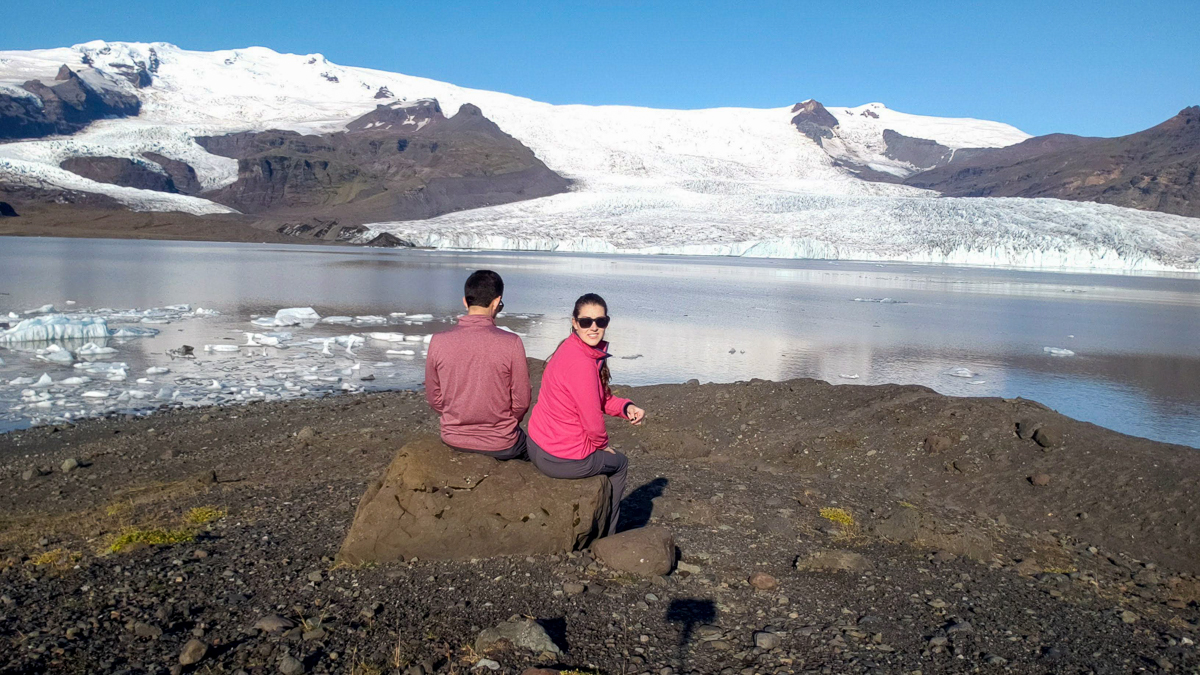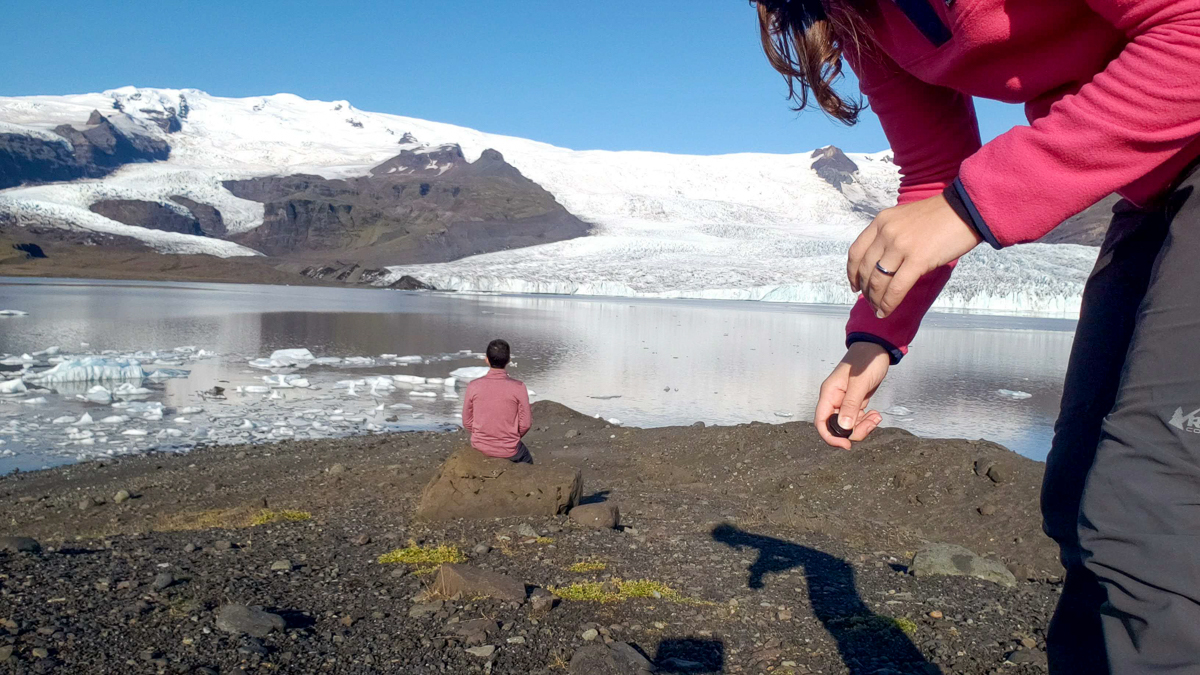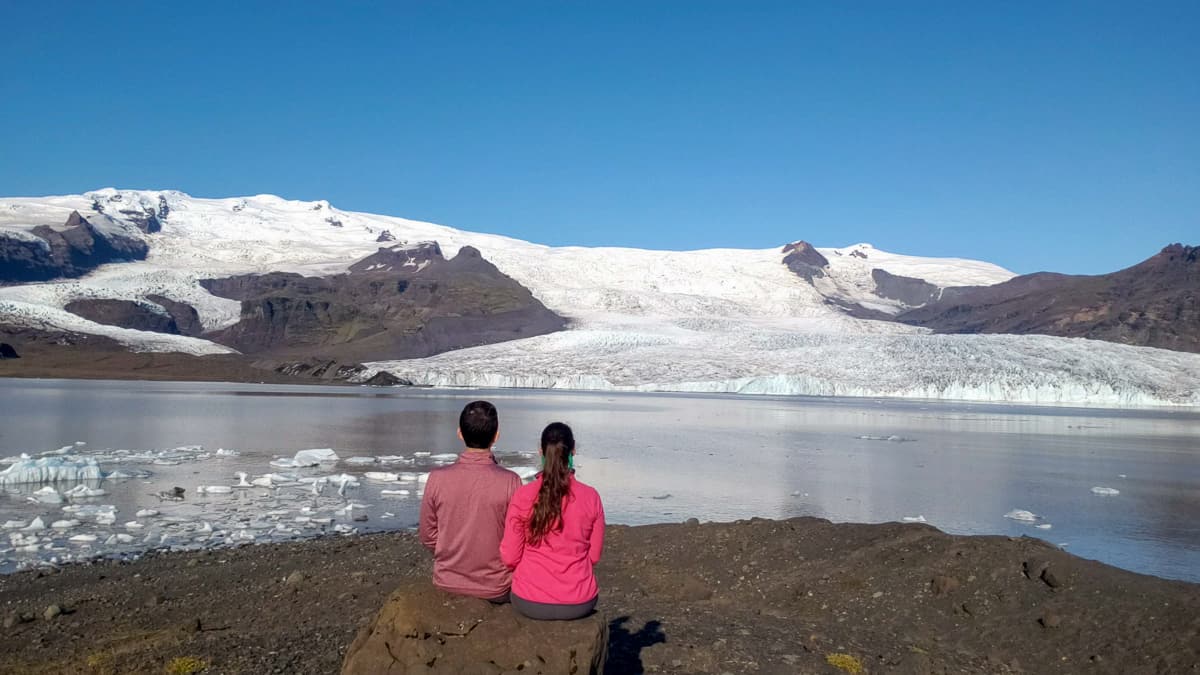 See above for proof of the "great" photos we've taken from Iceland with our selfie stick remote (we eventually got the hang of it).
Passport holder/wallet
We'll be 100% honest, we don't use passport holders/covers, but we use a passport wallet. Let's talk about the differences quickly.
A passport holder is simply a cover that is used to protect your passport and avoid damaging the document.
A passport wallet is an all-encompassing place you can store your essentials when you travel. If you ask us, we would rank the passport wallet higher on our list of useful travel gifts.
Keeping all of your travel documents, passport(s), money, and tickets in one place is easier to use and can help with your organization of sensitive documents. We use Zoppen Multi-purpose Rfid Blocking Travel Passport Wallet that is pictured above.
In this new world we are all living in, vaccine cards are a must when traveling out of the country so having it with your passport isn't a bad idea.
While we haven't left the country yet, we would consider purchasing one of these for when we travel next: TIGARI Travel Wallet Passport and Vaccine Card Holder Combo
Anti-theft purse
90% of the time, you won't need an anti-theft purse. However, we always like the added peace of mind knowing that our bags have an additional layer of security. These purses aren't the most stylish, so don't expect to win any fashion awards.
These bags are slash-resistant and have interlocking compartments, making it harder to be entered quickly. Most of them have a built-in organizer which eliminates the need for your full travel wallet during the day time. You can pick and choose what you take with you and cut down on the weight you carry around.
Our preferred brand for anti-theft bags is Travelon and we have a couple different bags from them. Chris doesn't mind wearing the messenger bag (it's a satchel, not a purse!) so these can be considered useful travel gifts for both men and women.
Check the most current prices on Amazon:
Travel wedding bands
Piggybacking on the anti-purse theft gift above, we ALWAYS take plain travel wedding bands with us.
There are a couple of reasons why we suggest purchasing plain wedding bands.
1. Blending in and not sticking out in the crowd.
It goes without saying that if you aren't standing out, your odds of being targeted are less, and this includes jewelry. Depending on where you are traveling, you might consider leaving your diamond wedding rings at home and opt for a simple band.
While we personally have not been victims of theft during travel (knock on wood), we have friends that have been the unlucky ones when they were being a bit too flashy.
2. You don't care if you lose it.
If you are backpacking in the wilderness, the last thing you want to do is lose your wedding ring. Having a cheap band means you can focus on your hike or snorkeling and not worry about jewelry.
We both leave our expensive shit at home and wear cheap bands when we travel.
Check current prices on Amazon for cheap wedding bands here:
Travel adapters
The worst thing in travel is getting to a foreign place and realizing you can't charge your phone, camera or even worse, use your all-in-one hair tool!
While the EPICKA Universal Travel Adapter can be a bit bulky, they have all the different adaptations for worldwide travel so no matter where you end up, you can keep your batteries charged.
Regardless of where your traveler is going, this should be near the top of the list of most useful travel gifts as it can be used anywhere there is an outlet!
Waterproof bag/phone case
If your traveler is going somewhere to be near the water, a waterproof accessory is one of the most useful travel gifts you can buy!
Despite most smartphones claiming to be some level of "water resistant", nothing can ruin a vacation quite like a waterlogged phone. For that reason, having a waterproof pouch for a cell phone is key.
We use the Universal Waterproof Case, Waterproof Phone Pouch which holds the largest of the smartphones on the market right now.
If you are unsure if your traveler will need to keep more than a phone dry, we suggest gifting a floating waterproof dry bag.
We used this Marchway bag on our booze cruise in Thailand and we were able to really enjoy the day knowing our high tech gadgets and wallets were safe and dry.
Check current prices on Amazon: MARCHWAY Floating Waterproof Dry Bag
Work Gear
Portable Monitors
This might be the best / most useful travel gift you can give a digital nomad. Both of us have mobile monitors which plug right in to your laptop or surface tablet.
Living full time in the RV, we don't have the space to have a regular monitor for work so this AOC Portable Monitor does the trick when we need two screens.
Our only complaint is you need to be extra fragile with the plug on the back of the monitor. It can get loose and stop working if you yank the cord out too hard.
Car Travel
Car Phone Holder
With most states having some sort of hands-free driving law in place now, one of the most useful travel gifts we've received was our phone holder for the car. The iOttie Dashboard & Windshield Car Mount holder allows us to utilize navigation safely and easily and even make quick phone calls on Bluetooth/speaker.
And this set up sure beats the hassle and danger of looking down at your lap or center console for turn-by-turn directions. Our families are well aware that we need useful travel gifts since we are gone more often than we are home and they really nailed it with this car mount. It actually works and doesn't drop our phones. We've been using ours for over 2 years now!
Car organizer
With the rise of road trips, having an organized car when on the road is not only helpful, but essential. Car organizers are useful travel gifts since more people are traveling in cars and most people have a large amount of stuff they just can't road trip without.
We personally love the ones that hang on the back of the seat so it doesn't take up room on the floor or in the trunk.
For our car, we use the Helteko Backseat Car Organizer. We typically carry some hiking accessories, such as bug spray and sunblock, but also store other essentials like a first aid kit, wine bottle openers, and koozies too. Always be prepared!
All-weather mats
Weather mats in a car can save the interior from damage or mud and dirt that is tracked in. We take our little car off-roading sometimes to access trail heads (or wineries) and we love our all-weather mats to help keep the car clean.
Our car has Motor Trend Universal Mats which can be cut to fit the floor of most makes and models. These mats are durable and are super easy to take out of the car, shake out, rinse down, and put back in before your next adventure.
Booze Travel gifts
Cocktail airplane sets
While consuming your own alcohol that you bring onboard a plane is illegal (nobody wants unruly passengers who end up going viral online), you can certainly bring along your own cocktail kits that may be more versatile (and tastier) than a canned cocktail or your standard rum and Coke from the beverage cart.
These 4 Piece Cocktail Kits come with everything you need, except for the booze of course, to be your own master bartender at 30,000 feet. You can find all sorts of different cocktail varieties to suit your fancy.
These useful travel gifts are also great for a nightcap on the ground at your hotel/Airbnb that doesn't have a bar nearby.
Liquid IV – Hydration Multiplier
If you haven't heard of Liquid IV yet, your life is about to change. This might top the list of MOST USEFUL TRAVEL GIFTS EVER. It might be the most useful product ever, not solely travel-related.
While this product deserves an entire novel, Liquid IV is our new favorite hangover cure. It's hard to explain, but this packet of magic somehow miraculously reduces or eliminates hangovers for us 90% of the time.
Without going into the boring science of it, you mix a packet into 16 oz of water. Drink it and Voila! – minimal hangover side effects. This pairs nicely with the collapsible water bottle listed above.
Our favorite flavor is tangerine, but with over 30 flavors, you can decide on your own favorite flavor.
Wine/beer suitcases
In case you didn't know this, there are people in this world that choose to drink local booze on their travels and want to bring home that booze to share with their loved ones. Giving the gift of a booze-carrying suitcase can prove to be one of the most fruitful and useful travel gifts on the market.
What better way to ensure that you get to sample local beer or wine from foreign lands than giving the gift that brings the booze home?
Forget those astronomical overseas shipping prices.
Wine and beer luggage is the gift that keeps on giving!
These suitcases are hard-sided on the outside with individual padded sections on the inside which protects your precious cargo from the perils of air travel and being tossed around by the baggage folks.
If you're looking for useful travel gifts for someone who is also a wine aficionado or beer connoisseur, look no further than the luggage gifts below.
Reusable wine sleeves/protectors
Think the wine suitcase is a little too much? Only want to bring home a bottle or two?
We don't judge, we've been there and done that.
That's where these reusable wine sleeves come in handy. The sleeves act just like a bunch of bubble wrap but they are designed and shaped perfectly for your wine bottles (and liquor and beer, too).
These useful travel gifts are also leakproof, so if another bag just happens to land on top of yours on the baggage claim line, your adult grape juice won't explode all over your luggage (and maybe you can still drink the wine out of the bag – again, we don't judge).
Did we mention these are also made in the U.S.A.?
Whether your traveler is experienced or just starting out, these ideas for useful travel gifts are things we personally own, love, and use on a regular basis. For long flights or road trips, there are some great travel lover gifts on this list that are both practical and thoughtful.
No matter the type of trip, the accessories make all the difference and these useful travel gifts are sure to please.