The Complete Guide to an Awesome Bachelorette Party in Scottsdale, Arizona
Known for its luxury resorts, upscale shopping centers, and fine dining, a bachelorette party in Scottsdale is the perfect place to celebrate before you say "I do". Scottsdale is a thriving city within the greater Phoenix area and it's one of the fastest-growing cities in the US. With all of its attractions, it's not hard to see why!
Activities in Scottsdale include heading to the Scottsdale Arts District to check out the various exhibits, heading to the desert for a hike, going to Old Town Scottsdale to experience the feel of the American West, relaxing at one of the best spas in the country, and much more!
Psst: We have a bunch of guides for Arizona. See the most popular posts below:
This post was originally published in June 2022, and was updated in March 2023.
**Boozing Abroad contains affiliate links throughout the site. If you choose to purchase items through these links, we will earn a small commission at NO extra cost to you. Read the full disclosure policy here**
Map of Scottsdale
Click the interactive map below!
HOW TO USE THIS MAP: To view the layers and see the names of the places on this map, click the tab in the top left corner. You can select the check marks to show or hide certain layers. If you select the icons on the map, you will get more information about the point of interest.
HOW TO SAVE THIS MAP: If you select the star icon next to the map name, you can save this map to your Google Maps account. To view it, open Google Maps in desktop or on your phone, select the menu button, go to "Your Places," scroll to the right to Maps, and you will see this map.
When to Go to Scottsdale for a bachelorette party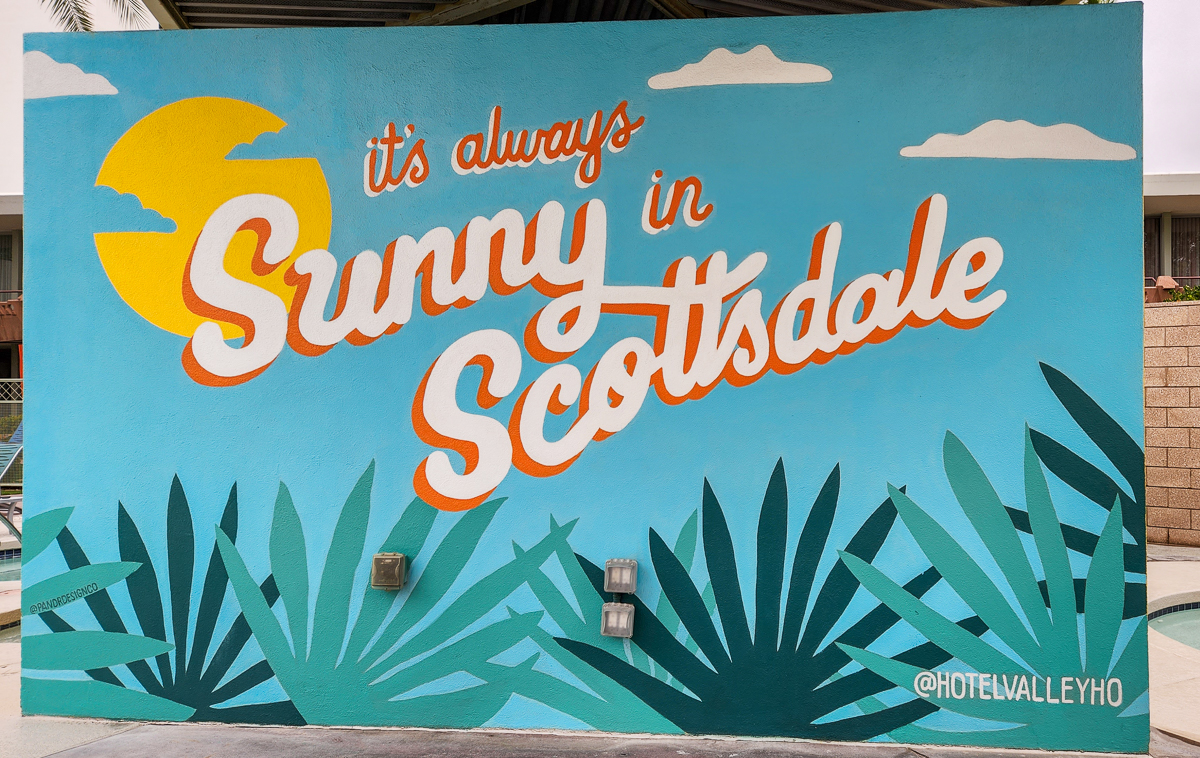 One of the best times to visit Scottsdale is during the spring (March through May) since the weather is moderate which allows for a more comfortable experience while enjoying the numerous outdoor activities.
April is generally considered the best time to visit during the spring since the temperature ranges from the 50s to 80s and it's also not that busy.
We've visited in the fall (October to early November), which is also very moderate temperatures. Like springtime, fall offers great weather and fewer tourists, which results in cheaper hotel prices.
We recommend visiting before the end of November since that's when the snowbirds descend on the Scottsdale area to escape their cold winters (we'd know as we are those people).
While summer can get extremely hot (110+ degrees!), it can still be a decent time to visit depending on what you're looking to do.
Pool parties start in early April, so summer can be a good time to visit if you plan to spend most of your Scottsdale bachelorette party in the pool.
Also, keep in mind that hotels lower their prices during the summertime. Just tell your bachelorette party when it's 100+ degrees, "Yes, but it's a DRY heat." LOL
How to get there?
Getting to Scottsdale is quite easy since Phoenix Sky Harbor Airport (PHX) has 20 airlines that fly to and from over 100 domestic destinations and over 20 international destinations.
Besides providing great service and being labeled one of the friendliest airports in America, Sky Harbor also offers plenty of things to do right inside the airport. There are plenty of shops, restaurants, and lounges. There's even a sensory room if you're feeling overwhelmed!
Sky Harbor also offers rental cars, taxis, shuttles, and plenty of ride-sharing options so you can get to your hotel quickly.
Where to stay
Booking.com probably has the widest selection of budget (and luxury) accommodations in the world. In our experience, they consistently found the cheapest rooms. We also like their easy to use interface and no money down policy. When we book our travel stays, we personally use booking.com.
Hotel Valley Ho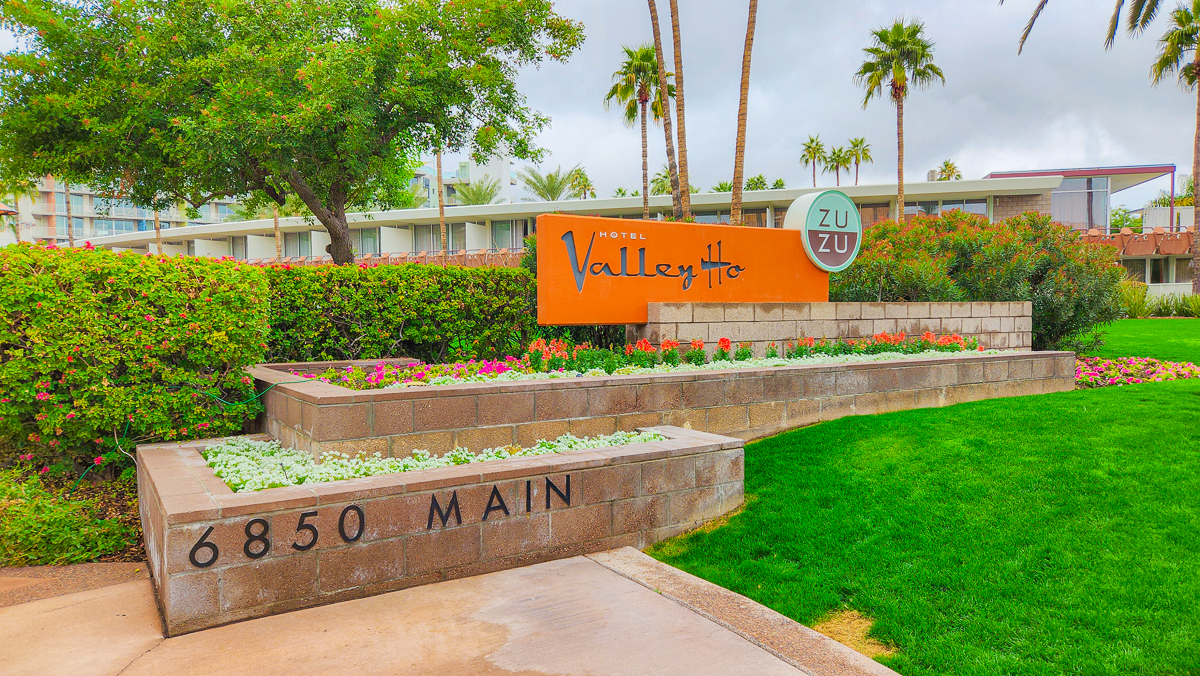 Hotel Valley Ho features a bold, colorful, and vintage look while still having plenty of modern facilities and amenities, creating the perfect mix of vintage and contemporary.
Hotel Valley Ho is located off Main Street in Old Town Scottsdale so it's close to many attractions, including restaurants, shopping and bars.
All rooms come equipped with air conditioning, a flat-screen TV, a desk, and a mini-fridge for all your leftovers. The hotel also offers a wide range of amenities like a spa, a fitness center, two pools, free WiFi, and a restaurant that serves American cuisine all day long.
>> Check current prices or availability here
Hotel Adeline
Hotel Adeline is a bold and stylish hotel known for its great atmosphere, exciting pool parties, and affordable prices. The hotel is about 5 minutes away from Old Town Scottsdale.
However, what really stands out about Hotel Adeline are the amenities, most notably the pool, which is 3,000 square feet with a bar, bottle service, and private cabanas.
The pool party, Liquid Sunshine, features live DJs and amazing vibes, making it the perfect place to celebrate your bachelorette party in Scottsdale.
Other amenities include a whiskey bar, a restaurant that serves Mediterranean cuisine, a fitness room, free WiFi, daily parking, and much more.
>> Check current prices or availability here
If these options don't tickle your fancy, click here to see all the hotel options.
Luxury options – W Scottsdale and Canopy by Hilton
You'll see these two hotels pop up a few separate times in this article for a few different reasons.
1 – Both of these hotels are in PRIME locations for bar hopping.
2 – They both have rooftop pools.
If you are gonna splurge, I'd suggest the W Scottsdale as the winner. Their poolside setups and the proximity to clubs/bars/restaurants is hard to beat.
The Canopy by Hilton also has a rooftop bar on the 7th floor which is perfect for sunsets (keep reading).
VRBO and Cabana Boys
Hear me out on why you might want to opt for a private house. We all know VRBO and Airbnb are great options for people who want to stay somewhere other than a hotel AND save some cash.
But, you probably haven't heard about the Cabana Boys.
Have you ever dreamt of laying poolside being waited on by a strapping man?! (I know I have).
Cabana Boys makes this dream a reality (seriously)! For a minimum of 2 hours, two delicious men will become your own private bartenders attending to your bride's (and bachelorette's) needs.
From being a Spotify DJ to taking the best photos and keeping the pool area tidy, this is a perfect service to really enjoy the hot Arizona weather.
Ready to see how EPIC* this bachelorette party can be? Check out the Cabana Boys here.
(*Note, these men are NOT escorts or strippers.)
How to get around
Uber/Lyft
Uber and Lyft are fast and efficient ways to get around Scottsdale, and both services are extremely easy to use. Just download the app and then enter your payment information and location.
An Uber or Lyft driver will typically pick you up within 10 minutes. The driver will take you to wherever you need to go and when you're done, you can request another Uber to go home, which is a great option for when you've been drinking during your bachelorette party in Scottsdale.
Walk
Because of the close distance between attractions, Old Town Scottsdale is the perfect place to walk and enjoy the warm Arizona sun.
We recommend taking a few hours and walking to the various parks, restaurants, bars, shopping centers, and galleries in the area. Not only is walking a fun way to explore the city, but you'll also get some fresh air and exercise.
Where to eat
Diego Pops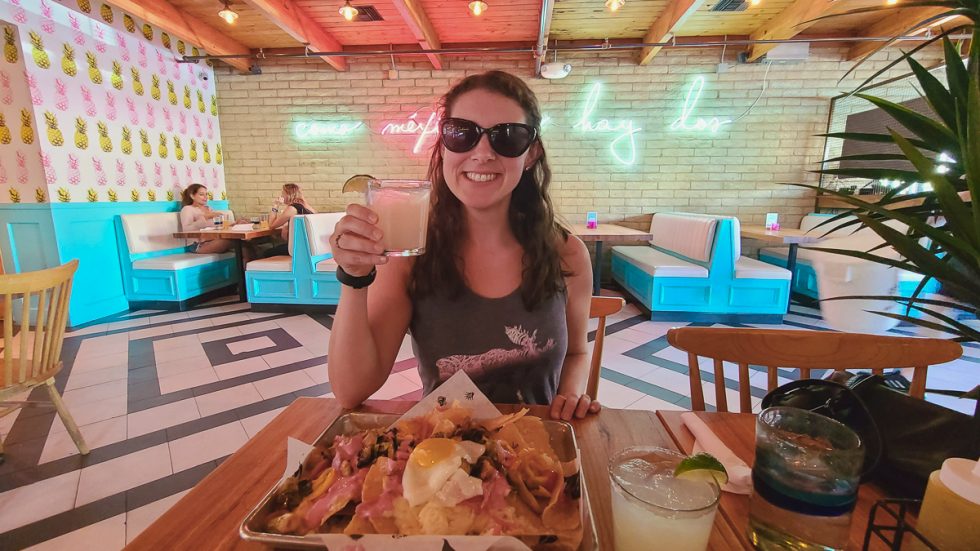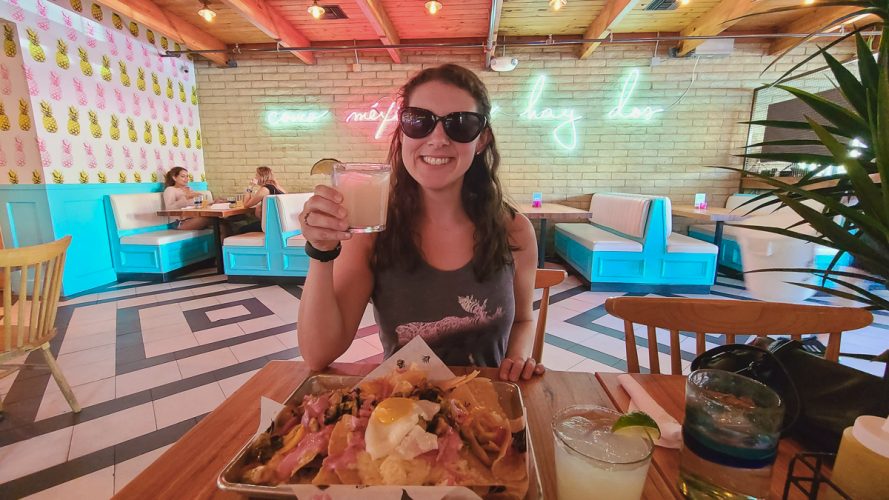 Diego Pops is a restaurant that serves Mexican food with a twist. Diego Pops offers a fun and laid-back atmosphere where you can sit back and talk to your friends while enjoying a drink during your bachelorette party in Scottsdale.
The menu includes tacos, taco bowls, salads, burritos, and plenty of appetizers and sides. The drink menu includes margaritas, beer, wine, champagne, and more.
Be sure to stop by for happy hour which happens every single day from 3-6pm and includes plenty of specials like 50% off appetizers, $4 beers, $5 margaritas, and $6 wine.
You can eat inside Diego Pops, which features vibrant and funky décor, or on the outdoor patio which offers more of a relaxing vibe with string lights and lots of greenery.
The Montauk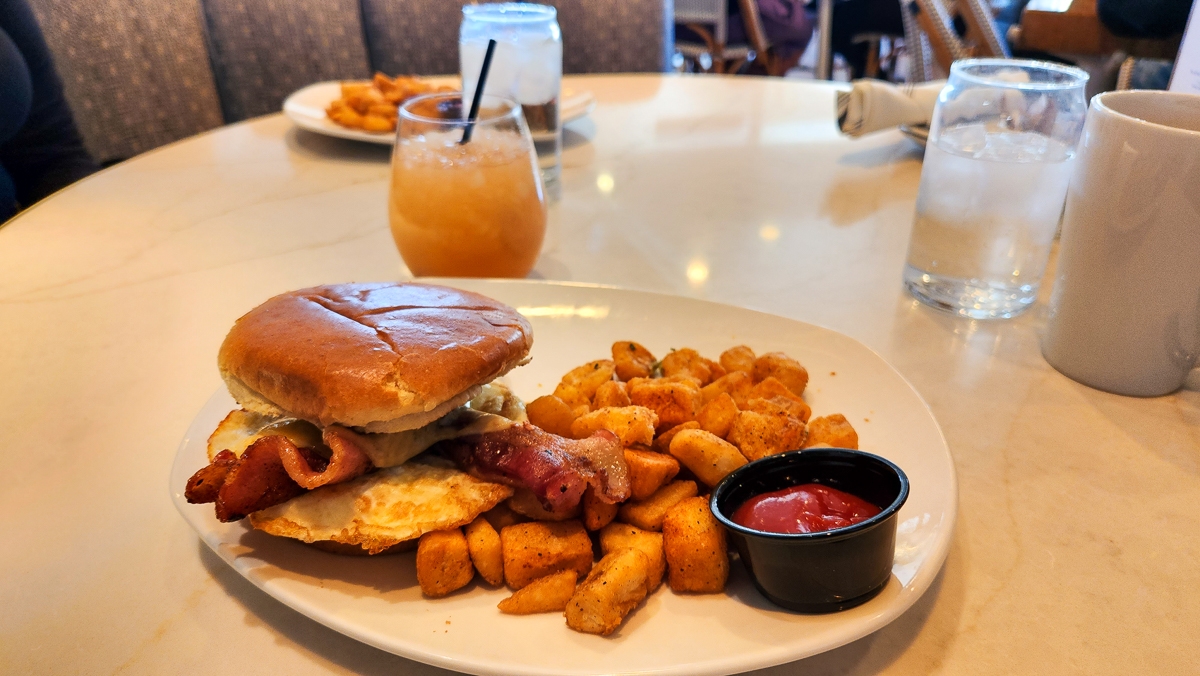 The Montauk is a beach-inspired restaurant that's known for its laid-back vibes and delicious American food.
One of the best parts about The Montauk is the atmosphere. The interior is nautical-themed with wood floors, walls, and ceilings, plus tons of boat décor. There's a comfortable lounge inside and an outdoor patio outside, where you can sometimes listen to live music and enjoy other events.
The Montauk is mostly known for its brunch, which includes things like bowls, burritos, sandwiches, and more.
However, The Montauk also offers a large dinner menu, including pasta, sandwiches, salads, bowls, and more. The drink menu is great as well, offering a variety of many different drinks like beer, wine, champagne, and cocktails.
Olive & Ivy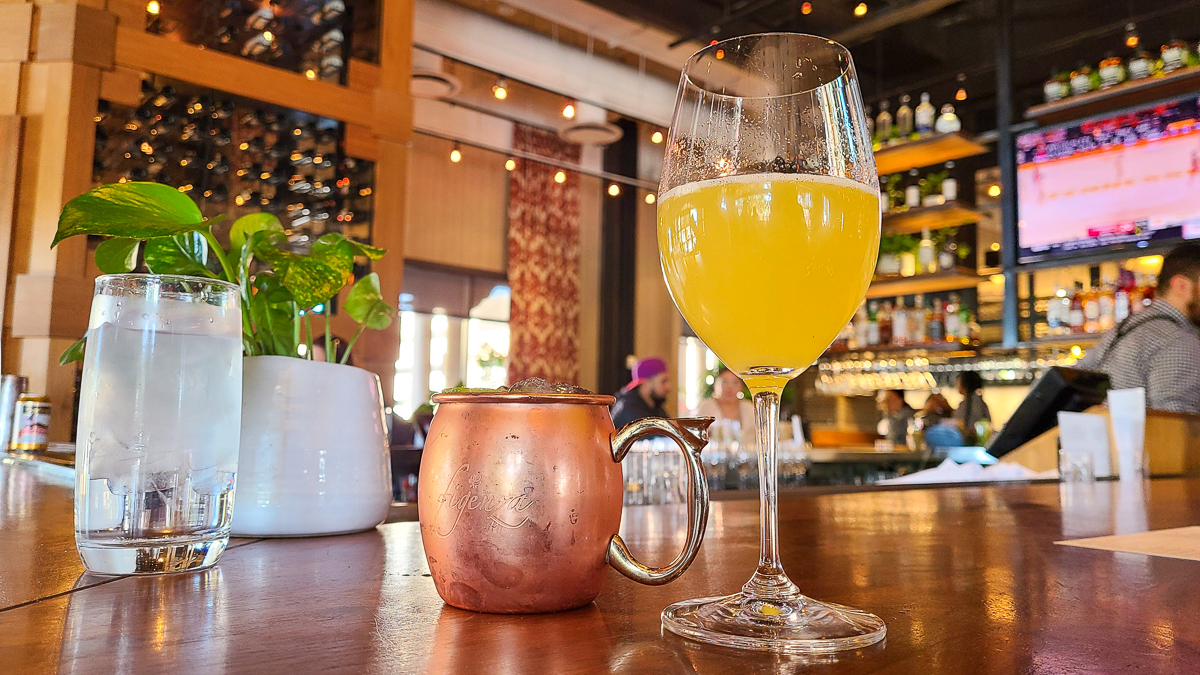 Located along the Arizona Canal in Old Town Scottsdale, Olive & Ivy offers patrons a massive dining room with gorgeous canal views when dining outdoors.
For a bachelorette party, there is a private indoor dining room surrounded by glass with floor-to-ceiling drapery and elegant white chandeliers.
Inside their main dining area is a beautiful wood U-shaped bar backdropped by a floating shelf of bottles and, naturally, ivy.
For the brunch scene, you'll get the choice of both breakfast and lunch options with brunch-ready cocktails to kick off your bar hopping in the area. Complete with a "bottle and bar" option, you can grab a bottle of bubbles and create your own mimosa bar at your table.
If you are looking for a unique cocktail that is refreshing, try the Fig and Ginger Mule.
While we can't speak to dinner, I can tell you that the breakfast was superb and the breakfast sandwiches were filling, but very light and delicious.
Prep & Pastry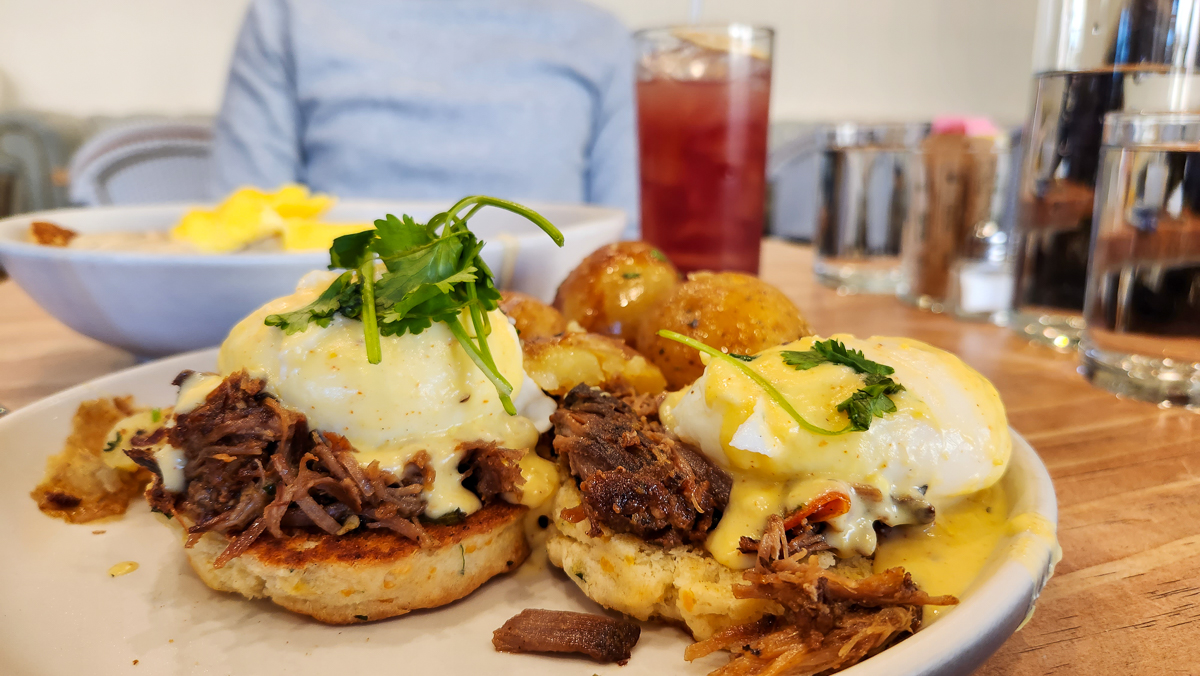 Prep & Pastry is a chic restaurant that serves delicious breakfast, brunch, lunch, pastries, and drinks.
The interior of the restaurant is clean and calm with a gray and white color scheme and splashes of color throughout the space.
However, and as you would hope, the best part about Prep & Pastry is the food. The brunch menu includes sandwiches, omelets, toast, pancakes, and more. For lunch, you can enjoy sandwiches, burgers, and more. Be sure to check out the drink menu as well for cocktails, mimosas, wine, beer, and non-alcoholic options like tea, coffee, and juice.
Farm and Craft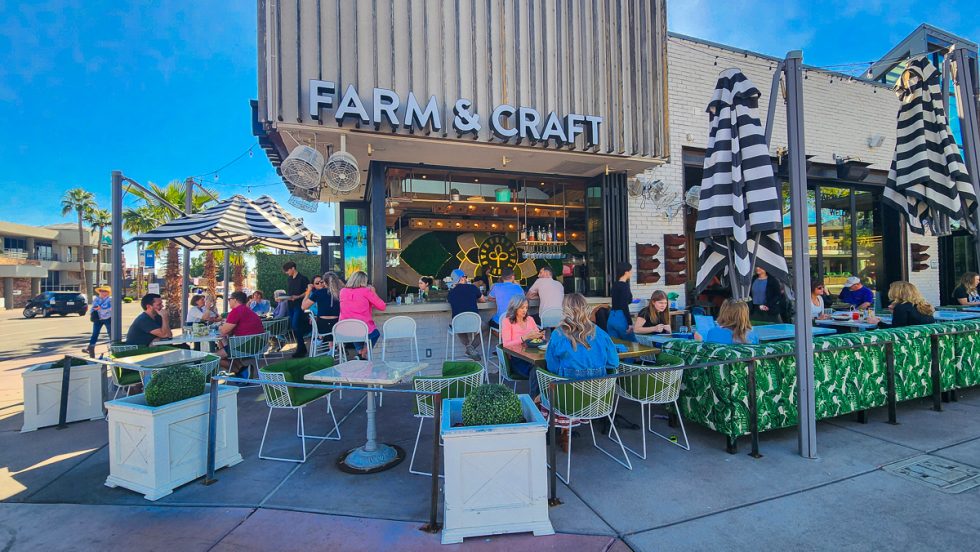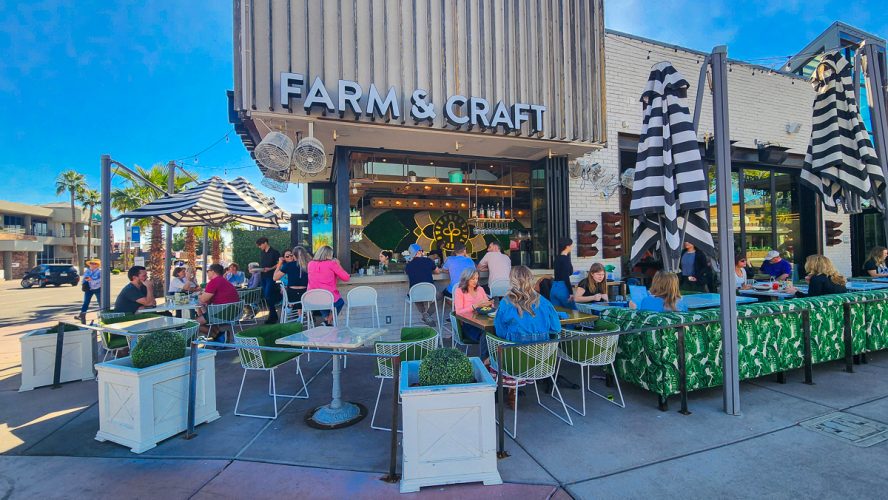 If you want to stay healthy during your bachelorette party in Scottsdale, Farm and Craft is the place to go. This casual restaurant focuses on serving tasty dishes that are made without gluten or hormones, and are 100% organic.
Farm and Craft serves brunch, lunch, dinner, and drinks. The menu includes protein pancakes, power salads, veggie lasagna, and much more. For drinks, you can choose from a variety of cocktails, beer, wine, and more.
Maple & Ash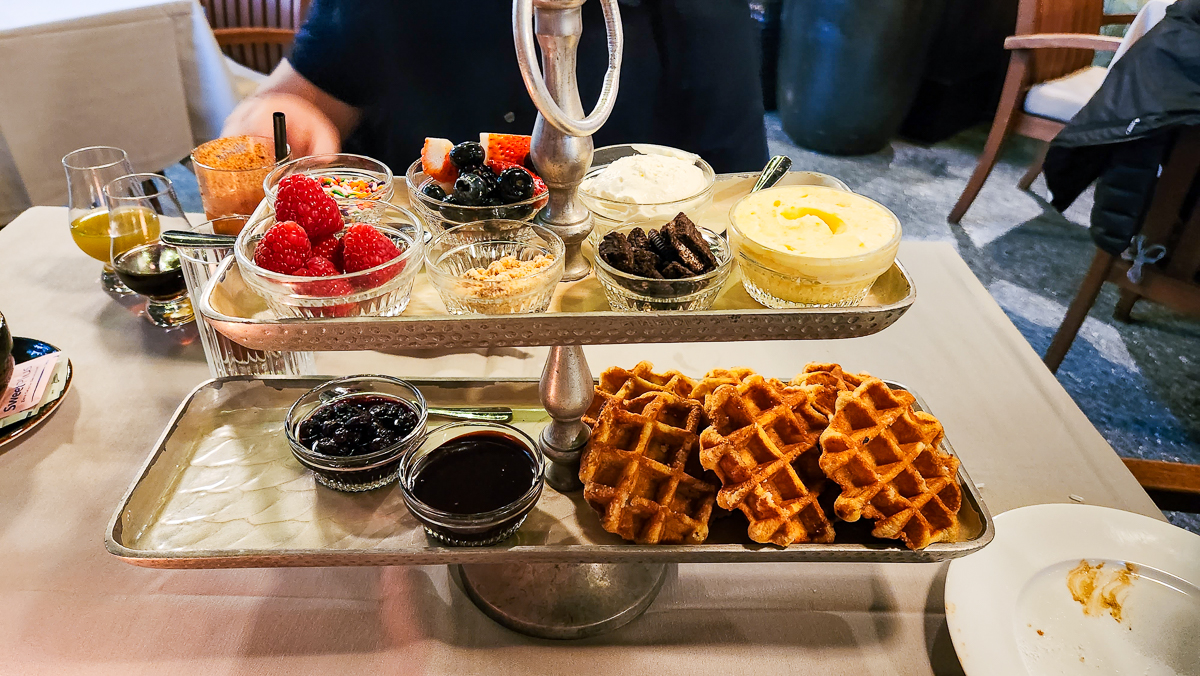 Maple & Ash is the perfect place to go if you're looking for a fancy dinner or brunch with your girlfriends during your Scottsdale bachelorette party. This elegant steakhouse is known for its wood-fired dishes and extensive wine list.
The dinner menu is full of tasty and exciting dishes like a fire-roasted seafood tower, salads, caviar, and of course, wood-fired steaks.
For brunch, the restaurant offers dishes like Lobster and Prawn Hash, Alaskan King Crab Eggs Benedict, Fire Roasted Filet Mignon, and a waffle tower (pictured above).
However, the best thing about Maple & Ash is the wine list, which is even considered "one of the most outstanding in the world."
The list includes hundreds of varieties of wine and champagne from around the world, and wine pairing is available as well. If you're not in the mood for wine, there's also a cocktail menu.
Craft 64 Scottsdale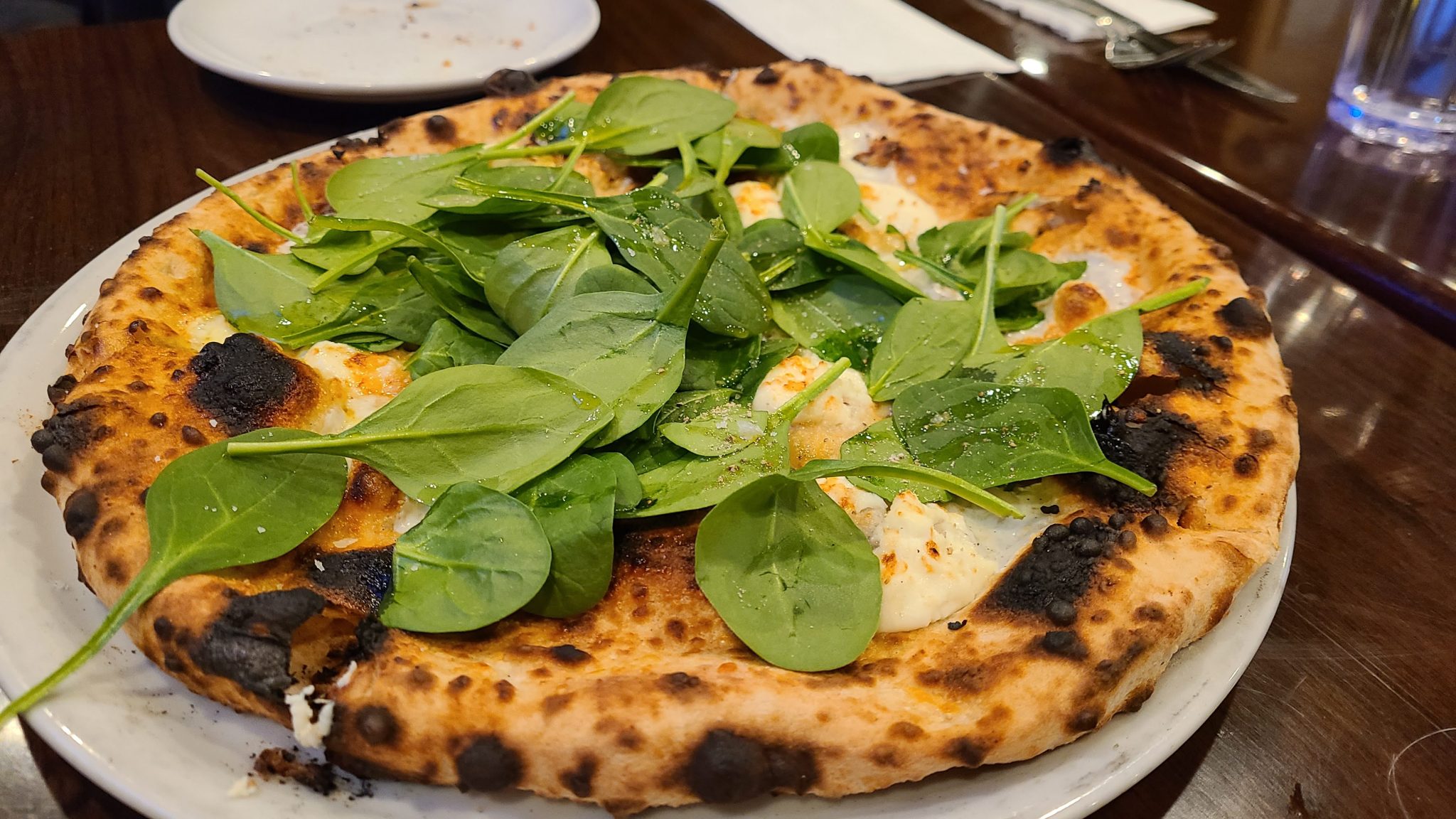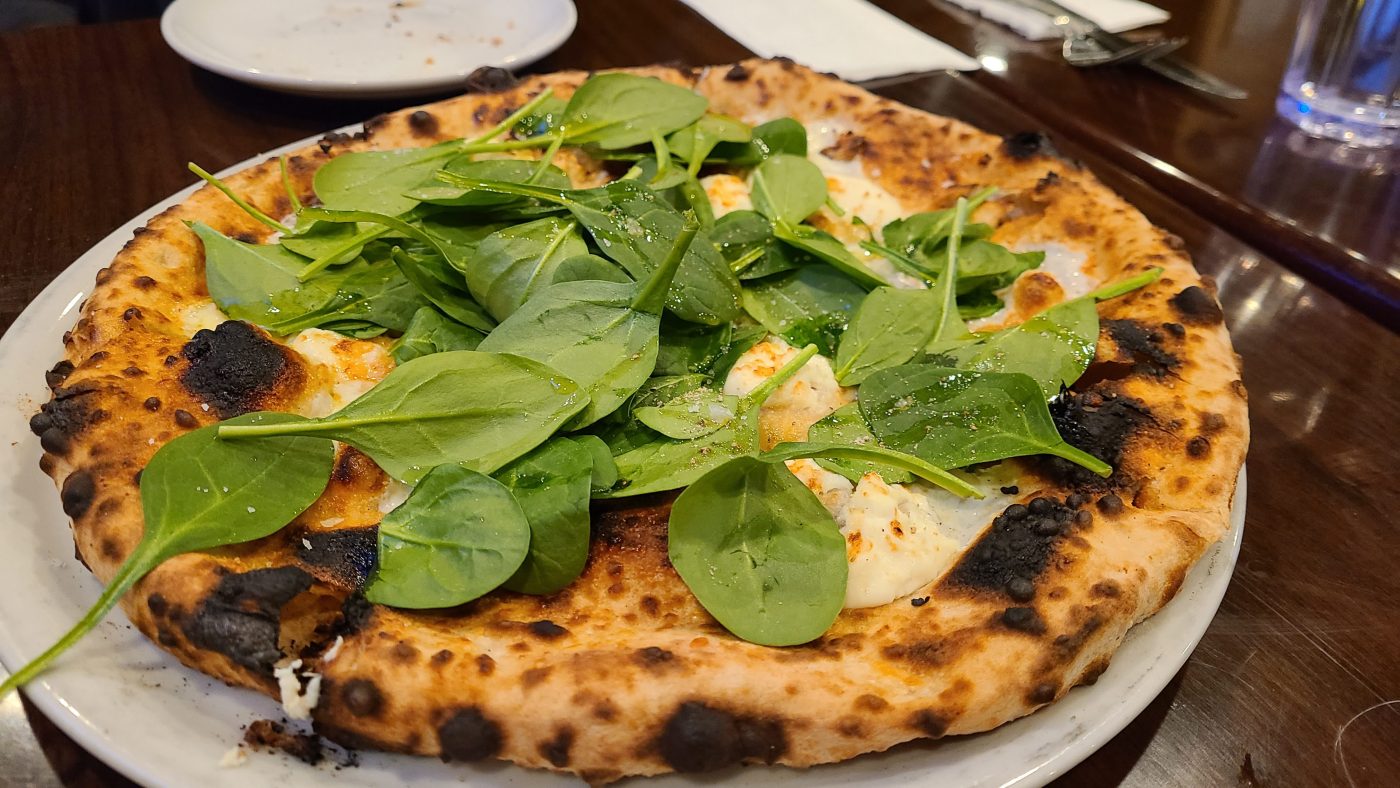 If you're looking for a casual place to relax and enjoy some pizza during your bachelorette party in Scottsdale, check out Craft 64 Scottsdale, a one-of-a-kind restaurant that makes their pizzas from scratch using wood-fired ovens from Italy.
They support local farmers by getting all of their ingredients from nearby farms, and they also support local breweries and wineries since most of their boozy options are made in Arizona.
The menu offers salad, charcuterie, bruschetta, and numerous different kinds of pizza with their own mozzarella that's made from scratch daily. For drinks, you can choose from a wide variety of cocktails, wine, beer, and a few non-alcoholic options.
Culinary Dropout (Scottsdale Waterfront)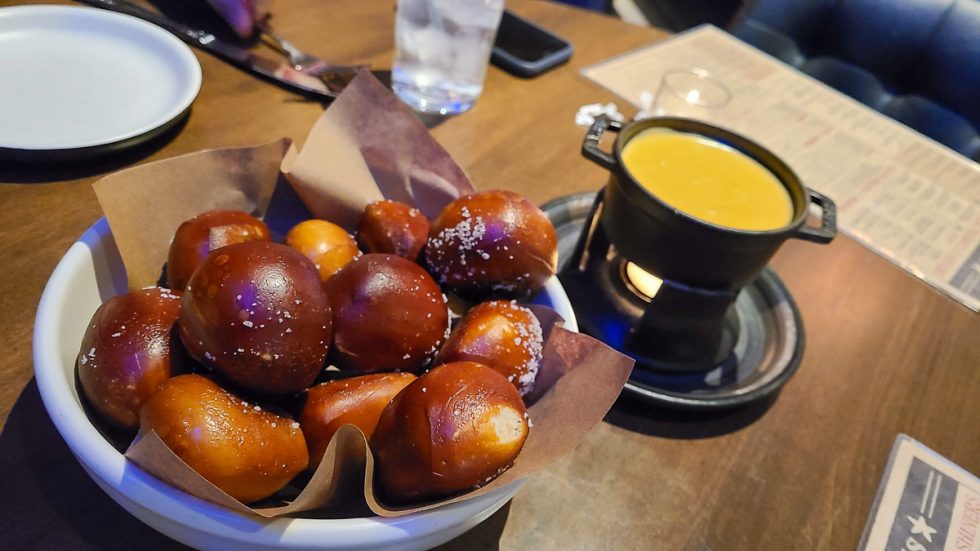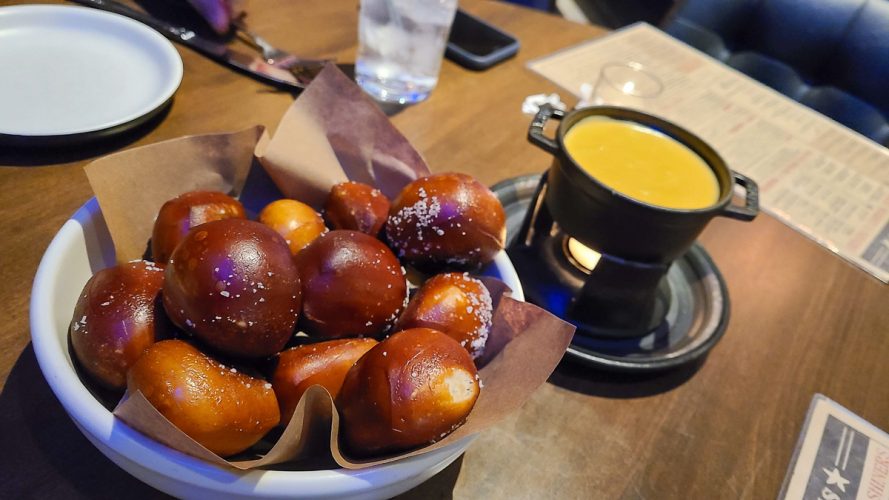 Culinary Dropout is the perfect place to go if you want to spend some time during your Scottsdale bachelorette party hanging out, listening to live music, and enjoying delicious comfort food.
The interior of Culinary Dropout is unique with colorful and patterned furniture, artwork displayed on every wall, large chandeliers, and numerous TVs. There's also a large outdoor patio where exciting events frequently happen like live music, games, yoga, and more.
The menu is full of classic American comfort foods like hot wings, burgers, pork ribs, meatloaf, and much more. Definitely make sure you get an order of the soft pretzels and provolone fondue! The drink menu includes a large selection of beer, cocktails, and wine.
Unbaked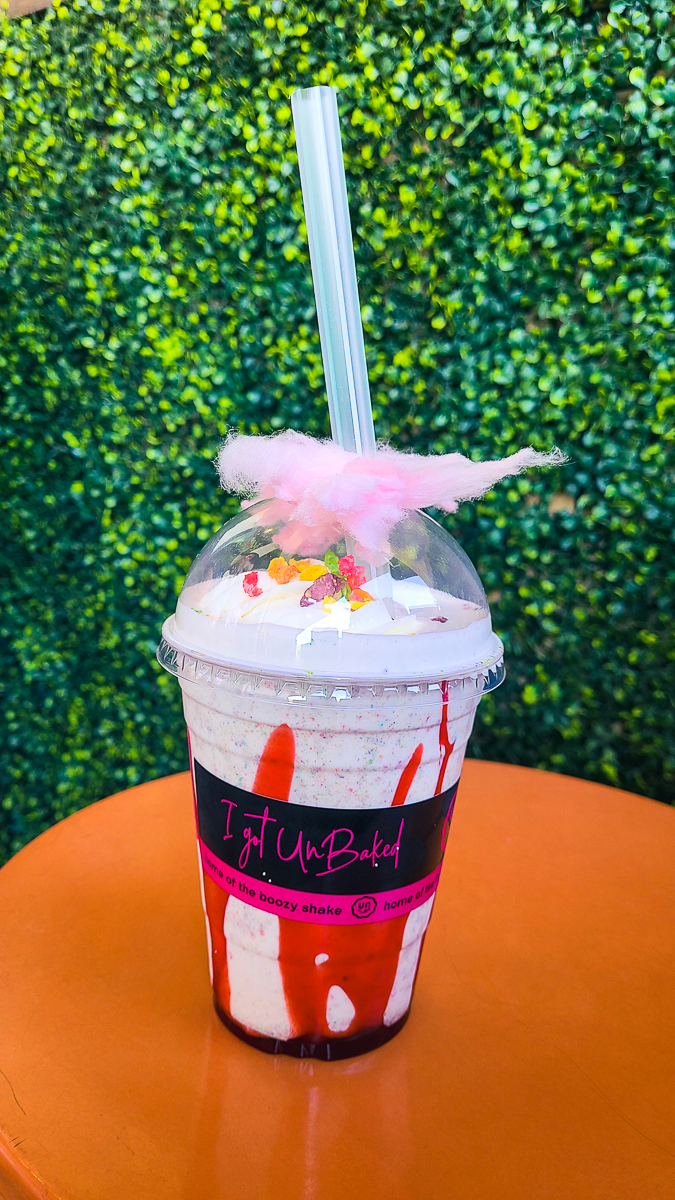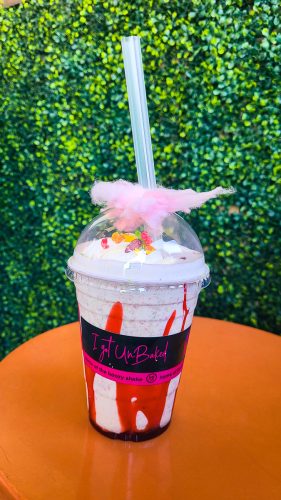 The bride getting HANGRY? Need a boozy treat?
Unbaked in Old Town is a unique dessert shop that offers edible cookie doughs and ice creams.
When we heard they offered boozy shakes, we knew that drinking local just got sweeter!
I've tried the classic Mudslide, which included cookies & cream cookie dough, vanilla ice cream, chocolate sauce, vodka, Irish Cream, and Kahlua.
I have also tried the Yabba Dabba Doozy which combined Funfetti cookie dough, Fruity Pebbles ice cream, strawberry sauce, Limoncello, and Whipped Cream Vodka.
Both yummy shakes were topped with cotton candy adorning the straw.
Needless to say, the shakes hit the spot and definitely were worth the dough (🍪 hehe).
Where to drink
Wine Girl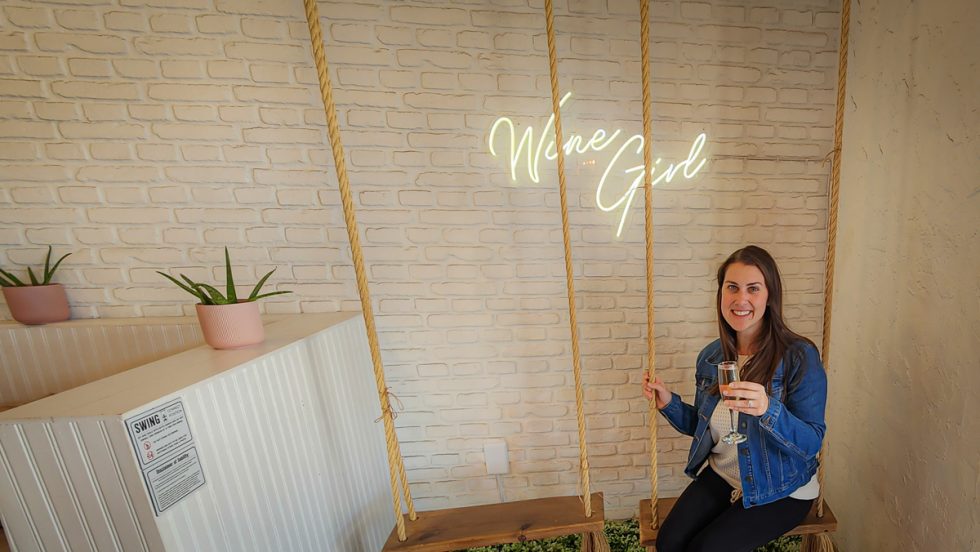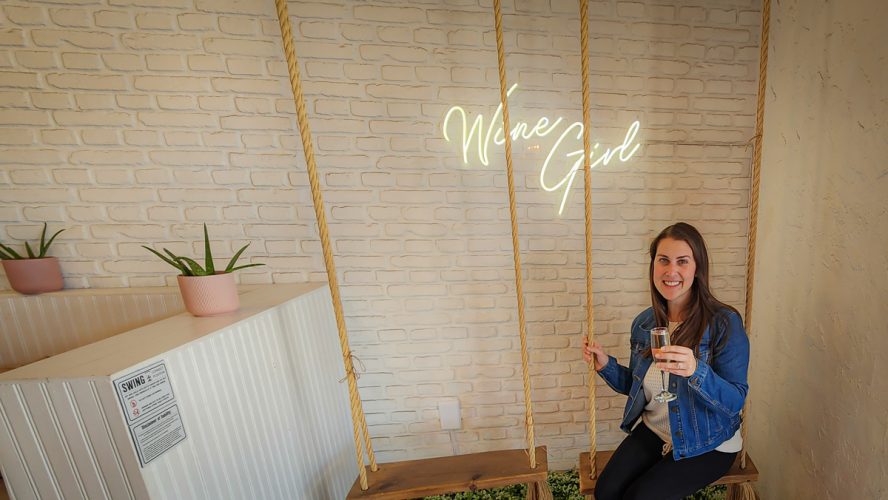 Wine Girl differs from other wine bars in that it's bright and airy with a boho-chic vibe, perfect for snapping a cute picture during your bachelorette party in Scottsdale!
You'll undoubtedly see it when you walk in, but if you don't get a picture on the Instagram-ready swing, then you didn't really bachelorette party in Scottsdale.
The bar features a large wine menu that consists of red and white wine from around the world. The wine comes in a variety of sizes from 3 oz to a whole bottle.
If you're feeling hungry, you can grab a bite to eat from the food menu which includes charcuterie boards, dips, and many different kinds of flatbread pizza.
Click here for our guide for Scottsdale wine bars.
The Beverly on Main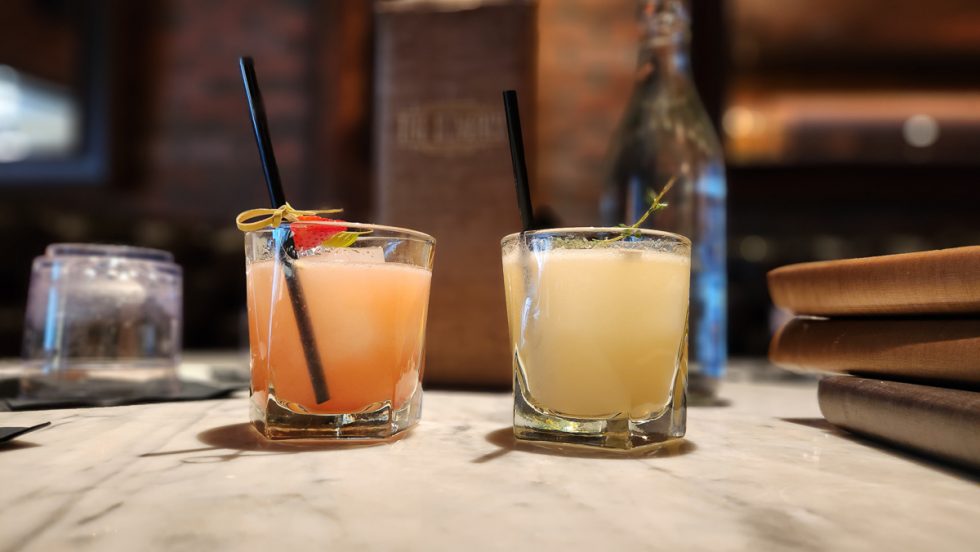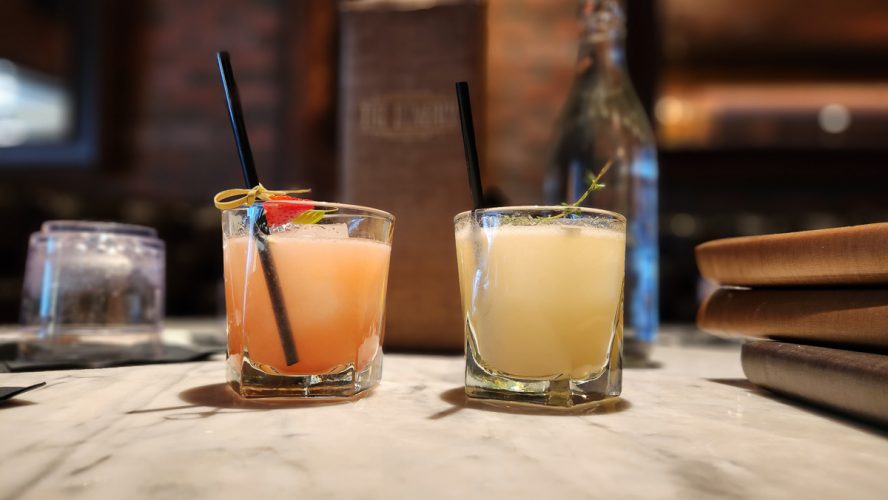 The Beverly is an upscale cocktail lounge on Main Street in Old Town (as you might guessed from the name). With plush leather booths and a diverse drink menu, this is a great stop for some classy drinks with your bachelorettes.
We suggest to save some cash and go during happy hour to take advantage of lower prices and some yummy food options. The servers can help you decide on a craft cocktail if you are feeling adventurous, or you can have a glass of wine or bubbles instead.
I personally had the truffle fries and margarita flatbread. It definitely hit the spot!
Canopy by Hilton – Outrider Rooftop Lounge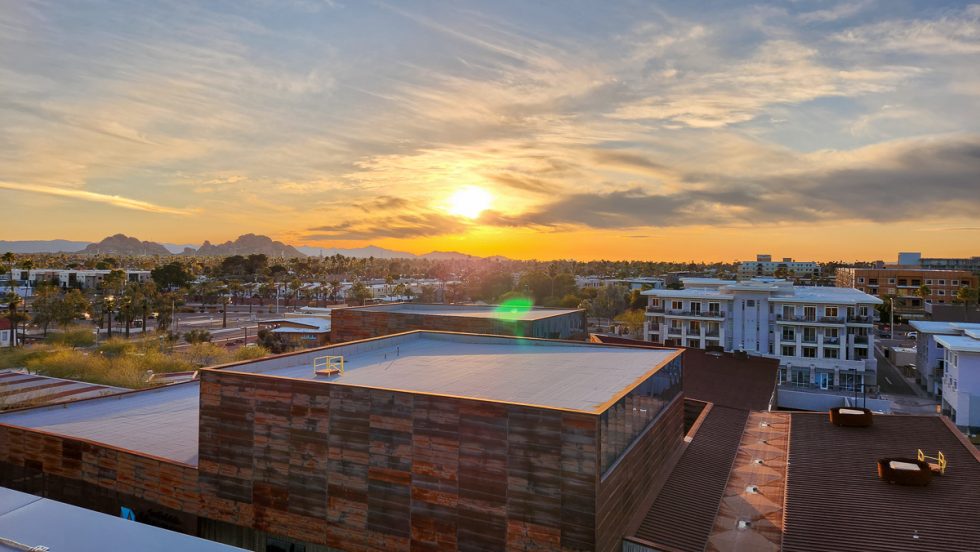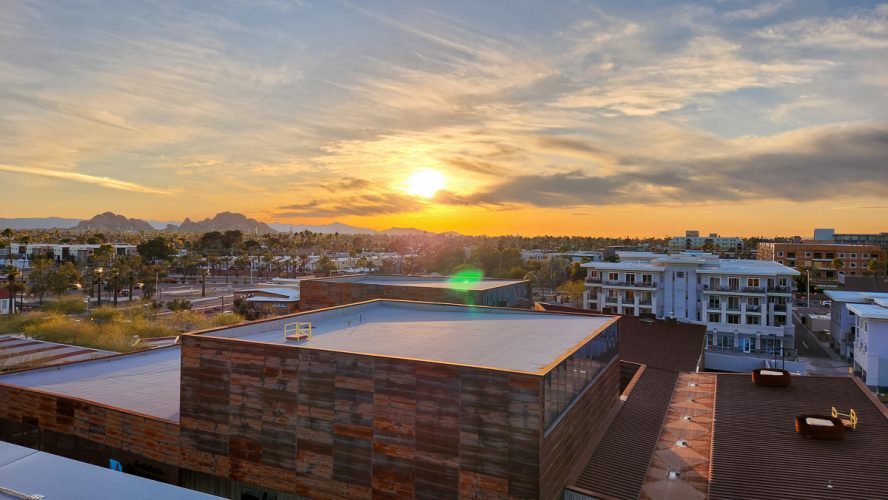 I will argue this with people: in Old Town Scottsdale, the Outrider Rooftop Lounge is the best rooftop.
A – It's the tallest (so it has the best views)
B – You can watch the sunset
C – You can reserve a cabana for sunset
For a bachelorette party in Scottsdale, you can NOT miss a sunset from the roof (weather pending obviously).
Offering a full bar menu and heavy hor d'overs, this bar will make you feel like you are bird soaring over the valley (if you've drank enough).
Or, at the very minimum, will take you to new heights (literally).
While we aren't officially locals, we've spent several winters in Scottsdale and we take family here when they come to visit.
If you want the best seats, I highly suggest making reservations, especially during peak season. In winter, there are heat lamps and fire pits, but the wind up on the roof can be fierce. Take a sweater.
The Grapevine Restaurant & Karaoke Bar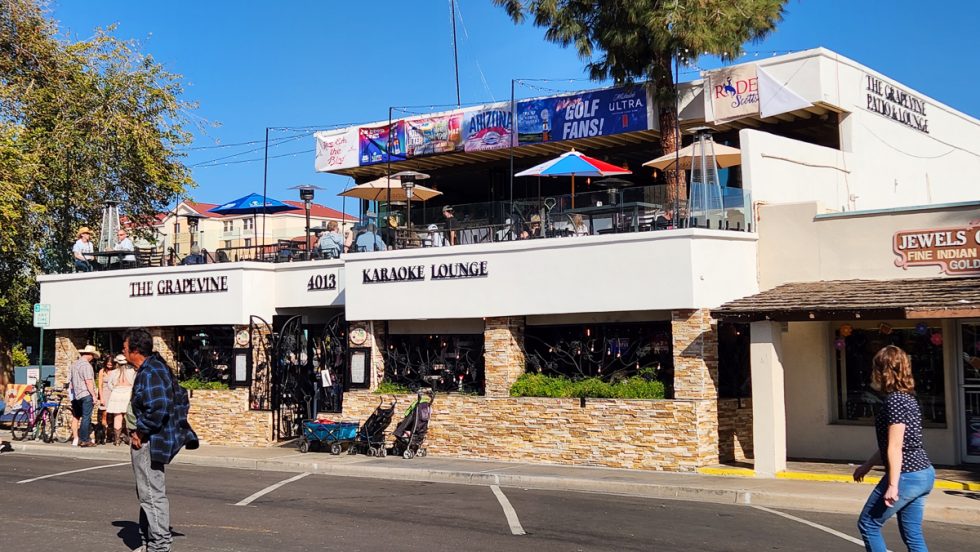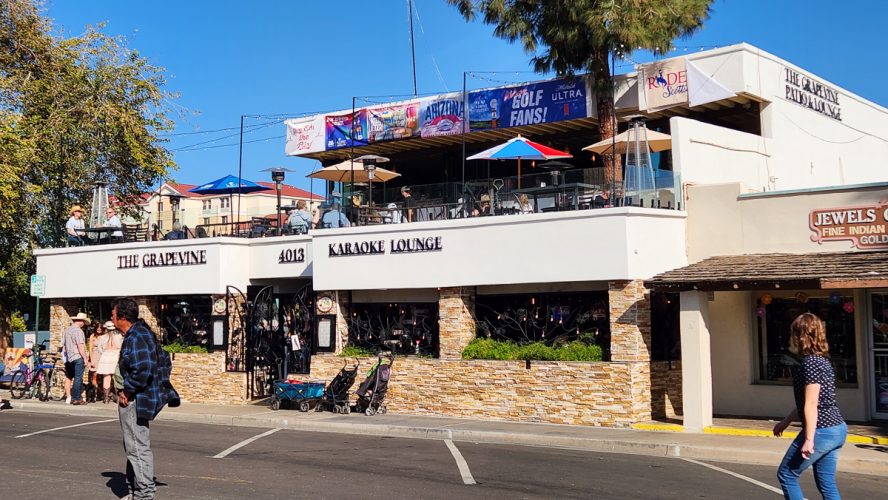 Your bachelorette party in Scottsdale wouldn't be complete without doing some karaoke! The Grapevine offers karaoke every single night and there are over 18,000 songs in all different genres to choose from.
And of course, you need a drink to go with your karaoke. Luckily, The Grapevine offers plenty of that: cocktails, beer (imports, cervezas, and domestic), seltzer, and wine. There are also a few different non-alcoholic options. Be sure to check out happy hour for reduced prices on appetizers and most drinks.
If you're feeling hungry, The Grapevine has a large menu with plenty of options like soups, salads, bowls, burgers, sandwiches, desserts, and entrees including broiled salmon, street tacos, chicken parmesan, and more.
Entertainment District
The next several bars I'm about to mention are in a block radius of each other and conveniently next to the W Scottsdale that was mentioned before in "Where to Stay".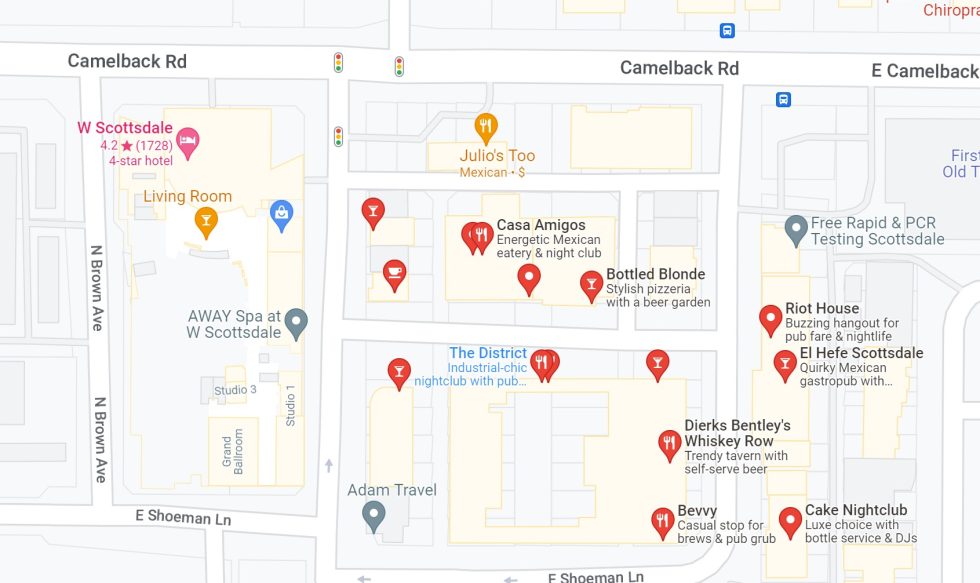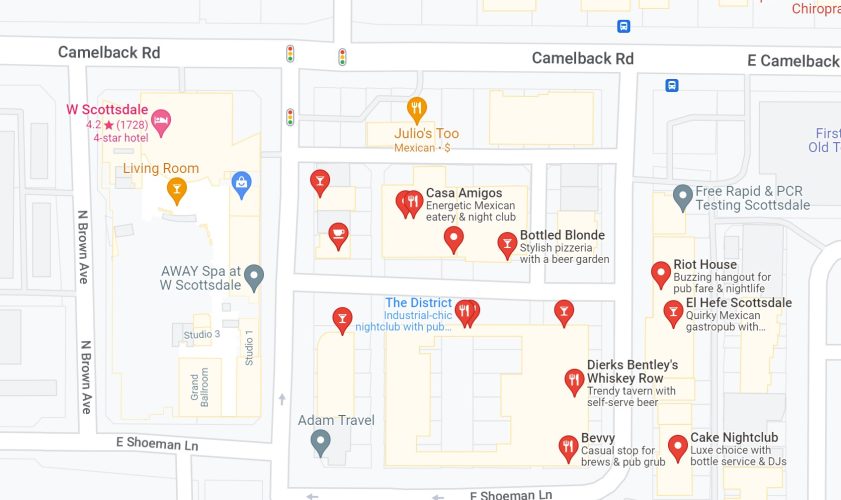 As you can see from the picture above, there is no shortage of bars and clubs in this area.
I genuinely believe that this section of Old Town Scottsdale was built for bachelorette parties!
While we didn't make it to them all, we heard great things about Casa Amigos and Cake Nightclub in addition to the ones described below.
Clubhouse at Maya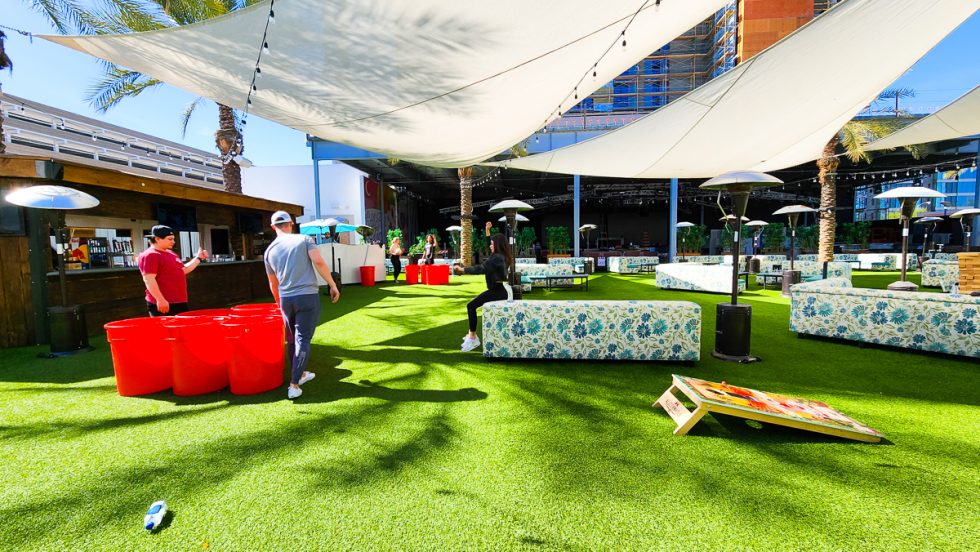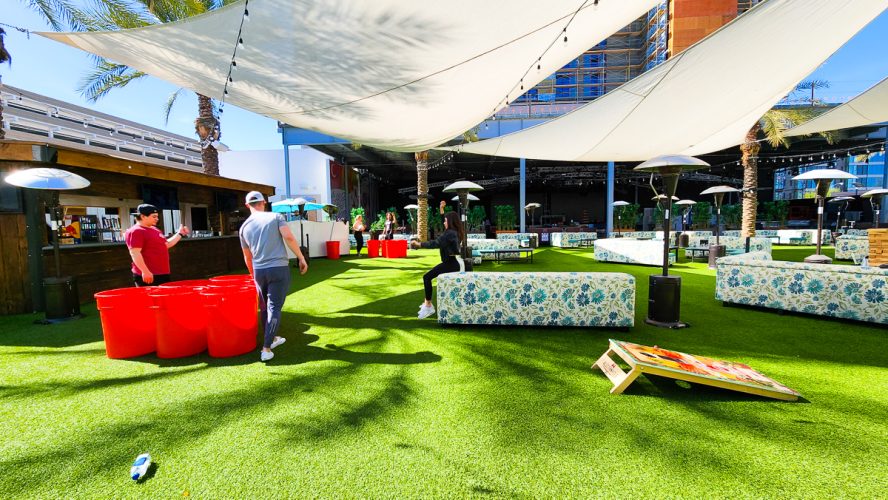 To say this place is an adult playground is an understatement.
The Clubhouse at Maya is a 20,000 square foot facility that offers bar seekers various outdoor/backyard activities. Both a day and night club, bachelorette parties in Scottsdale just got more epic.
From giant beer pong and cornhole to pool parties and a dance floor, this spot will keep you and your crew having fun all day long. Don't worry, there is also a bar menu for a quick bite to eat (or to soak up the bubbles). For more on their pool party, read on in the section below!
Whiskey Row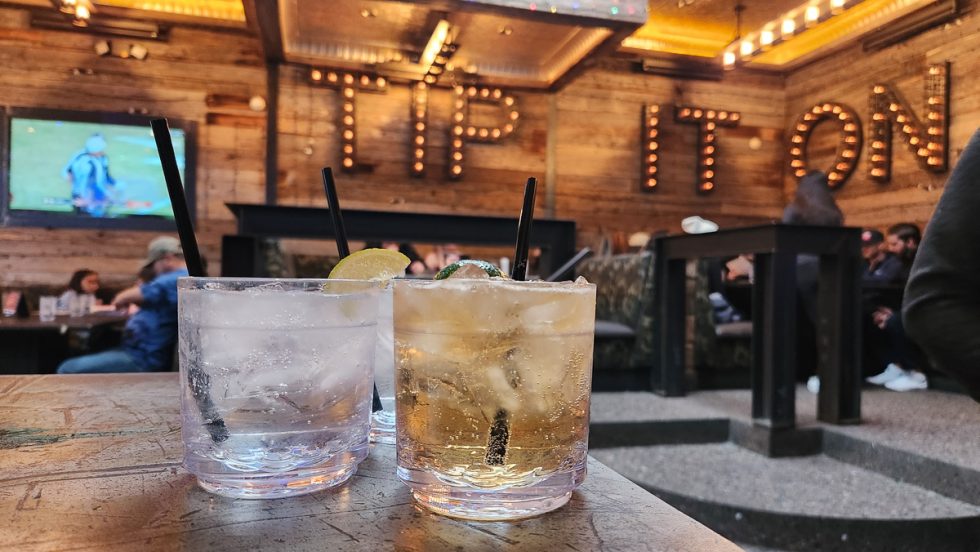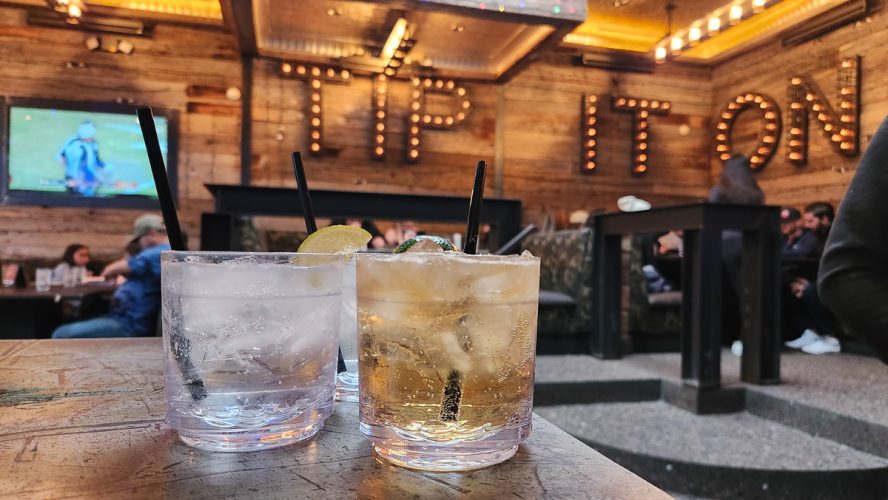 You might have heard of Whiskey Row if you've been to Nashville, TN. Country music star, Dierks Bently, launched his bar in Old Town Scottsdale and it's taken off like a smash hit!
With a mix of both live performances and DJs, Whiskey Row is is a popular country-themed bar and restaurant. Featuring multiple bars, indoor and outdoor seating, this bar caters to bachelor and bachelorette parties with bottle services and reserved spaces to throw down.
The bar offers a wide variety of craft beers, specialty cocktails, and of course, an extensive selection of whiskeys.
Check their website for the most up-to-date event info or to make a reservation.
Bottled Blonde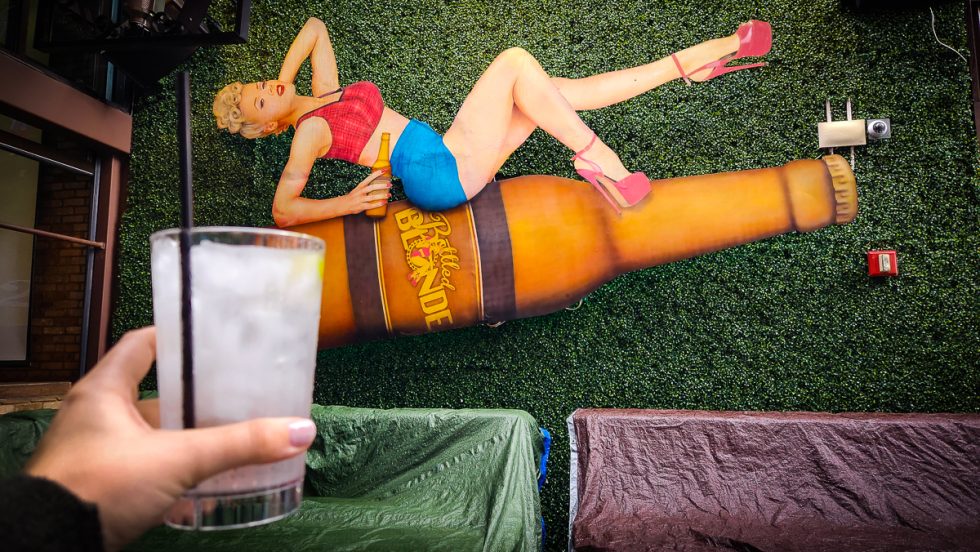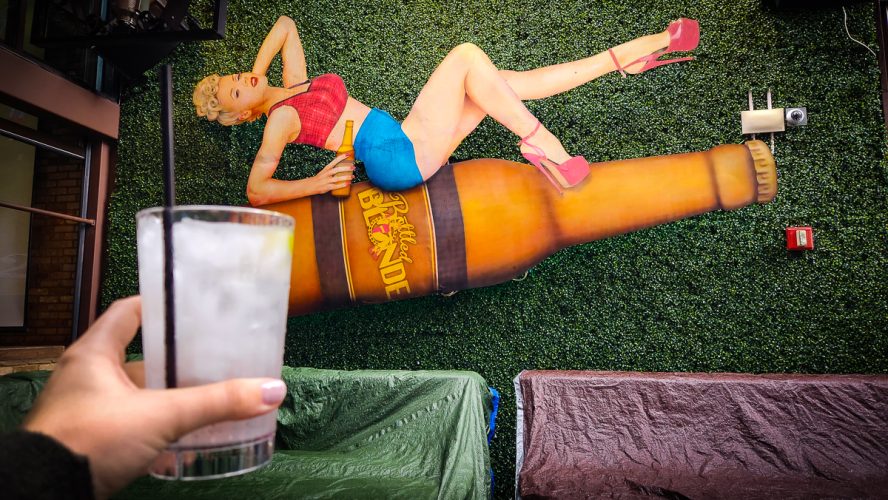 Bottled Blonde is a trendy bar and restaurant across from Clubhouse at Maya.
With a massive indoor area, a large outdoor patio with ample seating, and a rooftop bar overlooking the street below, Bottled Blonde is another spot for bachelorette parties in Scottsdale to venture to.
The bar has an industrial feel exposed brick walls and metal fixtures, but has an open air concept so you can enjoy the weather from inside.
The bar serves a wide selection of craft beers, cocktails, and wines, along with a menu of American and Italian-inspired cuisine. Signature dishes include wood-fired pizzas, charcuterie boards, and artisanal sandwiches.
What to do
Hike Camelback Mountain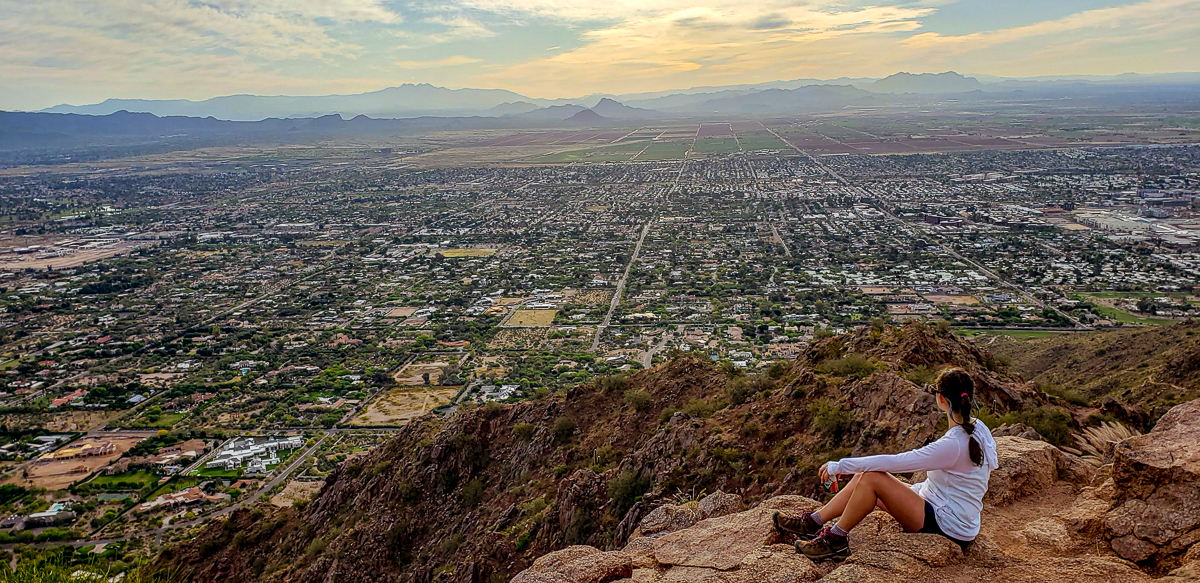 What better way to experience nature during your Scottsdale bachelorette party than going for a hike? Camelback Mountain consists of two rock formations that come together and resemble a camel's back, hence the name. The mountain is located only 10 minutes from Scottsdale and it's one of the most popular hikes in the area, attracting thousands of visitors every year.
Keep in mind that the hike is labeled as difficult due to it being steep and rocky, and you need to do some serious climbing (sometimes involving your hands) to reach the top. It can also get extremely hot during certain parts of the year because it's an exposed trail, so we recommend going early in the morning or after 5 pm.
However, the 360-degree views from the top of the mountain are worth it. You will probably see some wildlife during your hike as well, like lizards, desert tortoises, rabbits, snakes, and plenty of plant species. The trail is 2.5 miles long and takes roughly two hours to complete.
Pedal Pub Crawl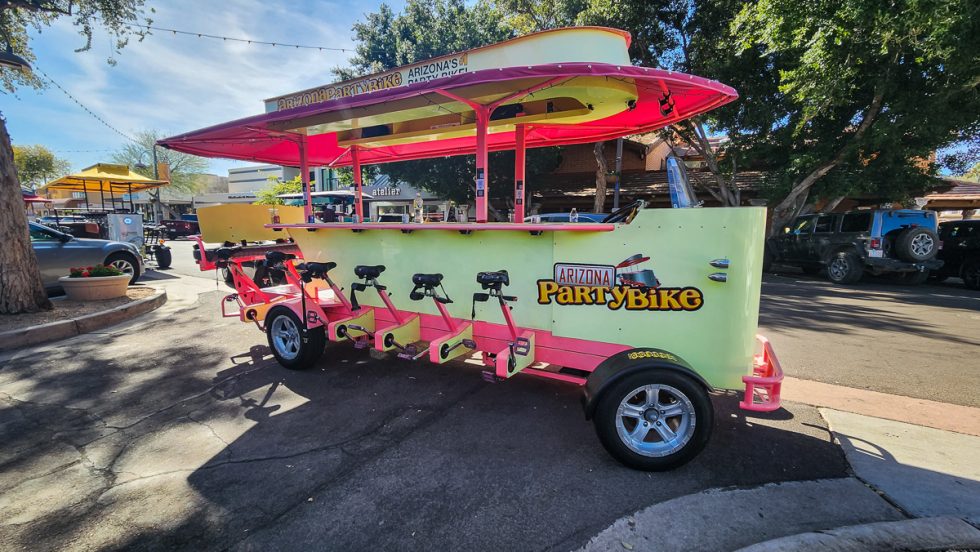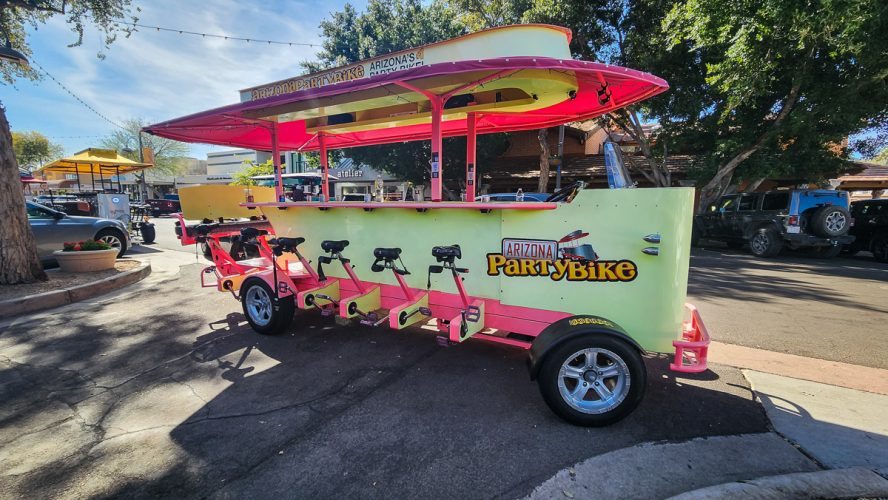 Rated the #1 Pedal Pub Crawl in Scottsdale, a pedal pub crawl with Arizona Party Bike is the perfect way to party with your friends during your Scottsdale bachelorette party.
There are two options to choose from. The first is the "Old Town Pub Crawl," where you and your friends can book your seats individually.
The second, and most popular, is the Private Group Party option, where you and your group (6-15 people; or rent out multiple bikes if more than 15 people) get the party bike to yourselves. Both options are two hours long and include LED party lights, a high-quality sound system, and drink specials.
Keep in mind that outside alcohol isn't allowed, but you can get drinks such as wine, beer, seltzers, and others from the Arizona Party Bike on-site store or you can pre-order it online and pick it up when you arrive.
Take a day trip to Sedona with Pink Jeep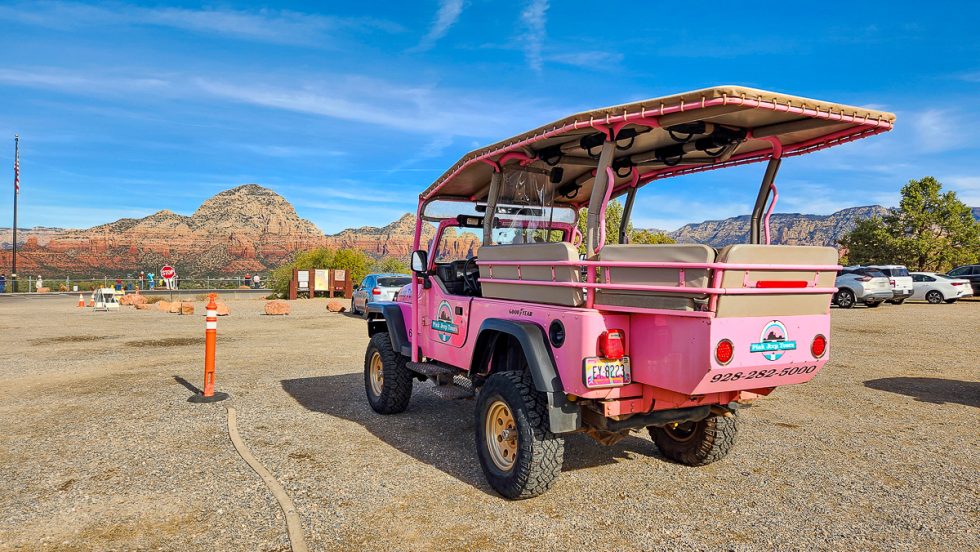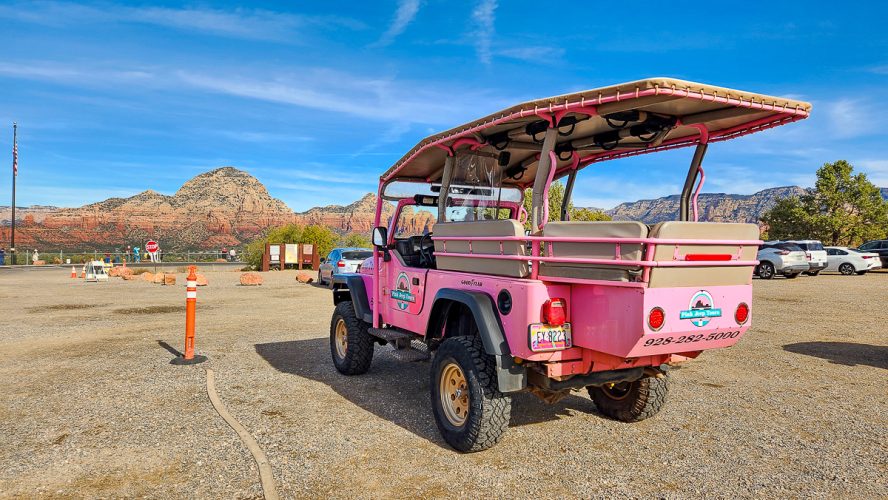 Since there are so many different beautiful cities in Arizona, why not check some of them out during your Scottsdale bachelorette party?
Located two hours from Scottsdale, Sedona is the perfect place to check out with Pink Jeep Adventure Tours. Sedona is known for red rock formations, tall canyons, pine forests, and a "Wild West" feel.
Pink Jeep Adventure Tours was founded in Sedona in 1960 and has been providing high-quality off-road adventures ever since. Pink Jeep offers over 15 different tours that all depart from Sedona, so you can choose the best one according to your needs.
Some tours are short, like the 1.5-hour Scenic Rim Tour, while others are long, like the 10-hour Grand Canyon Premier Tour, which explores the most iconic spots of the Grand Canyon and includes lunch.
Other tours include a guided hiking tour, a Horseshoe Bend tour in the town of Page, and educational tours that will teach you about plants, animals, and the history of Sedona, while also offering spectacular views.
Just remember that you'll need to get yourself to and from Sedona back to your Scottsdale base camp.
Pool Parties
Valley Ho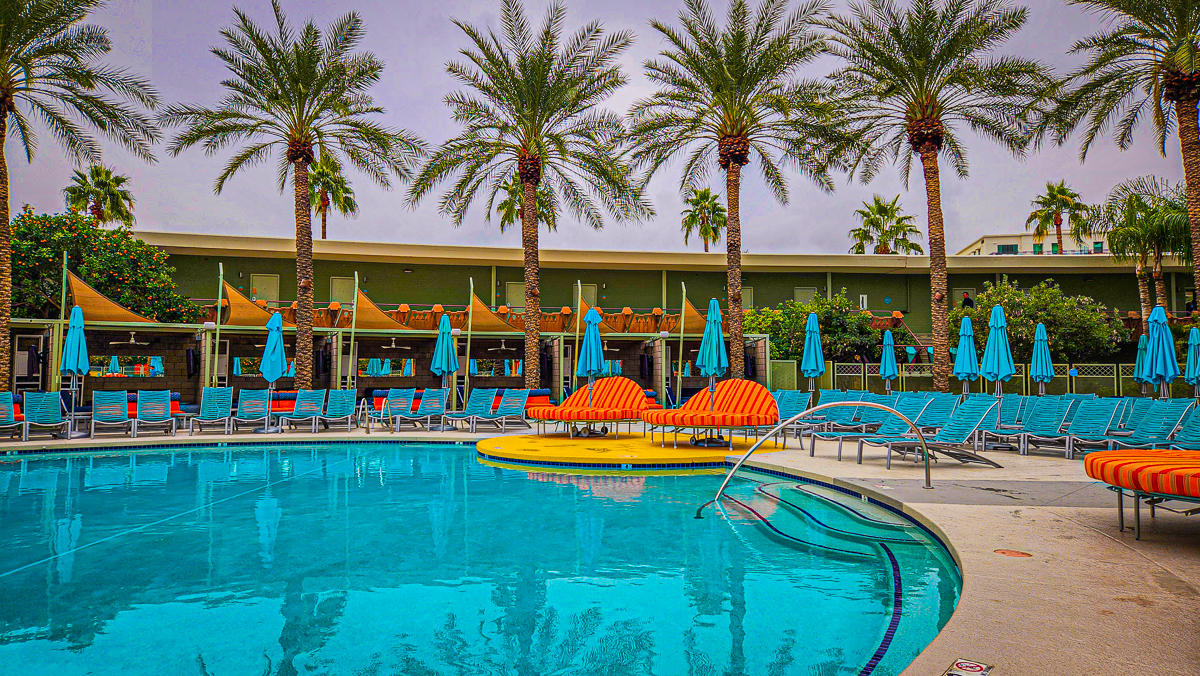 There's no better way to beat the Arizona heat during your bachelorette party in Scottsdale than by taking a dip at the pool. Hotel Valley Ho has two pools where you can relax and cool off. The first one, "Oh Pool," offers a lively vibe with food, a wide variety of drinks, hot tubs, and live DJs on the weekends. You can also rent a cabana or private daybed near the pool.
The second one, "Ohasis Pool," has more of a calm and quiet feel to it. The pool is long, perfect for getting some laps in. It's also surrounded by tall palm trees and other lush greenery, making it a perfect place to relax.
You can enjoy the pools by either being a guest at the hotel or booking a day pass, which can be done on their website.
Wet Deck – W Scottsdale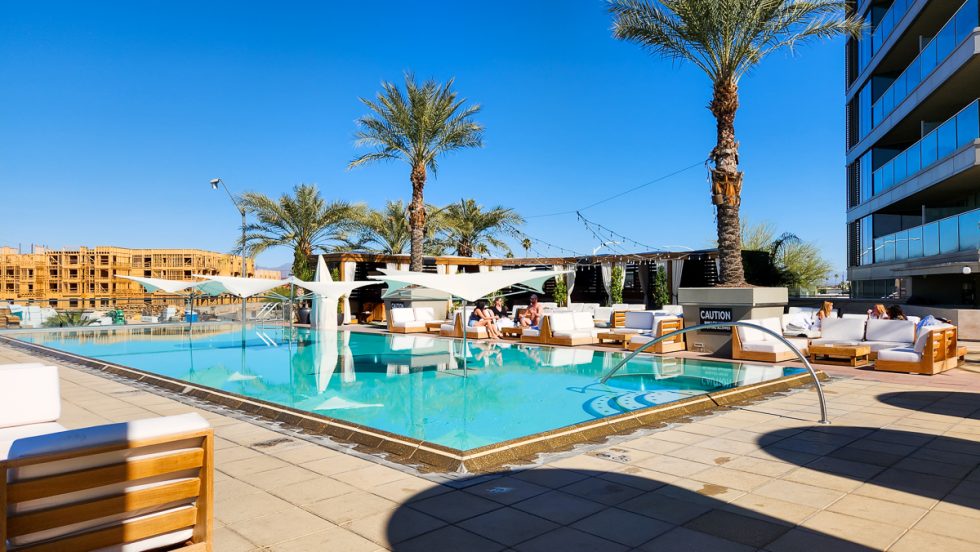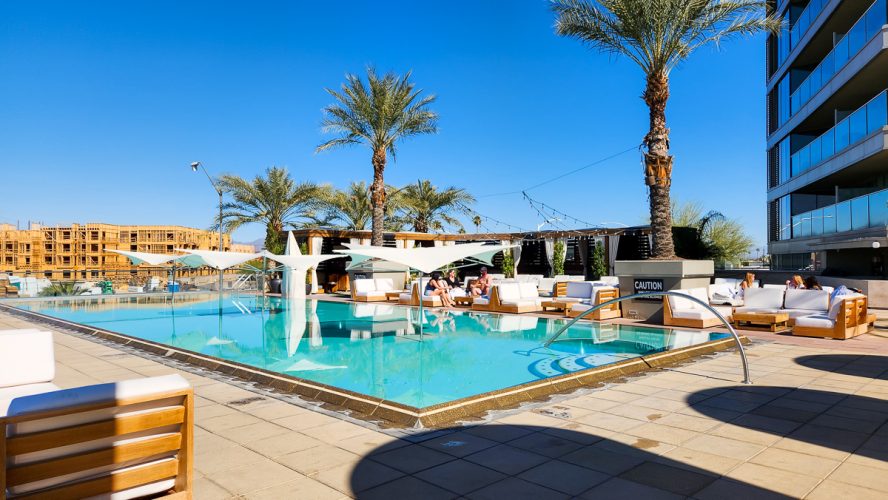 The Wet Deck is located inside of the W Scottsdale hotel and it's the perfect place to enjoy a pool party with your friends during your bachelorette party in Scottsdale.
The Wet Deck consists of a large, chilled pool, free lounge chairs, and daybeds and cabanas that can be reserved for a fee. You can also grab a bite to eat or a cocktail while you're lounging by the poolside.
The best thing about the Wet Deck, though, is "WET Weekends," where you can enjoy great music and bottle service. "WET Weekends" happen every Friday through Sunday.
You can reserve access to the pool and a daybed or cabana by visiting the website.
Clubhouse at Maya
Maya is not only a day club and a nightclub, but also a party space that offers 20,000 square feet of outdoor space, a restaurant, a pool, games, and more.
The pool at Maya is huge and full of energy. There's a large LED video wall, three bars, a taco stand, and a stage where EDM artists perform regularly, making it the perfect place to celebrate your Scottsdale bachelorette party.
Scottsdale is packed full of activities for any bride-to-be. Whether you'd like to explore nature by taking a hike, bring out your adventurous side by taking a Jeep Tour, or party at one of the city's many pool parties, Scottsdale can make it happen.
There are also plenty of restaurants offering numerous cuisines that range from hole-in-the-wall to upscale. The nightlife is also out of this world, with many bars offering live music and yummy food, along with a large selection of drinks.
If you choose to head to Scottsdale for your bachelorette party, you're sure to get the complete package.